Artistic talent runs in both Beth's and Rob's families. Beth is an accomplished vocalist and music teacher. Rob's mother is an exceptional painter. But there is more: both Beth and Rob are nature lovers – small wonder then, that they chose Nestldown as their wedding venue. Hidden in the Redwoods of the Santa Cruz Mountains, this wedding venue on 36 acres has it all: a natural "chapel" in an ancient Redwood grove for romantic ceremonies, rustic-elegant event spaces (think gardens with pergolas and fire tables, a "barn" illuminated by an enormous crystal chandelier) and whimsical touches galore – from a life-size train, a fairytale cottage and a sand sculpture to transportation by authentic London taxis!
After more than a year of planning, the big day had finally arrived, and it was just perfect: warm, sunny, blue skies and a slight breeze. For Beth, the day began with hair and makeup by Carly Wise who brought out the bride's delicate features with a feminine updo and artfully-near invisible makeup. Beth was positively glowing!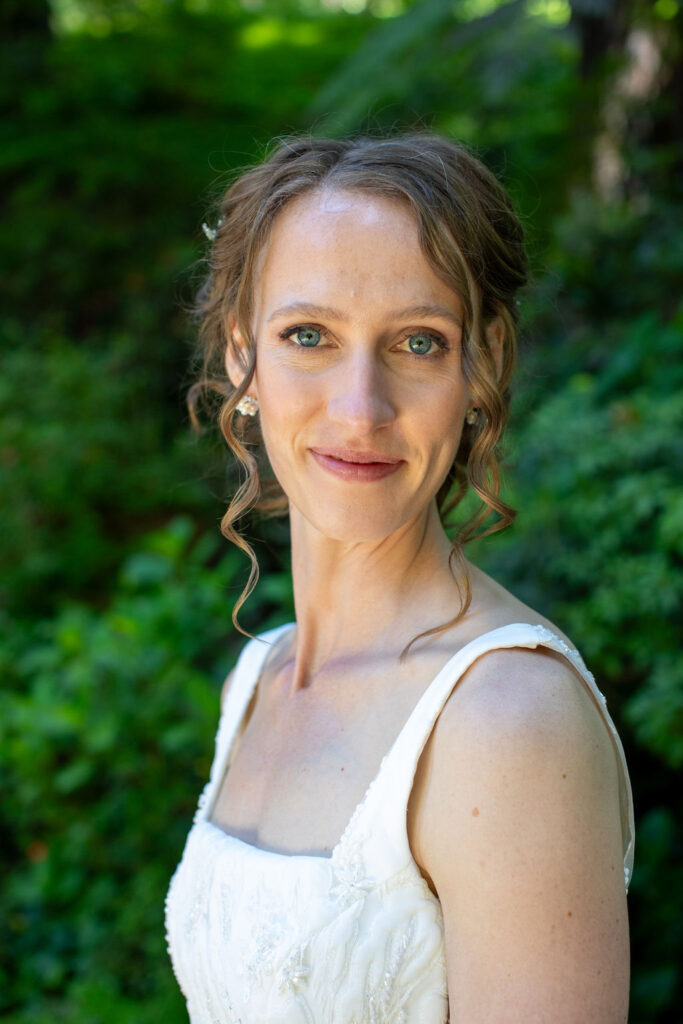 Next: flowers! Beth did not want "traditional" wedding flowers – she wanted wildflowers! Loose, organic blooms in a riot of colors. Only problem: wildflowers are notoriously fragile and would not stand up to the rigors of a wedding day; they would wilt in a matter of half an hour. What to do? Enter florist extraordinaire Janelle Jacky-Litt of Green Petal Designs: she created bouquets and arrangements that look exactly like wildflowers (Beth LOVED them!) but were actually based on hardier varietals. Here is one of the bridesmaids' bouquets.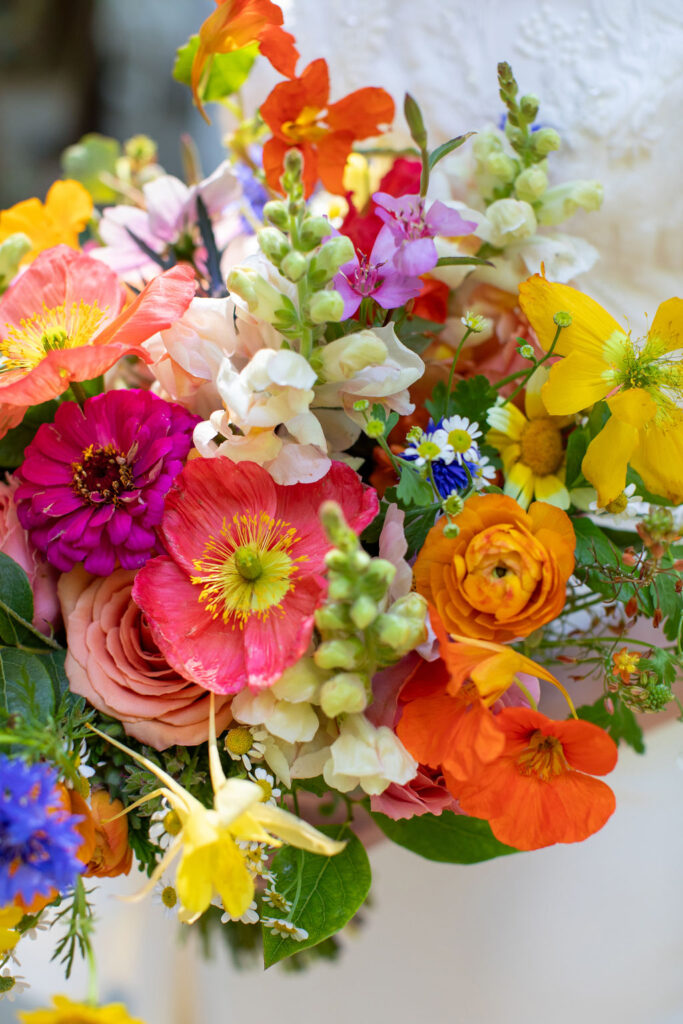 And here she is, carrying her bridal bouquet: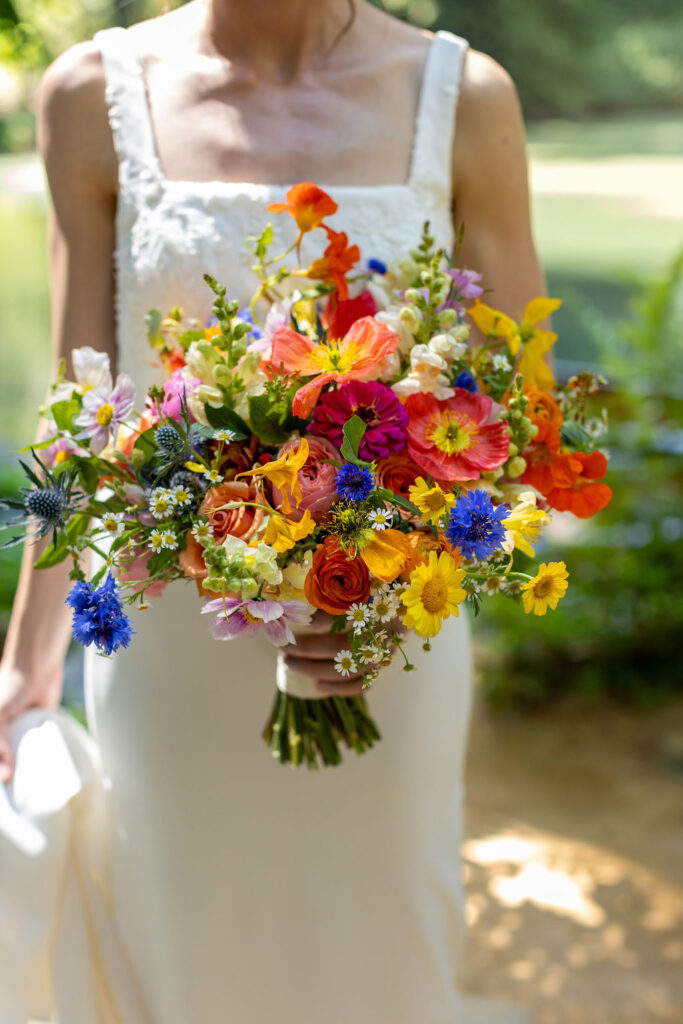 Isn't she gorgeous?!
Groom Rob with likewise getting ready…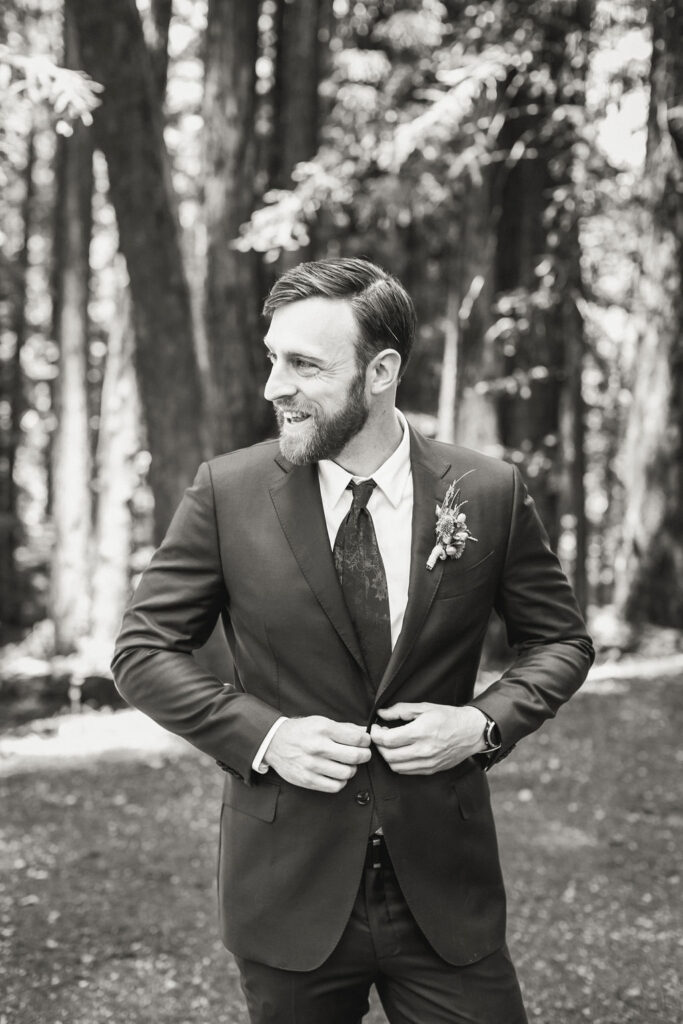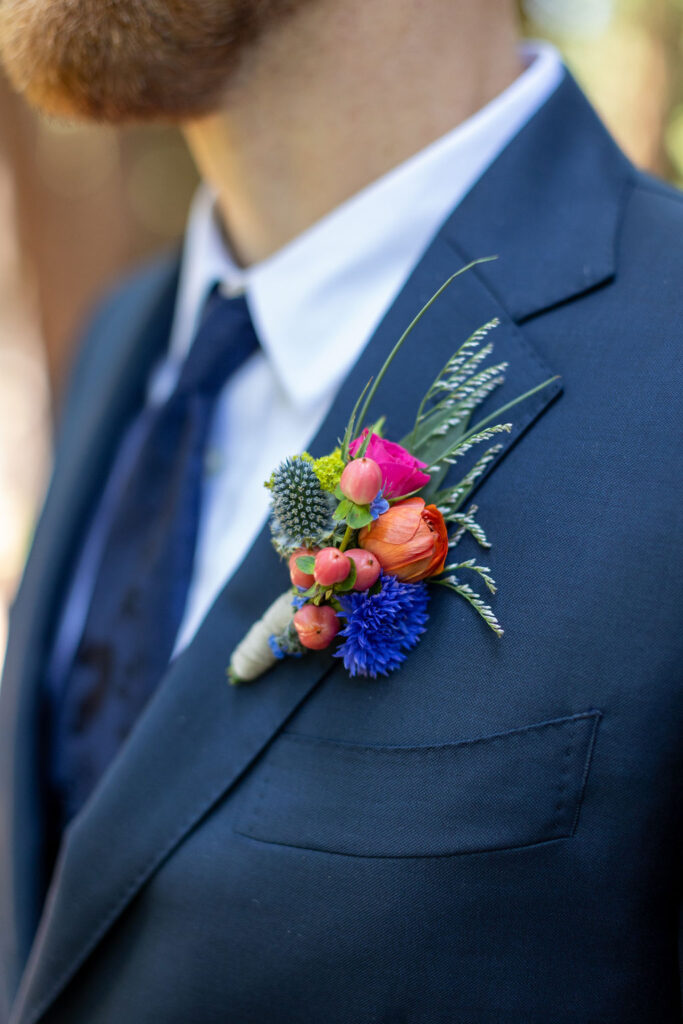 Beth and Rob had made it a point to have as many pre-ceremony photos taken as possible – to have more time with their guests after the ceremony – so that's where they were headed. Photographer Megan Reeves and assistant captured every precious moment – for example, the couple's First Look.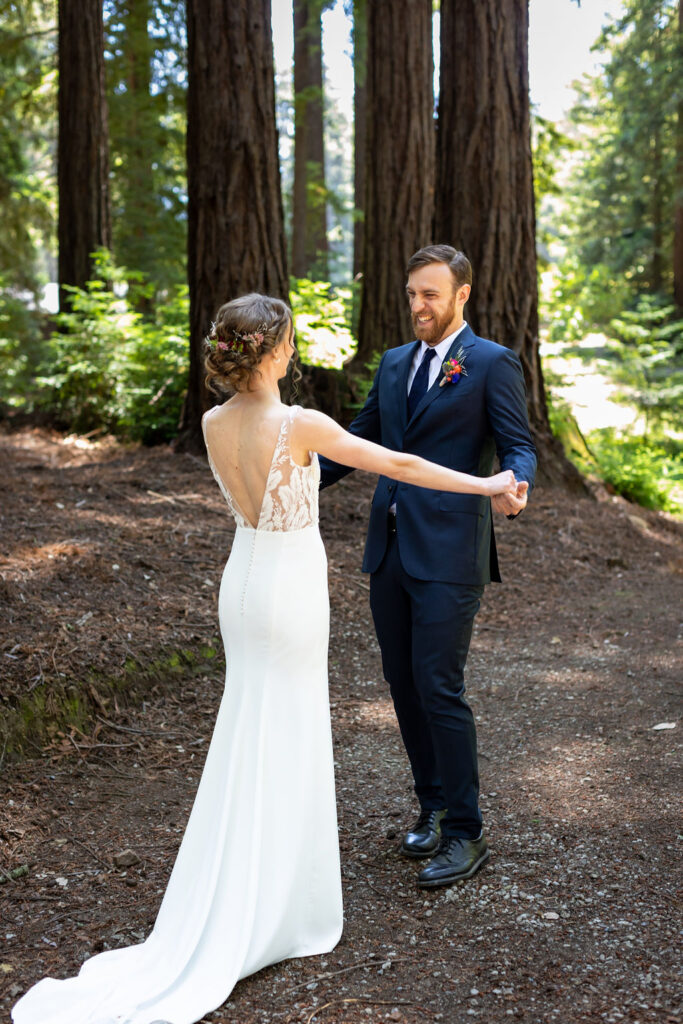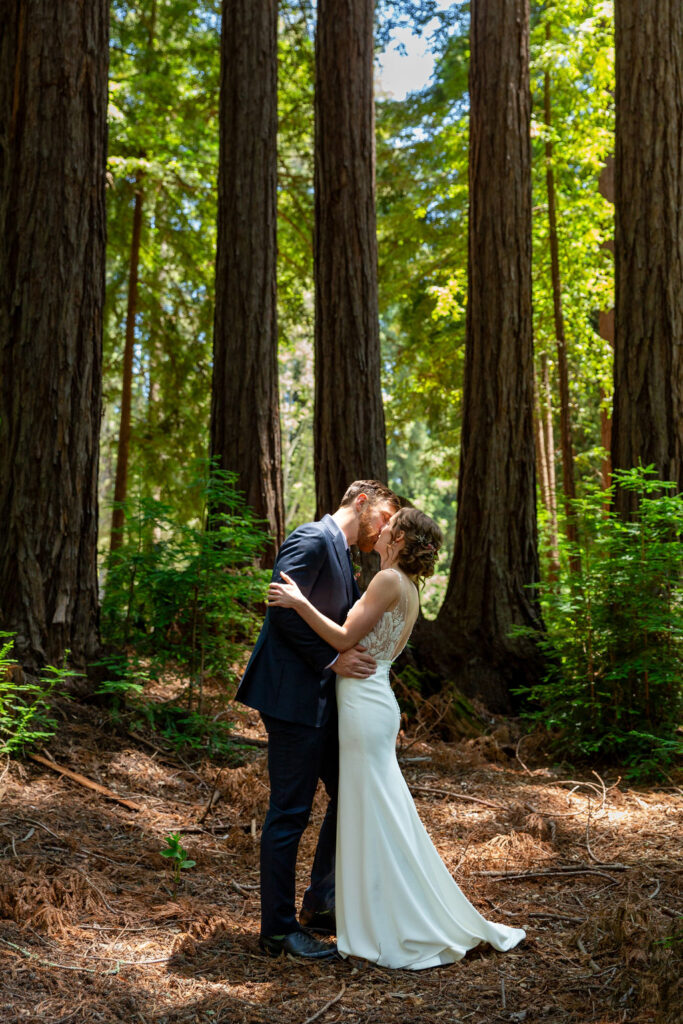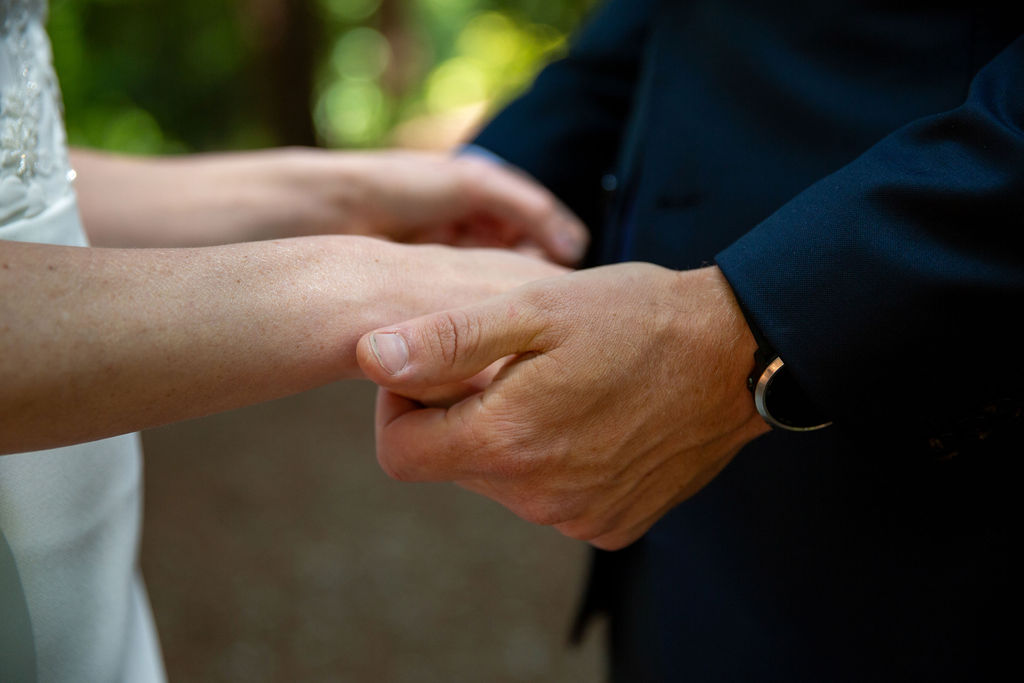 There were also many bridal party photos on the program…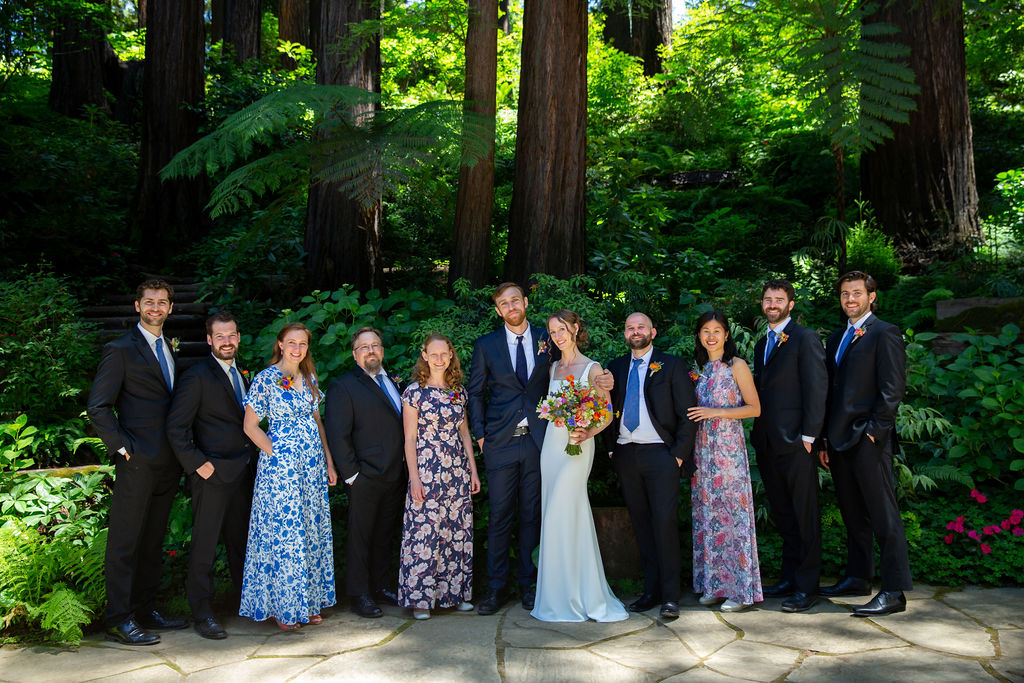 Soon enough, guests began arriving via shuttles (from Corinthian Ground Transportation), and everyone was preparing for the ceremony.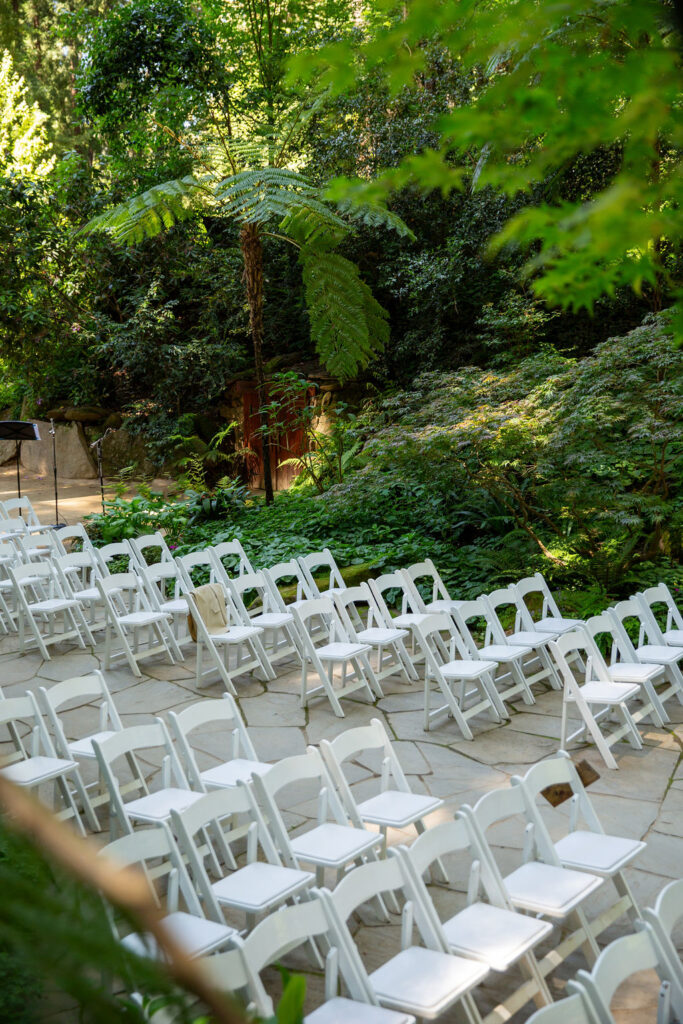 DJ Woody Miraglia of Big Fun Disc Jockeys had the music going, and three friends of the couple, two violinists and a guitarist, were ready to play for the entrance of the bride.
And here she comes, accompanied by both her parents…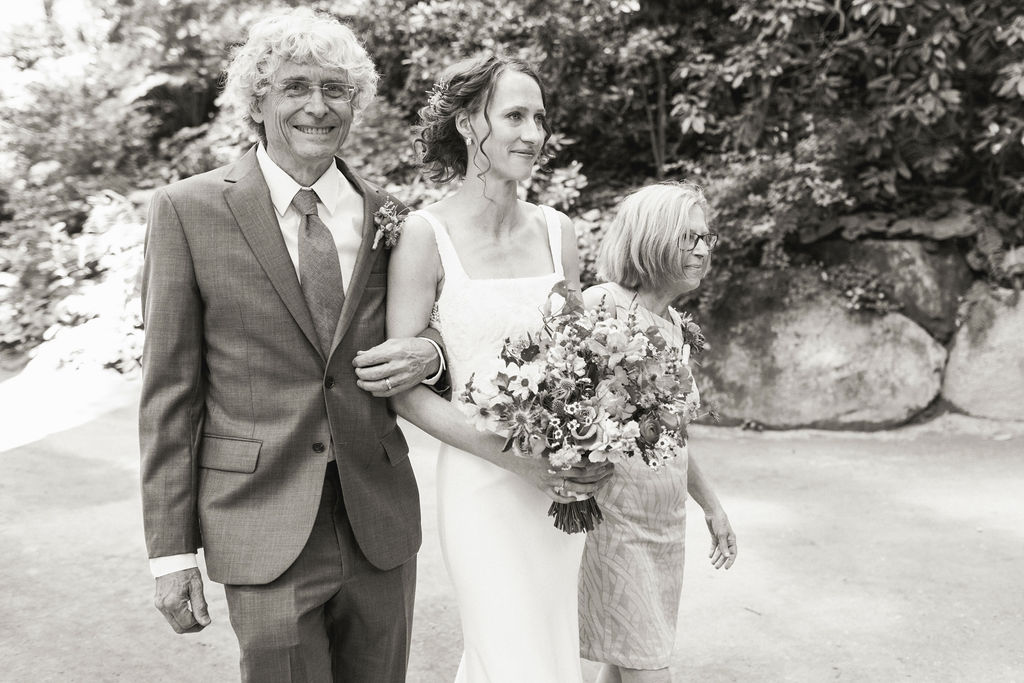 The ceremony was officiated by yet another friend of the couple and as such, was heartfelt and very personal.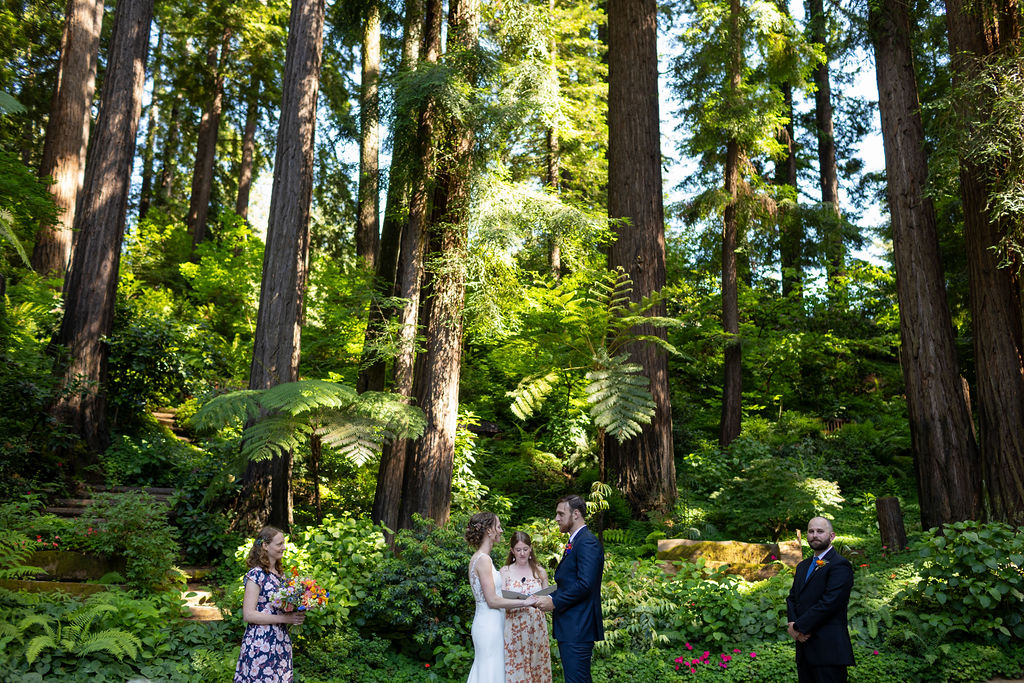 It was such a joyful moment.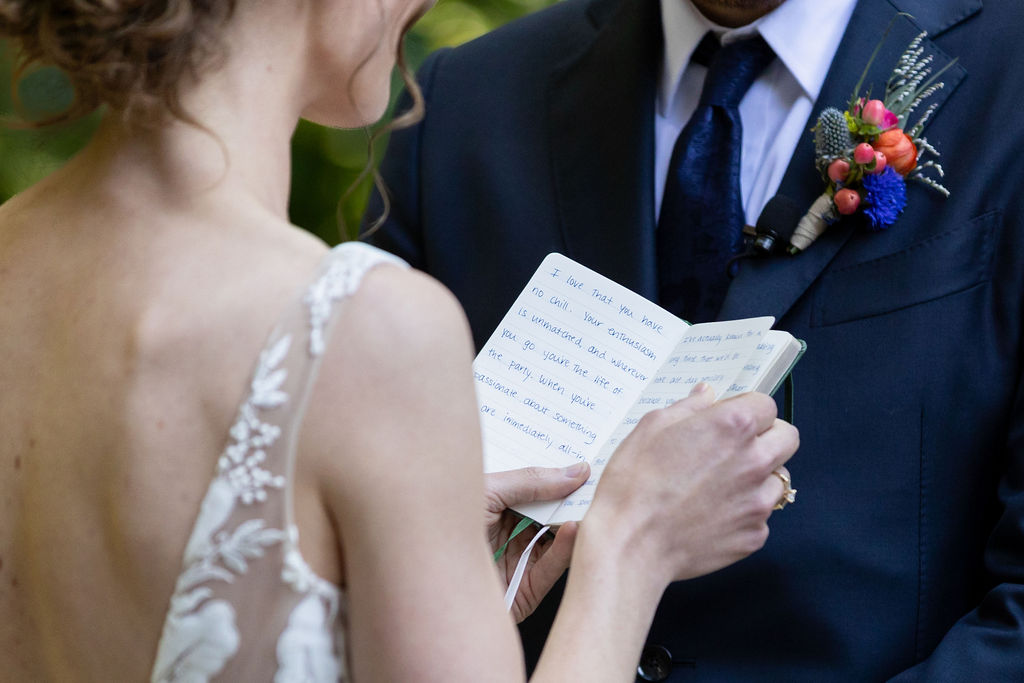 "I Do!" – and "You may now kiss the bride!"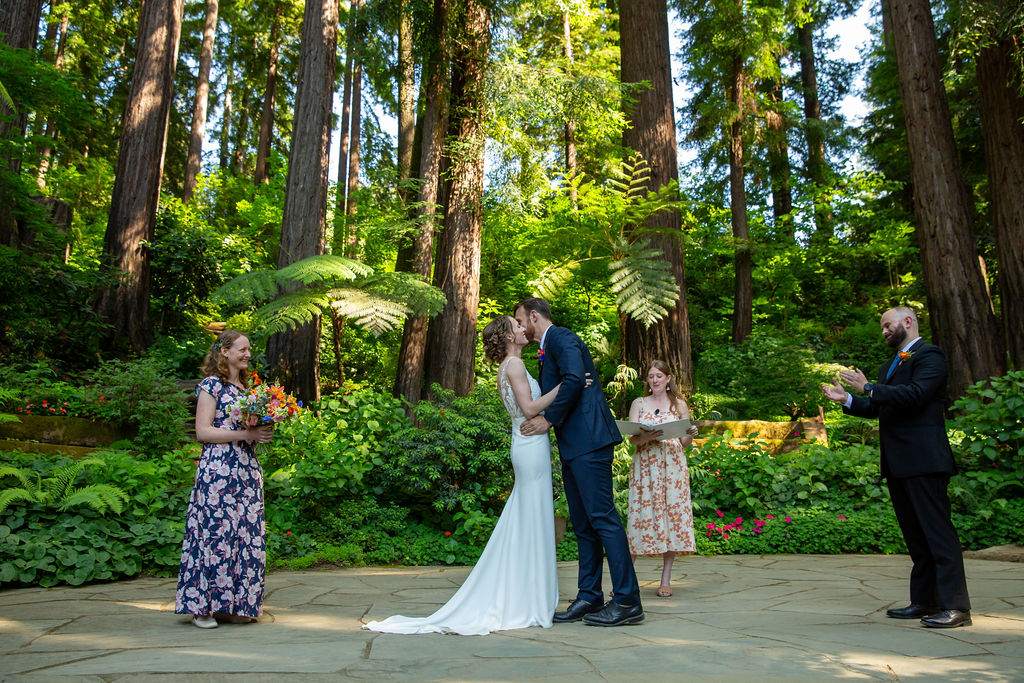 And here are the newlyweds!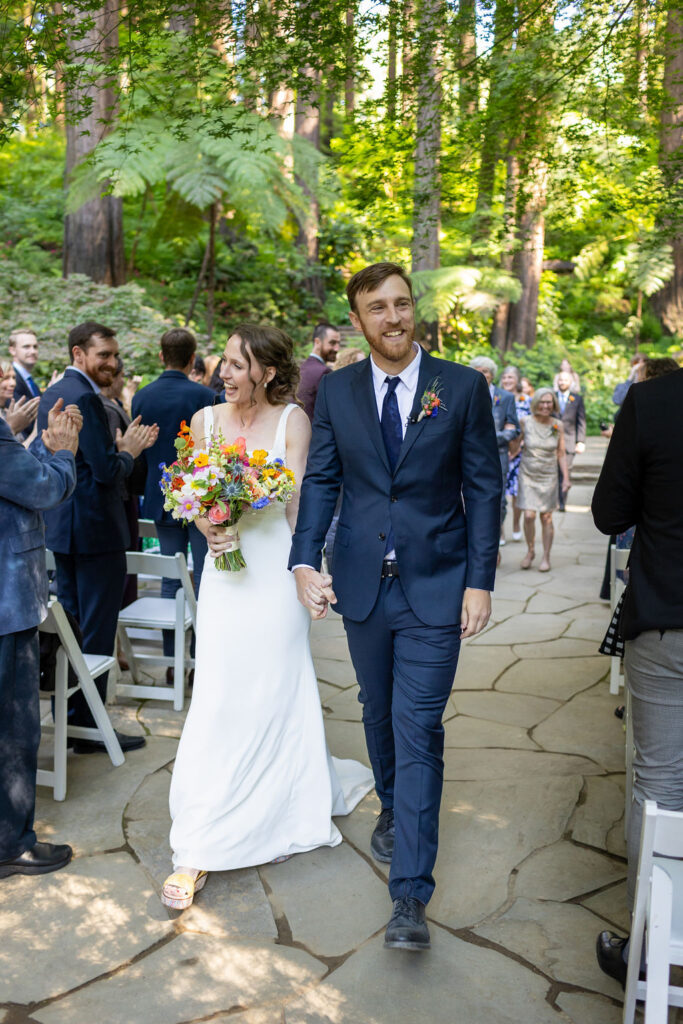 While Beth and Rob were taking just a few more "family formals" photos, guests were treated to cocktails and hors d'oeuvres (by Betty Zlatchin Catering),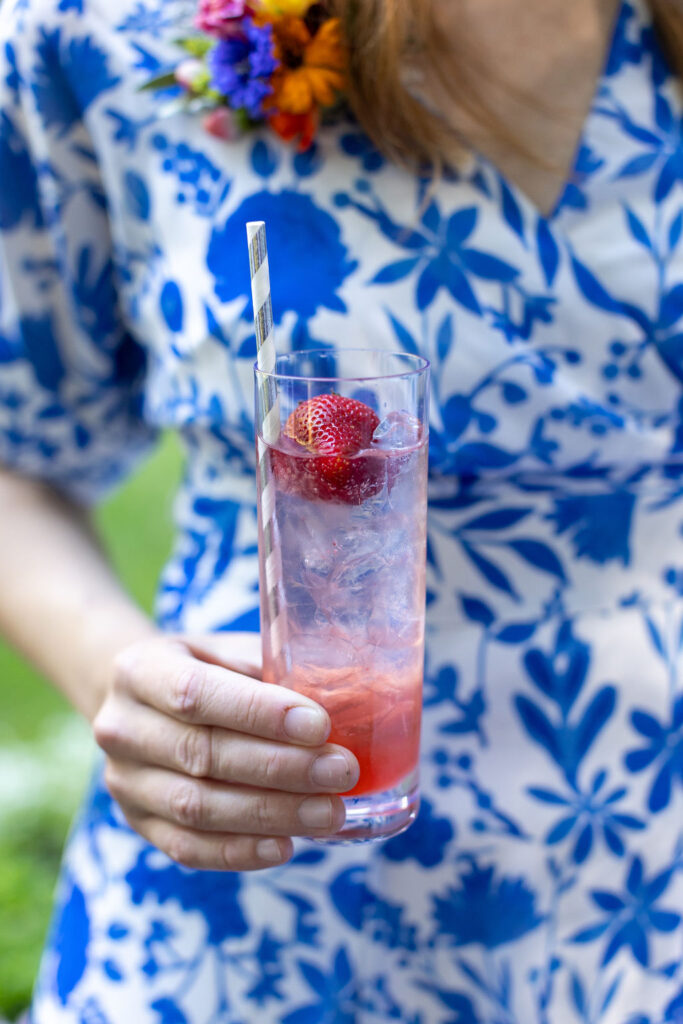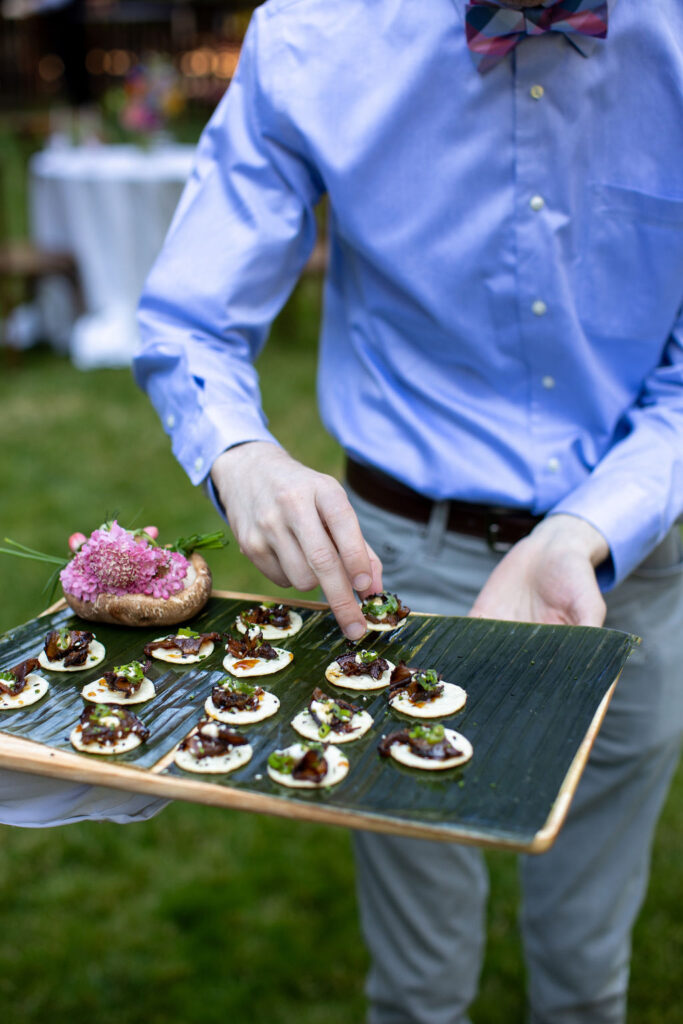 …lawn games, train rides and photobooth fun (by Night Owl Photo Booth).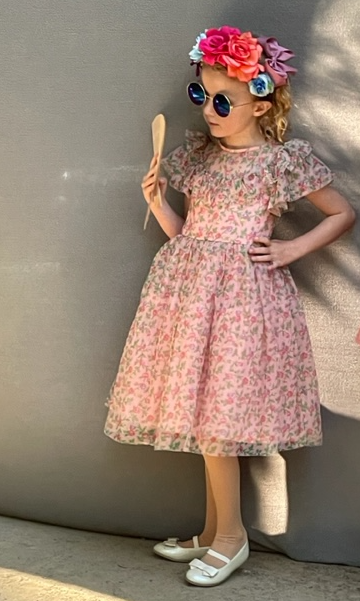 Eventually, the newlyweds arrived by train and joined the party.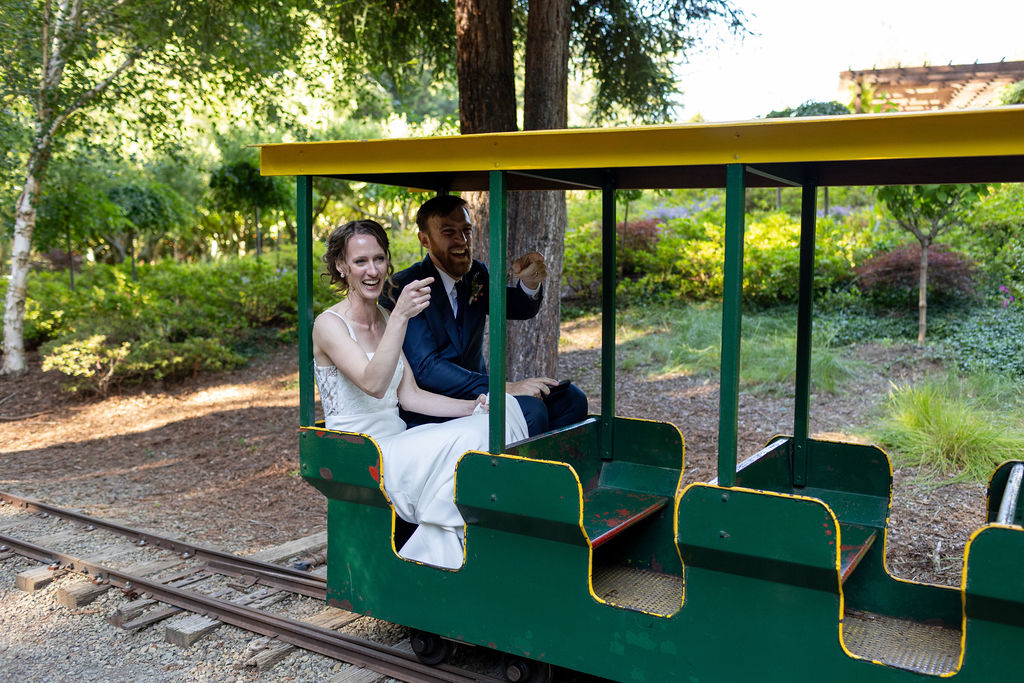 Meanwhile, dinner on the Main Lawn had been set up…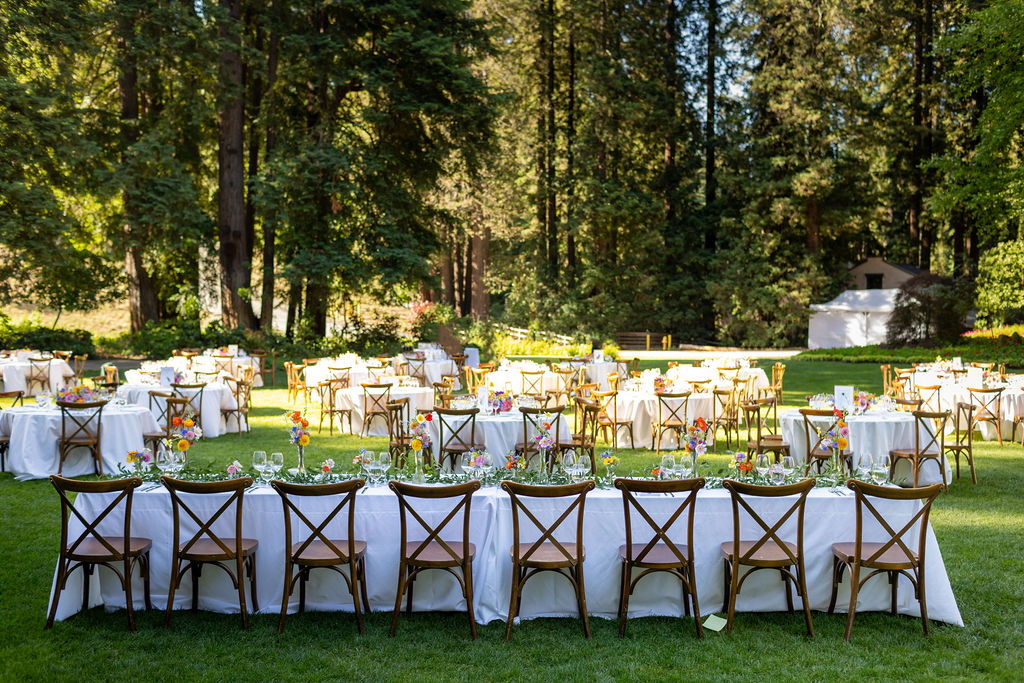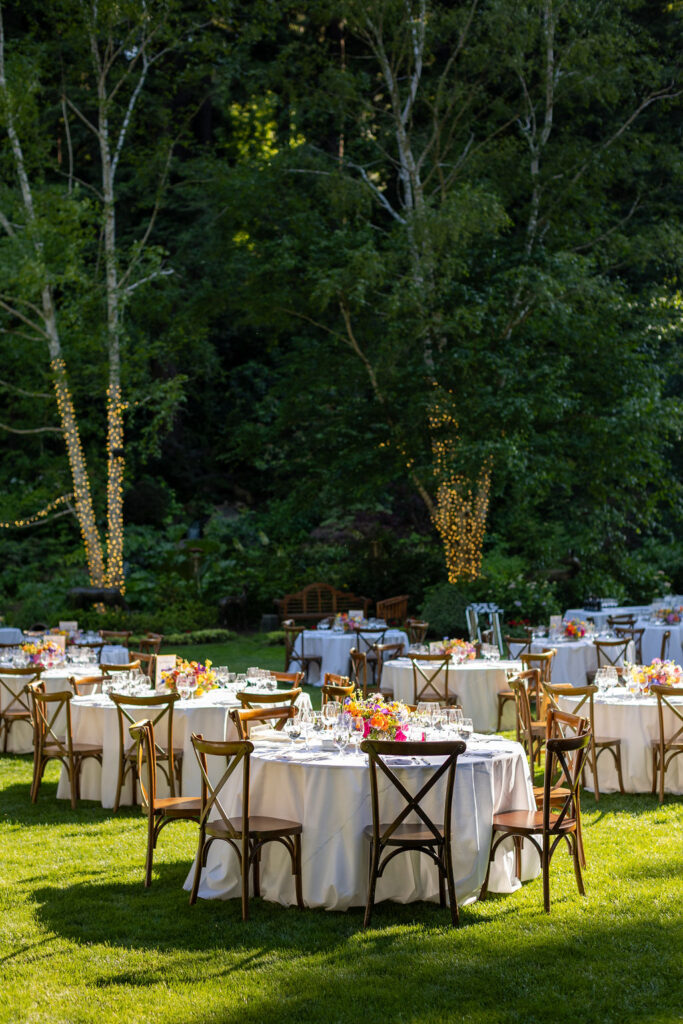 … with a Koi Pond as its backdrop.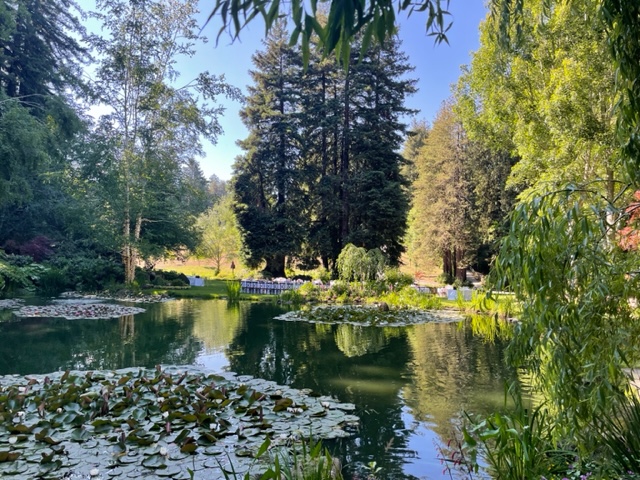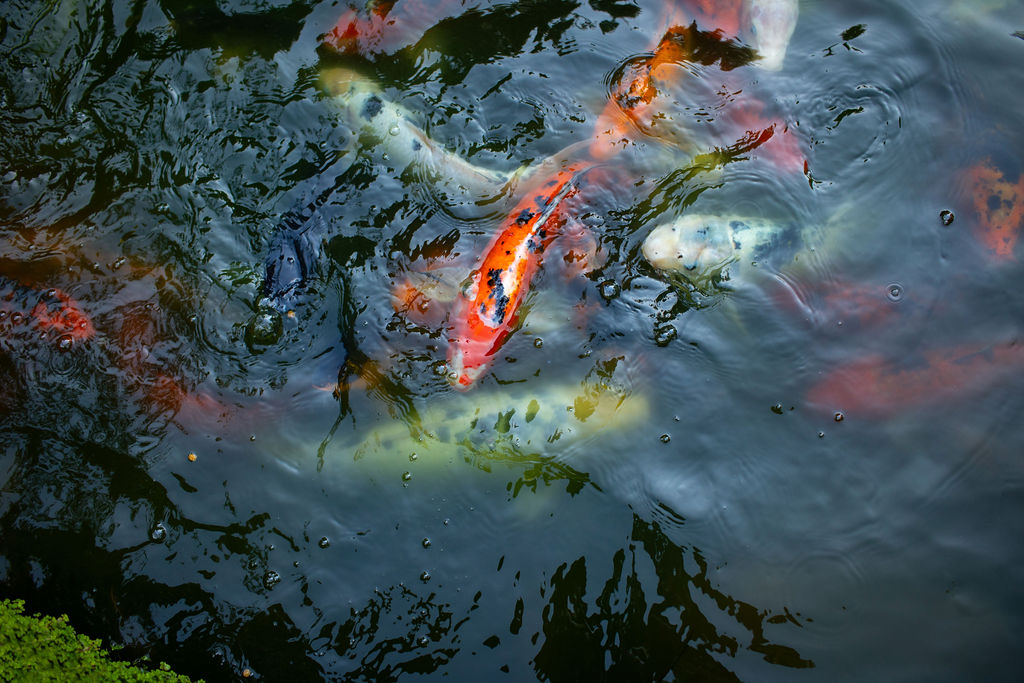 While all guest tables were splendid with elegant place settings…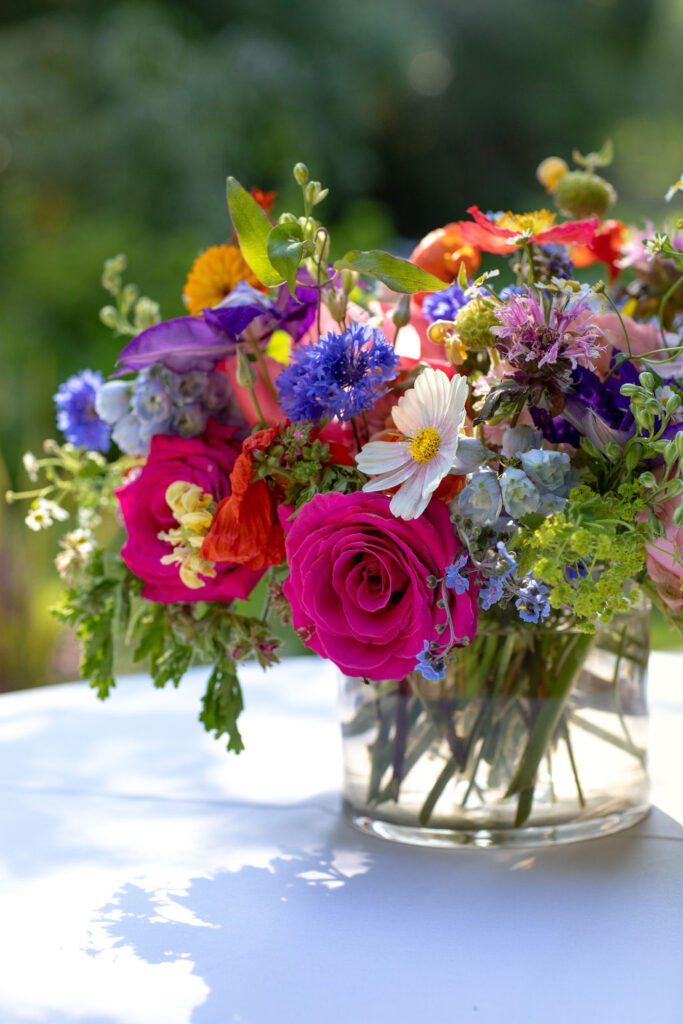 … with hand-painted menu cards (like all other wedding stationery and signage, designed by the Mother of the Groom) and vibrant "wildflower" centerpieces…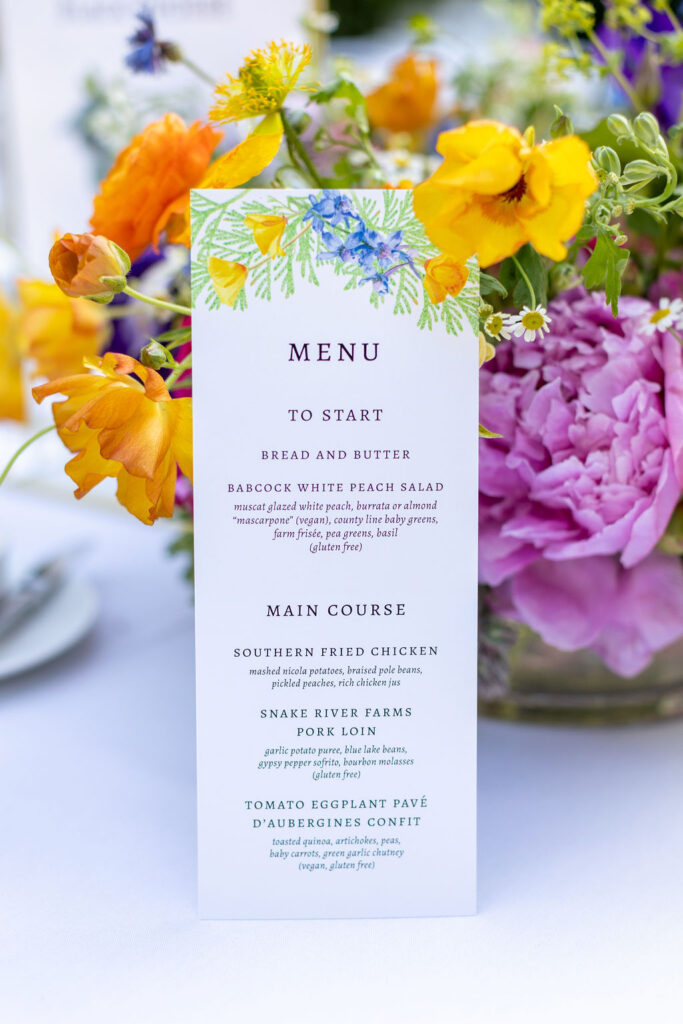 … the Head Table, of course, received special treatment.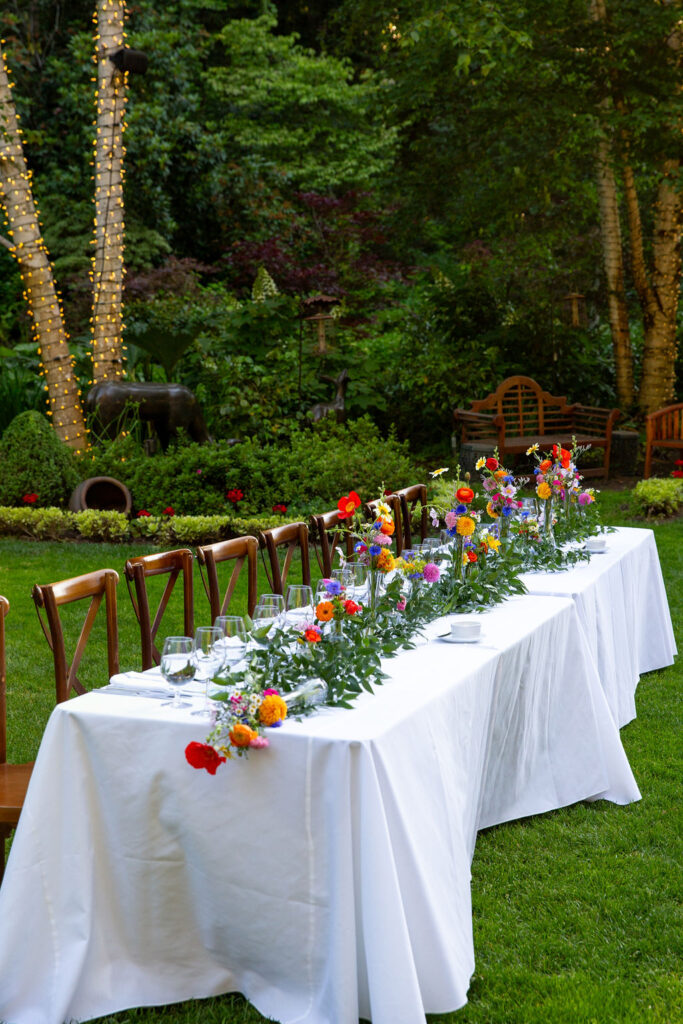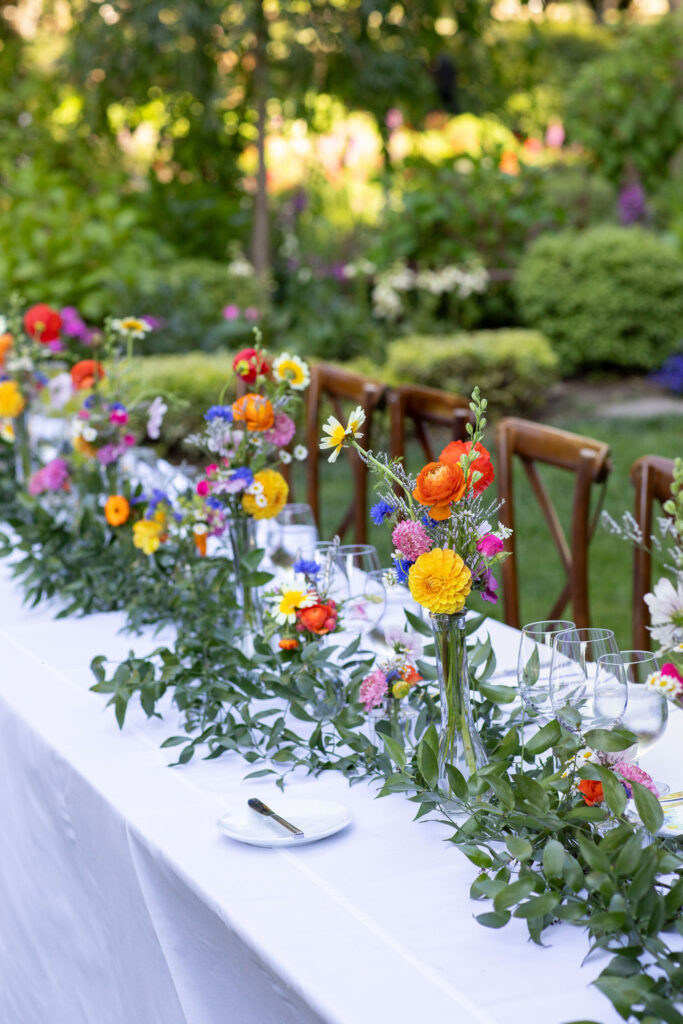 Tables had not been numbered, but named after bird species – the groom is an ornithologist, after all! For entree choice markers, the couple chose various wildflower species, true to style!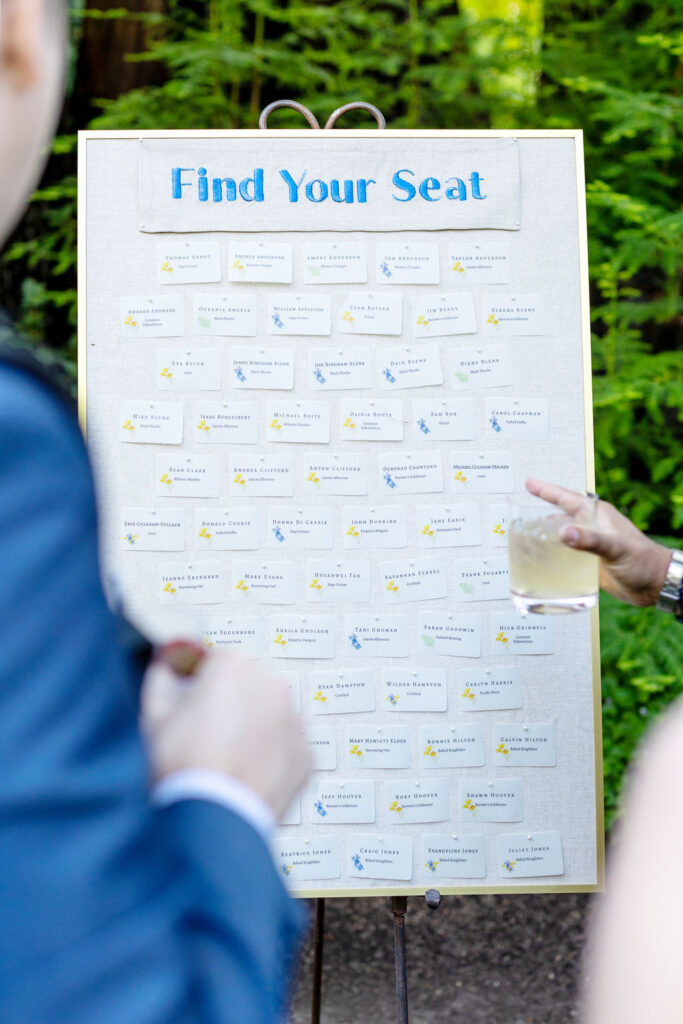 And so that guests would not get lost among all the birds, the Mother of the Groom had also created an artistic map showing the location of each table.
Needless to say – the name of each table was displayed as a beautiful painting of the bird it was named after.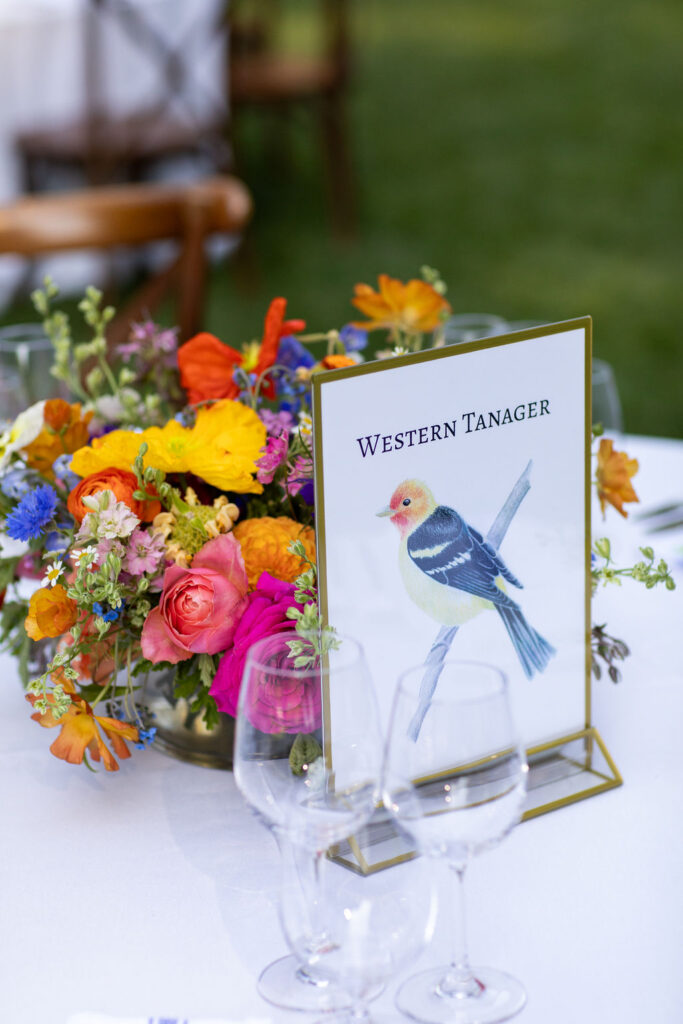 Over dinner, dusk began to fall, and the myriad twinkle lights installed in the tall Redwood trees surrounding the main lawn began to sparkle – it was truly magical.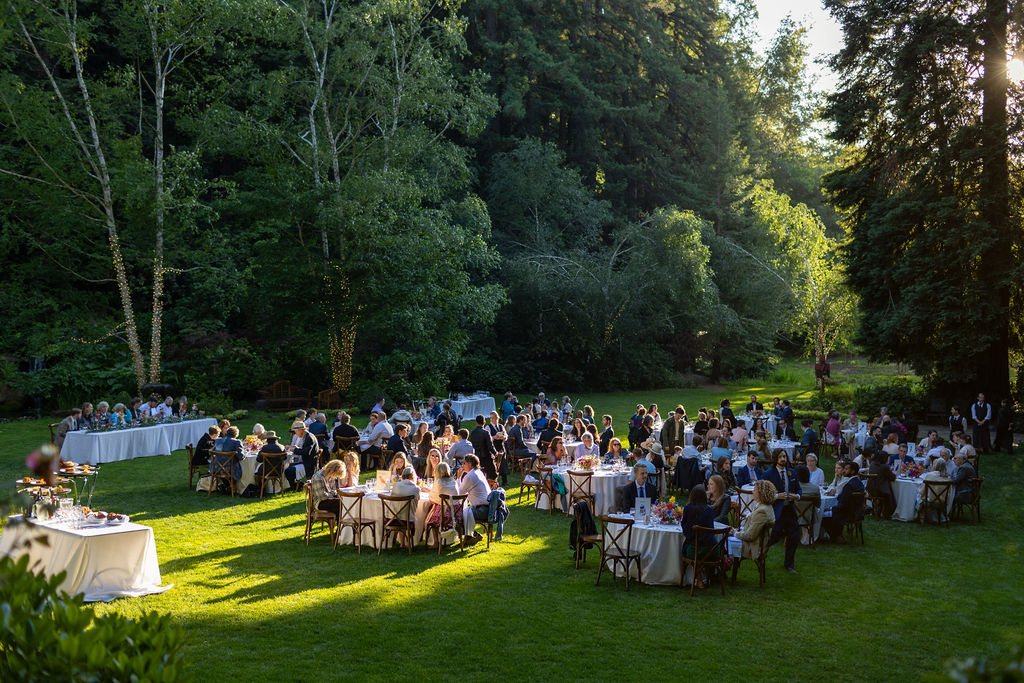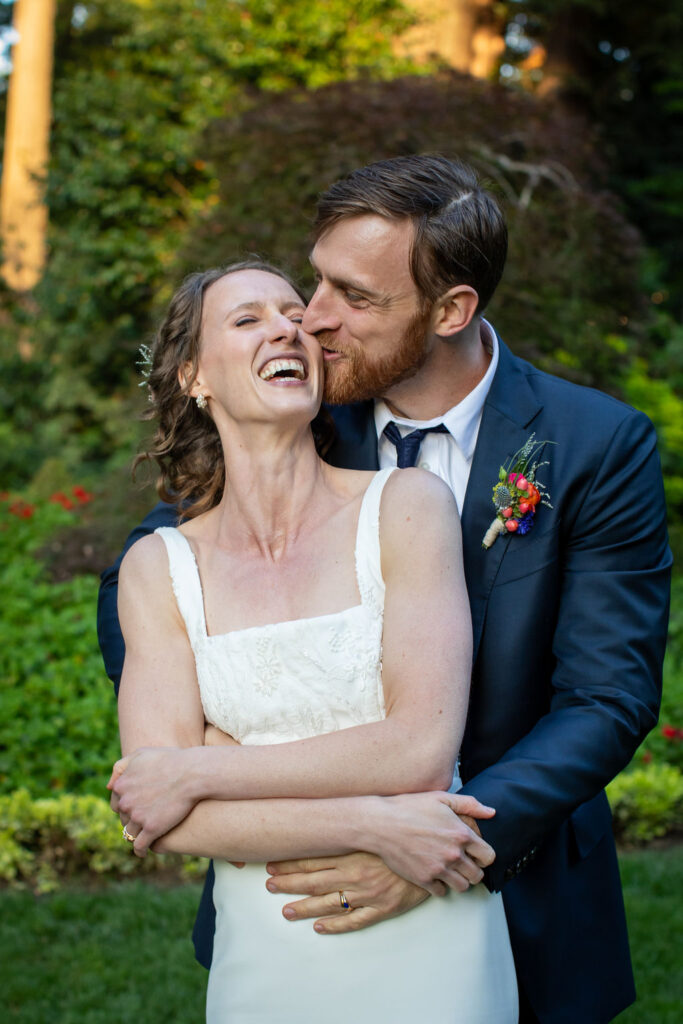 Once dinner and toasts and speeches were done, guests were invited into the Barn for desserts and dancing. Again – never ones to simply follow tradition, the couple had opted for their favorite fruit pies (a huge table full of them!) over a typical wedding cake, and their guests really "dug in." Then it was time for Beth's and Rob's First Dance, accompanied by more of their musician friends. Watching these two gently twirl underneath the giant crystal chandelier was a truly unforgettable moment.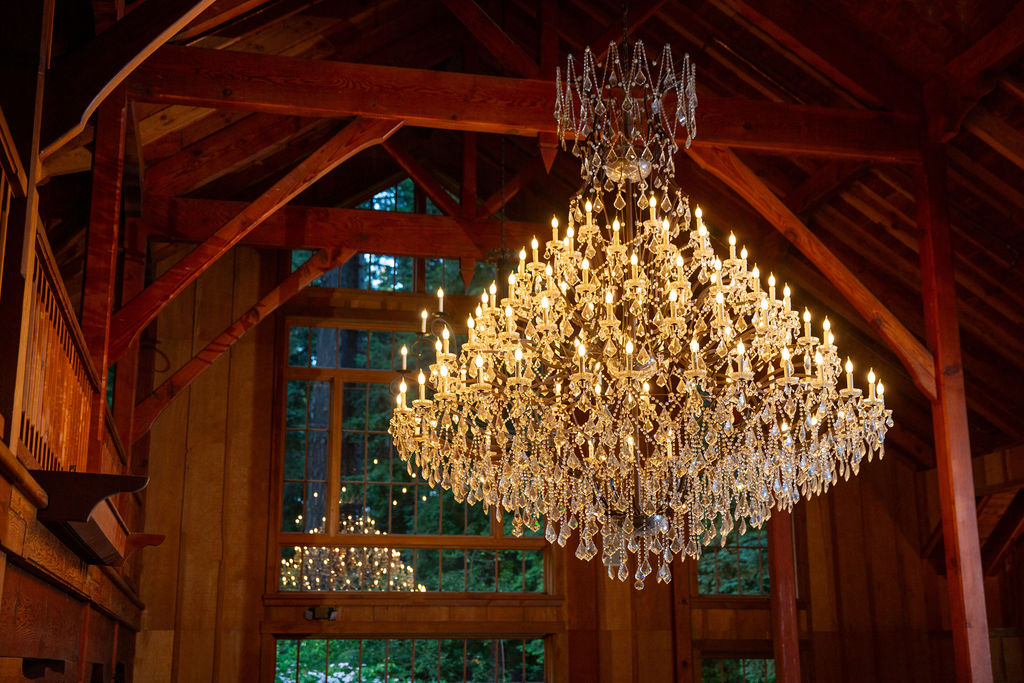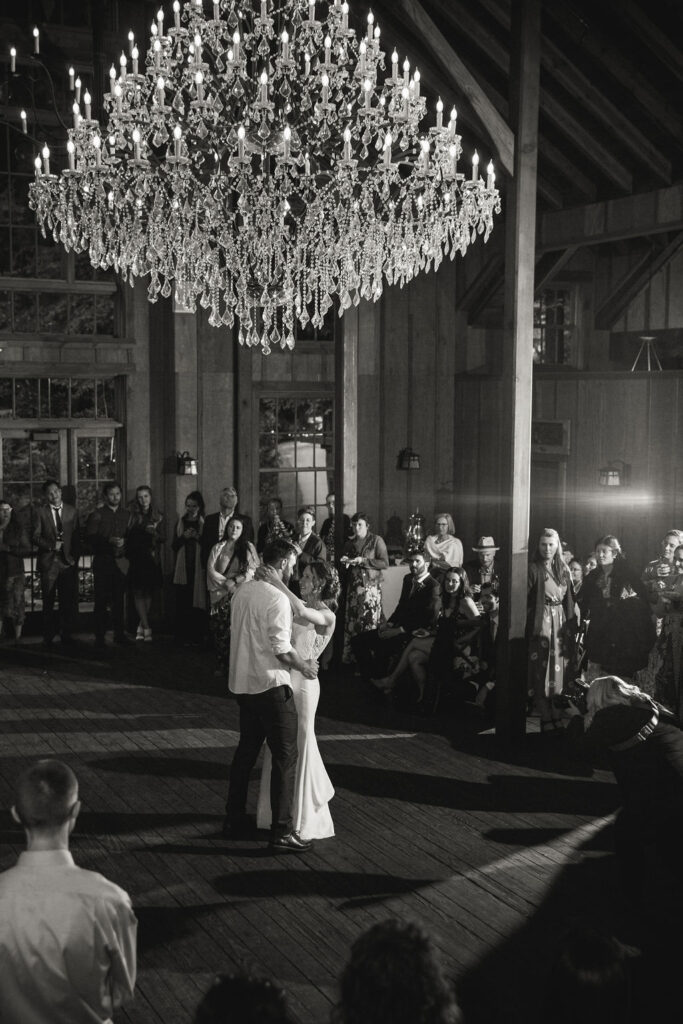 Then the bride danced with her Dad and the groom with his Mom…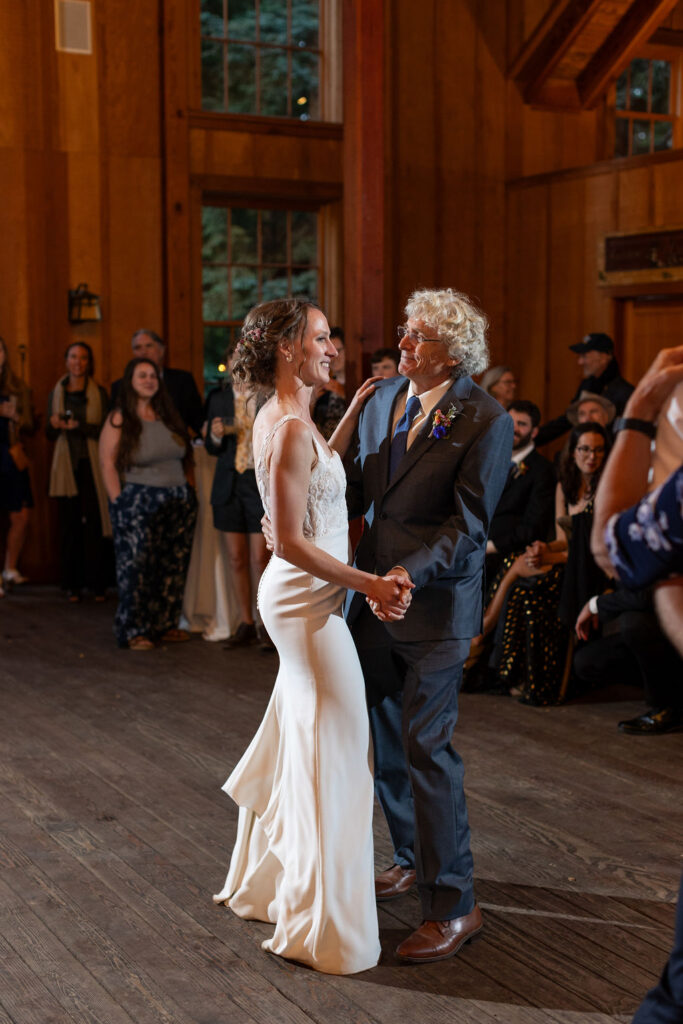 and after that, the dance floor was opened to an epic dance party.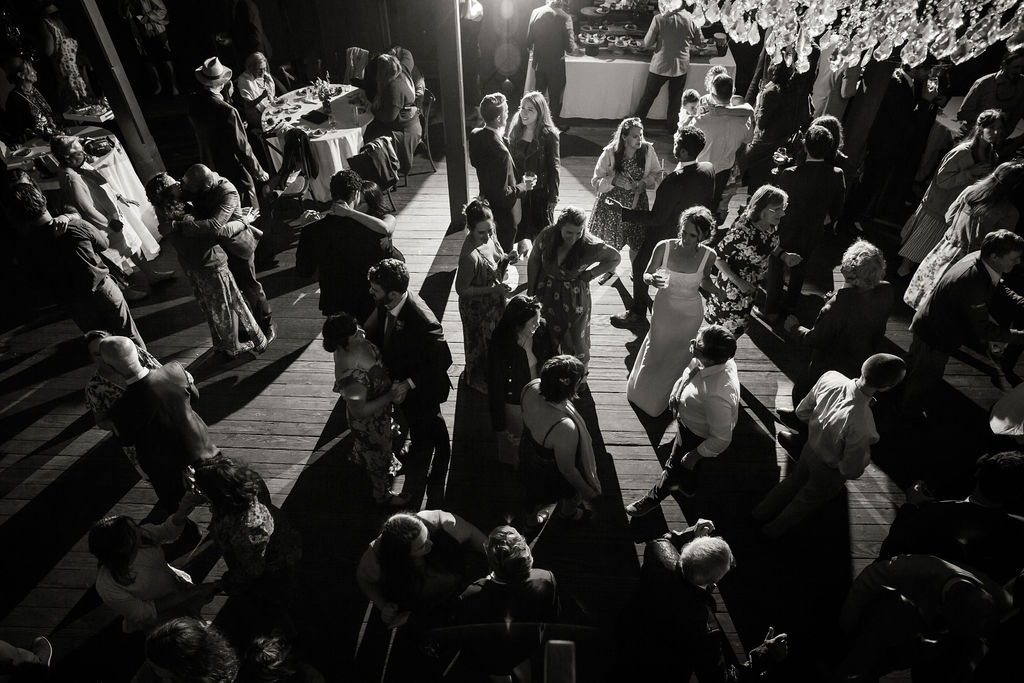 with all-time favorite tunes (yes, ABBA, for example!) and glow sticks for everyone… and in the end, nobody wanted to go home! The newlyweds were whisked away into their married bliss by London Taxi… keep dancing, singing and watching birds in perpetual happiness, Beth and Rob!

<! DL 06/02/12: Added html code for Pinterest Pin It button (appears at the end of each post) > <! DL 06/02/12: Added padding style modifier to the Pinterest html code to align the Pit It button on the page > <! DL 06/02/12: deactivated code by adding two ! in the a and img code lines >