After nearly a decade together, Traci and Steve were finally ready to "make things official." Both divorced with children, they had been introduced by a mutual friend, and the attraction was immediate. They've been together ever since. But they both wanted to give their children time to heal and time to get to know and appreciate the new "parent" in their lives. All their (combined) five children literally grew up with the person who would eventually become their step-parent. By and by, they became one big, blended family. Now that all their children are grown-ups, Traci and Steve felt they could make their longstanding union official – and all their children were enthusiastically "on board."
I feel so honored that they chose my company, A Day Like No Other, for help with the planning and execution of their special day. And in fact, a lot of planning went into it!
Finally, the great day had come, and for Traci, her Maid of Honor (her daughter Sofia) and her junior bridesmaids (nieces Lisa and Annie) the day began with hairstyling (by Traci's friend Melissa) and makeup services (by Cassandra McClure).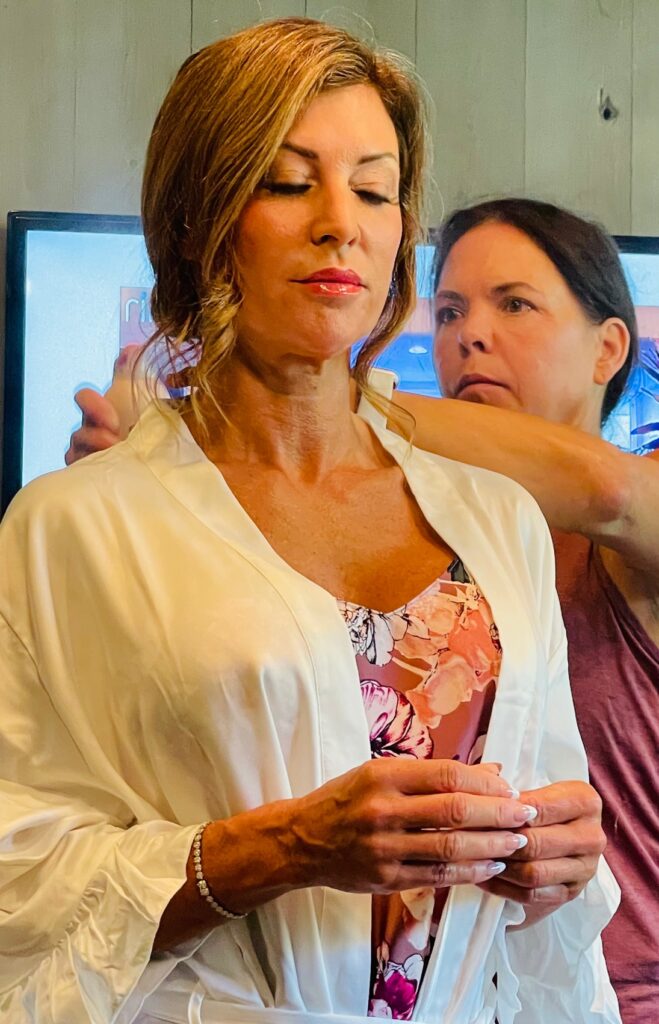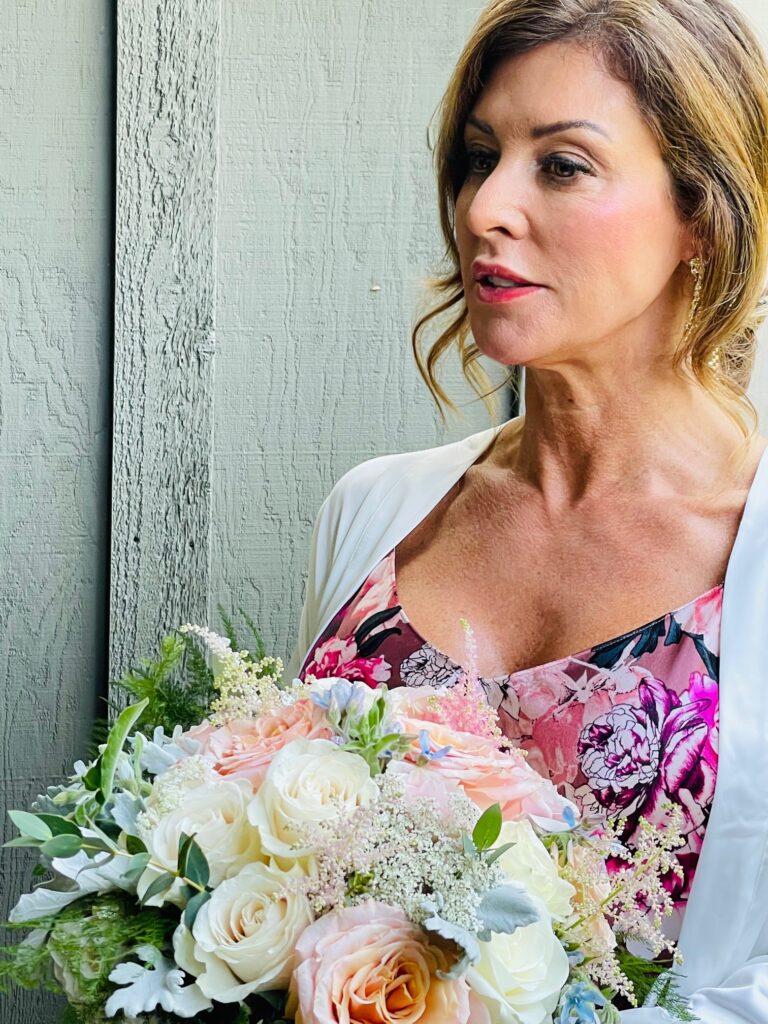 Florist Neli (of Floral Art & Decor) delivered the bridal bouquet, a dream of ivory and blush pink roses with the tiniest hint of "something blue" – and Traci absolutely loved it!
Then it was time for the bride to get into her dress (from Nouvelle Vogue Bridal Boutique), a breathtaking "mermaid" style with illusion neckline, lace applique and an endless train, a gown that fit her like a glove and highlighted her model figure.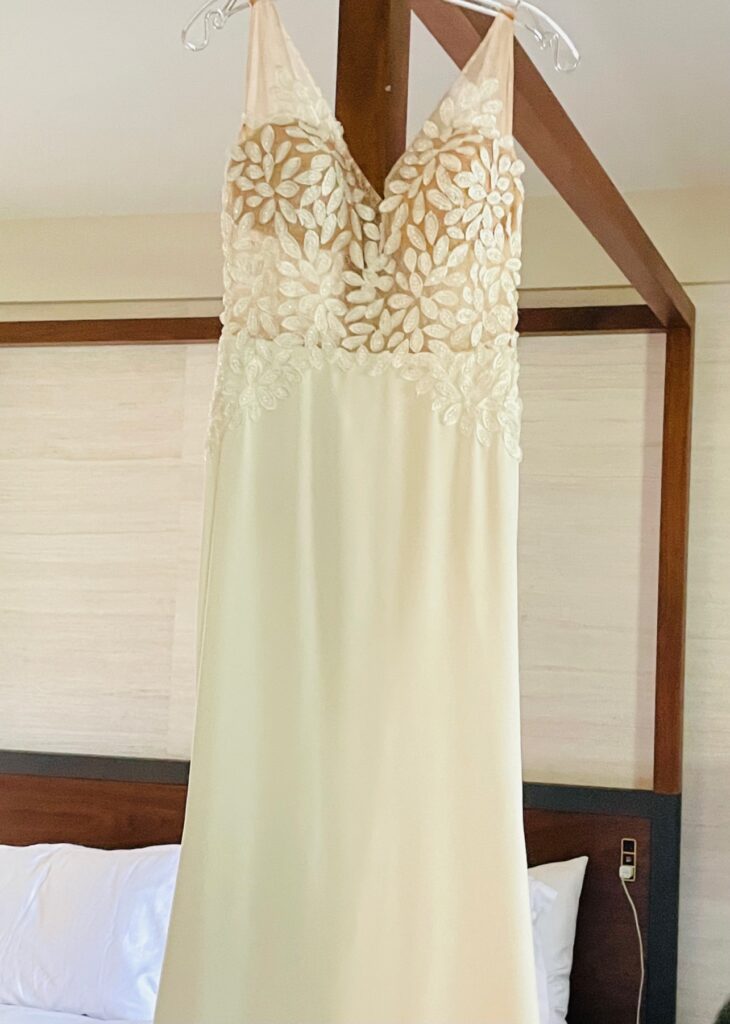 Maid of Honor Sofia helped her Mom get into her dress – a true "mother-daughter moment!"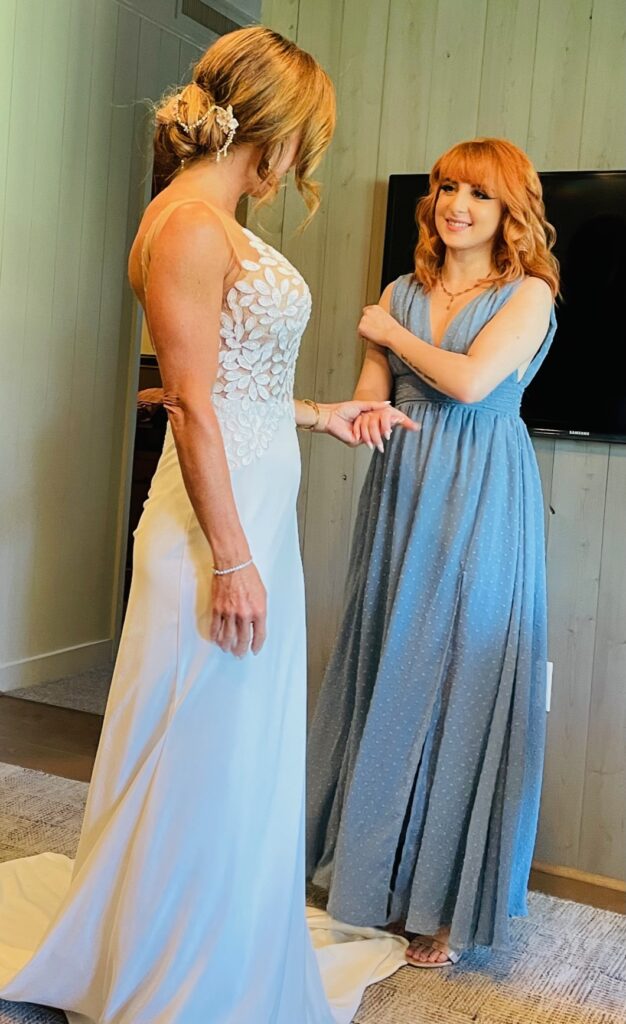 Both ladies were very happy with their bouquets!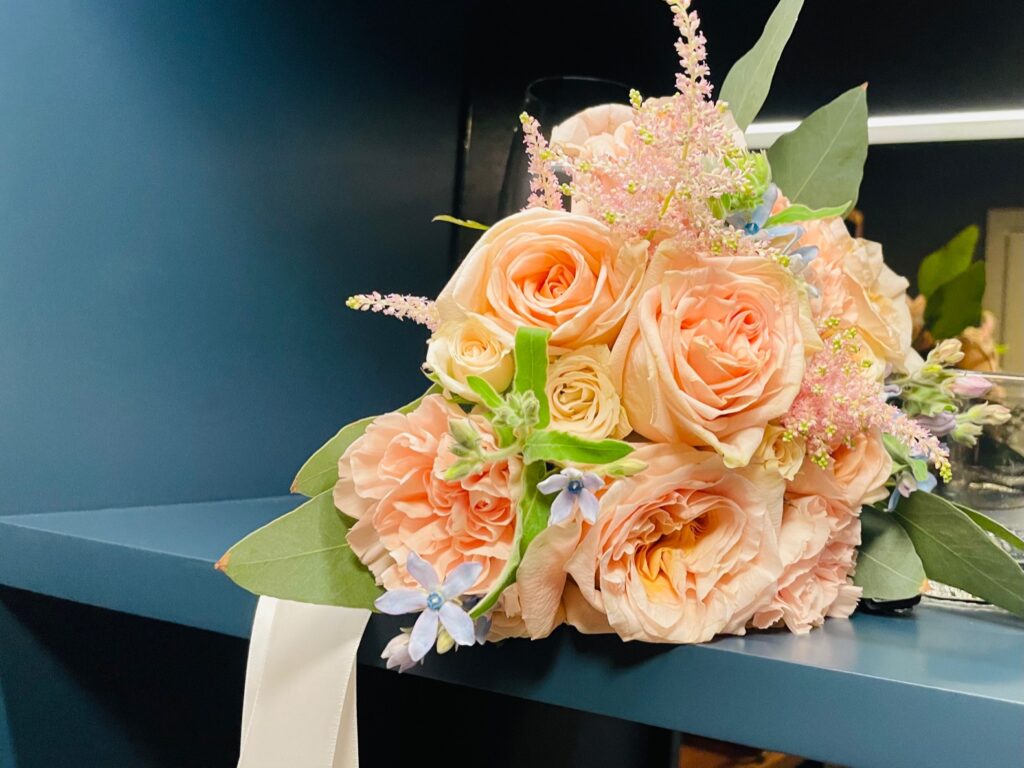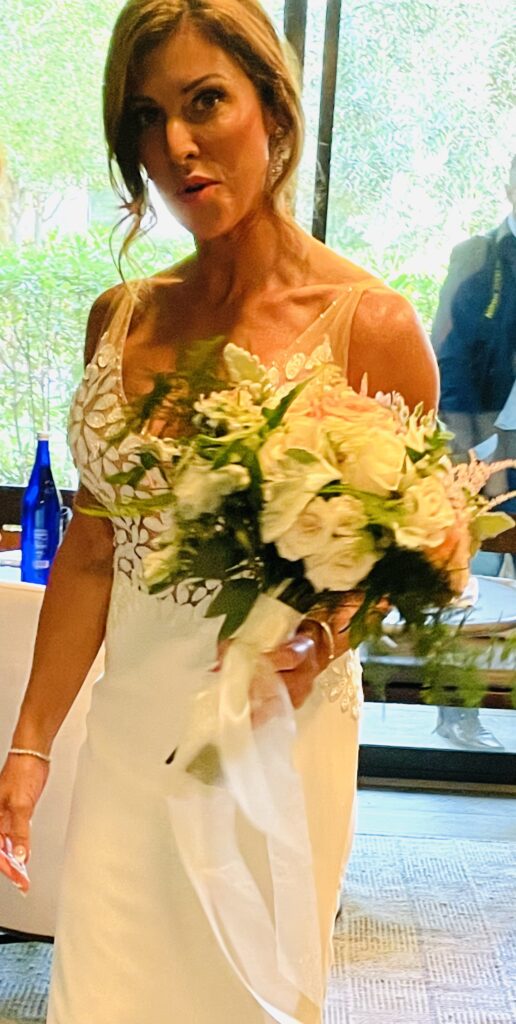 The ceremony and reception were held at the Allied Arts Guild in Menlo Park, a historic Spanish-Mediterranean style compound with courtyards, gardens and little art galleries and studios. It was a glorious summer day under blue skies and with a slight breeze – simply perfect!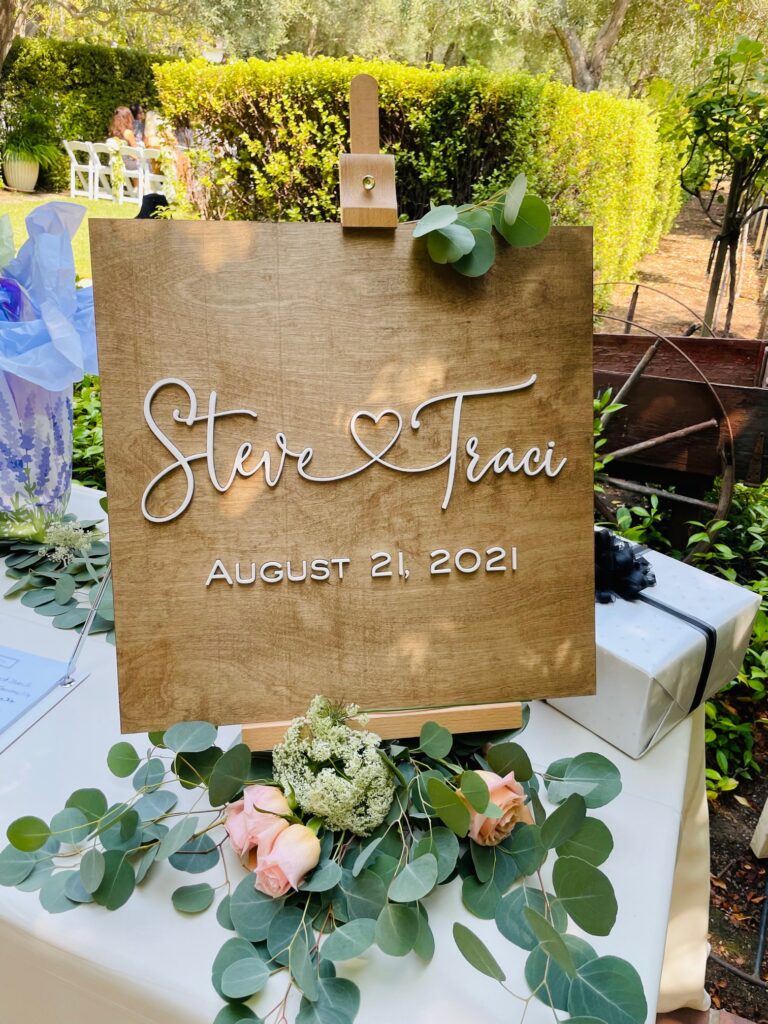 To music by DJ Mark, the bride walked down the aisle on the arm of her son Liam.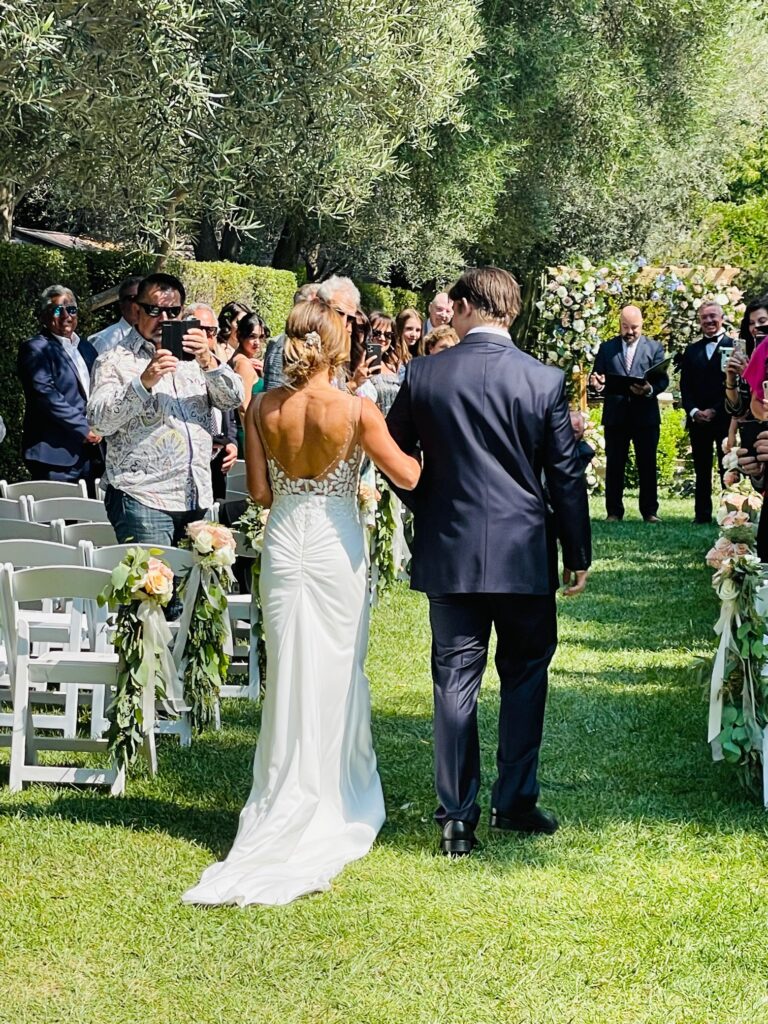 The ceremony was officiated by Chris Thielen (Personal Weddings by Chris) against the backdrop of an arch covered in a profusion of lavish flowers (by Floral Art and Decor).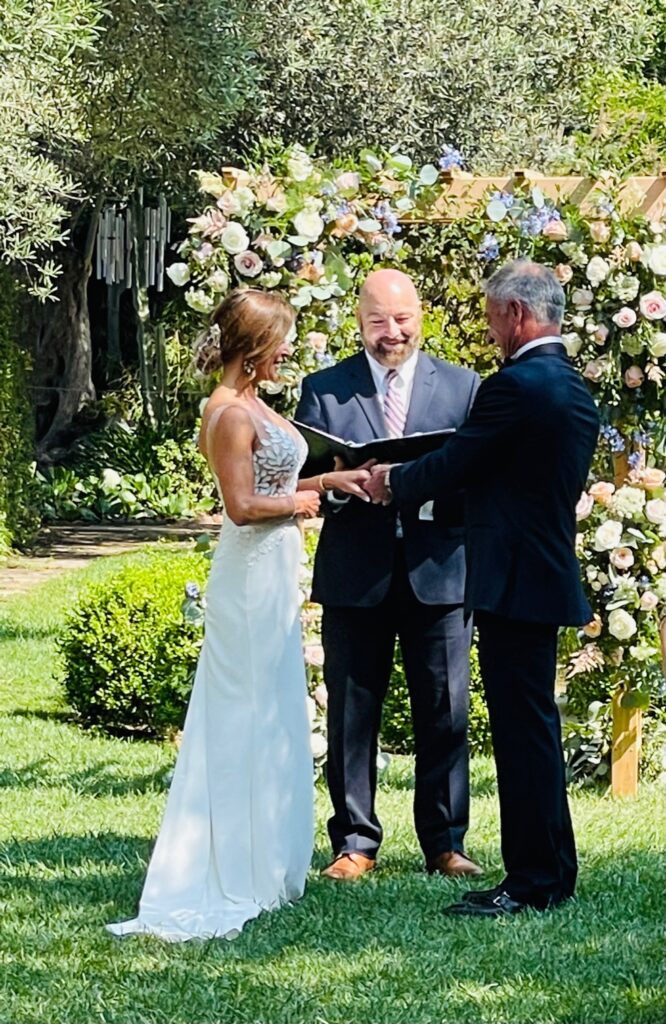 "You may now kiss the bride!"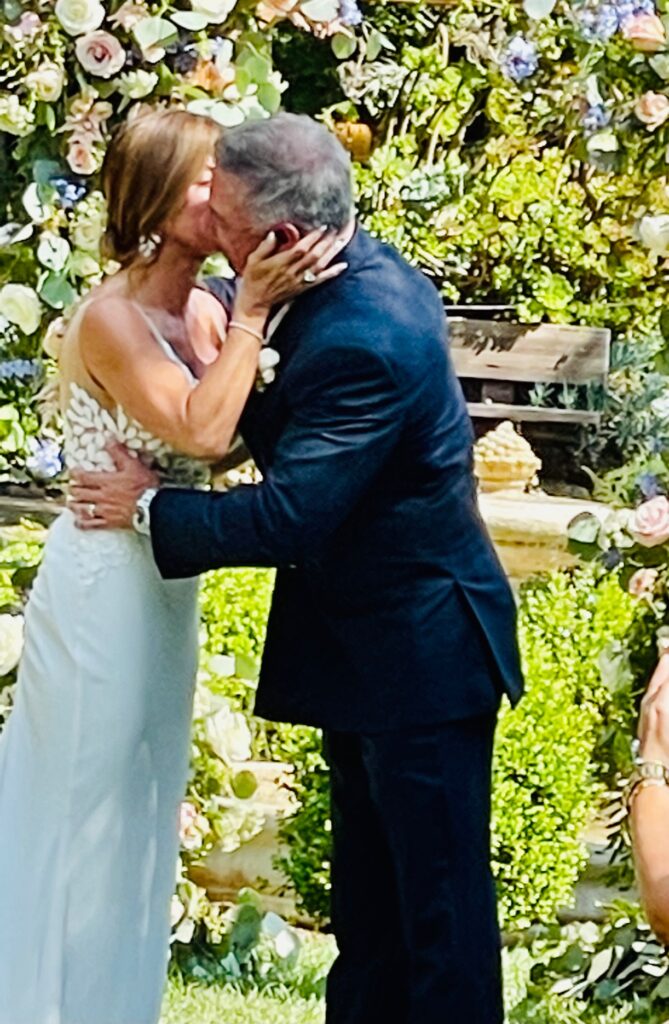 Just married!!
Now it was time for many, many photos with photographer Teresa Halton and her colleague Vitalyi (for the time being, all we have are my iPhone snapshots – wait until you see the professional photos!) – while guests were treated to cocktails and hors d'oeuvres in one of the cozy courtyards of the venue.
The venue staff under the expert leadership of Events Director Tiana Wong and Catering Manager Angel Kleiner had set up beautiful wooden dining tables and chairs and set these tables with elegant gold-tone chargers and flatware (all rental items: Hensley Event Resources).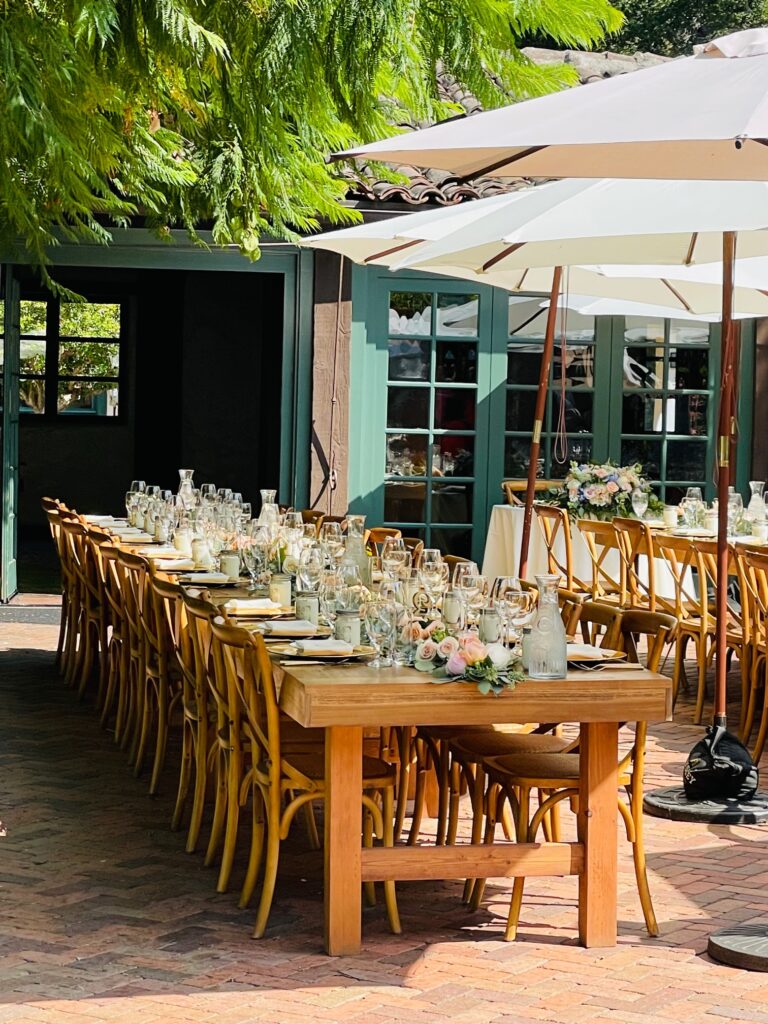 Green garlands with blush roses (from Floral Art and Decor) were placed down the middle of each row of tables for an elegant yet casual effect.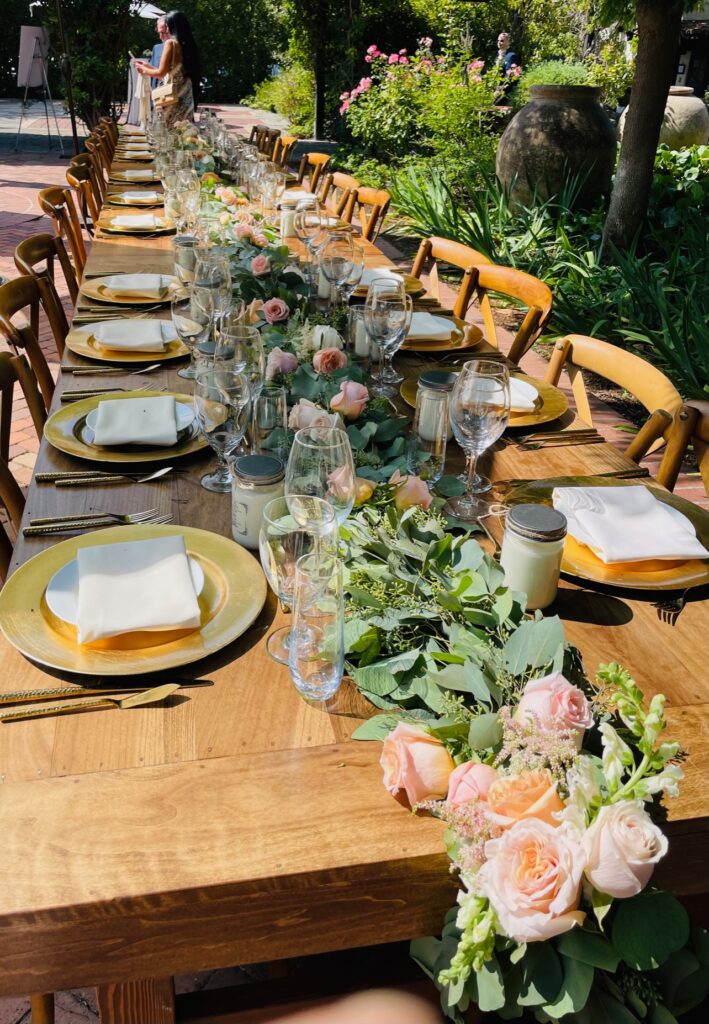 Flowers were simply everywhere…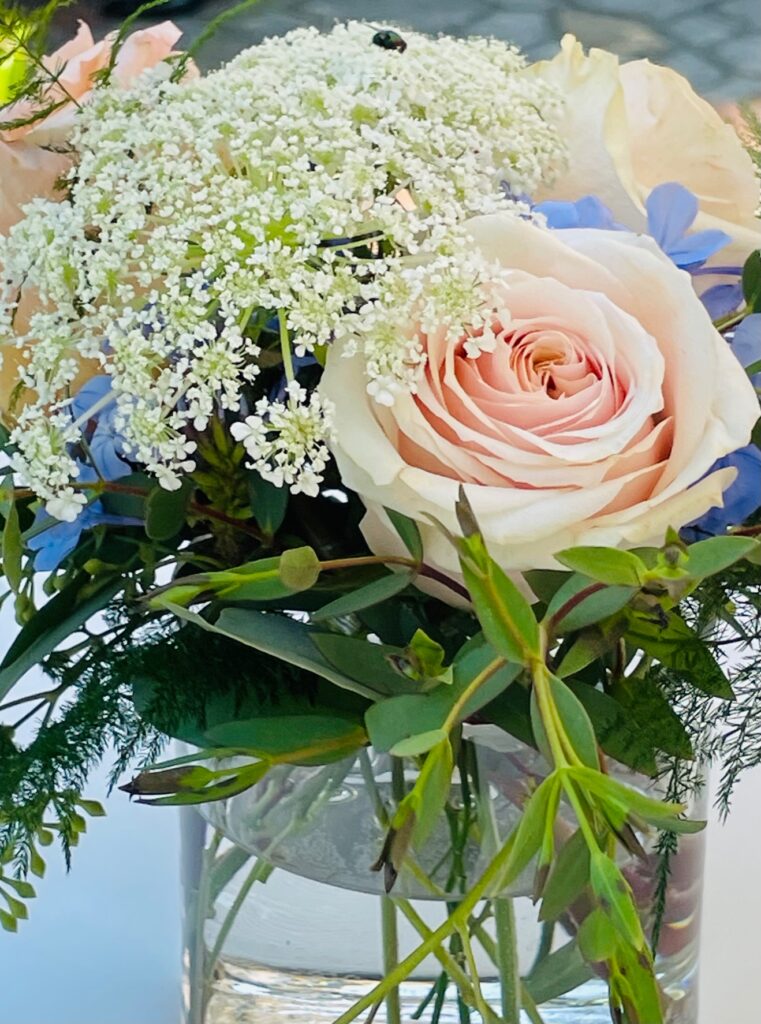 … and of course, the couple's Sweetheart Table received "special treatment!"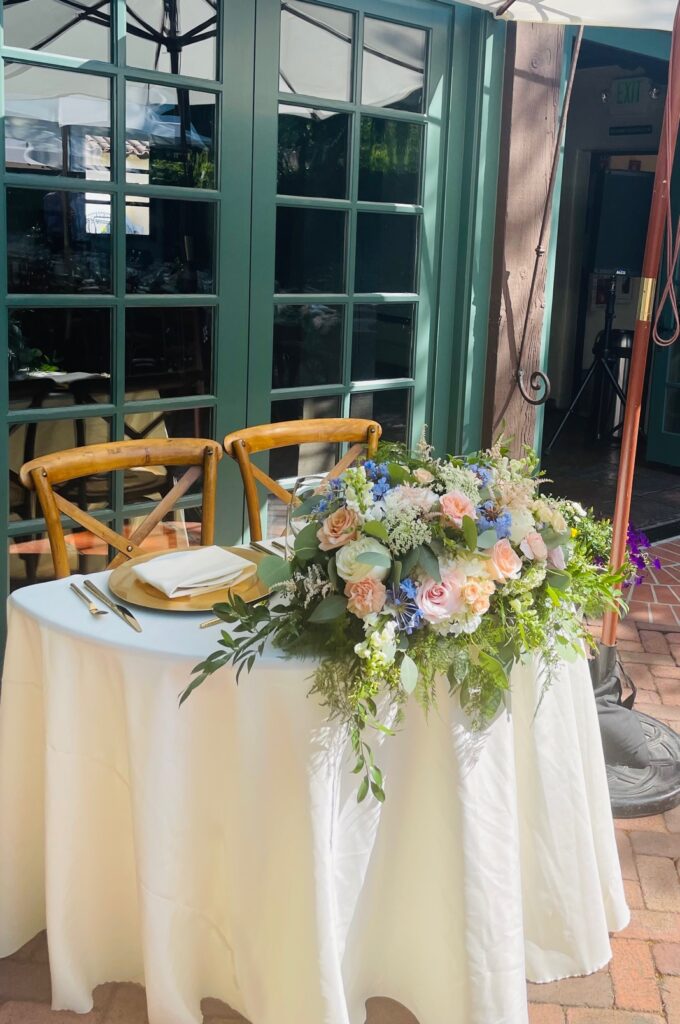 With all preparations in place, the couple came back from their extended stroll on the property to join their guests..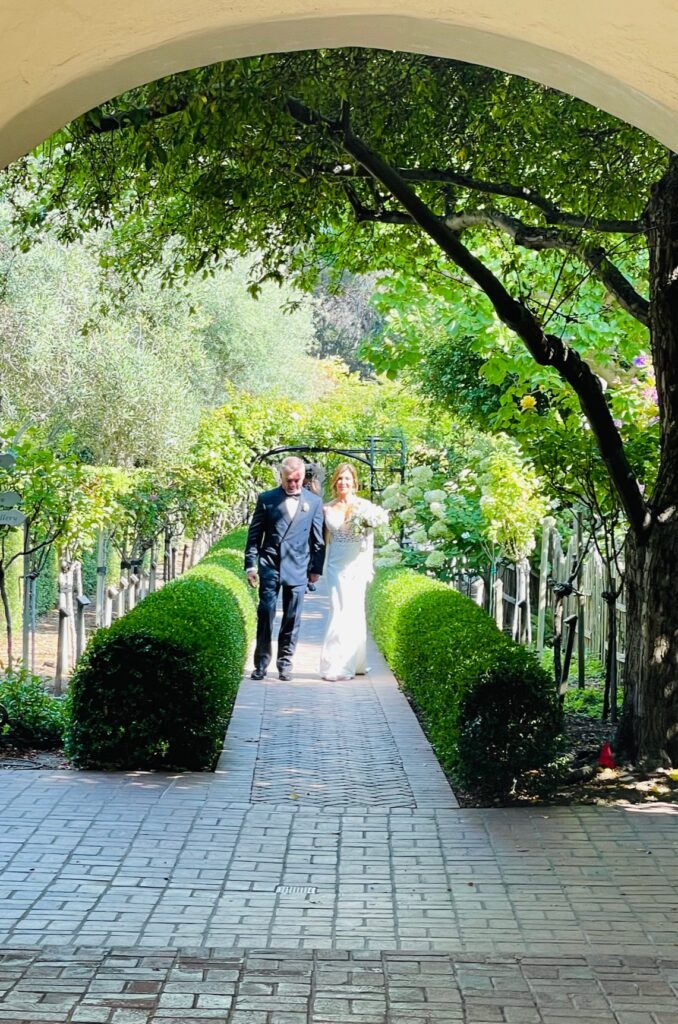 … for a Grand Entrance, dinner, mingling, and after that, for dessert and dancing inside.
Traci and Steve had wished for a photo display honoring their loved ones who are no longer with us, and so we designed a remembrance wall with all their favorite photos, flowers and candlelight.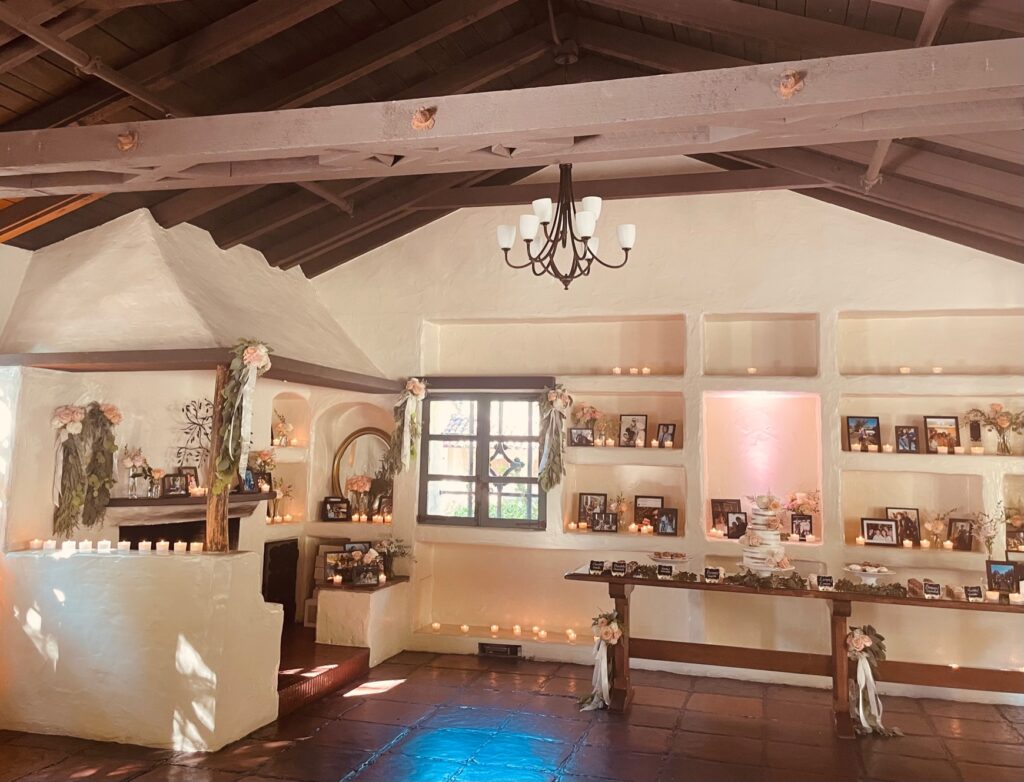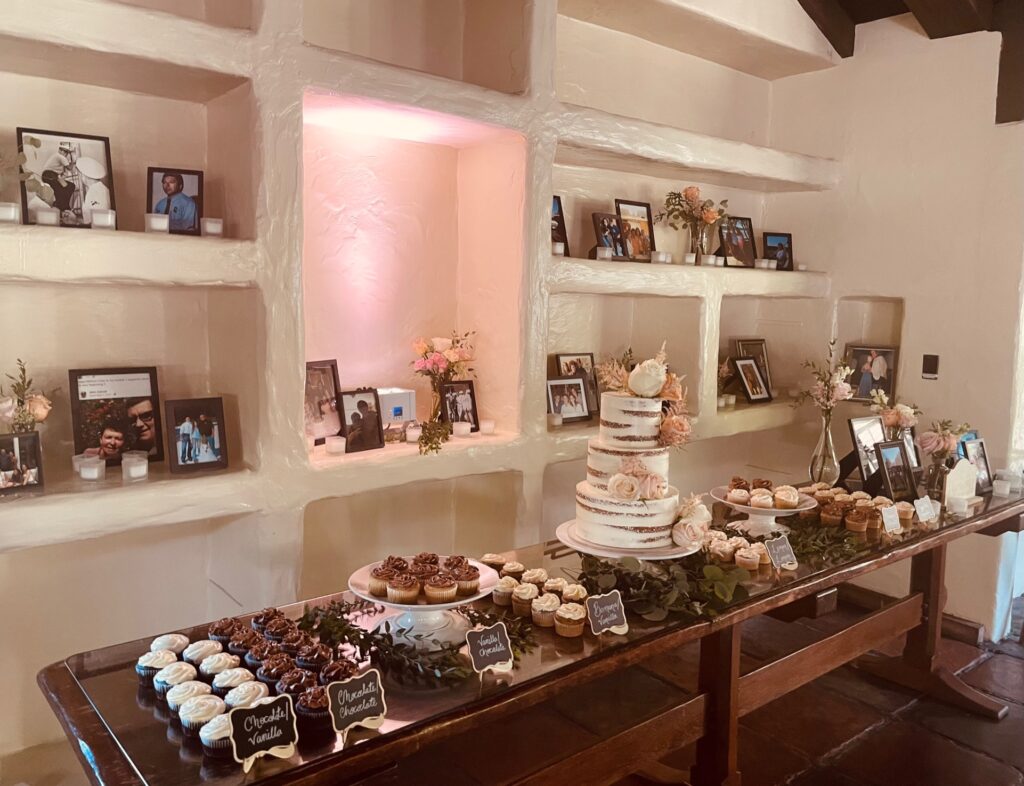 The dessert table was right in front, with vegan cupcakes in a variety of flavors (by Cakes by Ricky). The showstopper was, of course, the "naked cake" (with layers of Tiramisu and banana cream) by Studio Cake, which was as delicious as it was beautiful to look at.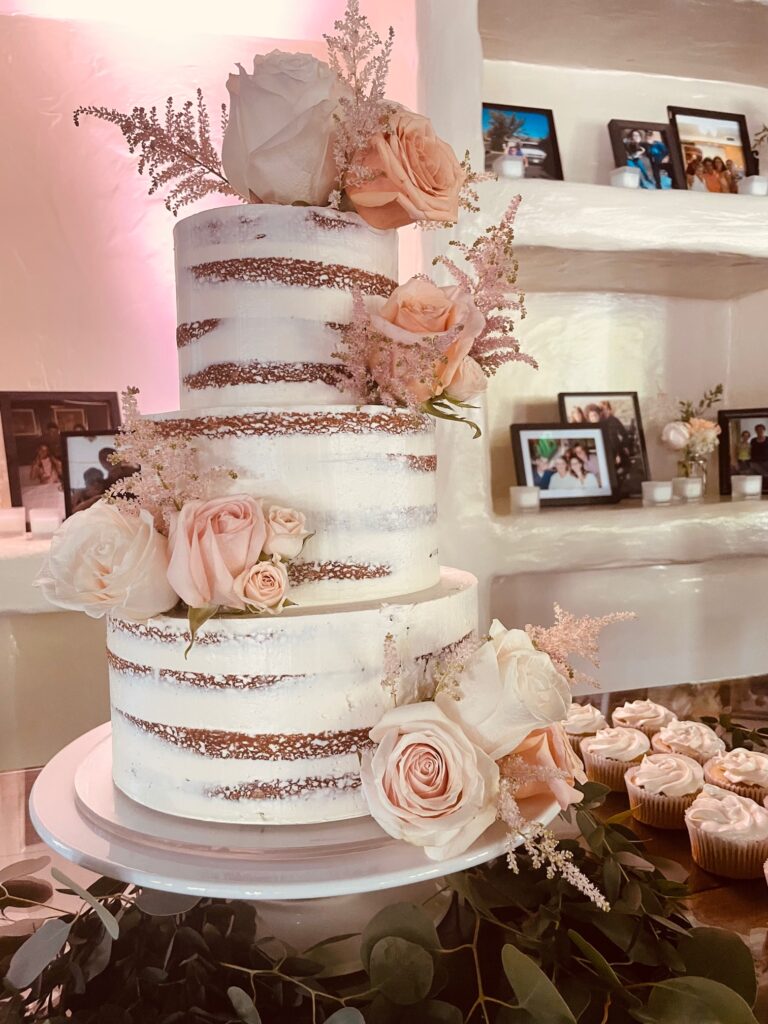 Bride and groom completed their traditional first task as a married couple – cutting the cake – with bravura.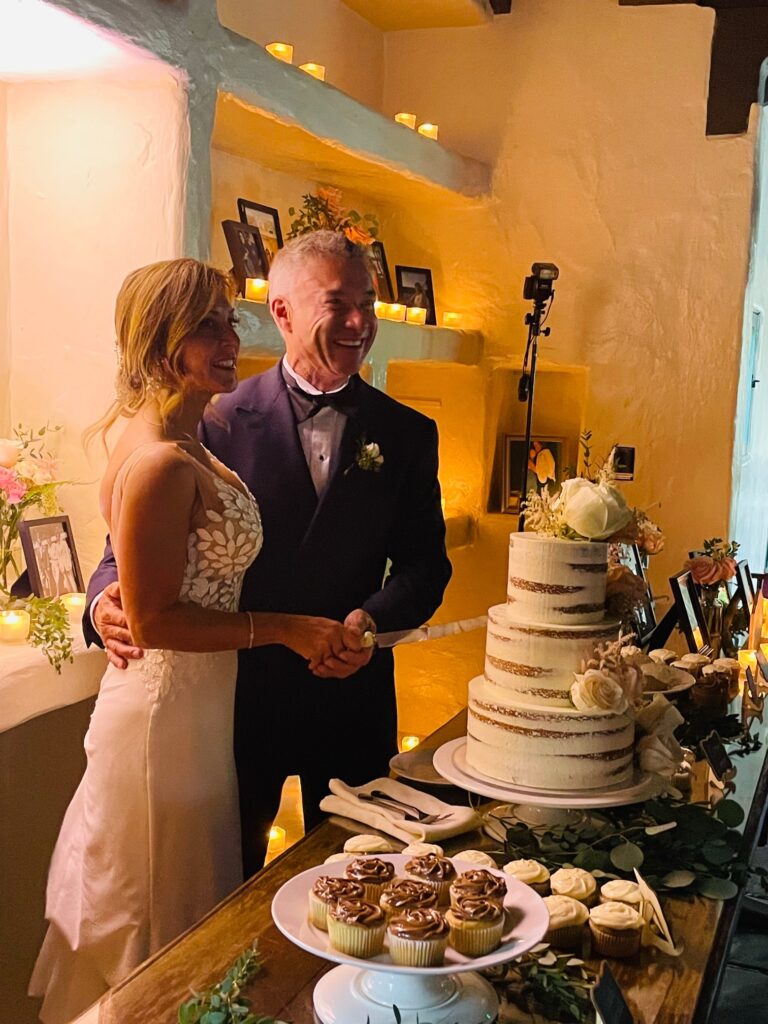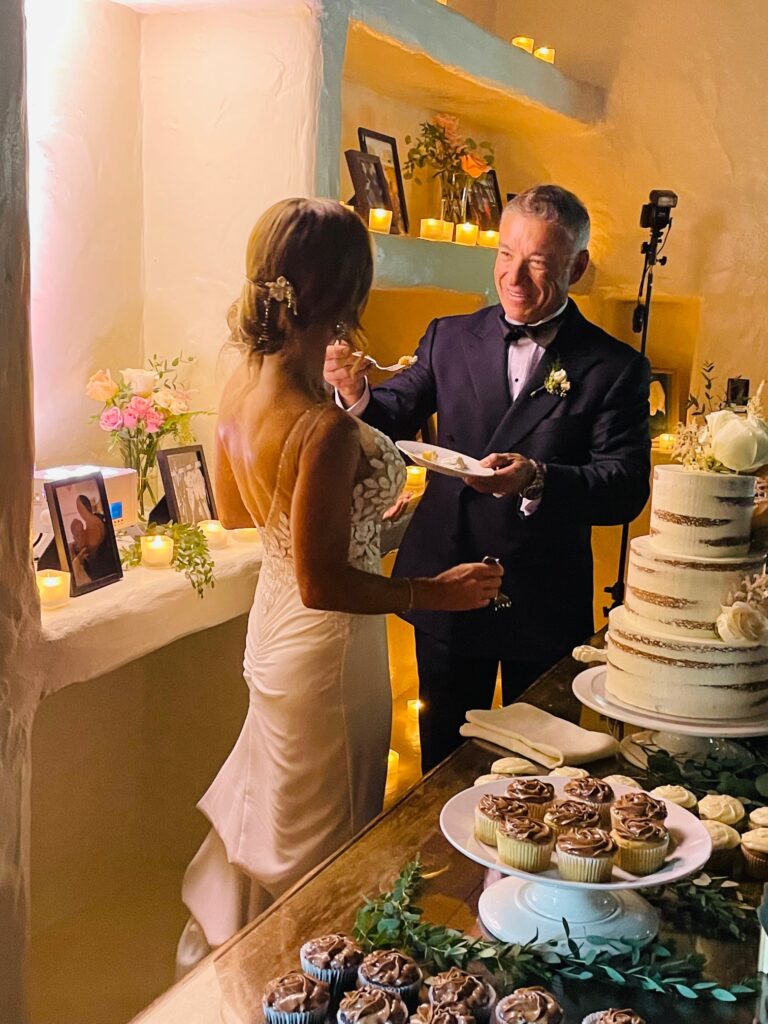 After that, they opened the dance floor with their First Dance to (of course!) "At Last…" by Etta James: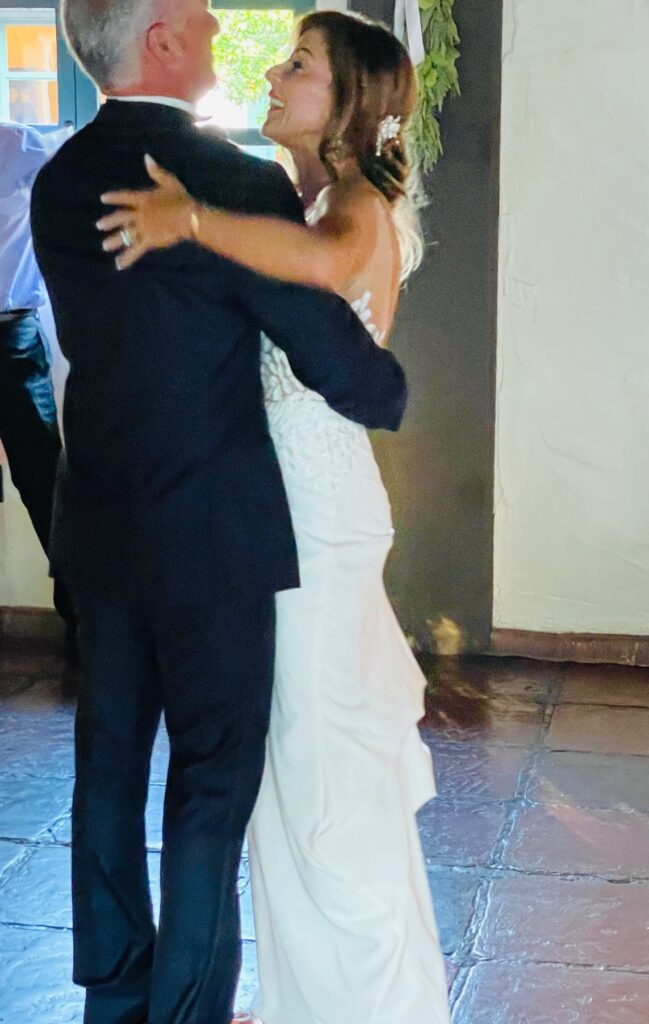 An elegant celebration like theirs simply deserves an equally memorable conclusion – and so the couple left through a tunnel of sparklers…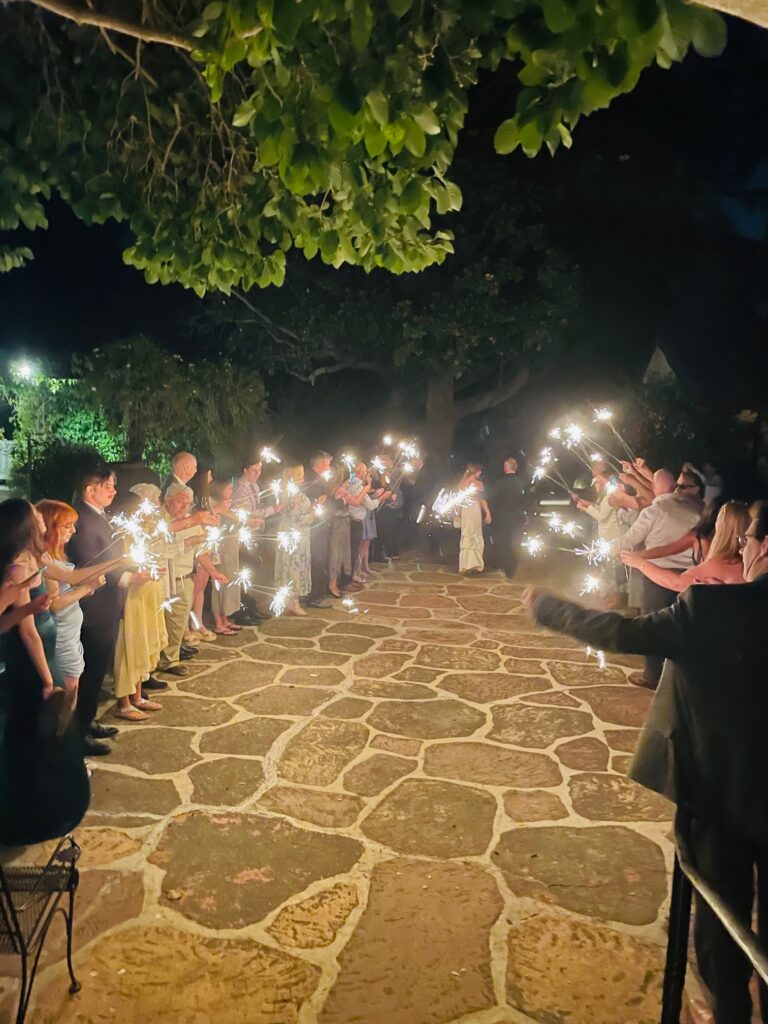 … cheered on by their guests, to their waiting getaway car – a breathtaking vintage Stutz limousine (by Elegant Journey).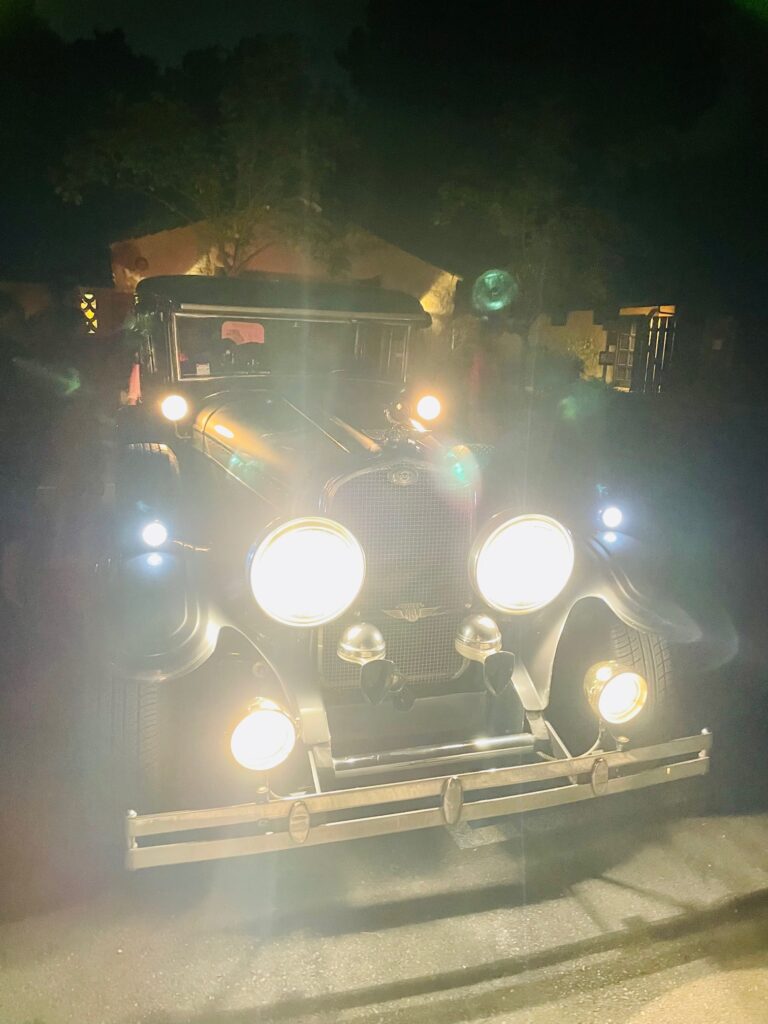 That's what we call a PARTY! Wishing you a lifetime of happiness, Traci and Steve!

<! DL 06/02/12: Added html code for Pinterest Pin It button (appears at the end of each post) > <! DL 06/02/12: Added padding style modifier to the Pinterest html code to align the Pit It button on the page > <! DL 06/02/12: deactivated code by adding two ! in the a and img code lines >