When Diahann and Brent first met, they embarked on a true whirlwind romance. Says Diahann, "That first kiss changed my life; a kiss I will surely never forget." And Brent was so overwhelmed that instead of devising elaborate plans for the perfect proposal, just did it at his first visit to meet her family. Talk of being carried away… Getting married was the natural next step for them, but – super-busy professional people that they both are – the execution of that plan wasn't quite as easy. "The day doesn't have enough hours to get it all done," was what I heard from Diahann all the time while I was planning with her and for her. The two wanted an elegant, urban, and distinctive setting for their Great Day, and they found it in the hip Le Meridien Hotel in  San Francisco's Financial District.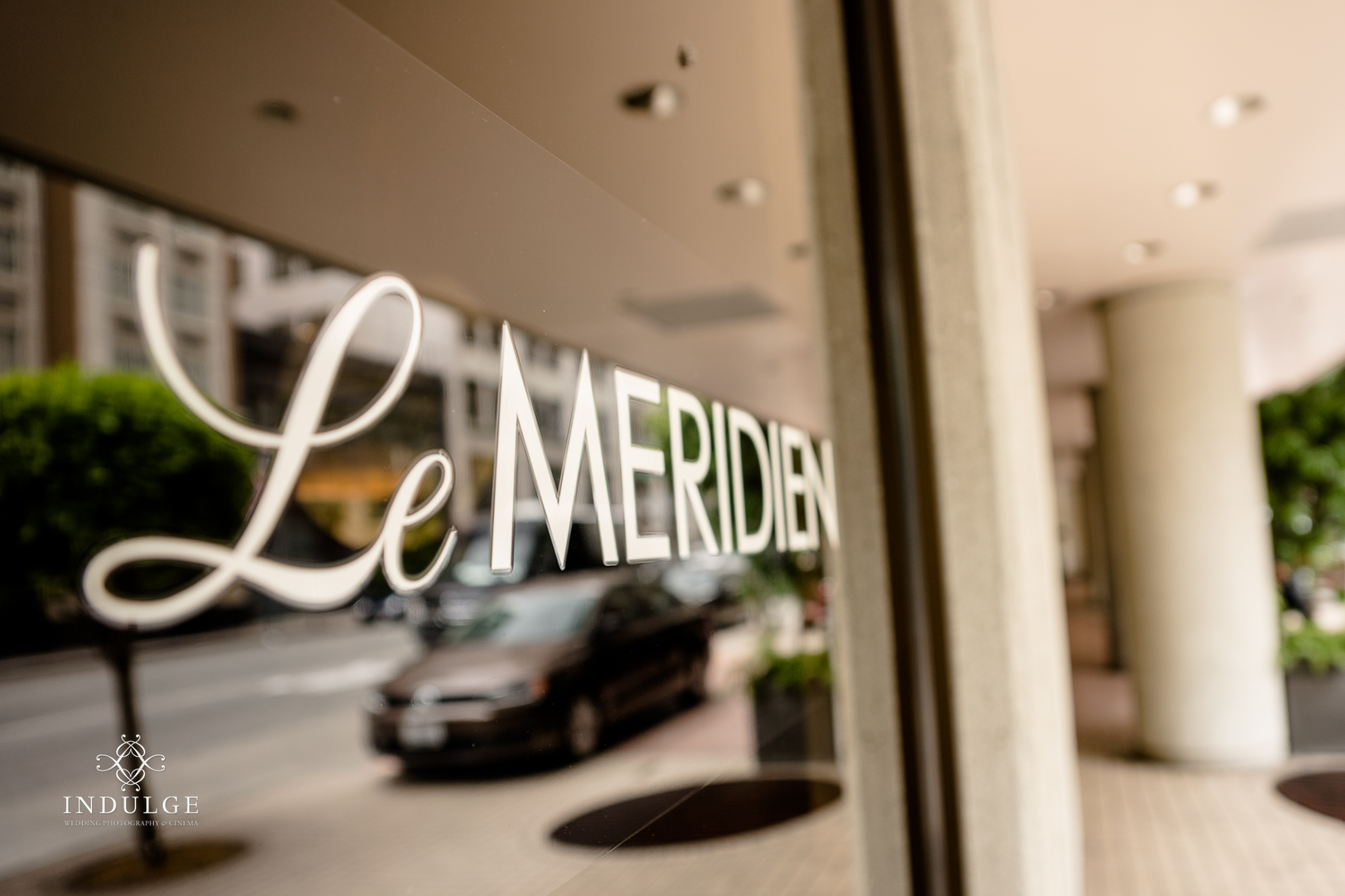 Stark modern architecture in clean lines forms an impressive framework in front of million-dollar-views of downtown San Francisco. For their wedding, the two "headquartered" in the Penthouse Suite, perched on the 24th floor with floor-to-ceiling windows,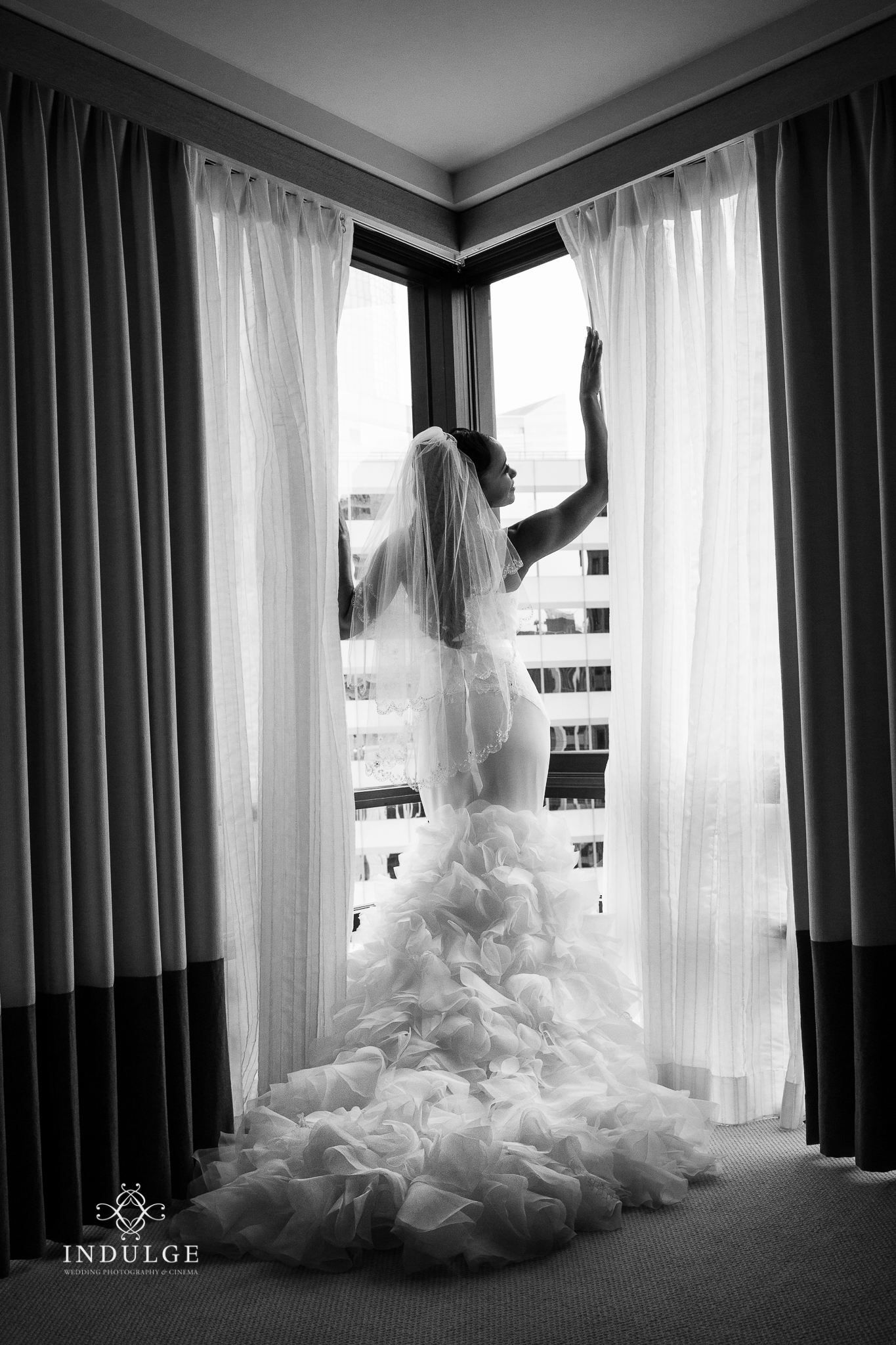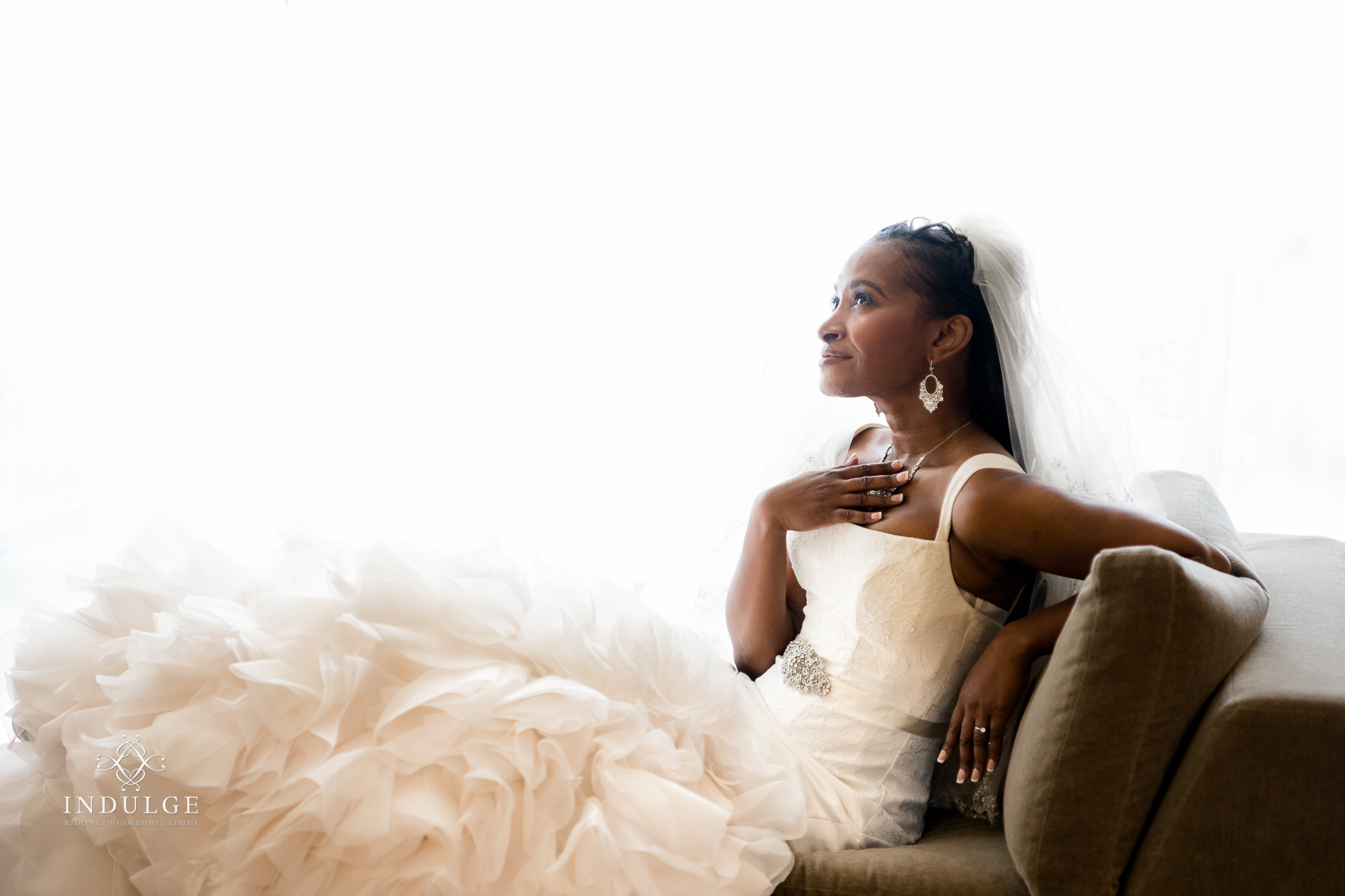 and Diahann's family, after a long trip from various East Coast locations, enjoyed the luxury of the Meridien as well. Speaking of family: that is perhaps one of the most striking aspects of this beautiful couple – their closeness to their family members and best friends, the warmth that surrounds them. So, all urban elegance aside, this was as much a celebration of family and friendship as a fancy party.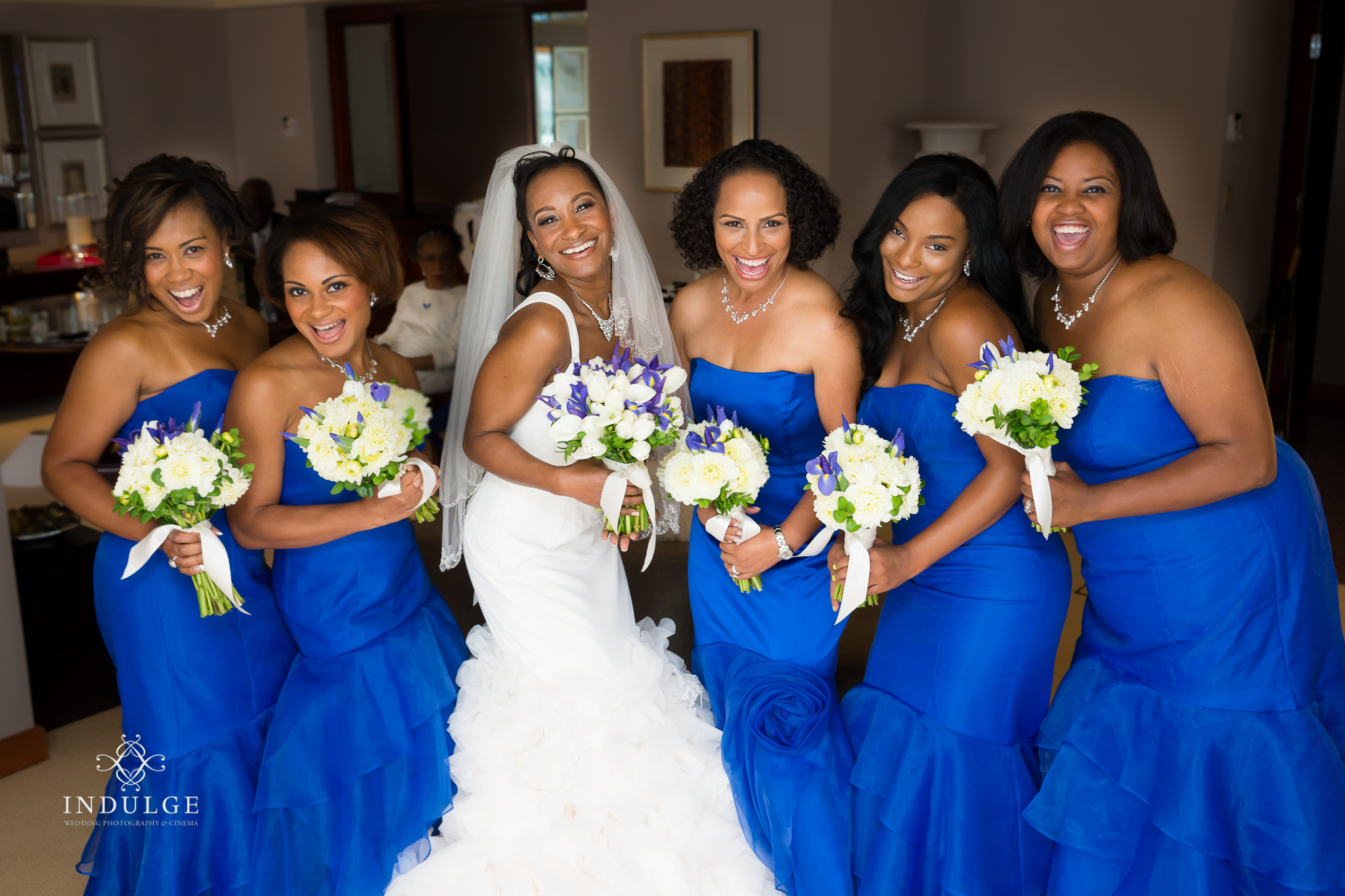 How to bring both together? Diahann had ideas, and together we made them a reality! The ceremony was held on the second floor of the Meridien, decked out with flowers, an arch, and blue-shining carved lanterns on stanchions along an aisle sprinkled with white and blue petals. The silver shimmer of the elegant chiavari chairs brought in the third element of Diahann's wedding colors: white, blue and silver.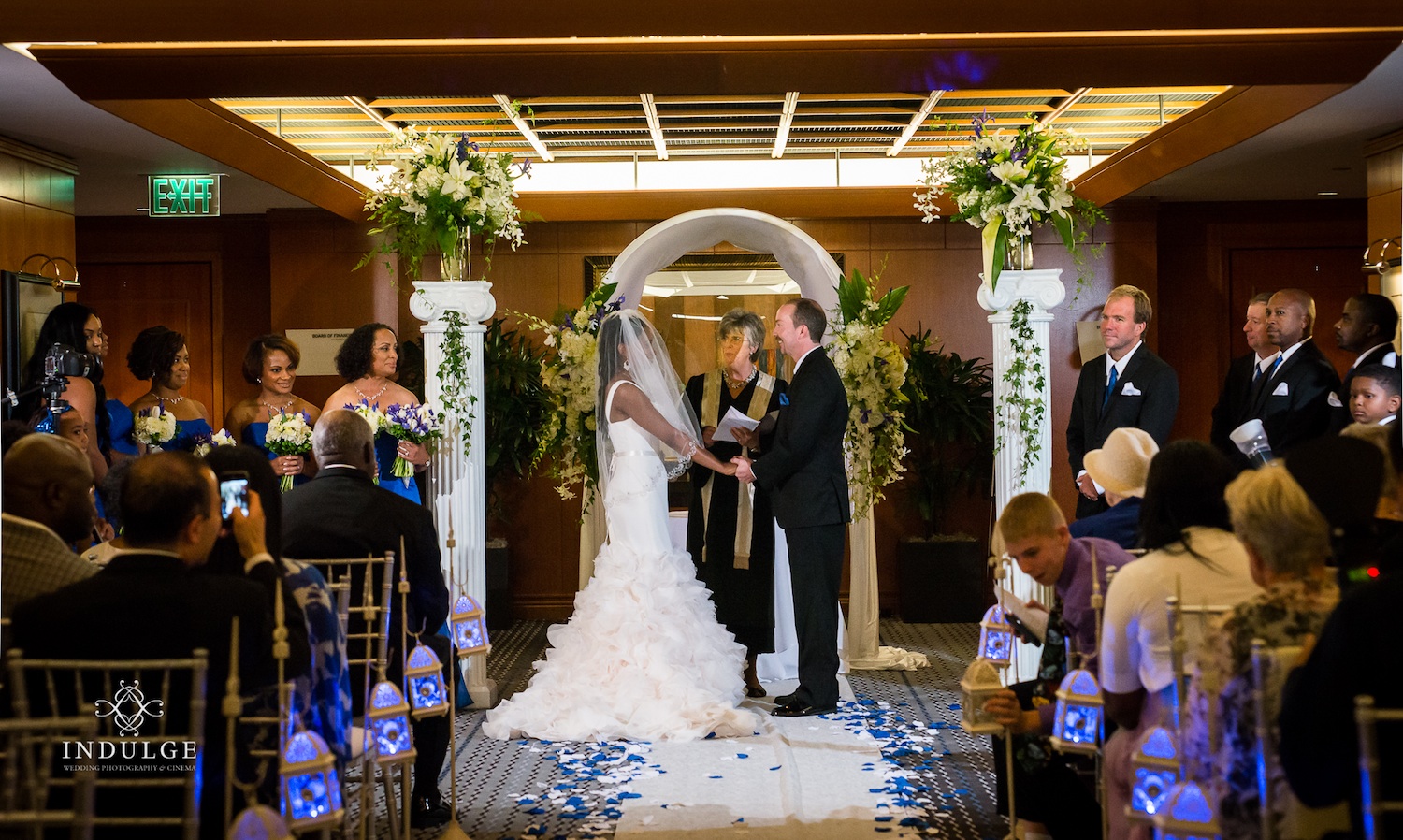 An arch decorated with arrangements of white hydrangea, white orchids, fragrant white Stargazer lilies and ivy, accentuated with blue iris was the stunning focal point for the ceremony officiated by Rev. Kathy Wilkerson of Heartfelt Weddings.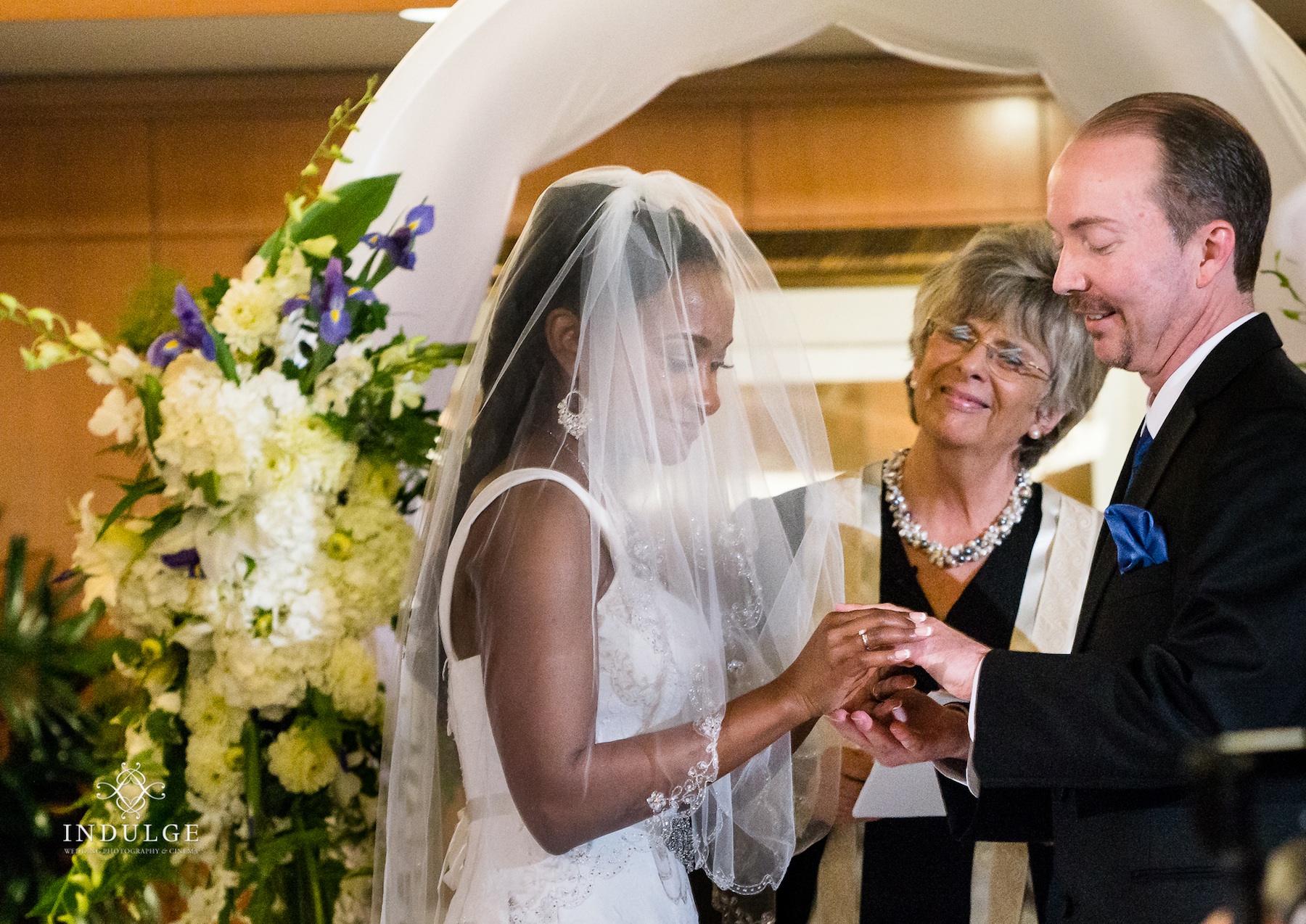 The bride – radiant in a Vera Wang dress and lace-edged veil,  walked in on her father's arm to the sounds of Schubert's Ave Maria, performed by the Garden Strings Trio. The bridesmaids all wore cobalt blue dresses of varying style, and the groom and groomsmen were outfitted with matching neckties and pocket squares. The bridal bouquet and bridesmaids' bouquets rounded out the unified look –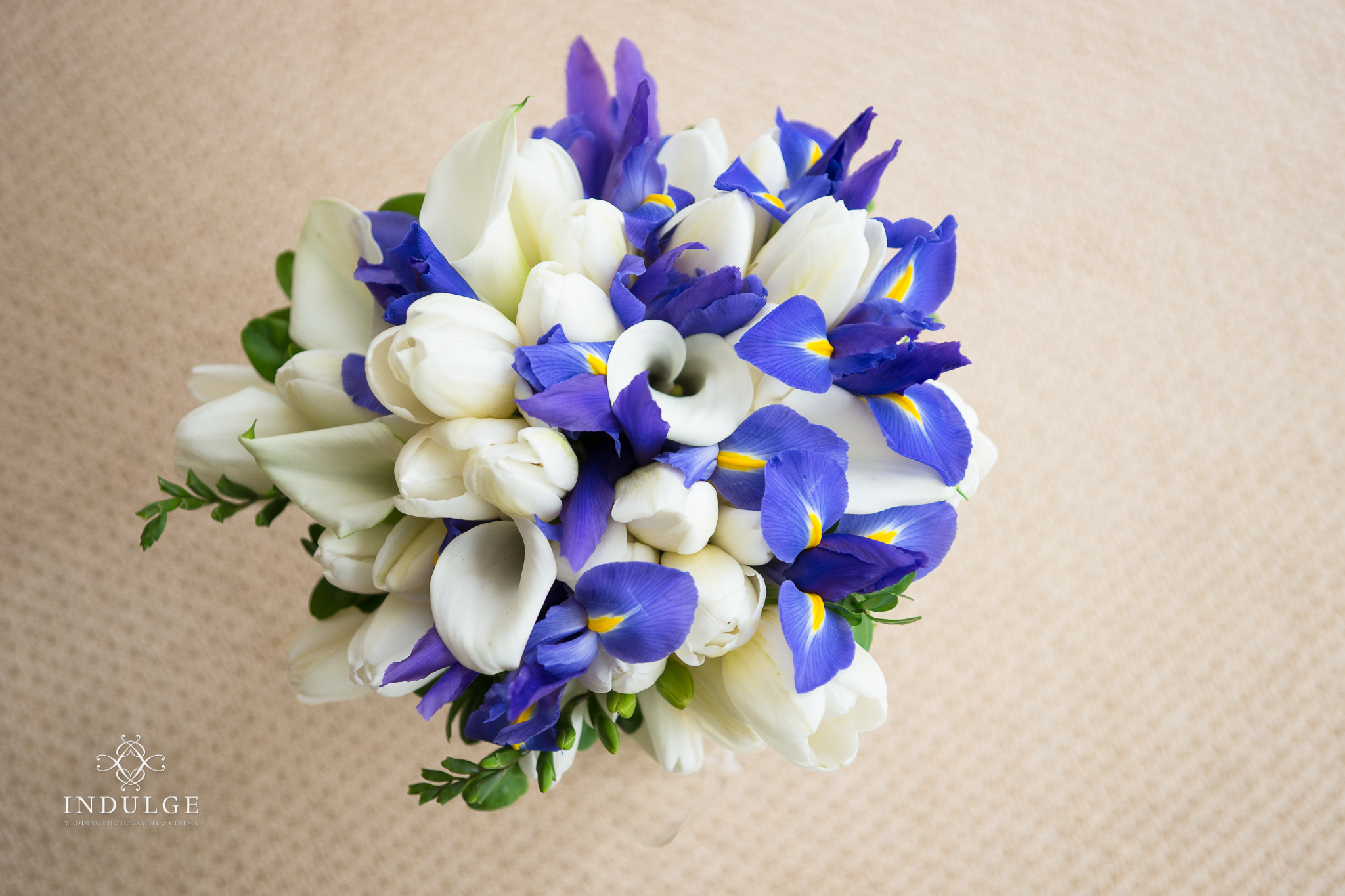 white hydrangeas, orchids and blue iris in silk cuffs by Petals Floral Boutique.
Following their "I Do's," the new "Mr. and Mrs." danced down the aisle, followed by the whole bridal party, also dancing – and that joy would set the mood for the rest of the evening! And every moment was recorded on photo and video by Indulge Studios.
For them, it was now "photo time"…
The stark architecture of the Meridien Hotel formed an expressive backdrop for Indulge Photography's staged group photos…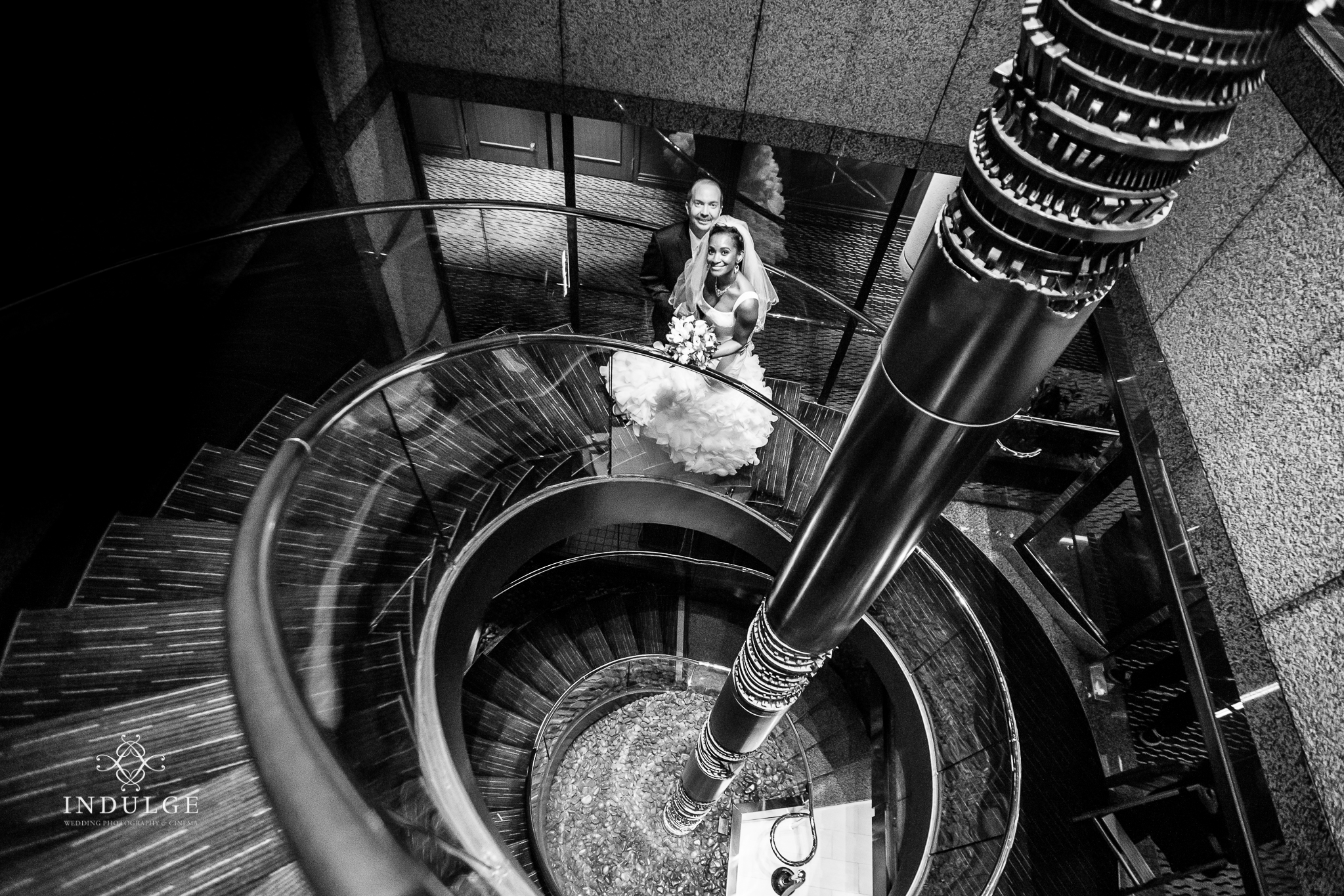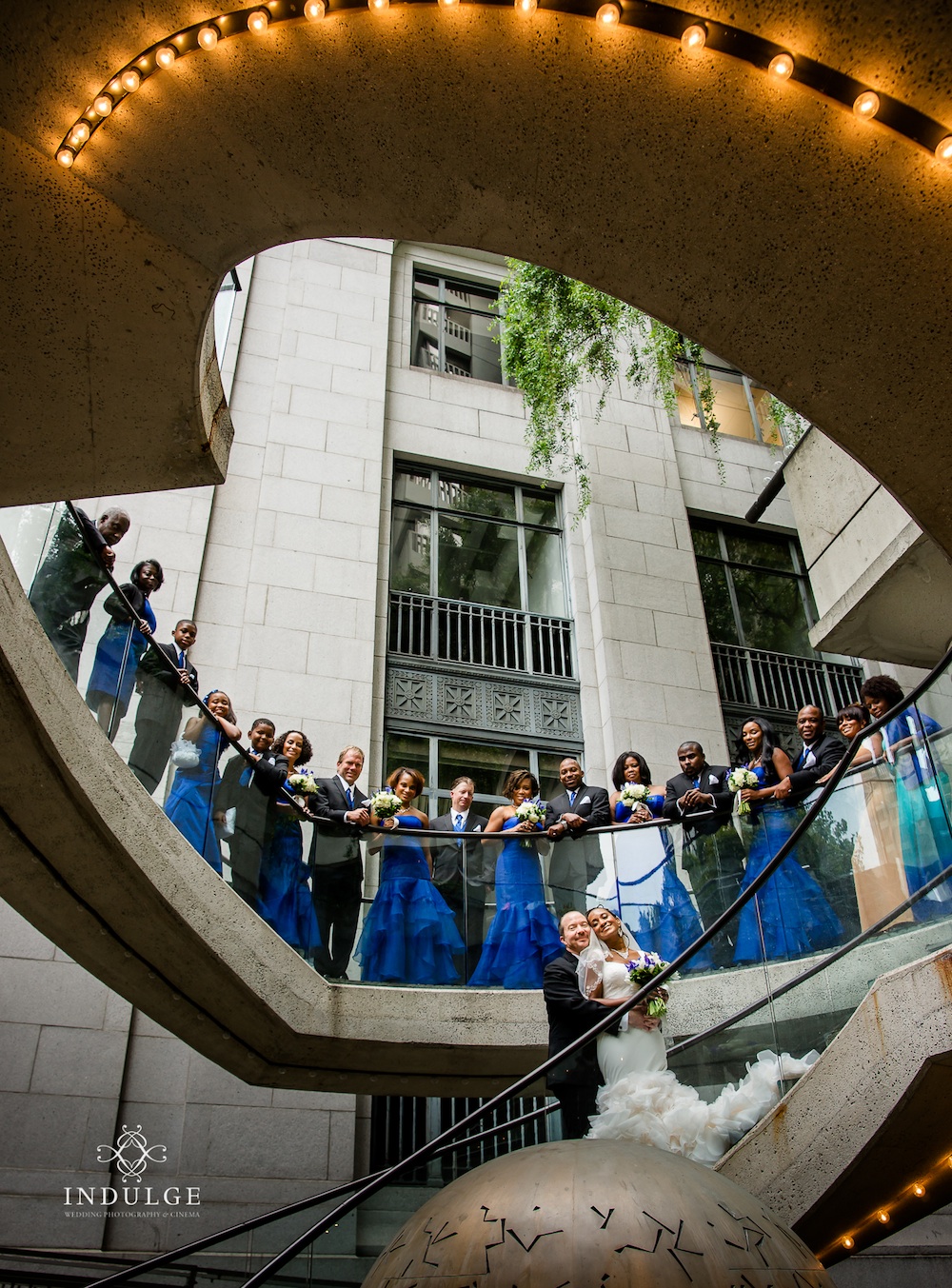 … but eventually the couple needed just a quiet moment to themselves!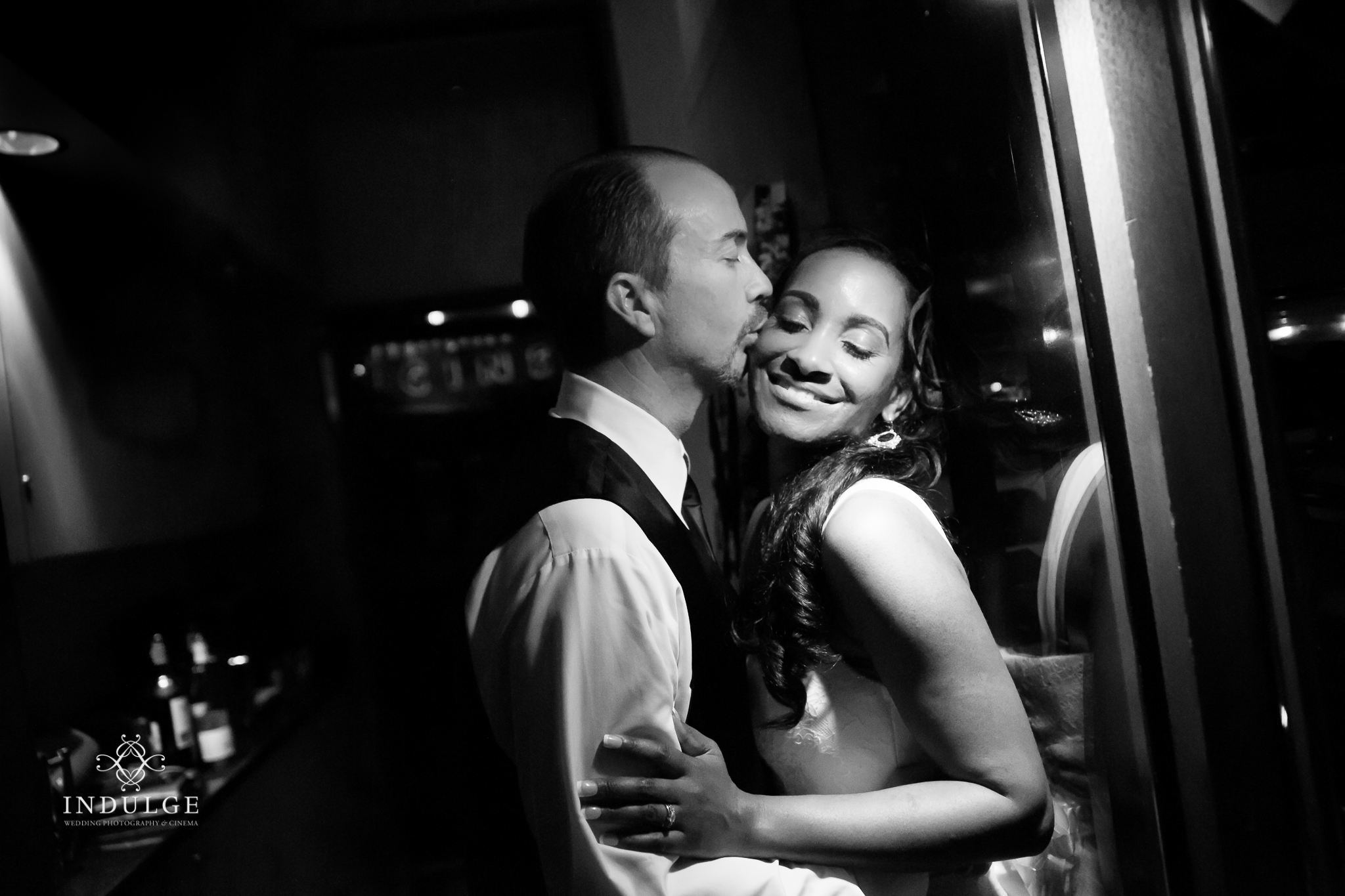 And then, after cocktail hour on the patio, guests enjoyed a lavish dinner in the Park Grille Restaurant,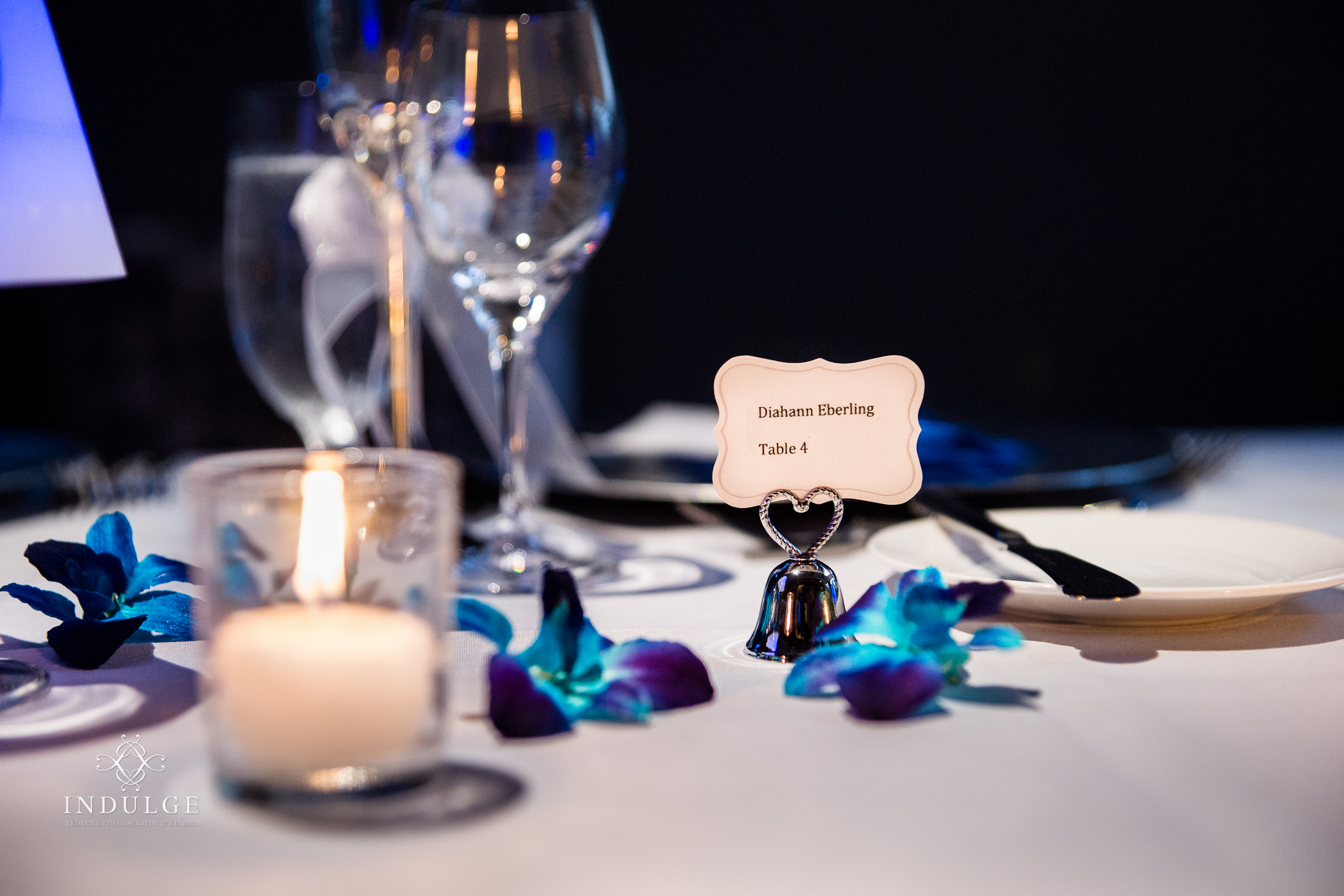 all glowing in blue from the sparkling centerpieces that the bride had envisioned and I had put together – dripping crystal chandeliers over tall glass cylinders adorned with sequined cuffs and filled with blue fairy lights: just have a look for yourself: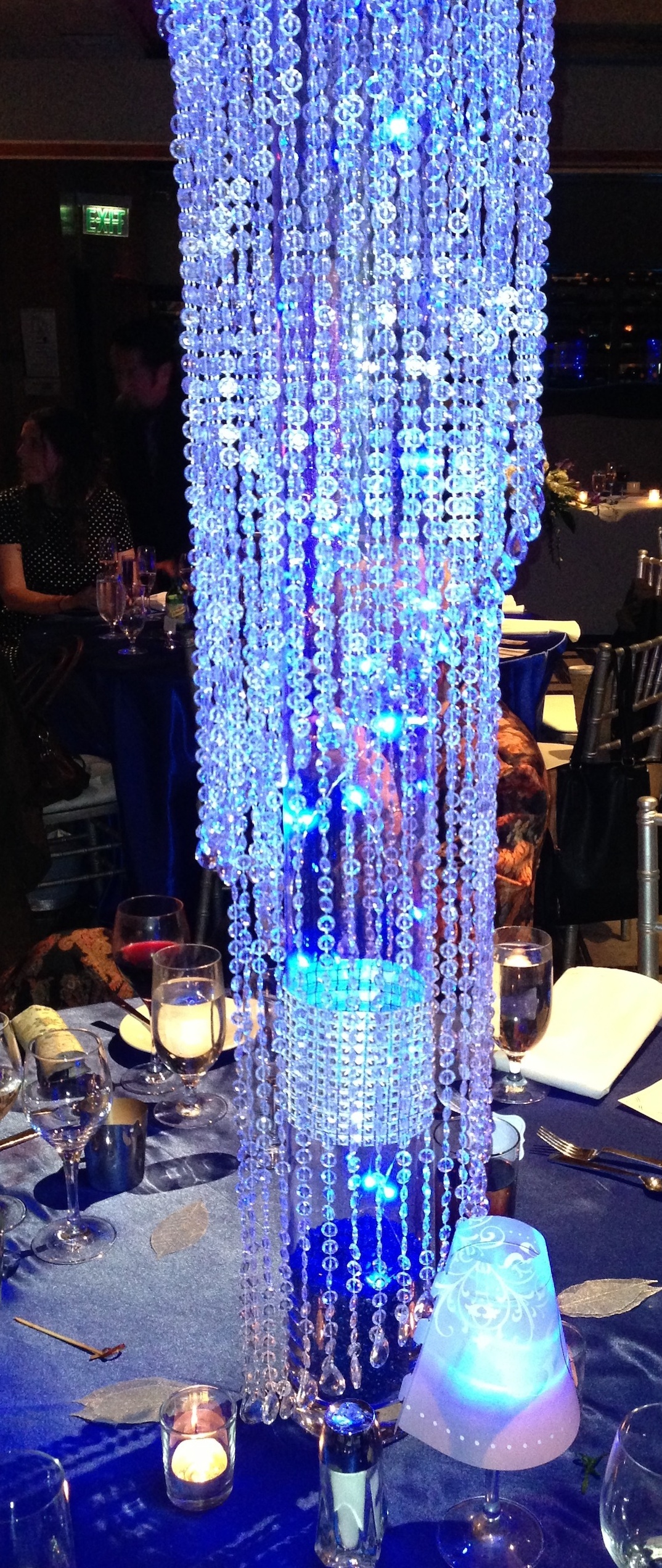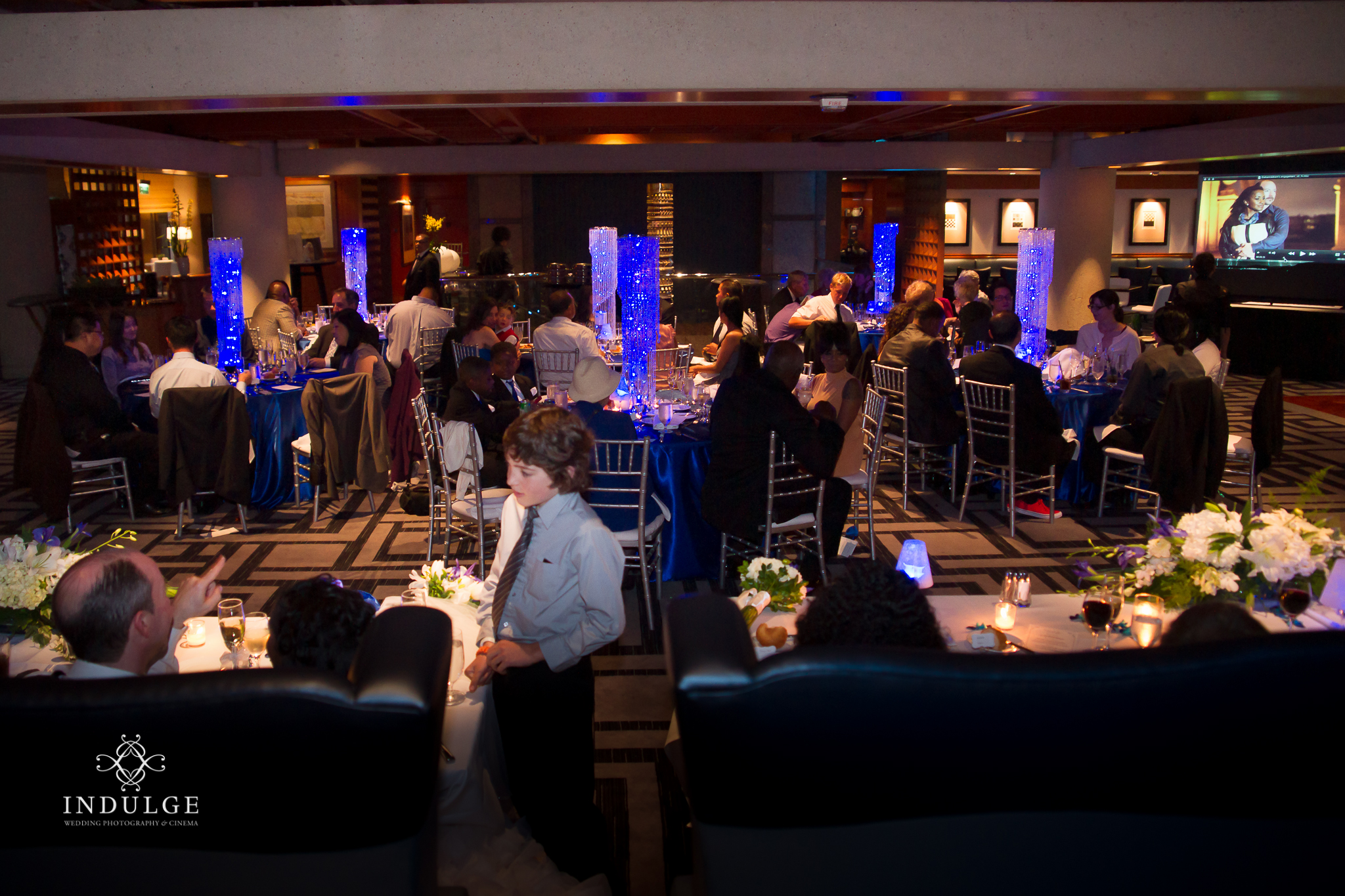 And then: the cake! A little masterpiece by Katrina Rozelle, the cake design artfully complemented the bride's stunning dress, from bodice to ruffled skirt, and even displayed the groom's attire, right down to his blue necktie!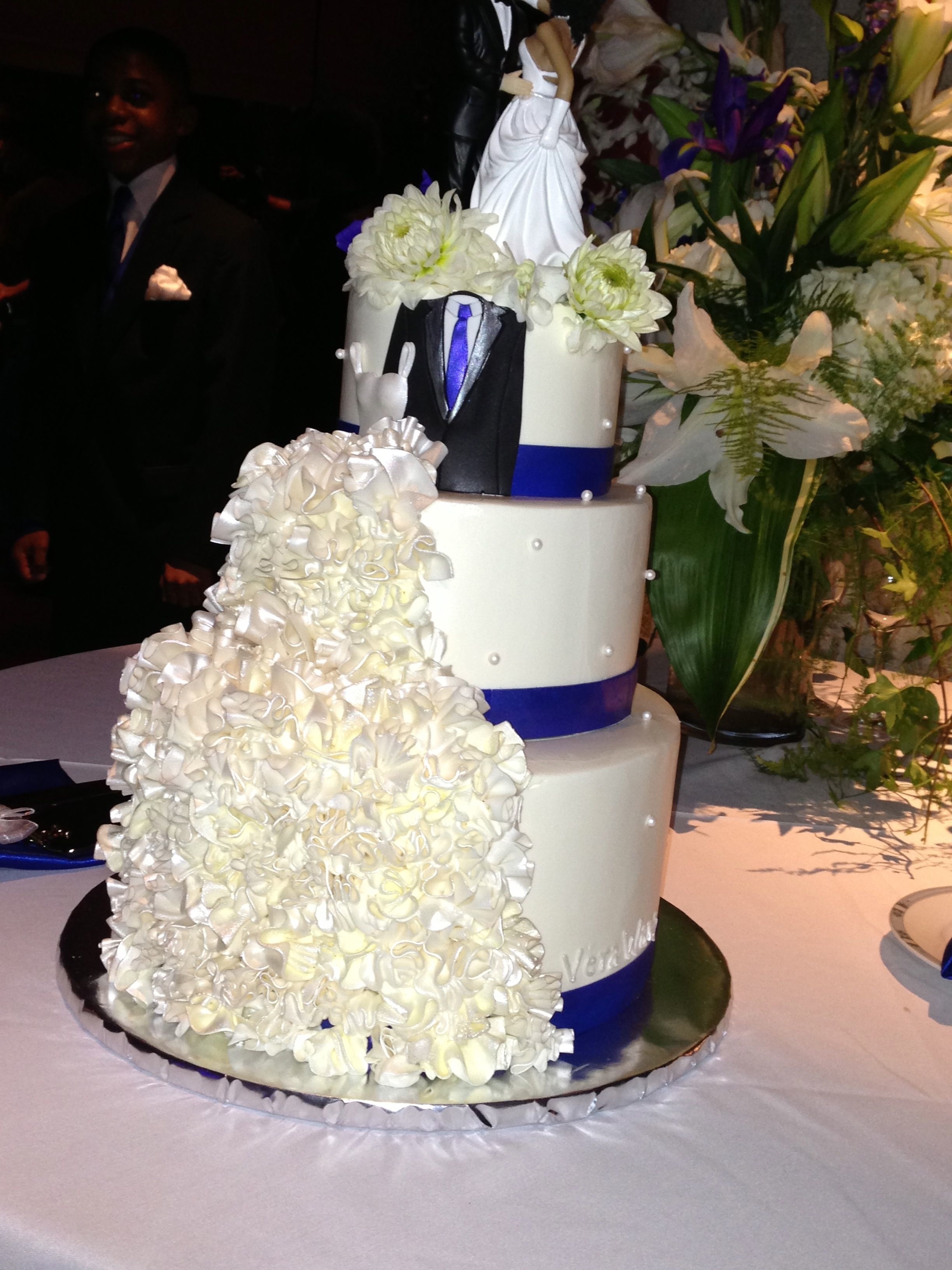 Then it was time for the couple's First Dance – and they kept on dancing to DJ Steve Perry's music long after the last guests had left, just the two of them… and Steve kept playing for them until their Last Dance: "Unforgettable…"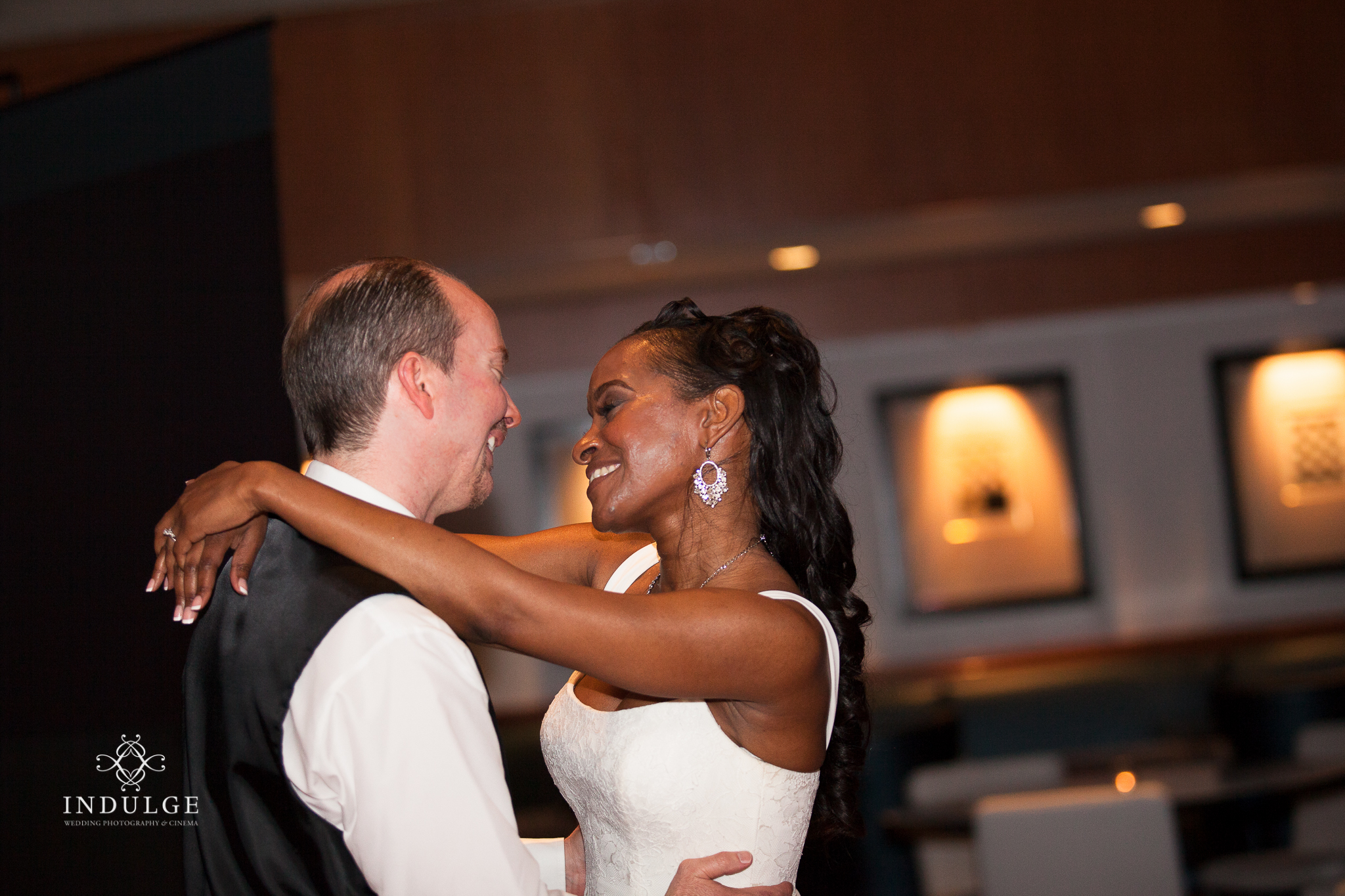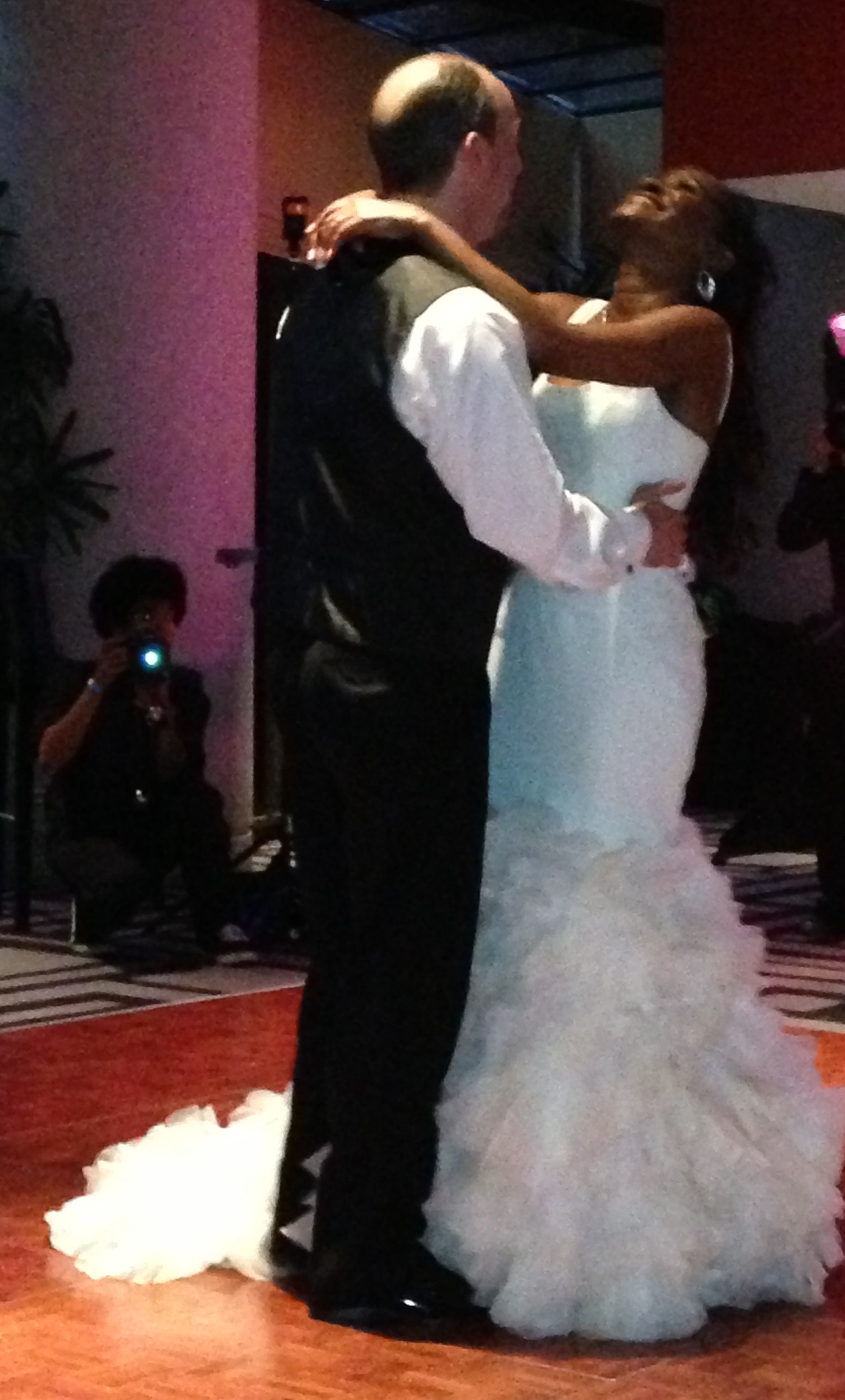 And that's what it was, unforgettable! Congratulations, Diahann and Brent, and all our good wishes on your way to your future together!

<! DL 06/02/12: Added html code for Pinterest Pin It button (appears at the end of each post) > <! DL 06/02/12: Added padding style modifier to the Pinterest html code to align the Pit It button on the page > <! DL 06/02/12: deactivated code by adding two ! in the a and img code lines >