When Joan and Jim approached my company, A Day Like No Other, for help with planning their wedding, one thing was immediately clear: this would be a very unusual wedding planning project, indeed! For starters – only 8 weeks to go. Then: wedding day would not be a weekend day, but a Monday. The bride would not be wearing white. There would be only 3 guests – the couple's adult children. No DJ, no dancing, but an extended photo tour through San Francisco. And so it went…
I was immediately on board, and, given the short time frame, jumped  into planning right away. What had initially looked like an easy, super-small project soon turned out to be trickier than expected. A dinner reservation in a San Francisco restaurant with a view? Not on a Monday – all leading restaurants are closed! The solution? An intimate dinner in the couple's 21st floor suite at the Fairmont, with, hands down, the best views in the City. Wedding flowers – a gift from the couple's rose-growing friends in Kenya – were supposed to arrive in time for the wedding, but the logistical challenges proved insurmountable. In the nick of time, we had to switch to "Plan B", and florist Janelle Jacky-Litt of Green Petal Designs worked her magic on beautiful "replacement" roses very similar to those that didn't make it to San Francisco. In short – the proverbial devil was in the details, and I had my hands full every single day of our 8-week planning phase!
Time flew by, and yesterday was Joan's and Jim's Great Day – expected to be an overcast, cold "SF summer" day, but turning out to be glorious and sunny.
As their "home base," the couple had chosen a suite in the tower of the San Francisco Fairmont Hotel,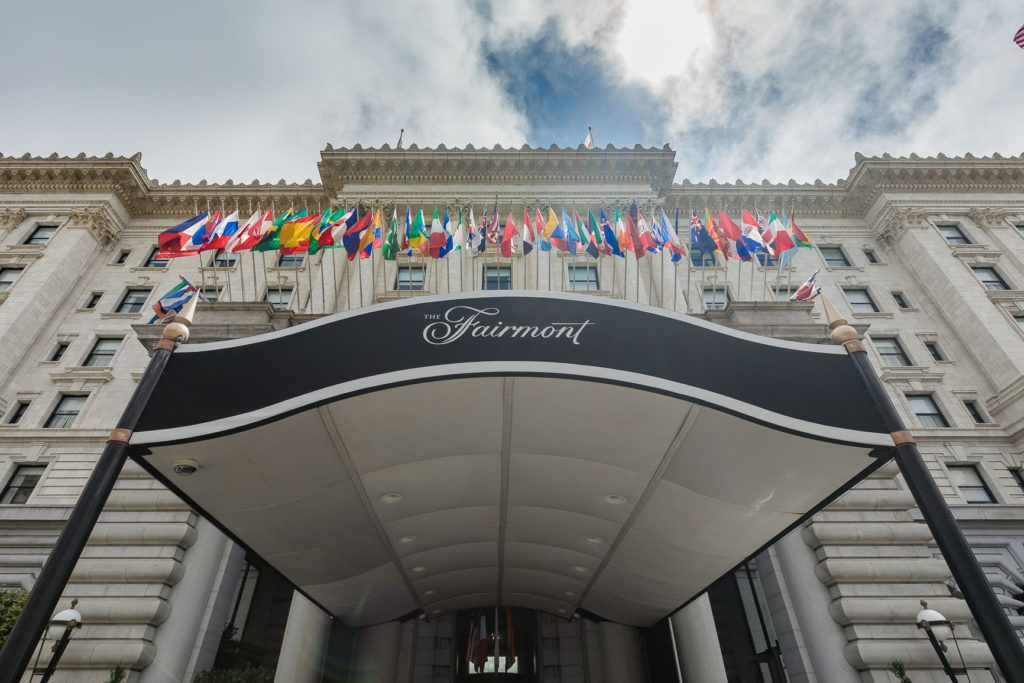 with 270 degree views of the City, the Bay and three bridges…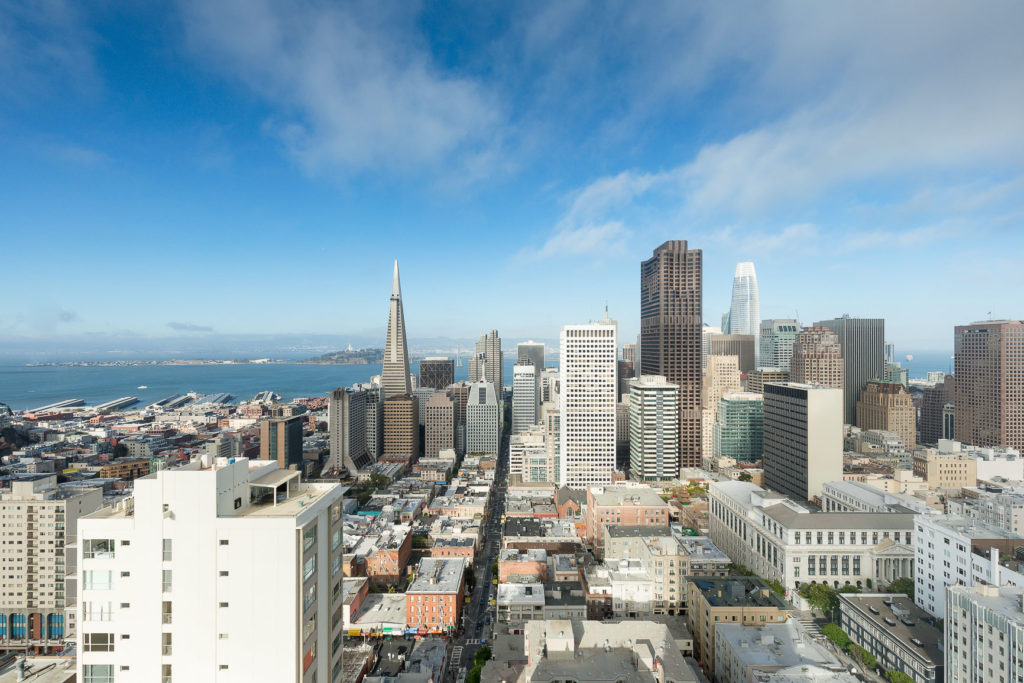 For Joan and her daughter-in-law Jordan, the day began with makeup application by Adelina Eidlman of Glam by Adelina who had an opportunity to show off the whole spectrum of her abilities with a bride who is rarely wearing makeup and asked for a natural look – and her daughter-in-law who was going a little more glamorous. The result? Fabulous in both cases!
The bride then slipped into her wedding dress – a soft lilac formal dress by St.John accompanied by sparkly Jimmy Choo heels –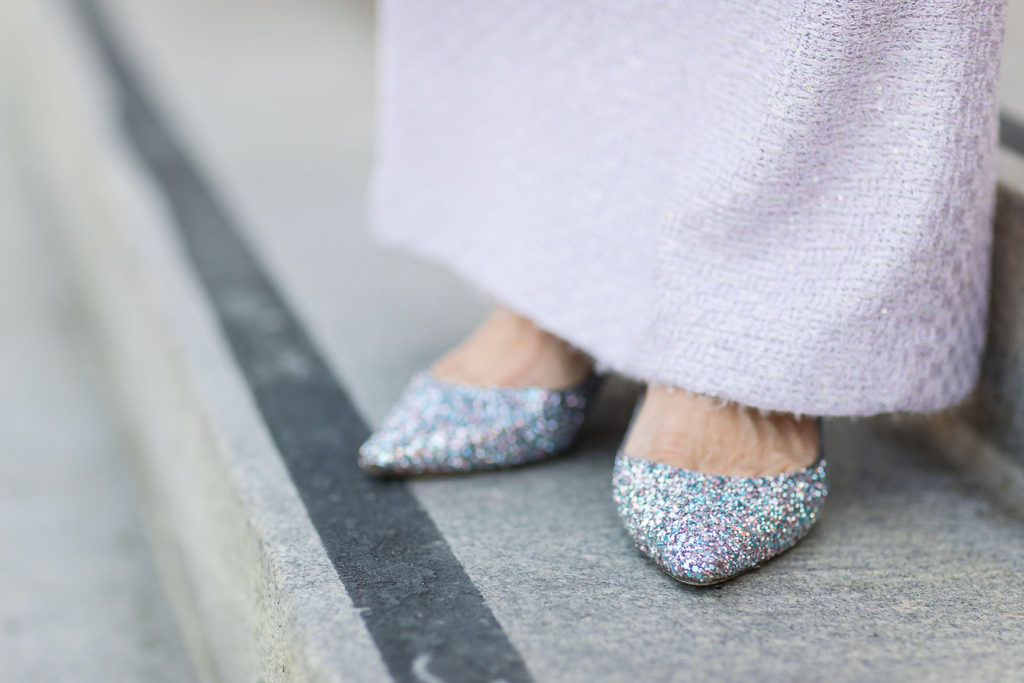 … picked up her spectacular rose bouquet (by Janelle Jacky Litt of Green Petal Designs – more of that later), and with that, she was ready for the day!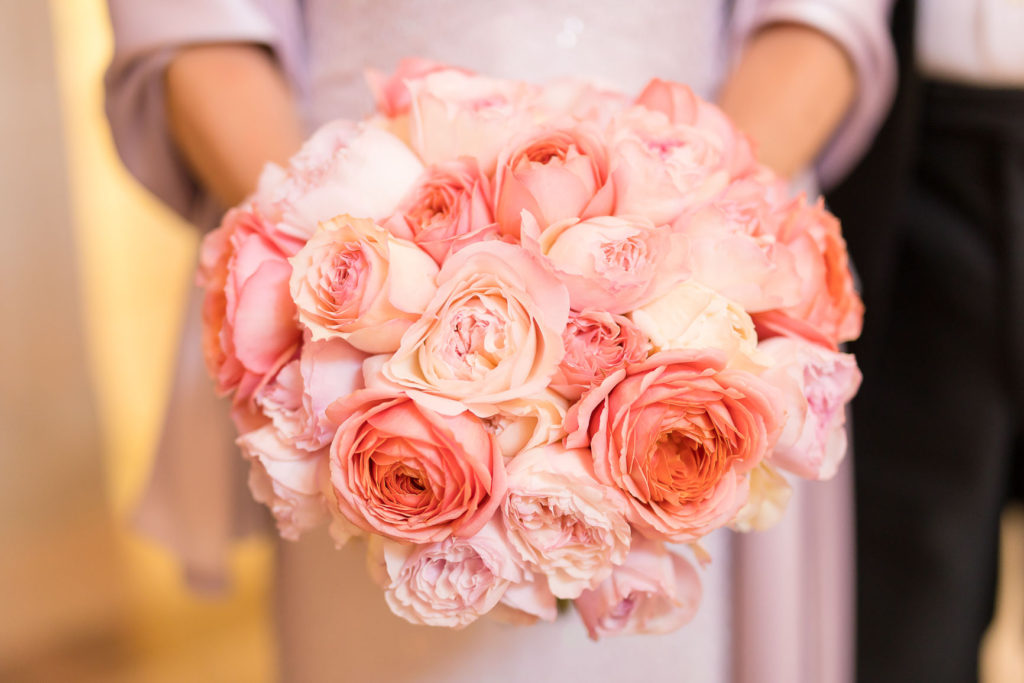 Fiancé Jim had meanwhile donned his elegant tux and matching boutonniere…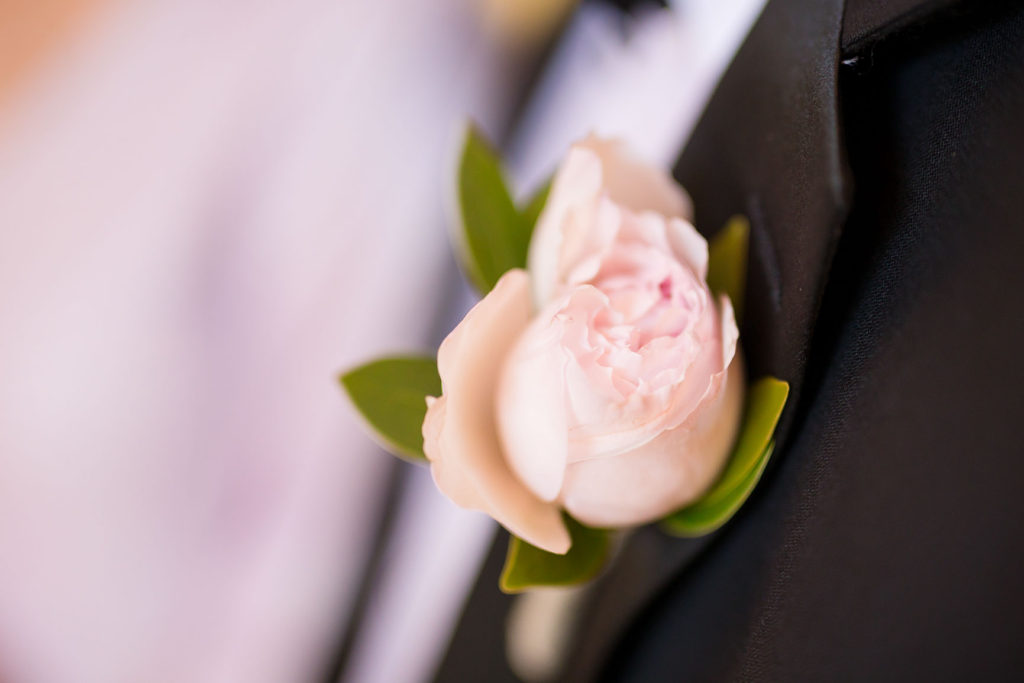 … and here they are!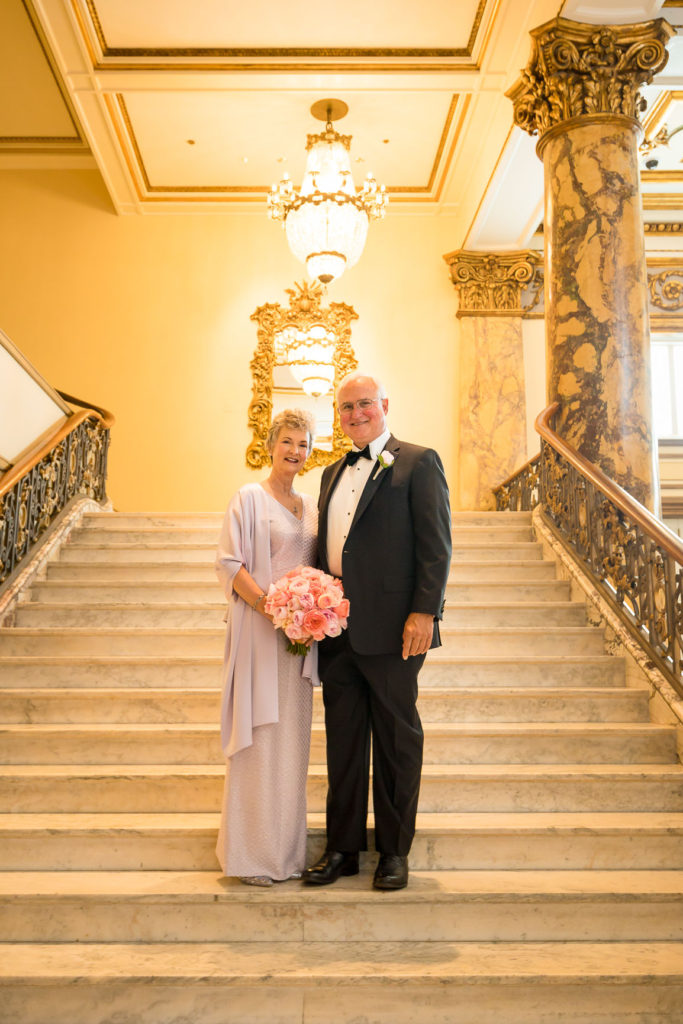 First off: an extended tour around San Francisco in a stretch limousine by City Express Limousine Service, chauffeured by Jay, the owner, himself, who took the bridal party to Union Square ….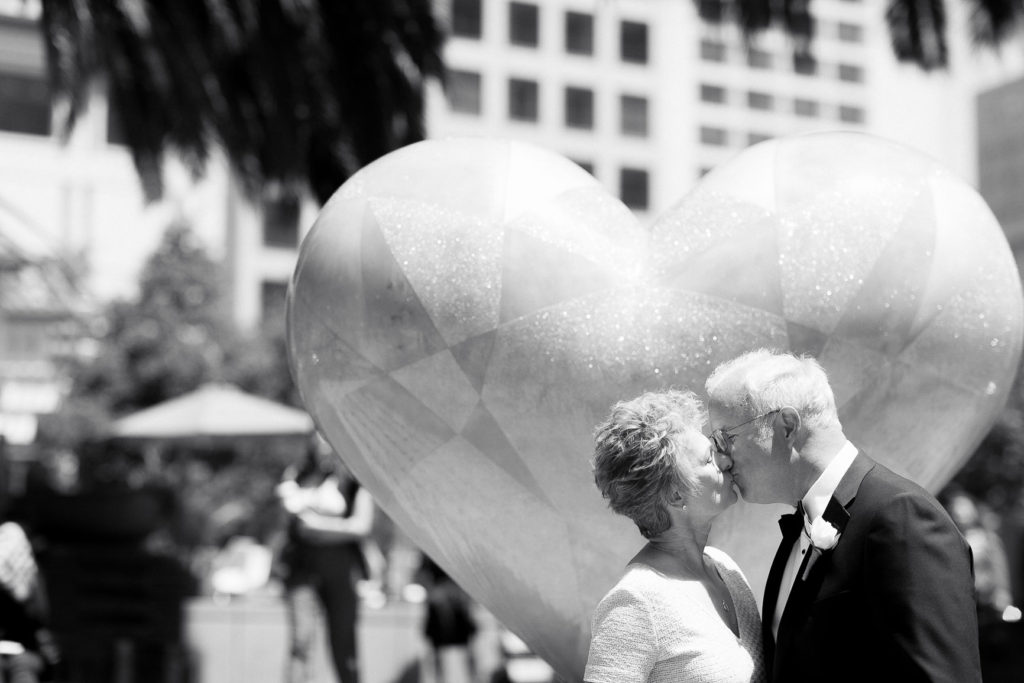 … for photos with the iconic heart sculptures; then to the Palace of Fine Arts …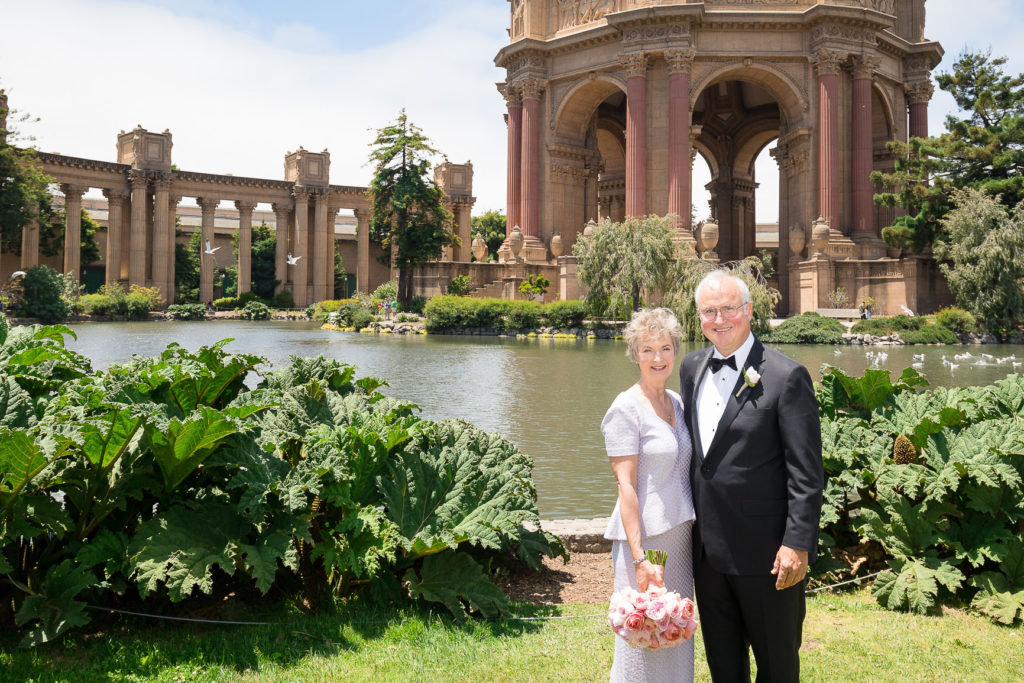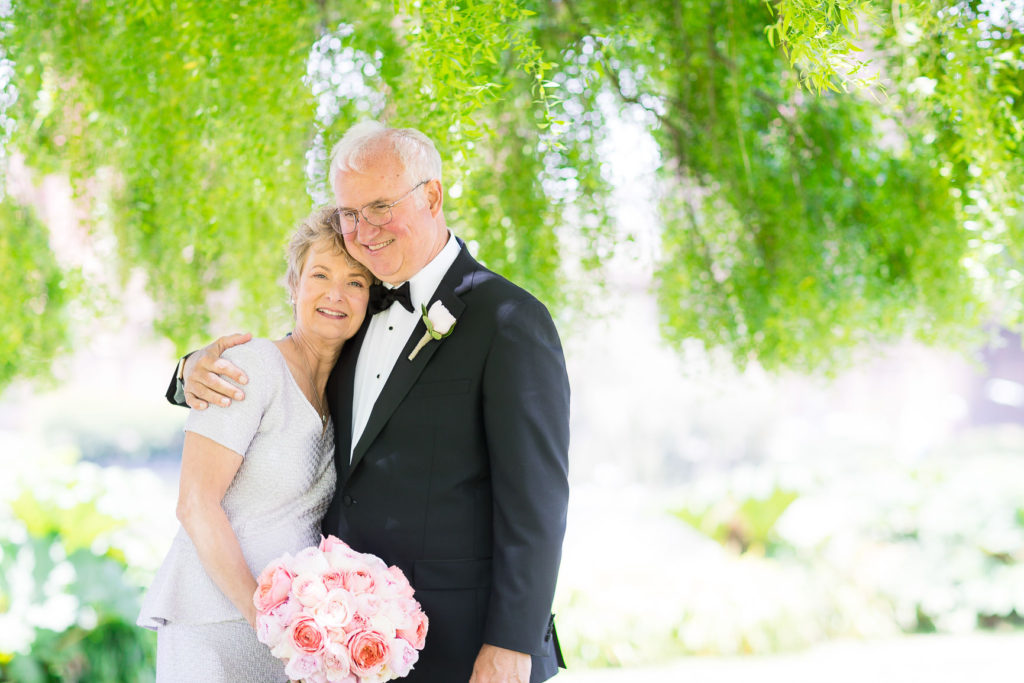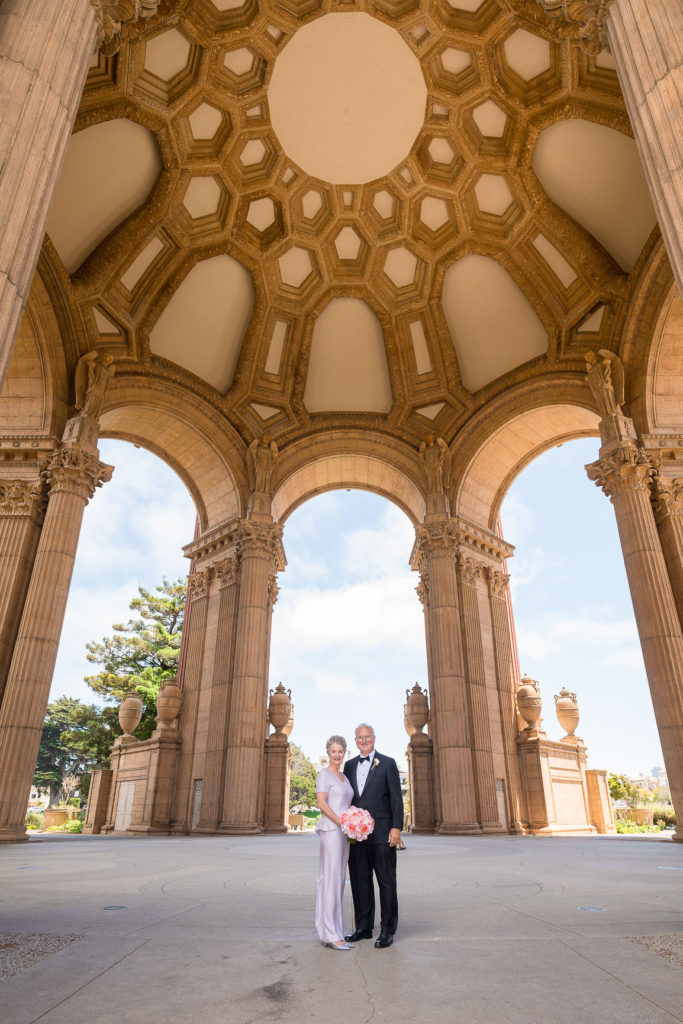 and even up a winding country road on the other side of the Golden Gate Bridge for the most spectacular views of the Bridge, the Bay and the City.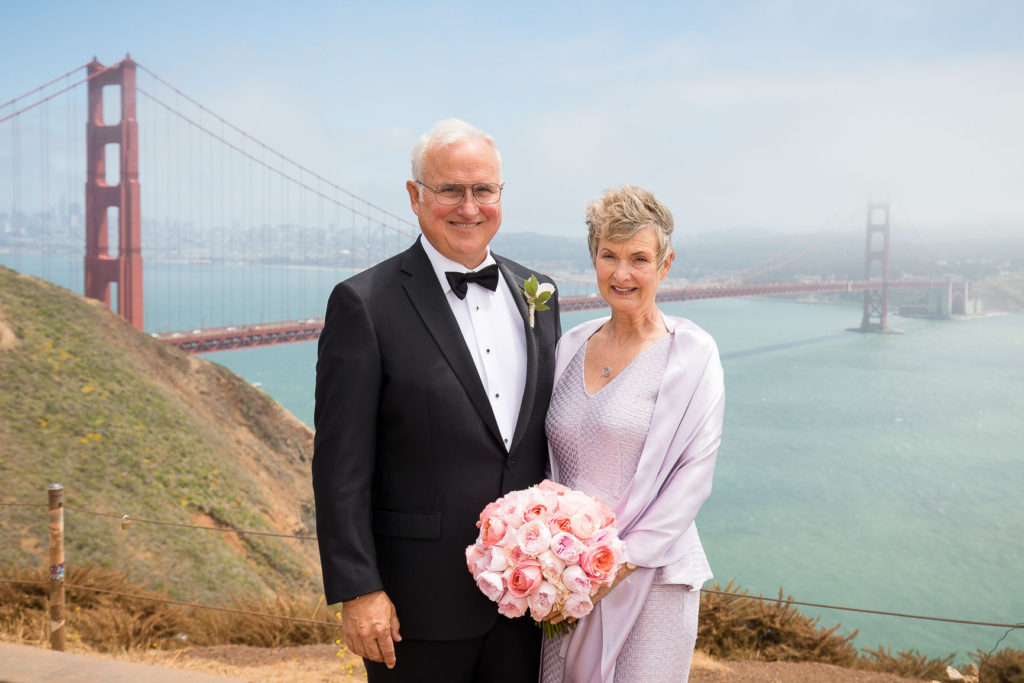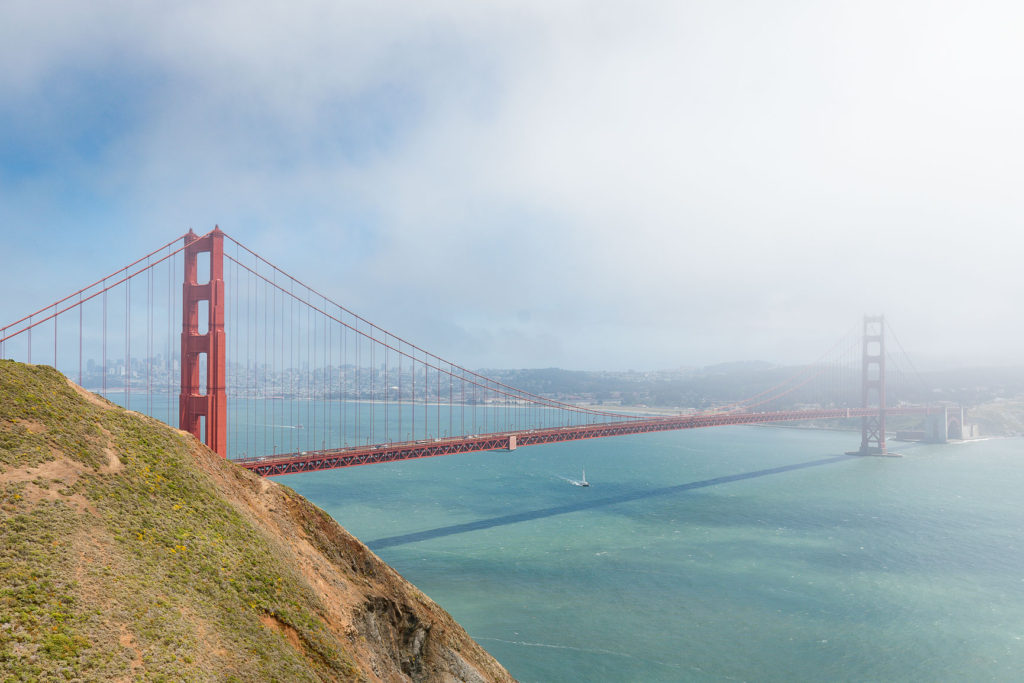 Photographer Gavin Farrington was riding along with them and recorded every precious moment.
3 o'clock sharp – we all had to be at City Hall for Joan's and Jim's 3:30 ceremony.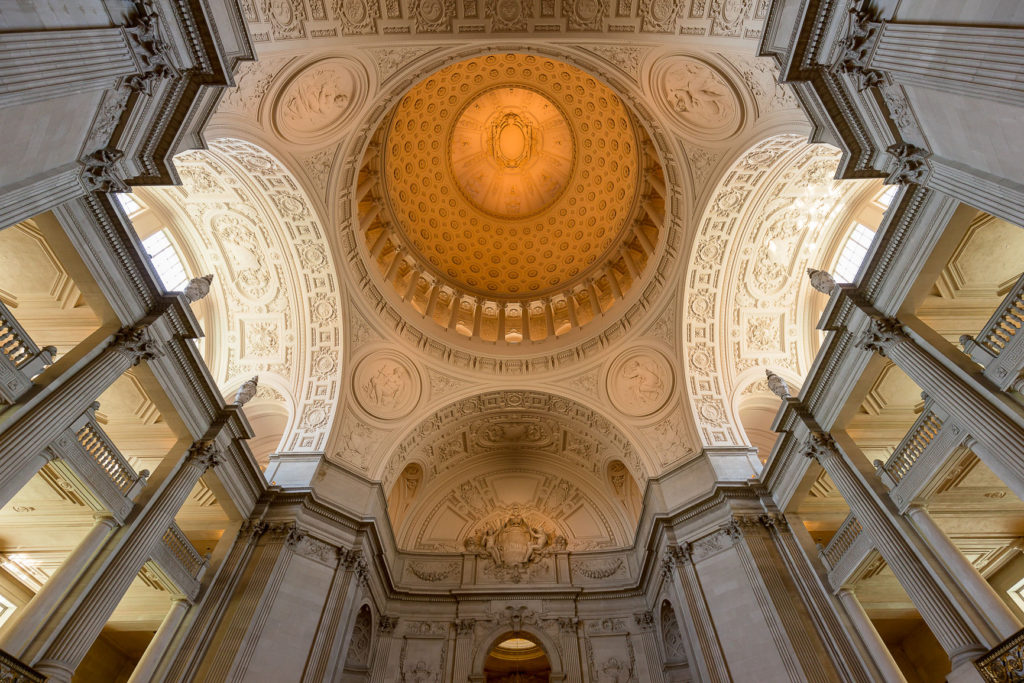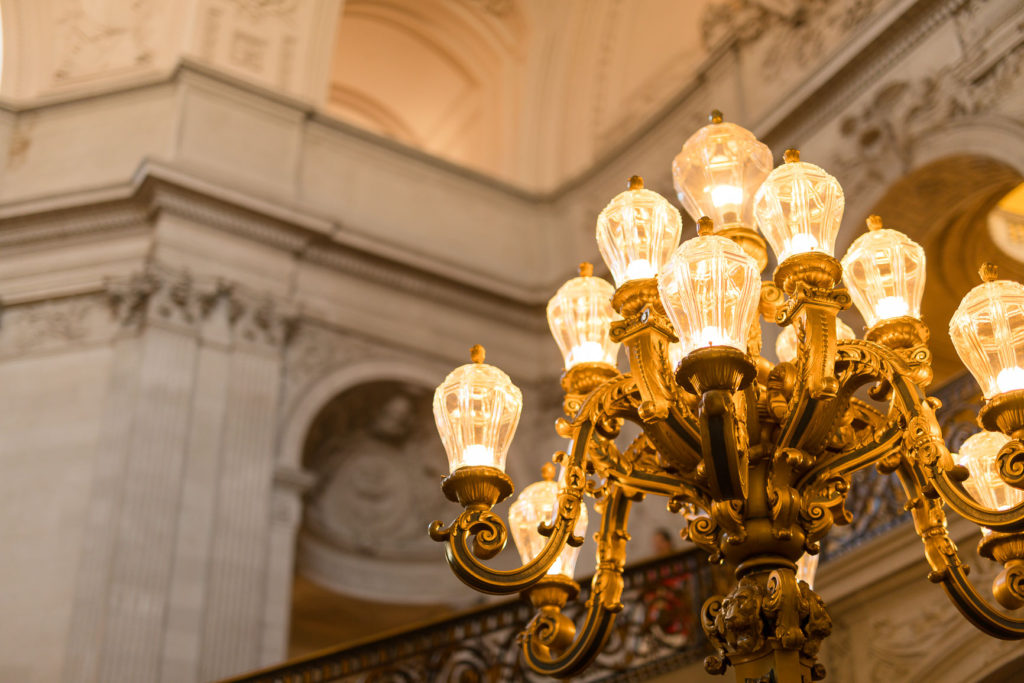 The two had fallen in love with the spectacular architecture and the vibrant atmosphere of City Hall, and while waiting with me …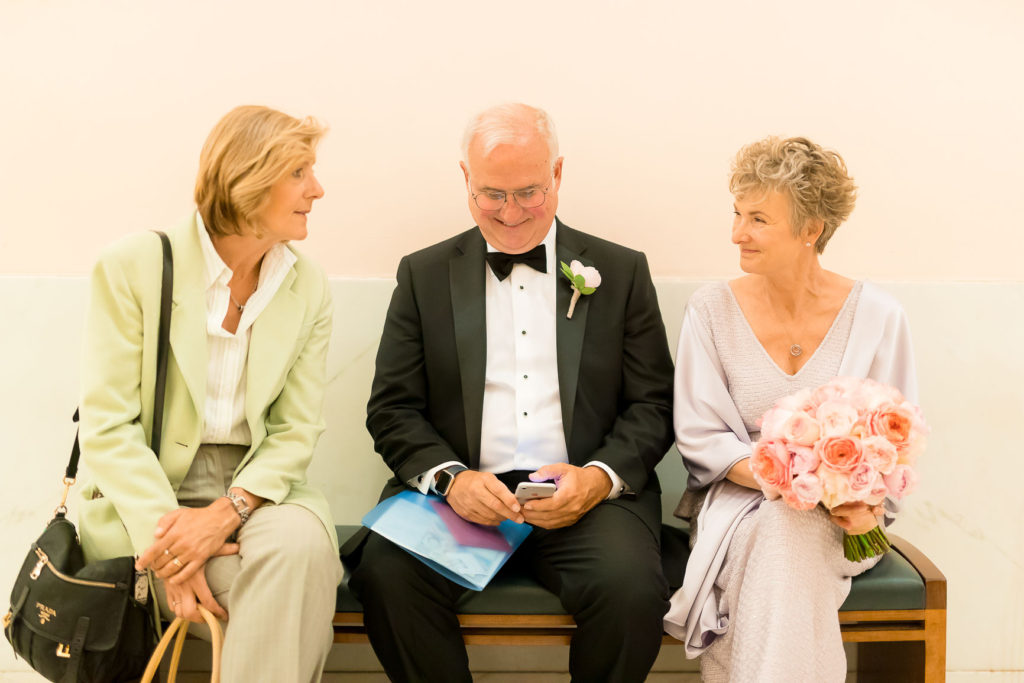 …  they witnessed quite a few other weddings taking place. Then it was finally their turn…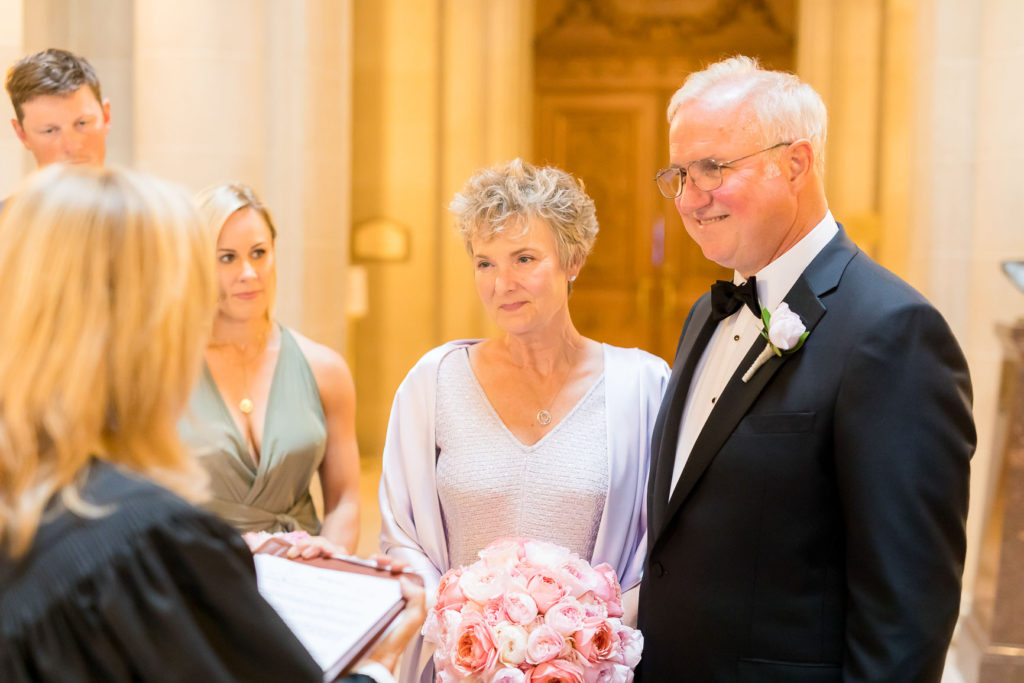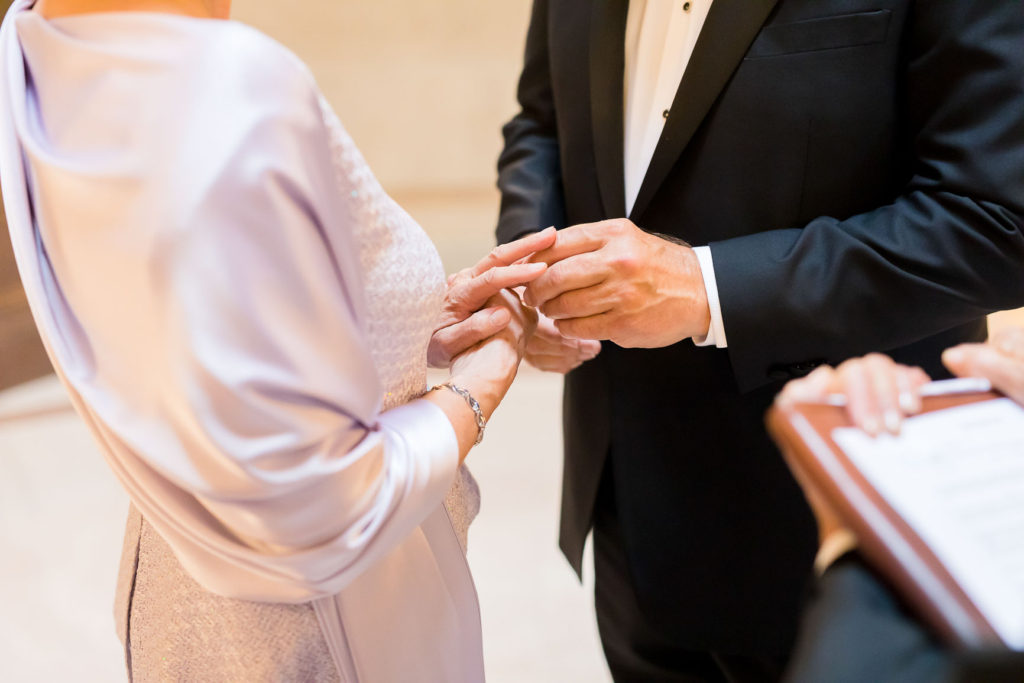 and here they are, JUST MARRIED! Raising a glass with their nearest and dearest…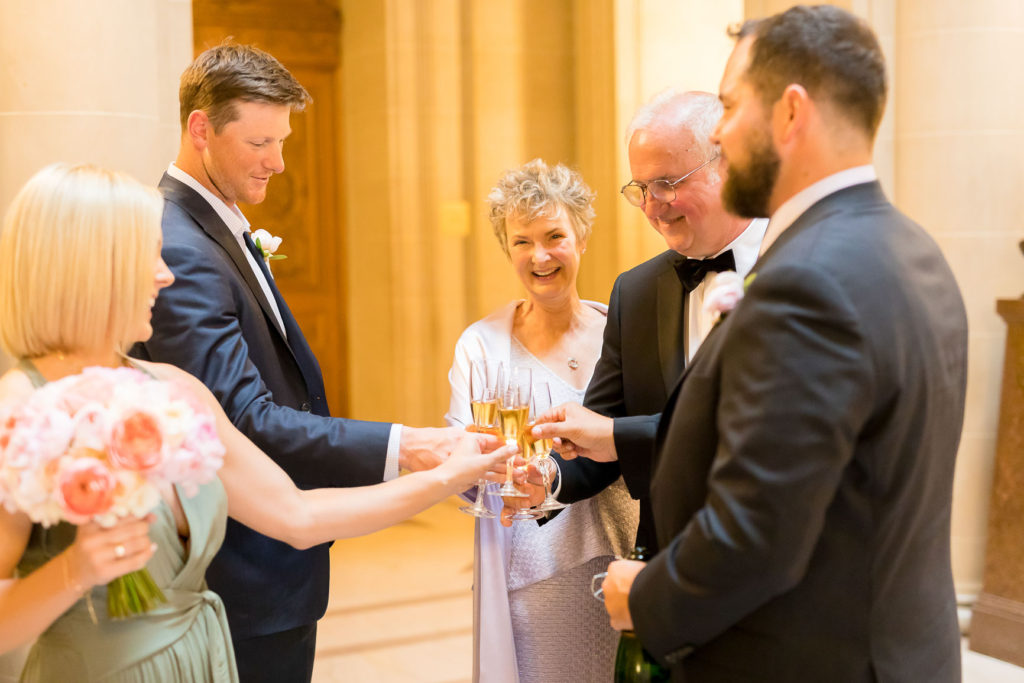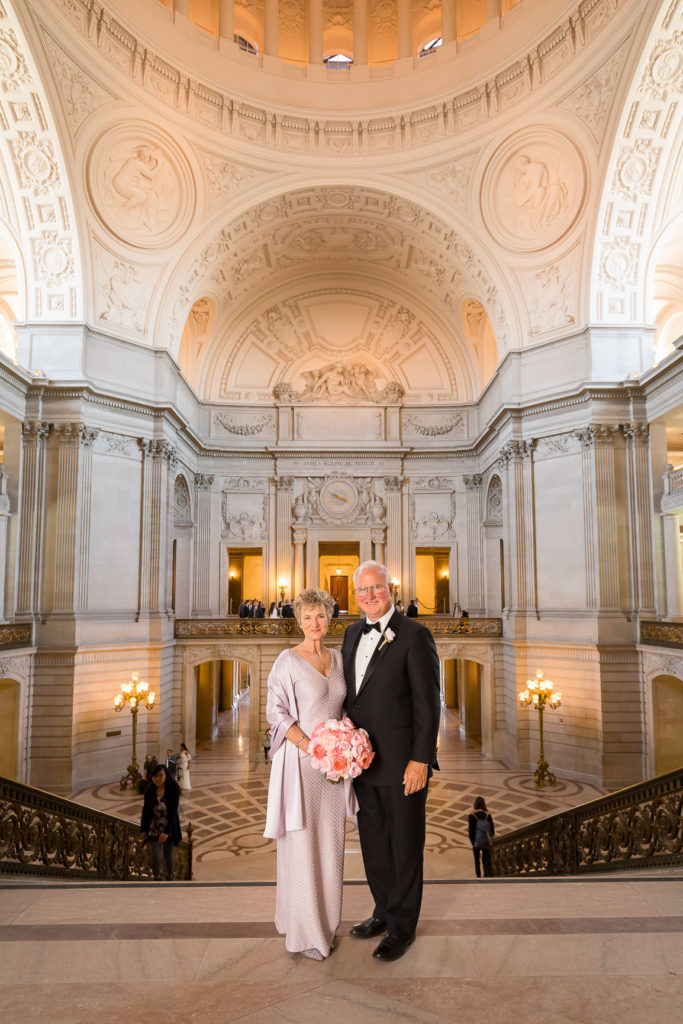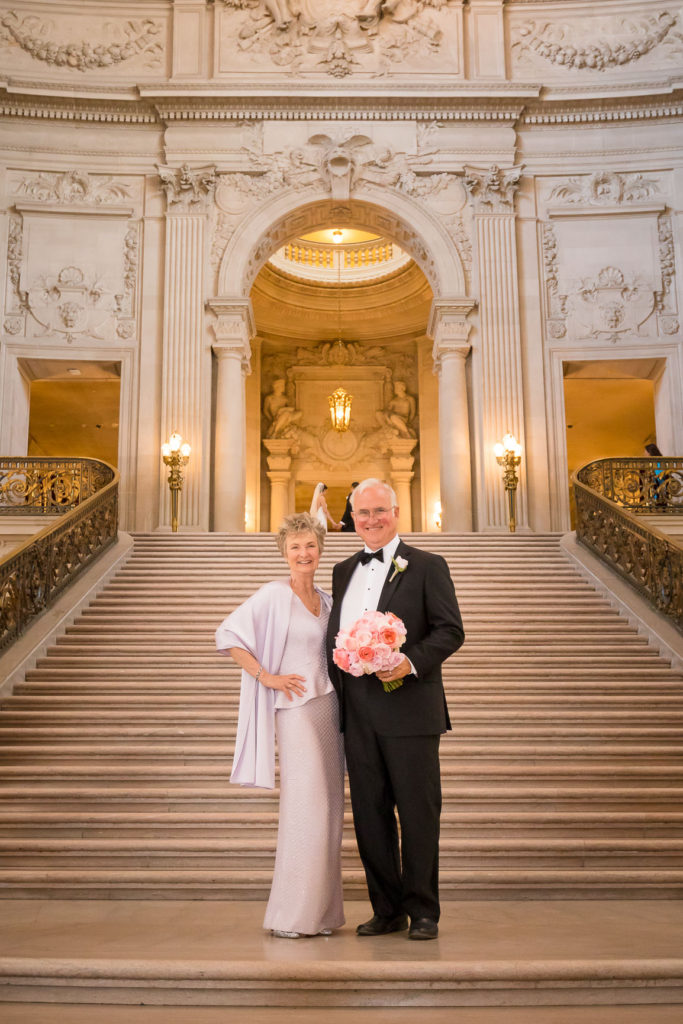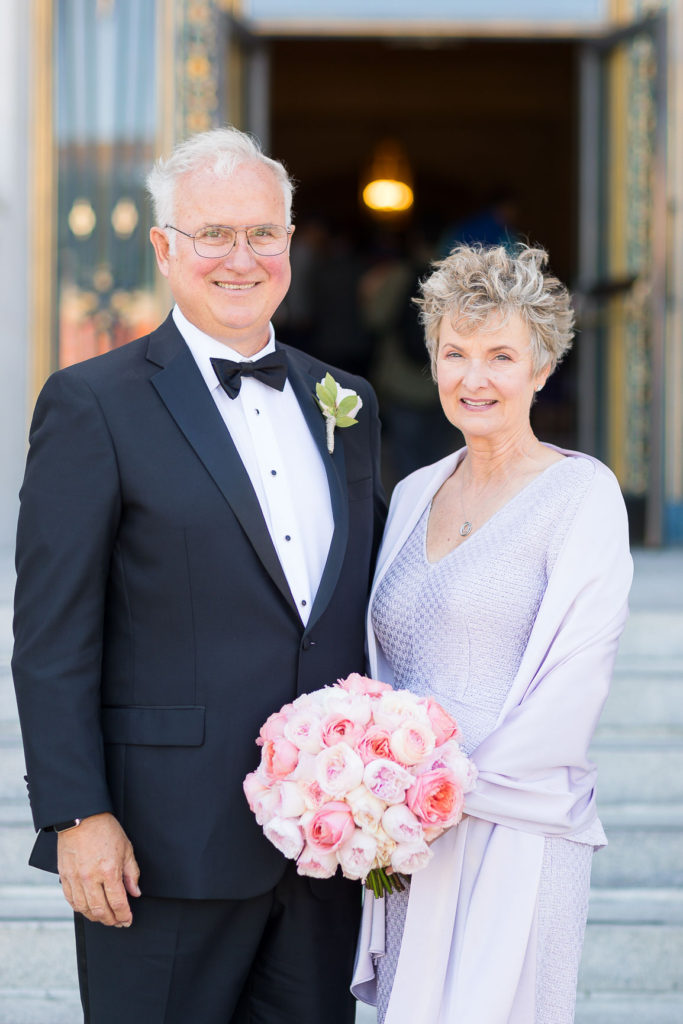 After their ceremony, the limousine took the bridal party to Joan's and Jim's sailboat at the South Beach Yacht Club for more photos – a very special moment for them, given how much time they are spending on the water!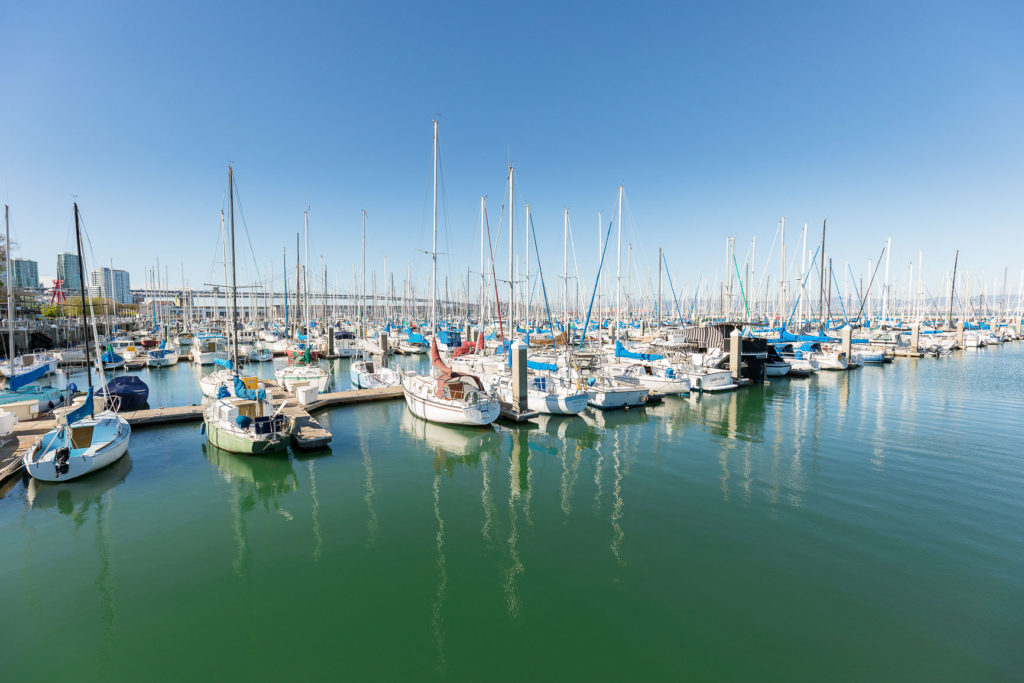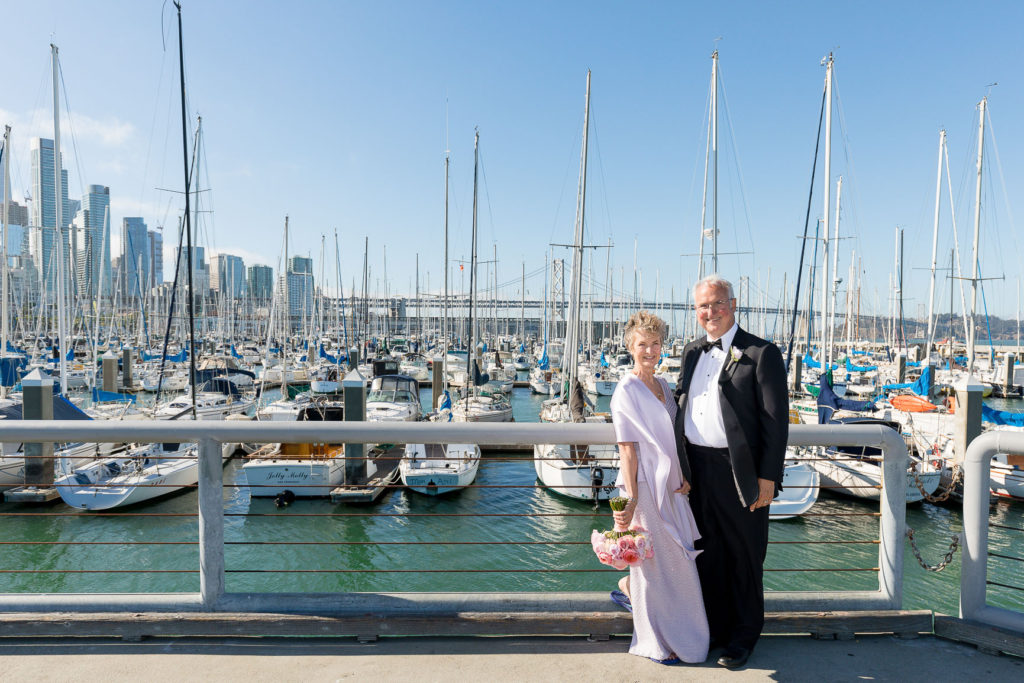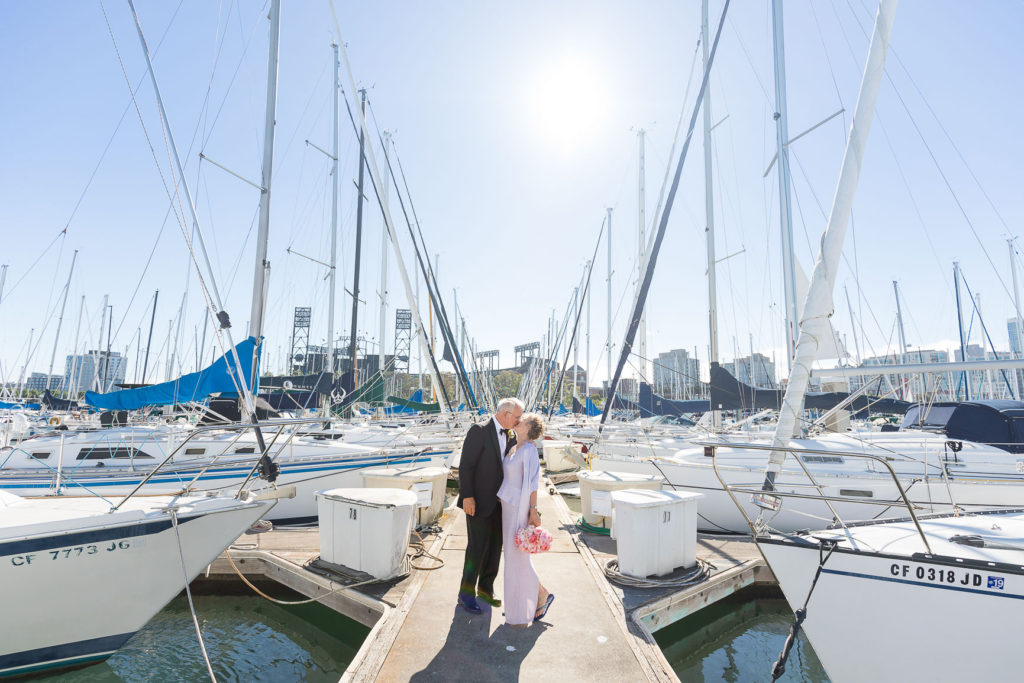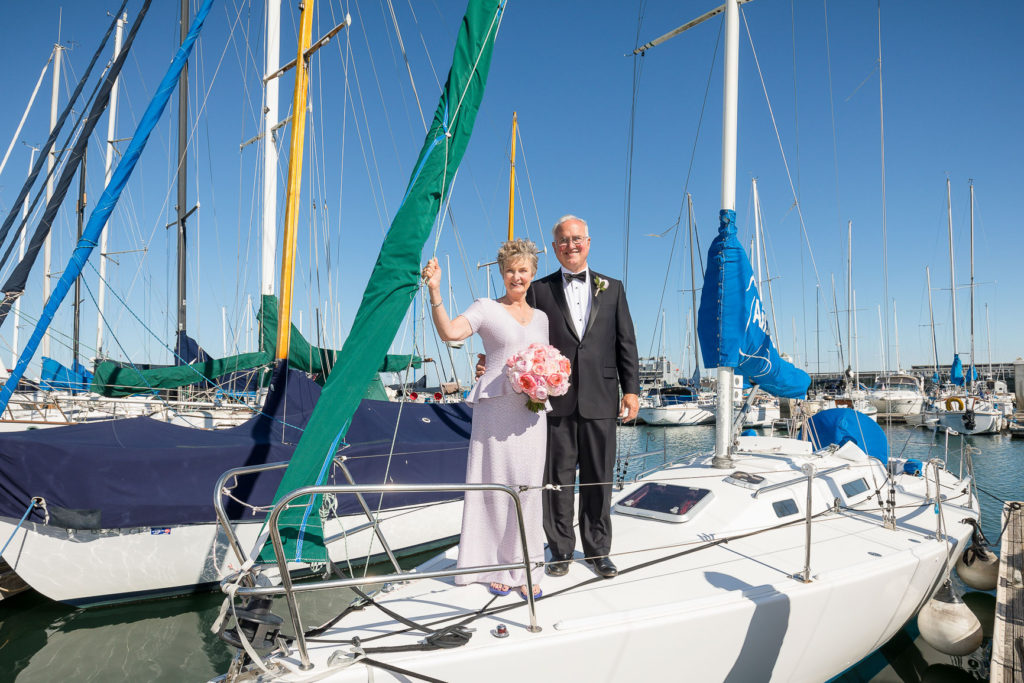 While the bridal party was on photo tour, enjoying this sunny and windy San Francisco day, preparations were underway at the Fairmont…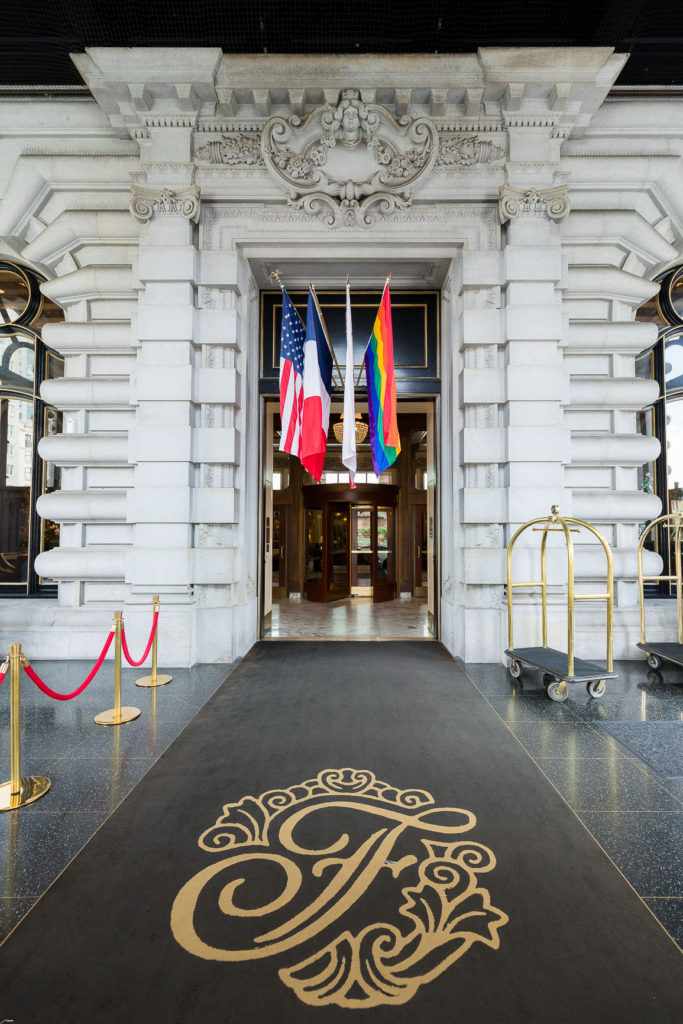 … to get everything ready in time for their intimate dinner for five in their suite. A table was set by the picture windows, with incredible views of the City…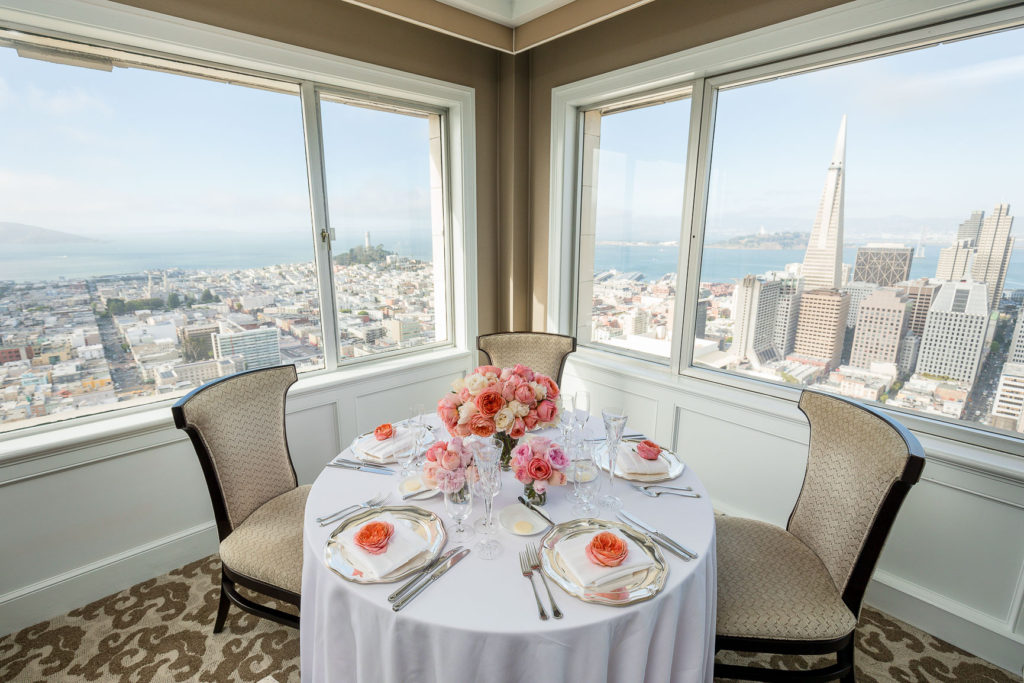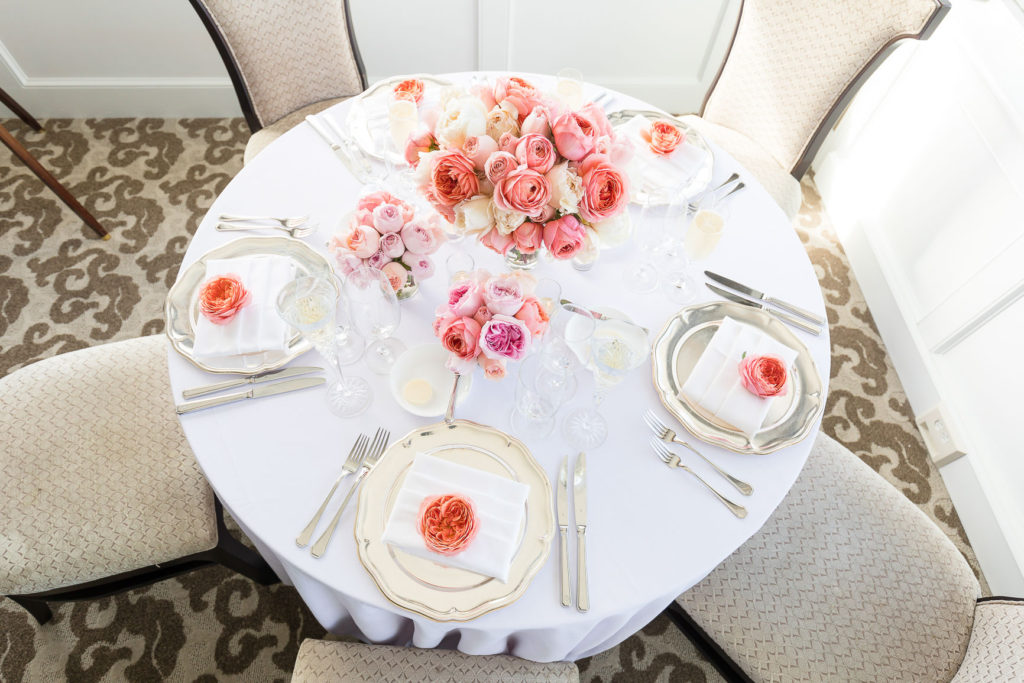 … and adorned with the most beautiful roses, all arranged by Janelle of Green Petal Designs. These roses were a wedding gift from Joan's and Jim's friends whose Tambuzi rose farm in Kenya provides spectacular rose varietals to the British royals for THEIR weddings –  it does not get any better than that! Getting the roses from Kenya to San Francisco, however, proved much more complicated than getting them to Westminster Abbey – little did we know about the obstacles and regulations of international flower trade… In the end, we had to resort to a little ruse – since the Kenyan originals couldn't be delivered to us in time, Green Valley Florals (local friends and colleagues of the Kenyan rose growers) stood in with their, very similar product – and it was glorious!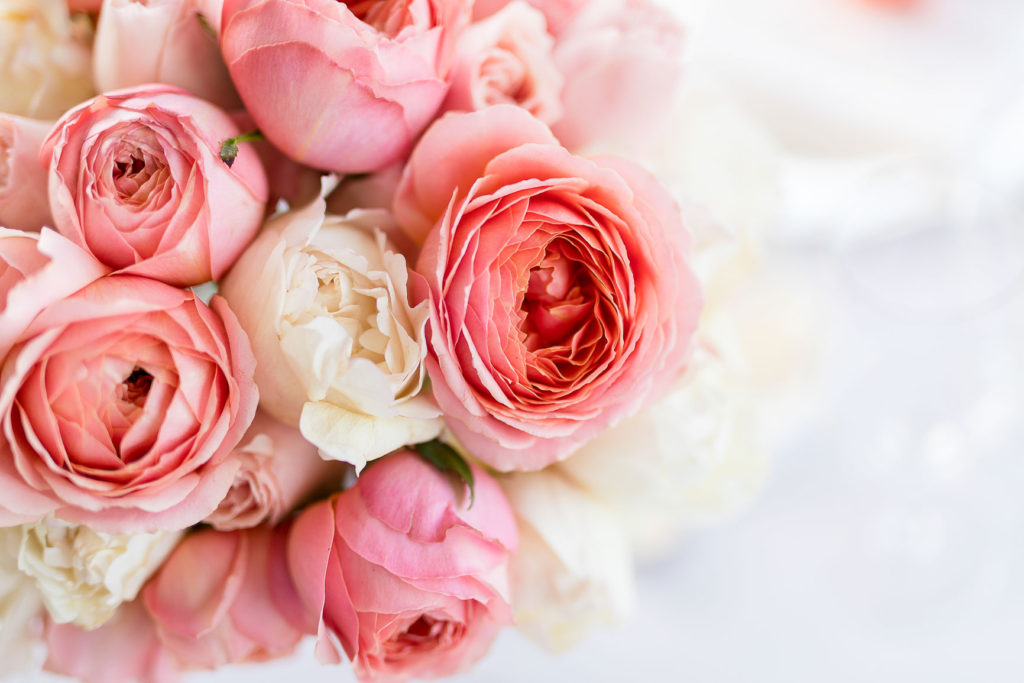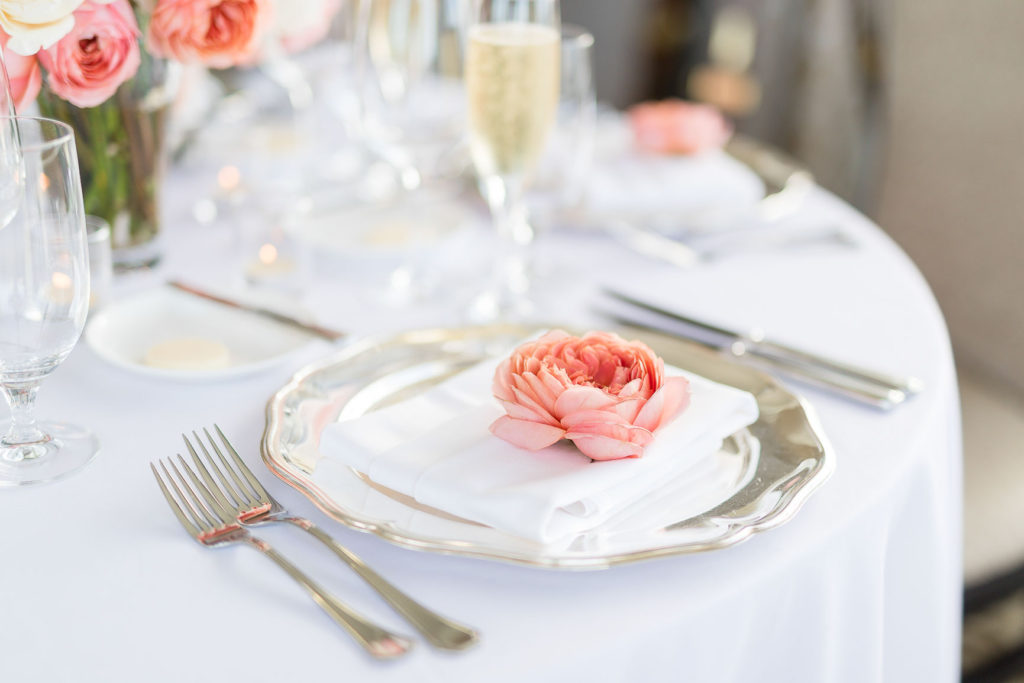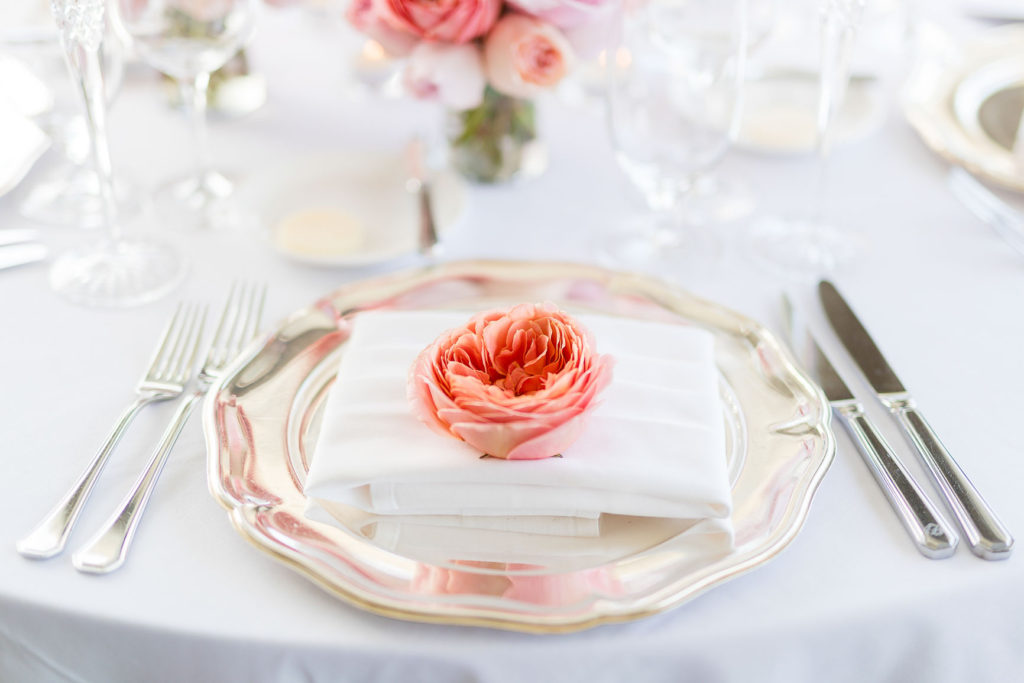 David Austin rose varietals in all shades of peach and pink, with enticing fragrance, adorned the dinner table, presided over the bedroom, and, of course – were the stars of the bridal bouquet. Florist Janelle took all these twists and turns in stride and made the room "shine" with her arrangements.
Time for a toast!  Joan's and Jim's cut-crystal champagne flutes were another present from dear friends…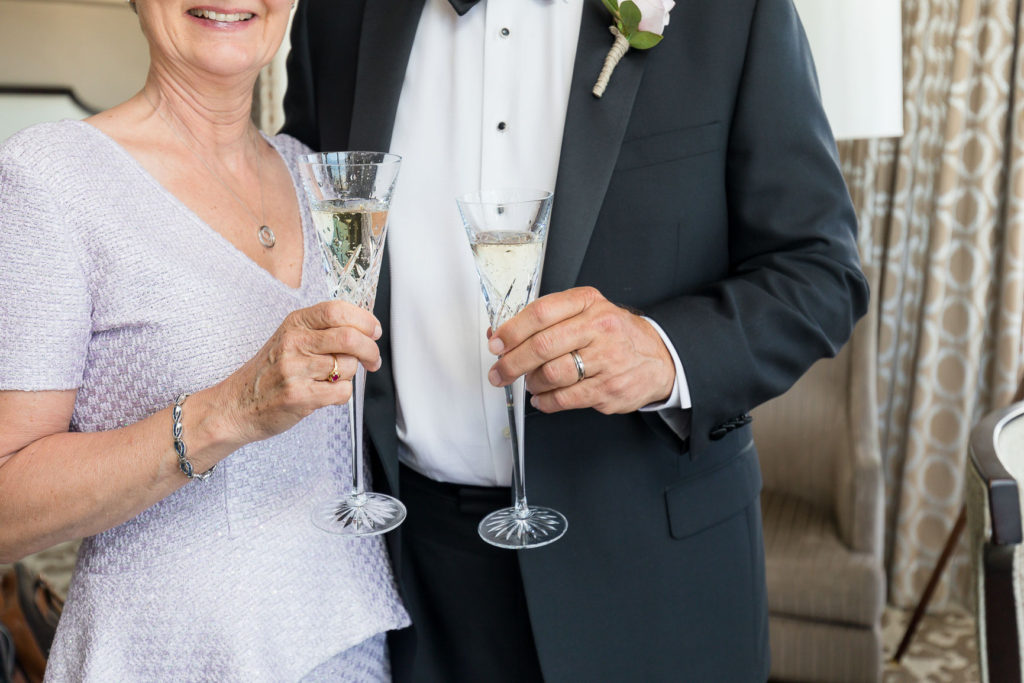 An impromptu "First Dance" right then and there…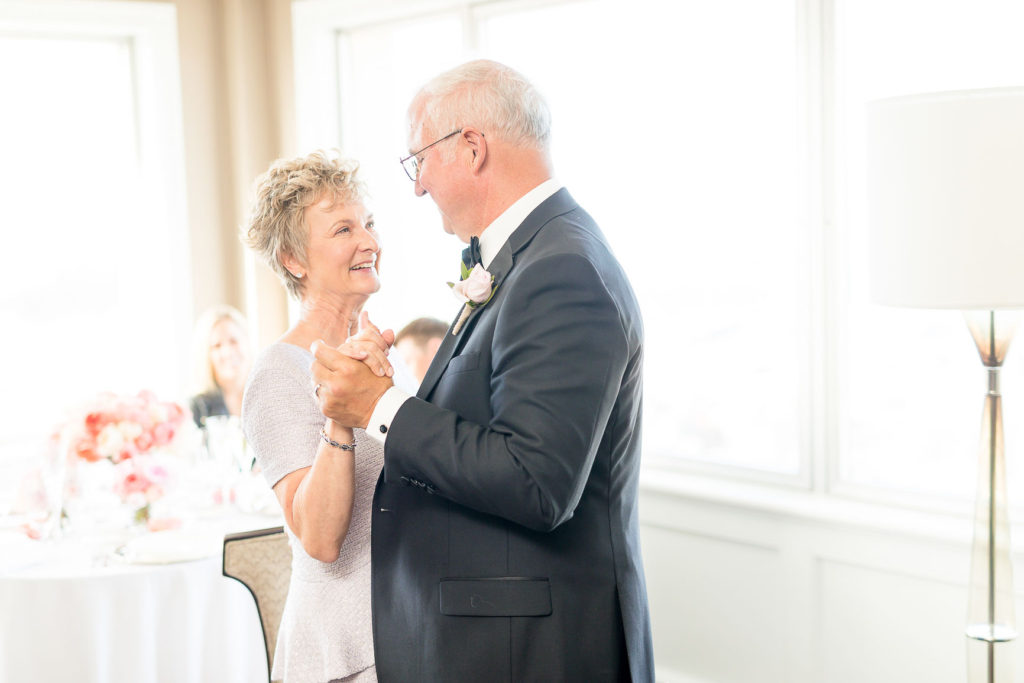 … and then it was time for dinner, accompanied by wines… you guessed it! also gifted by friends (Vidovich Vineyards). Joan and Jim are so well-loved!
And after that, the last highlight of the day was THE CAKE: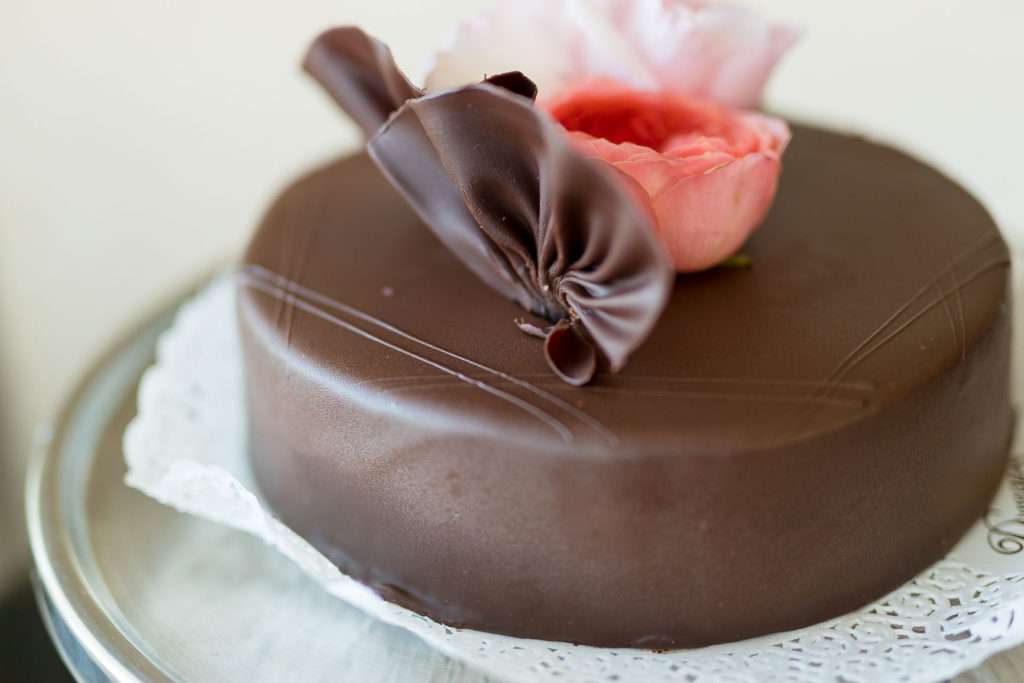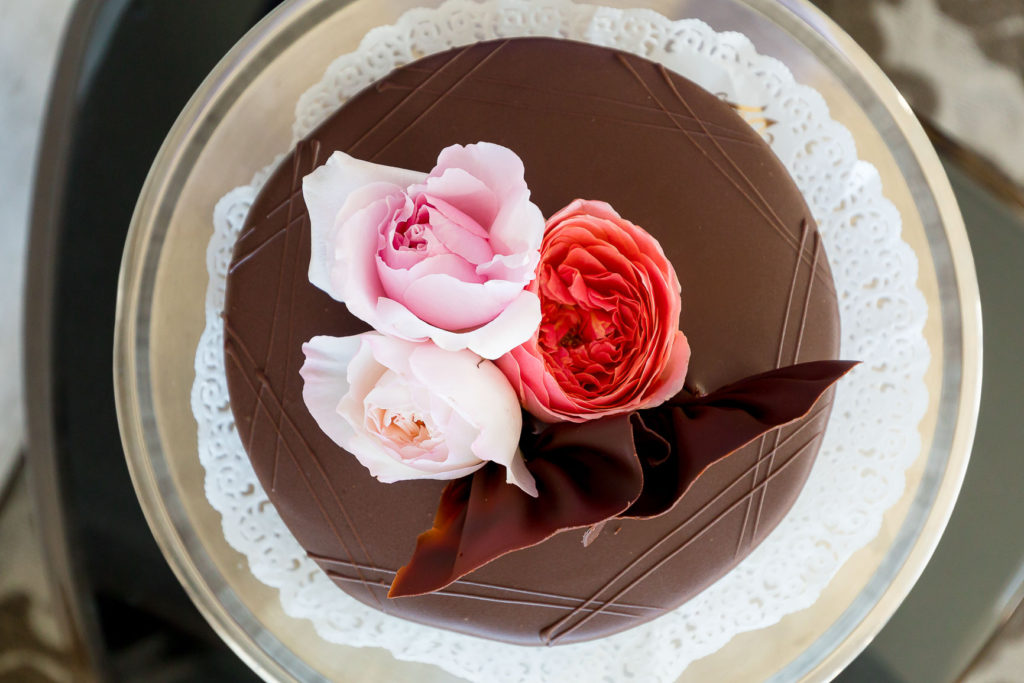 The newlyweds accomplished their first official task as a married couple with bravura: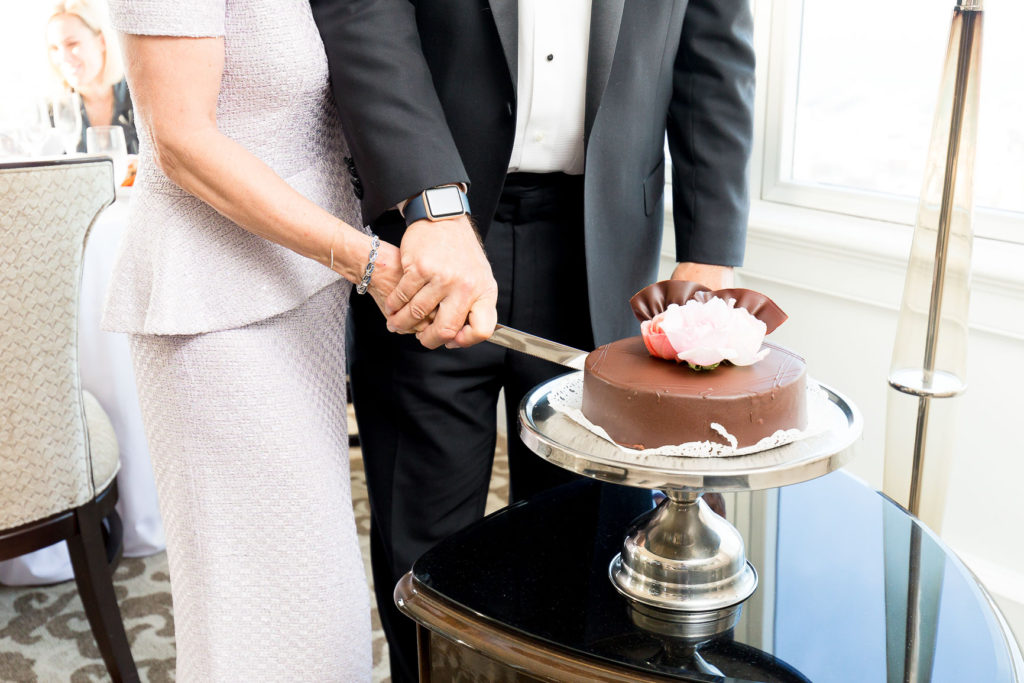 Joan said it was an amazing day, shared with their children in a relaxed atmosphere, exactly how she and Jim had hoped it would be. They did it their way… keep on dancing, smiling, and sailing together, Joan and Jim, with the same happiness as on your wedding day!

<! DL 06/02/12: Added html code for Pinterest Pin It button (appears at the end of each post) > <! DL 06/02/12: Added padding style modifier to the Pinterest html code to align the Pit It button on the page > <! DL 06/02/12: deactivated code by adding two ! in the a and img code lines >