As the Regional Director of Programs at WIPA, Wedding Industry Professionals Association, I have the pleasure (and the obligation…) to organize four festive events throughout the year, and we just concluded the year of 2014 on a really high note: with an elegant luncheon in the Crystal Ballroom of Berkeley's storied Shattuck Plaza Hotel.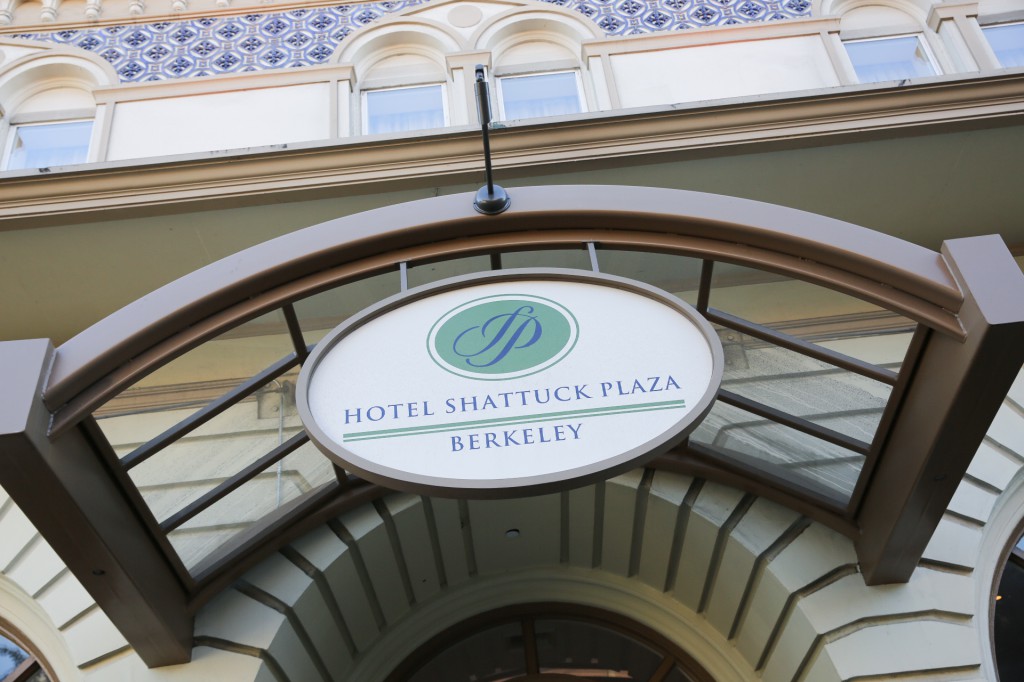 As always, we offered both fun and education – our speaker, Carolyn Higgins, founder of Fortune Marketing Company and an expert advisor for small businesses, presented "Four Pillars of Small Business Marketing Success," and all attendees agreed: they were taking home valuable insights!
But we are getting ahead of ourselves! After registration and a display of our numerous sponsors…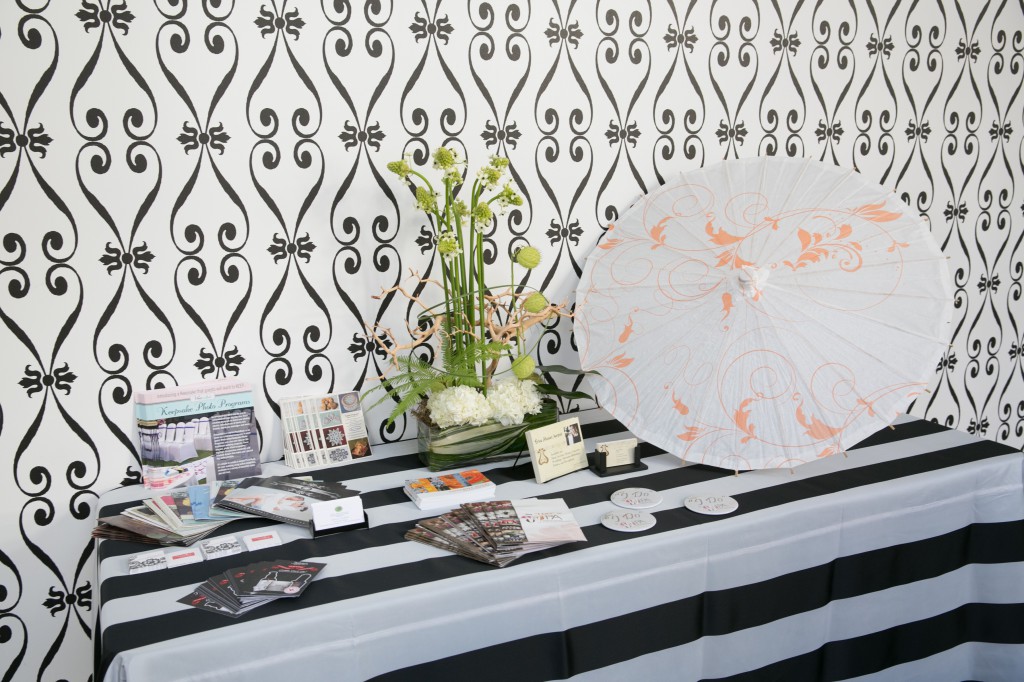 … guests received beautiful program books (by Wedcrafted.com)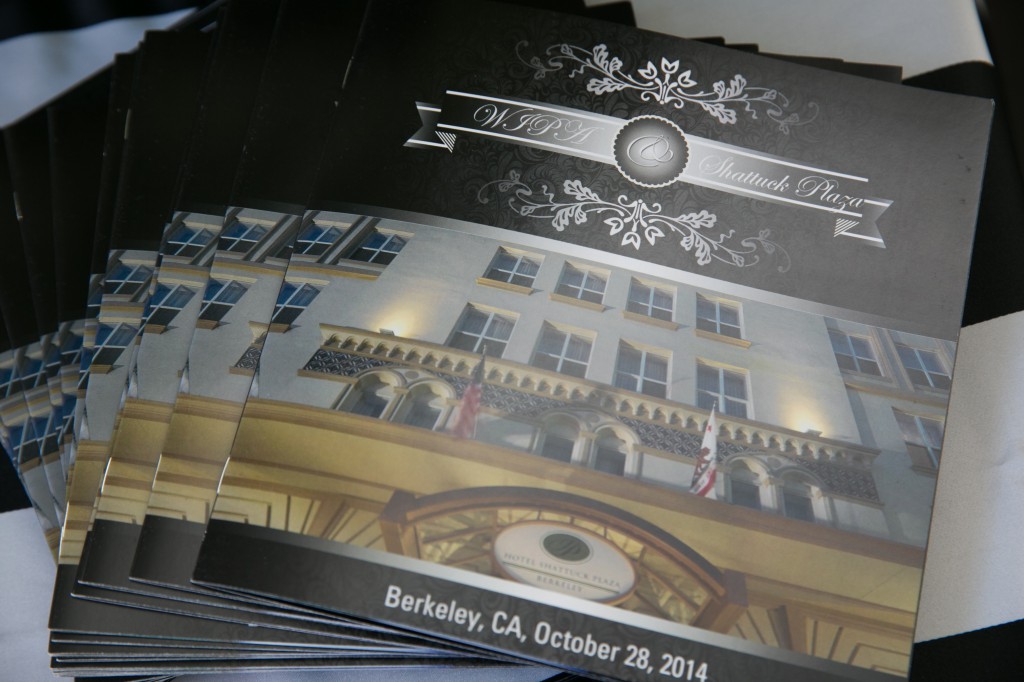 … and then the event began with an elegant Cocktail reception: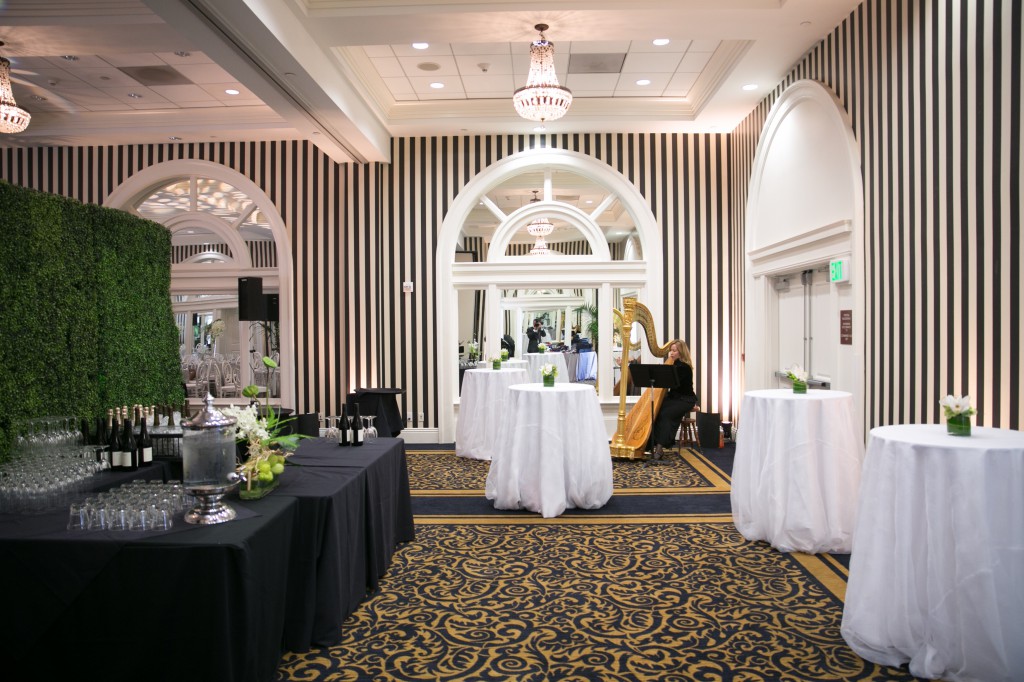 … with my friend (and recent bride!), Erica Messer, playing the harp for us.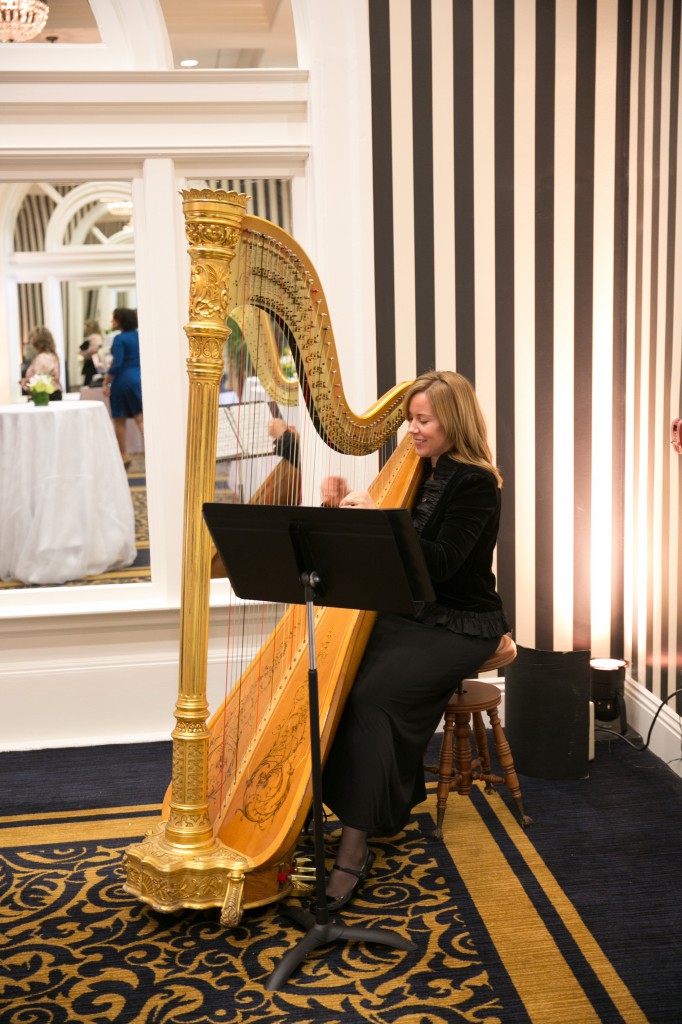 Guests were treated to delicious hors d'oeuvres…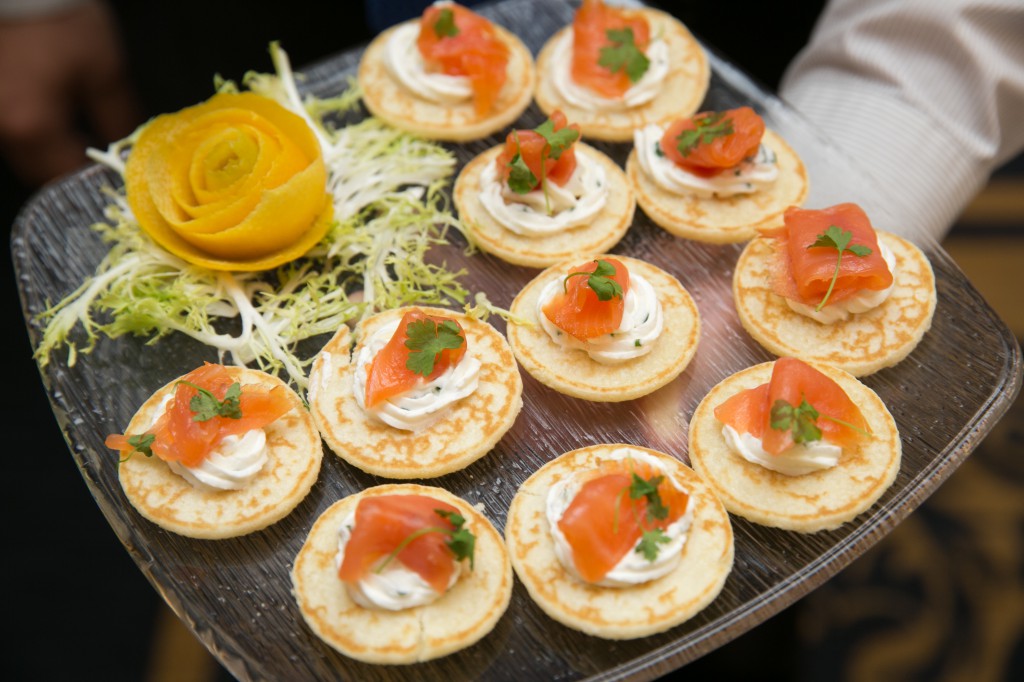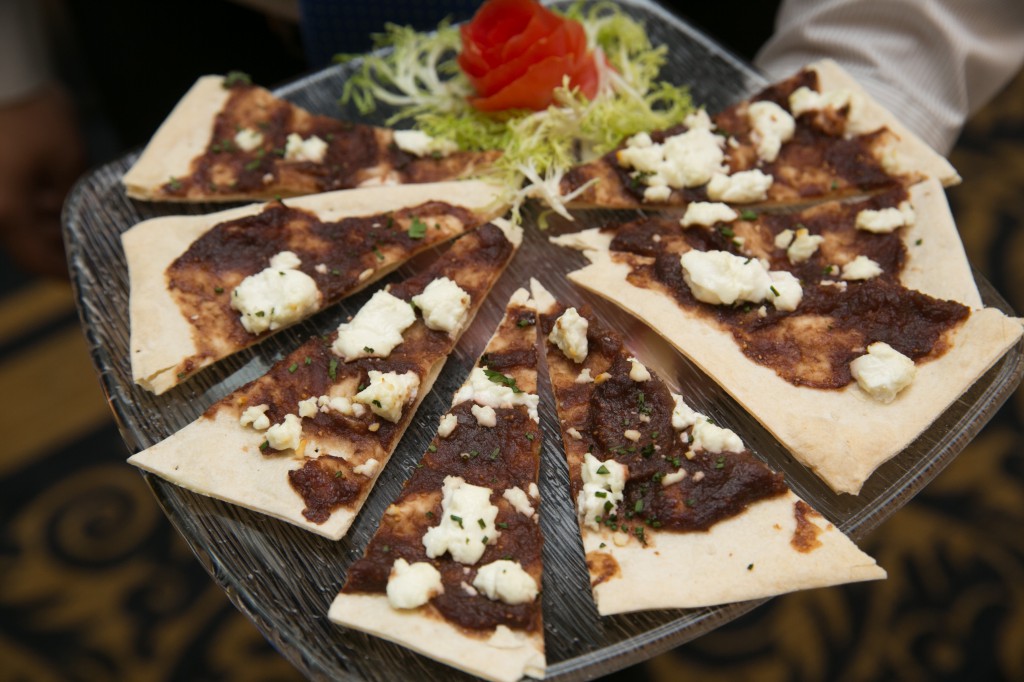 … and to a big surprise: Liz Smith of Beau Ties of Vermont, purveyor of the finest handmade silk bow ties, presented a variety of options for the stylish groom, groomsmen, fathers etc. AND gave away one classic black bow tie to every guest!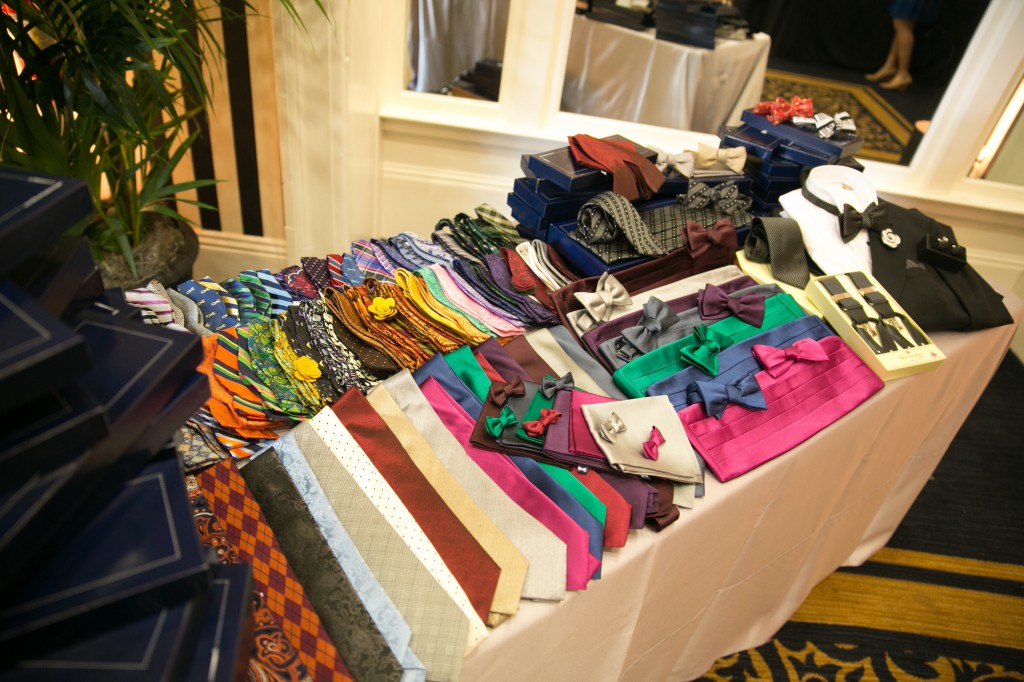 That put a big smile on everyone's face!
As did the elegant decor to match the extraordinary character of the Crystal Ballroom – walls covered in bold black-and-white stripes and adorned with oversized mirrored panels, reminding me of a huge conservatory. With that, the decor idea was born: we decorated with huge palm trees (courtesy of Interior Plant Design) and hedges (from Stuart Rental Company) and added to these charming firefly lights (from Firefly Magic). Centerpieces and smaller arrangements (from Katharina Stuart Floral Art and Design) throughout picked up the "green and white/modern conservatory" theme beautifully…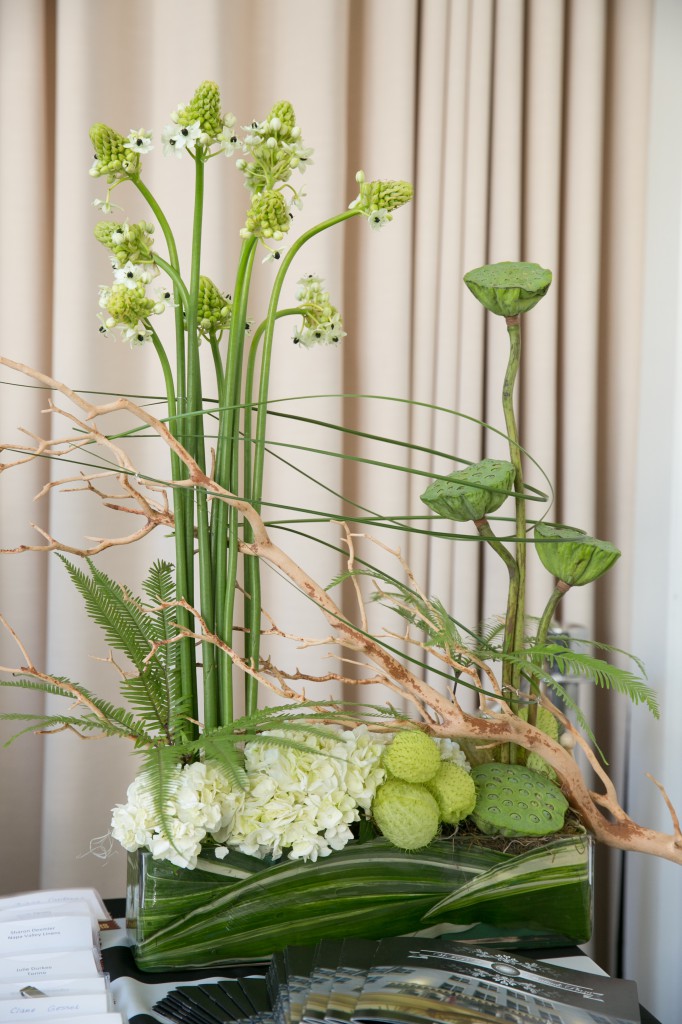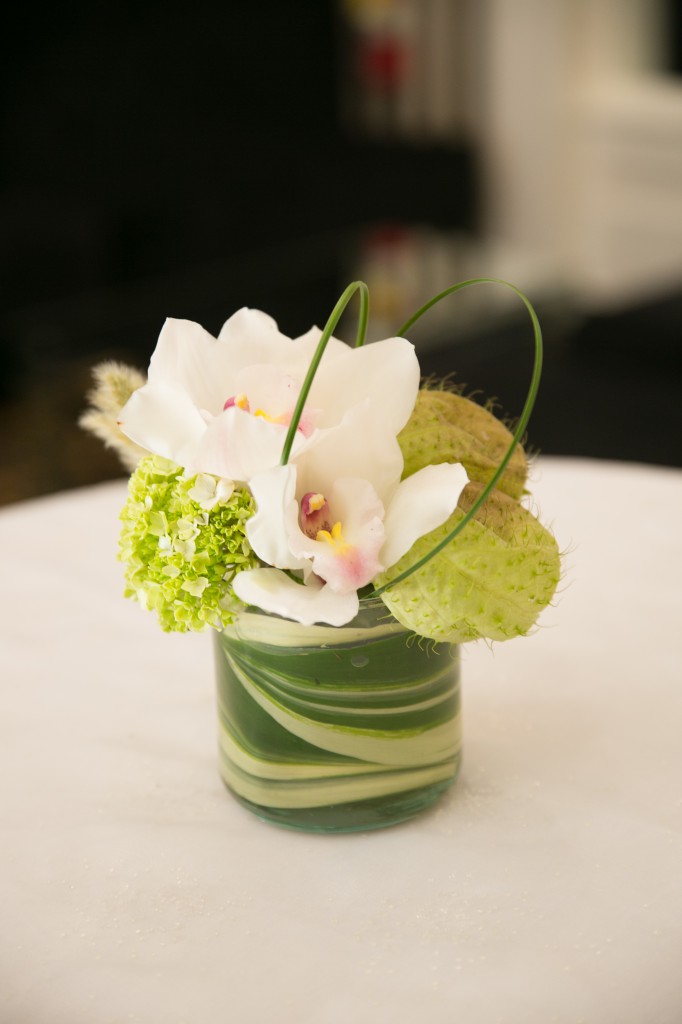 … and reached truly glamorous heights on the dining tables which were all aglitter in "Paris" silver sequined linens from Napa Valley Linens.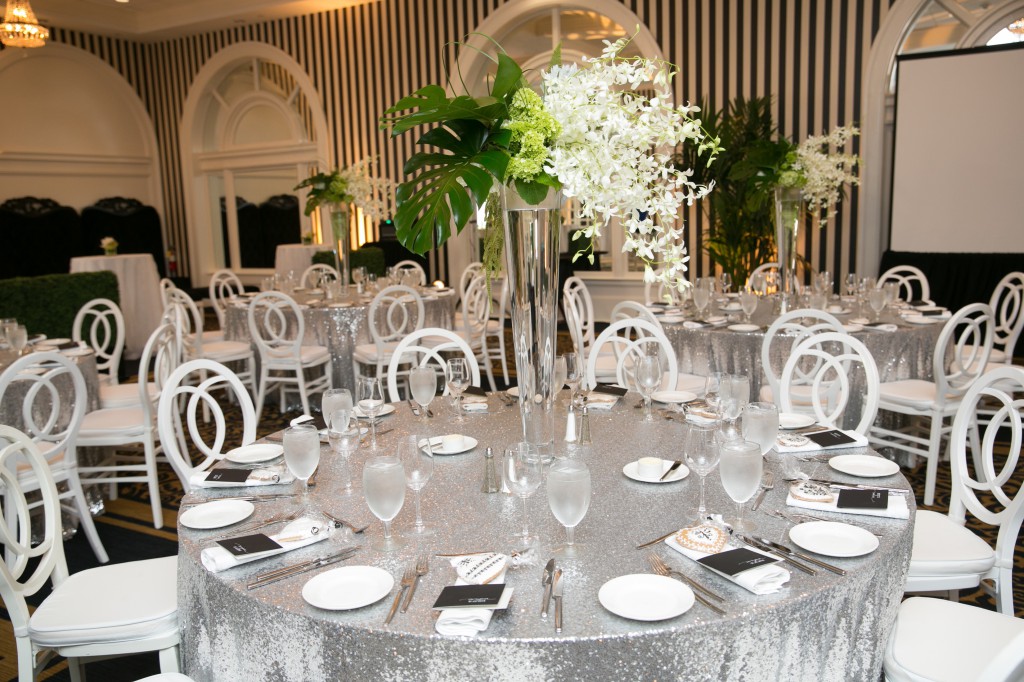 Add to that chic and modern dining chairs (from Hartmann Studios – as was the stunning lounge furniture we used for our dessert lounge; more of that later…) – and beautifully calligraphed menu cards in charcoal and silver (by Sally Laporta of Monks of Age)…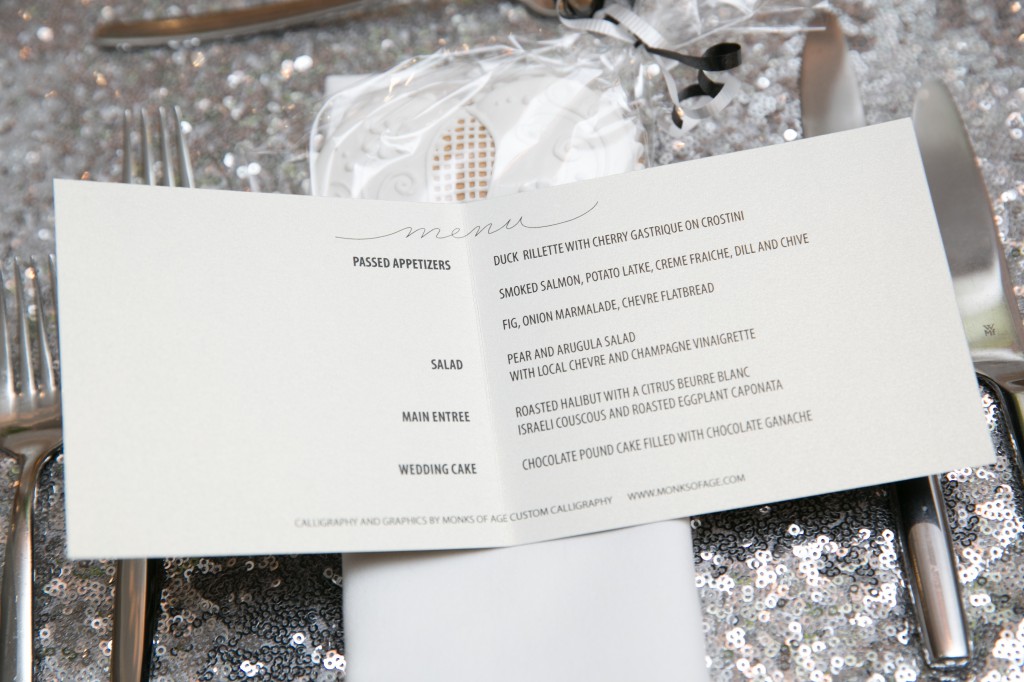 … and handmade traditional Hungarian gingerbread heart favors (by Tunde's Creations) …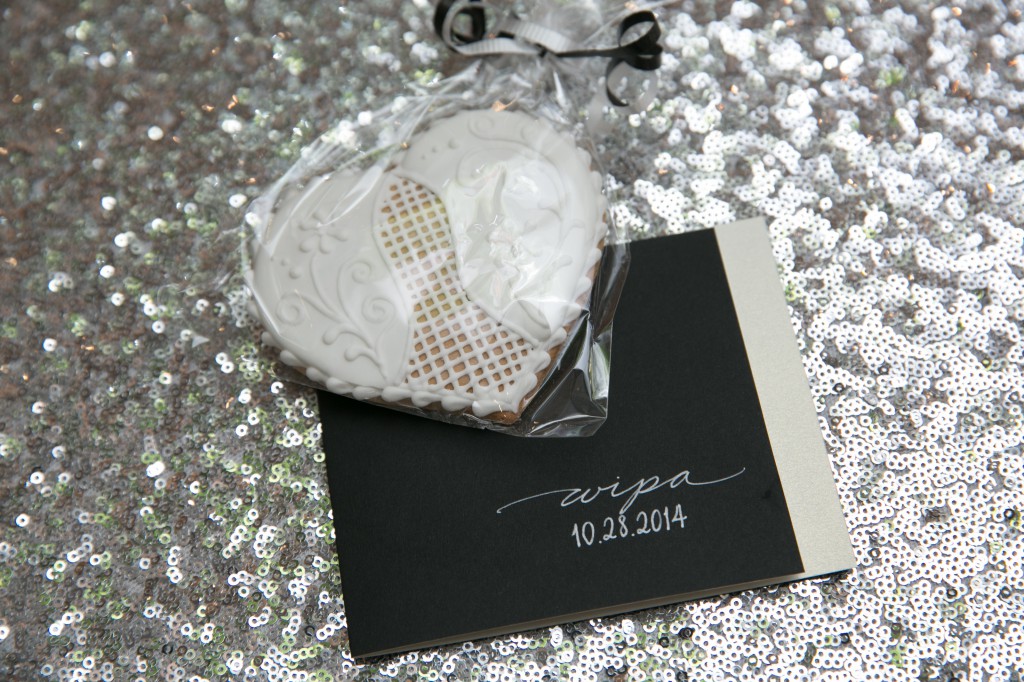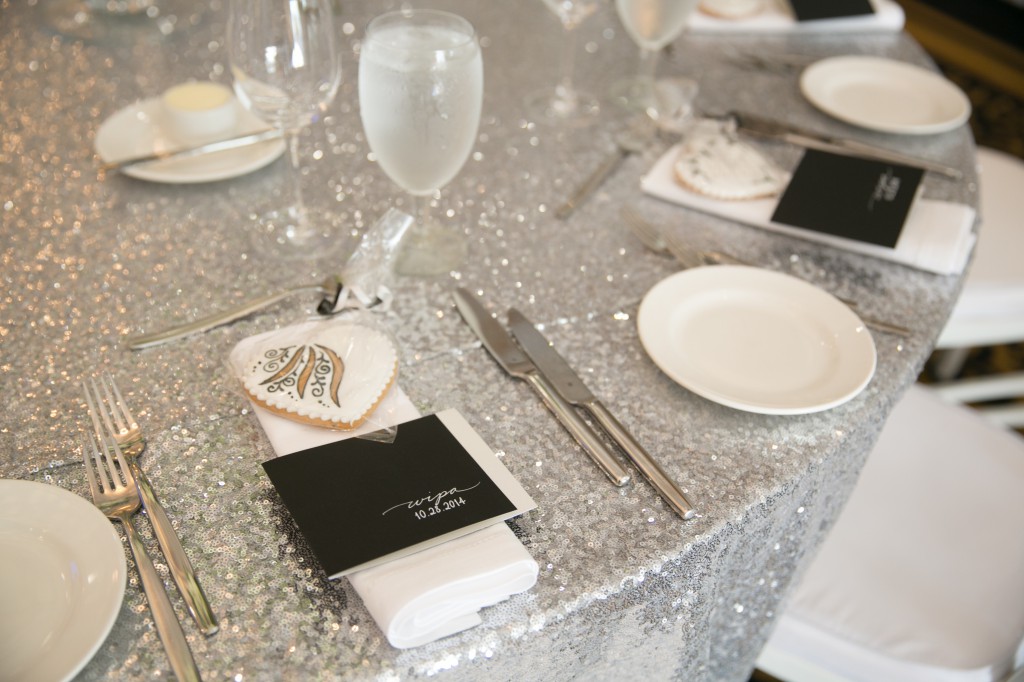 … and you see – it's quite stunning! Even more so thanks to the elegant ceiling wash (provided by our A/V sponsor, Fantasy Sound):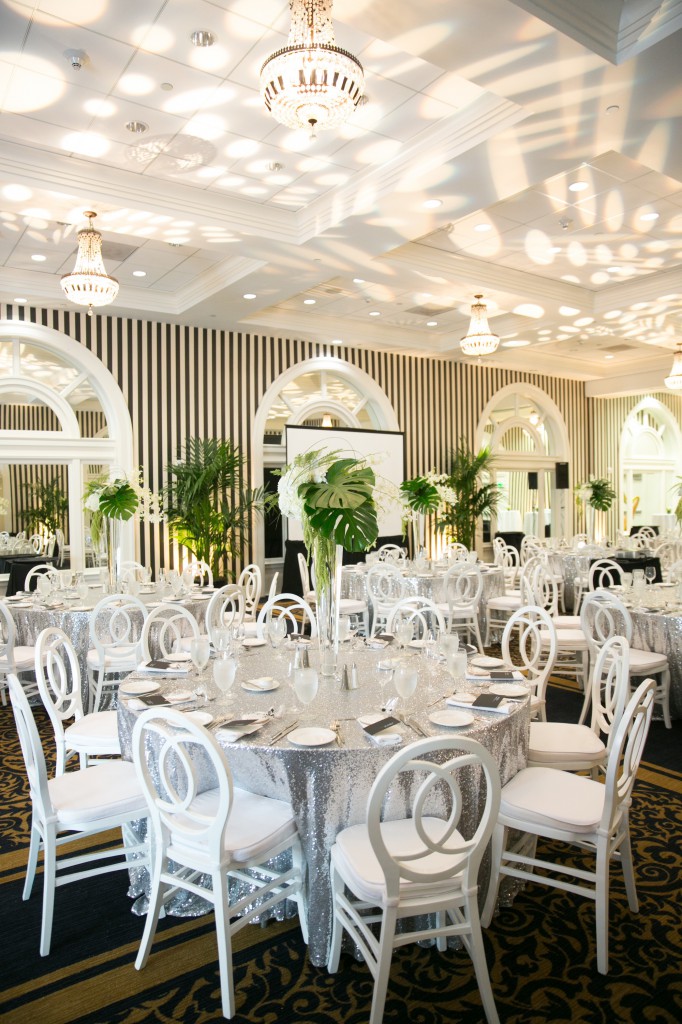 Then it was time for speeches (here it's me in action…)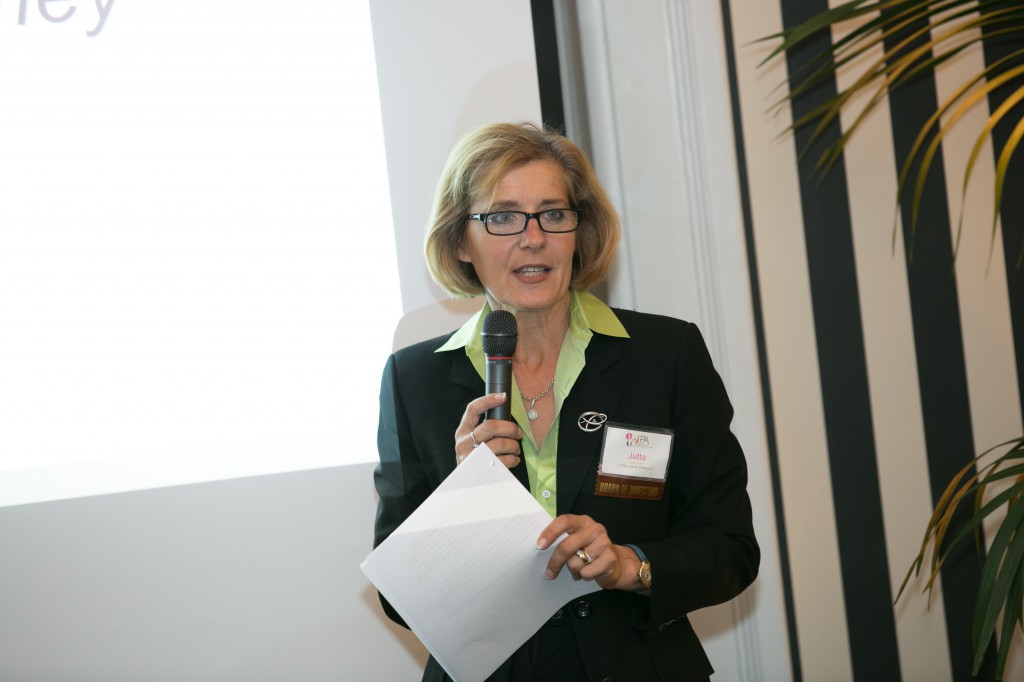 … and of course for the speaker presentation we had all been eagerly awaiting. Carolyn Higgins proved to be not only a highly knowledgeable expert in her field, but also an engaging speaker, with the rare gift of making a "dry" topic come alive and be real fun to learn!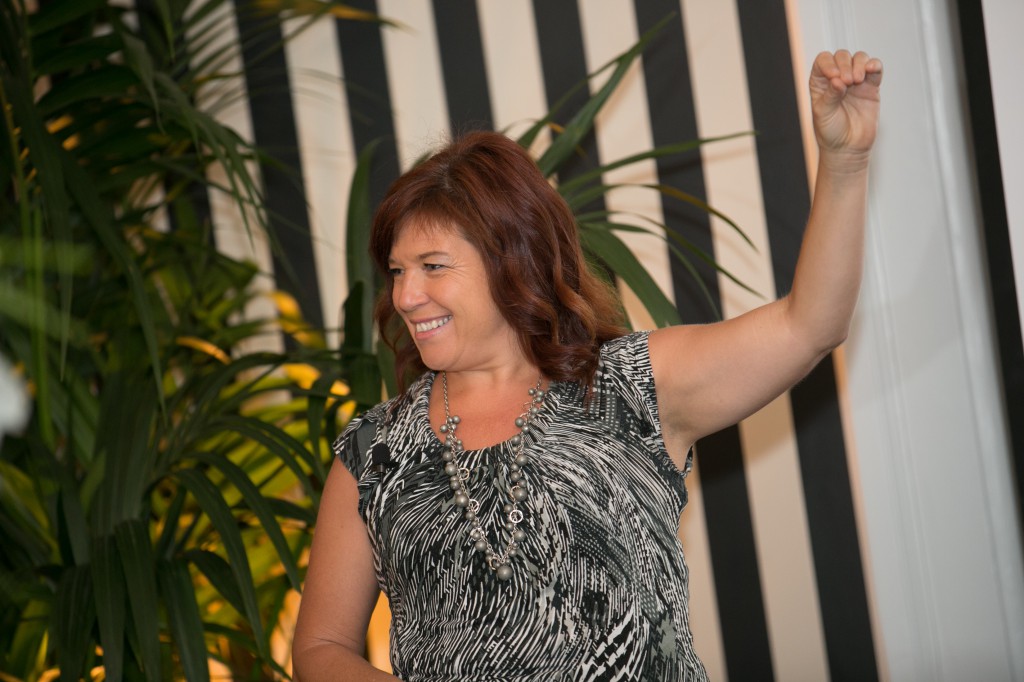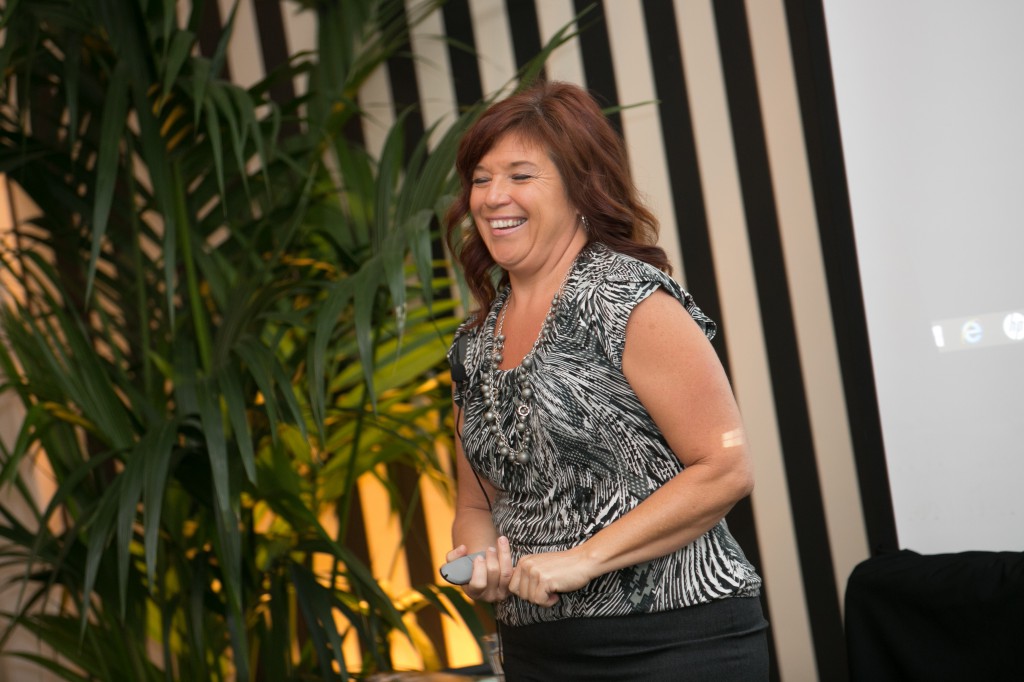 That's the presentation style everybody just loved!
And then we had a fabulous lunch… and the much-anticipated prize drawing (probably the biggest one in WIPA history!) with chalkboard art (from Steele My Heart) and fused-glass "sun catchers" (from Pat Gibbons) for the home, a wine gift (from Wente Vineyards), a big box of top-of-the-line skincare from my favorite Kiehl's store at the San Mateo Hillsdale Mall, an elegant bridal headpiece (from Poppyhearts) and beautiful parasols for weddings (by Parasols by Design). There were also coveted "Travel and Leisure" prizes: a "Vine to Wine" experience (at Holman Ranch), a Foursome of Golf (at The Bridges Golf Club), and a stay for two at Purple Orchid Wine Country Resort and Spa, and at two five-star resorts: Cavallo Point and Four Seasons San Francisco. All of our guests decidedly enjoyed this type of lunch entertainment!
But our event was far from over: it concluded with coffee and dessert in our elegant dessert lounge …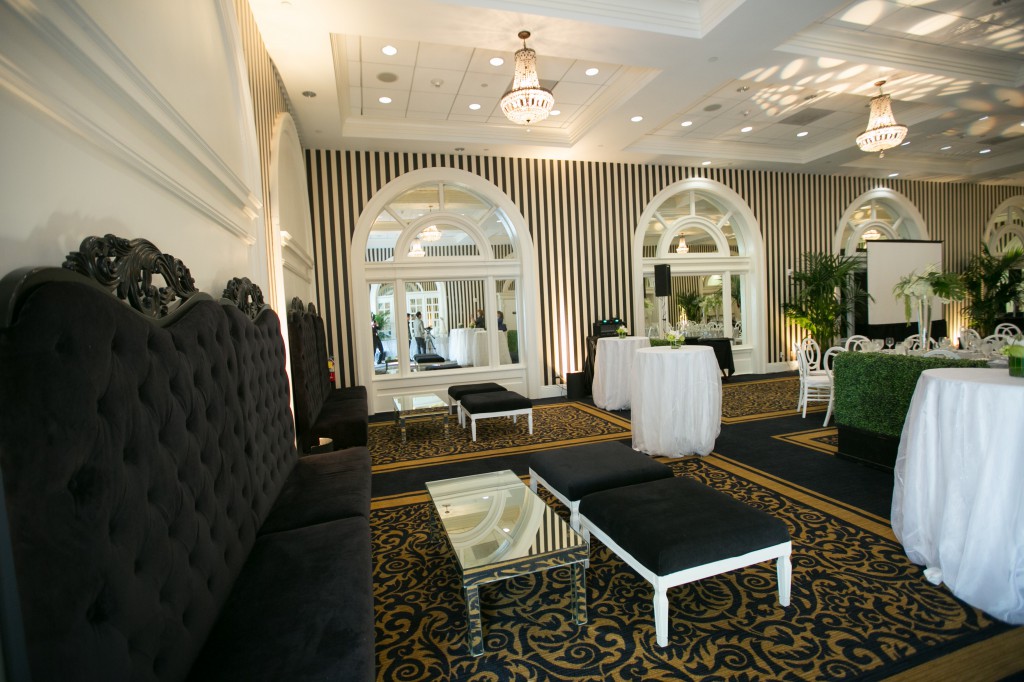 … where a glamorous silver and white multi tier cake from Torino Baking was waiting: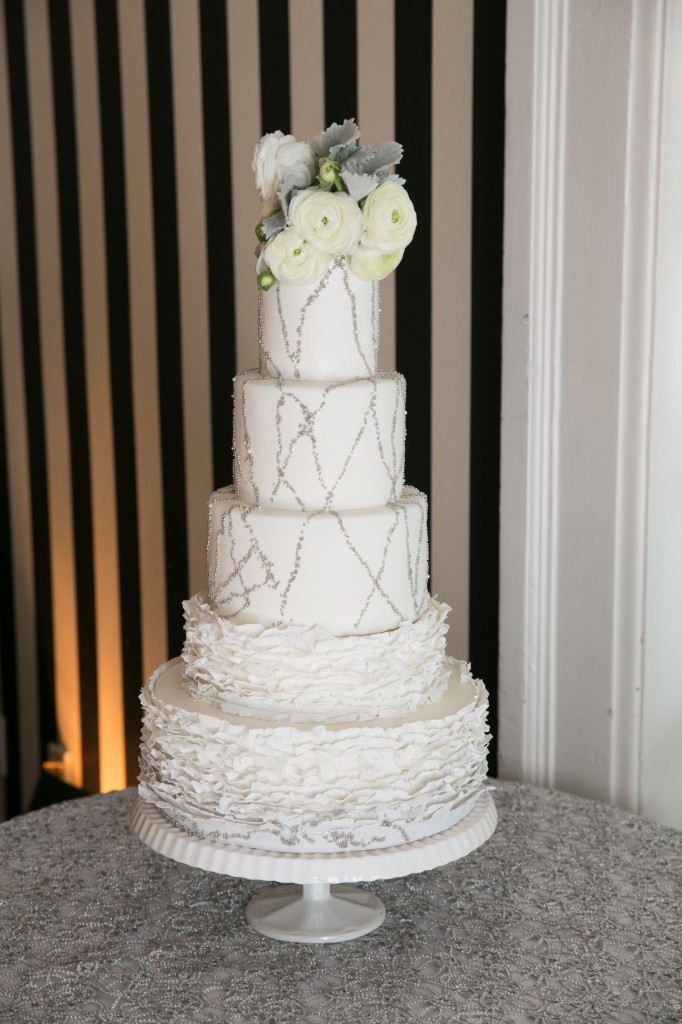 Pastry artist Julie Durkee herself cut her creation to reveal an oh-so-delicious super-rich chocolate cake underneath: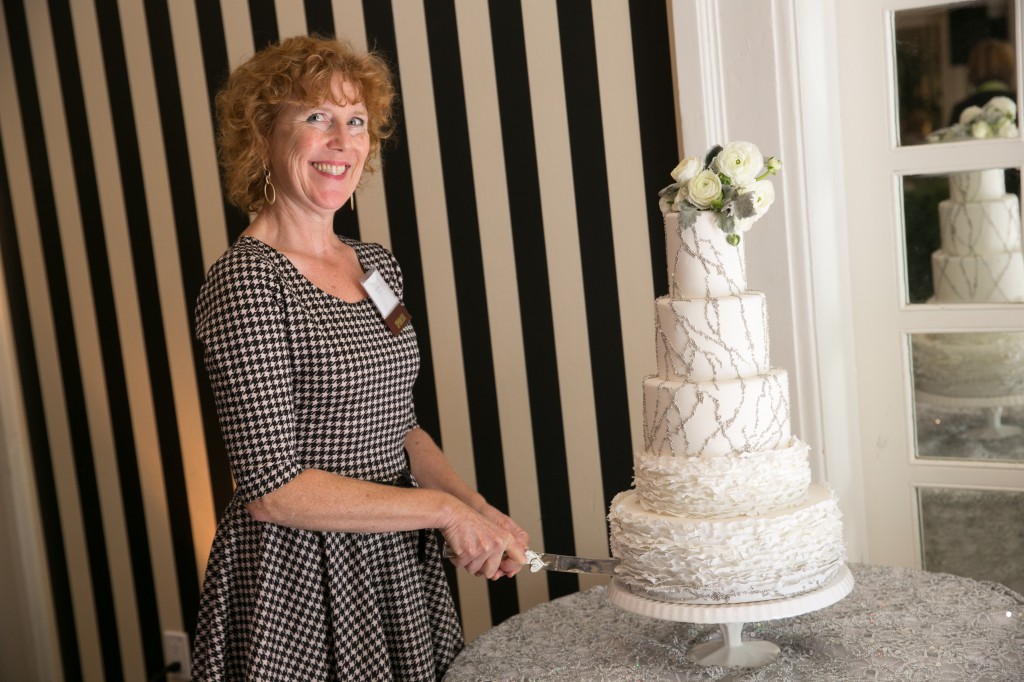 I can say, all our guests…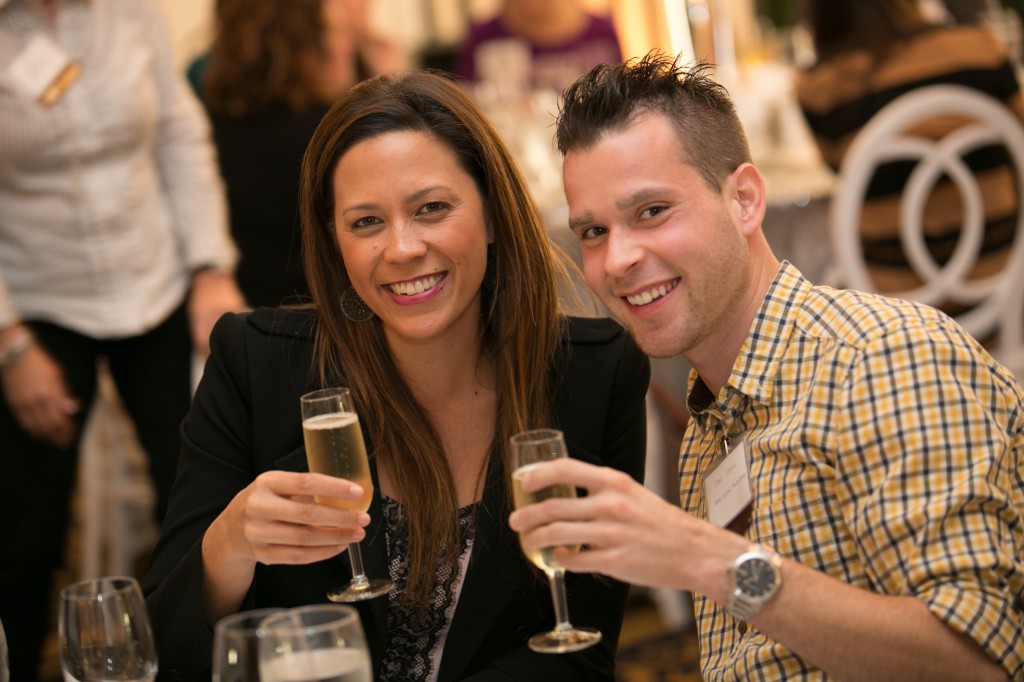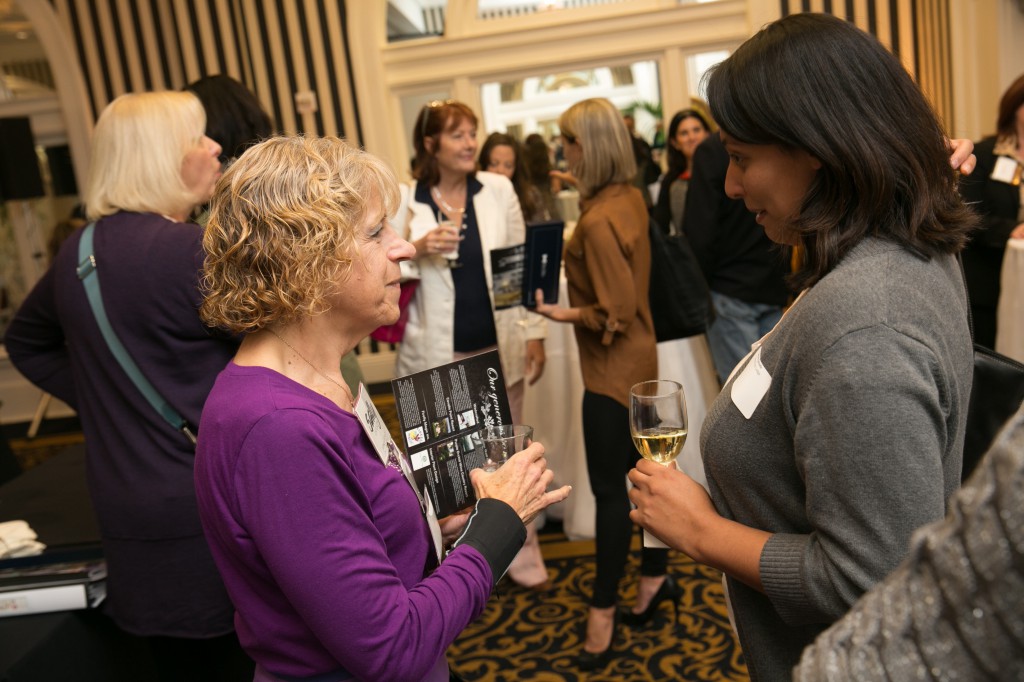 … were having a good time! It definitely was a special event – documented in photos by Gustavo Fernandez and videotaped by Level 2 Productions.

Our next festive event will be on February 24 of 2015 – we sure hope to welcome you there!

<! DL 06/02/12: Added html code for Pinterest Pin It button (appears at the end of each post) > <! DL 06/02/12: Added padding style modifier to the Pinterest html code to align the Pit It button on the page > <! DL 06/02/12: deactivated code by adding two ! in the a and img code lines >