Published on Carats & Cake 
Shannon and Brian are not people to rush into things.  So – when they decided to get married after three years of courtship, they took their time finding the perfect venue for their celebration. It should be set in beautiful, untamed Nature, but still have a certain elegance. It should be large enough for the 270 guests they were going to invite. It should offer accommodations for their closest family members to stay there for an extended wedding weekend. Together with Shannon's mother, they visited a number of venues… and when they first set foot on the Santa Lucia Preserve, it was love at first sight, head over heals. Nothing else could compare. A private nature preserve on 20,000 acres nestled in the mountains above Carmel Valley, untouched forests and rolling hills with endless views, a historic Spanish-Mediterranean mansion (the "Hacienda" )…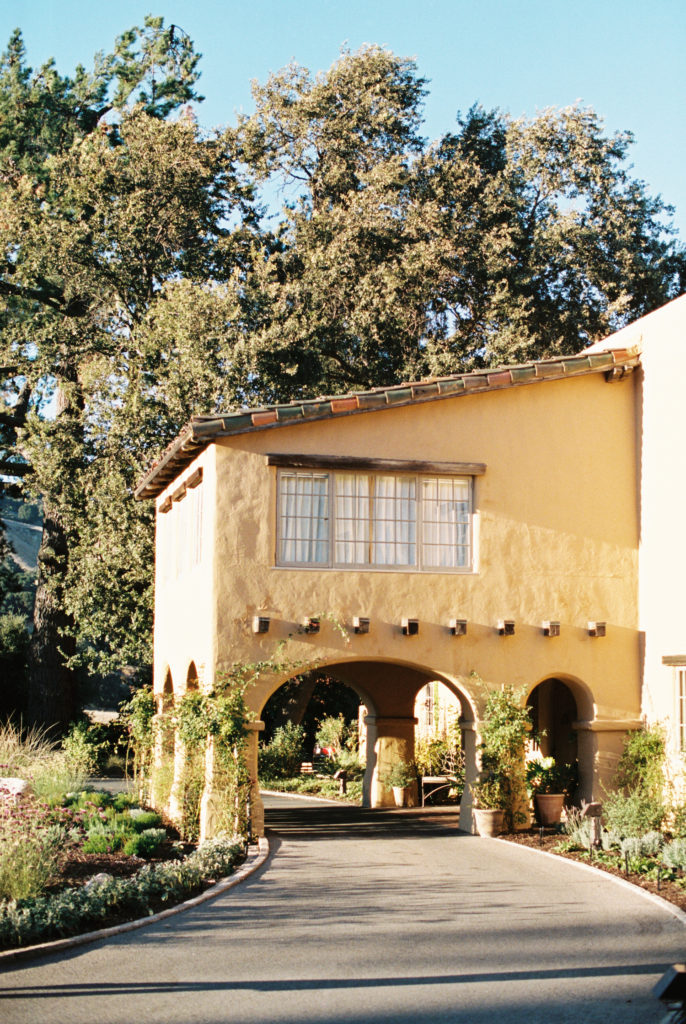 … with a flock of deer grazing on the front lawn…
… and wild turkeys as well…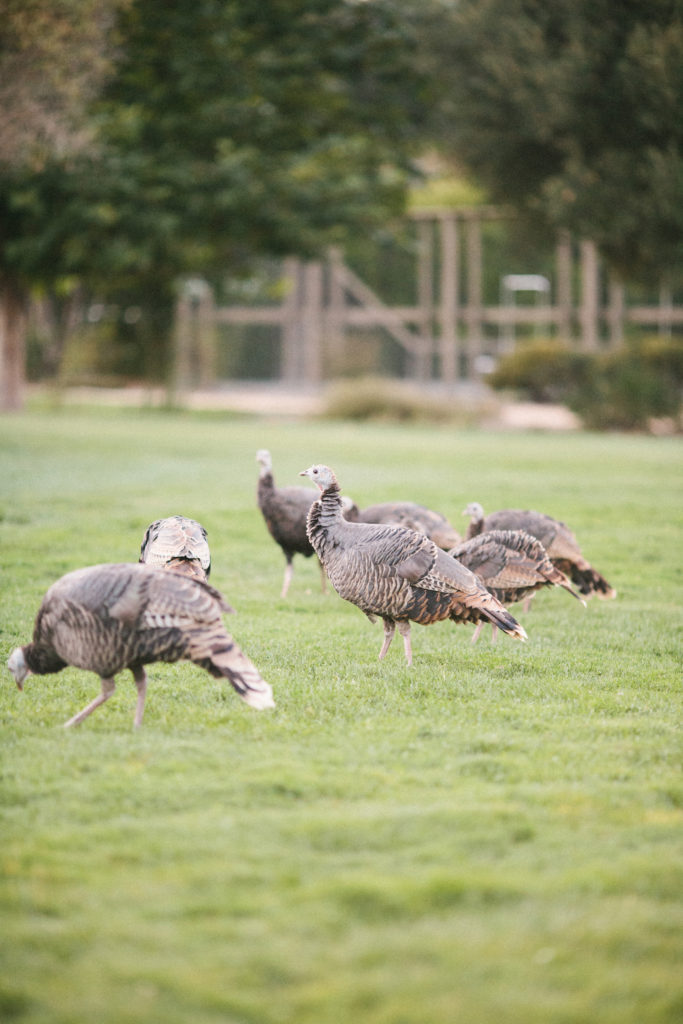 … and an adjacent guest house to accommodate their nearest and dearest, a subtly renovated barn for their party and a majestic Redwood grove for their ceremony – it was simply perfect! When Shannon and her mother enlisted the help of my company, A Day Like No Other, for the planning of their Great Day, I jumped right in!
Fast-forward nearly a full year… and finally all our planning came together last weekend on a perfect autumn day, warm, sunny, under blue skies and with a slight breeze. We could not have chosen a better date! Shannon's and Brian's wedding celebration, anticipated for so long, was to incorporate many, many very personal touches which made it unmistakably "theirs" and gave it all a deeper meaning.
For Shannon, her bridesmaids (her two sisters), the two mothers and Shannon's grandmothers, the day began early with hair and makeup services by Sarah and Kami of the Hair and Makeup Company.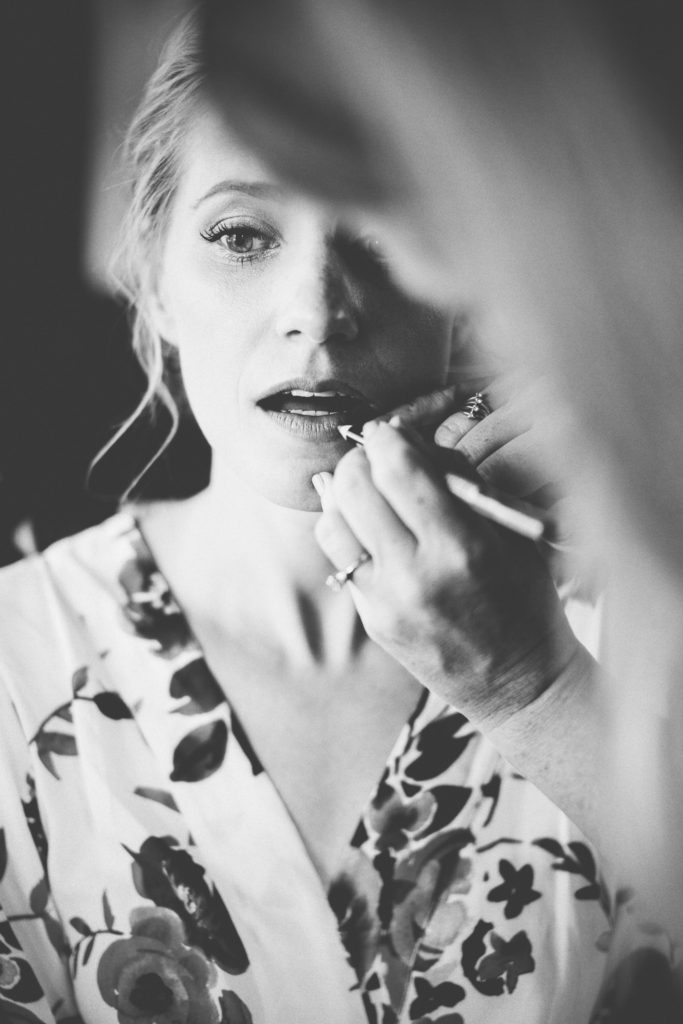 The ladies emerged looking their best ever – in a very natural and elegant way. Everyone was just glowing!
Britt Waddell of Britt Rene Photo and her assistant captured every precious moment from beginning to end.
Darcy Craig of Seascape Flowers delivered an abundance of beautiful blooms for the bridal party (and also for ceremony and reception)…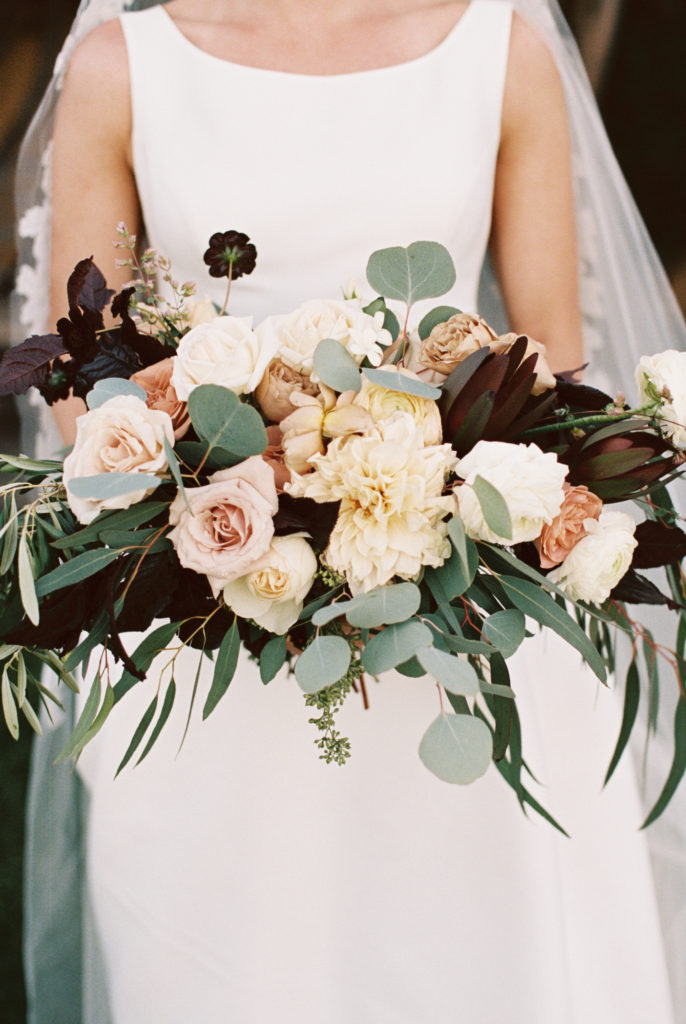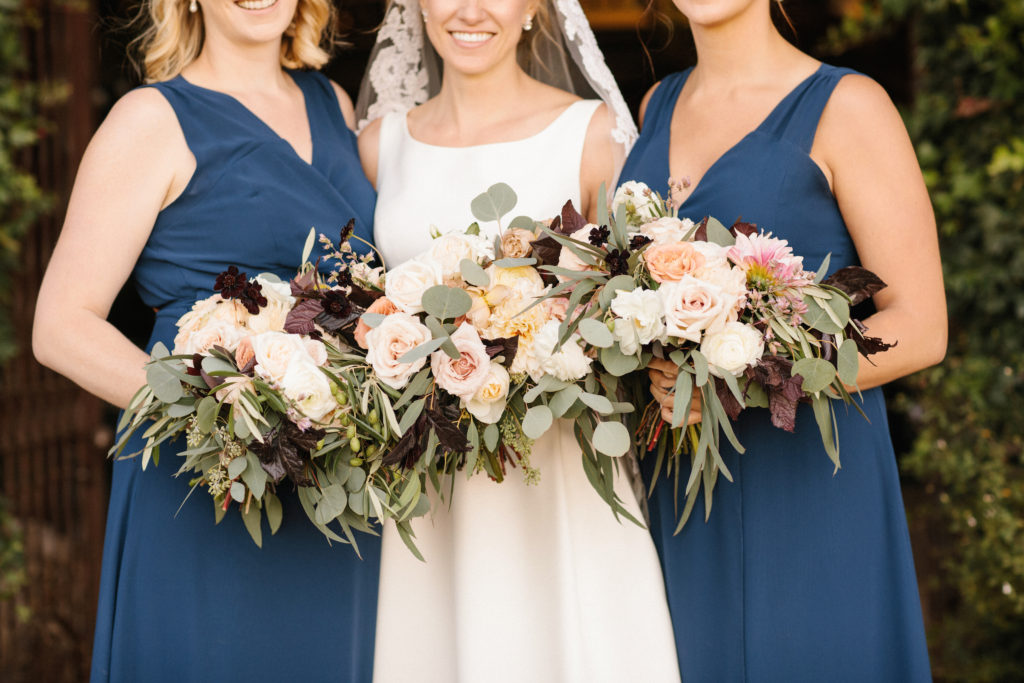 … to complement the bride's breathtaking Carolina Herrera dress from Jin Wang Bridal …… worn with her mother's veil:
Then there were Shannon's princess slippers…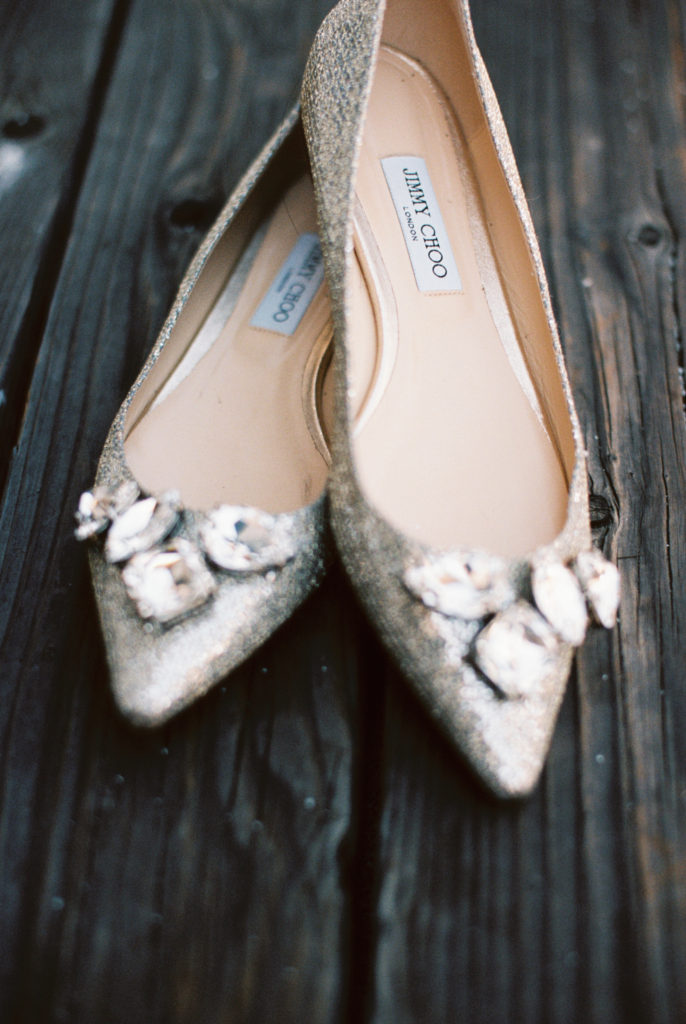 … and, of course, the rings.
Even more excited than the bride herself was her flower girl!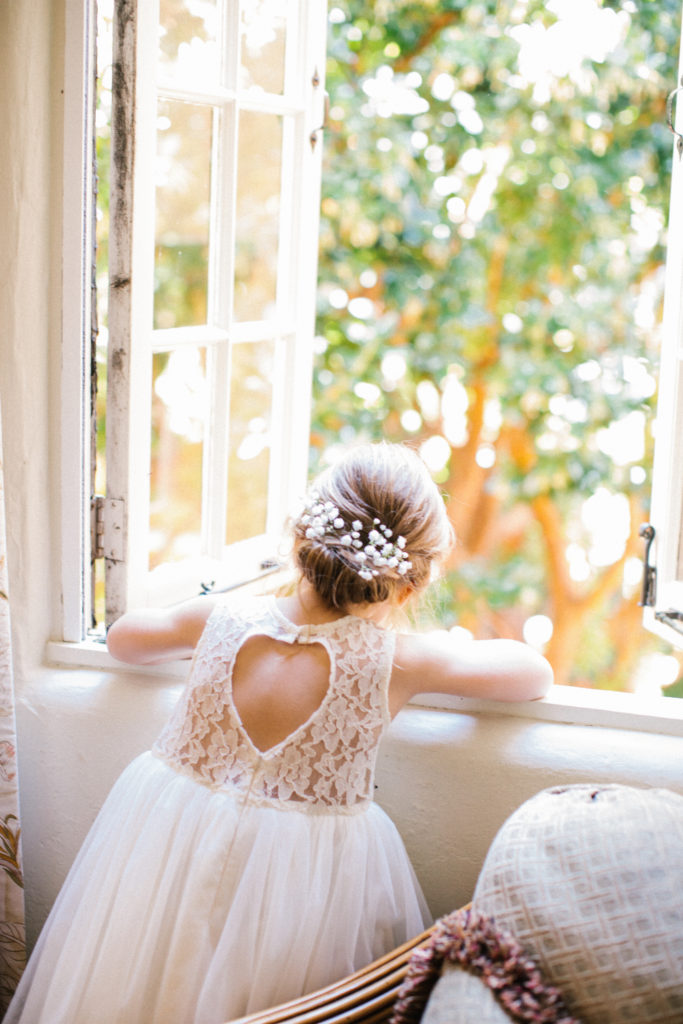 The groom, meanwhile, was busy getting ready as well.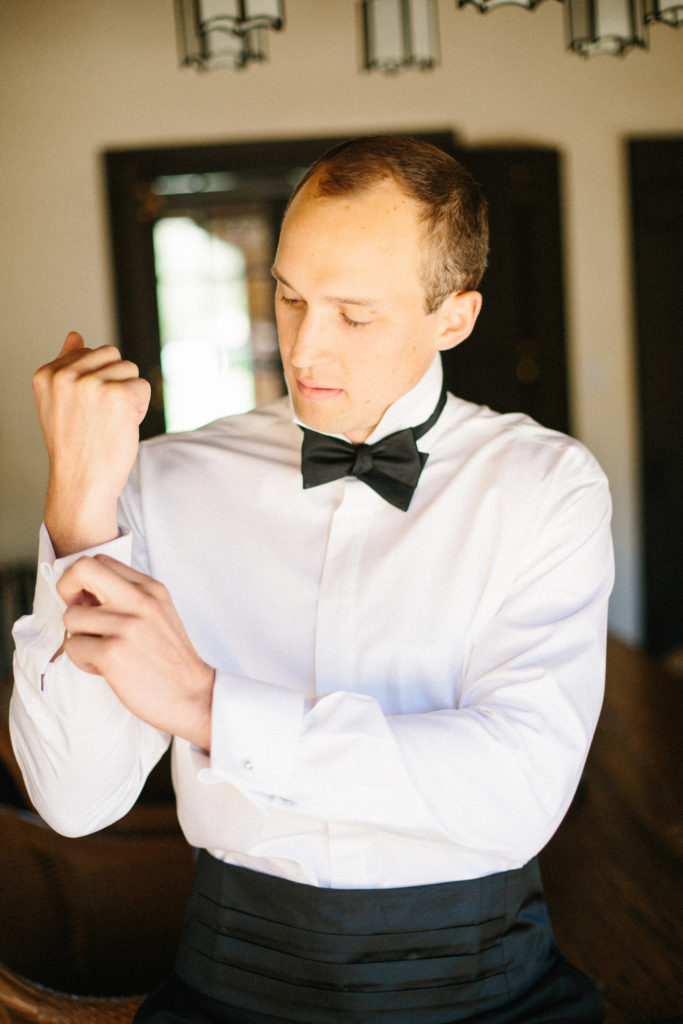 Ready to go….a real mother-daughter moment…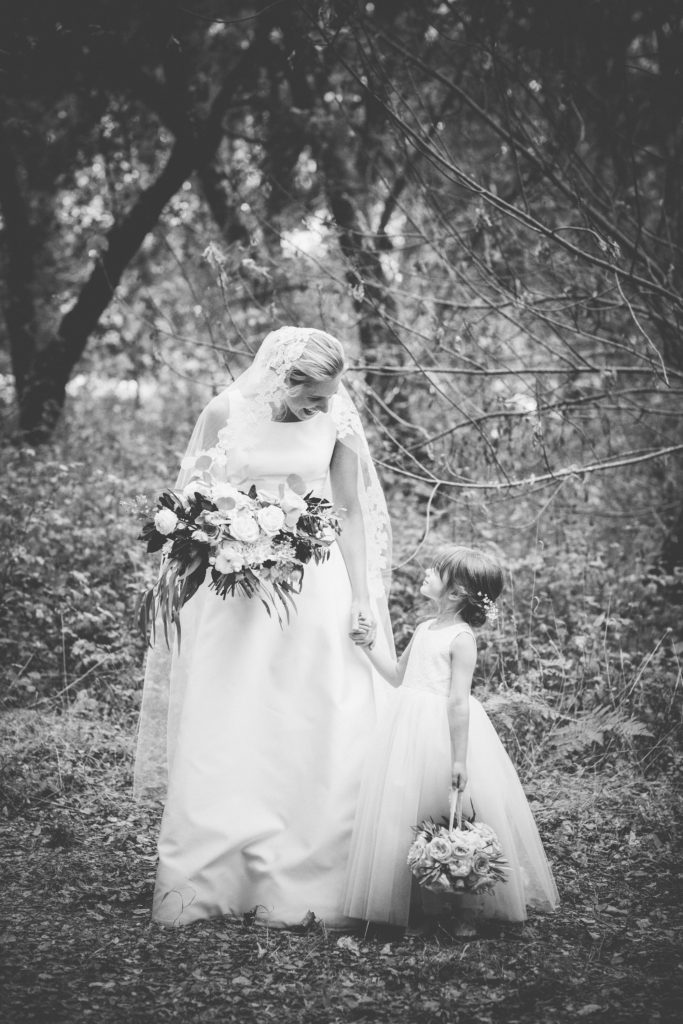 To me, this is the epitome of classic beauty.
A fleet of shuttle buses from Main Event Transportation then took the couple's guests from their hotels in nearby Carmel up into the mountains, into the Preserve and to the ceremony at the majestic Redwood Grove where the Preserve team under Catering and Events Director Aubrey Yeakel and Banquet Manager Francisco had set up for the ceremony. Sound was provided by Peter Burkhard of Kelly Productions, and the ceremony was accompanied by solo guitar music by Rich Armstrong.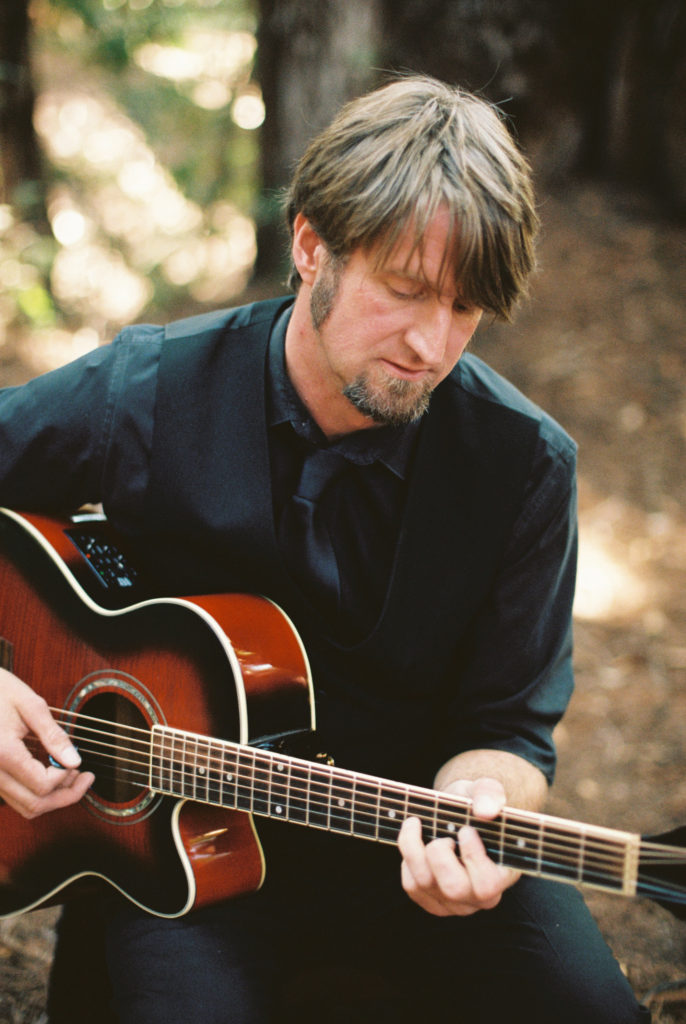 Guests were handed elegant program books which the mother of the bride had hand-bound with leather – the wedding flowers were modeled after the floral motif on the invitation suite: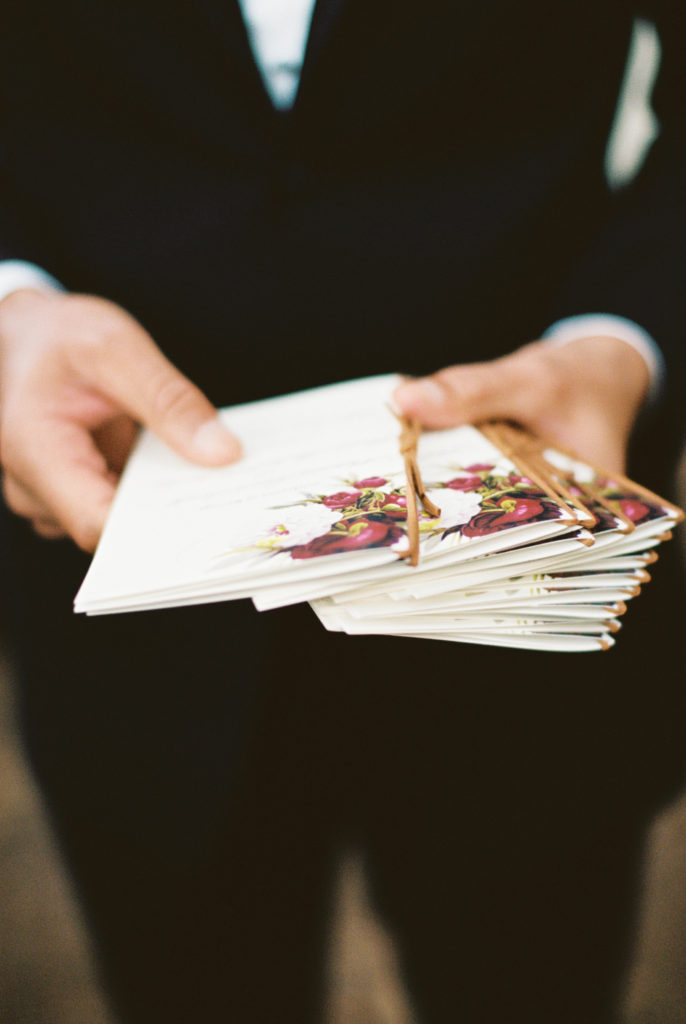 The elegance and natural beauty of this program (by Ruby the Fox and  Papineau Calligraphy)set the tone for the whole celebration and especially for the ceremony which was officiated by the couple's friend Michael who had actually brought them together – talk about personal touches here!
And here comes the bride, on her father's arm: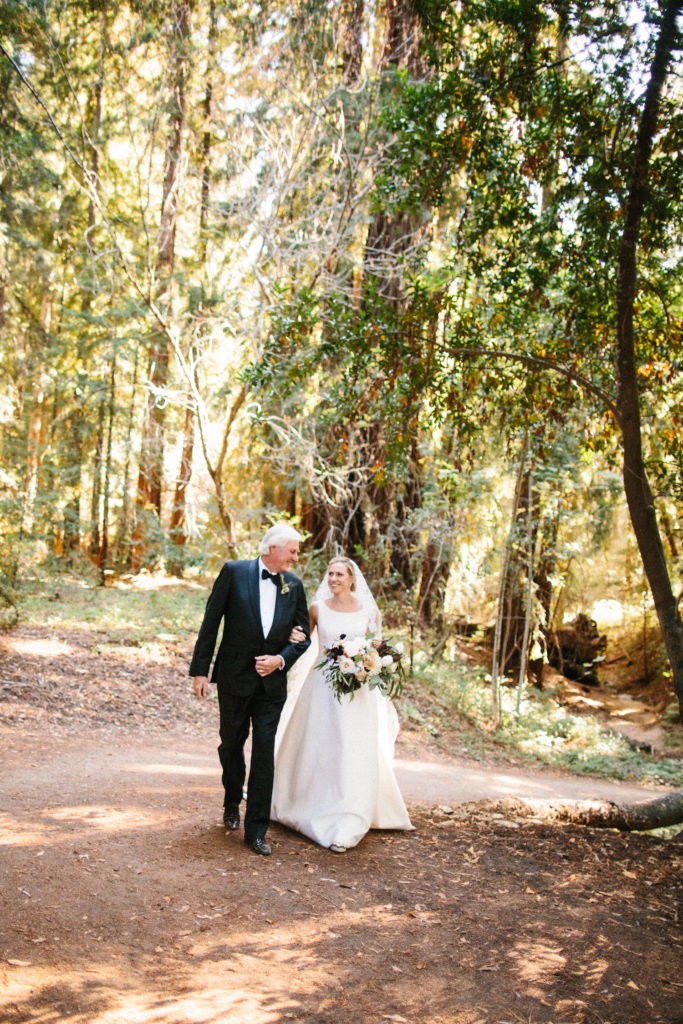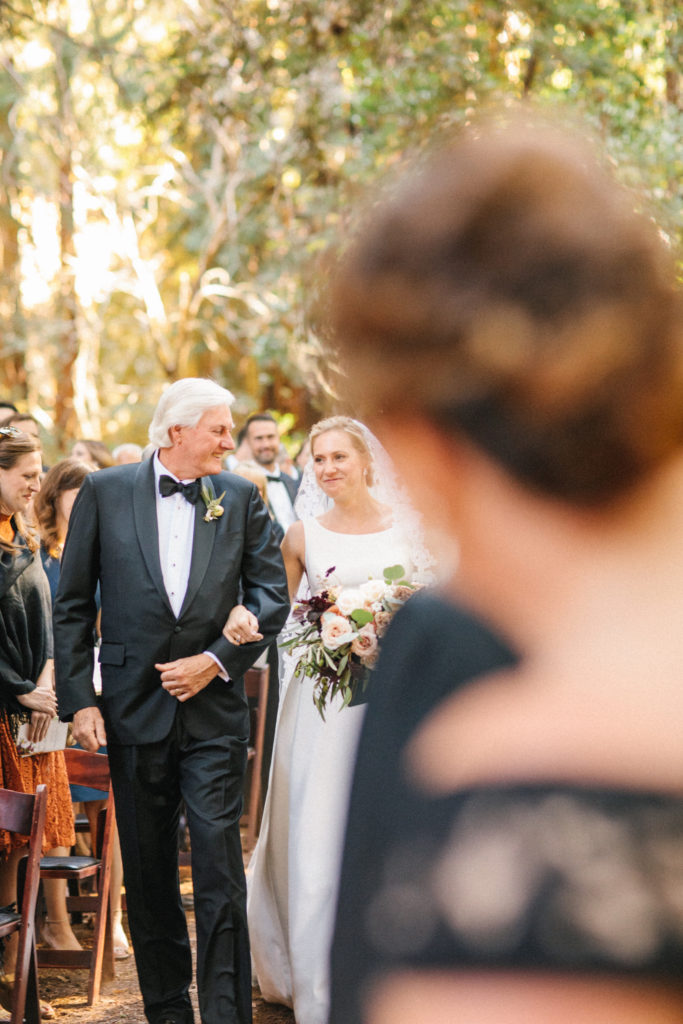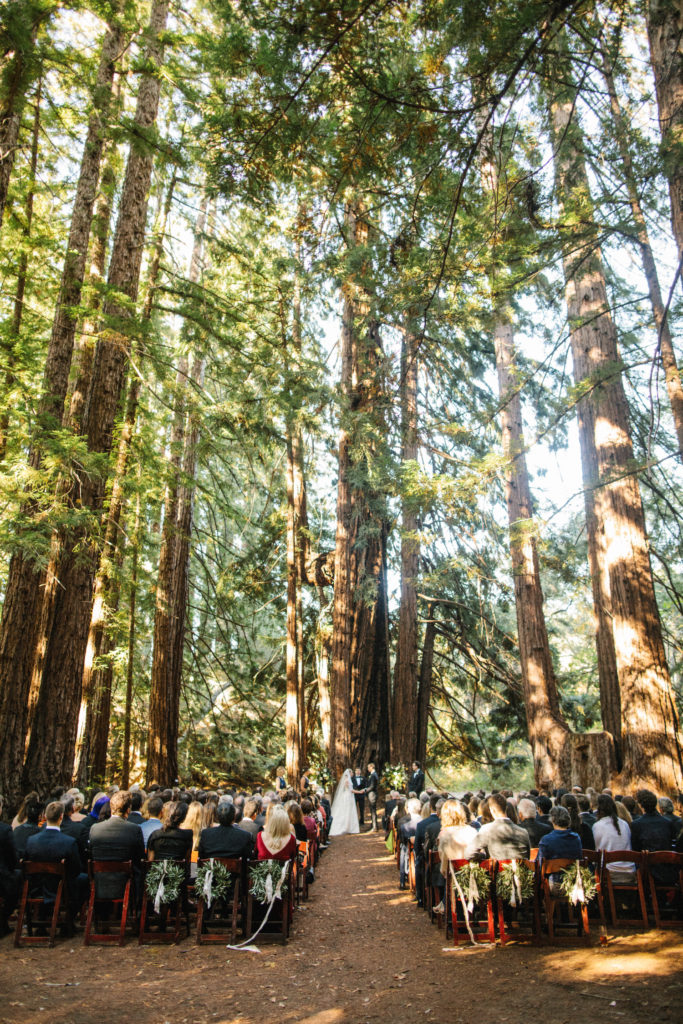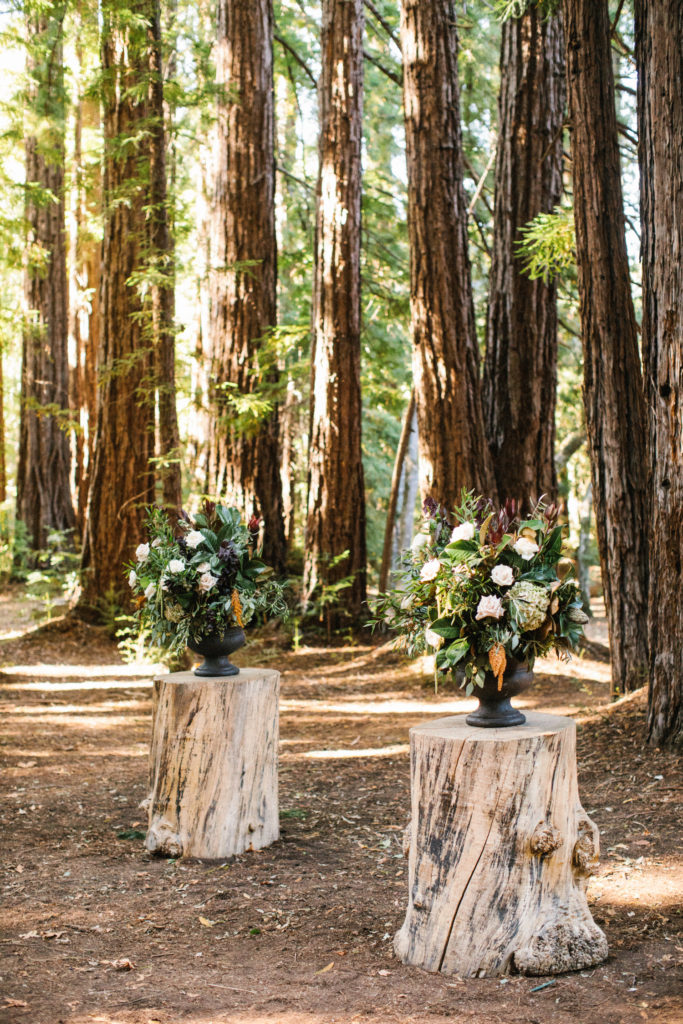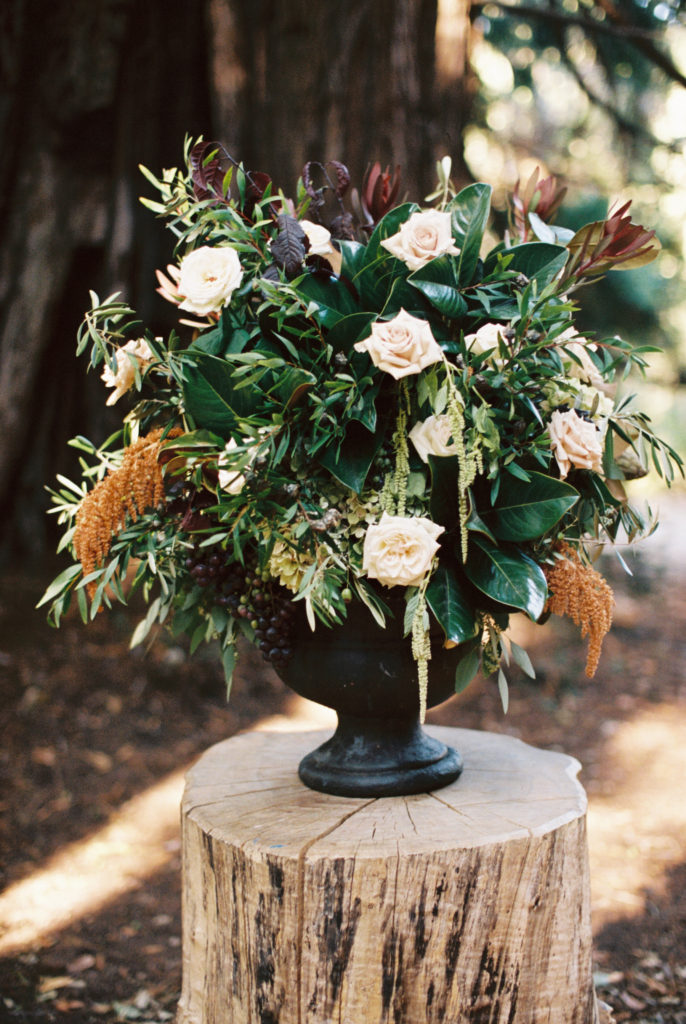 The couple said their vows flanked by two huge flower arrangements set on natural tree stumps, and the only other floral decor were hand-tied wreaths on the back row of chairs – wreaths are a traditional symbol of wedding celebration in Lithuania, as a nod to the Groom's cultural heritage (and again, more of that to come!)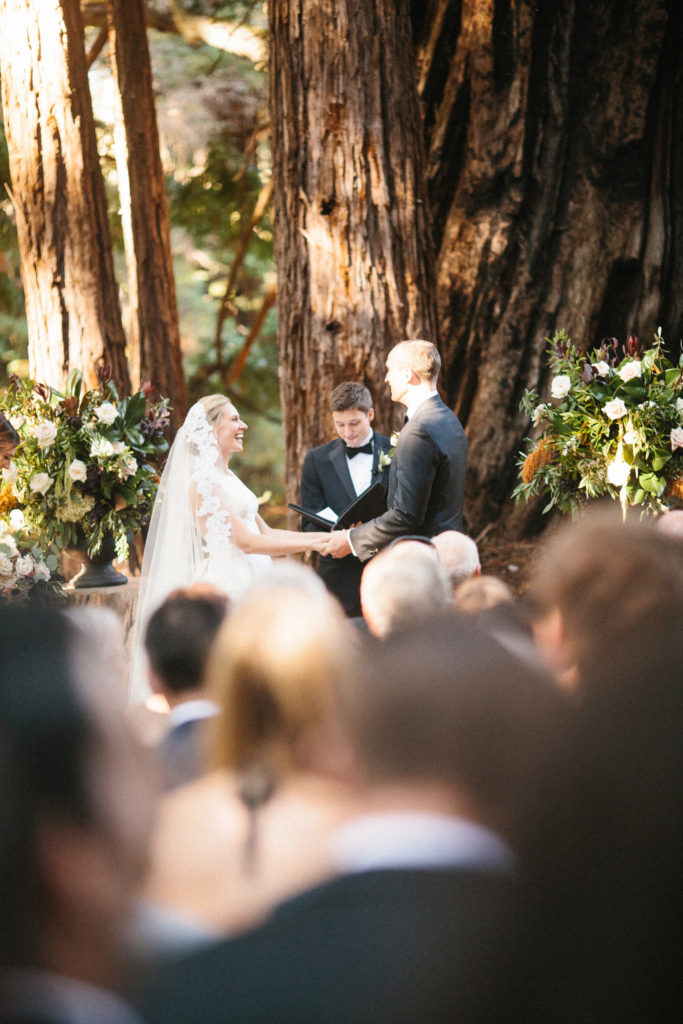 After the joyful ceremony, guests were shuttled to Cocktail Hour on the expansive lawn adjacent to the Hacienda where they enjoyed delicious hors d'oeuvres (like Ahi tuna tuiles…) to go with their libations. The sun cast a golden glow over the scene… and flower girl Helen, a mere four years old, took her job very seriously to call everyone to dinner with a handbell: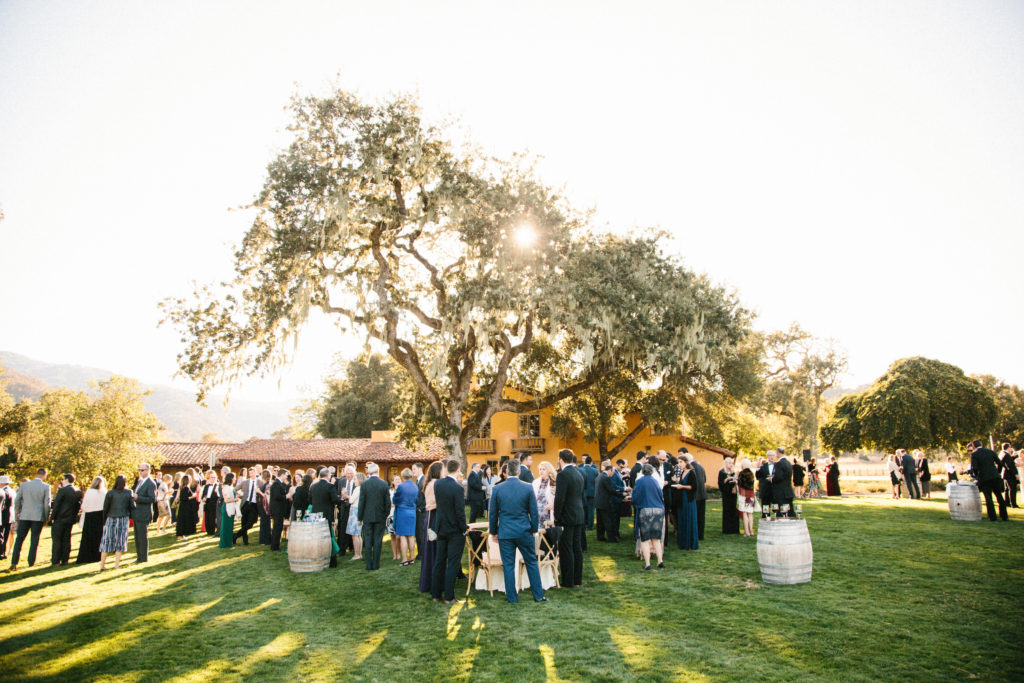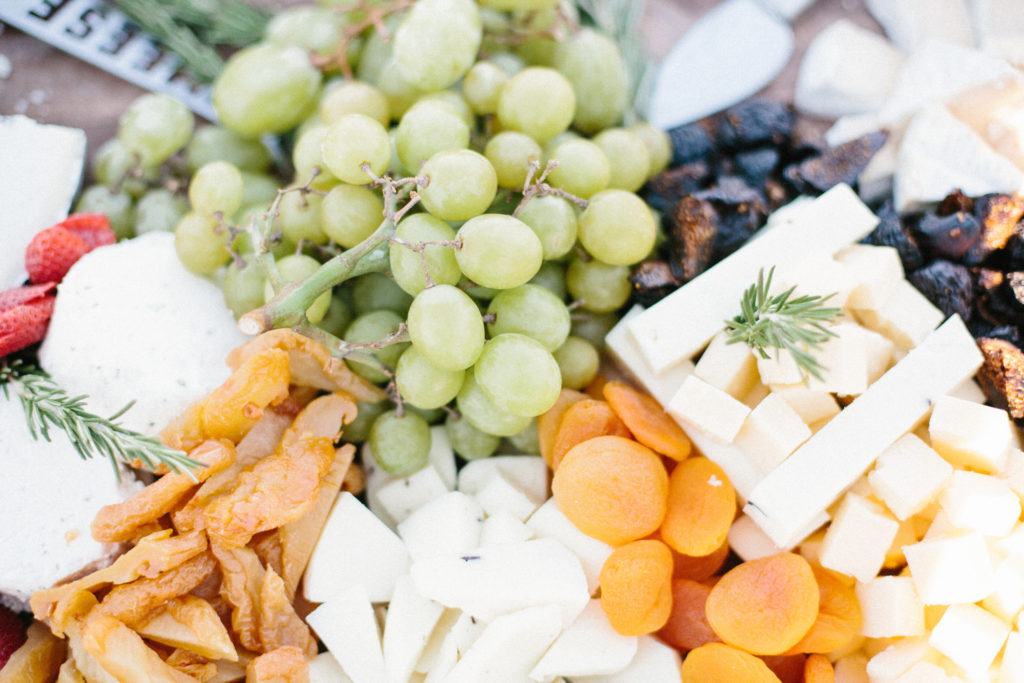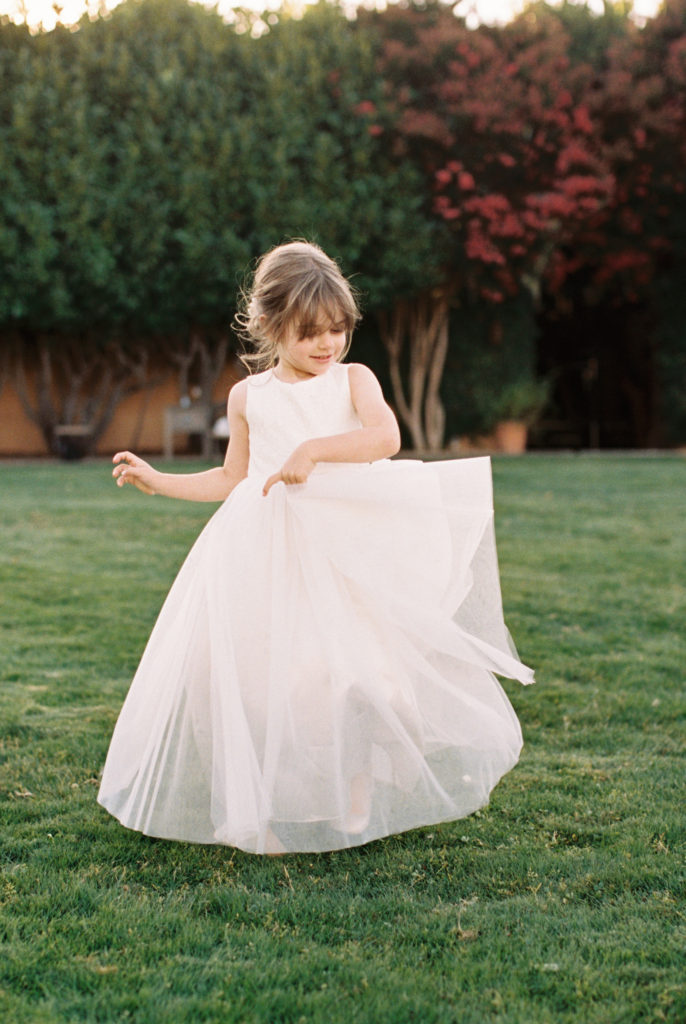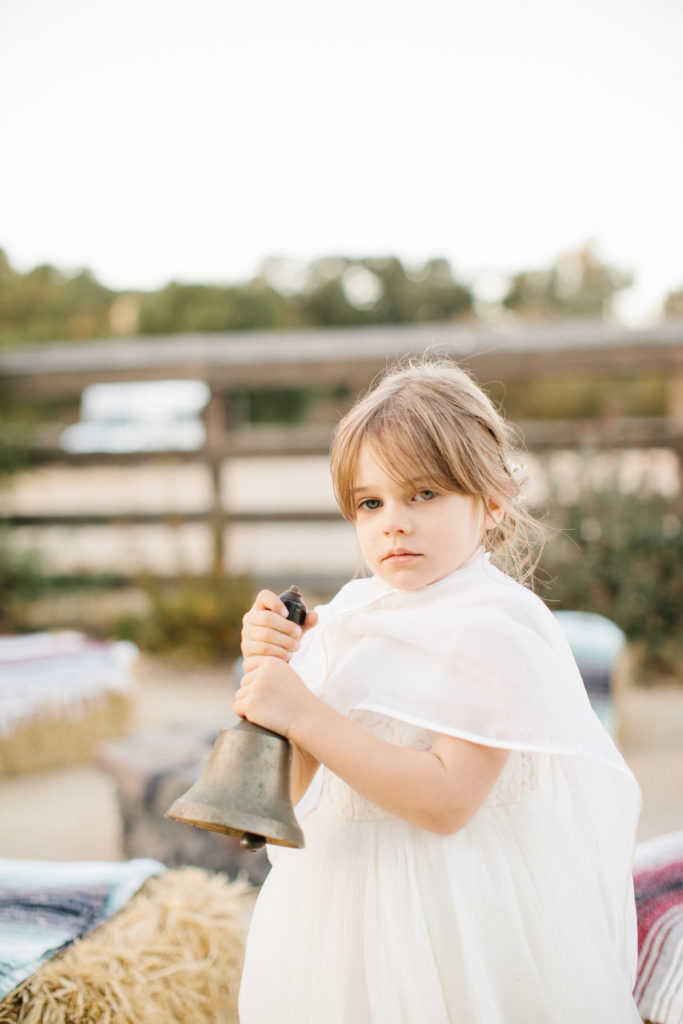 The newlyweds had meanwhile gone on a "photo date" with photographer Britt and arrived for dinner on foot, hand in hand…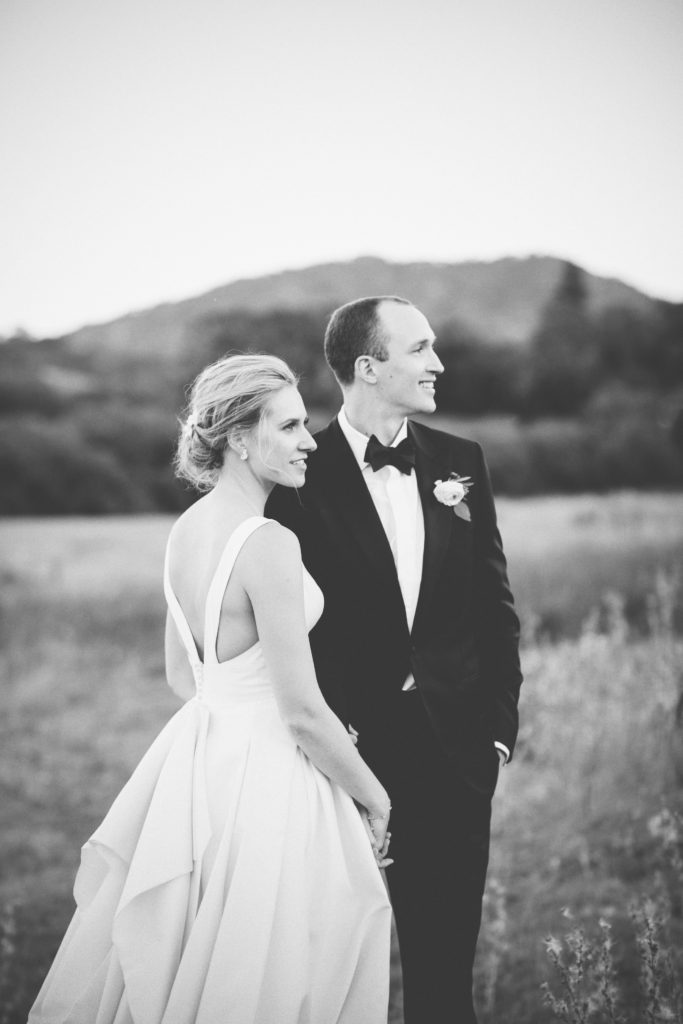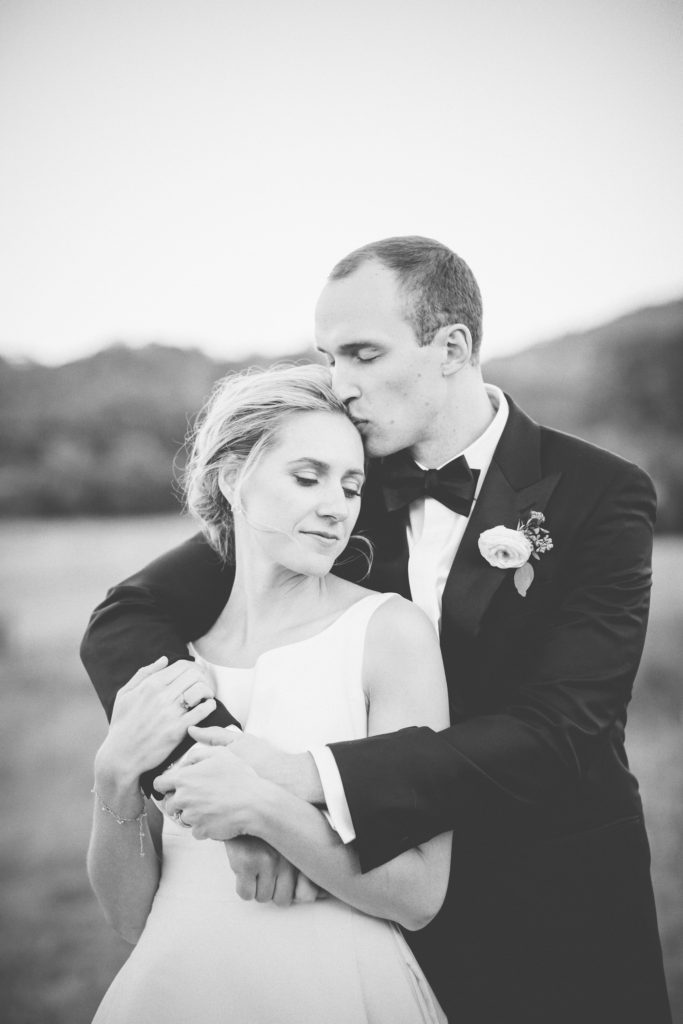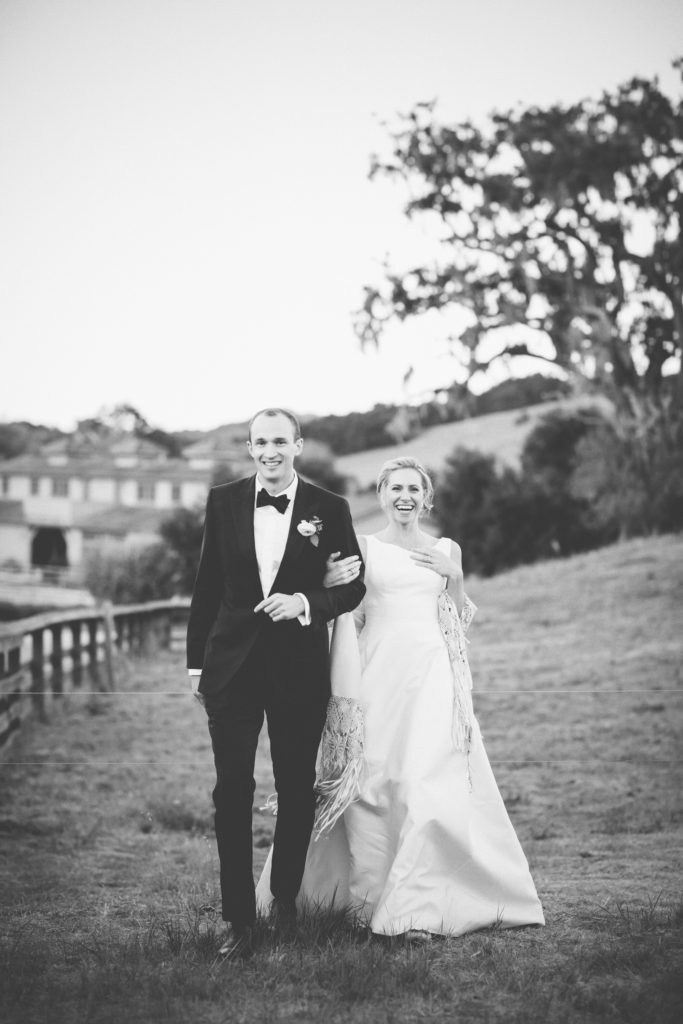 Guests took a leisurely walk over to the Barn where the venue staff and my two wonderful assistants Myrtle and Lisa had set everything up for dinner.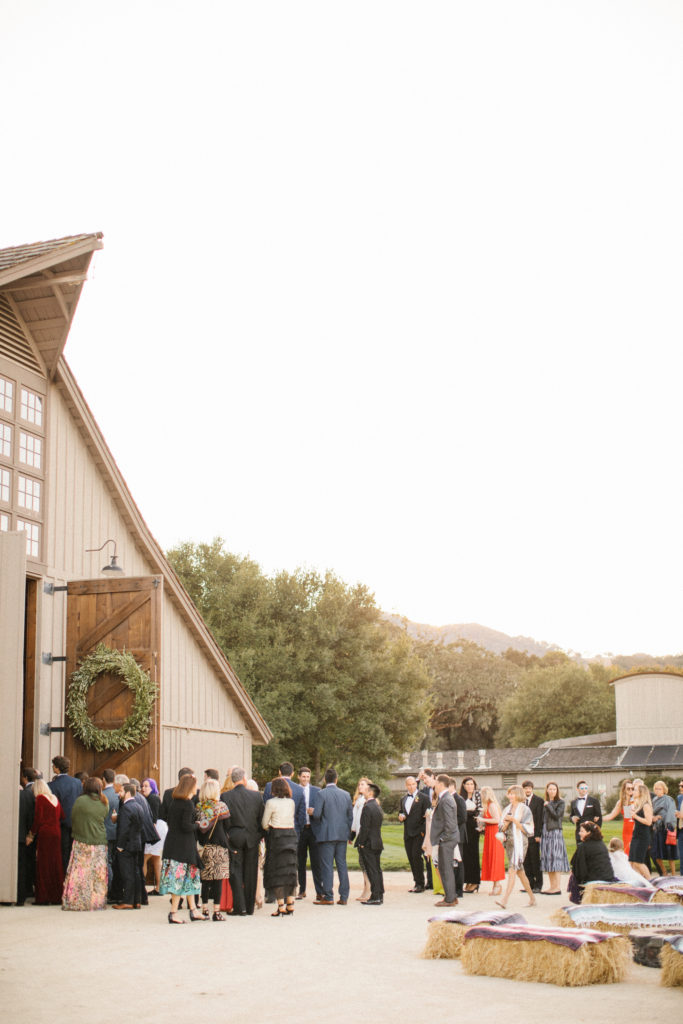 When the doors opened, guests were greeted with more – oversize! – wreaths: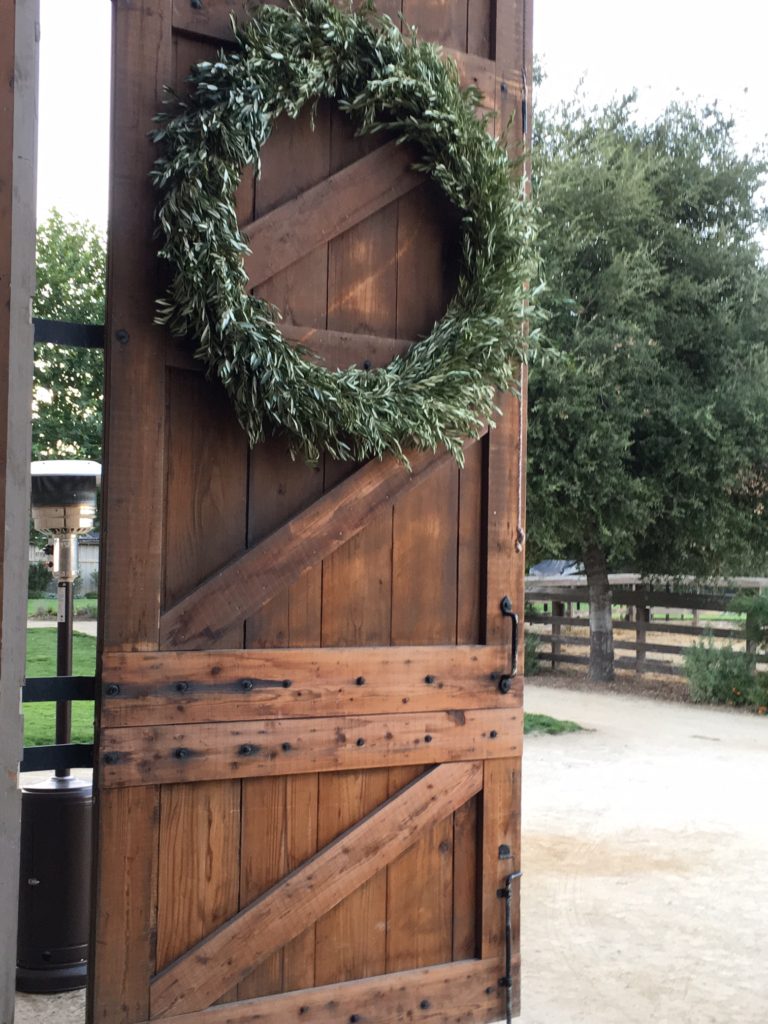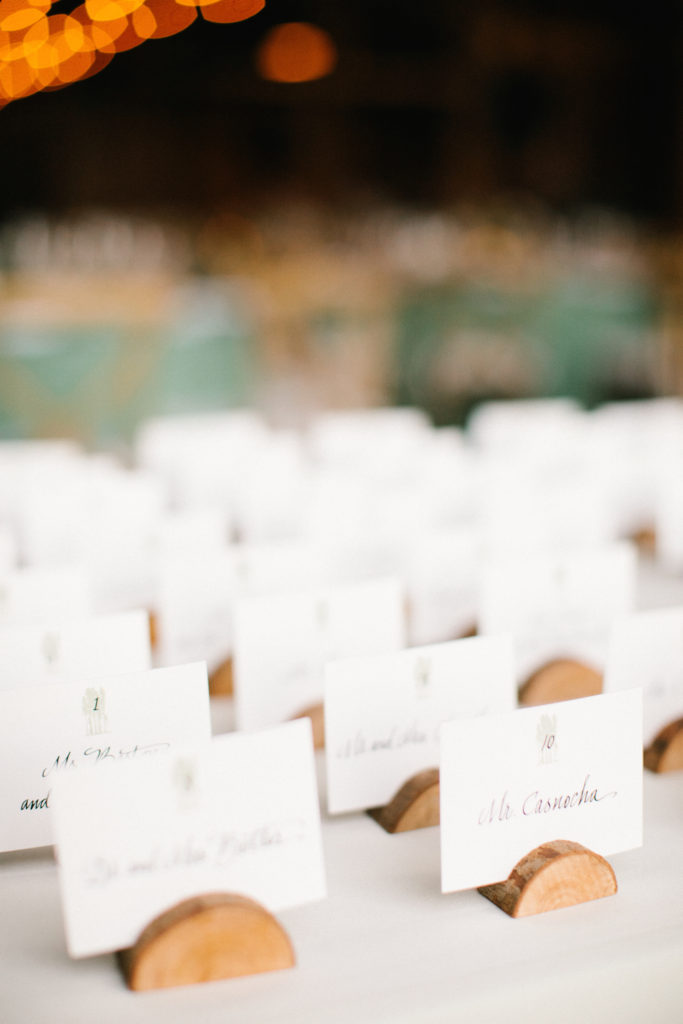 … and an elegant setup under twinkling lights: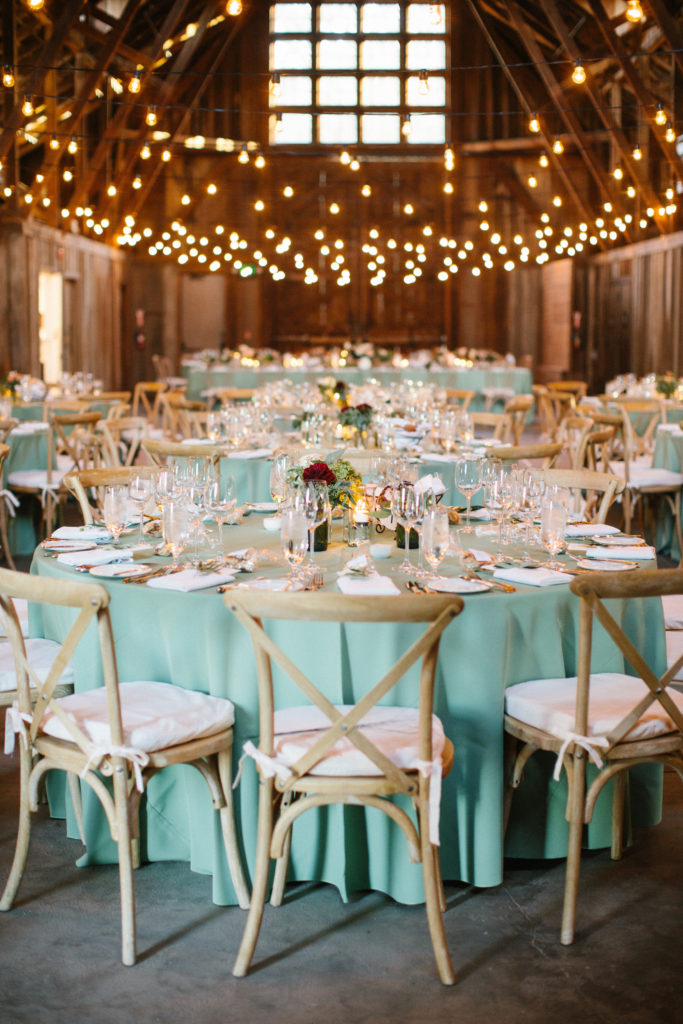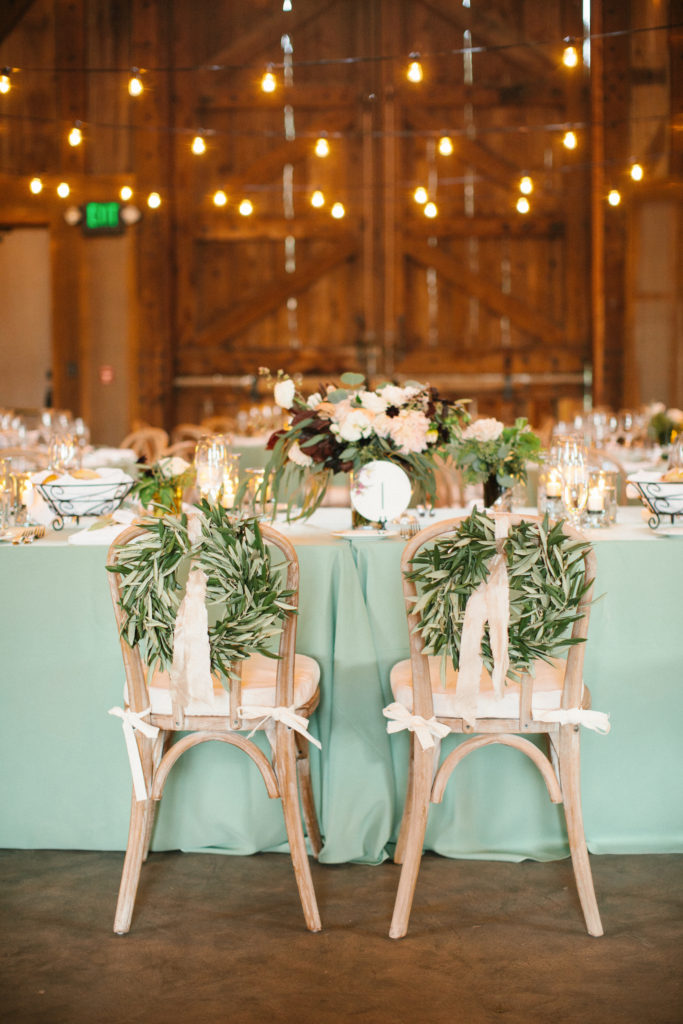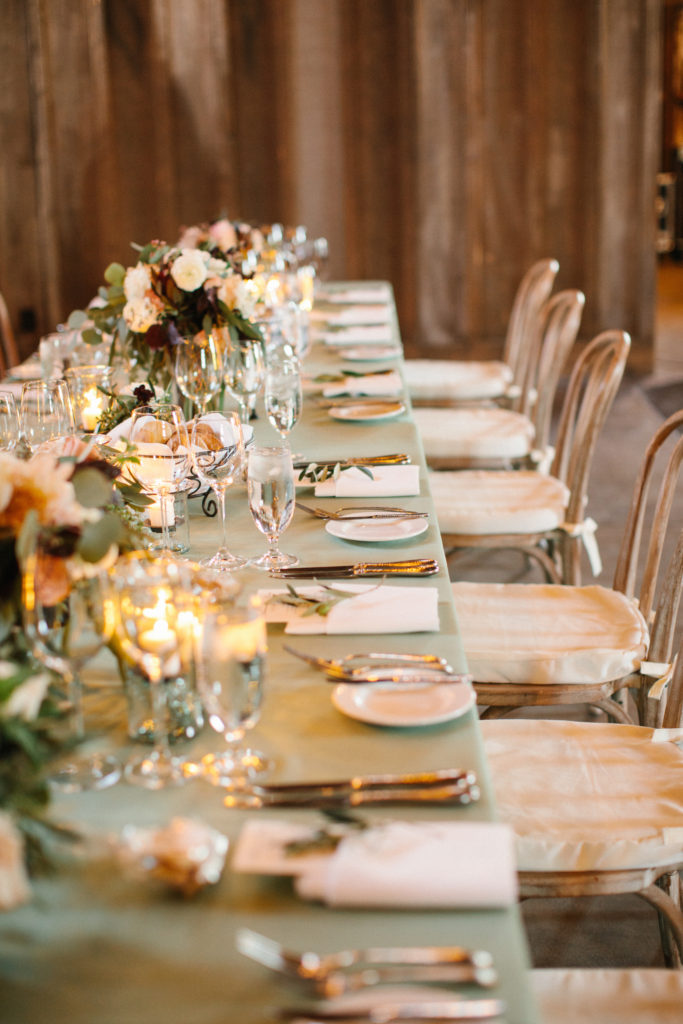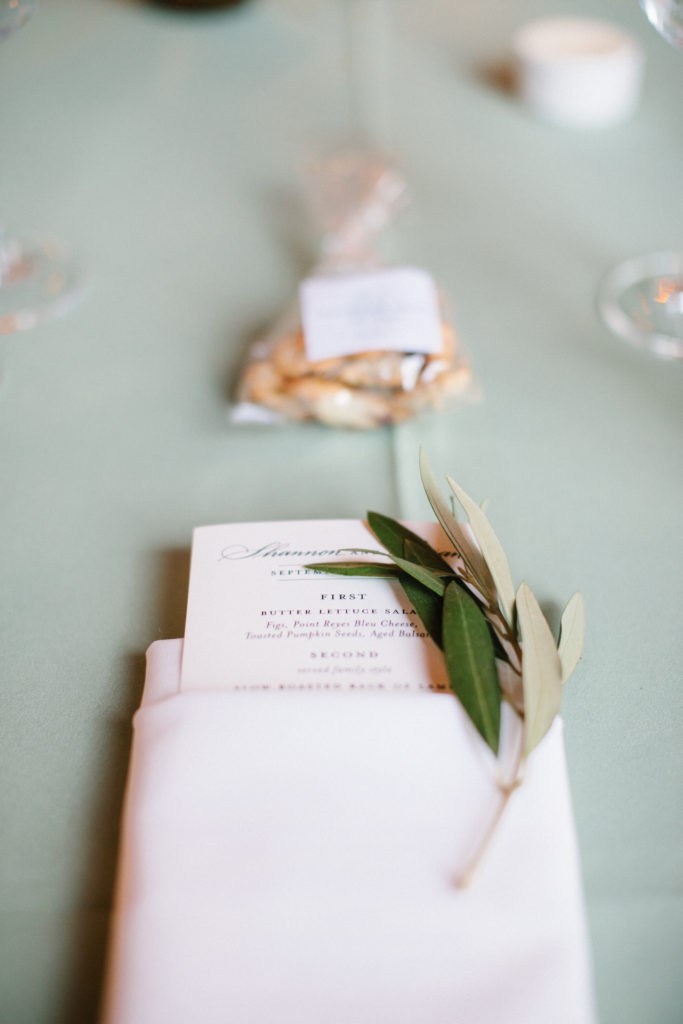 As yet another personal touch, guests found little bags of Lithuanian cookies (from Mama Papa Lithuania bakery)  as their wedding favors. Dinner was served family-style and accompanied by heartfelt speeches by the sisters of the bride, the brother of the groom, and the father of the bride who disclosed how intertwined the couple's lives had been from the get-go… unbeknownst to them, their fathers had shared college days!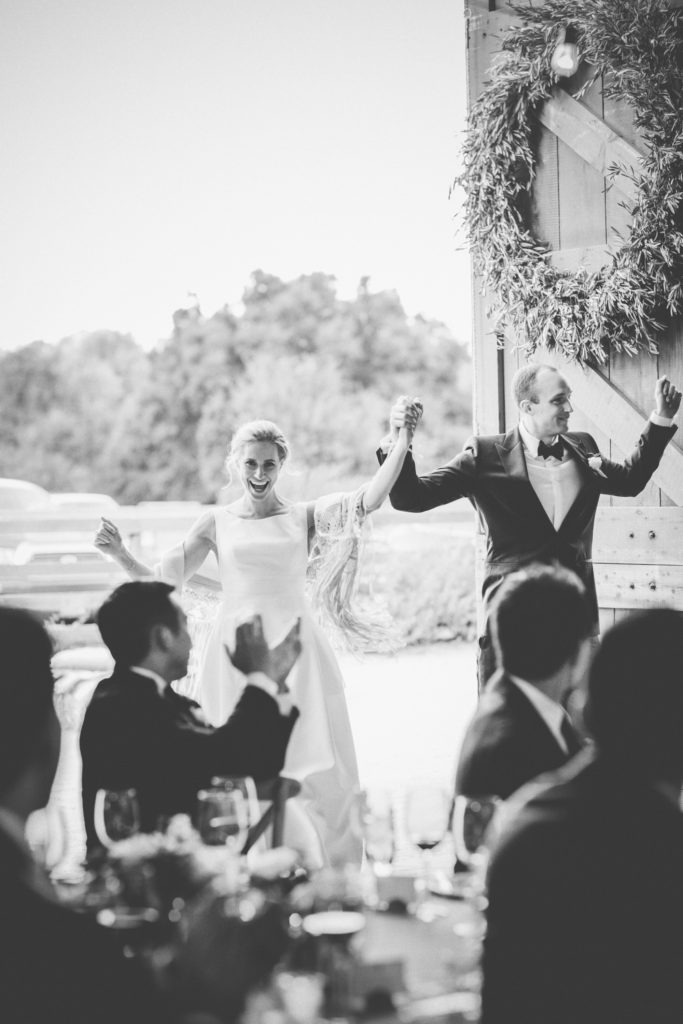 After his Welcome speech, the bride's father and the bride shared a dance, all by themselves…
… followed by the Mother-Son dance and then – the official First Dance of the newlyweds: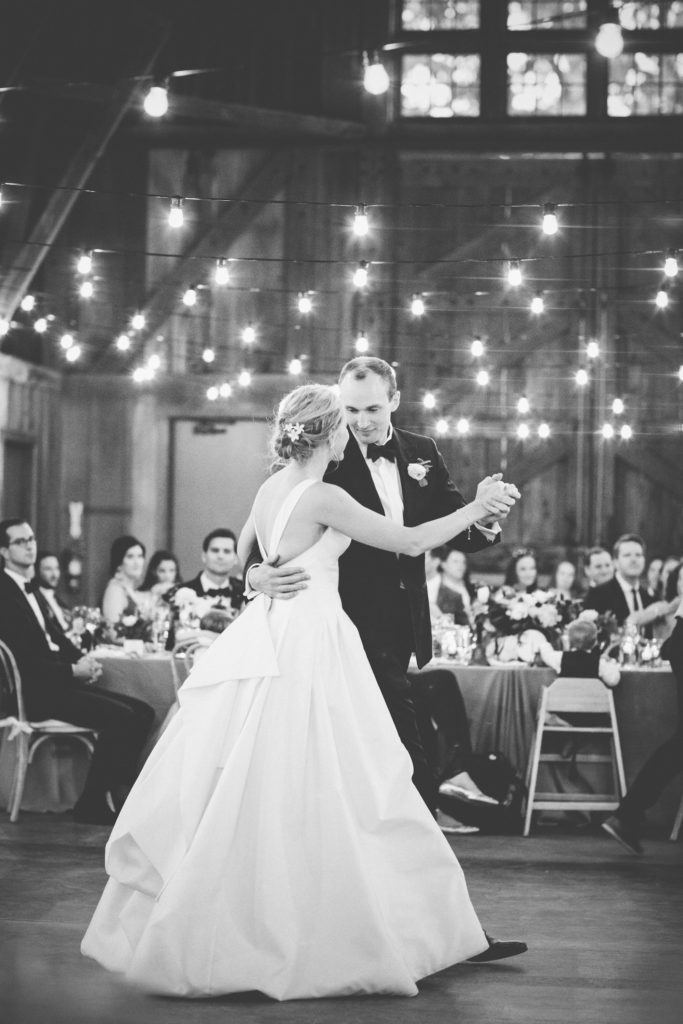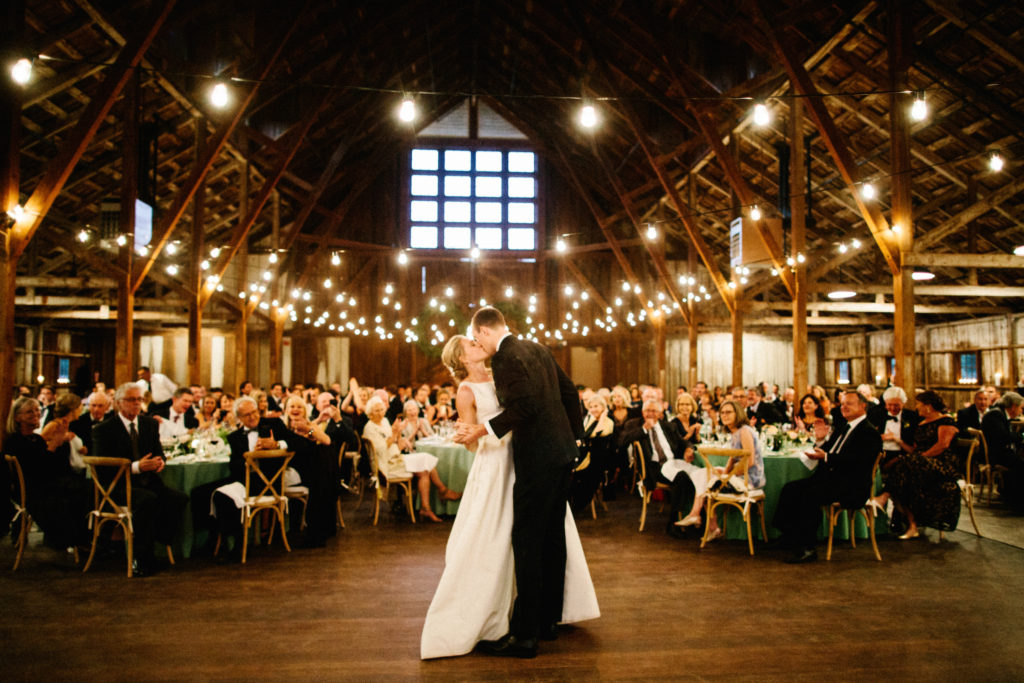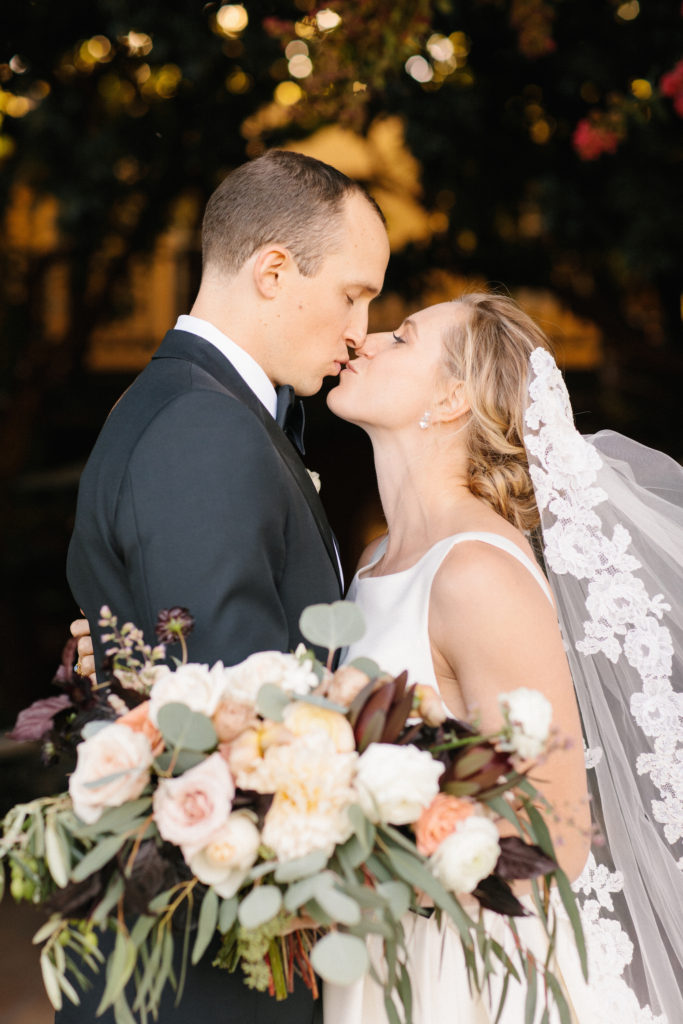 After dinner, there was no holding back the crowd from the dance floor! The 415s band (through Entire Productions) literally "let it rip," and, as one guest aptly put it, "I've never been to a party where not a single person was in their chairs, but everyone on the dance floor!"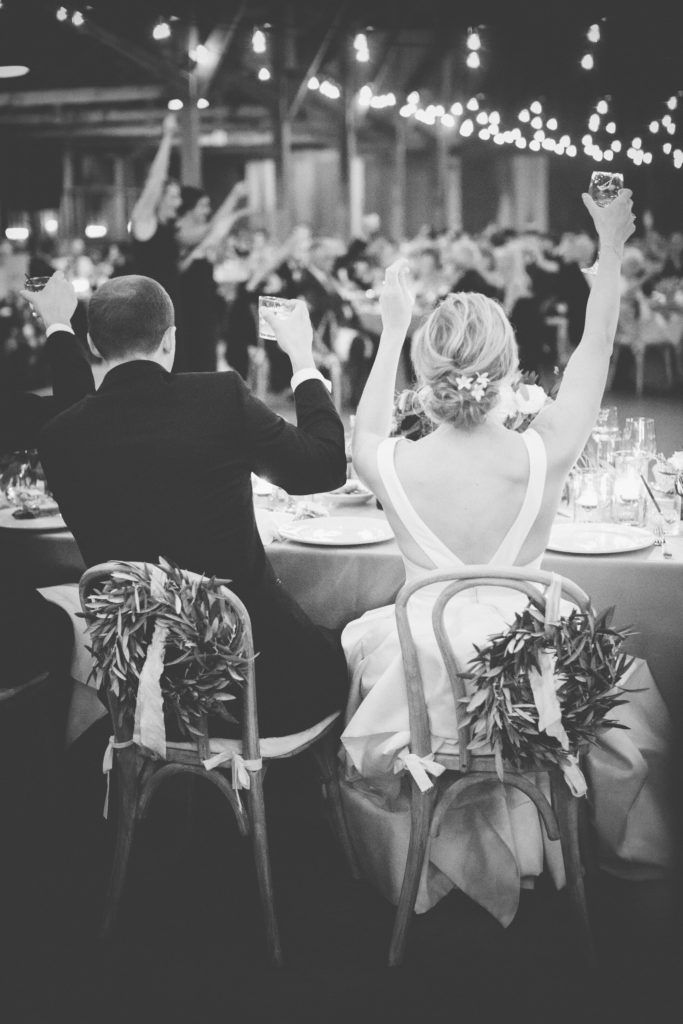 Guests only took a little break for Cake Cutting – the bride's younger sister had made a small cake with cute decorations; talk about personal touches! And then the ice cream bar was opened, with delicious toppings and fresh-baked cookies – a true crowd pleaser!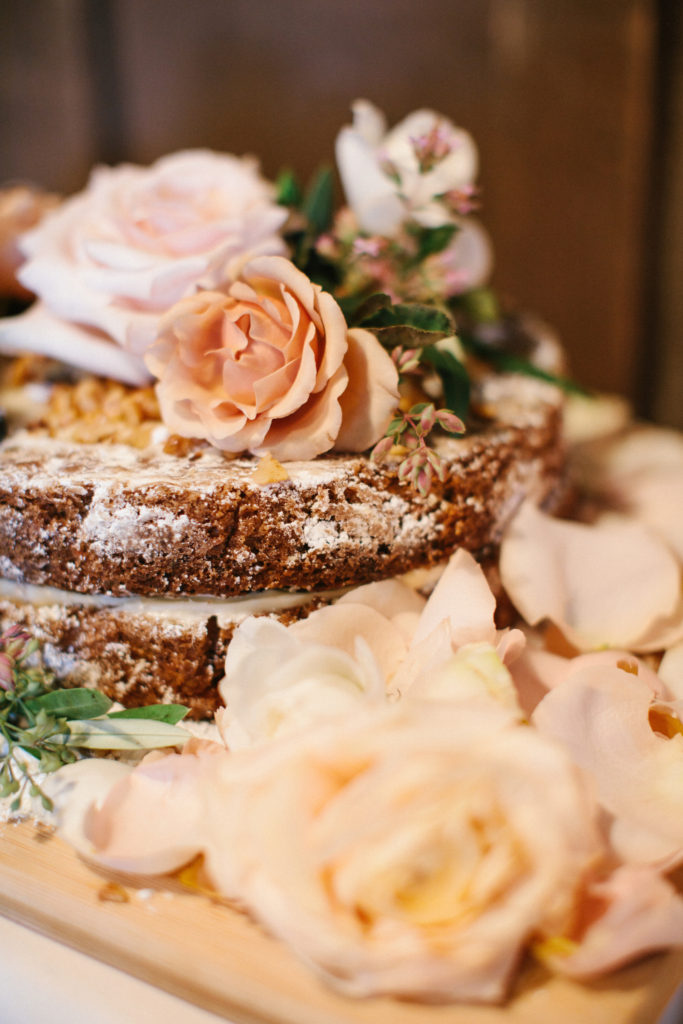 One more unexpected (and likewise truly personal) highlight was to come as a surprise to everyone: one of the bride's grandmothers, 93 years young, led the groom on the dance floor for a Tango! She danced beautifully – and  got a well-deserved standing ovation from all guests.
For those in need of a bit of fresh air in between, blanket-cushioned hay bales (by LA Hearne Company) surrounding two brightly lit fire-pits were beckoning in front of the entrance.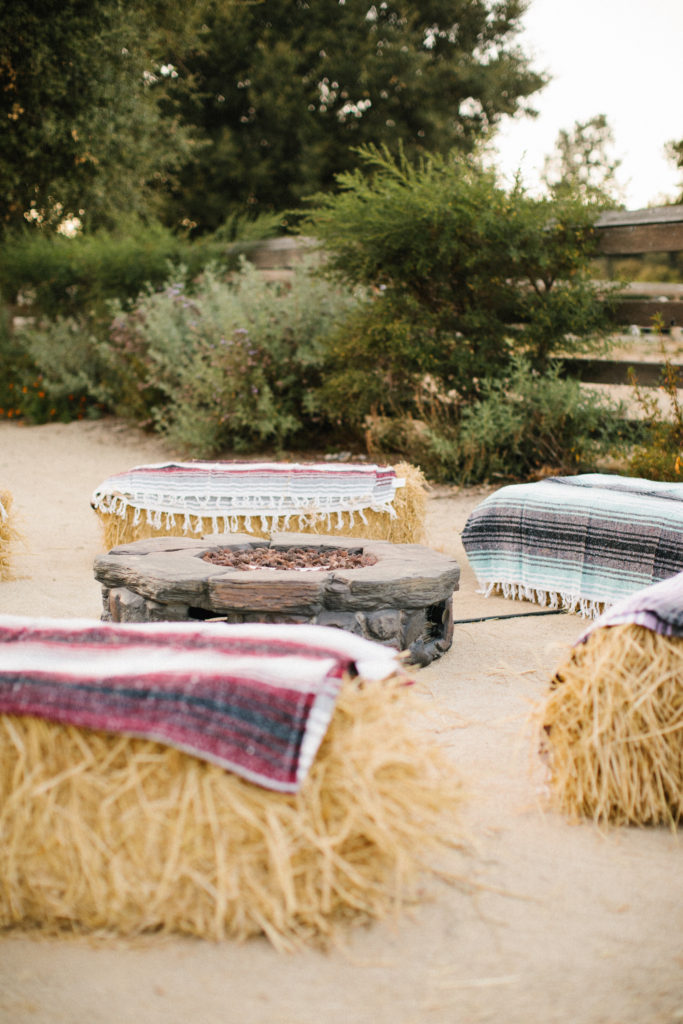 One thing is sure: everyone was having a great time… what a party! It was a true love fest for bride and groom.
Wishing you a lifetime of happiness, Shannon and Brian, on your journey together!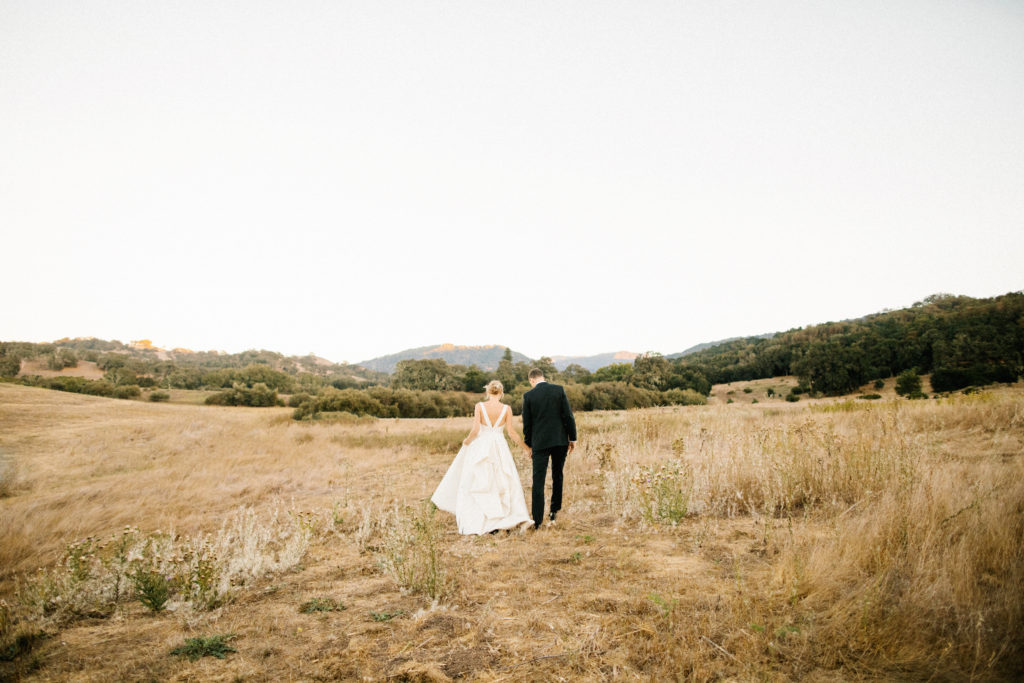 Let us create YOUR unique wedding celebration, too!

SaveSave

SaveSave

SaveSave

SaveSave

<! DL 06/02/12: Added html code for Pinterest Pin It button (appears at the end of each post) > <! DL 06/02/12: Added padding style modifier to the Pinterest html code to align the Pit It button on the page > <! DL 06/02/12: deactivated code by adding two ! in the a and img code lines >