I've just come home from a really, really special event – by invitation only – hosted by Amy and James Harrick of Ceremony Magazine for Bay Area wedding pros (www.ceremonymagazine.com). First of all: thanks for having me, Amy and James! It was quite spectacular, and for me the evening was full of discoveries. Hard to believe, but even for me, the longtime San Franciscan by choice, the location was my first discovery: I had never been on Treasure Island in 13 years! Treasure Island is an artificial island in the middle of the San Francisco Bay, where the Bay Bridge takes a little rest before hopping all the way across to Oakland on the other side. Easy to imagine, the views from Treasure Island are just breathtaking – the whole San Francisco skyline just across the water!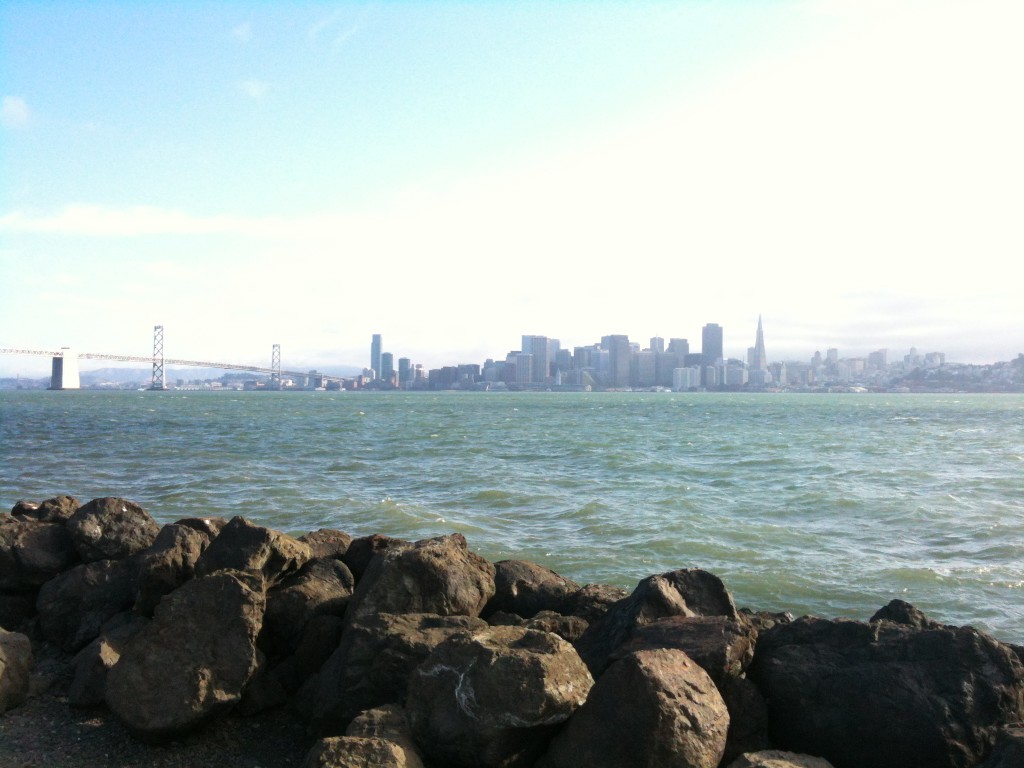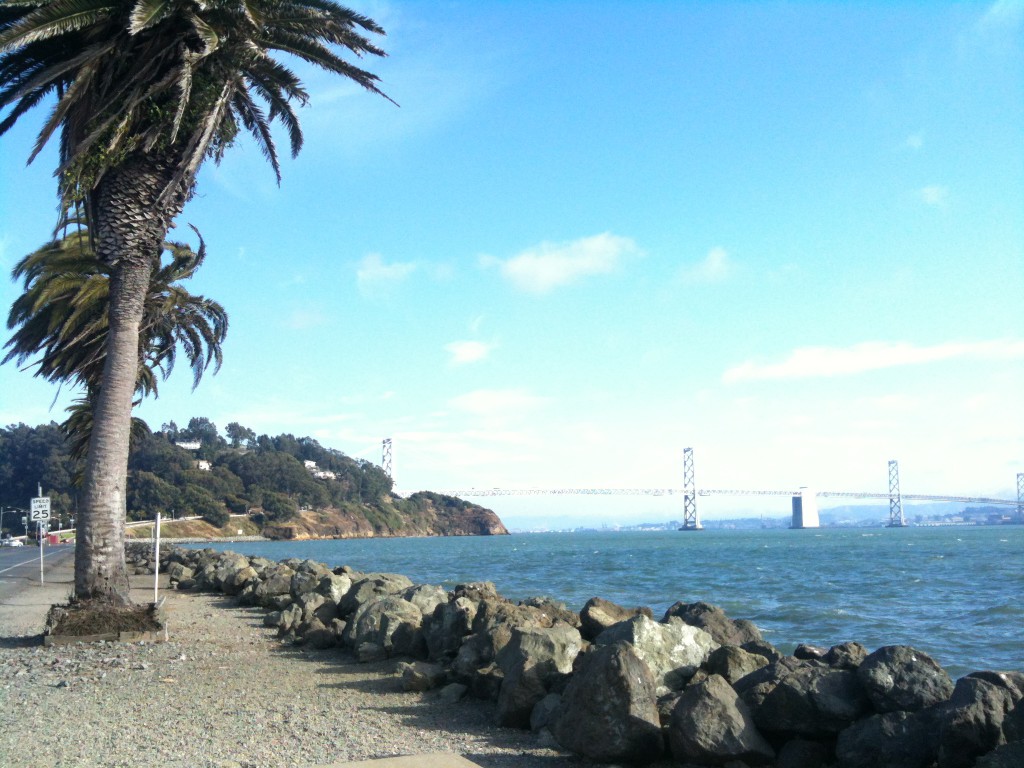 The venue itself is a pavilion – but what a pavilion (www.pavilionbythebay.com)! It comes with all the bells and whistles: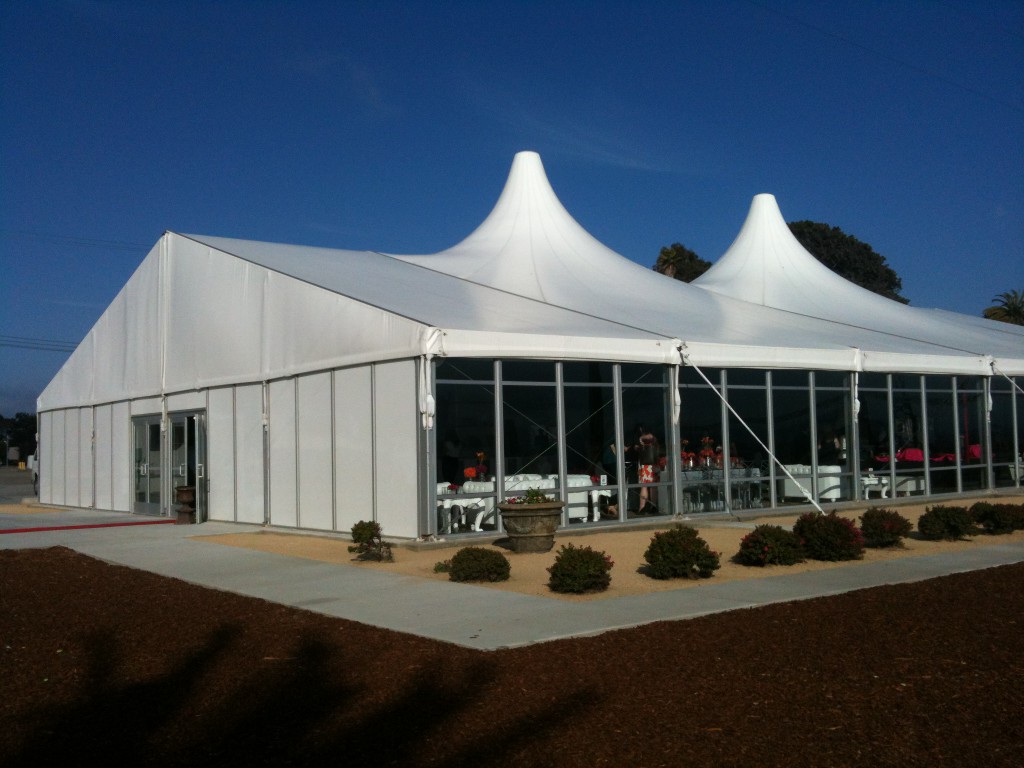 It's a huge event space inside ( capacity up to 440 seated!) that lends itself to all sorts of decorations and lighting (provided today by allegra entertainment and events, allegraevents.com) – changing colors like a chameleon at the push of a button! Tonight's fabulous party showcased some of the best wedding vendors in the Bay Area, and of course "tout le monde" was flocking toward the "soiree du jour!" Not only did I have the pleasure of meeting quite a few of the luminaries of the SF wedding scene – Joyce Scardina Becker of Events of Distinction (eventsofdistinction.com), for example, and Dina Balatti from Bella Celebrations (www.bellacelebrations.com); florist Pat Gibbons (www.patgibbonsfloral.com); photographers Kevin Chin (www.kevinchin.com) and Catherine Hall (catherinehall.net) and and and… – I also enjoyed tremendously all the displays and the incredible food. Speaking of which: passed hors d'oeuvres (tiny pieces of art!) and melt-in-your-mouth scallops on oh-so-creamy risotto were provided by Wine Valley Catering (www.winevalleycatering.com, associated with the venue, Pavilion by the Bay), and complemented by delicious cupcakes from Sift: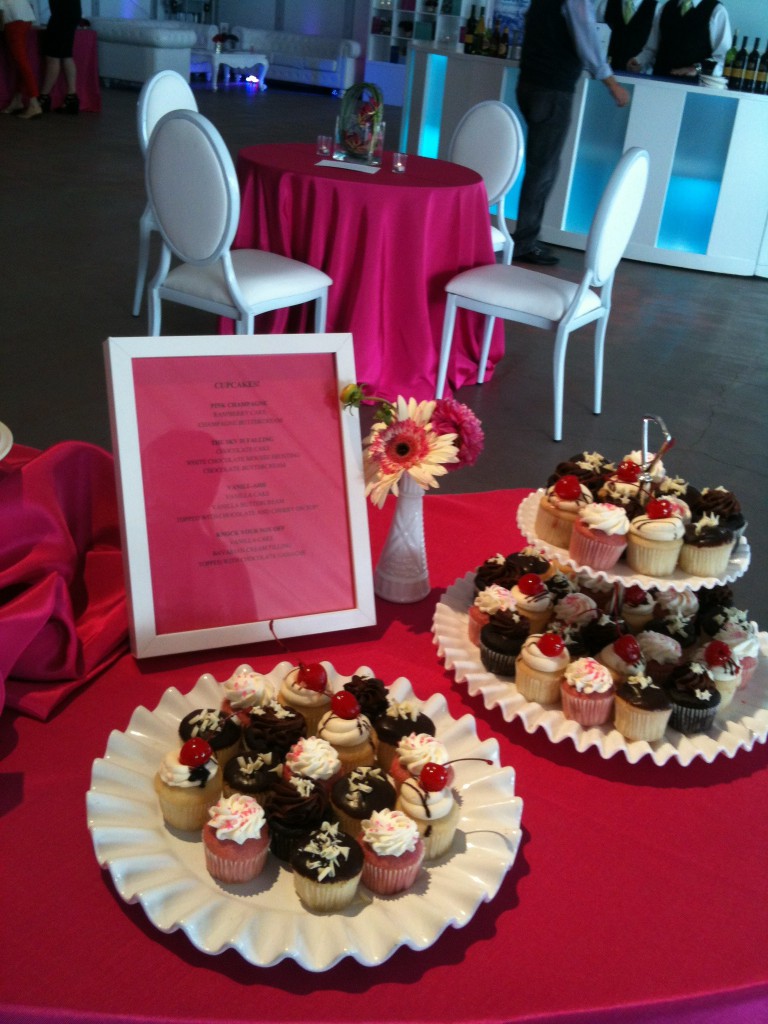 Mouthwatering, no? And they come in some 15 (fifteen!) different flavors… Will definitely file that information away for future (wedding dessert buffet planning) use! (siftcupcakes.com)
And since I've already progressed to dessert, I'll round that out with the coffee revelation of the day. As is nearly a cliche, we San Franciscans always have our hands full, one of them constantly holding a cup of coffee. I am no exception, not at all! I am actually a coffee addict of sorts… and so Travelin' Joe's espresso bar was exactly what I needed right there and then (lattesandwaffles.com)! Just imagine how that'll look and feel at a wedding reception: all the specialty coffees you crave, from lattes to espressos, AND fresh-baked waffles to go with them… doesn't get much better than that!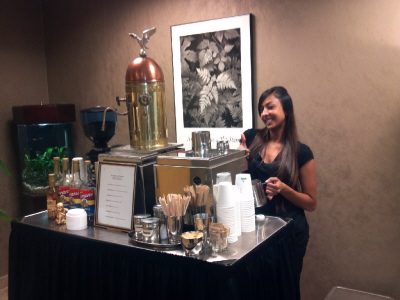 So that you don't get the impression I went there only for the food – I also discovered stunning floral design:
II especially loved the table settings to go with that huge centerpiece with a rhinestone "belt" around the napkin and menu (flowerdivas.com):
Lastly, my personal discovery of the night: I do love color!! You know, I always used to consider myself a "pastel" person with a preference for subdued color schemes. But I may have to reconsider! Look at this incredible table arrangement by Michael Daigian Design (www.michaeldaigian.com):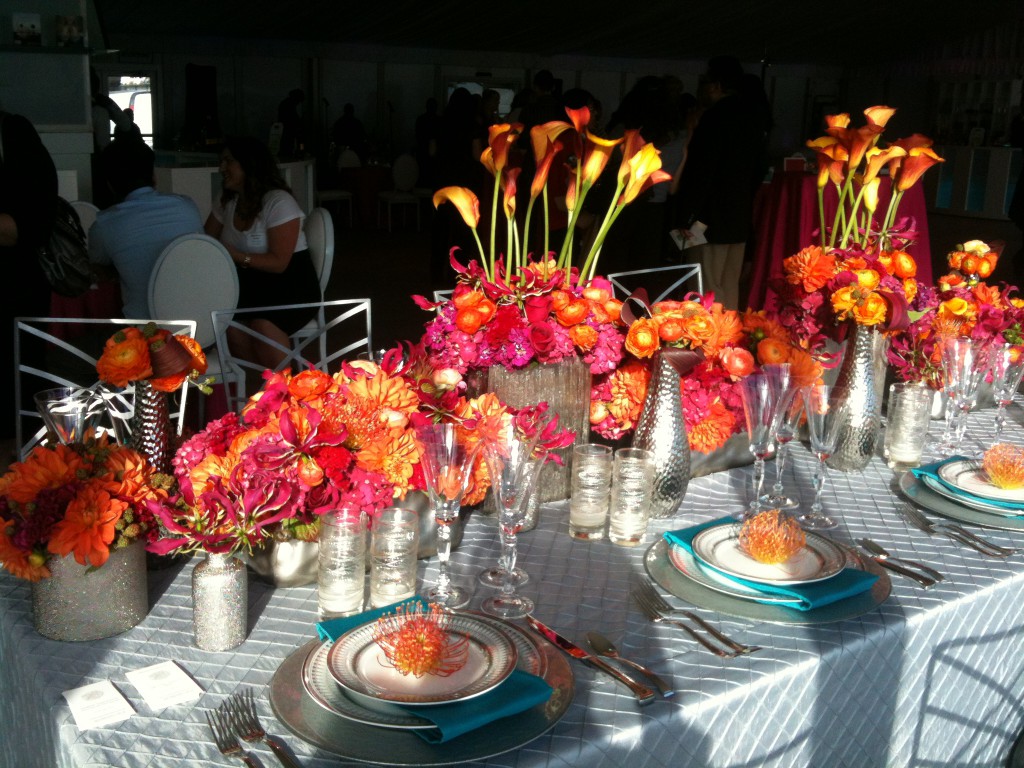 That stunning display could turn me into a true believer! One more proof that there is nothing like too much of a good thing…

<! DL 06/02/12: Added html code for Pinterest Pin It button (appears at the end of each post) > <! DL 06/02/12: Added padding style modifier to the Pinterest html code to align the Pit It button on the page > <! DL 06/02/12: deactivated code by adding two ! in the a and img code lines >