Melanie and Sherif are very independent thinkers – so it didn't come as a surprise that their wedding celebration was a bit unusual, too! Not a hotel, not a mansion… but I am getting ahead of myself. Melanie approached my company, A Day Like No Other, months ahead of time for help with her wedding coordination. As a professional event planner herself, she knew how demanding it is to make an event run smoothly and seemingly "all by itself." And – she wanted to take her Great Day off of her professional duties – which she handed over to me.
For their ceremony, the couple had chosen the probably most iconic San Francisco landmark: City Hall! Rebuilt after the catastrophic earthquake of 1906, completed in 1915, this breathtaking Beaux Arts edifice was meant to be a symbol of the City's irrepressible spirit. Its gilded cupola soars higher (by a full 42 feet!) than the US Capitol.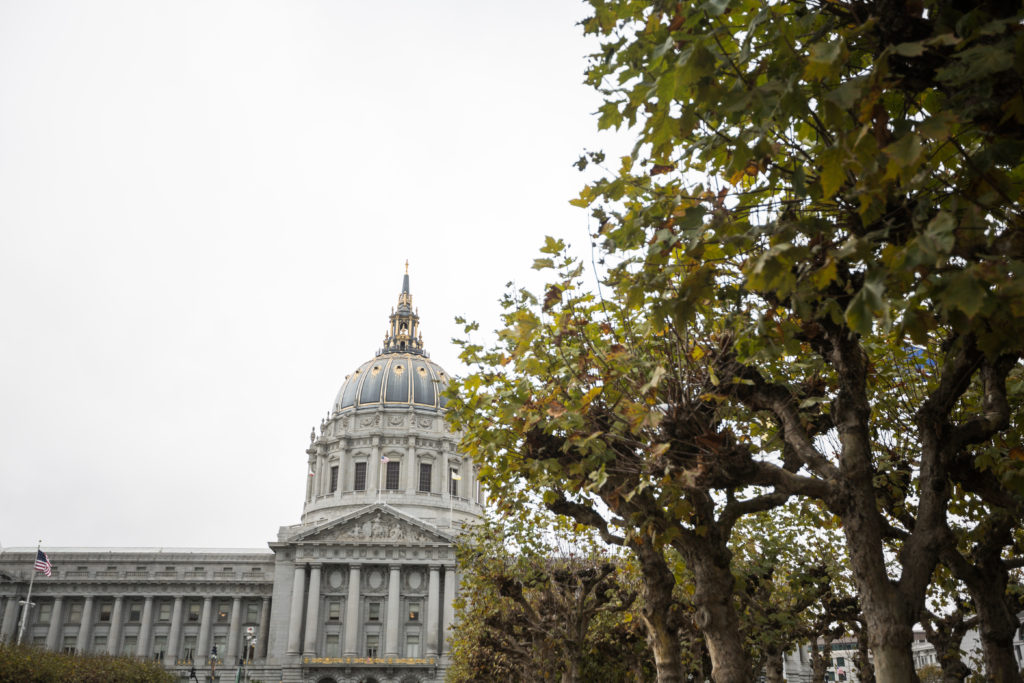 And it's just as monumental from the inside as it is commanding from the outside. Melanie's and Sherif's ceremony took place in the 4th floor North gallery …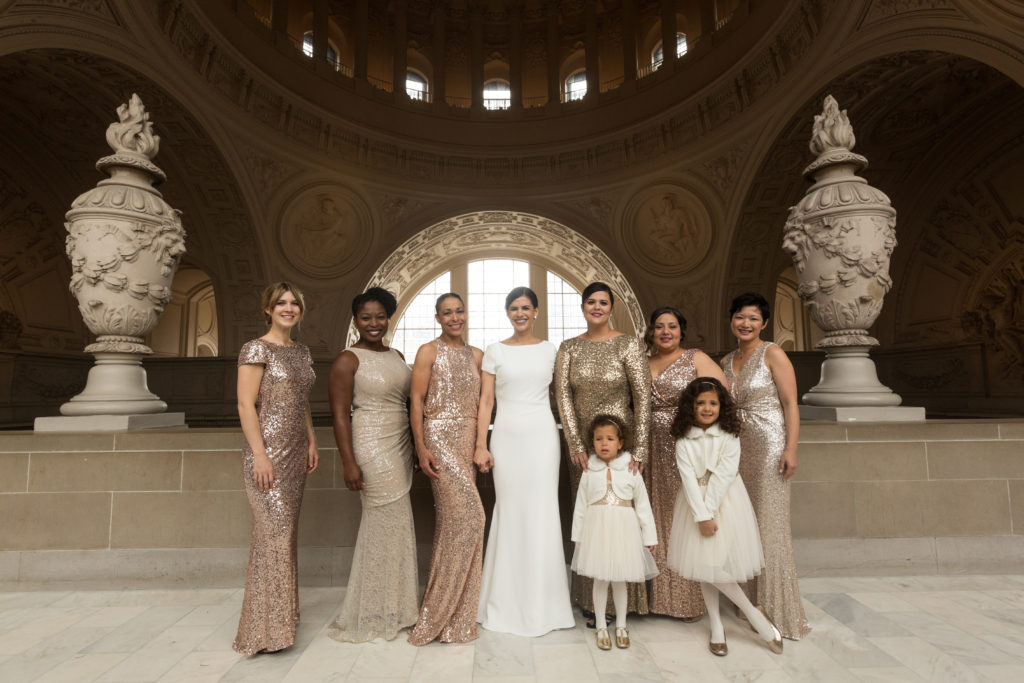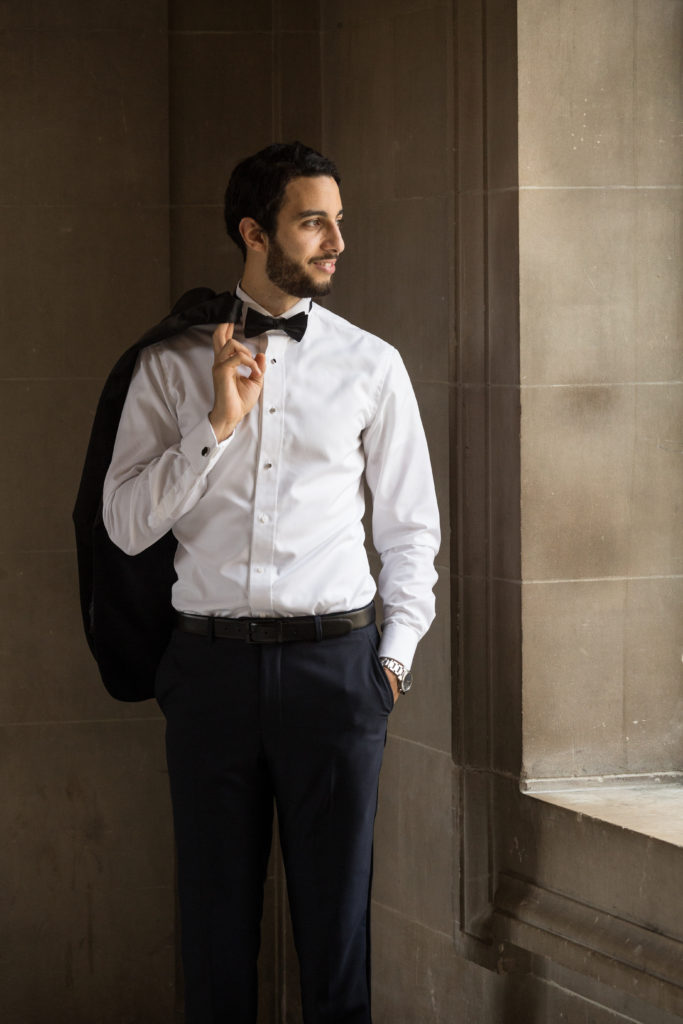 … with the couple's closest friends and family members in attendance. Many had come from across the nation to share this moment with them.
Programs and personalized cake pops were waiting for the guests as well as Champagne for toasting –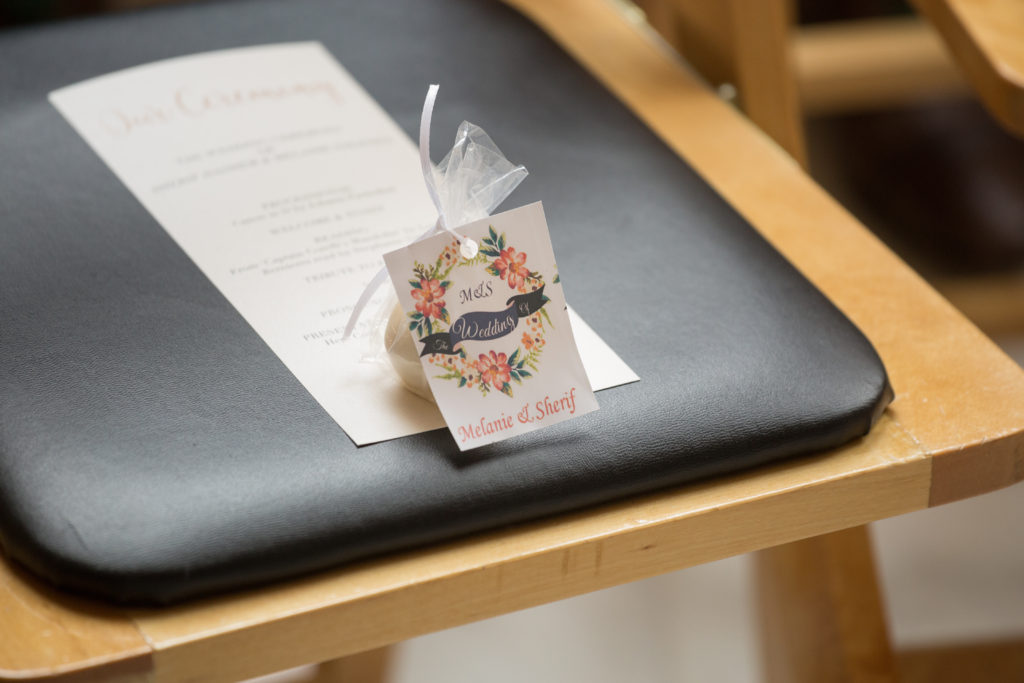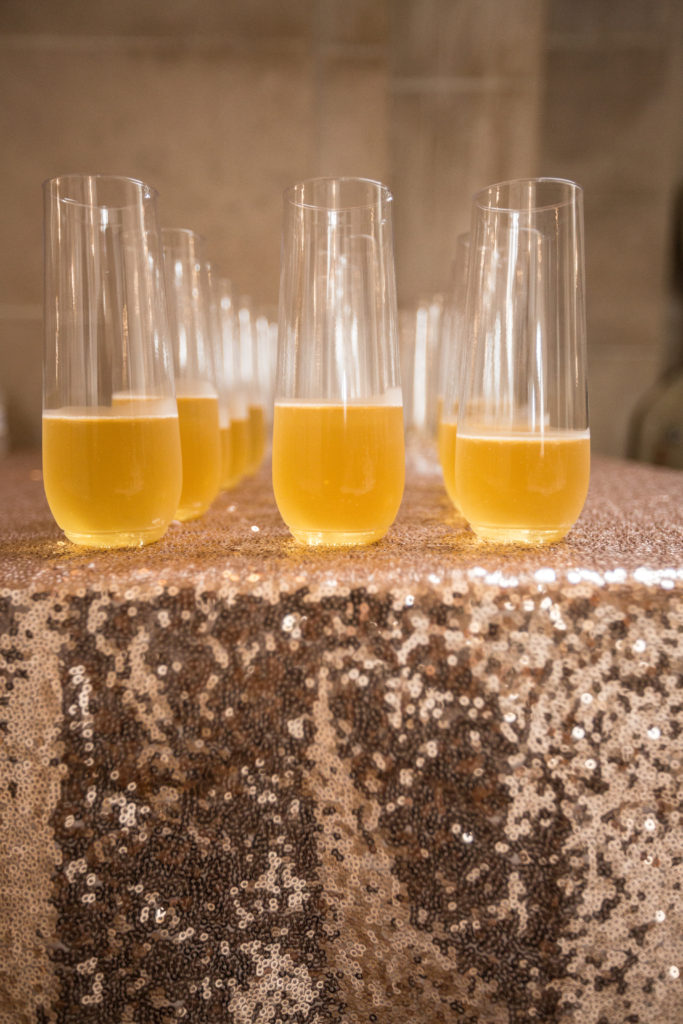 … and escort cards on antique skeleton keys.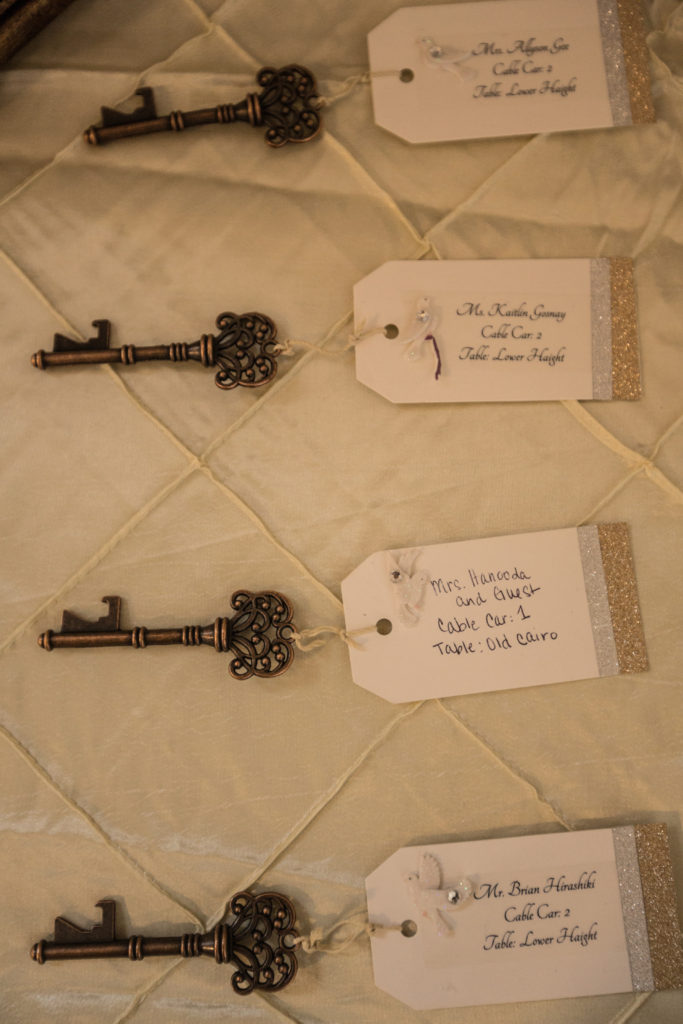 Jay of City Express Limousine Service got Bride and Groom to City Hall relaxed, comfortable and on time. The very personal ceremony was officiated by Shyamala Littlefield and accompanied by Synchronicity Strings.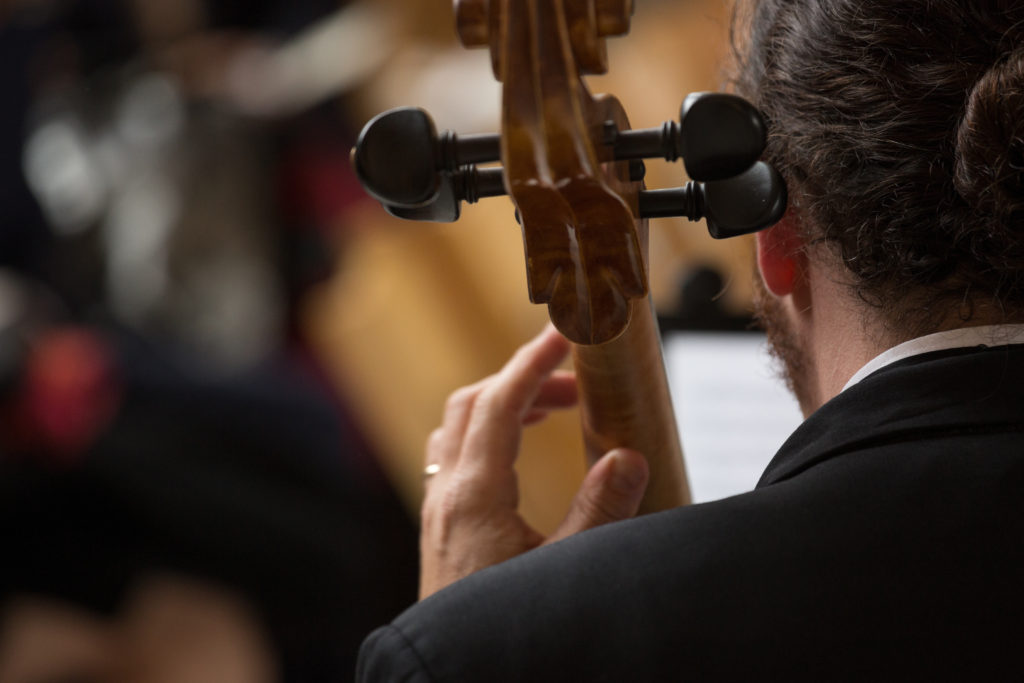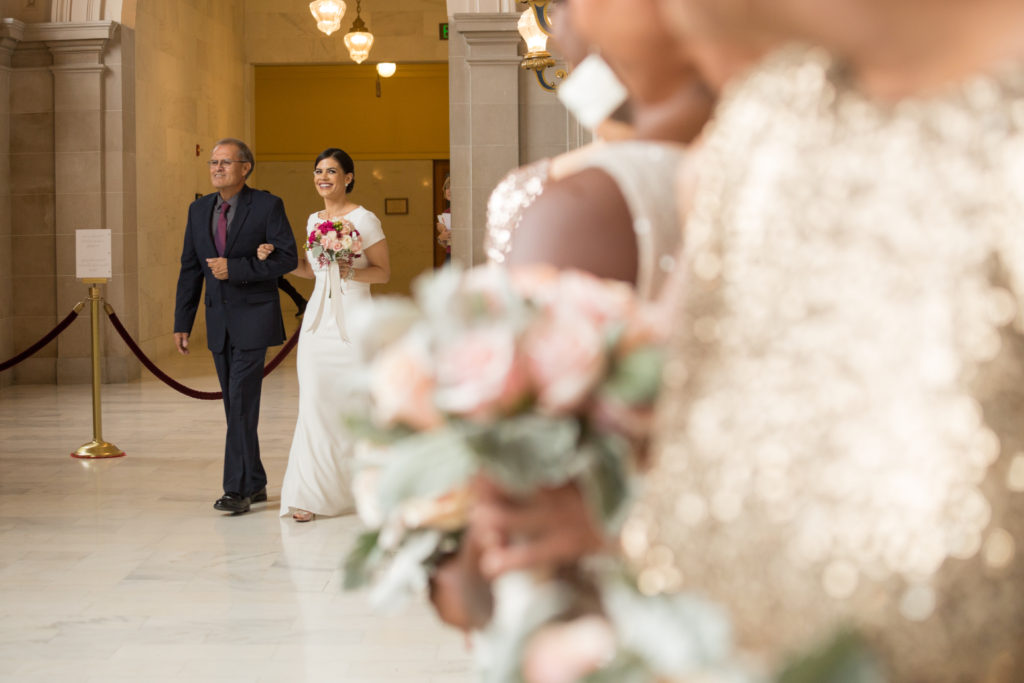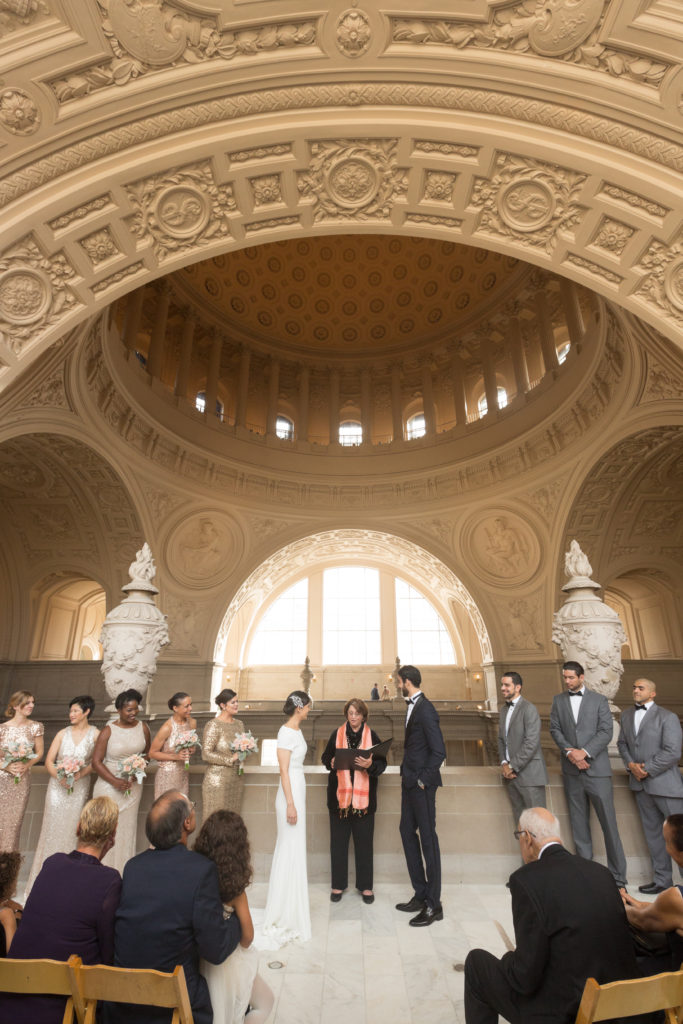 The bride wore an ivory silk backless Pronovias dress from Novella Bridal, a sleek updo and naturally-elegant makeup by Triple Twist, and carried a bouquet from San Francisco Florist (as did her bridesmaids).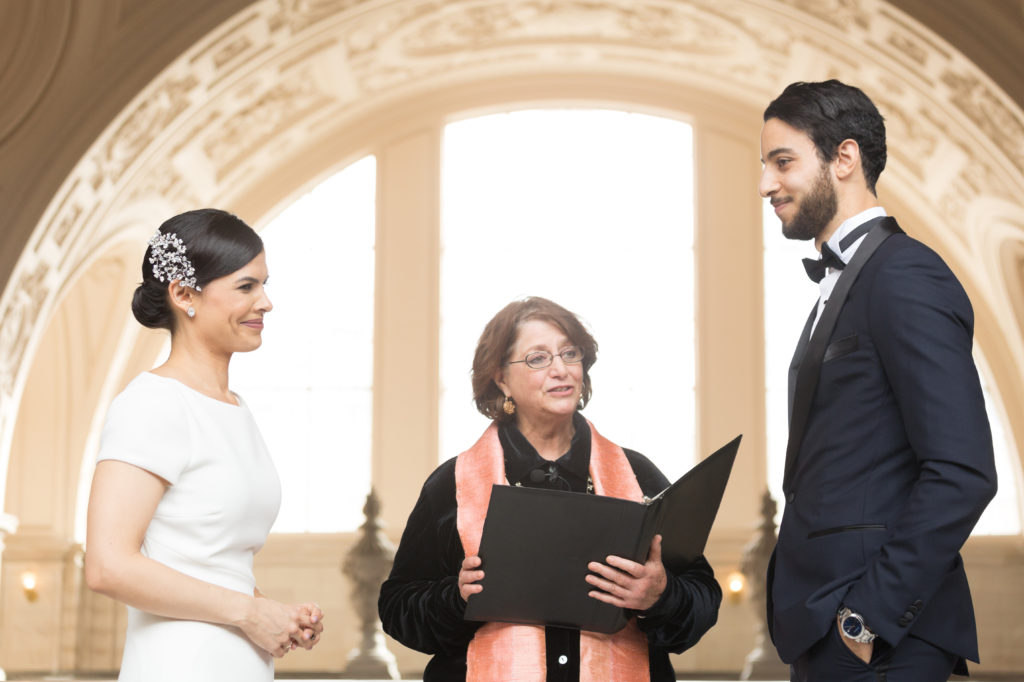 For her bridesmaids, Melanie had chosen coordinating but not identical floor length allover-sequined gowns in harmonious shades of rose gold and champagne – in short, the ladies looked absolutely gorgeous!
And the groom and his groomsmen stepped up to the fashionable occasion in tux, bowties and classic suits befitting the festive occasion and the impressive architecture.
After the ceremony, there was plenty of opportunity for the couple and photographer Sasha (of Sasha Wedding Photography) to take photos within City Hall …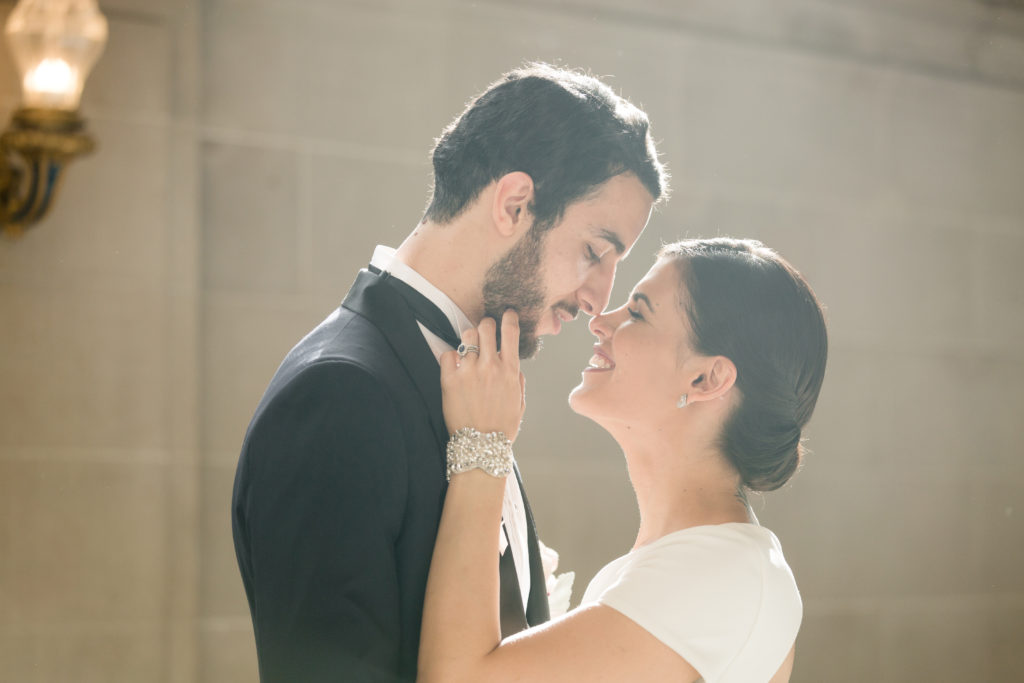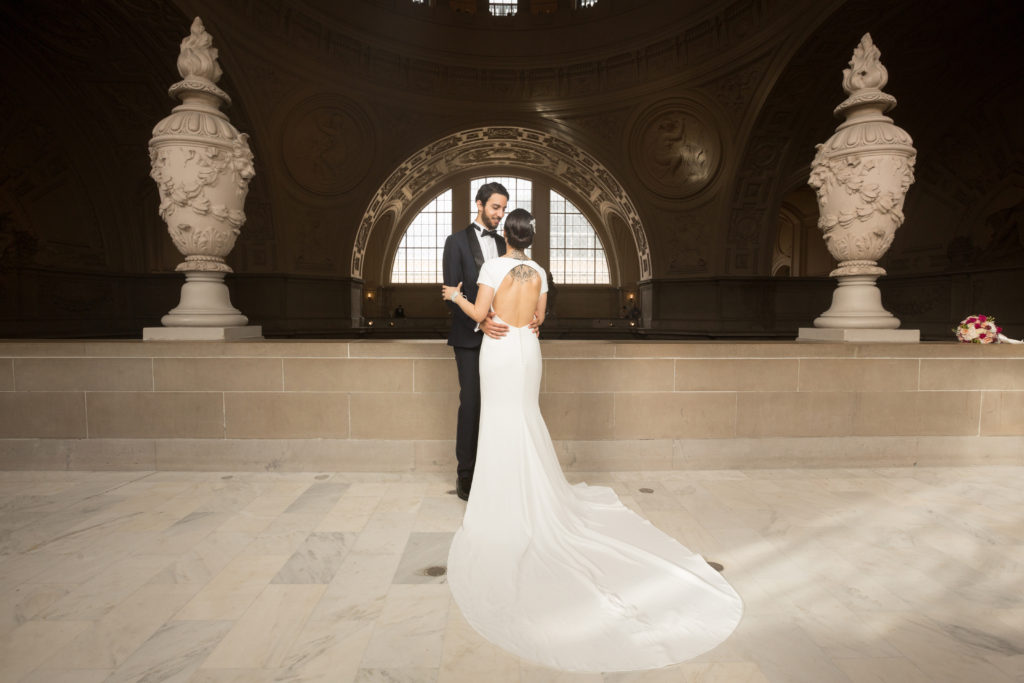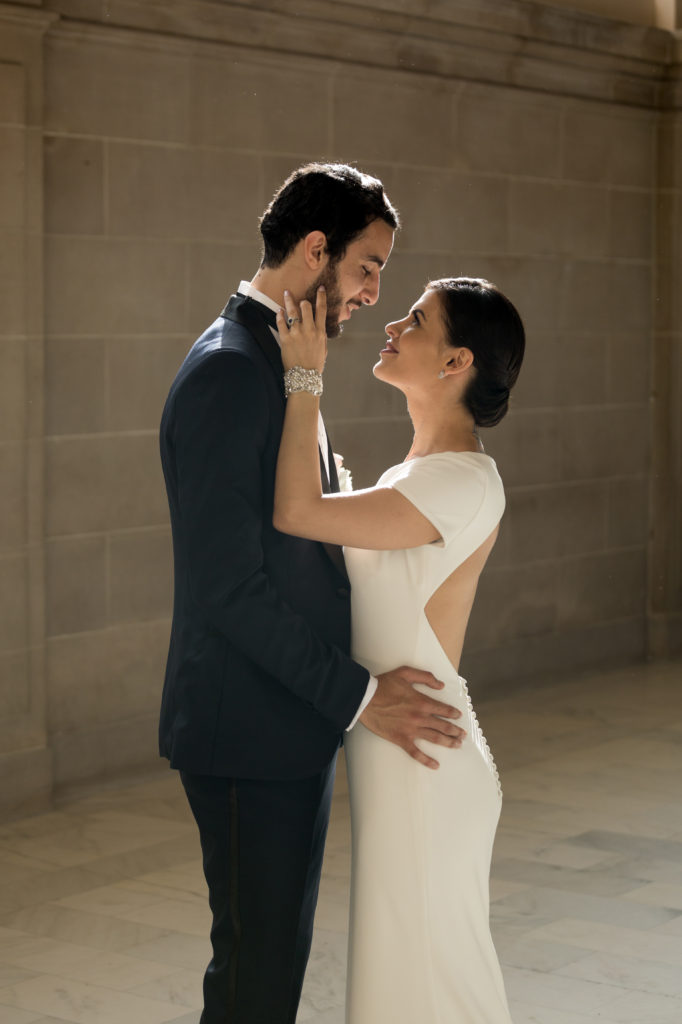 Leaving City Hall as "Mr. and Mrs.!"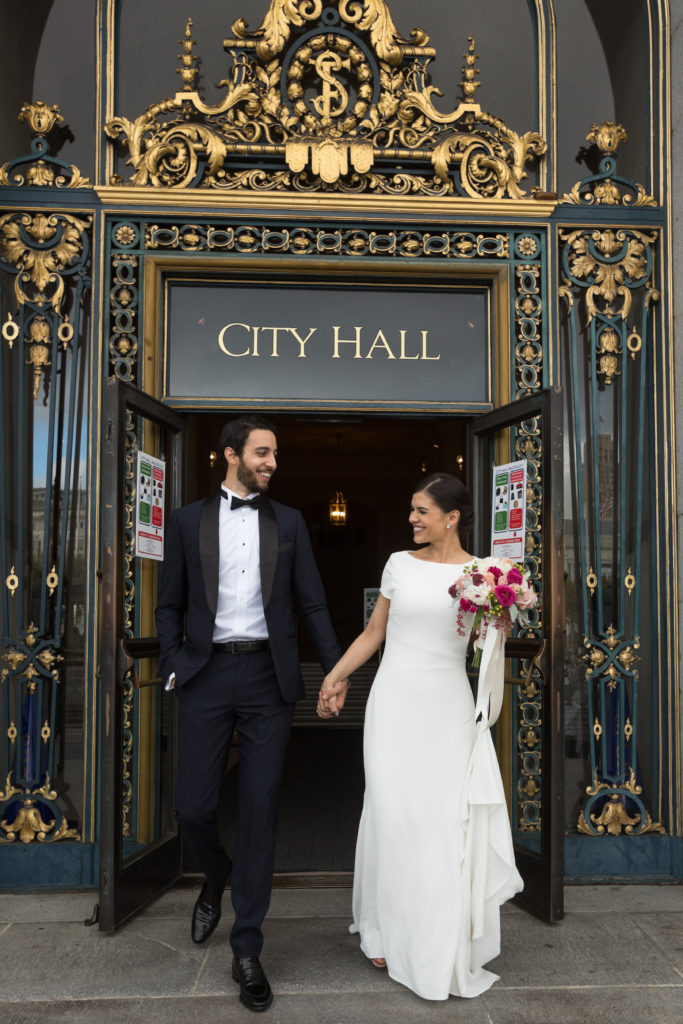 Everyone then took Cable Car trolleys (another San Francisco icon, of course) to Isa Restaurant in the Marina District for cocktails and dinner. Heaven smiled on the wedding party – after heavy rain the previous days, and despite a gloomy weather forecast, the sun came out, and nobody got wet!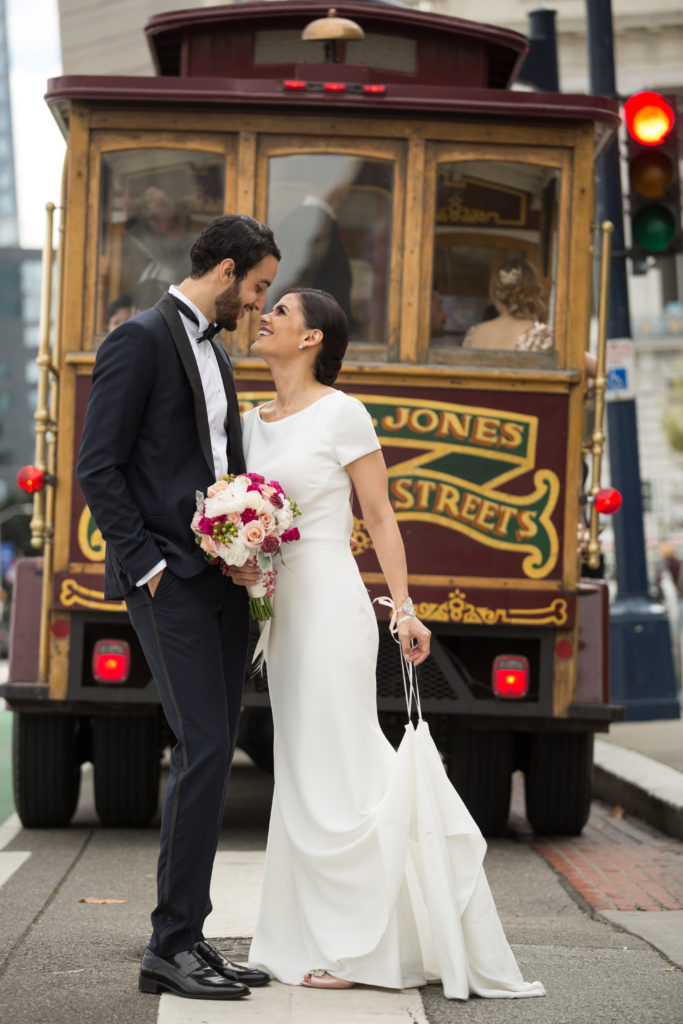 The newlyweds used the occasion for more photos around town.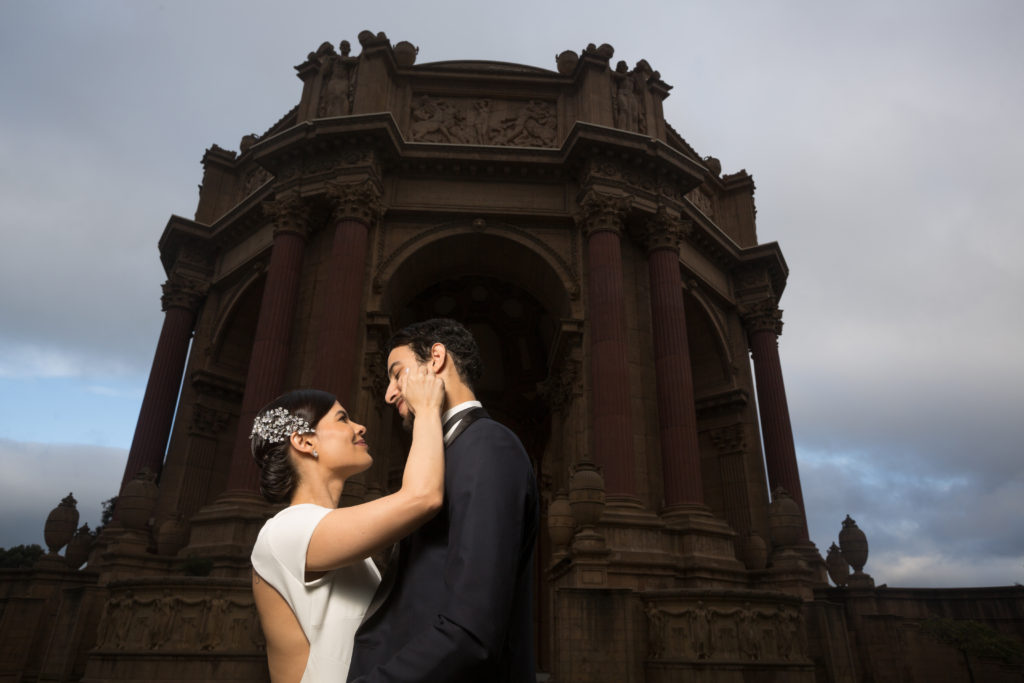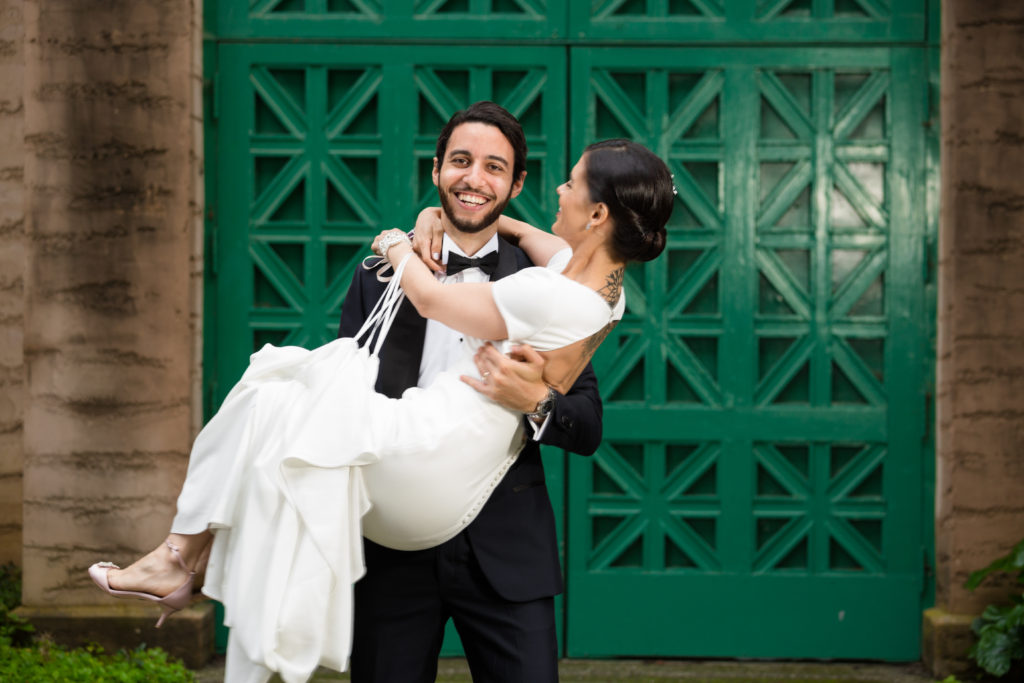 The private dining room at Isa's was all aglow with string lights and luminarias…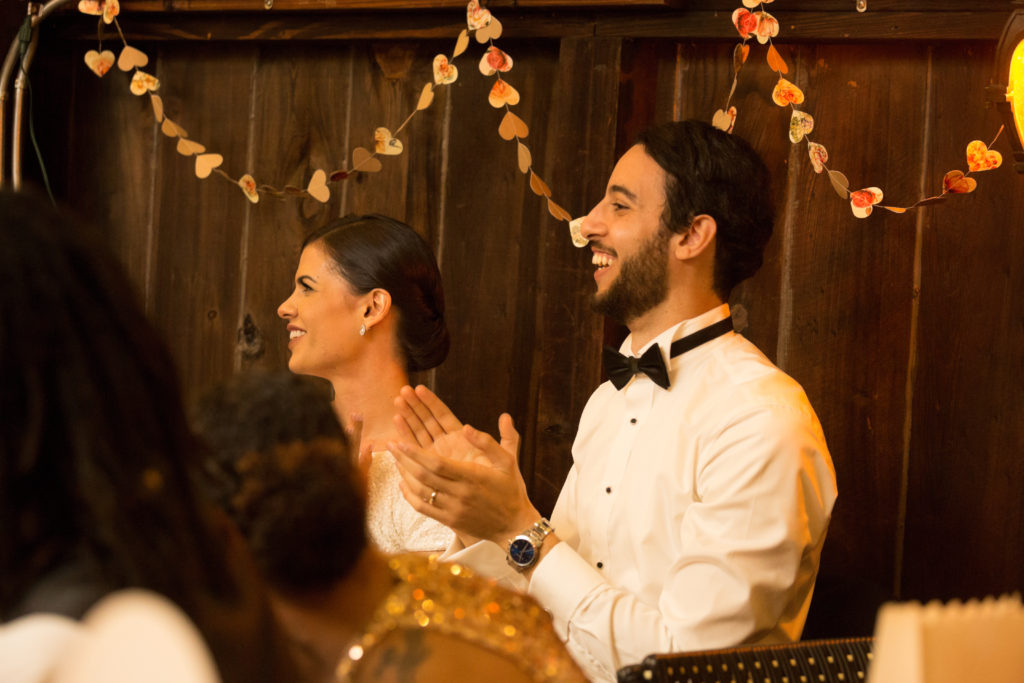 … and the newlyweds presided over the party from their Sweetheart Table.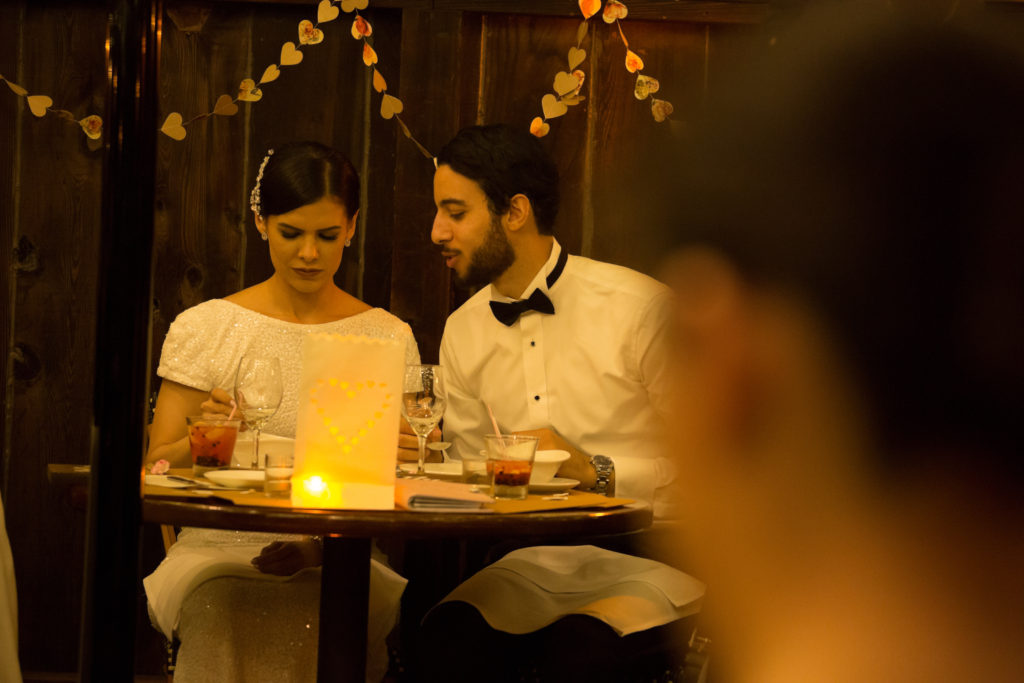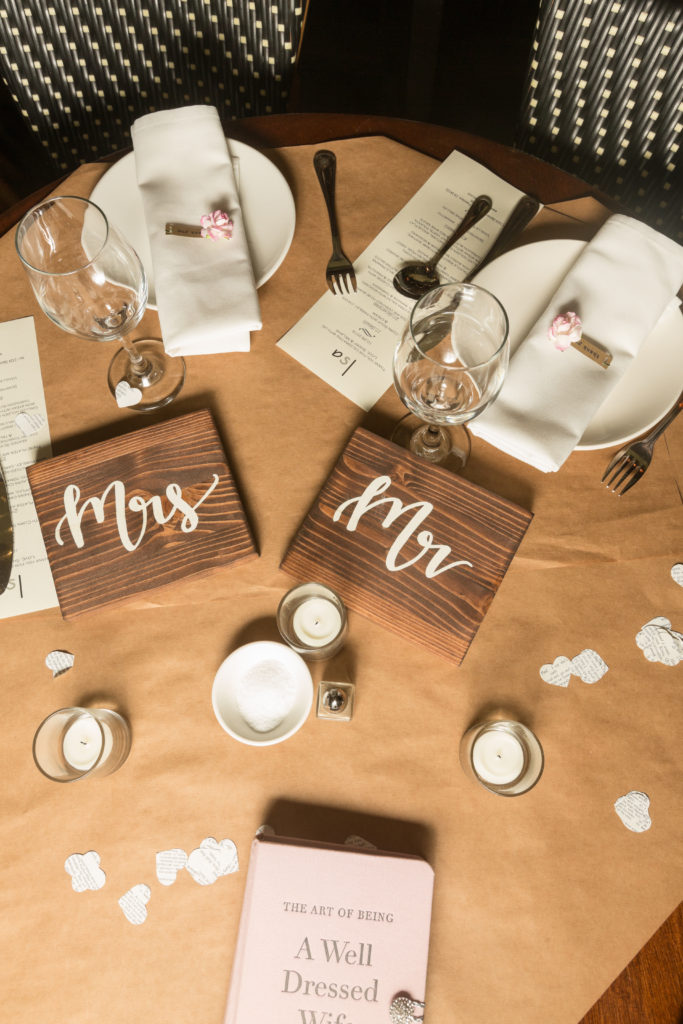 Guests were treated to a delicious four-course French-Mediterranean dinner, and everyone declared that it was well worth the dietary sin! Melanie had changed into a more comfortable but no less dramatic all-sequined dress: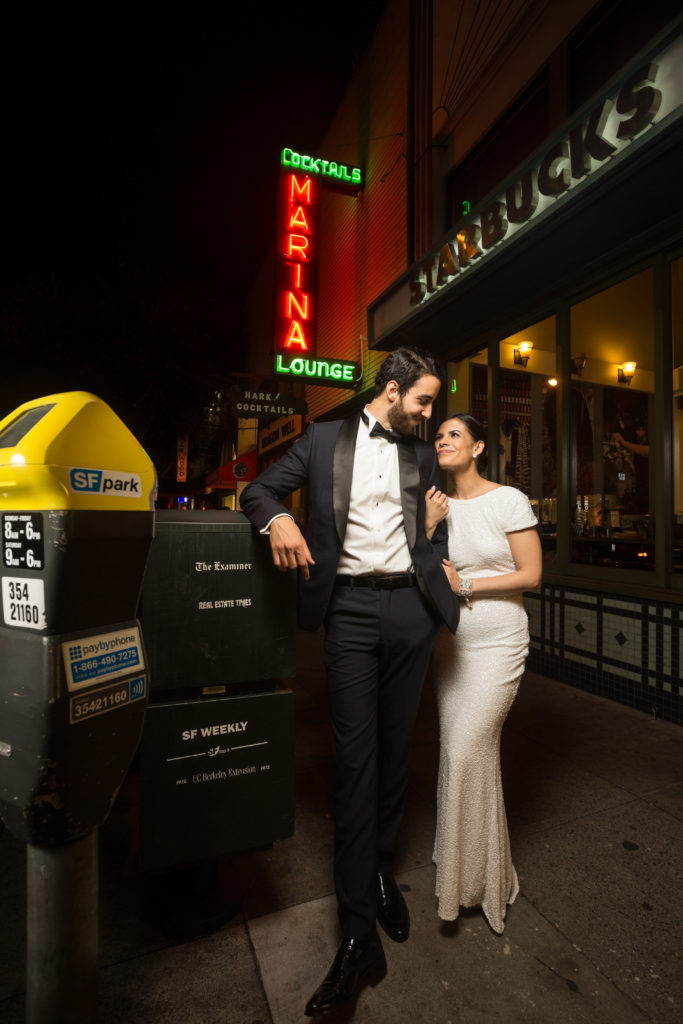 After dinner, the whole party walked over to Nectar Wine Lounge next door – the festivities were by no means over yet!
The couple had prepared a quirky Polaroid guest book; bridesmaid Bianca had baked a "naked" wedding cake  for the couple – and one more big surprise was waiting for the guests: bellydancer Heaven Mousalem!
What a party… And now you know why I love my job so much!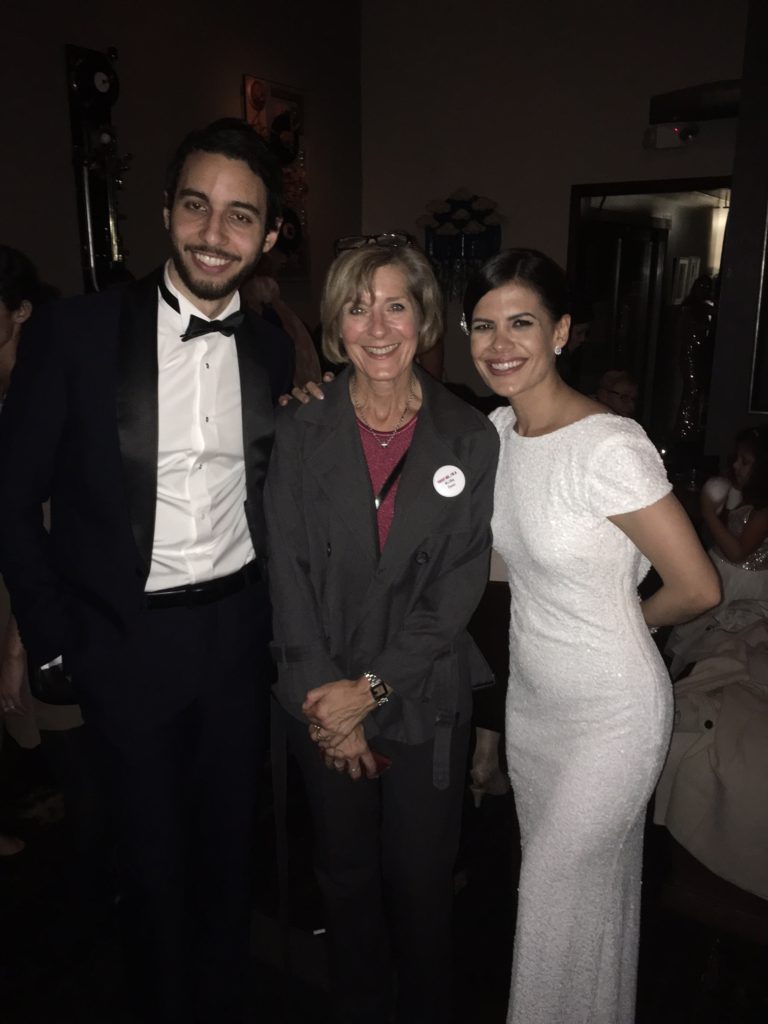 Melanie and Sherif are off to their Honeymoon already – enjoy that and our heartfelt wishes for many happy years to come!
<! DL 06/02/12: Added html code for Pinterest Pin It button (appears at the end of each post) > <! DL 06/02/12: Added padding style modifier to the Pinterest html code to align the Pit It button on the page > <! DL 06/02/12: deactivated code by adding two ! in the a and img code lines >