Ali and Rick are wonderfully unconventional. Their wedding would NOT follow the common scheme of "wedding venue, garter toss, bouquet toss…" and a lot of other "frills." They had their own vision – but they needed help to pull it off. When they asked my company, A Day Like No Other, for support, I was immediately on board.
They would have their ceremony and reception at a private residence – a "backyard wedding." Well – until I saw that "backyard!" Perched high on a hillside with endless views and breathtaking sunsets, the Tuscan-style residence is surrounded by a lush garden, sheltered patios and porches, and a large dining patio under dense, mature trees. A dream! And off we went with our preparations. Last Saturday, it all came together on a beautiful, sunny and warm September day under blue skies and with a slight breeze. The Weather Gods were clearly playing along!
So many personal touches went into this wedding that I don't even know where to begin… Ali's dress had been handsewn by her mother and grandmother, and hand-embroidered and beaded – a true labor of love!
Ali's mother, an artist, had also created all floral arrangements, had built the arch from birch logs,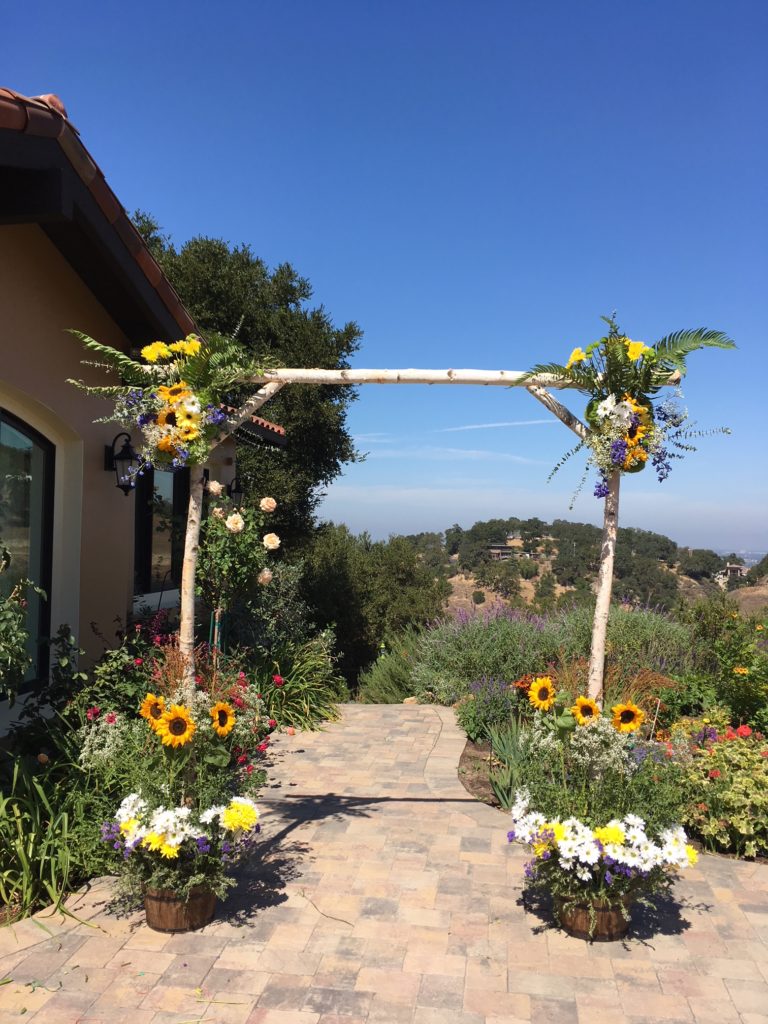 … and put endless personal touches on the decor – from handwritten signage …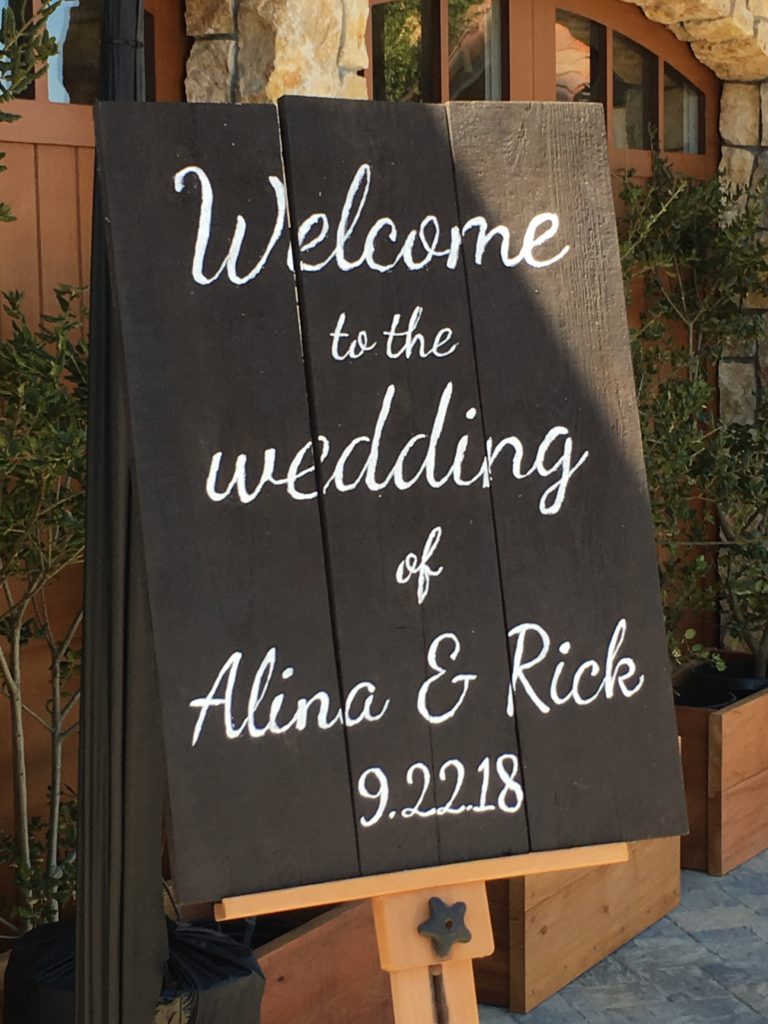 …. to lanterns lining the walkways and twinkling hanging lights in the trees.
For Ali and her bridesmaids, the day began with hair and makeup by Lindsay and Sarah from Miabel Artistry,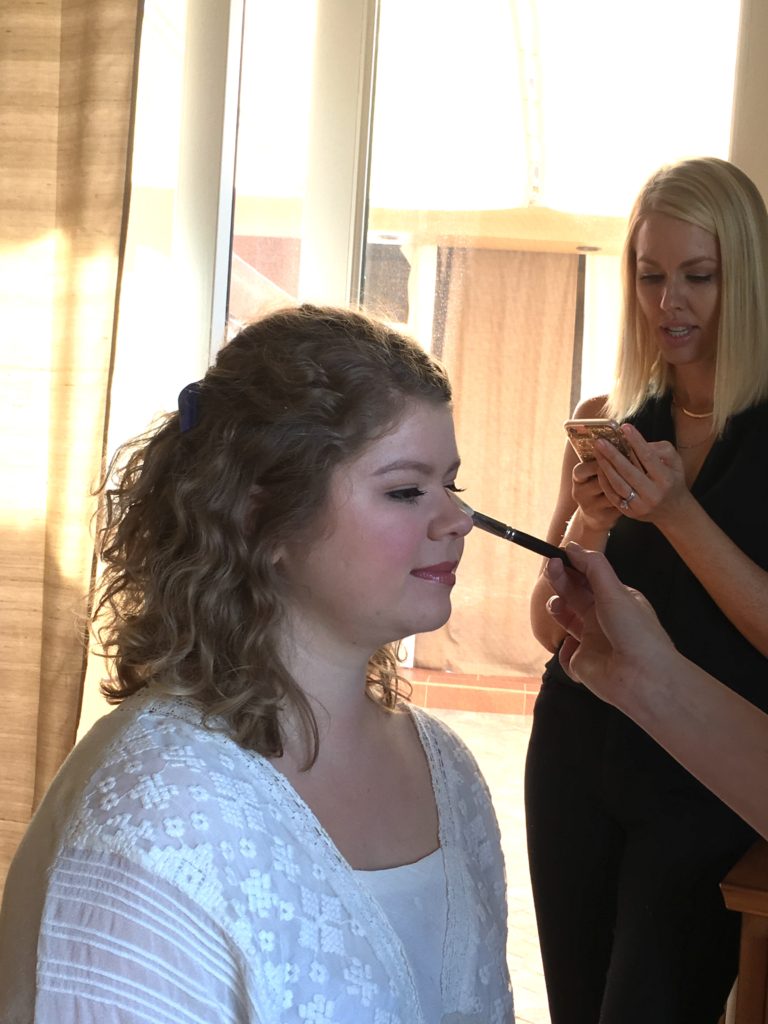 Then, Ali slipped into her dress, assisted by her bridesmaids…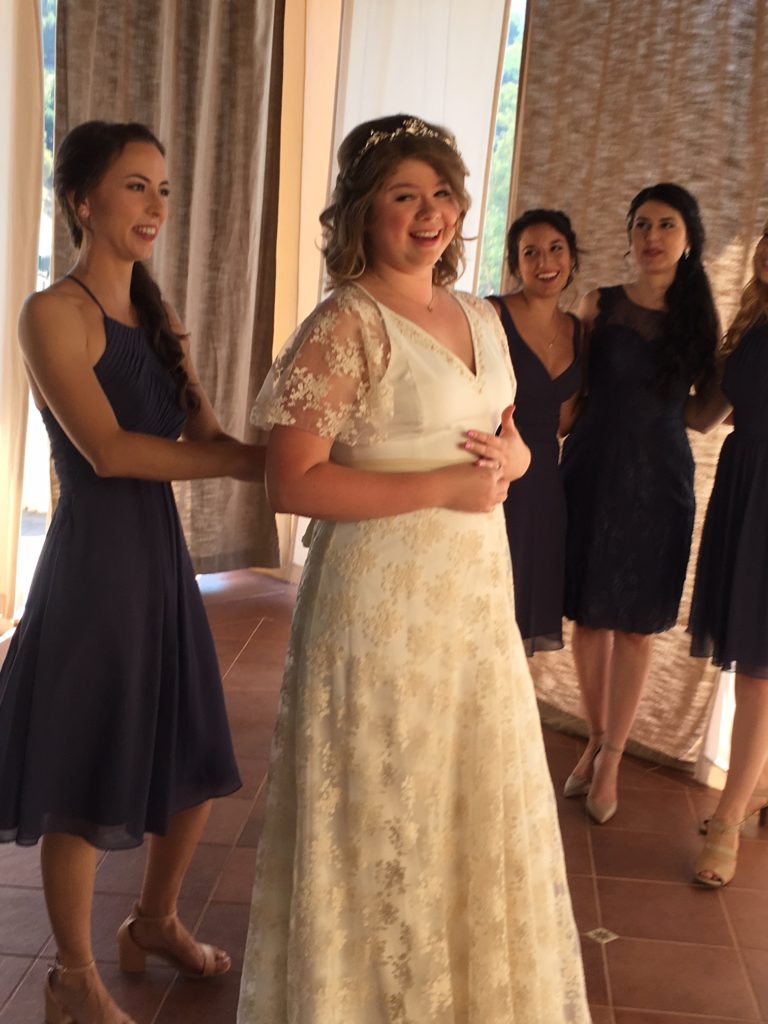 … and into her pretty sandals…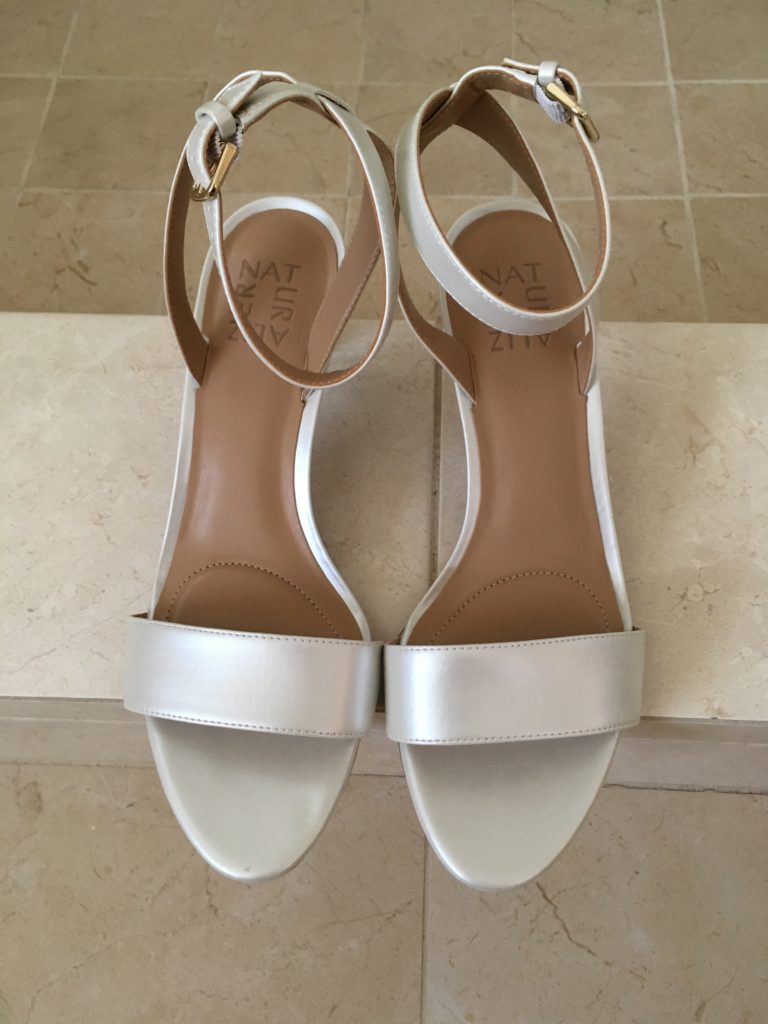 … picked up her summery bouquet of her favorite flowers – sunflowers – in her favorite colors of yellow and light blue…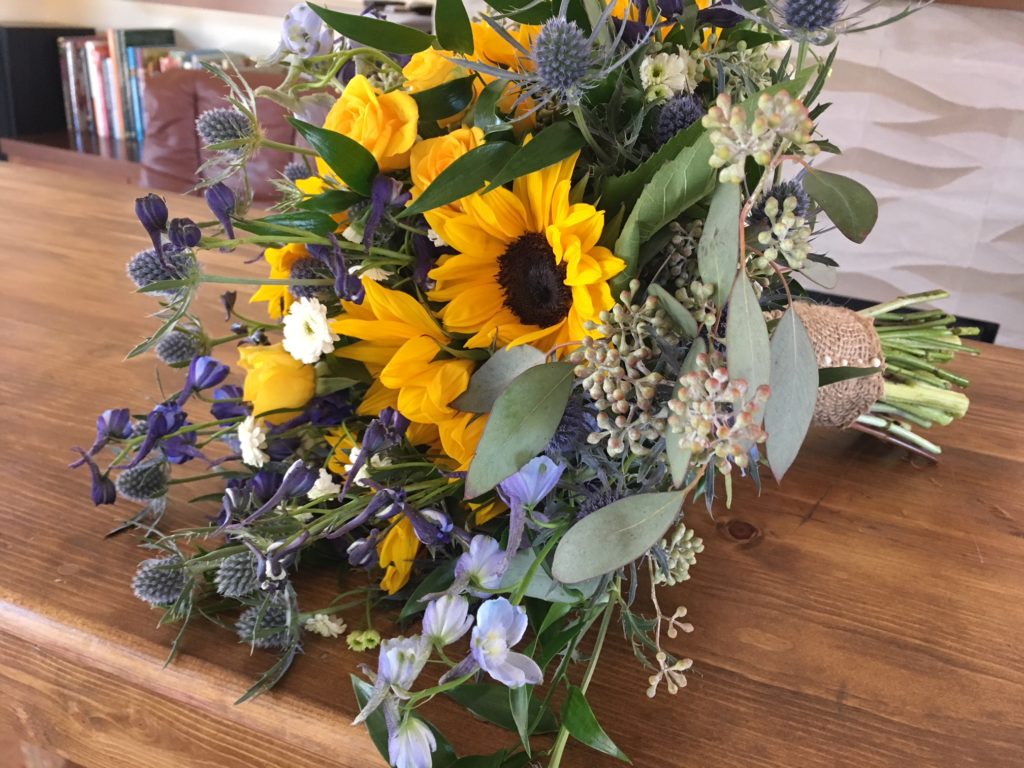 … and was ready to meet her "Prince Charming," Rick.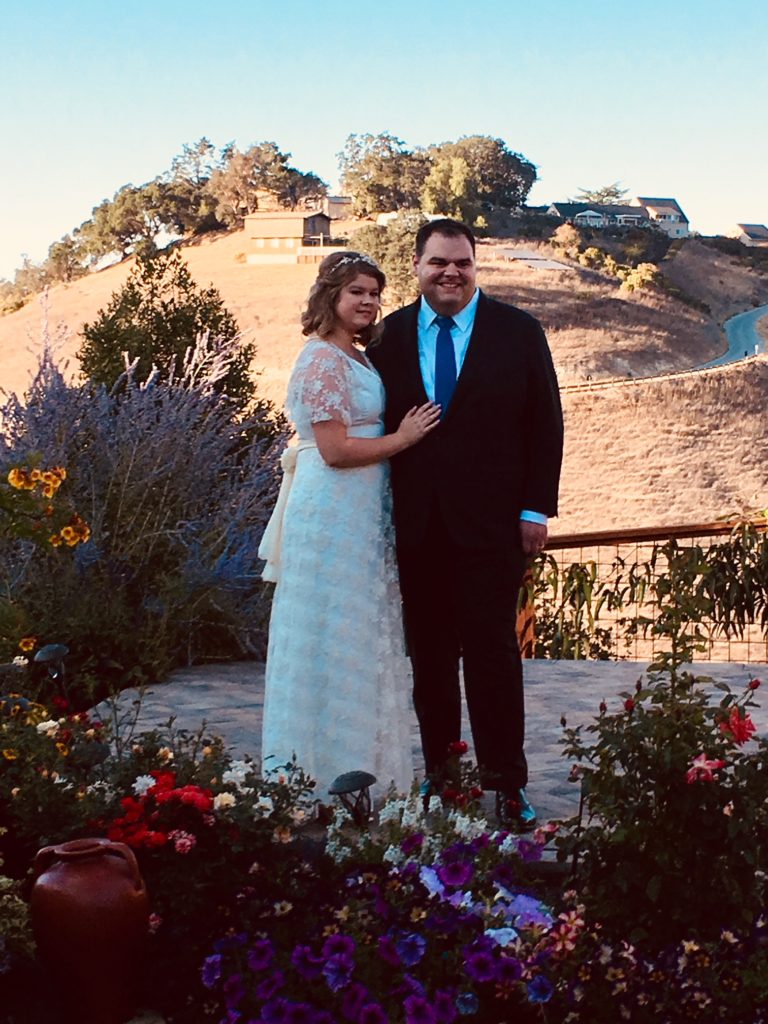 Time for many, many photos with photographer Sandra Fazzino – just wait until you see HER photos! (So far, all we have to offer are our snapshots…)
Meanwhile, my team (assistants Alexandra and Stephanie, and myself), the delivery crew from Stuart Event Rentals, the catering crew from Elaine Bell Catering, and our DJ Henry Kim from BIG FUN Disc Jockeys were all hard at work to get our preparations done before the first guests were arriving.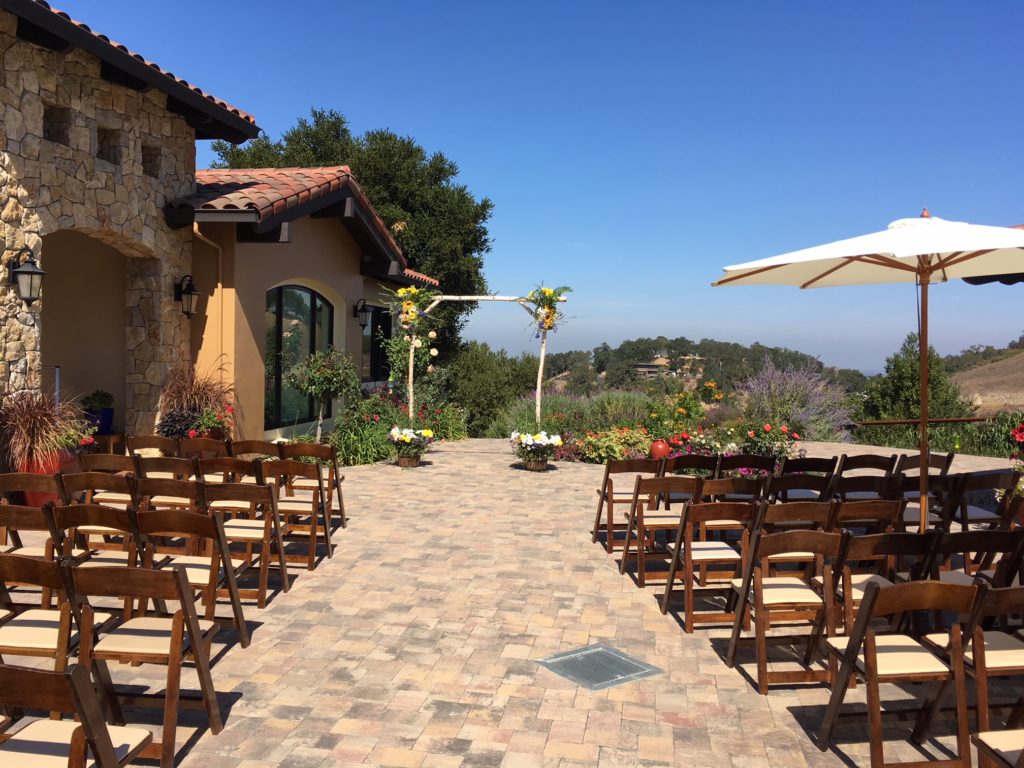 The motor court of the residence had been transformed into something resembling an Italian "piazza" with living trees to disguise the garage doors, market umbrellas for shade and string lights for the later part of the evening.
Soon enough, our first guest shuttle from El Paseo Limousine arrived. Guests were greeted by more handmade signage and much-needed hand fans!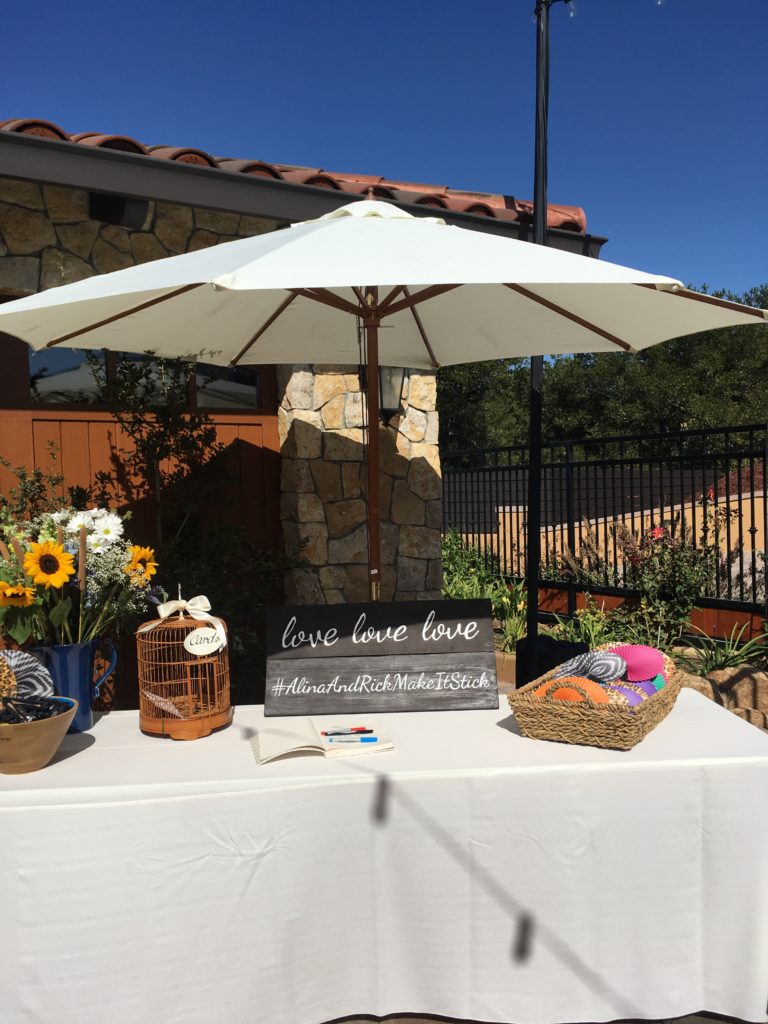 Time for the ceremony! Again, a personal touch – the ceremony was officiated by the groom's younger brother. It couldn't have been more personal and more lighthearted.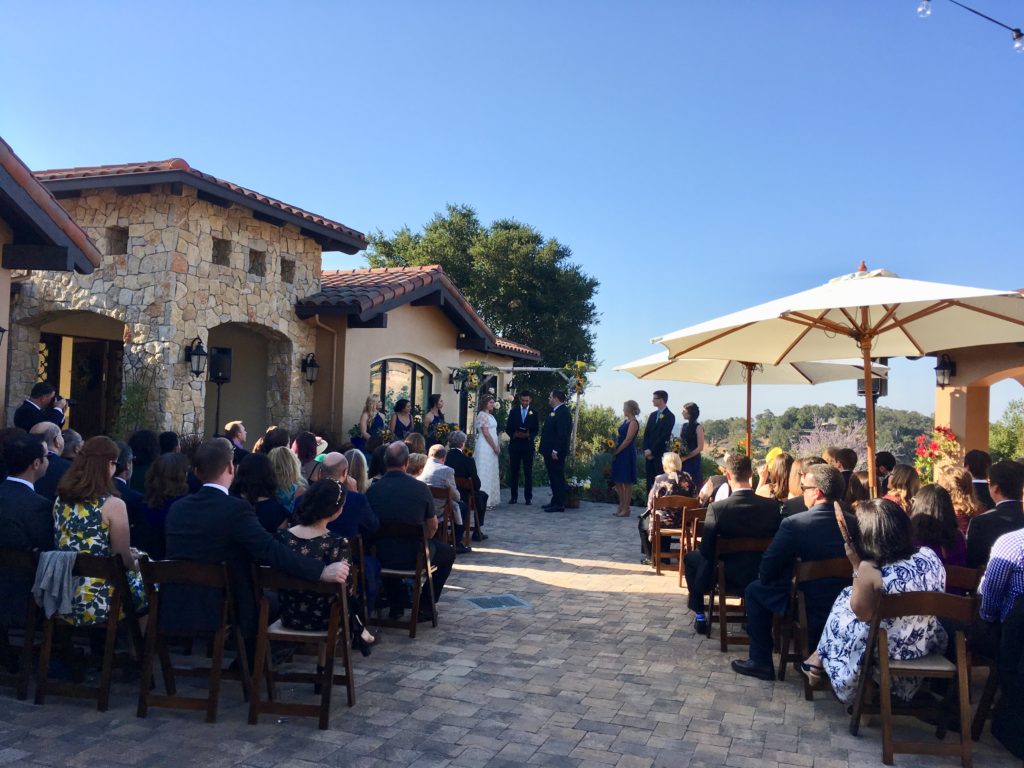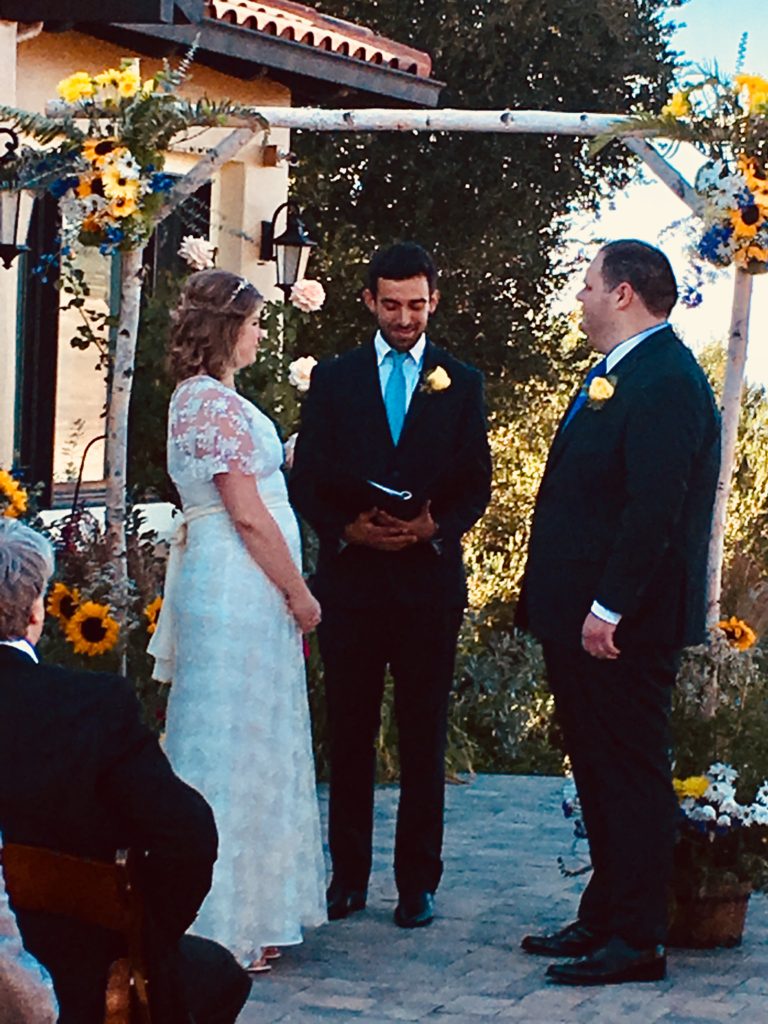 Just married!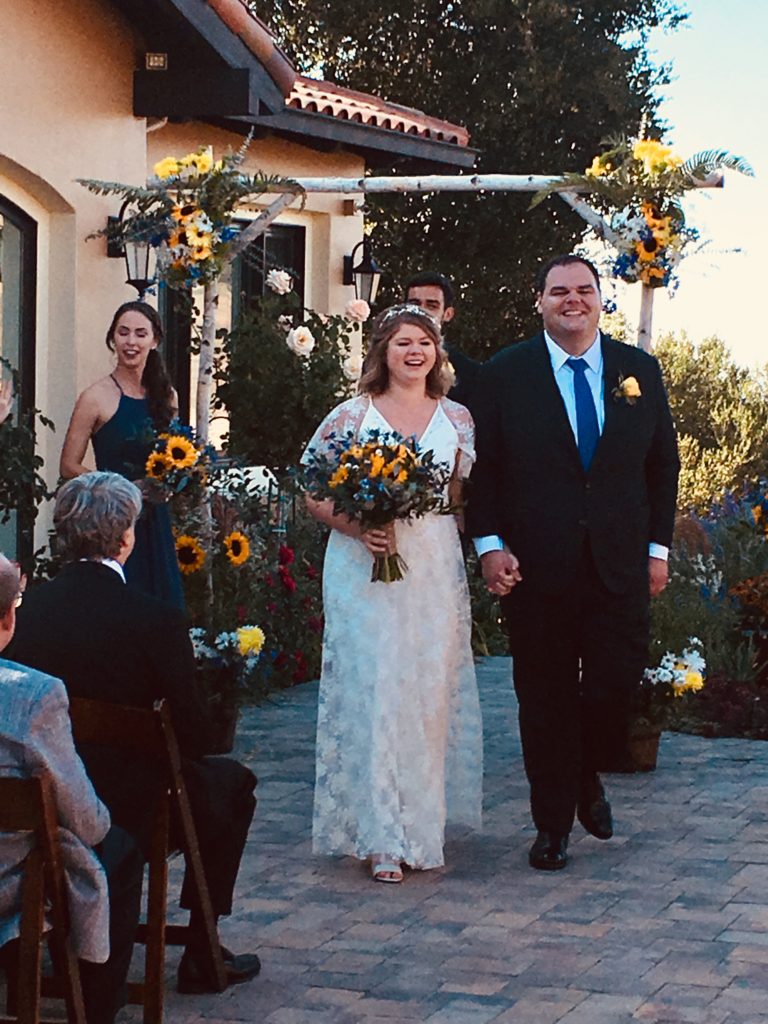 Party time, and time for dinner! While our guests were enjoying their cocktails, the decor,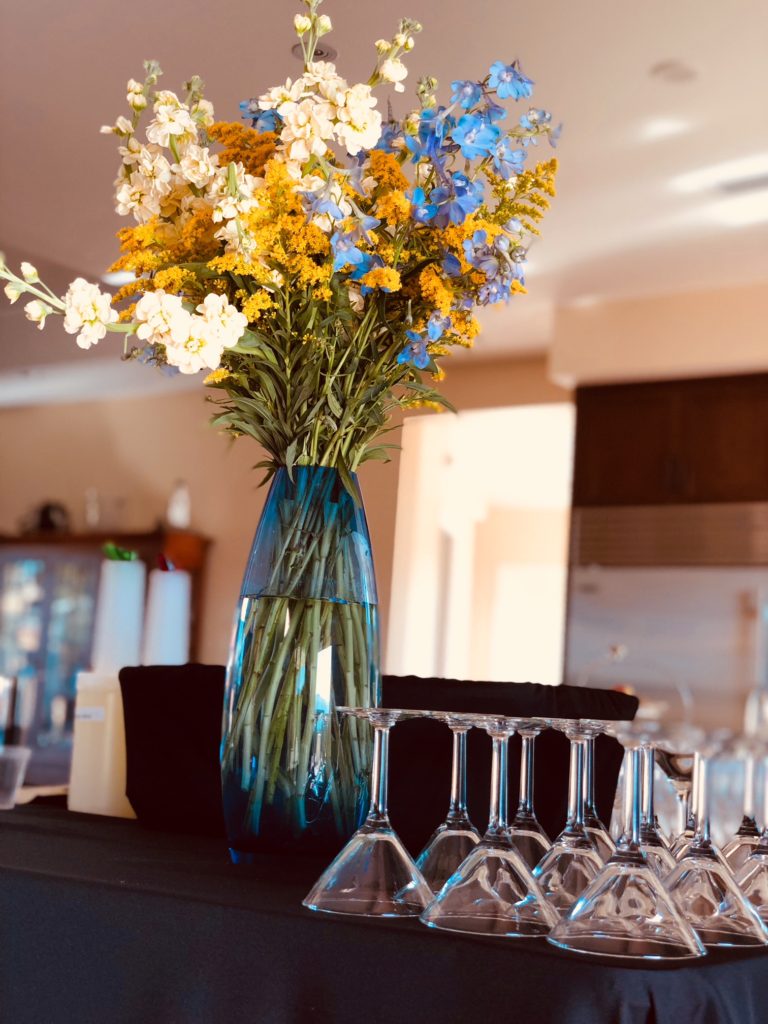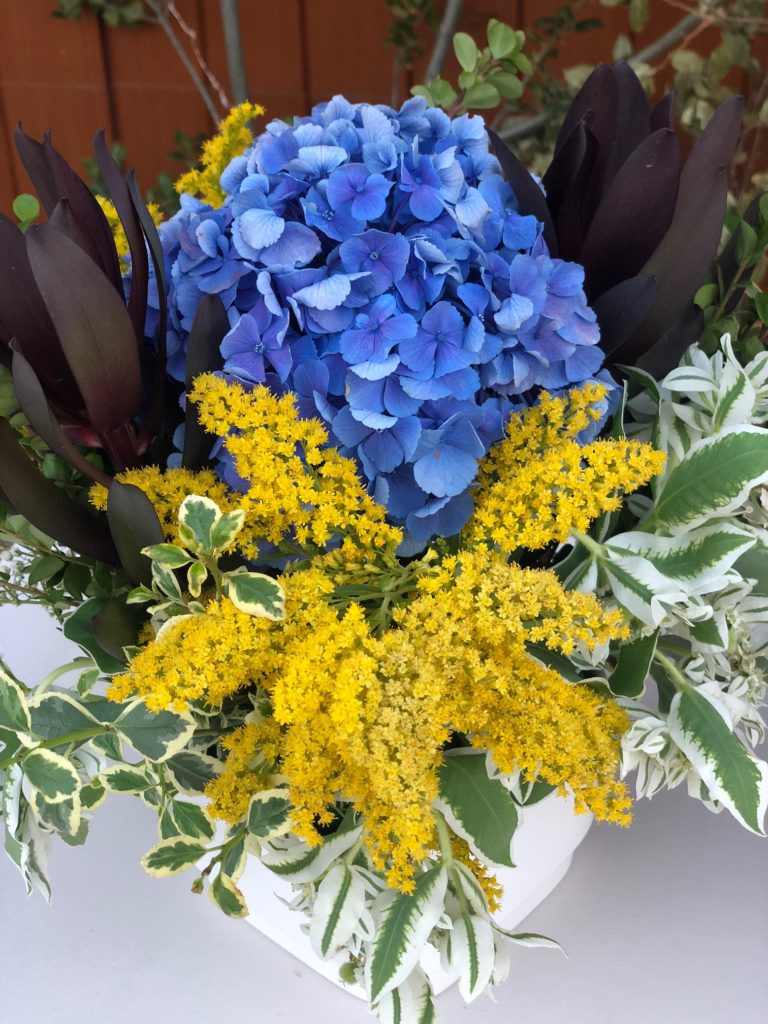 the views…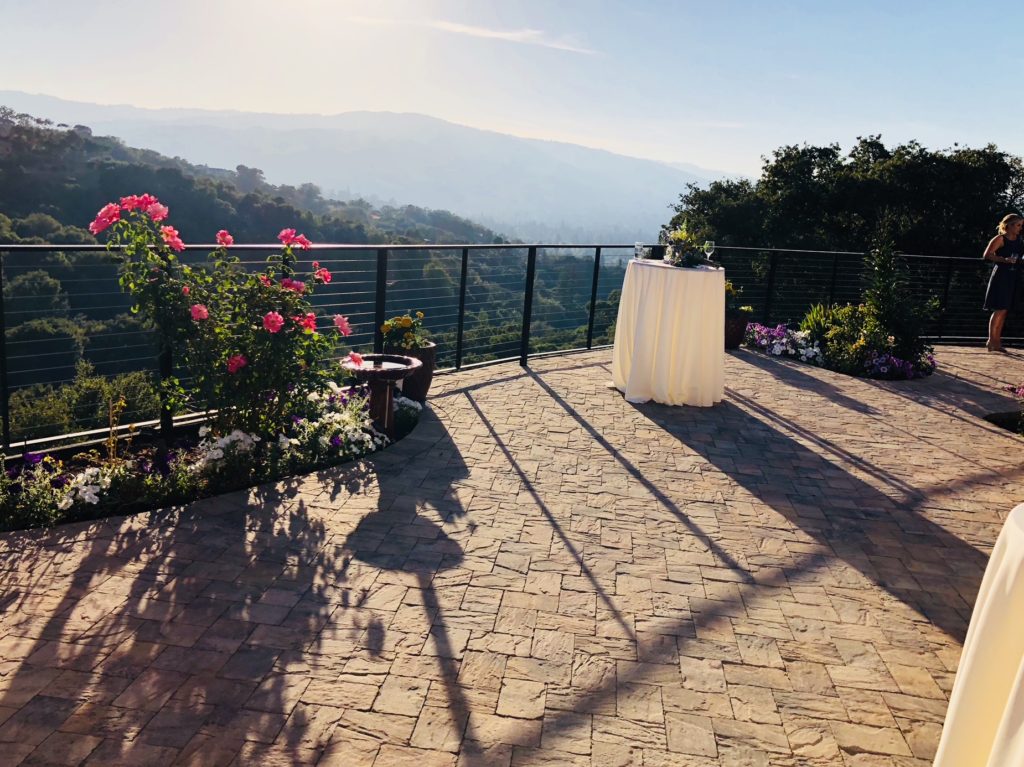 … and the sunset,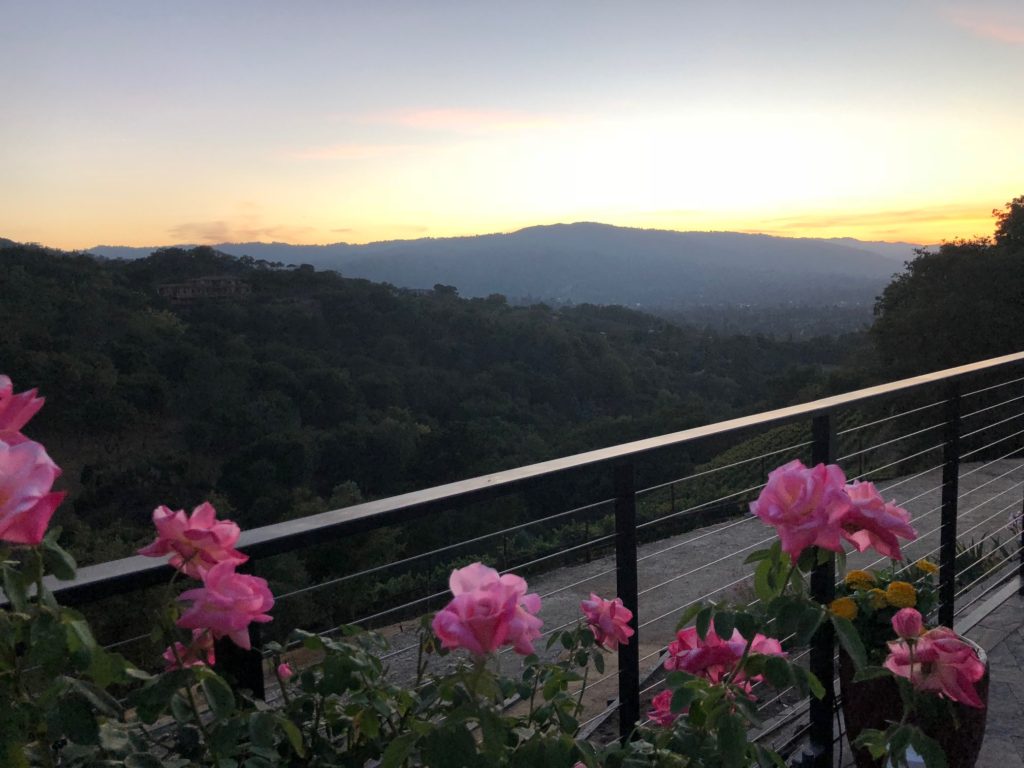 the ceremony area was quietly transformed into an open-air nightclub. A professional dance floor was installed, the string lights overhead came on, and DJ Henry had his disco lights ready before our guests even sat down to dinner on the back patio.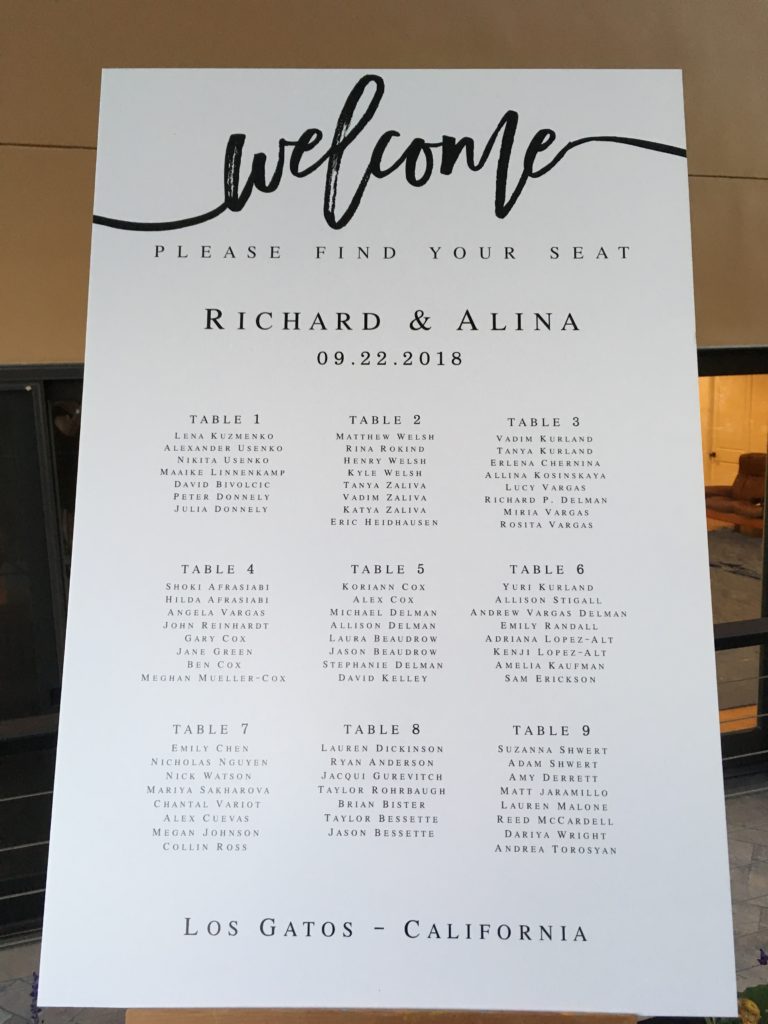 Inspired by the Tuscan atmosphere of the residence, guests were dining at beautiful bare wooden tables…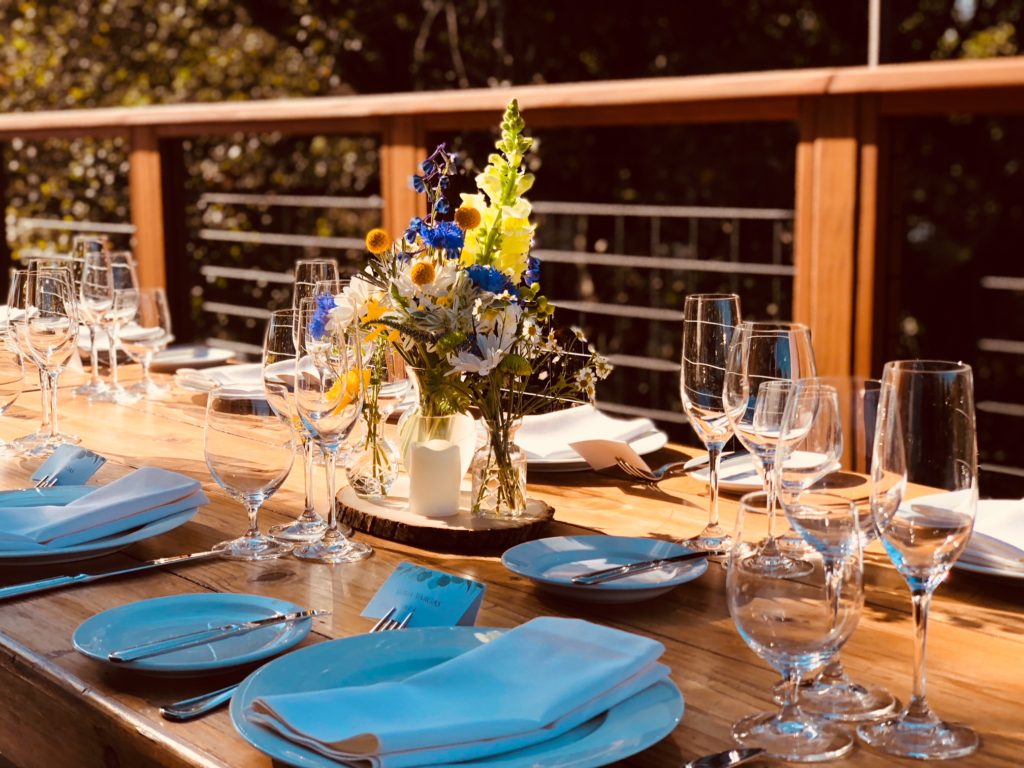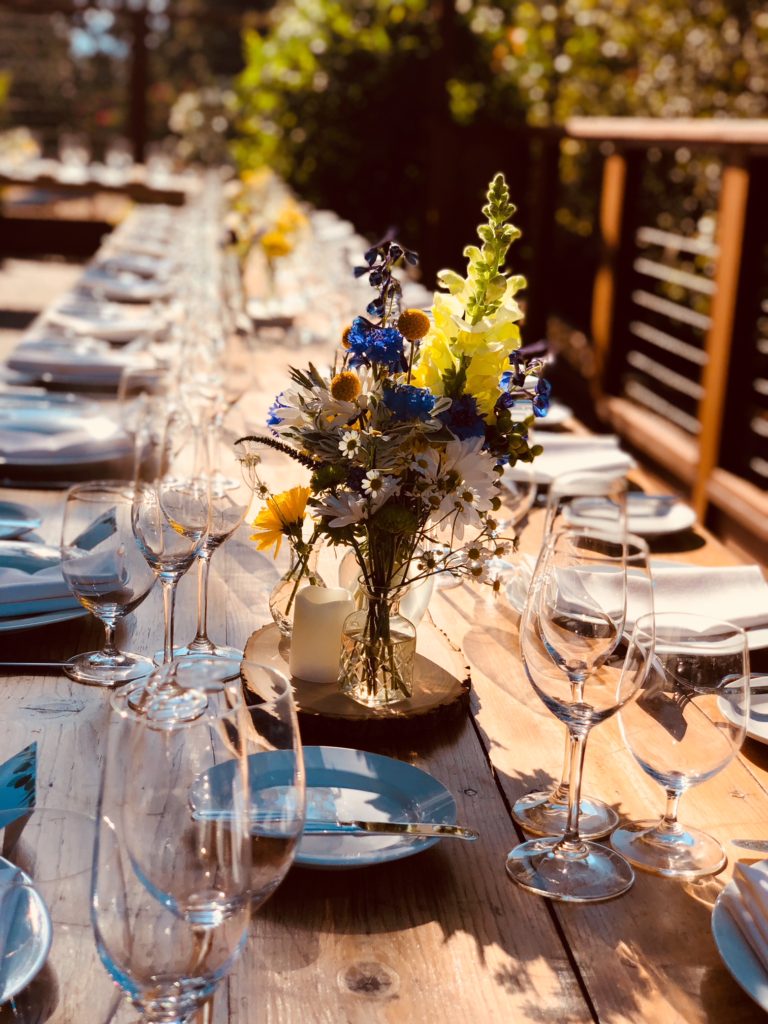 During dinner, dusk fell, and the twinkling lights in the tree made the scene truly magical.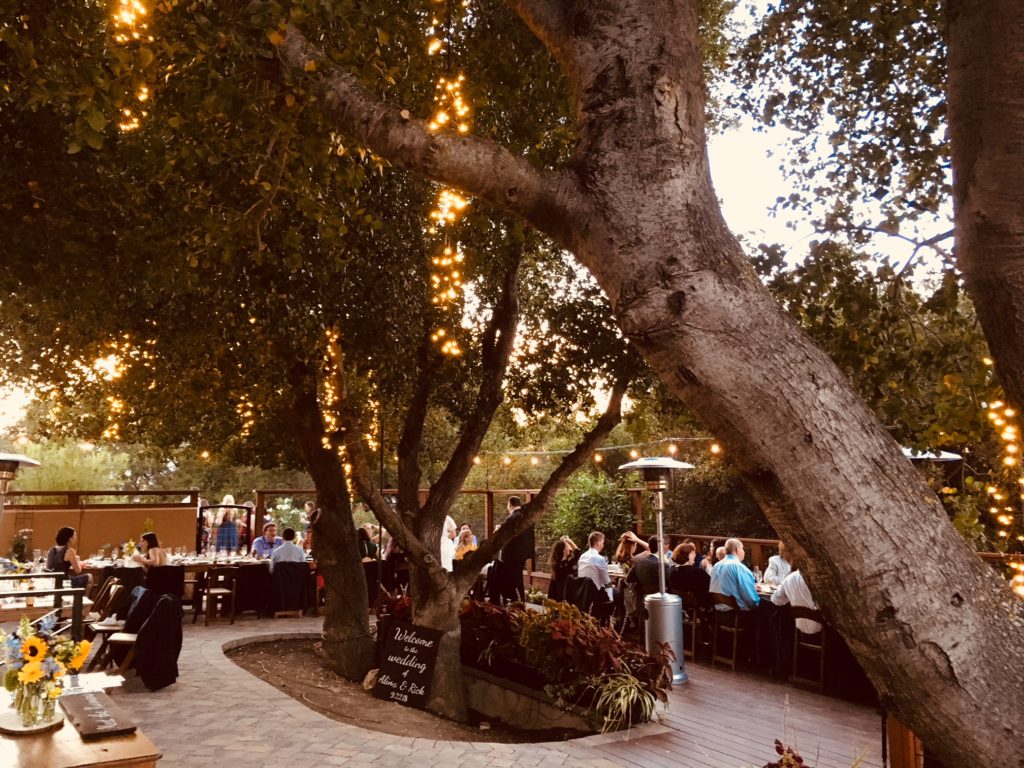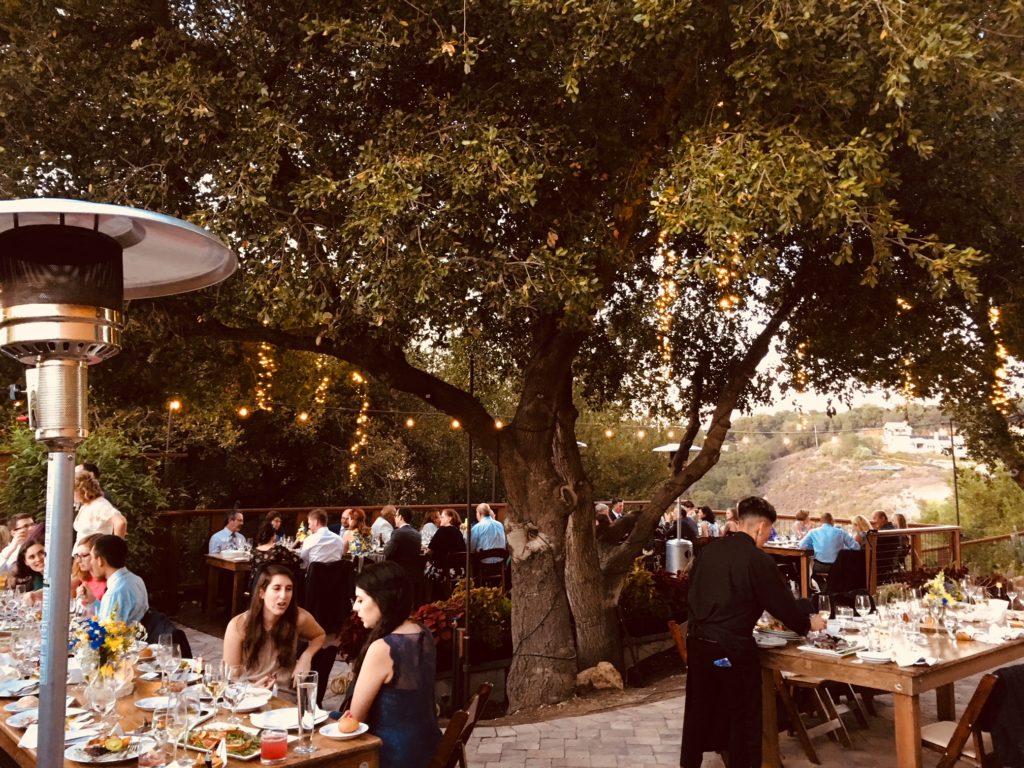 And the glorious food served by EBC made this dinner all the more memorable!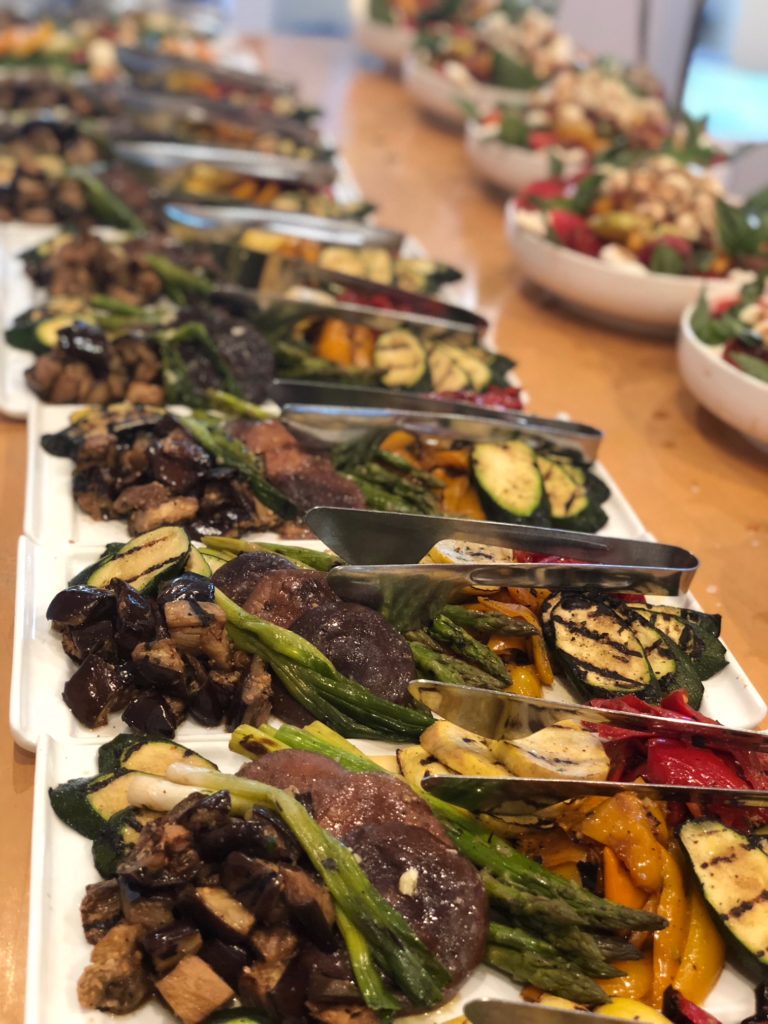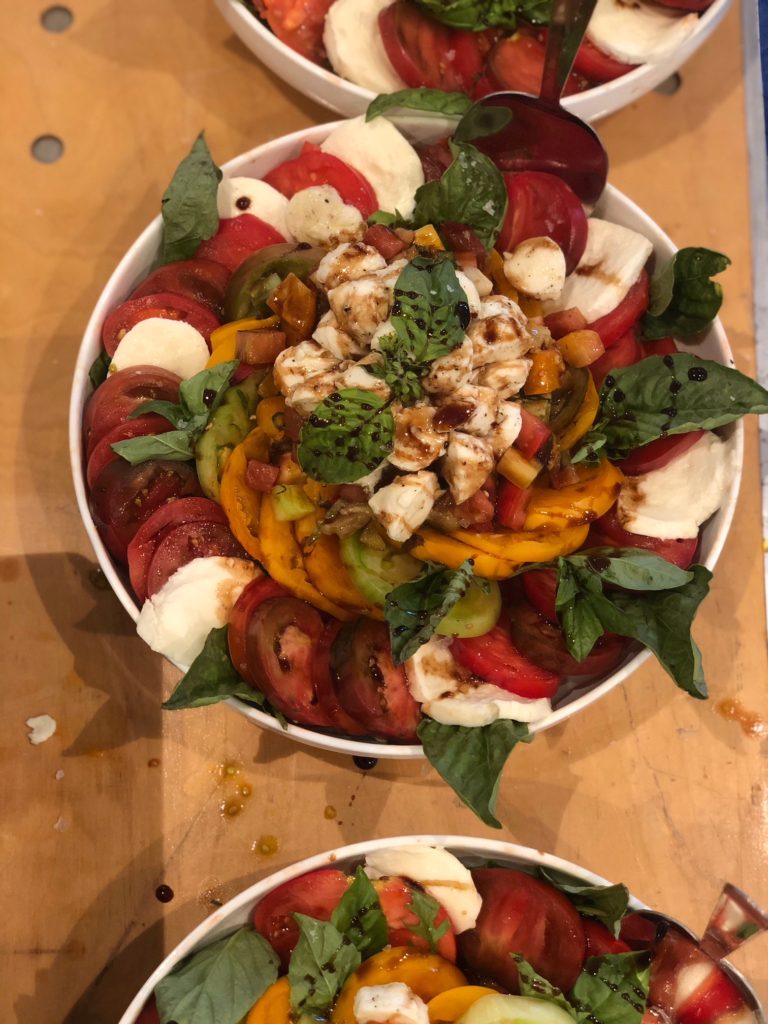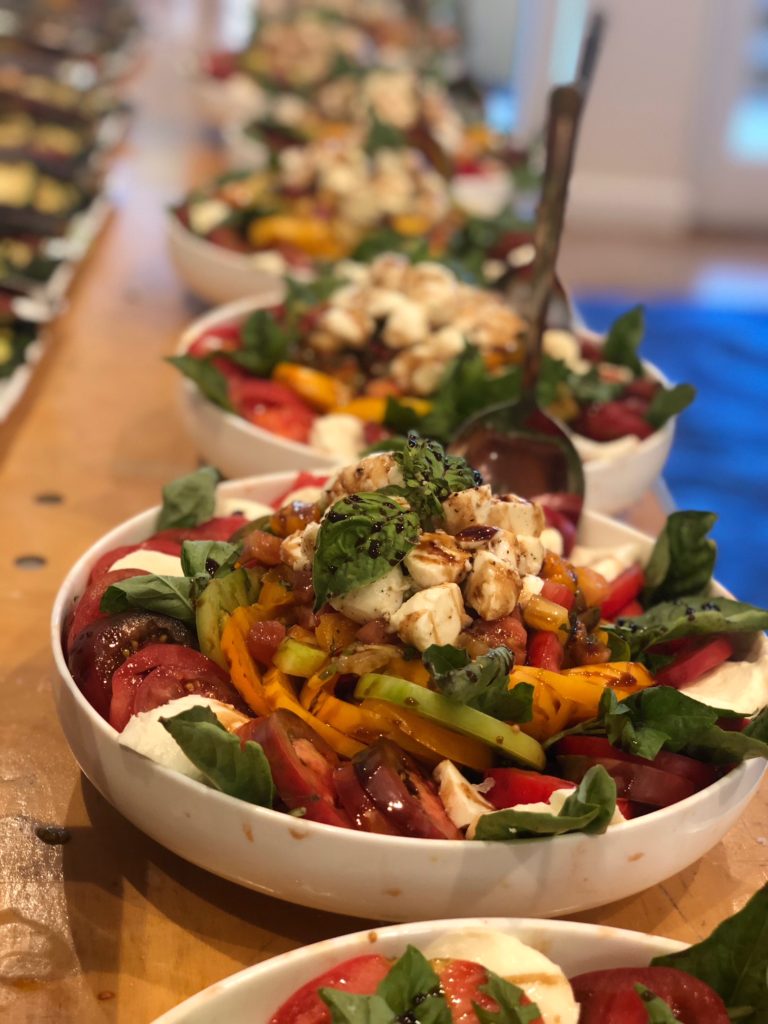 Next up – dessert! Mini cupcakes and fruit accompanied the couple's presentation cake (again lovingly decorated by the mother of the bride).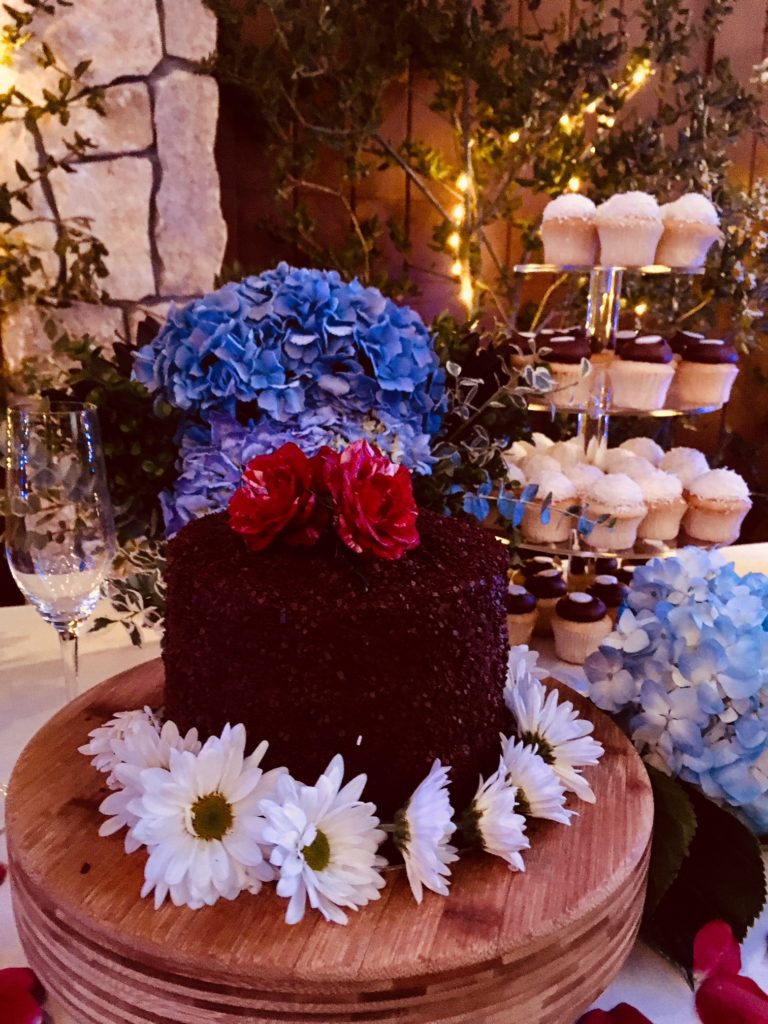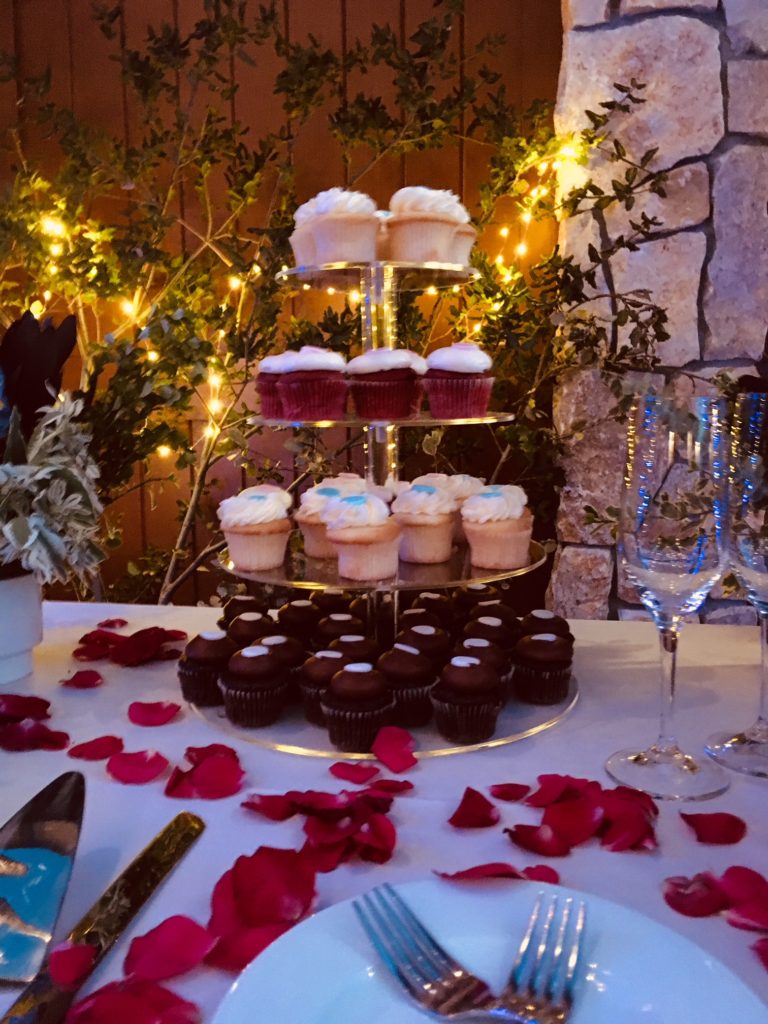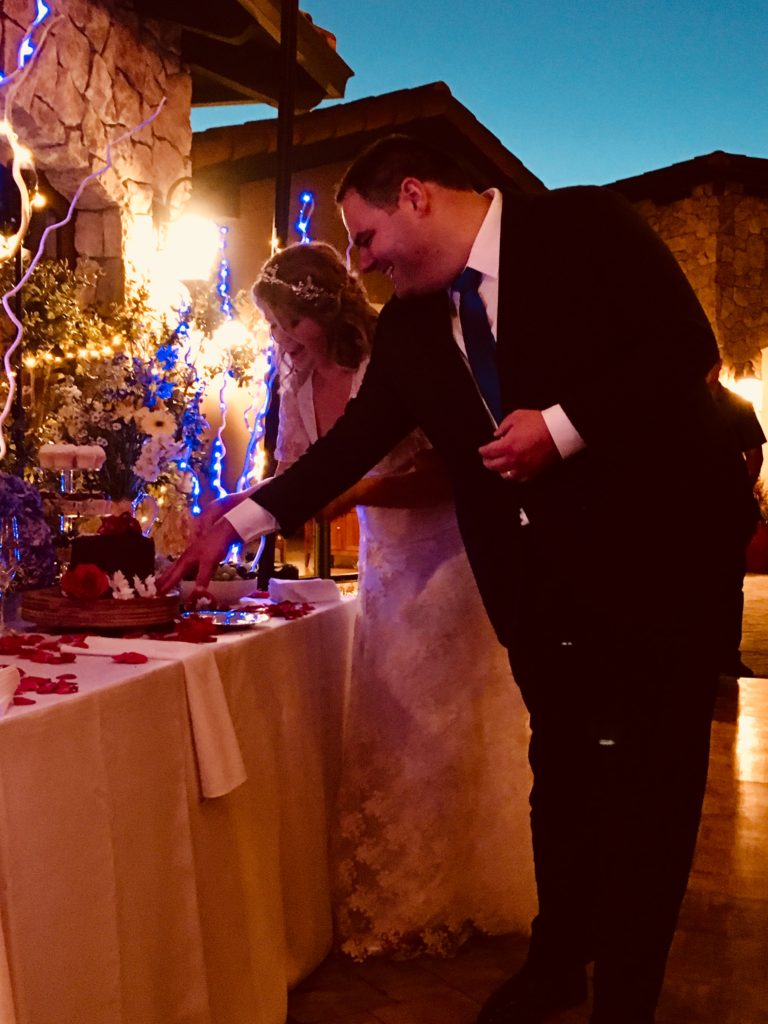 After that, there was no holding back! Without further ado (like a First Dance, or Special Dances, or the like…) the dance floor was opened, the disco lights came on, and the party went into overdrive!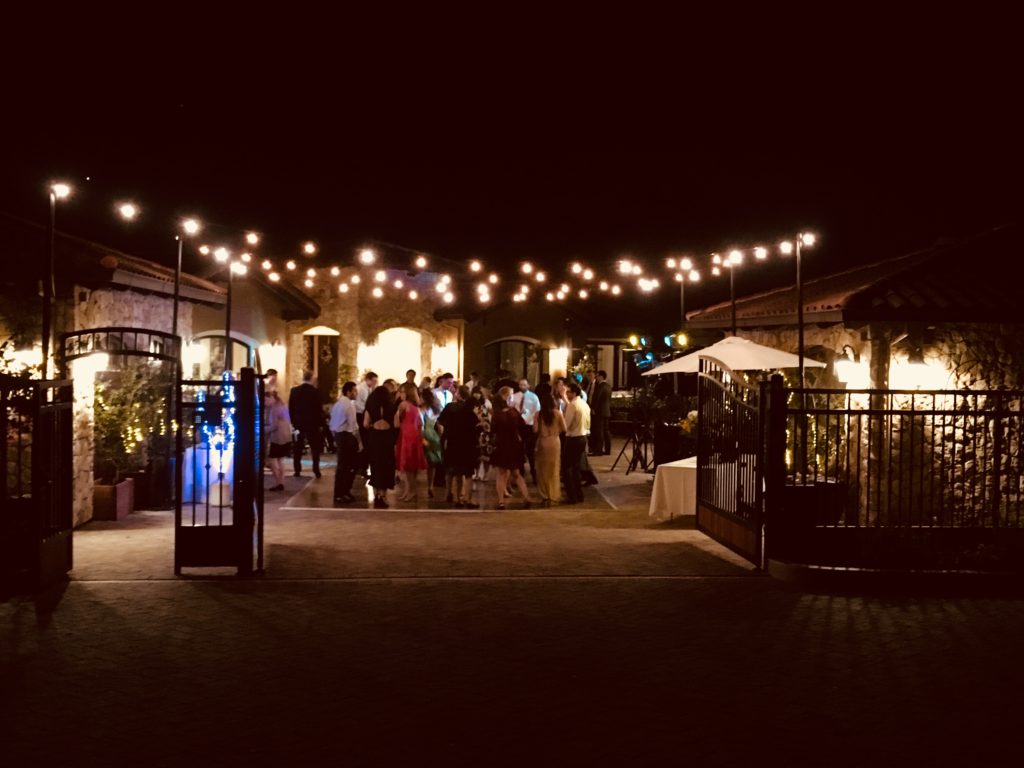 We even had wedding crashers!! A bunch of eleven-year olds had escaped from their slumber party next door (in their pajamas!!) and snuck right onto the dance floor… Of course they were welcomed and invited to stay on until 10 pm when the music had to conclude (per local noise ordinance…) – otherwise everyone would gladly have stayed on!
Congratulations, Ali and Rick, to a truly unforgettable wedding celebration! Party on… and stay as unconventional as you are!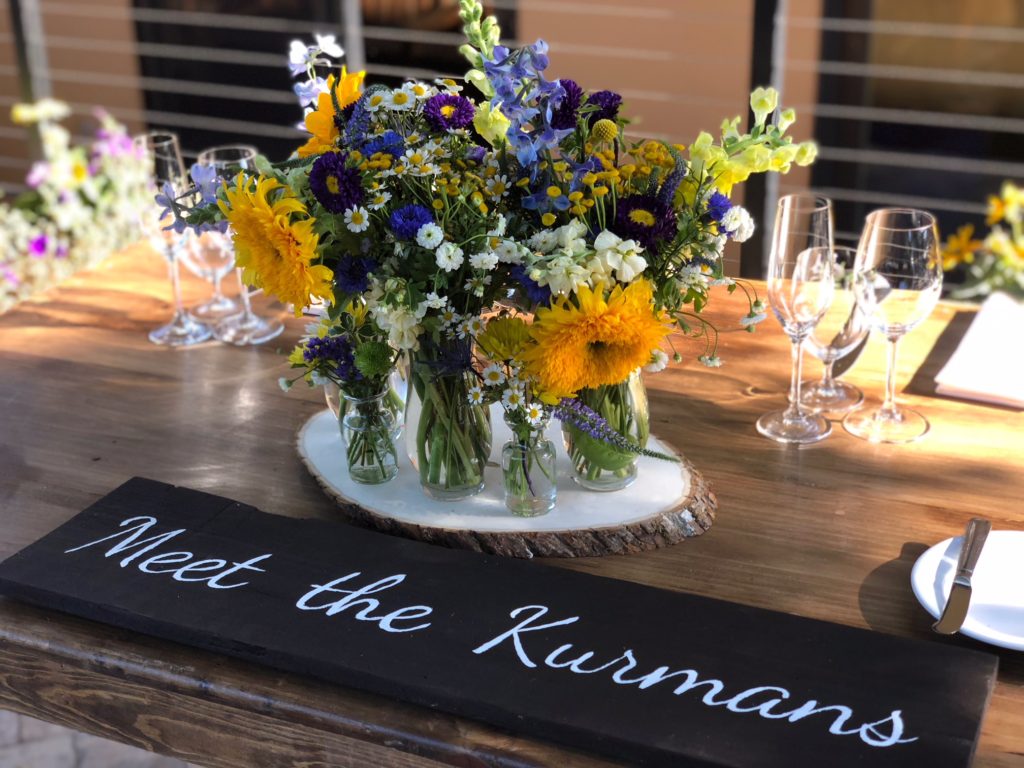 <! DL 06/02/12: Added html code for Pinterest Pin It button (appears at the end of each post) > <! DL 06/02/12: Added padding style modifier to the Pinterest html code to align the Pit It button on the page > <! DL 06/02/12: deactivated code by adding two ! in the a and img code lines >