I am just here at the Bay Area Wedding & Celebrations Fair at the Parc 55 Wyndham hotel in downtown San Francisco, and the whole fourth floor and Grand Ballroom is just buzzing with excitement. Brides and grooms-to-be, mothers, whole families are crowding the 50 or so vendor tables: lots of photographers, entertainment companies, beauty products, spa services,venues and honeymoon destination hotels, sweet confections, bridal accessories…you name it!
It was a day full of discoveries!
The first thing I discovered was my good friend Rachel, owner/designer at The Desk Set, one of the Bay Area's premier wedding stationery stores. She showed me the perfect custom-made invitation suite for a couple whose rustic-vintage inspired wedding I am currently organizing – look here: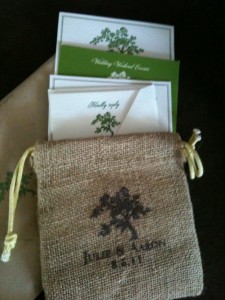 Isn't that totally adorable? Rachel is so incredibly gifted and creative, and "the sky is the limit" for her designs (think letterpress on white handmade paper with a gold cut…) BUT  it's her promise that she will work within any client's budget! Look her up at thedeskset-sf.com!
Next up was Modern Love Photography whose dreamy, totally romantic photos I LOVED! All their photo packages come with an engagement session (including hair and makeup!), and with a whole day of photo coverage. Your photographer will actually stay on for your whole evening and capture all those precious moments…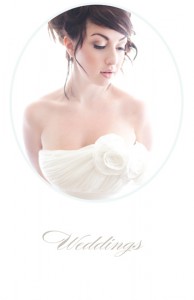 Most packages also include a beautiful "coffee table" style photo book, very professional and polished-looking… and then there are all these creative touches: a boudoir session (with all female staff!) resulting in the most gorgeous gift for the groom: a book full of sensual images of his new wife… a personalized guest book containing full-page photos of the couple, complemented by thought-provoking questions for guests to comment on: "where do you see us in ten years?" "what do you think ties us together?" Once this guest book is filled, it will become one of the most personal and cherished keepsakes of that special day, I am sure! (www.modernlovephotography.com)
And then – the total, absolute discovery of the day: French macarons by the Sugarie! You know French macarons – these weightless, melt-in-your-mouth, pastel-colored confections, with the most delicate thin and crunchy crust and a deliciously creamy filling?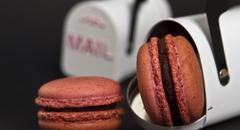 Being European, I've certainly tasted my share of macarons, and I have to say that hands-down, these here from Sugarie are among the best I've had, ever! They make a fabulous center for your candy bar, AND they could be wonderful wedding favors: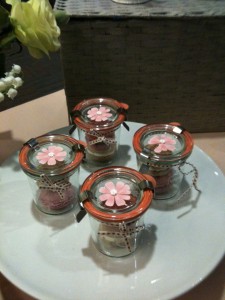 Isn't that too cute? The magician behind these divine confections is Natalie who during the week before the wedding fair alone baked 1,300 macarons! They come in 14 different flavors (imagine: lavender white chocolate, green tea azuki bean, raspberry dark chocolate…) and even in custom flavors of your own choosing! Here I am with Natalie at her booth. Visit www.sugariebakeshop.com and get seduced!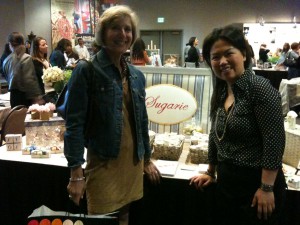 And the last pleasant surprise of the day – the hotel itself! Why? The Parc 55 San Francisco offers DOG-FRIENDLY WEDDINGS!!! Yes, you heard it – you can bring your beloved four-legged companion to your wedding ceremony in the hotel and to your reception! Your darling is also allowed in the dog-friendly guest rooms. The only requirement – easy to organize – is that your dog is leashed and under the care of his/her own handler (preferably professional dog walker) at all times. And with that, you can have an elegant hotel setting for your wedding, just one block away from Union Square, perfect for yourself and for your out-of-town guests, AND have your doggie with you.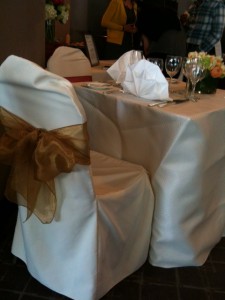 The hotel will provide elegant table settings for your wedding dinner, and the grand ballroom on the fourth floor can accommodate up to 300 guests. The huge foyer on the fourth floor can be transformed in an elegant cocktail reception space. Feel free to have it decorated to your heart's delight!

What else? So many things – just quickly: Tim and Vikki,a cute husband-and-wife team at By Request Entertainment  fulfill all your entertainment wishes from cued ceremony music to reception entertainment to DJ services for your post-dinner dancing, including MC'ing throughout your wedding day. For a local 100-people wedding this comprehensive package starts at as low as $1,500 – and they even have a karaoke setup. Doesn't that sound fun?! (www.byrequestbayarea.com)

Thinking destination wedding? Yosemite now offers the choice of five hotels inside the park (the Ahwanee) and further out (among others, the dog-friendly Tenaya Lodge) which can be booked up to 18 months in advance – regular bookings are only 12 months in advance – with the best months to have a romantic outdoor ceremony under the towering mountains being April through September (YosemitePark.com/Weddings). Or is a beach wedding more your style? Think of the all-inclusive Sandals Resorts in Jamaica, Antigua, St. Lucia, the Bahamas, and Turks&Caicos – also fabulous for "just" your honeymoon! (call toll-free 1-800-SANDALS).

Lastly – in spite of all the excitement pervading the exhibition hall, there was a feeling of serene romance, provided by the beautiful live performances of guitarist Julio Reyes! A classically trained musician, Julio has worked as a teacher and performer, and he especially loves playing at weddings. And, believe me, he is so GOOD at it! Listen to his 2010 CD "Heart Strings," and you'll know what I mean (www.julioreyesguitarist.com).

<! DL 06/02/12: Added html code for Pinterest Pin It button (appears at the end of each post) > <! DL 06/02/12: Added padding style modifier to the Pinterest html code to align the Pit It button on the page > <! DL 06/02/12: deactivated code by adding two ! in the a and img code lines >