"Come Dance With Us!" was the motto of Tara's and Michael's exquisitely elegant wedding in Carmel-by-the-Sea, last weekend. And their celebration was, in fact, a perfectly choreographed affair – in every sense.
Tara and Michael have so much in common, their love of dancing only one among many things. As Michael said, "Tara and I – we are of the same feather…" And what "feather" is that? To start with, each of them is a Math wiz. They love the perfection of numbers. They are super smart. They are both perfectionists. They are extremely organized, analytical and detail-oriented. Small wonder they expected their wedding day to be just as perfect and organized! I feel really honored that they entrusted that all-important "project" to my company, A Day Like No Other, as their wedding planner.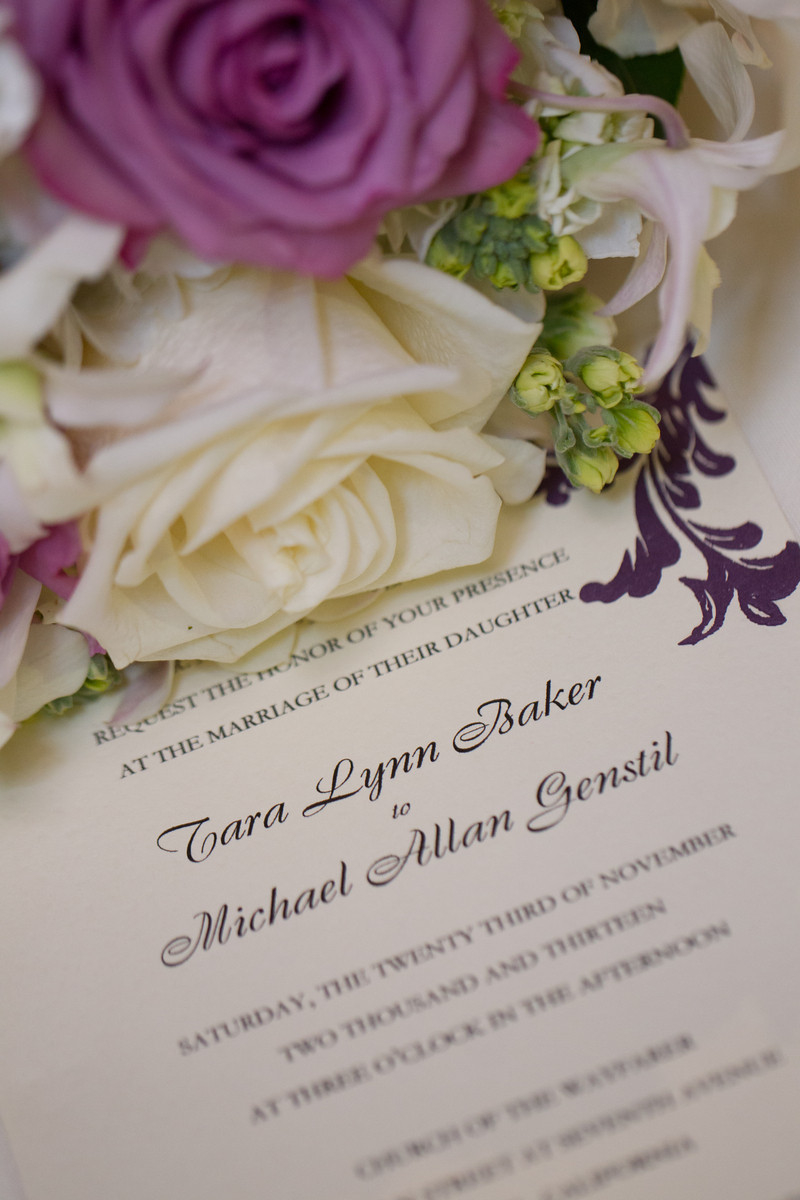 The two met only in February this year, but they both knew right away that they had met their perfect mates (unbeknownst to each other, that's what they told their best friends that same evening!). A true whirlwind romance ensued. Following time-honored tradition, Michael formally asked Tara's father for her hand in marriage – and got it! After that, nothing held them back to set their wedding date. As Tara put it so aptly (on her sign explaining her puzzle piece "guest book"), "It may have taken us a while, but we finally found the perfect fit." Just 9 months from their first date, the two got married last Saturday in one of the most romantic places I know – Carmel-by-the-Sea. After the bride's mandatory Hair and Makeup session (Caitlin at Spa on the Plaza),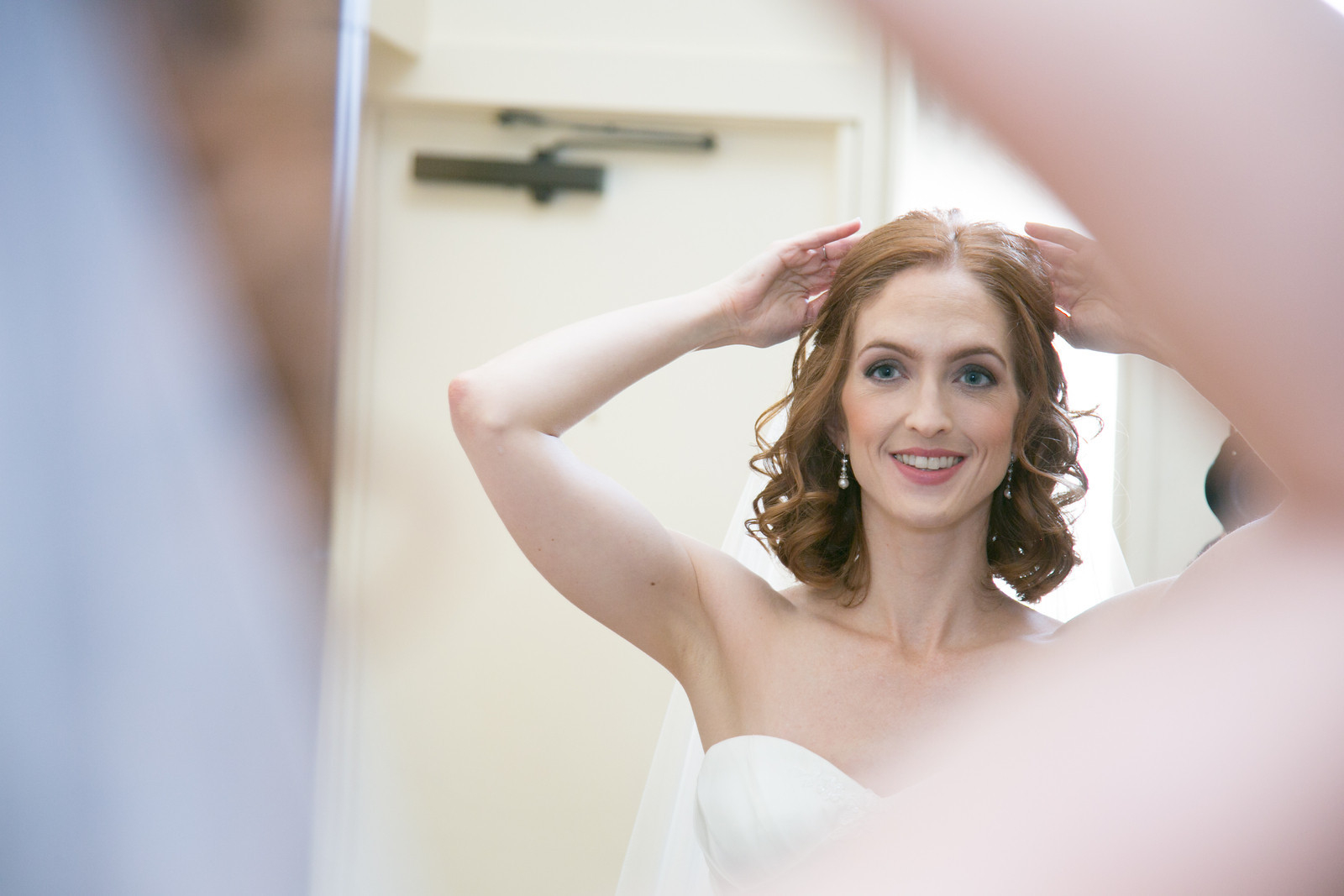 … both bride and groom were busy getting ready…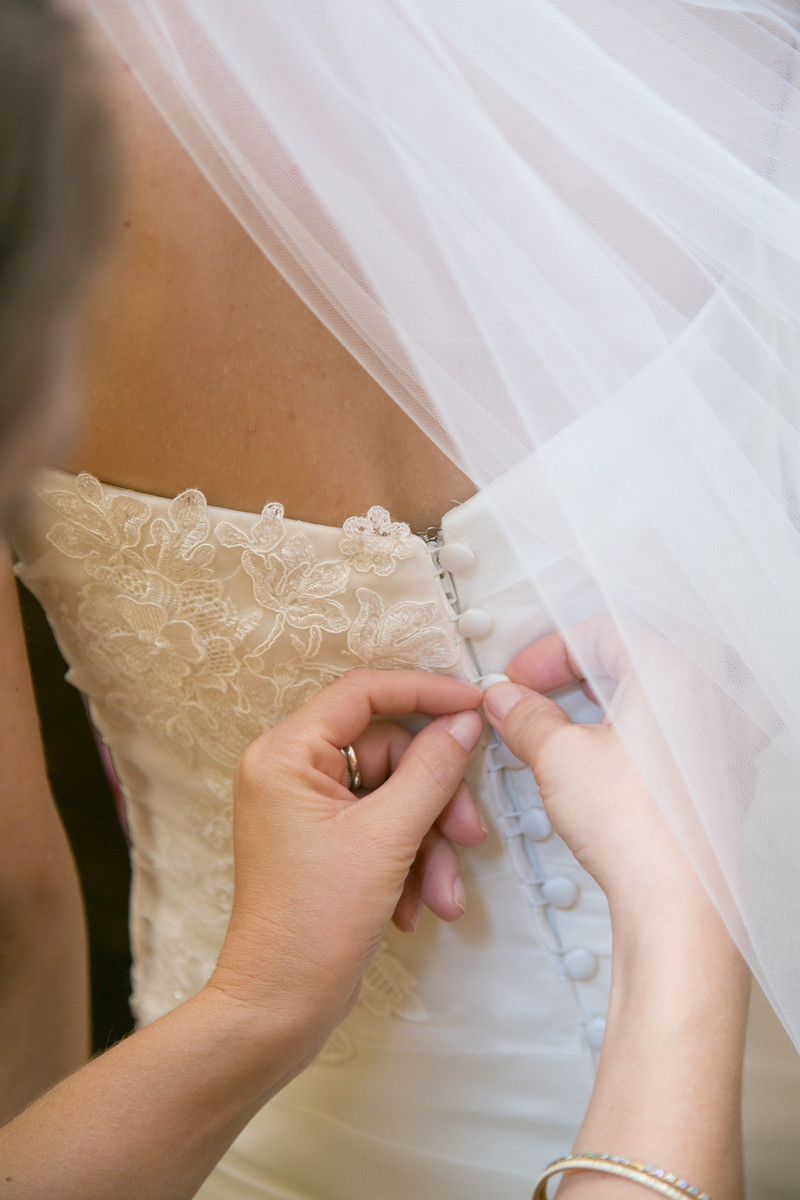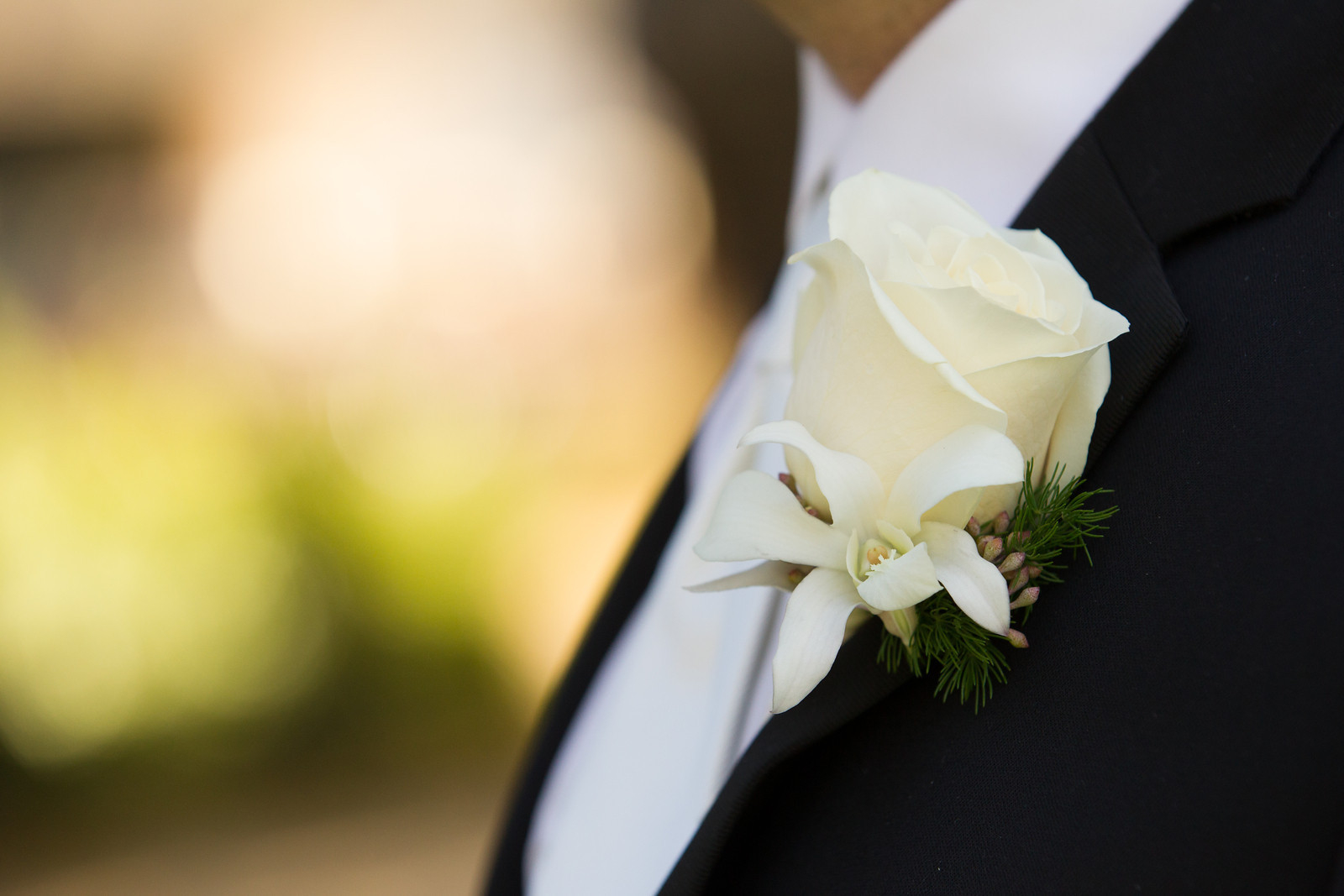 … at Quail Lodge Resort in Carmel Valley…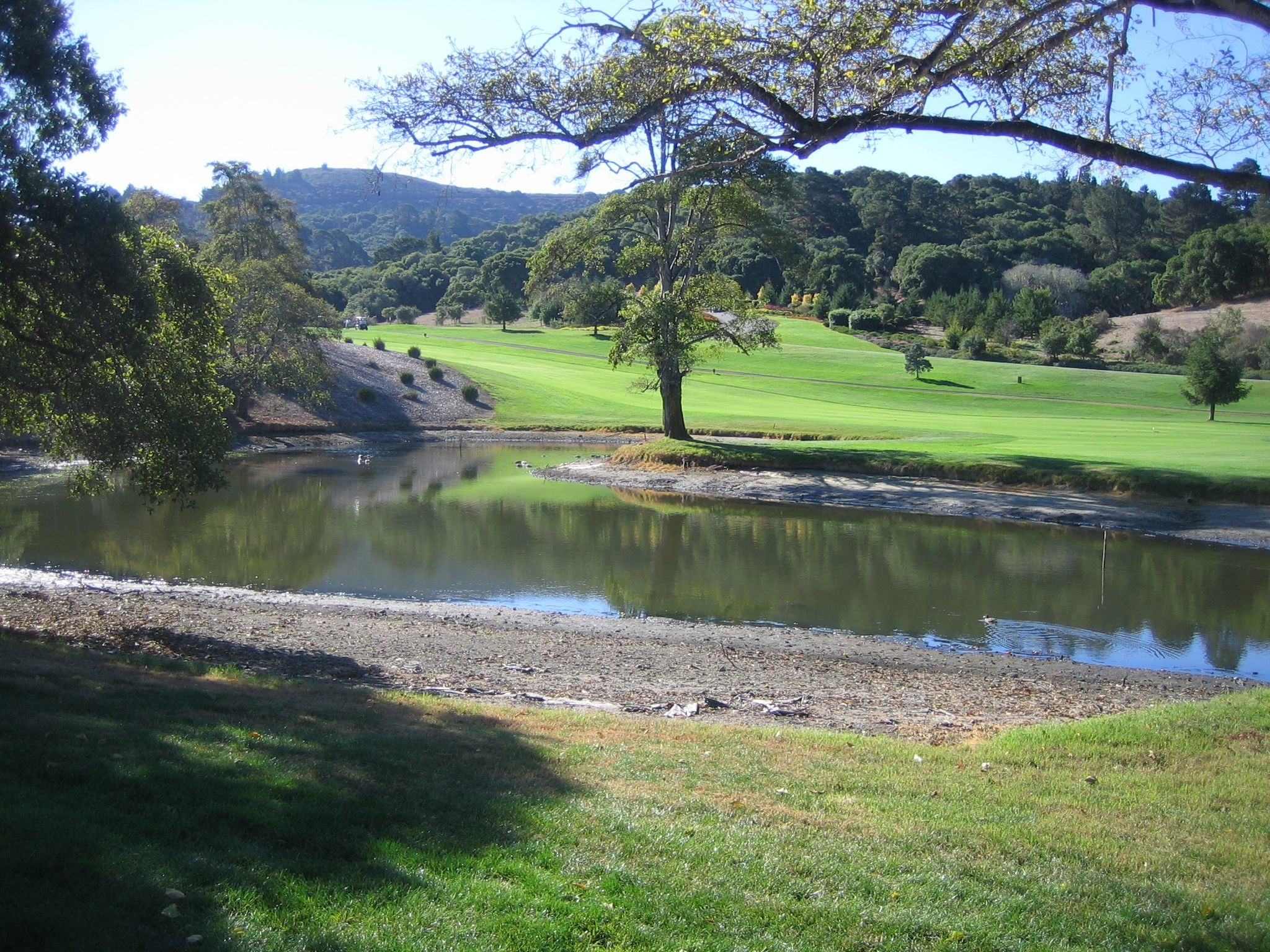 It was a glorious, golden late Autumn day, and the pond full of the namesake quail was glittering in the sun…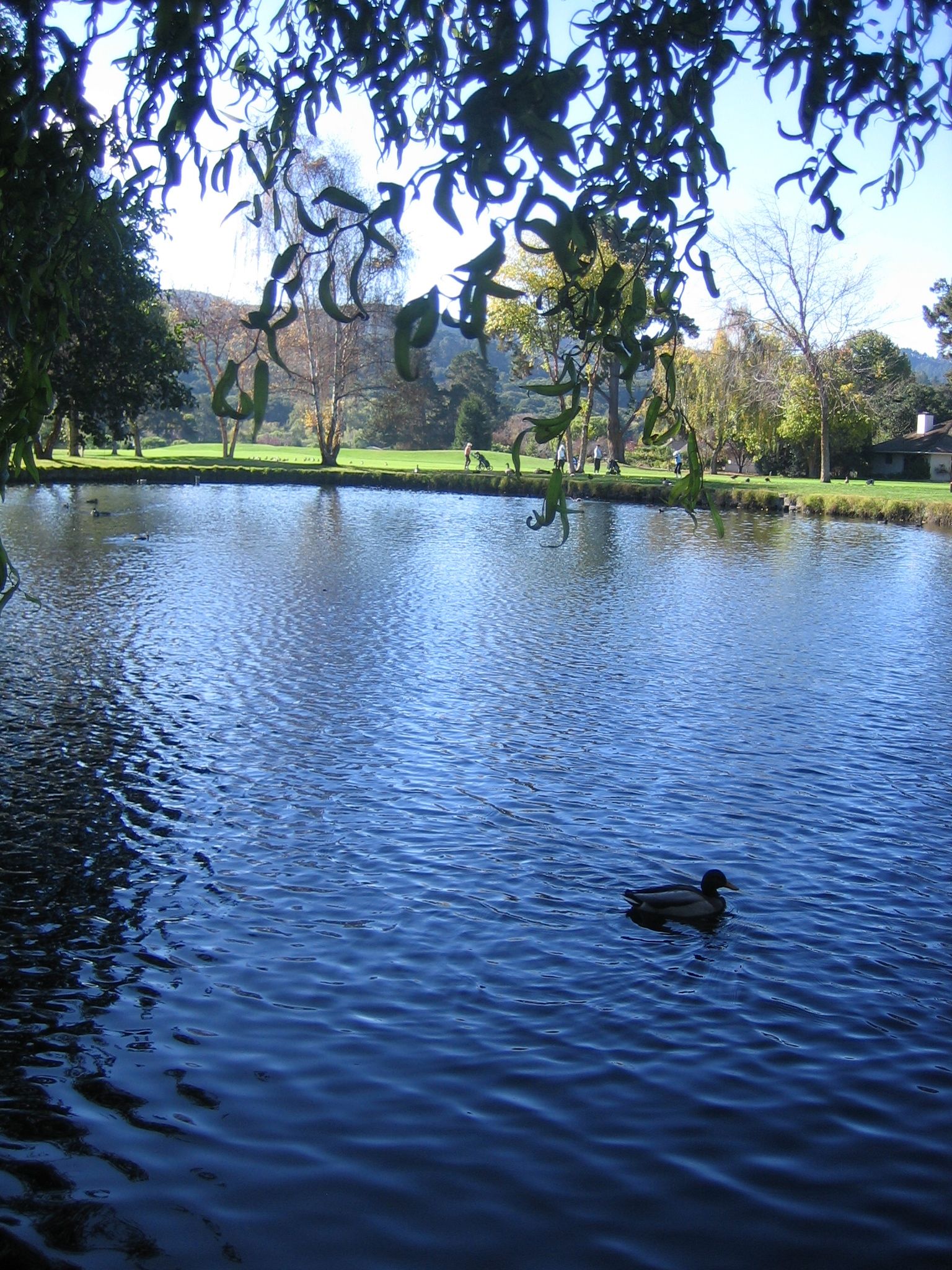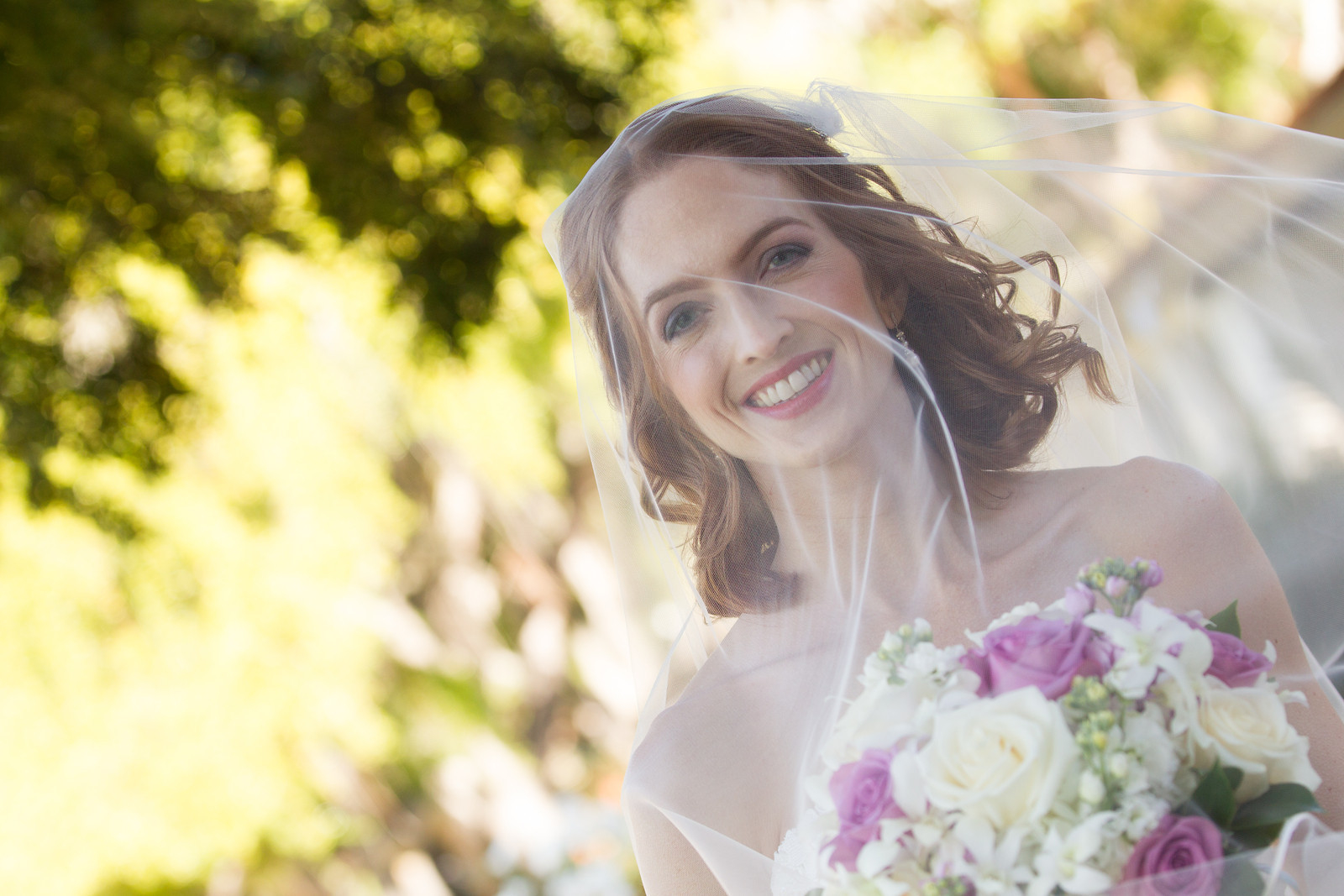 The two had their "First Look" moment on a bridge crossing the pond… it could have been right out of an Impressionist painting, Monet perhaps, and it was most definitely the pinnacle of romance. Photographer Ken Kato and videographer James Ferrandini of Thomas Hughes Films captured all those special moments throughout the day – First Look: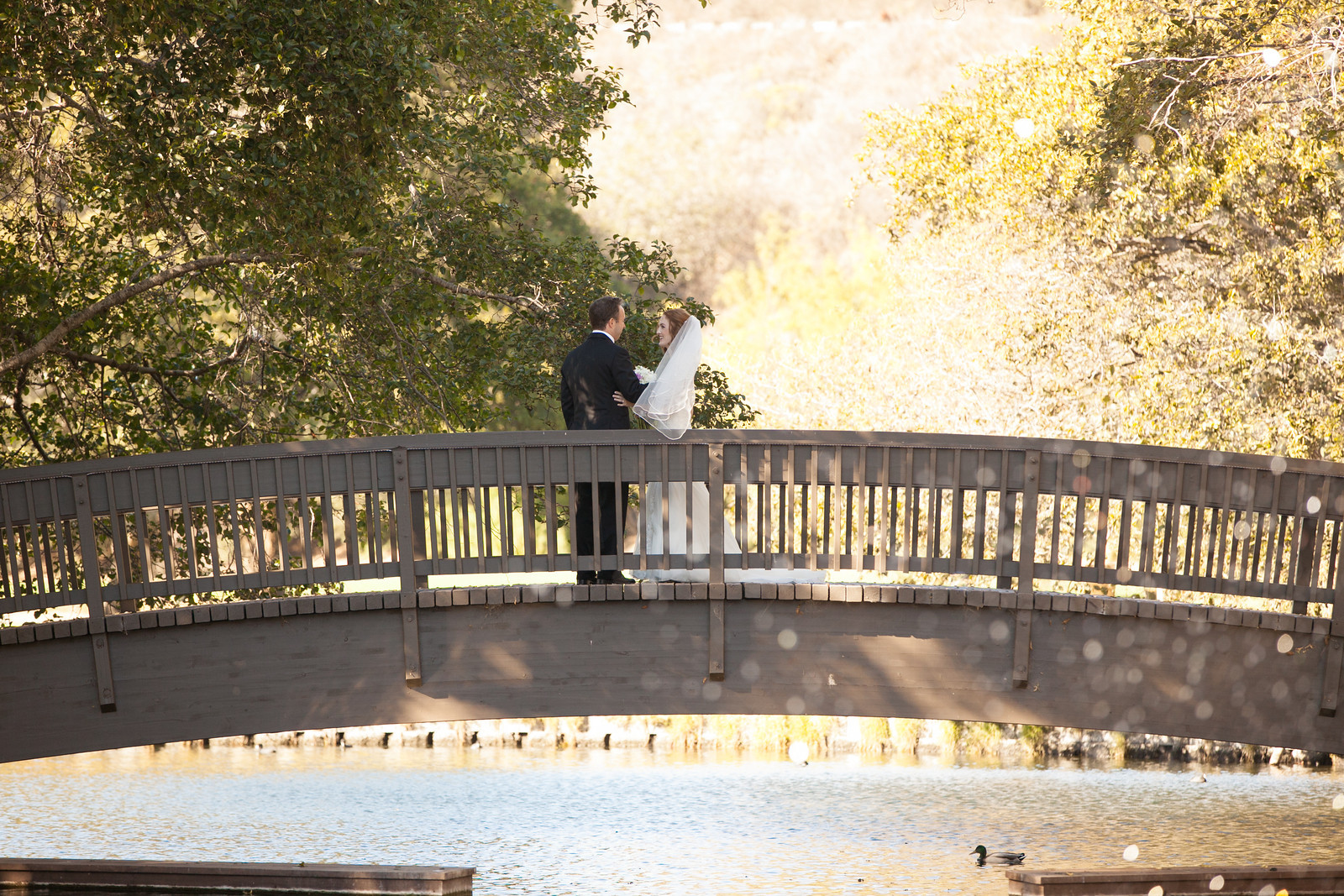 … and a stroll through Carmel-by-the-Sea with storybook charm: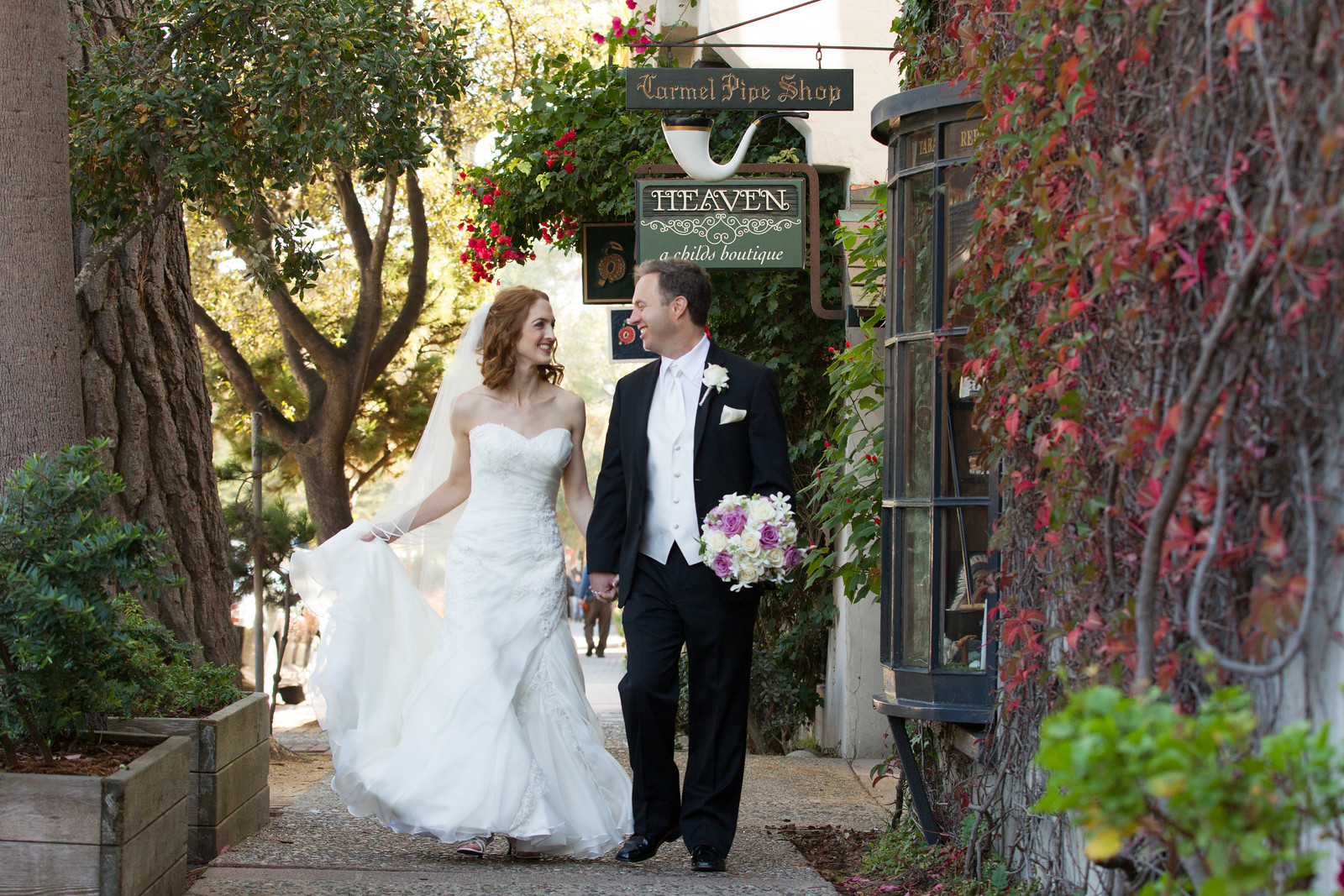 Then it was time for a stretch limo transfer to their wedding mass in the historic Church of the Wayfarer in Carmel-by-the-Sea…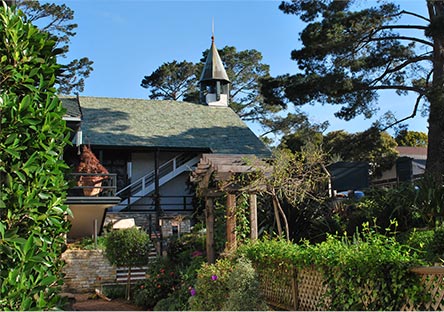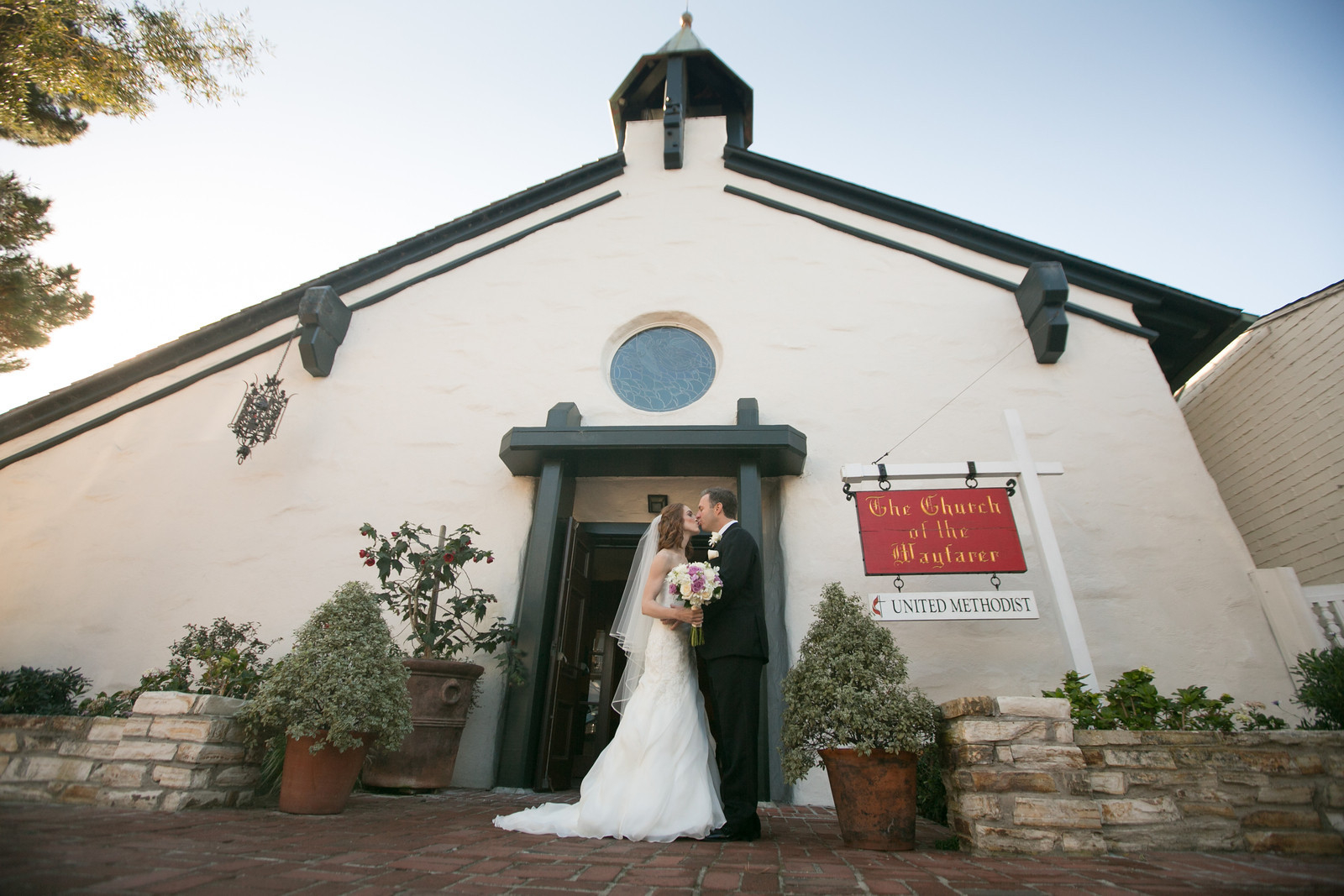 … The bride carried a breathtaking bouquet (by Swenson and Silacci) in her wedding colors – purple hues from pale mauve to lavender and a deep eggplant color.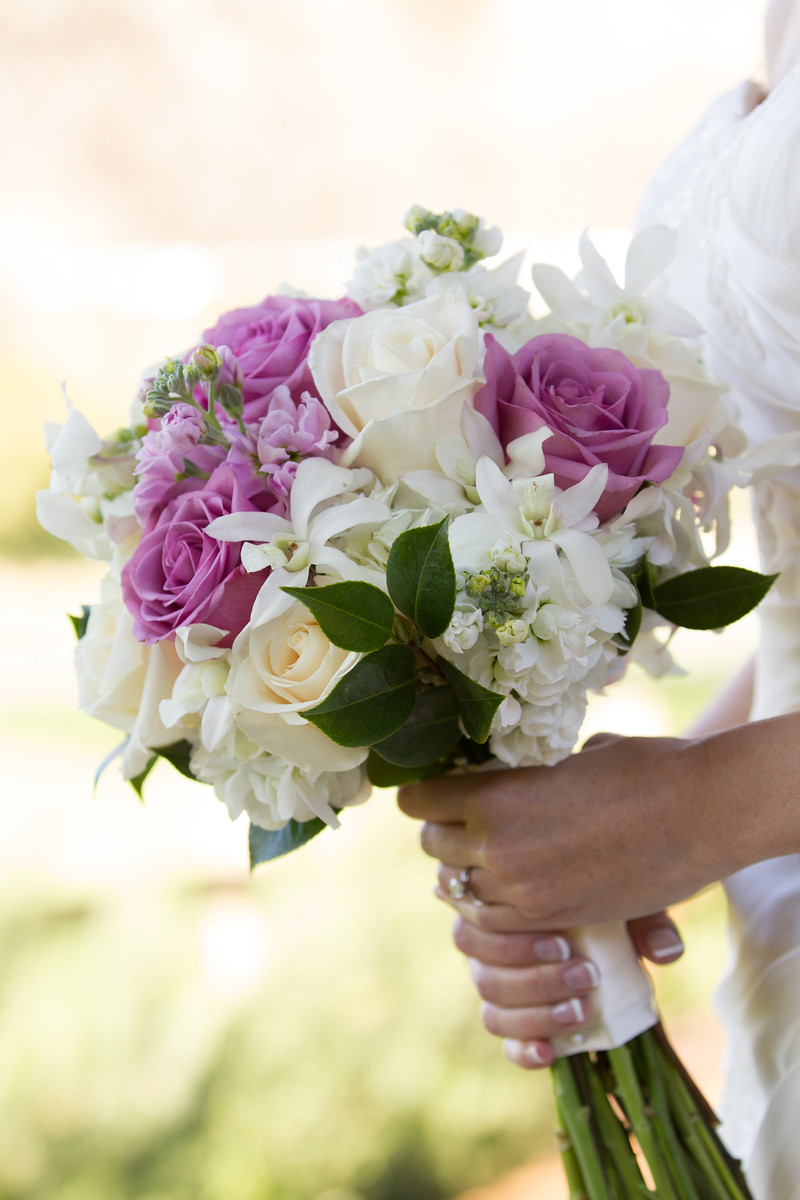 The Bride had chosen ceremony music with very special meaning and memories attached, all flawlessly performed by BellaQuattro Strings and rounded out by a soprano solo – sung by bridesmaid Landra.
It is official: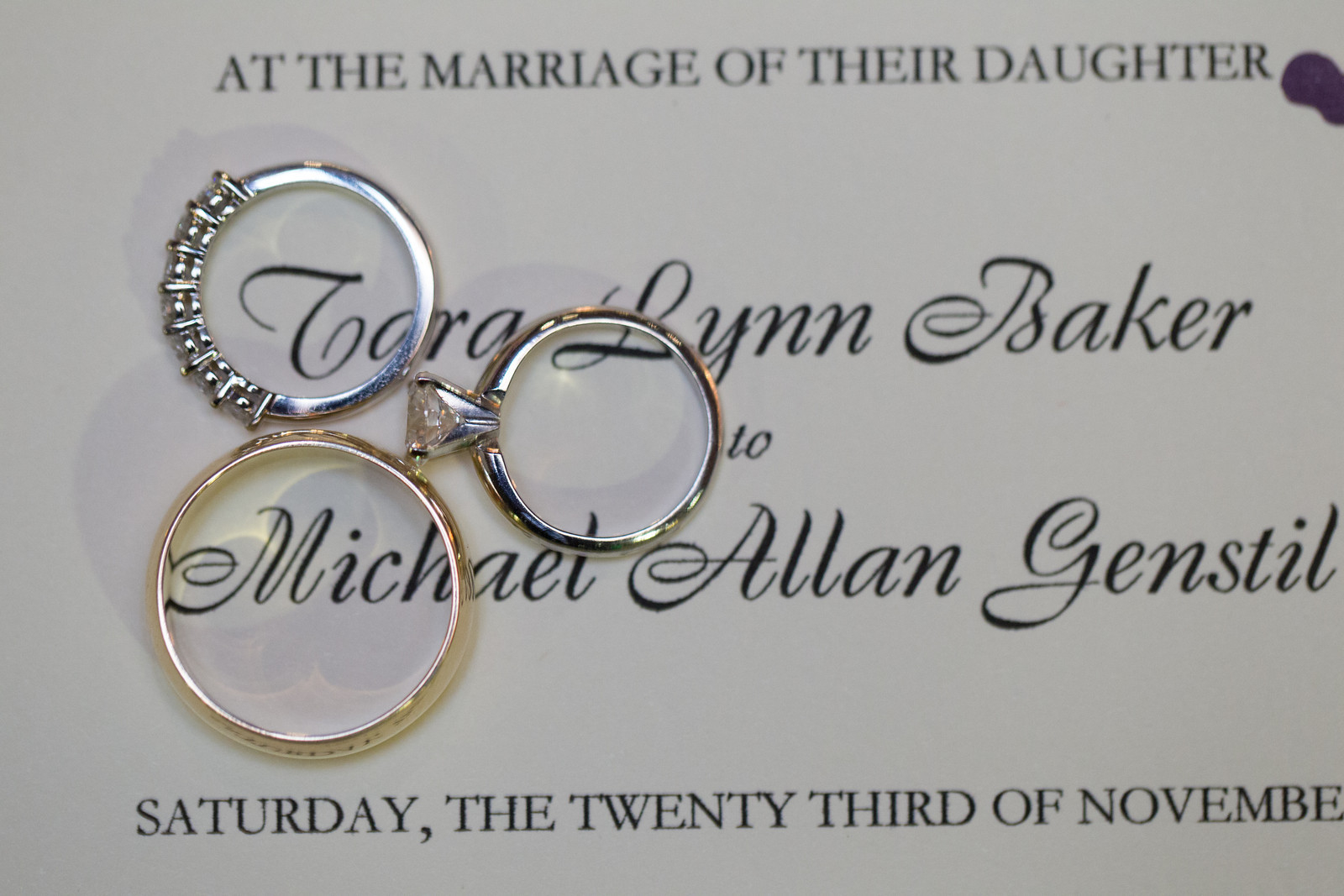 Following the wedding mass, a couple "official wedding photos" were in order: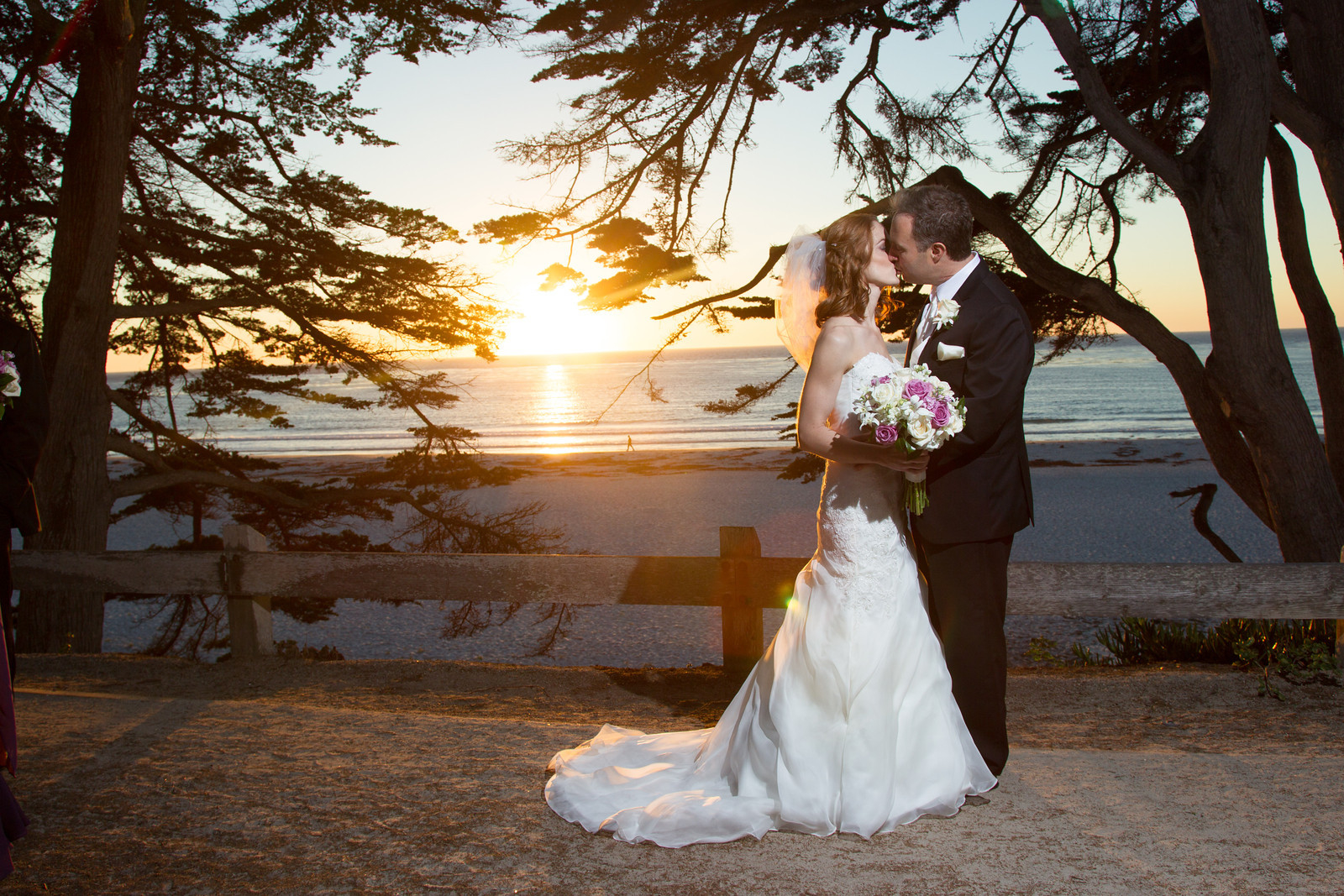 While the new Mr. and Mrs. had their photos taken, an elegant cocktail reception was awaiting Tara's and Michael's more than 100 guests at Quail Lodge…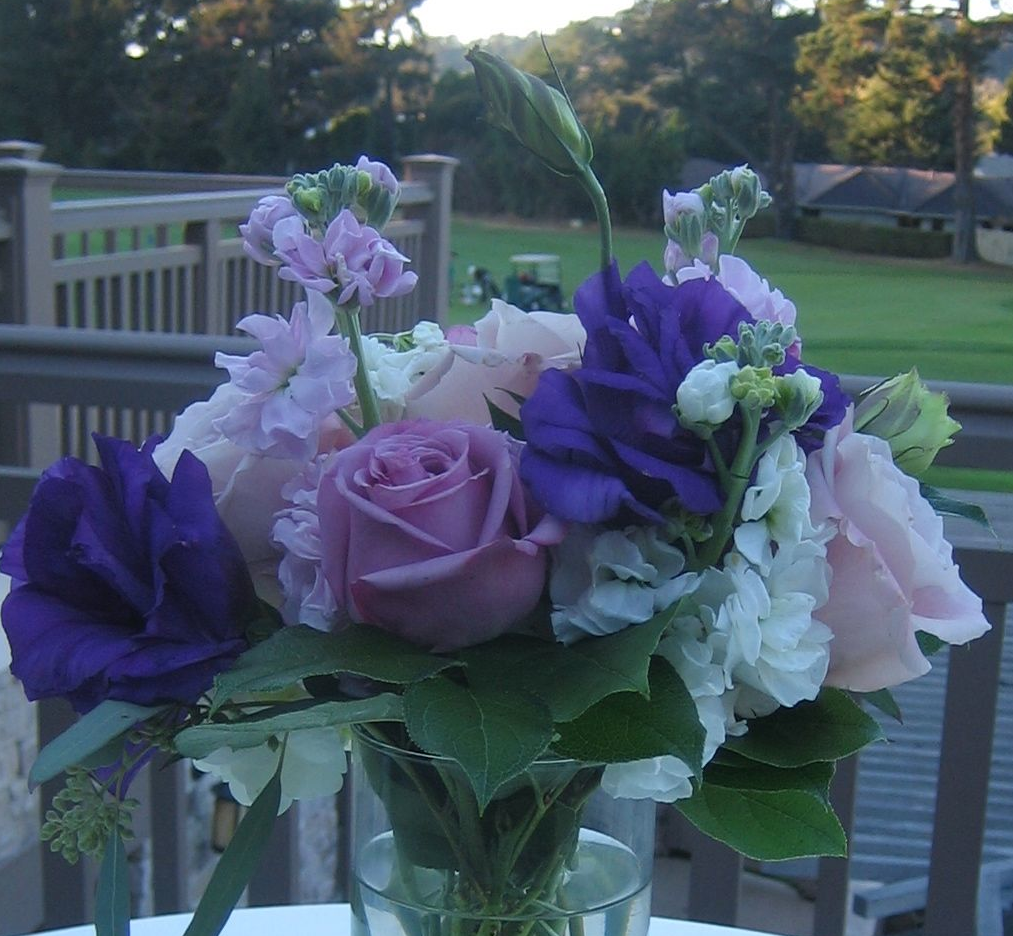 … on the patio overlooking the extensive park and golf course surrounding the venue.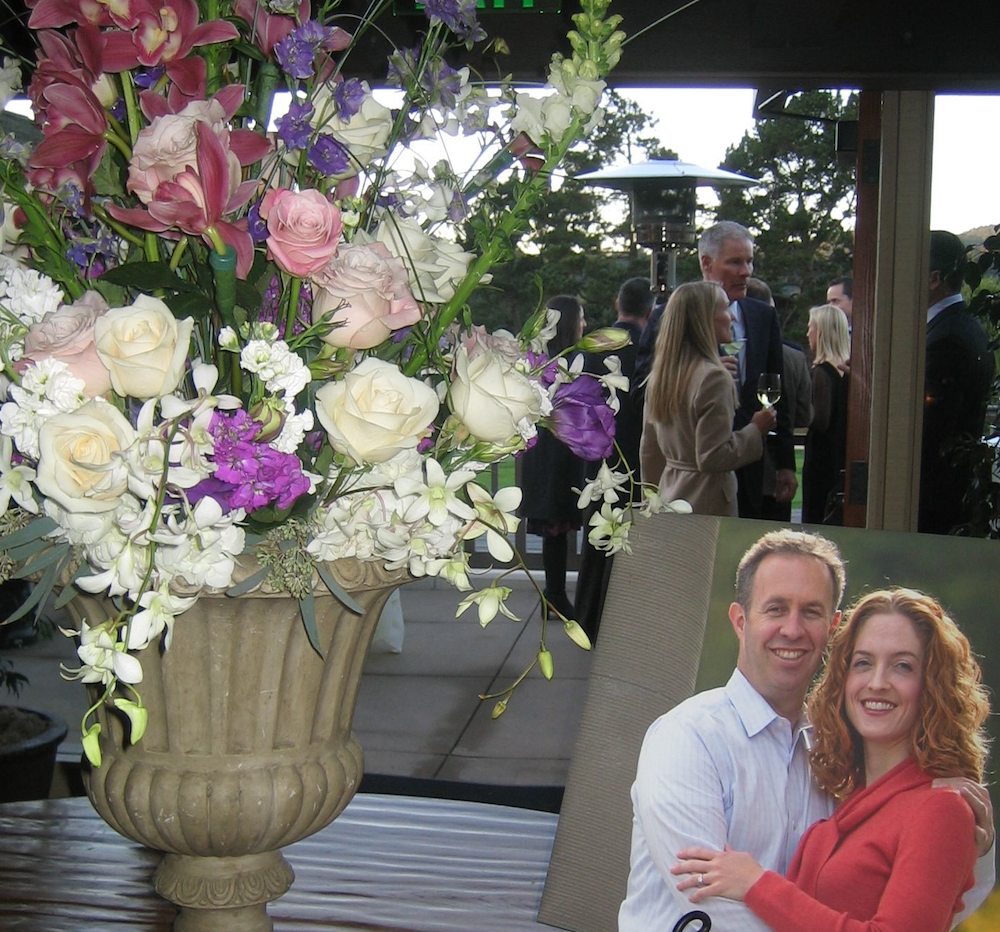 Guests enjoyed browsing a veritable photo gallery of the couple from babyhood to engagement photos (see above) along with three signature cocktails and hors d'oeuvres.
Tara and Michael were meanwhile rehearsing one more time the intricate steps of their First Dance – as a surprise for their guests, they had prepared and practiced over and over a choreographed dance performance on a medley of songs, accompanied by DJ John of DNA Entertainment…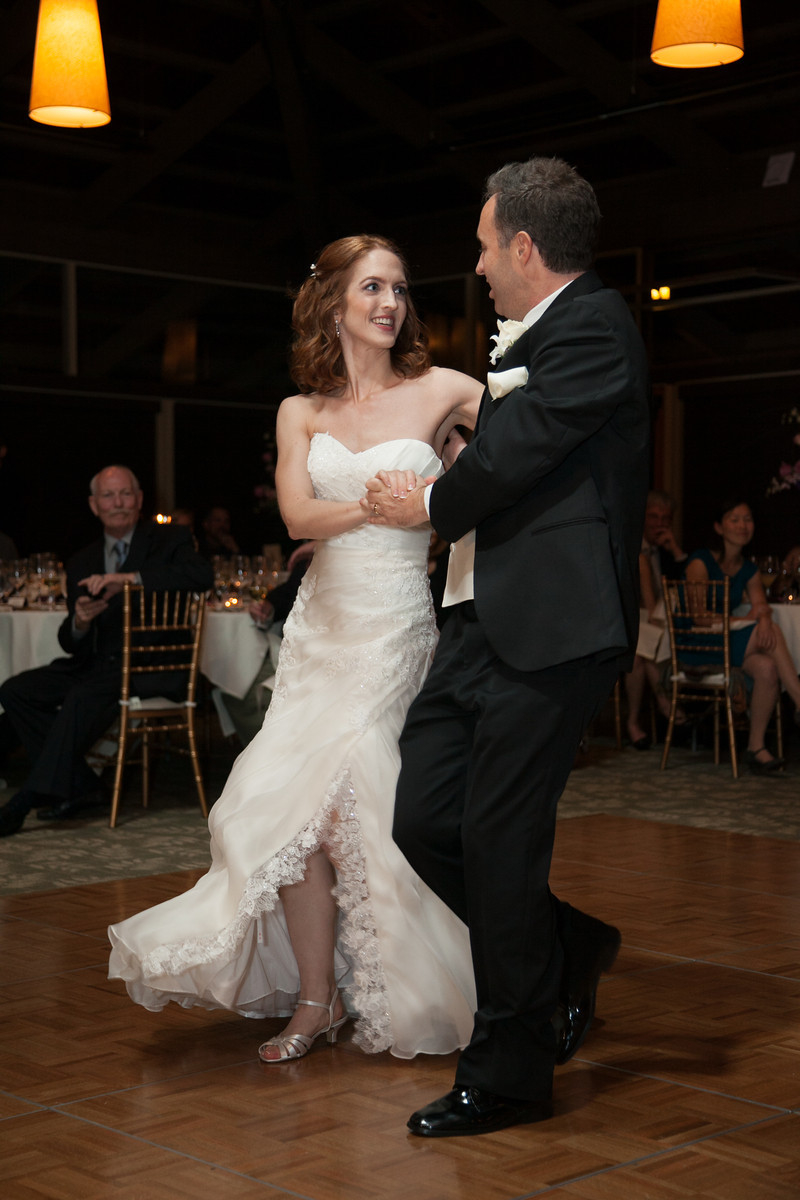 … which was literally jaw-dropping proof that these two are, indeed, a perfect match AND professional-grade dancers!
The ensuing elegant sit-down dinner took place around the central dance floor – with tables dominated by tall centerpieces of large mauve roses, white orchids and hydrangea, purple lisianthus and and… just have a look for yourself: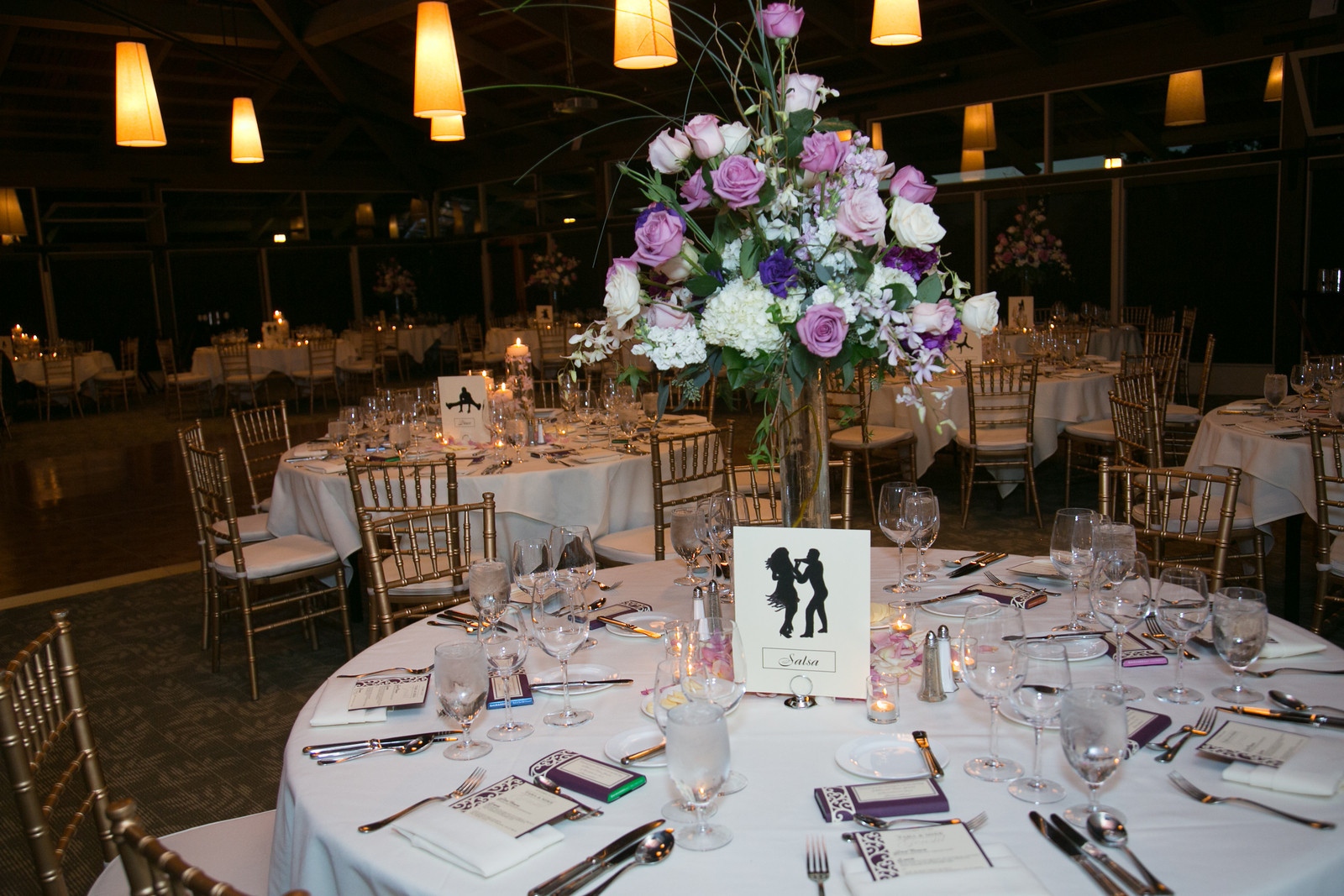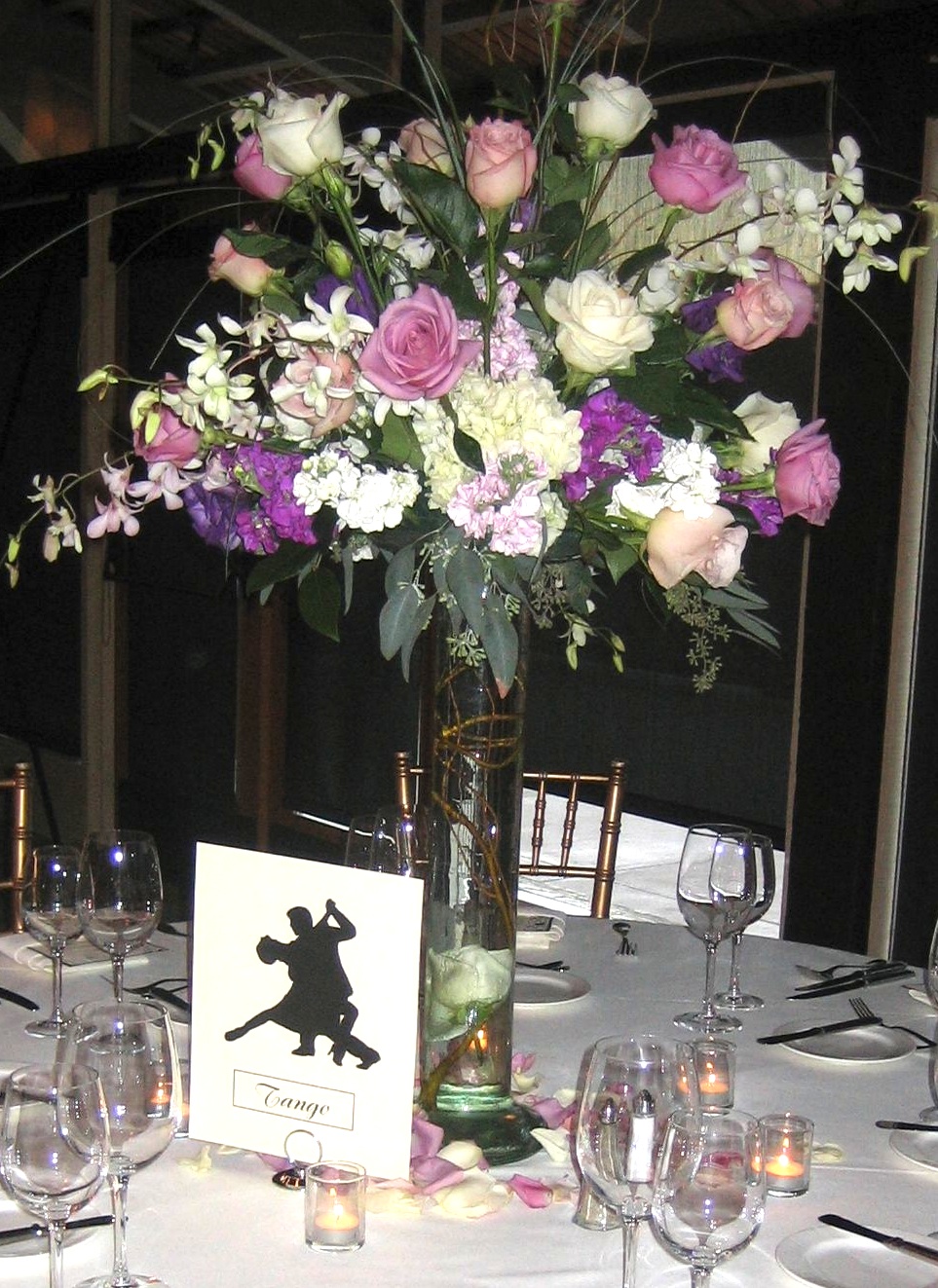 In lieu of conventional table numbers, tables were named after the couple's favorite dances.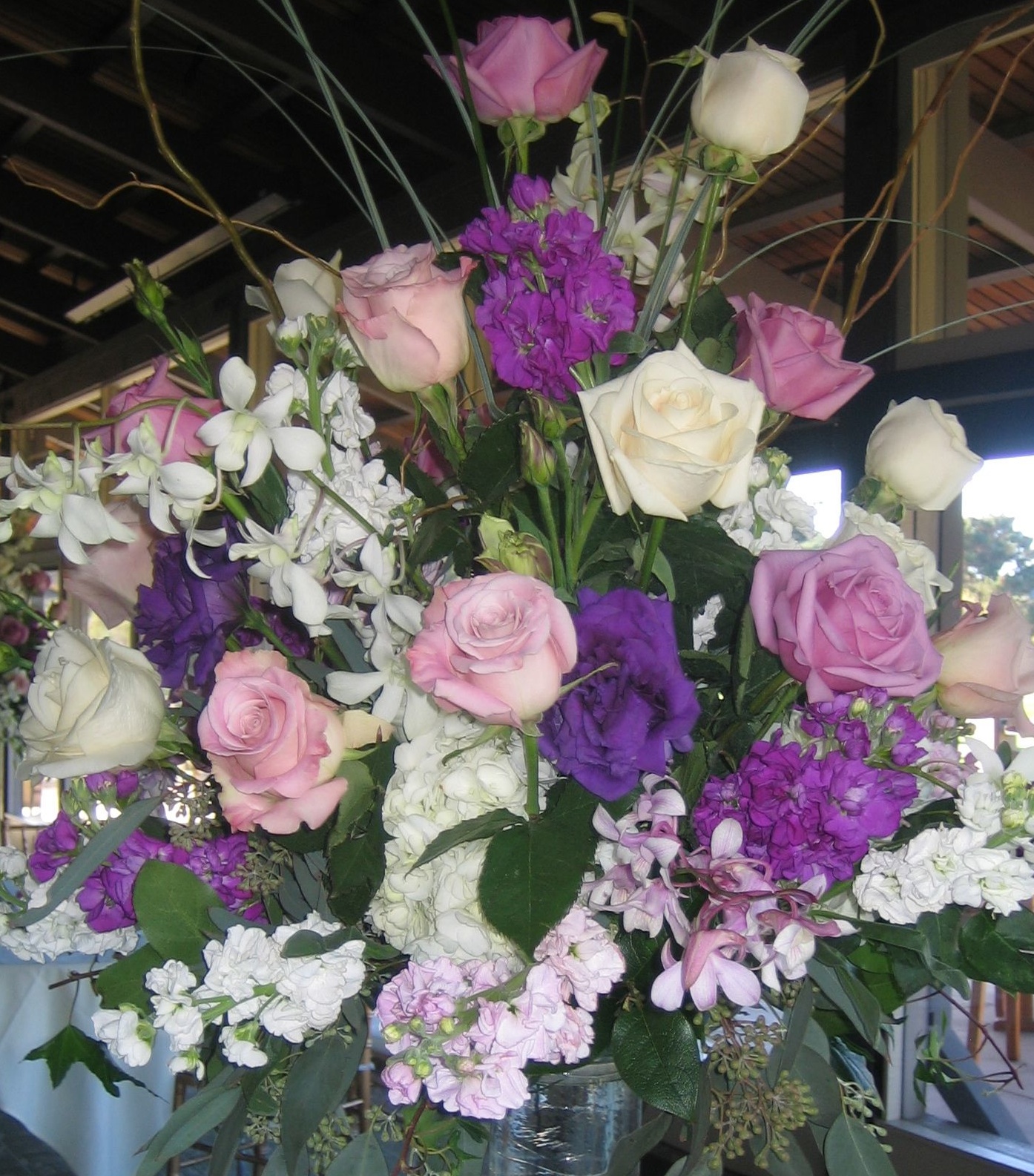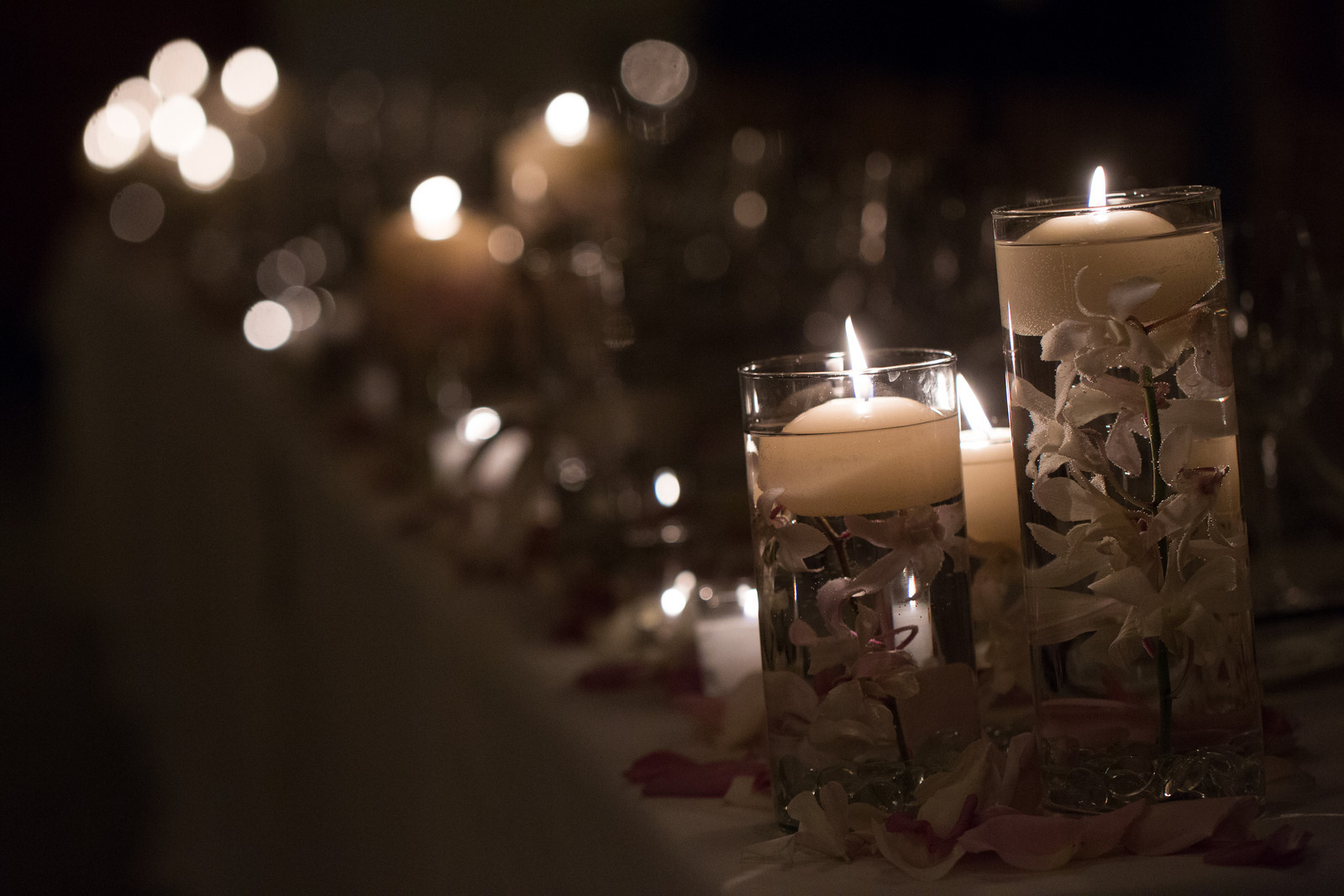 In accordance with her purple wedding colors and the elegance of her whole celebration, Tara had designed a suite of classic wedding stationery – from invitations to programs, menu and escort cards to favor wrappers and various signage – in purple and ivory colors, and she had accented every single piece with a hand-stamped border of romantic scrollwork.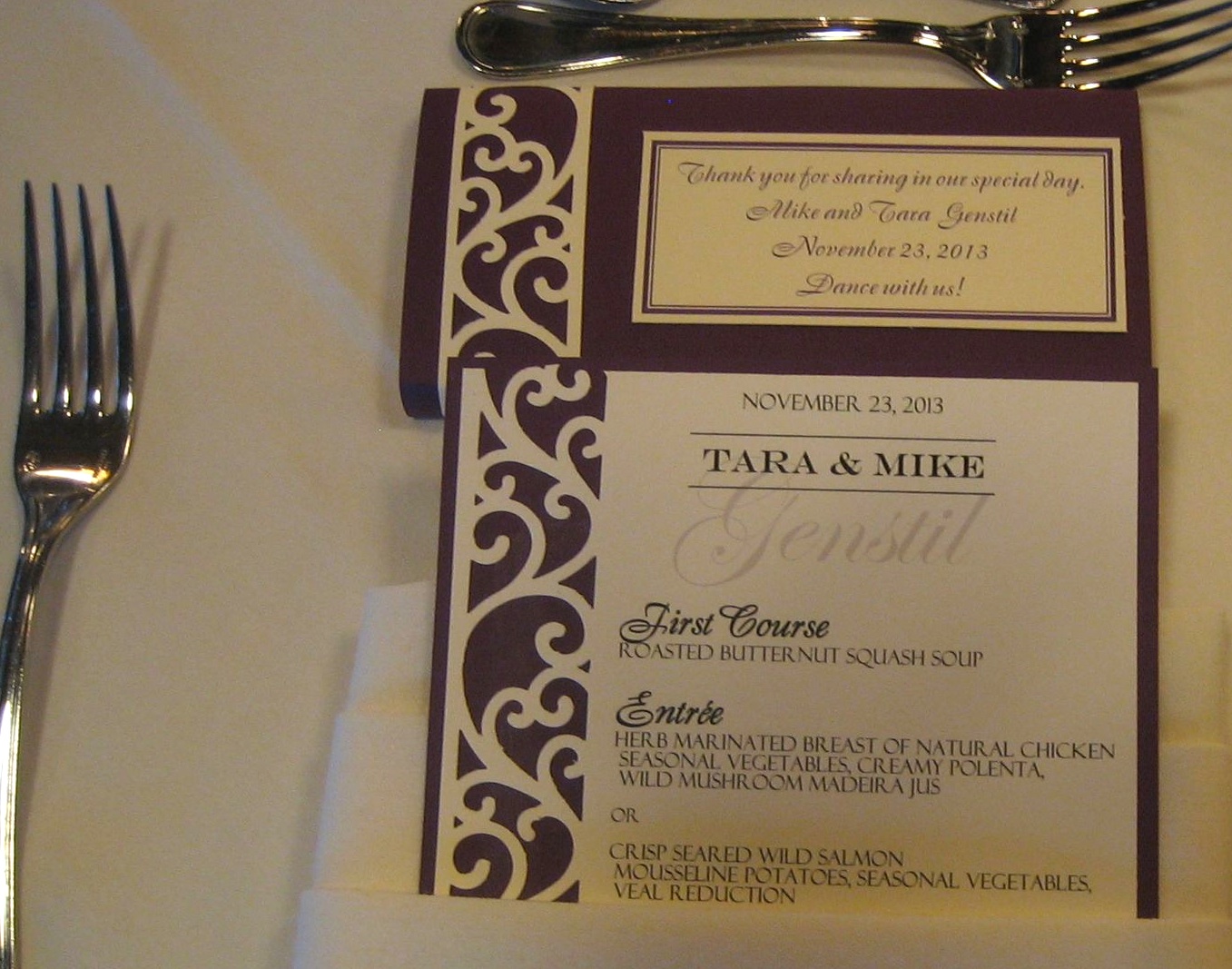 And after dinner? More dancing, of course! And cutting the cake (by Patisserie Bechler), too…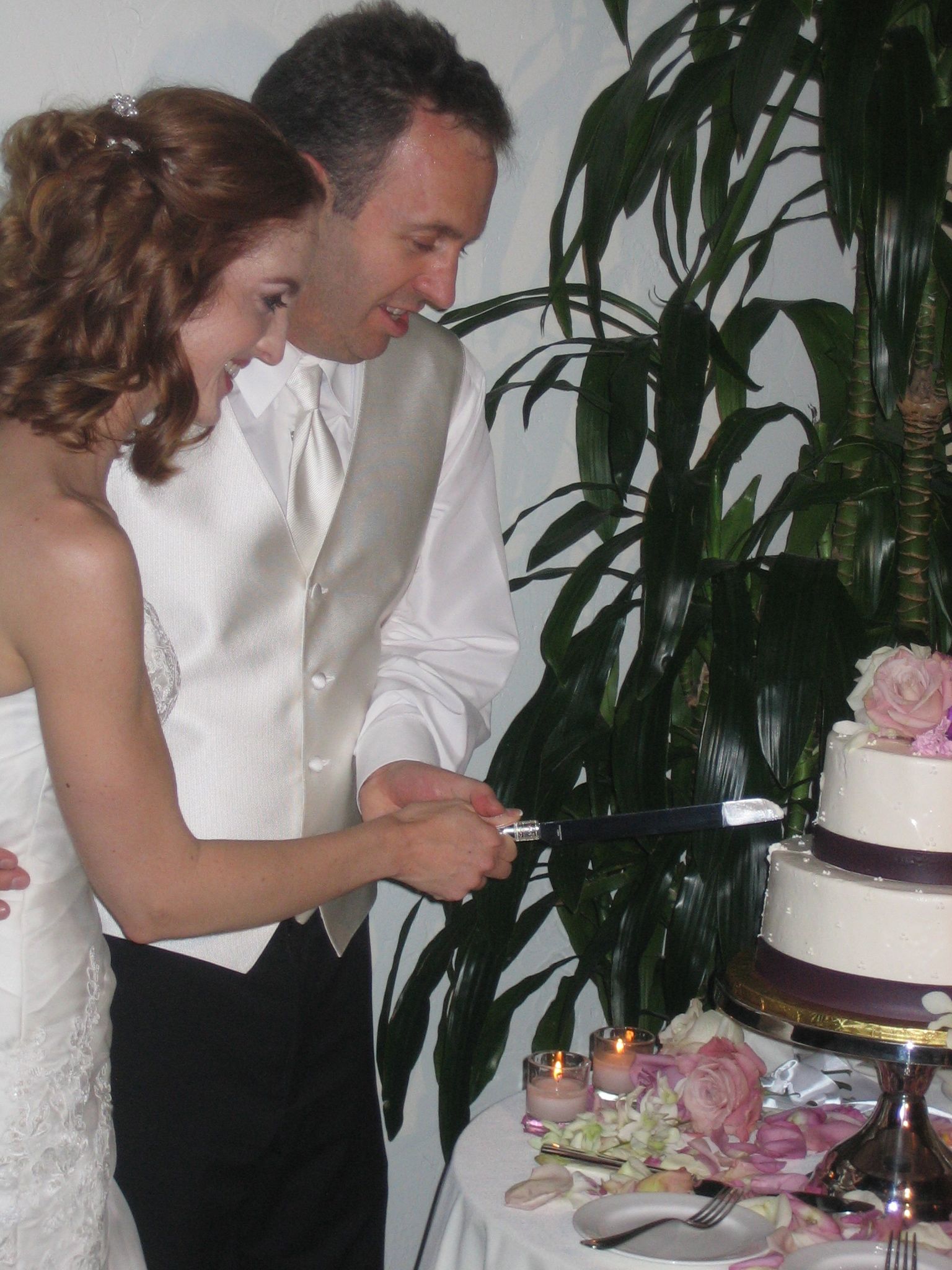 Guests enjoyed creamy, berry-studded cheesecake and coffee, more dancing, and finally – a whimsical sendoff of the couple! During the reception, groomsmen and bridesmaids had sneaked away to secretly decorate the couple's car with paper flower garlands, purple tulle ribbon and "Just Married" signs, not to forget dozens of empty soda cans tied to the rear bumper… So the whole merry party sent the two off right into their Honeymoon – "down under!"
And here is why I love my job so much…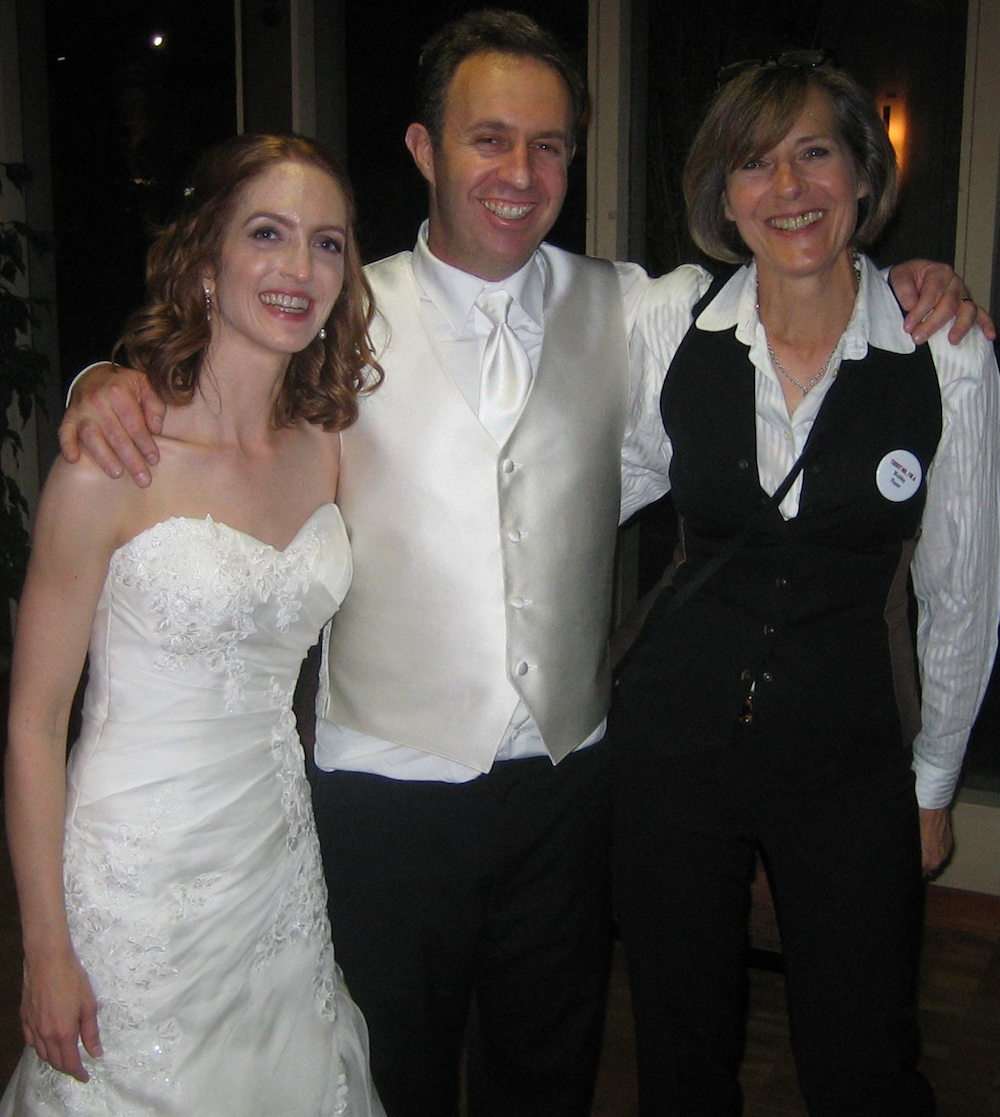 Congratulations, Tara and Michael, and keep dancing together for many, many happy years to come!
<! DL 06/02/12: Added html code for Pinterest Pin It button (appears at the end of each post) > <! DL 06/02/12: Added padding style modifier to the Pinterest html code to align the Pit It button on the page > <! DL 06/02/12: deactivated code by adding two ! in the a and img code lines >