I just returned from another glamorous Wedding Fair – at the luxurious Four Seasons Hotel in downtown San Francisco. Stepping into the foyer, guests were greeted by Synchronicity Strings, a classical string quartet, performing wedding classics – when I arrived, it was Pachelbel's Canon in D. My all-time favorite!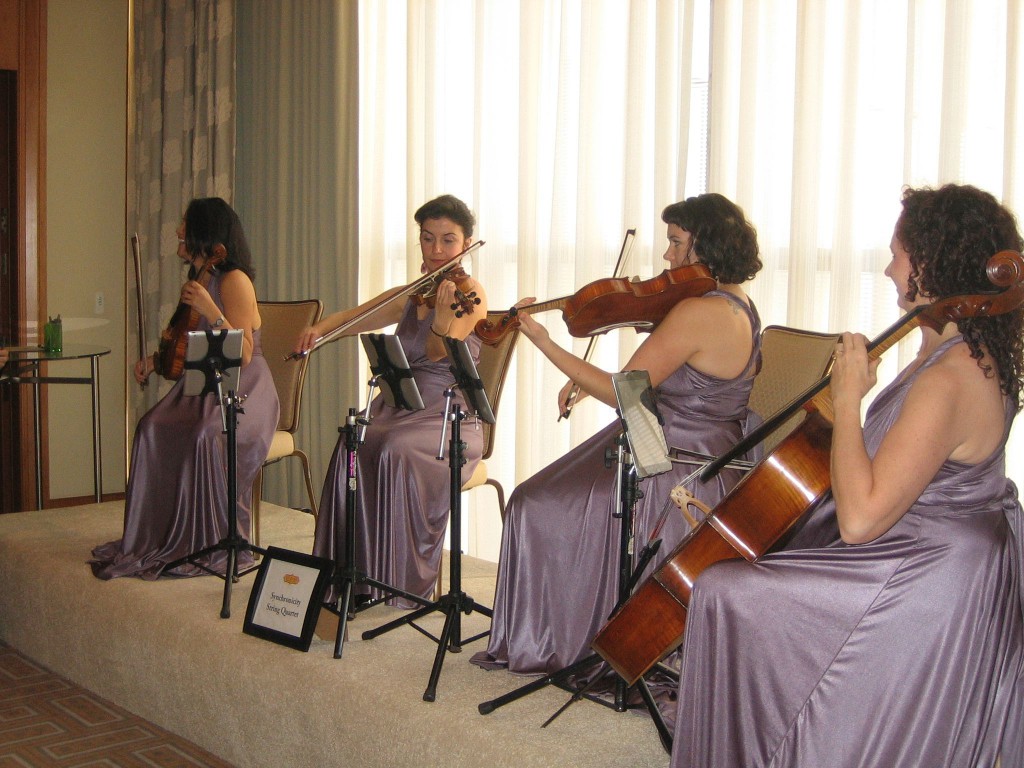 Floating on the wings of this beautiful tune, and entering the first exhibit room, I was totally blown away by the floral artistry of my friend Laura Little of Floramor Studios. Laura had again outdone herself… this time, taking her inspiration from Showbiz stars like Britney Spears – just have a look! Her "Britney" table, my total favorite, took a full three days to put together: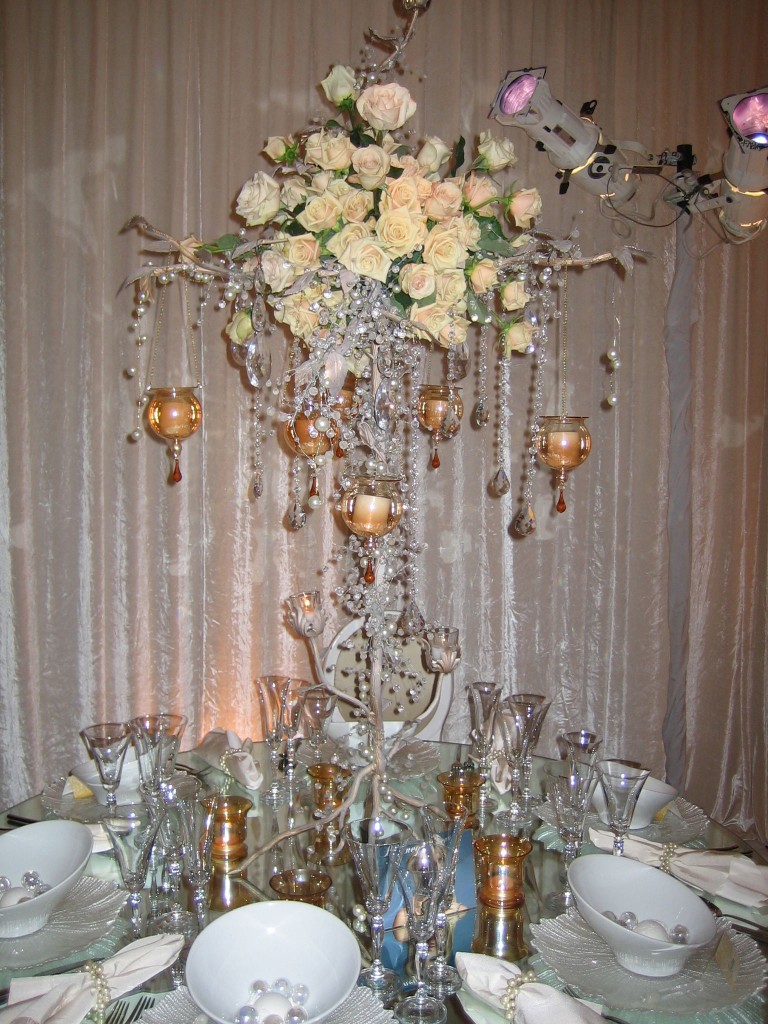 … and there was so much more to see – here's the "Taylor Swift" table: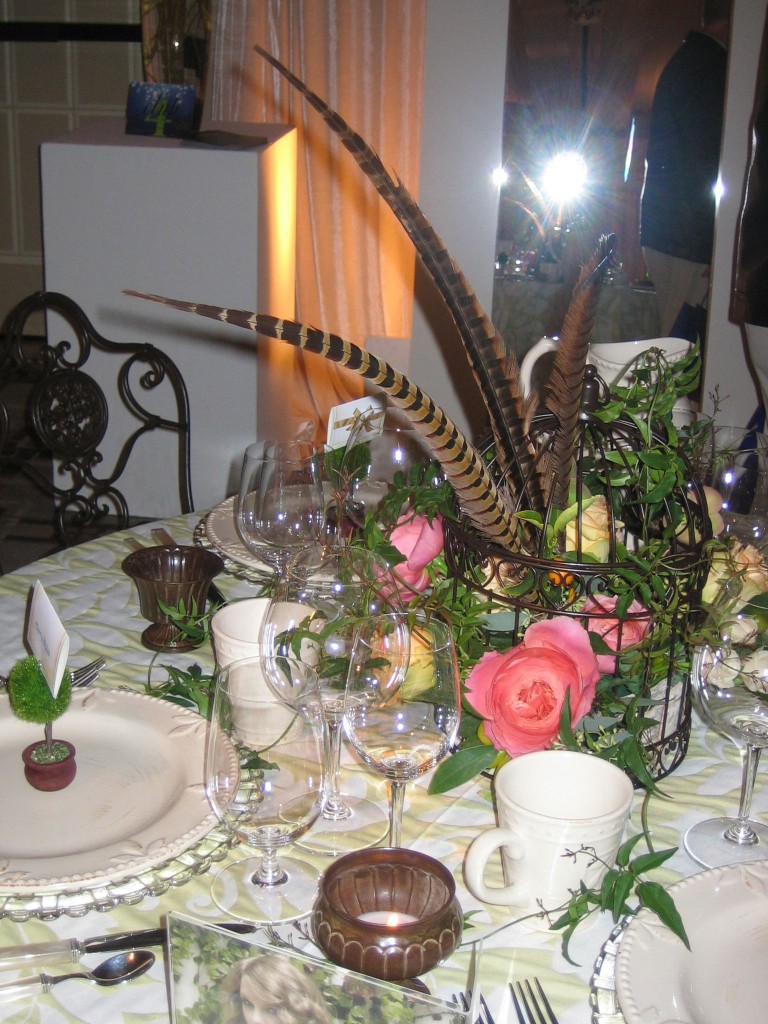 Just one more: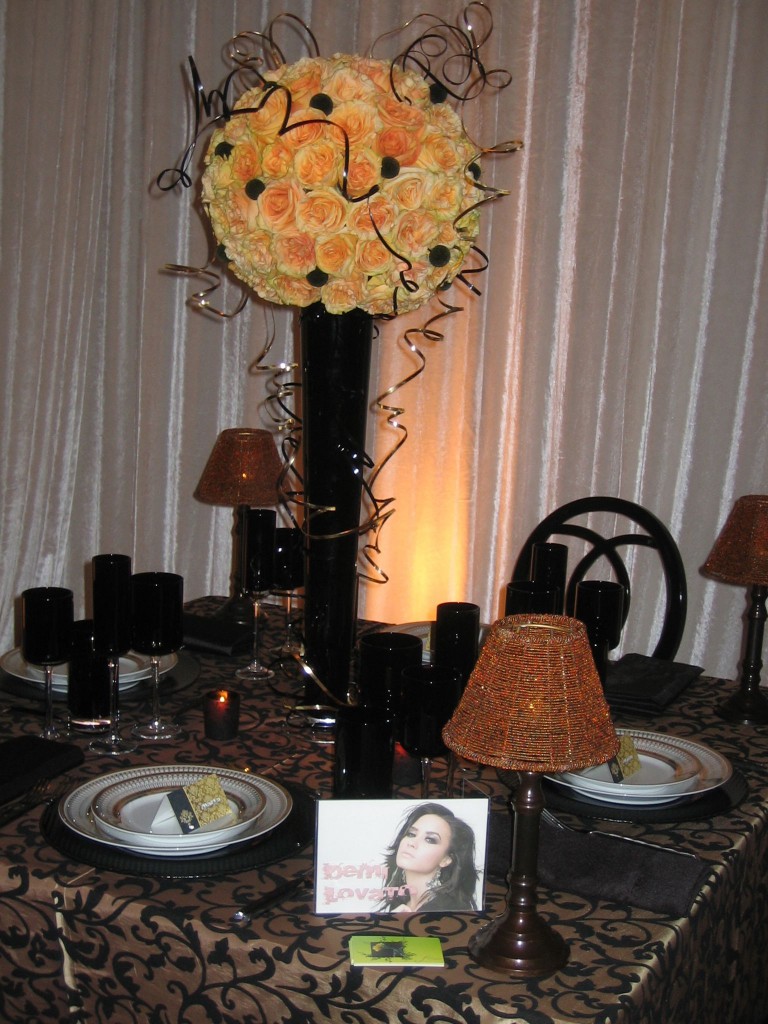 Laura is just sooo creative! Can't wait to work with her!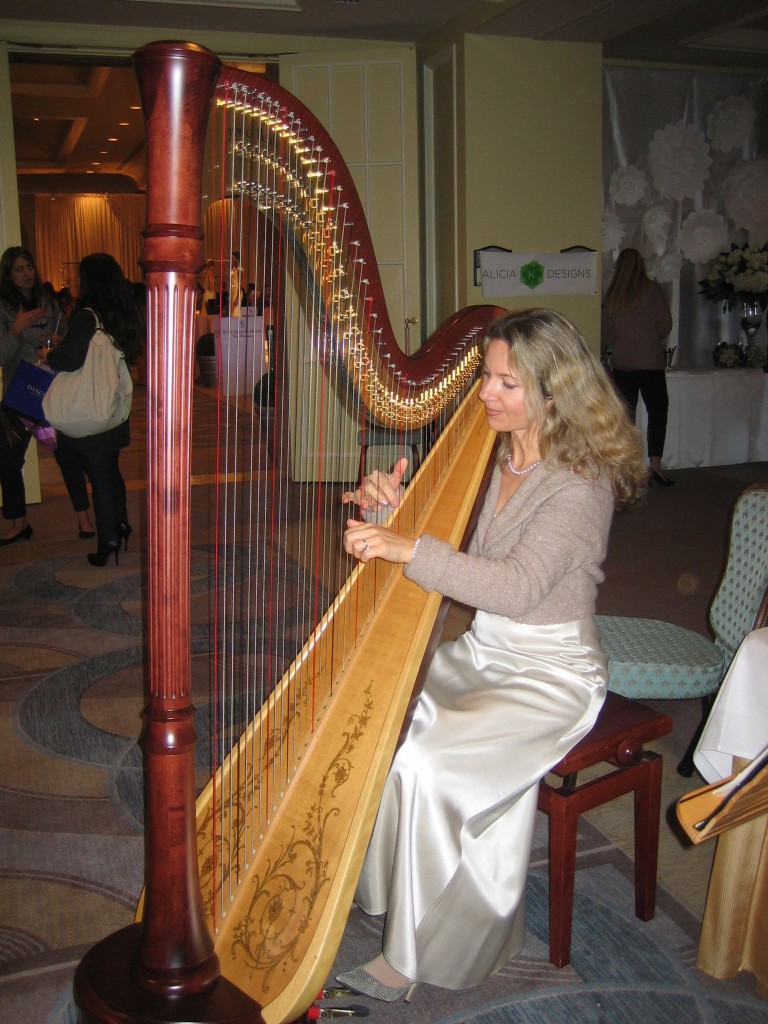 The next wonderful discovery was awaiting right in the next room: Juillard-educated harpist Bertina Mitchell with a wide repertoire ranging from Bach to Debussy, experienced at accompanying wedding ceremonies from prelude to recessional… and what could be more romantic at a wedding than harp music?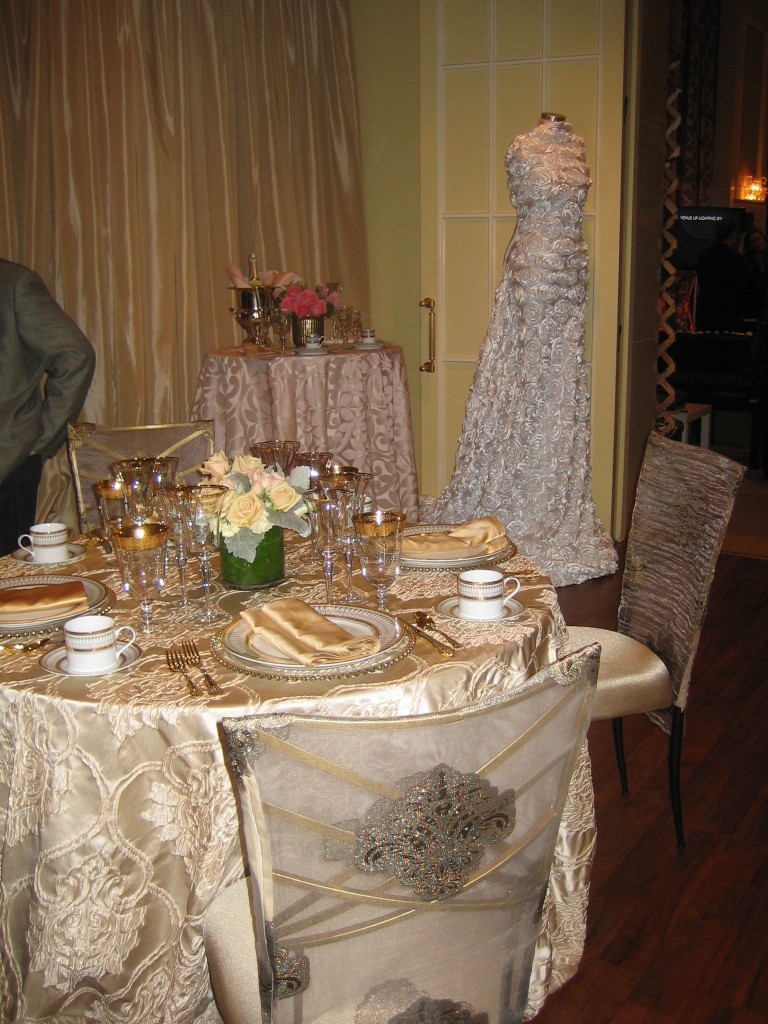 Right across from Bertina, Classic Party Rentals went right over the uber-glamorous top with this table arrangement of shimmering cream damask linens, crystal-encrusted chair covers, and golden flatware, gold-rimmed wine glasses, gold-beaded chargers… and, to top it off, one of Classic's fabulous appliquéd linens playing wedding dress in the background!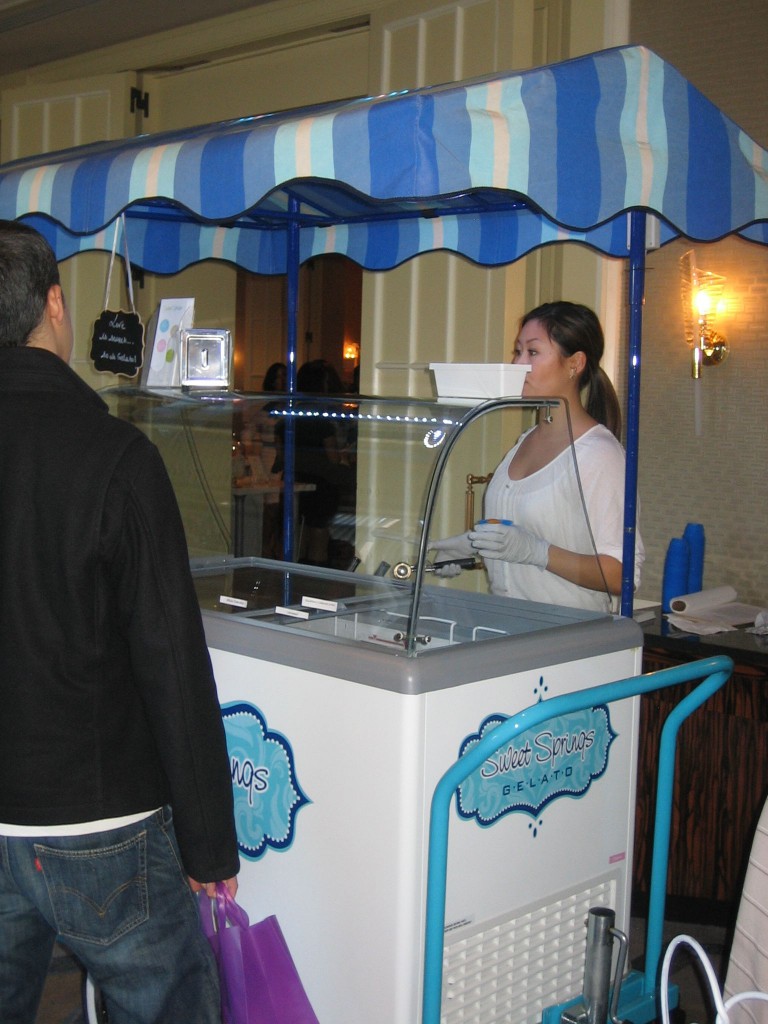 From extreme elegance to sweet nostalgia: an ice cream cart, lovingly hand-crafted by John of Sweet Springs Rentals! But then John went far beyond nostalgia and our sweet childhood memories and created decidedly grown-up ice cream flavors to be served from this cute cart – and I can tell you: my favorite, blackberry Cabernet (!!), is to die for! John has even more grown-up delicacies to offer from equally romantic settings: an Espresso Bar, hand-crafted from reclaimed wood; and a Margarita machine and chocolate fountain. Indulge till you drop!!
And on to more discoveries: custom-made arbors!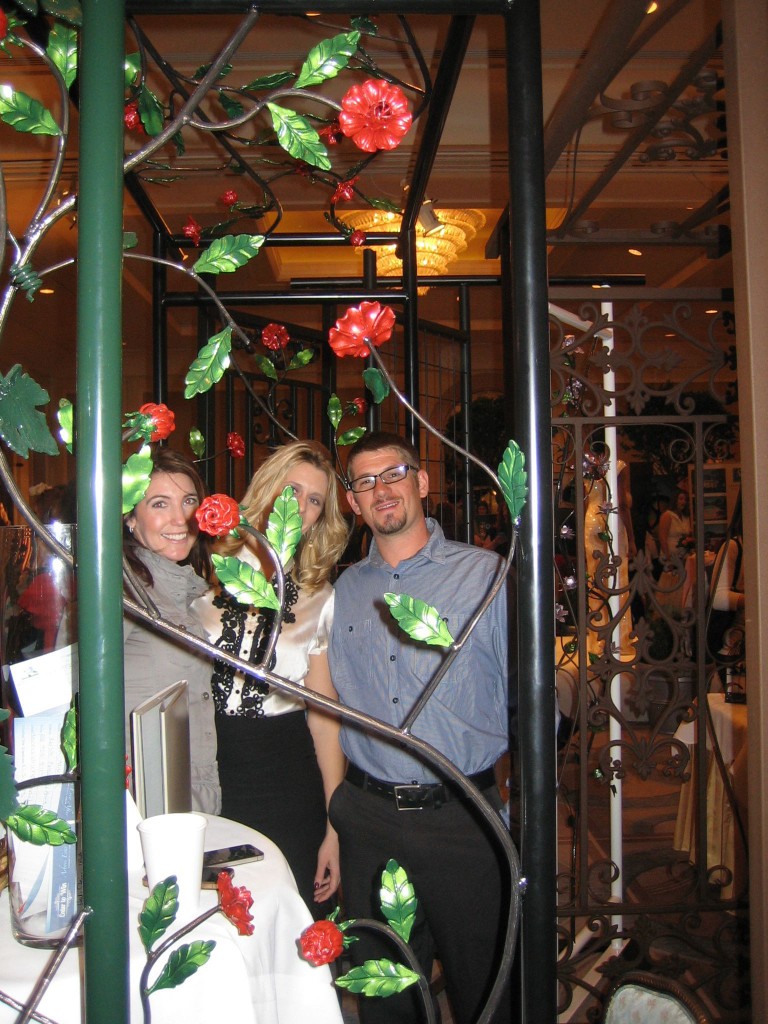 No more run-of-the-mill standard arbors! Arbors Ever After offers not only a selection of handcrafted steel constructions, lovingly decorated with leaves and flowers, and powder coated for 25 years of durability in the couple's garden – they will also custom-design one for a couple, starting with just an idea, a vision, a wedding theme – either using steel or natural materials like wood and branches. Now, here's something really new!
"Custom" is certainly a big trend, in every aspect of a wedding – but never more preciously so than with custom jewelry. Vittoria d'Aste-Surcouf is an accomplished jewelry designer who three years ago followed her passion for "all things wedding" and since then has been focusing her creative energies exclusively on bridal jewelry.
She is working in precious metals, diamond, gemstones and semi-precious stones, and her pieces are truly one-of-a-kind: my favorites are her yellow diamond pieces….
and a pair of delicate chandelier earrings inspired by the intricate floral beading of a bride's wedding dress: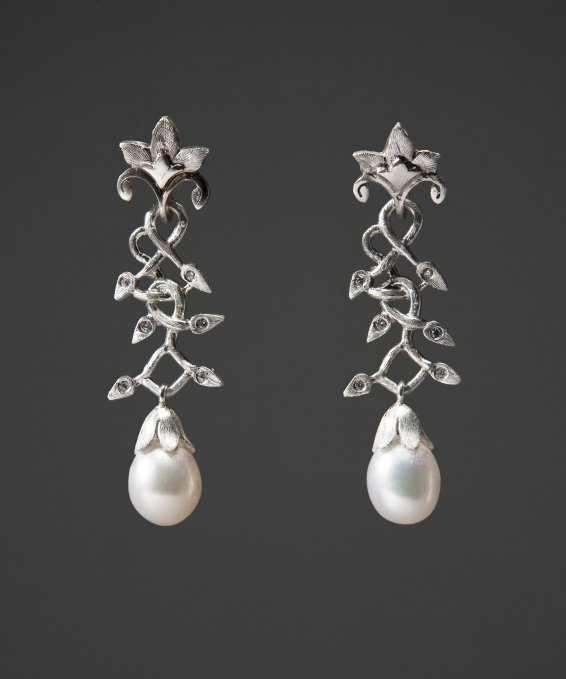 Aren't these beautiful beyond words?
More pretty (AND tasty!) things were awaiting at Alaa and Maya Labban's Choco Vogue display: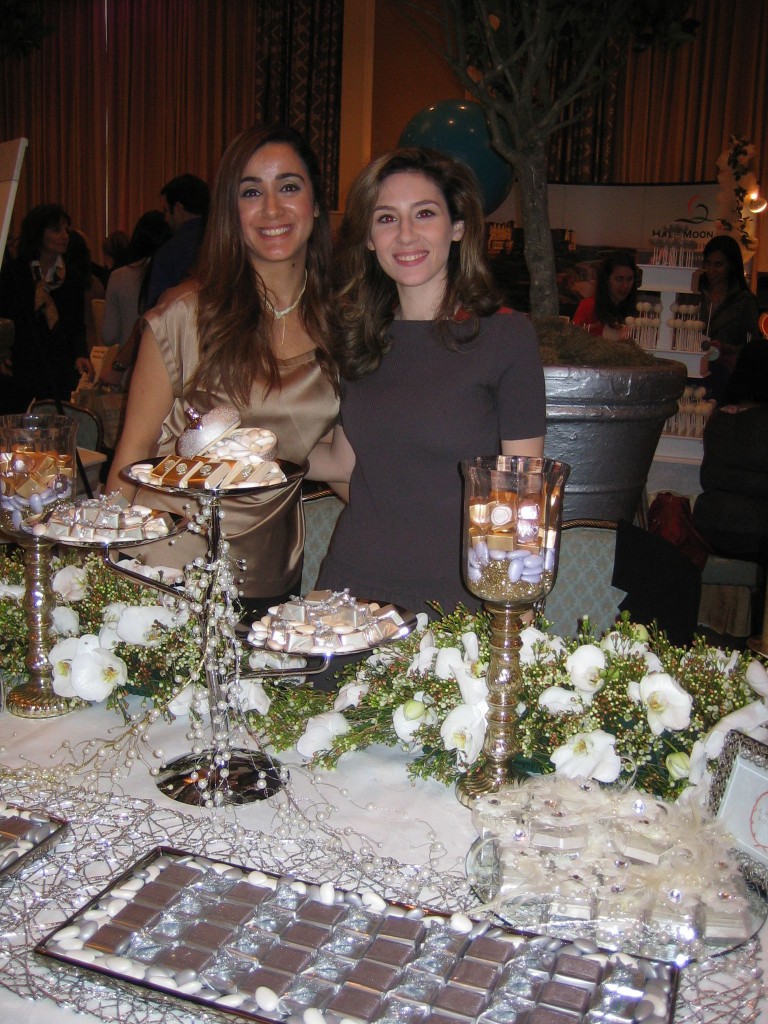 The two transform European chocolates into sparkling gems for glamorous wedding favors, re-packaging and decorating them in any design desired – taking into account wedding style and colors… I can't imagine any more attractive decor for a dinner napkin at a wedding reception.
Last, but certainly not least, there were the haute bridal couture gowns by Jin Wang to admire: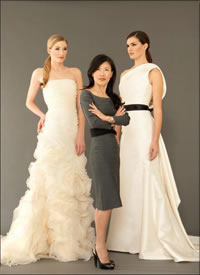 The designer behind one of the Bay Area's leading bridal salons offers her own designs as well as the best of the best in bridal couture, and she showed all these dream dresses throughout the Bridal Faire: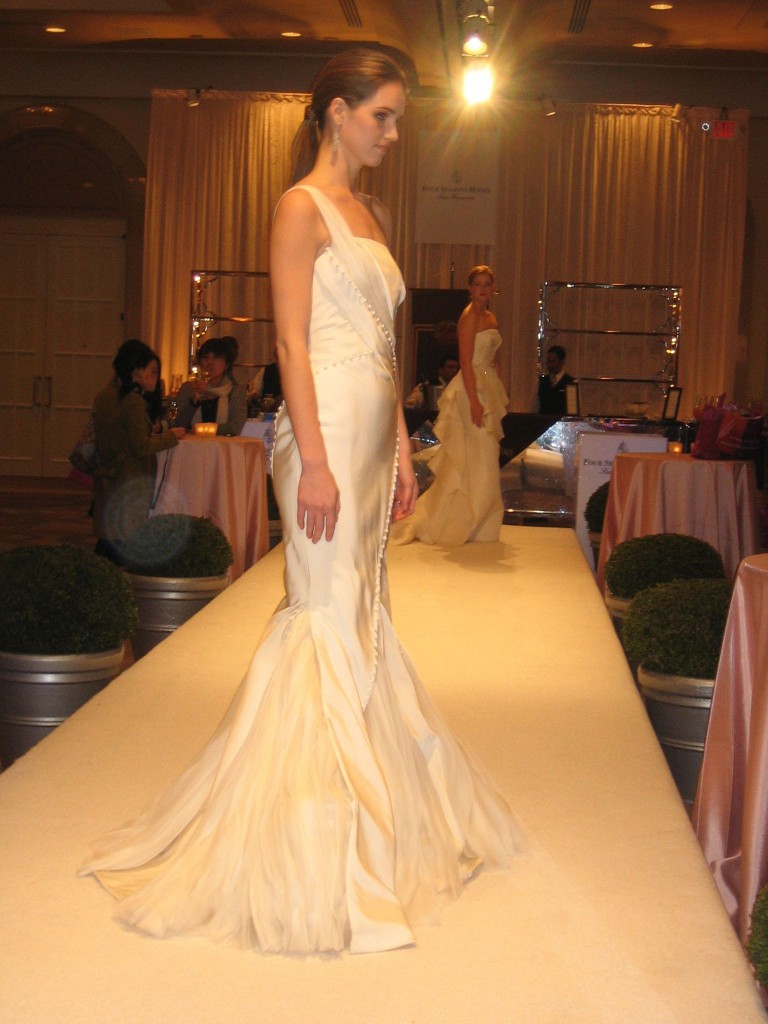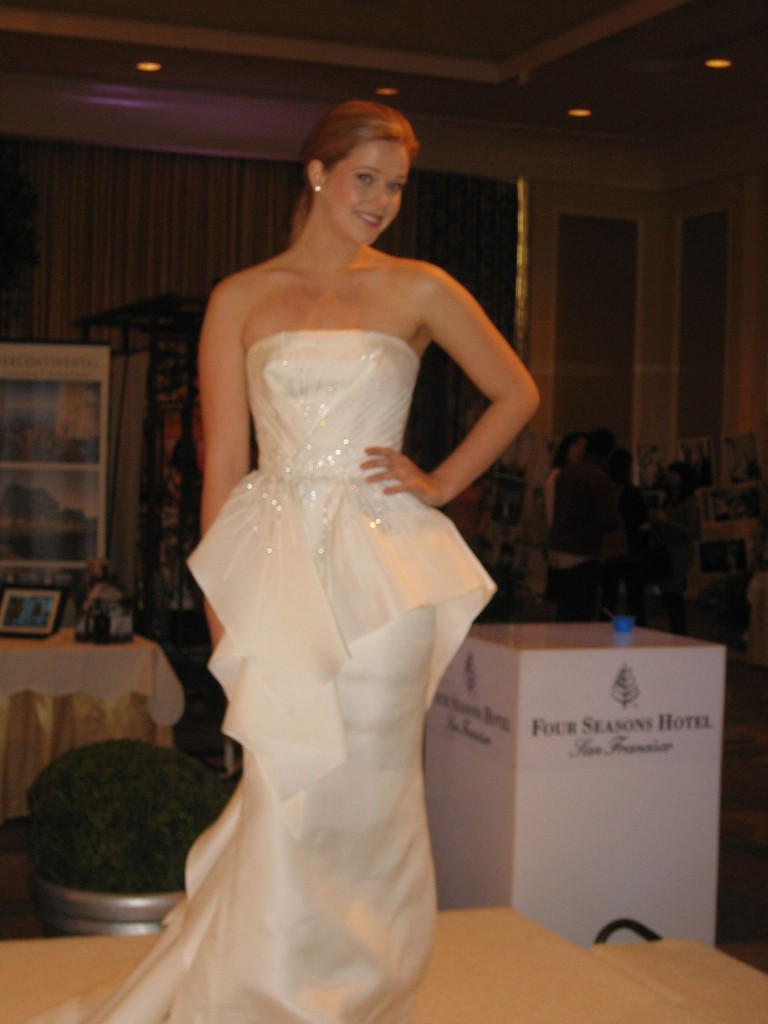 Those gowns are dreams come true – only problem: which one to choose… that's why brides change into a different gown from ceremony to reception to dance party! Now I get it…

All in all, what a day of fabulous discoveries!

<! DL 06/02/12: Added html code for Pinterest Pin It button (appears at the end of each post) > <! DL 06/02/12: Added padding style modifier to the Pinterest html code to align the Pit It button on the page > <! DL 06/02/12: deactivated code by adding two ! in the a and img code lines >