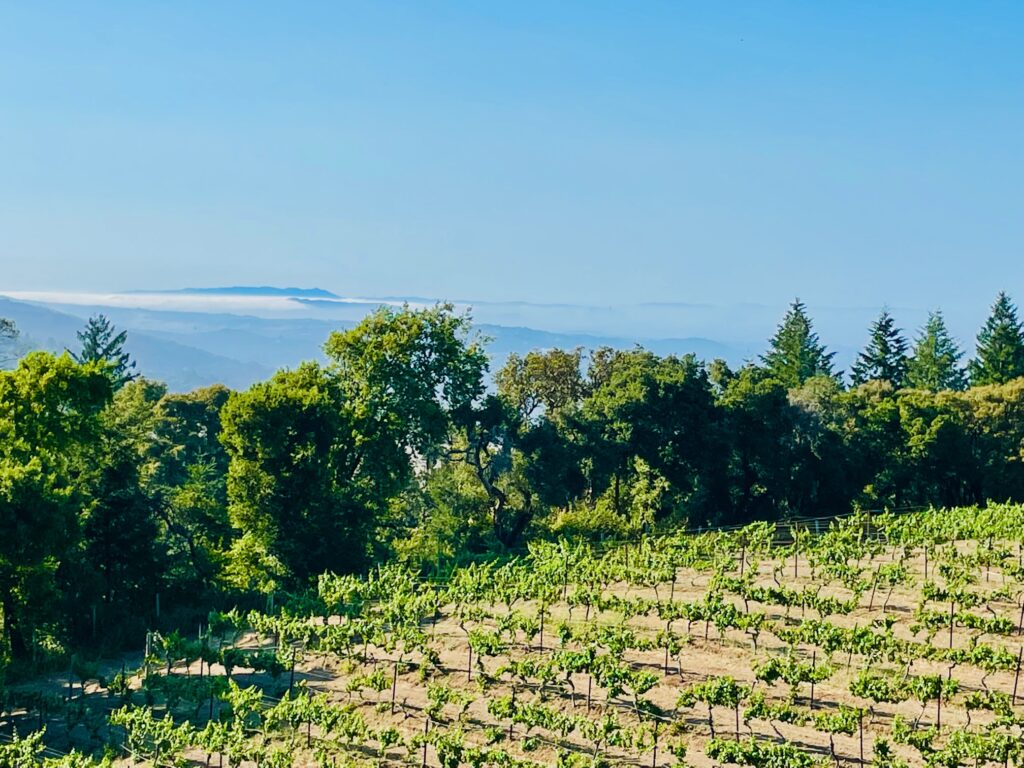 This is the setting these two had chosen for their Great Day: Thomas Fogarty Winery in Woodside, perched high on a ridge above Silicon Valley, with breathtaking views across a vineyard, all the way from the San Francisco skyline to San Jose. No wonder they fell in love with this spectacular spot – but like so many other couples, the COVID-19 pandemic forced them to postpone their nuptials by nearly a full year. On July 10, their special day finally arrived – and fortunately, nobody had to wear a mask or abide by any restrictions any more.
For Stacey and her bridesmaids, the day began with hair and makeup services by Hanh Cao and her team, and then the bridesmaids helped Stacey into her elegant wedding dress. Photographer Gavin Farrington and his assistant and videographer Ron Tse (of Filmore Productions) captured every precious moment (for the time being, all we have to offer are our own snapshots… wait until you see the professional photos!).
By 3:30 pm, guests were arriving via shuttles (from Corinthian Ground Transportation).
And then, the great moment had finally arrived: Stacey was escorted down the aisle by her parents: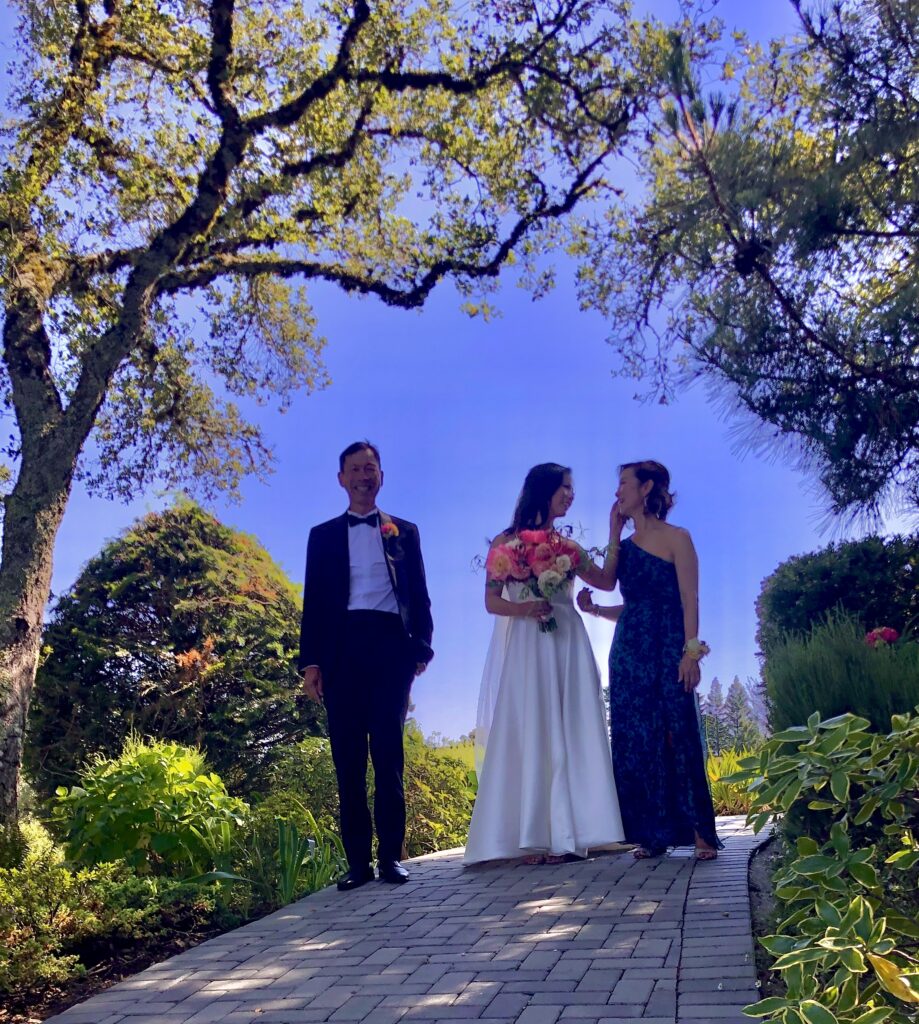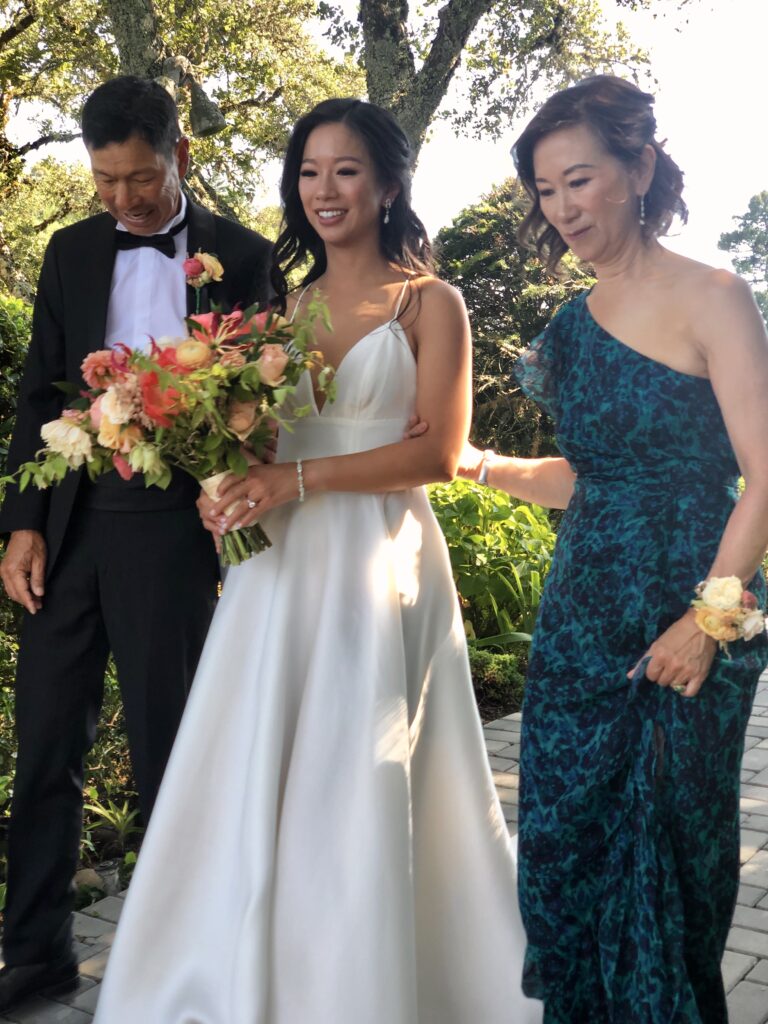 … preceded by her two super-cute flower girls who actually stole the show!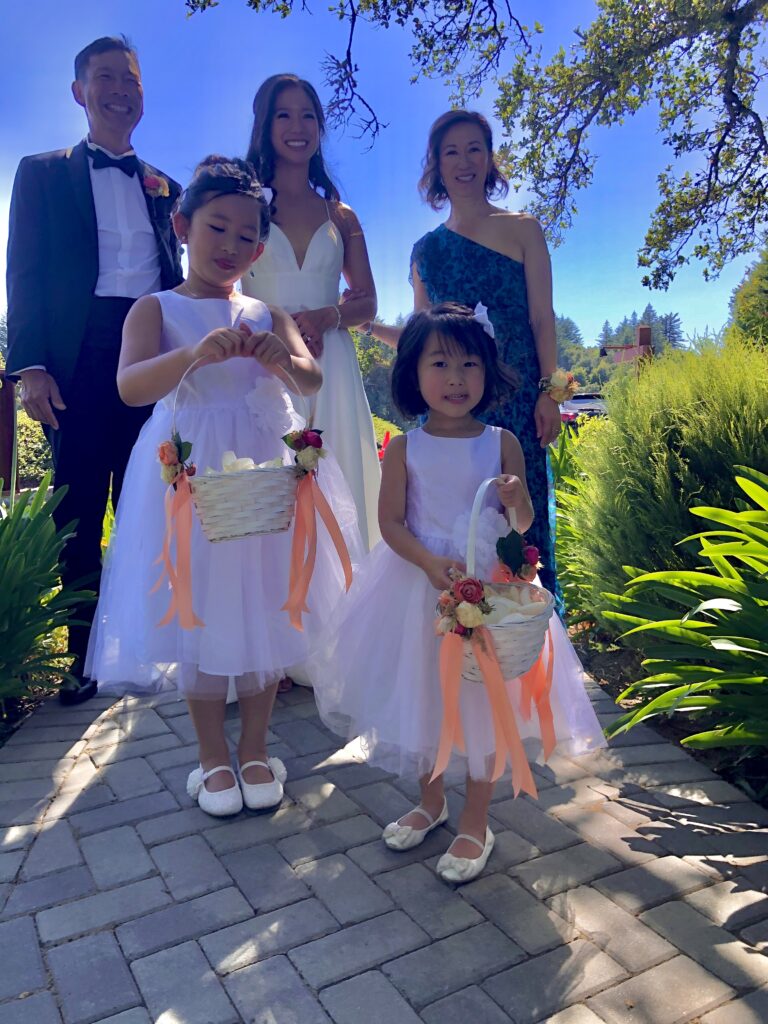 Stacey was carrying a summery colorful bouquet by Green Petal Designs (who had created all the stunning floral arrangements for this wedding).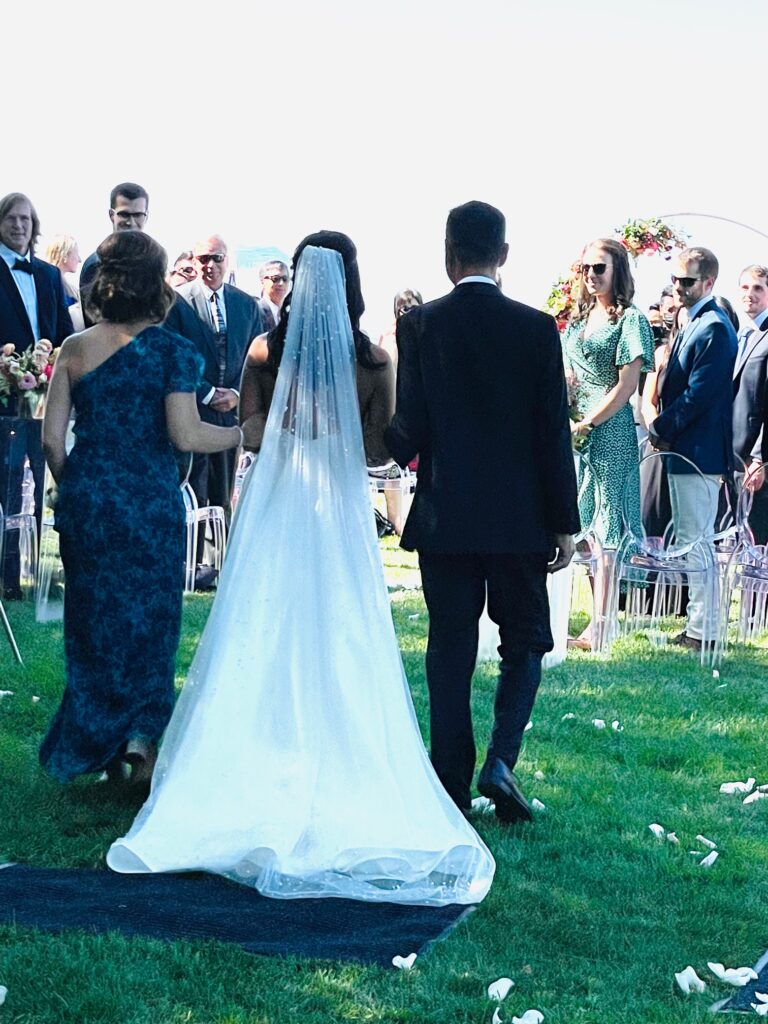 Kirill was already waiting for her in front, together with 100 guests …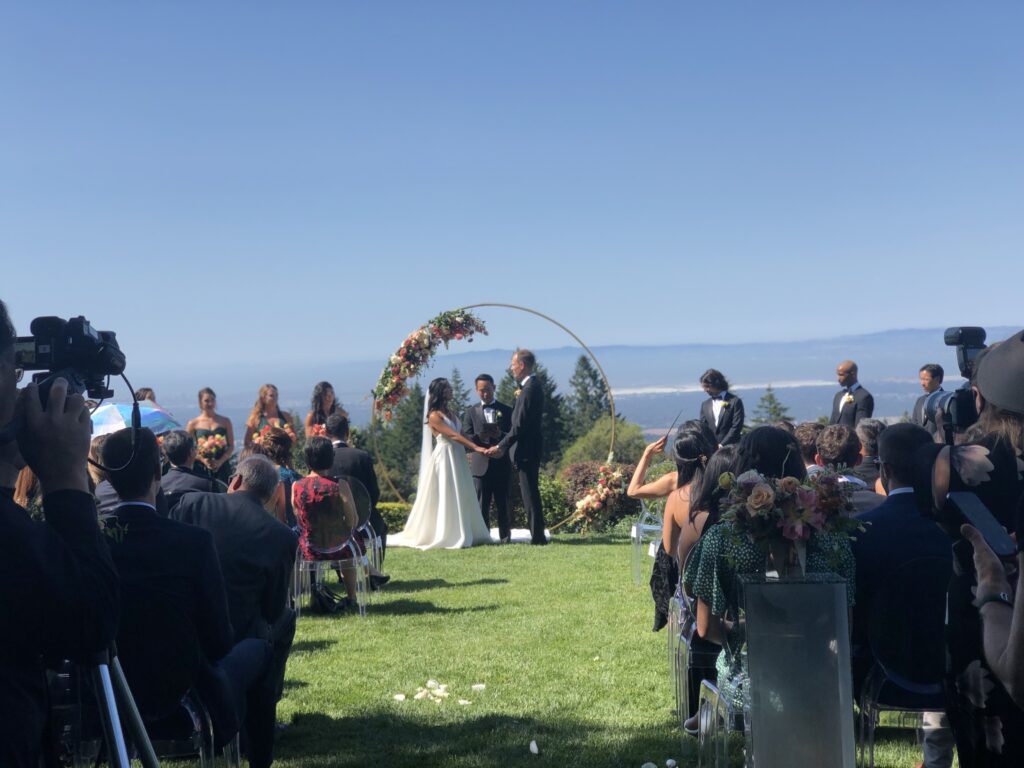 … under clear blue skies, with a slight breeze and with endless views. It was perfect! The brother of the bride officiated – it does not get any more personal than that! – and Henry Kim of Big Fun Disc Jockeys live-streamed the ceremony for those guests who were unable to attend in person.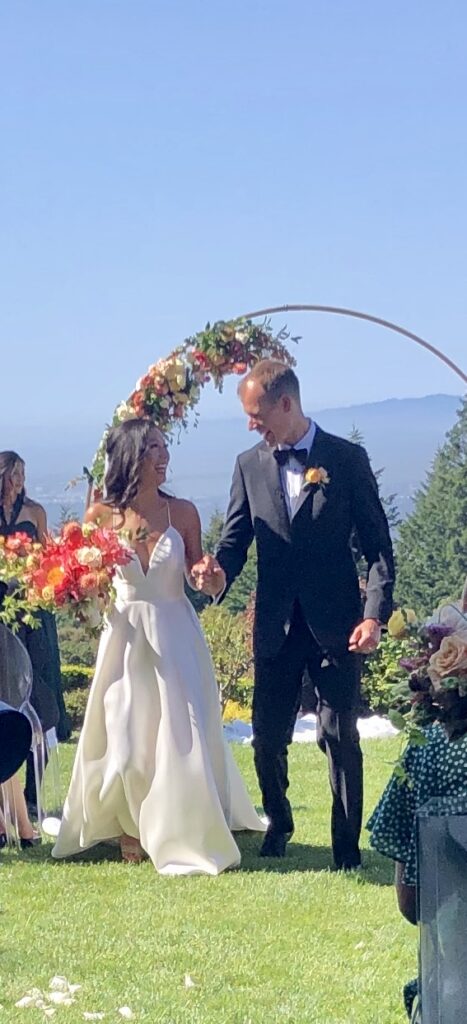 Just married!! And off to a traditional Chinese Tea Ceremony – while their guests enjoyed cocktails and hors d'oeuvres on the open Deck.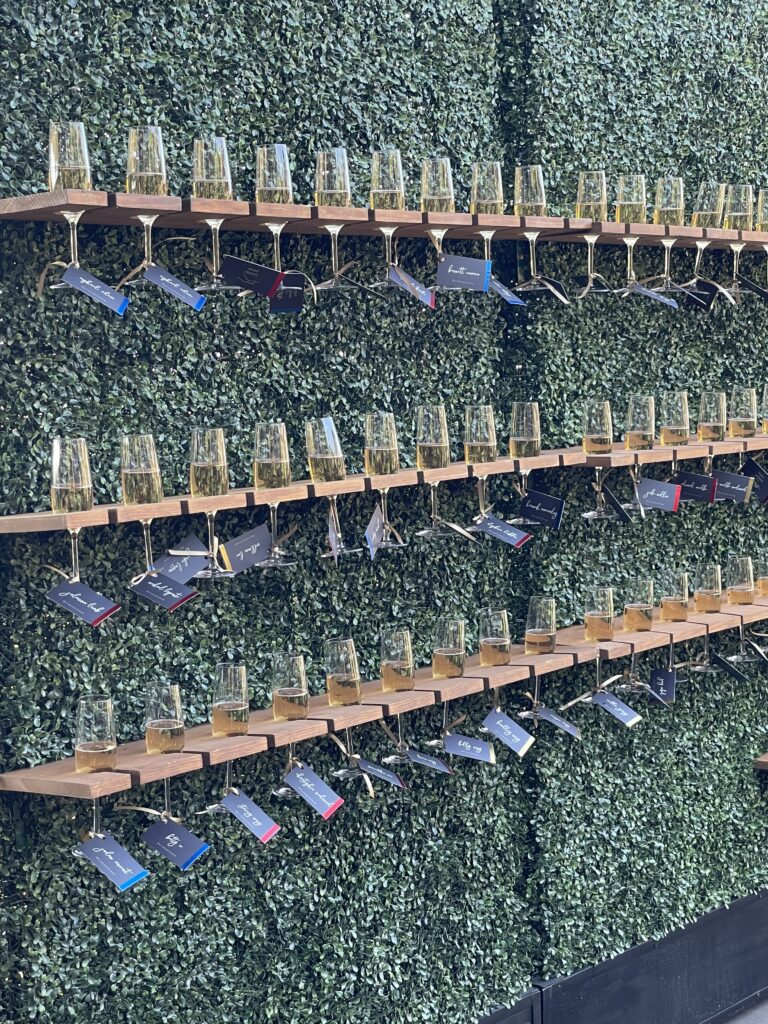 As a special showstopper, guests found their table assignments NOT on a printed board or via little tented cards – they found them on a glass of champagne! Here is Stacey's and Kirill's "champagne wall" (all rental items from Bright Event Rentals) which everyone will most definitely remember!
Meanwhile, the catering crew (of Toast Catering) had been hard at work not only to prepare delicious dishes, but also to set everything up to perfection.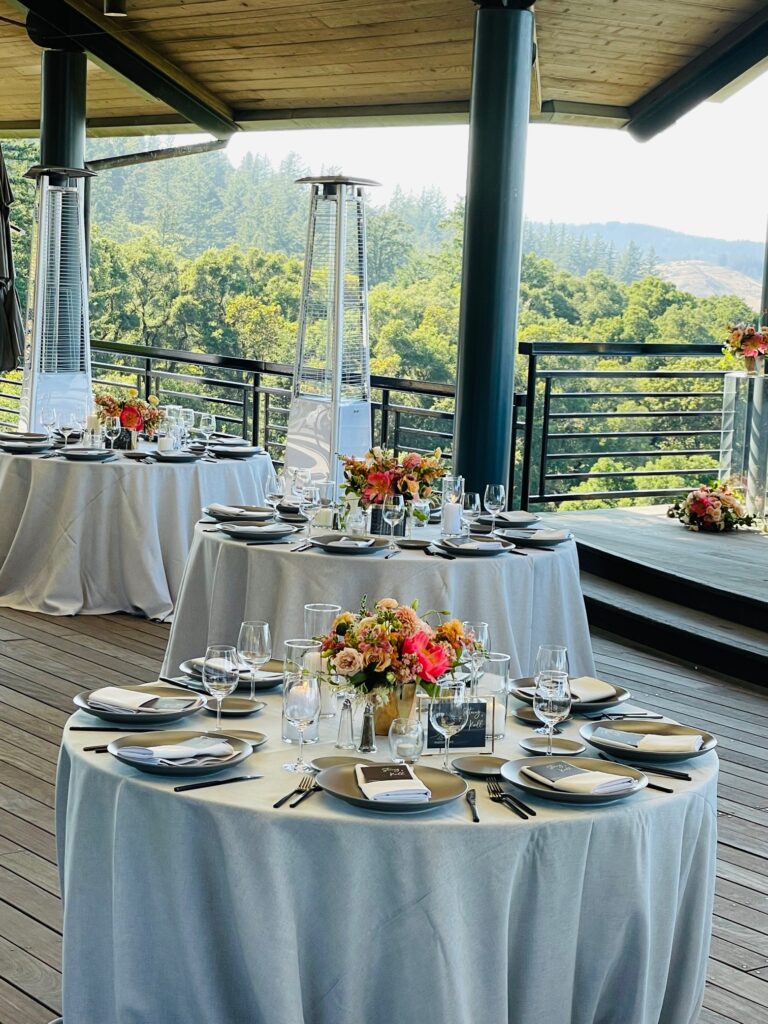 In accordance with their "midcentury modern" esthetic, the couple had chosen a streamlined design with silver grey linens, dark grey china, blackened flatware – and gorgeous floral centerpieces as an uplifting pop of color.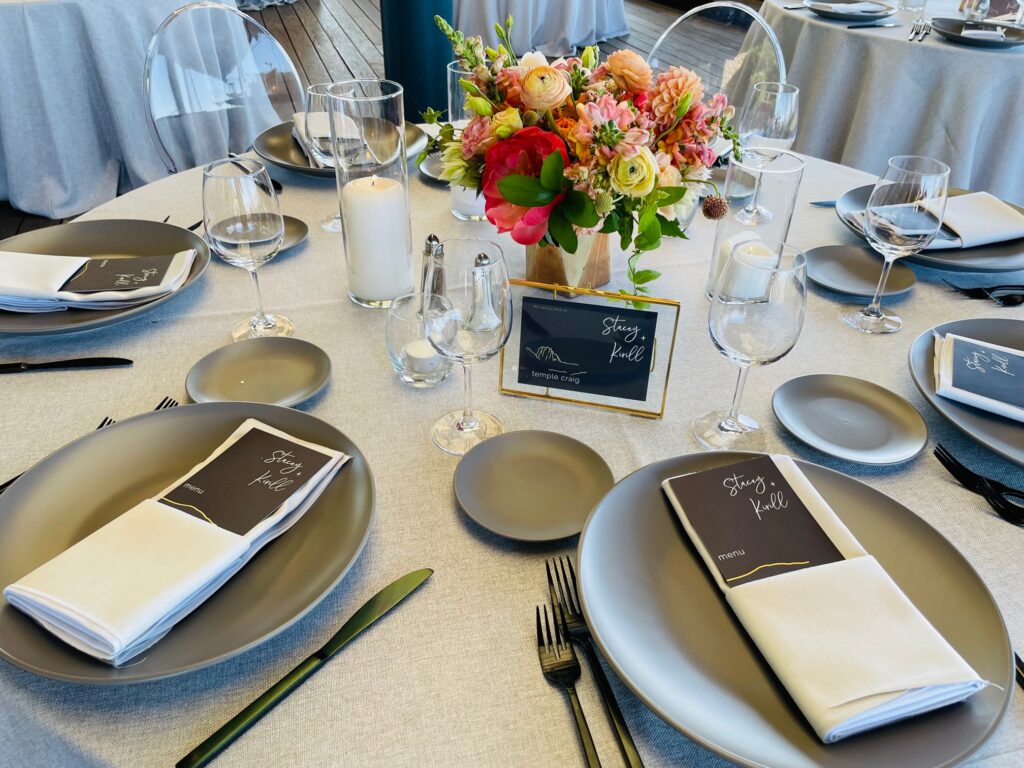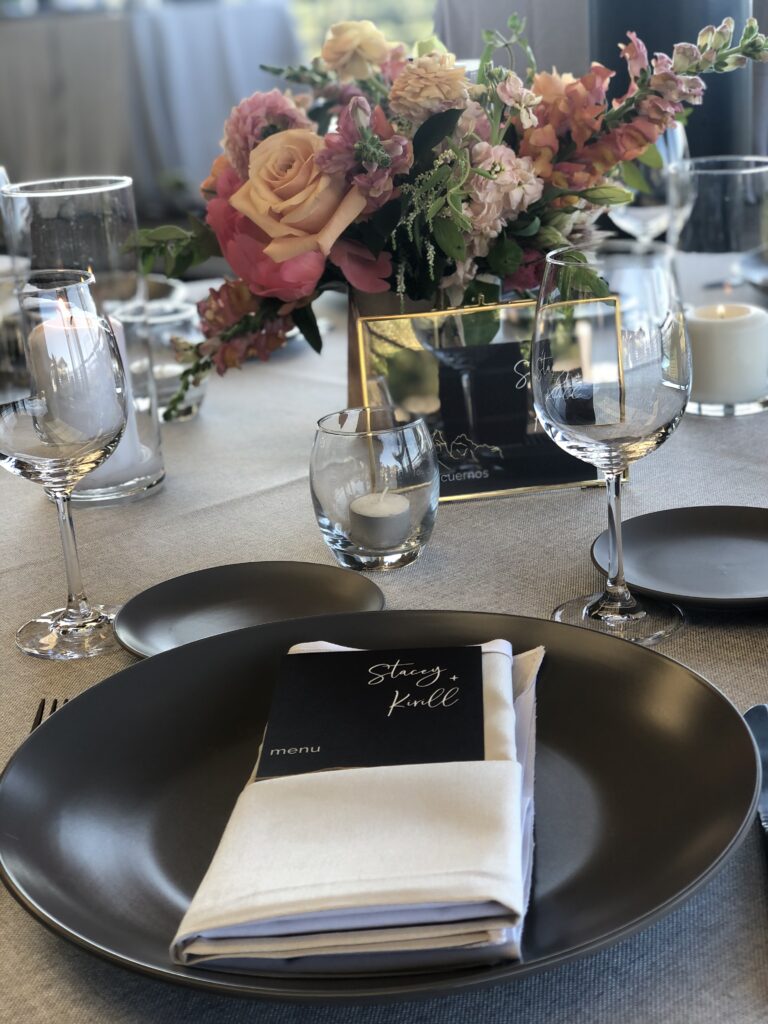 After dinner, guests were treated to delicious "Rocko's Ice Cream Tacos" – and to delirious fun with "The Wong Photo Booth." Then it was time for the couple's First Dance to the tunes of DJ Stefano (of Big Fun Disc Jockeys) with illumination by Just De'Lights.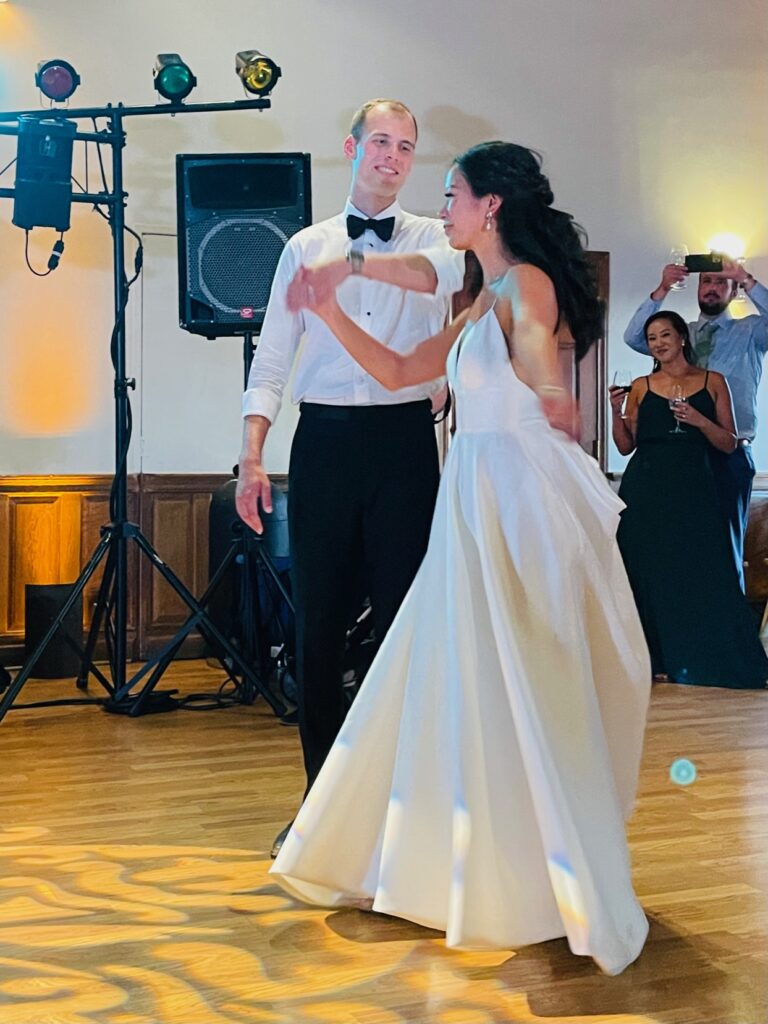 Outside, the day concluded with a spectacular sunset, and everyone agreed – THAT party had absolutely been worth the wait! A lifetime of happiness to Stacey and Kirill!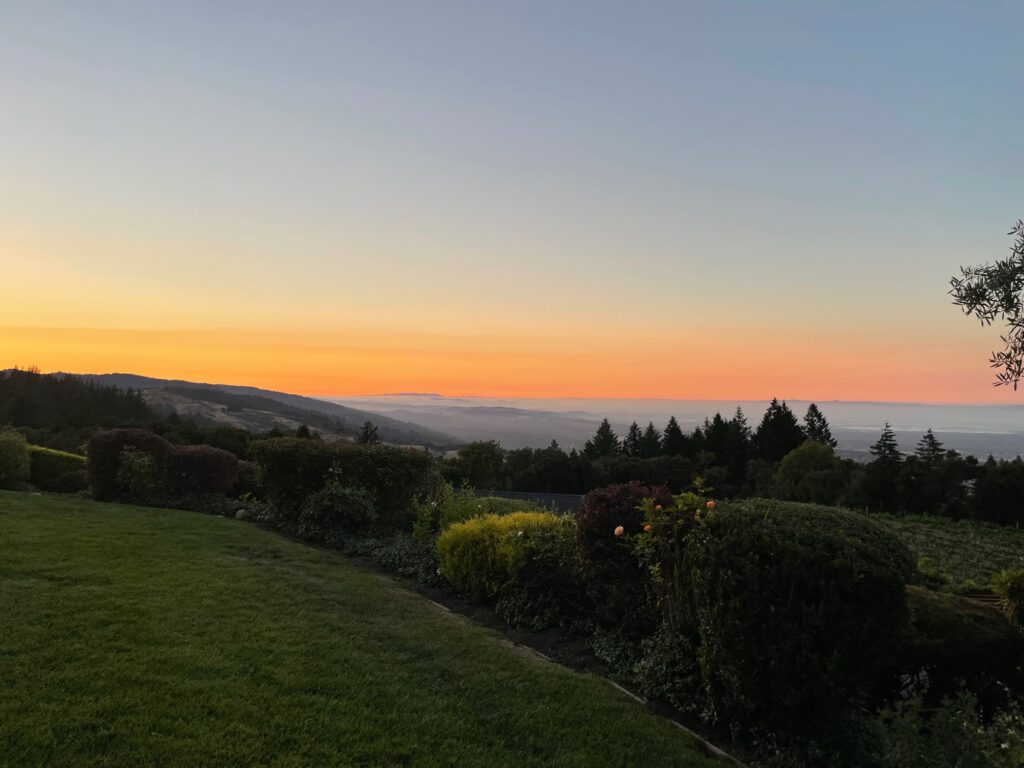 <! DL 06/02/12: Added html code for Pinterest Pin It button (appears at the end of each post) > <! DL 06/02/12: Added padding style modifier to the Pinterest html code to align the Pit It button on the page > <! DL 06/02/12: deactivated code by adding two ! in the a and img code lines >