Last week, I had the pleasure of coordinating a big wedding I had been working on for many months – and not only me! Especially Alexa, the bride, and her Mom, Cindy, were very actively involved in every aspect of the planning process. To be precise: Alexa had been working on it for all of her engagement time. Sixteen months! And finally, finally, the Great Day arrived – and what a day it was! San Francisco and the Bay showed themselves from their very best side, under a clear blue sky, golden Sun, and light breeze; a dream come true.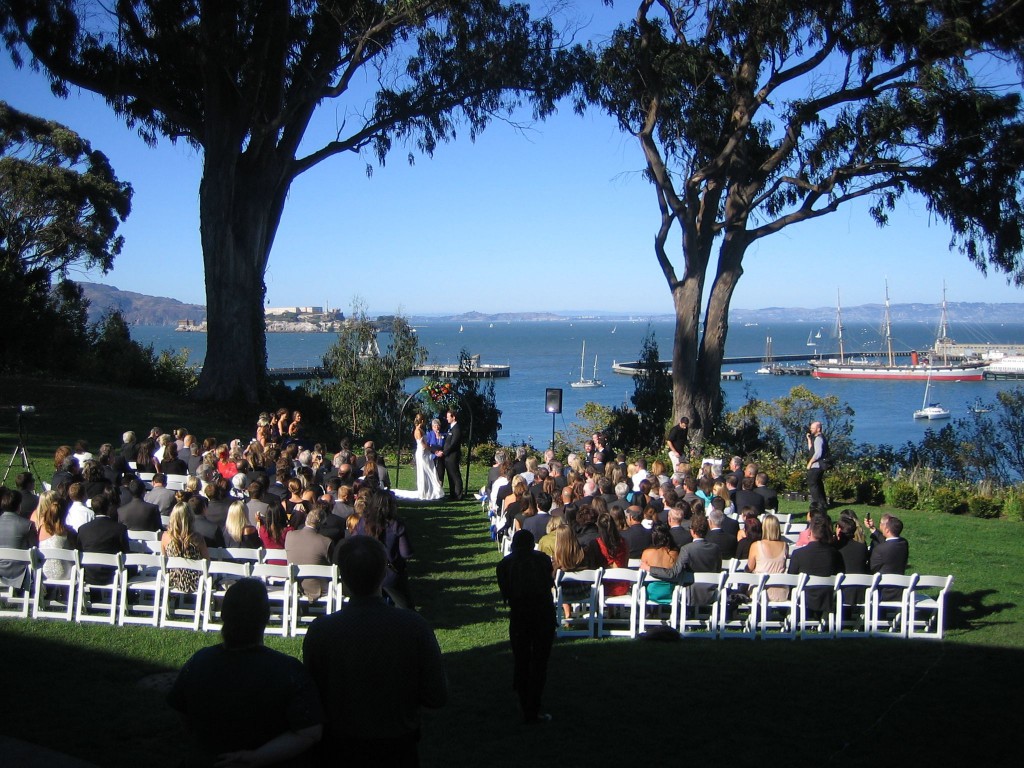 Let's step back in time, at least for one day: to Rehearsal Dinner! Sean's, the groom's, parents had invited not only the bridal party, closest friends and family, but also all out-of-town guests (and those were many!) to Il Fornaio Restaurant on the SF waterfront, an Italian institution in the City. And with good reason: the food is just delicious, and the indoor-outdoor setup has so much atmosphere. When darkness fell, the setting turned just magical: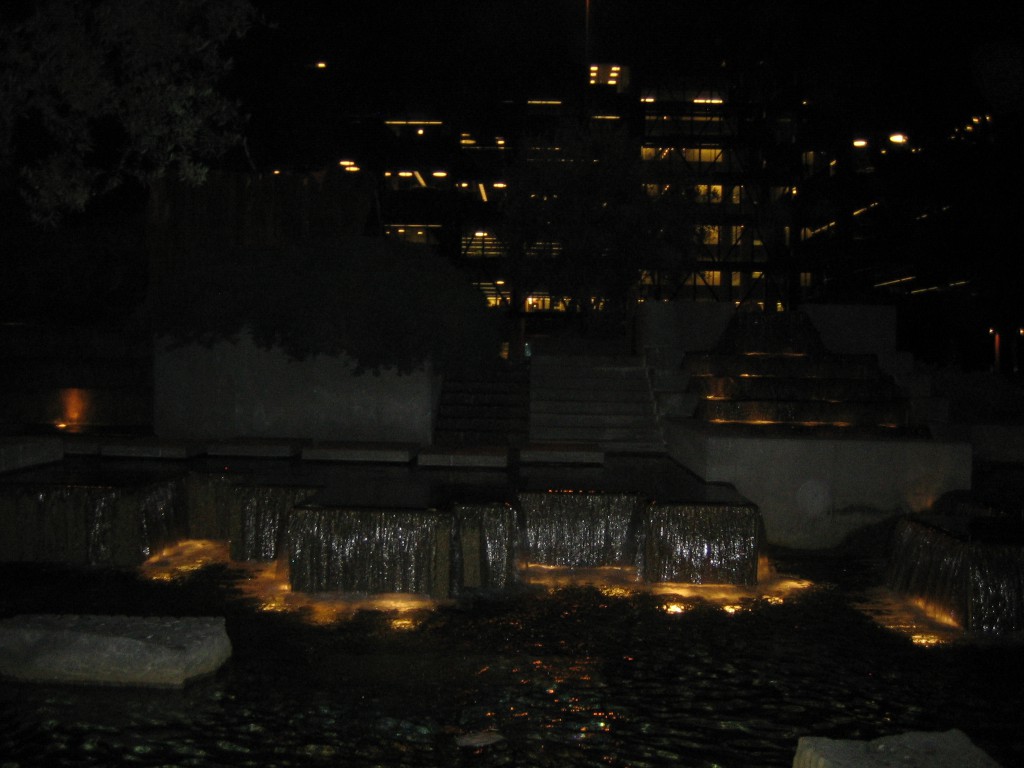 Guests feasted and celebrated until nearly midnight – and got into the right festive mood for the Great Day ahead!
That day began for the bride and her bridesmaids at Milvali Hair Salon, from where they arrived at the wedding venue, the General's Residence at Fort Mason. Fort Mason had originally been built as a military outpost to protect the City of San Francisco, and our beautiful wedding venue, built in 1878, was the mansion where the Commanding General resided with his family. Hence the name, and hence the architectural beauty and luxury! The General's Residence overlooks the SF Bay with Alcatraz and the Golden Gate Bridge in the distance, and Alexa and Sean chose to tie the knot on the back lawn; see above.
So, Alexa and her eight bridesmaids enjoyed a late-morning treatment in our on-site beauty salon, receiving professional make-up by Jennifer Granatelli and her assistant in the former General's living room.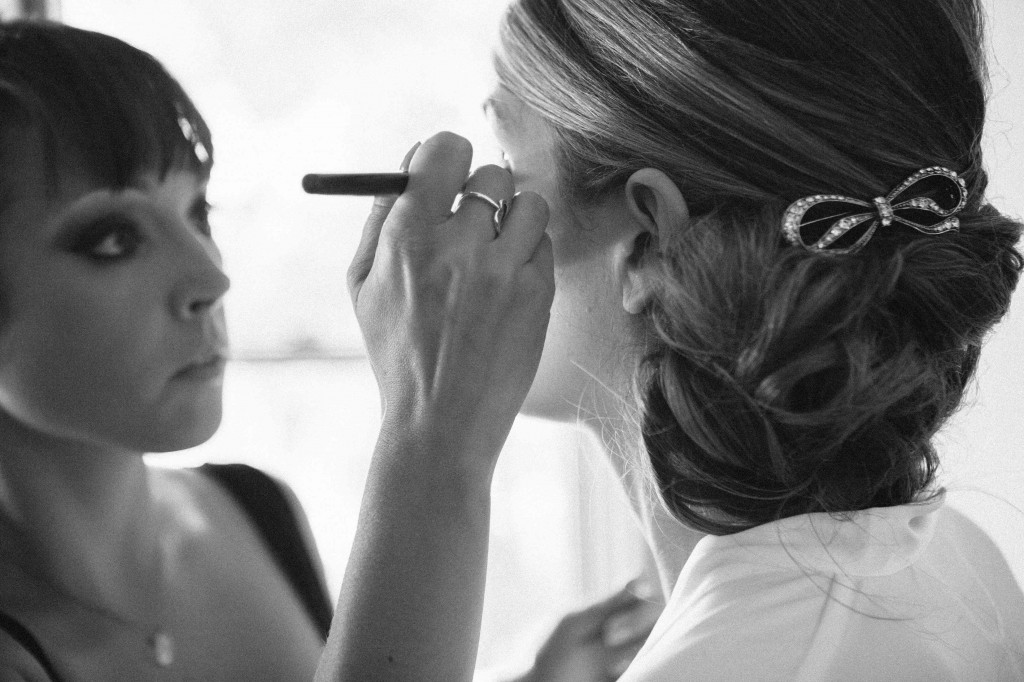 Then it was time to get into that fantasy of a wedding dress – Reem Acra, with crystal embellishments – and present herself to her groom: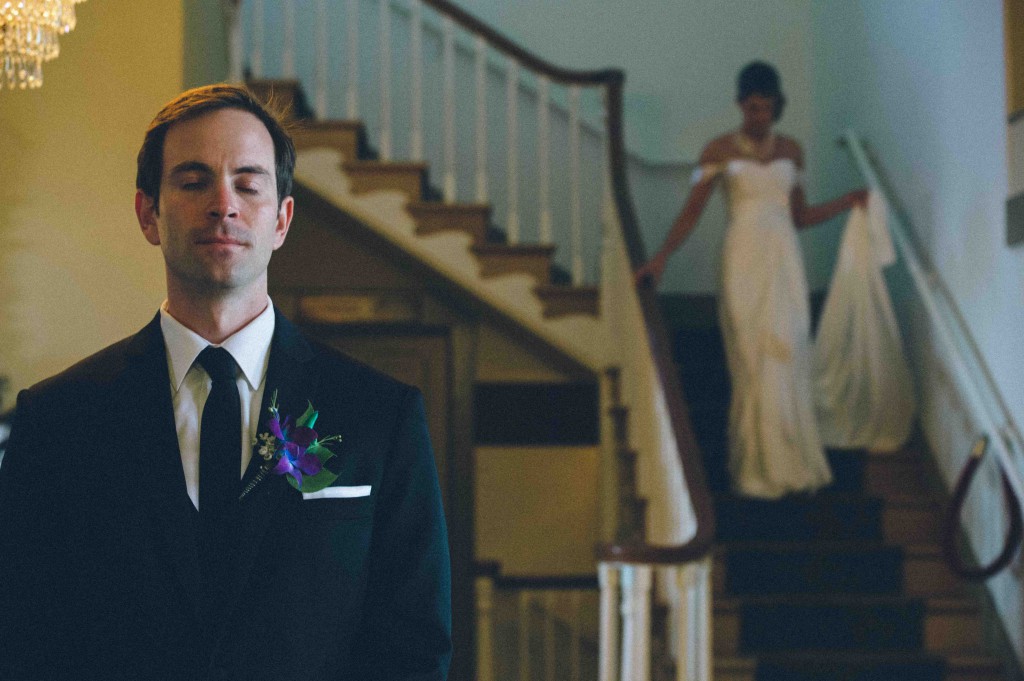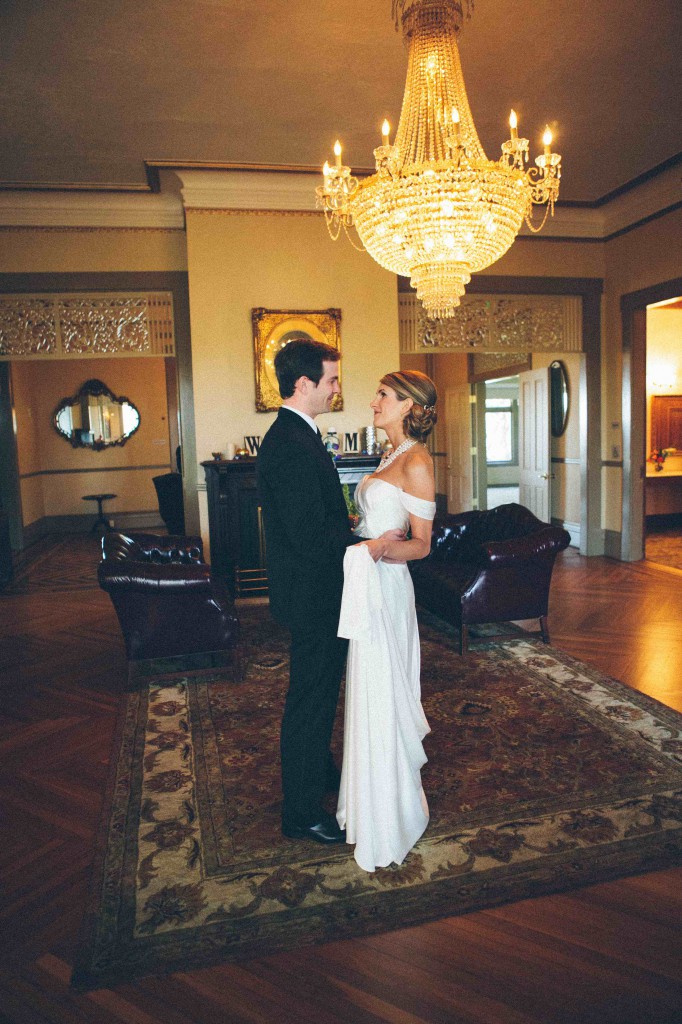 After that, I had to rush the two out to the back lawn where 200 guests had gathered in anticipation of the ceremony, officiated by a long-time family friend and teacher of Sean's, Kathy Gannon Briggs.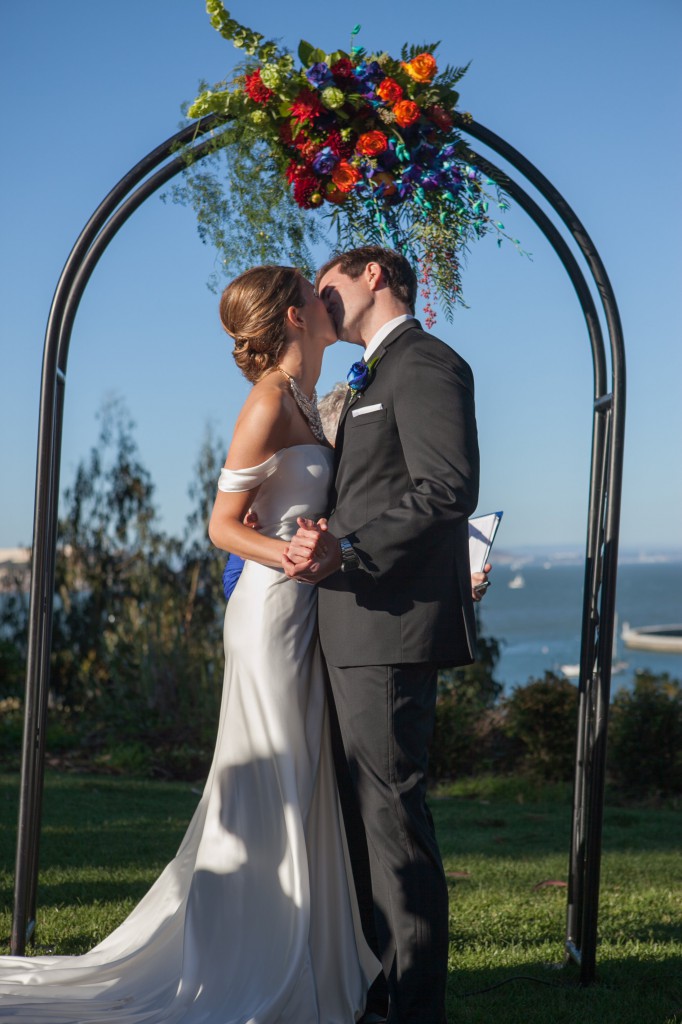 "You may now kiss the bride!" –
Another romantic image at sunset, captured by our wonderful photographer Jennifer and, of course, videographer Gusto: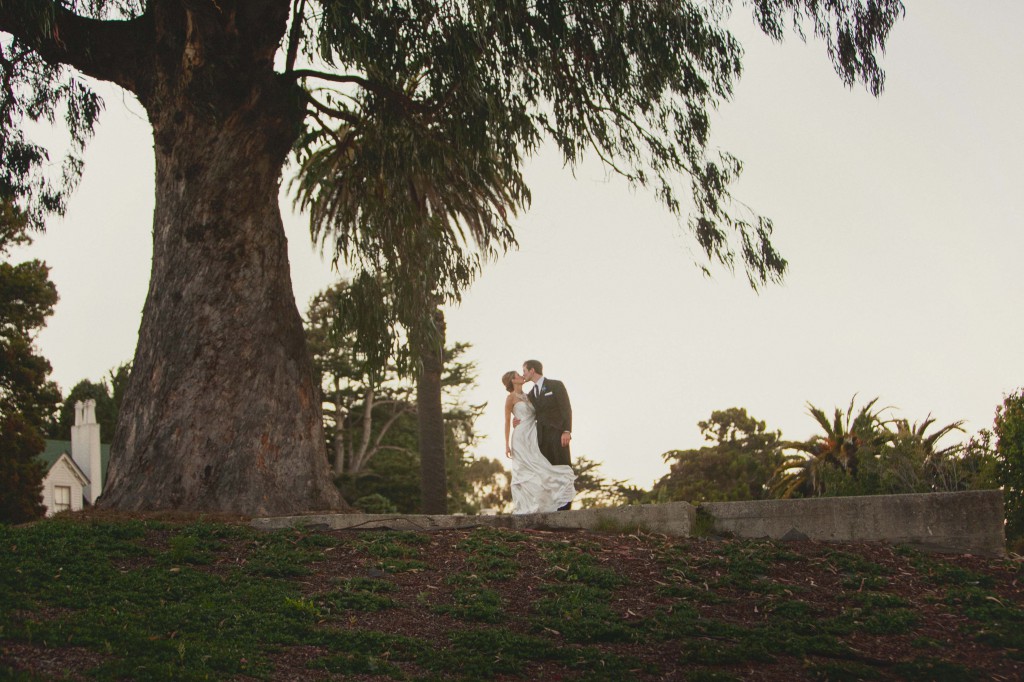 At the same time, the groomsmen were having fun with one of the antique cannons, left over from military times: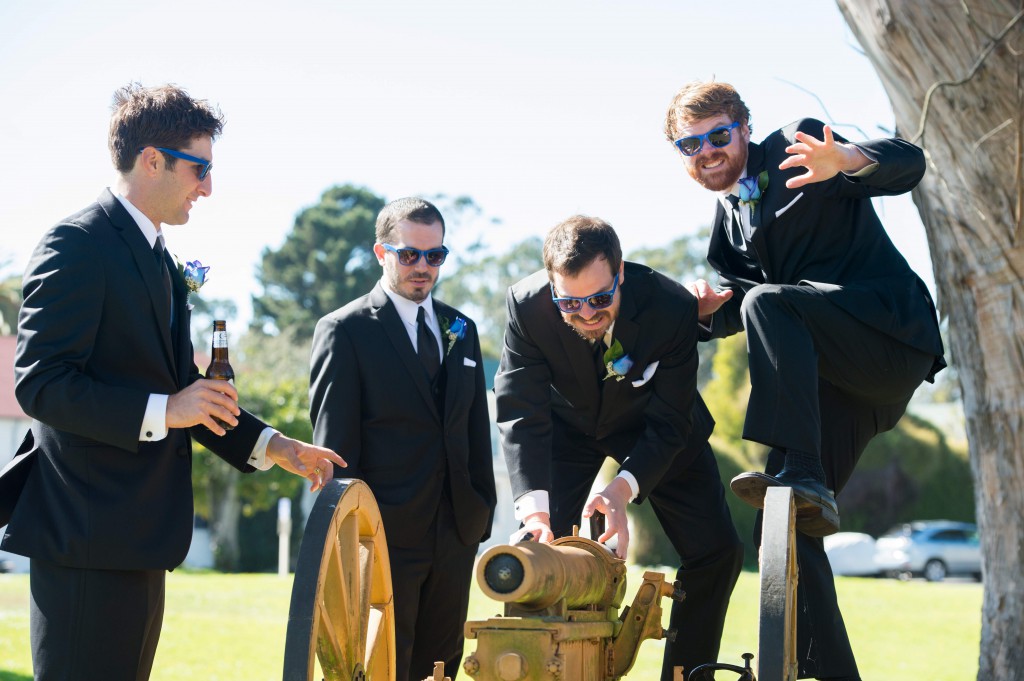 But: you haven't seen the bouquet yet, have you? It's a labor of love by the bride's Mom, and it took more than a year to make: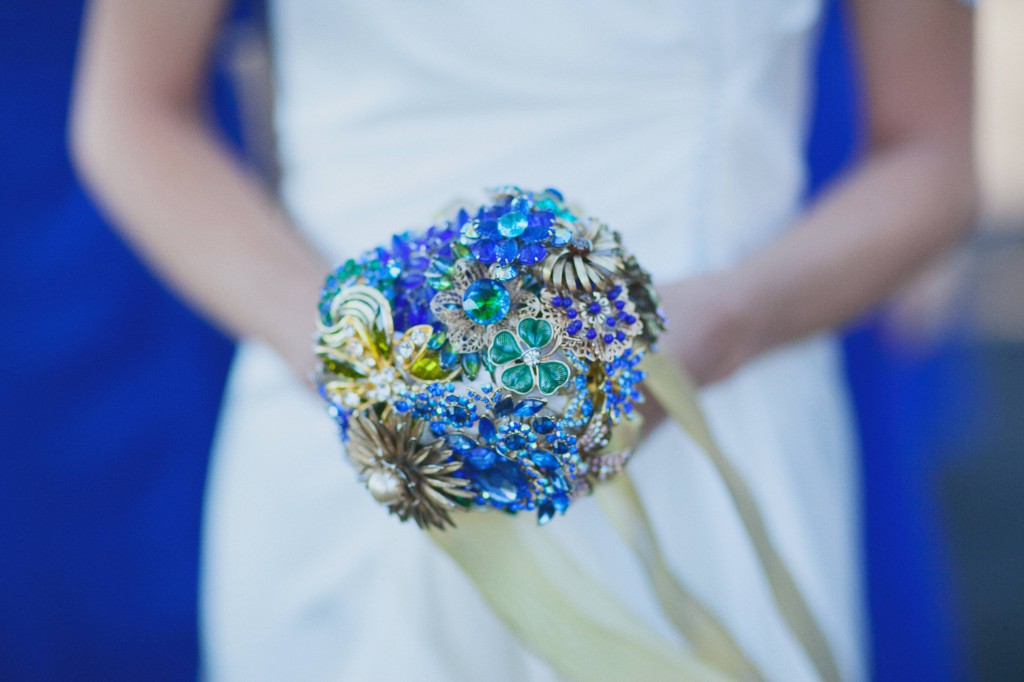 And the rings…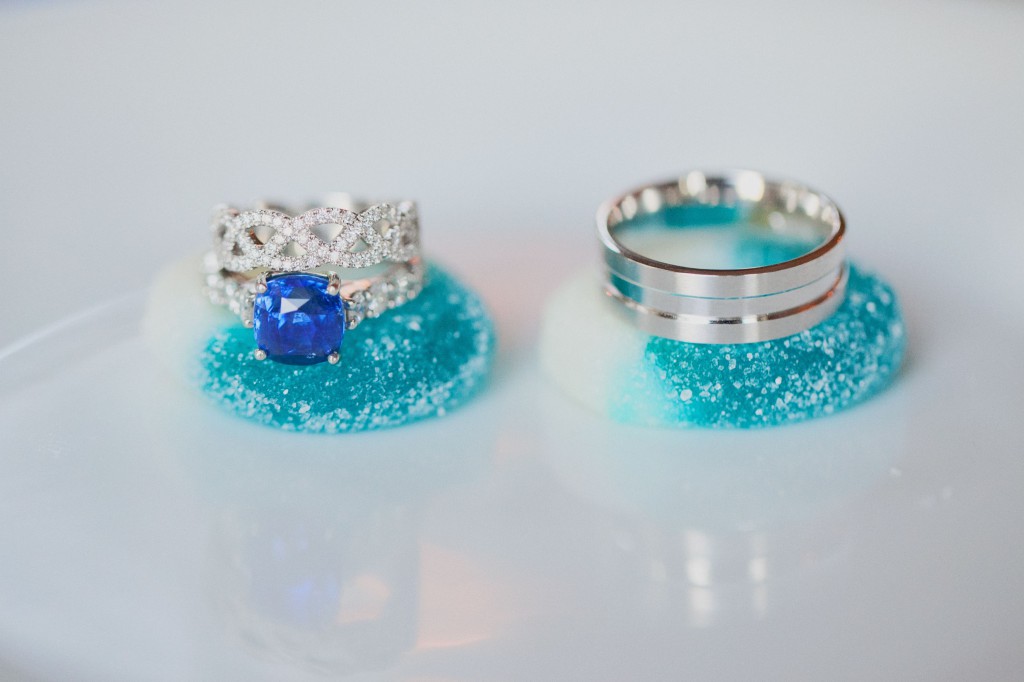 Aren't these beautiful?
And here is the official wedding photo: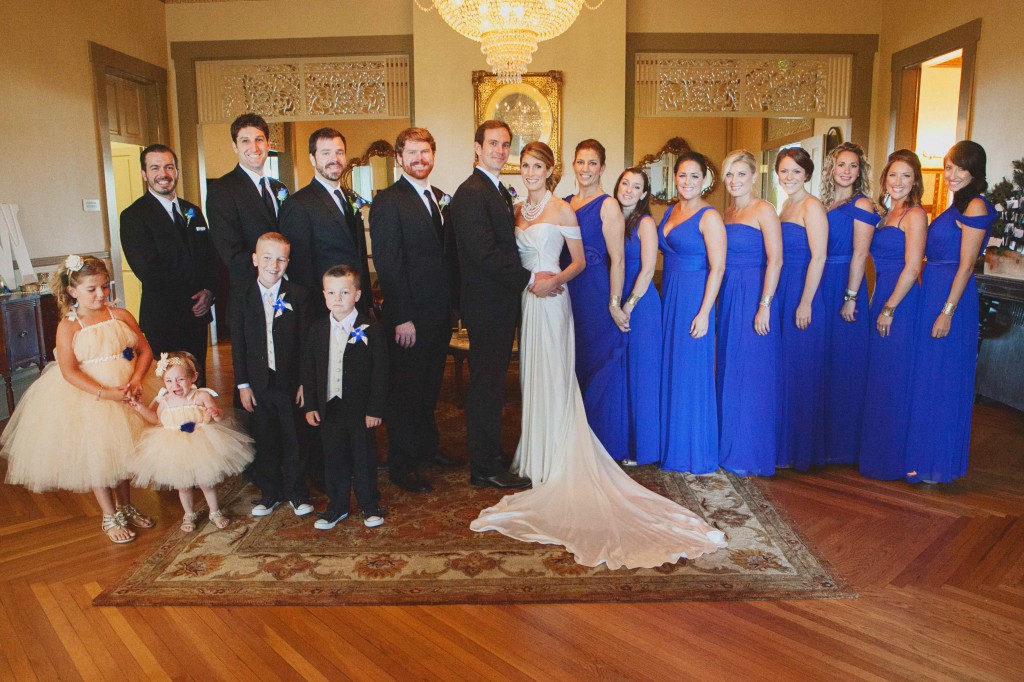 From there – off to an elegant cocktail reception, followed by a festive dinner, provided by Carrie Dove Catering. Guests found their seats on escort cards, each hung on a single peacock feather, forming an impressive arrangement: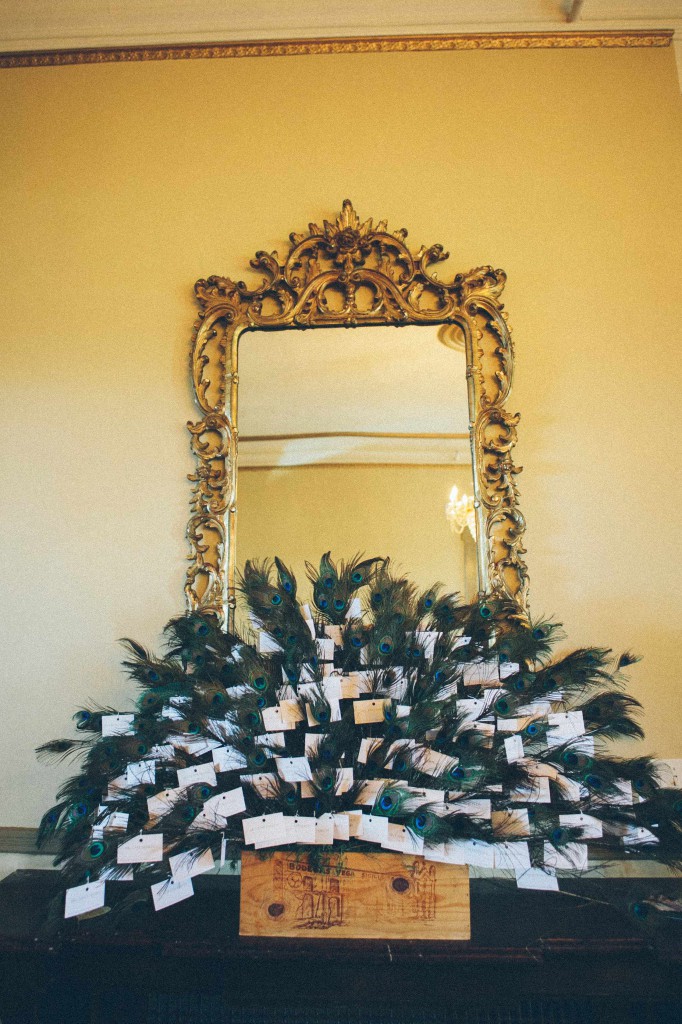 In keeping with the "Vintage/Glamour San Francisco" theme, guests enjoyed food stations showcasing iconic San Francisco neighborhoods like "North Beach" (Italian), "The Mission" (Mexican) and "Chinatown" as well as a blue-and-golden dessert buffet themed on another San Francisco institution: Ghirardelli chocolates. The tables were decorated with jewel-toned flower arrangements by Diana from Stems Floral Boutique who also provided the bridesmaids' bouquets. All that glamour and indulgence was complemented by light-hearted fun at the Grand Entrance of the Bridal Party – look here: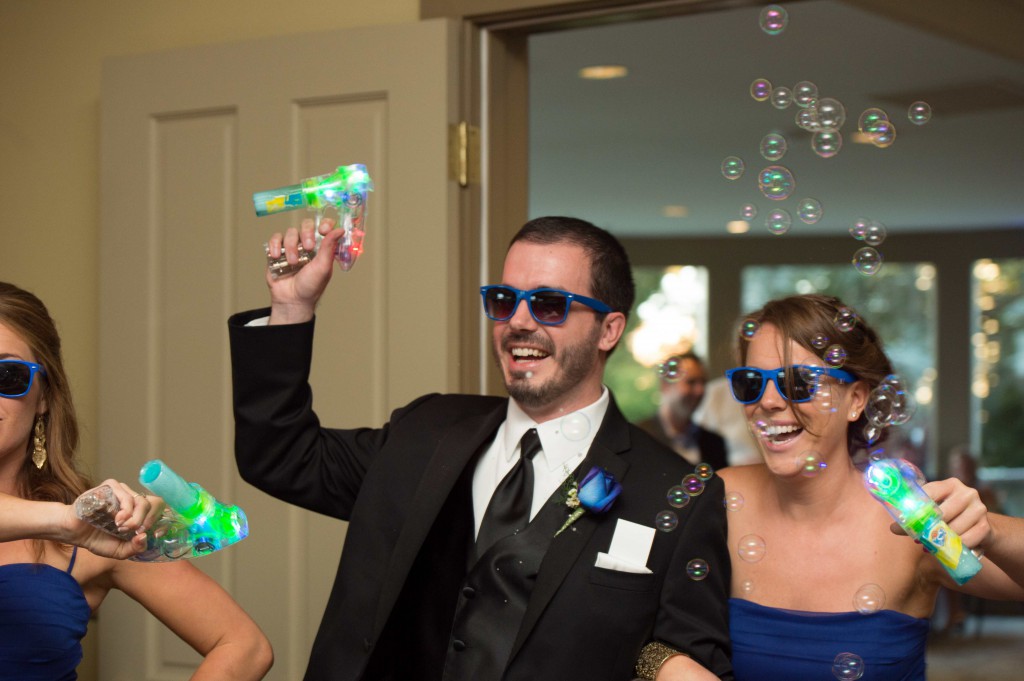 Guests had a blast with a photo booth provided by Swag Bunch: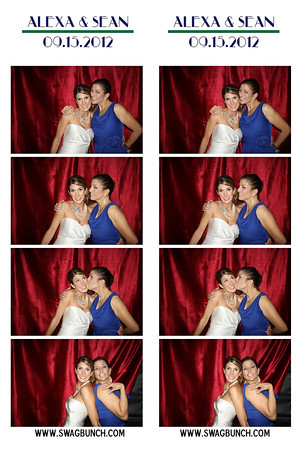 More merriment to follow with DJ Brian Holmes (Denon and Doyle Entertainment) and his rousing dance music, kicked off by this romantic First Dance: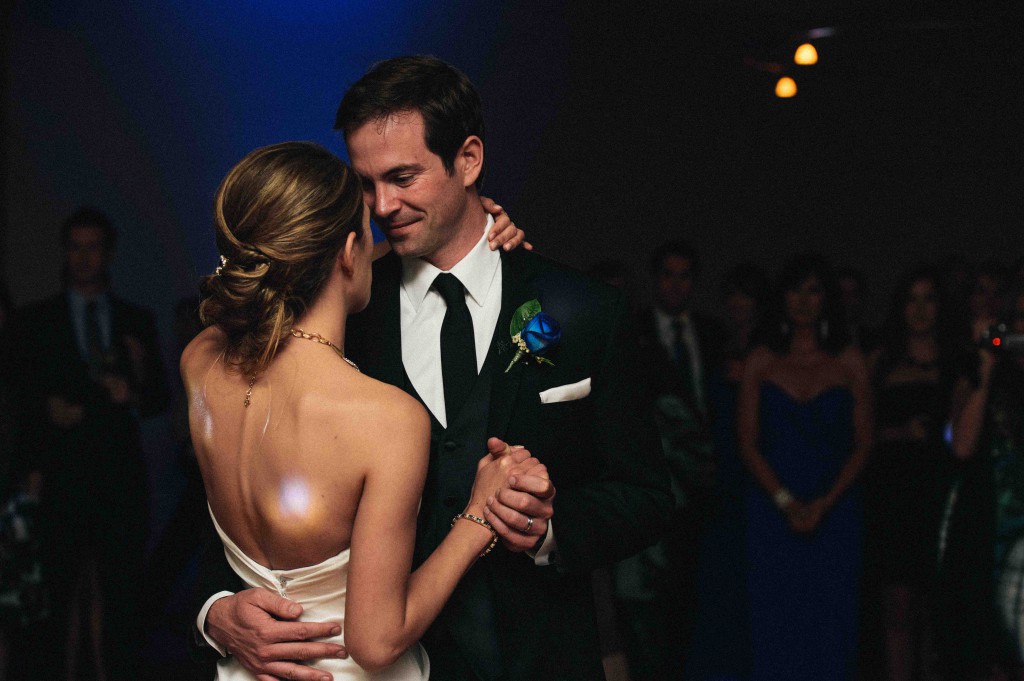 Sheer happiness – wishing you the traditional Italian blessing quoted by Alexa's Mom in her toast: "May you fall in love many, many times – always with each other!"
Wedding Coordination and design: A Day Like No Other, [email protected]

Many, many thanks to my "Dream Team:"

Kathy Gannon Briggs, officiant;

Brianna Hussey, Site Coordinator [email protected]

Jennifer Granatelli, [email protected]

Milvali Hair Salon, Alicia – www.milvali.com

Carrie Dove Catering, Amanda Fabbri, [email protected]

Photographer: Jennifer Michelson, [email protected]

Videographer: Gusto Lopez, [email protected]

Floral arrangements: Diana Rasta, Stems Floral Boutique, [email protected]

Entertainment and Lighting: Brian Holmes, [email protected]

Photo booth: www.swagbunch.com

Transportation: City Express Limousine Service, [email protected]

 

 

<! DL 06/02/12: Added html code for Pinterest Pin It button (appears at the end of each post) > <! DL 06/02/12: Added padding style modifier to the Pinterest html code to align the Pit It button on the page > <! DL 06/02/12: deactivated code by adding two ! in the a and img code lines >