Trisha's and Bryan's wedding had been in the making for a full twelve years! That's how long these two have been together. To be fair – they decided to get married after ten years, started their planning, found their venue – and then COVID hit. Everything came to a halt. They postponed their wedding date, and then had to postpone again. They had to cut their guest count dramatically – then, they were suddenly allowed more guests again. In short, it was a rollercoaster ride.
As a longtime friend and collaborator of the bride (who used to be the Director of Events at a venue where I frequently work), I was honored that she chose my company, A Day Like No Other, to coordinate her Great Day, and so I took that rollercoaster planning ride with her, from start to finish.
Last weekend, we finally hit the finish line – on a glorious day and with a perfect event. Trisha (and Bryan) were truly overjoyed!
For the bride and her bridesmaids, the day began with hair services by Shawna Jarnagin, the "Girl with a Curling Iron" and with Makeup by Nett.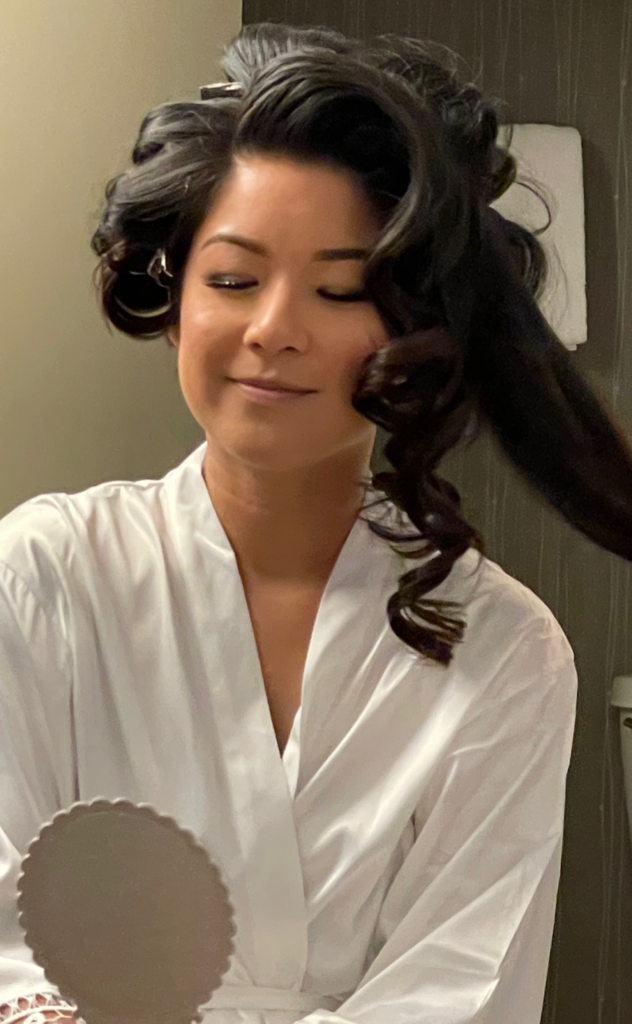 Once that was done, the bride was ready to inspect her glamorous wedding dress:
… which she combined with delicate, blush-pink Badgley-Mischka princess slippers: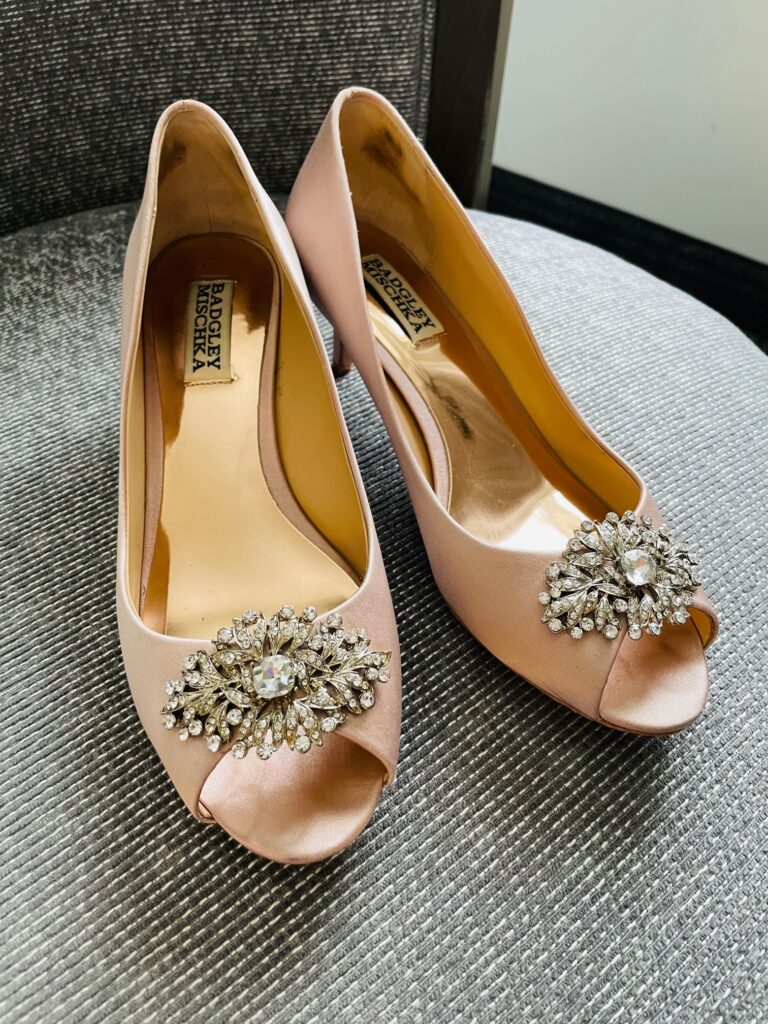 Her bridesmaids (and "bridesman") helped to put her in her dress.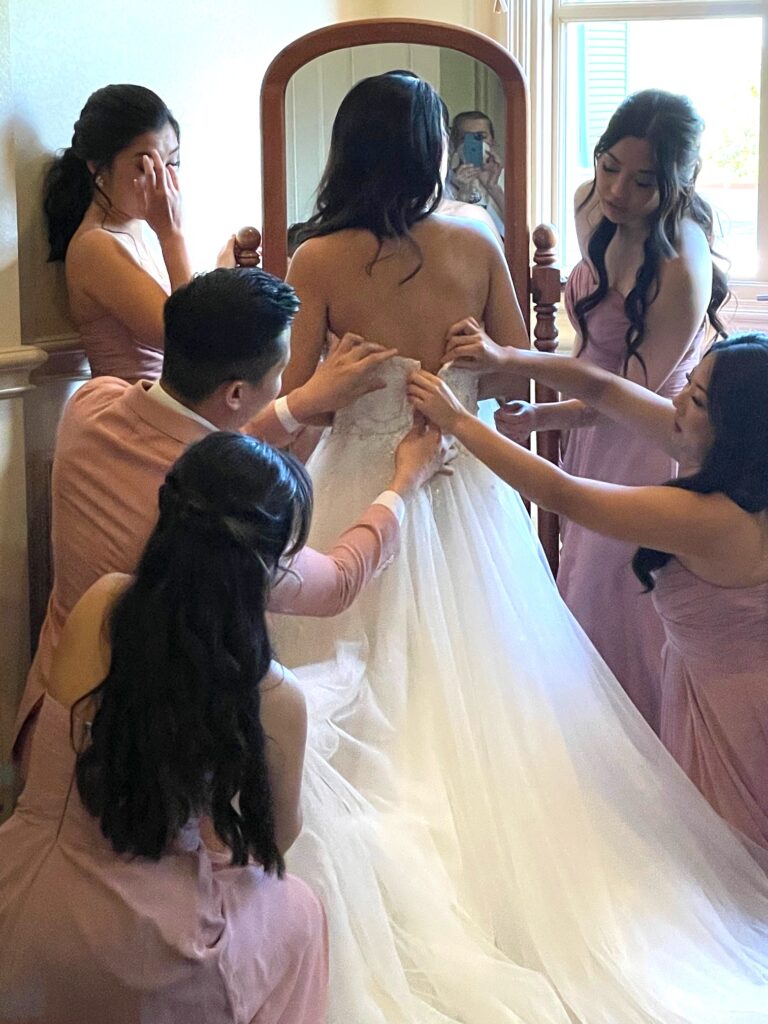 Star photographers Danny and Julia Dong and Wild Atlantic Films videographers captured every precious moment – for the time being, all I have to offer are my snapshots; just wait until you see THEIR photos and footage!
The couple's chosen venue – The Club at Ruby Hill, an elegant golf and country club in the SF East Bay –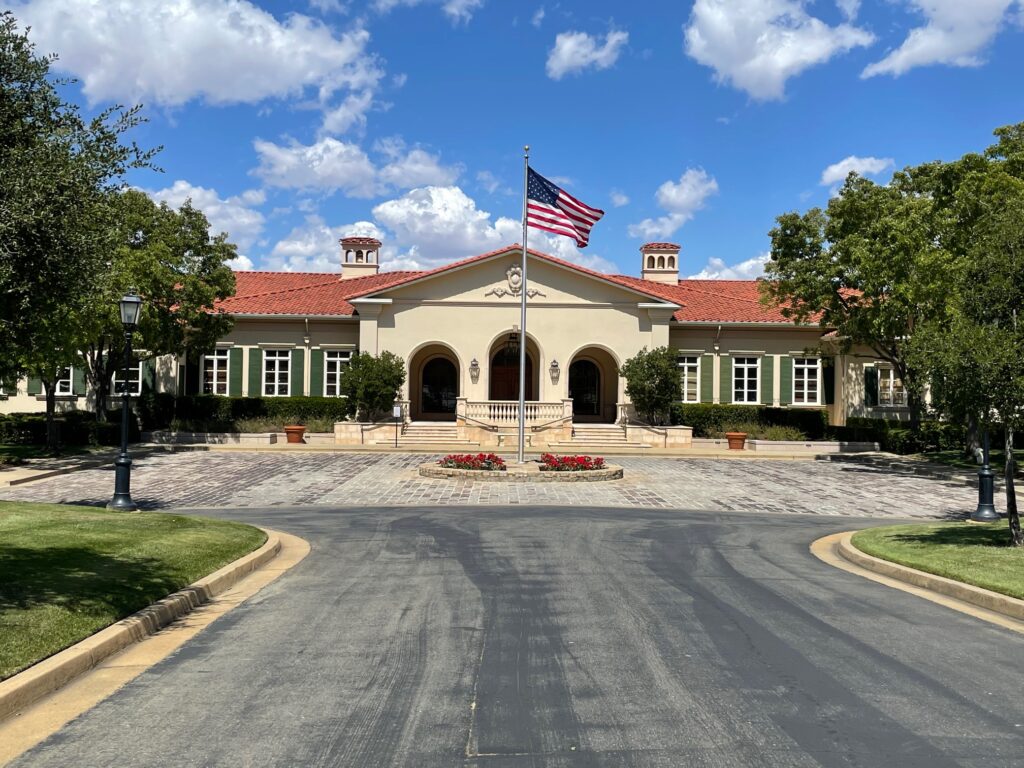 is nestled in an elegant parklike setting…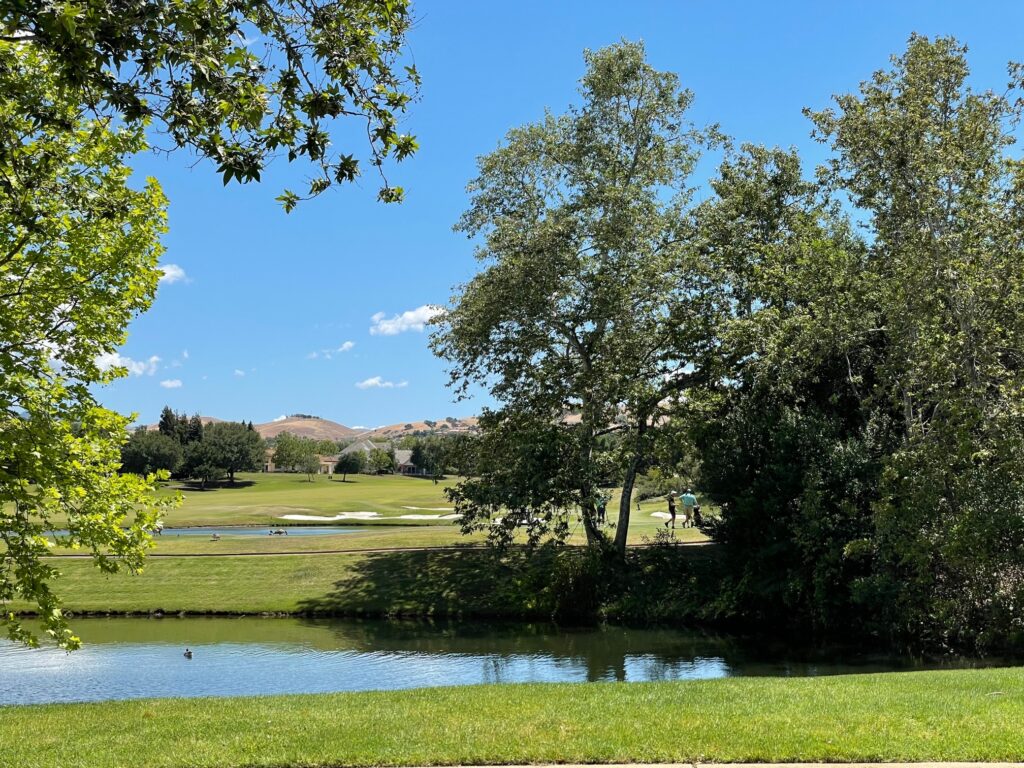 … of utmost privacy and tranquillity. It feels like a million miles away from the hustle and bustle of everyday life. A true oasis!
The ceremony took place in the open courtyard of the venue…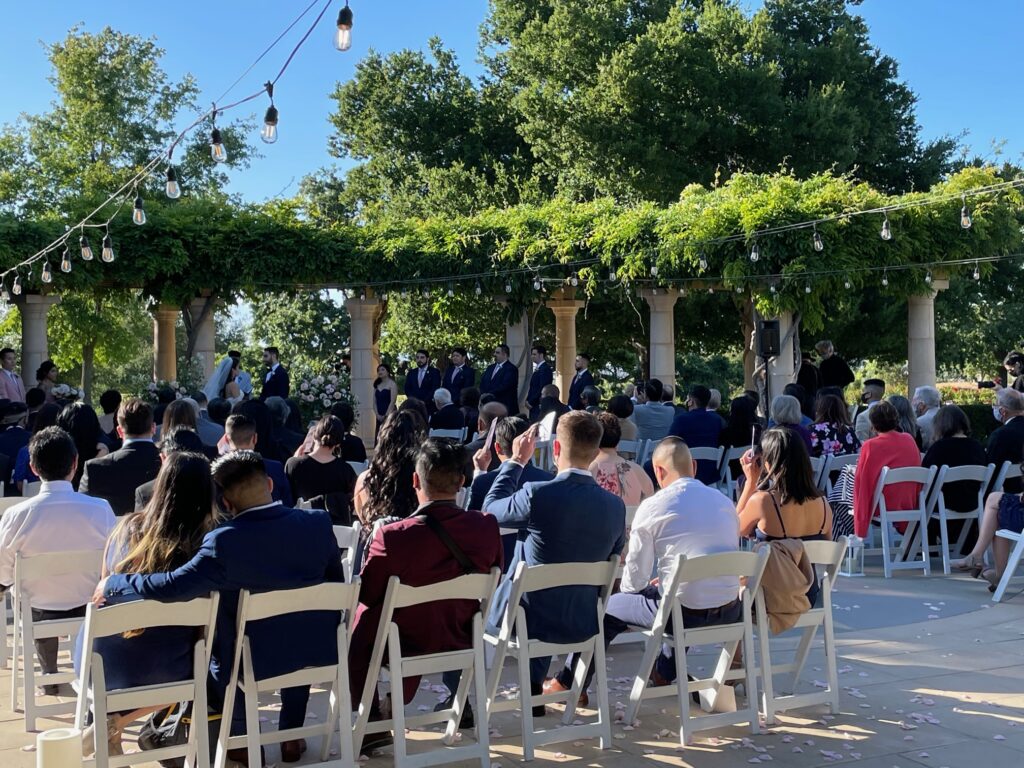 … with over 100 guests in attendance (all vaccinated!) – a relief after COVID regulations allowing for just a handful of family members to participate in wedding ceremonies, for more than a year. Impressive altar arrangements by FlowerStory flanked the ceremony spot.
Finally, the great moment had arrived. With music provided by Big Fun Disc Jockeys, the bride was accompanied to the ceremony by her parents.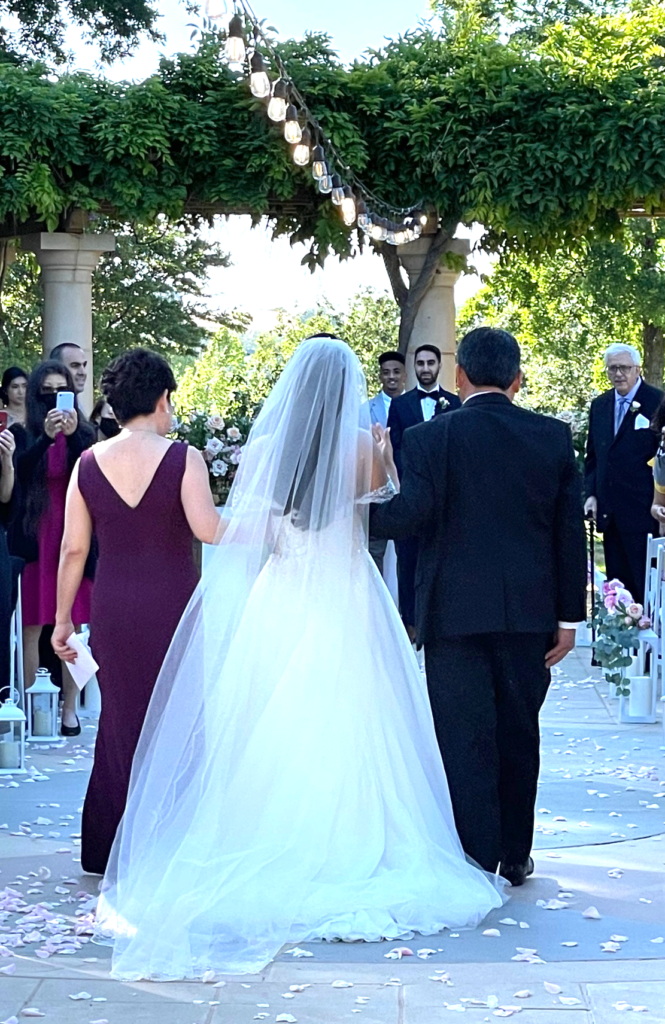 And after a full twelve years, Trisha and Bryan said "I Do!"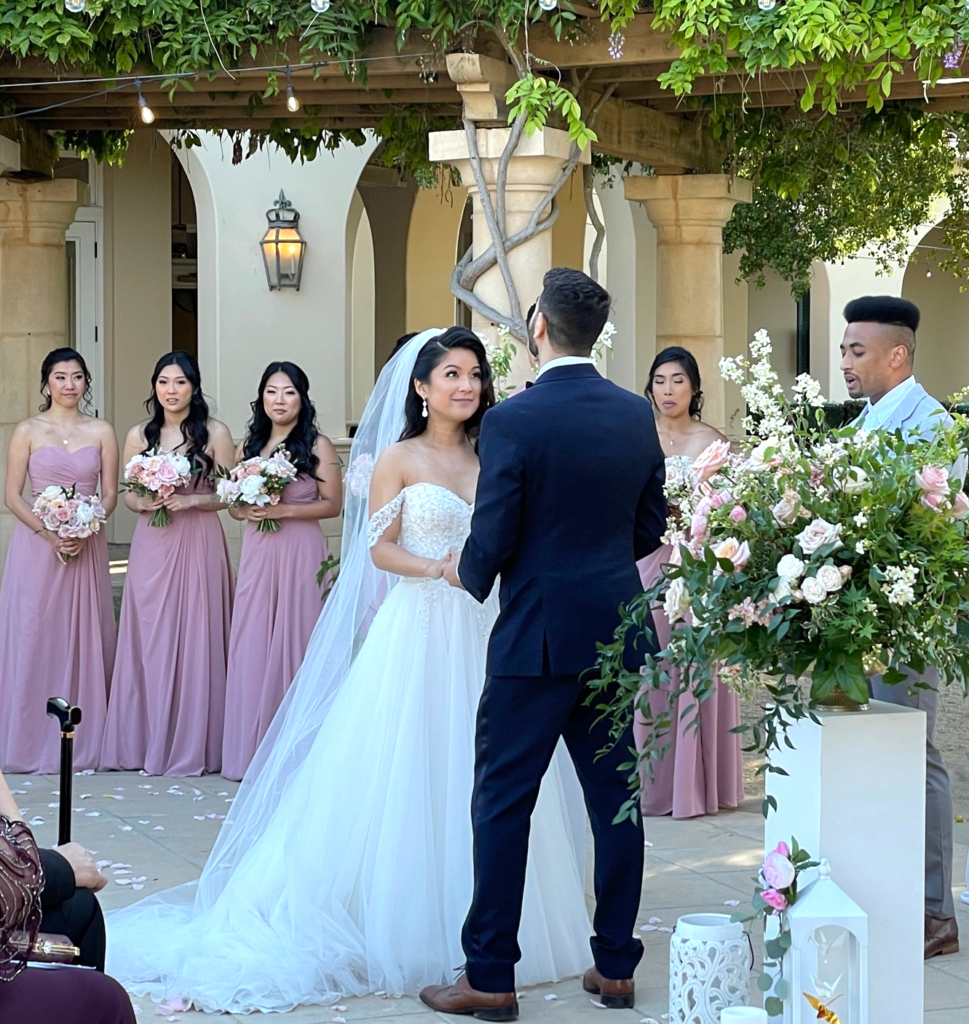 Just married!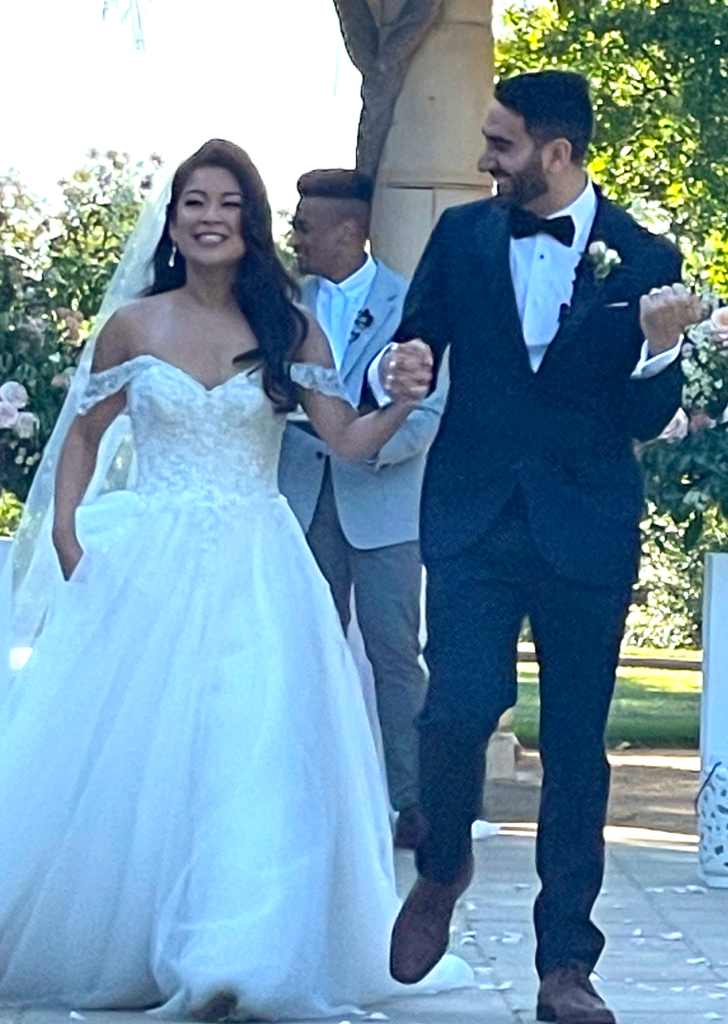 The ceremony was live-streamed by Kevin and Megan of Fantasy Sound to allow remote guests to witness the festivities and offer their well-wishes to the newlyweds.
While Trisha and Bryan had many more photos (and video footage) taken, their guests enjoyed cocktails, and many work crews put their finishing touches on the festive setup – the venue team headed by Events Director Janan Ali, the florist team of Kim's FlowerStory…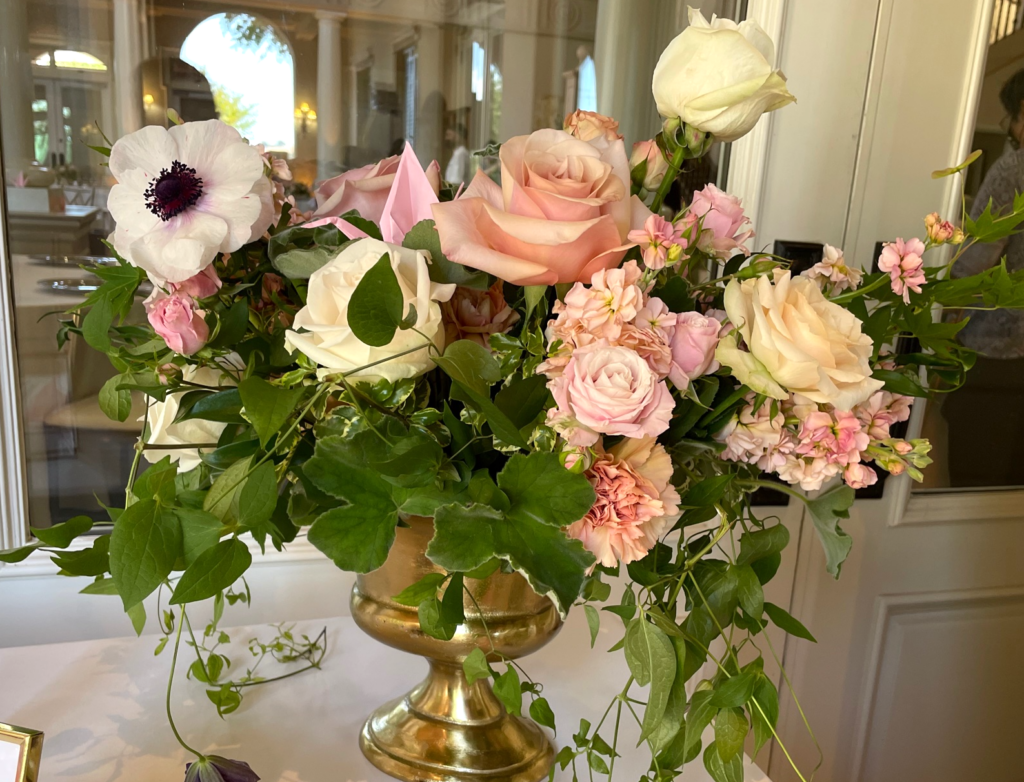 … the lighting team of Fantasy Sound. Primrose Bakery delivered the cake …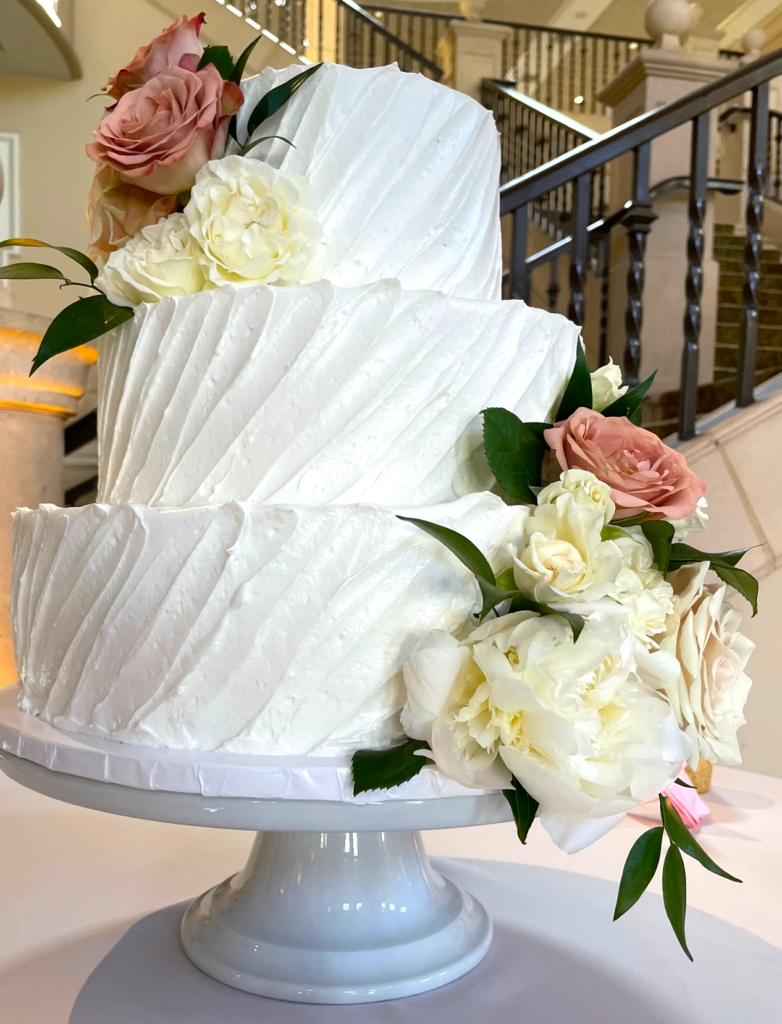 … and The Joyful Whisk delivered cupcakes; friends of the couple installed a Sweetheart Table backdrop of hundreds of handmade paper cranes and a photo booth backdrop for the booth by The Black Tent; my assistant Quan and I were busy helping to set up the dessert room (yes, a whole room!) …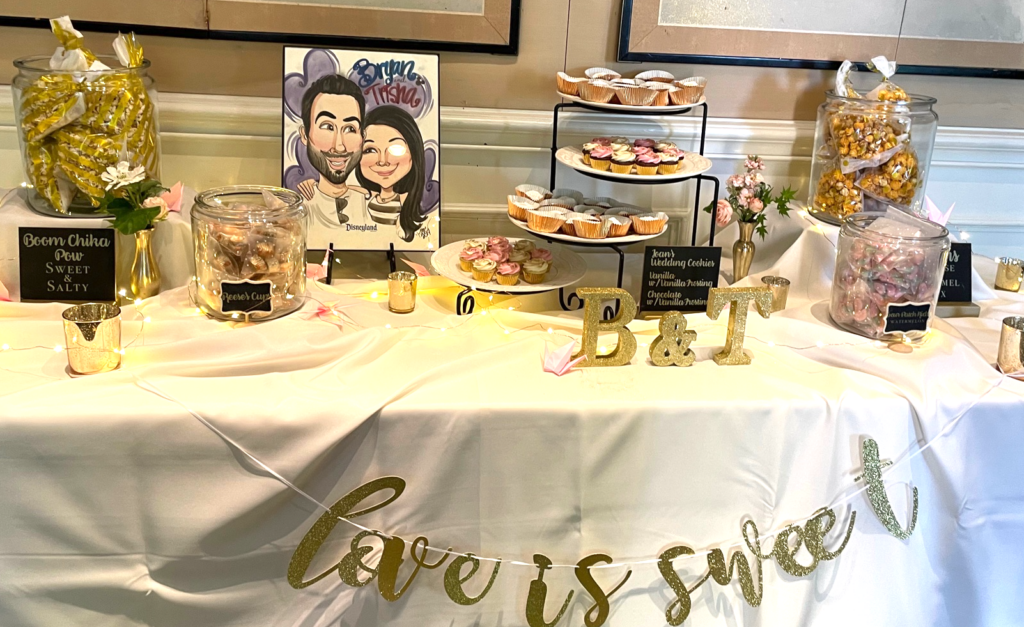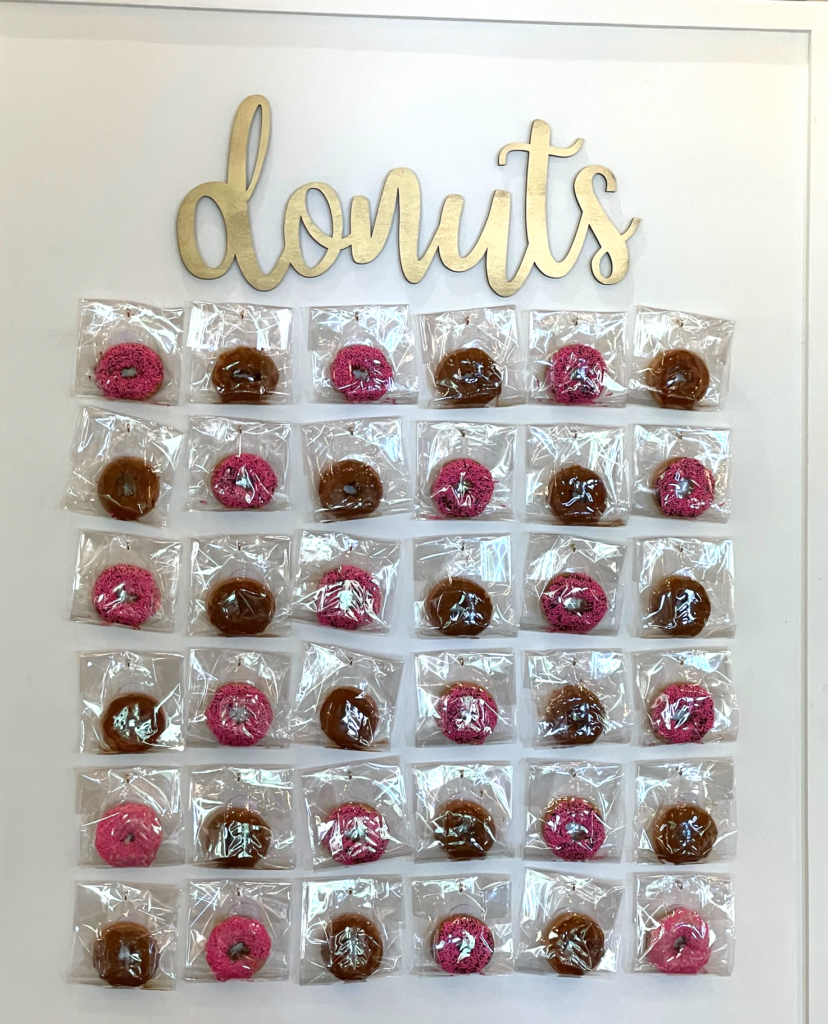 … and keeping everything organized and on track. But it was all so worth the effort – have a look: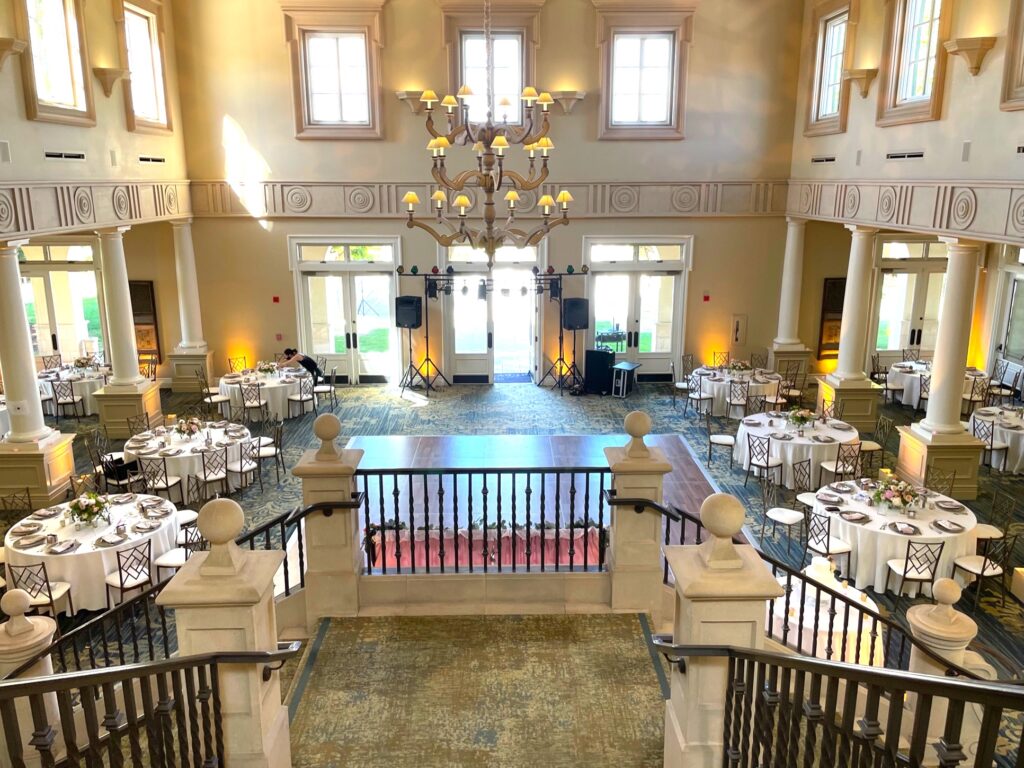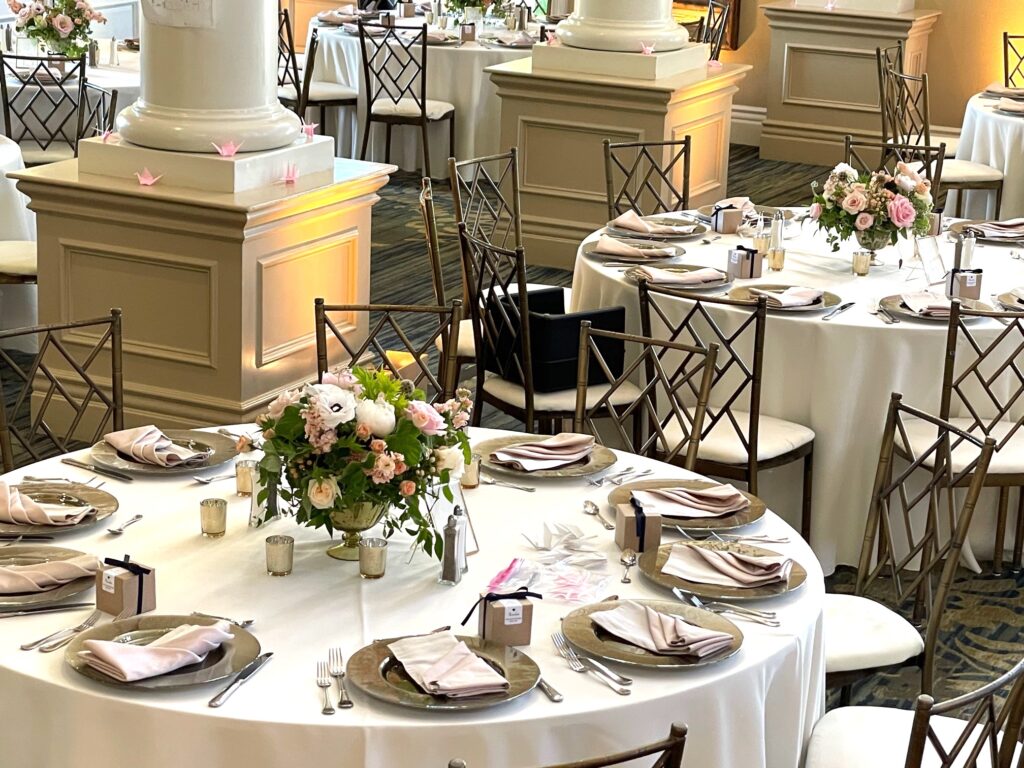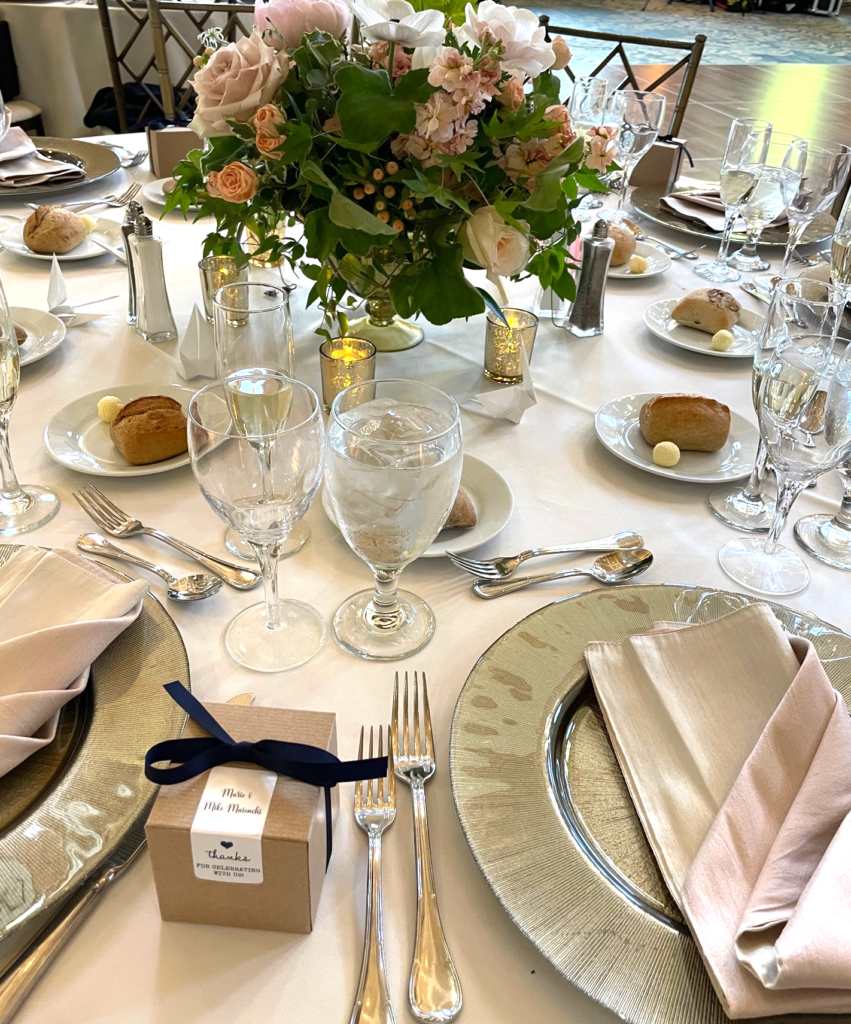 In lieu of place cards, the couple had prepared personalized favor boxes for the guests – containing a scented candle with their favorite fragrance (an enticing aroma of a fresh latte!)
After dinner, the newlyweds opened the dance floor with their choreographed First Dance: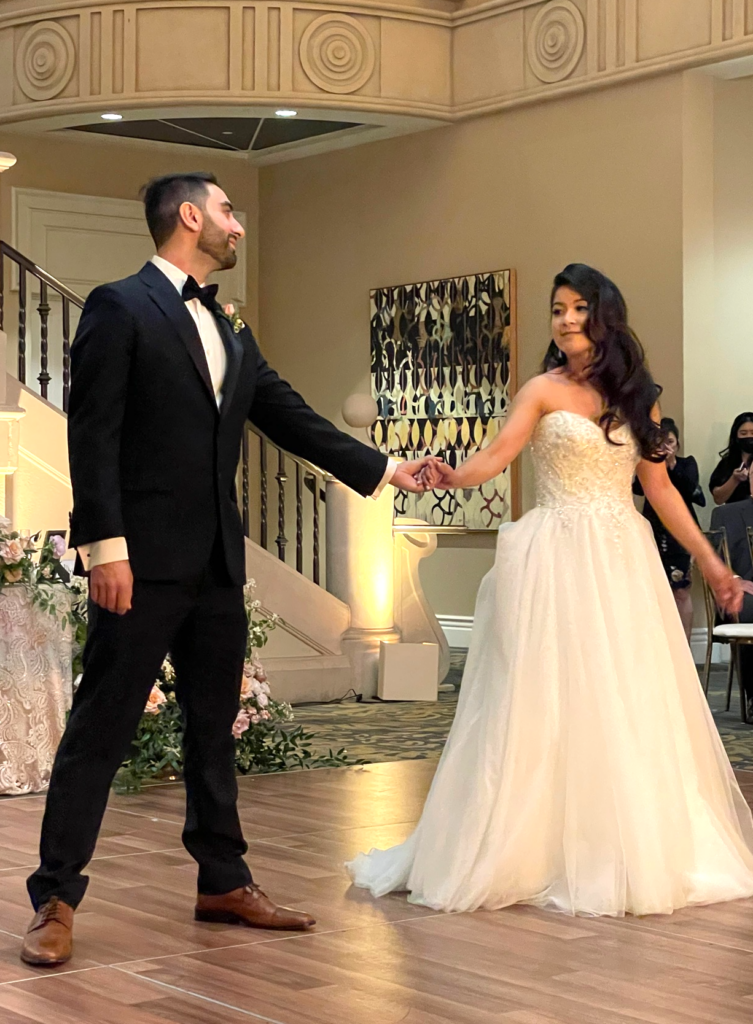 … and the rest of the evening was spent dancing, enjoying desserts and wedding cake and having fun with the photo booth. Everyone agreed: what a wedding!!

Wishing you a lifetime of happiness, Trisha and Bryan!

See it all on film here!

<! DL 06/02/12: Added html code for Pinterest Pin It button (appears at the end of each post) > <! DL 06/02/12: Added padding style modifier to the Pinterest html code to align the Pit It button on the page > <! DL 06/02/12: deactivated code by adding two ! in the a and img code lines >