Amy and Tec are super organized. When they began to plan their wedding, they did it one and a half years in advance. When they first contacted my company, A Day Like No Other, they already knew where they wanted to get married: in San Francisco, at a venue linked to the military history of the City. The groom's father had served and lived with his family on the Presidio of San Francisco, the historic military outpost.
It would be a destination wedding for about 150 guests, with the couple living on the East Coast and nearly all their guests coming from all over the country, Korea and Taiwan.  I was really grateful to have, in the end, a full 16 months for the planning!
The two fell in love with the Golden Gate Club on the Presidio, the former officers' club – double-height Great Room with views of the Golden Gate Bridge, and located in the heart of the Presidio. Added bonus: the couple and the bridal party would stay at the Inn at the Presidio, a nearby building on campus that has been converted to an elegant boutique hotel and whose decor reflects the military past. Full immersion!
For the bride and her bridesmaids the day began with Hair and Makeup by Vinnia Tjhin. Then it was time for Amy to get into her elegant lace dress.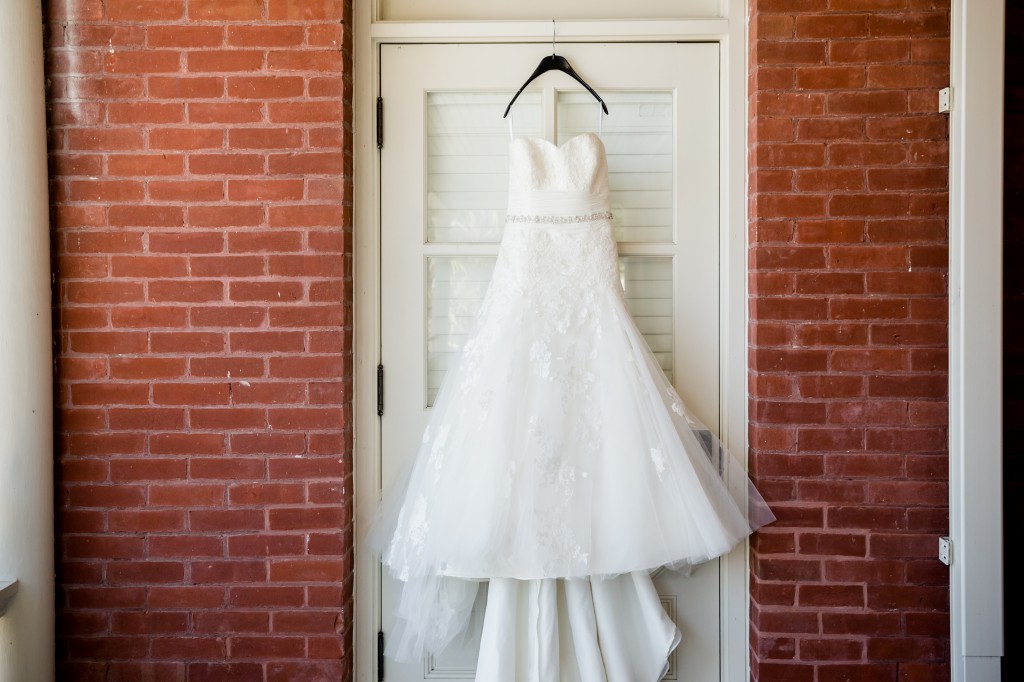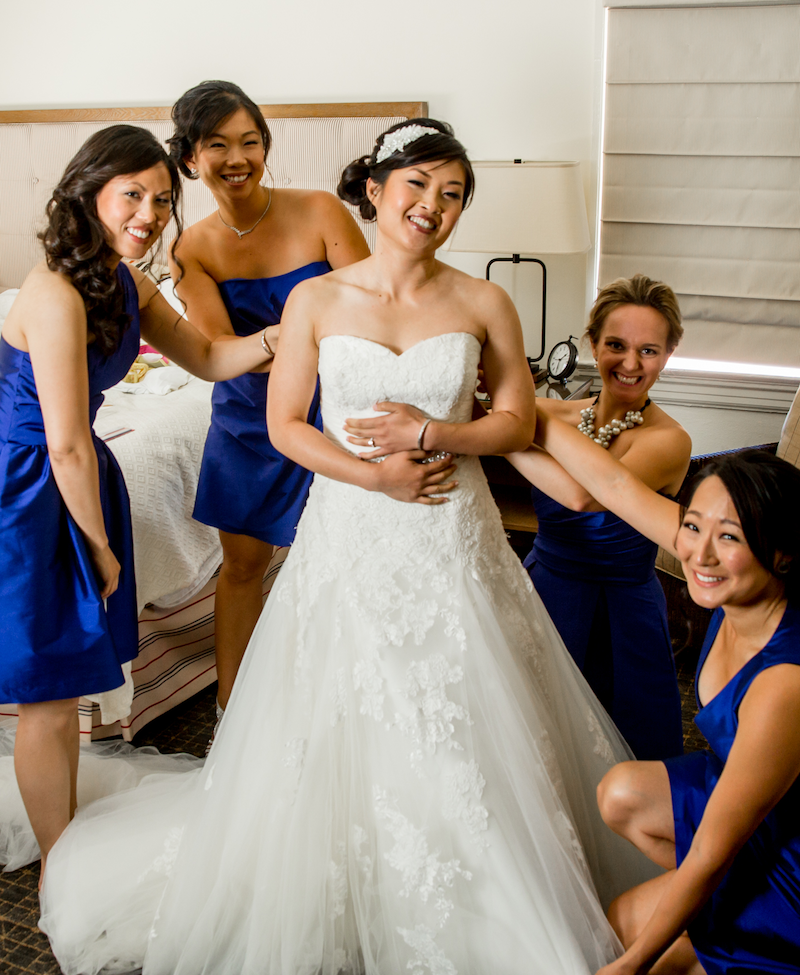 Add to that a beautiful engagement ring and elegant headpiece…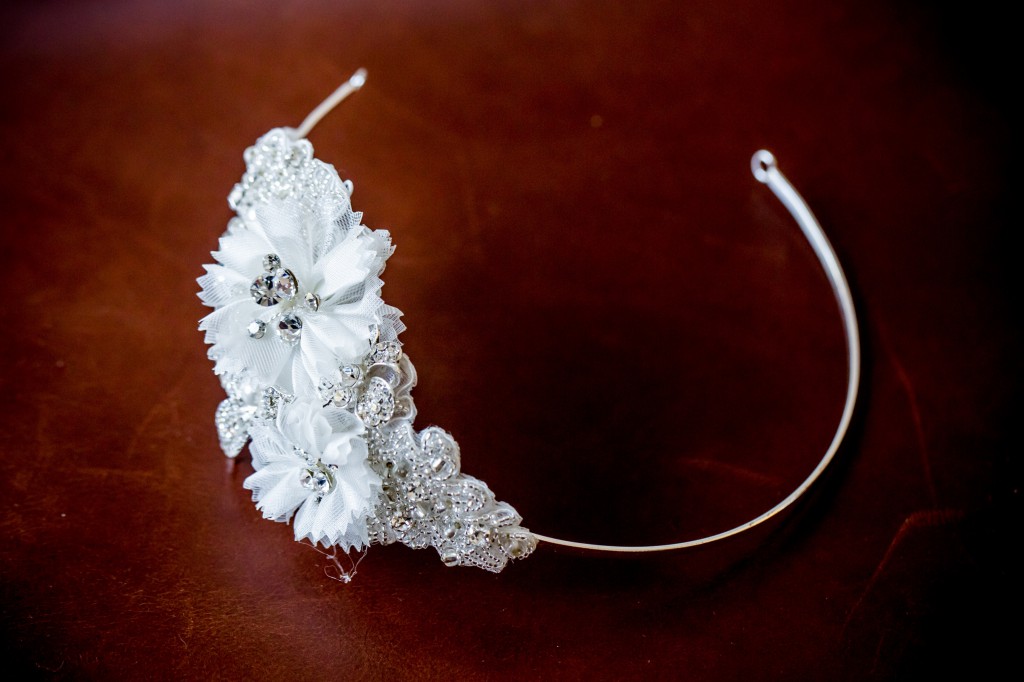 In keeping with her wedding colors – the saturated "lucky" Chinese red of her own heritage complemented by the additional vivid blue of the Korean flag (to honor Tec's heritage), Amy had chosen a luxurious, formal bridal bouquet of 3 dozen red roses, and smaller bridesmaids' bouquets to match (all from Tutti Fiori).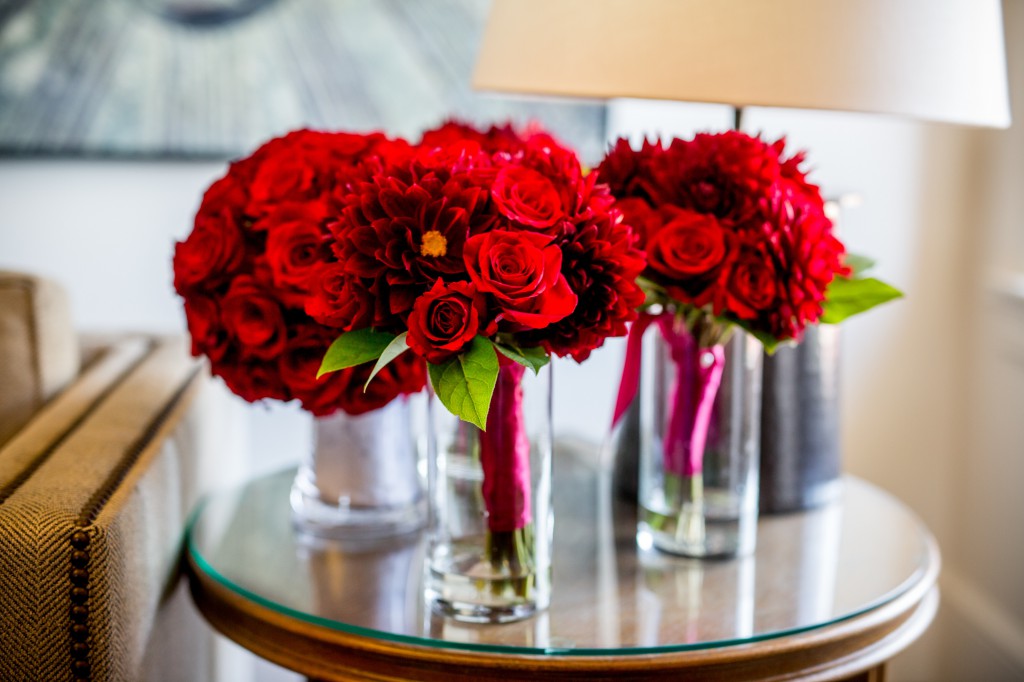 The bridesmaids wore a rich blue …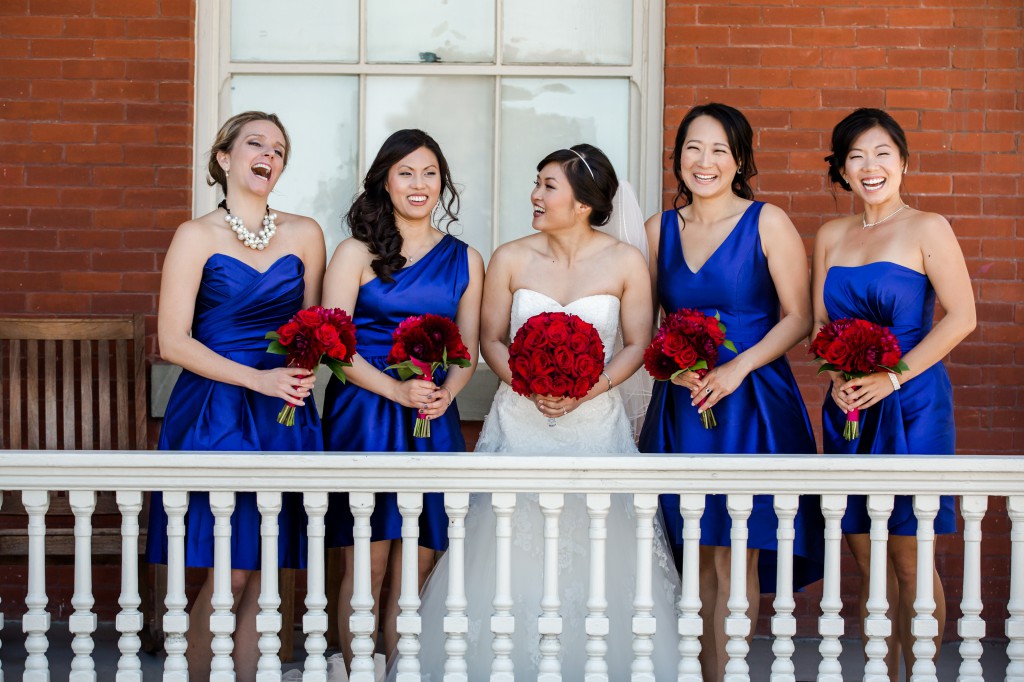 … and the prettiest strappy heels they could find!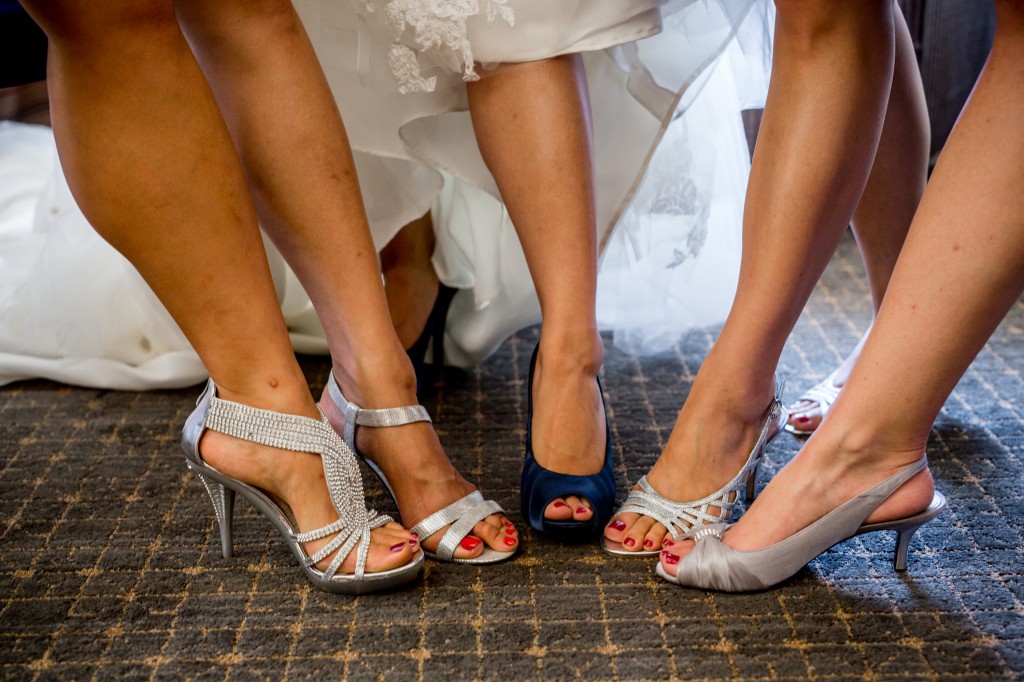 The groom was meanwhile getting ready as well: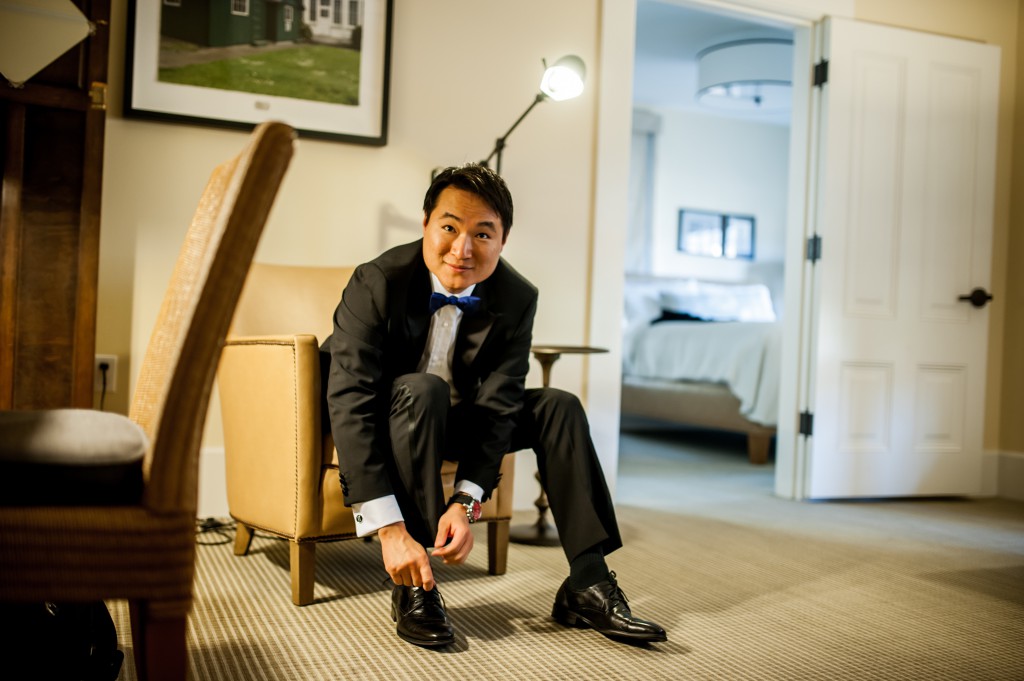 … and of course he couldn't do without a little touch of whimsy!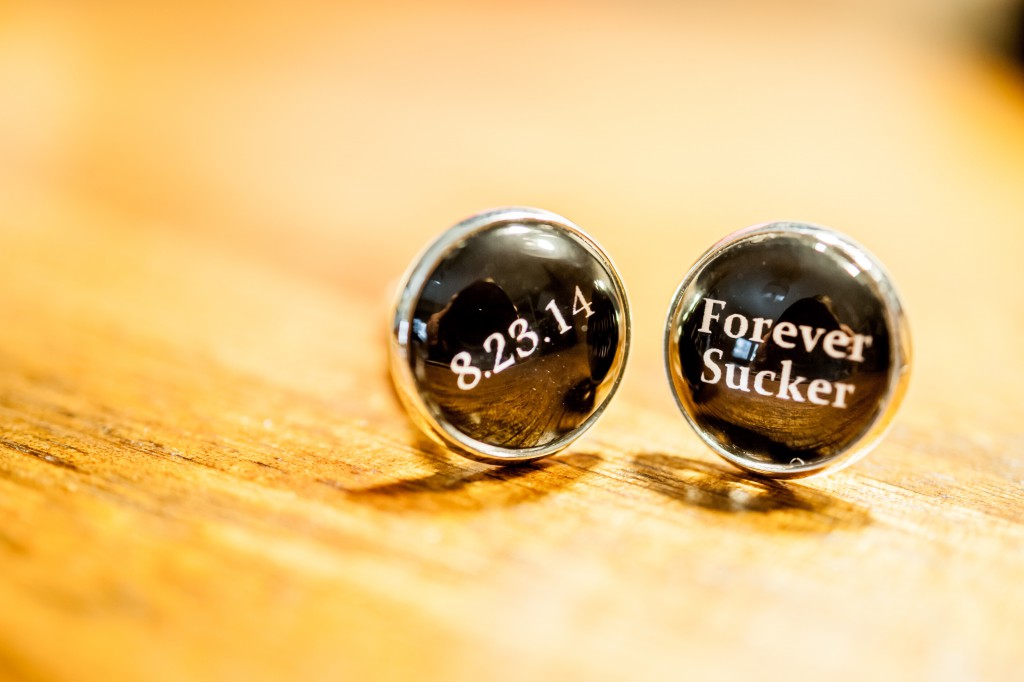 Here he is with his groomsmen, all of them in high spirits: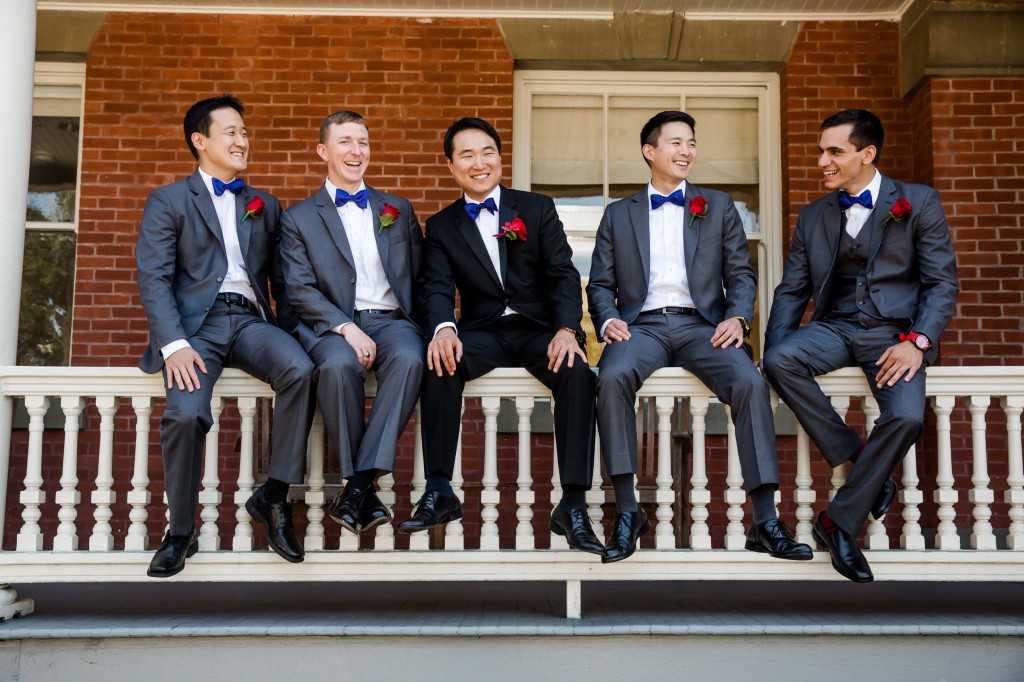 And off they went with photographer Hardy Wilson for their "First Look"…
… and many, many photos  on the beautiful Presidio Campus, under a cloudless blue sky.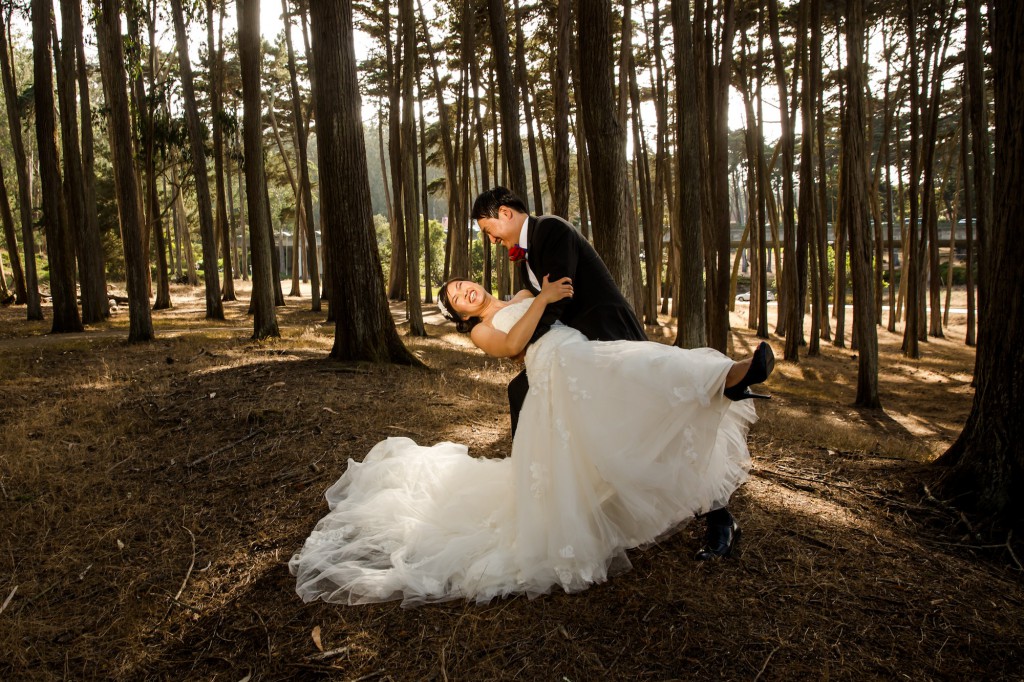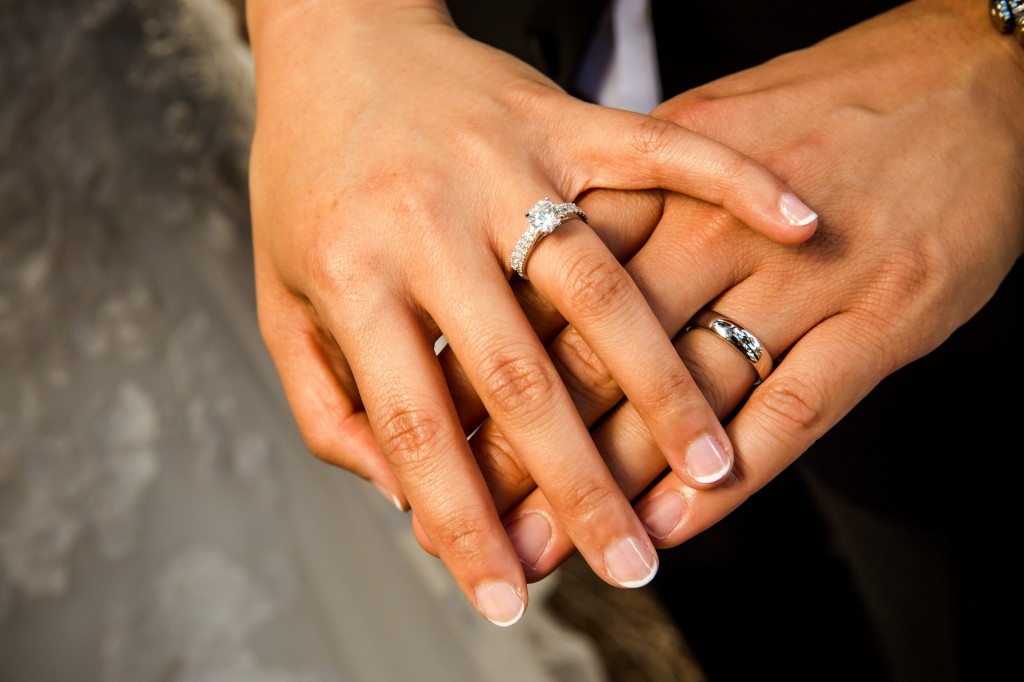 Meanwhile, Ava and her catering team from Le's Kitchen (and I, too) were super busy setting everything up for a Western ceremony, a Korean Bowing Ceremony, Cocktail Hour, Dinner and Dancing.
Arriving guests were greeted with sweets for good luck (a Chinese tradition) and a real "family tree" I had designed, decorated with fresh orchids (more of those later!) and childhood and family photos from the two people whose families would be joined today. In lieu of a standard guest book, we had prepared photo books for guests to sign: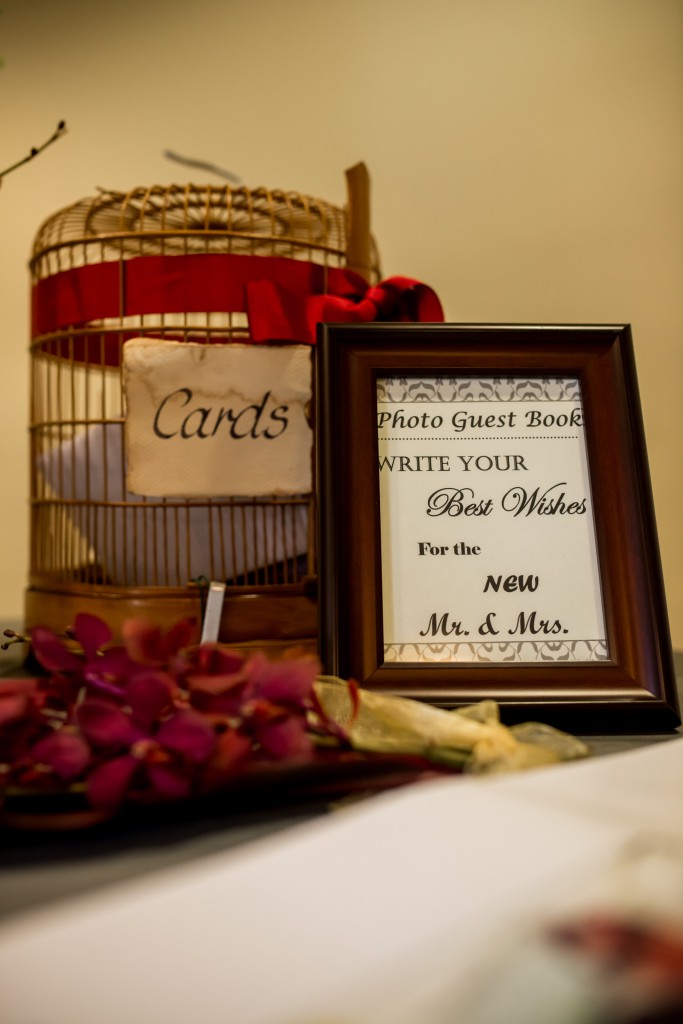 Following the Western ceremony, officiated by a personal friend of the couple,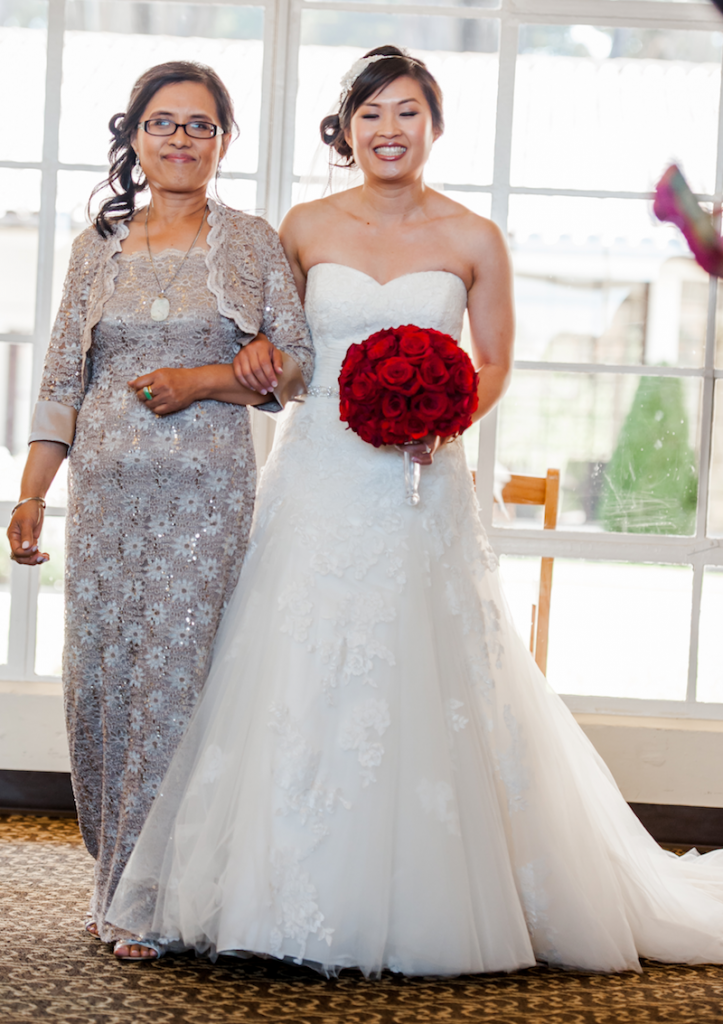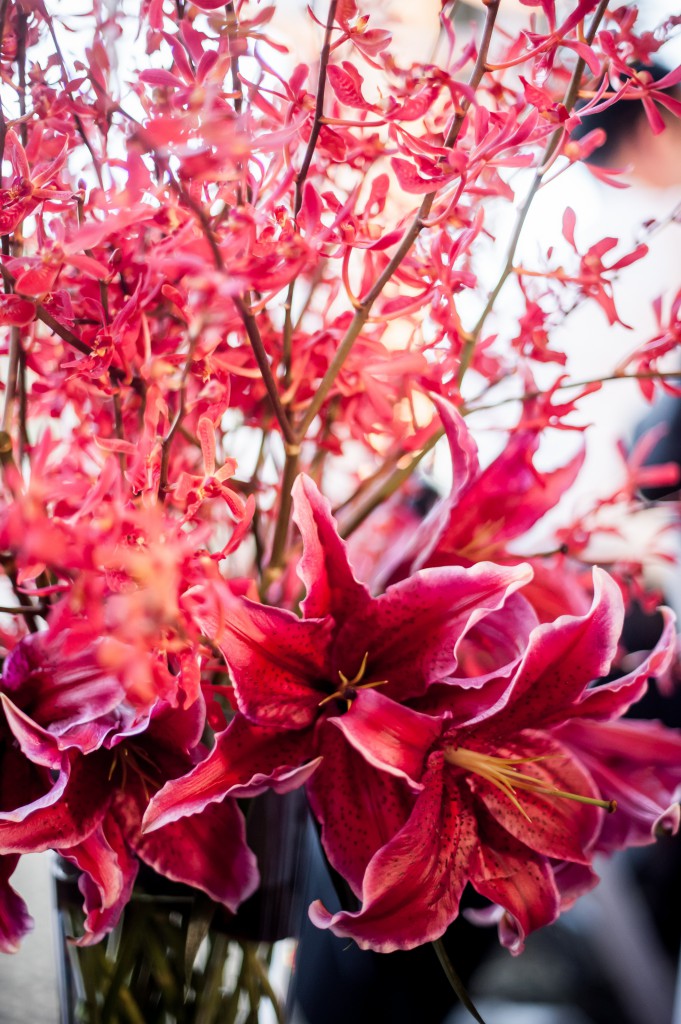 "You may now kiss your bride!"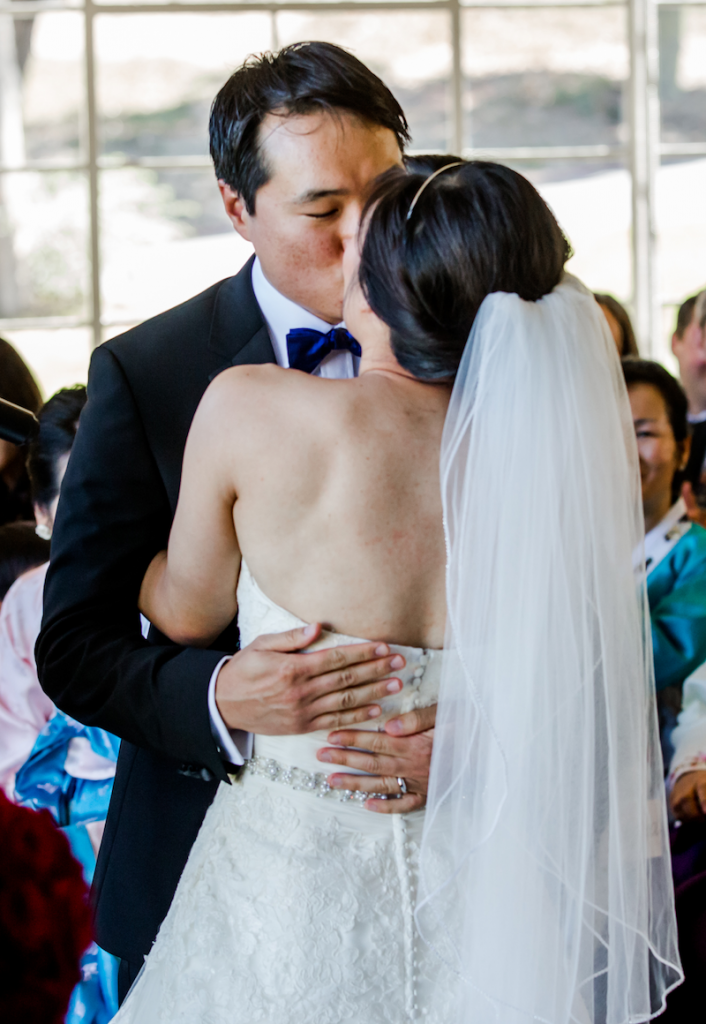 … guests enjoyed Cocktail Hour with specialty cocktails…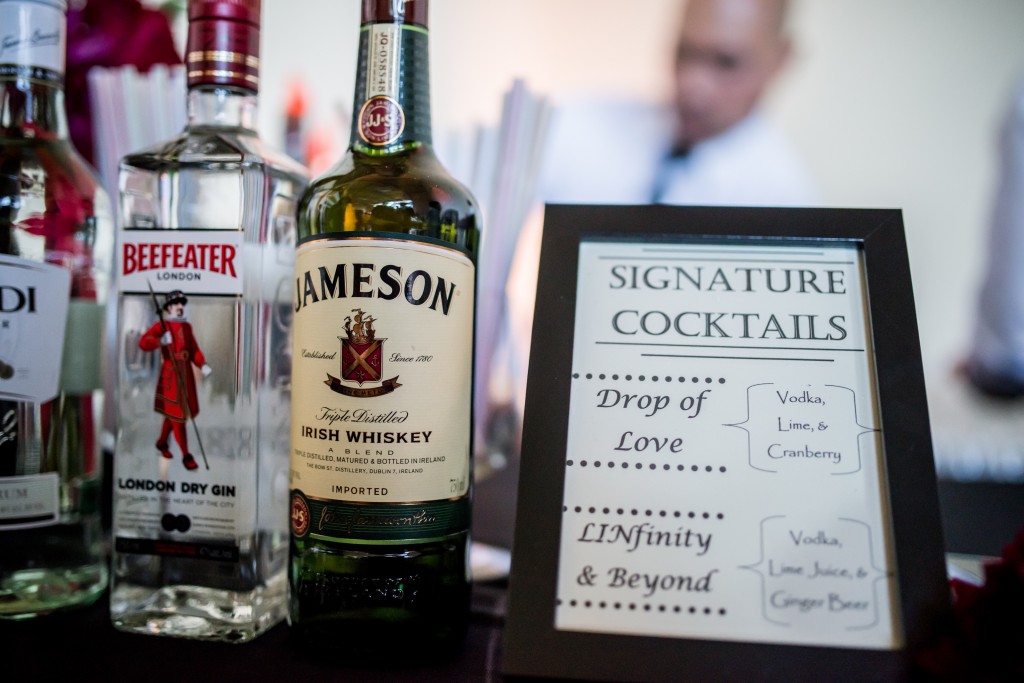 … and musical entertainment by the Corelli Trios. Bride and Groom meanwhile prepared for a traditional Pae Baek or Bowing Ceremony typical of Korean weddings with the help of Mr. and Mrs. Hong, professional Pae Baek organizers. They donned ceremonial clothes …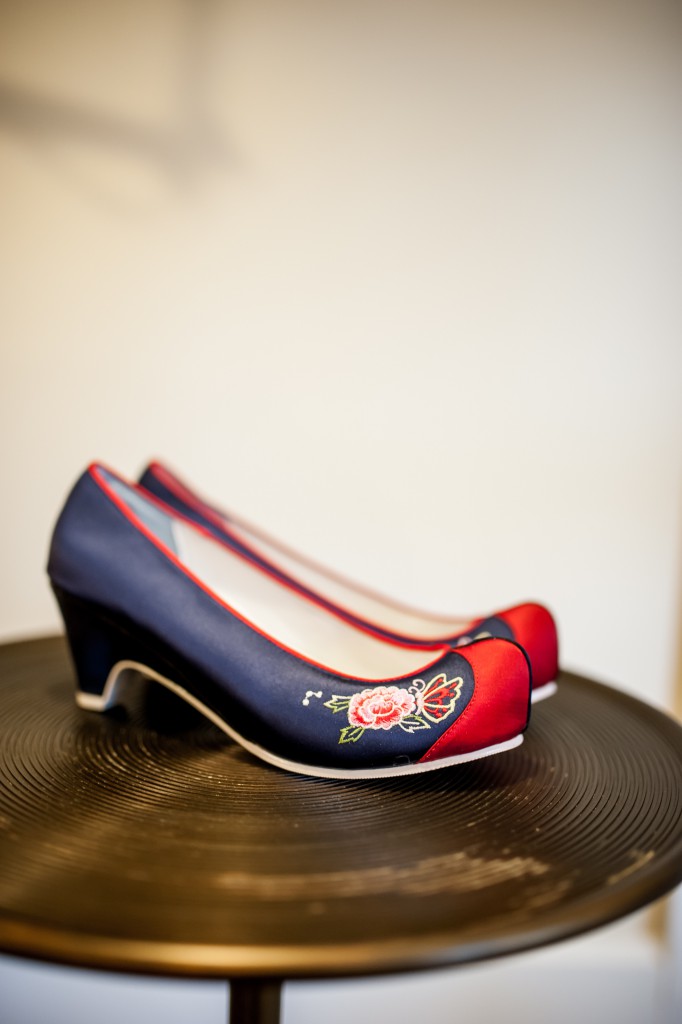 and practiced the ritual of bowing to their parents and other honored family members as an expression of their respect and gratitude.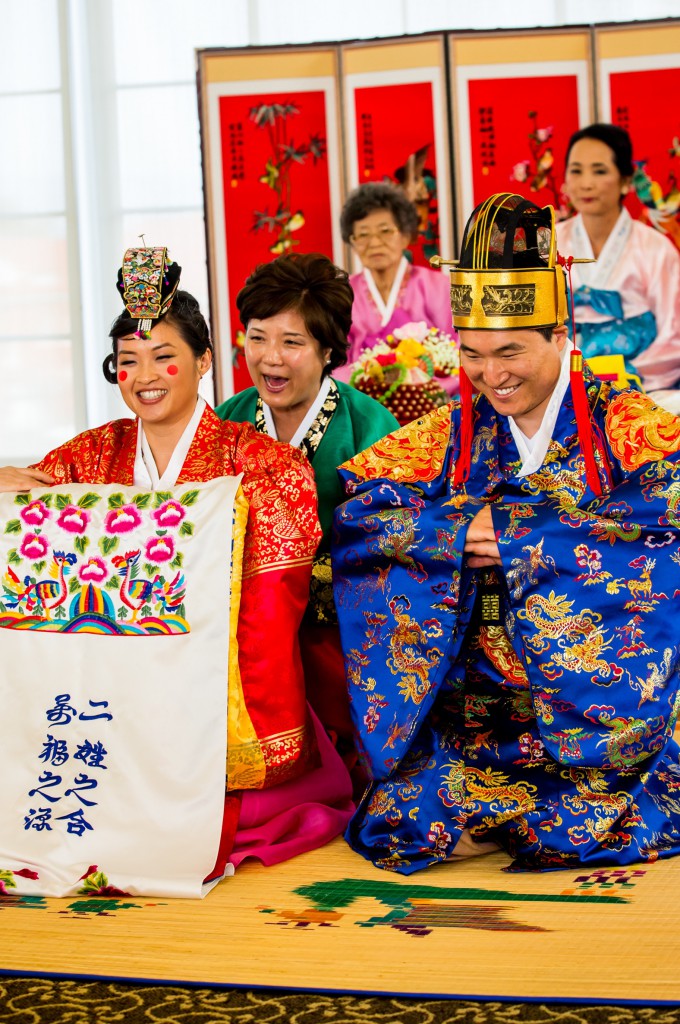 This ceremony sealed their marriage in the Korean tradition, as well!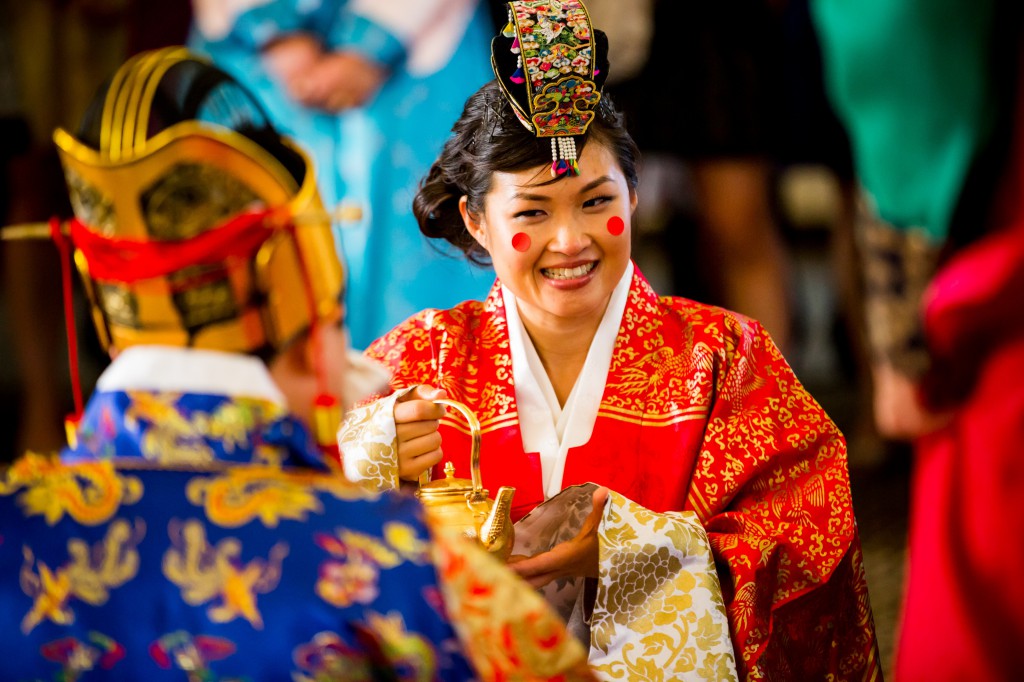 In the meantime, the dining room got its finishing touches. Tables were set with elegant, shimmering platinum grey linens and napkins alternating in red and blue; with tall centerpieces of red orchids (a profusion of 180 stems of orchids by Tutti Fiori!),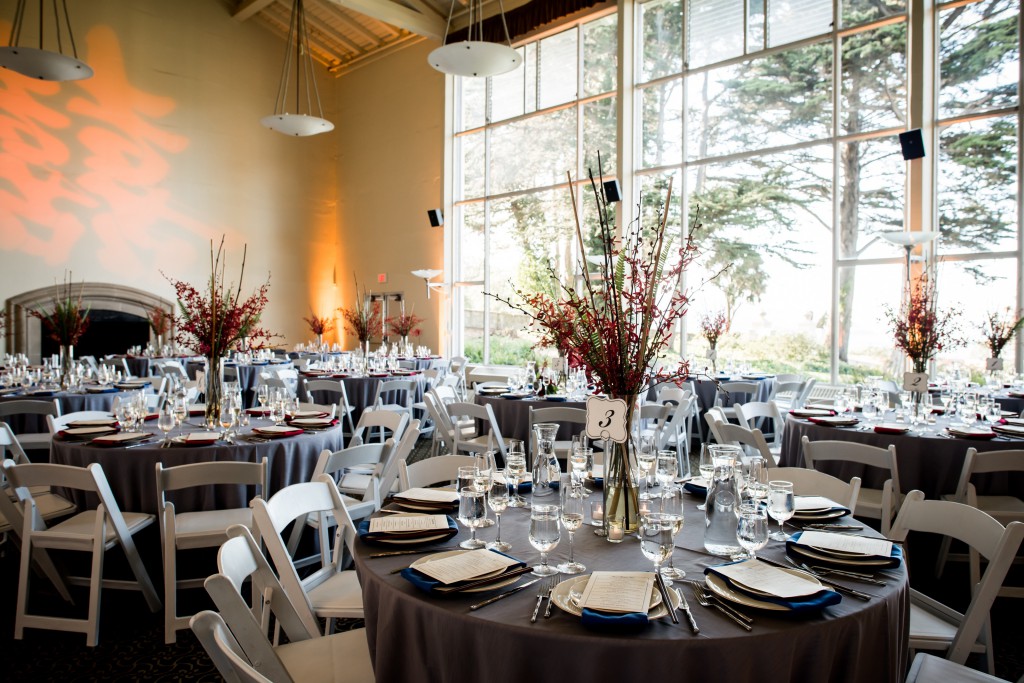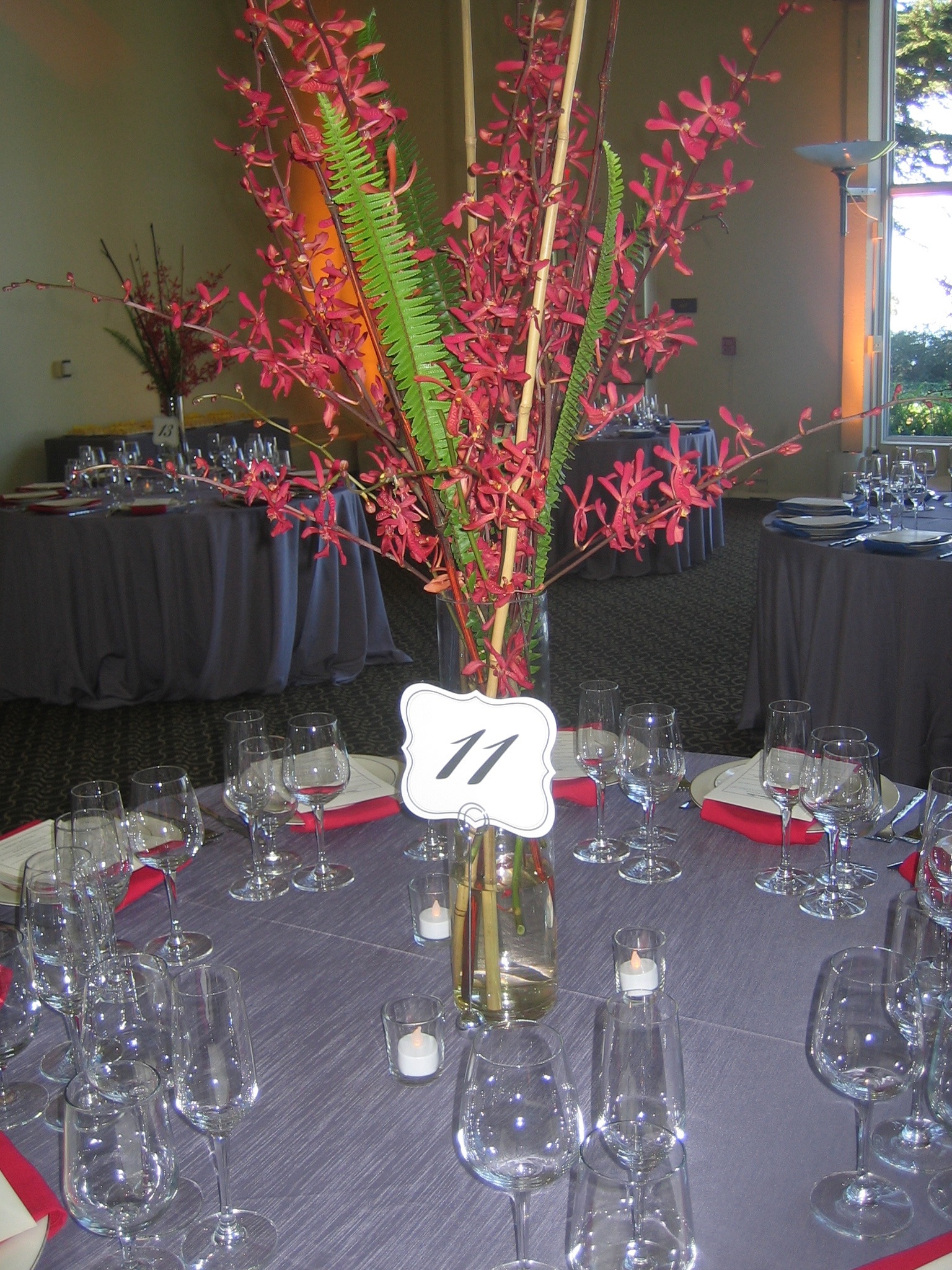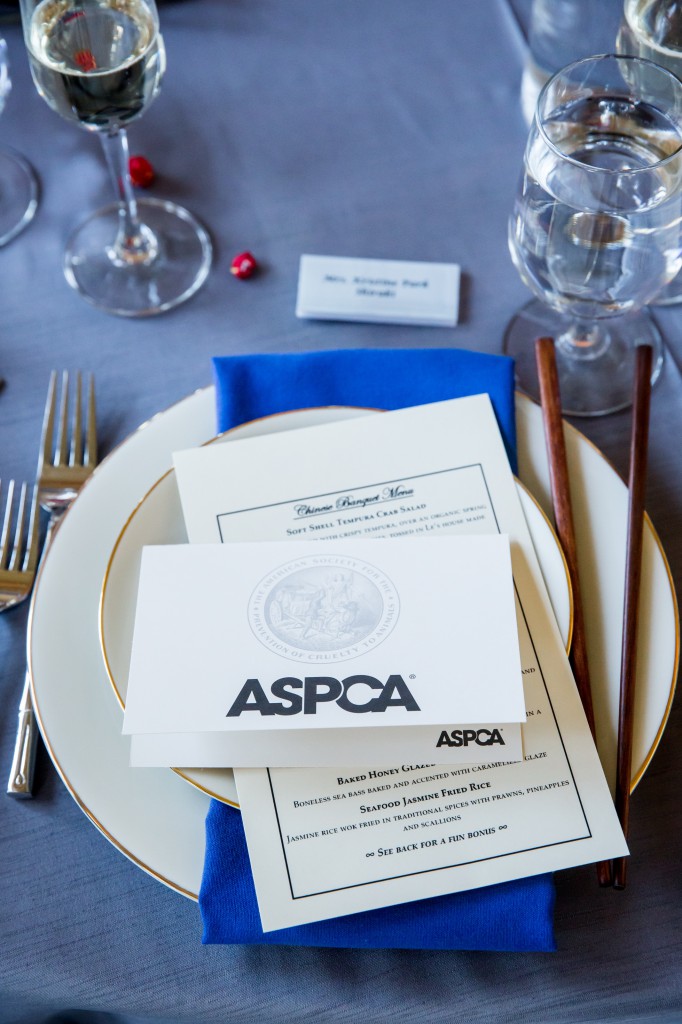 and very personal menu cards: on the reverse, the bride had printed assorted photos and stories from the couple's courtship and travels for all the guests to enjoy, mix and match. The wedding favors were just as personal: the animal-loving couple had made a donation to an animal protection agency on behalf of their guests who found little thank-you cards on their place settings.
To help guests find their assigned tables, I had come up with another personal idea: a mounted, enlarged photo of the couple with their beloved dog, Cody (who could not be with them on their Great Day), on the steps of the Capitol – that way Cody was present, after all! The photo could be taken apart into individual escort cards and proved to be a great conversation starter!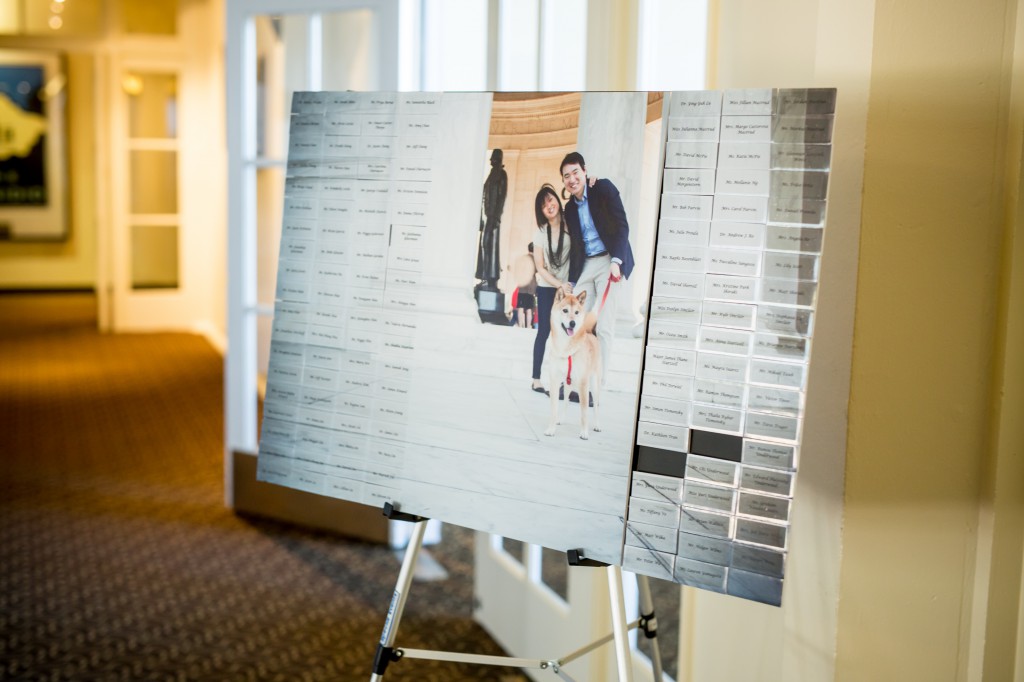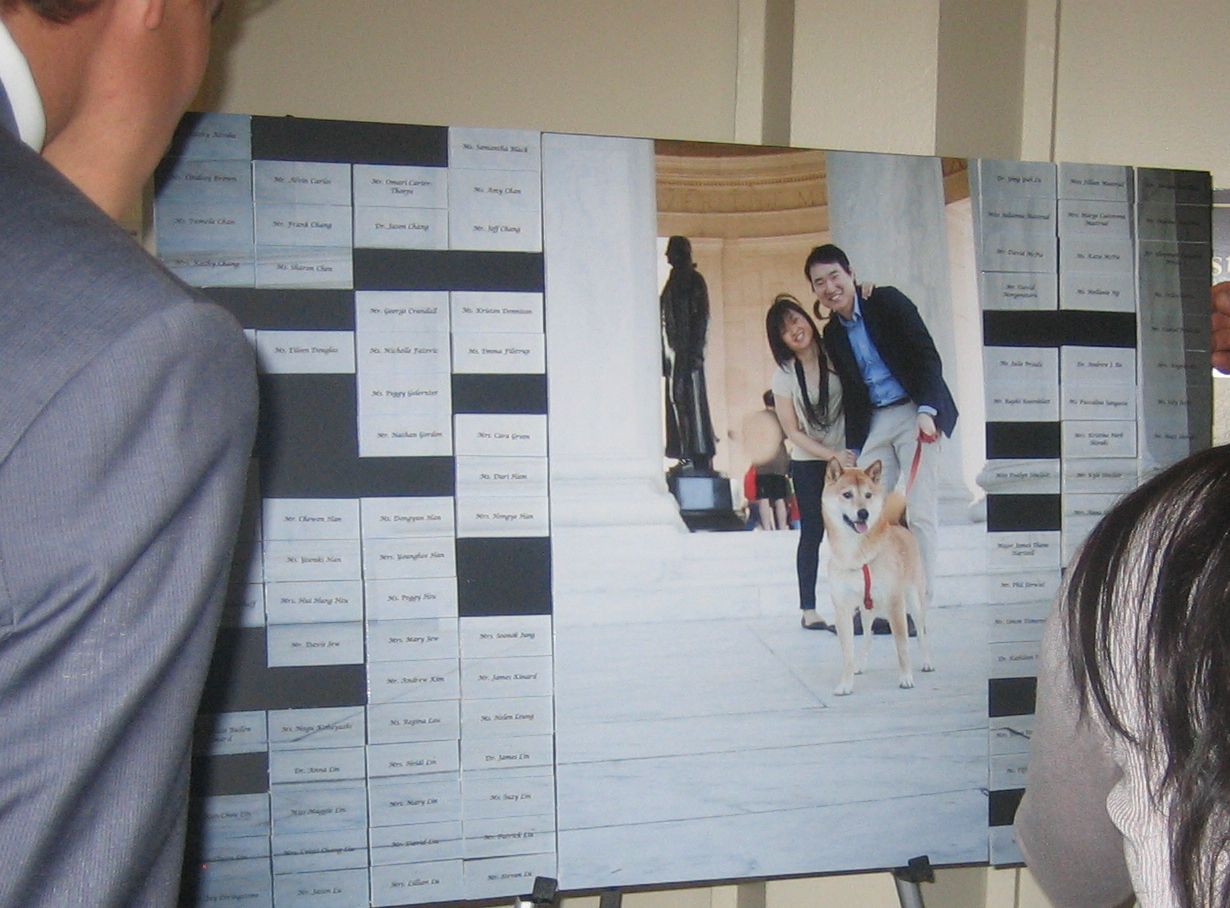 Immediately following their Grand Entrance, announced by DJ Shawn of Storm Productions…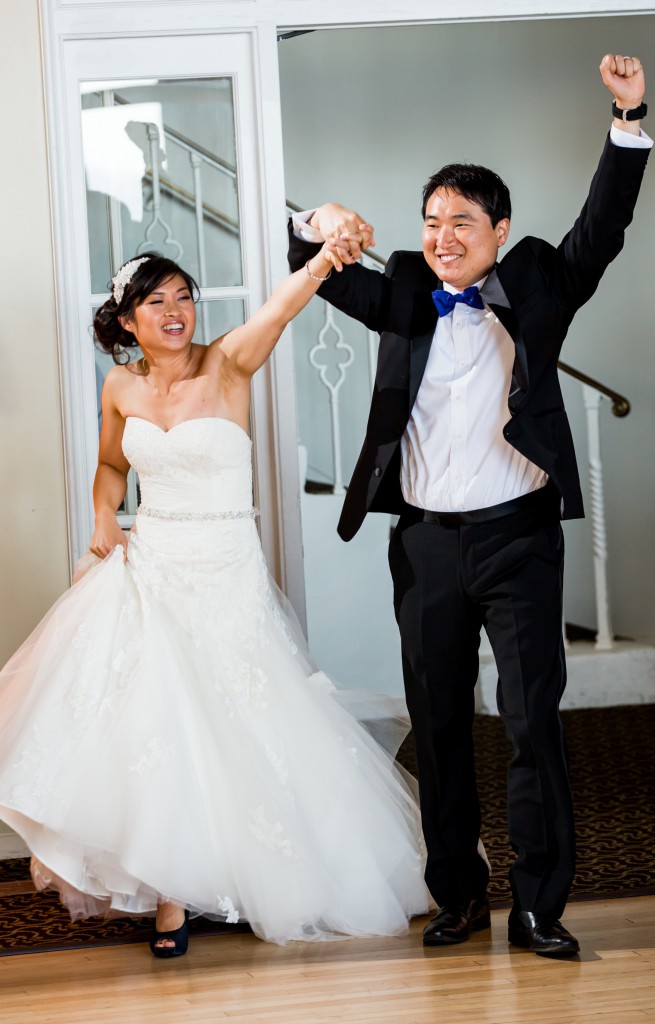 … husband and wife enjoyed their First Dance: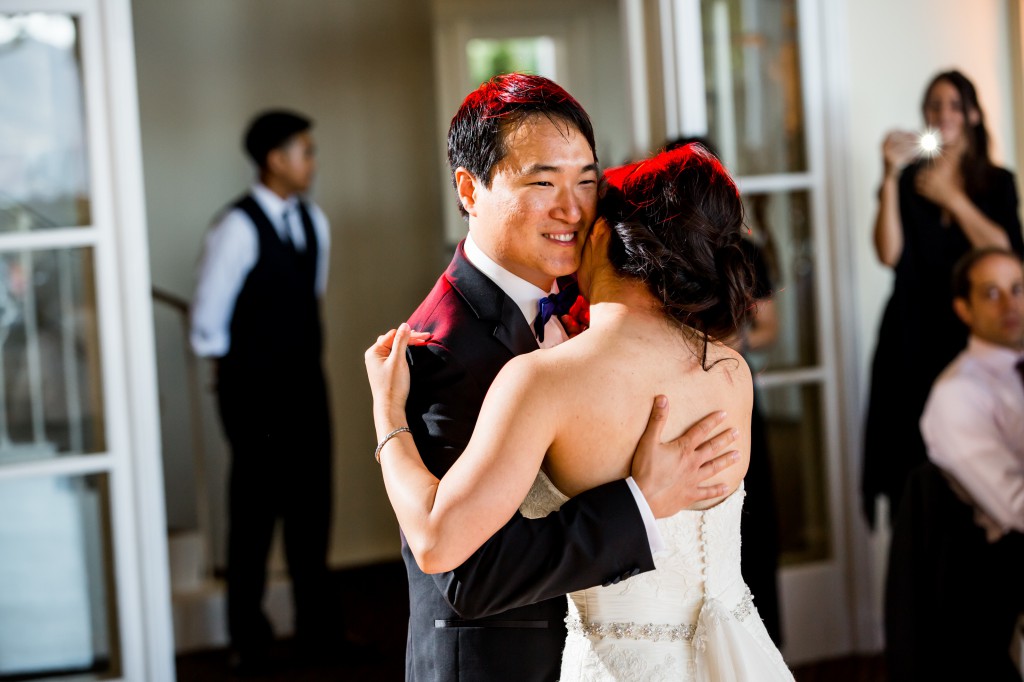 Guests meanwhile enjoyed a traditional ten-course Chinese banquet by Le's Kitchen, followed by a dessert of traditional Taiwanese pineapple cakes – a nod to the bride's heritage: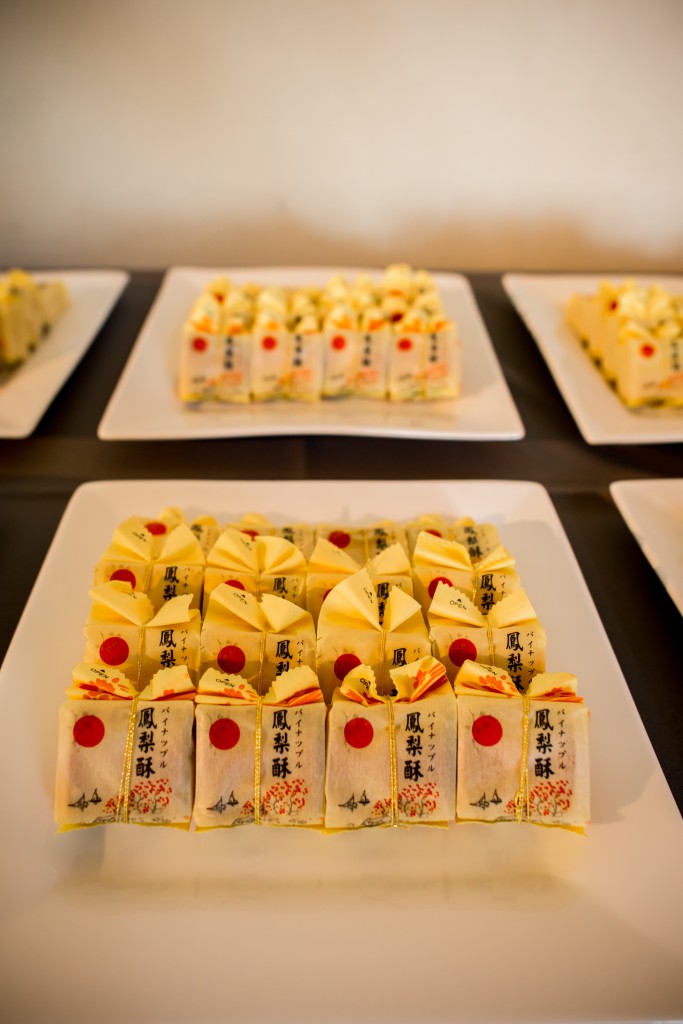 After dinner, it was time for a huge dance party under the auspices of the Chinese "Double Happiness" symbol (a custom-made gobo by Just De'Lights),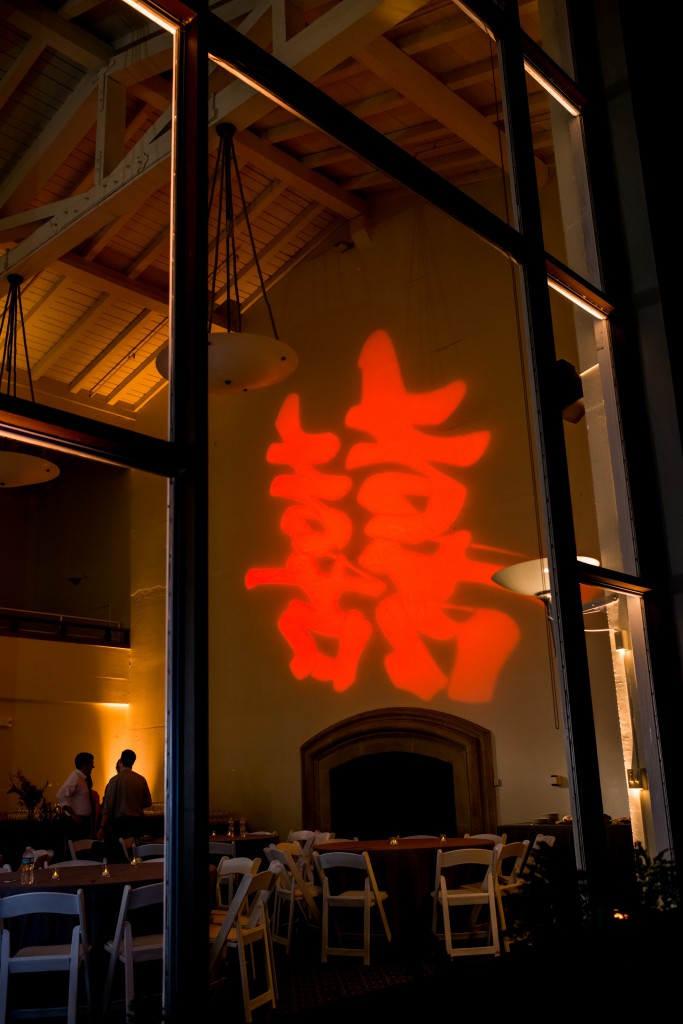 and everyone had a fantastic time!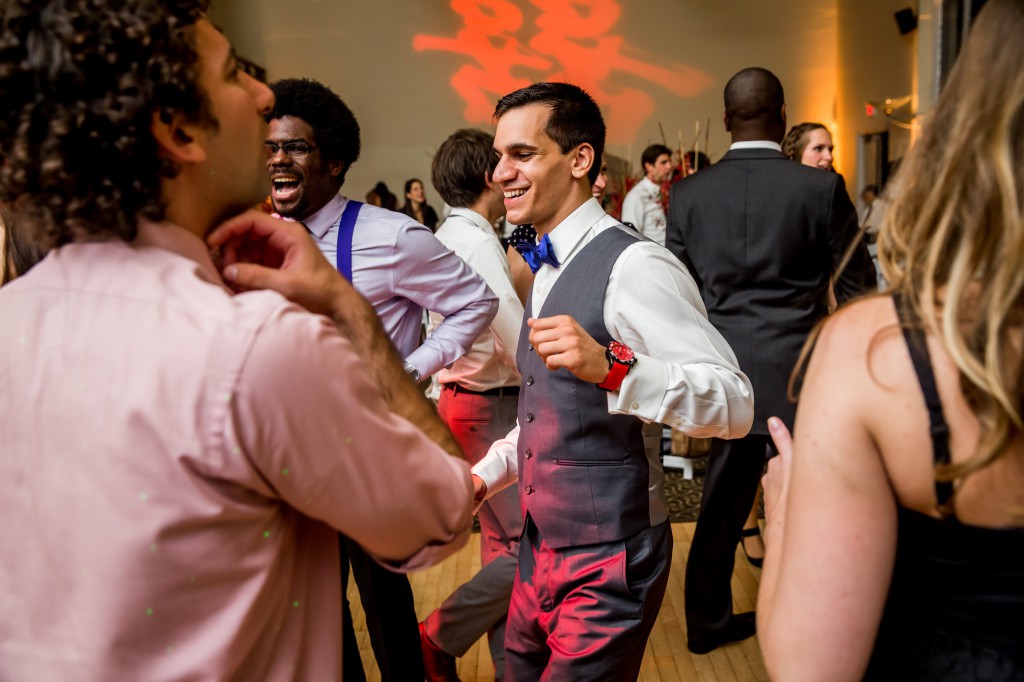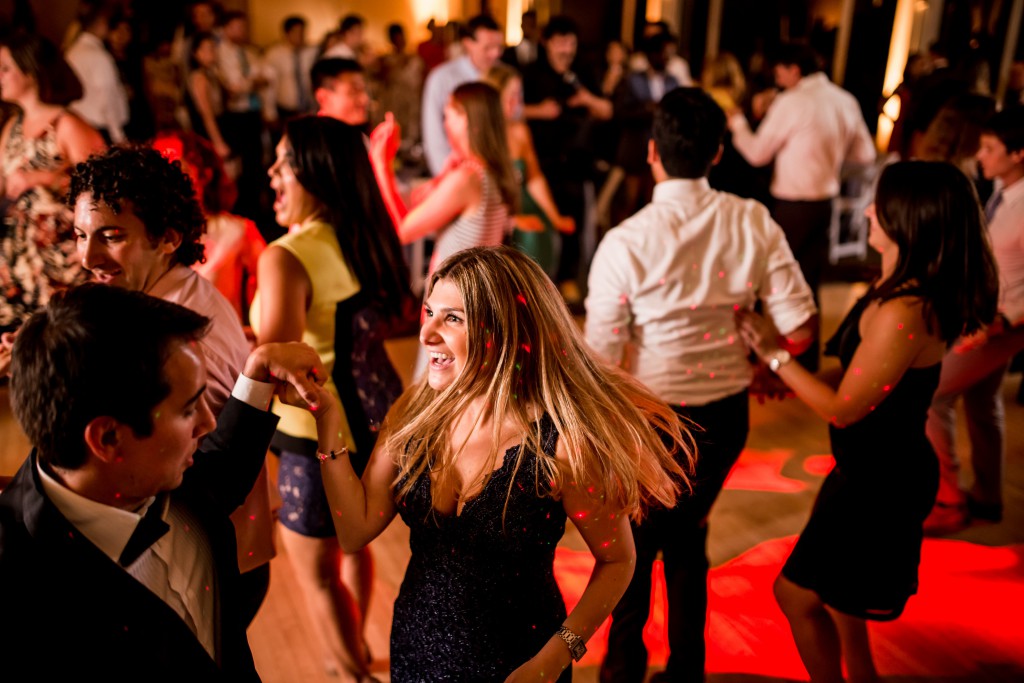 The Golden Gate Club was literally glowing from within, like an enchanted glasshouse!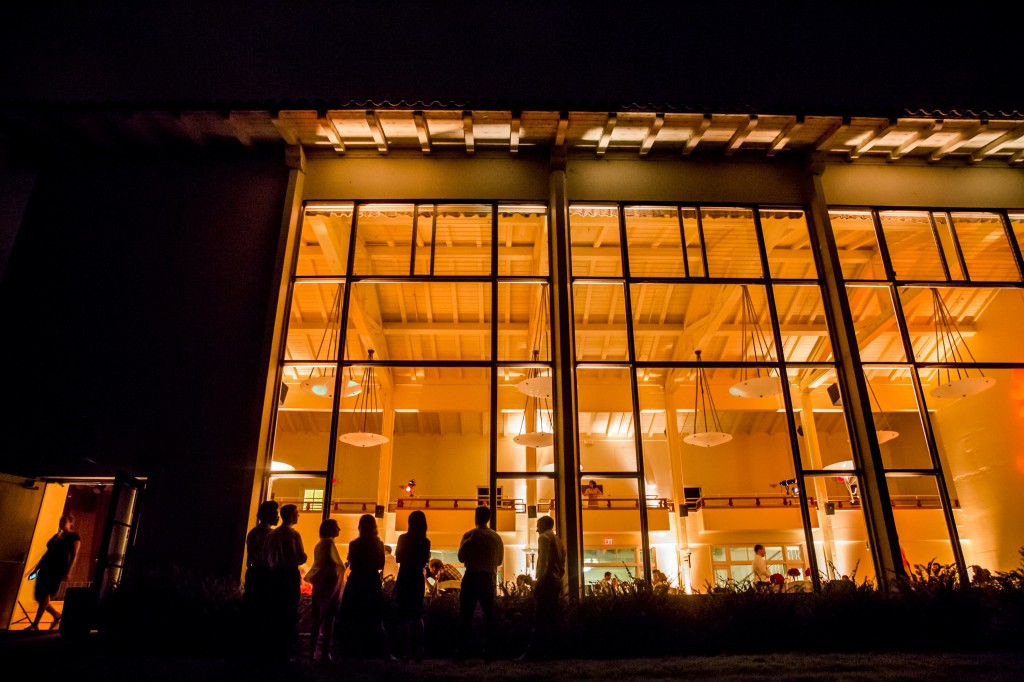 And here is why I love my job so much: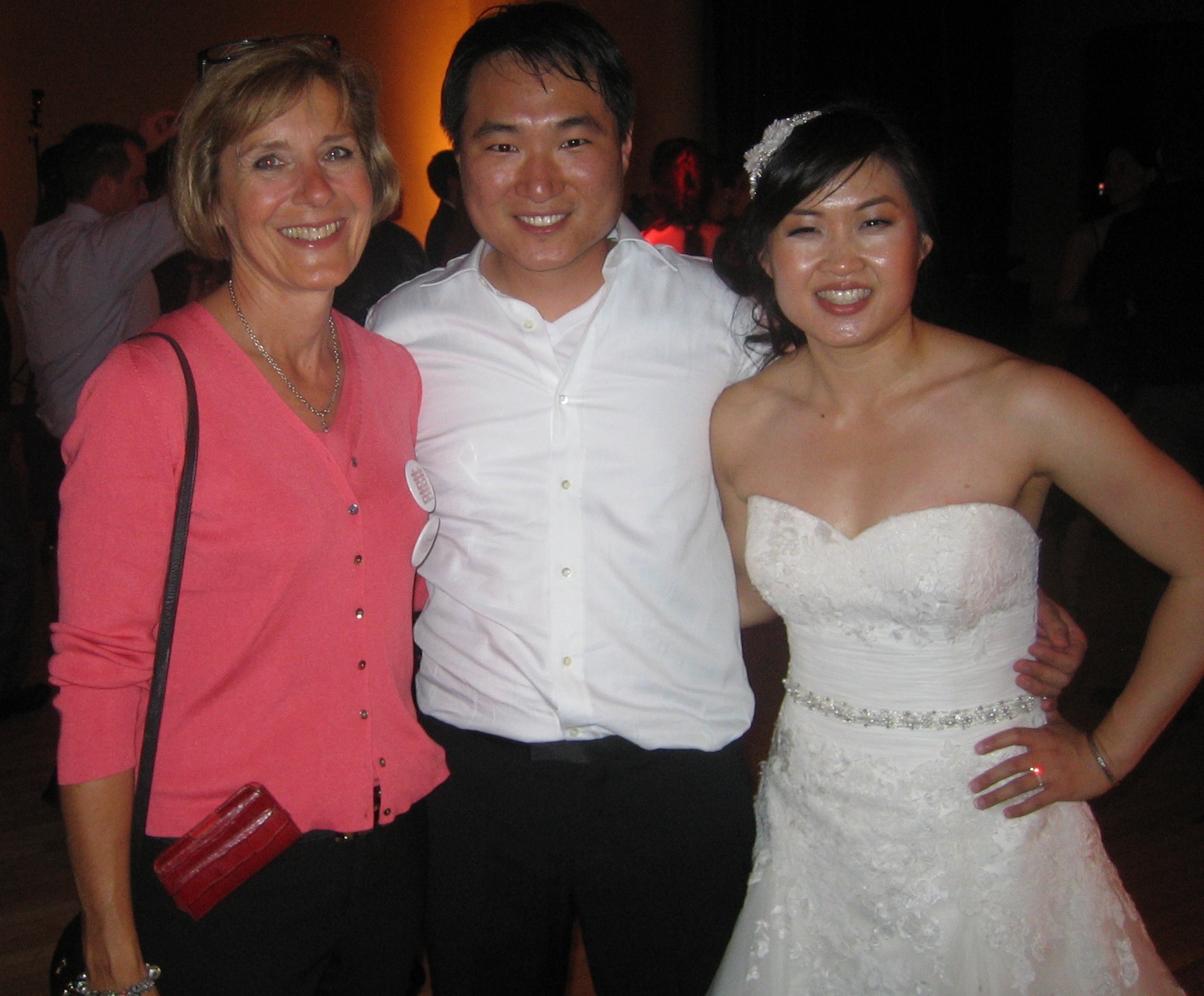 Many happy years together, Amy and Tec, and a long life!

<! DL 06/02/12: Added html code for Pinterest Pin It button (appears at the end of each post) > <! DL 06/02/12: Added padding style modifier to the Pinterest html code to align the Pit It button on the page > <! DL 06/02/12: deactivated code by adding two ! in the a and img code lines >