Both Tina and Eric had taken their time, trying to find the one person to share their lives with… and had already nearly given up! In Eric's words… he was tired of dating and seriously considering "just to stay home with the cat!" Well, he tried it just one more time, and he's so grateful he did it. Because that's when love struck. Unexpectedly, immediately – they both "just knew." Neither Tina nor Eric could believe their incredible luck right away. But with every time they met, they kept discovering more things to love in one another. And their relationship became a true whirlwind romance: engagement after four months, and wedding after another three – today!
I was honored that they chose my company, A Day Like No Other, for their coordination and design needs. The two had found a spectacular spot on the California Coast – the Beach House Hotel in Half Moon Bay, right on the sand, and Sam's Chowder House, a time-honored "cult" seafood restaurant next door – for their celebration.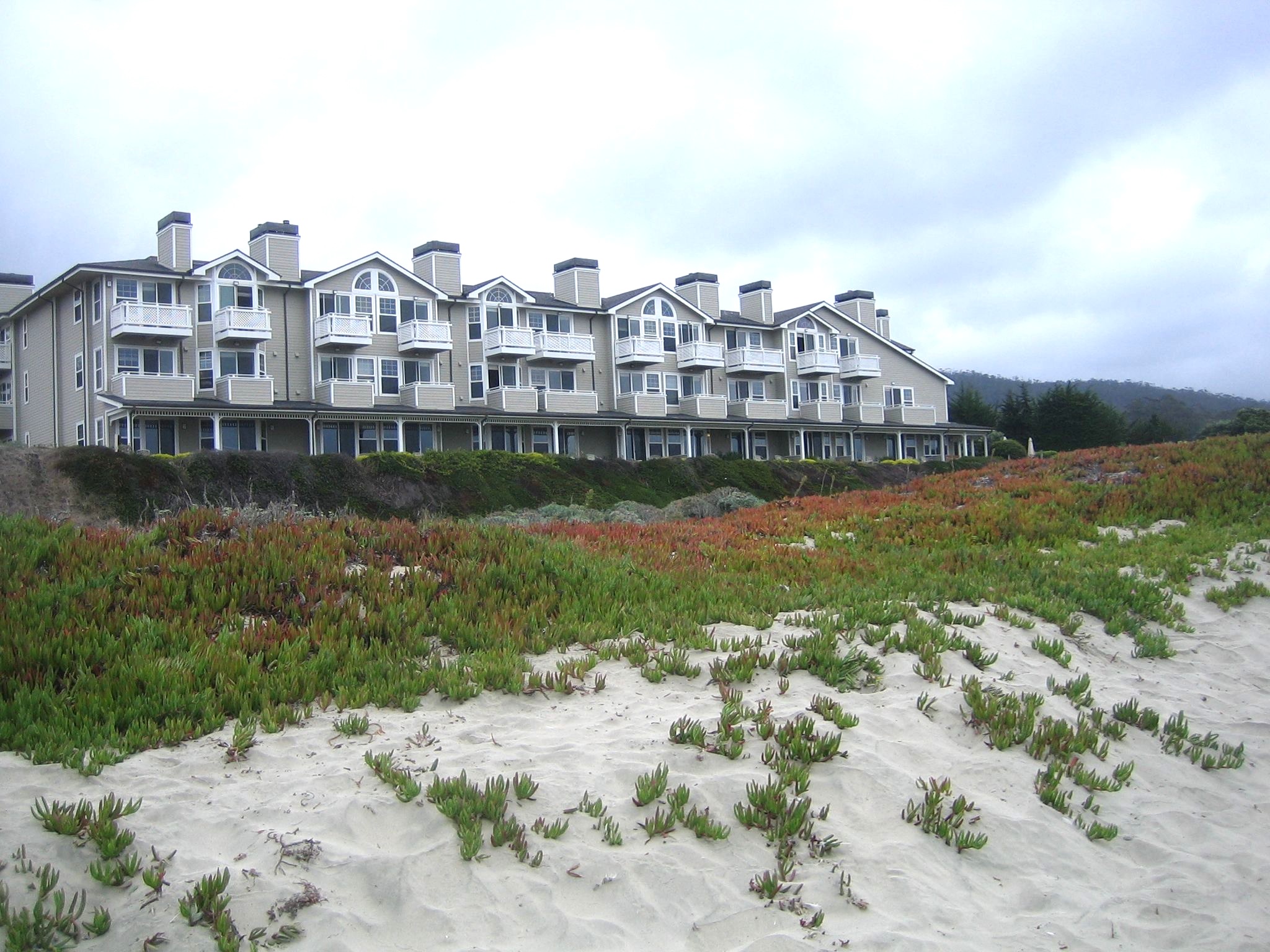 Their wedding day turned out to be overcast, with the sun only peeking out through the clouds here and there…  the light was sheer magic, light like an impressionist painting… pearly grey, soft, ethereal.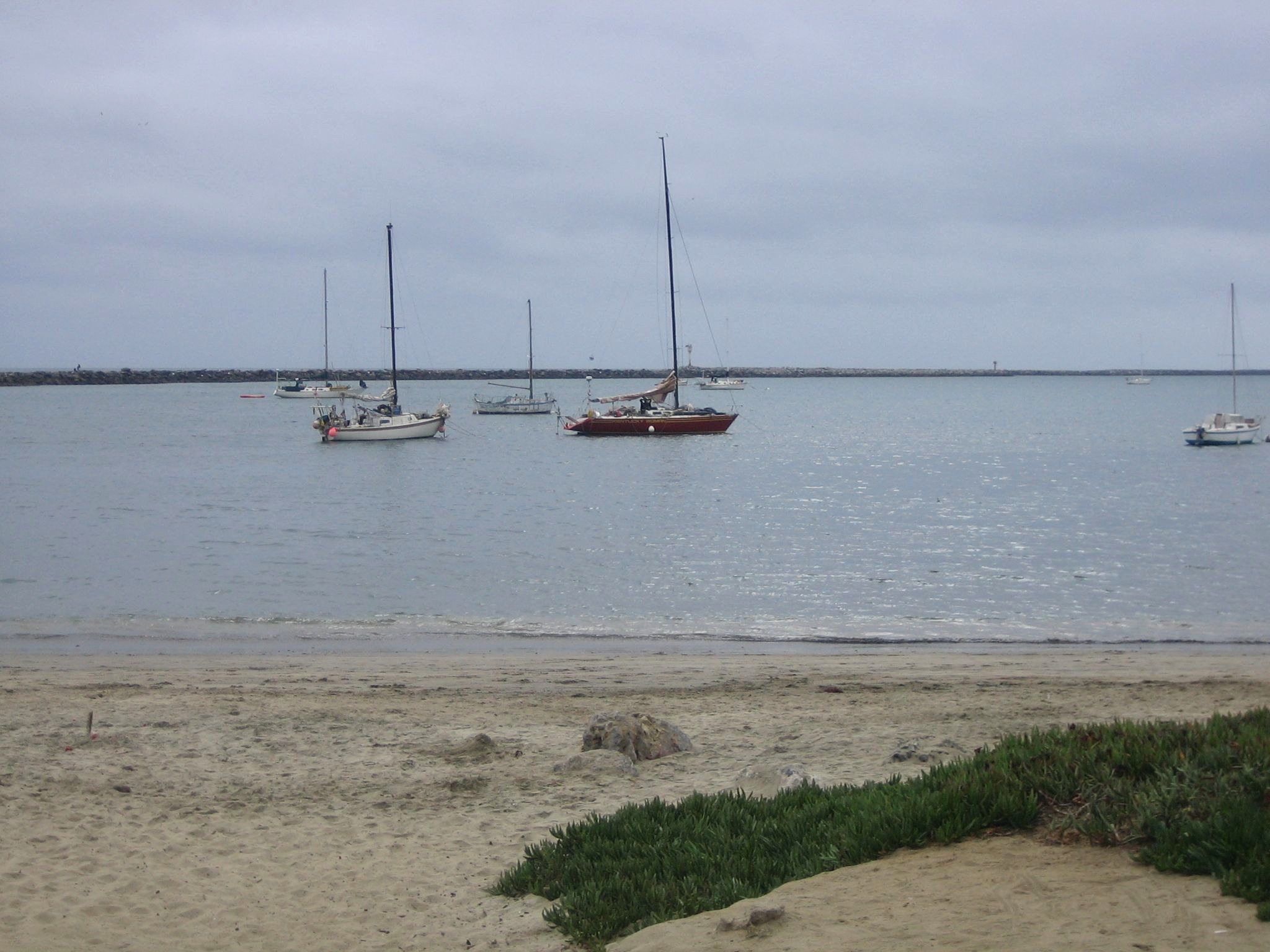 Tina did not want Eric to see her before the ceremony. Here is her spectacular ruched and beaded dress…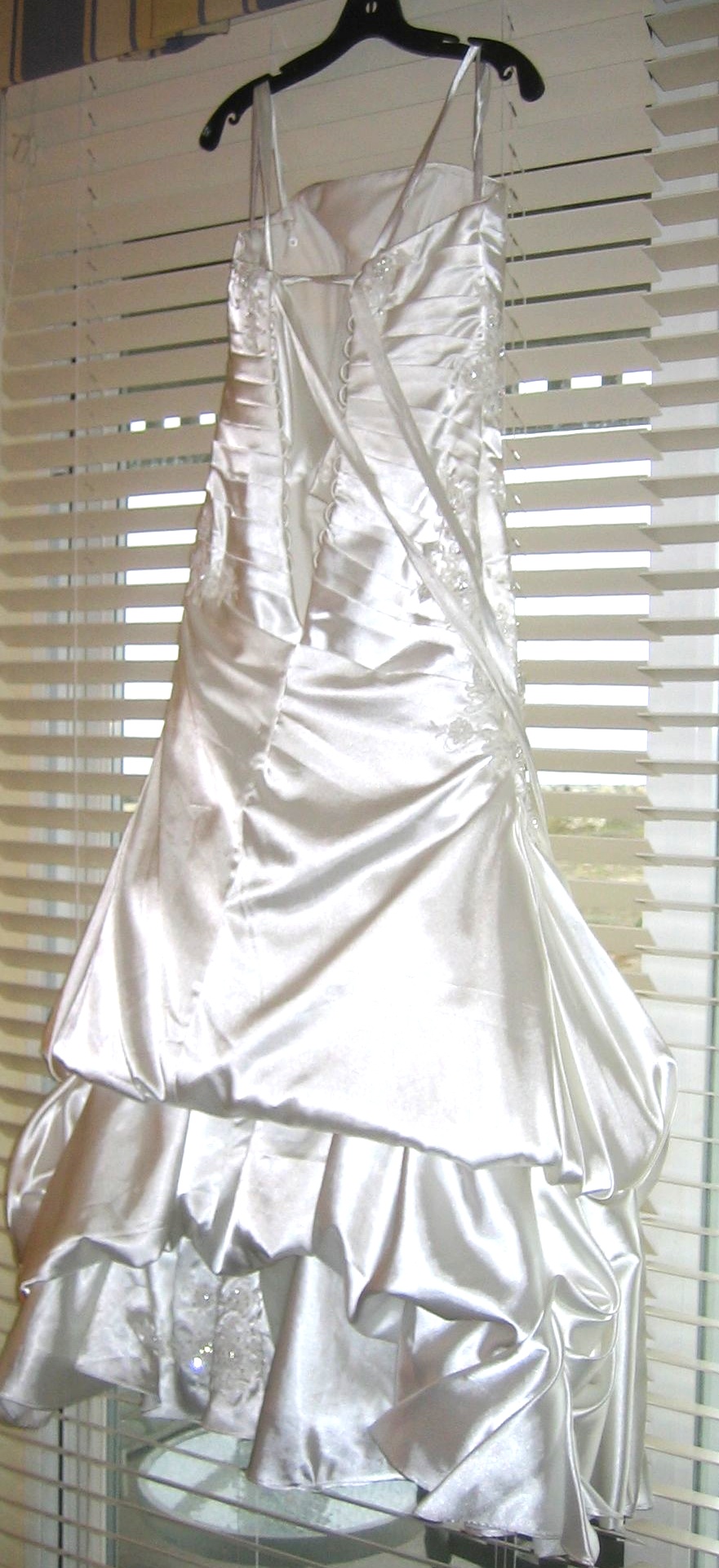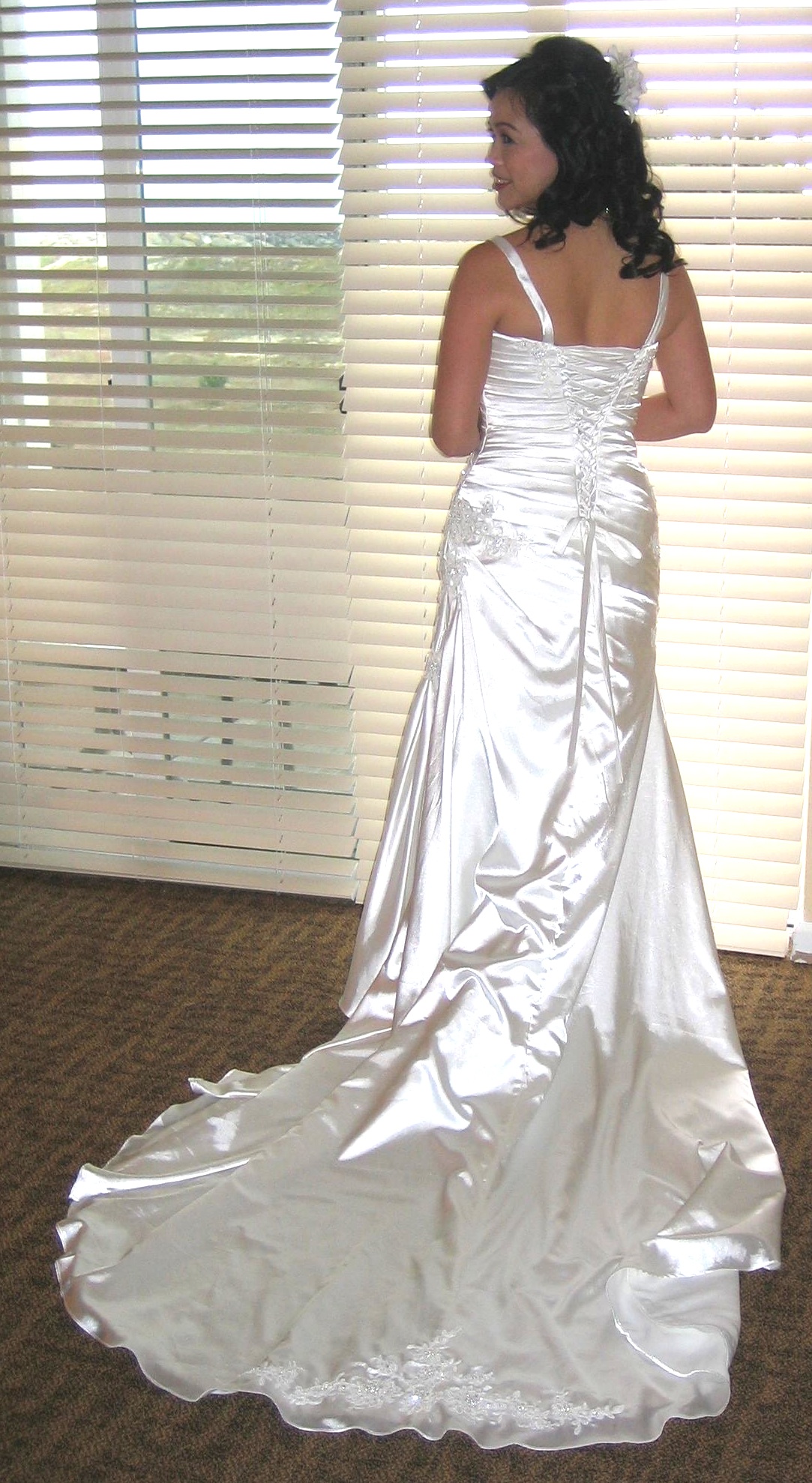 … her jeweled Cinderella slippers…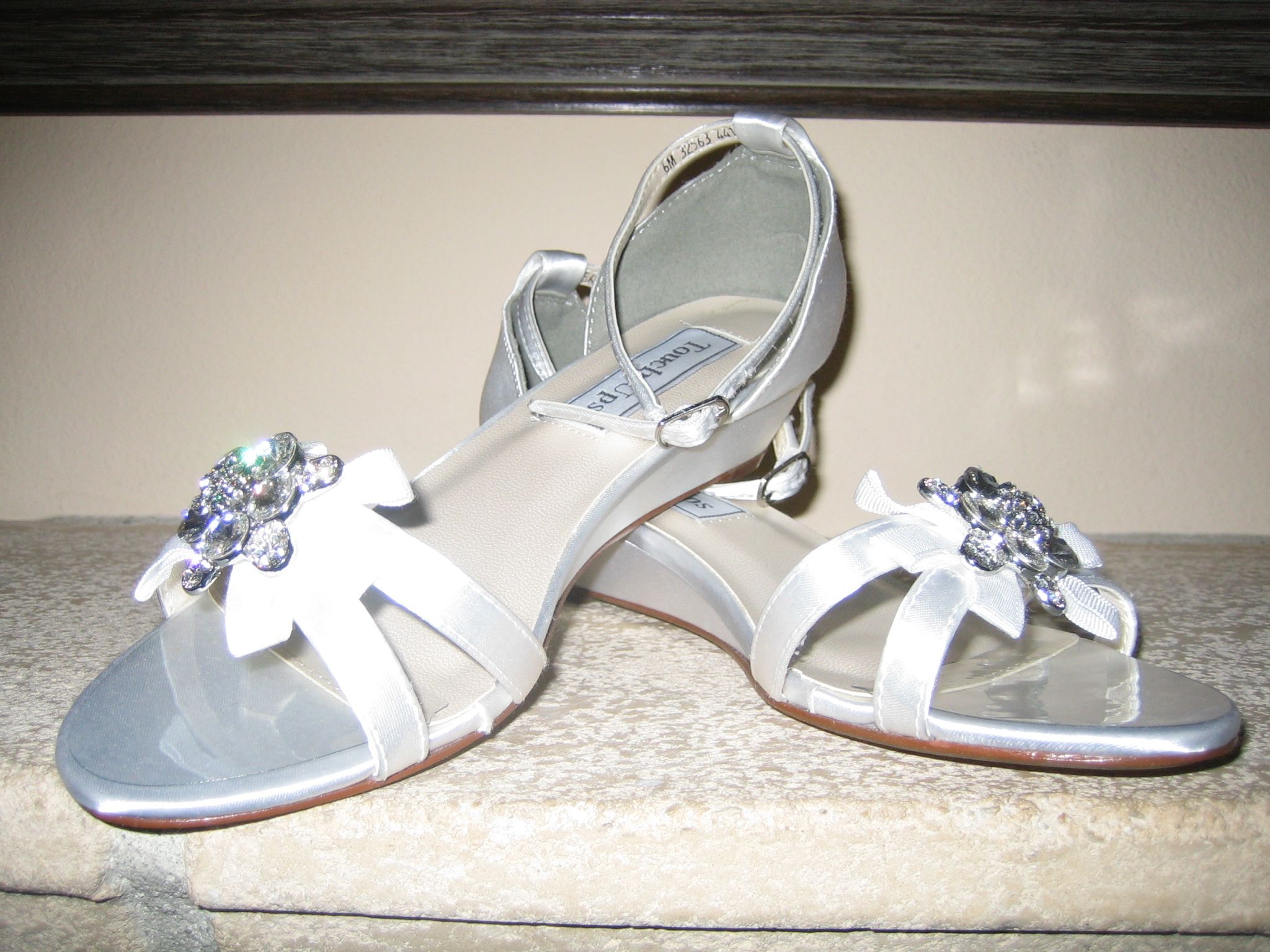 … and her Grandmother's pearls.
In Hollywood-worthy hair and makeup by Vinnia Tjhin and with her bridal bouquet in her signature colors of vivid natural blues and purples by Gingerleaf Floral …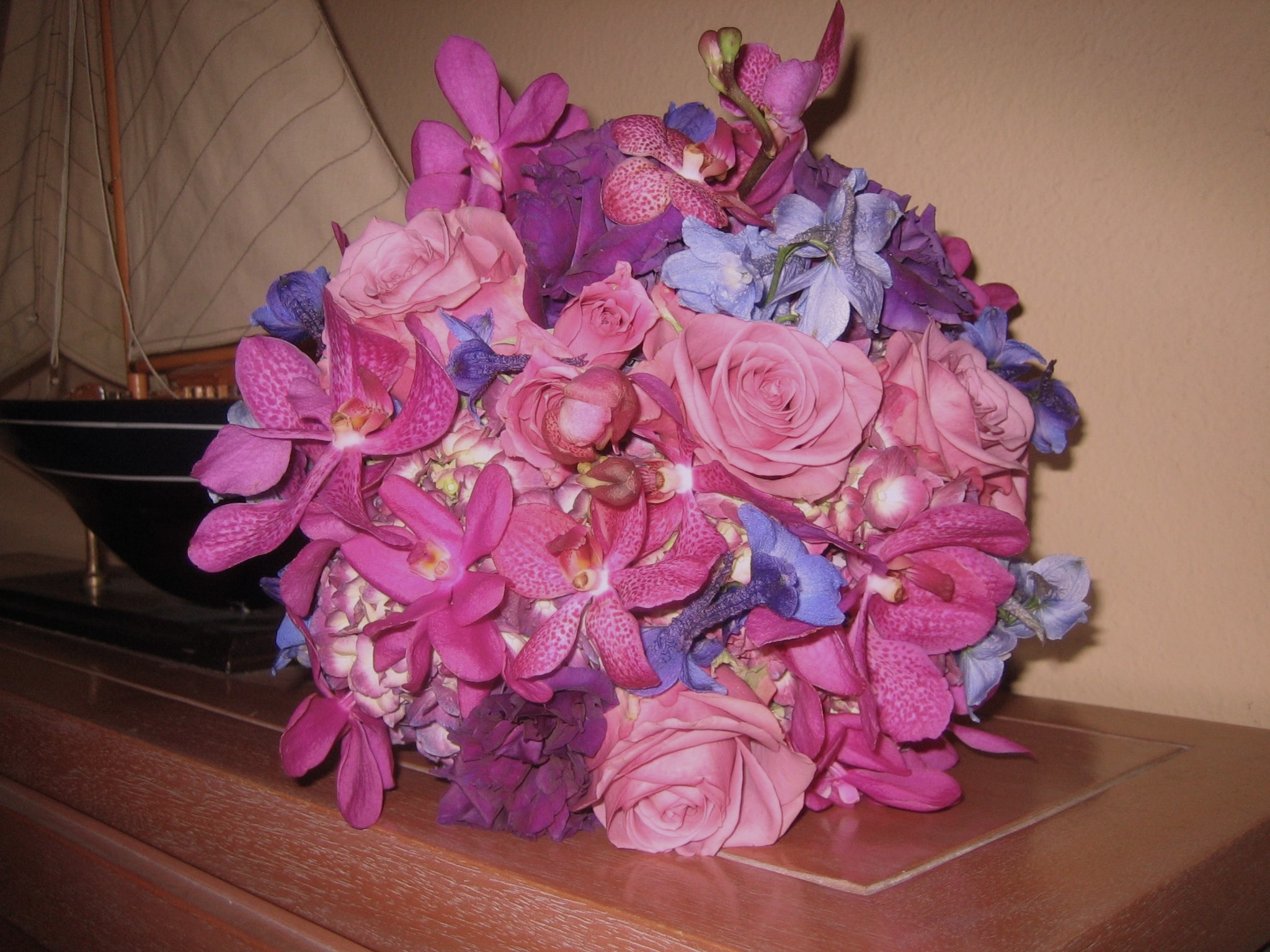 … Tina was ready for the ceremony, held at "High Noon" directly on the water, officiated by Rev. Raymond Teague and attended by 70 of their closest friends and family members. Harpist Krista Strader's beautiful music provided an elegant accompaniment to the intimate ceremony.
"You may now kiss the bride!"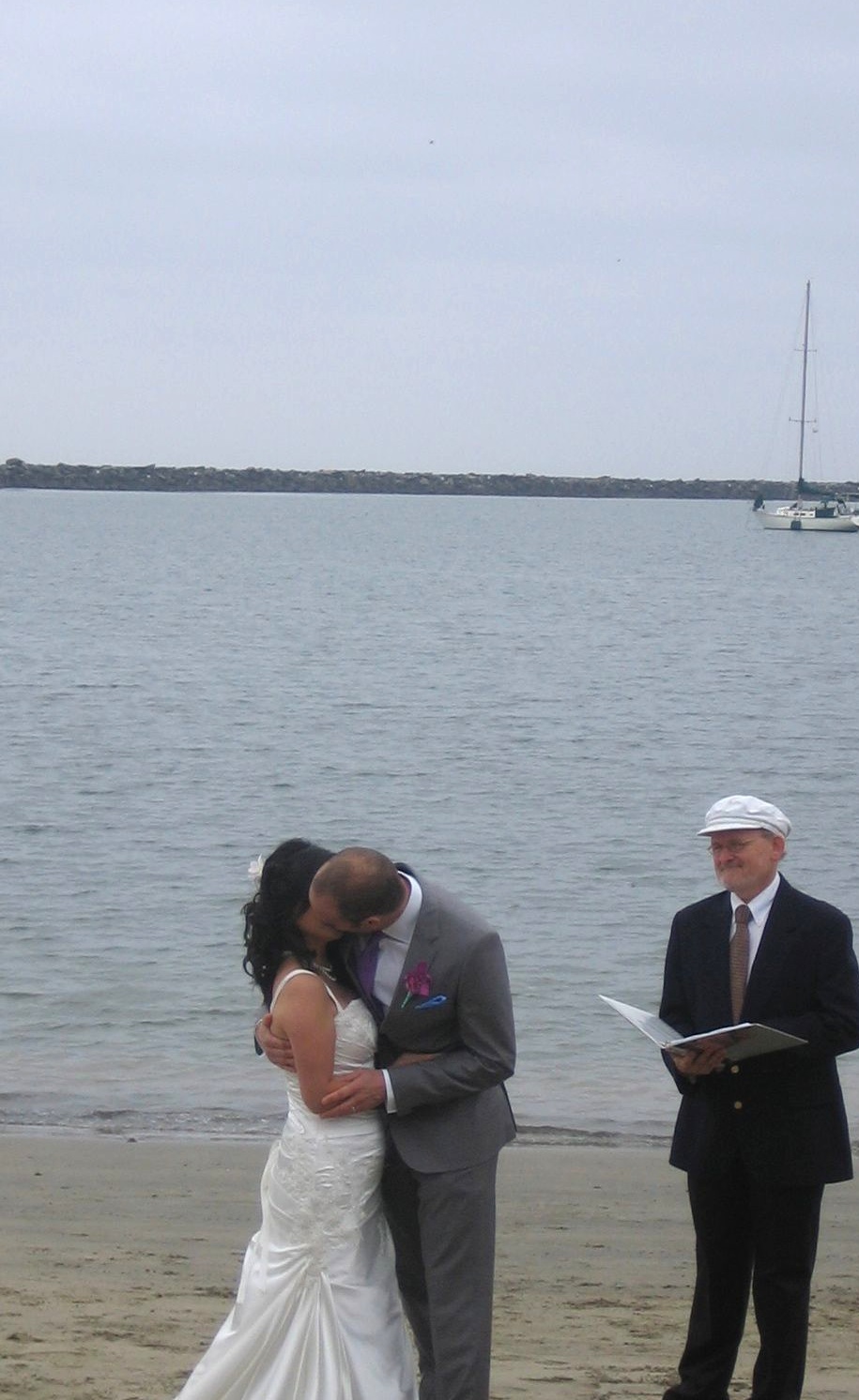 Just married!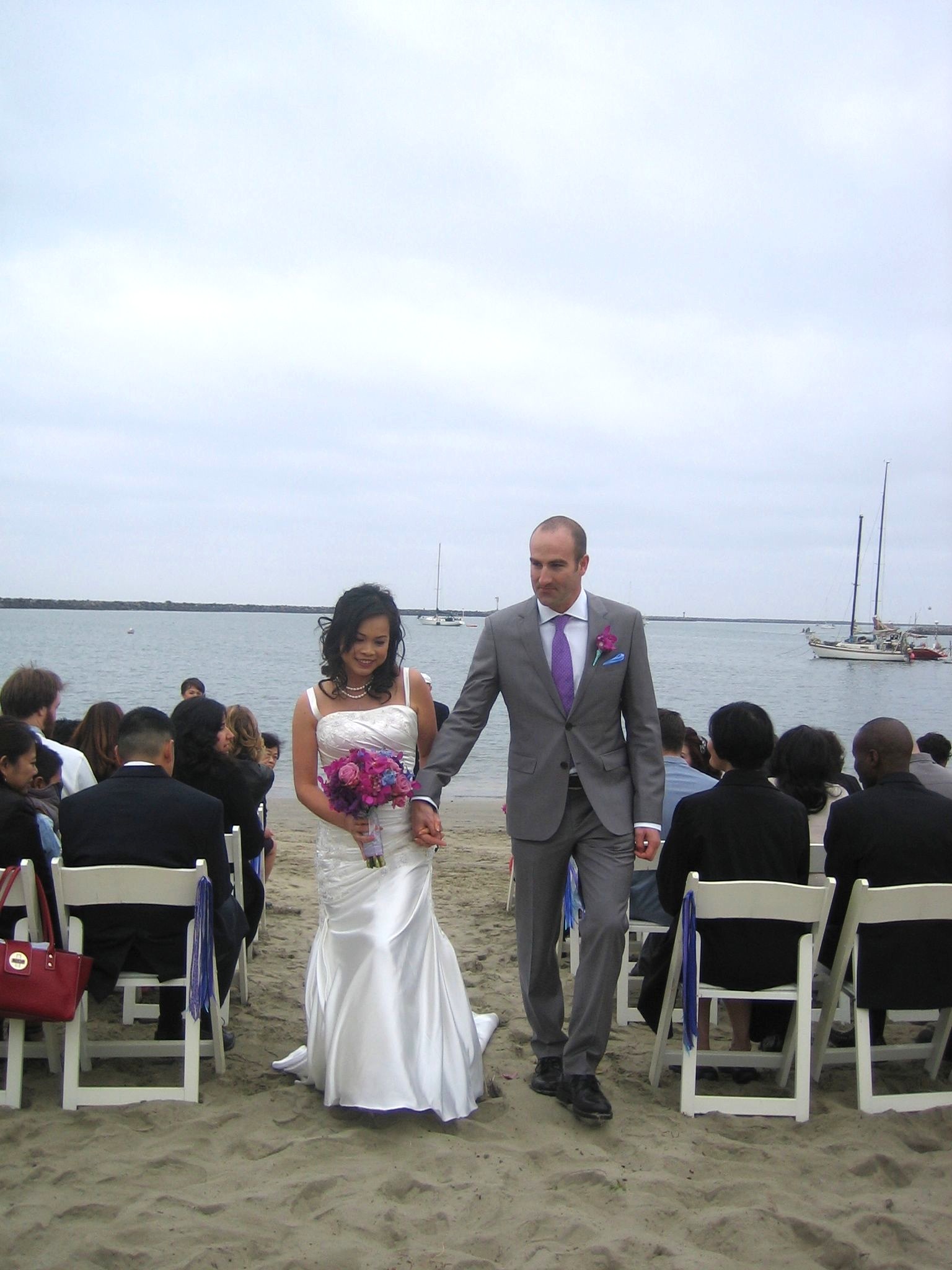 For Tina and Eric, it was now "photo time!" with Ryan Willis. After the requisite family photos, they could finally enjoy their  first quiet moment as husband and wife …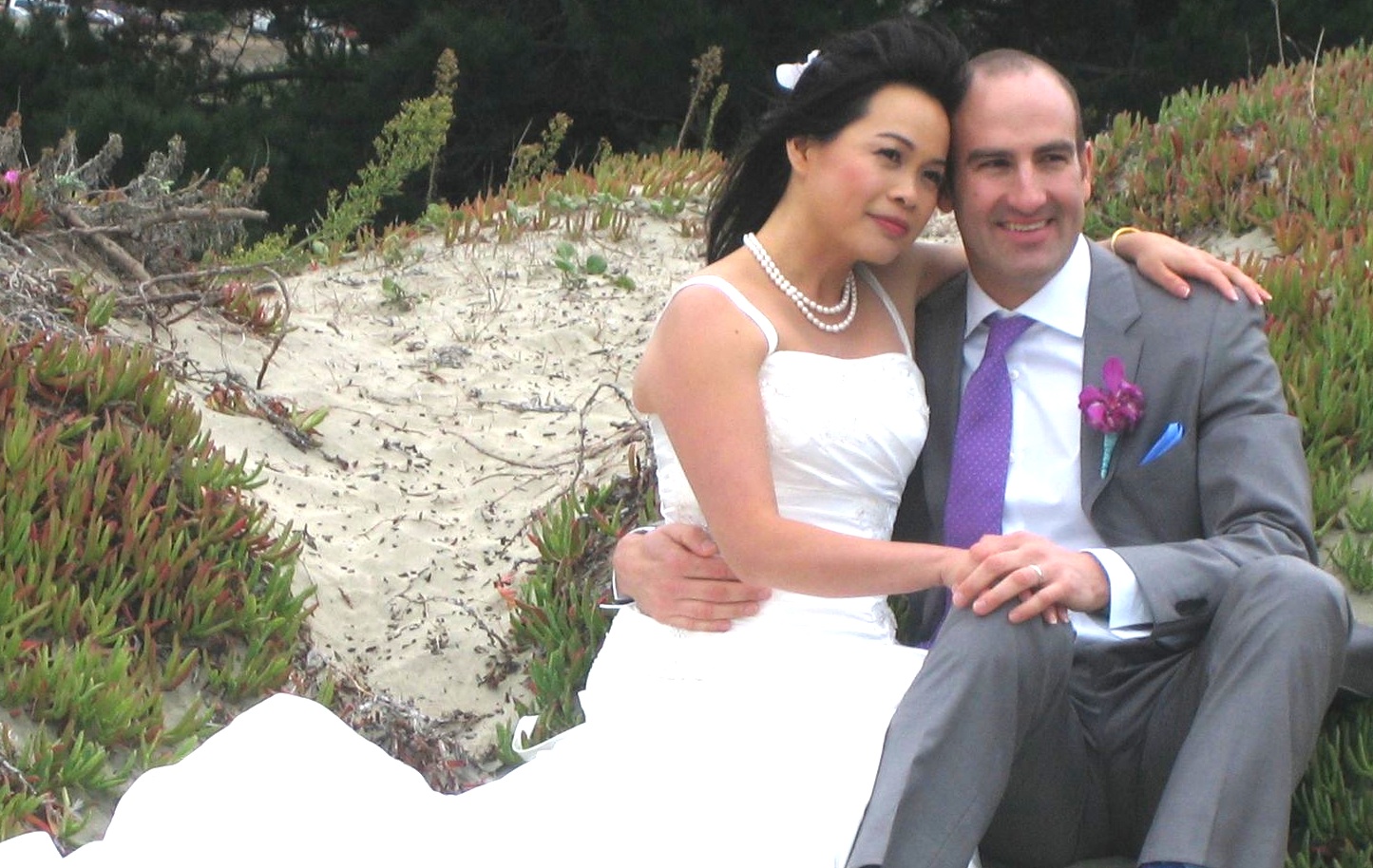 … and then, they took a stroll through the dunes…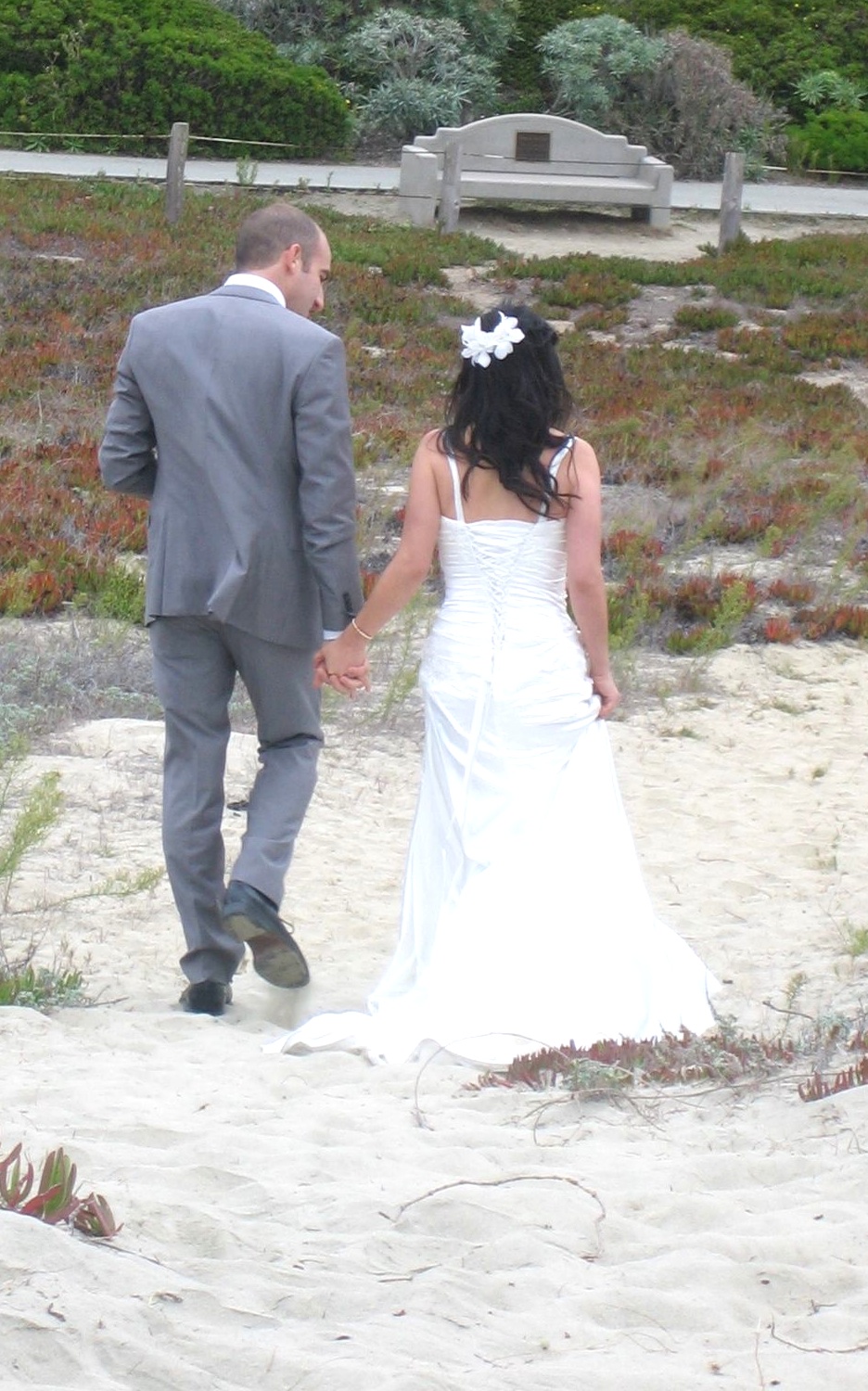 … and when a fence got in their way, Eric simply lifted Tina across!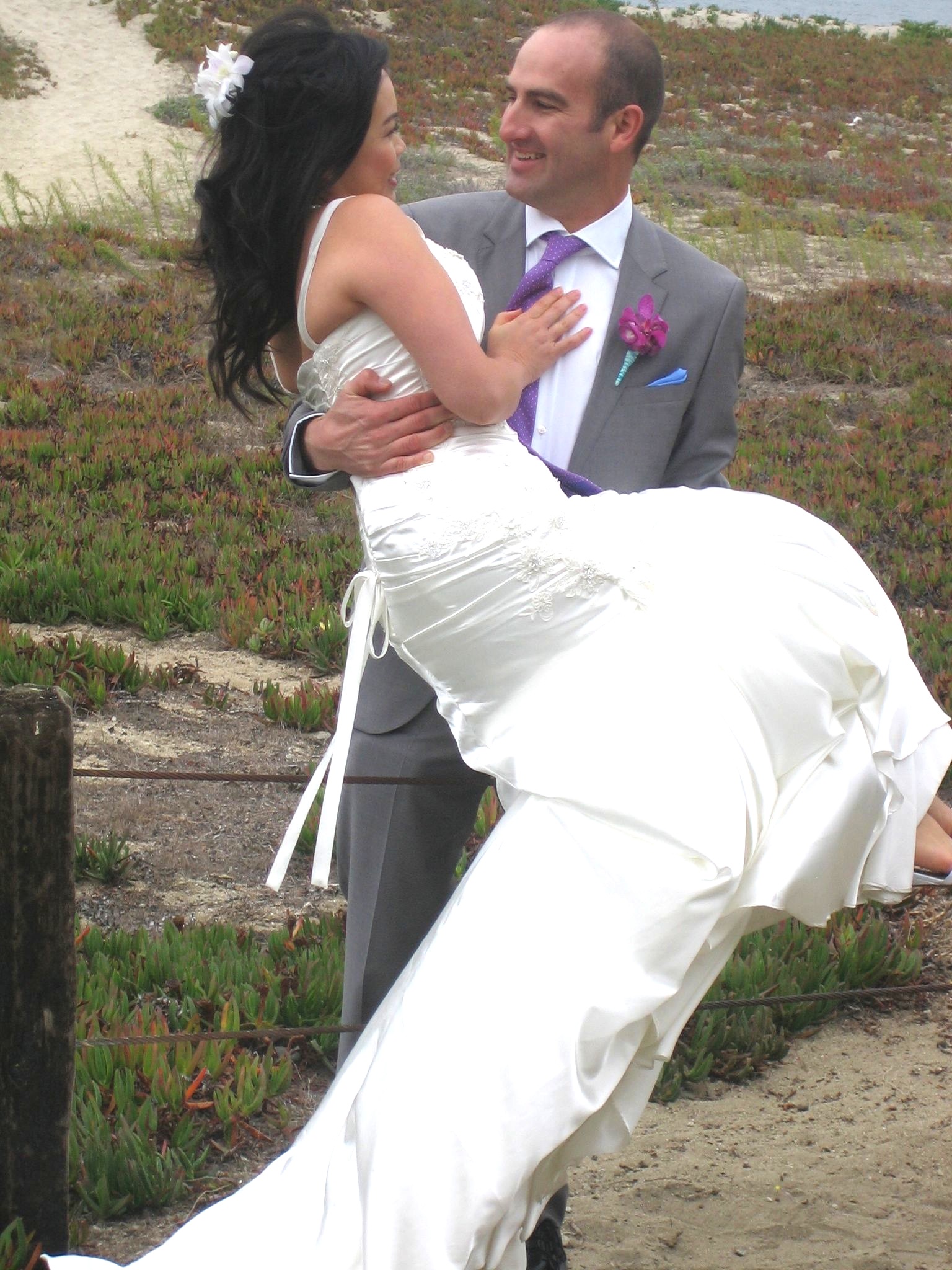 From there, the two embarked on their wedded journey together…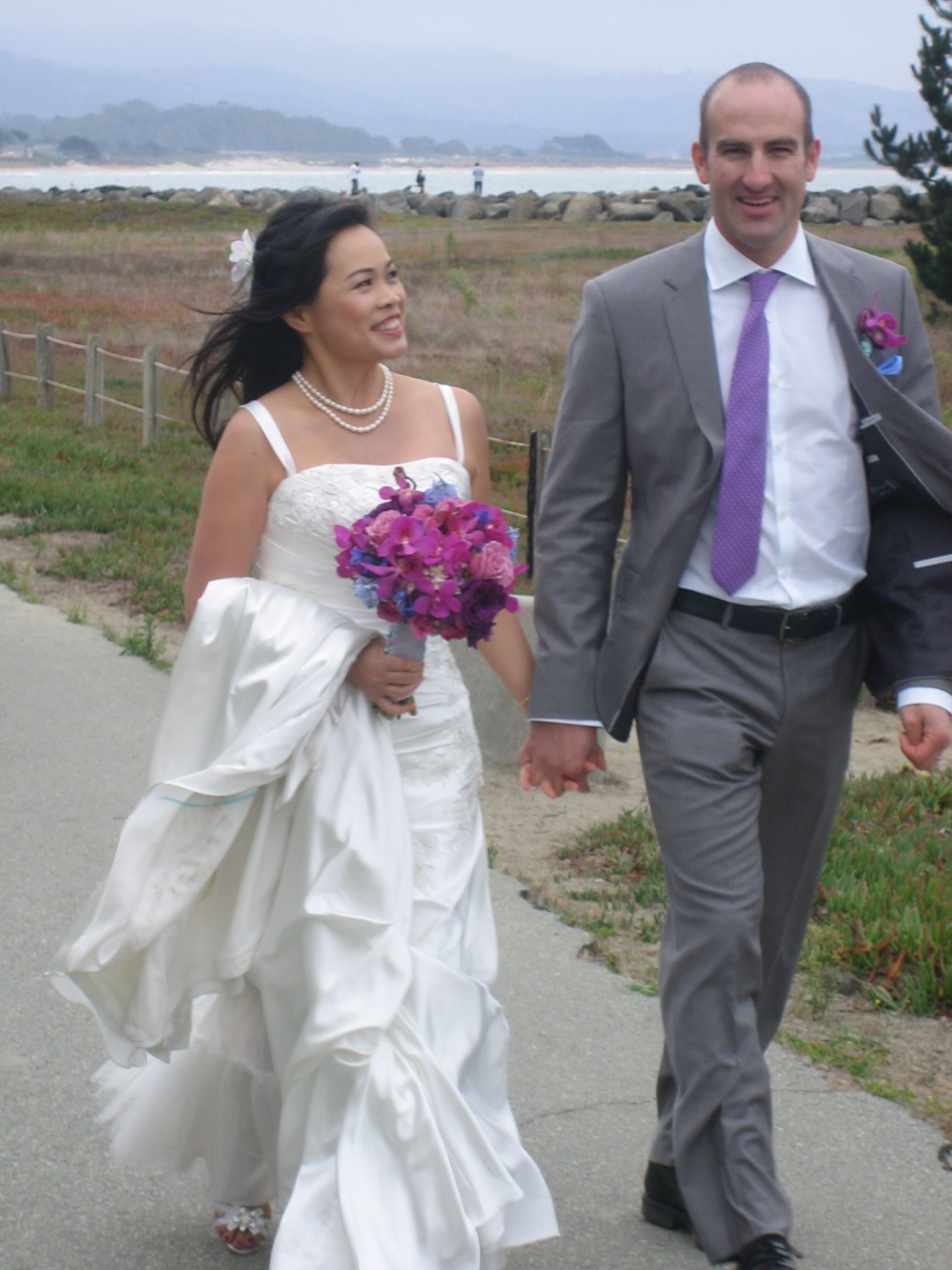 First stop: Wedding Reception! A long table had been set with a pale blue and tan patterned runner, napkins in blue, turquoise and purple hues in a chic ombre progression (so "of the moment!") and grouped varied arrangements of blue and purple flowers, decorative shells and hundreds of sparkling glass gems catching the midday light.
The newlyweds presided in the middle…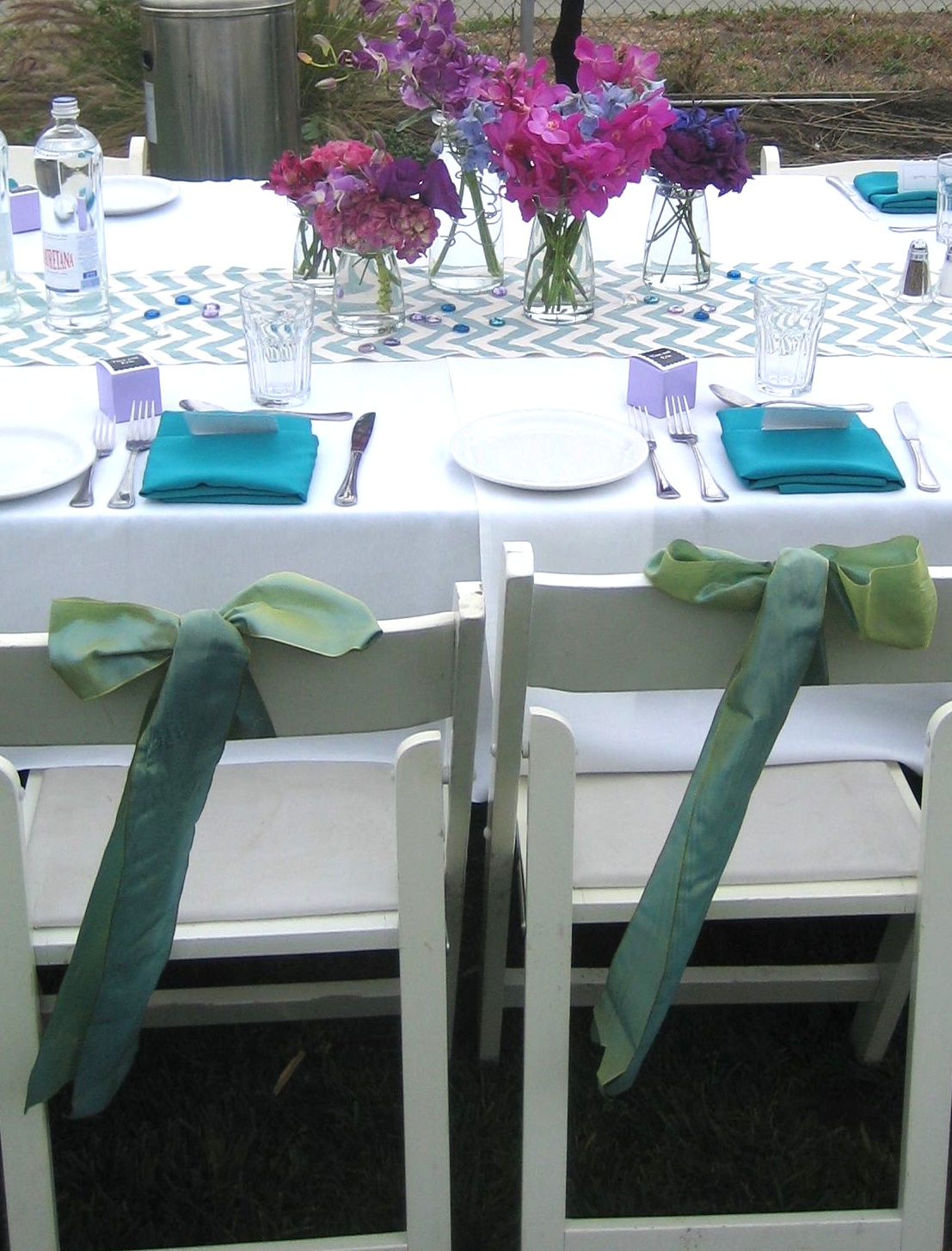 ,,, looking out over the shimmering waters of Half Moon Bay. And everyone very much enjoyed the hot chowder that Sam's Chowder House is rightfully famous for, followed by more delicious seafood and, finally, of course: THE CAKE! A little piece of edible art by Mazzetti's Bakery, decorated with tiny buttercream flowers in Tina's and Eric's wedding colors: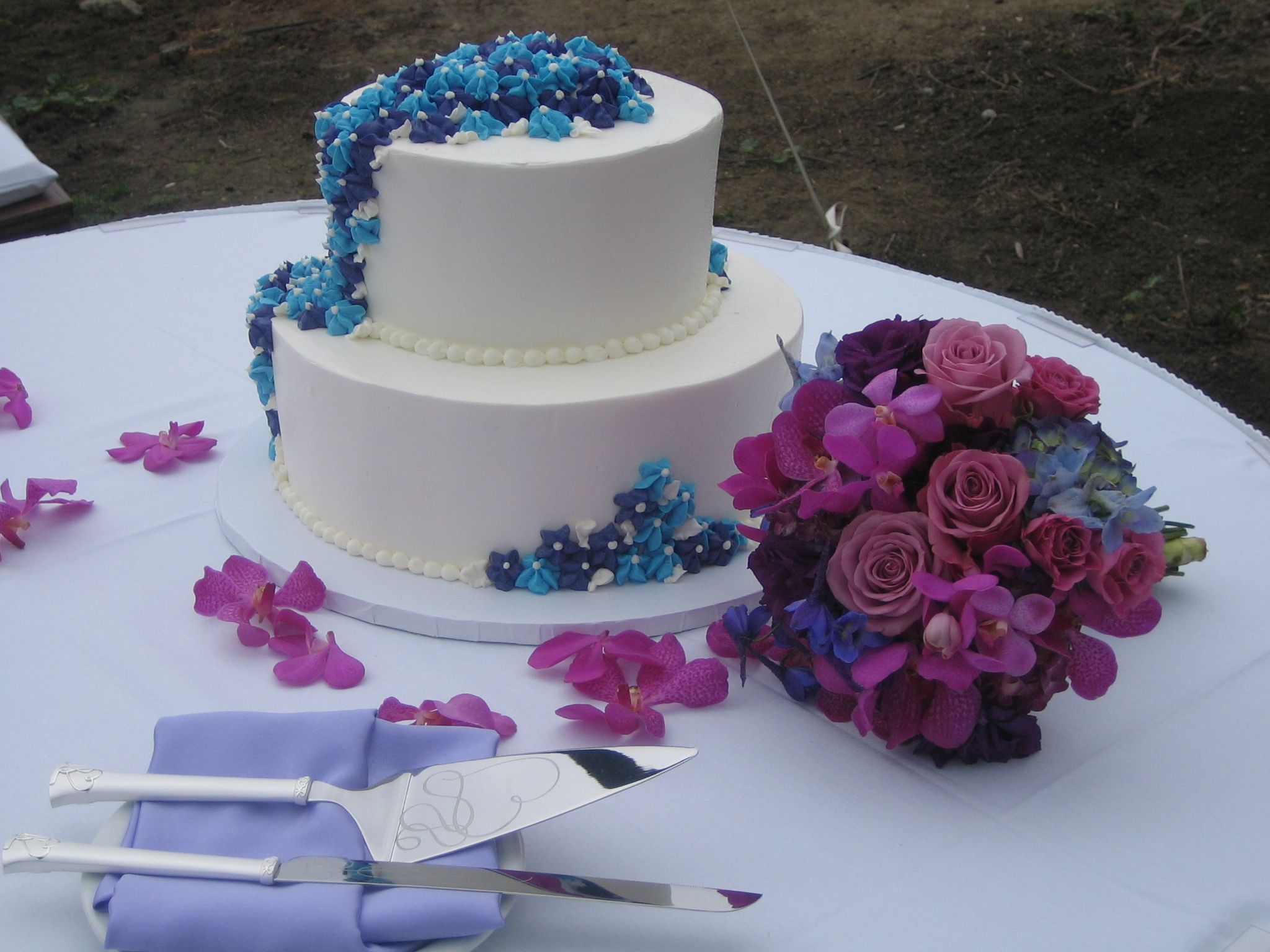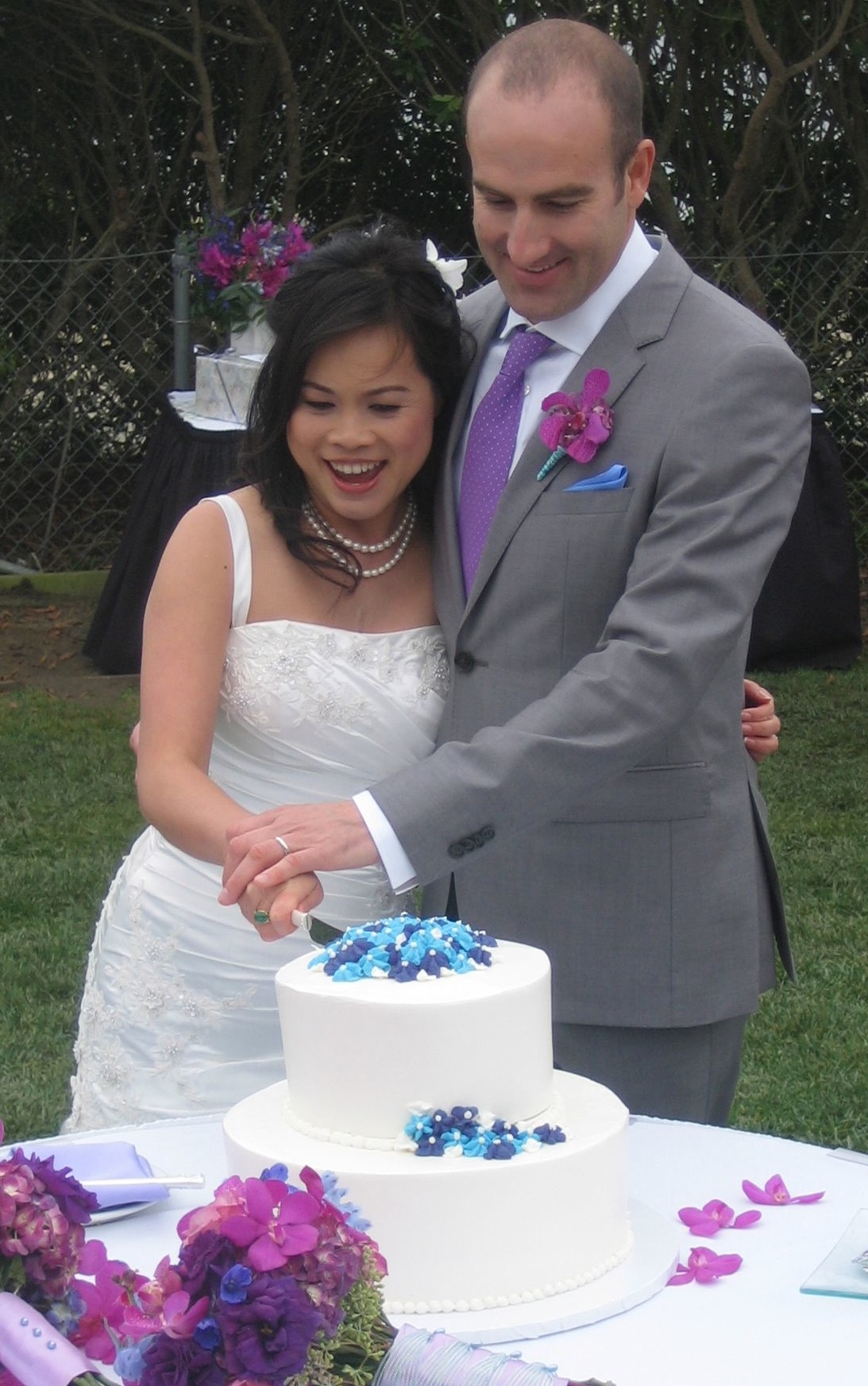 Cutting – and eating! – the cake concluded the festivities, and everyone was really happy, me included! Here is why I love my job so much…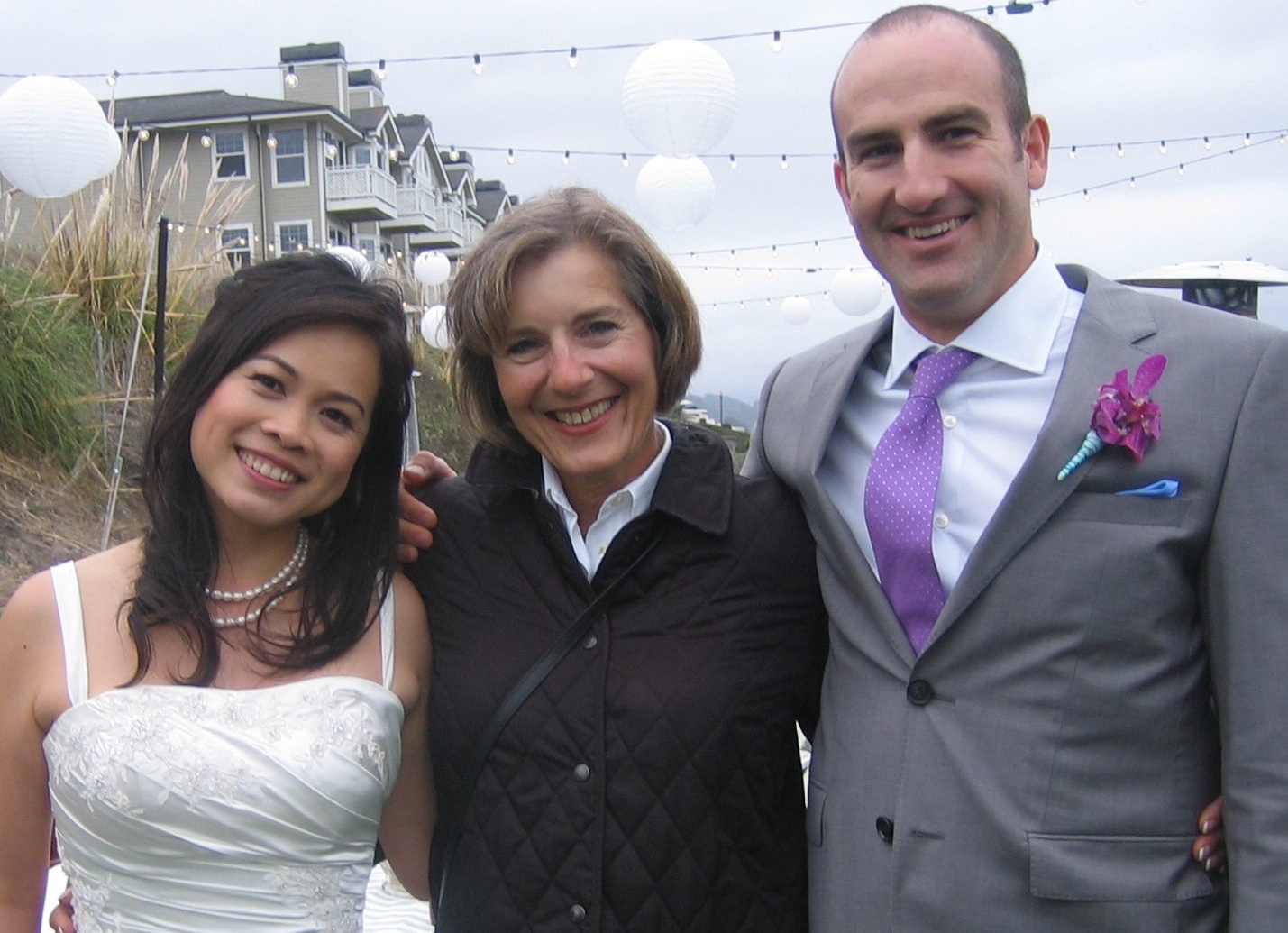 Congratulations, Tina and Eric, and many happy years together!

<! DL 06/02/12: Added html code for Pinterest Pin It button (appears at the end of each post) > <! DL 06/02/12: Added padding style modifier to the Pinterest html code to align the Pit It button on the page > <! DL 06/02/12: deactivated code by adding two ! in the a and img code lines >