Never heard of Hotel Nia? REALLY? It's time you did! A brand-new, cutting-edge modern, ultrachic hotel in the heart of Silicon Valley, catering to the young, hip crowd of tech entrepreneurs.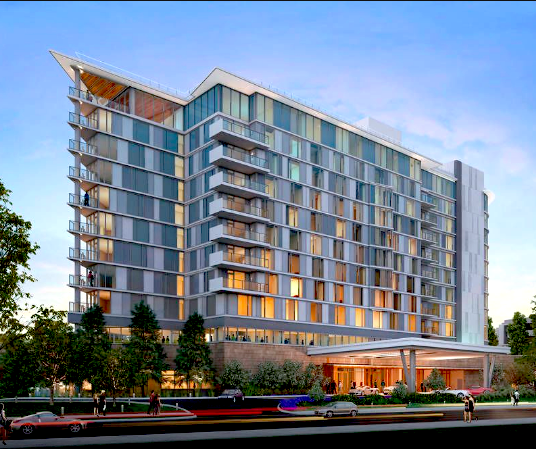 Just opened a few months ago. Top-notch interior design by Colum McCartan in shades of light grey and silver, combined with white oak and many, many beautiful details!
This hotel is DIFFERENT. It starts when you pull up to the valet. You don't get a paper ticket to retrieve your car later. Paper tickets are so antediluvial!! You share your cellphone number, you get a text with a link – once you want your car back, you simply click on that link, and – voila! WOW…
When you step in, you are immediately surrounded by tranquillity – acoustic (triple window panes, thick carpet…) and visually (light grey and silver tones, light wood, lots of natural light), and it takes a while until the myriad details reveal themselves. The walls in the lobby with their subtle texture and pattern – they are real Venetian plaster. The decor inside the elevator matches the pattern of the custom carpet. And so it goes…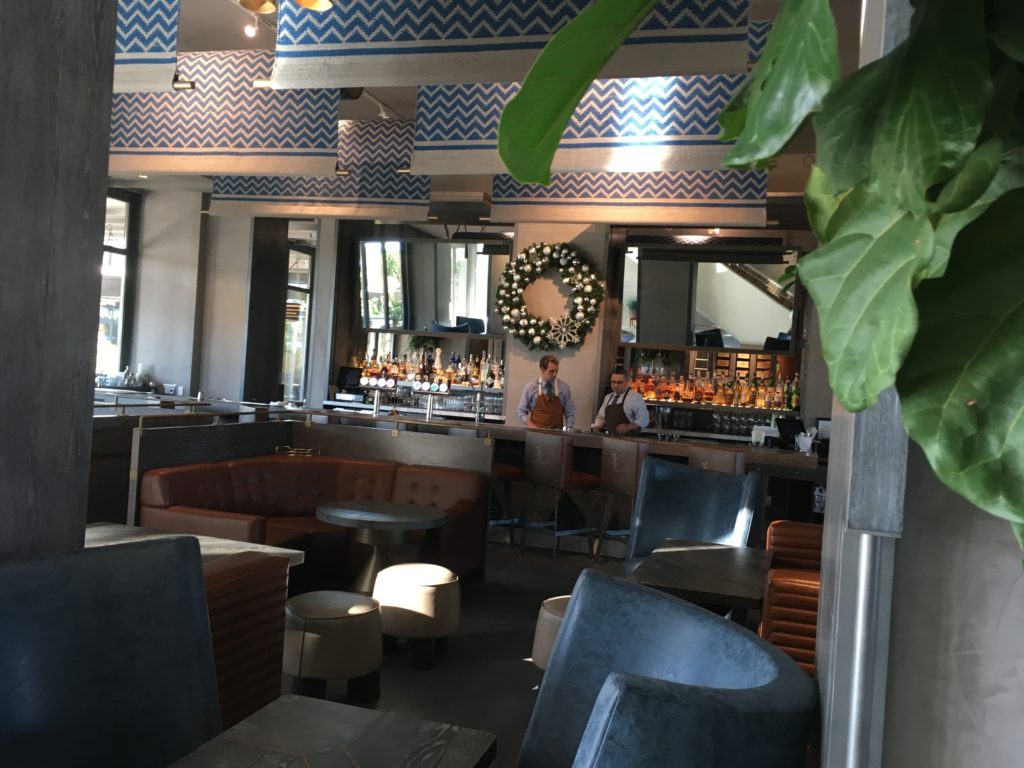 Just step in and sit by the bar, or sit outside in the beautiful courtyard garden – it's all inside/outside!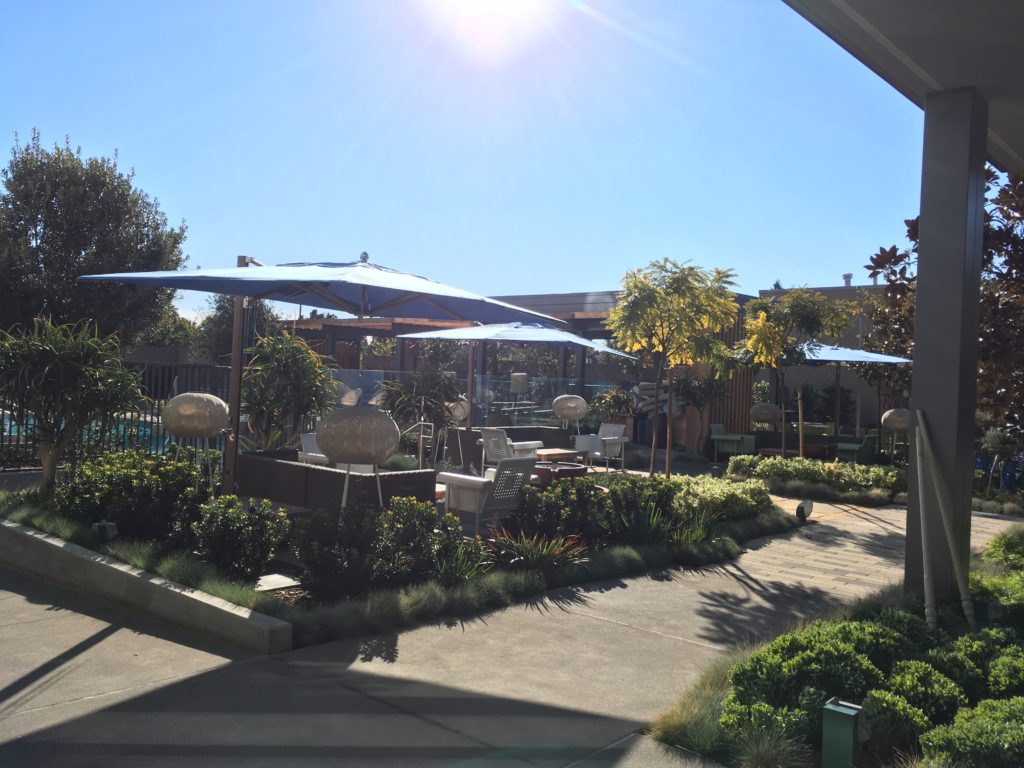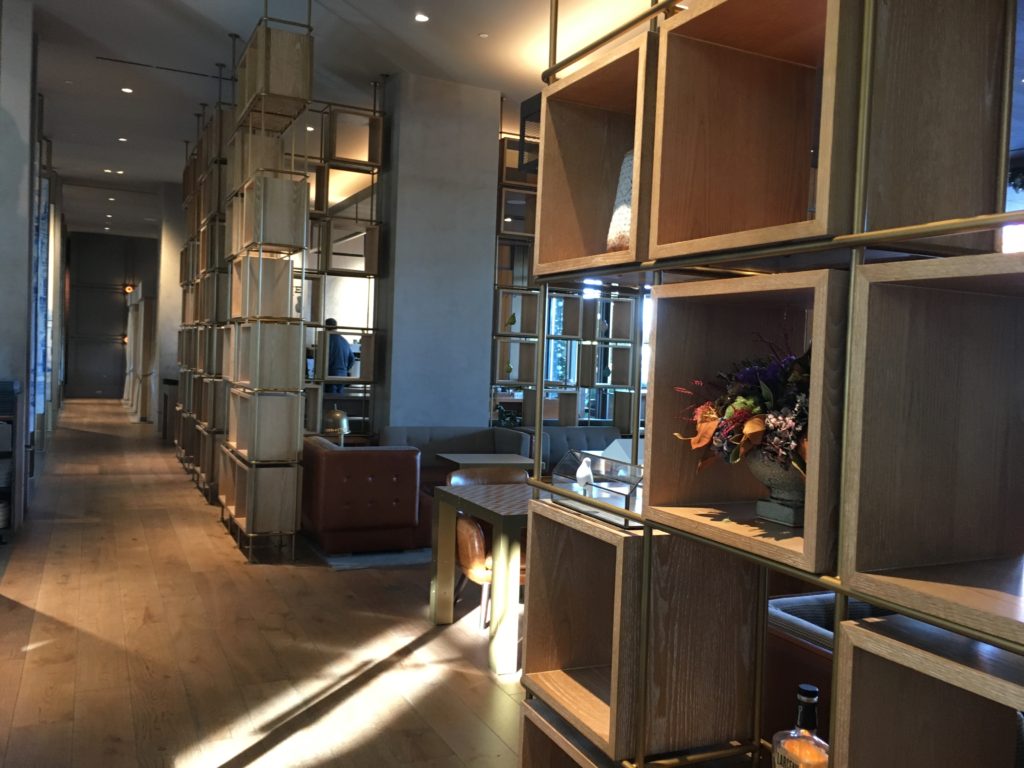 Or grab a bite in NIA's Mediterranean restaurant – just walk down the hallway… no walls that would obstruct the transparency or natural light – just open shelving-like structures that feel utterly modern but certainly not cold. Oh, forgot to mention – don't be fooled: there are charging stations everywhere. Those mirrors – become TV screens when you switch them on. This is the new techie refuge, after all!
Looking for your meeting room? Just follow the thread…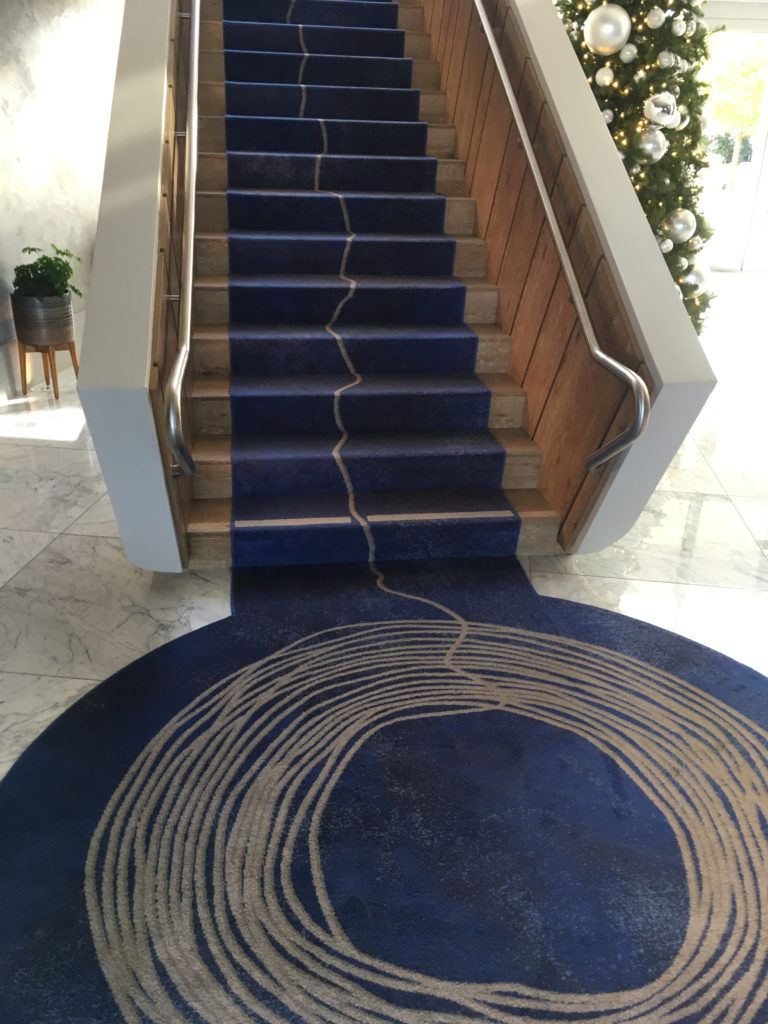 … up the stairs! That woven thread actually "originates" in a huge (real) ball of yarn on the landing… just one of so many whimsical touches.
Guest rooms are likewise simply beautiful. Have you ever seen a levitating bed? Well, at least it looks like it's floating…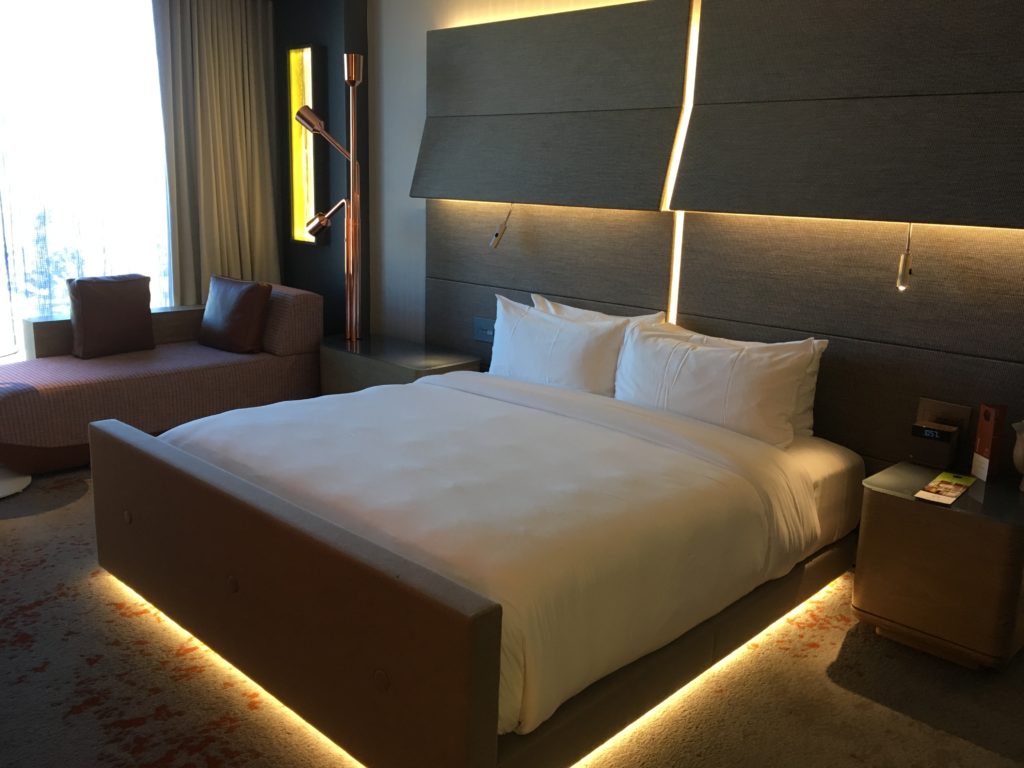 … and a backlit closet with glass doors that elevates your wardrobe to a display in a Dior boutique! It's serenity, tranquillity, and the luxury of simple lines, perfect proportions and great workmanship. "Simplicity is the utmost sophistication," as Silicon Valley icon Steve Jobs used to say. He would have loved it…
But the NIA is absolutely not only for work and conferences – it's for celebrating and partying just as much (their Grand Opening in March was the most coveted event far and wide!). A ballroom for 380 should be good enough for most private parties AND for wedding dinners and dancing!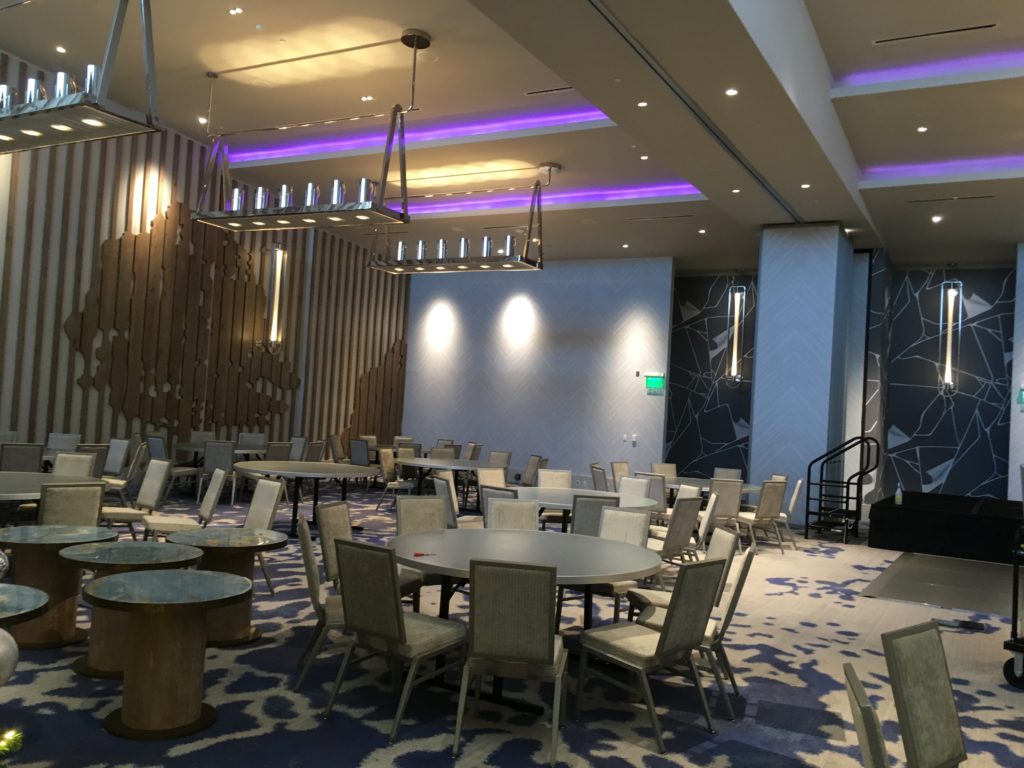 Yes, you see that correctly: built-in mood lighting in any color you want. A dance floor in matte silver, at your request. Chic and modern cocktail tables in the foyer – no need to rent them. So many possibilities!
Speaking of which: the NIA knows how to decorate – even their Christmas trees are in perfect harmony with their overall design theme…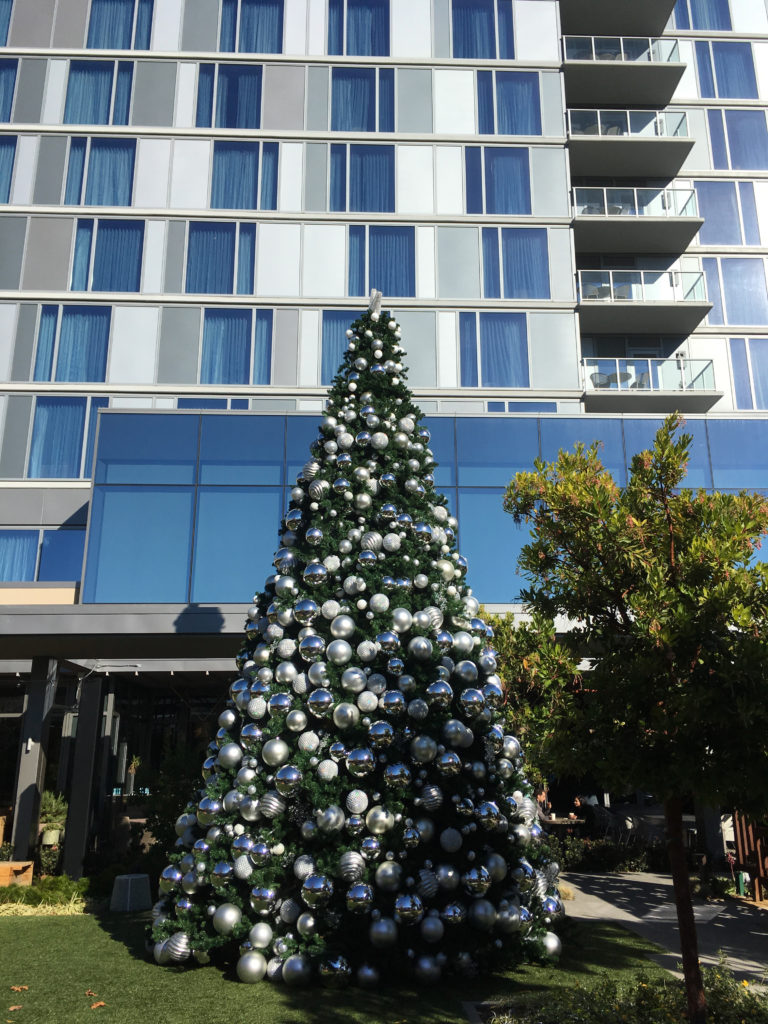 … big, bold and silver! Hope to see you there!

<! DL 06/02/12: Added html code for Pinterest Pin It button (appears at the end of each post) > <! DL 06/02/12: Added padding style modifier to the Pinterest html code to align the Pit It button on the page > <! DL 06/02/12: deactivated code by adding two ! in the a and img code lines >