Caroline and Merrick are a true Silicon Valley power couple, working crazy hours, jetting around for business all the time – a really hectic lifestyle. When they decided to tie the proverbial knot, they realized quickly that they would not have the time nor the bandwidth to do the planning themselves. In comes my wedding planning company, A Day Like No Other! Already in our first planning meetings (e-meetings, of course!!), a few things about the couple's vision for their Great Day emerged: a traditional Chinese banquet, in honor of their shared cultural heritage and their families, was a "must." To that end, they had booked one of the "mainstays" of Chinese cuisine on the SF Peninsula, Koi Palace in Daly City. A Tea Ceremony and a Western wedding ceremony at a pretty, picturesque location – also a "must." And for that, they had settled on the beautiful Allied Arts Guild, a Spanish-Mediterranean compound set amidst manicured gardens, serving as  the home to multiple artisans, art galleries – and as an event space. The rest still had to be filled in… and so we got started! Given that we only had three months of planning time, we needed to move quickly. But then – life intervened, and business travel, and the Flu season… and all of a sudden, things got really hectic…
Last Saturday, all our work came together in exactly the wedding celebration that Caroline and Merrick had been hoping for, and despite the end-of-November date, Lady Luck and the Weather Gods were smiling upon us, and the predicted rain held off until a few hours after the Great Day.
For Caroline, her bridesmaids, junior bridesmaids and flower girls, the day began early with hair and makeup services by Tiffany Chiang of Design Her Image.
Florist Shannon LaVoie of Rare Sparrow had made elegant bouquets in the bride's chosen color of wine red with blush pink and a tiny dose of peach; and altar arrangements to match.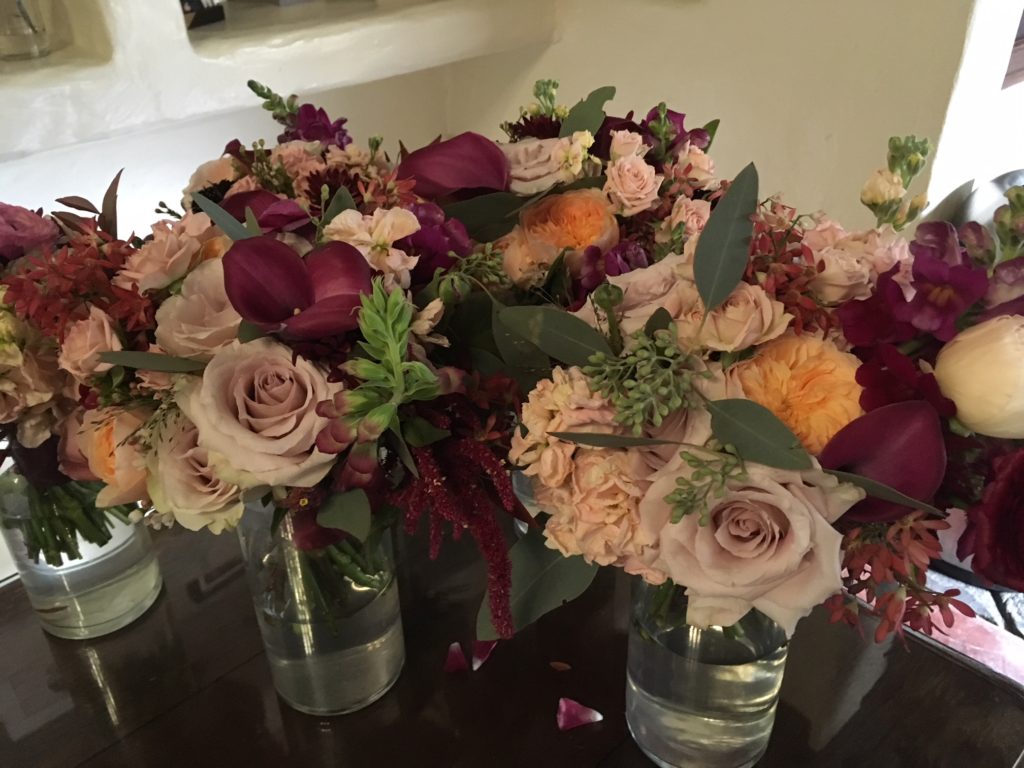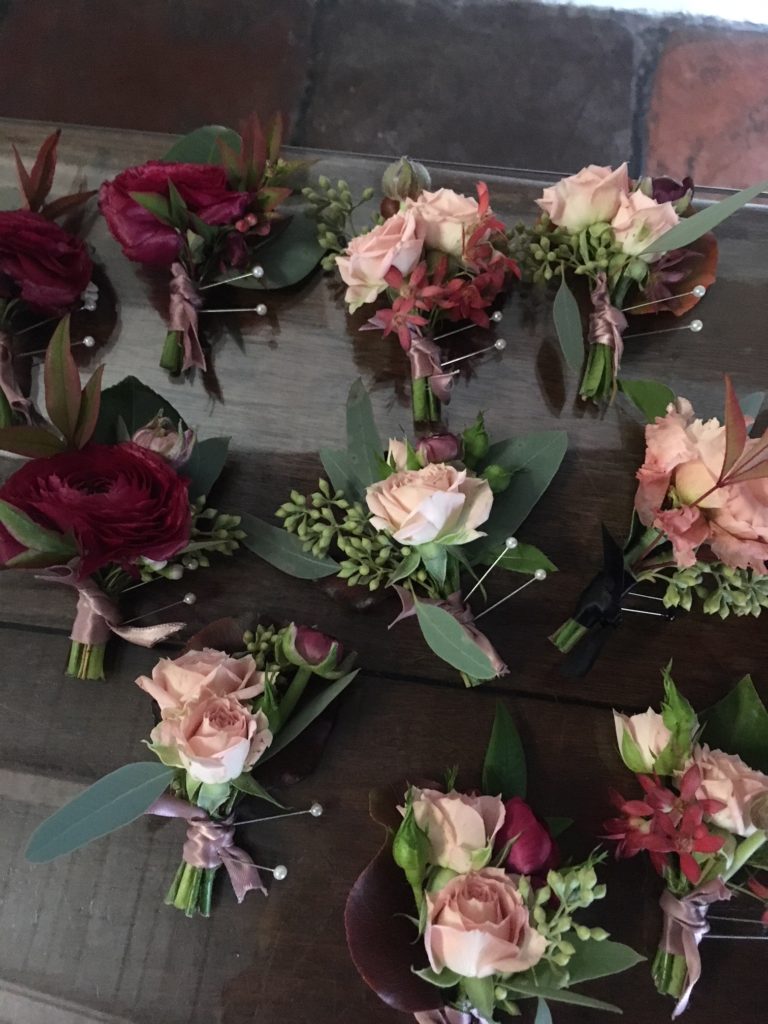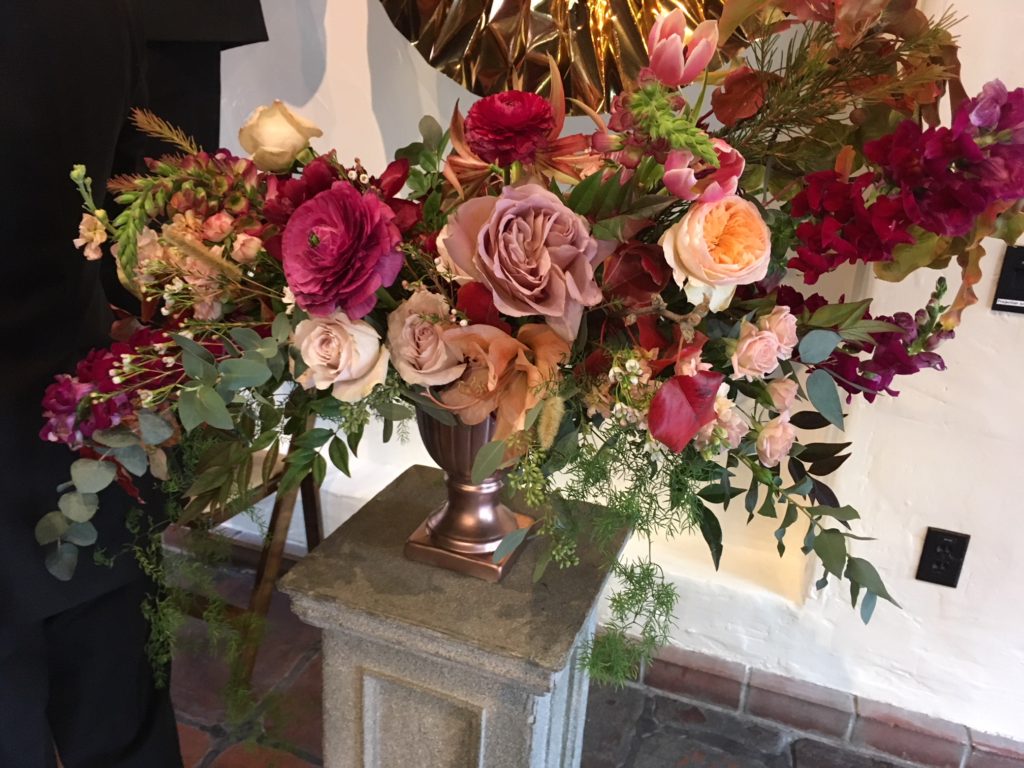 Caroline slipped into the first of her three (3!) dresses, a stunning red-and-gold embroidered Chinese sheath dress, for the traditional Tea Ceremony: serving their parents tea as a symbol of their gratitude and devotion.
Augie Chang, our photographer extraordinaire for the whole day, and his assistant Luisa captured every moment and shared the first few of their many beautiful photos with us for a little preview (and I will supplement with my own iPhone snapshots as needed, for the moment….)
After that, it was time for the couple's First Look in a white Western wedding dress..
…which fit the bride to a "T." Isn't she beautiful?
… and here comes Caroline in her white dress to show herself to her "Prince Charming" for the first time!
This could be their official wedding photo, don't you think? Off they went for many more romantic portraits in the gardens…
… with and without flowergirls and junior bridesmaids!
Meanwhile, frantic preparations were underway to get the ceremony and reception space guest-ready in time. Stuart Event Rentals had delivered chairs and tables; hors d'oeuvres came from Draeger's delicatessen, and my assistant Quan and I were busy pulling it all together and installing the whimsical ceremony backdrop of suspended paper rosettes …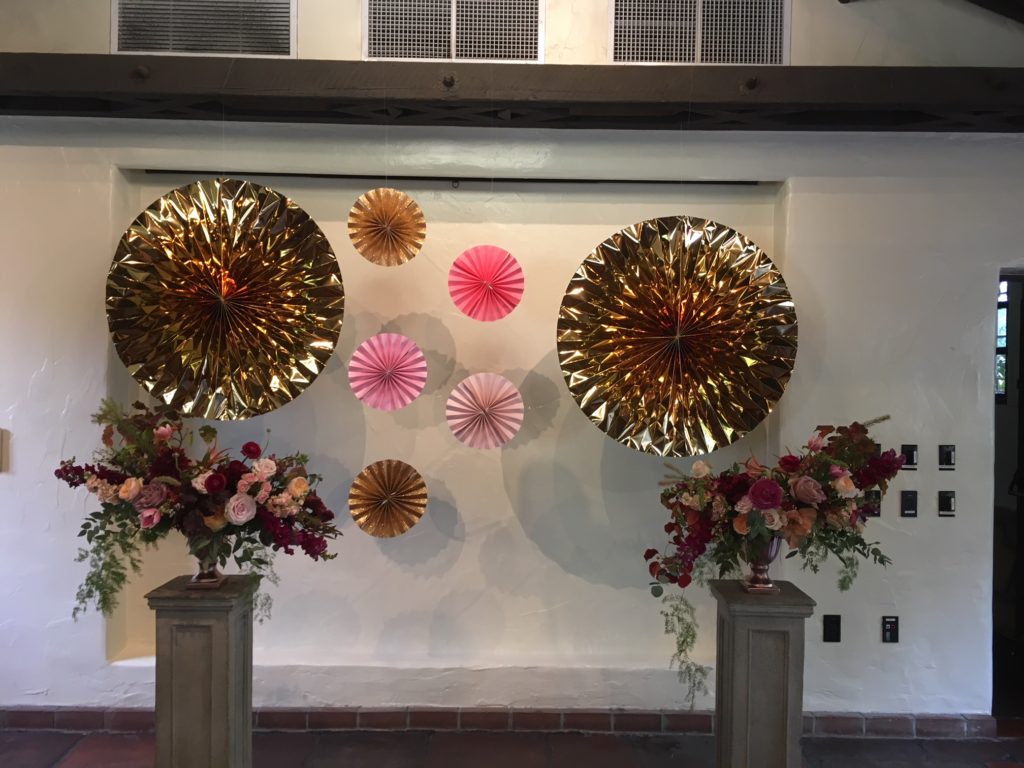 … setting up gift and guest book tables, signage and a myriad of other things!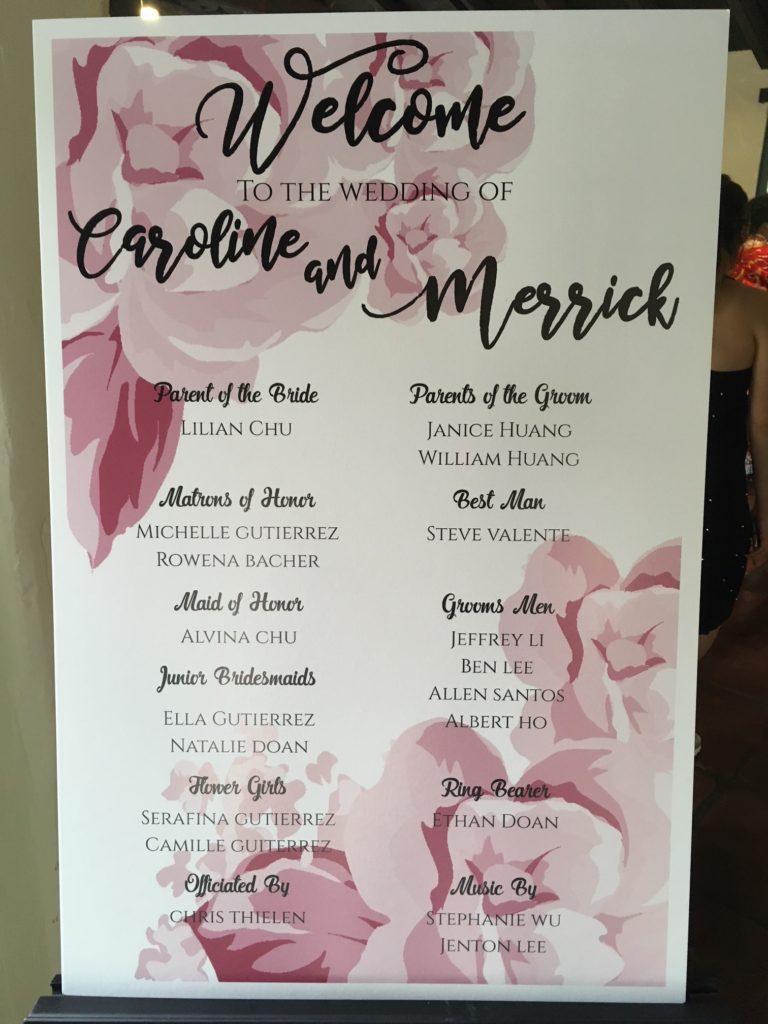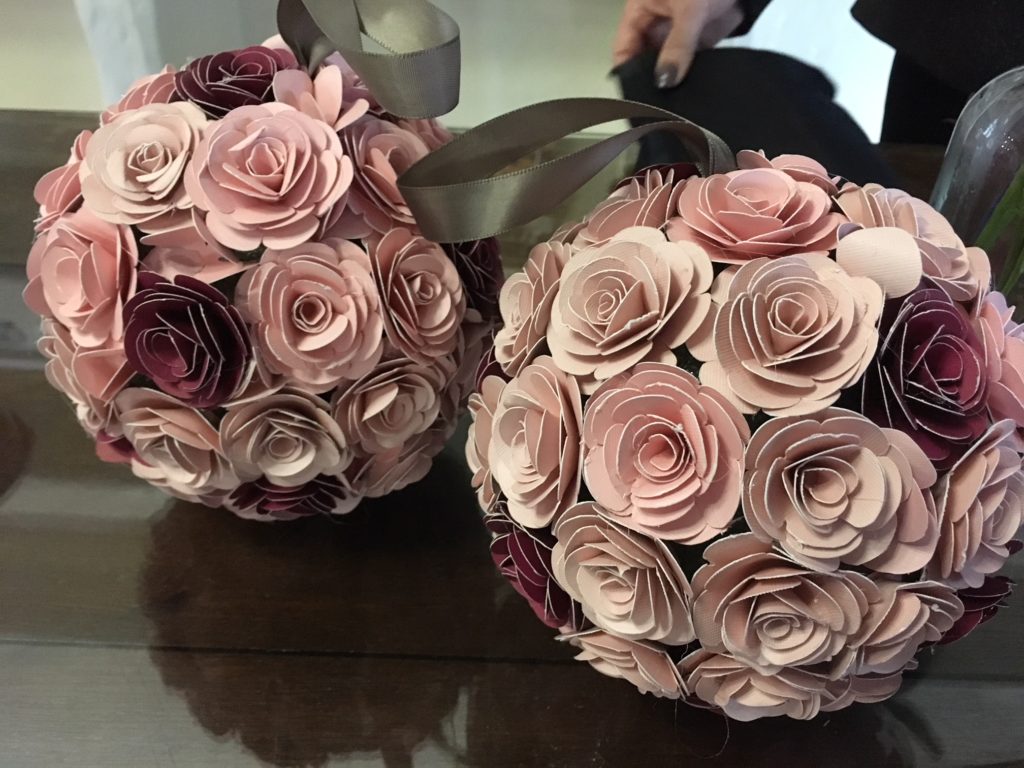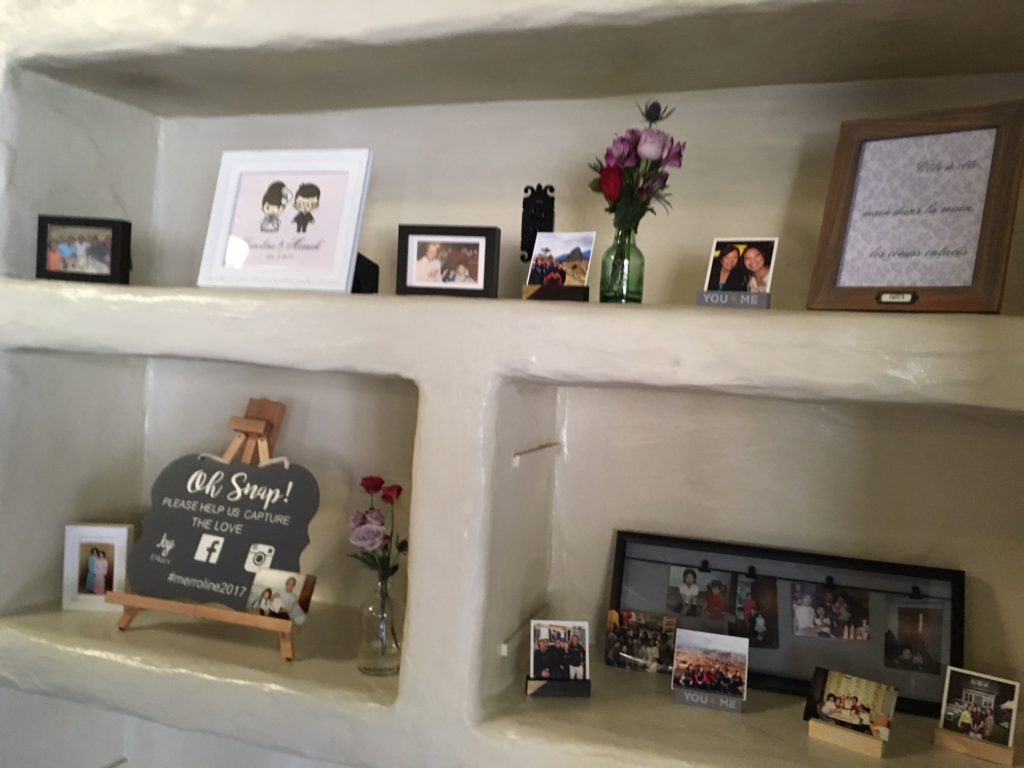 Caroline and Merrick had provided a multitude of family photos for a true photo gallery which served as a backdrop to our Welcome Table. Time flew, our guests were arriving, and our ceremony musicians, cellist Stephanie and pianist Jenton, friends of the couple, began playing – their personal wedding present to Caroline and Merrick.
Here comes… not the bride, but the true little stars of the day – our twin flowergirls!
And now, finally, comes the bride on her mother's arm:
Officiant Chris Thielen welcomed the congregation and directed a ceremony that could not have been more personal, warm and lighthearted – everyone was smiling and laughing, and sharing the happiness of the moment.
Here they are: Just married!!
What followed? More photos. And for the guests: Cocktail Hour on the patio with a special surprise that made everyone's (not only the little ones') hearts skip – a real cupcake food truck (Kara's Cupcakes' KaraVan) serving fresh and yummy mini cupcakes, hot chocolate, tea and coffee. Not a crumb was left at the end! Go have a look for yourself: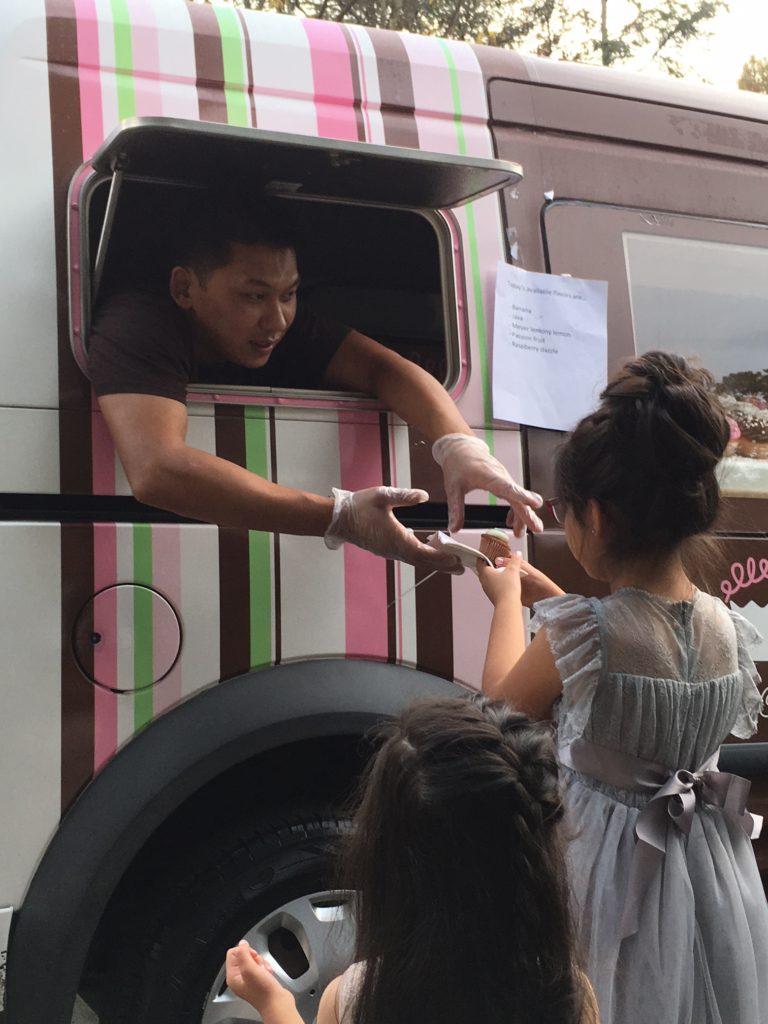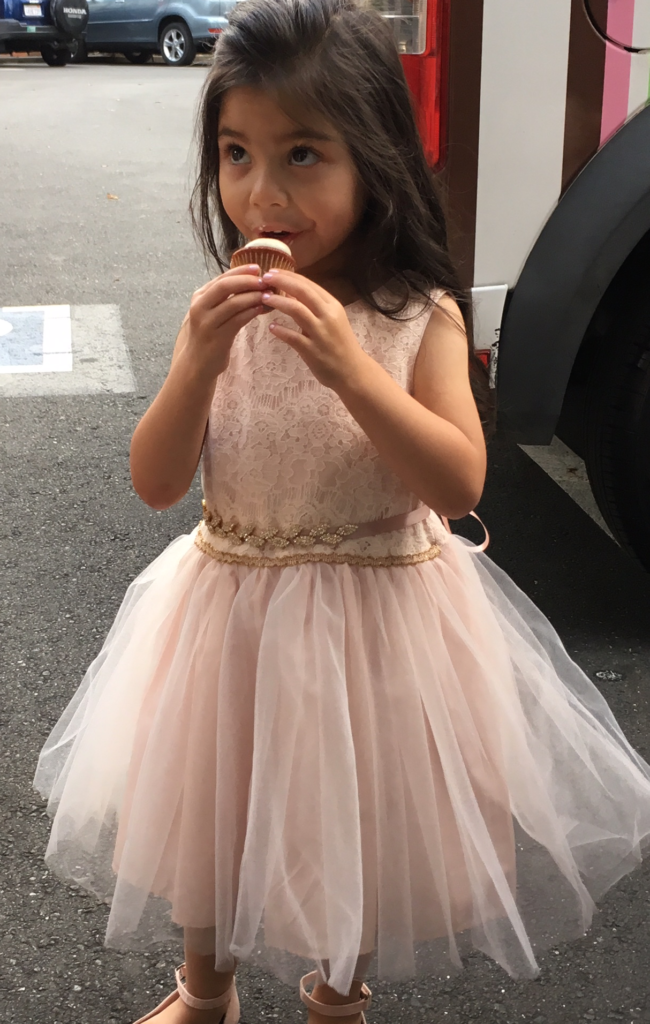 As I said – tradition with a twist, and that was not the only one! The newlyweds made their exit in the cutest getaway car EVER -the husband's vintage Mini…
Fast-forward to our Chinese banquet at Koi Palace, famous for its indoor Koi pond: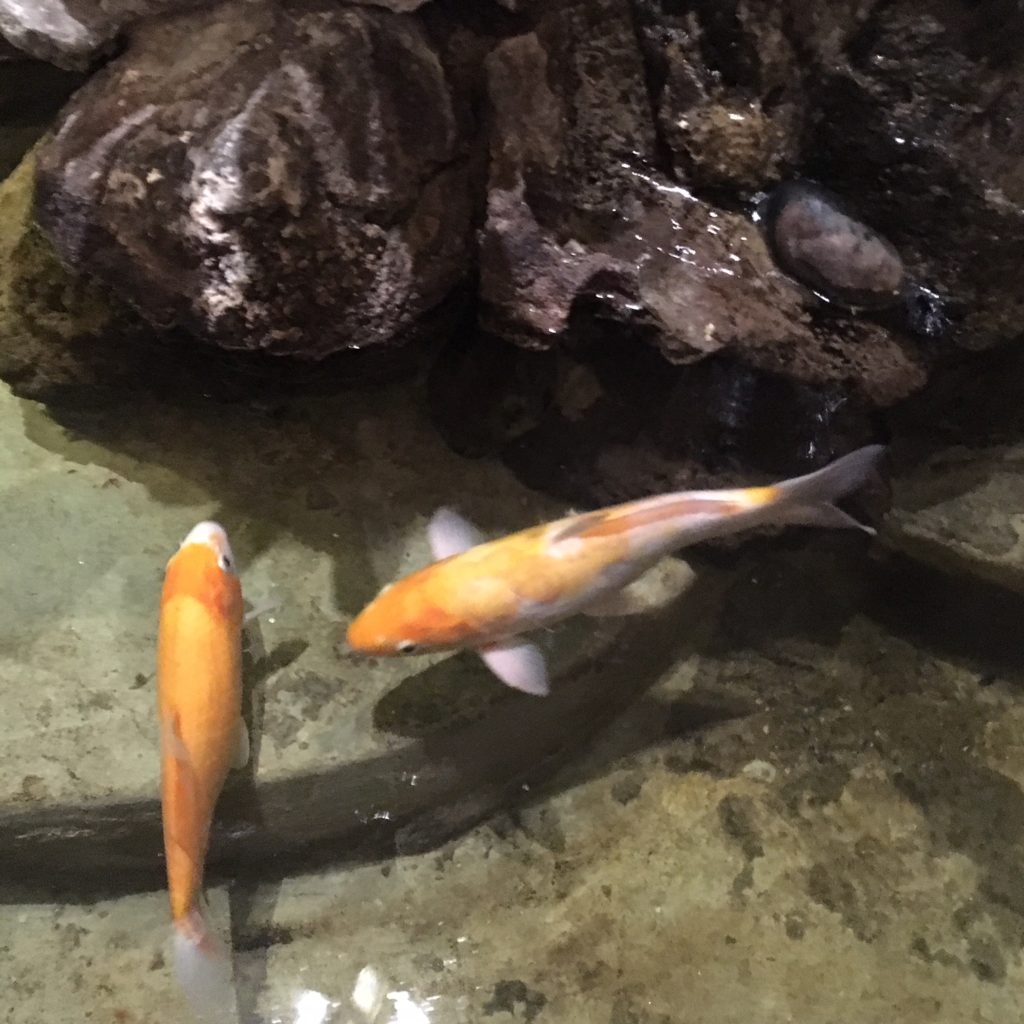 Tables were being set…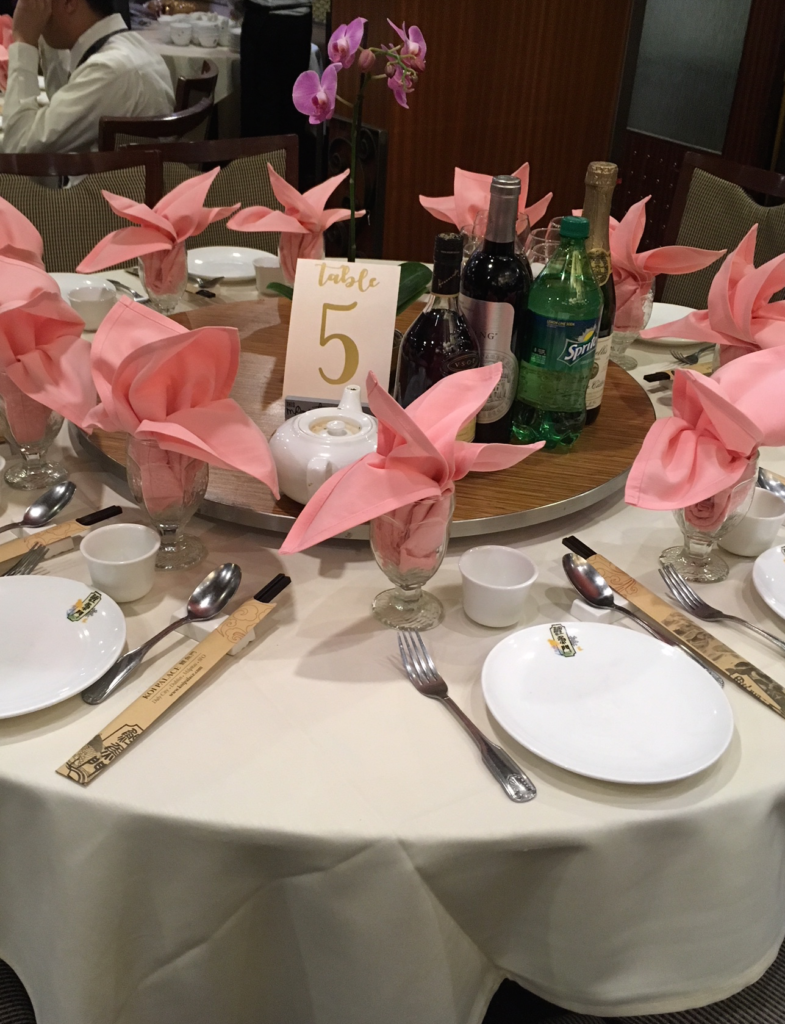 … the couple's Sweetheart Table was being decorated…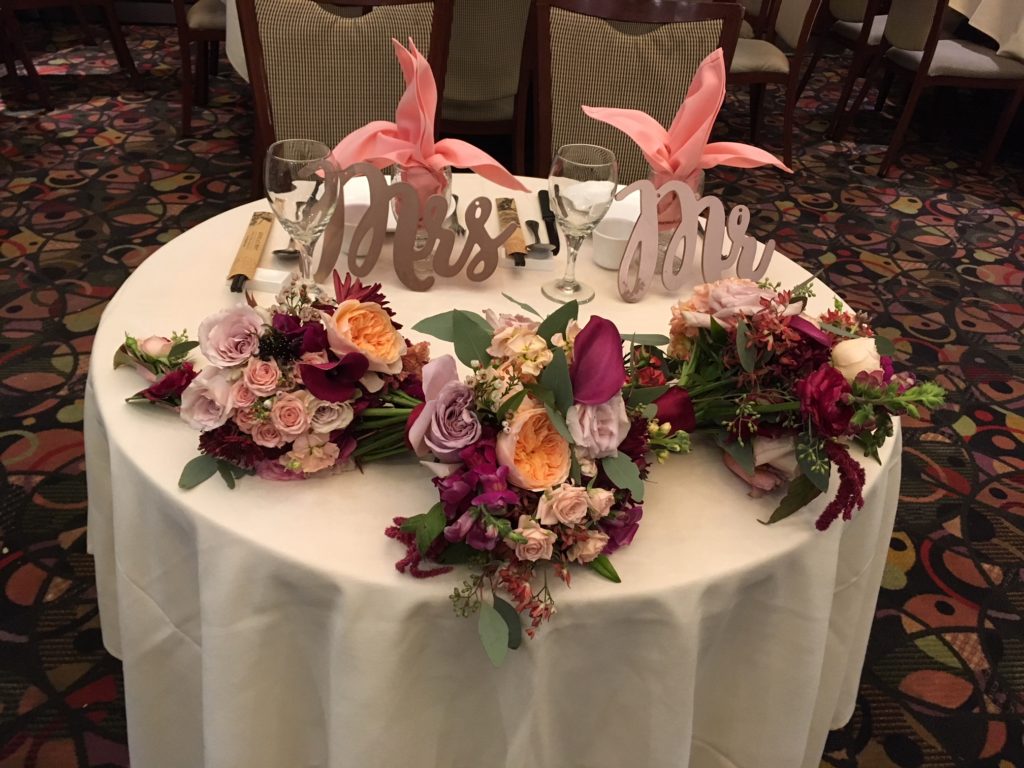 … a Sign-in Table and Seat Assignment Board installed…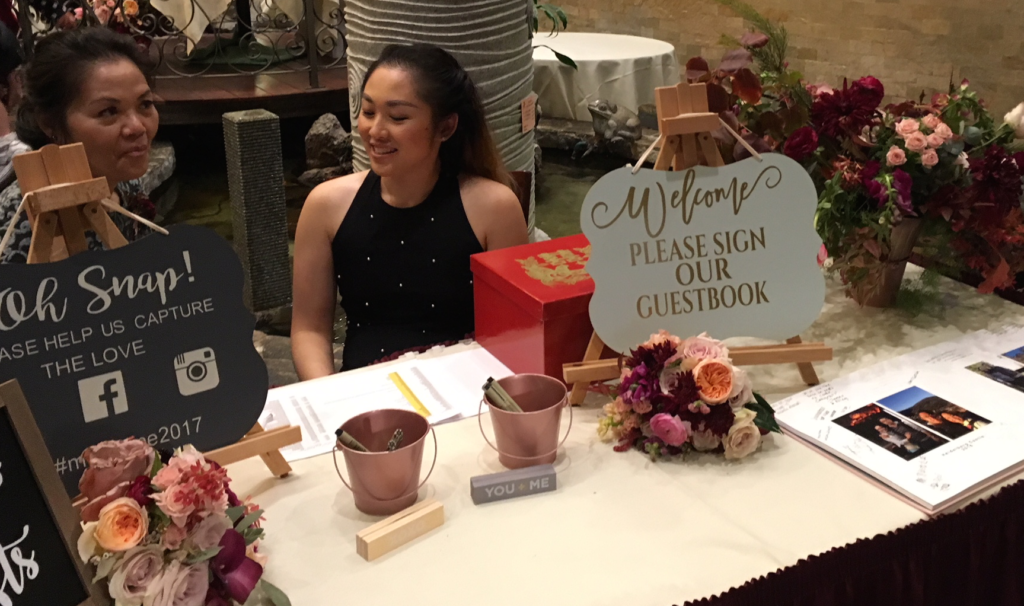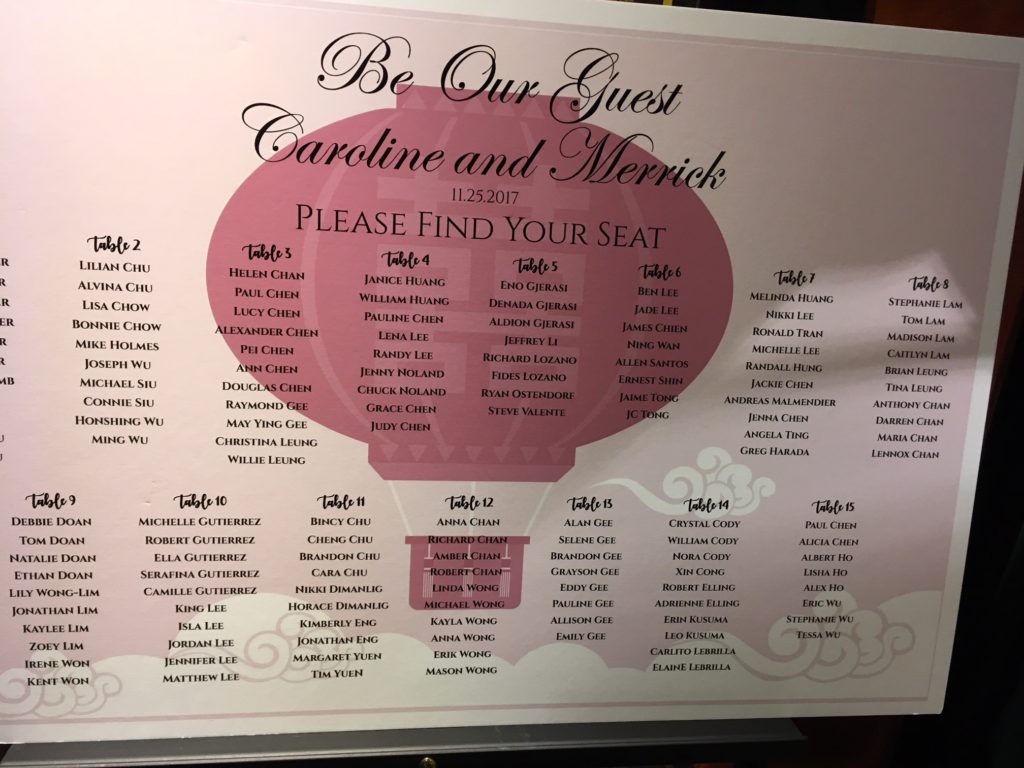 … and the DJ and our bilingual MC Jackson (from TDE Wedding) completed their setup and got ready.
Maid of Honor Michelle, my assistant Quan and I set up the cake-and-candy table…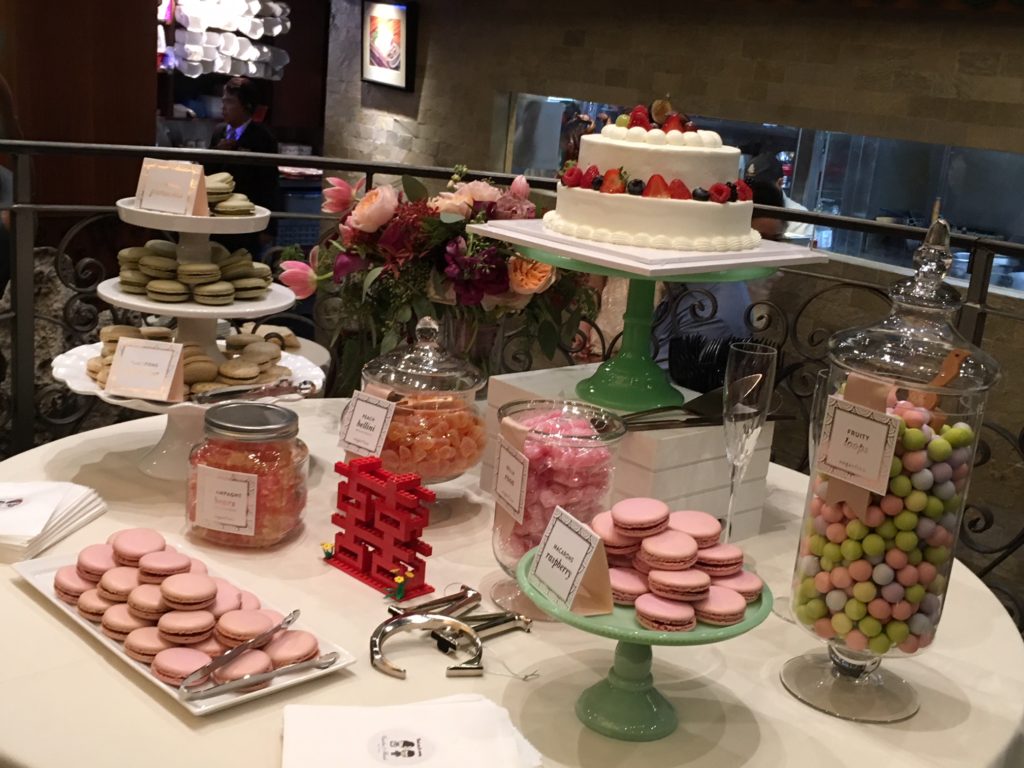 …with a cake and French macarons from Paris Baguette and a lot more delicious sweets. What you have certainly spotted in the middle is another one of Caroline's and Merrick's personal twists: a Chinese "double happiness" symbol built from LEGO bricks!! The two are LEGO fans… talk about "personal and unique!"
With that, we were ready for the guests and for an epic seafood banquet, many speeches and toasts… and for a lot of fun with the next surprise of the evening: Giggle & Riot photo booth producing cute little flipbooks as wedding favors!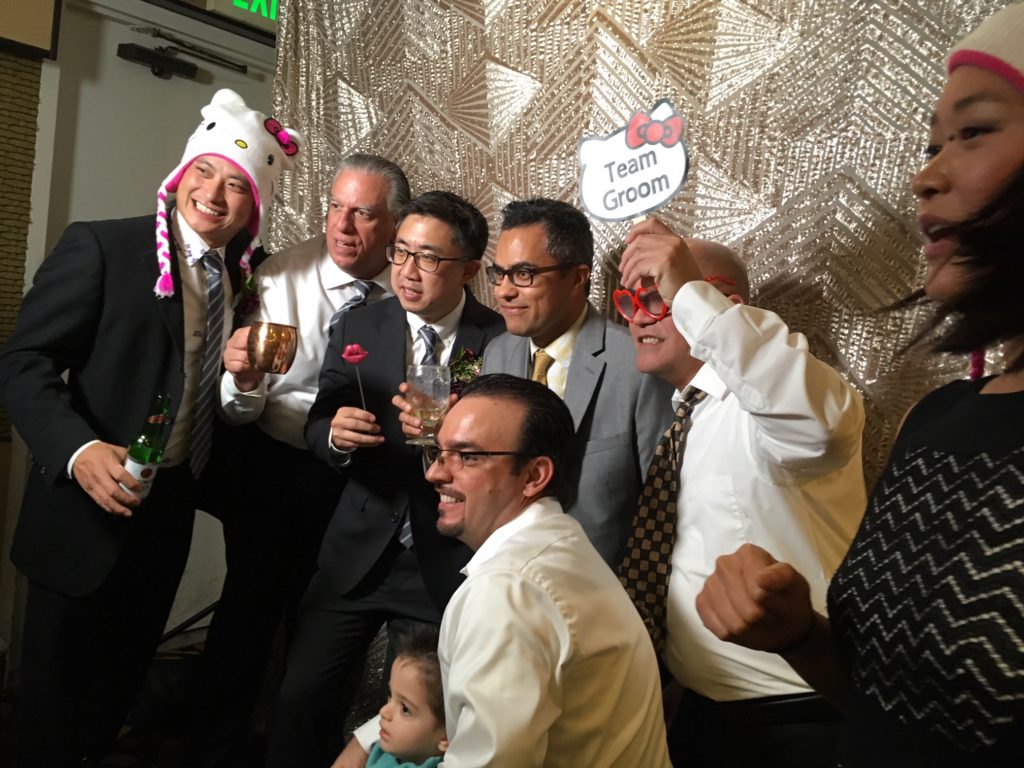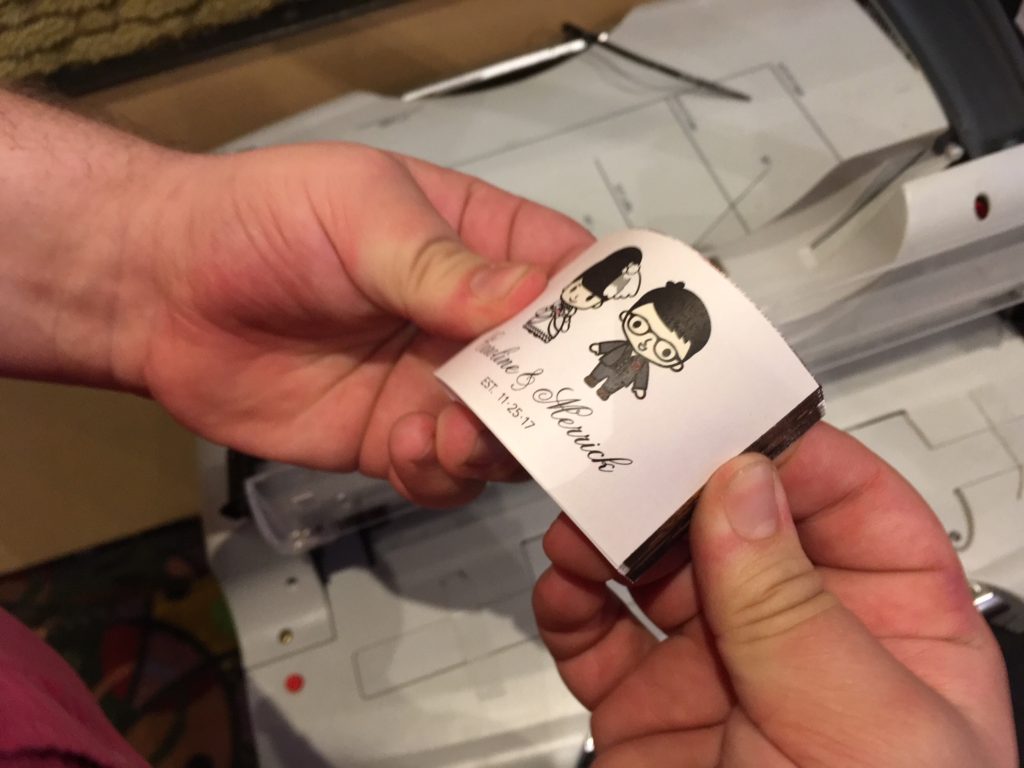 Then it was time for Caroline's and Merrick's first official task as a married couple – cutting the cake: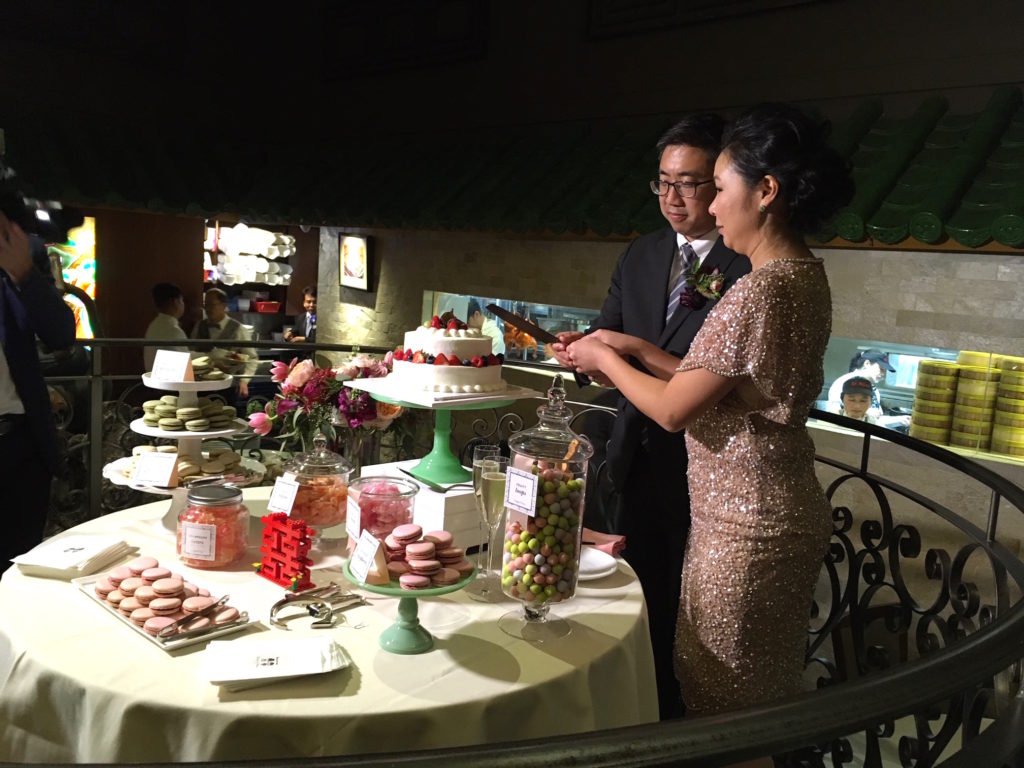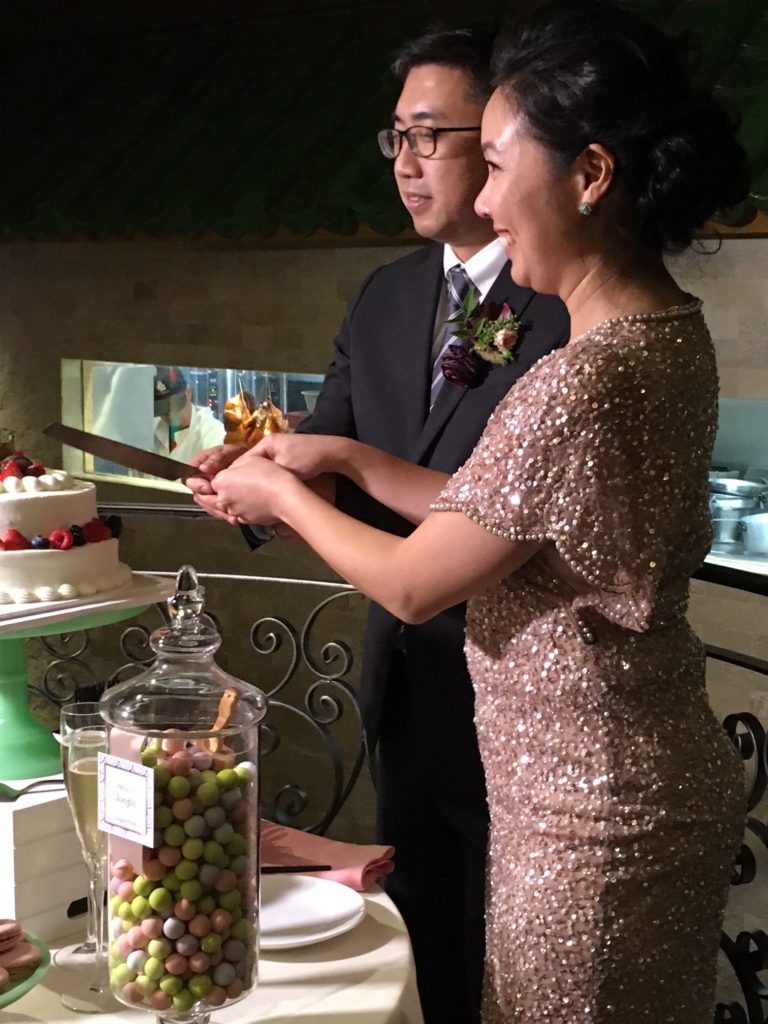 And finally – the couple's First Dance, of course!
It was a long day filled with happiness, warmth and laughter, and everyone went home with a big smile… Wishing you a lifetime of happiness together, Caroline and Merrick, and may you always find the time for shared laughter and a LEGO project!
Let us create YOUR unique wedding celebration, too!

<! DL 06/02/12: Added html code for Pinterest Pin It button (appears at the end of each post) > <! DL 06/02/12: Added padding style modifier to the Pinterest html code to align the Pit It button on the page > <! DL 06/02/12: deactivated code by adding two ! in the a and img code lines >