Yesterday I threw a party for one of my professional organizations, and that was tons of fun! As most of my dear readers already know, I am a wedding coordinator and designer, and the founder of A Day Like No Other, and I am a member of the San Francisco Bay Area Wedding Pros. That's a Facebook group – but what a group!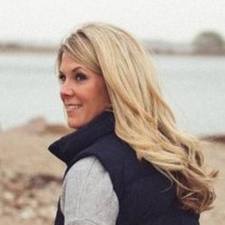 A year and a half ago, fellow event planner Jacin Fitzgerald of Lovely Little Details created a closed group on Facebook for all wedding professionals in the area as a forum where colleagues help colleagues, with advice, recommendations, and even standing in for one another in case of sudden emergencies. That was not only a good idea – it was an instantaneous, immense success: our group has gone from zero to 700 (!!) members, and counting. We meet in person a few times a year, and since I happen to be renting out a hidden gem of a SF wedding venue, the Forest Hill Clubhouse, I was in the lucky position to play hostess to yesterday's meeting.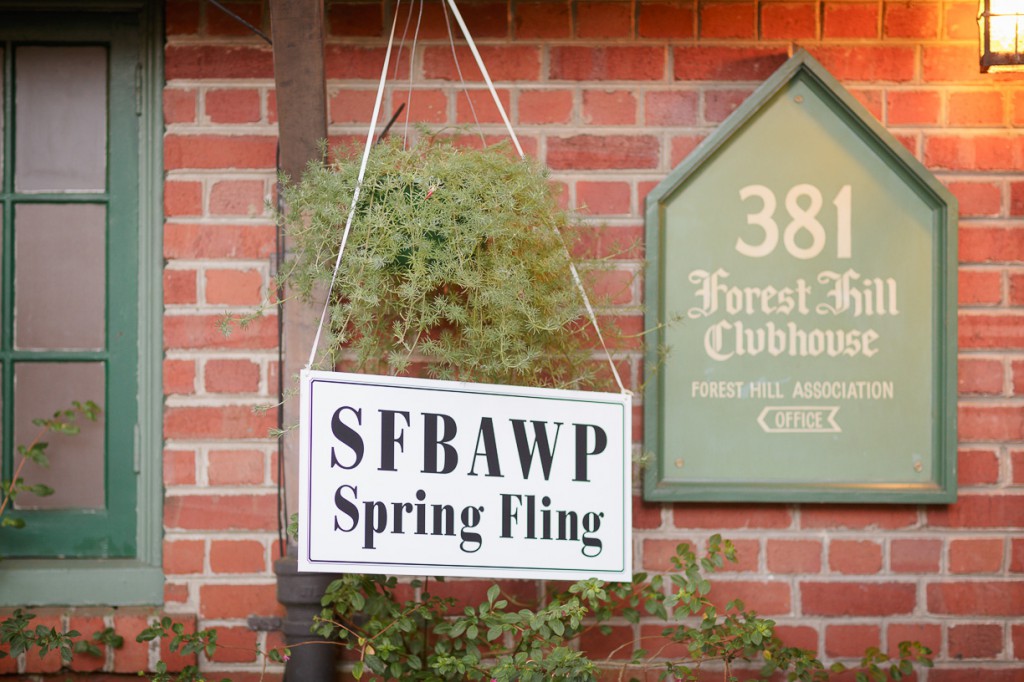 Since in our SFBAWPs group I am literally surrounded by everything and everyone needed for a party, and since everyone is so helpful, generous and enthusiastic, all it took me to throw our "Spring Fling"  were a few phone calls and emails. Jacin helped behind the scenes, and the Forest Hill Association, owner of the venue, graciously invited us all to party in that beautiful historic building!
As only a few of our guests were familiar with the Forest Hill Clubhouse as an event venue, my friend, graphic designer Rachel Lopez Metzger of The Desk Set, created elegant information cards with all there is to know for booking an event here: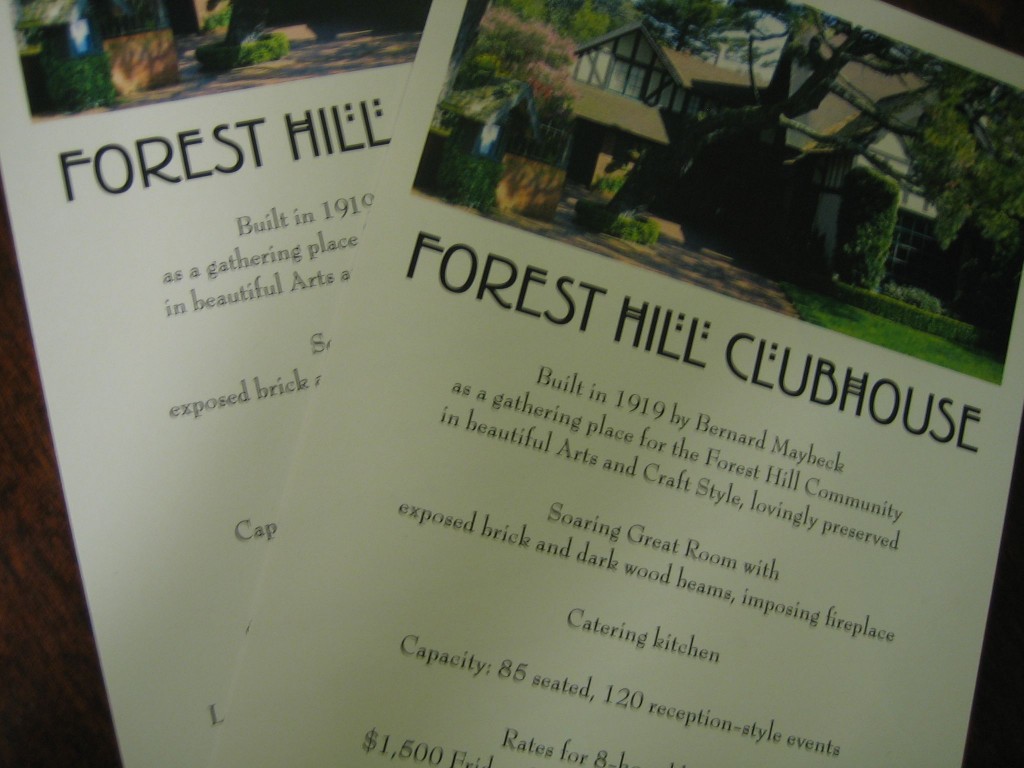 Punctually as announced, doors opened at 5 pm yesterday, and revelers kept arriving – probably around 75 altogether – and wouldn't leave at all… so our party went a good hour into overtime, and that's probably the best proof that it was, indeed, fun for everyone! Since our theme was Spring, and as the venue has such a unique storybook charm,  I based my design on ivory, spring green and a few yellow accents, garden accessories and all natural materials.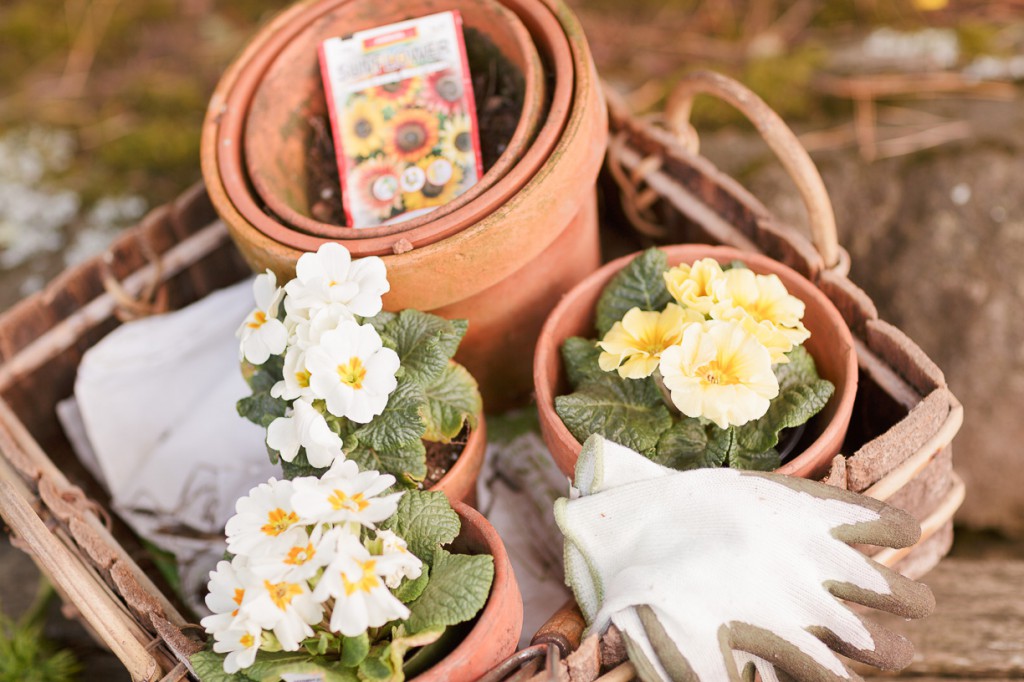 Janelle Jacky of Green Petal Designs played up the mood with fresh and elegant floral arrangements in our signature colors: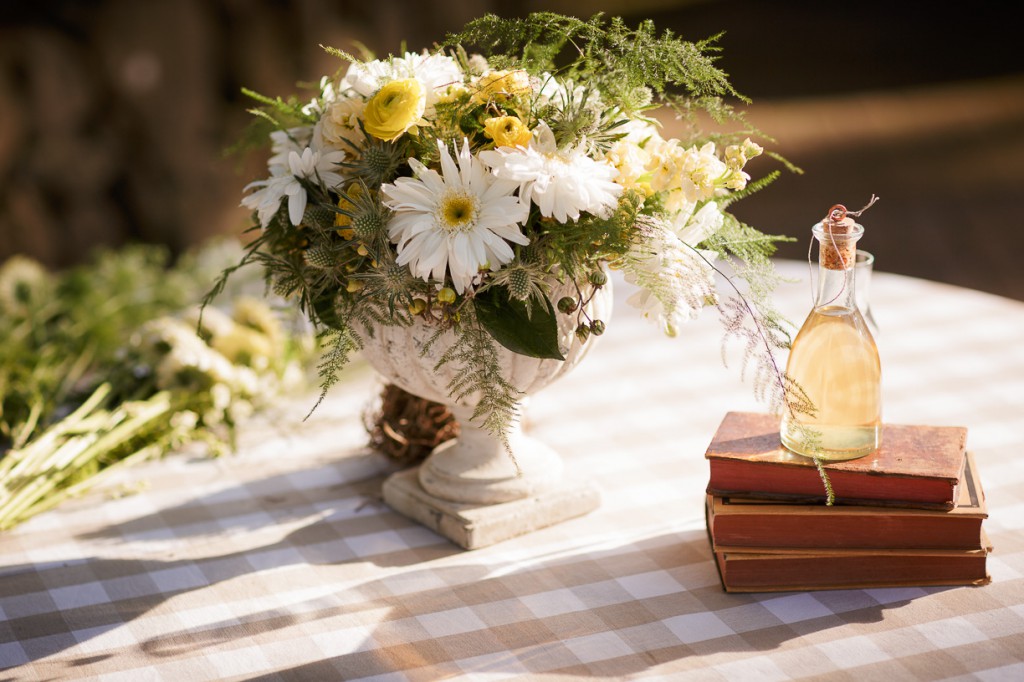 Cake artist Gabrielle Feuersinger of Cake Coquette teamed up with florist Janelle to create the perfect decor on a luscious, delicious cake, recreating the natural flowers and the basketweave containers exactly in buttercream! Take a look – she definitely outdid herself just once more: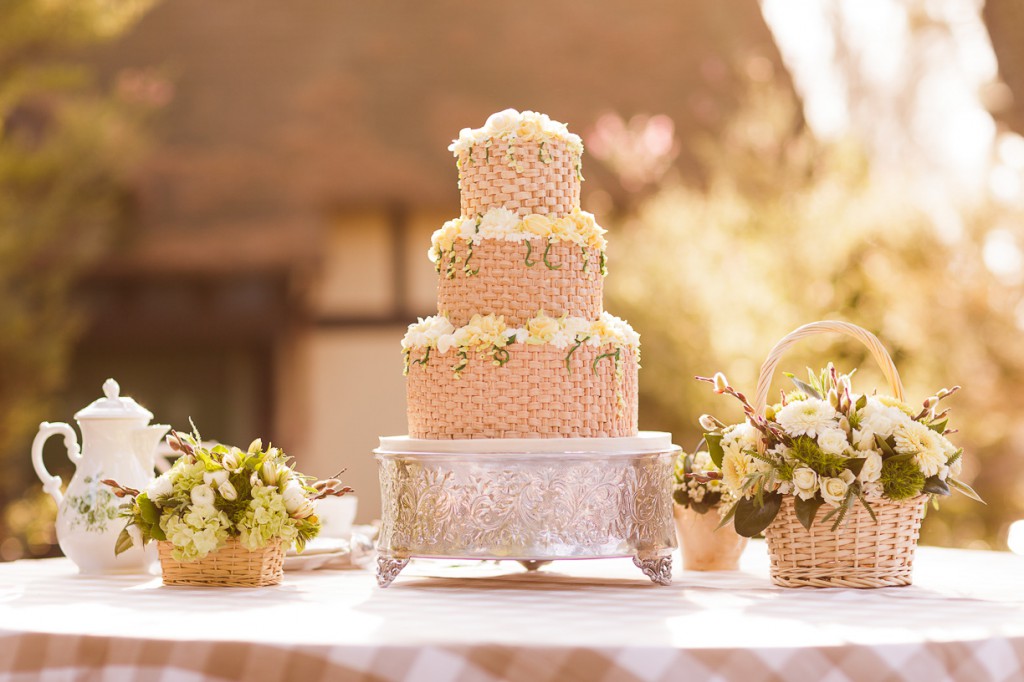 But – we didn't "eat cake first!" We first attacked the buffet…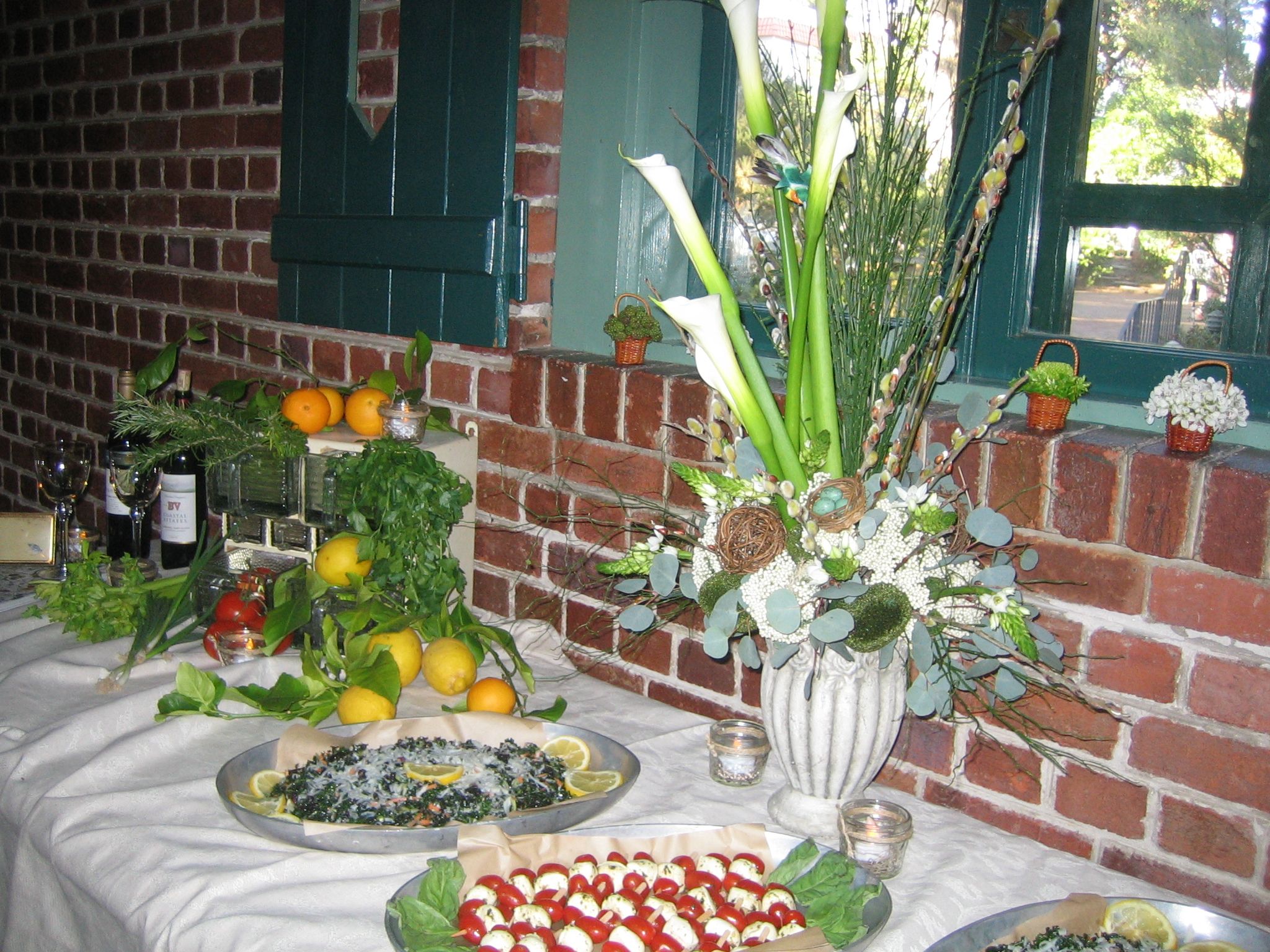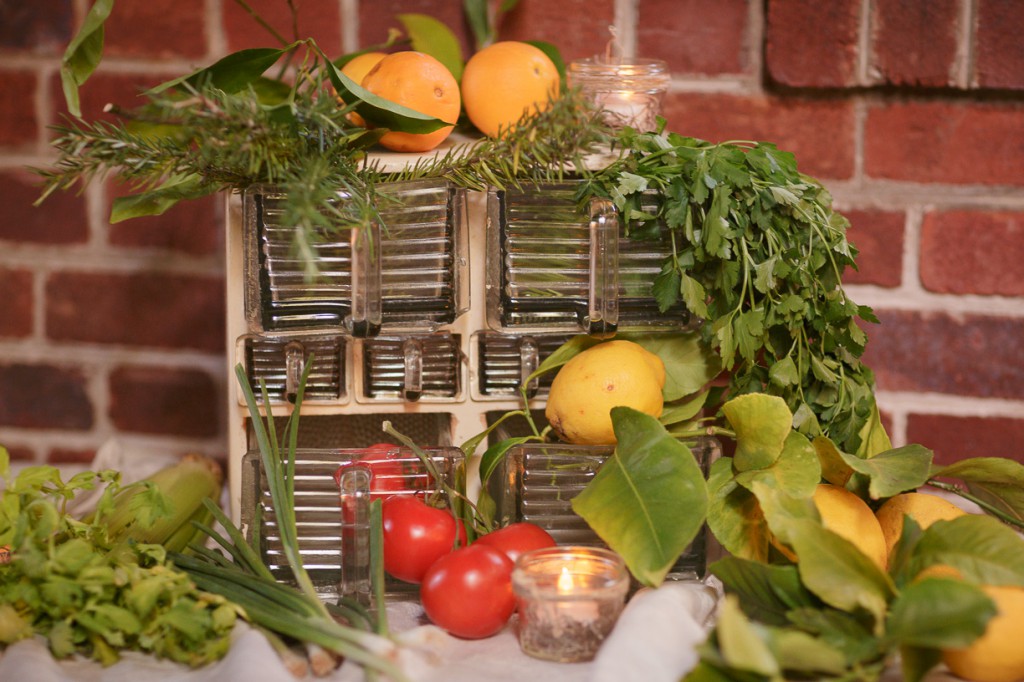 … where organic appetizers from Kristin Houk's All Good Pizza entered into a healthy competition with fresh-from-the-oven gourmet Goat Hill Pizza, accompanied by a selection of red and white wine, courtesy of the Forest Hill Association: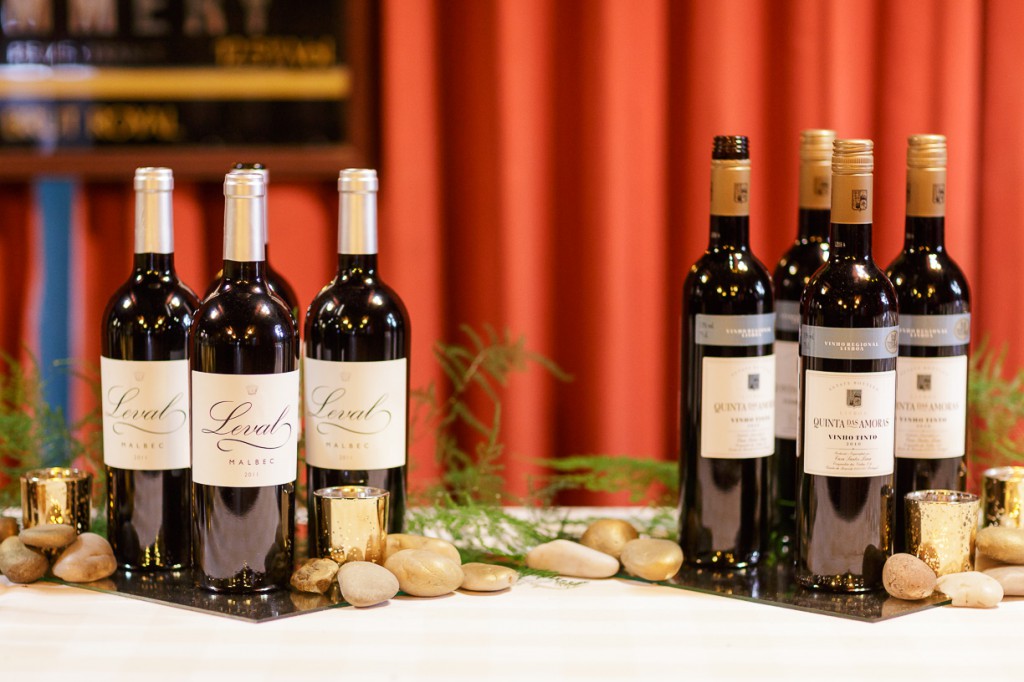 Before we cut "The Cake," guests were treated to the prettiest presentation of vitamins imaginable – a fruit display from Susan Leigh by Edible Arrangements: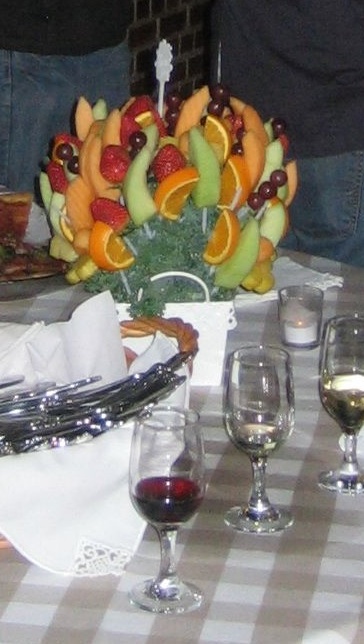 "Too beautiful to eat!" was what everyone kept saying… and then they did it because it was so delicious!
Then finally, Birthday Bay Sam Soto-Suver of Bowerbird Photography cut the cake, revealing one layer of vanilla, strawberry and raspberry flavor alternating with another layer of sheer dark chocolate bliss spiked with espresso aroma, and guests enjoyed first-rate coffee to go with it – courtesy of Bill Choy of Travelin'Joe Coffee Bar (who had totally caught me by surprise – addressing me in fluent German!).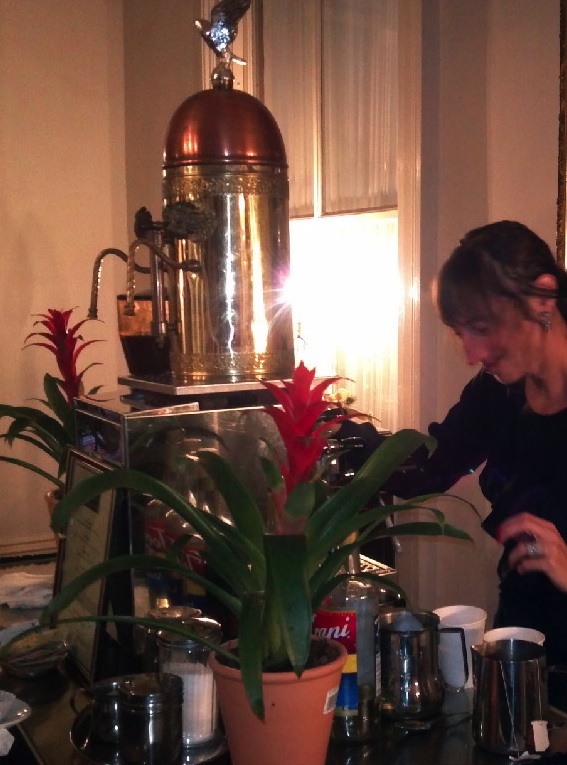 When darkness fell and a big fire in the oversize fireplace created a cozy atmosphere, guests were all in lively conversation with friends old and new, and certainly felt even more homey, surrounded by all the pretty rental items that made up the backbone of my party design: La Tavola had provided pretty white-and-tan checkered tablecloths, YPR Party Rentals generously sponsored all our china, stemware and flatware, and Hartmann Studios contributed pretty showpieces for our buffet.
 To round it out, jazz pianist Robert Kennedy of Robert Kennedy Trio (Robert Kennedy (
[email protected]
)entertained guests throughout the evening, barely taking a break to join in the festivities himself!
One high point of the evening was, however, still to come: no guest left empty-handed, thanks to Maya and Alaa, the two fashionable ladies behind
ChocoVogue
 – in keeping with our Spring theme, the two had created a showpiece of sorts out of their beautifully decorated chocolate favors, a veritable blooming garden: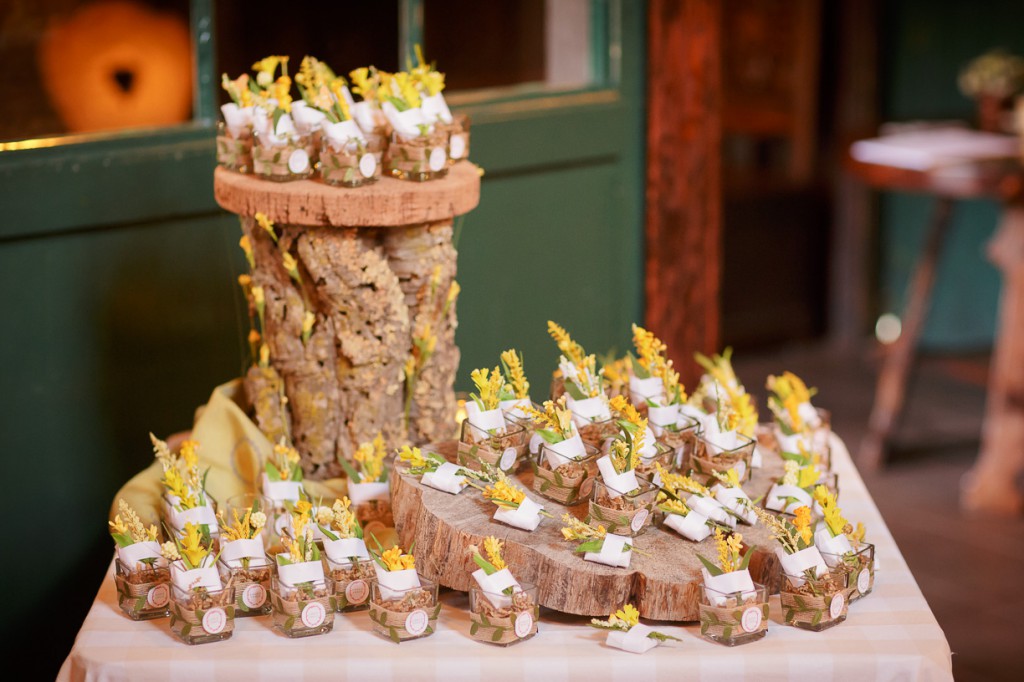 Each guest received one of these cute favors to take home, and everyone left with a big smile! We are all looking forward to our next party!

<! DL 06/02/12: Added html code for Pinterest Pin It button (appears at the end of each post) > <! DL 06/02/12: Added padding style modifier to the Pinterest html code to align the Pit It button on the page > <! DL 06/02/12: deactivated code by adding two ! in the a and img code lines >