What happened to Amanda and Noah is – unfortunately – very typical for many engaged couples looking forward to their once-in-a-lifetime wedding celebration. The two had booked an elegant hotel wedding in Hawaii and could absolutely not wait for their great day to arrive. And then came COVID-19. It ruined everything… so Hawaii had to be called off. That was already a major heartbreak. Amanda and Noah "re-grouped" and started all over. They would have their wedding at the beautiful Marin Art and Garden Center, not far from their new home, and they would invite more than a hundred guests to a charmed afternoon and night in this romantic park. But even this was not going to happen. The COVID-19 lockdown put an end to this plan, too. The couple was deeply disappointed and at a total loss what to do now. They did not want to postpone getting married even longer. So they turned to my company, A Day Like No Other, for help.
It was clear that the maximum number of guests they could have was thirty – so it would be a very intimate celebration. But I wanted this to be a unique, memorable and beautiful celebration for the two – so I recommended a little-known secret to them: the historic Casa Madrona Hotel in Sausalito. Charming, built into a steep hillside and overlooking the yacht harbor and SF Bay with spectacular sunsets, this was the perfect location for their small gathering.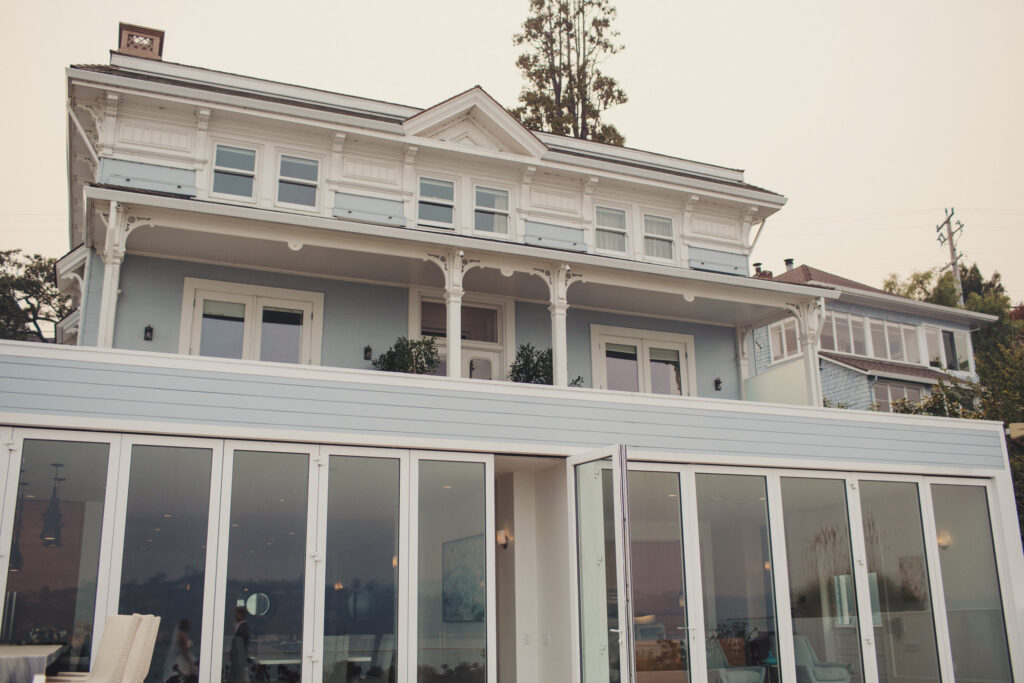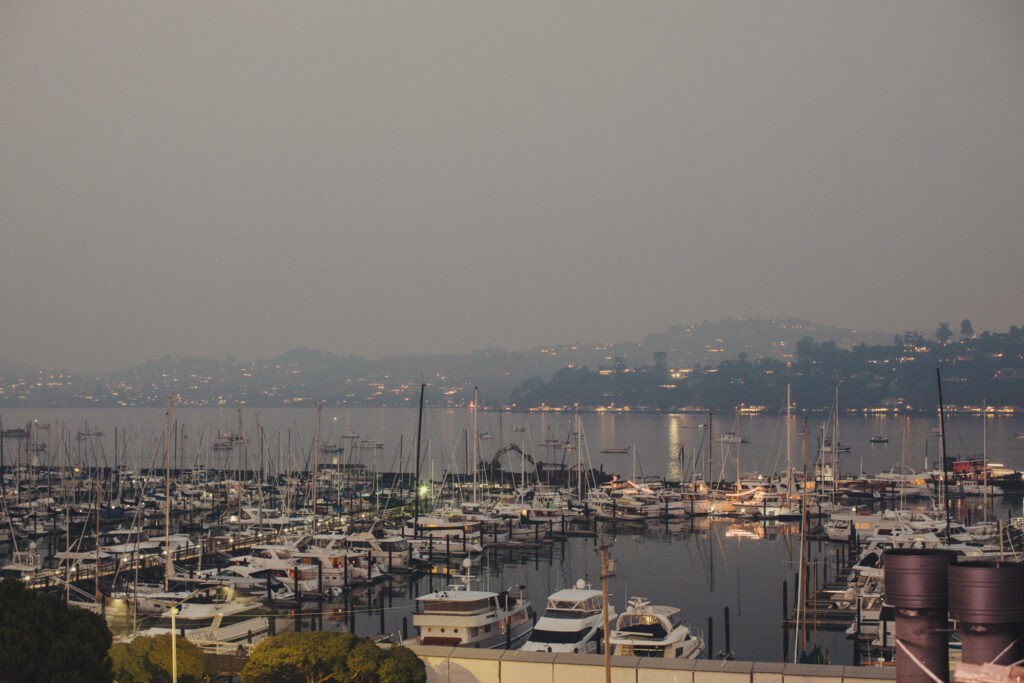 Additional bonus: the teleconferencing capabilities that Casa Madrona is offering! That allowed Amanda and Noah to have all guests from their original list of invitees attend their ceremony, at least virtually. A small consolation, after all…
One other thing: while Marin Art and Garden Center, their previous choice for their wedding celebration, remained closed for social events, the two got permission to have wedding photos taken in this spectacular setting. Another consolation!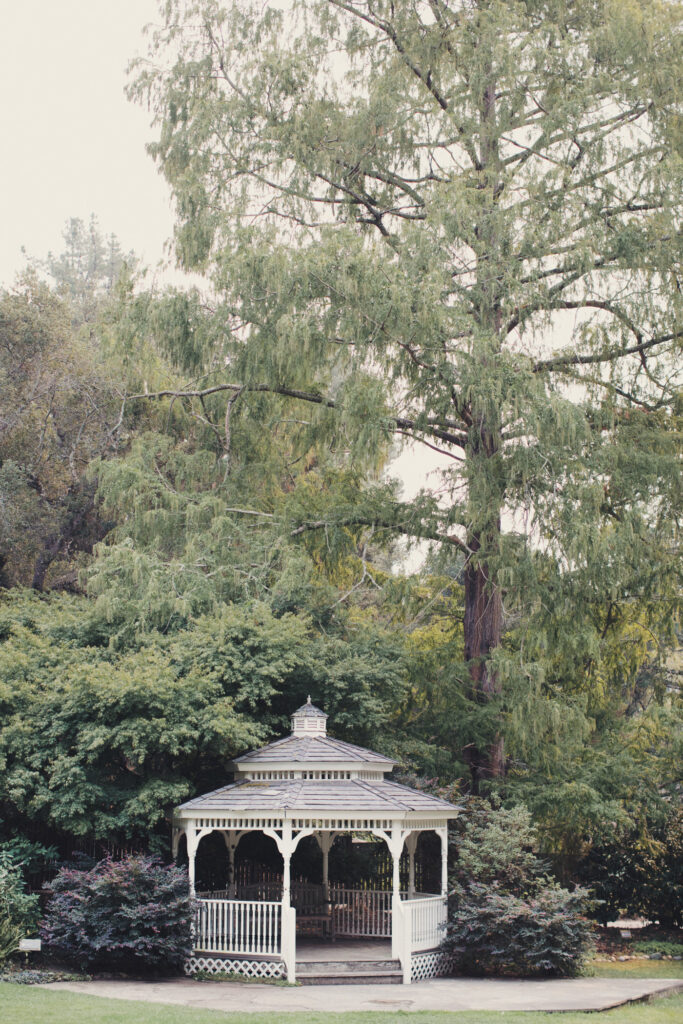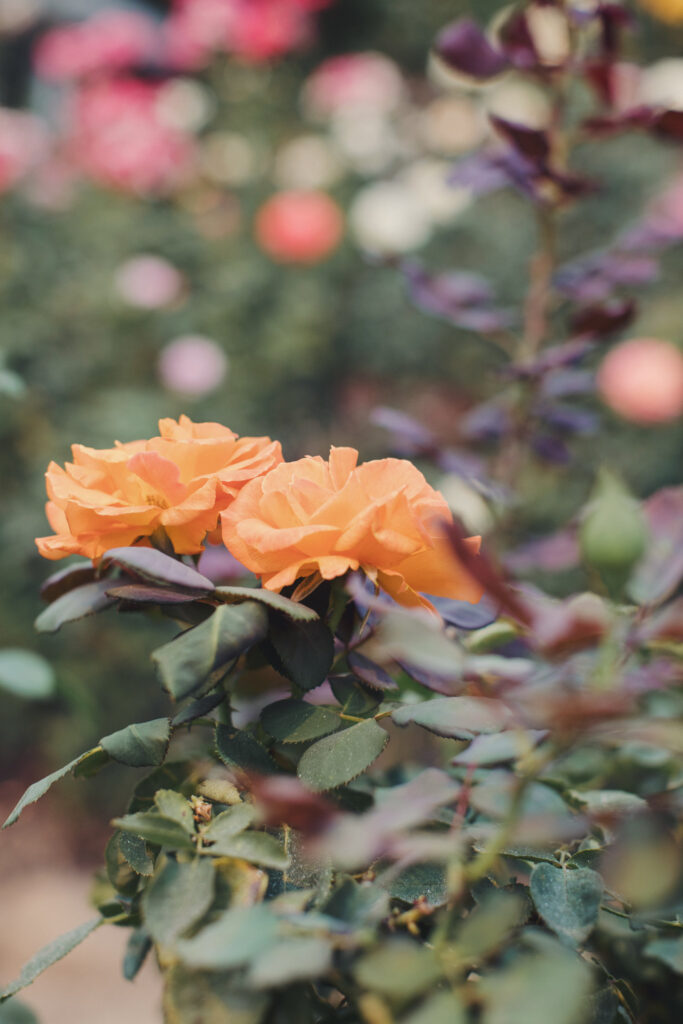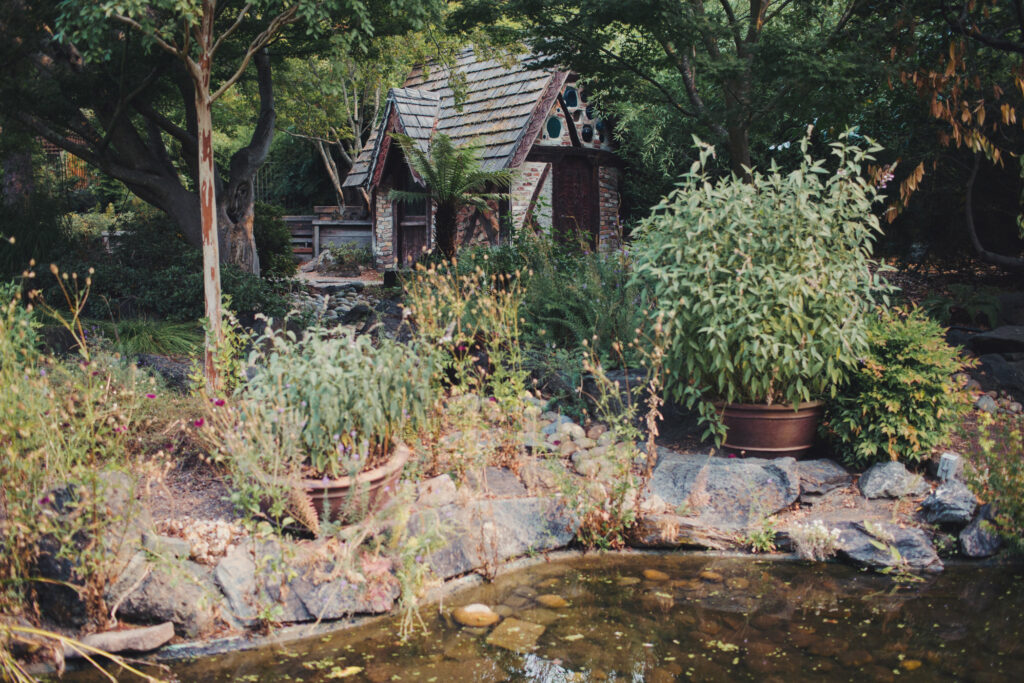 And so, the great day final arrived. The bride and her bridesmaids got ready at the couple's home, with hair and makeup services by Maya Roget. Photographer Anne-Claire Brun captured every moment.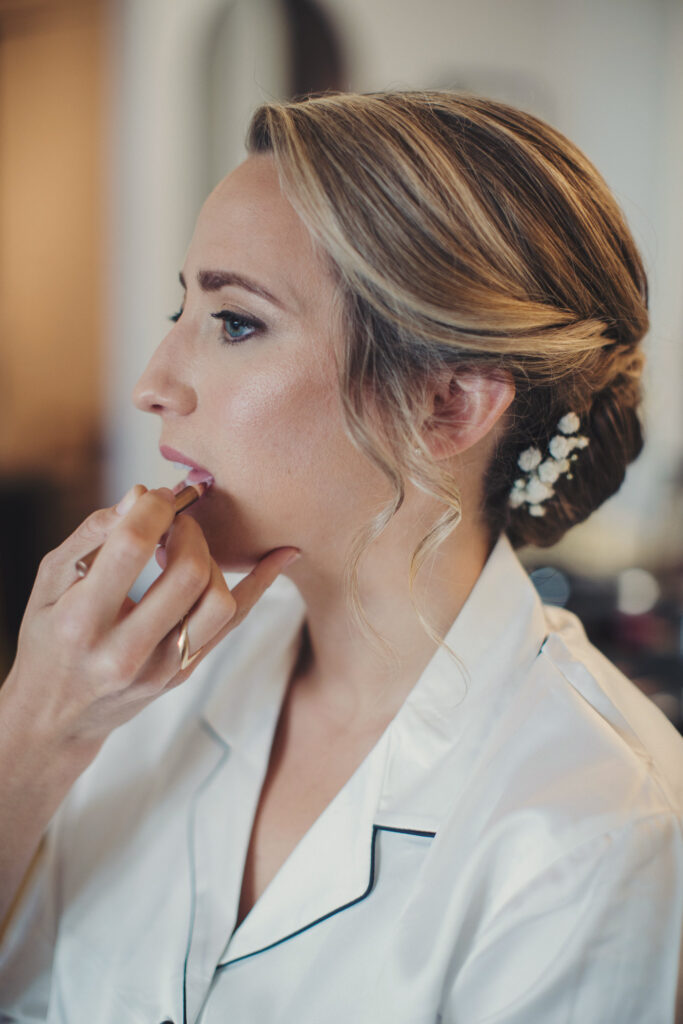 Once all the ladies had their hair and makeup done, it was time for the bride to get into her spectacular dress: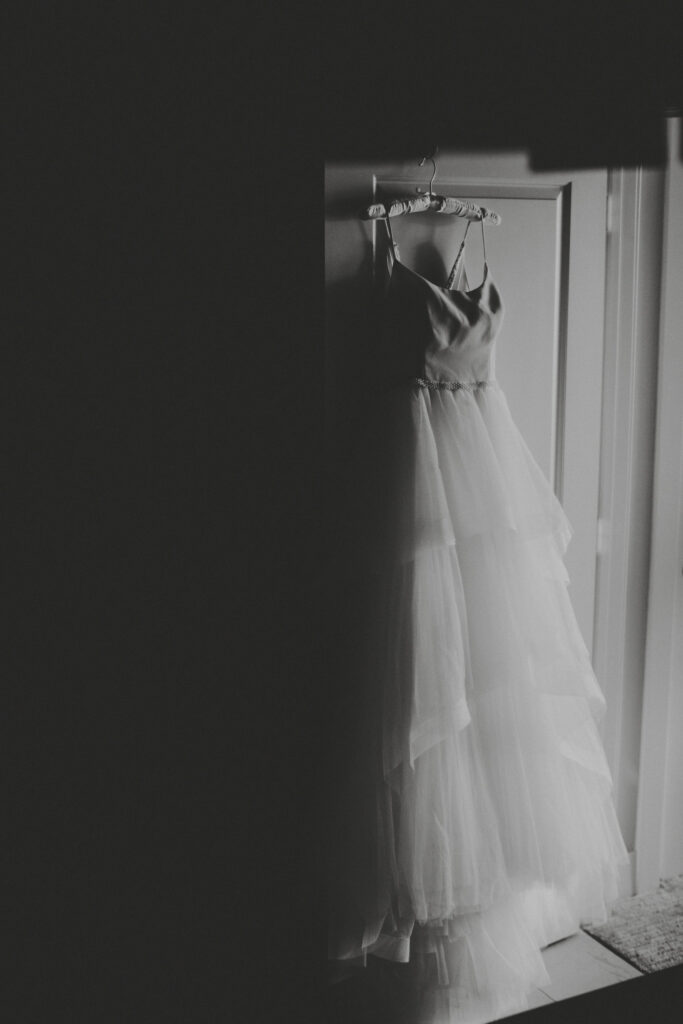 … elegant, feminine and modern at the same time, and it fit her like a glove! This was, of course, a classic mother-daughter moment…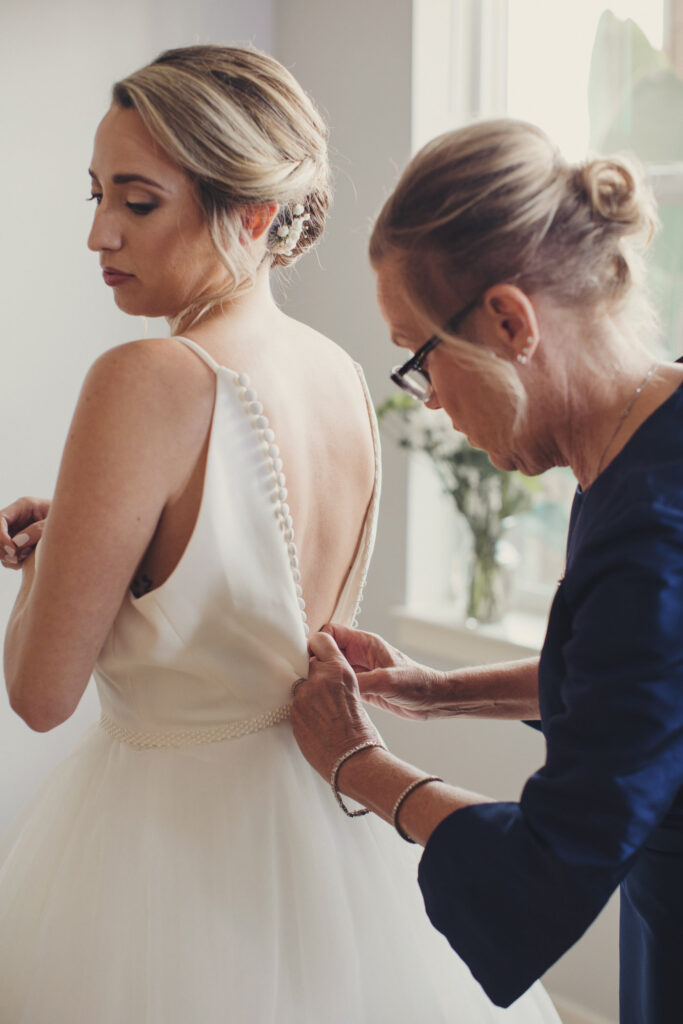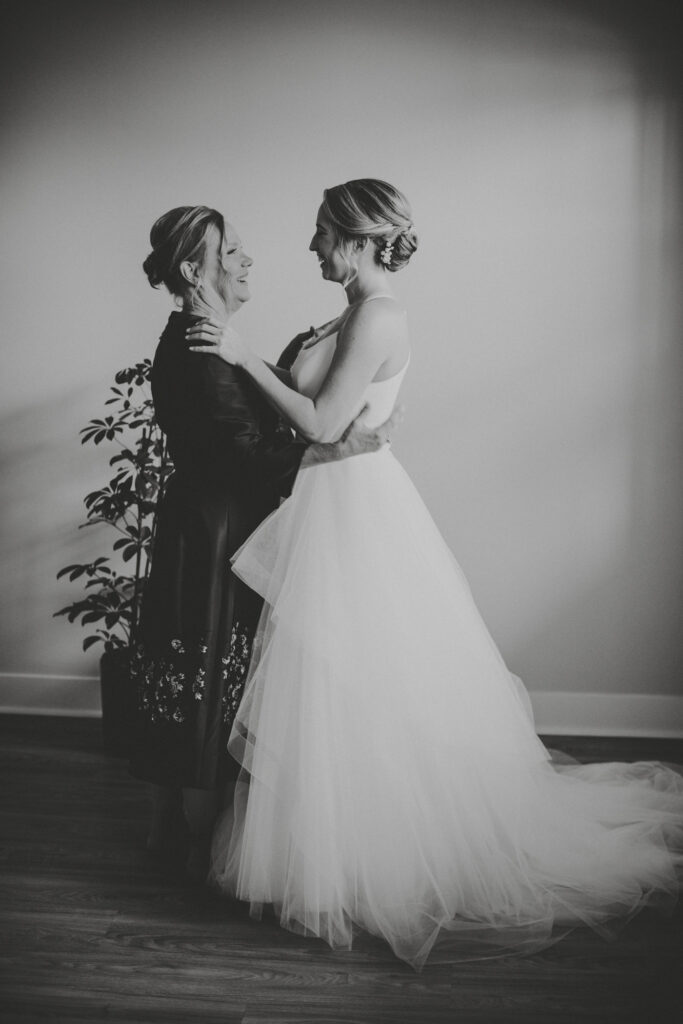 And here is Bride Amanda!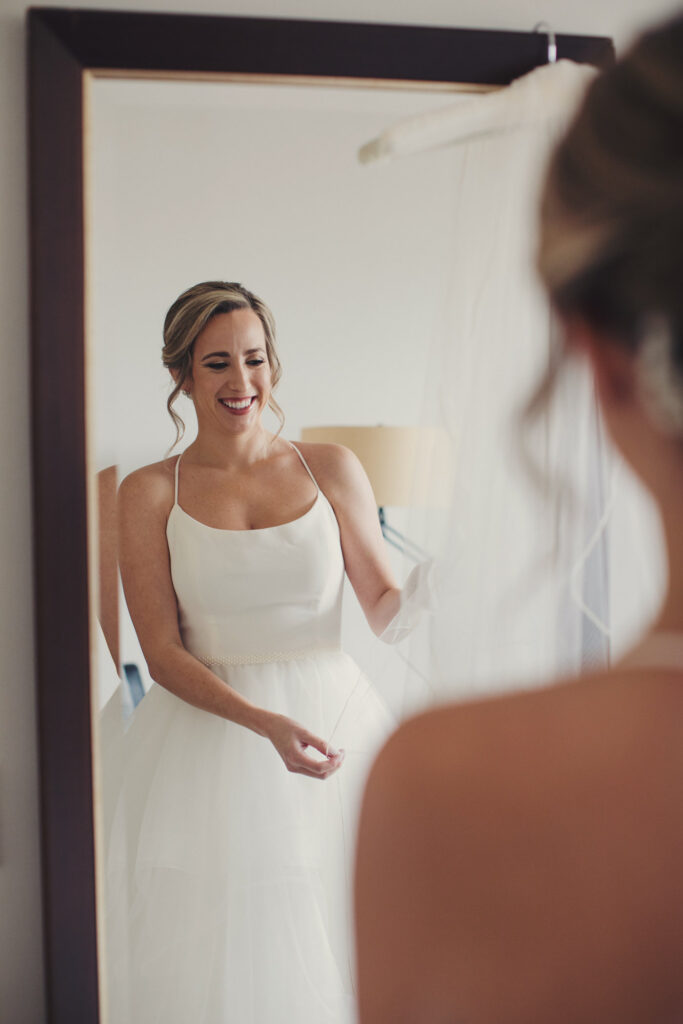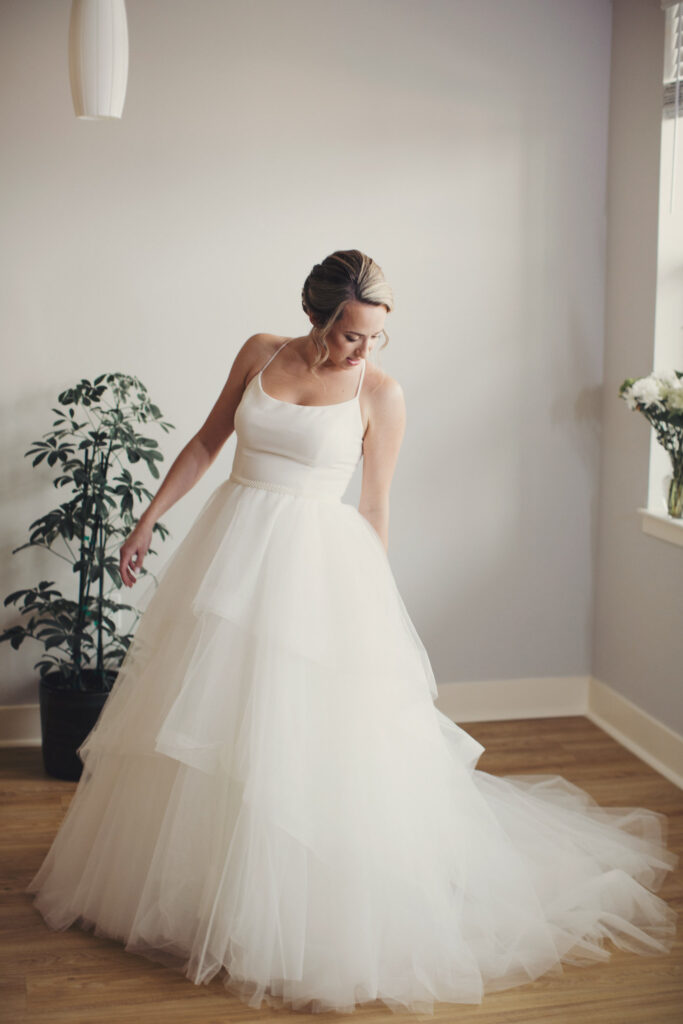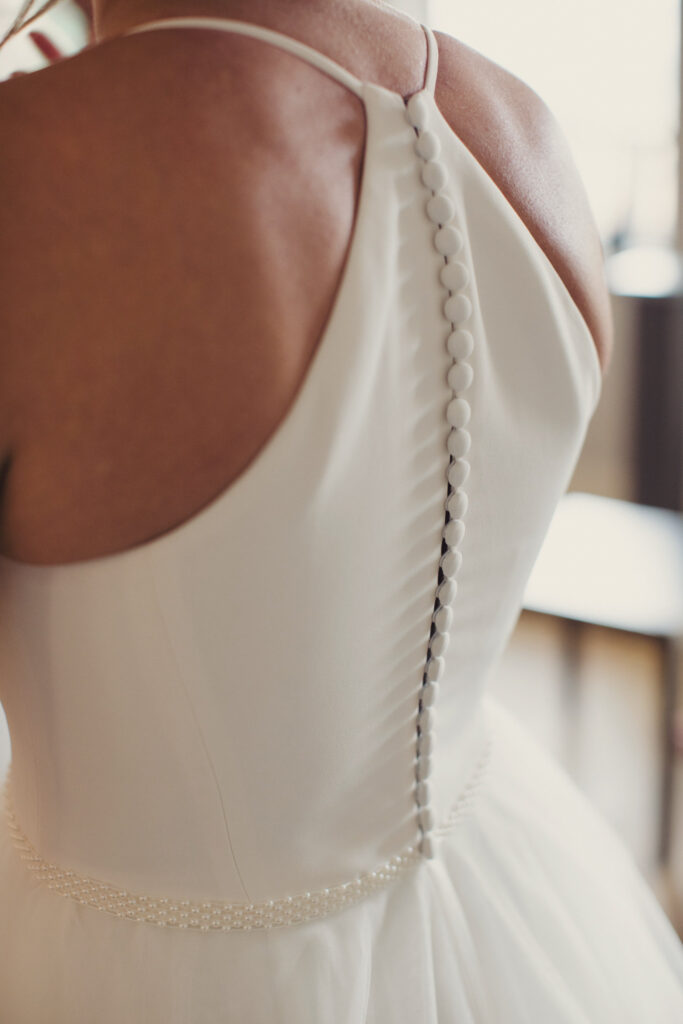 Ready to pick up her romantic bridal bouquet by Fleur Real…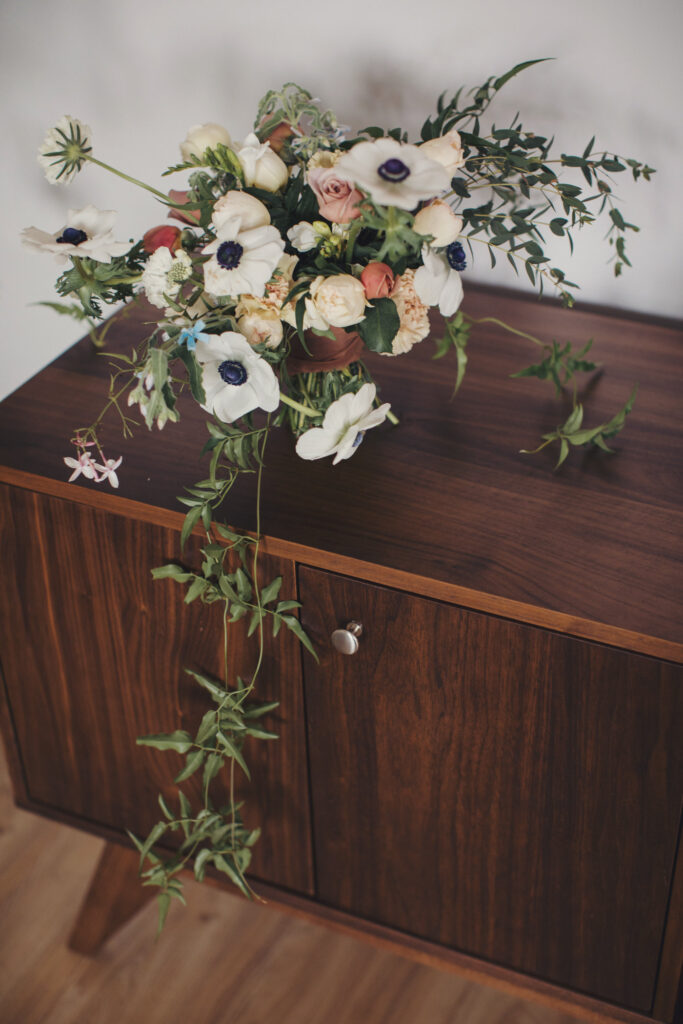 … and off to her First Look at Marin Art and Garden Center.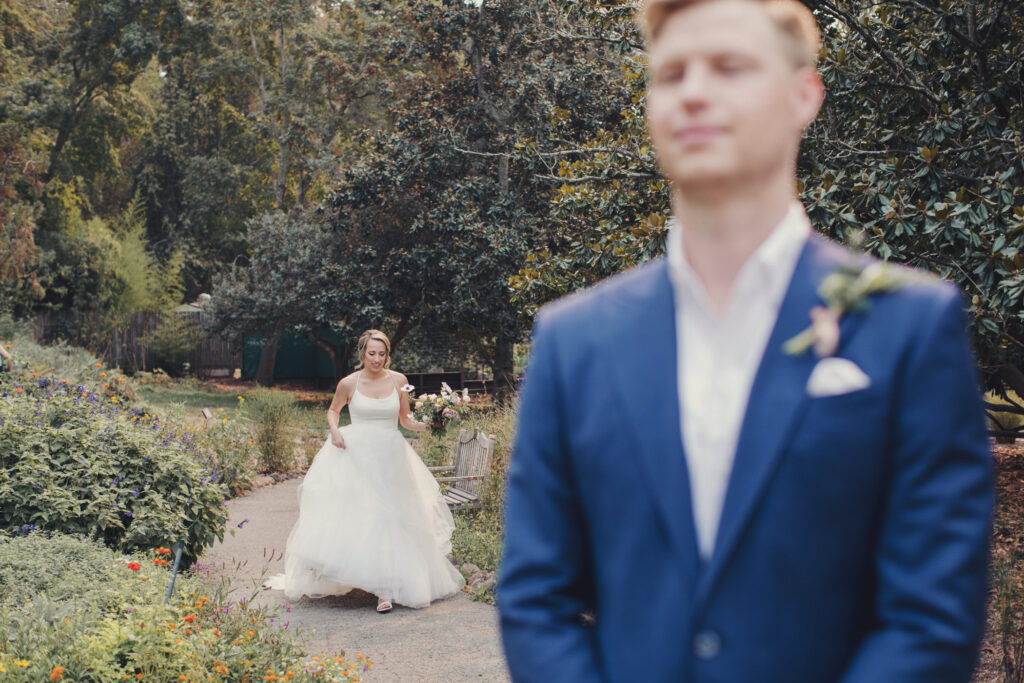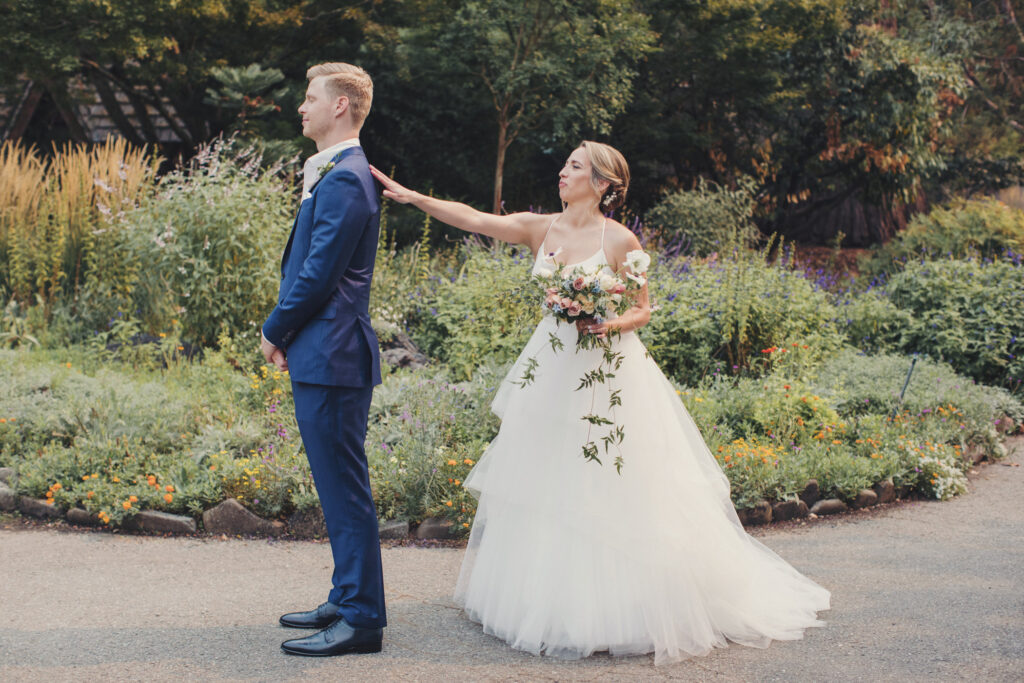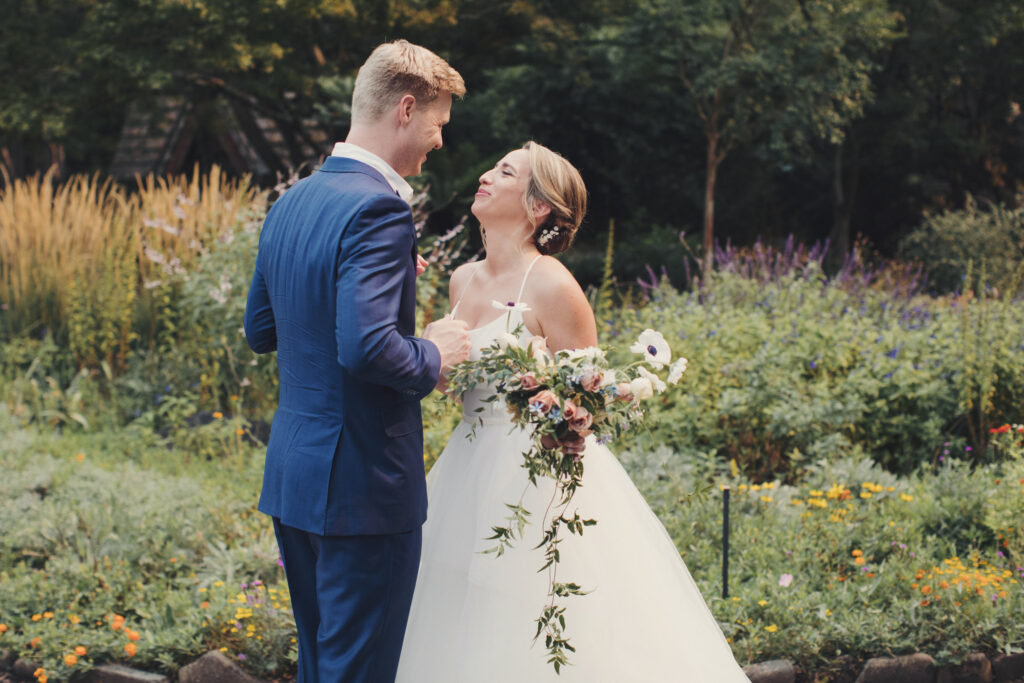 A couple's First Look is always one of my favorite moments – so special…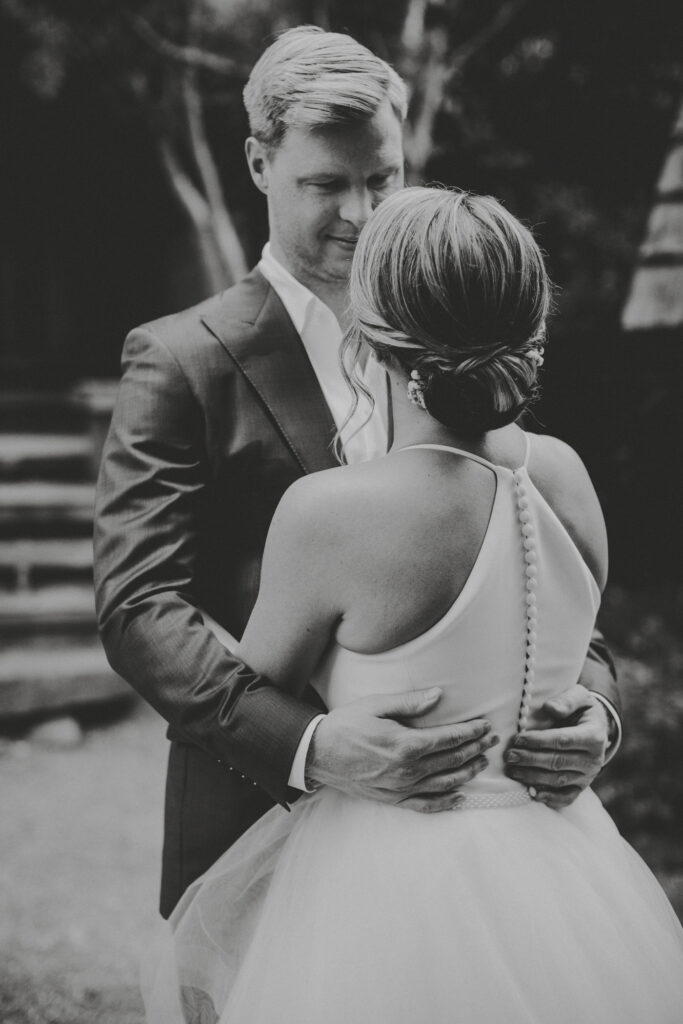 And now: many more photos!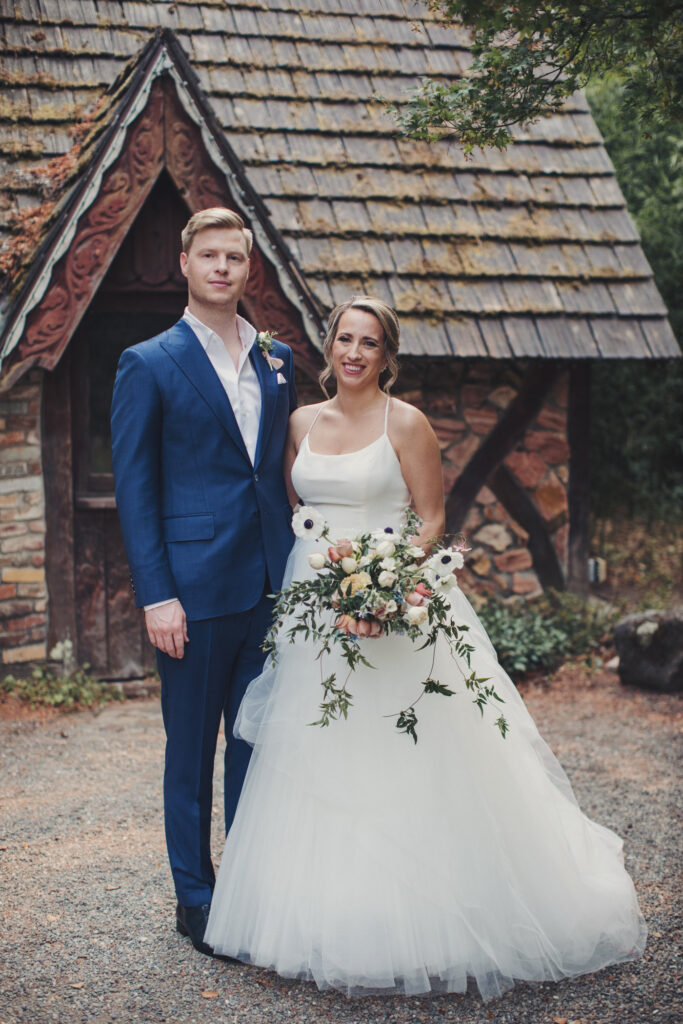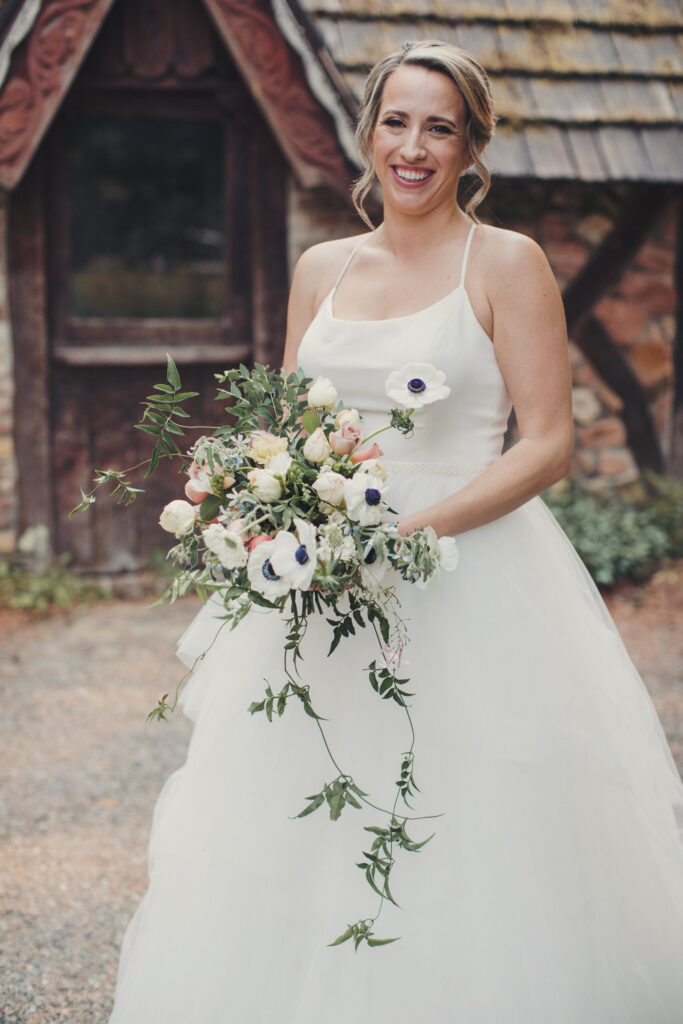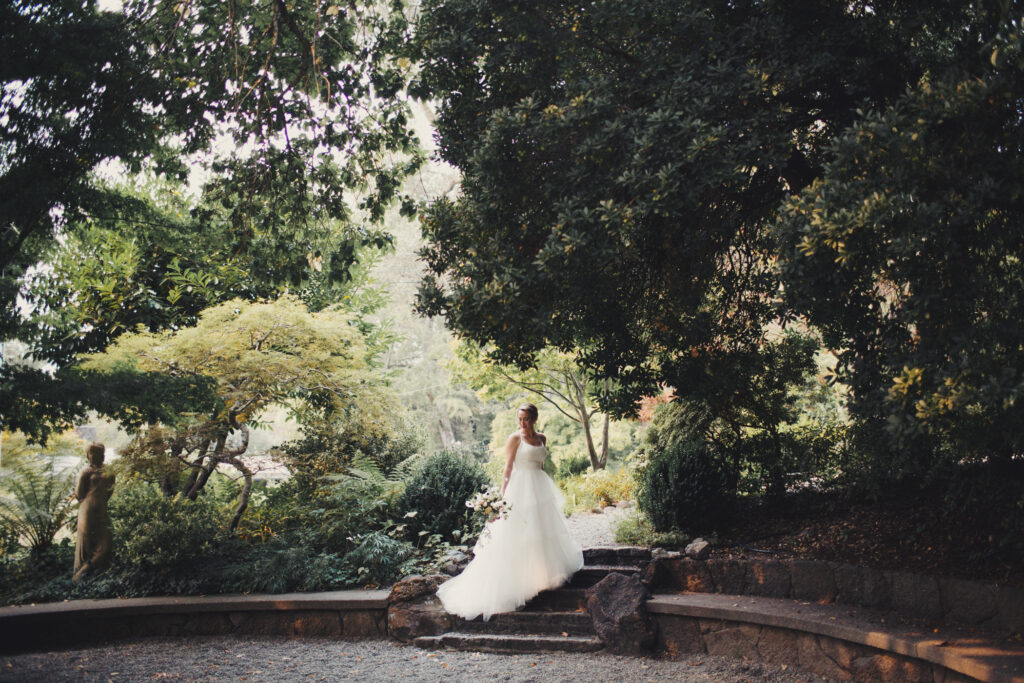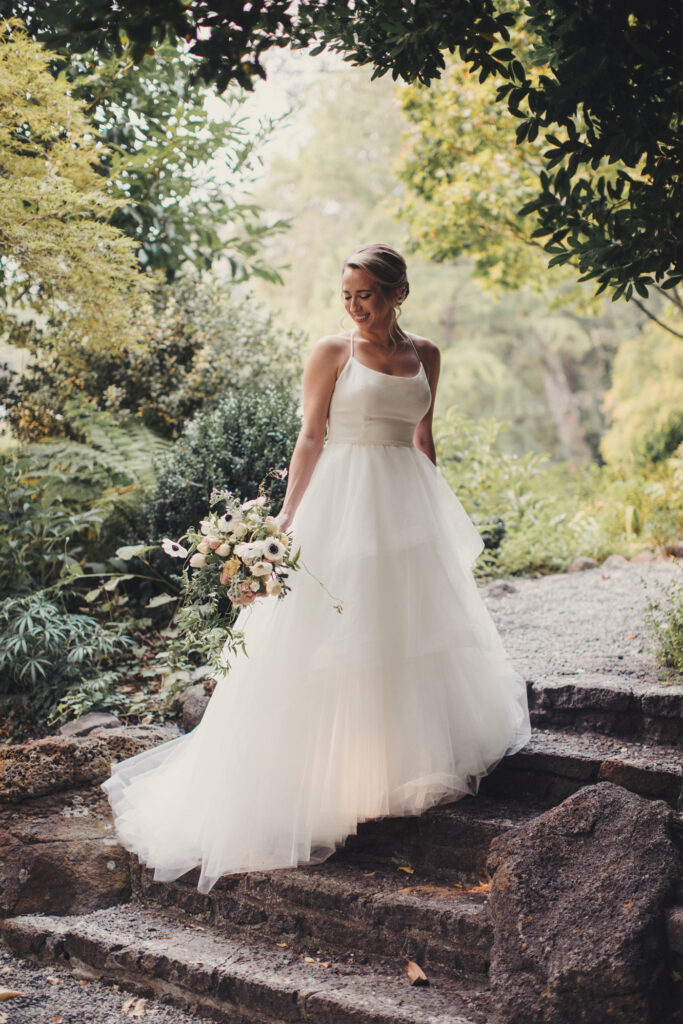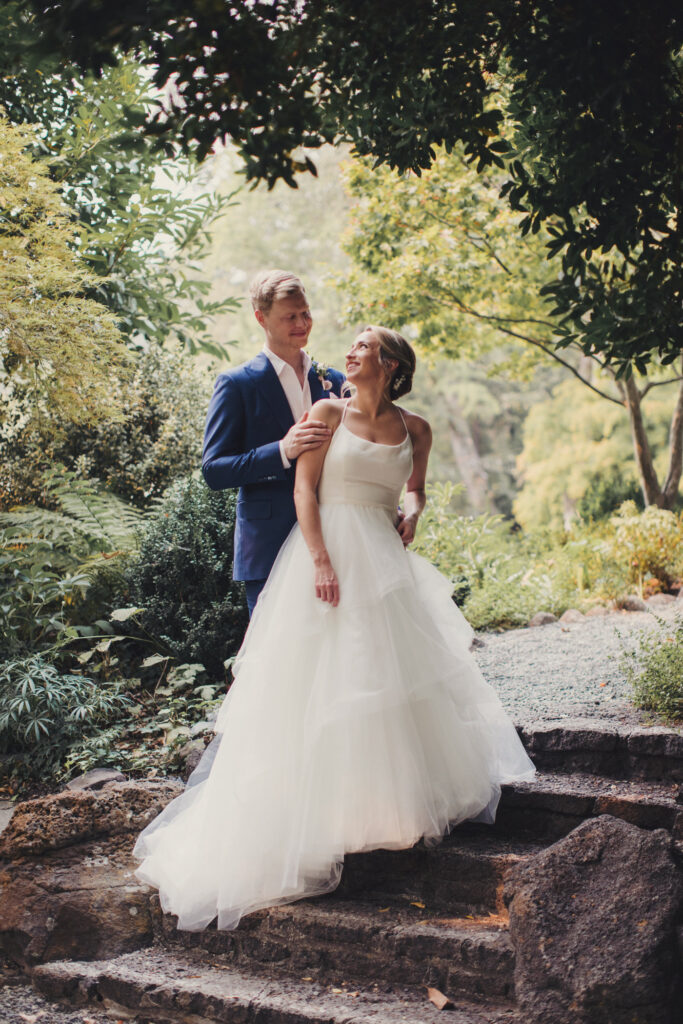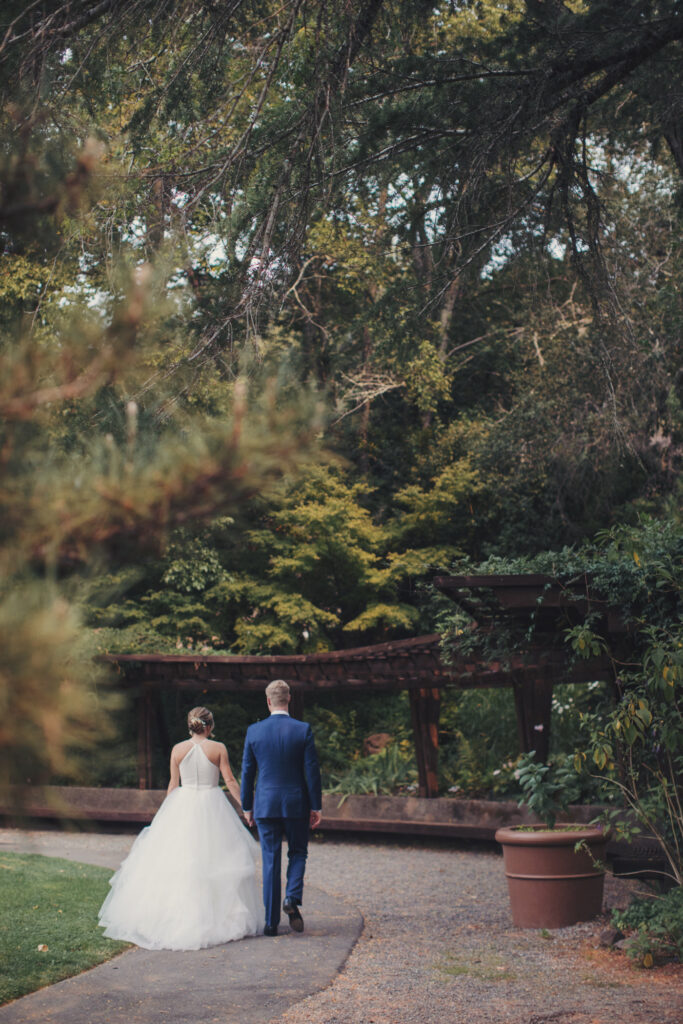 One photo with the bridesmaids and groomsmen…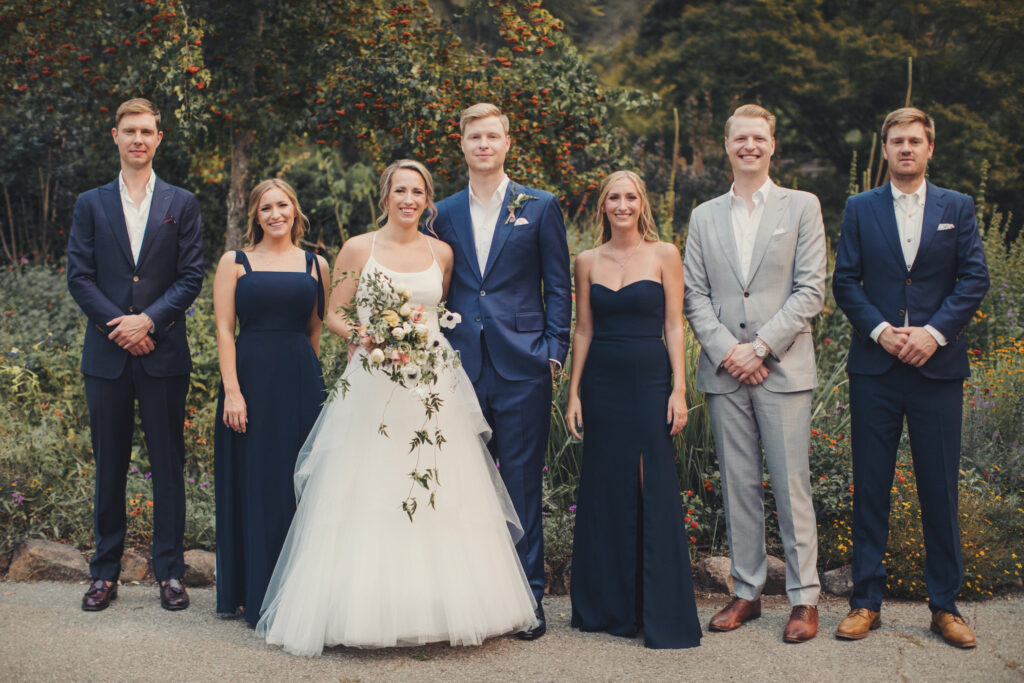 … and off they all go to Casa Madrona for the wedding ceremony and reception.
The teams of Jazmine Herrera at Casa Madrona, of Poggio Trattoria, the in-house caterer, the florist and myself had been busy getting the event space ready. The ceremony was to be held on a balcony overlooking the Sausalito yacht harbor, with guest seating spaced out following social distancing requirements. The Amethyst Duo played wedding classics out on the balcony.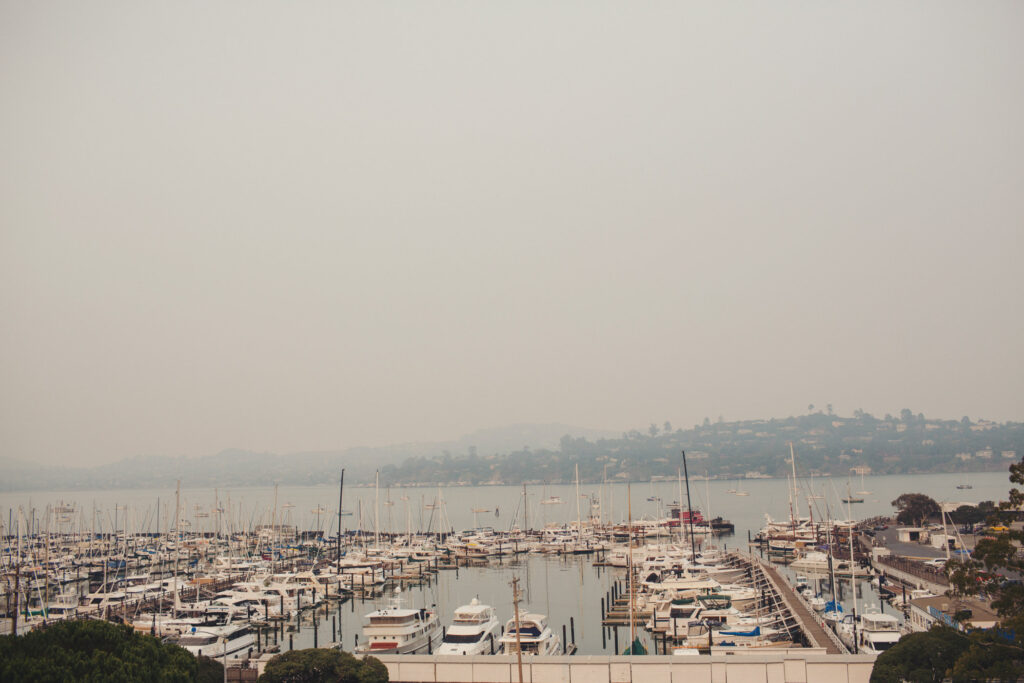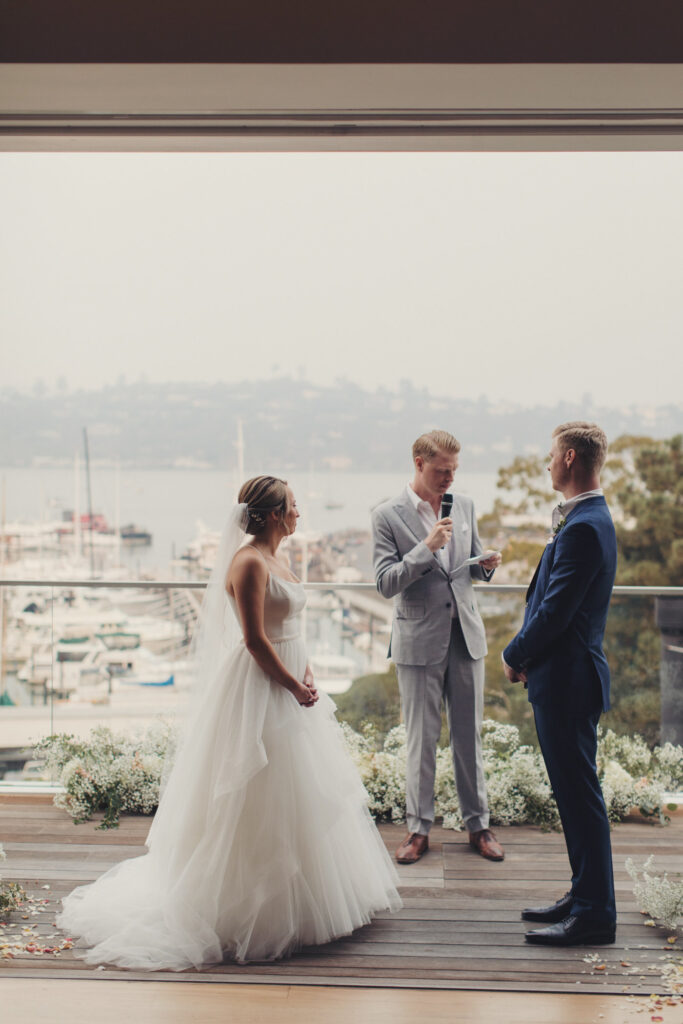 The ceremony was officiated by the brother of the groom – it could not have been more personal and more heartfelt.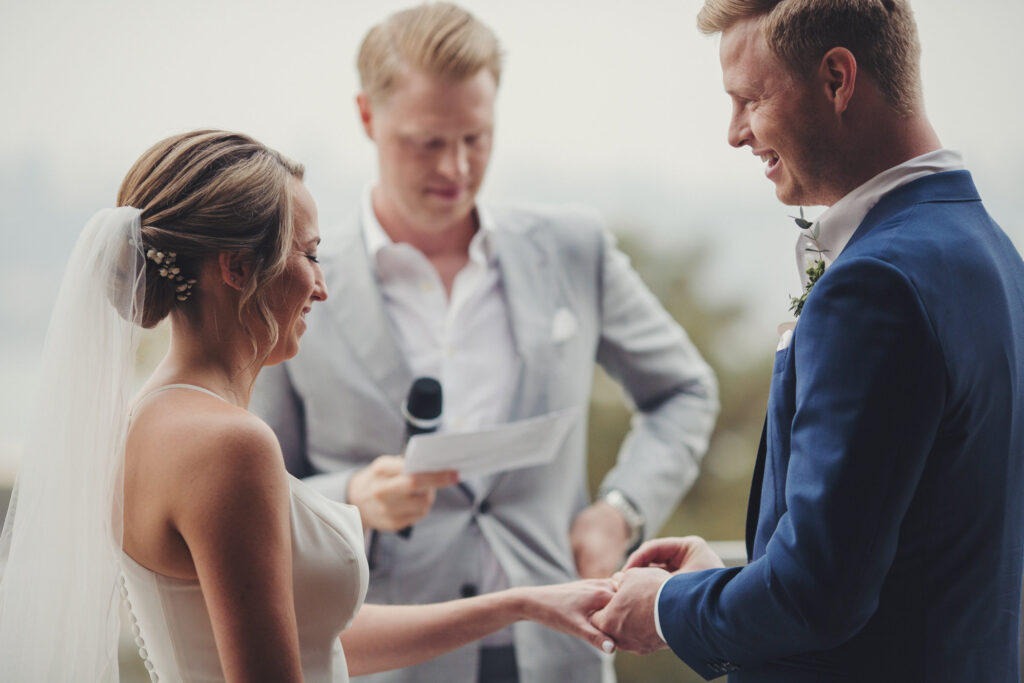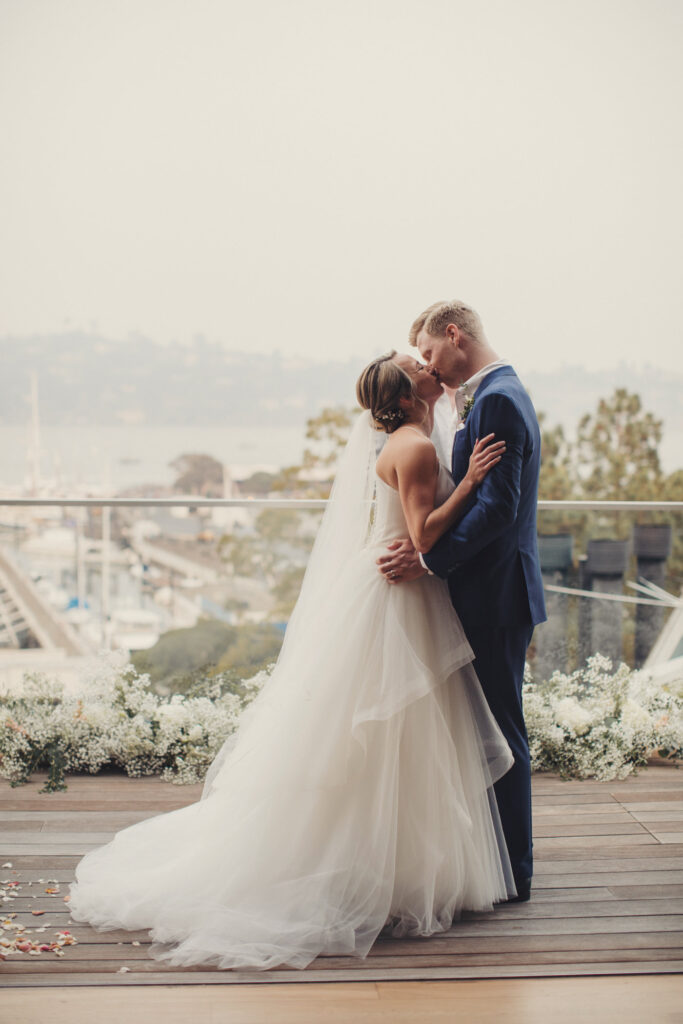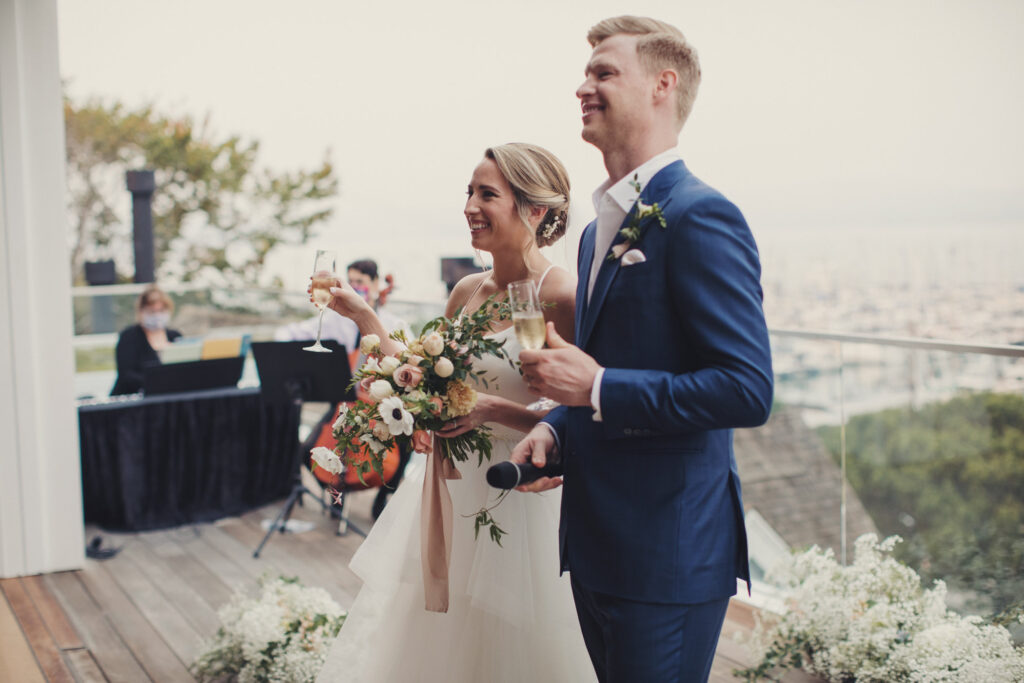 The video wall in the Junto Suite where the reception was held allowed remote guests to congratulate the newlyweds from afar.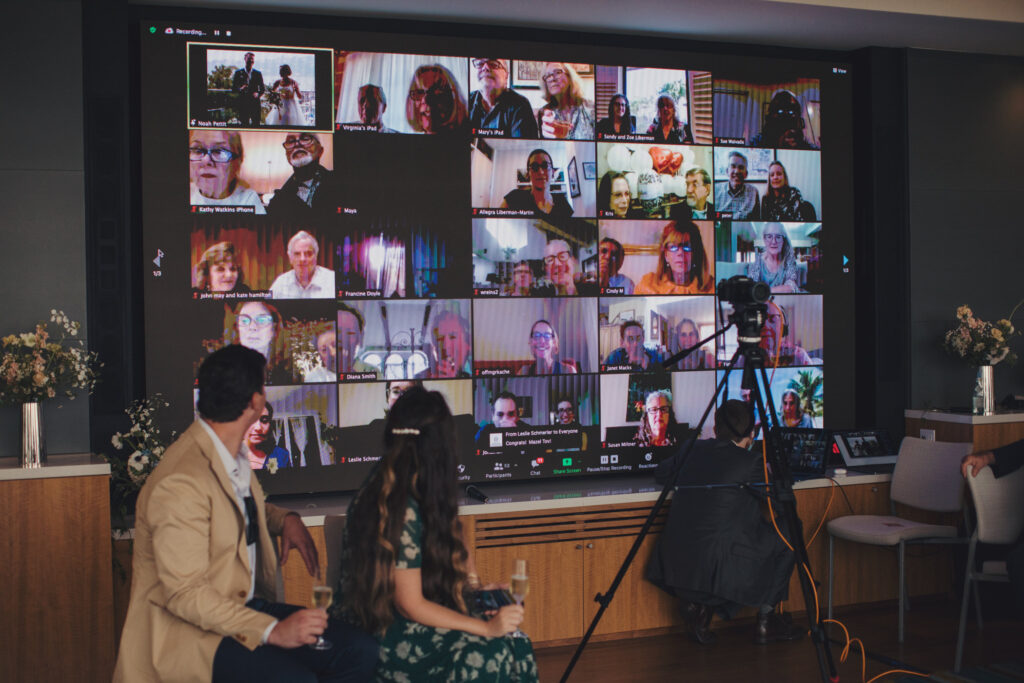 While the onsite guests were enjoying cocktails with a view of the San Francisco Bay, the couple went off for more photos.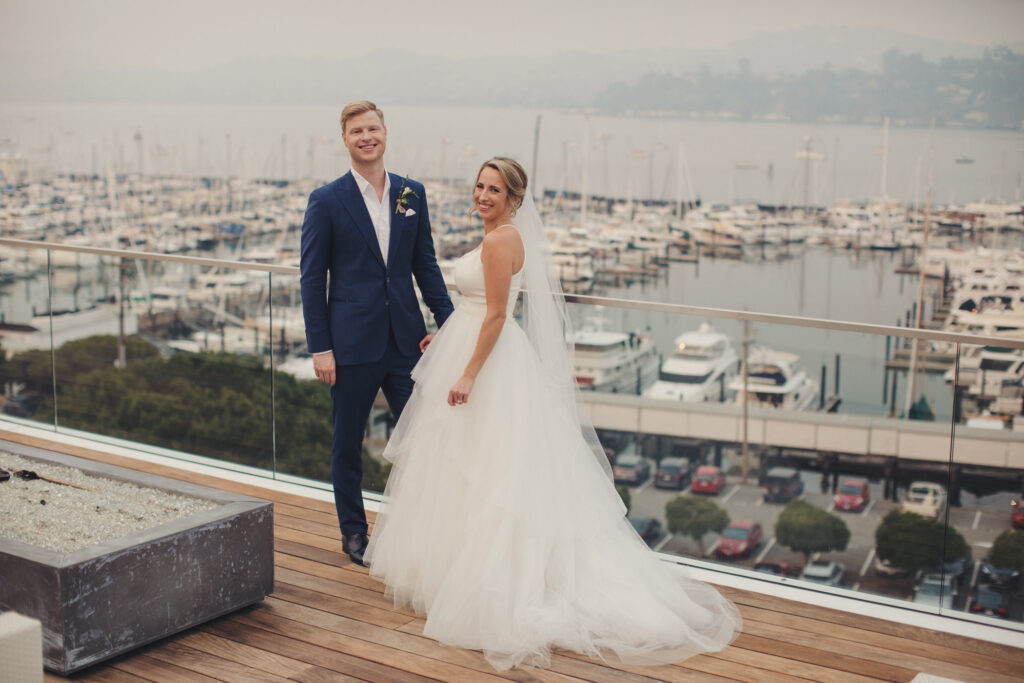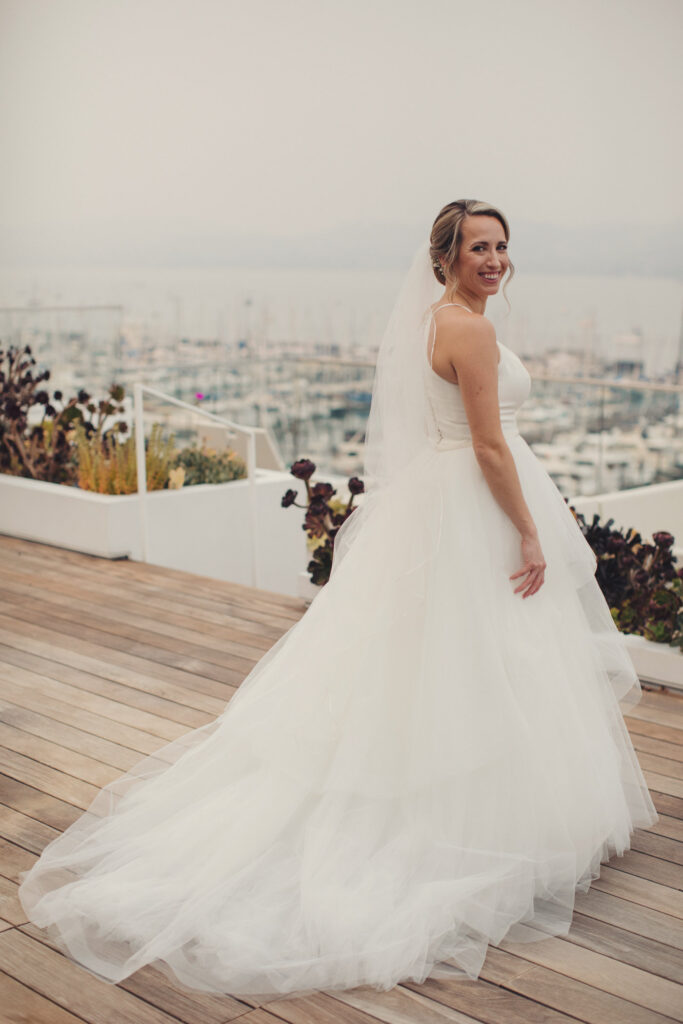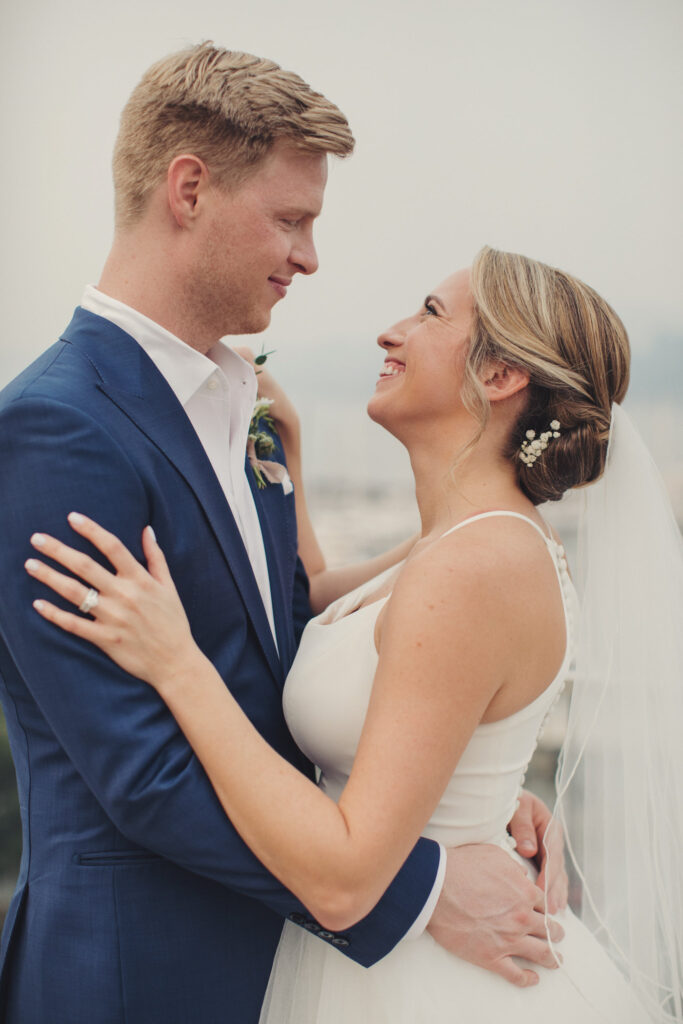 And then dinner was ready!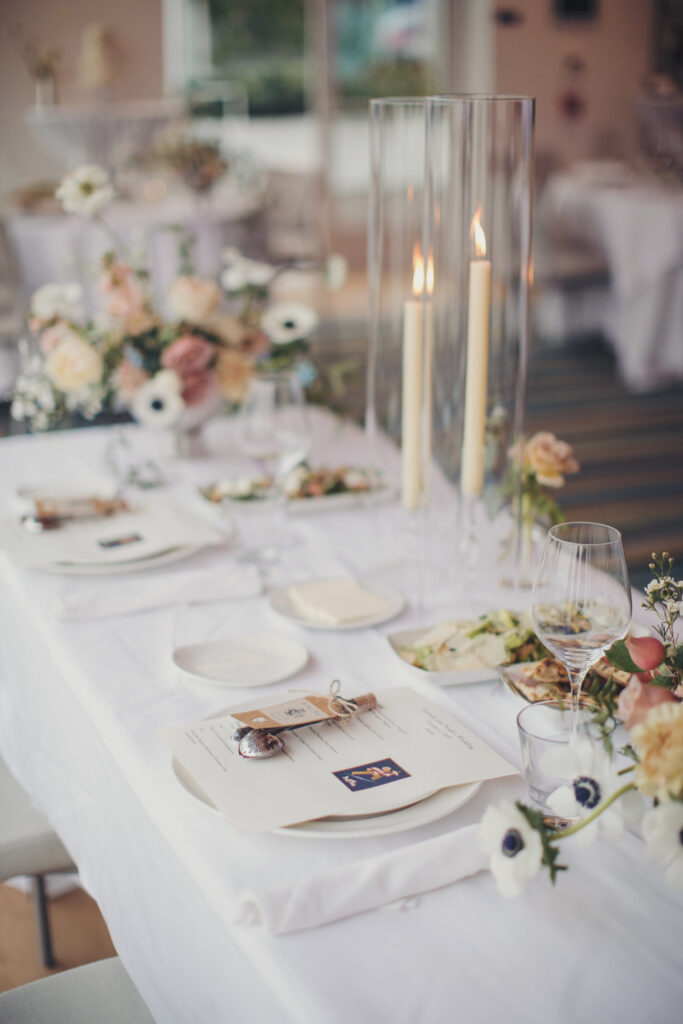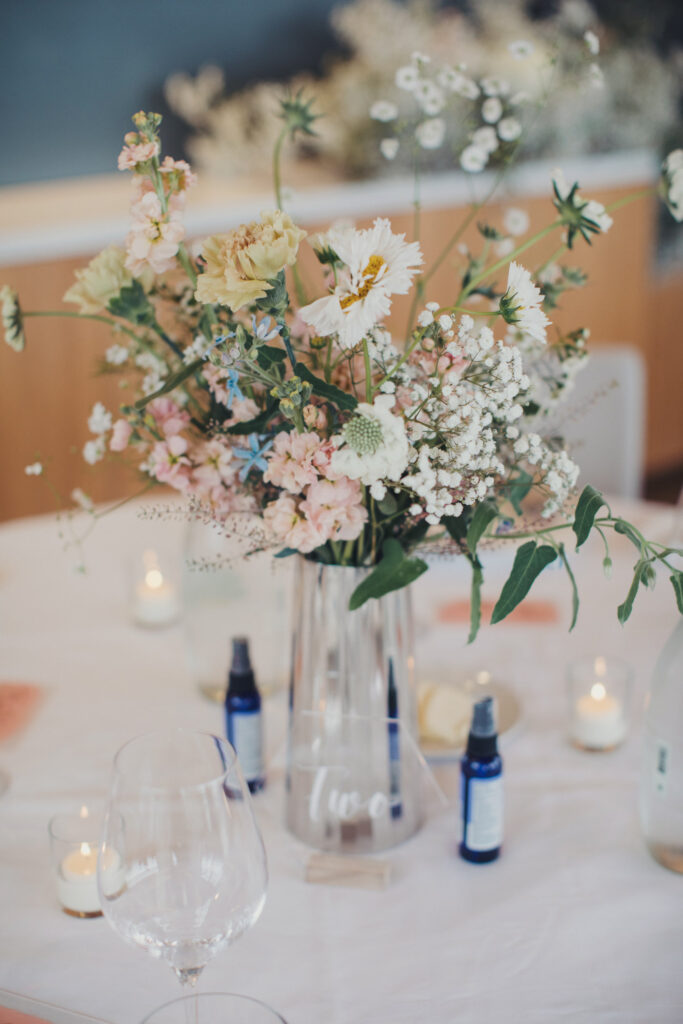 Because of the ongoing pandemic, we had little bottles of hand sanitizer on the dining tables… along with flowers and table numbers!
The couple and their guests were definitely enjoying themselves.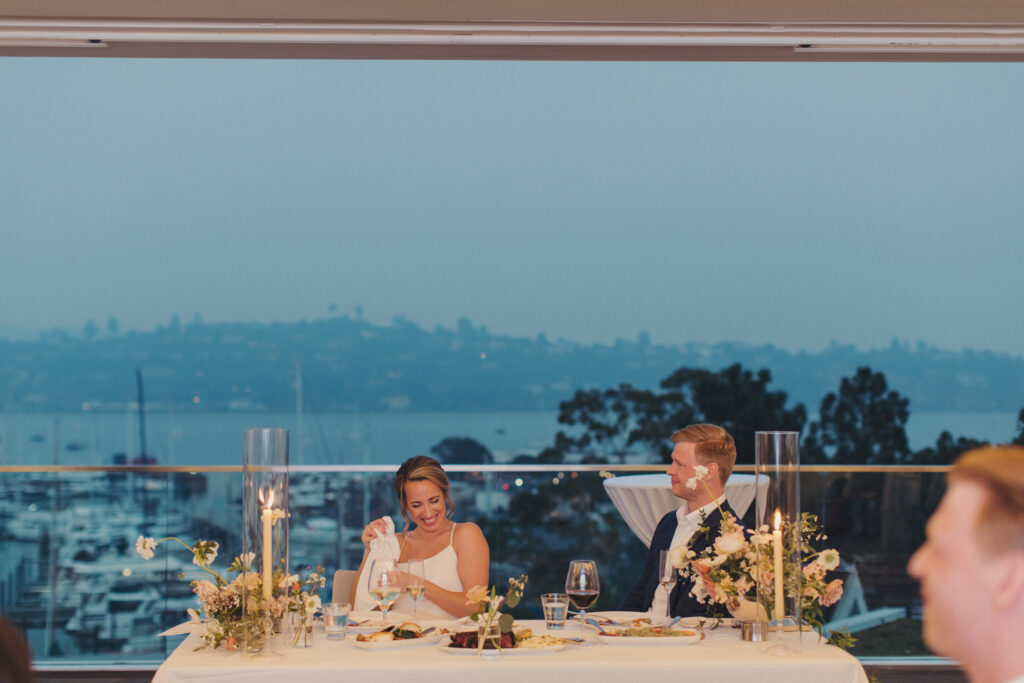 One more highlight of the day: Cake cutting! (The minimalist cake was by Butter&)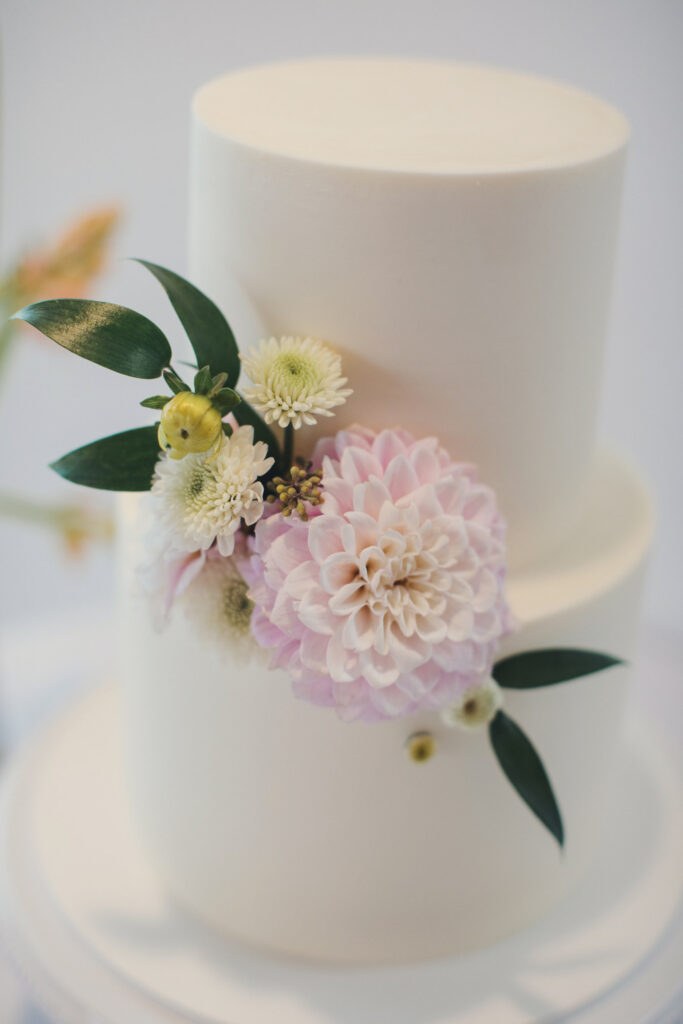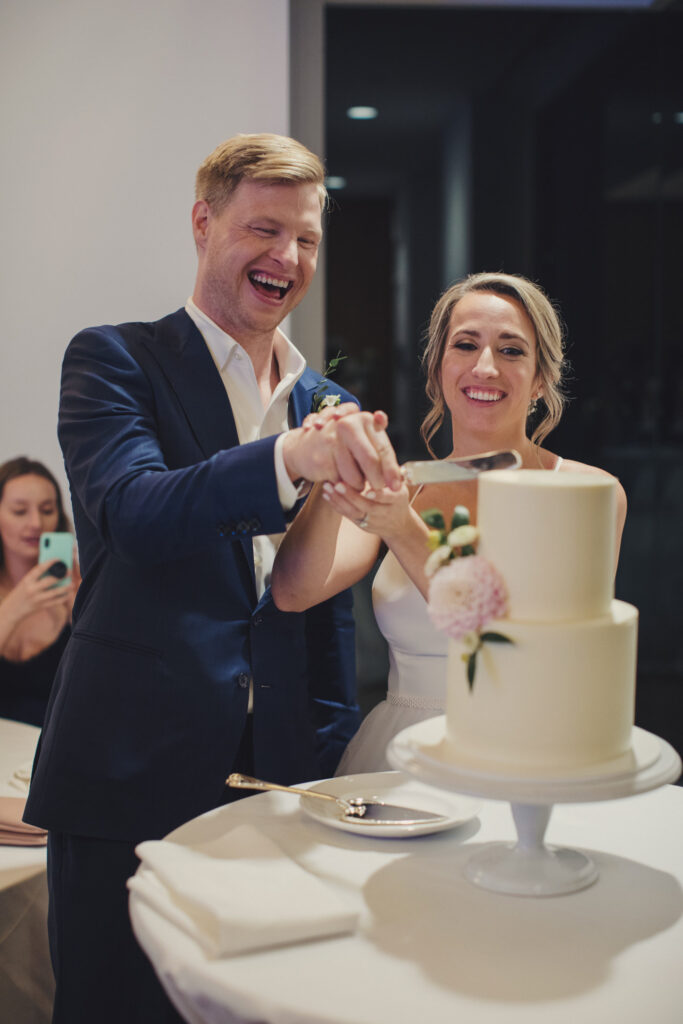 Amanda and Noah spent the rest of the evening just chatting with their guests, having fun and having quality time with their nearest and dearest. Although their wedding day unfolded so differently from what they had originally planned – it turned out beautiful, meaningful and very memorable. The newlyweds were simple – happy.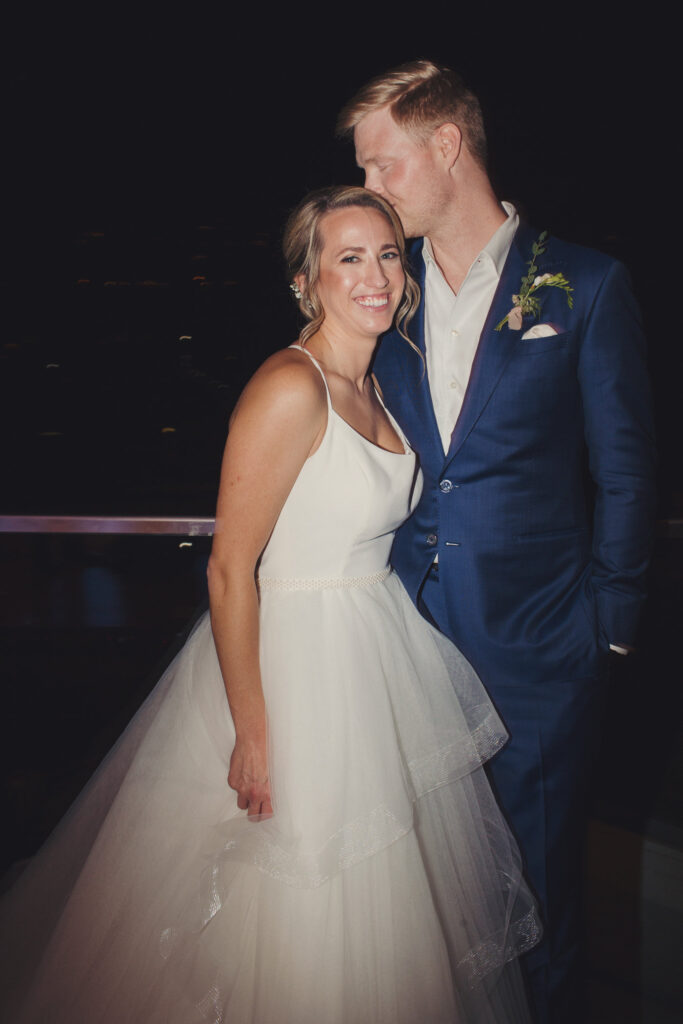 <! DL 06/02/12: Added html code for Pinterest Pin It button (appears at the end of each post) > <! DL 06/02/12: Added padding style modifier to the Pinterest html code to align the Pit It button on the page > <! DL 06/02/12: deactivated code by adding two ! in the a and img code lines >