As seen on Today's Bride SF (published July 1st, 2019)
When bride Amy approached my company, A Day Like No Other, more than a year ago for help with planning her wedding at the prestigious Peninsula Golf & Country Club…
I was immediately on board – it would be an elegant affair in navy and gold for 120 guests, a ballroom wedding and sit-down dinner in the soaring space of the Club's Great Room, with huge crystal chandeliers and lots and lots of candlelight – shimmering linens, flowers and greenery… and so it was!
Guests already got a glimpse of what was to come through the elegant invitations (from Paper Caper) which literally set the tone for a memorable fete.
All our work came together beautifully on a perfect Spring day under blue skies and a slight breeze.
Onsite coordinator Susie Bertolozzi and her team had everything ready for us – even the dining tables were pre-set in an adjacent room so they could be carried into the Great Room immediately after the ceremony that would take place there as well. Incredible! It was a remarkable feat – the room was guest-ready in less than 45 minutes. Susie and team: you are great!
For bride Amy and her three bridesmaids and, of course, for the mothers, the day began early with hair and makeup services by Violet Prather of the  Makeup Dolls – and everyone was positively glowing!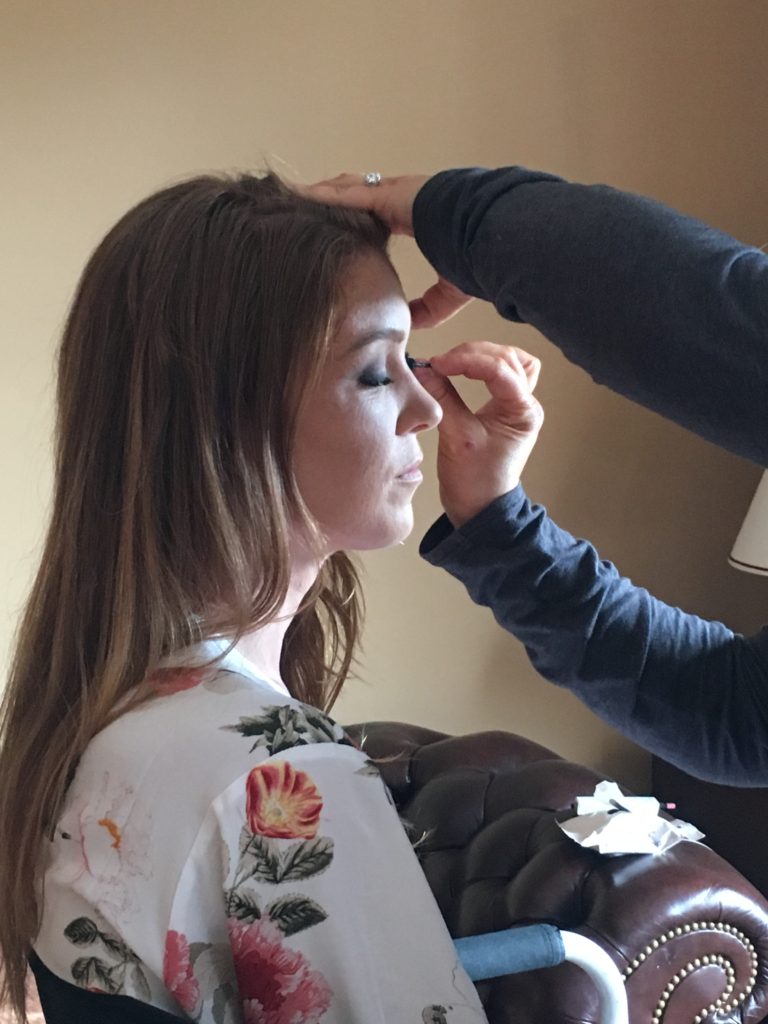 The bride complemented her stunning, cascading wedding dress…
… with shimmering "Jimmy Choo" heels fit for a princess: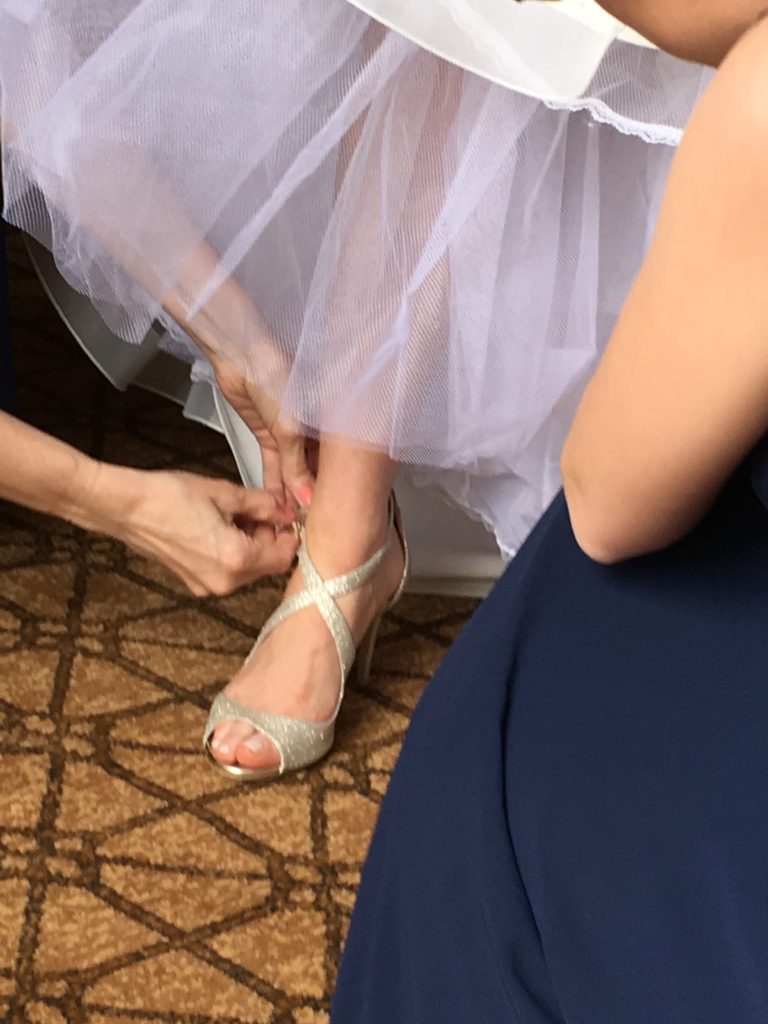 … and her bridesmaids looked their best in navy floor-length lace dresses.
Amy was close to tears of joy when she first saw her gorgeous cascading bouquet of ivory and blush roses (by Marisa Tsikounas of Revel Floral Design – who created the floral arrangements throughout).
And here is our radiant bride!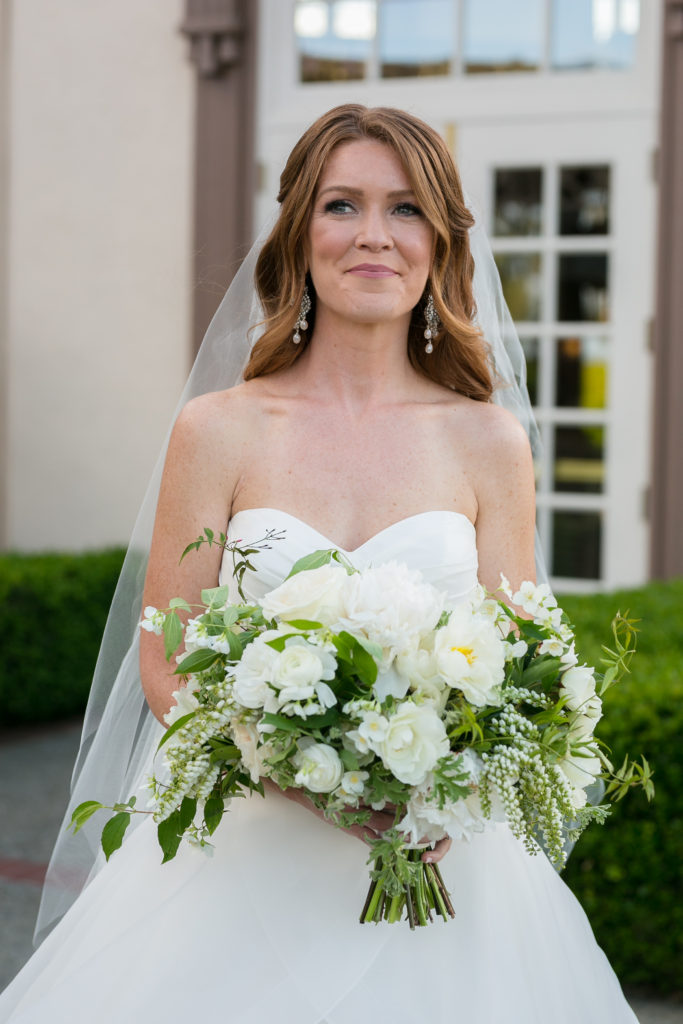 Photographer David Kim and his assistant captured every precious moment –  – from getting ready to all the pretty details, from ceremony till the end of the evening.
Nick and his groomsmen were also ready and dressed "to the nines" ….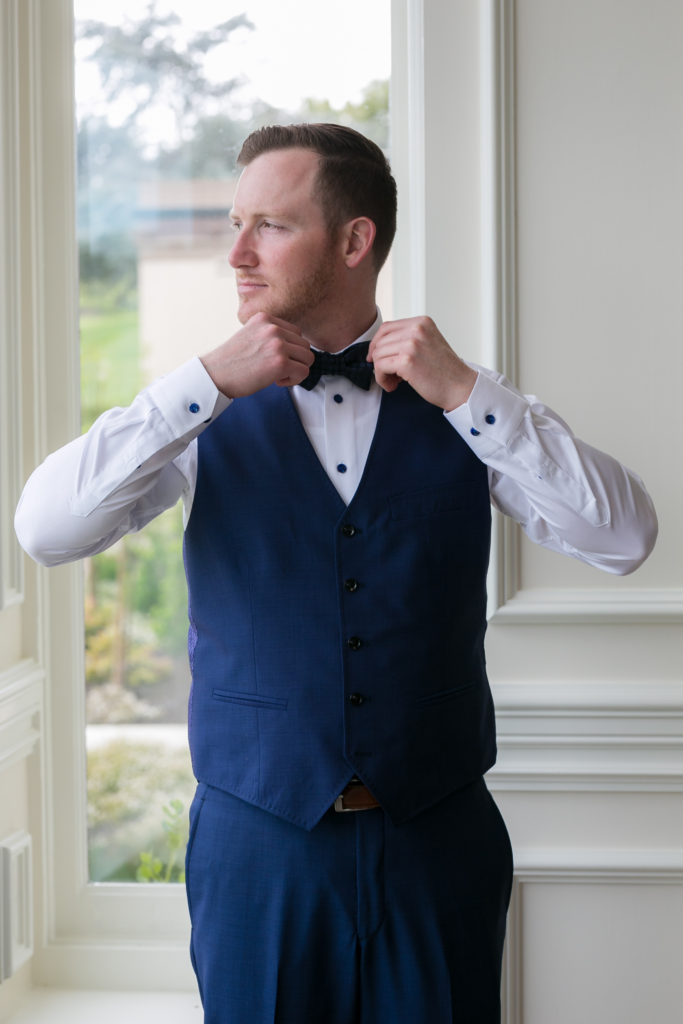 … even the littlest ones looked totally "cool!"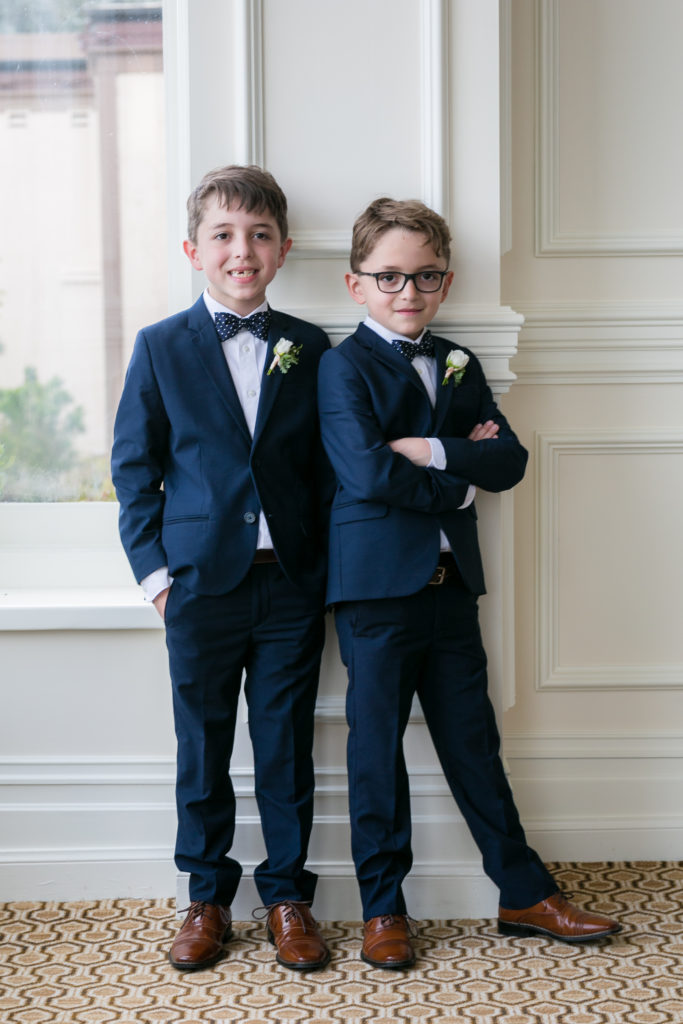 Don't forget the rings!!
… and we were ready for the guests!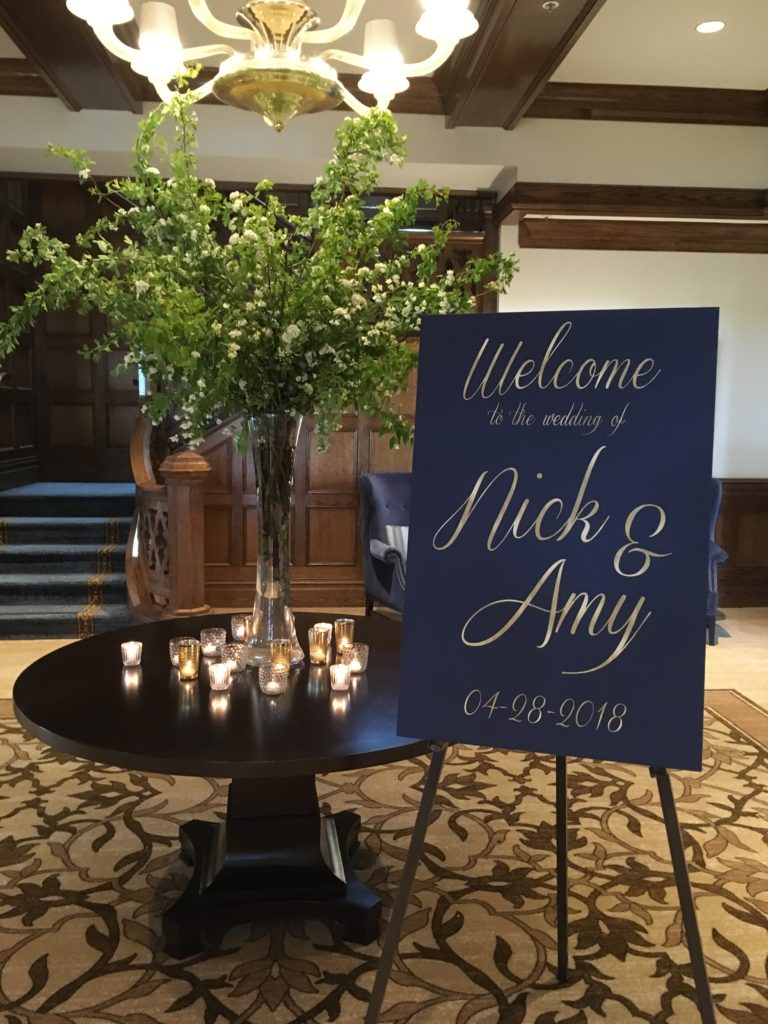 The dramatic double-height ballroom with its enormous crystal chandeliers had been set up for the wedding ceremony…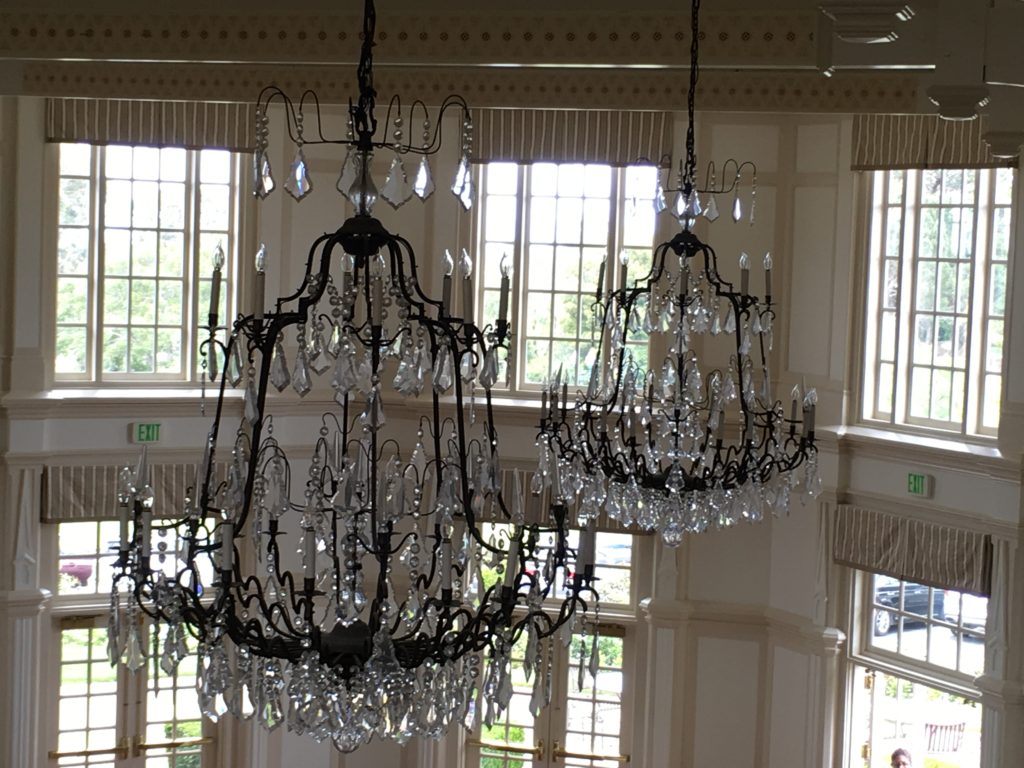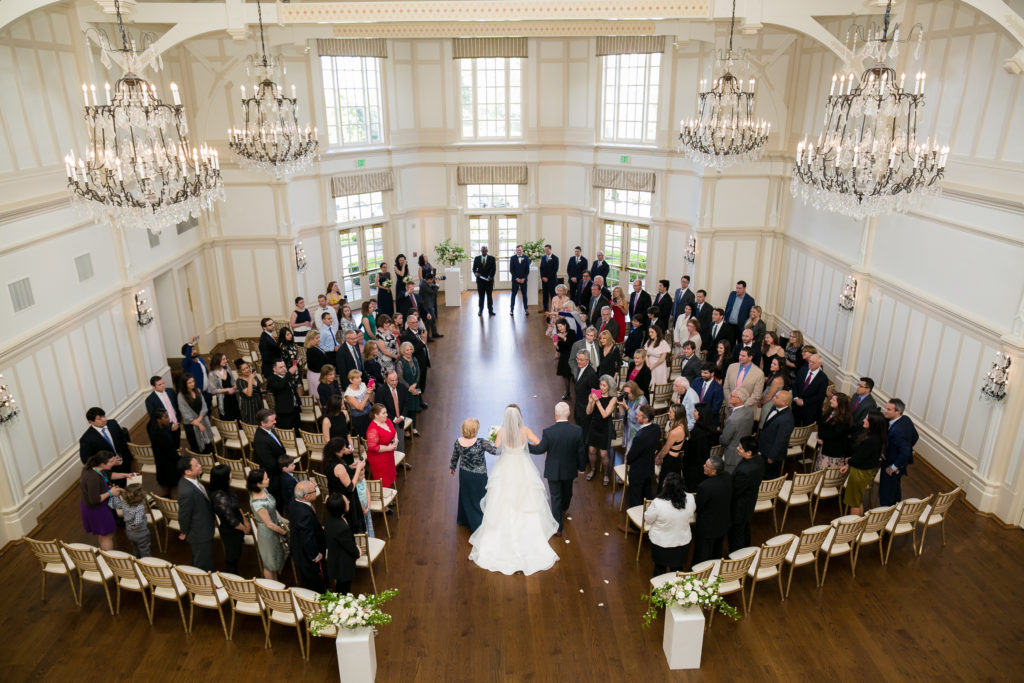 Photo credit: David Kim Photography… and here  are Amy and Nick, saying their vows.
Just married!
The ceremony was officiated by Sanford Marshall aka The Wedding Coach – lighthearted and personal, with laughter and with warmth, and when Amy and Nick said their "I Do's," everyone was deeply moved. So happy!
The Garden Strings, a string trio led by Pauline Metzgar, played the couple's favorites for processional (Canon in D) and recessional (Cold Play) and made everyone's hearts sing!
After the ceremony, guests enjoyed cocktails – especially the "Harley," named after the couple's doggie, in the Oval Bar ….
… while the dining room was being prepared and the couple had many more photos taken – here is the ultimate, official wedding photo:
… followed by the most romantic, timeless sunset photo: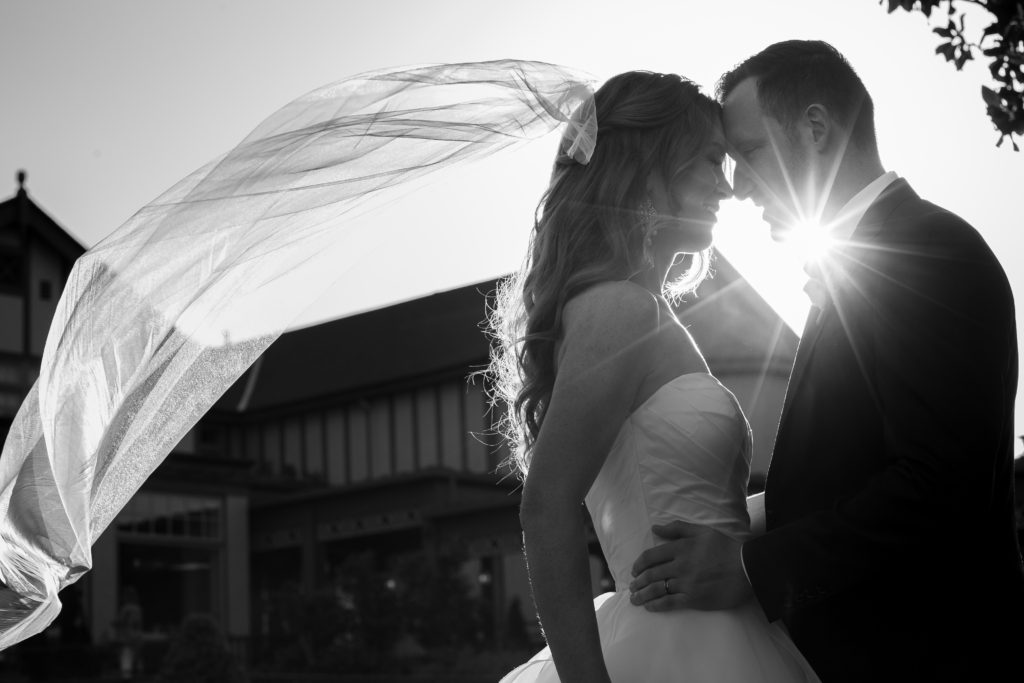 When the doors to the ballroom – now transformed into an elegant dining room – opened again, guests just stood speechless, admiring all those tables with flowers and candlelight, and the newlyweds literally danced in at their Grand Entrance.
Following dinner, Amy and Nick shared their First Dance…
followed by Father-Daughter and Mother-Son Dance.
The newlyweds also honored another wedding tradition by cutting – a giant cupcake (from Sibby's)!
Guests were treated to delicious mini cupcakes from Sibby's as a dessert, and everyone just "dug in."
Then Wonderbread 5 opened the dance floor with their rousing live performance that brought everyone on the dance floor in no time.
What a party! When it concluded, the newlyweds were sent off into their "married bliss" in style: with a sparkler parade!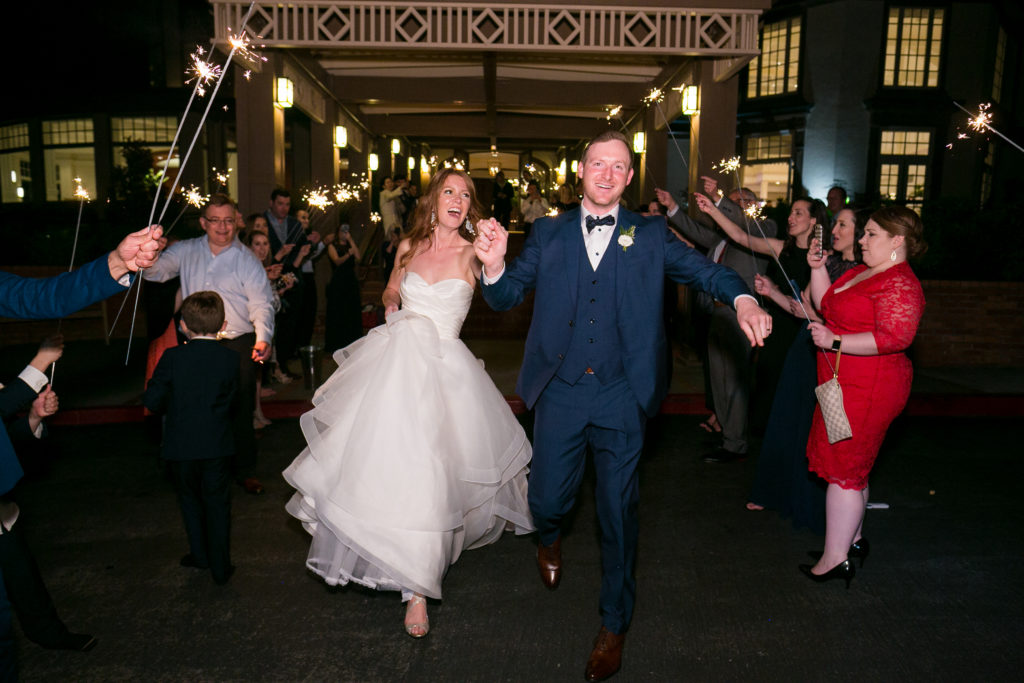 All the happiness in the world to Amy and Nick – and keep celebrating!

<! DL 06/02/12: Added html code for Pinterest Pin It button (appears at the end of each post) > <! DL 06/02/12: Added padding style modifier to the Pinterest html code to align the Pit It button on the page > <! DL 06/02/12: deactivated code by adding two ! in the a and img code lines >