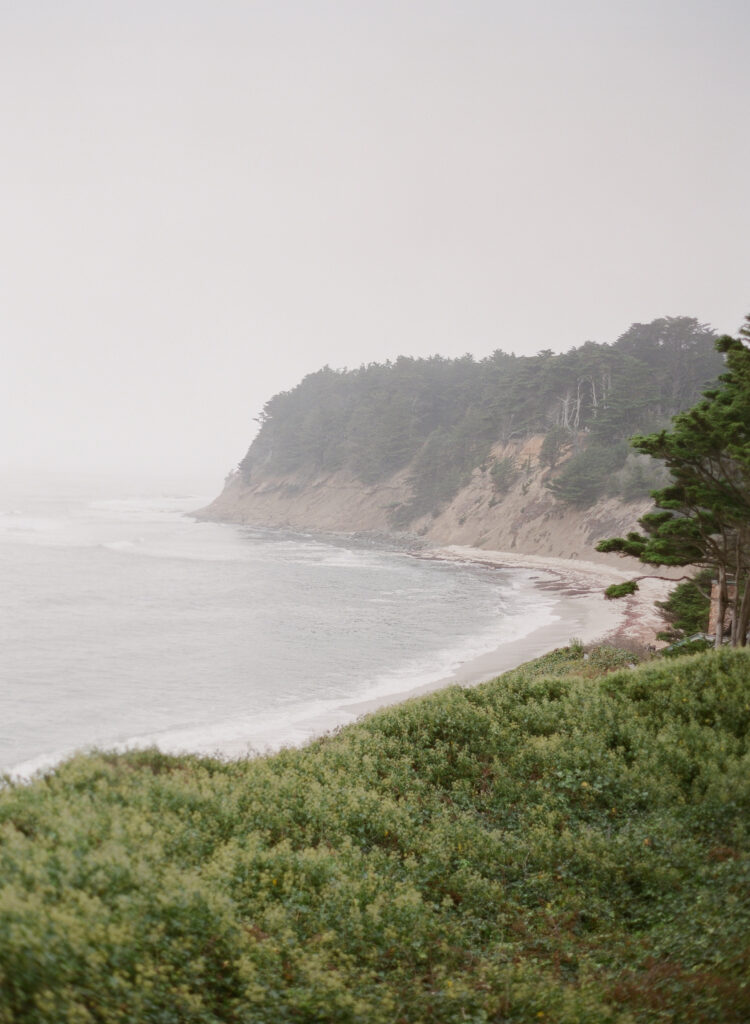 Yes, that's right – this is the breathtaking view from Caroline's and Kendall's ceremony spot! But – getting there was quite a journey … and one that would never have occurred to these two!
Caroline and Kendall had known each other for years, and it was a journey in itself for them to get from friendship to a firm commitment – but when they did get engaged at long last, they enlisted the help of my company, A Day Like No Other, to pull off a truly epic wedding celebration. That was in July of 2019, and the plan was for a ceremony and reception for 180 guests at Thomas Fogarty Winery in Woodside. We would go overboard with flowers, have floral chandeliers, and a whole wonderland with candlelight and music on a crisp Fall evening – 10/10/2020, to be exact.
It was not going to be – the COVID-19 pandemic intervened. In the Spring of 2020, we were still hopeful and were booking all our vendors for the "wedding of all weddings." Caroline selected her wedding dress, a dramatic Vera Wang confection appropriate for the grand celebration we were envisioning. In Summer and going into Fall, it became only too clear that the big celebration the couple had been hoping for was impossible. They were deeply disappointed, and it took a while to "regroup." They decided to hold on to their original wedding date (and then, maybe, have a big party later) – even if that meant that they could only have their parents and siblings in attendance. Instead of a huge party, it would be a very intimate gathering. A family friend graciously offered her spectacular beach house, perched on a cliff overlooking the Pacific, for this small wedding. And with that, we again began making plans!
Finally, the long-anticipated day arrived, a little hazy as is often the case on the Northern California coast – with magical clouds and fog.
For Caroline and her two bridesmaids, as well for both mothers, the day began with hair and makeup styling by Elizabeth Chang of Skyla Arts.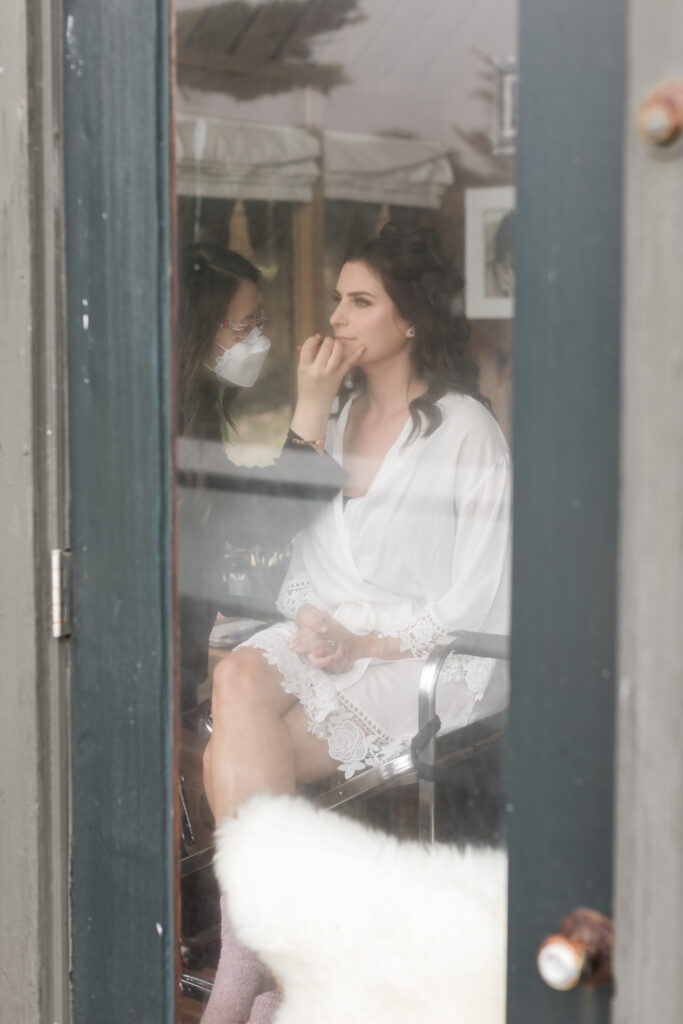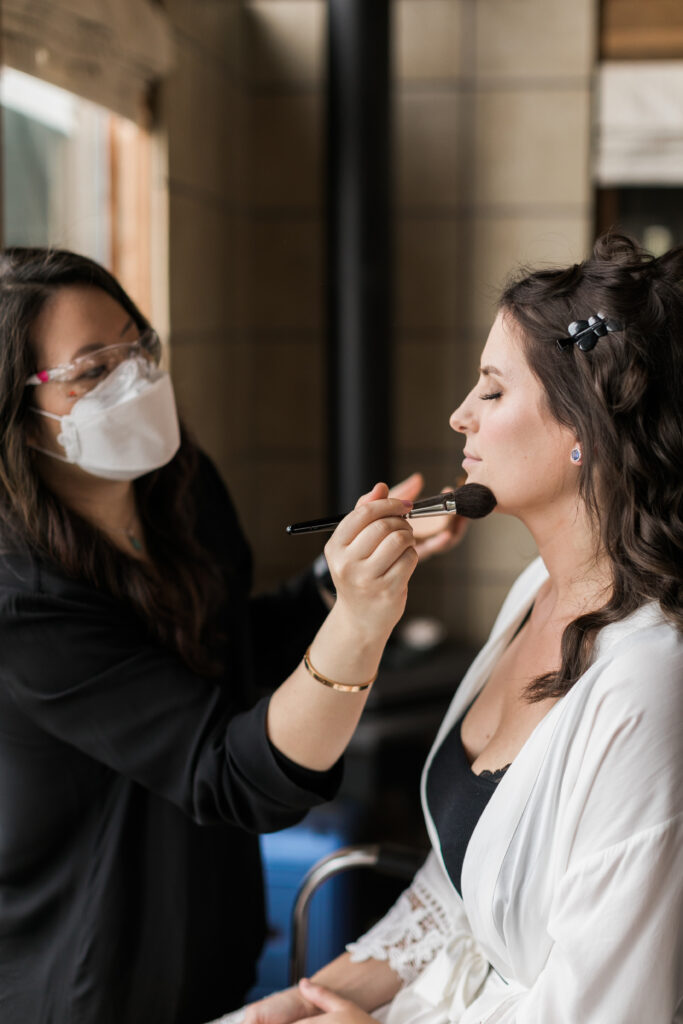 After that, the glamorous wedding dress was taken out – looking closely, a fascinating combination of a Rococo silhouette and deconstructed, asymmetrical elements, even including a hint of horsehair underpinnings. Simply breathtaking. Photographer extraordinaire Kevin Chin documented every precious moment.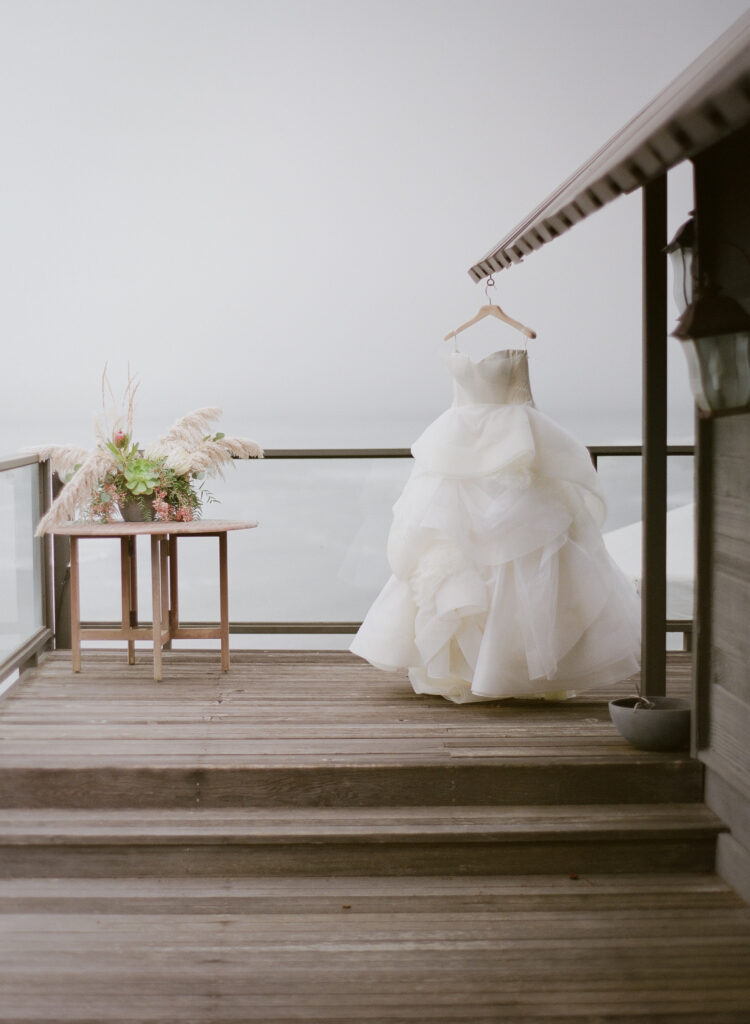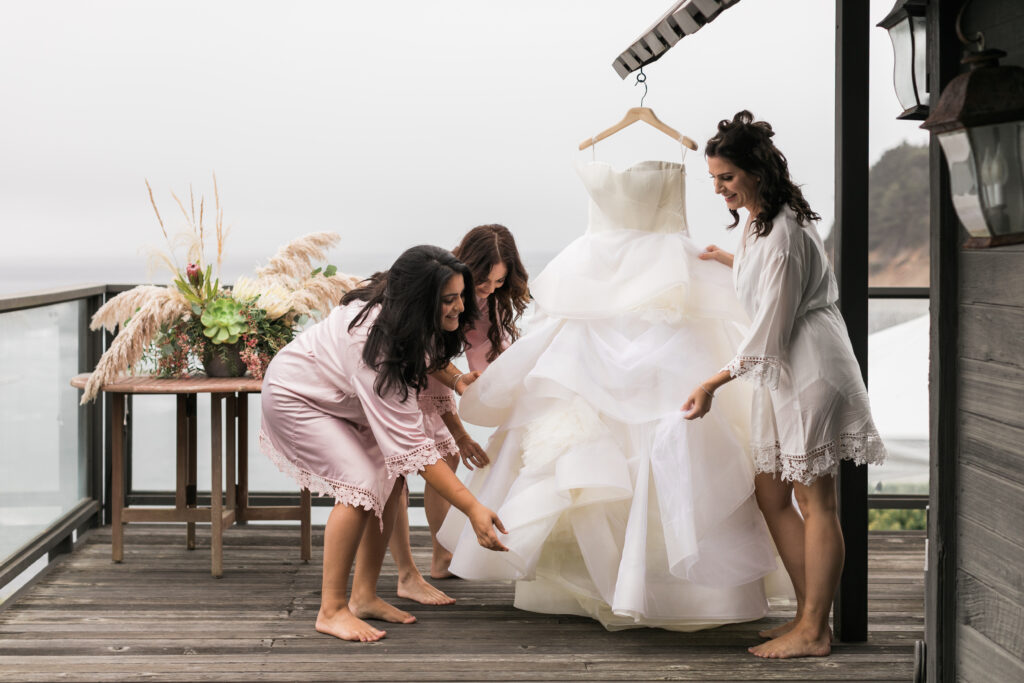 Time for a Champagne toast!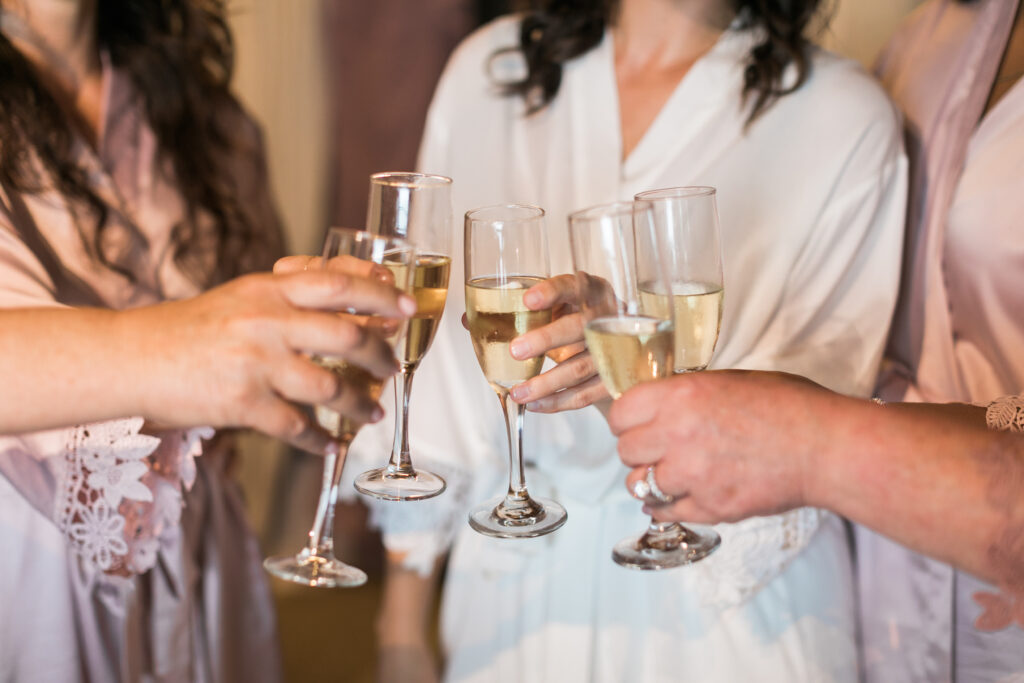 Dress-up time…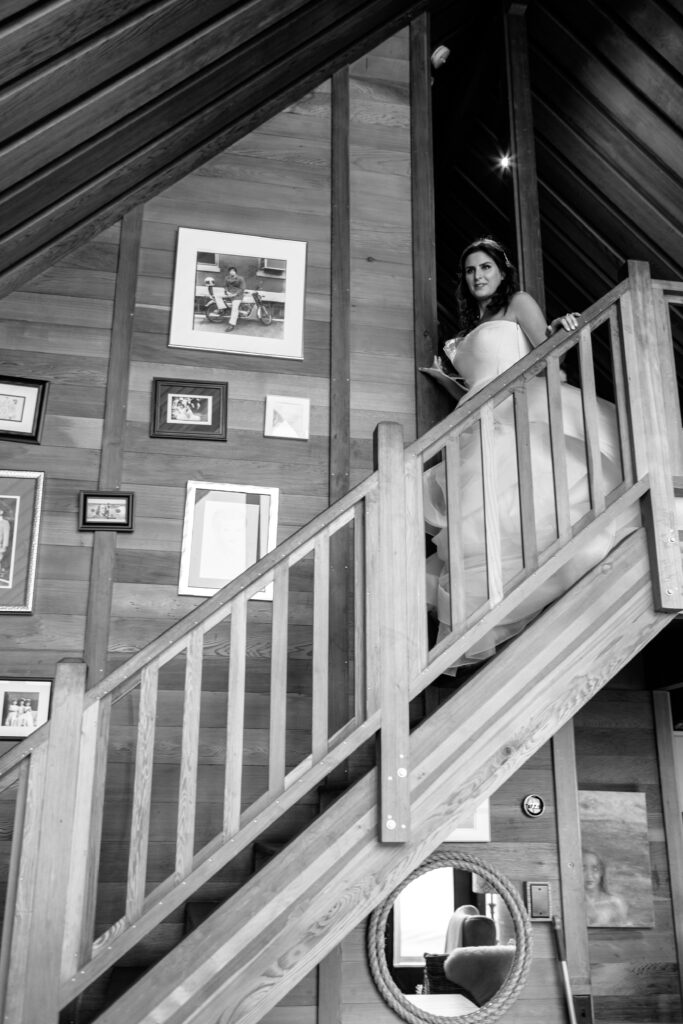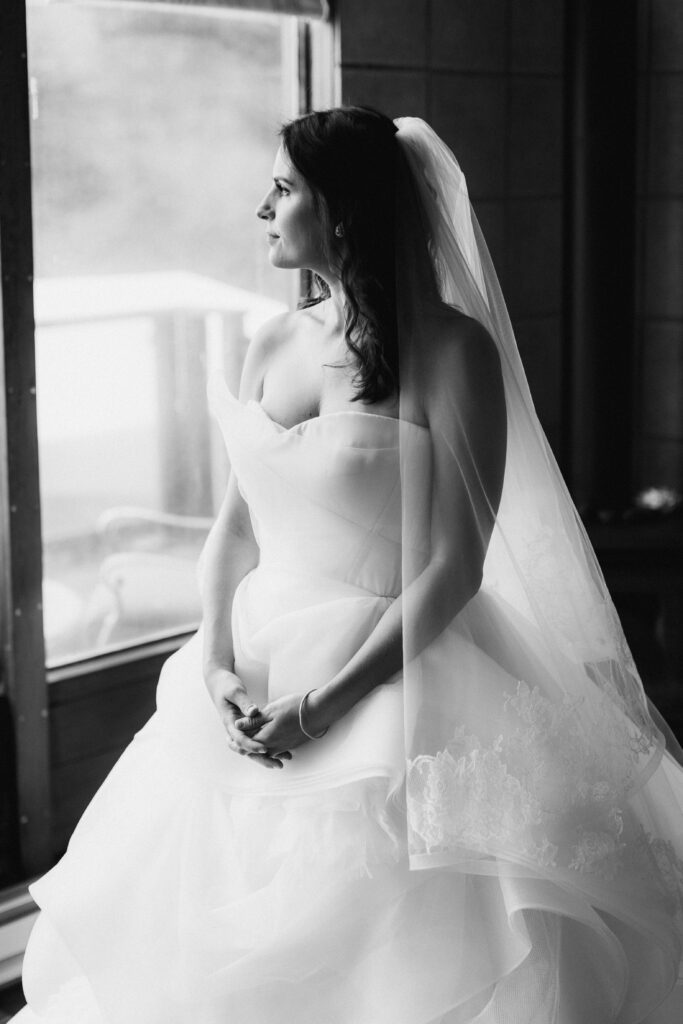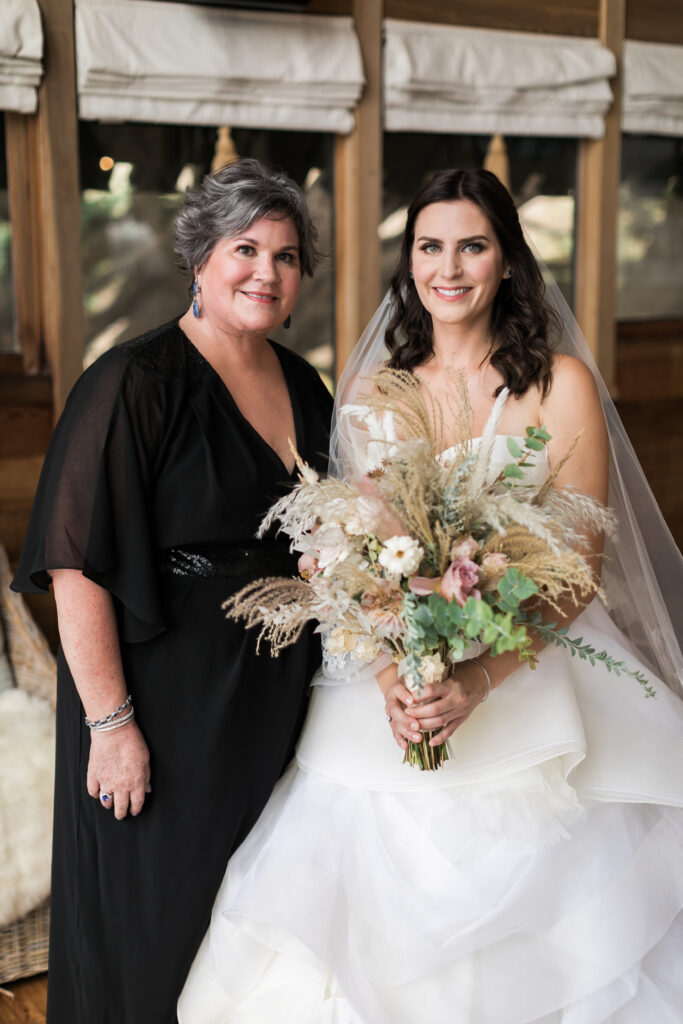 All that was missing now were the flowers: the beautiful bridal bouquet and bridesmaids' bouquets by Green Petal Designs.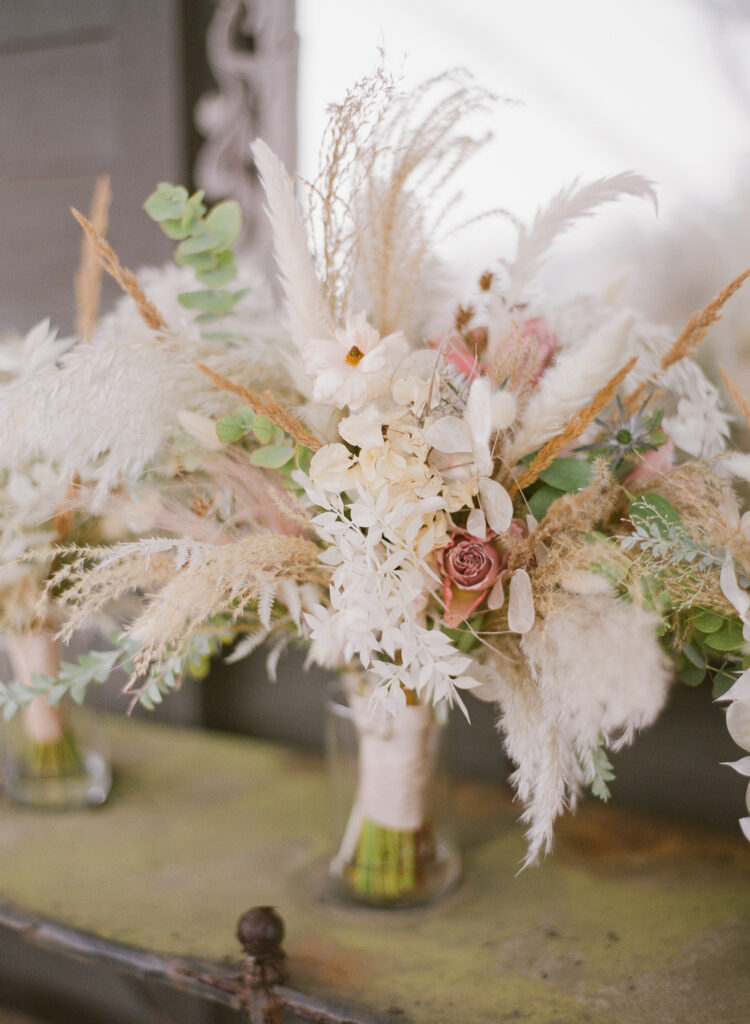 While the ladies were getting ready, the groomsmen and fathers had their own bonding time…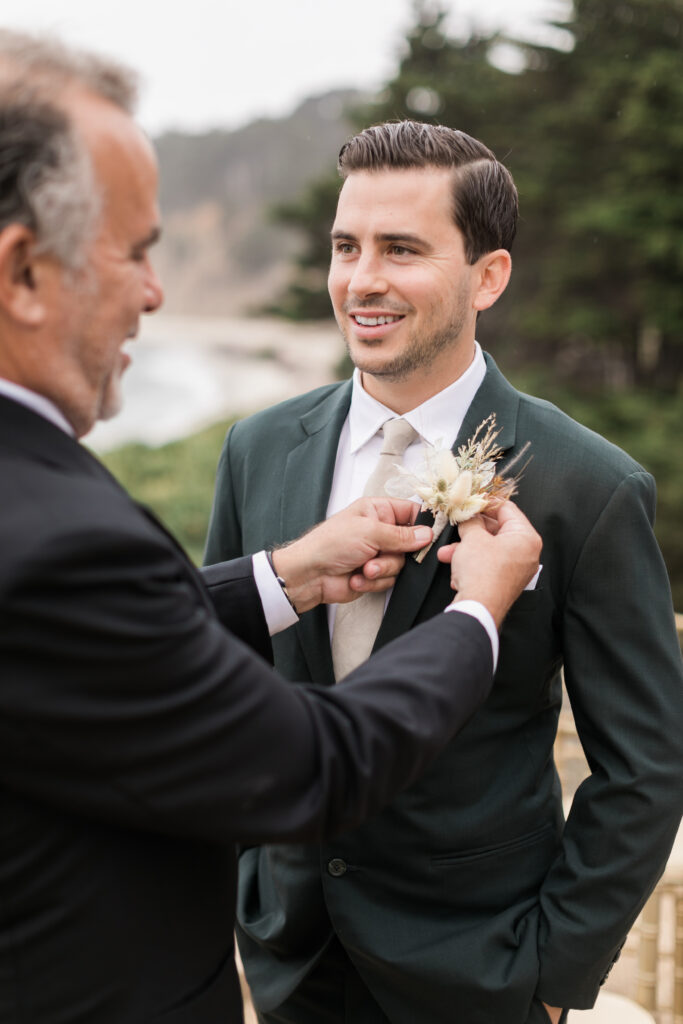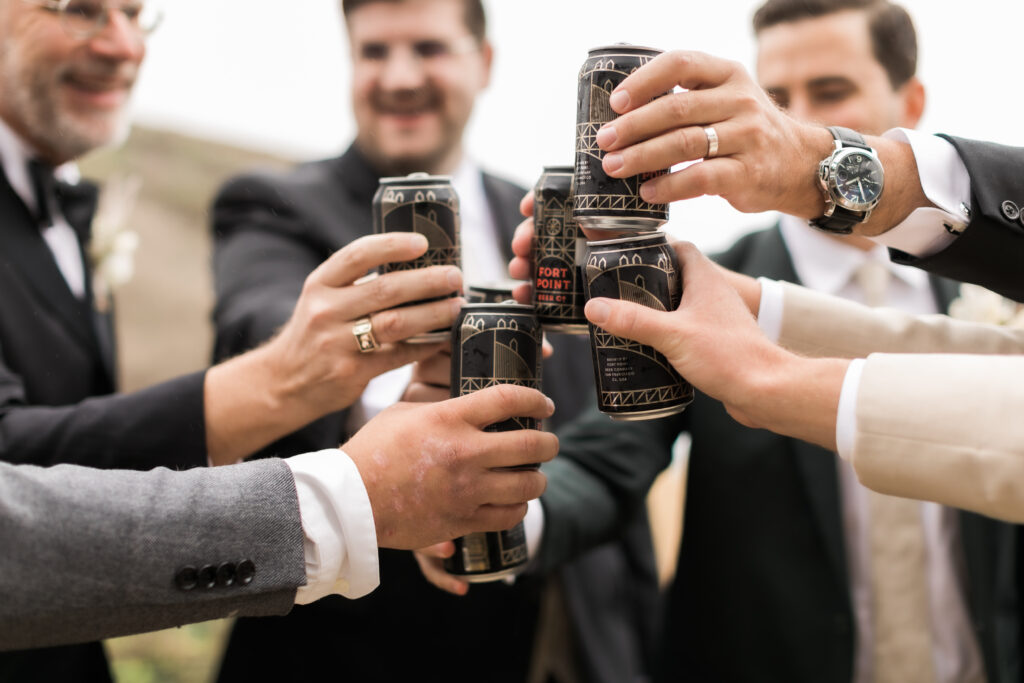 The groom is now ready for his bride!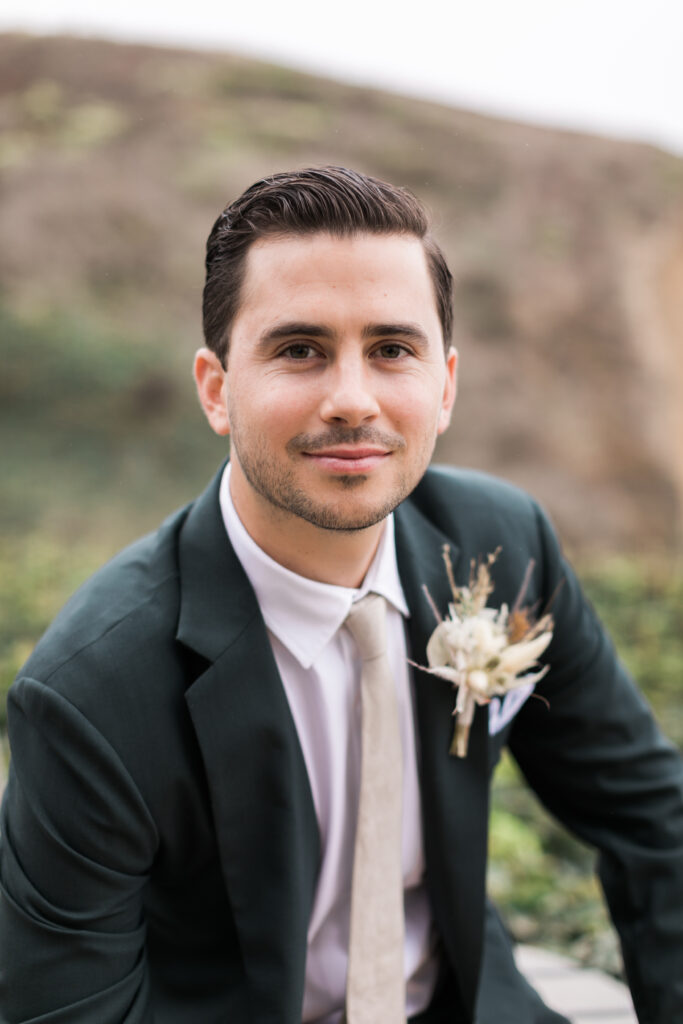 Bride Caroline was adamant: here groom would NOT get to see her before the ceremony! In that aspect, she really clung to tradition. And so we kept the two strictly separated for the time being.
Meanwhile, decorations were set up…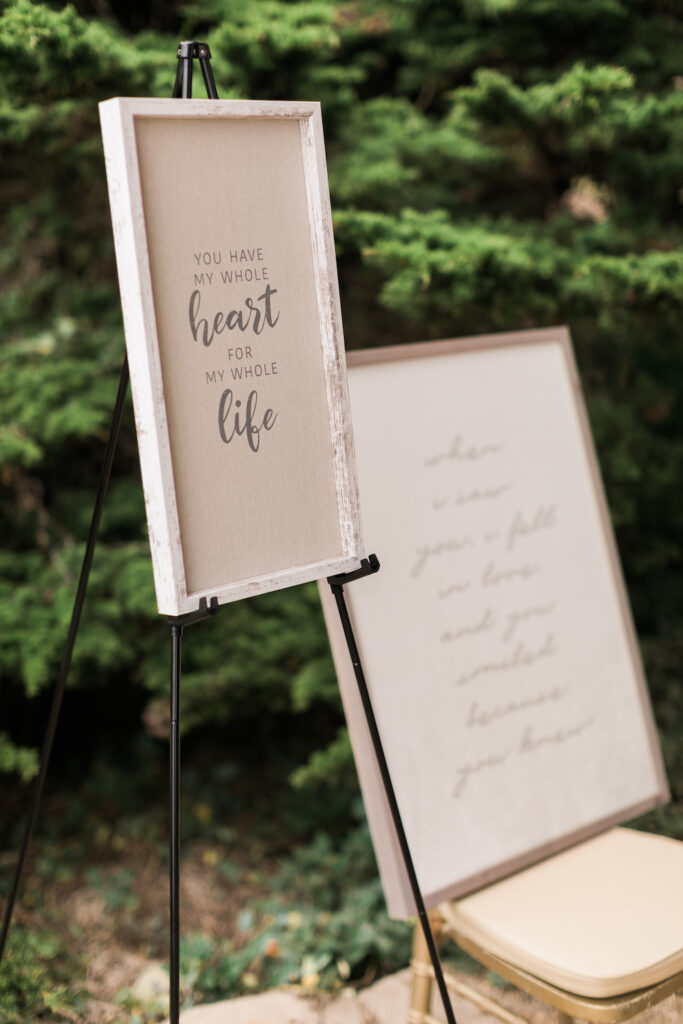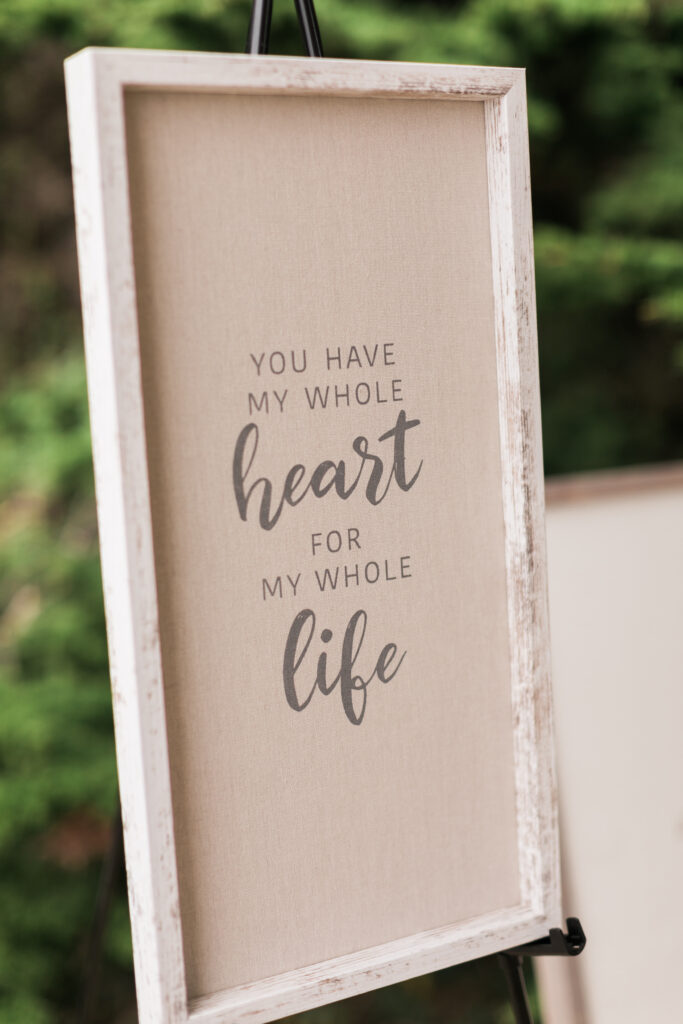 … and several teams were hard at work behind the scenes to prepare everything for the ceremony and reception. Florist Janelle Jacky-Litt of Green Petal Designs had reinterpreted the bride's vision for floral chandeliers and an effortless, boho-elegant look for the (very different) beachfront location.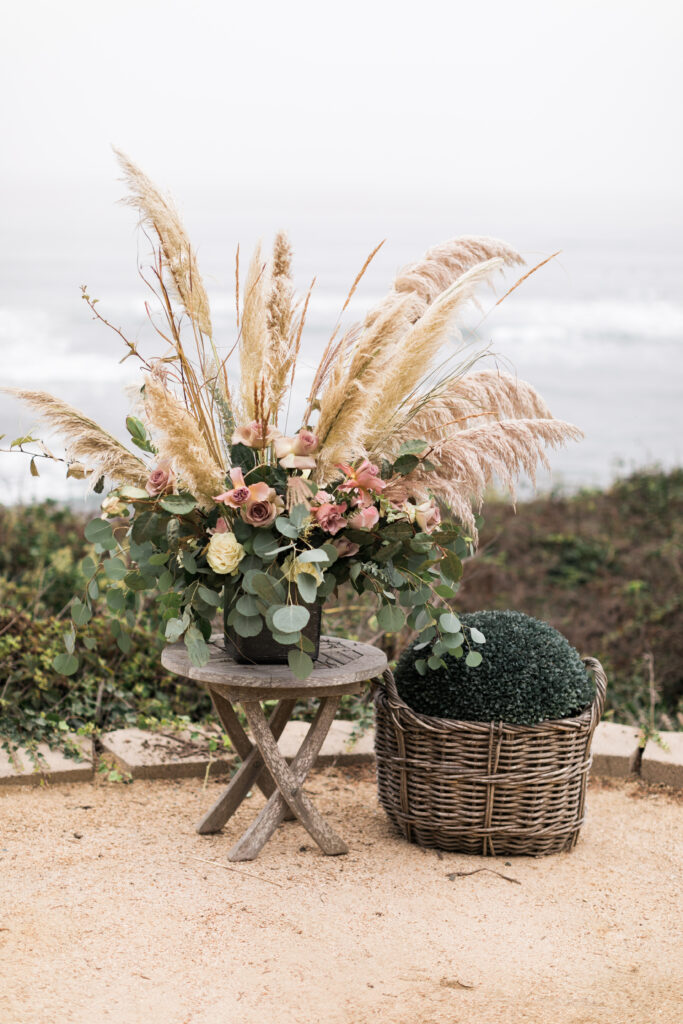 Her stunning arrangements with Pampasgrass, Eucalyptus and roses in the most delicate shades of dusty rose playing into nuances of green made the scene look even more gorgeous.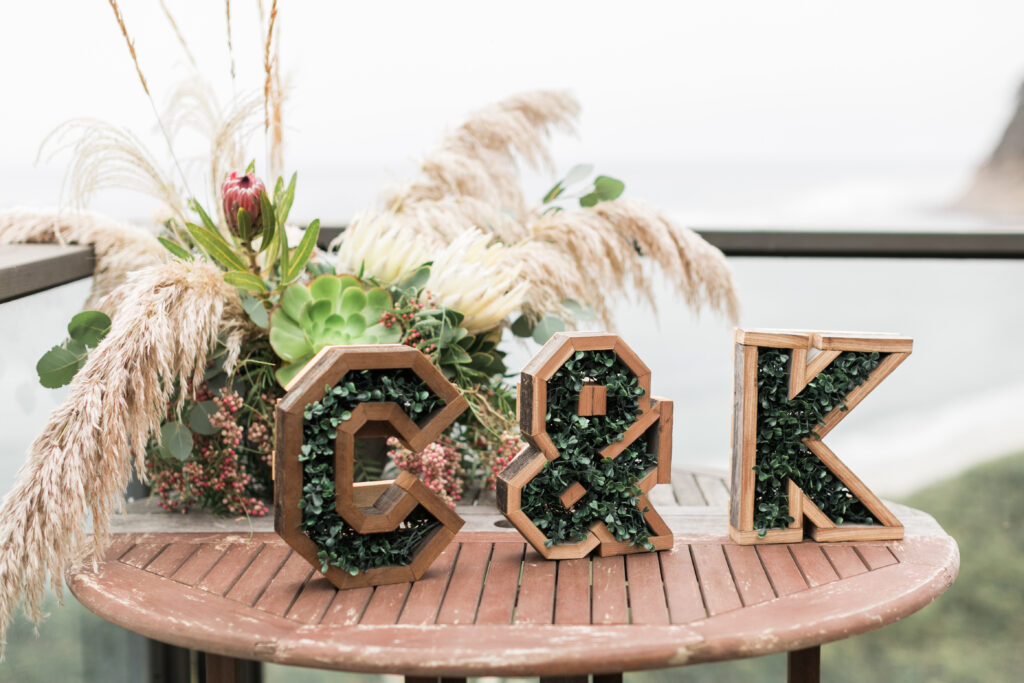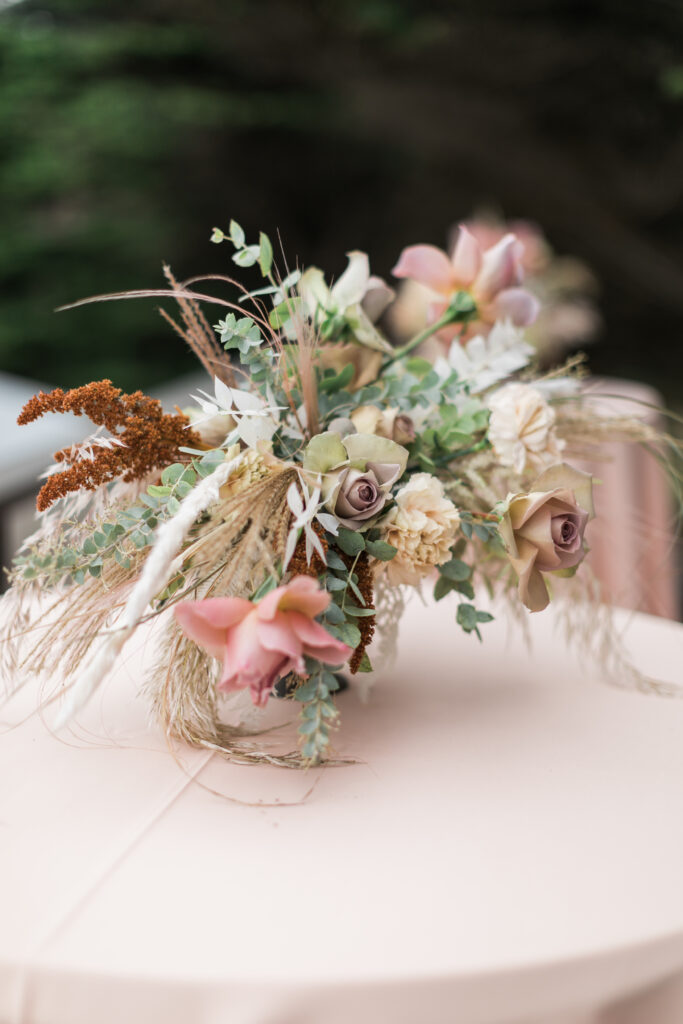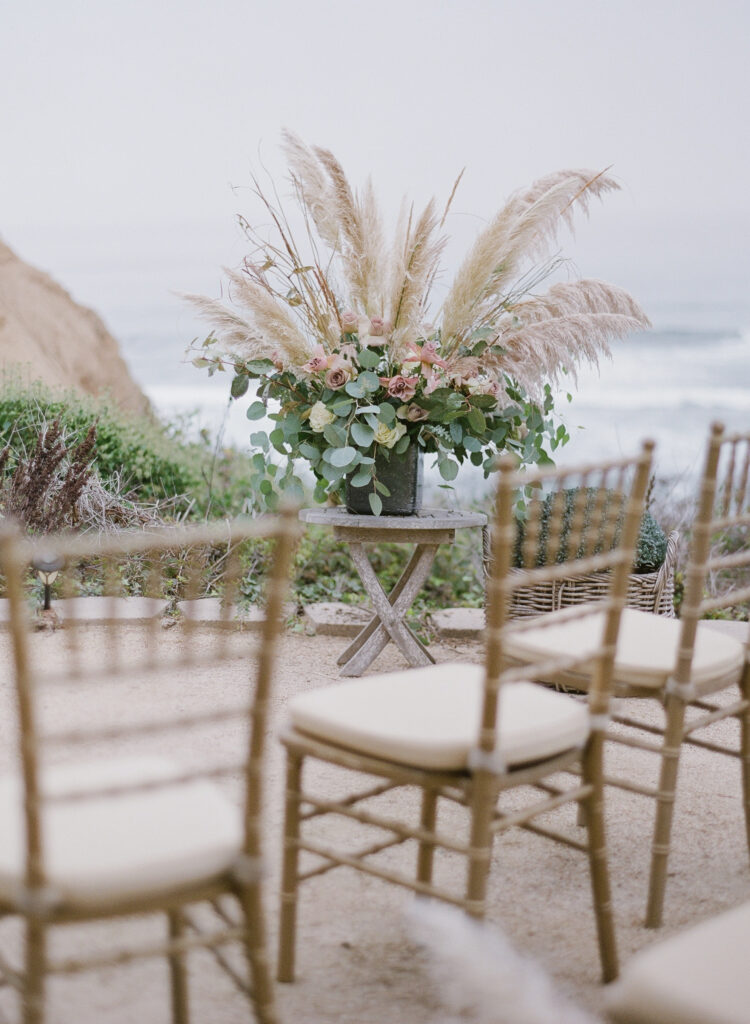 Everything was now ready for the ceremony, and here comes the bride!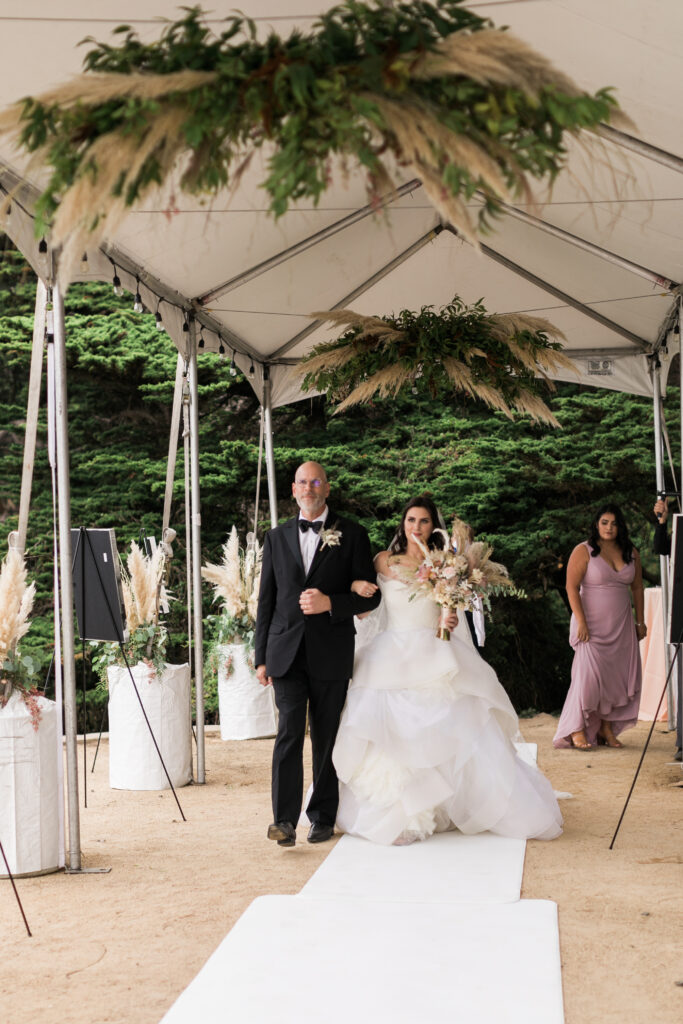 Since Caroline and Kendall could not have the huge open Pavilion at their first-choice venue (Fogarty Winery), we prepared for them an open tent structure and adorned it with arrangements resembling the floral chandeliers she had so much hoped for… She made her way to the ceremony on a lily-white plush runner and past enlarged wedding photos of all mothers and grandmothers of the couple – truly a memorable and unique experience!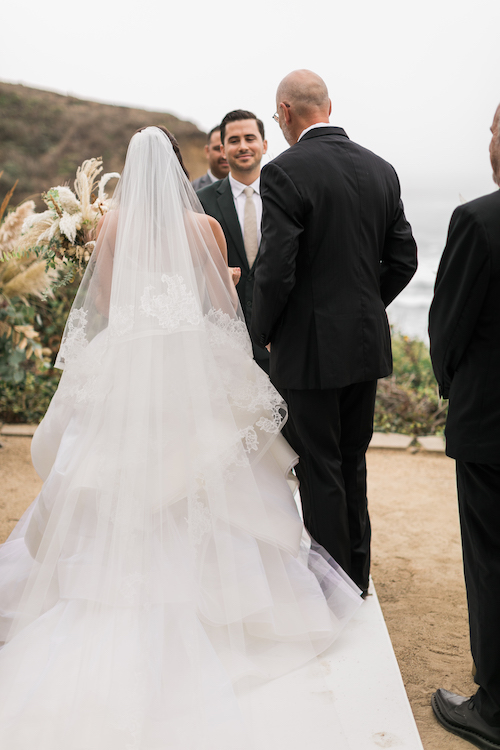 The ceremony was officiated by a close friend of the couple who found the most heartfelt words for this one-in-a-lifetime occasion.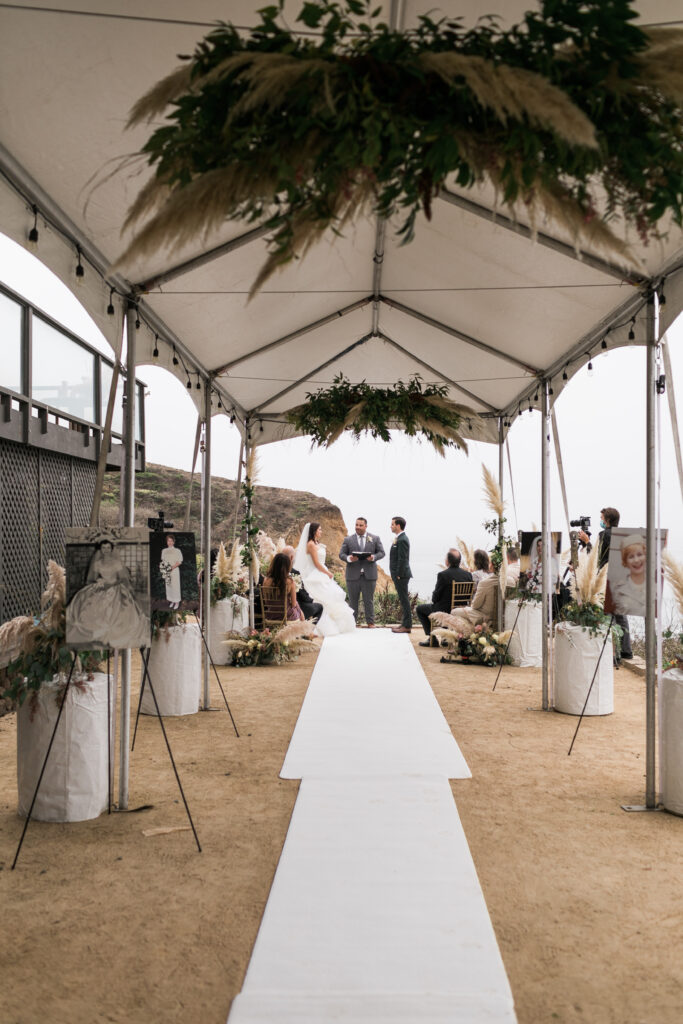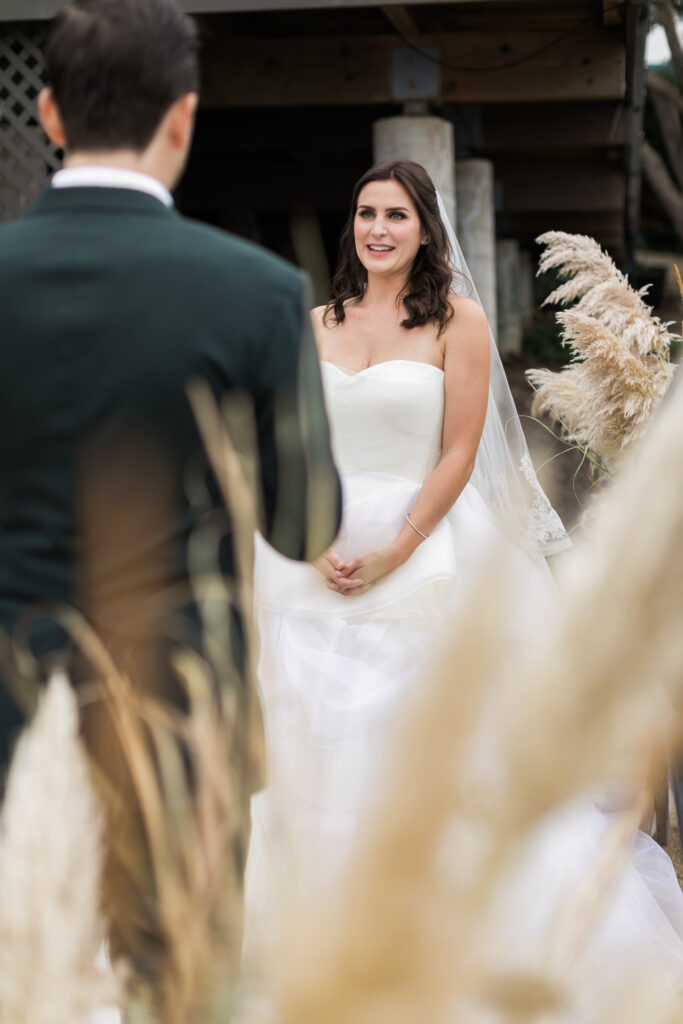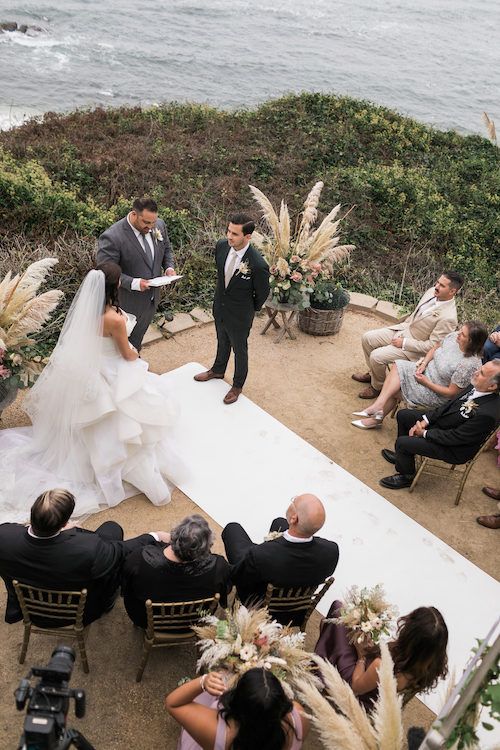 It is official: "You may now kiss the bride!"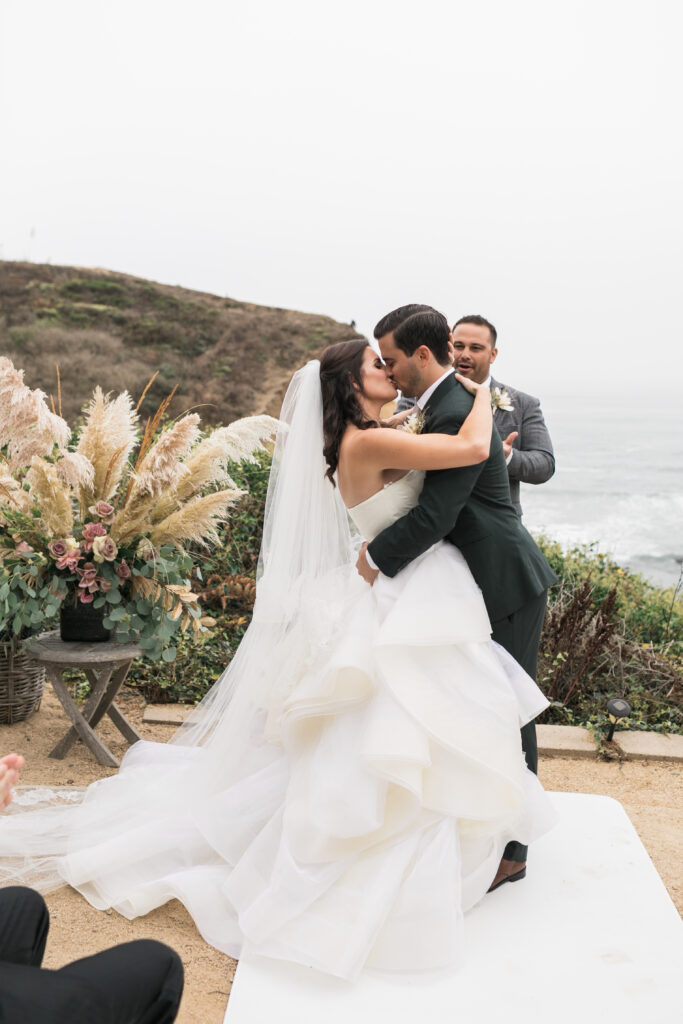 While guests were treated to Champagne …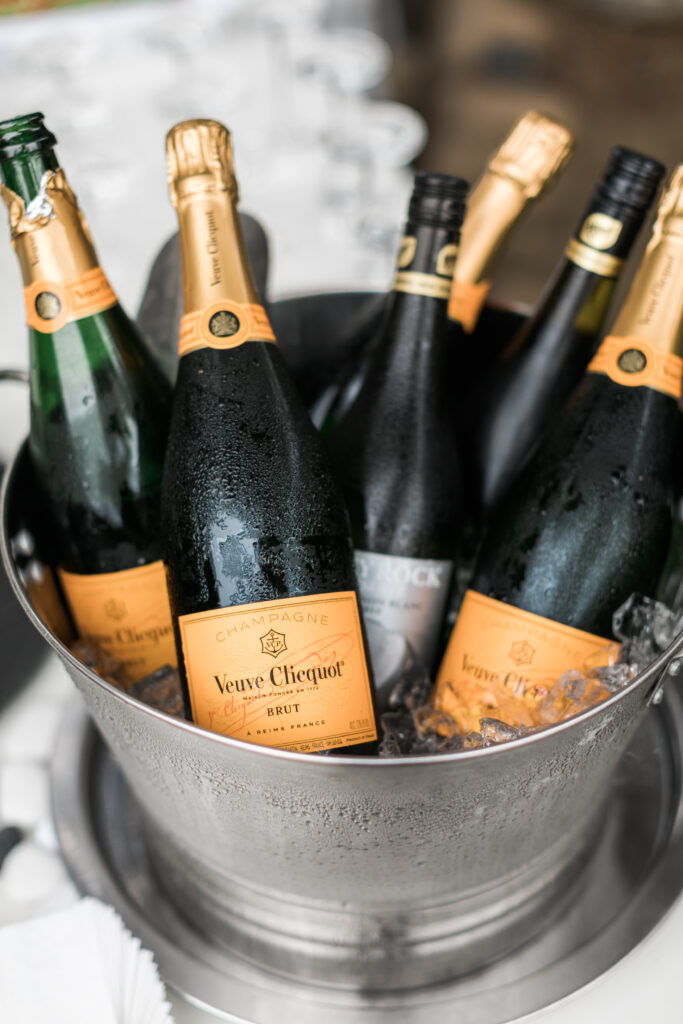 … and delicious heavy hors d'oeuvres by Joshua Charles Catering…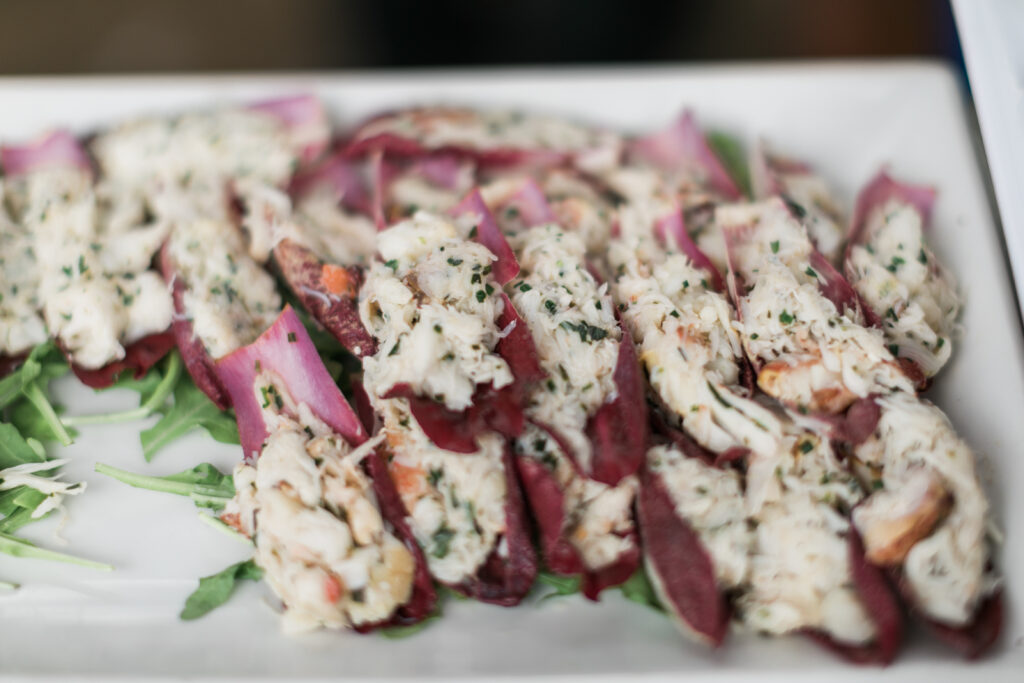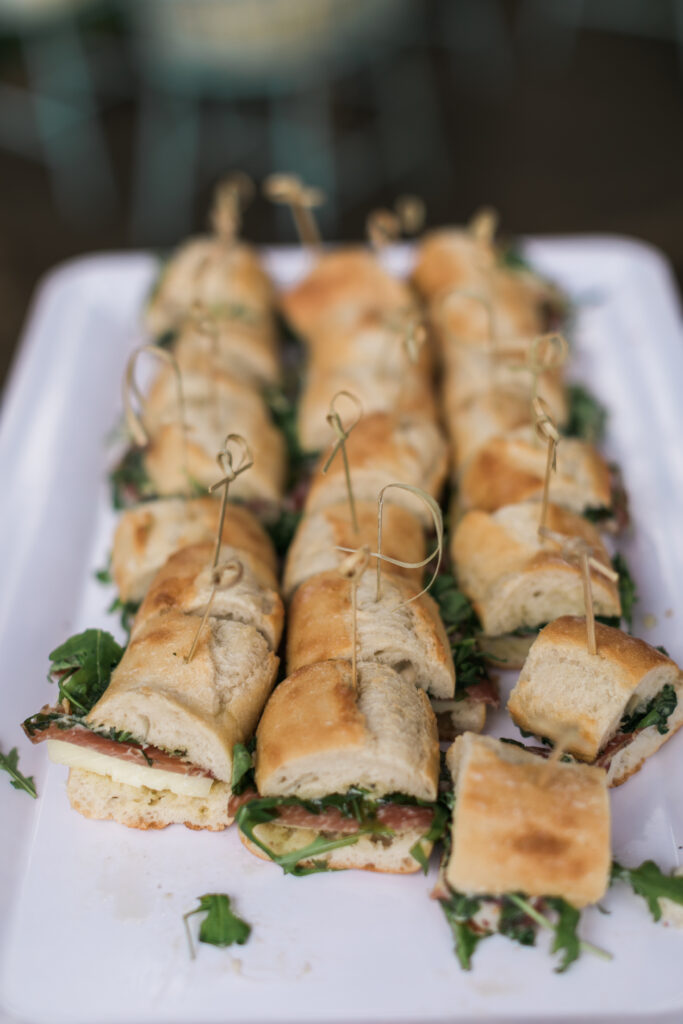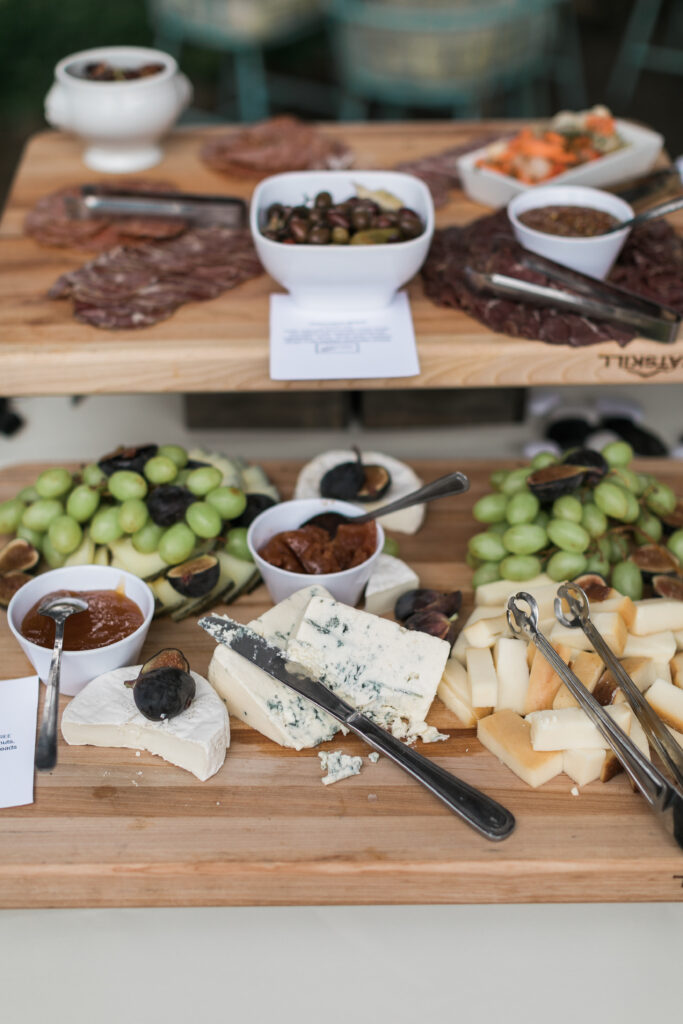 … the newlyweds had their photos taken. Lots and lots of them!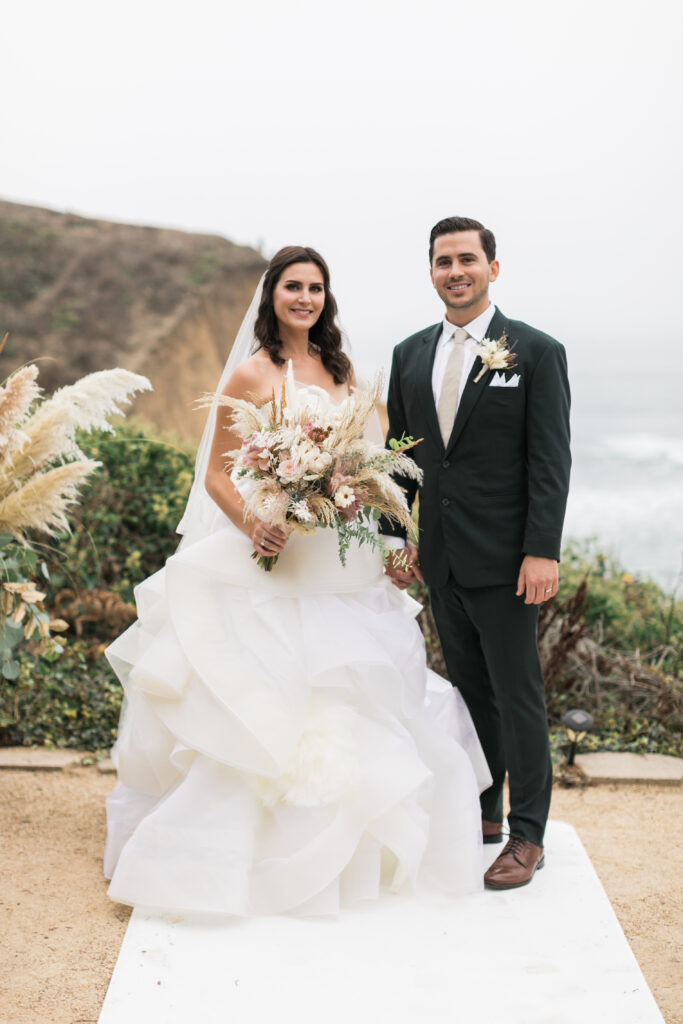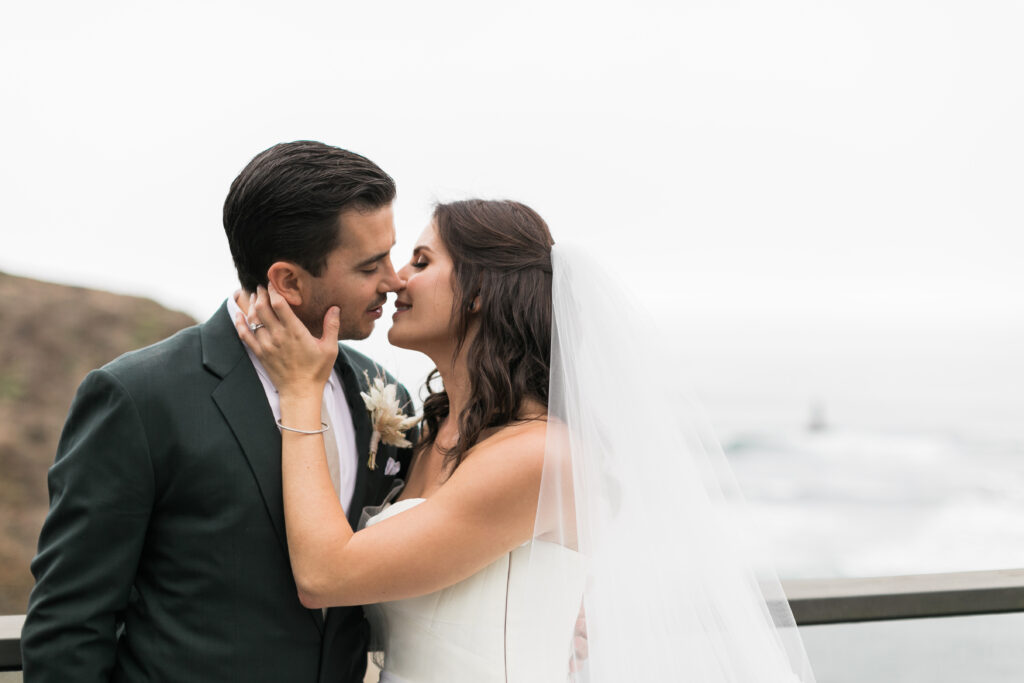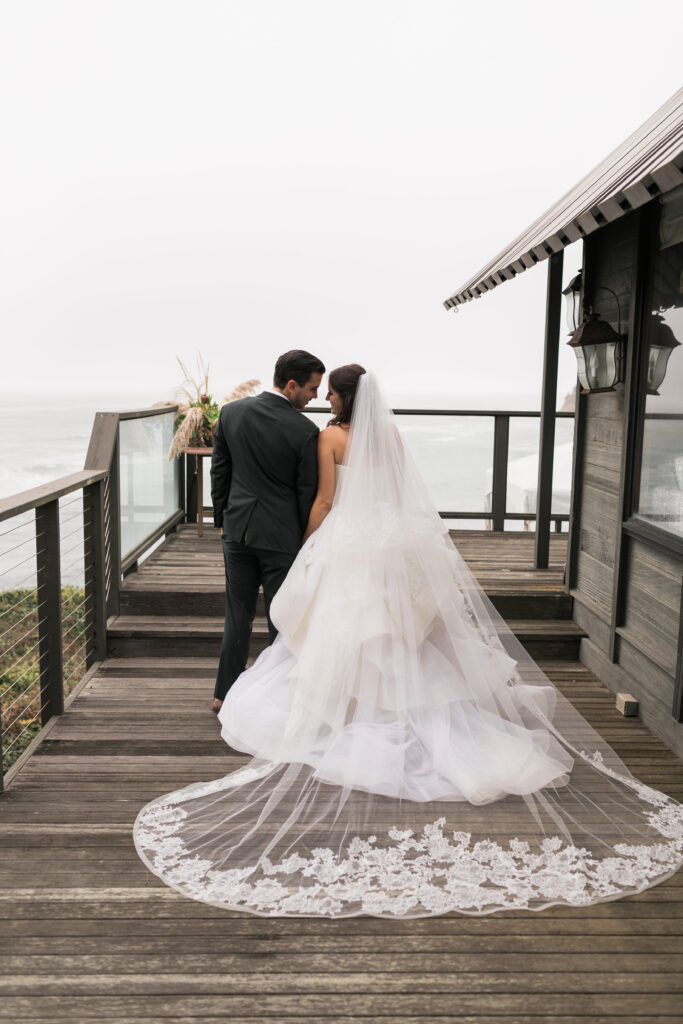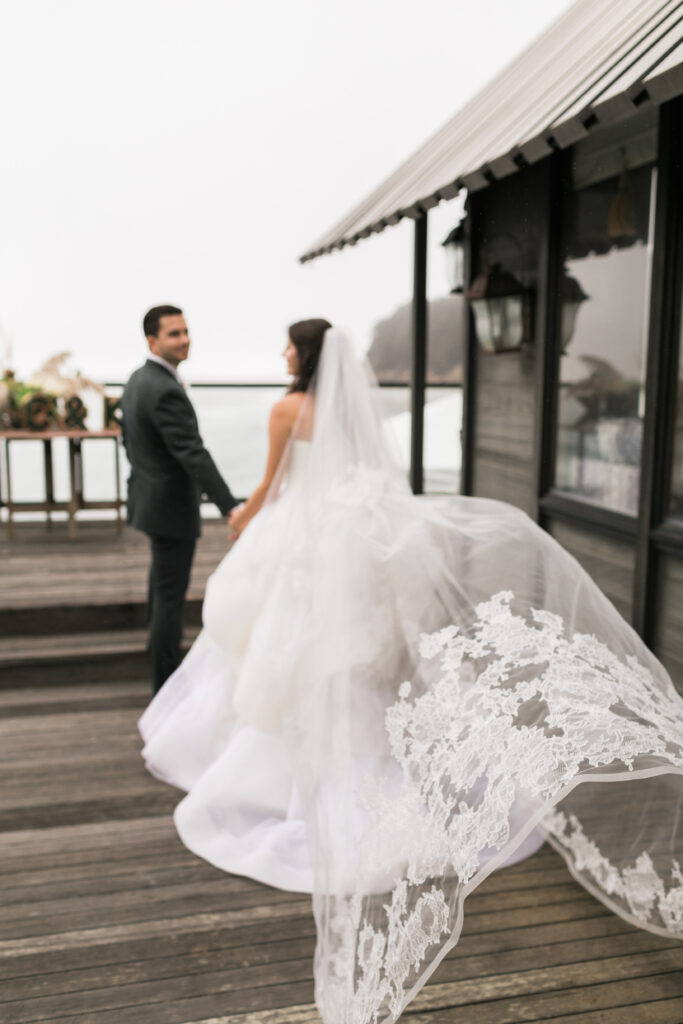 Who says a small wedding at a private residence on a hazy day can't be stunning, magical, and immensely photogenic?!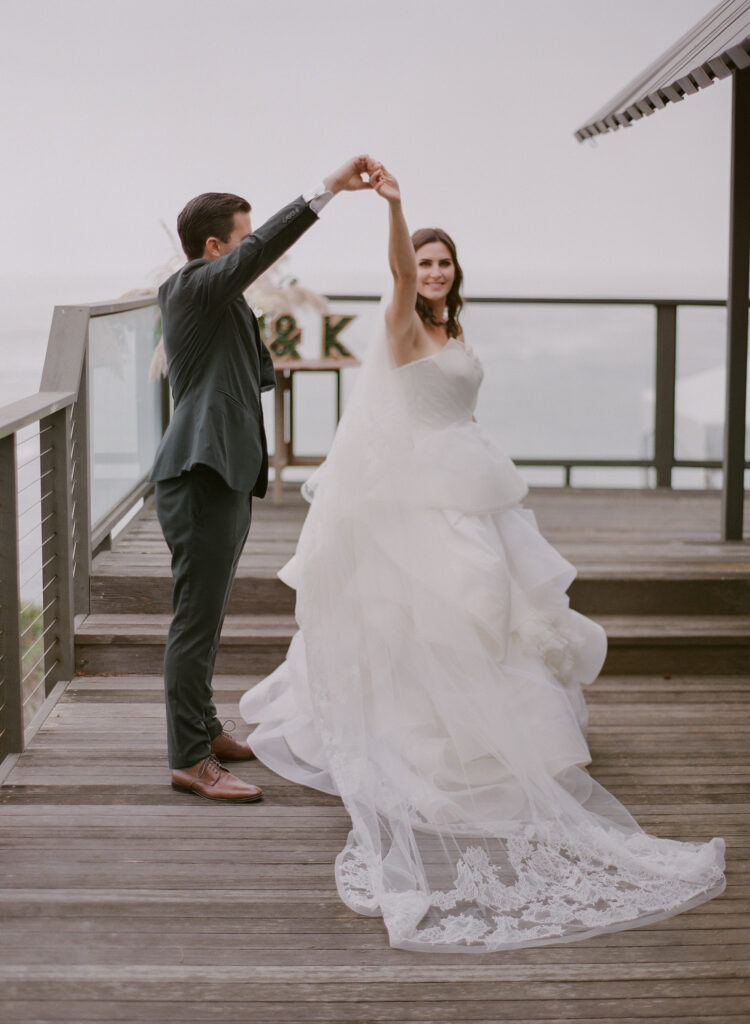 With their photos done, the newlyweds finally got to mingle with their family members and friends, grab a bite and listen to several speeches – both heartfelt and funny!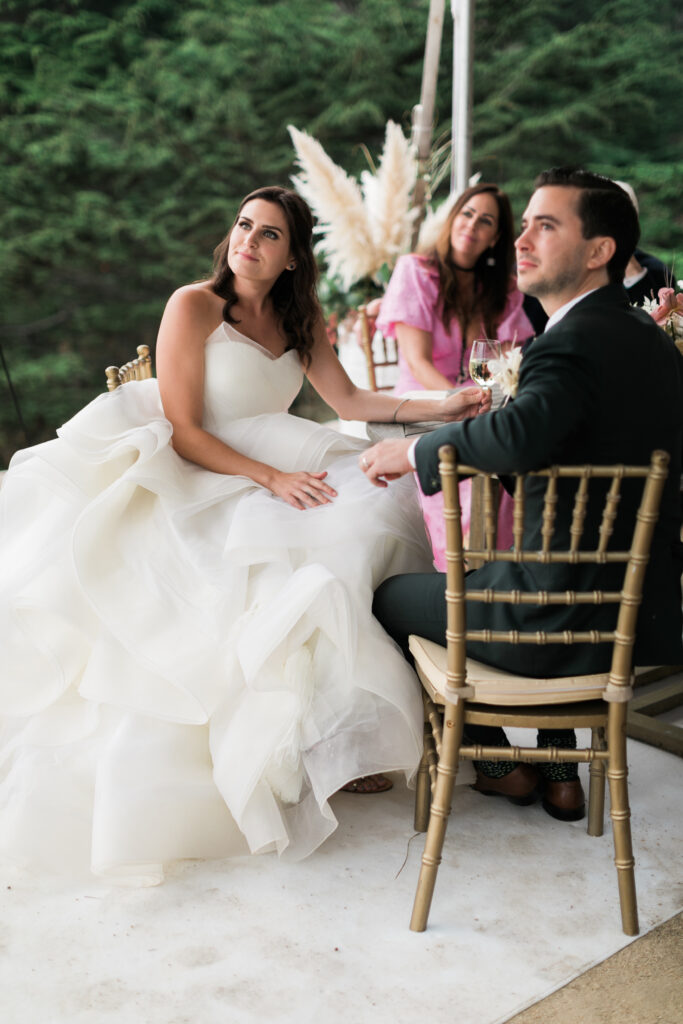 We had made sure that Caroline and Kendall were getting all the customary "highlights" of wedding celebration, for example a bouquet toss (INCLUDING the single gents) …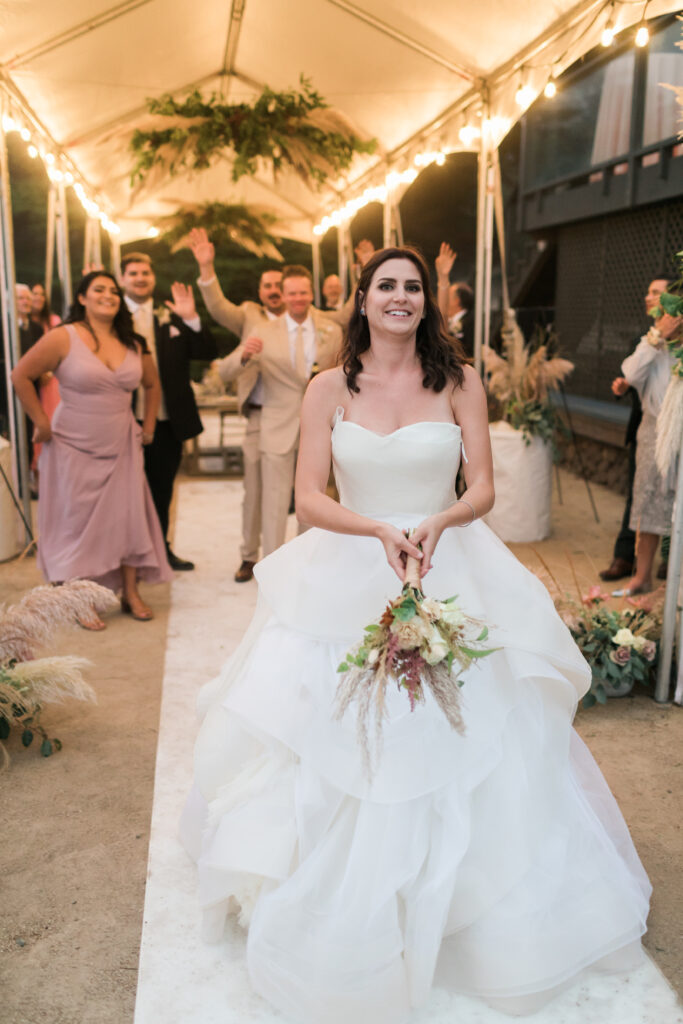 … and cake cutting …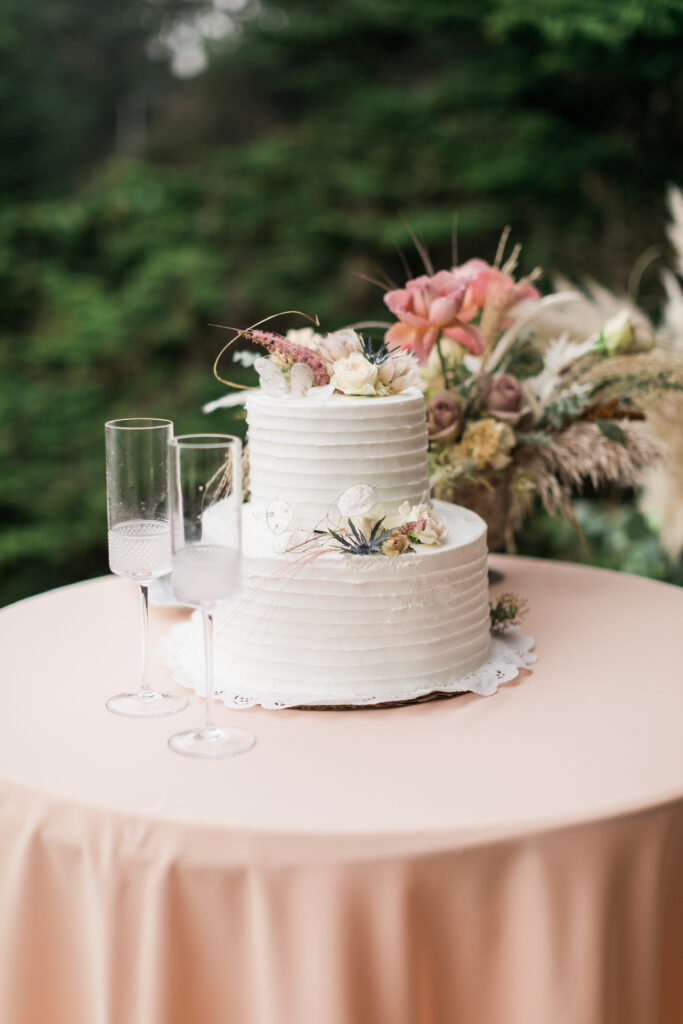 … and a First Dance.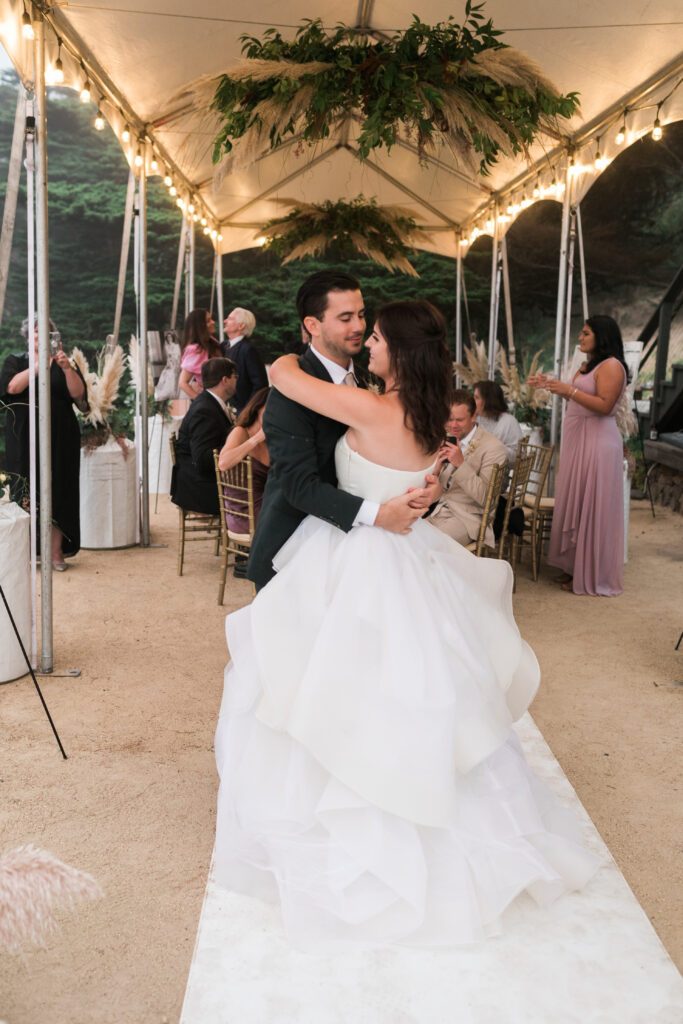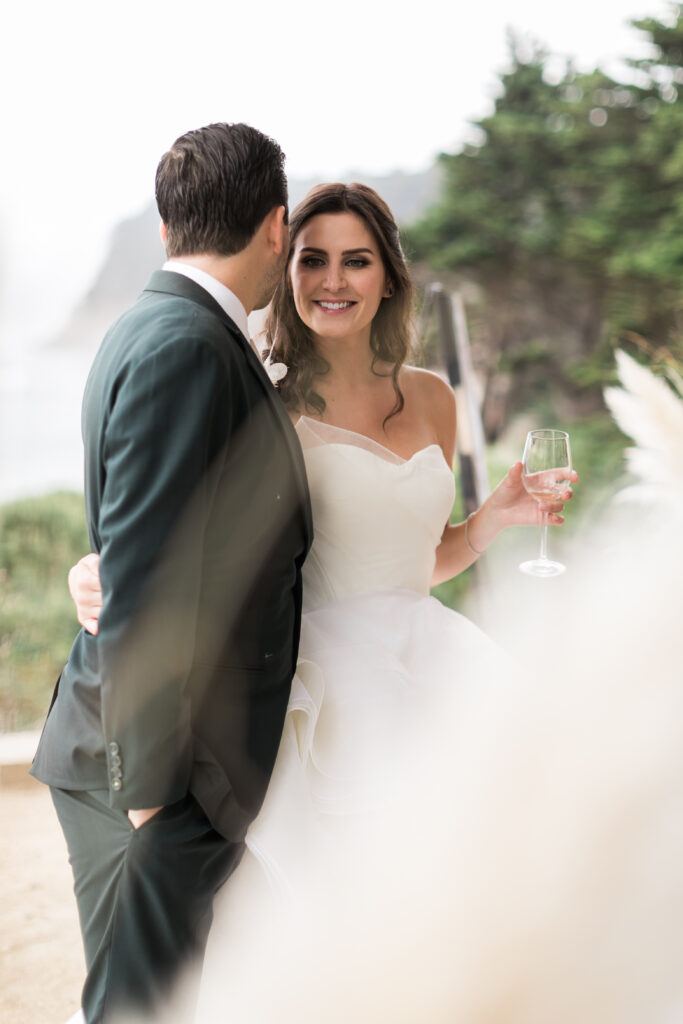 With darkness falling and a slight mist descending on the coastline, the whole wedding party boarded their waiting limousines for a short trip to their afterparty at the Ritz-Carlton Half Moon Bay. And OF COURSE the newlyweds got a proper exit in style!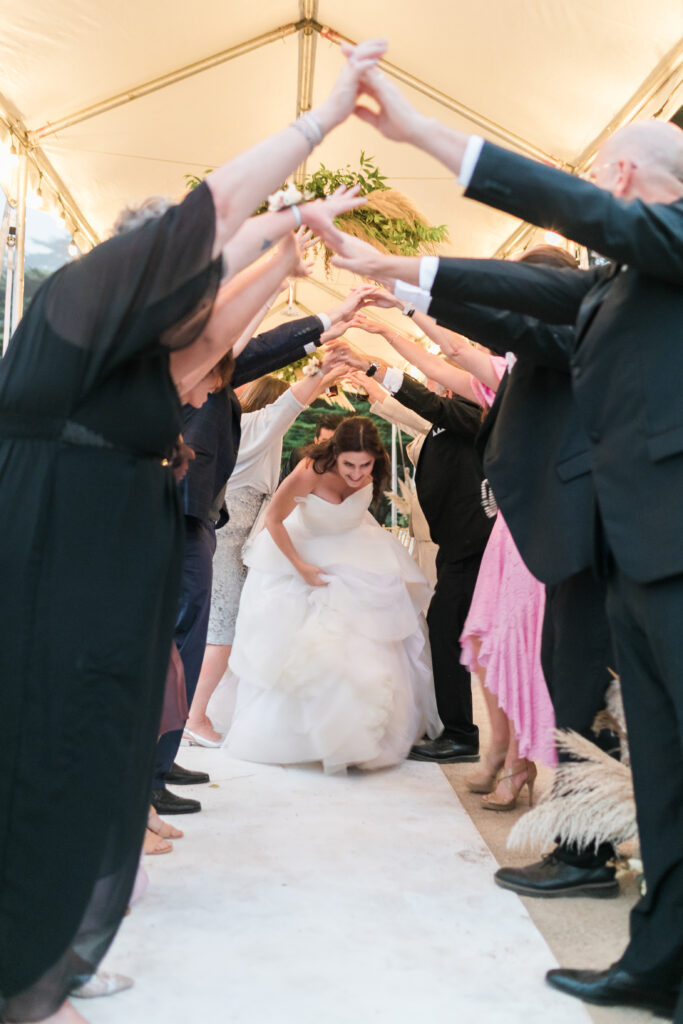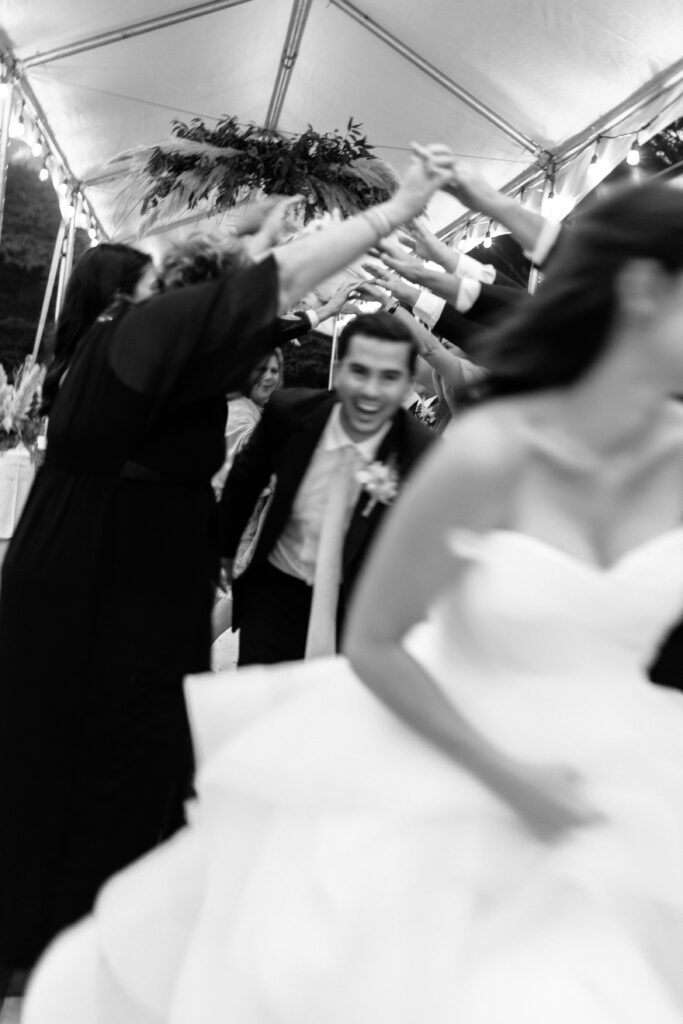 What a day… and, by the way – Caroline and Kendall loved their intimate wedding celebration so much that they ultimately decided against having "the big party" they had originally planned, at a later date. They are married, they are happy…. because "All You Need Is Love," right?

<! DL 06/02/12: Added html code for Pinterest Pin It button (appears at the end of each post) > <! DL 06/02/12: Added padding style modifier to the Pinterest html code to align the Pit It button on the page > <! DL 06/02/12: deactivated code by adding two ! in the a and img code lines >