When Abigail and Mike approached my company, A Day Like No Other, for help with their wedding coordination, I was immediately on board: an elegant year-end evening affair at one of San Francisco's storied landmarks, the Westin St. Francis. They had already booked the two ballrooms – Victor's Palace and Alexandra's – on the famous "Imperial Floor" with gorgeous views of the City and the Bay. And they had decided that their wedding would be both elegant and a fun party, but without the usual "frills." No bridesmaids or groomsmen, for starters – all their siblings would simply walk down the aisle before them. The groom's stepdad would play for the processional. And the couple's beloved canine, Hutch, would be carried down the aisle (he is a senior…) as the ringbearer. And yesterday was THE DAY!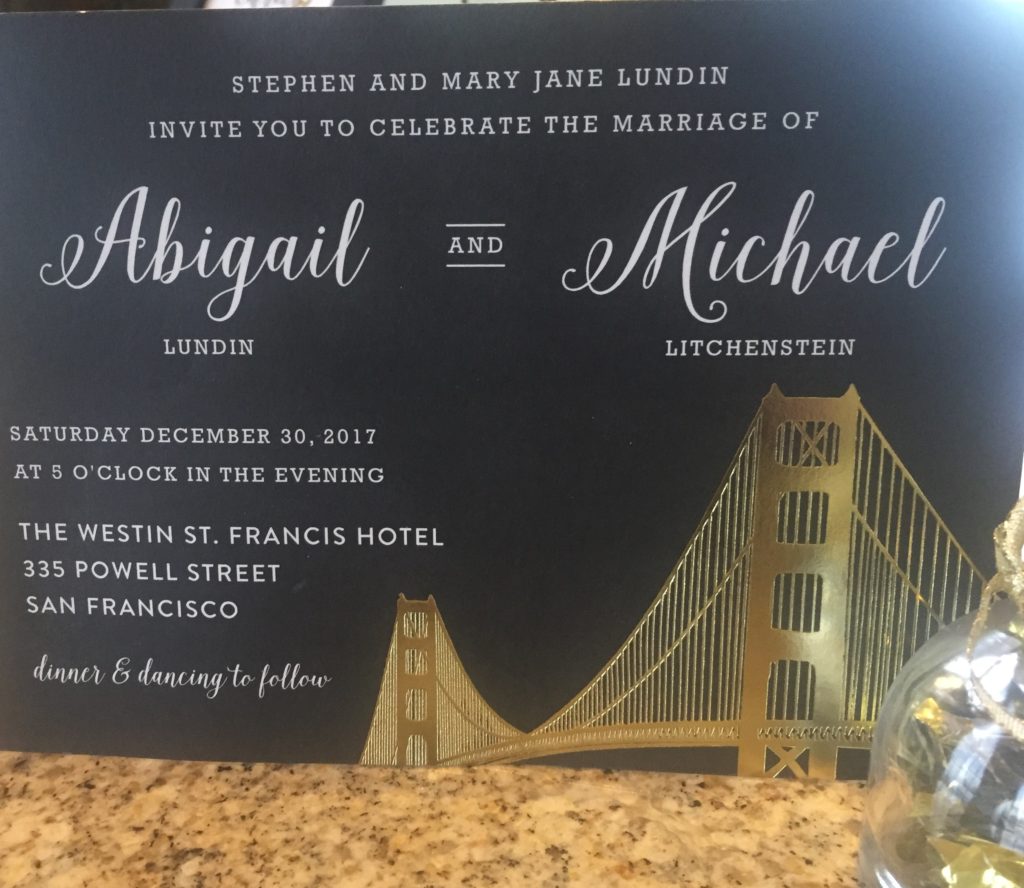 As we all know, the invitation sets the tone for the whole event – and this elegant card showed guests that this would be an homage to the City by the Bay which Abigail and Mike call home and love.
For Abigail, the day began with hair and makeup services (by Carla Malia and Jenna Fontanilla)…
…and Arlene Boyle from Violetta Flowers delivered a gorgeous bridal bouquet (as well as altar arrangements and centerpieces).
What's missing? Shoes, jewelry…
Ready for  "First Look!"
While Abigail and Mike were taking many, many photos with photographer Marc Blondin…
… frantic preparations were underway to get ceremony setup and cocktail area in "Victor's Palace" ballroom and dinner/dancing in "Alexandra's" guest-ready. Catering manager Selma Santoyo and her team and Angeliki Menig and Mary-Kate Greenberg (who took all our snapshots here for a peek preview) from A Day Like No Other were busy putting the finishing touches on everything.
The ceremony setup was completed…
… with the elegant altar arrangements from Violetta Flowers…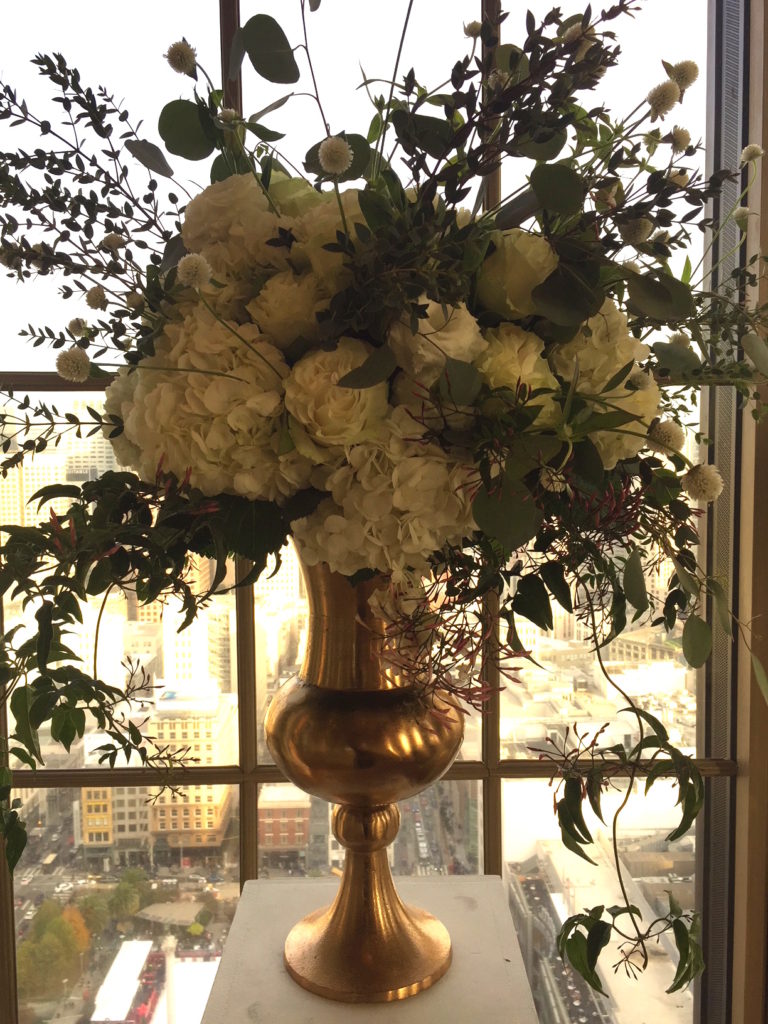 A "photo gallery" was set up to greet arriving guests…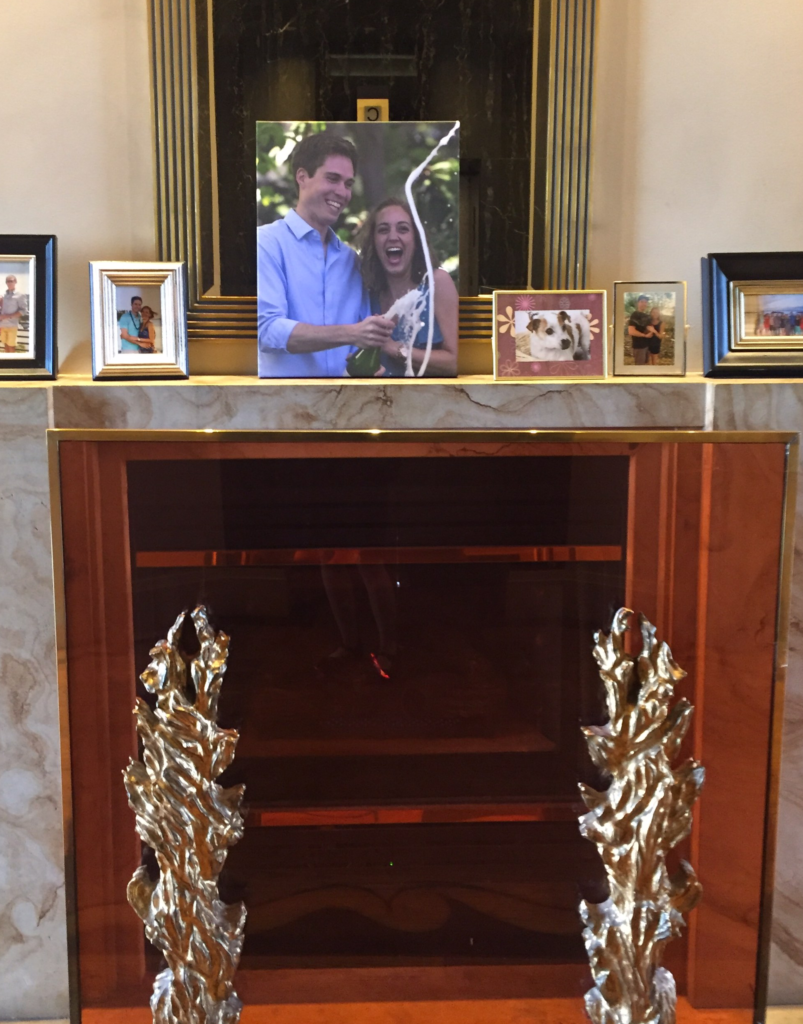 … and a table assignment board was installed to guide guests to their assigned seats – a true love letter to San Francisco!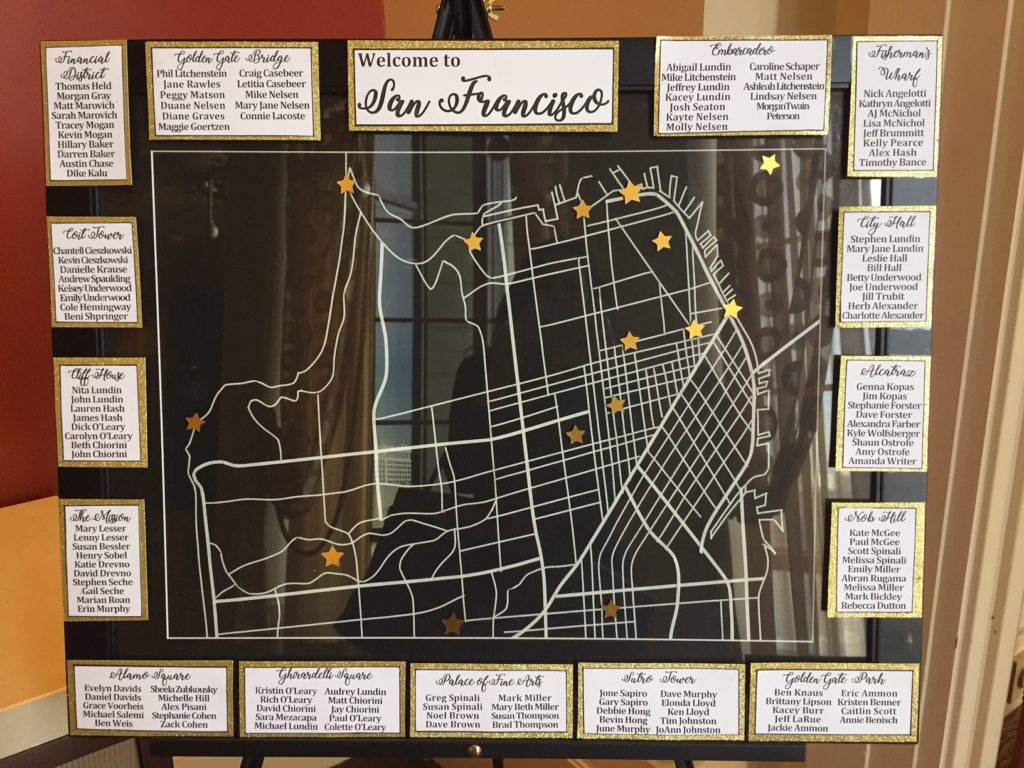 And here are the corresponding table numbers: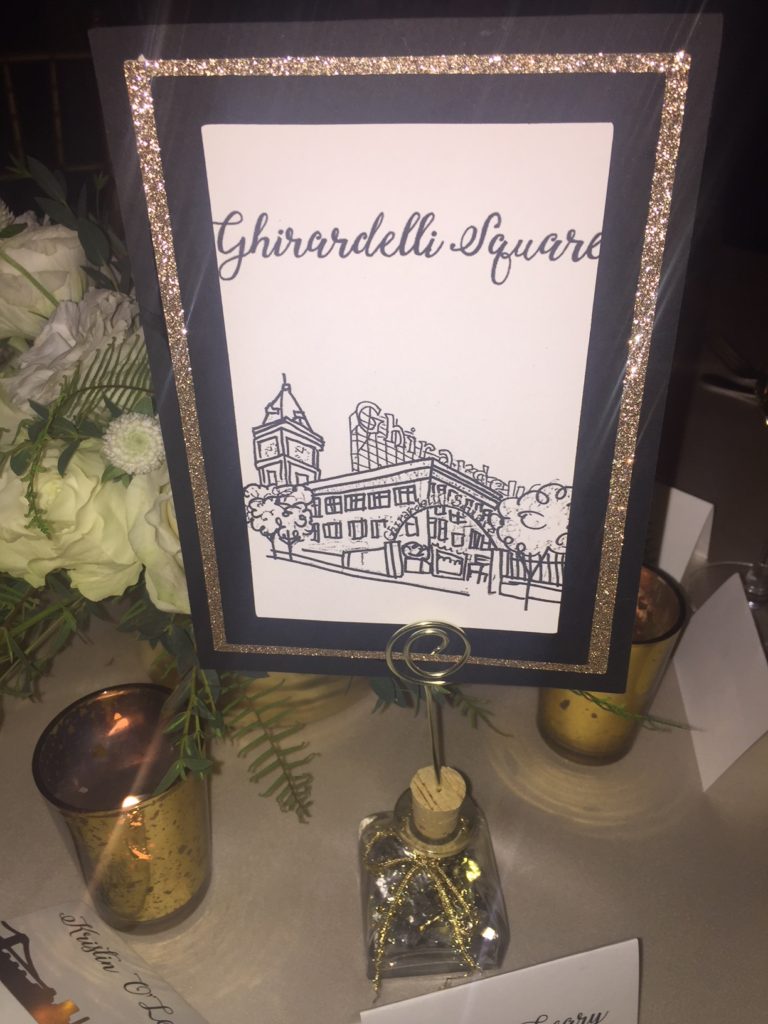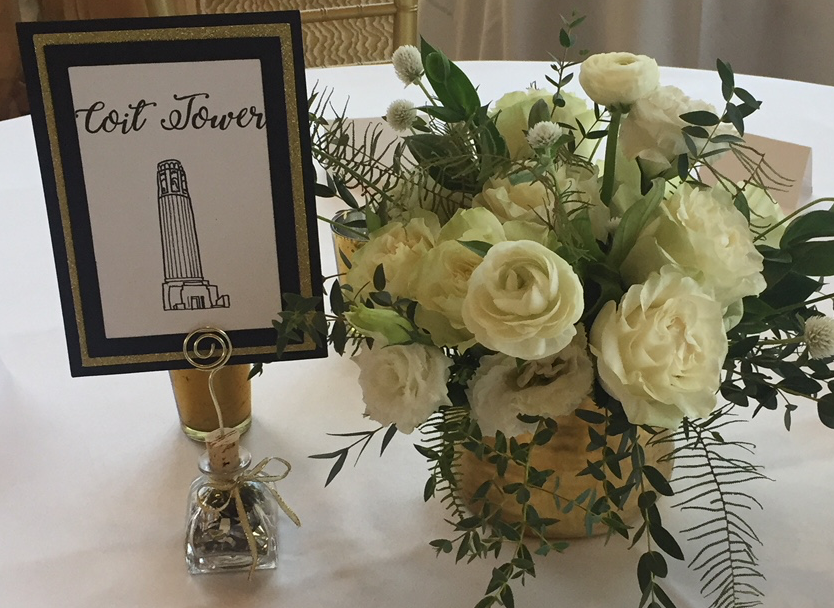 In lieu of a standard "run-of-the-mill" guestbook, a Polaroid and scrapbook station was waiting for the guests' creativity: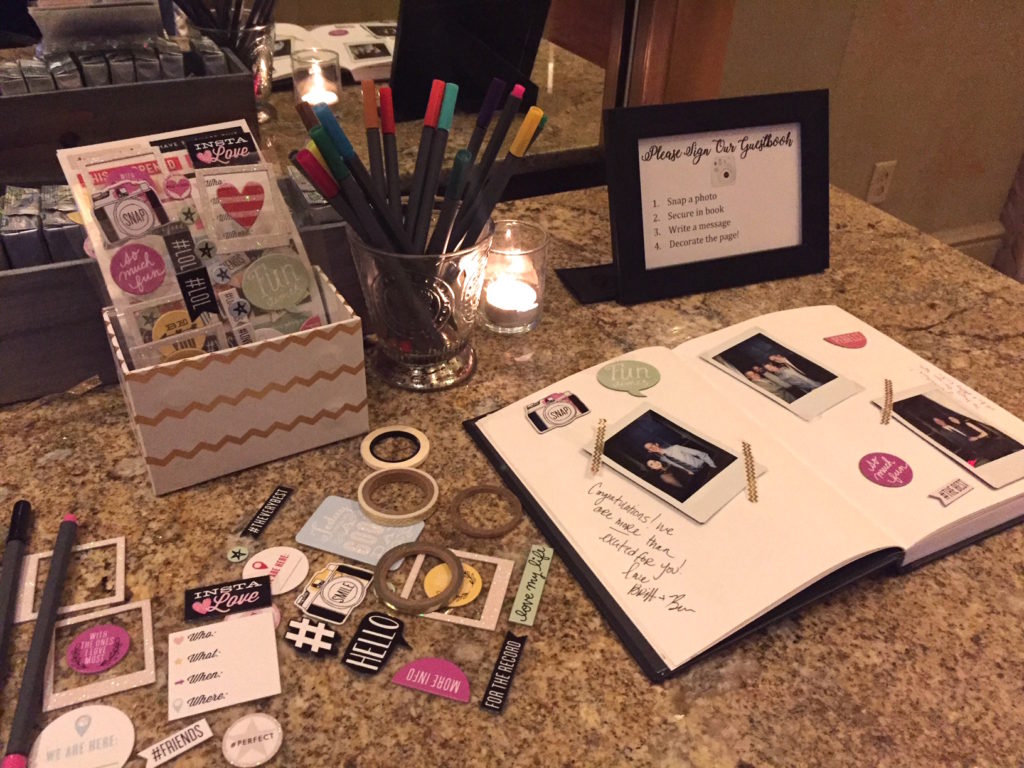 Verducci Event Productions set up the sound for the ceremony and for dancing, DJ and MC were prepared, and with that we were ready when guests arrived…
… for the 5 pm ceremony – with darkness falling and the city lights sparkling in the background.
Everything went according to plan, and after ceremony and cocktails, guests proceeded to Alexandra's ballroom for a lavish dinner and an epic dance party. The newlyweds presided over the elegant room from their Head Table…
What else? The cake, of course! Susan Morgan of Elegant Cheese Cakes had outdone herself and delivered another "Homage to San Francisco" masterpiece, decorated with the City skyline and with a very personal cake topper…
… and the last highlight of the celebration: the couple's First Dance.
Everyone agreed: it was a great, great party! Keep celebrating, Abigail and Mike, and our best wishes for many happy years on your way!
Let us create YOUR unique wedding celebration, too!

<! DL 06/02/12: Added html code for Pinterest Pin It button (appears at the end of each post) > <! DL 06/02/12: Added padding style modifier to the Pinterest html code to align the Pit It button on the page > <! DL 06/02/12: deactivated code by adding two ! in the a and img code lines >