Here comes the expert on doggie behavior, our very own Dog Whisperess: Maryam Kamali, professional dog trainer, answers Weddingwoof's questions about doggie etiquette, especially when it comes to "all things wedding!"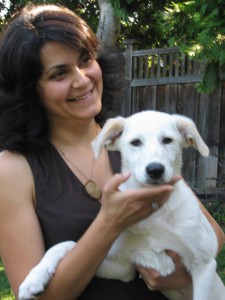 Maryam with Leo, a rescued Saluki mix for whom she found a loving family.
Please tell us a bit about yourself.
I have been an animal lover my whole life, and grew up with dogs, cats and other house pets. I always dreamed of working with animals, and finally in 2008 I made a decision that I was going to leave the corporate world and follow my passion. I became a certified professional dog trainer through Animal Behavior College, and certified evaluator through Canine Behavior Academy. I believe in continuing education and learning about the latest training methods, therefore I attend workshops and conferences held by renowned dog trainers and behaviorists around the country. Currently I own a professional private dog training, evaluation and behavior modification business called Pawsitive Manners www.PawsitiveManners.com . I use and advocate positive reinforcement, reward-based training methods that have been scientifically proven to be the most effective way to train any dog at any age. Reward based training is not only fun for both the owner and the dog, but it also creates a very strong bond between the dog and his/her human pack members where the dog offers desirable behaviors by choice and not by force! I volunteer for and help local rescue groups and shelters where I get to work with so many amazing dogs that are looking for their loving forever homes.
Where is your business based?
San Francisco Peninsula, and I have clients from San Jose to San Francisco
Which services do you offer in your business?
Basic obedience training
Adoption and purchase counseling
Puppy training
Behavior Modification (behavioral issues)
Evaluation
From your many years of professional experience, what are the three biggest mistakes dog owners keep making?
Not enough positive socialization – Many dog guardians stop making an effort to appropriately socialize their dog once he/she has reached 12 months of age. Proper socialization and training should never stop, otherwise the dog's social skills will be lost over time, and behavioral issues start to show up.
Some common dog park mistakes – Allowing dogs to crowd around the entrance to greet dogs that are coming in. Talking on cell phones or to each other and letting dogs "work it out". Not recognizing situations where dogs need their owner's help and attention.
Misinterpreting dog's body language and facial expressions.
What do you think is most important when planning a big event including the dog? Which provisions are absolutely necessary to make? How best to strike a balance between the dog's needs and the flow of the event?

I love weddings where the beloved and well-behaved family dog is included and is part of the big event! To determine whether to include your dog in your wedding or not, I recommend counseling with a professional dog trainer who can evaluate your dog. Your trainer can also provide you with a training plan and training exercises that will prepare your dog so that he/she will know how to behave at the event and enjoy it too! To ensure that your dog is well taken care of while you tend to your guests, you can even hire your trainer or a skilled handler to monitor and stay with your dog(s) during the event.

Is your business still welcoming new doggies? Would you be willing to take care of a doggie through a big event he/she is attending (like a wedding, for instance) and also, would you  travel with a dog and his/her people to an out-of-town event?

I welcome new clients and their dogs, and definitely enjoy training and preparing dogs for events. I may also travel to an out-of-town event depending on my schedule and circumstances at that time.

You certainly have a lot of doggie stories to share! What is your most remarkable or your funniest dog story?

Recently I received a call from a client who was so excited about her dog's impressive accomplishment. When I first met her dog; Jack, he could not be trusted off leash, as he was easily distracted and had a terrible recall. We went through several different recall exercises and she worked with Jack everyday. Now 4 months later, she can enjoy off-leash hikes with her dog. The reason why she was so excited on the phone was because that morning she and her dog had gone jogging on the trails where they came really close to a couple of deer that took off after noticing the dog, and of course the dog went after the deer, but he stopped immediately when his owner called him, and he ran back over to her and sat so politely in front of her waiting to be rewarded!

Thanks so much Maryam! We will keep your words to heart and, if we're stuck with our canine education efforts, shoot you an email for HELP!!!

<! DL 06/02/12: Added html code for Pinterest Pin It button (appears at the end of each post) > <! DL 06/02/12: Added padding style modifier to the Pinterest html code to align the Pit It button on the page > <! DL 06/02/12: deactivated code by adding two ! in the a and img code lines >