When Stephanie and Josh approached my company, A Day Like No Other, to help them with their wedding planning, they had set a date and booked their venue… and we had five months to go. They would have their ceremony at the spectacular Valley Presbyterian Church in Portola Valley, the bride's home parish. And then they would celebrate at the nearby Portola Valley Town Center, a modern event hall with stunning architecture.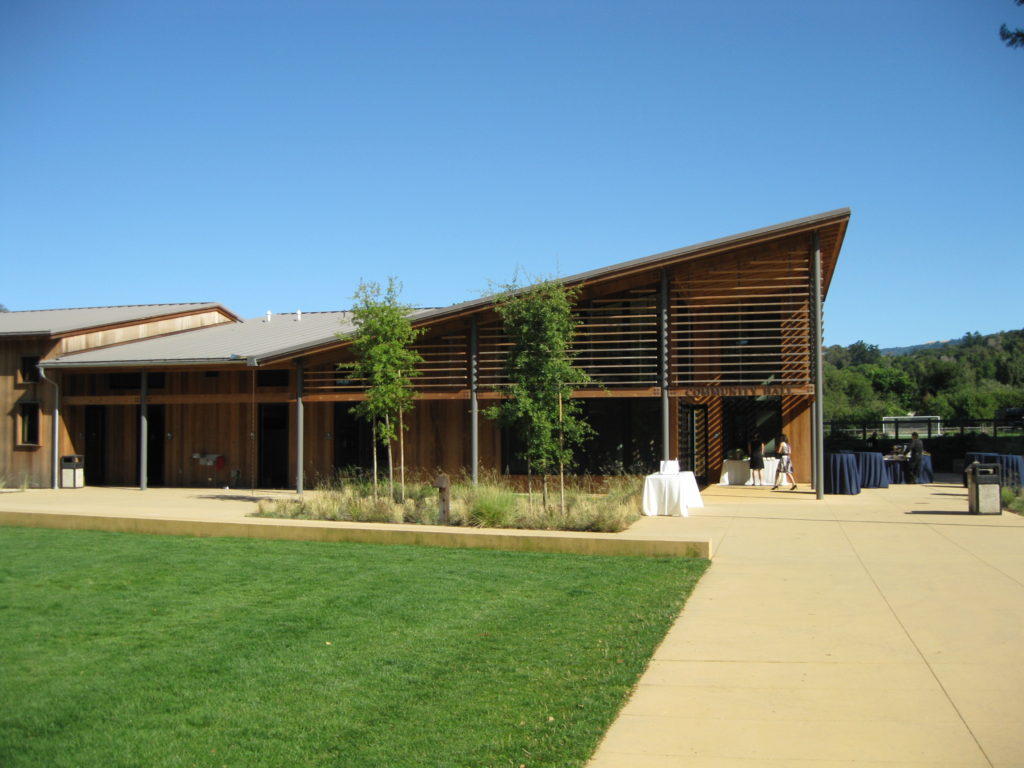 So far, so good! Bride and groom are both super busy – both are physicians – so the time they could realistically devote to planning was limited. And so… our planning and design work got quite intense! Luckily we were able to pull together a stellar team of vendors, and yesterday all that hard work paid off, big time! The weather gods were also smiling upon us with blue skies and sunshine. It was a glorious summer day.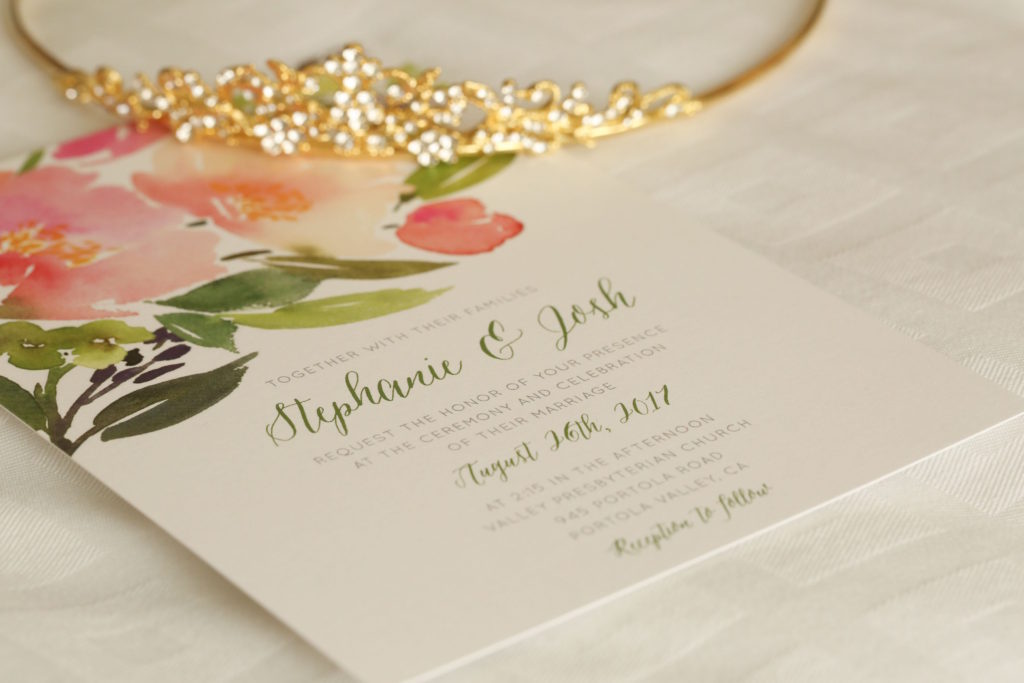 For Stephanie and her five bridesmaids the day began with hair and makeup services by Nancy and Kathryn of Wowpretty Salon – and the six pretty ladies and two mothers emerged ready for the red carpet – just glamorous!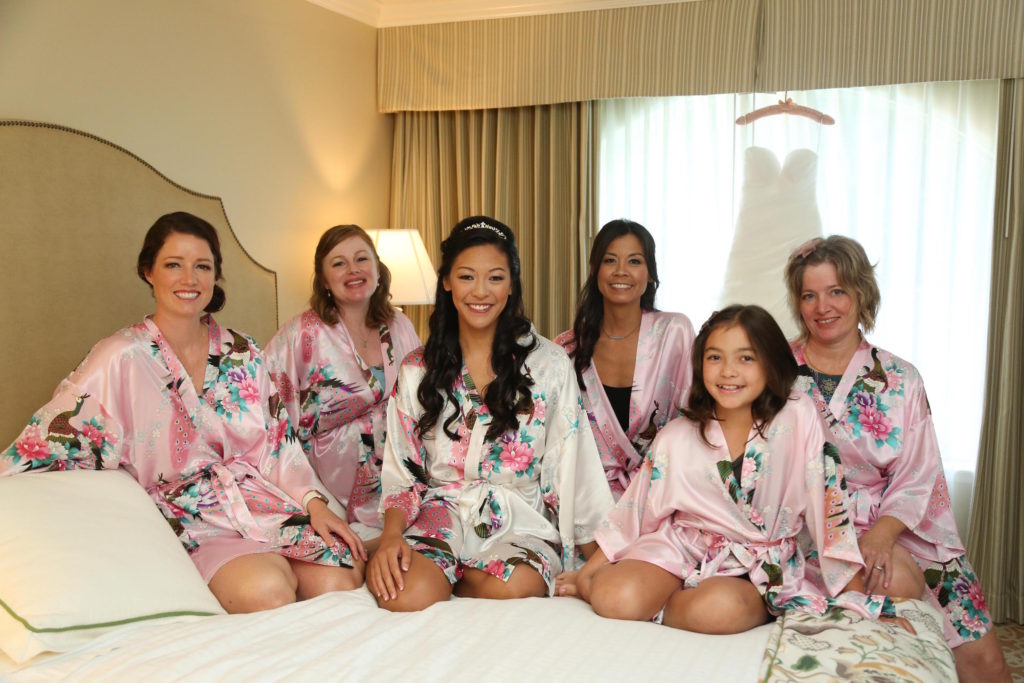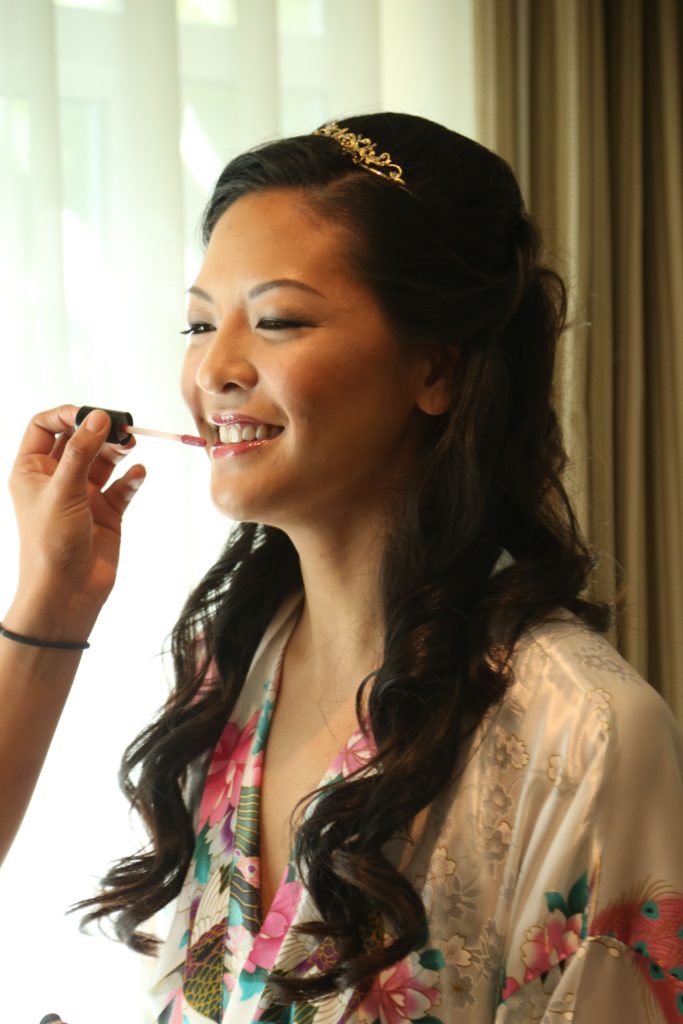 Stephanie complemented her classic white wedding dress …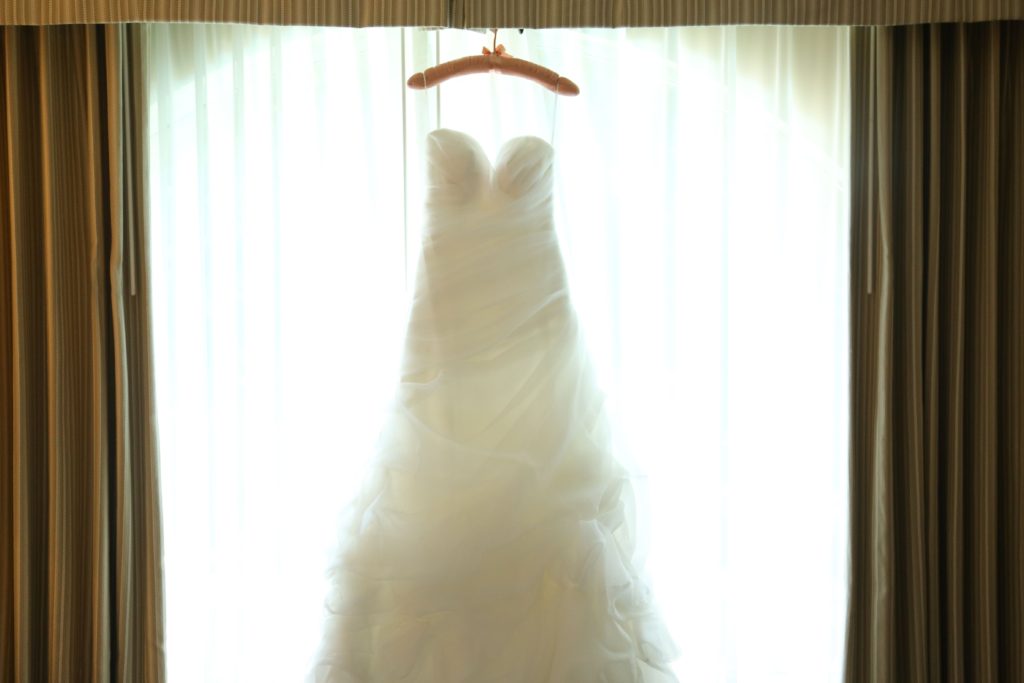 … with a summery, feminine bouquet in ivory, blush pink and peach …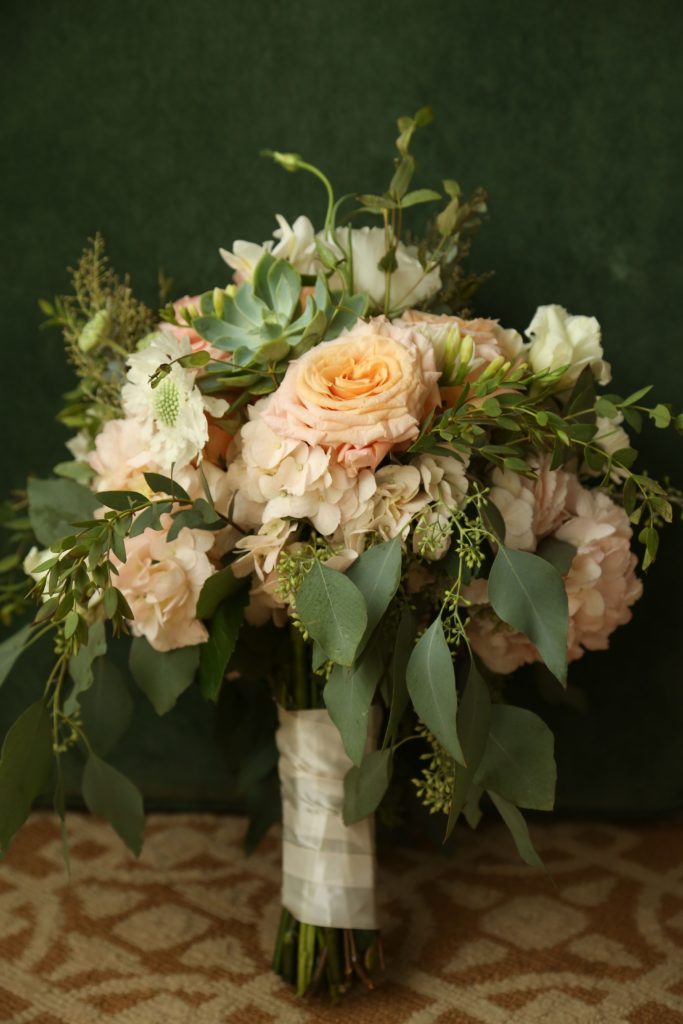 … by Vicky of Queen Bridal – not only our florist for all floral decor throughout, but also our decorator who worked true magic on the reception spaces inside and out… more of that later.
Then there were her "pretty-in-pink" shoes …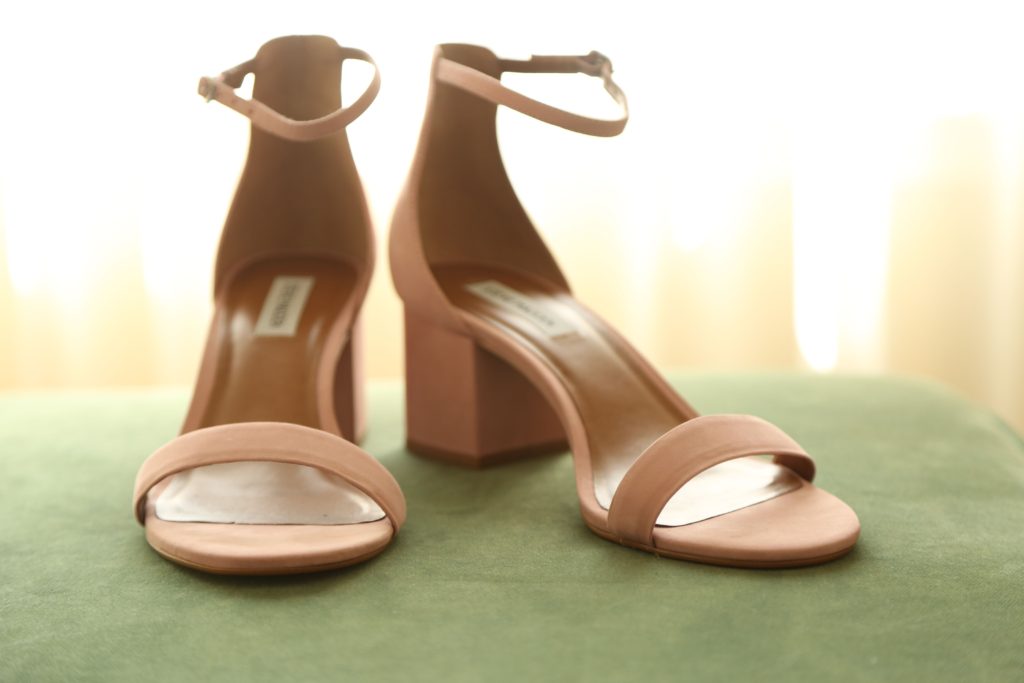 … and the rings, of course!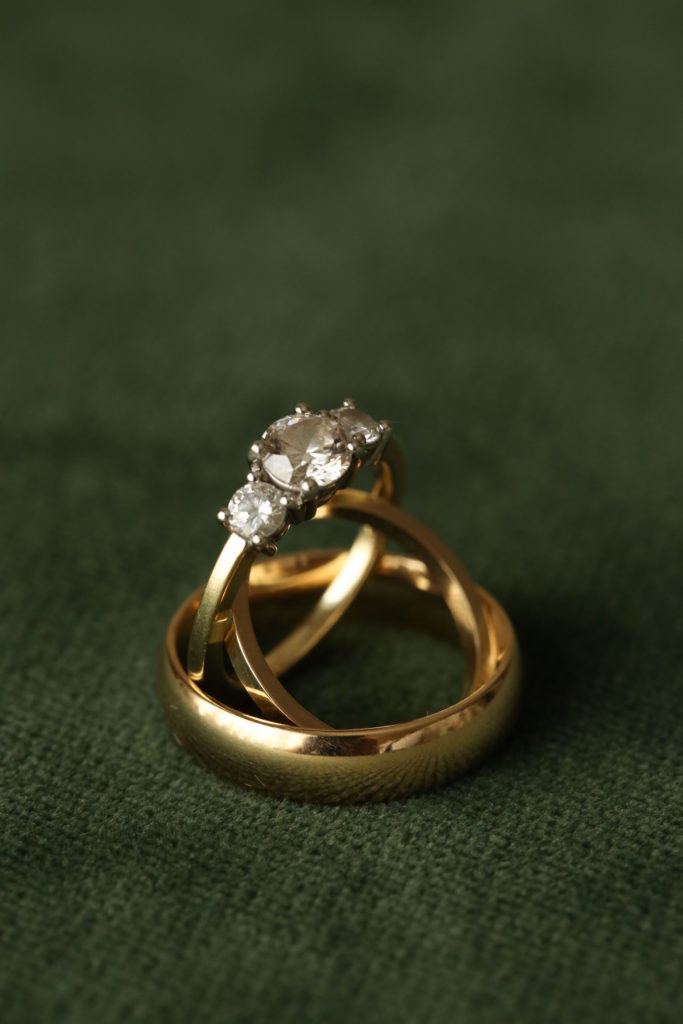 Josh was also getting ready with some help from his Dad …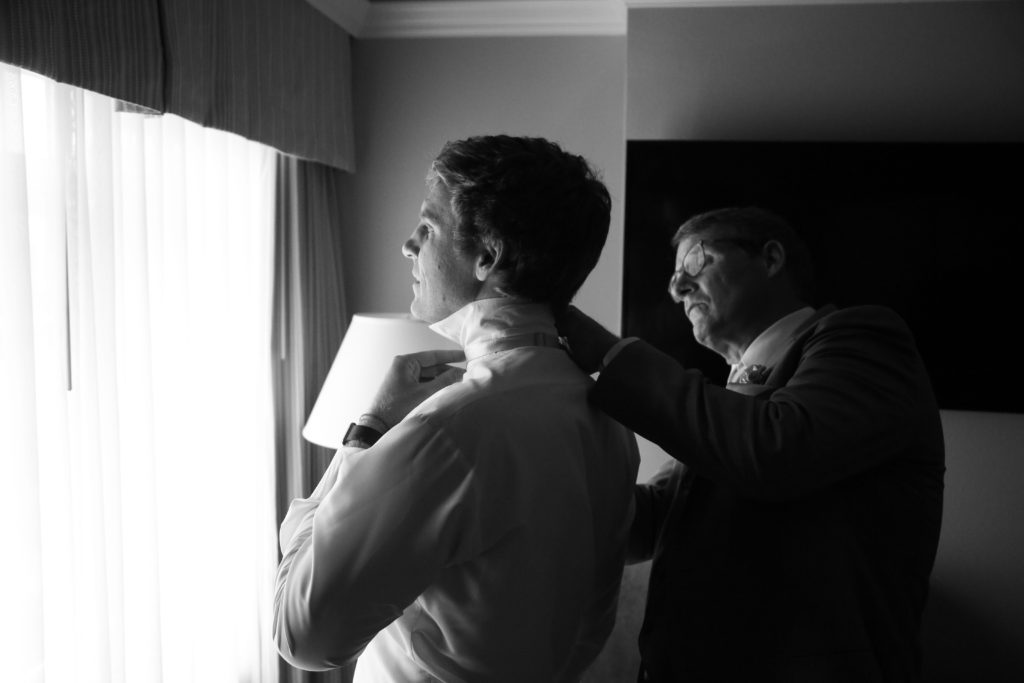 … and he was very moved by his bride's early-morning love letter.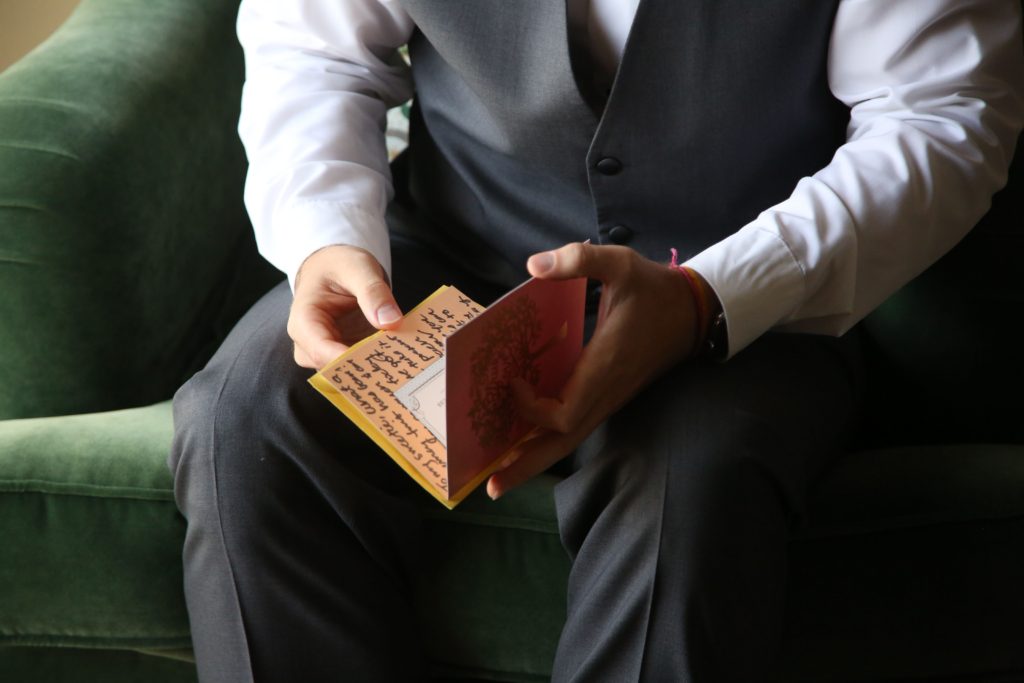 Next: pin on one of Vicky's beautiful boutonnieres, and – ready for First Look!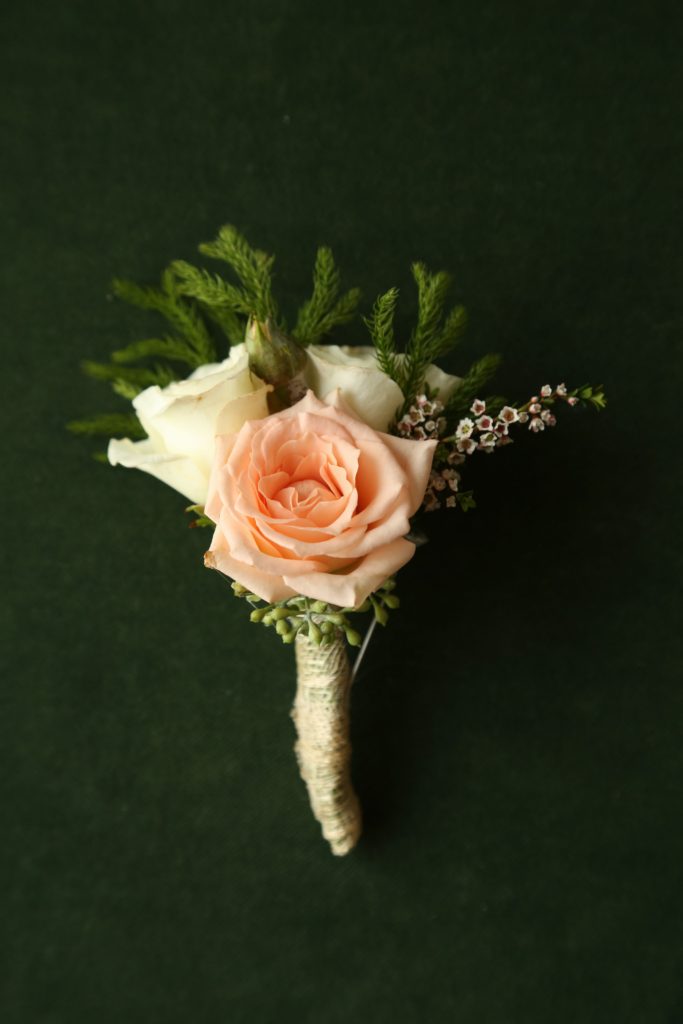 Meanwhile we were joined by Dusty and Amy of Drozian Photoworks  and by the team of Pure Devotion video. They captured all the precious moments during the day.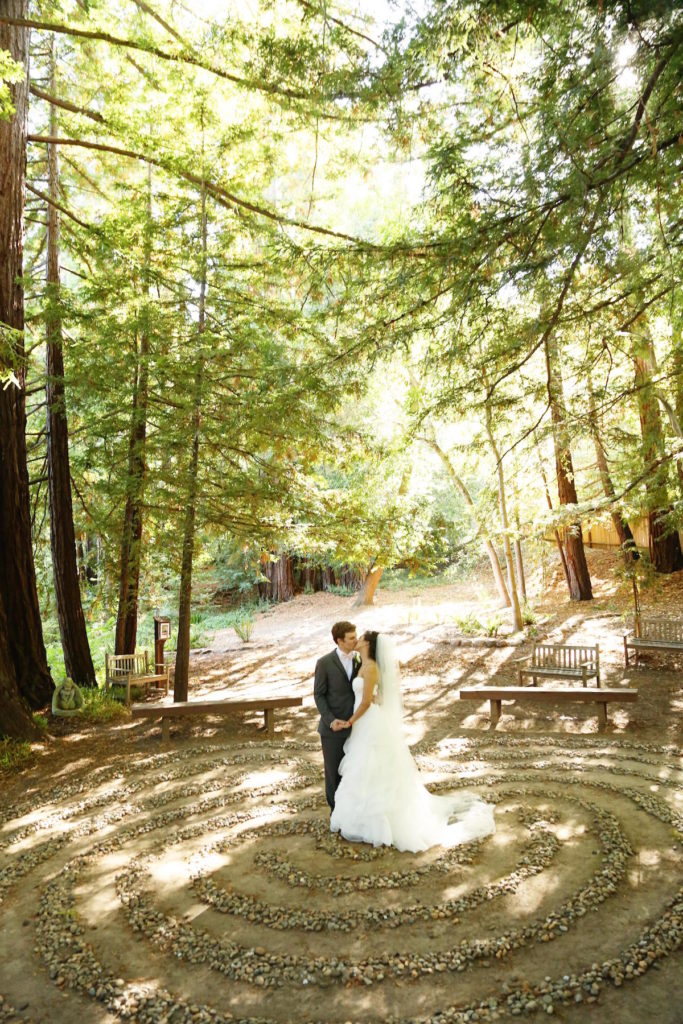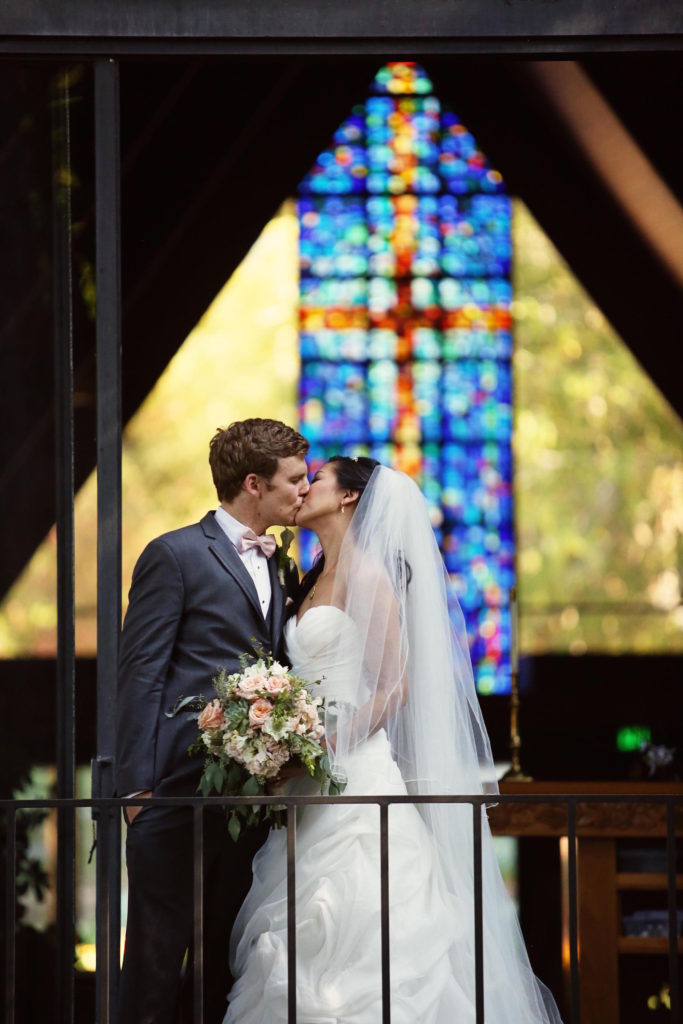 At the church, our hostess Becky Preimesberger was waiting for us, organizing the bride's party, the groom's party, parents, flower girl and ring bearer with poise and calm precision, while the church musicians played prelude music for the arriving guests. And here comes the Bride! A wonderful mother-daughter moment…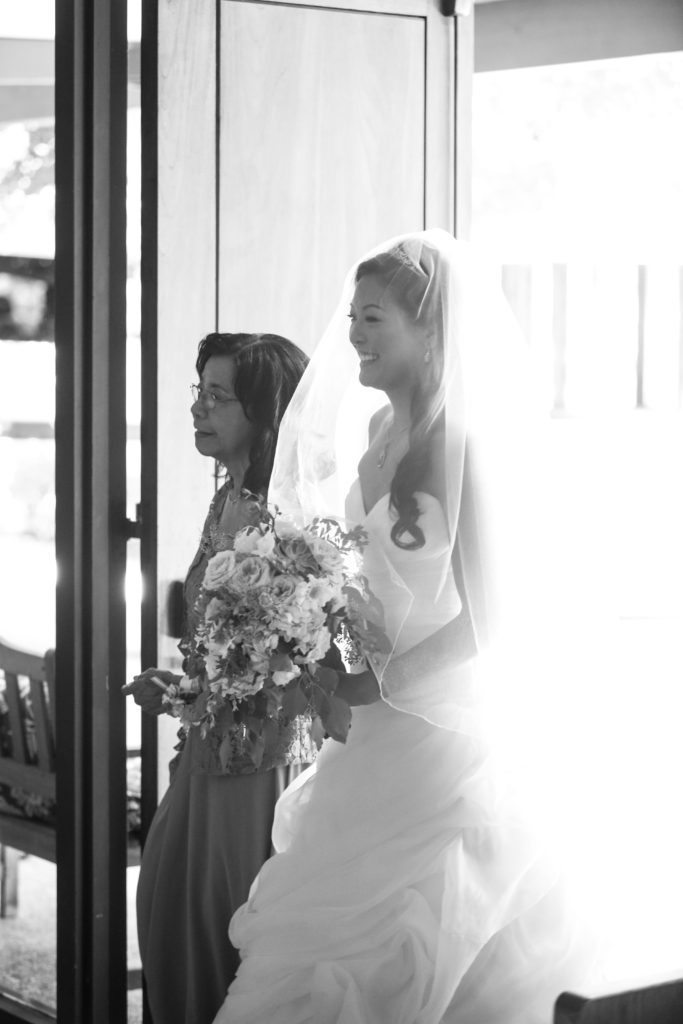 … shortly before Stephanie was walking down the aisle …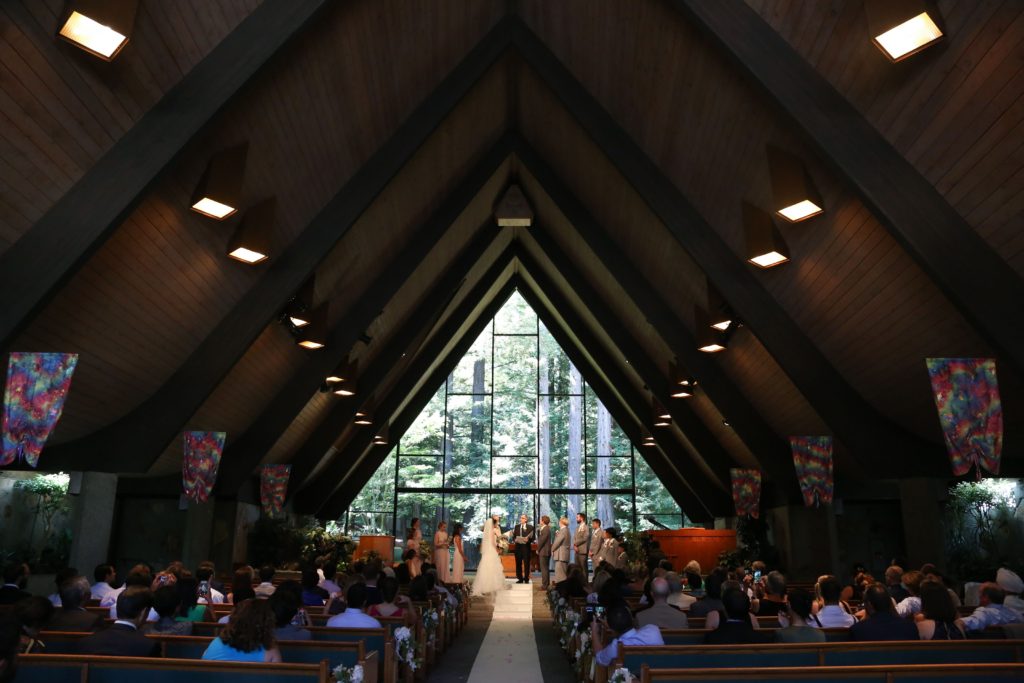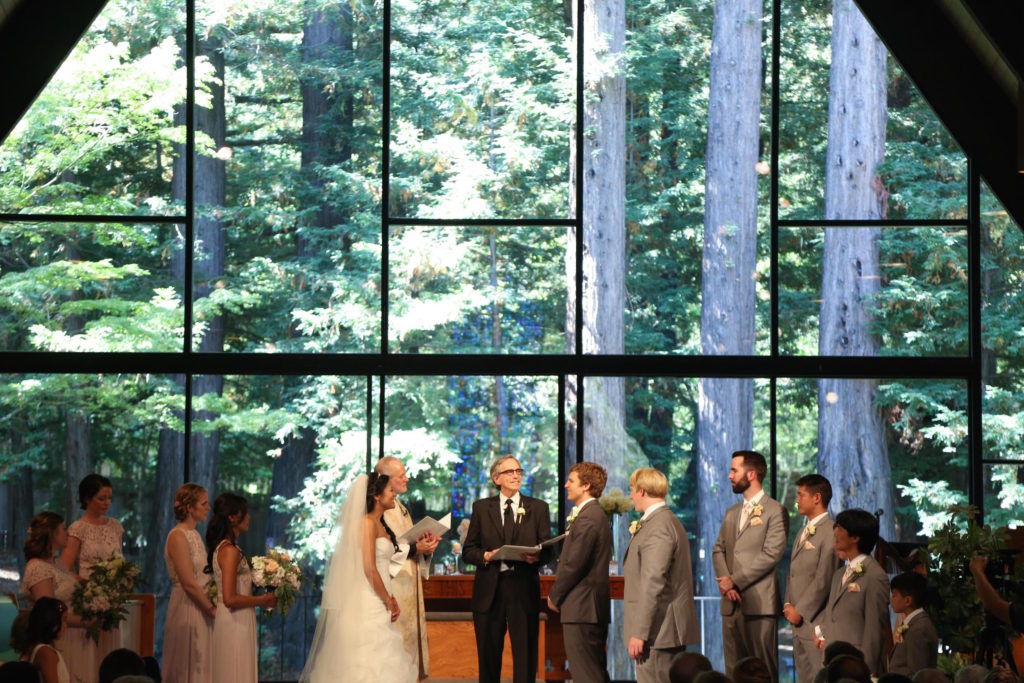 … toward the spectacular, all-glass altar space where her groom was waiting.
The service was officiated by Jeff Gaines, a Presbyterian pastor, and James Baraz, a Buddhist monk – and it was one of the most personal, heartfelt and joyful ceremonies I've ever seen. Just beautiful!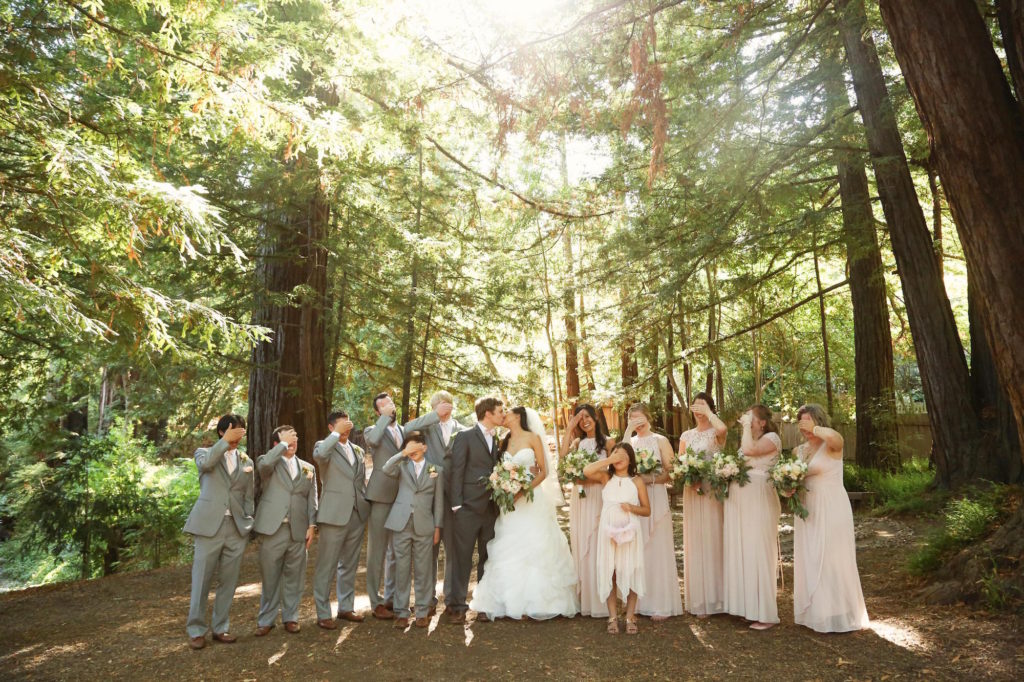 And here is the official wedding photo!!
At the nearby Town Center, frantic preparations were meanwhile under way. Vicky's team from Queen Bridal had installed dramatic draperies around the entrance (to hide several unsightly pillars)…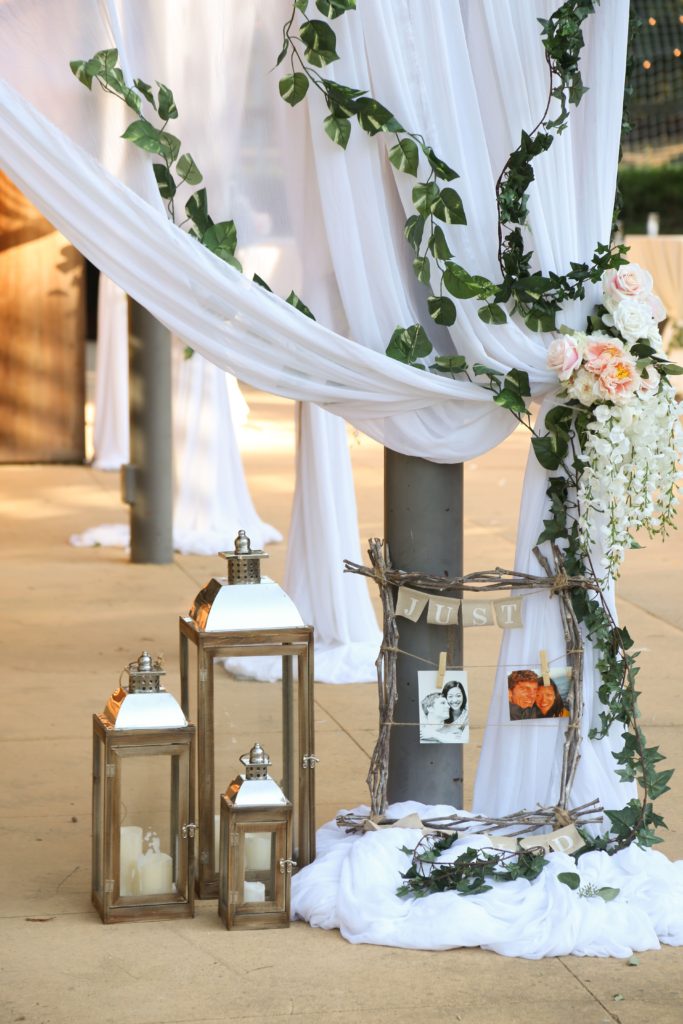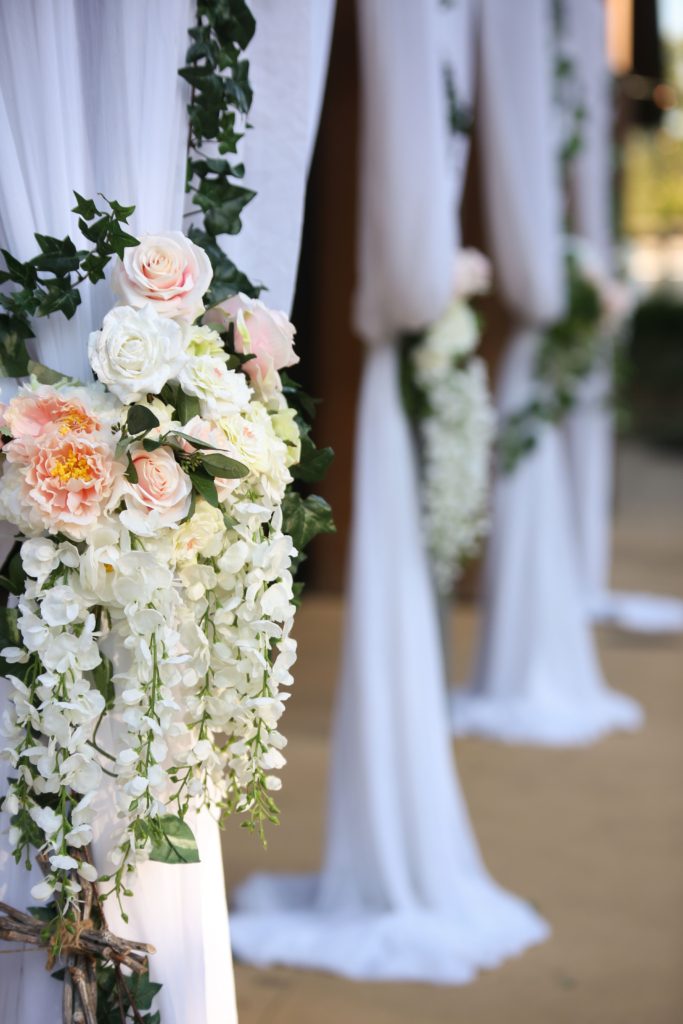 … and on the inside (to hide an equally unsightly extendable partition that marred the middle of the prominent wall in the reception hall).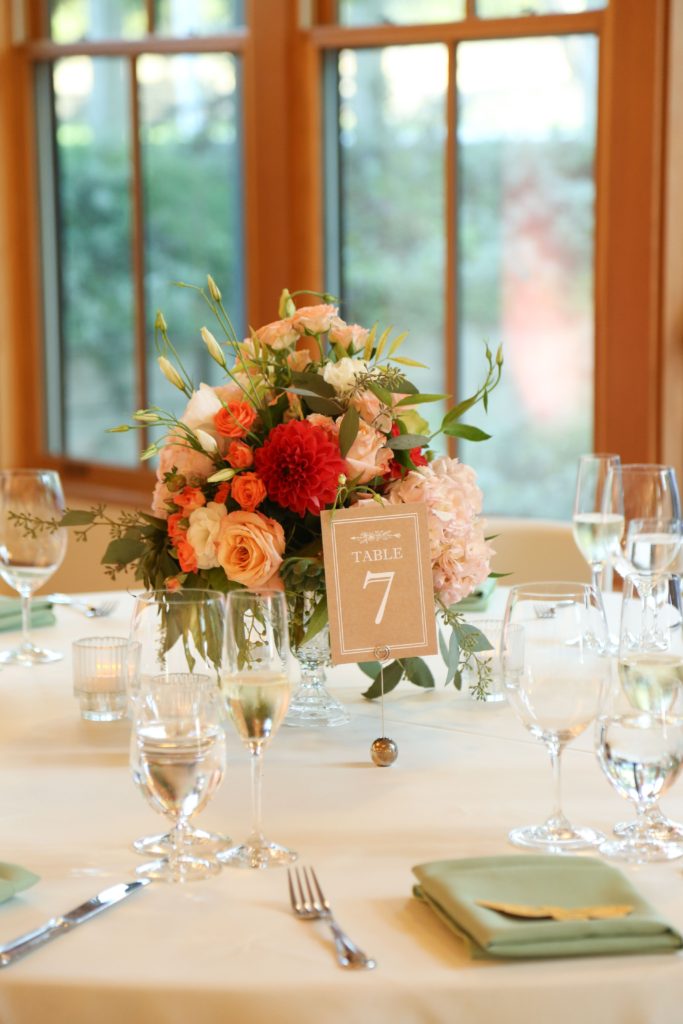 But Vicky didn't stop at just hiding. She made everything look elegant and polished, including a lighted canopy over the couple's Sweetheart Table: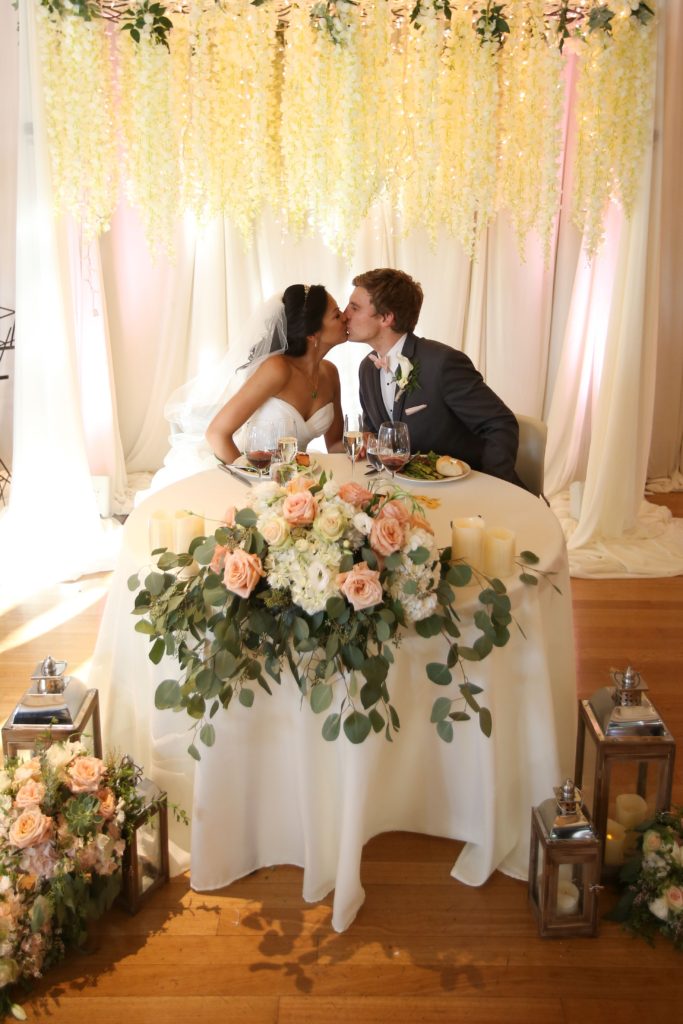 Next: beautiful centerpieces…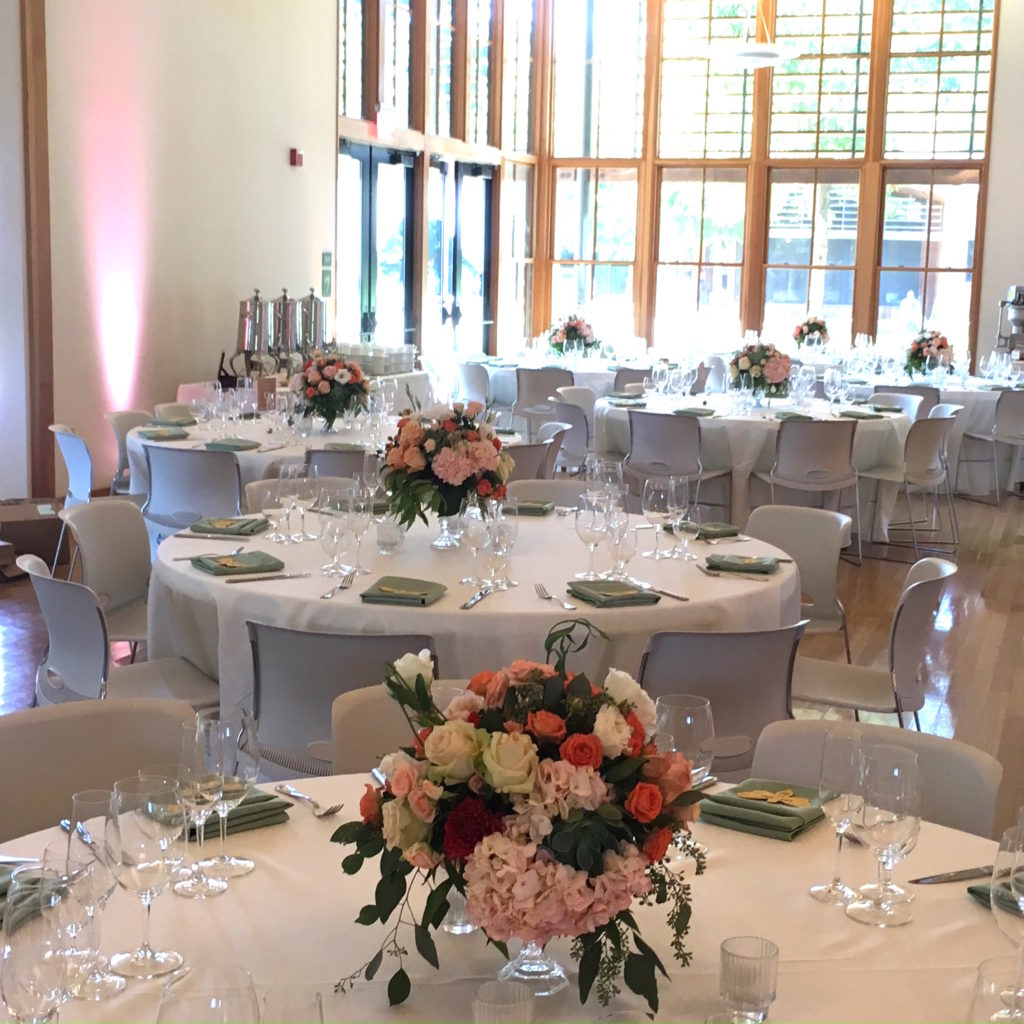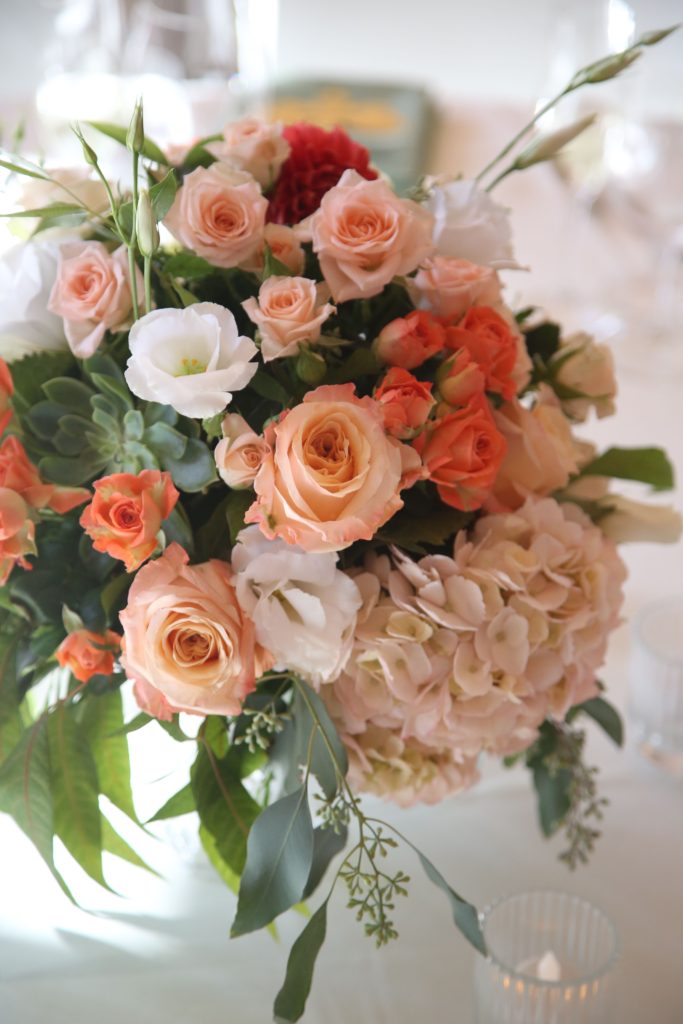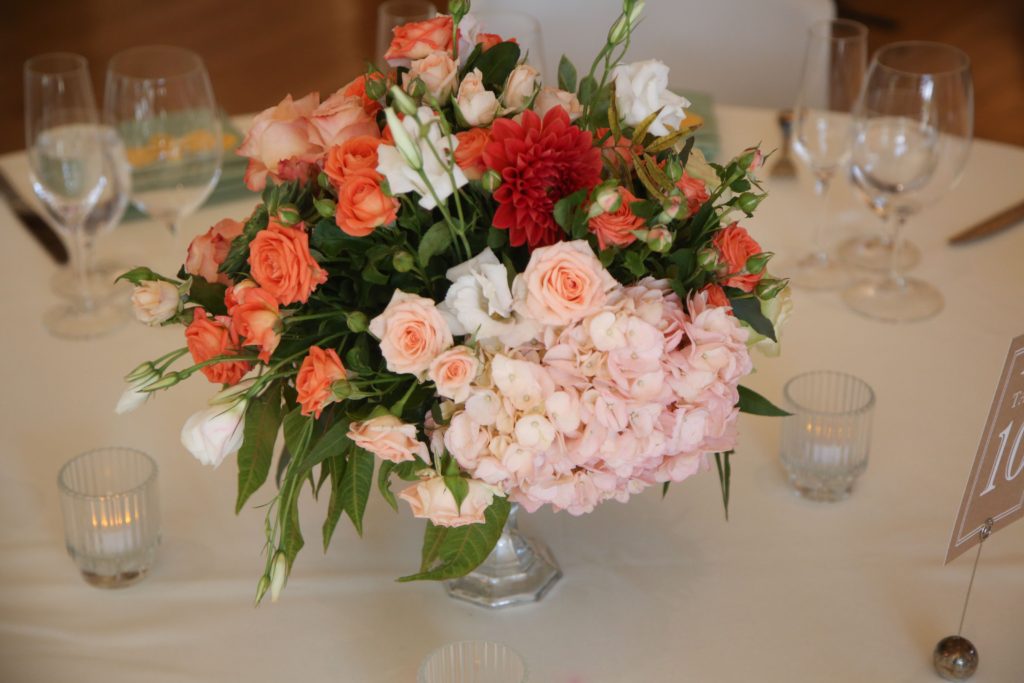 … and "Save the Bees" favors made of seeded paper (the nature-loving couple had made a donation to this organization in honor of their guests).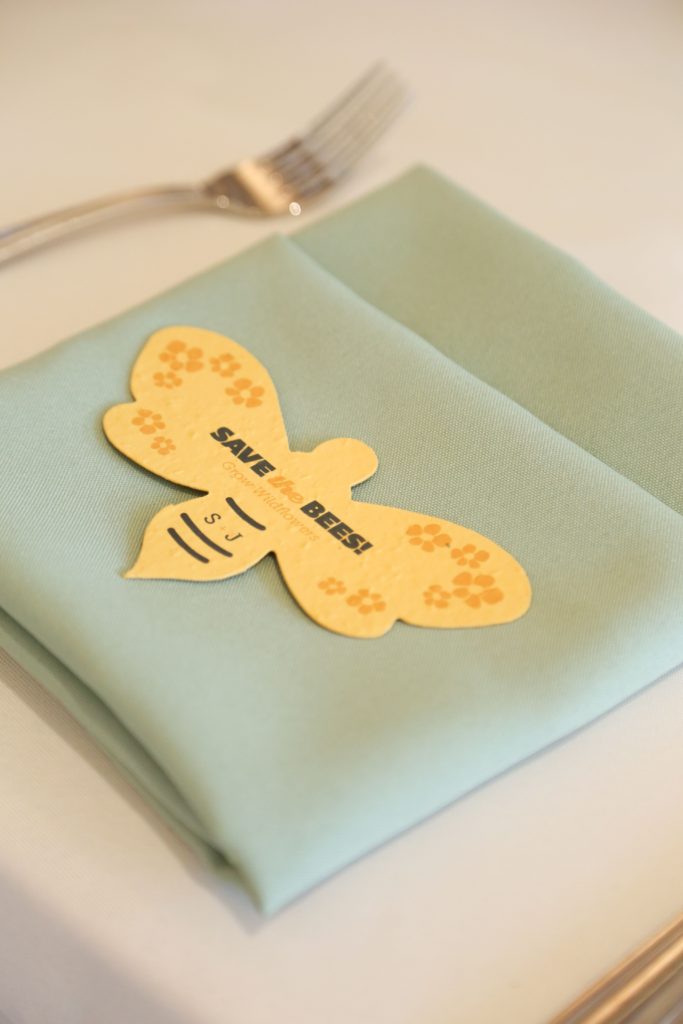 Jessica, Savannah and the whole team from Elaine Bell Catering had set up a large buffet…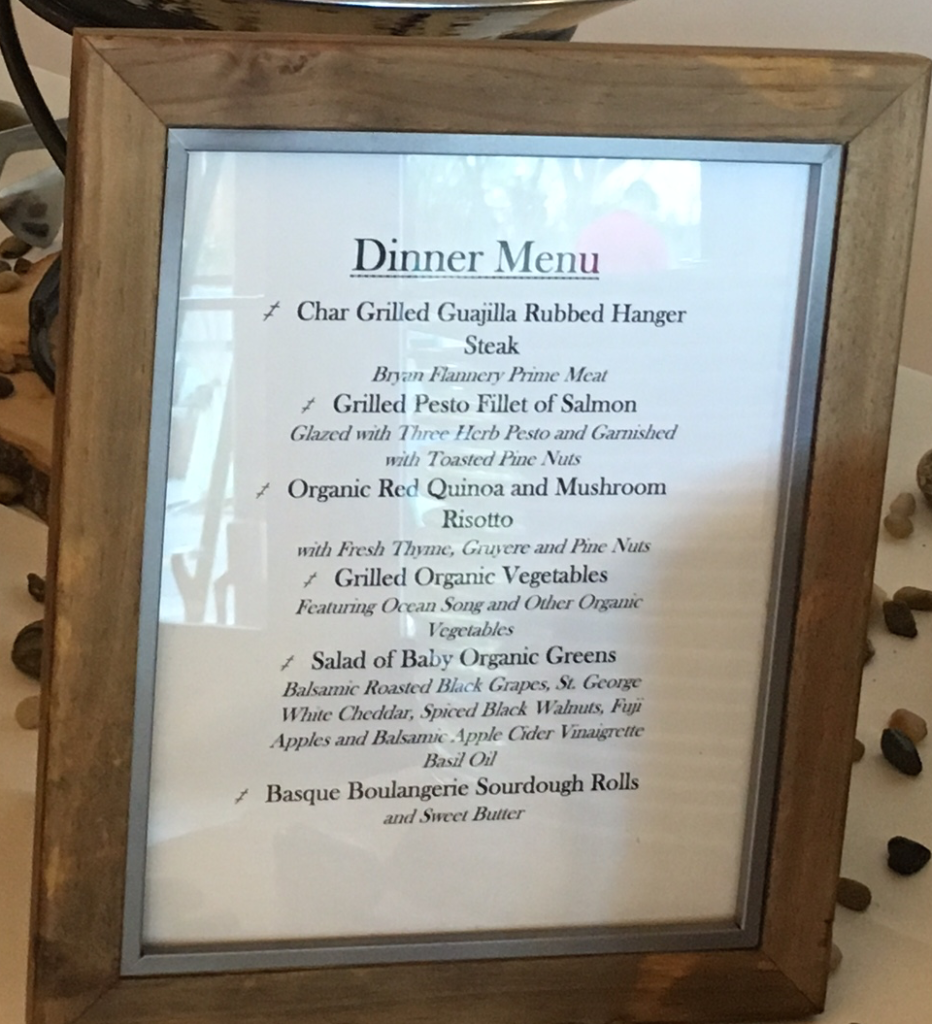 … of mouthwatering dinner options – followed by the absolute showstopper: a mini donut machine!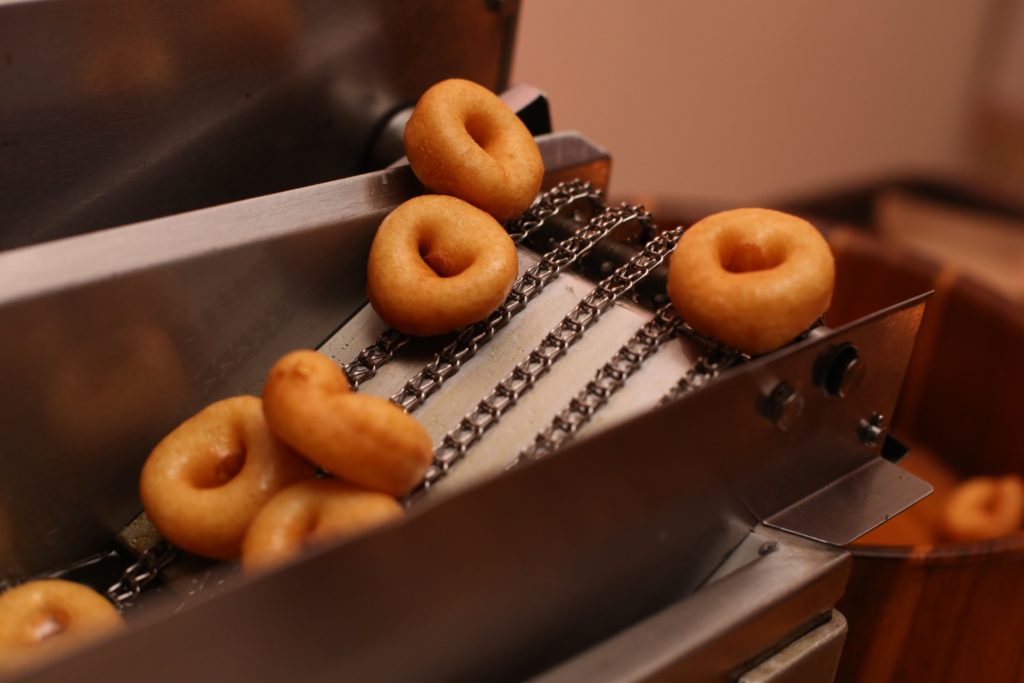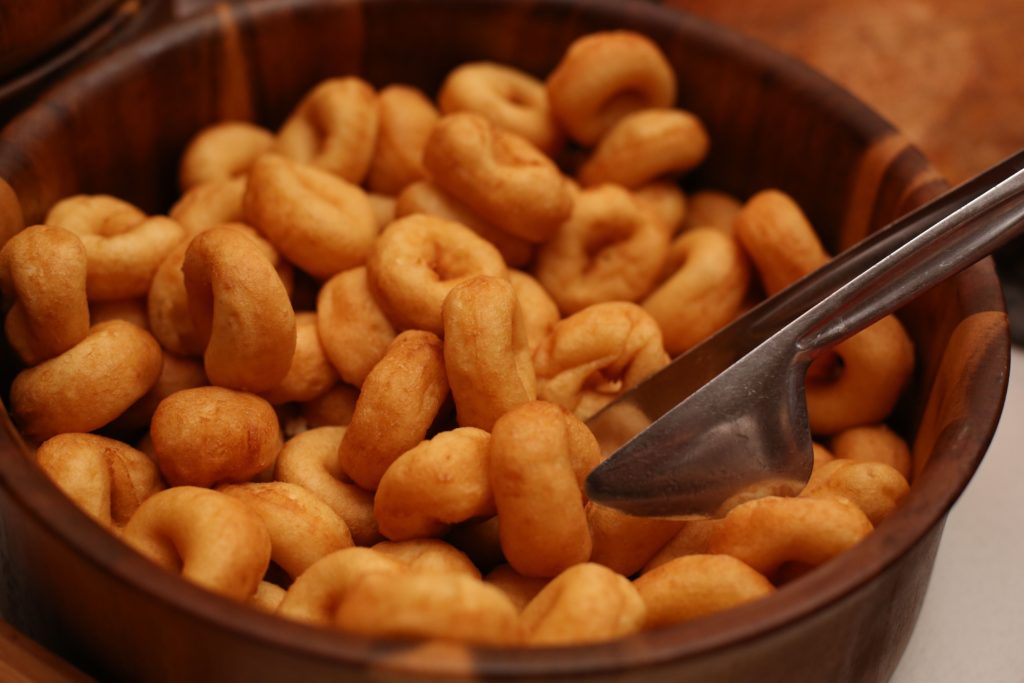 And – not to forget: a beautiful cake was awaiting the guests as well! The cute cake topper actually gave away one of the favorite hobbies bride and groom have been sharing for years: they both love to dance!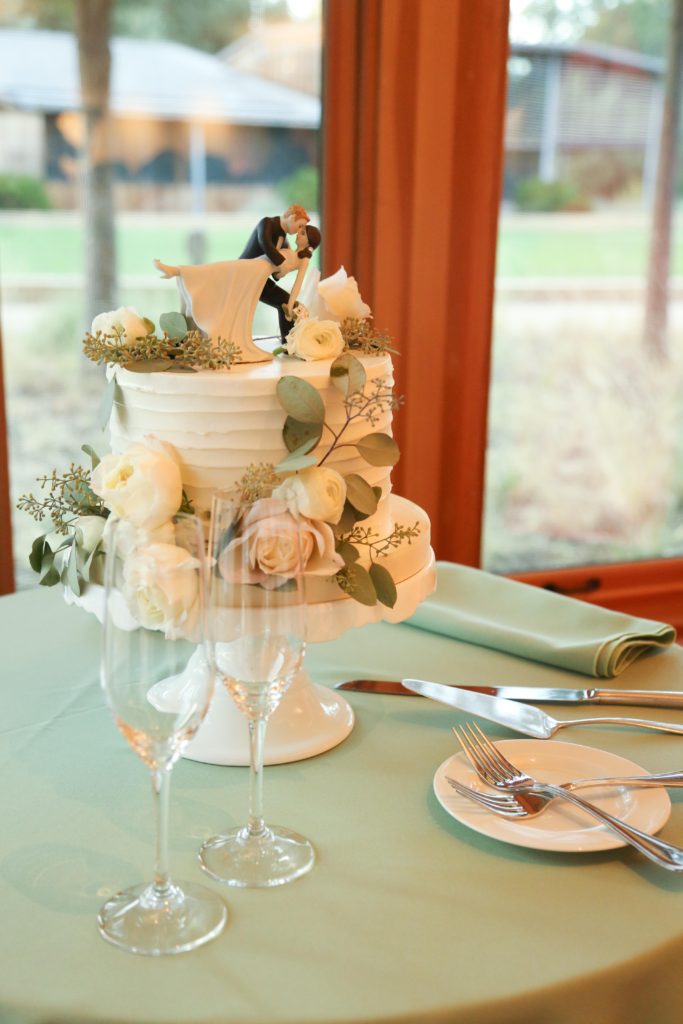 On the patio, decorated with string lights by Queen Bridal, a well-stocked bar was waiting  for guests to arrive for Cocktail Hour. DJ Sammy Lam provided music throughout, starting with Cocktail Hour on the patio. My assistants Jessica  and Lisa and myself were busy coordinating the setup and a lot of personal decor items, from guest book to family photos…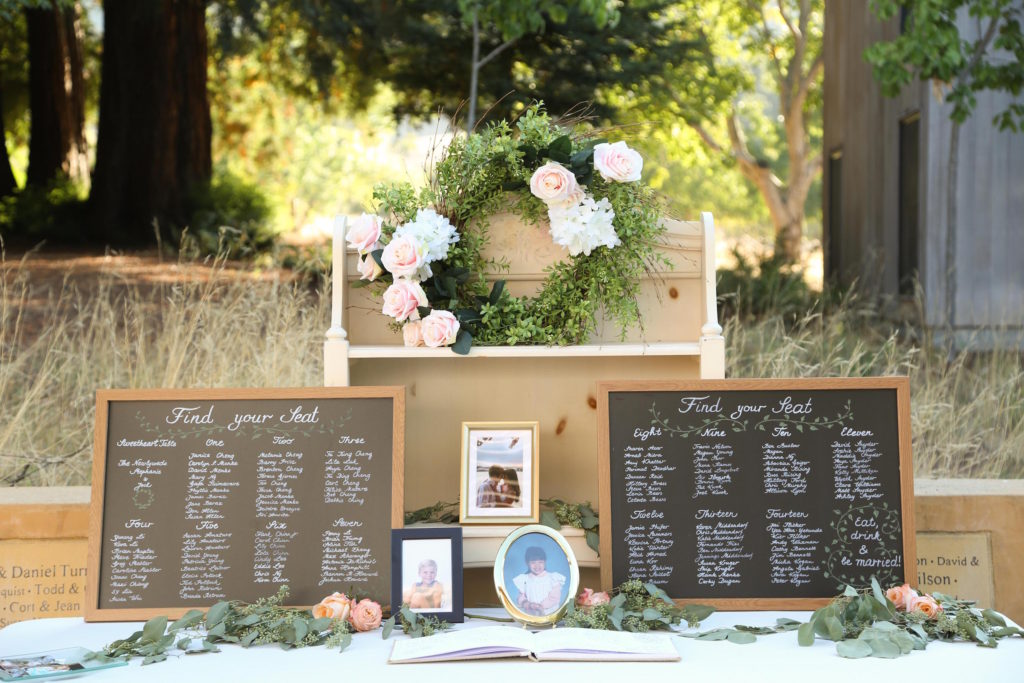 Hand-calligraphed table assignment boards by A Day Like No Other helped guests to find their seats, and fluffy pillows in the wedding colors – ivory, blush pink and sage green – made the built-in benches on the patio cozy and comfortable.
During the evening, Phil's photo booth was open, and guests had a lot of fun with outrageous props and poses. Over dinner, the bride's family entertained the guests with an Ukulele performance…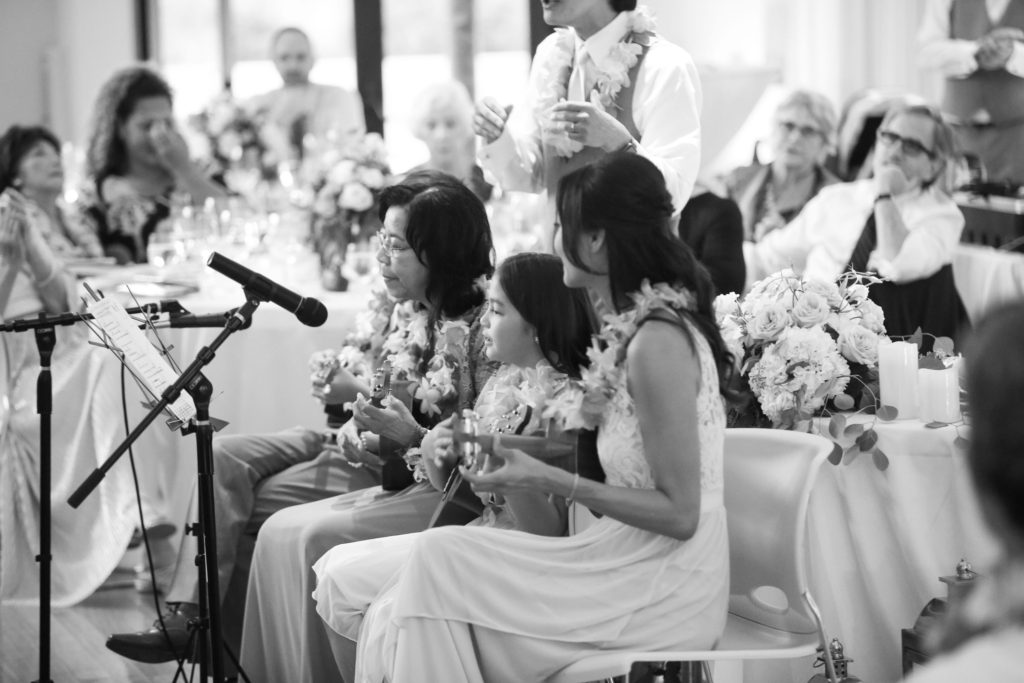 … and the groom's mother and sister (both professional musicians) gave a rousing rendition of an Andrea Bocelli love song.
The last highlight of the evening: the couple's First Dance, an elaborate dance routine that they had been practicing for months! (Forgive any blurry pictures – they were twirling so fast!)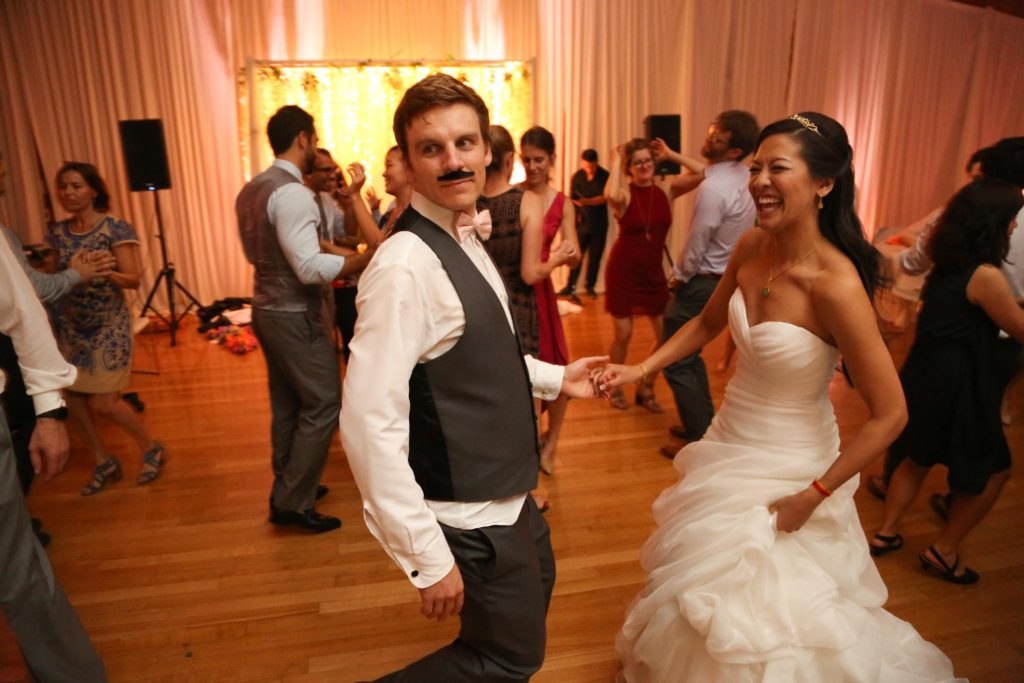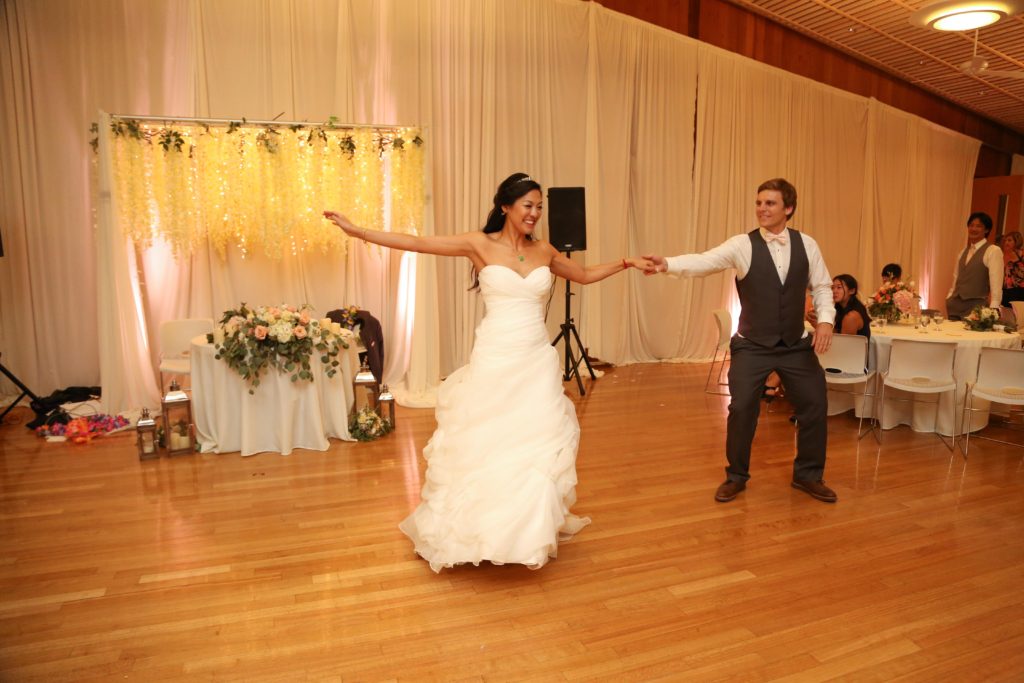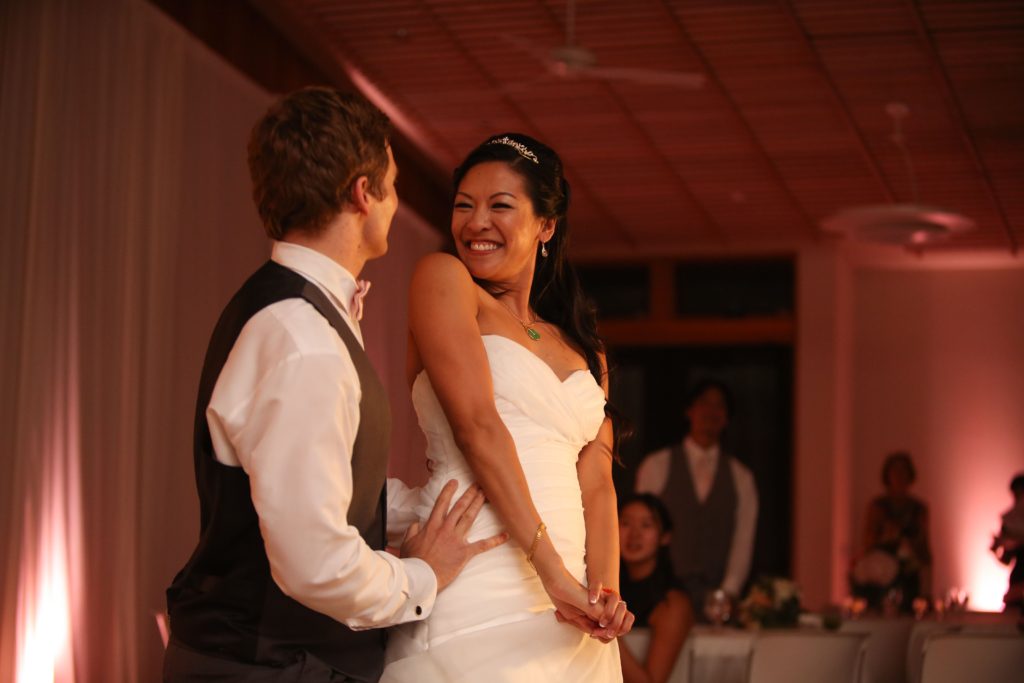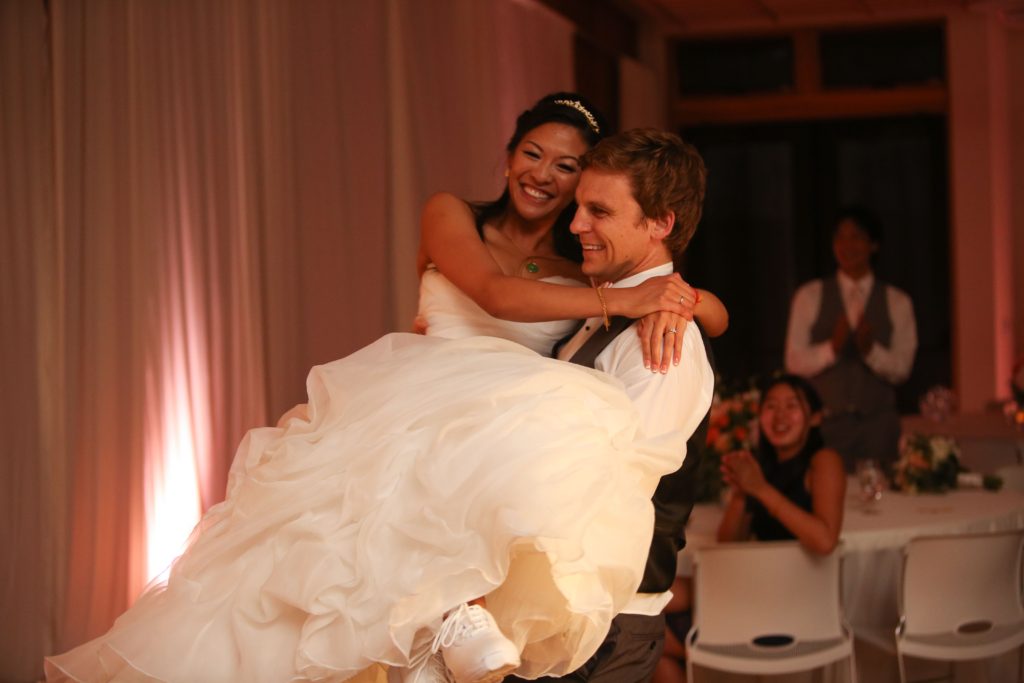 It was a true love fest for the newlyweds! And all guests had the time of their lives. It was an unforgettable celebration.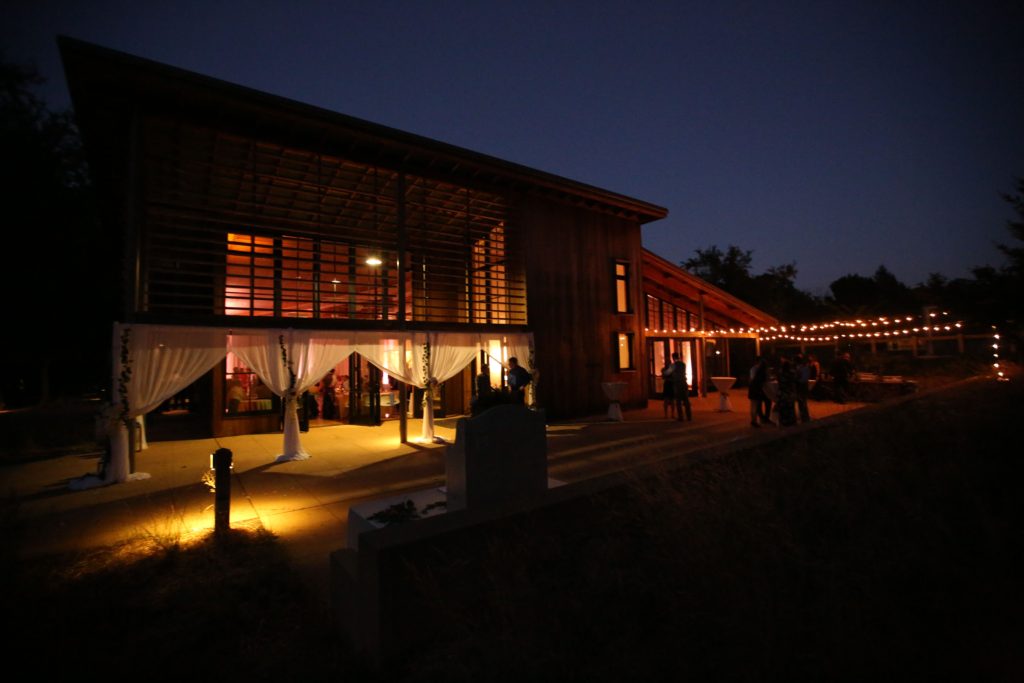 Stephanie and Josh: dance on – into a lifetime of happiness!
Let us create YOUR unique wedding celebration, too!

<! DL 06/02/12: Added html code for Pinterest Pin It button (appears at the end of each post) > <! DL 06/02/12: Added padding style modifier to the Pinterest html code to align the Pit It button on the page > <! DL 06/02/12: deactivated code by adding two ! in the a and img code lines >