After a more than seven-year courtship, Audrey and Niko decided to make their union official – and to do that in the presence of more than 300 guests. An epic party, in short! Their longtime friend, my assistant Quan at A Day Like No Other, had taken on the huge task of planning every detail of their Great Day.
The couple had chosen a venue with spectacular views of the San Francisco skyline: the Seminary at Strawberry in Mill Valley, just across the SF Bay, and last week it all came together on a beautiful sunny Spring day under blue skies and with a slight breeze. Absolutely perfect!
The view from the ceremony lawn – courtesy of The Seminary at Strawberry
Bride Audrey and her bridesmaids started very early in the day with hair and makeup services by Maya of Dreamcatcher Artistry.
.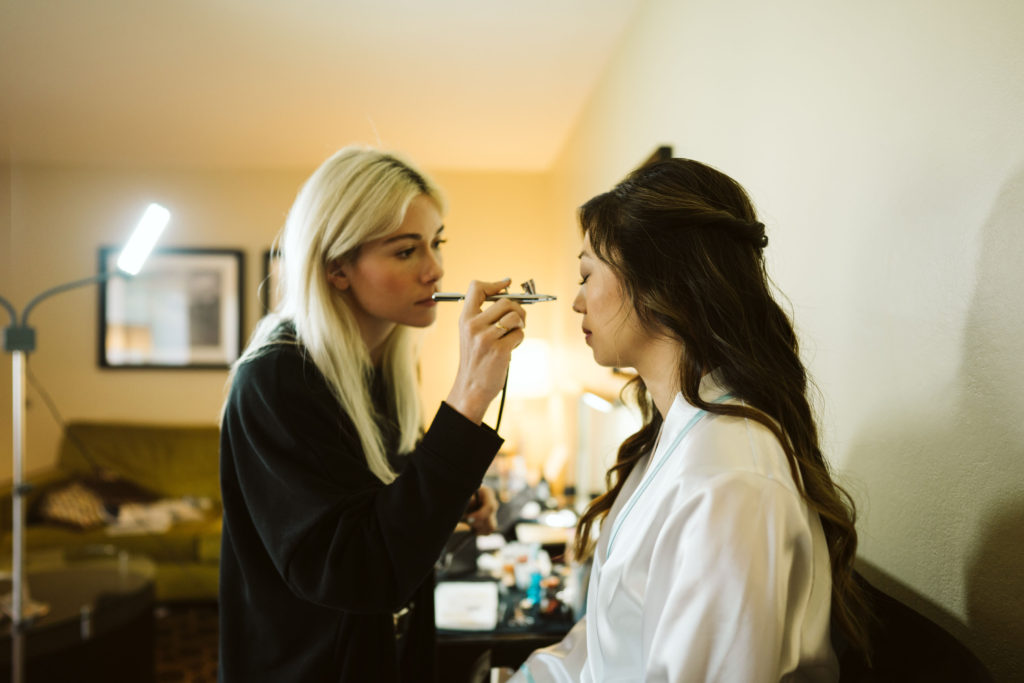 She and her bridesmaids definitely had a great time together!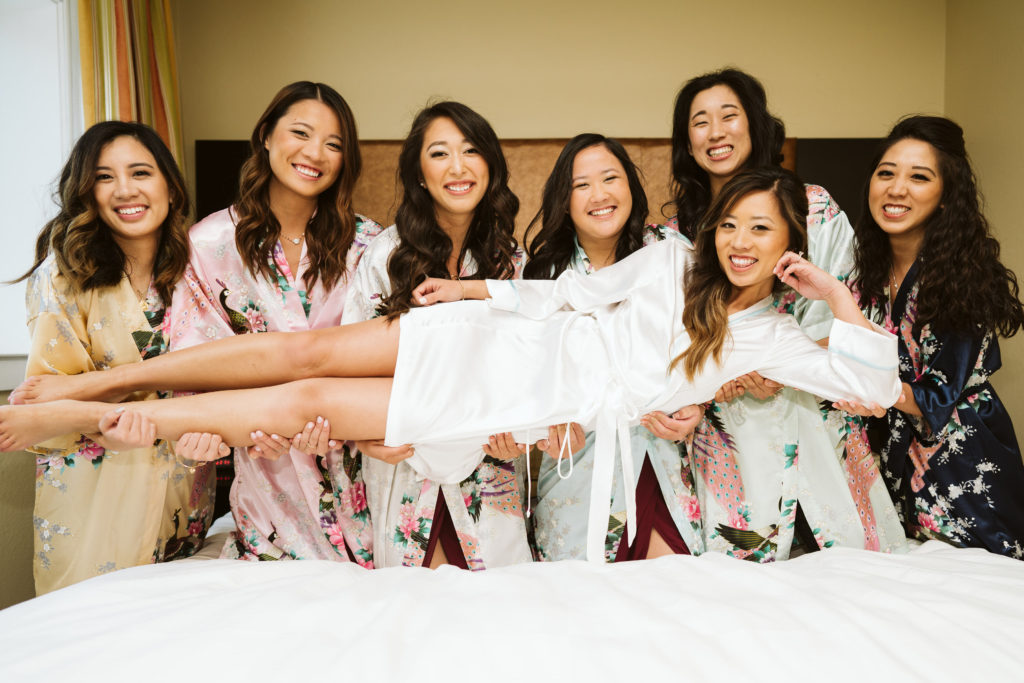 Audrey received a gorgeous diamond necklace as a wedding gift from her groom…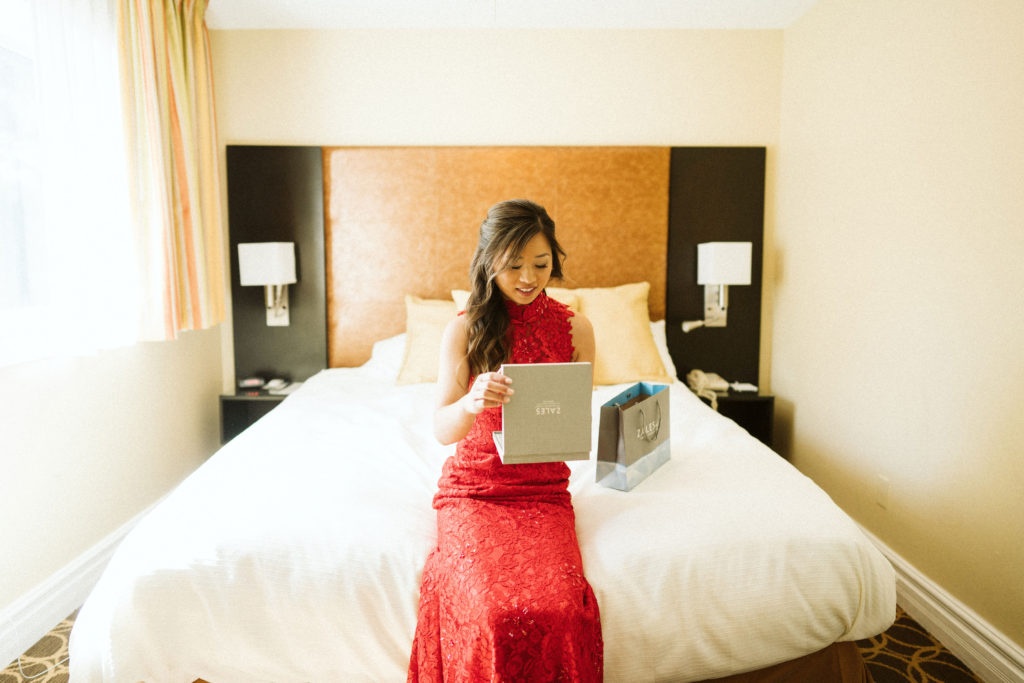 … and it was the perfect complement to her low-cut, elegant lace wedding dress.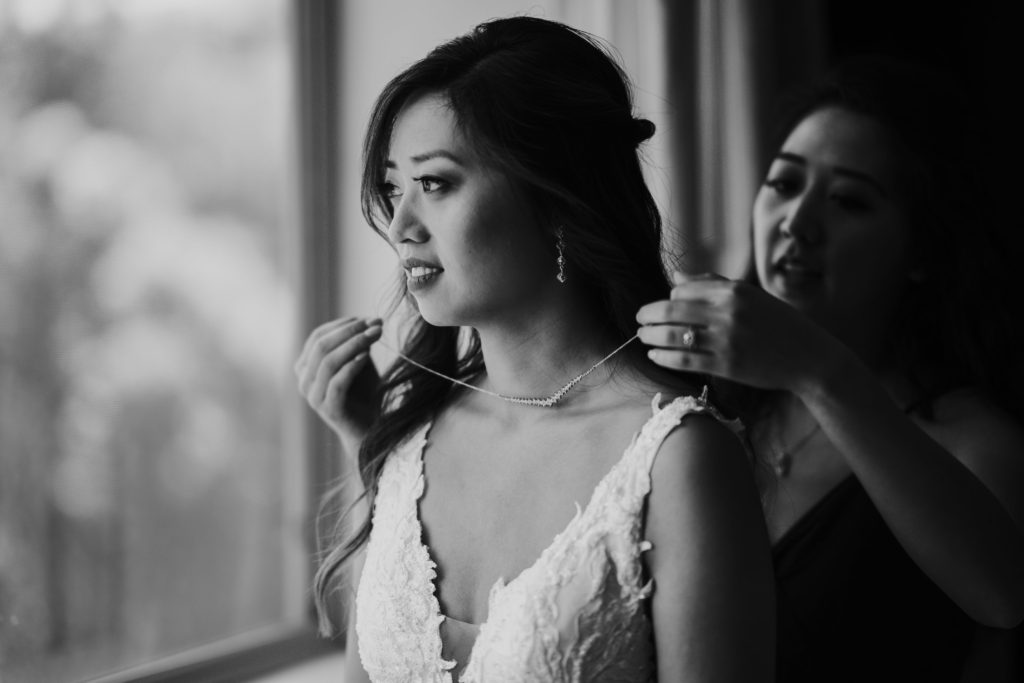 Next – high heels (gorgeous lacy ones) and the rings…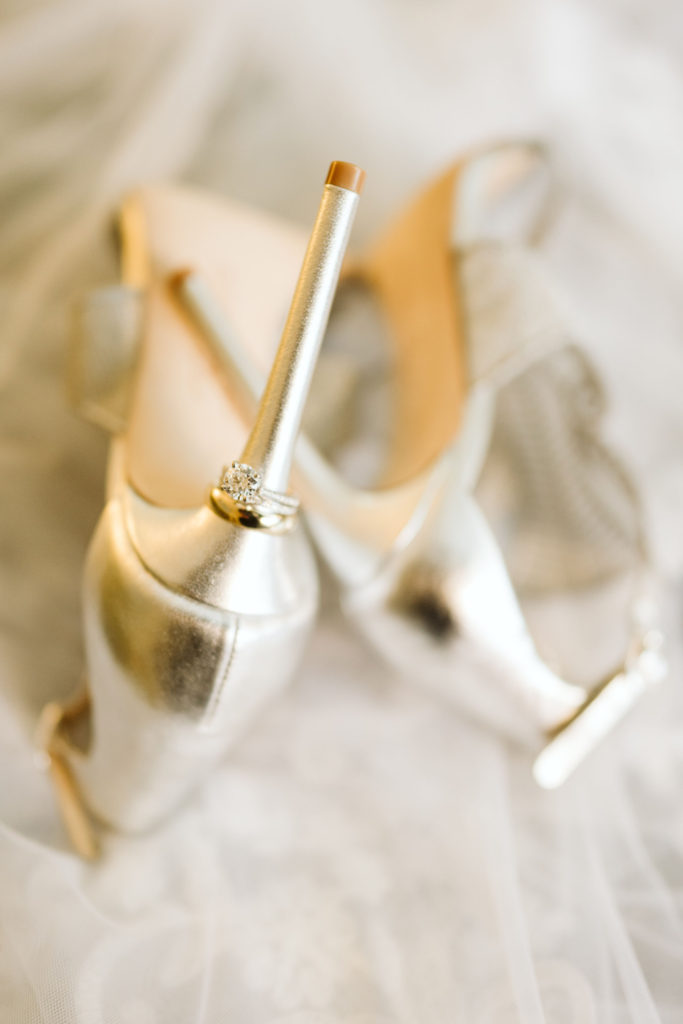 … and finally, her pretty bridal bouquet by Willow Floral Design (who also provided the ceremony florals). Photographer Kat Ma and videographer Jeremy Quans captured it all, all day long! (All photos by Kat Ma Photography, unless noted otherwise).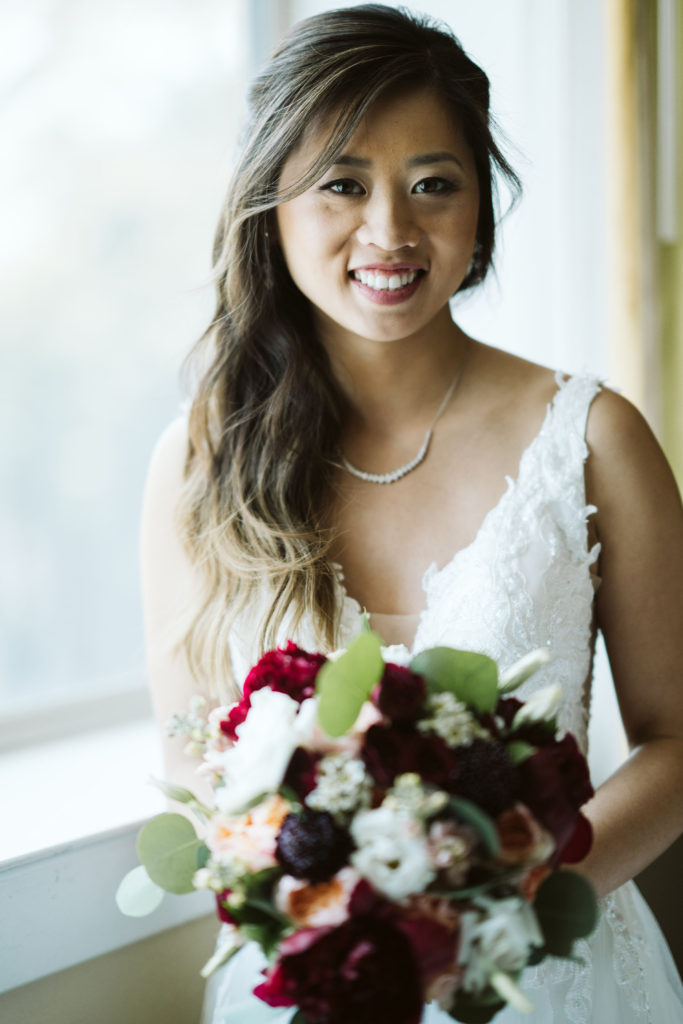 Niko and his groomsmen were also dressing up "to the nines…"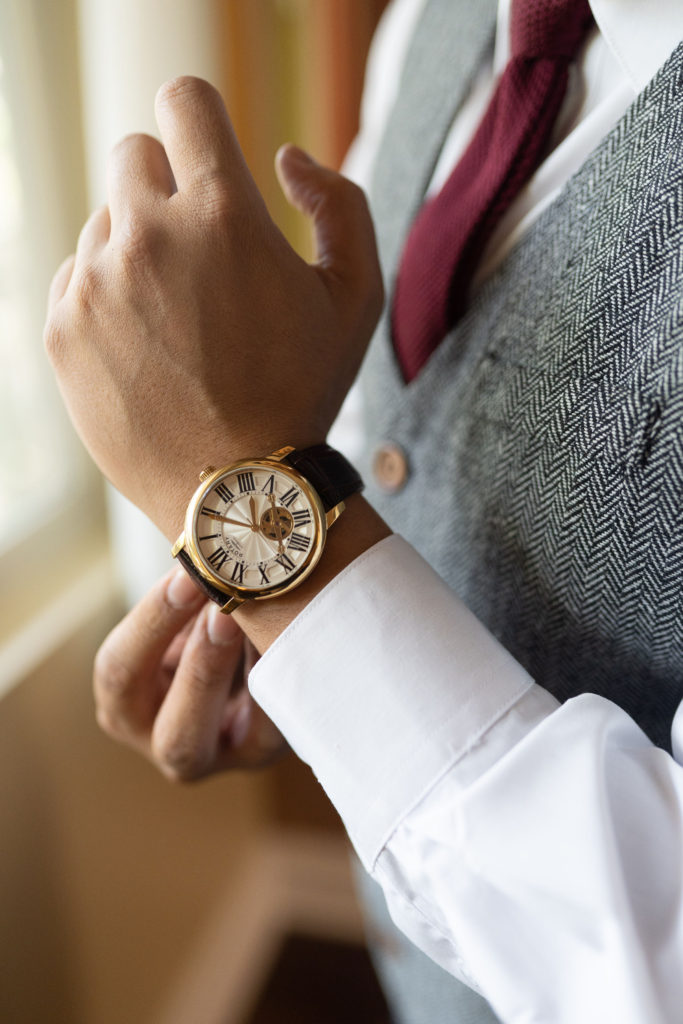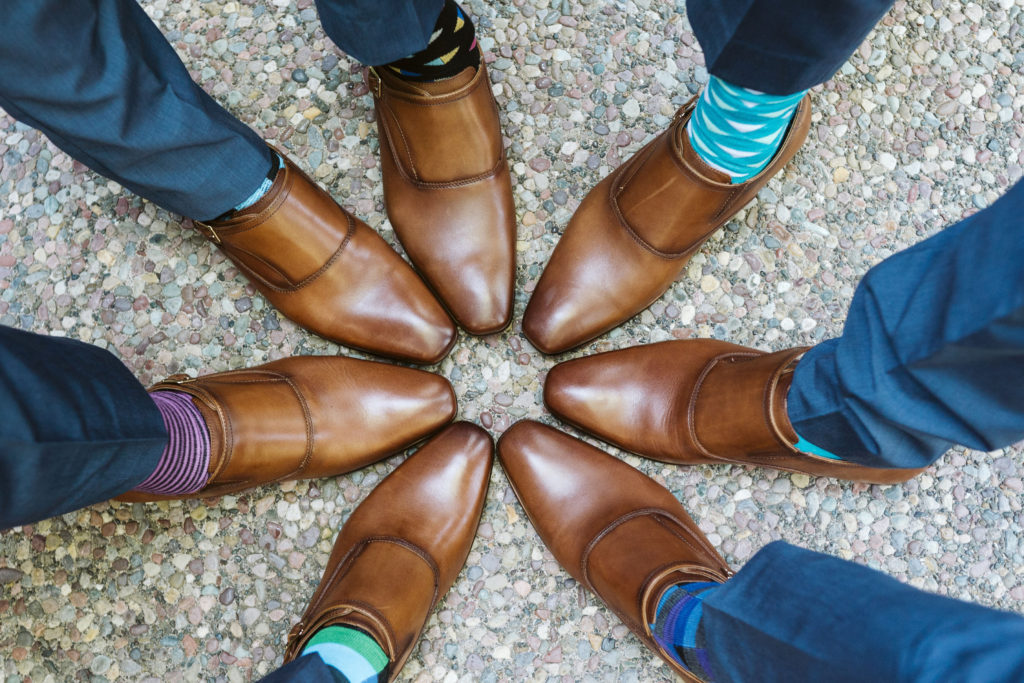 Ready for the traditional Tea Ceremony (for which Audrey wore a beautiful red lace dress)!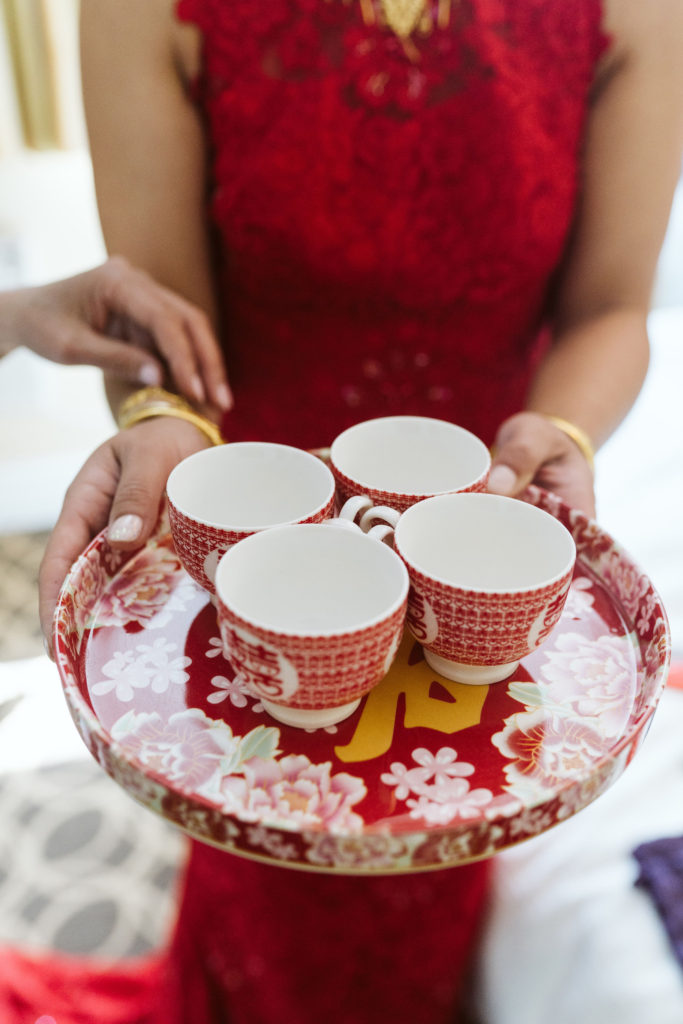 The bride traveled in style to her "First Look" location (her Dad chauffeured her in his fire-engine-red Corvette!)…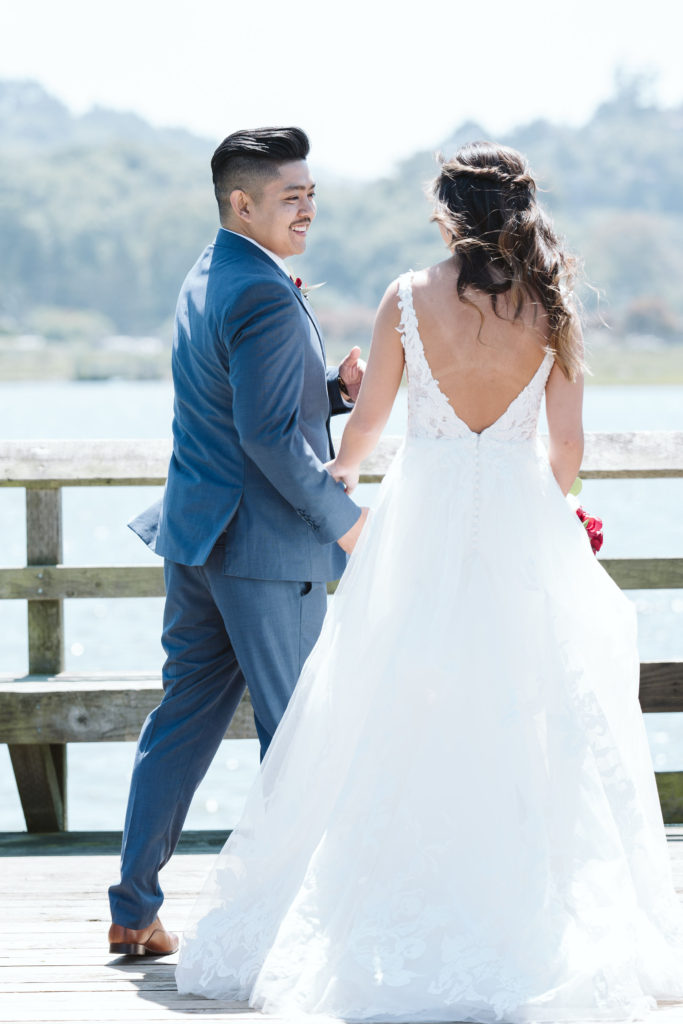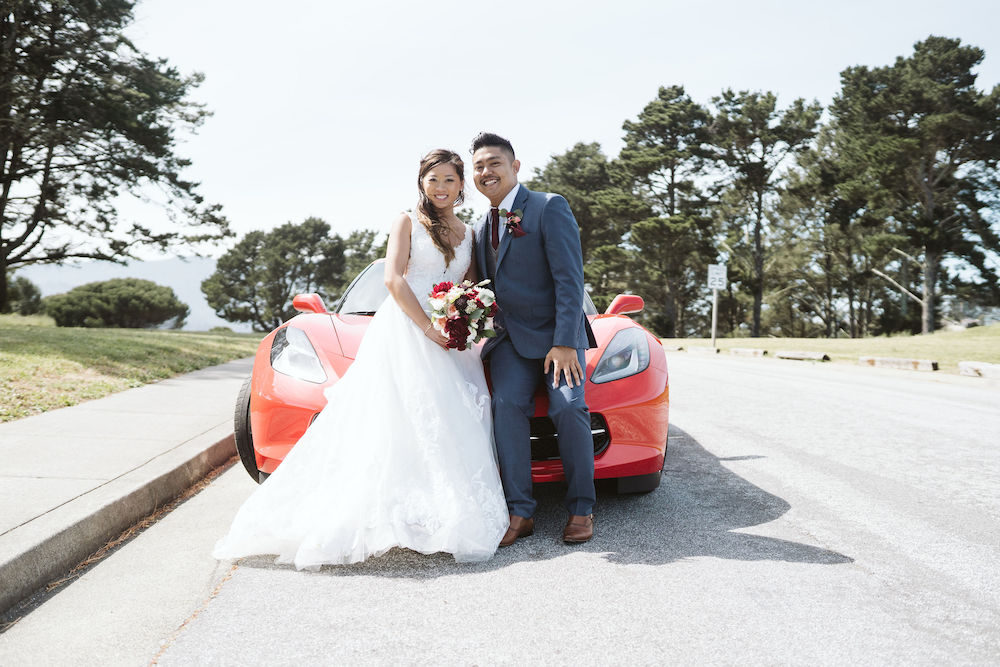 … and then it was time for many, many photos of the couple and the bridal party.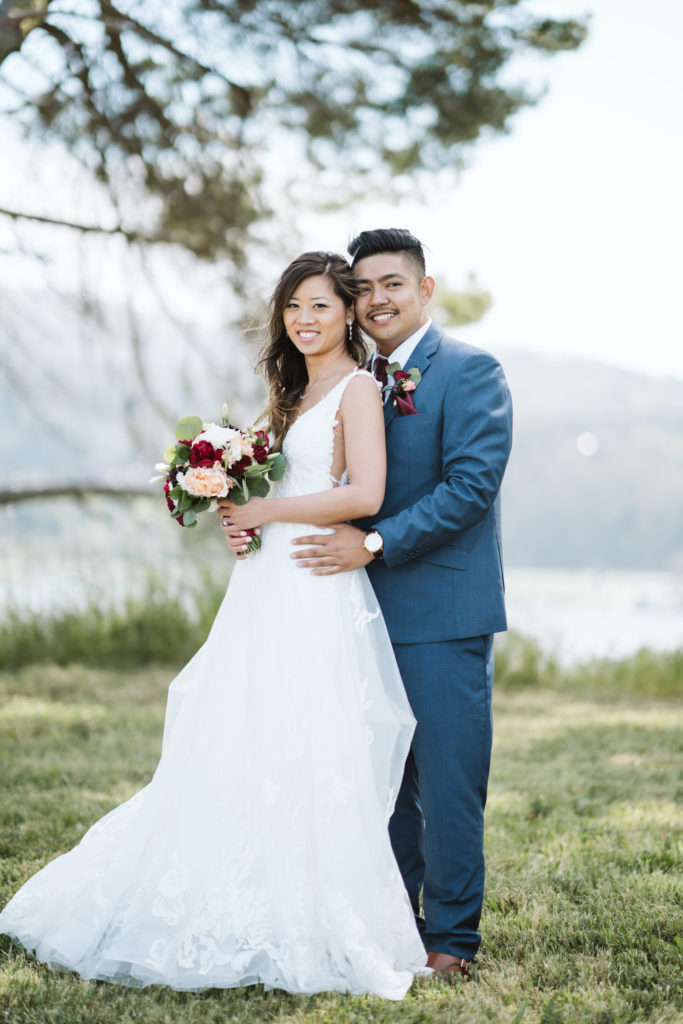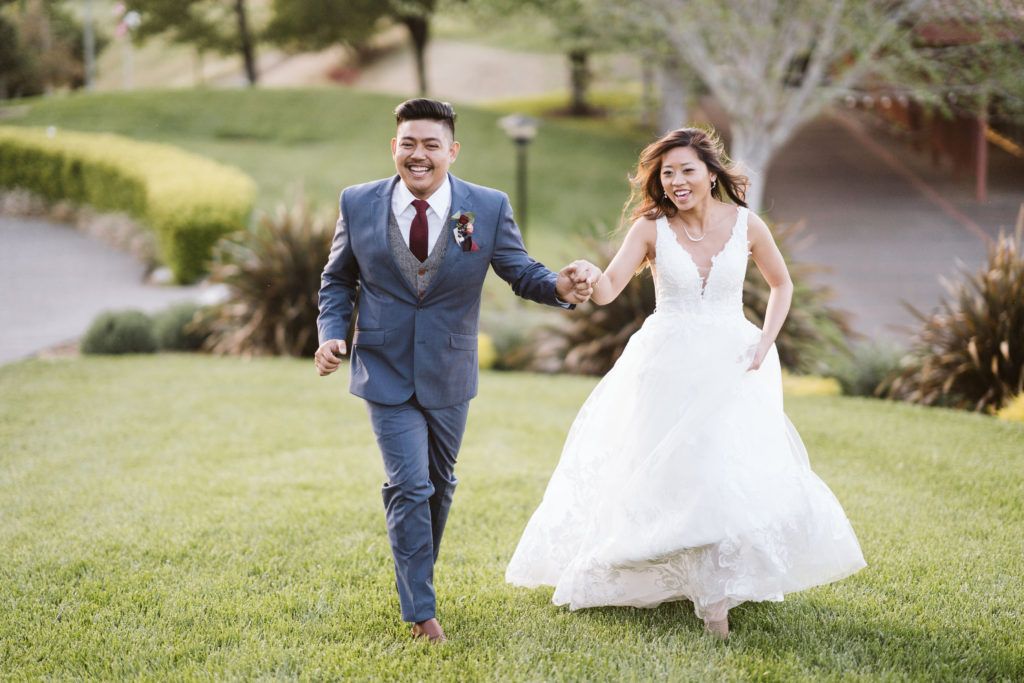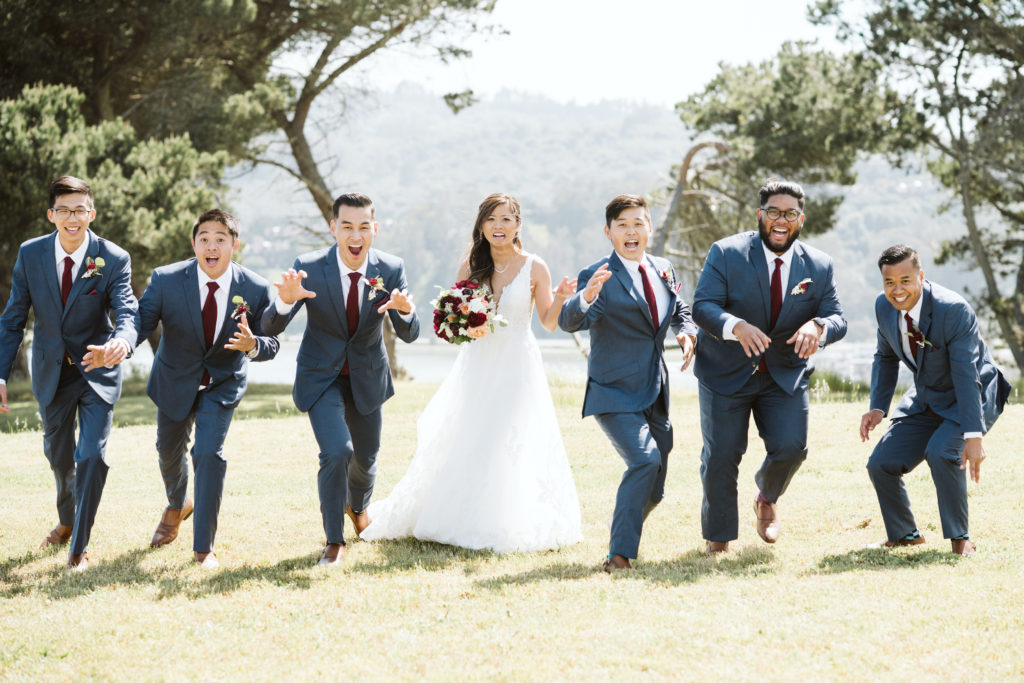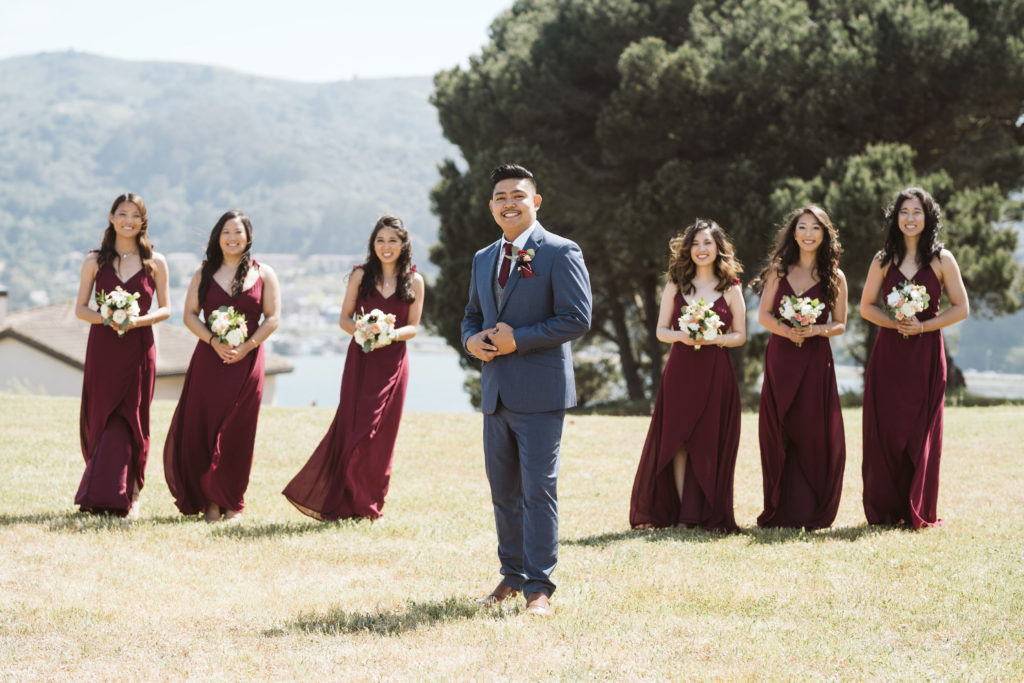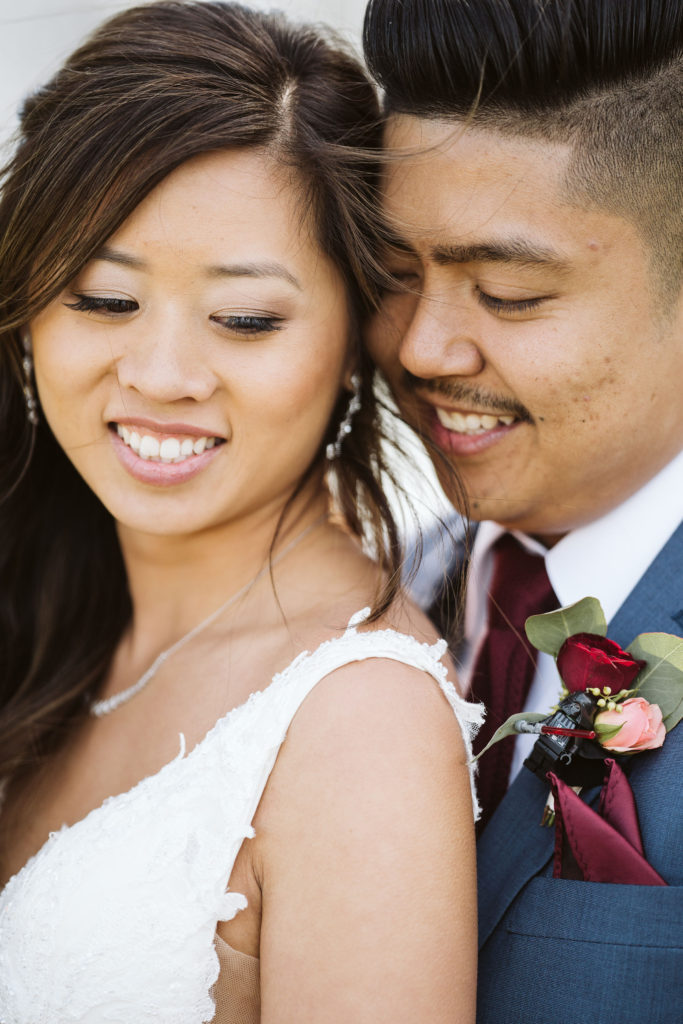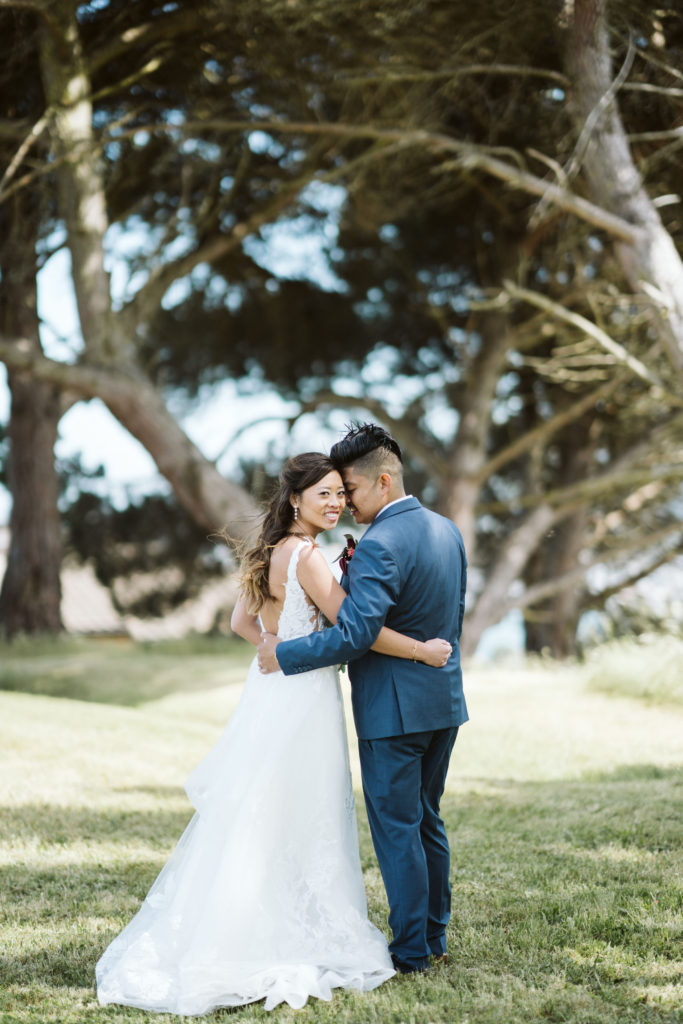 Very soon, the first ones of the couple's 300 guests were arriving…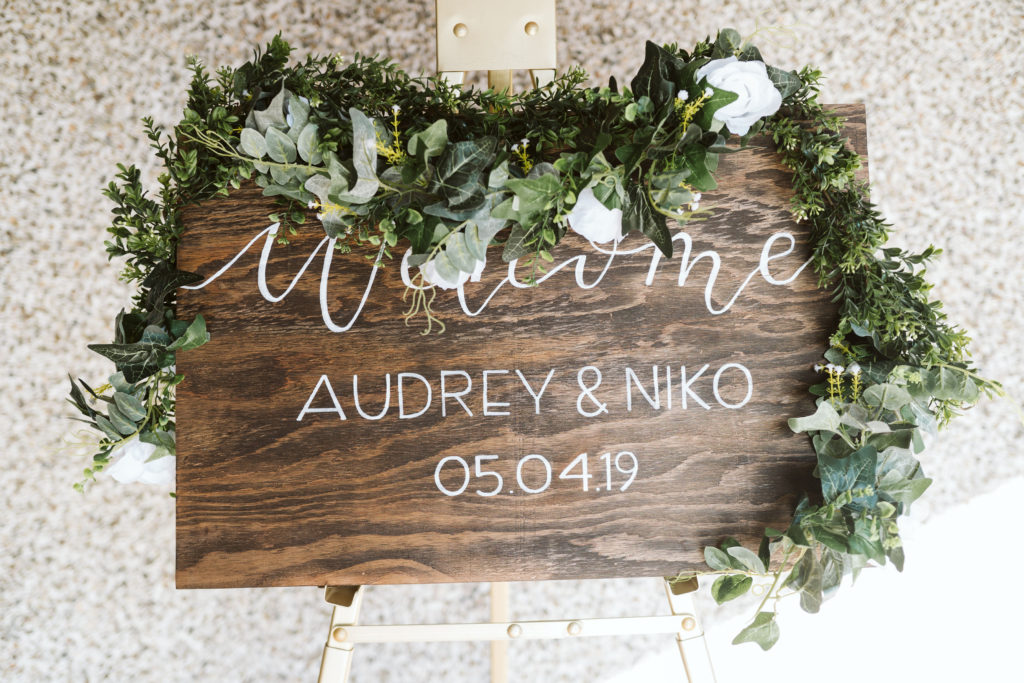 … an arbor (from Bright Party Rentals) had been set up and decorated with flowers (by Willow Floral Designs)…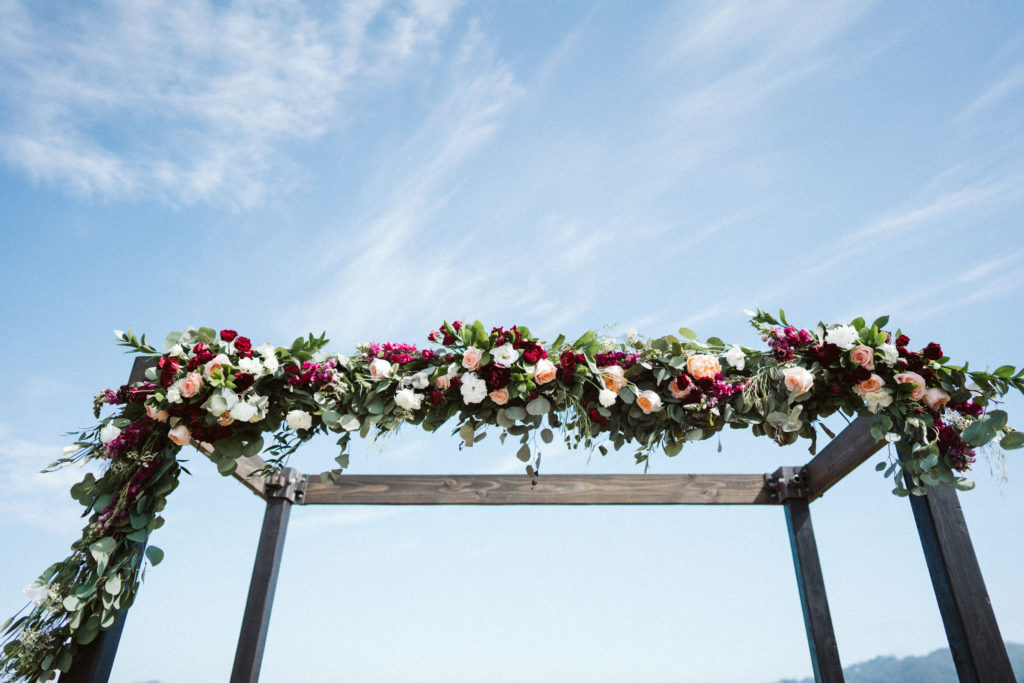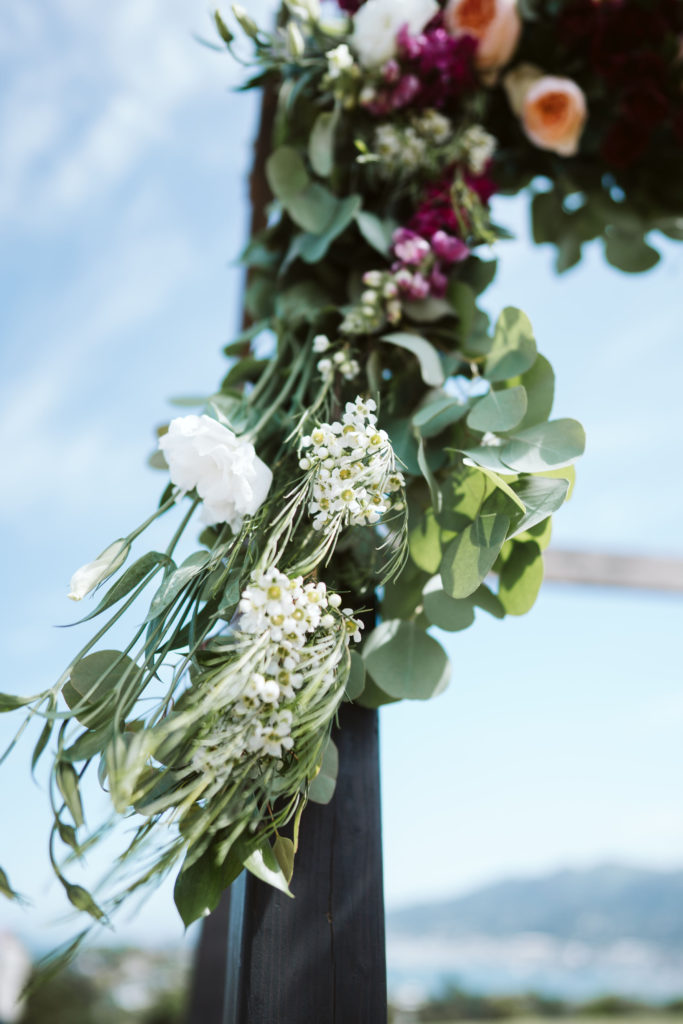 … and then the great moment was there: Audrey and Niko were saying their vows in a beautiful ceremony officiated by Niko's uncle, Father Ringo Perez.
Meanwhile, the teams of A Day Like No Other (assistants Trisha, Stephanie, and myself), Standard Party Rentals (for draping and chairs), Joe Squared Productions (lighting) and Zen Peninsula Catering were hard at work to get the cocktail area and dining room ready for the big party.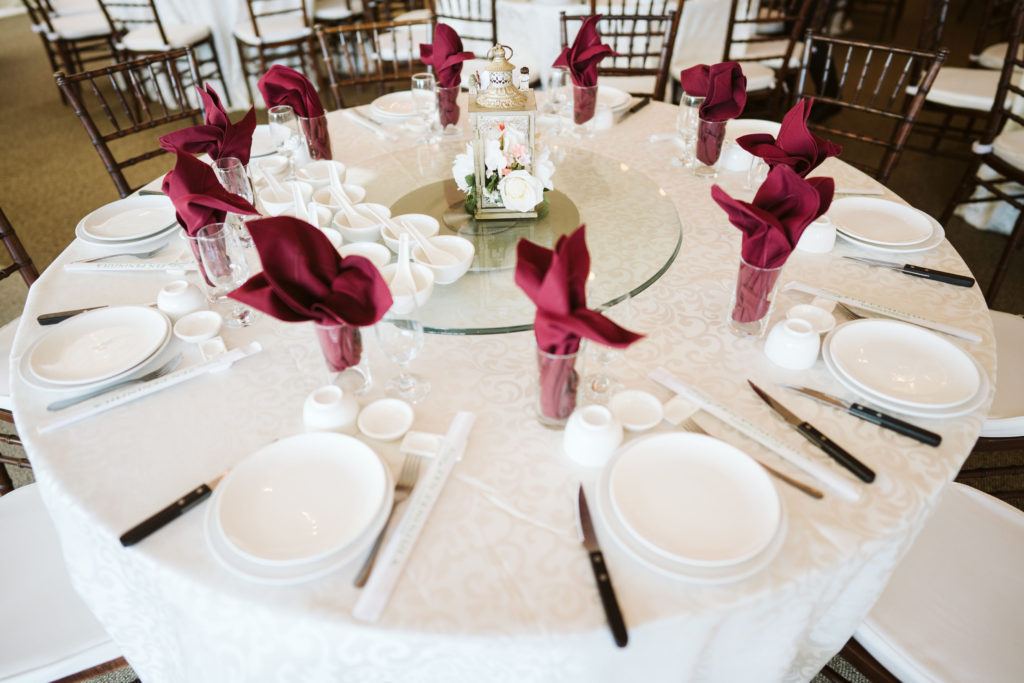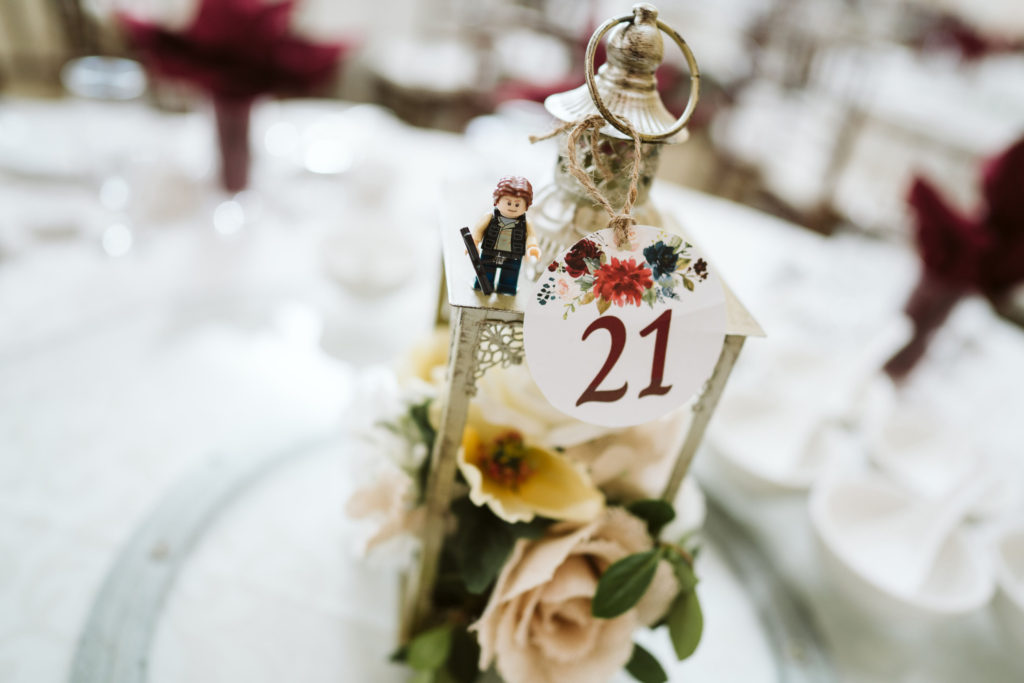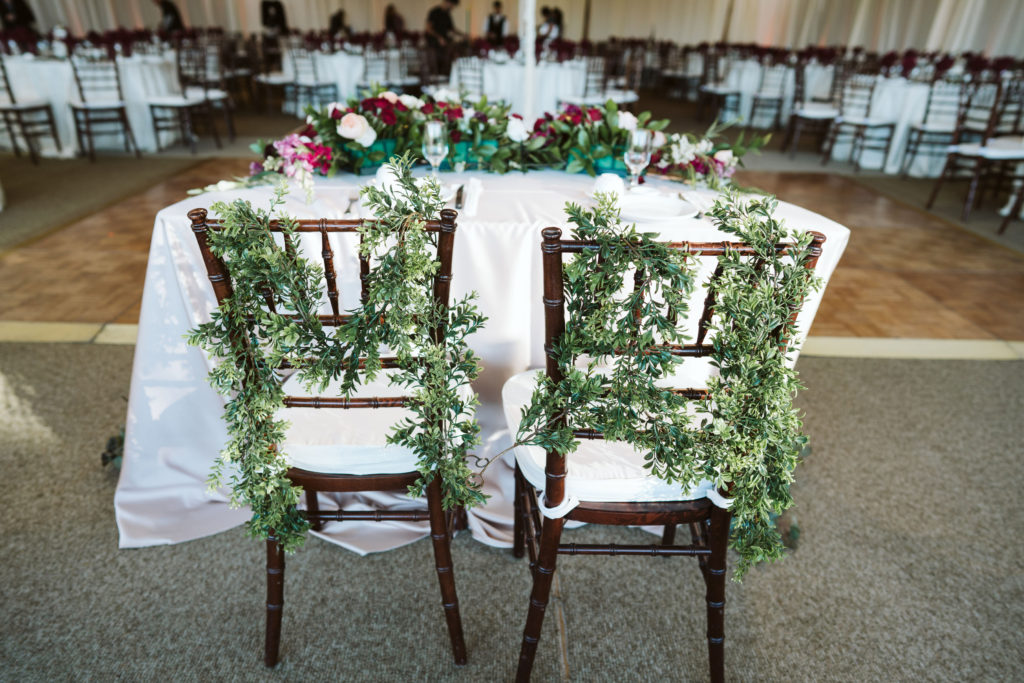 Now, how do 300 guests find their assigned tables? Here it was a whimsical display of pretty name lists on vintage shutters.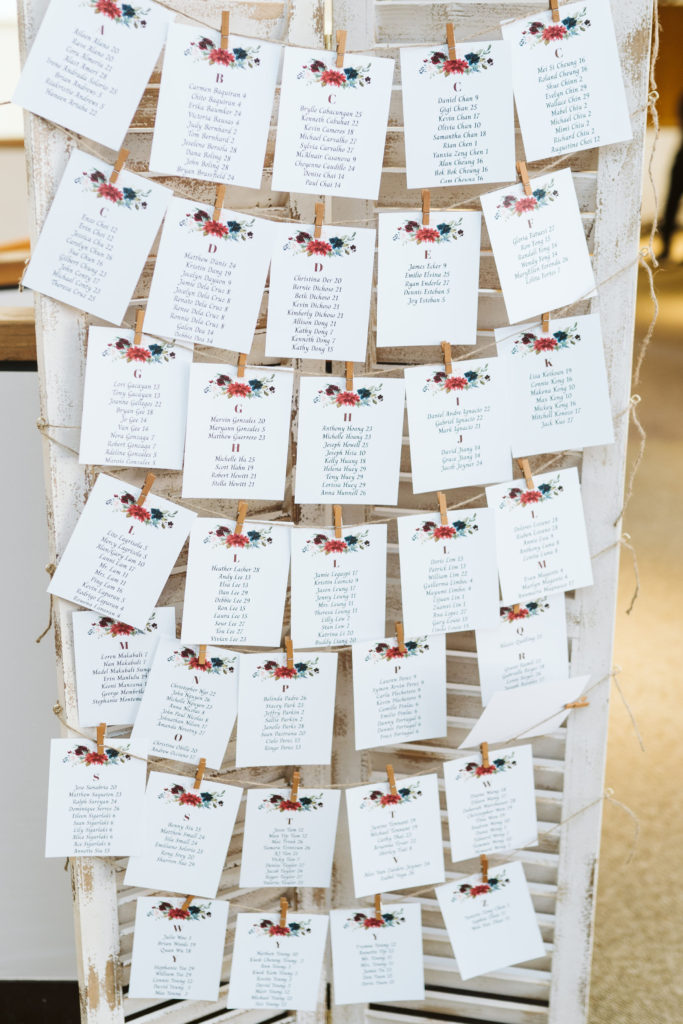 Time for the Great Entrance of the couple and their bridal party – BUT with a huge, unexpected twist: an authentic Lion Dance by Tenny Lee and his troupe!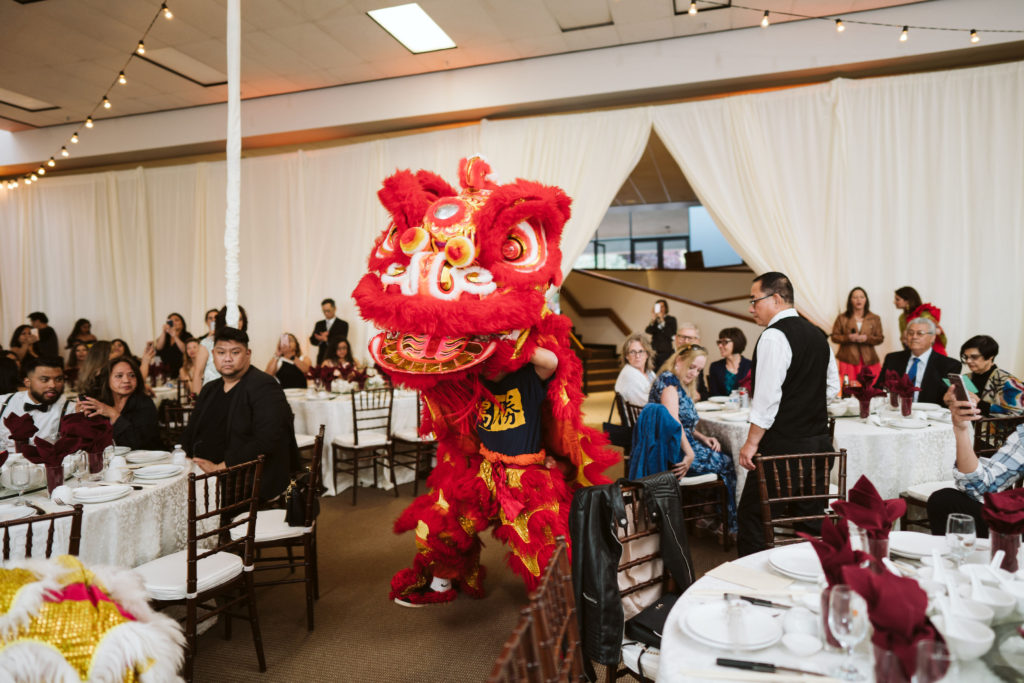 The couple presided over it all from their Sweetheart Table.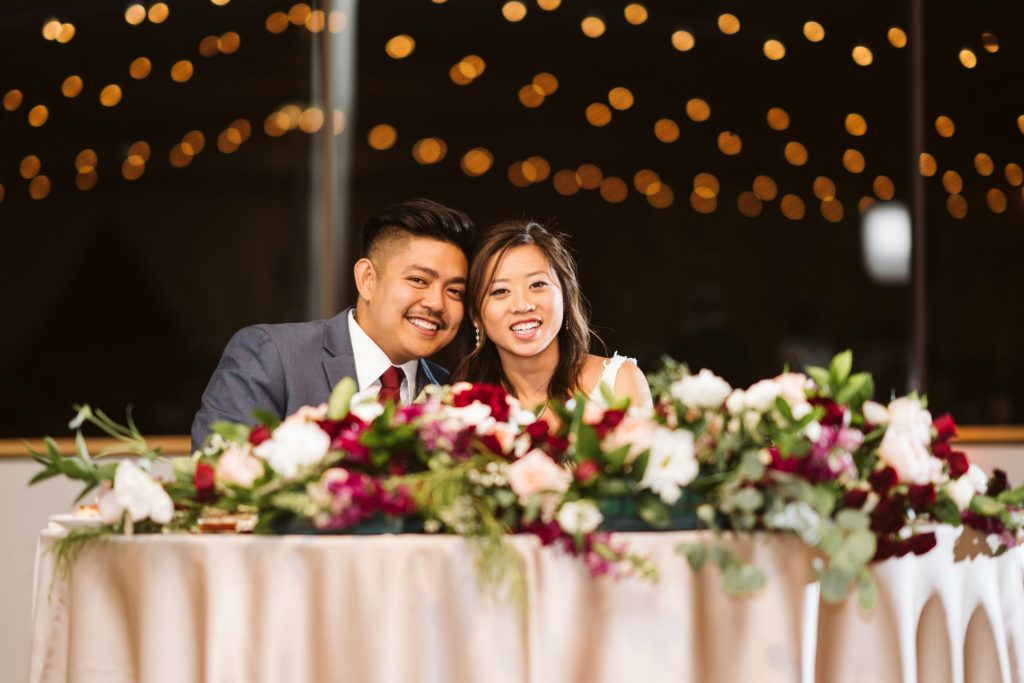 The groom and his groomsmen had prepared a surprise performance for the bride:
More surprises were awaiting their guests: with reverence for the Star Wars movies (the couple's all-time favorite), guests received "chop sabers" (light-up chopsticks) for their 10-course Chinese Banquet dinner!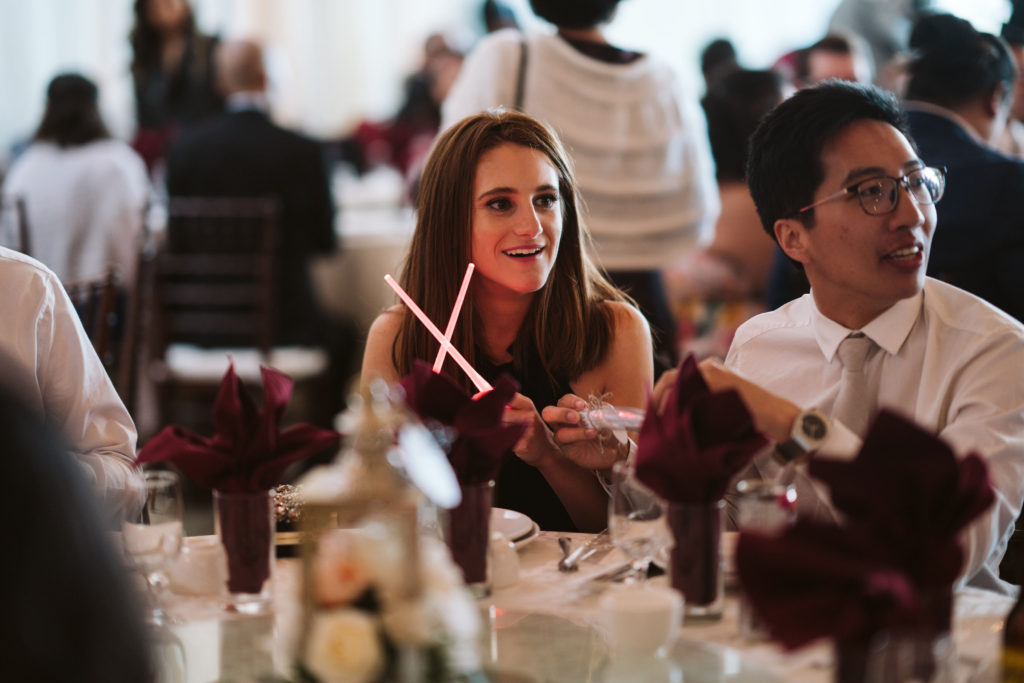 Trulee Memorable provided their photo booth as additional guest entertainment – a HUGE hit!
In between, the newlyweds quietly "stole away" for Sunset photos…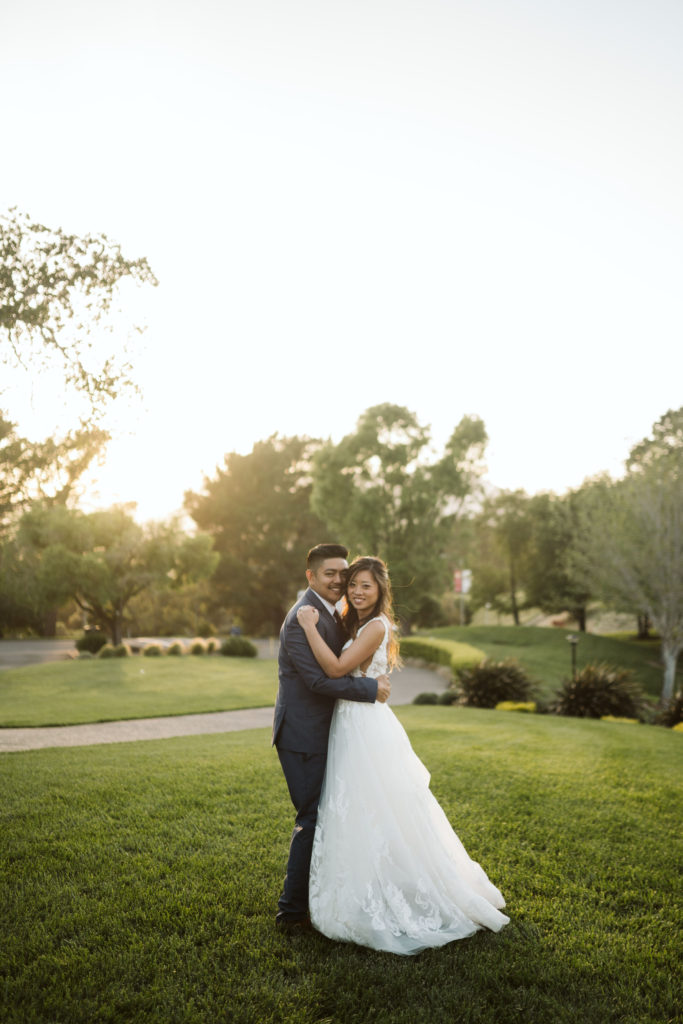 And when they returned and had completed their traditional table visits, they went on to cut their cake (by Tony's Cakes) …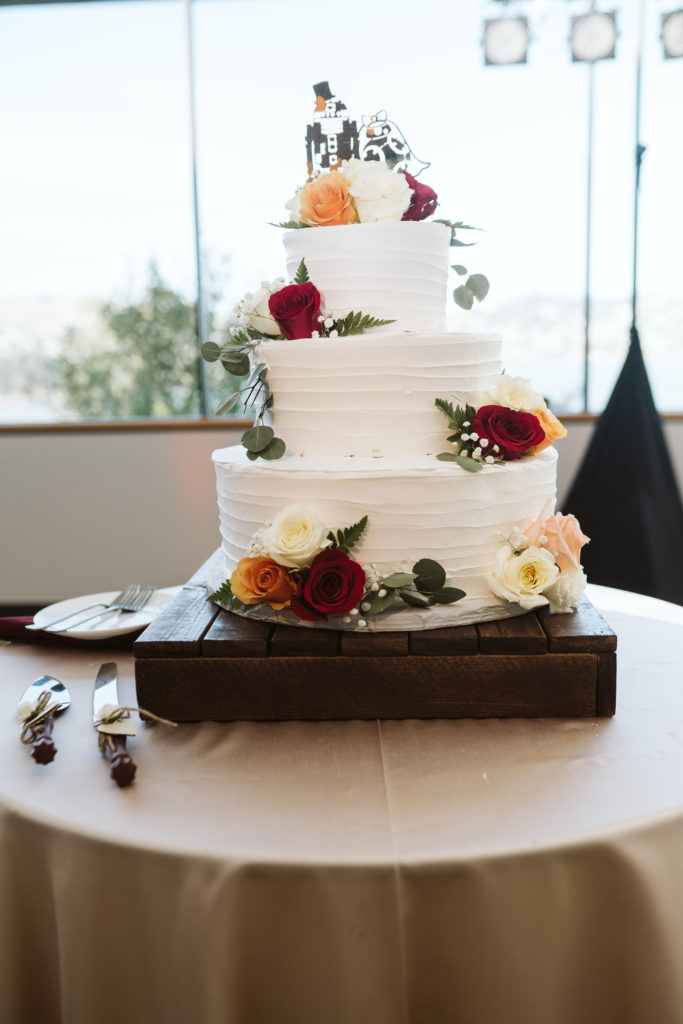 … toss a bouquet…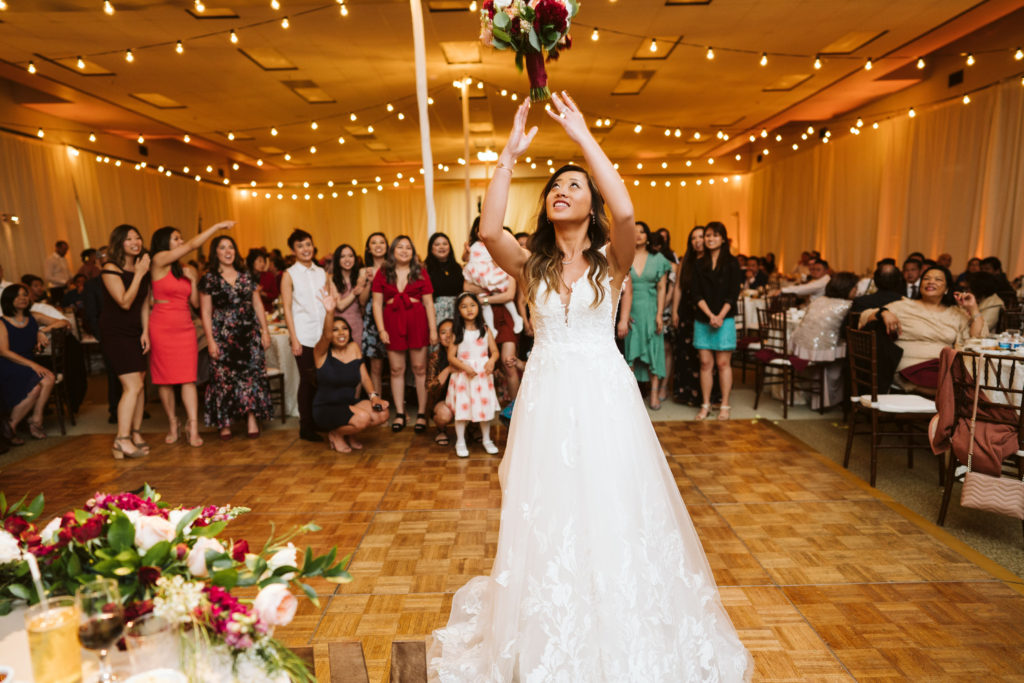 … and a garter…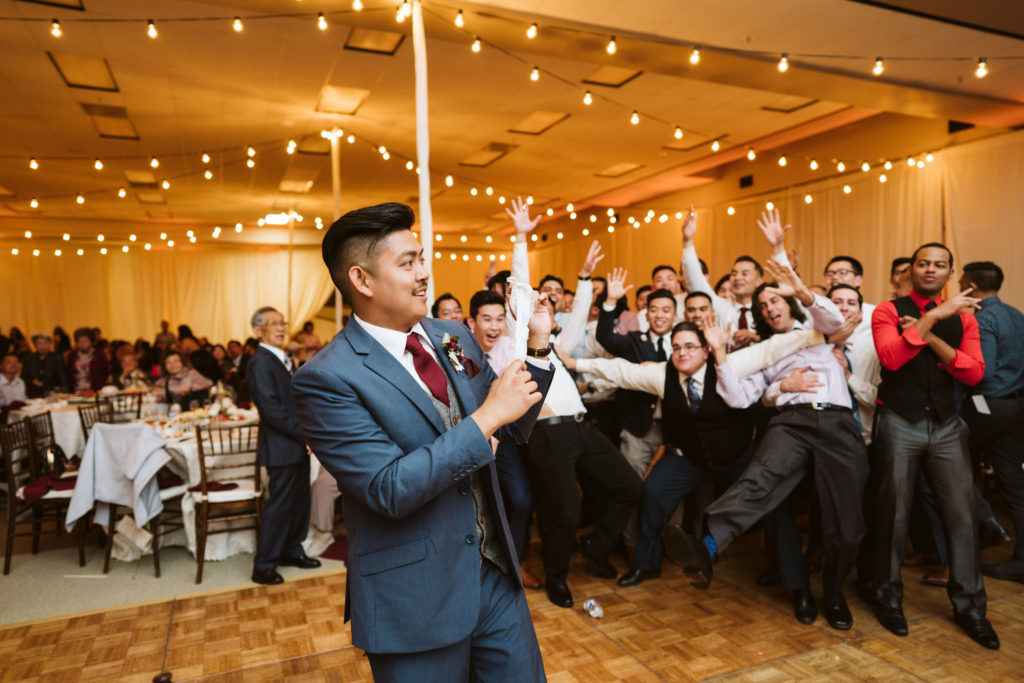 … and then the dance floor was opened to everyone. Oh – I nearly forgot – we had a traditional Money Dance as well…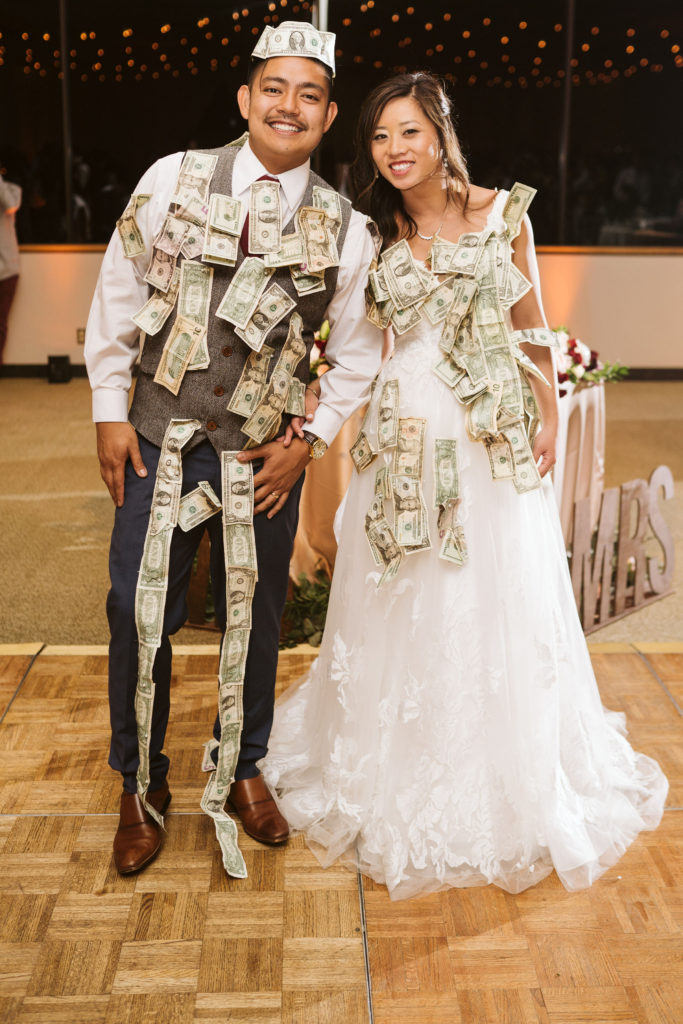 It was an epic dance party to the tunes of Chemistry DJs!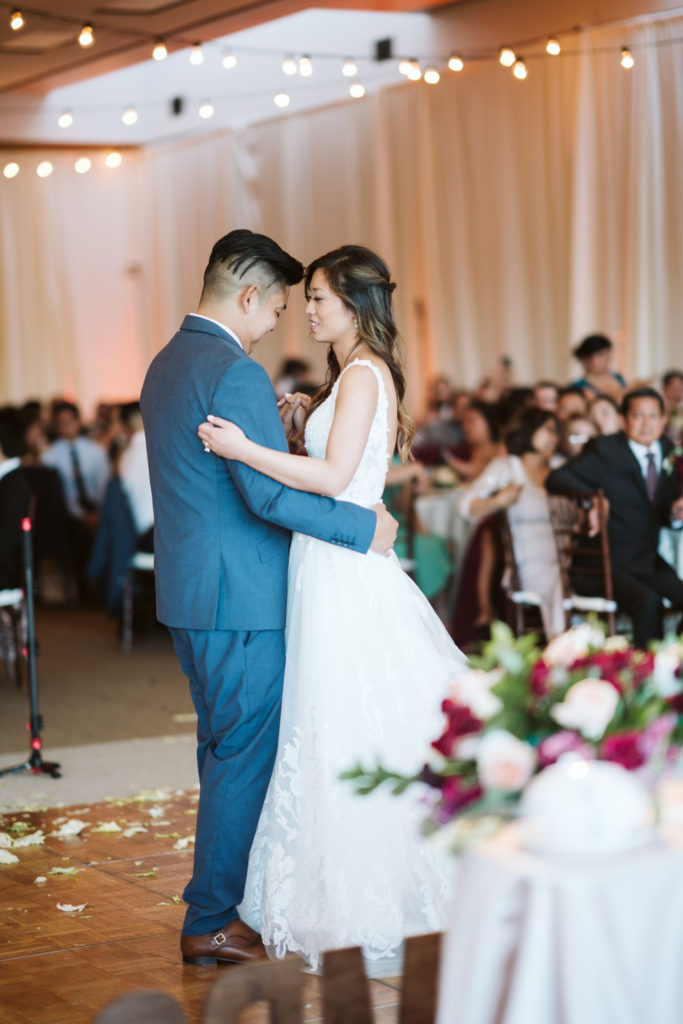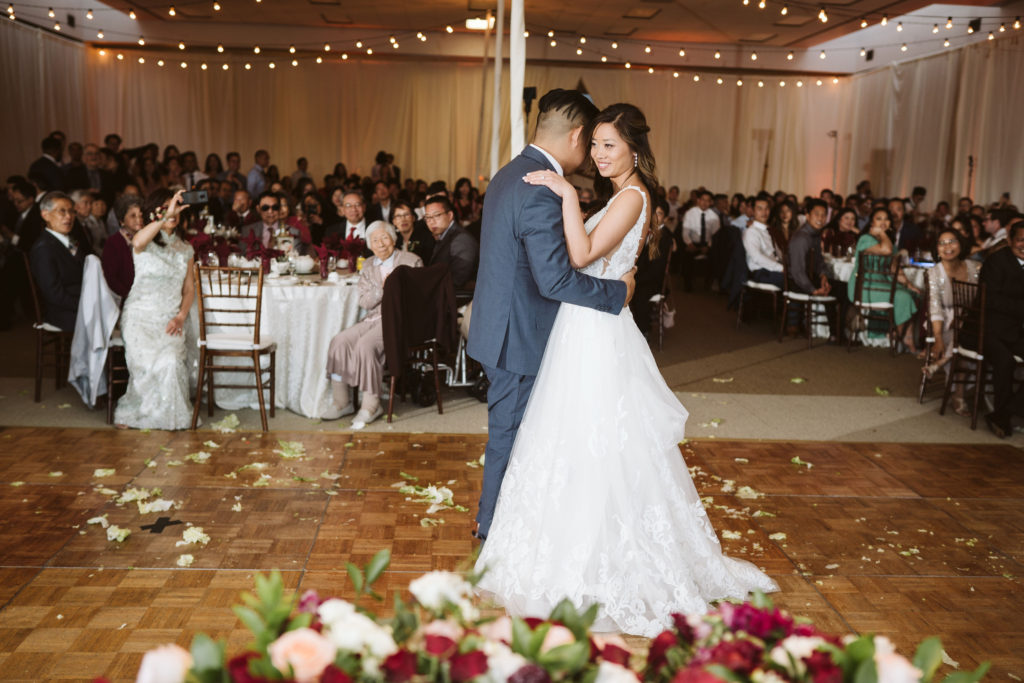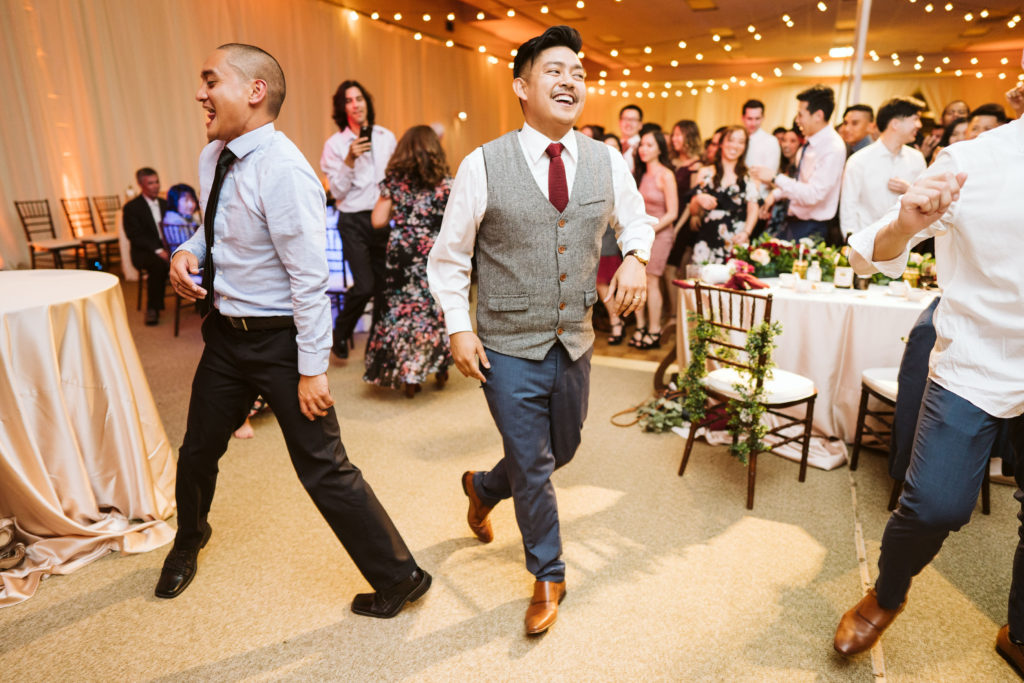 Everyone had a great time… wishing you a lifetime filled with joy, happiness and many more epic parties, Audrey and Niko!

<! DL 06/02/12: Added html code for Pinterest Pin It button (appears at the end of each post) > <! DL 06/02/12: Added padding style modifier to the Pinterest html code to align the Pit It button on the page > <! DL 06/02/12: deactivated code by adding two ! in the a and img code lines >