Bride Julianne contacted my company, A Day Like No Other, ten months ahead of time for help with coordinating her wedding – and even then she already knew exactly what she wanted. She and her fiance had just chosen their venue – Deer Park Villa in Marin County, a secret garden, hidden behind a long driveway, and shaded by tall Redwood trees: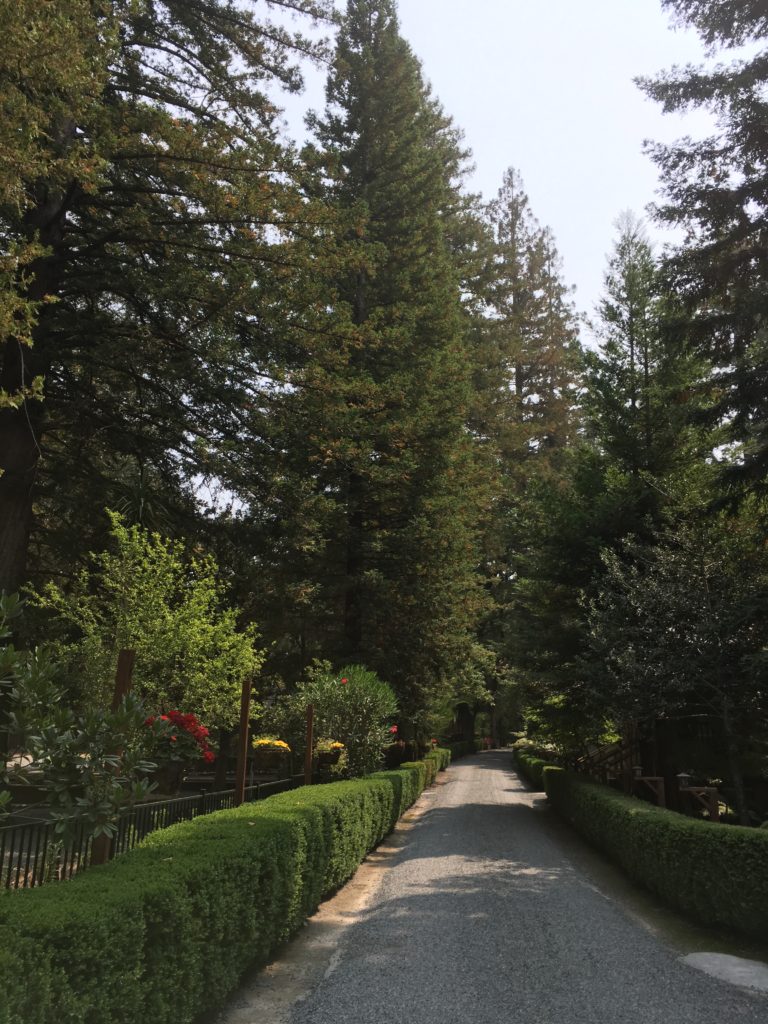 … and they had also decided on the overall style of their celebration: rustic-elegant, with an outdoor ceremony and reception and a dance party inside the "villa" (mostly because of the local noise ordinance), relaxed and fun, but with some formal elements: metallic rose gold accents to complement their wedding colors of grey, blush pink and dark red.
Aside from that, guest experience was very important for them, and they added a lot of fun elements into the mix.
Last Friday, it all came together on a balmy summer evening.
Julianne and her bridesmaids began the day with hair and makeup services (by Girl with a Curling Iron), while Grayson and his groomsmen had free time. When their black SUVs arrived to take them to Deer Park Villa, they were in high spirits and, inspired by those "presidential" looking vehicles, mimicked a bunch of Secret Service agents!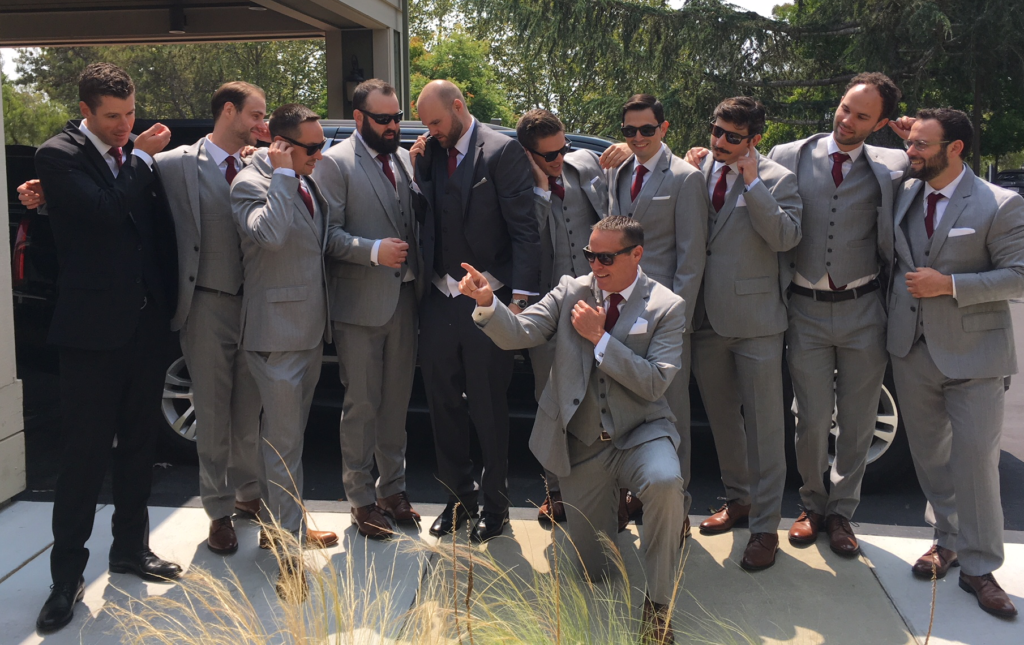 Meanwhile, the Deer Park Villa team, my assistant Myrtle and I and most of our vendors were already busy getting all the elaborate decor set up that bride Julianne had pulled together throughout her planning time – from various signs..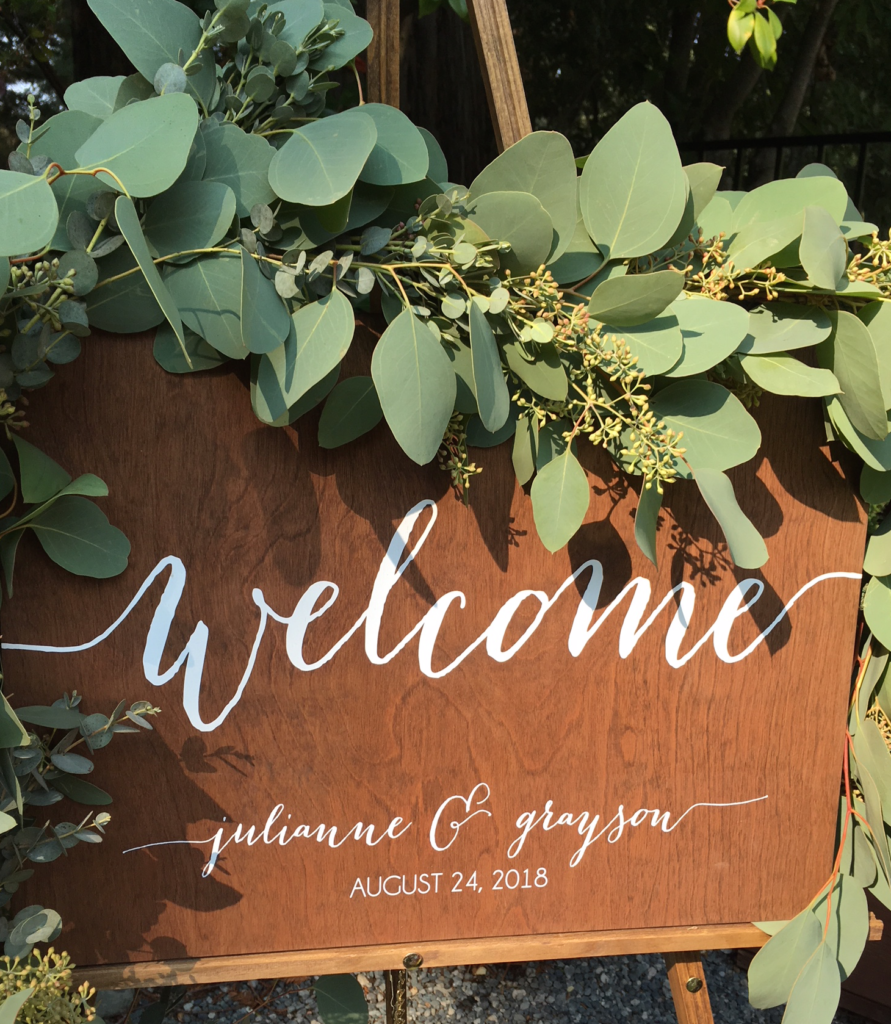 to a Polaroid guestbook station…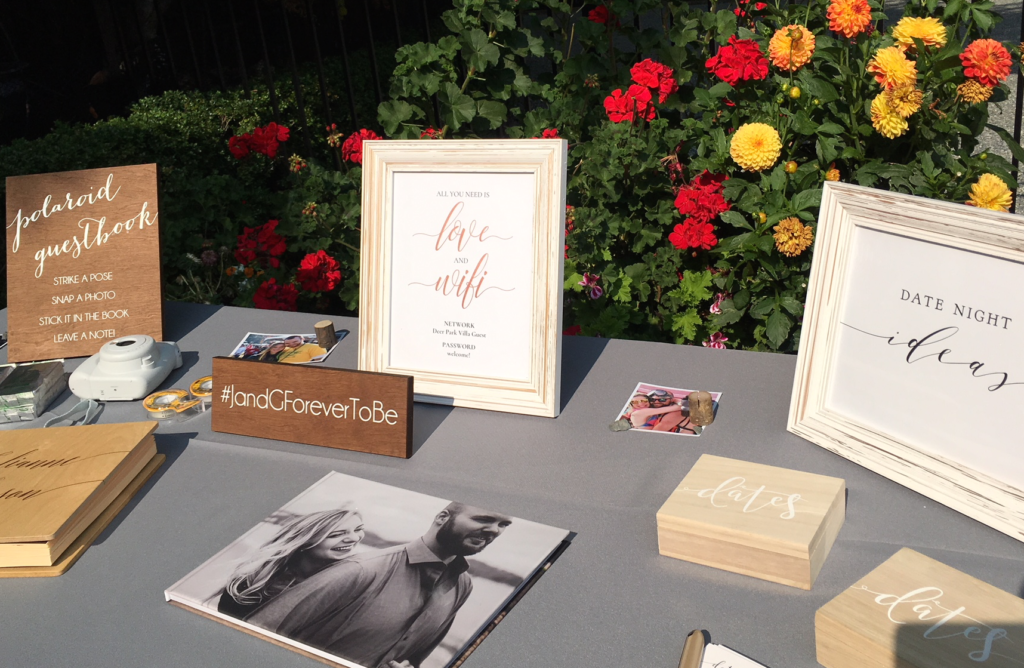 Then there was the ceremony setup to be completed, with seat assignments for guests and with a chuppah that got draping and gorgeous flower decor from Angella Floral Arts.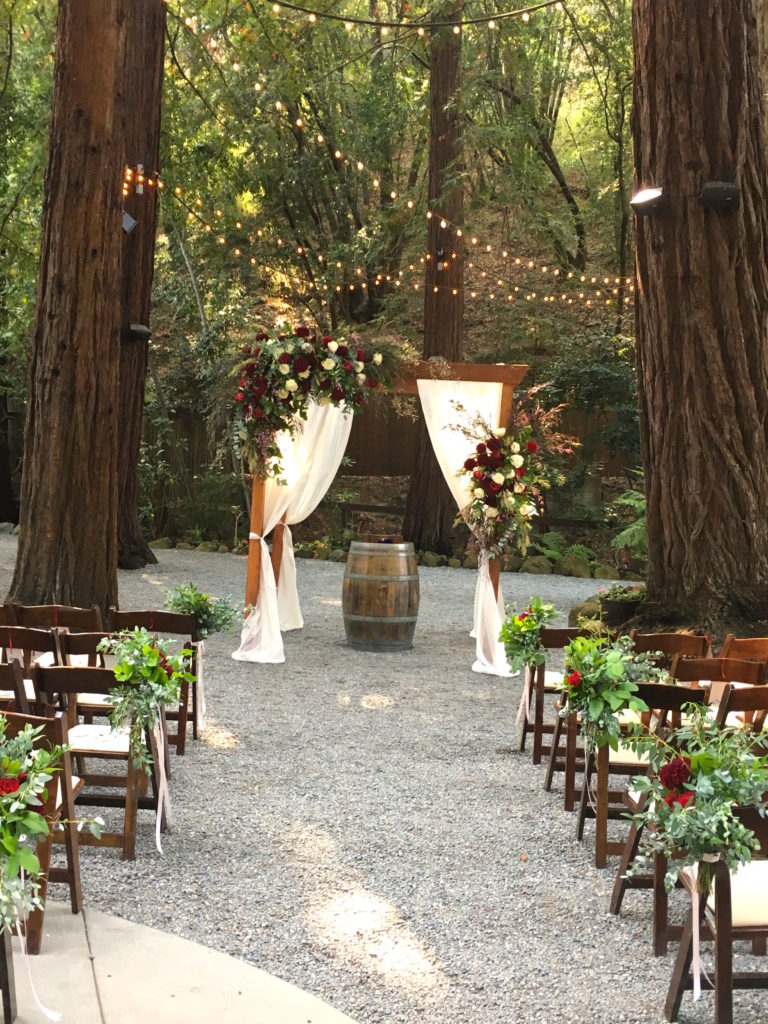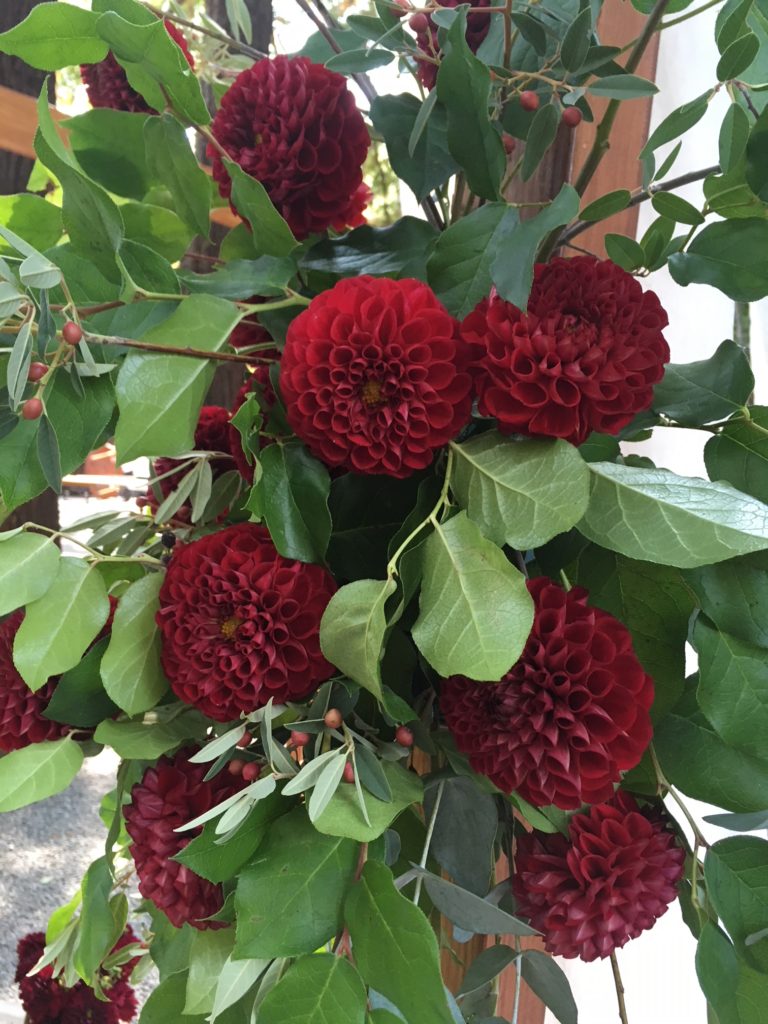 The bride had requested to reserve a special seat for her mother whom she had lost way too early… such a sweet touch, and so moving…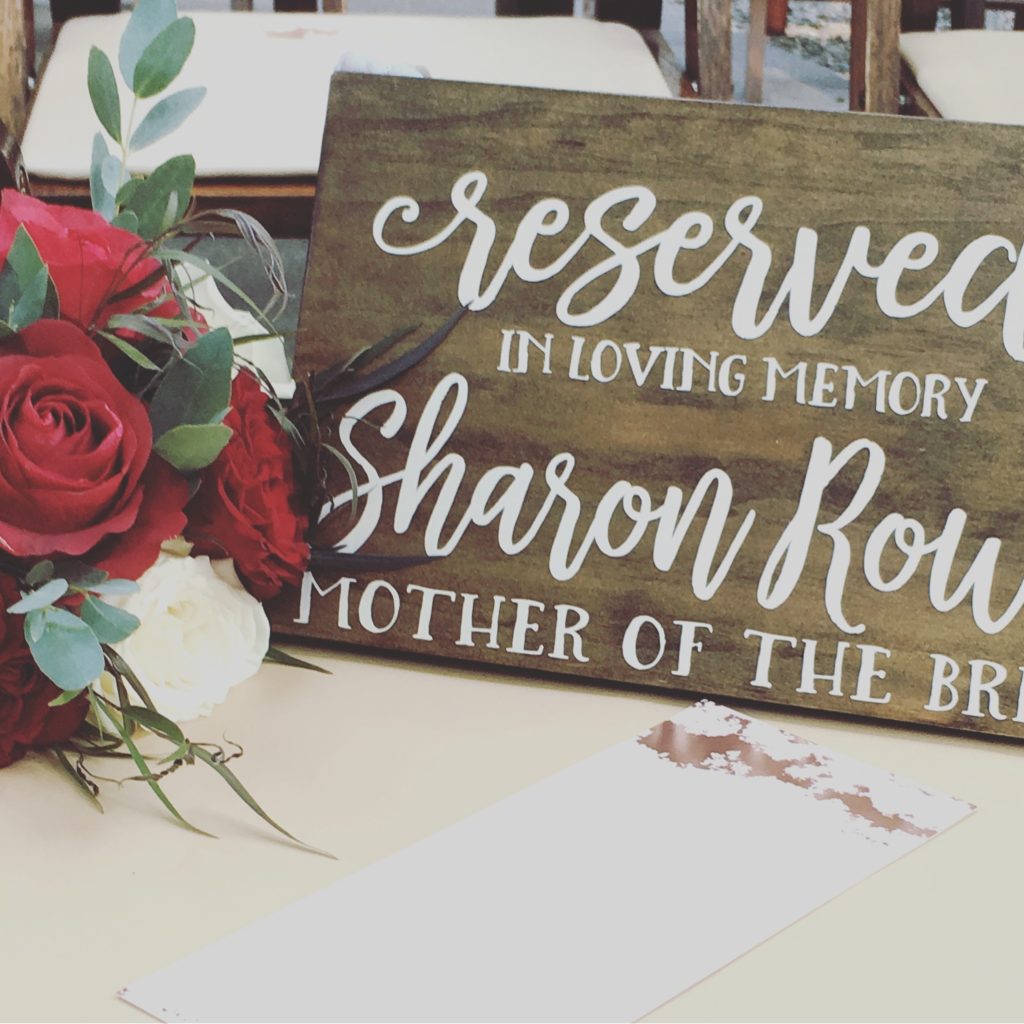 The team of Ray's Catering was busy preparing food and pre-setting the dining tables, the venue team readied the bars, our DJ (Runaway DJs) set up sound for all ceremony areas. Our photographer (Alexander Richardson of Love Tribe Weddings) and videographer (Ron Tse of FilmorePro) were capturing every moment, from First Look on throughout the evening. (Just wait until you see THEIR photos and video – until then, all we have are snapshots by me and my assistant).
Here is the impressive lineup of bridesmaids and groomsmen…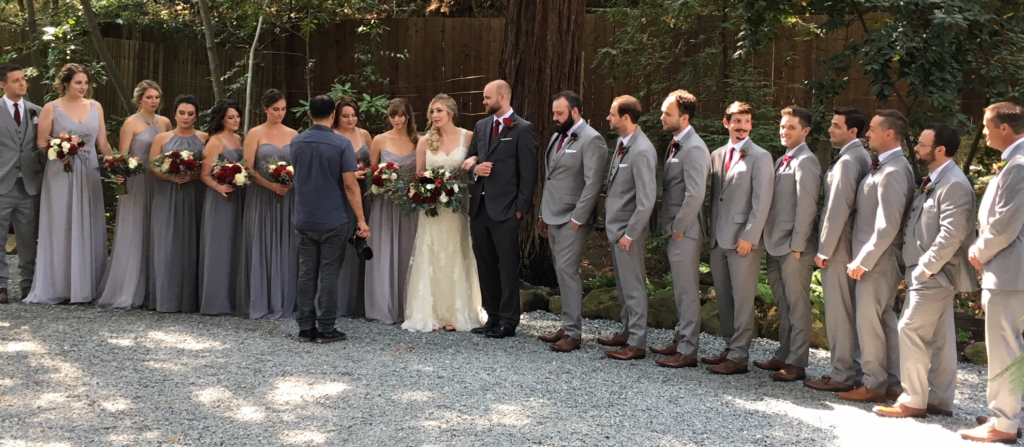 … with the bridal bouquet, bridesmaids' bouquets and groomsmen's boutonnieres likewise created by Angella.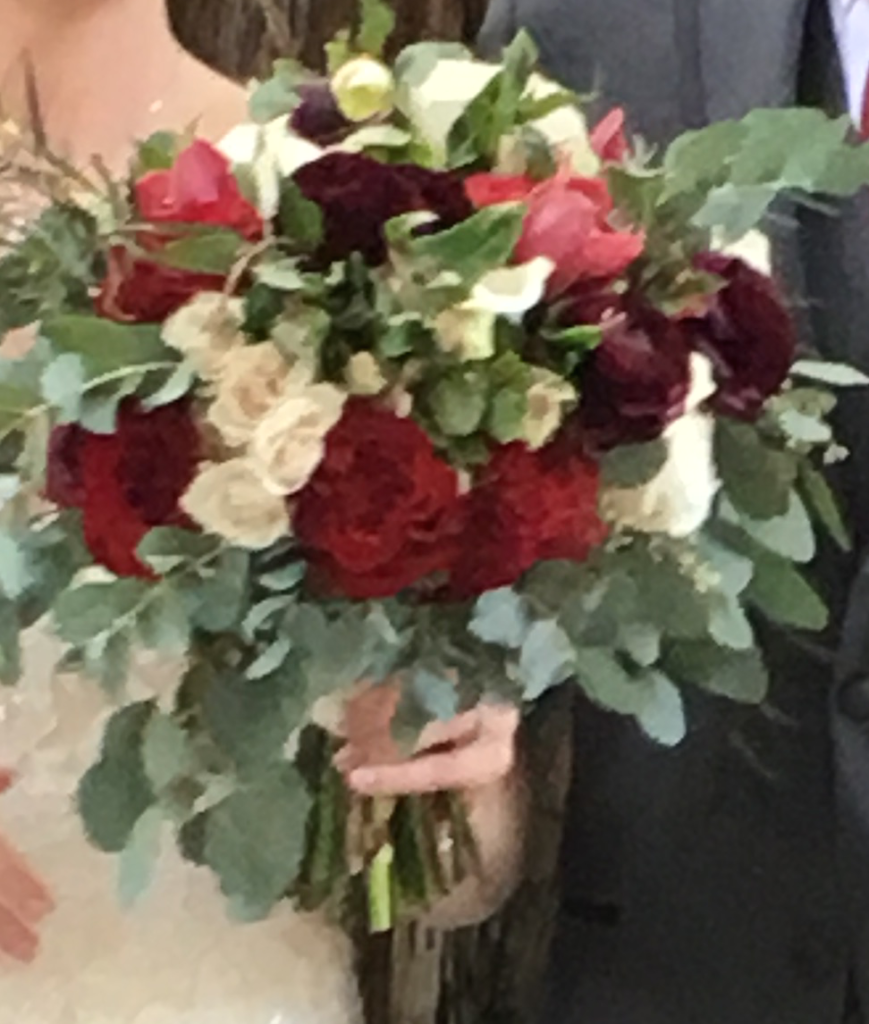 Here is one beautiful snapshot of the couple: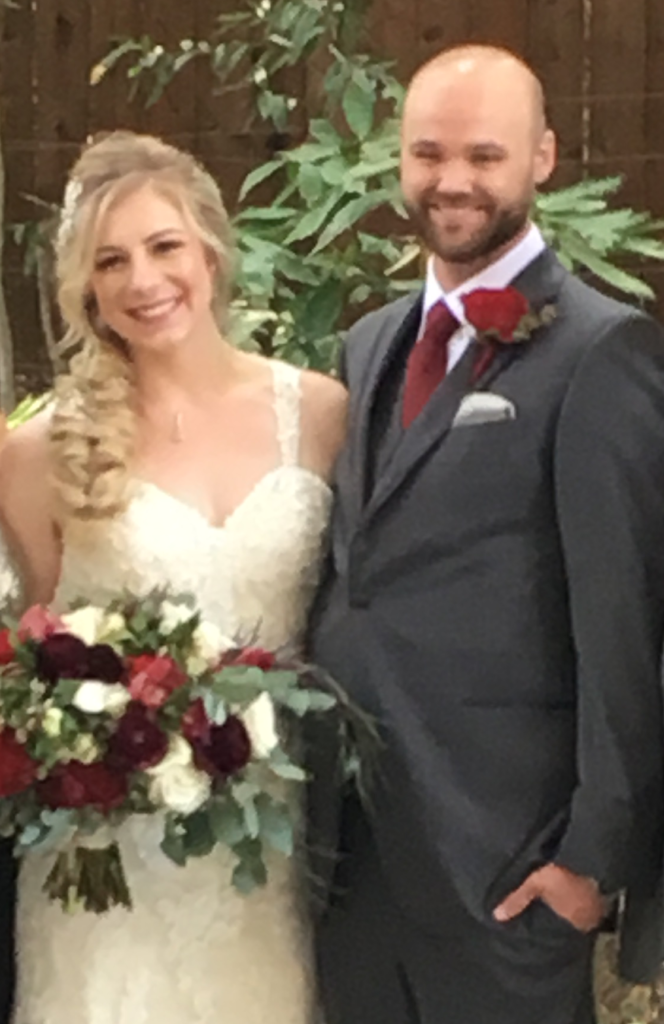 Then guests began arriving, and the great moment had come, the ceremony was about to begin. DJ Amin of Runaway DJs played all the wedding music the couple had personally chosen. Julianne was escorted in by her father.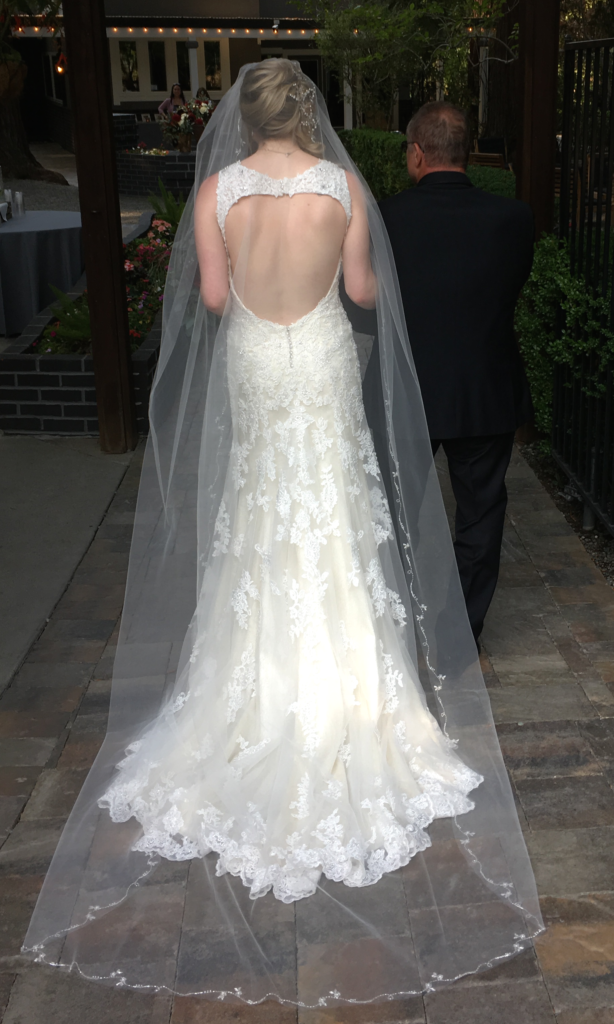 Quite a dramatic dress, I'd say!
Here comes the bride: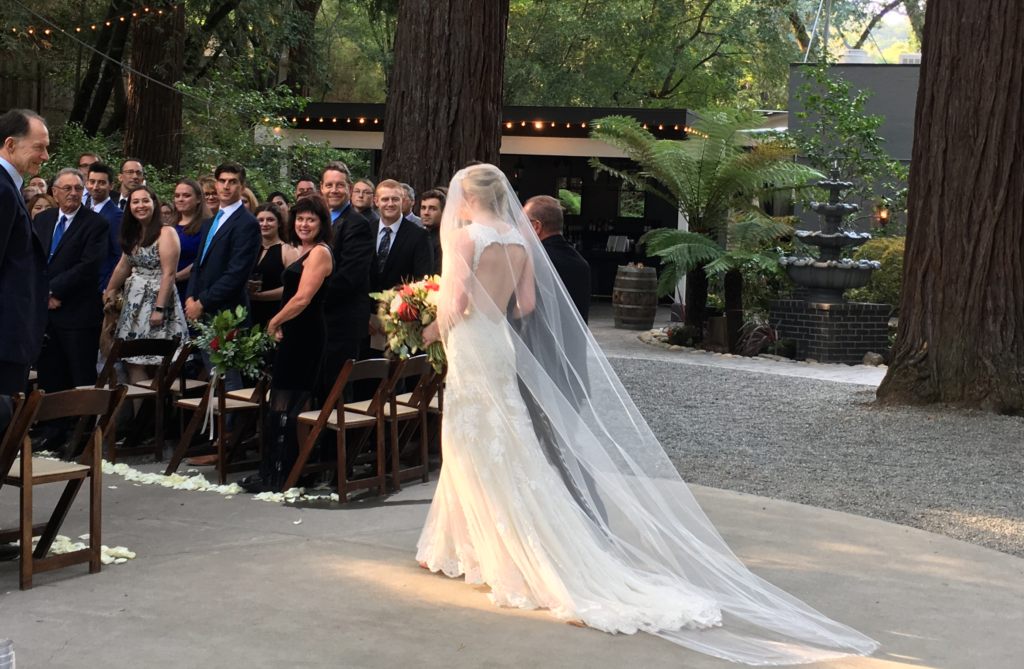 The ceremony was officiated by a personal friend of the couple, under the beautifully decorated chuppah.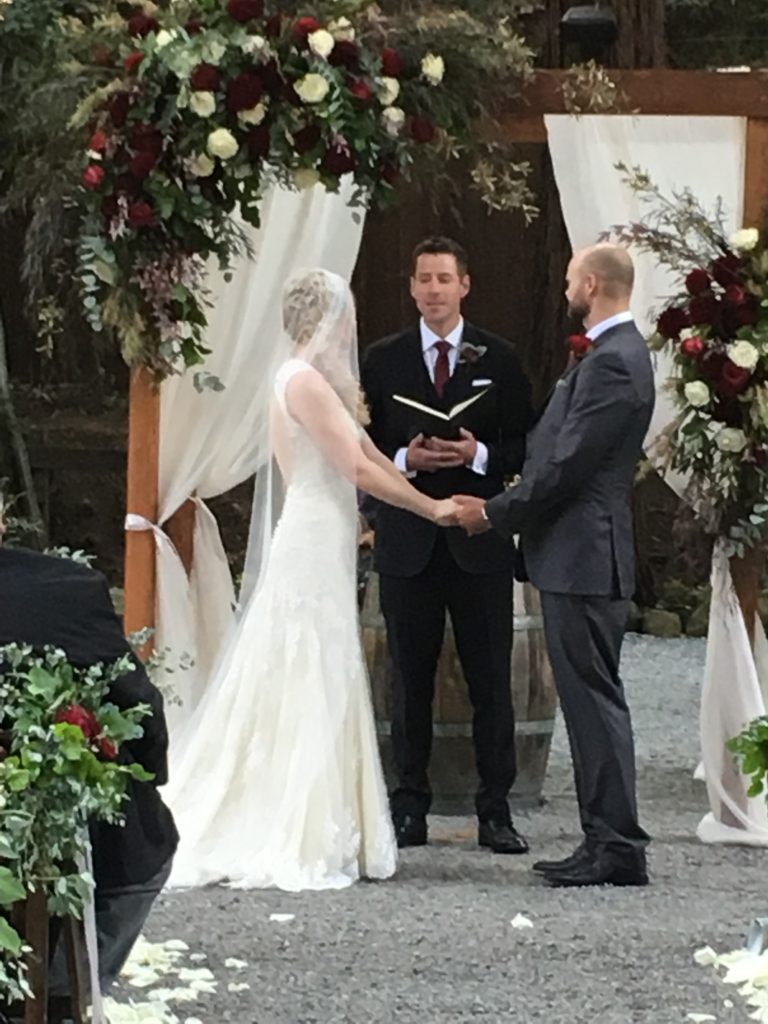 Following tradition, the ceremony was concluded by breaking a glass – and contrary to tradition, that was done by bride and groom together!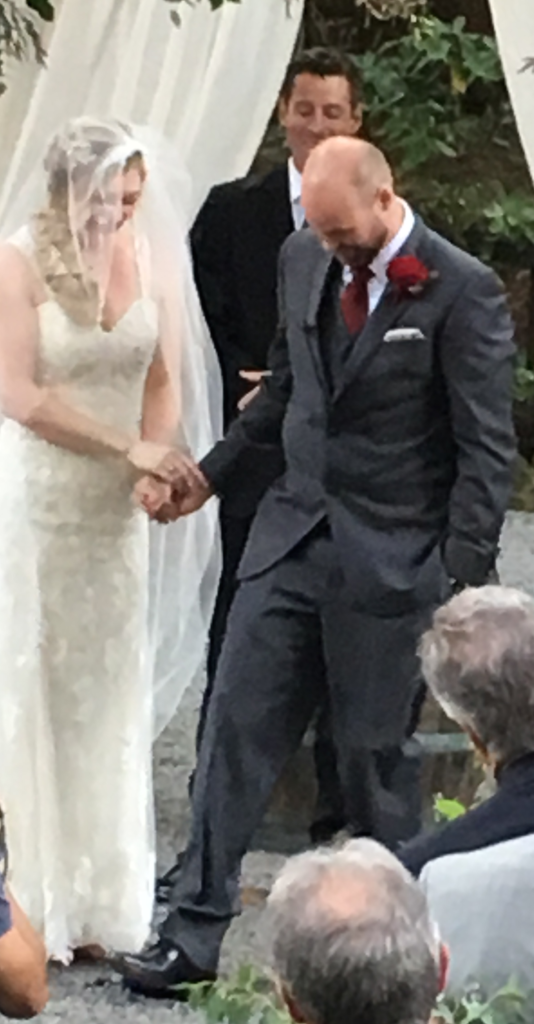 "You may now kiss the bride!"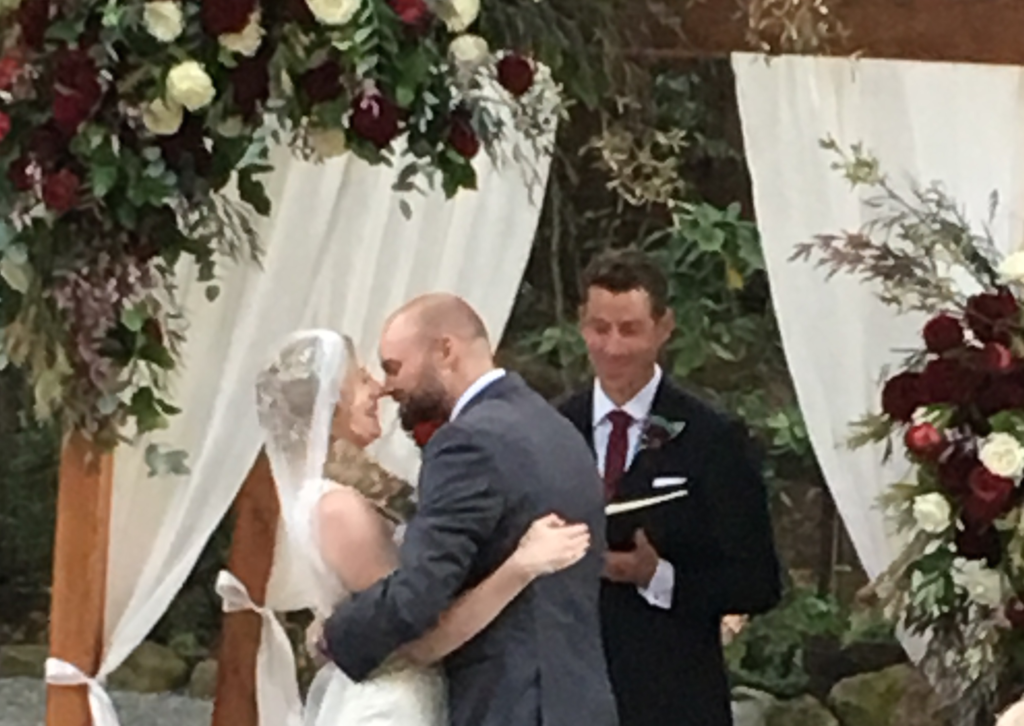 Just married!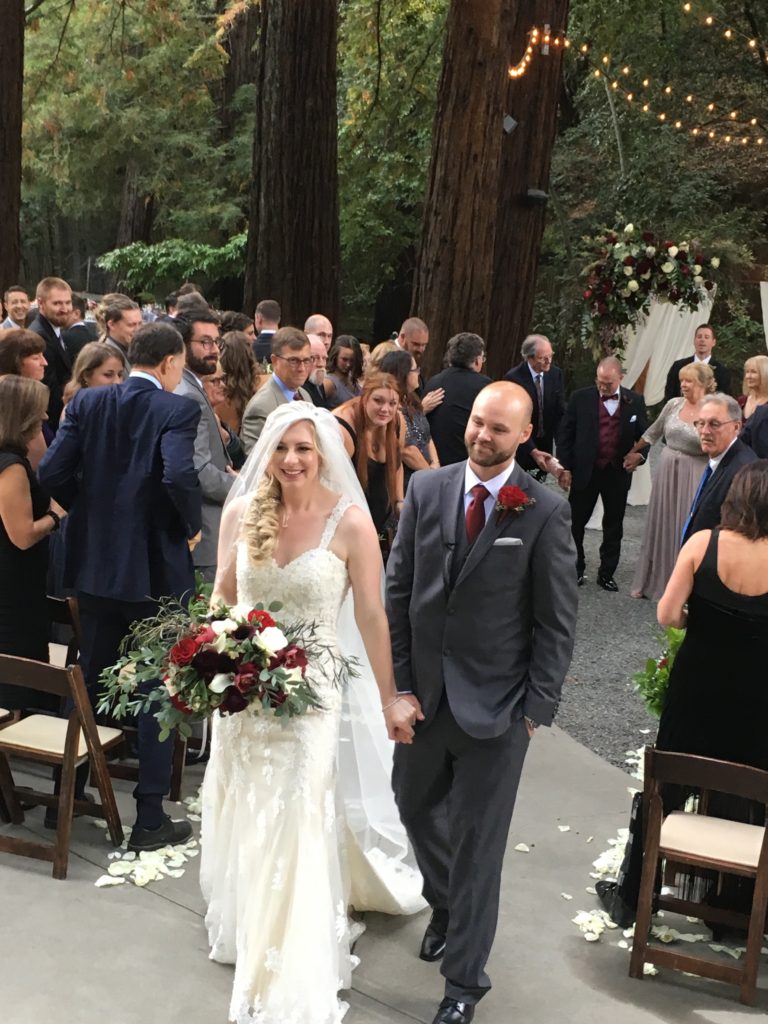 What followed was a long and joyful party – starting with cocktails and hors d'oeuvres, followed by a delicious sit-down dinner under twinkling string lights …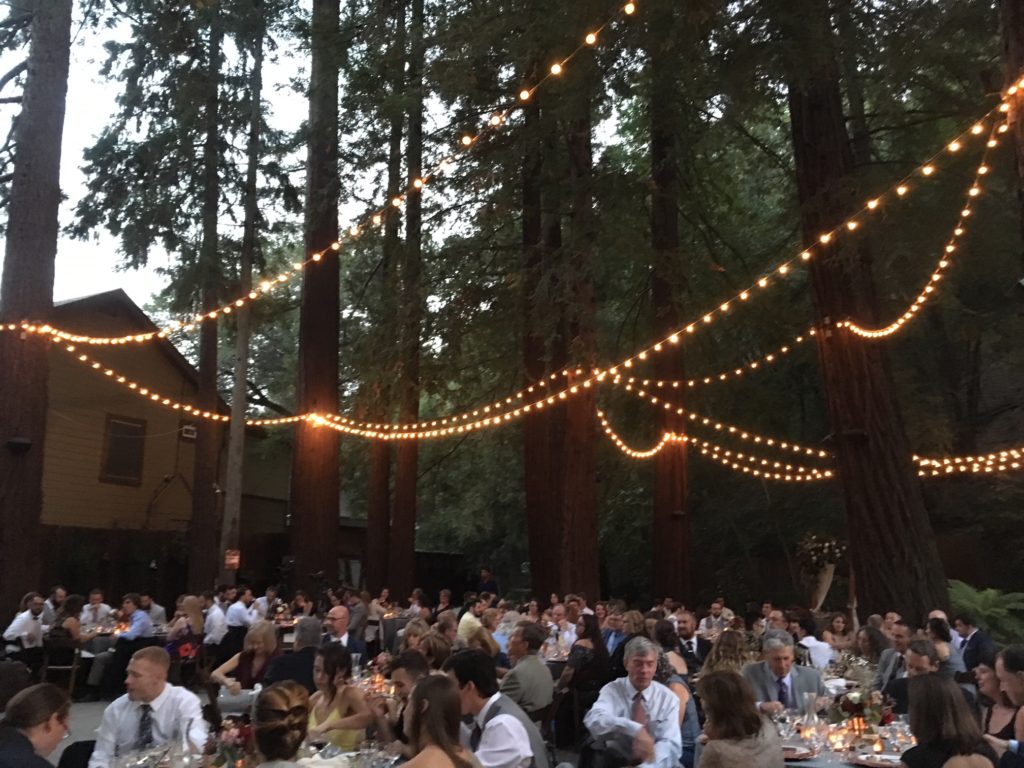 … and with elegant place settings of rose-gold plates and cutlery on soft-grey linens…
…. and then: THE CAKE (by Kara's Cupcakes).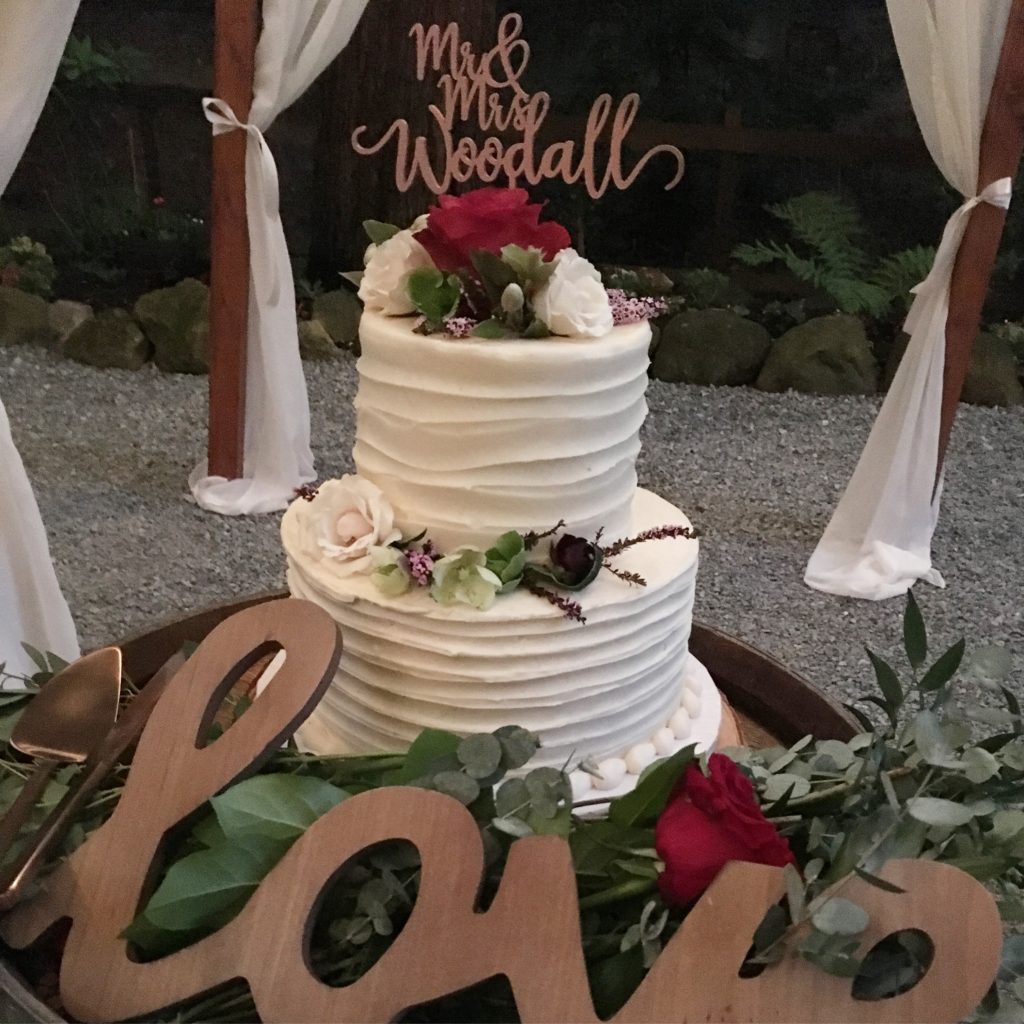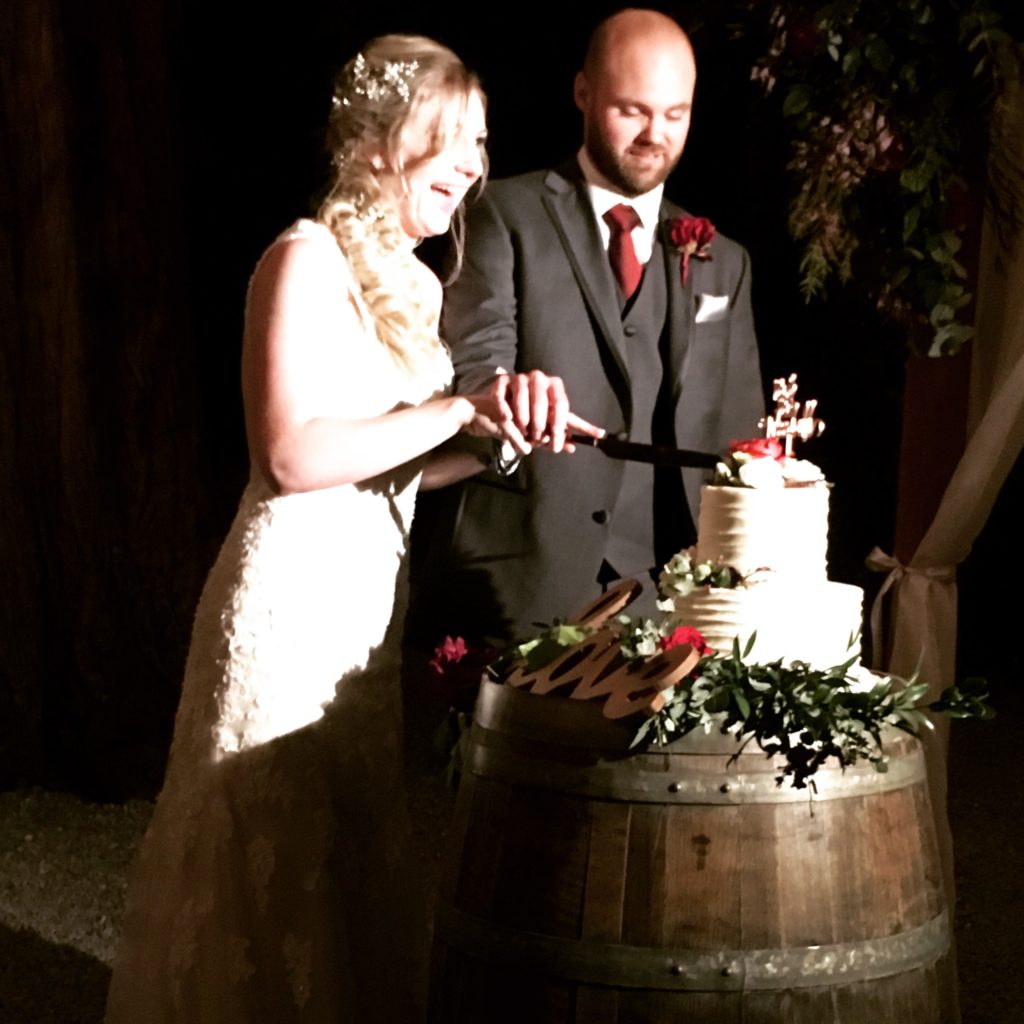 Guests were then treated to ice cream sandwiches with fresh-baked cookies prepared onsite by The Pink Turtle Shoppe. Then it was time for dancing, and DJ Amir kept the crowd in high spirits! For additional guest entertainment, the couple had booked a Say Ya! photo booth which proved to be a real hit. And for those who needed a break, a S'mores station was set up outside around the fire pits…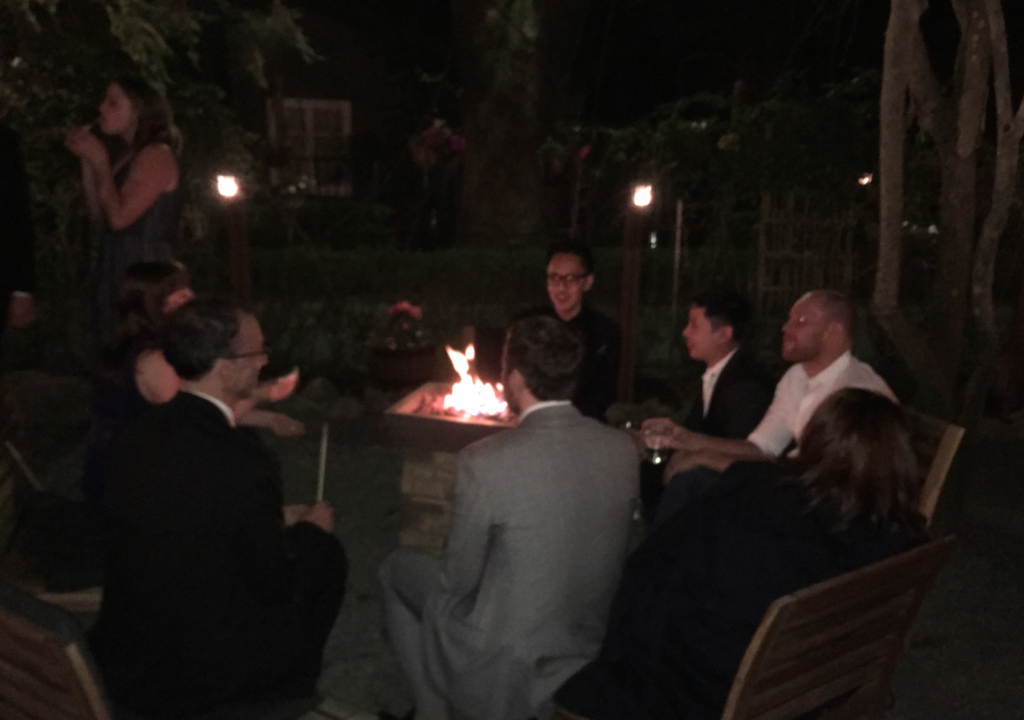 … while in the now-deserted dining area a "special guest" made his appearance to pick up any dinner leftovers!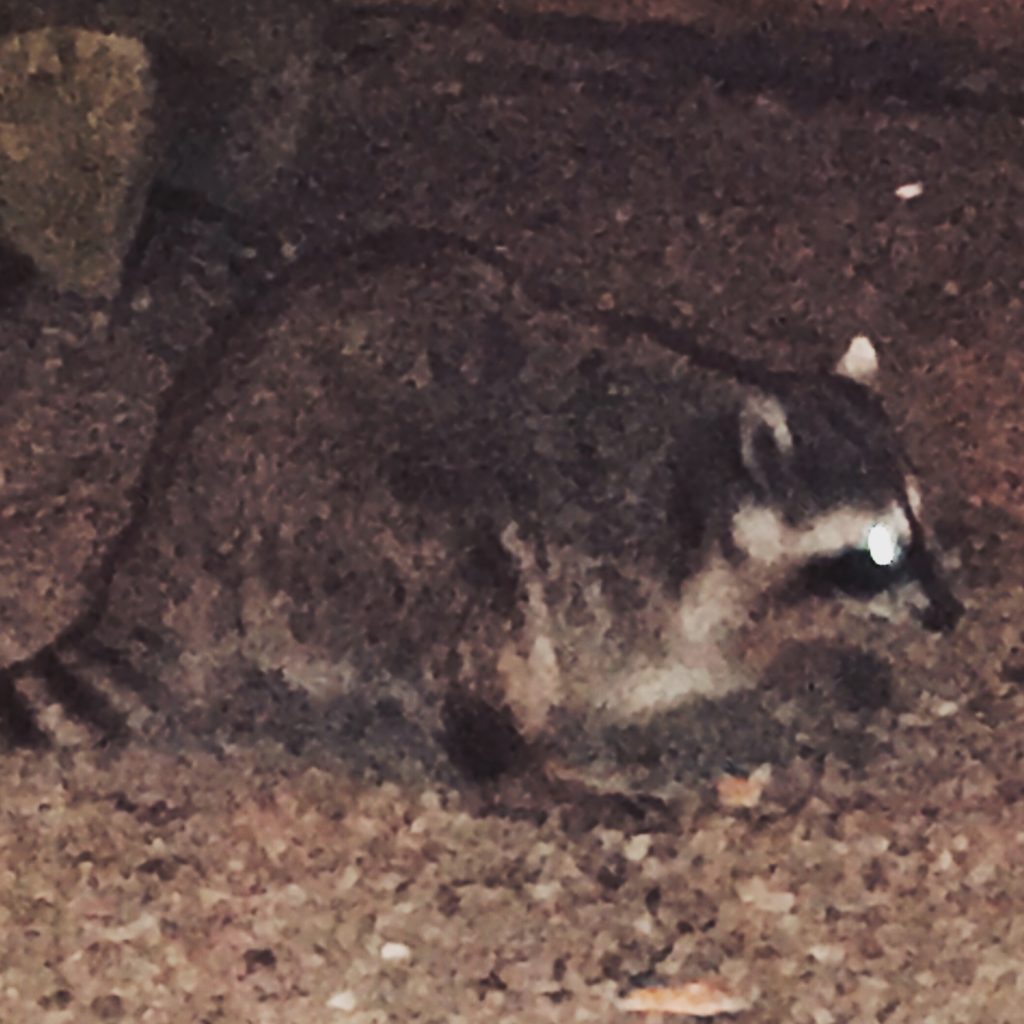 The party went on into the wee hours of the morning, and all guests agreed – that was unforgettable! For bride and groom, the festivities were not over yet – they were off to their Honeymoon on the Maldive Islands and to Thailand. Call that a "once-in-a-lifetime" occasion!
Wishing you a lifetime of happiness and many more celebrations together, Julianne and Grayson!
And here you can see it live, thanks to Fillmore Productions!
And here you can see it live, thanks to Fillmore Productions!
Julianne & Grayson from Filmore Productions on Vimeo.

<! DL 06/02/12: Added html code for Pinterest Pin It button (appears at the end of each post) > <! DL 06/02/12: Added padding style modifier to the Pinterest html code to align the Pit It button on the page > <! DL 06/02/12: deactivated code by adding two ! in the a and img code lines >