A schoolteacher from Bolivia. A product manager (with a bioengineering background) from China. These two couldn't have come from any more different backgrounds. And yet – they are so much more similar than different, and that is what ties them together. They met five years ago, both foreigners to this country, but with so many shared values and interests… they both care deeply about others. They are immensely curious and love to travel and experience new cultures, adopting the best of everything. They are happy with simple things, love to discover "hole-in-the-wall" restaurants and to walk with ice cream. They both love dogs and have just adopted "Peanut," a tiny furry bundle of joy.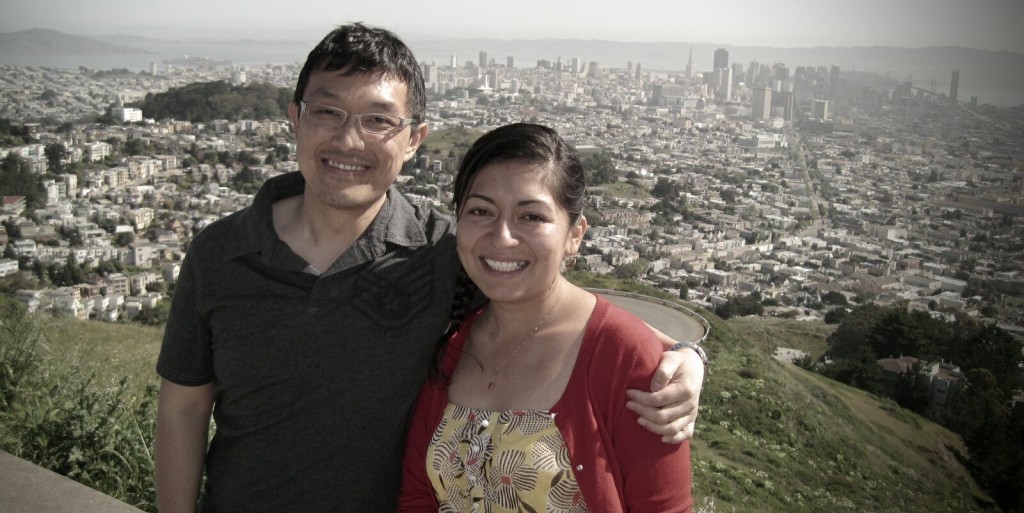 The two took their time of courtship until it was clear to absolutely everyone that they should stay together forever, and on Valentine's Day this year, Derek proposed in Puerto Vallarta. Yes, he is a romantic at heart!
Having been a friend of Derek's for years – and an immediate fan of Nataly's as well, as soon as we were introduced to one another! – I was so happy that the two entrusted their wedding planning to my company, A Day Like No Other. Hands-on people that they are, they had already found their venue: Nella Terra Cellars in Sunol, a hamlet in the SF East Bay. "Nella Terra," meaning "into the Earth," is exactly what Nataly and Derek were looking for. An oasis in the middle of vineyards and rolling hills –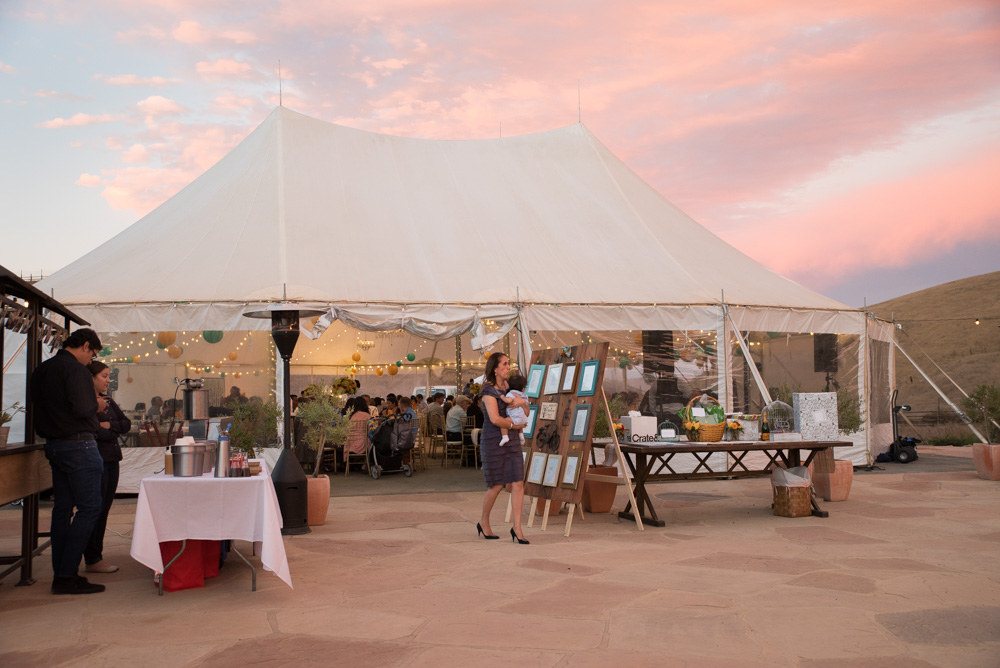 … a curvy white tent to host a big celebration and an adjacent ceremony arbor overlooking a pond and well-trimmed greenery and pathways, and a beautiful patio for cocktails; just the right thing for extended families and friends gathering from as far as China, Canada and Bolivia – two hundred of them!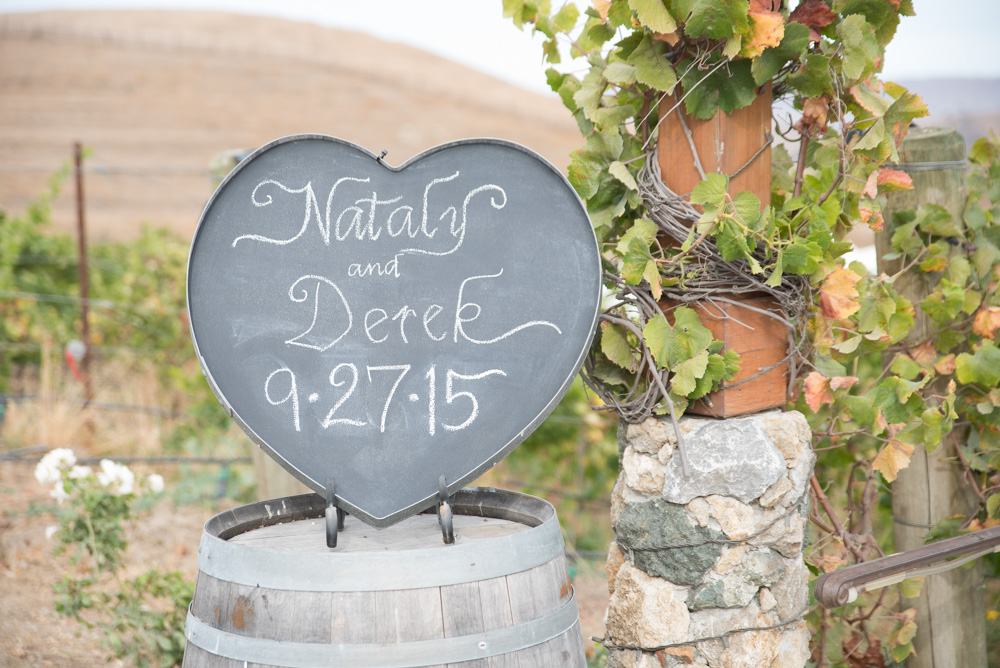 True to her Latin American heritage, Nataly wanted vibrant color for her wedding: warm yellow, orange and a little red, and turquoise a a counterpoint. From ceremony decor to favor boxes, from bouquets (from The Flower House) to lanterns – everything displayed her favorite colors for a very cohesive, joyful and upbeat look. Nataly's Dad had added his own personal contributions –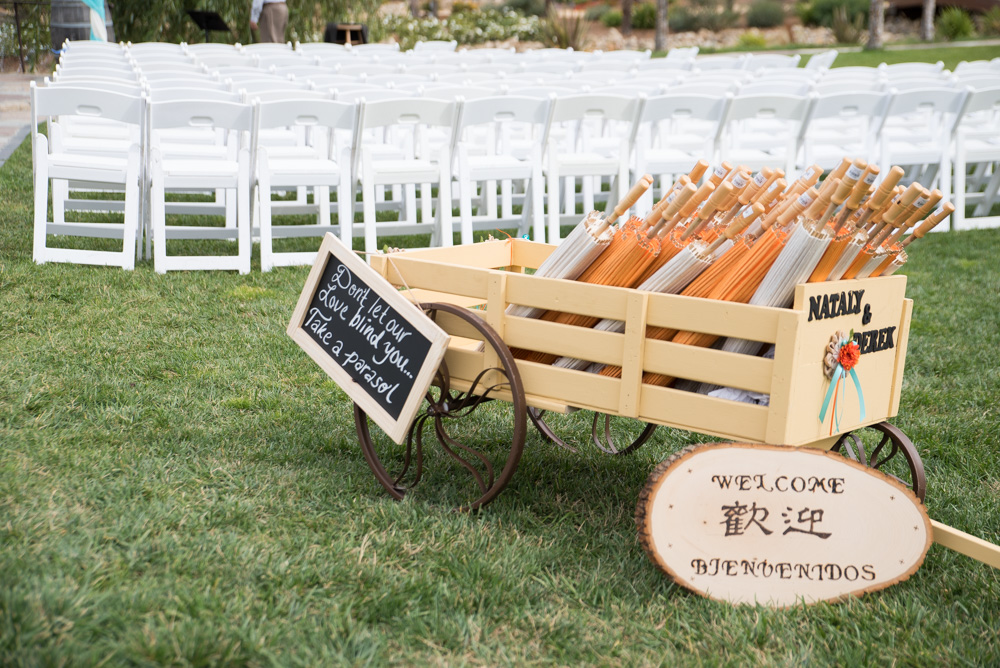 … a handmade wagon to hold much-needed parasols for ceremony guests, and a whimsical seating chart of antique picture frames. Videographer Martin Meyer of martinFILMS and Photographer Professor Matthias Geiger worked their magic with the camera: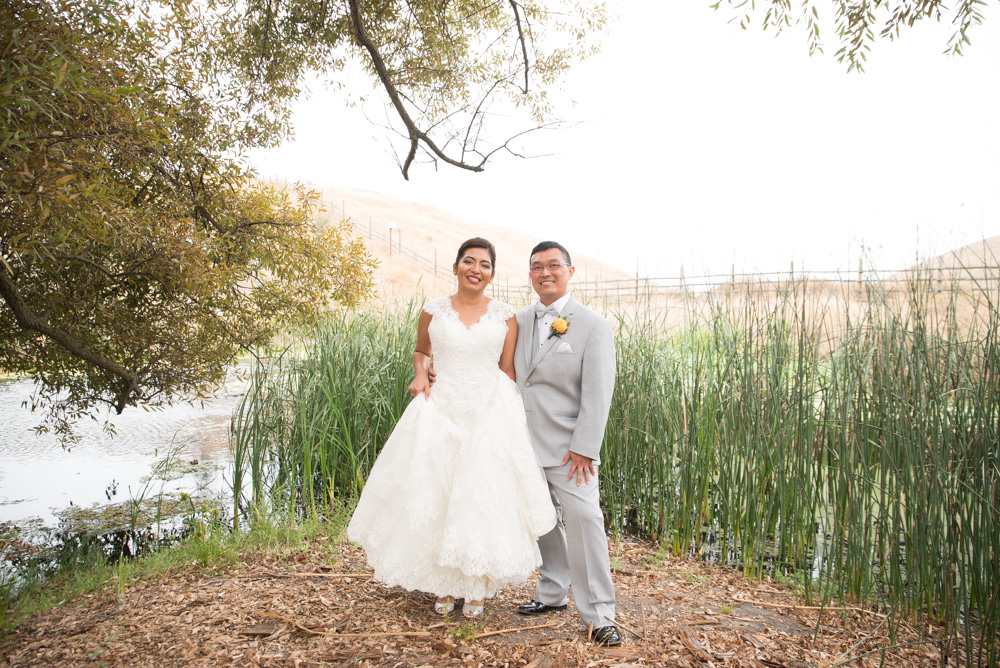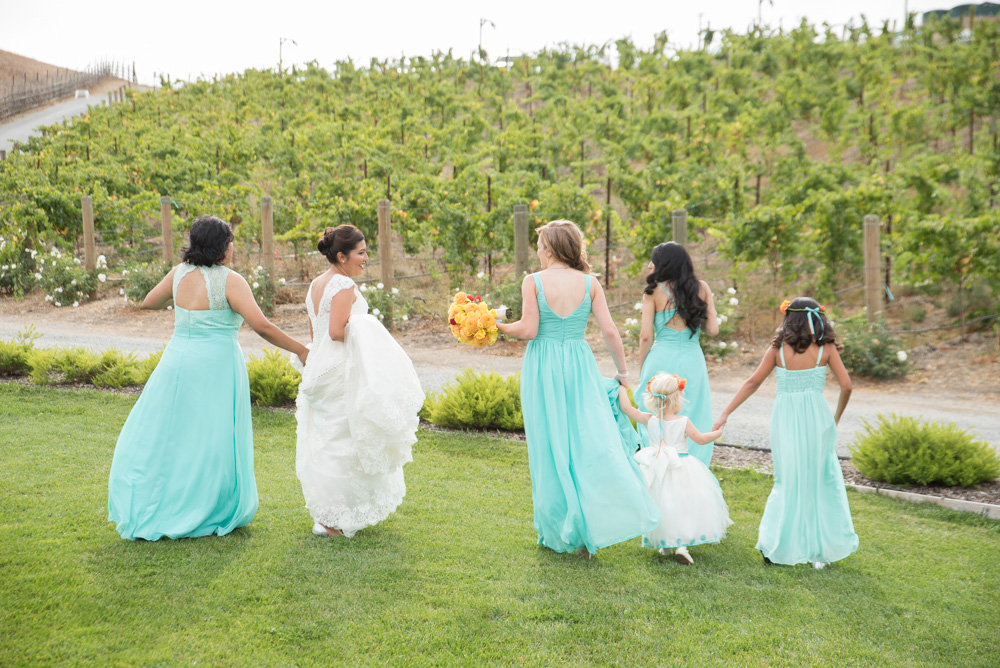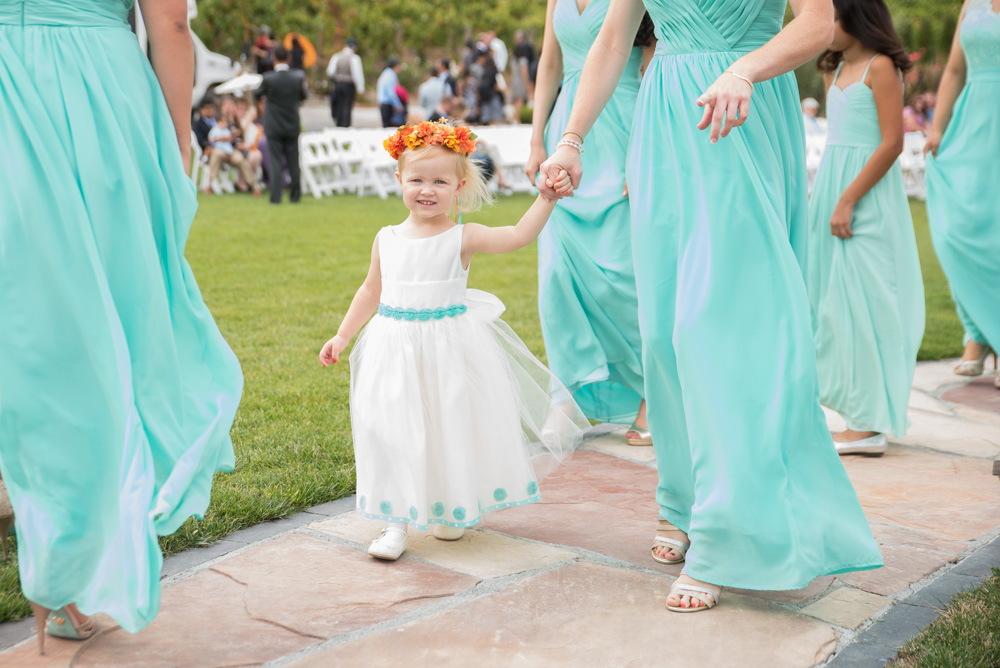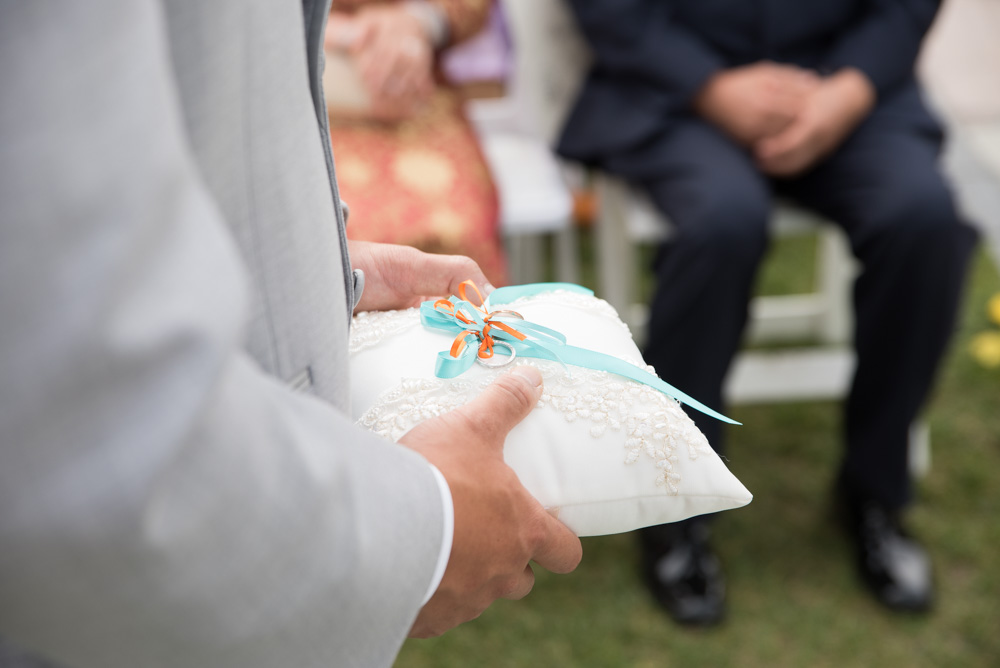 Reverend Dr. Lili Goodman Freitas of Weddings of Heart officiated the ceremony, made intensely personal through readings of poems both in Spanish and in Mandarin, and accompanied by guitarist Bruce Brill.
And here they are: Just married!!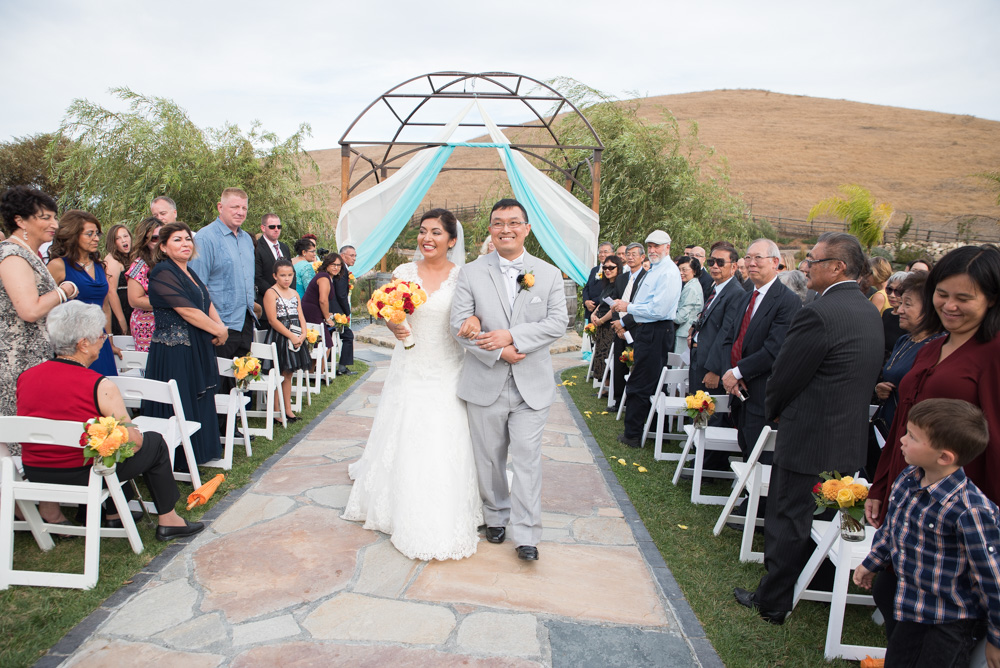 While the couple had many, many more pictures taken all over the property …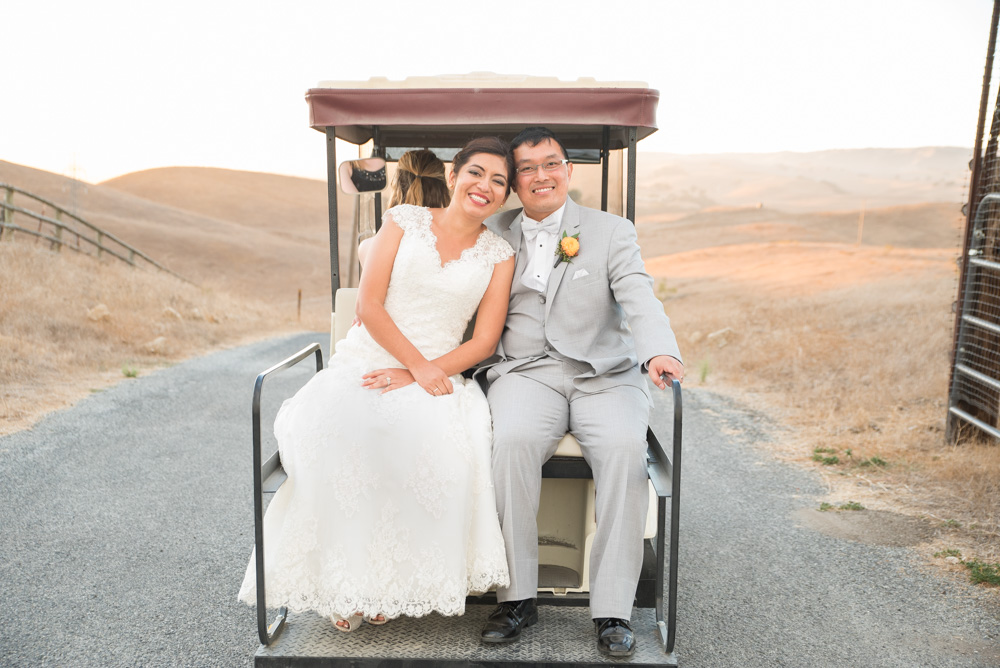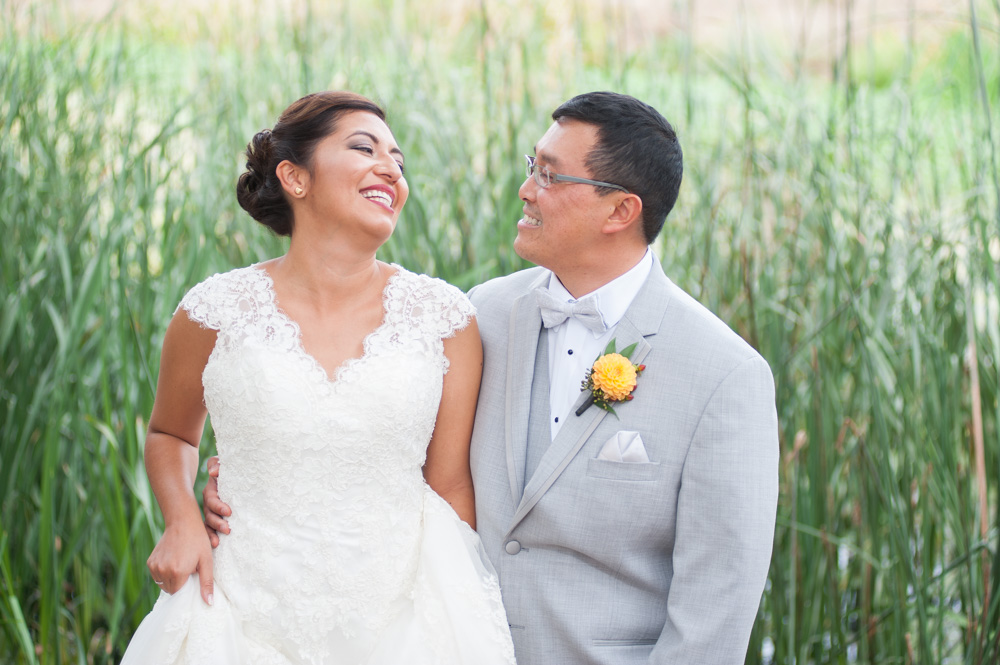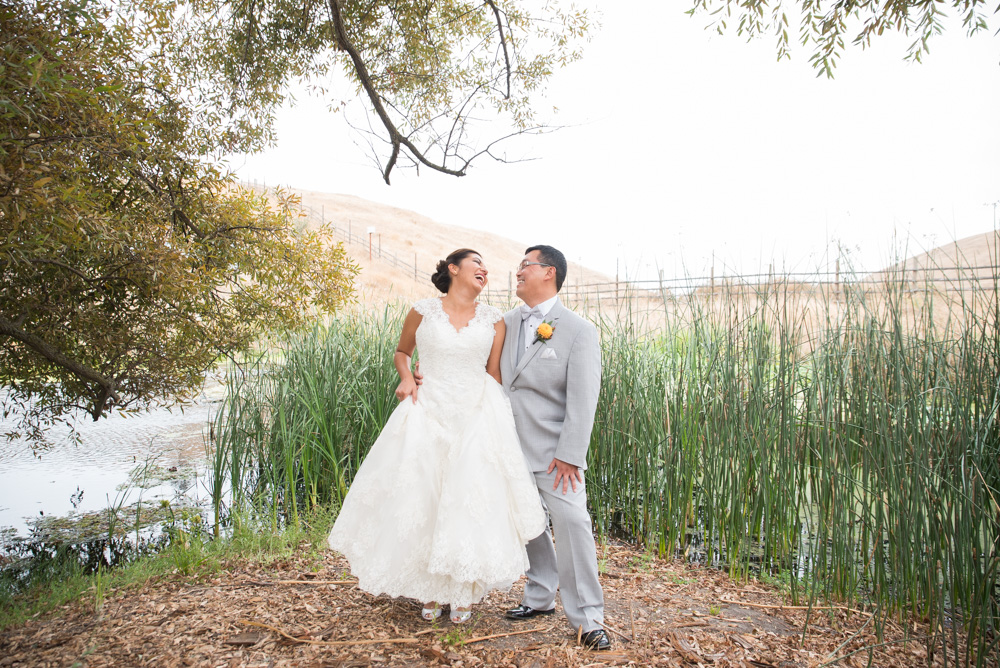 my assistant Kelsey and the venue coordinators were busy getting everything ready for dinner in the tent: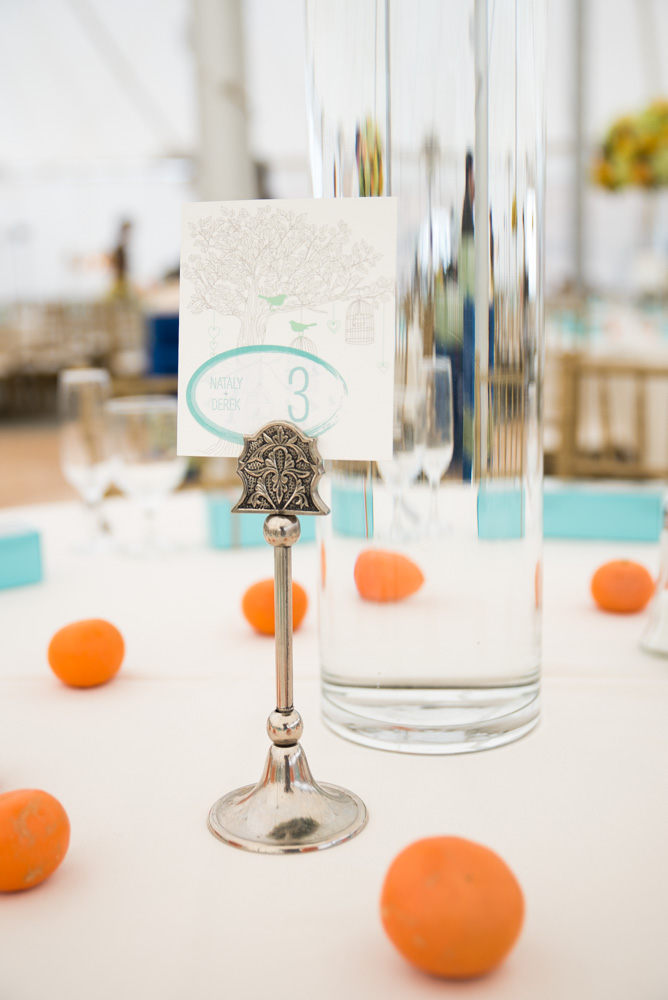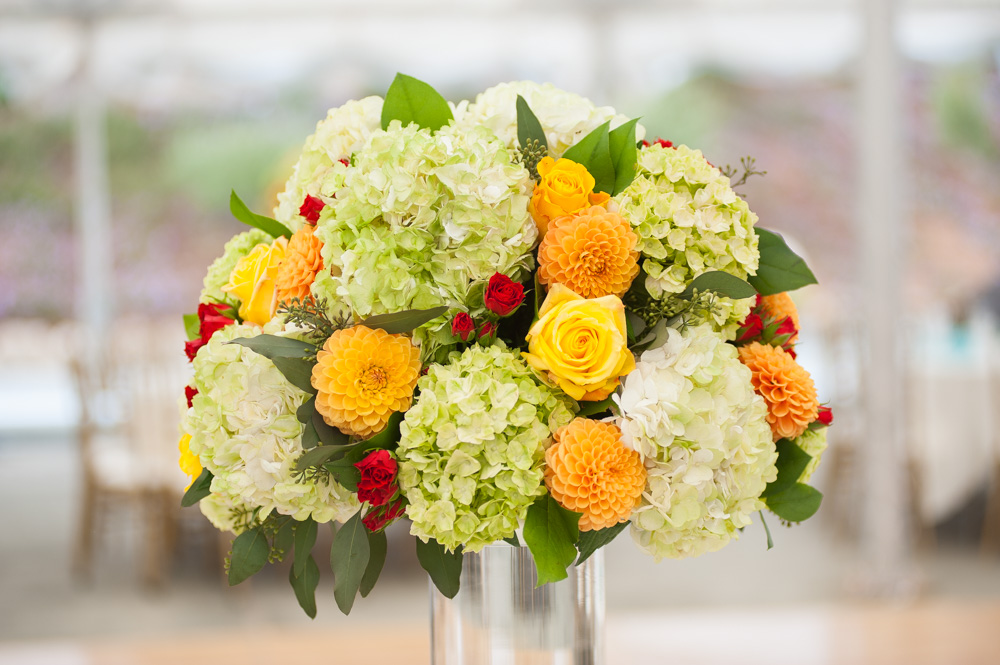 … where guests were treated, among other things, to a traditional Chinese roast pig (a contribution from Derek's Dad) and to live Bolivian traditional songs by the authentic Bolivian band Kumara – again a nod to the bride's heritage (plus, her cousin Gonzalo plays the charango and guitar in the band!) It was fascinating to see how these two diverse cultural backgrounds seamlessly merged into one warm and joyful celebration! Including the cake from Margaret's French Bakery, of course, dressed up for the occasion –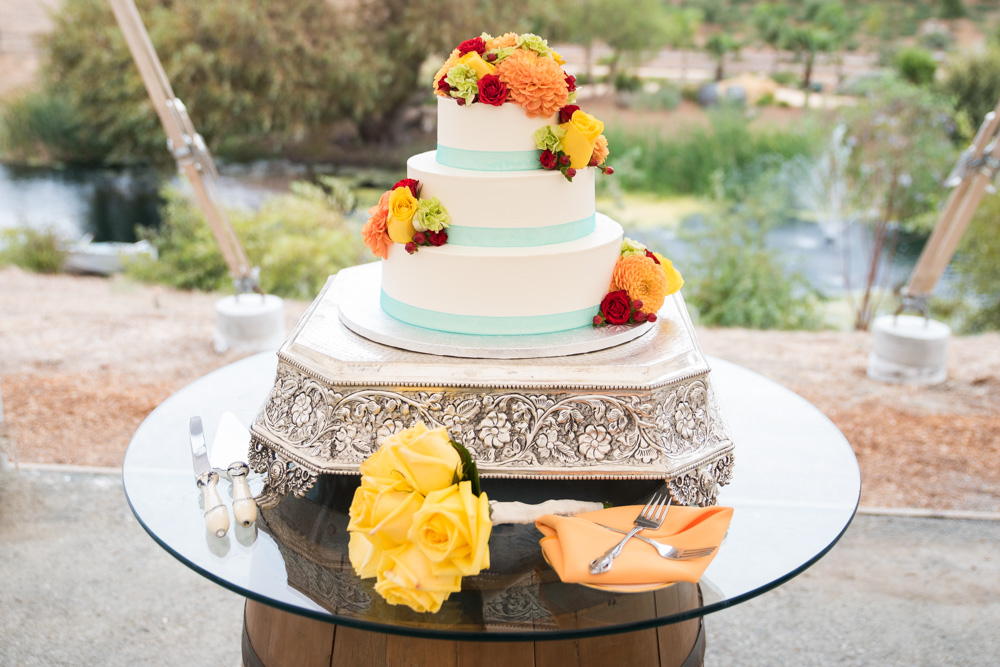 – which was accompanied by the couple's other favorite dessert: Smitten's ice cream! (Tcho chocolate was my all-time favorite flavor…). Everyone was having a great time –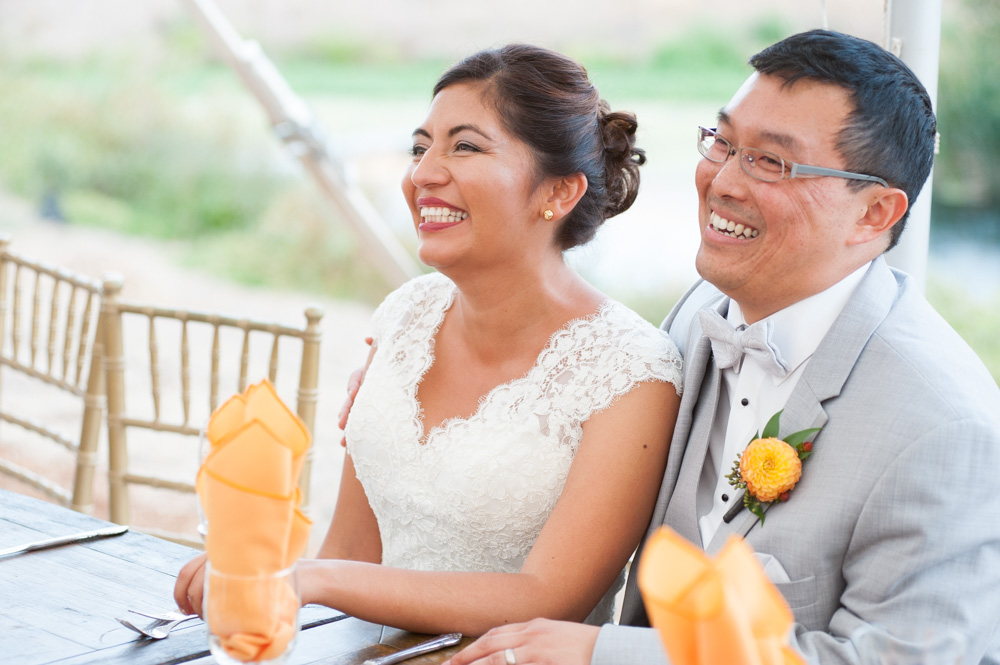 … among other things, with Night Owl Photo Booth. The evening continued with dancing to the music of DJ Steve McDowell of Fantasy Sound, and as darkness fell, myriad string lights and chandeliers in the tent turned the scene downright magical…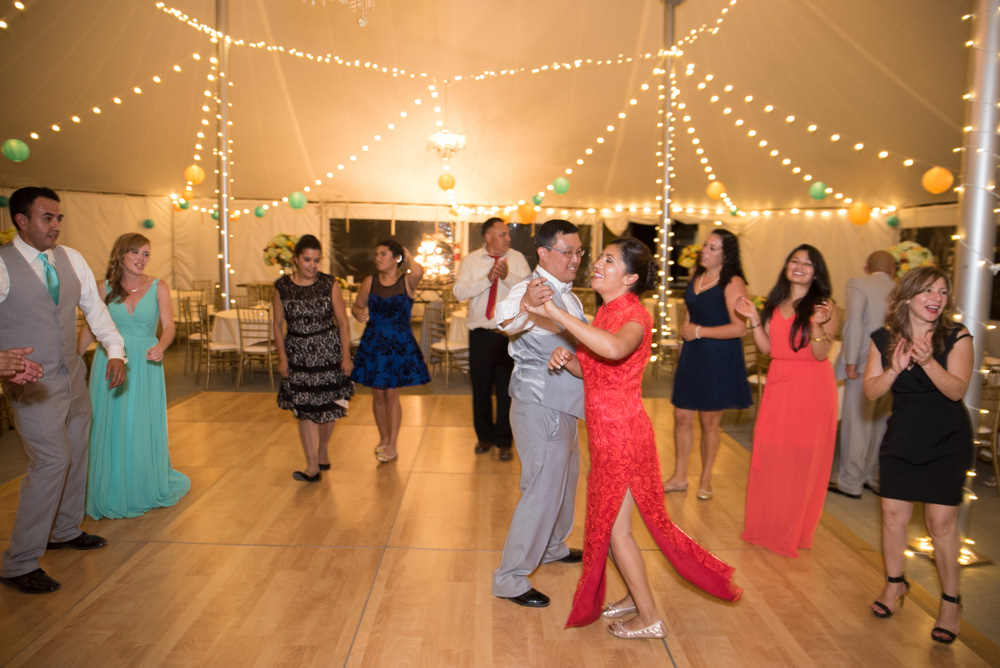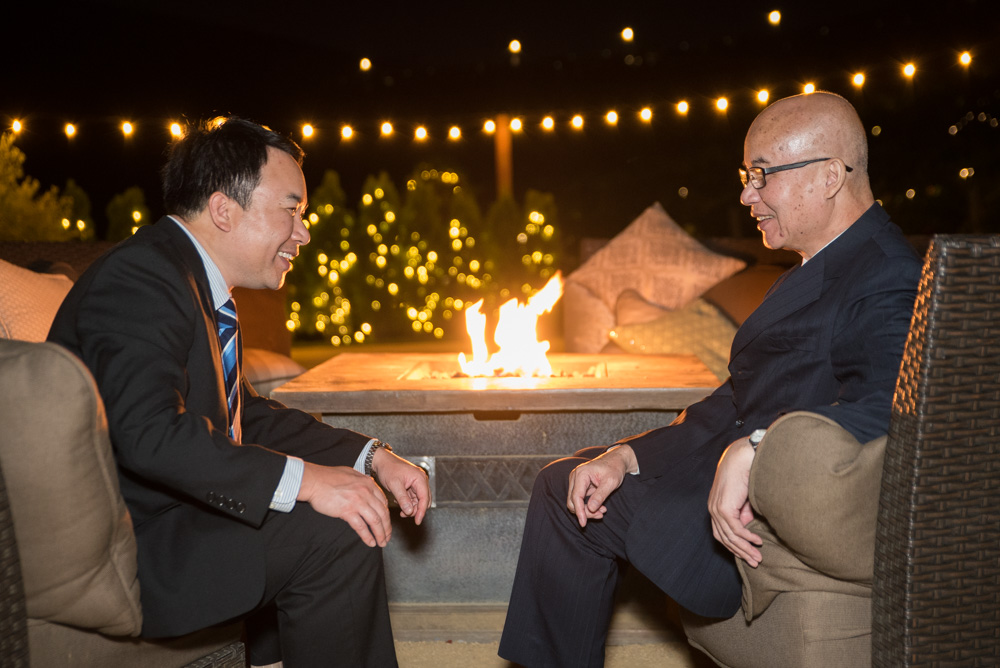 And my favorite photo? Here it is: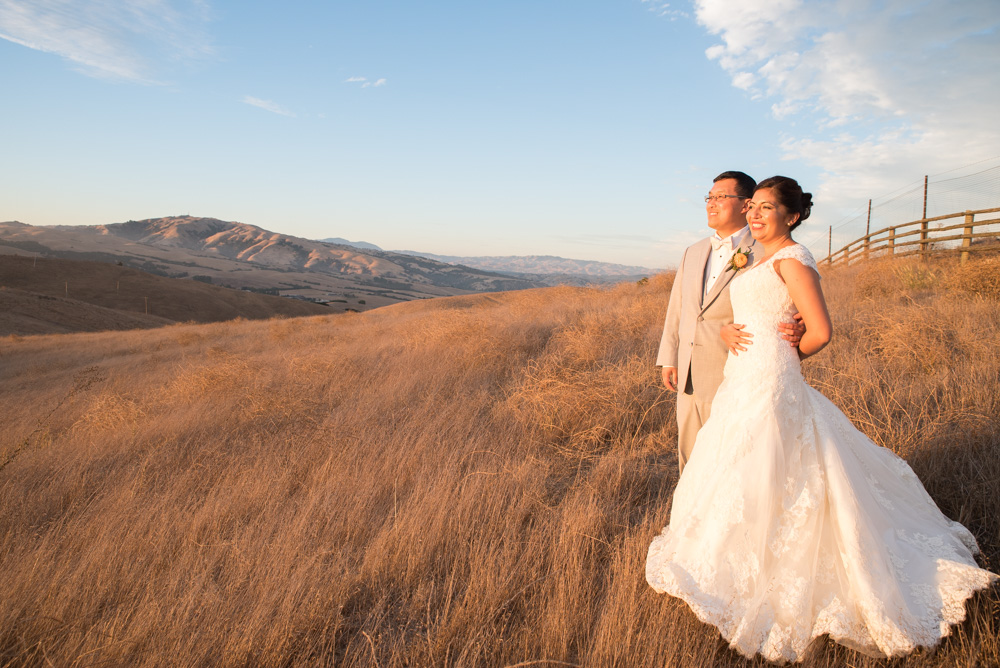 "Love does not mean looking into each other's eyes all the time, but looking in the same direction."
Next destination for the two: Italy! Have a fabulous Honeymoon, and Arrivederci!