Nicole and Rob are two highly trained, super-organized, super busy young professionals, Nicole a scientist completing her PhD, and Rob an engineer. Getting married was something they approached with their usual efficiency. Venue? A community center at walking distance from home. Priorities? Friends, family, fun. Deprioritized: fuss and frills!
Nicole approached my company, A Day Like No Other, mainly to pull all her ideas and planning details together and to oversee the wedding day itself – which we did. As is common with weddings, we found quite a few more things to work on in preparation for the Great Day.
Nicole's and Rob's wedding would become so very special through the many personal touches – friends and family contributing and planning surprises, for example – and that started way ahead of time: for her wedding dress, Nicole chose her mother's – both of them are tall and slender, and with some modernizing and streamlining (the bottom ruffles had to go…) this storied dress turned out perfect for a modern young bride: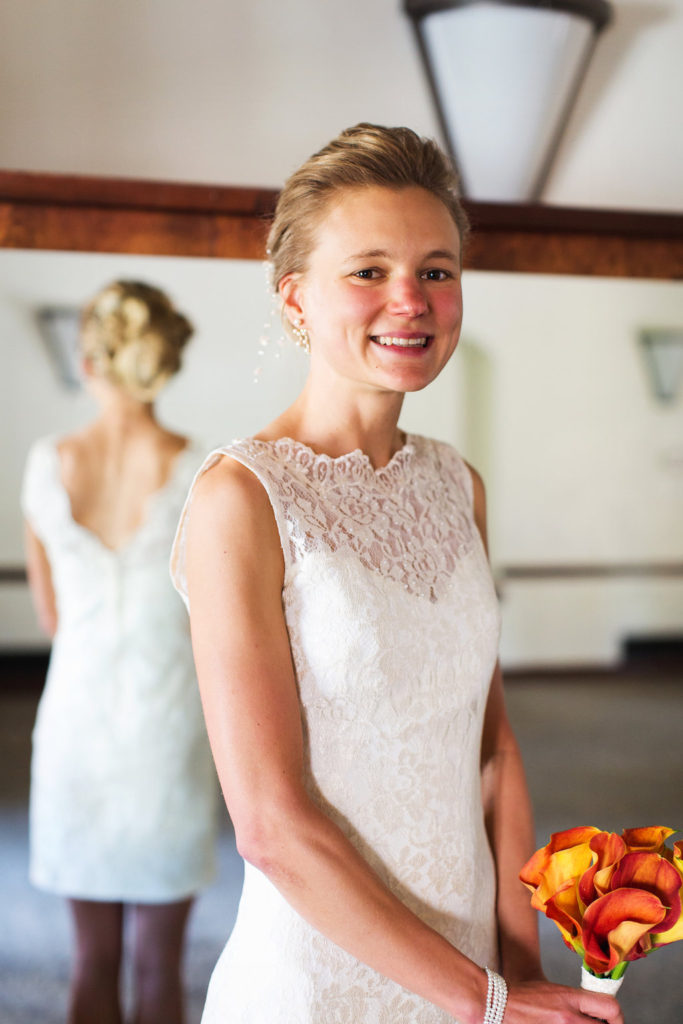 Short and sweet – no veil; just a pretty, sparkly headpiece tucked into the bride's simple updo – no make-up… well, she doesn't even need any, as pretty as she is!
Getting ready at home…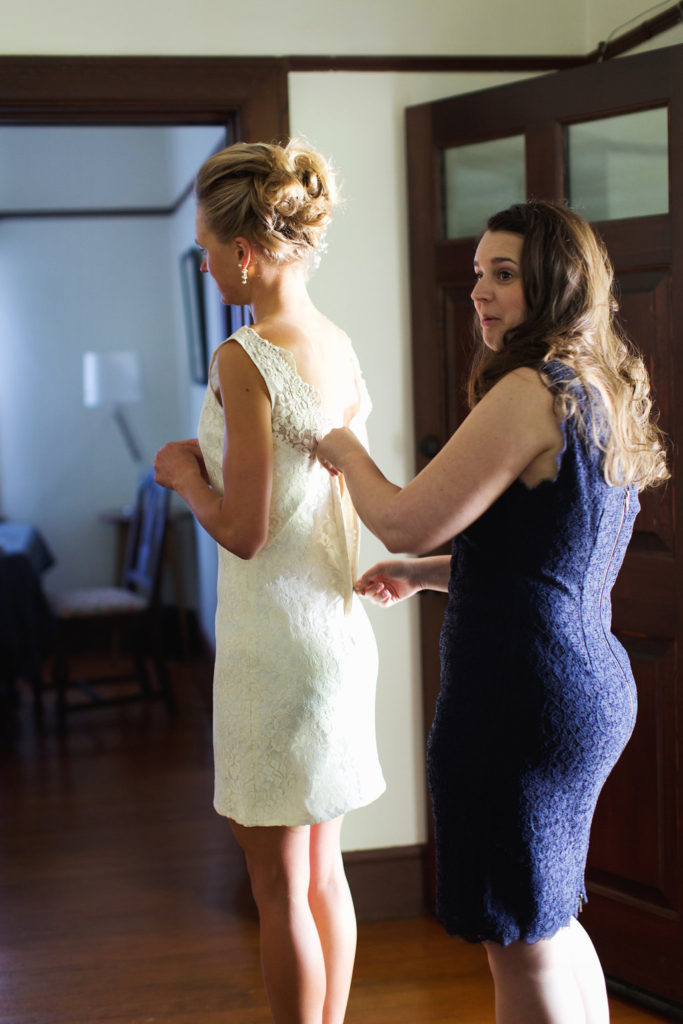 … with her bridesmaids helping – they all deserve a toast! (As does our tireless photographer, Megan Reeves, who captured every precious moment…)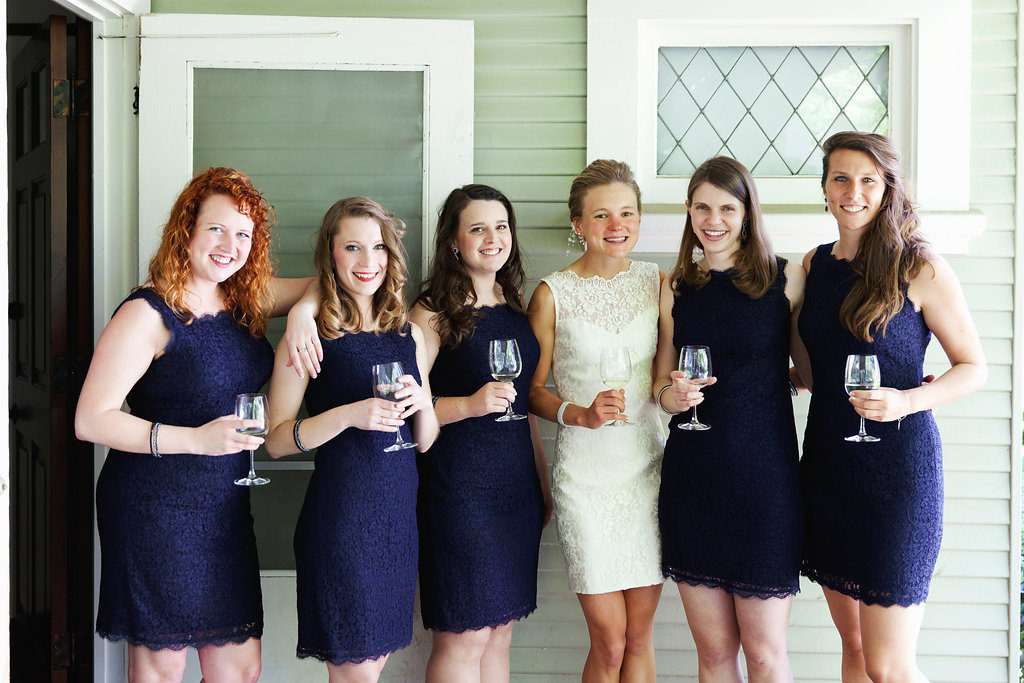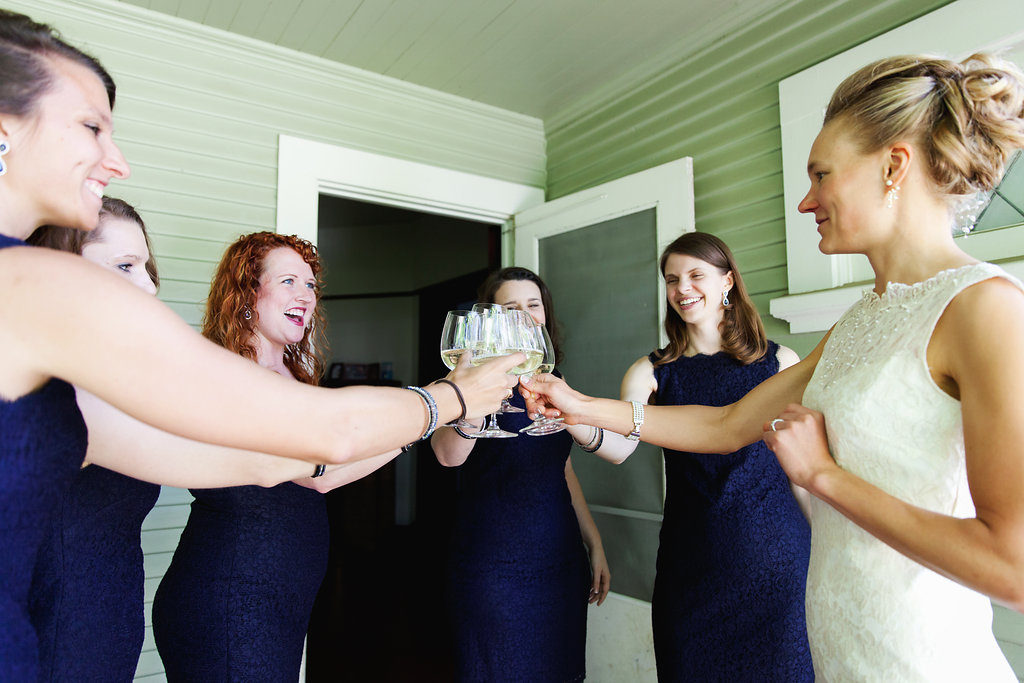 Beautiful bouquets of Calla lilies in vibrant orange from Nature's Alley (who delivered all floral decor for the wedding) complemented the beauty and upbeat spirit of these young ladies: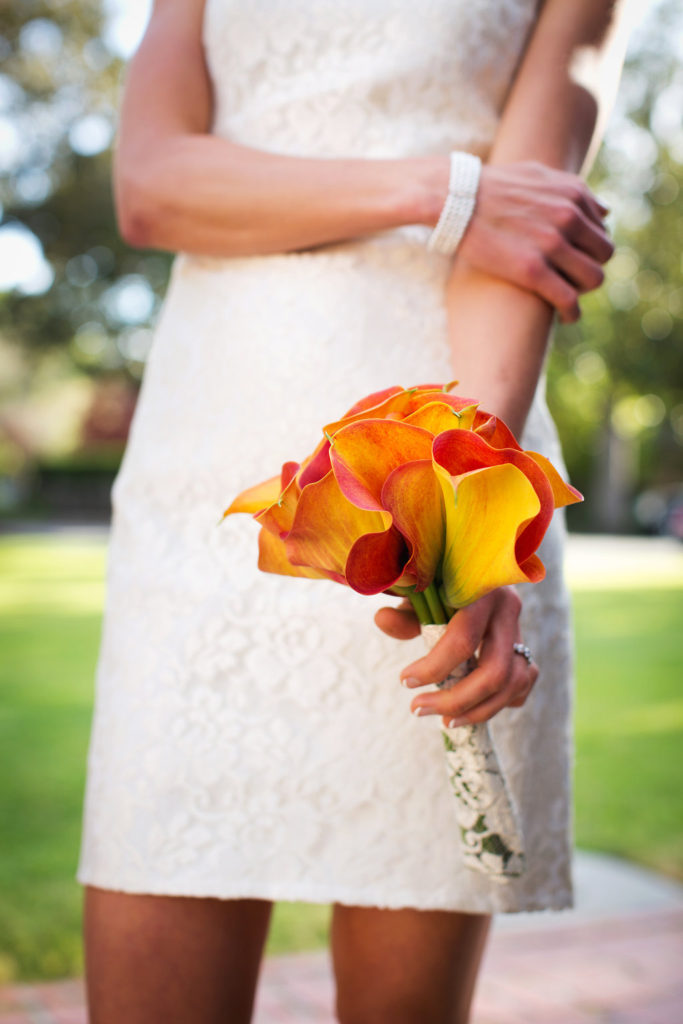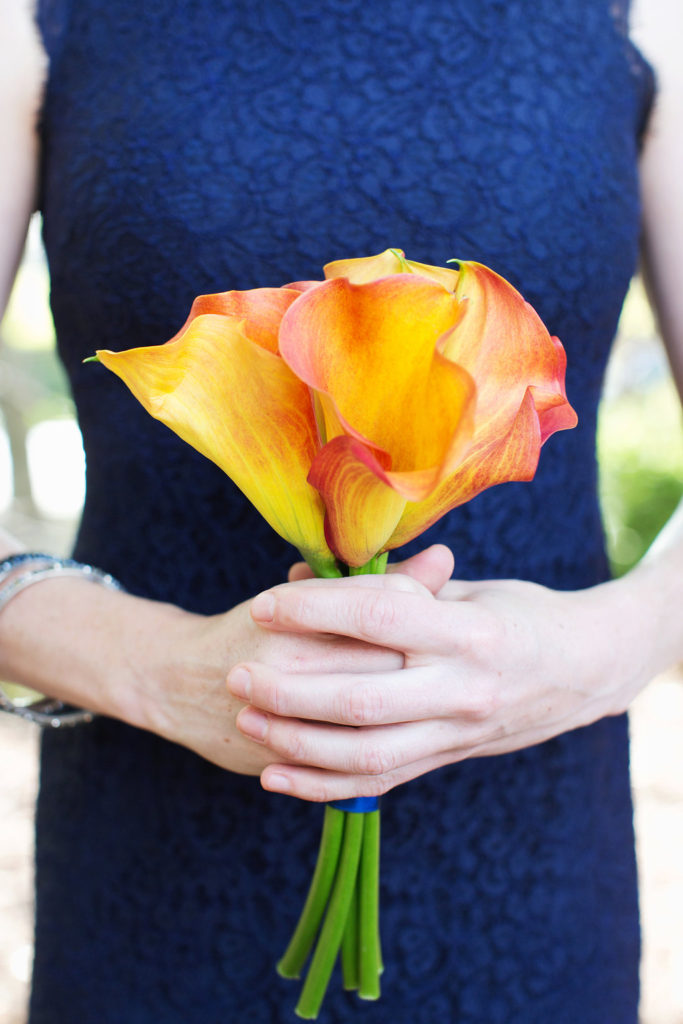 The groom and his groomsmen were also getting ready …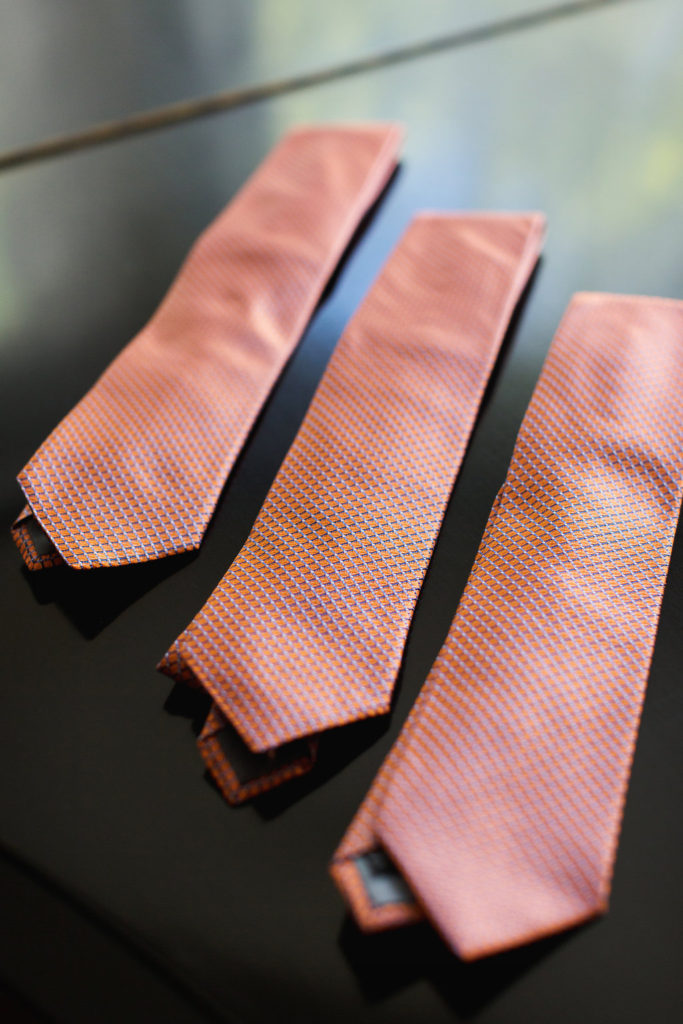 … donning matching neckties…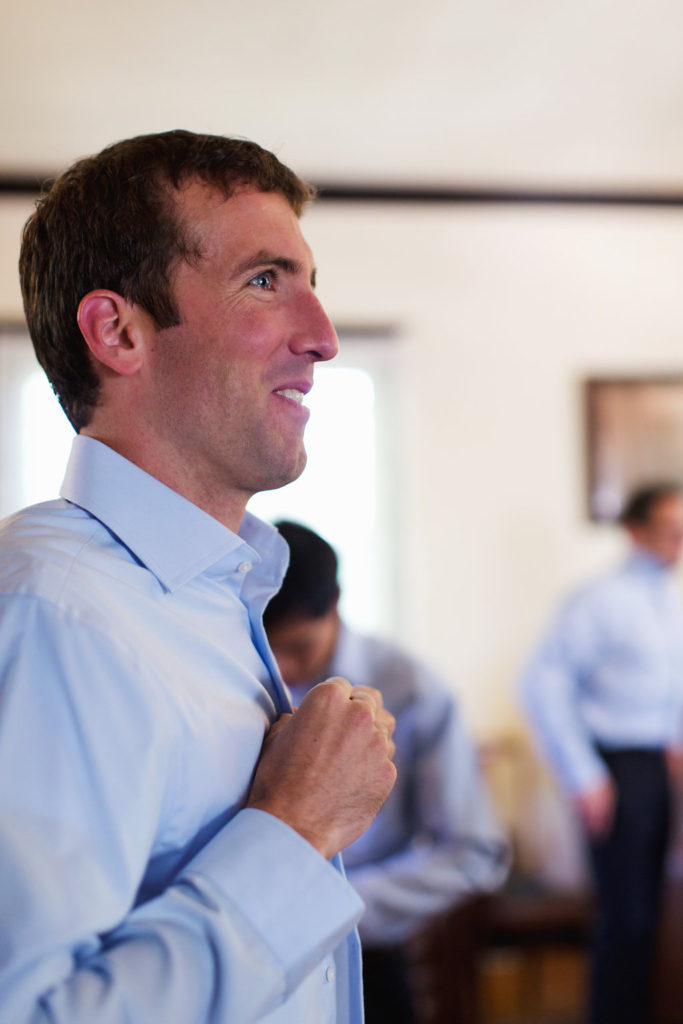 … and now everyone is ready for the First Look at their wedding venue, the Lucie Stern Community Center – a beautiful Spanish-Mediterranean complex set amid a lush park: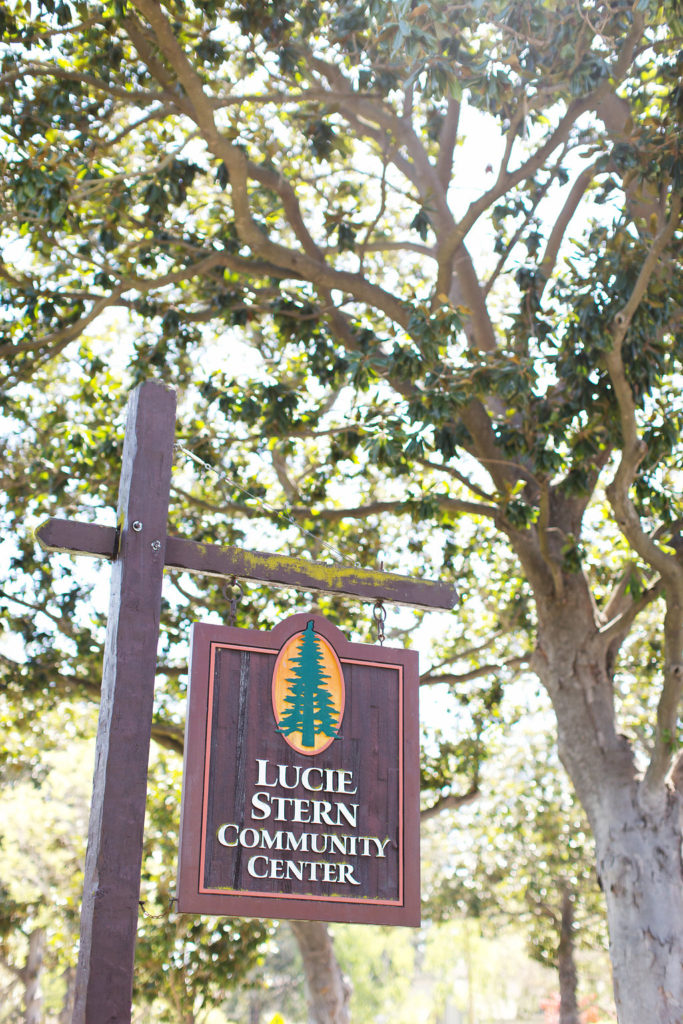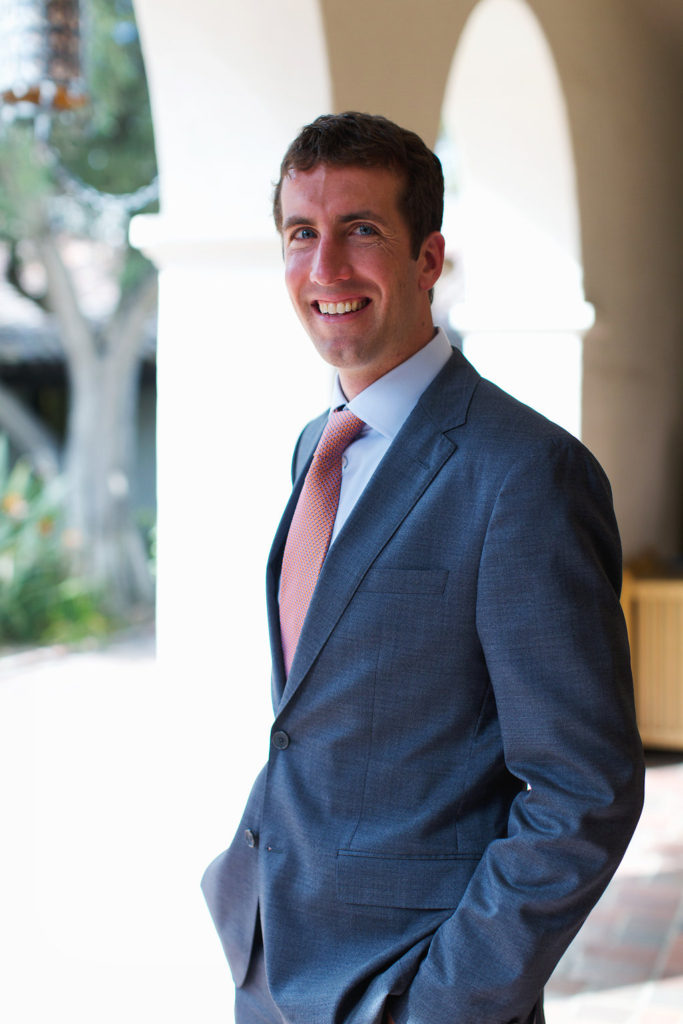 Waiting for his bride – and here she approaches: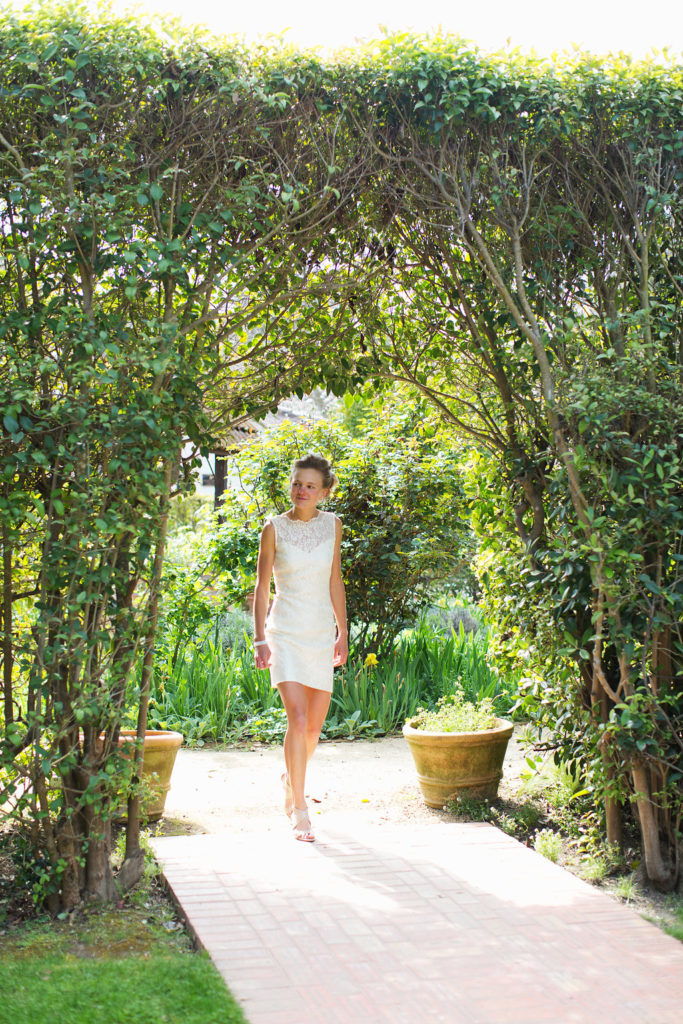 As was to be expected, Rob was completely blown away by Nicole's youthful beauty: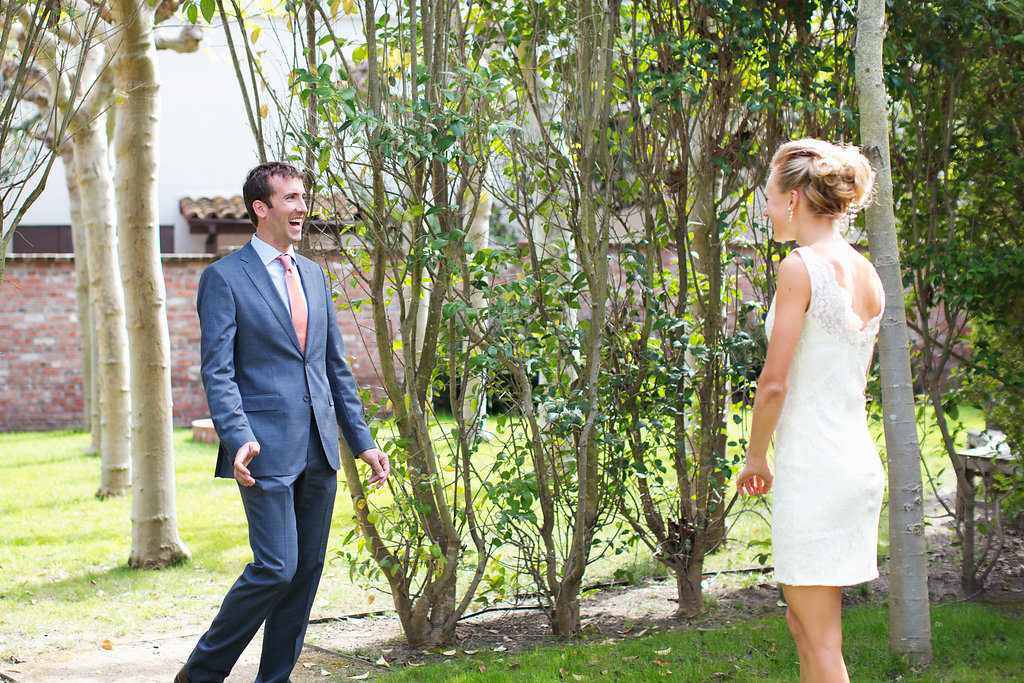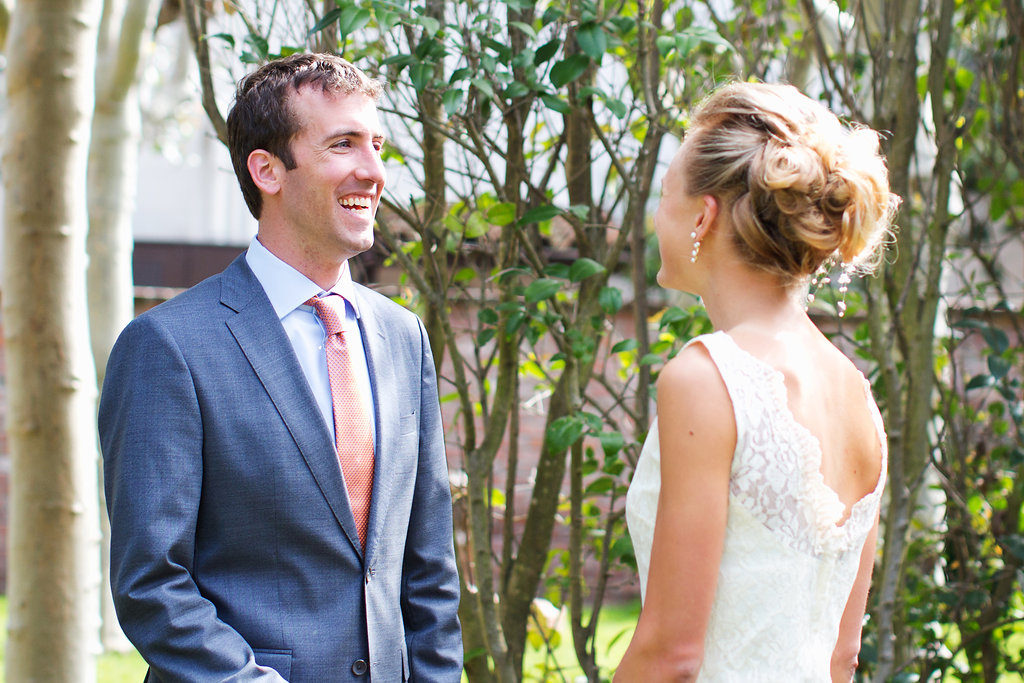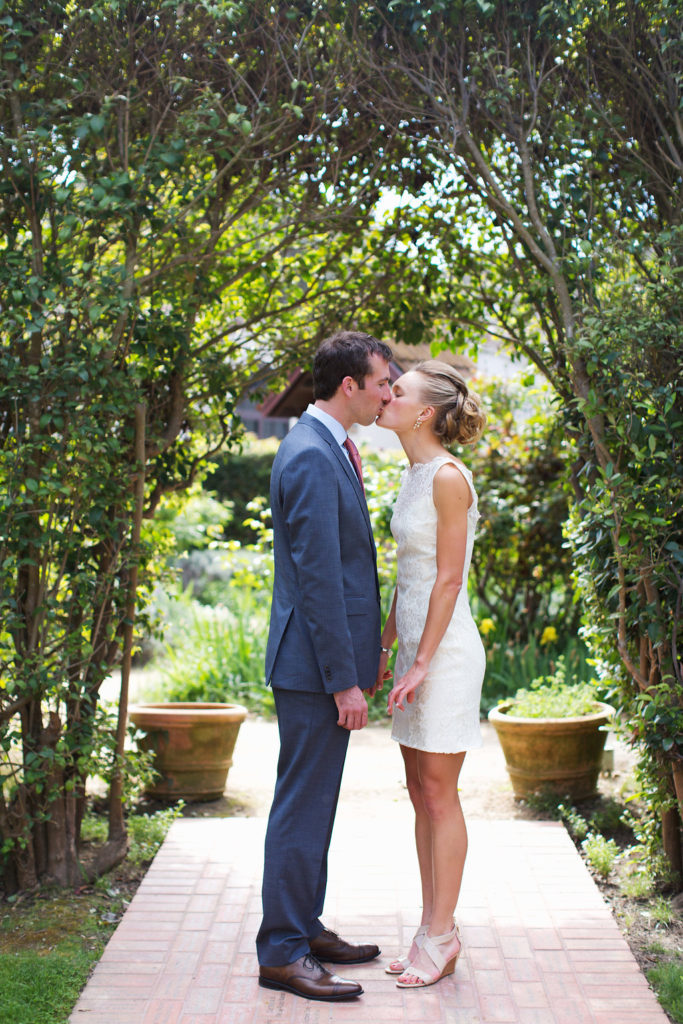 Time for photos! Bridesmaids, groomsmen, family…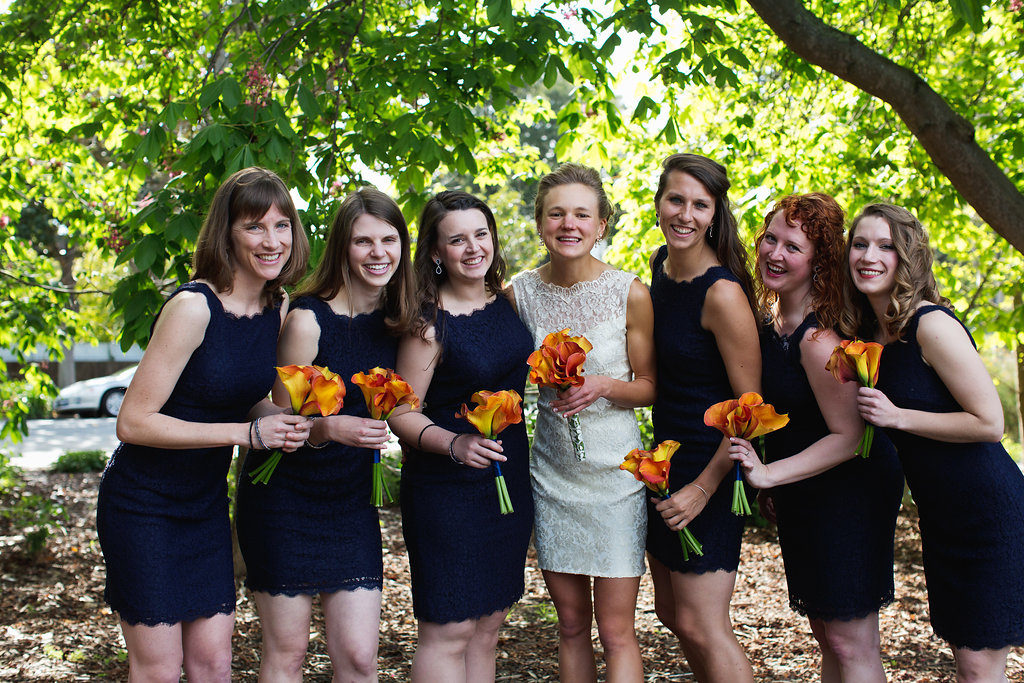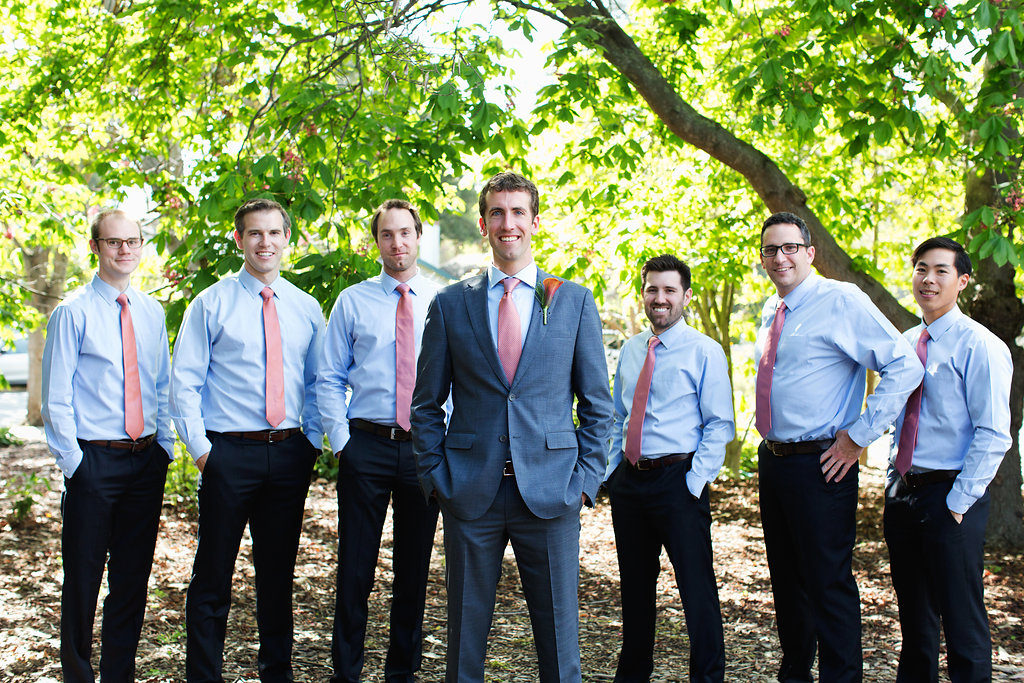 … and the groom with his Best Man – who would share many a funny story of their long friendship later that day.
Guests were already gathering,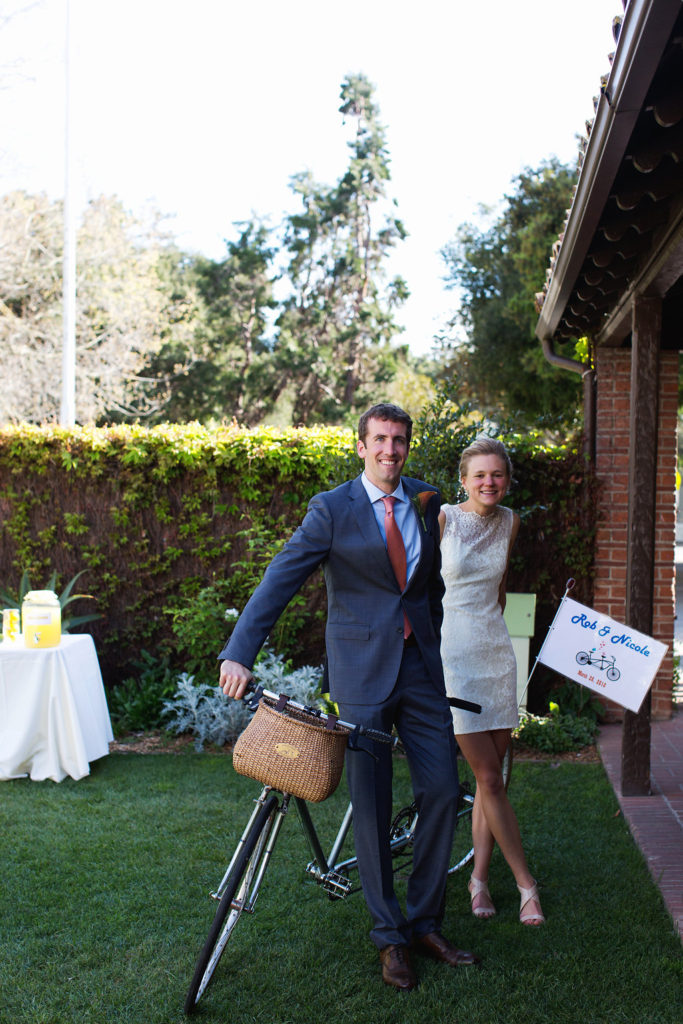 … welcomed with the homemade Meyer lemonade provided by a friend (and insiders got the hint…)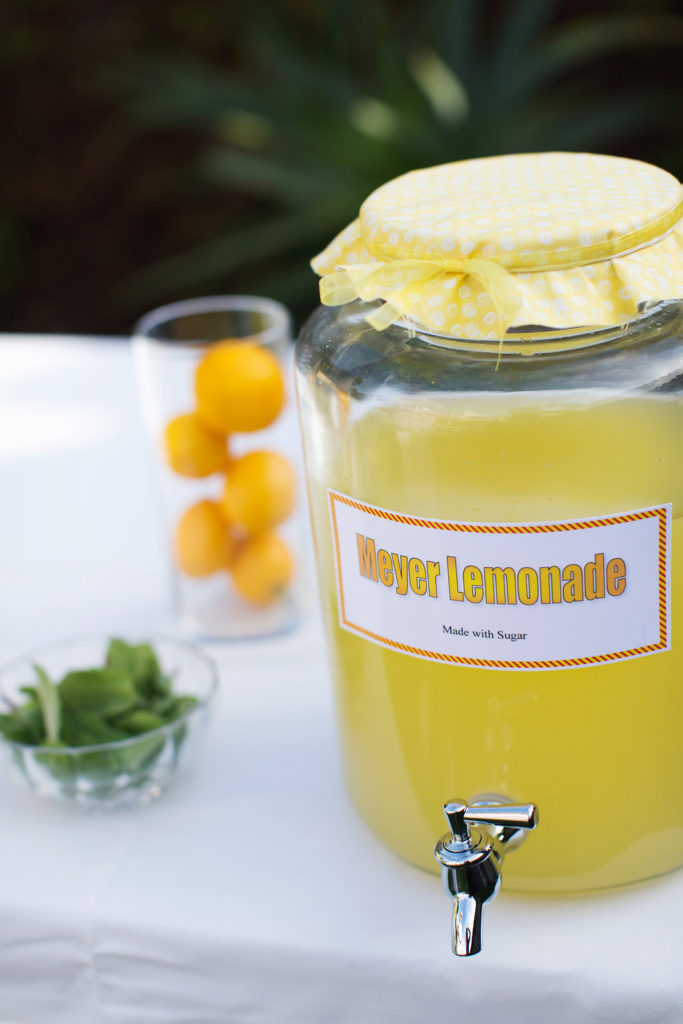 … in the courtyard where the ceremony was going to take place –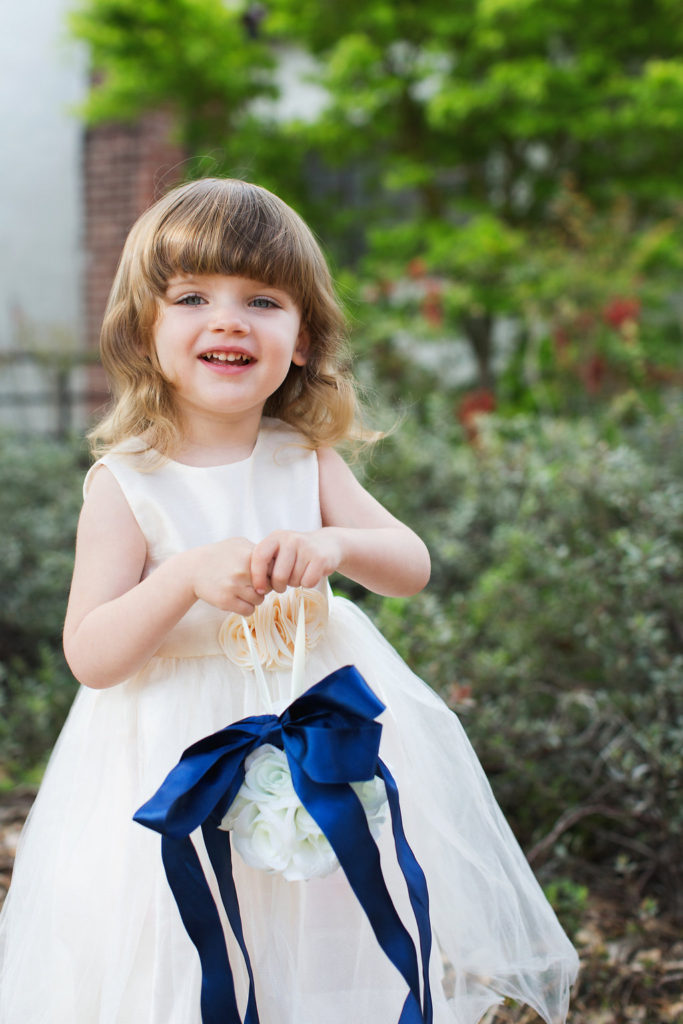 Preceded by a very excited flower girl – Here Comes the Bride, accompanied by music from DJ Jeremy Productions (who provided music and entertainment throughout)…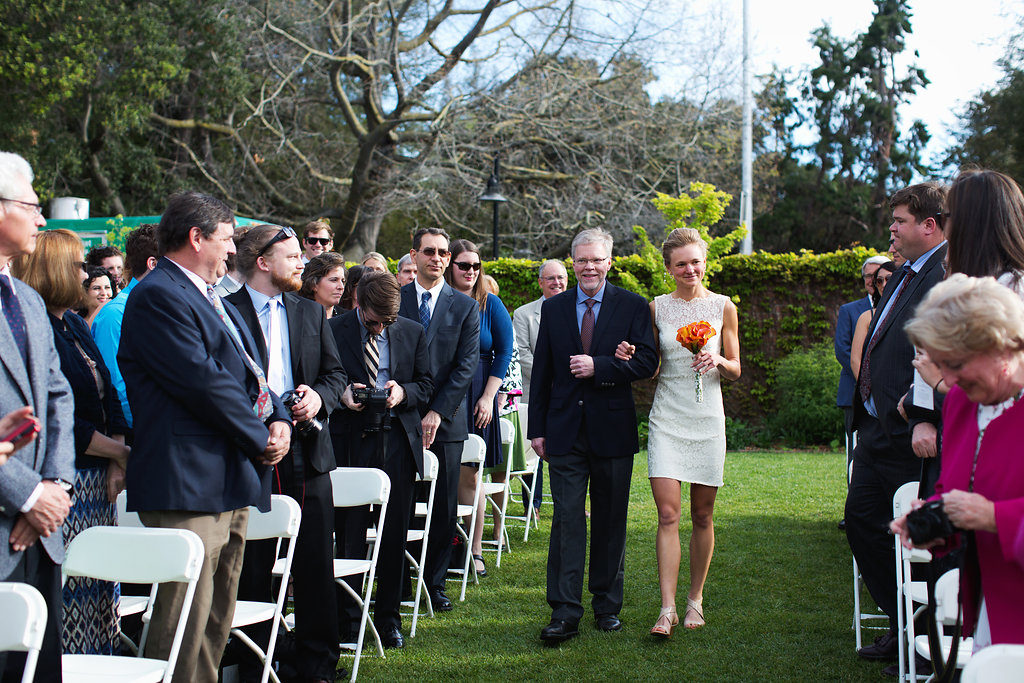 The ceremony was officiated by a longtime friend of the couple, an ordained minister. It doesn't get more personal and more meaningful than that!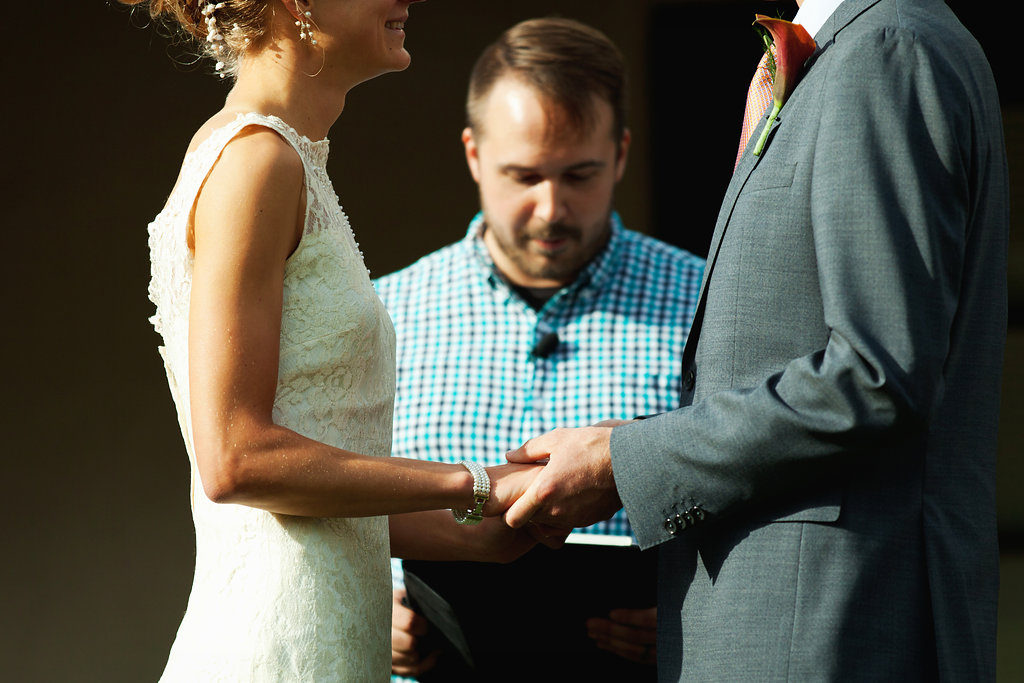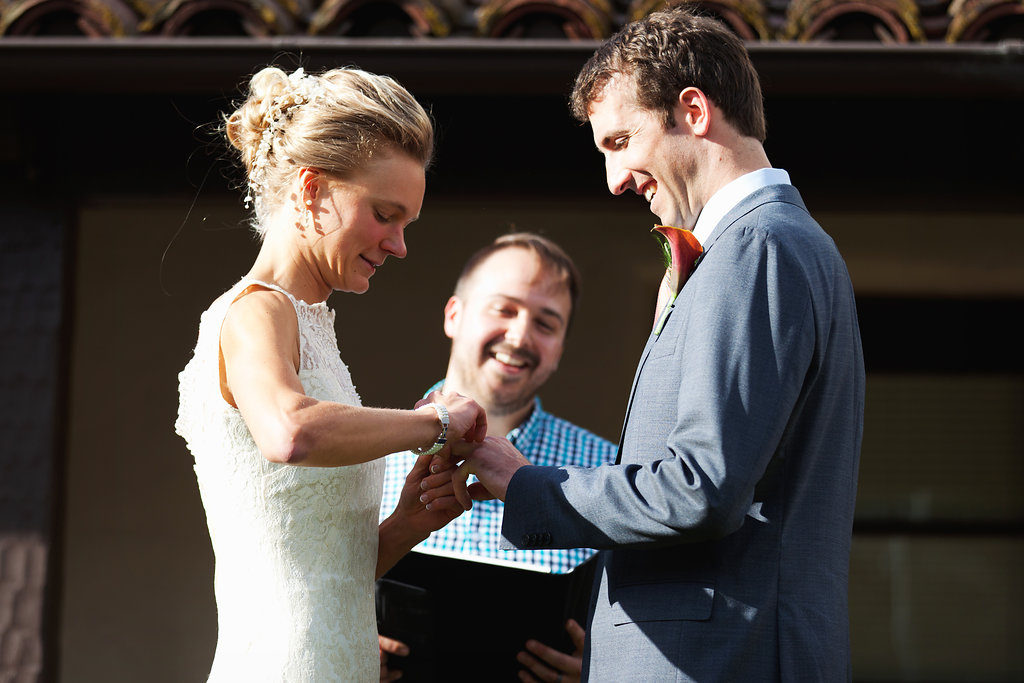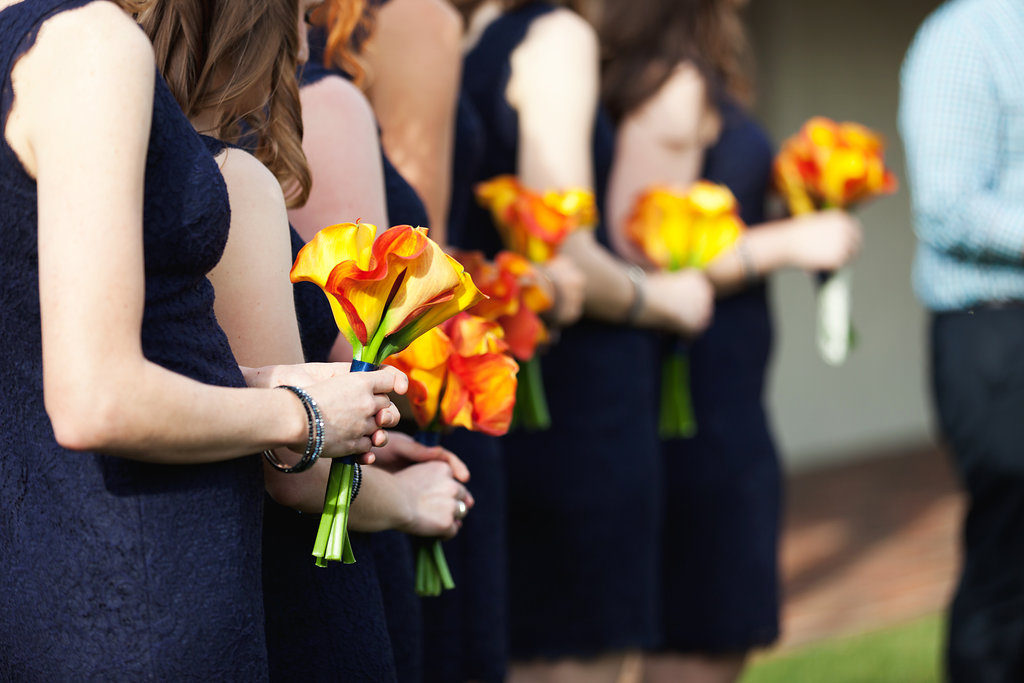 Just married!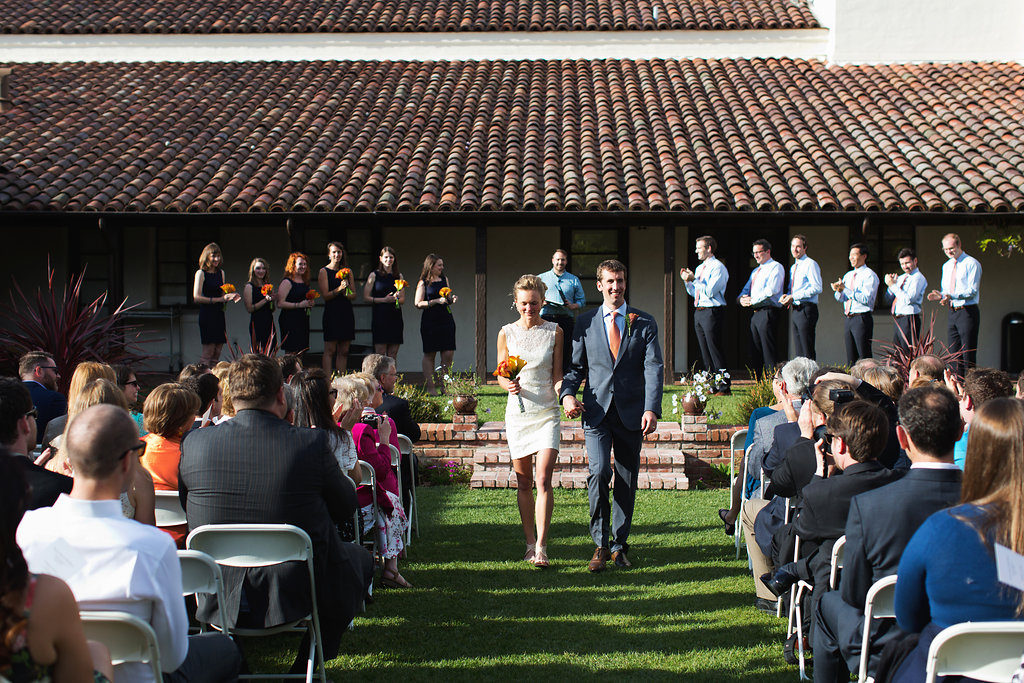 … and definitely time to party and share cocktails with their many guests, provided by Mills Wine Group and expertly poured by Pour Girl Bartenders. And of course everyone had a blast with the photo booth by Photomatica! One very important guest, however, had been missing so far: the couple's beloved Viszla puppy "Pepper."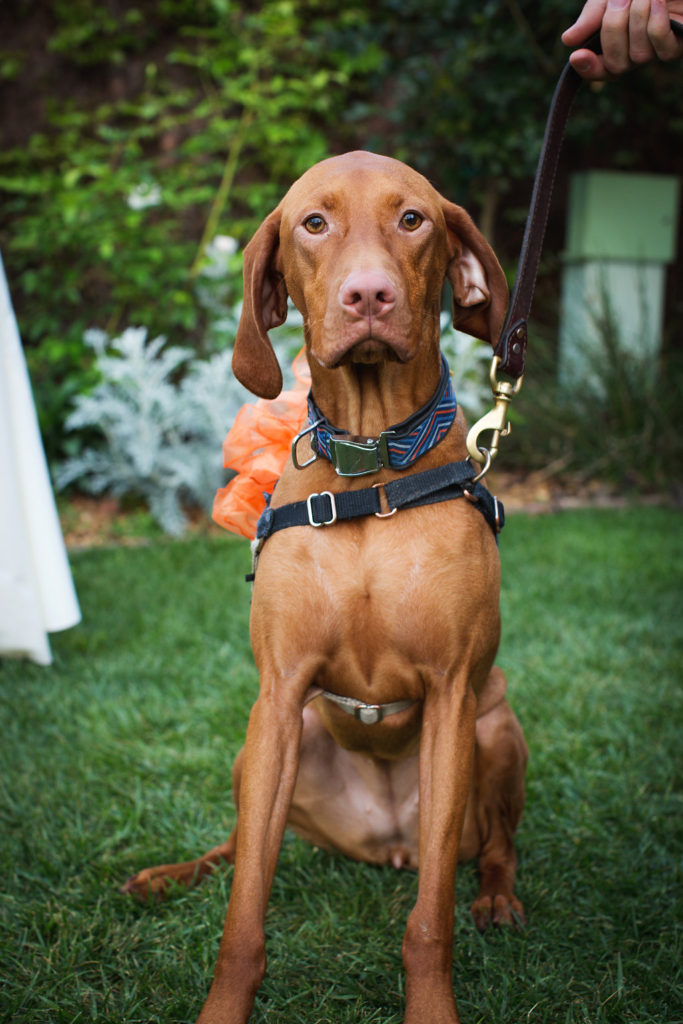 To the big surprise of the newlyweds, a neighbor brought her for a cameo appearance (a carefully orchestrated "grand conspiracy" in which we, the planners, also had a hand…)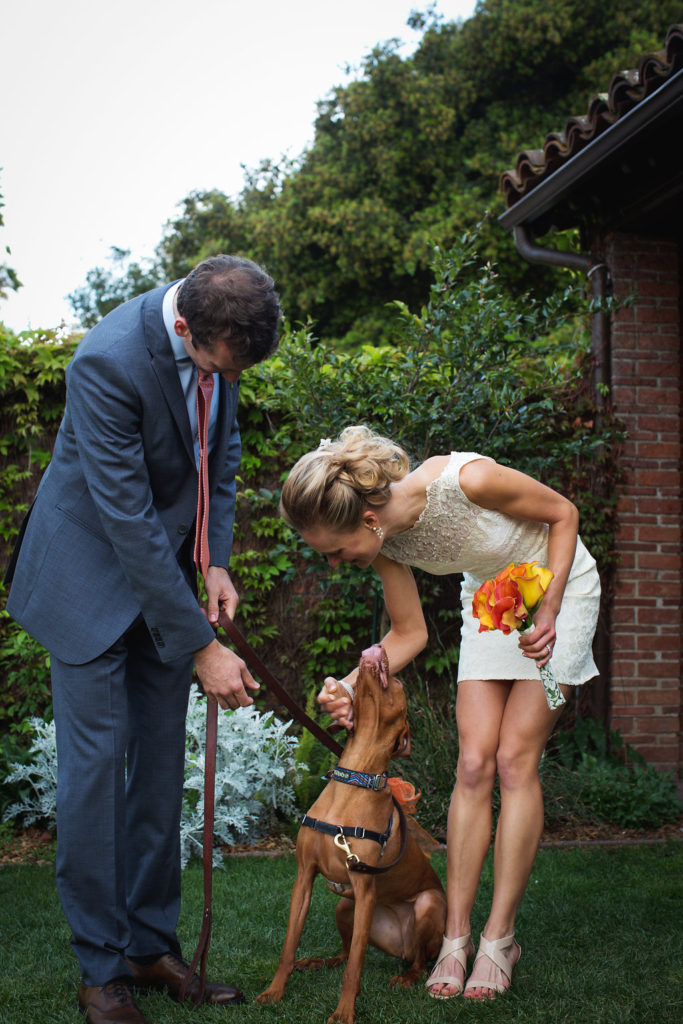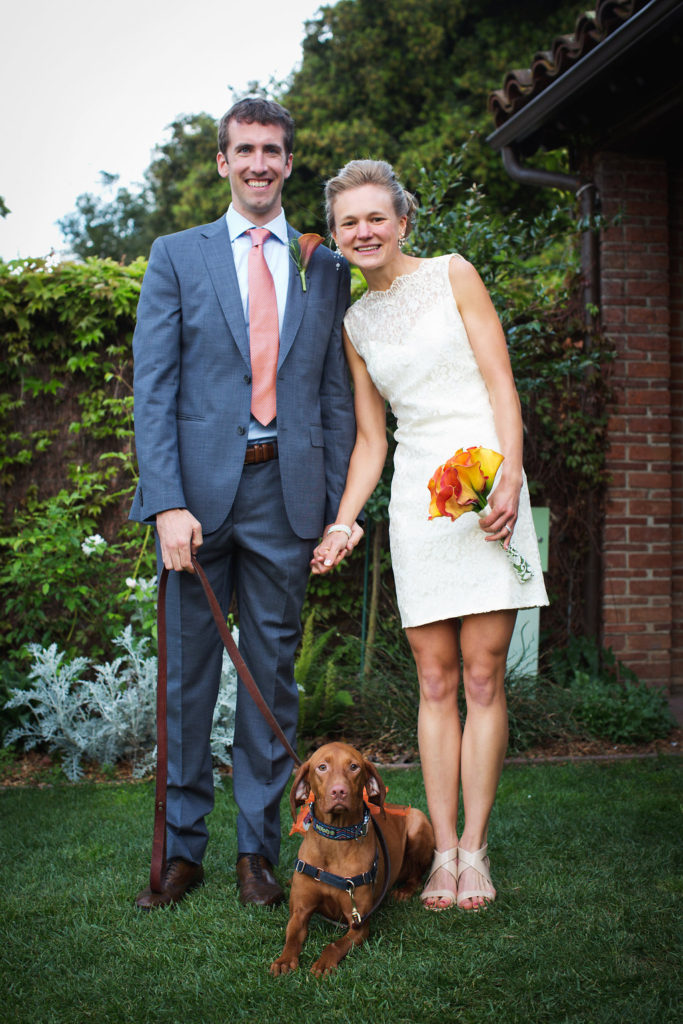 So… is THIS the official wedding photo? Or the next one?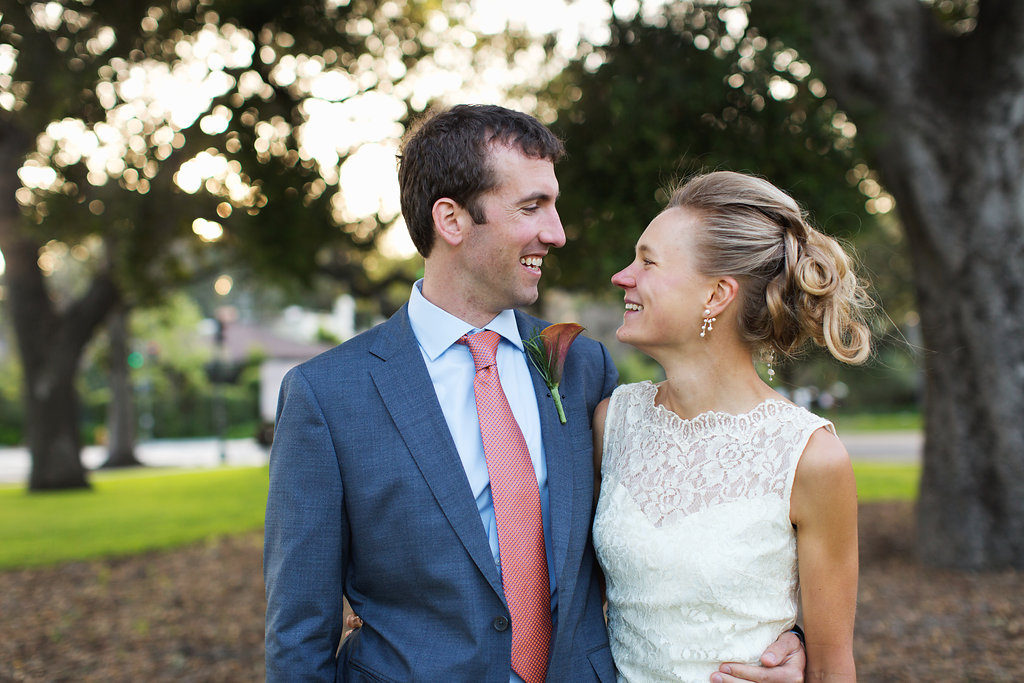 Soon enough, dinner was ready in the ballroom decked out with string lights: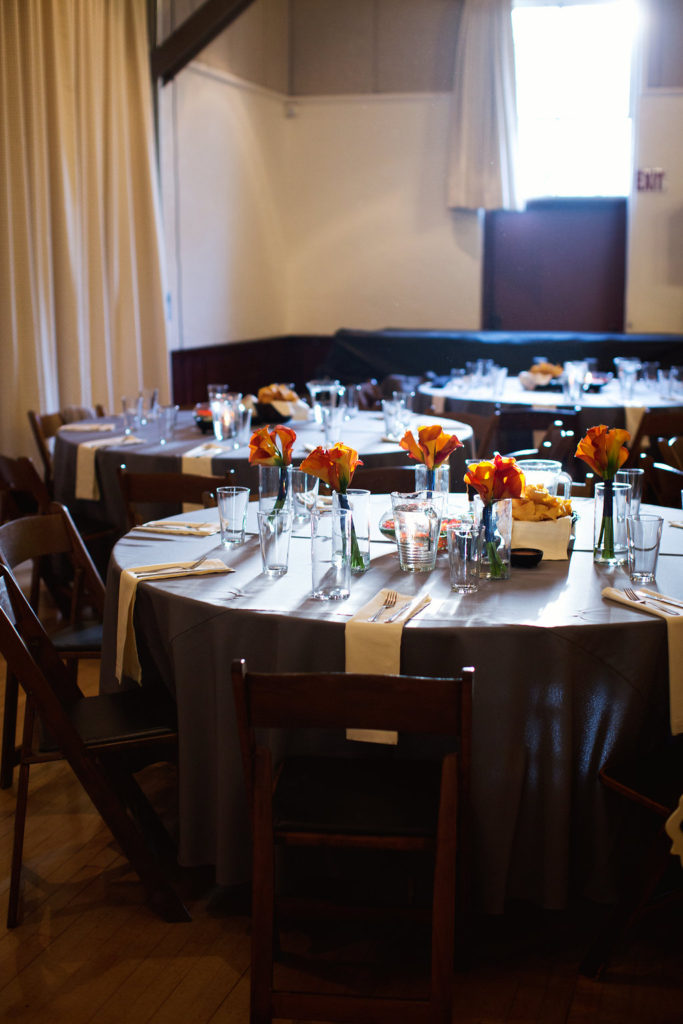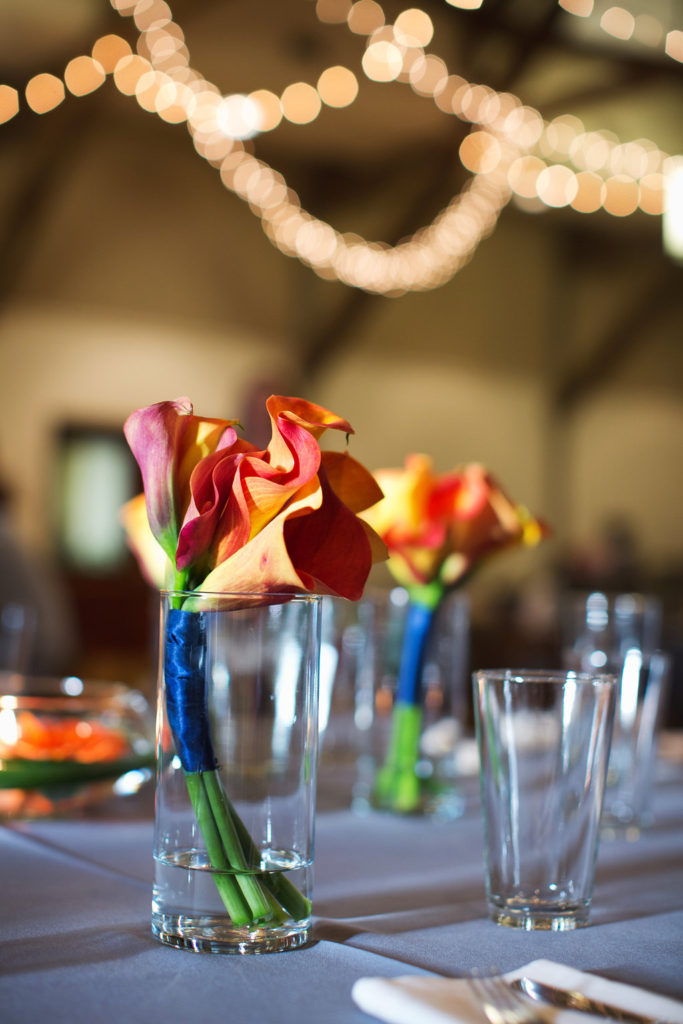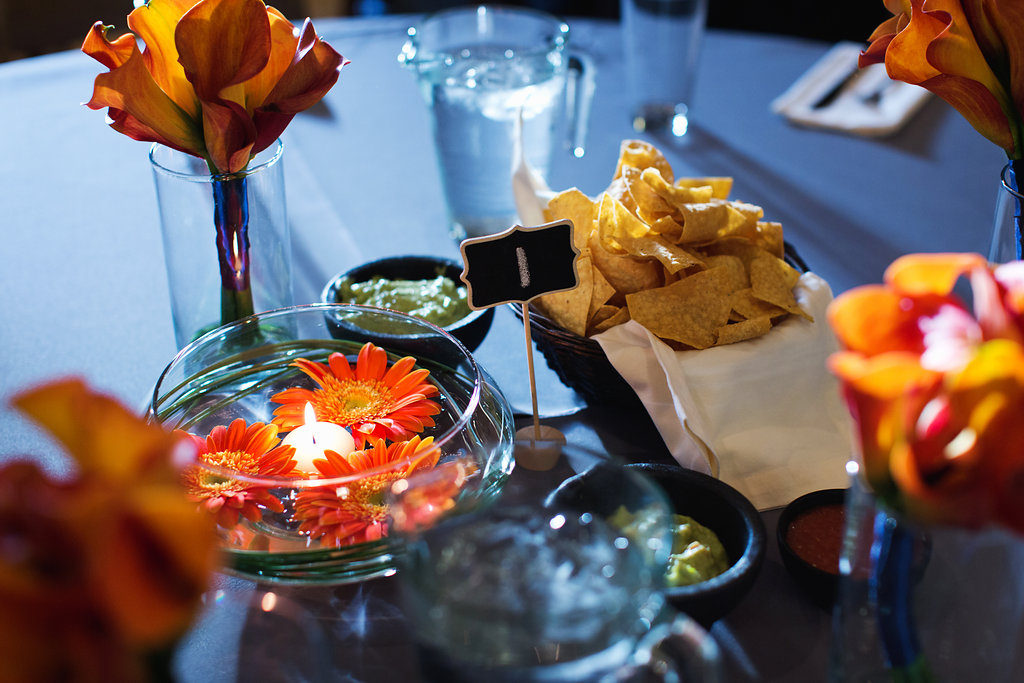 From centerpieces of floating flowerheads and candles to coffee mugs: everything played along the couple's wedding colors of blue and orange.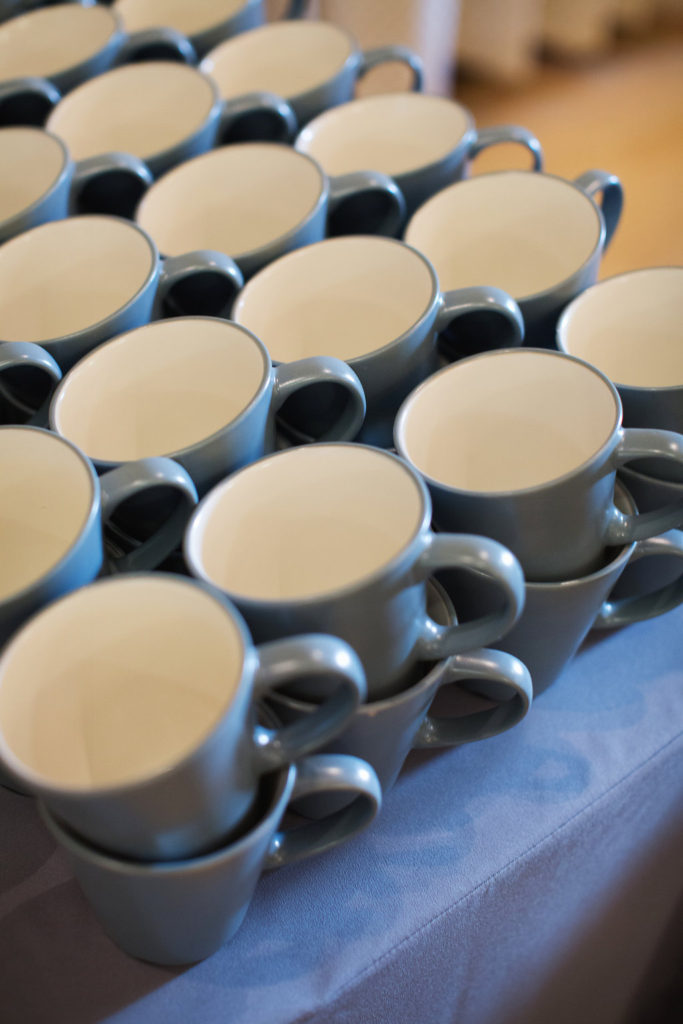 Dinner was a rustic taco bar buffet from Prochaine Oaxacan Kitchen,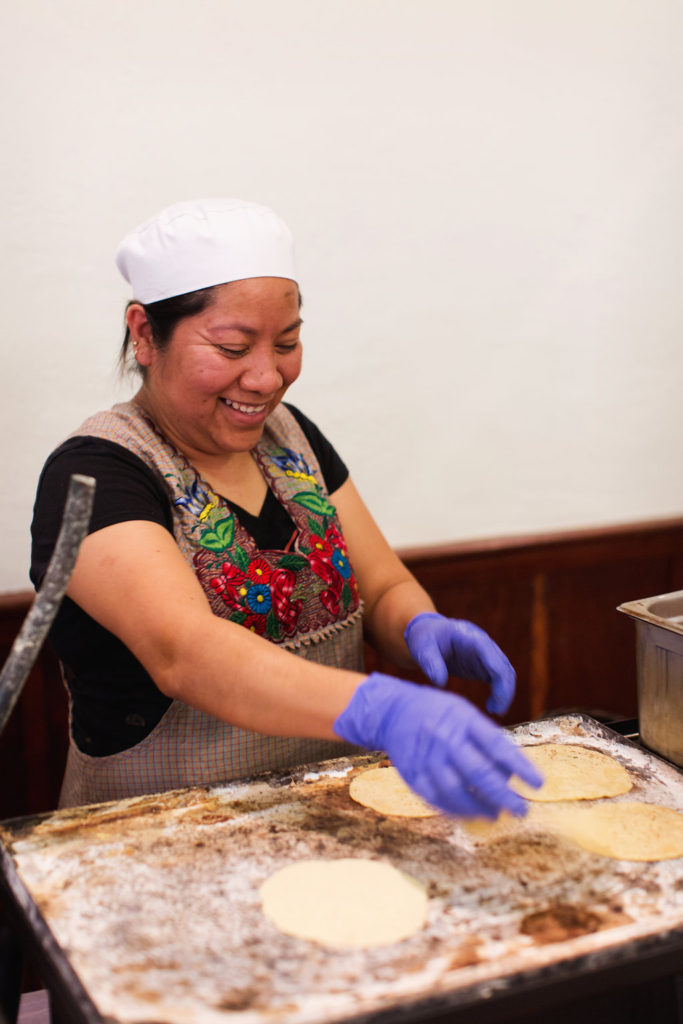 and everyone was digging in, barely leaving a little space for dessert – THE CAKE (from The Prolific Oven)! In this case, a yummy carrot cake with a personalized topper: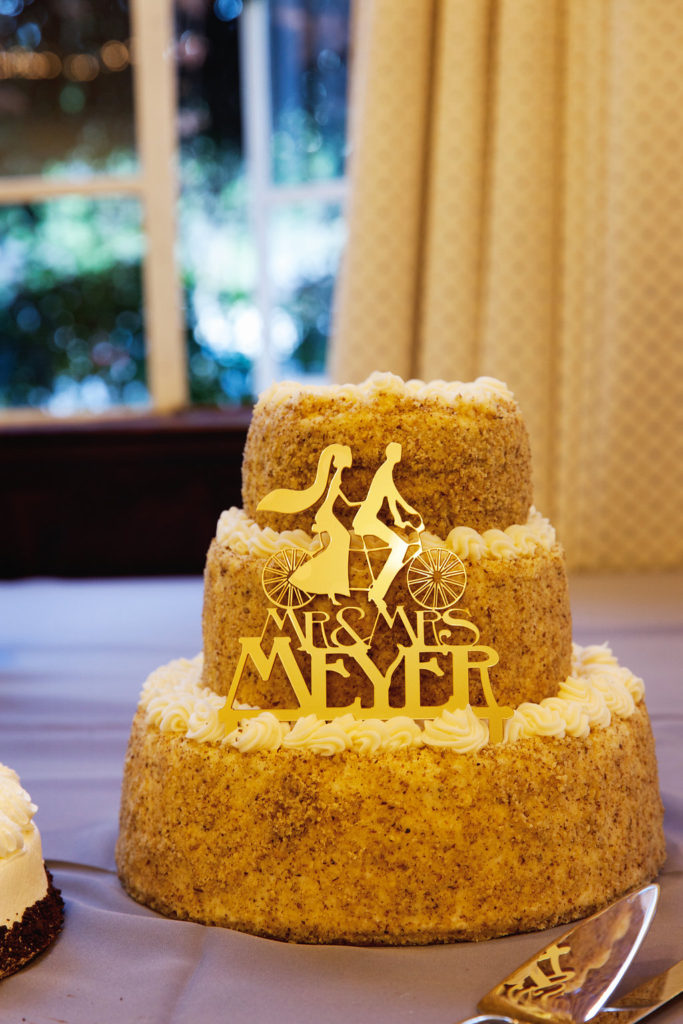 Honoring tradition, the newlyweds cut the cake together – officially their first collaboration as a married couple: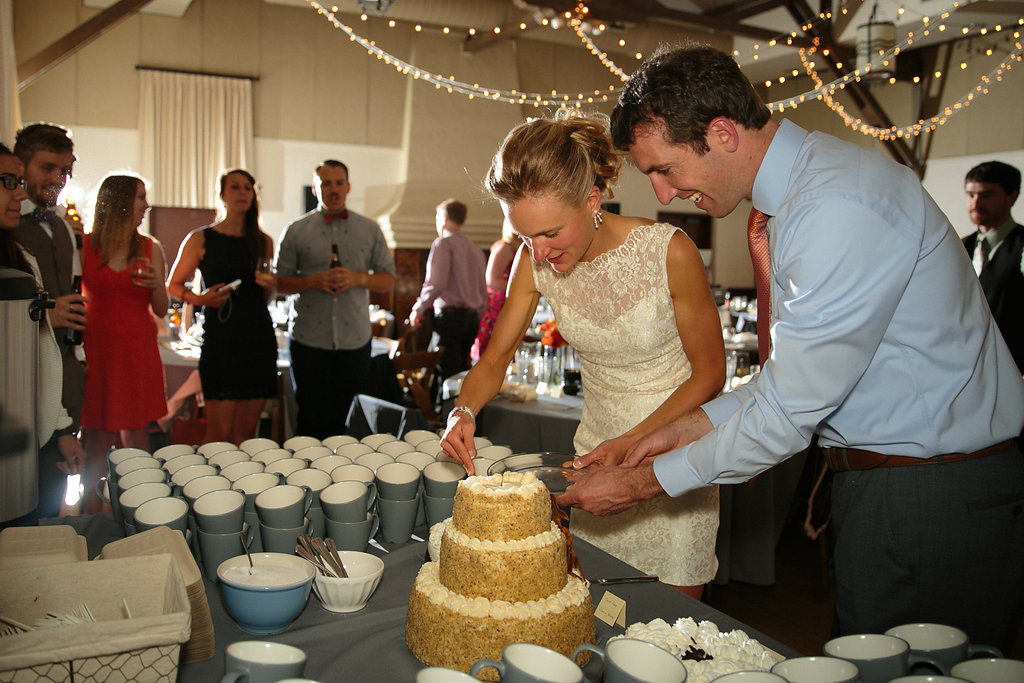 With more cakes in various flavors to choose from – everybody's "sweet tooth" got satisfied, that's for sure. And then, after the newlyweds'  First Dance and the traditional Father-Daughter Dance, nothing held the crowd back from dancing: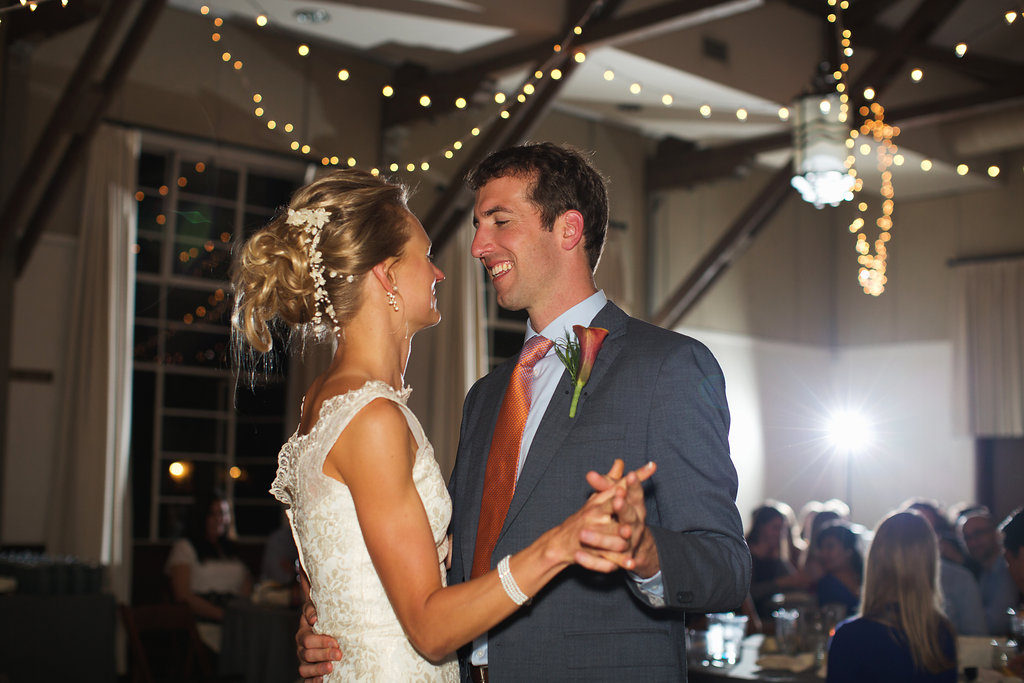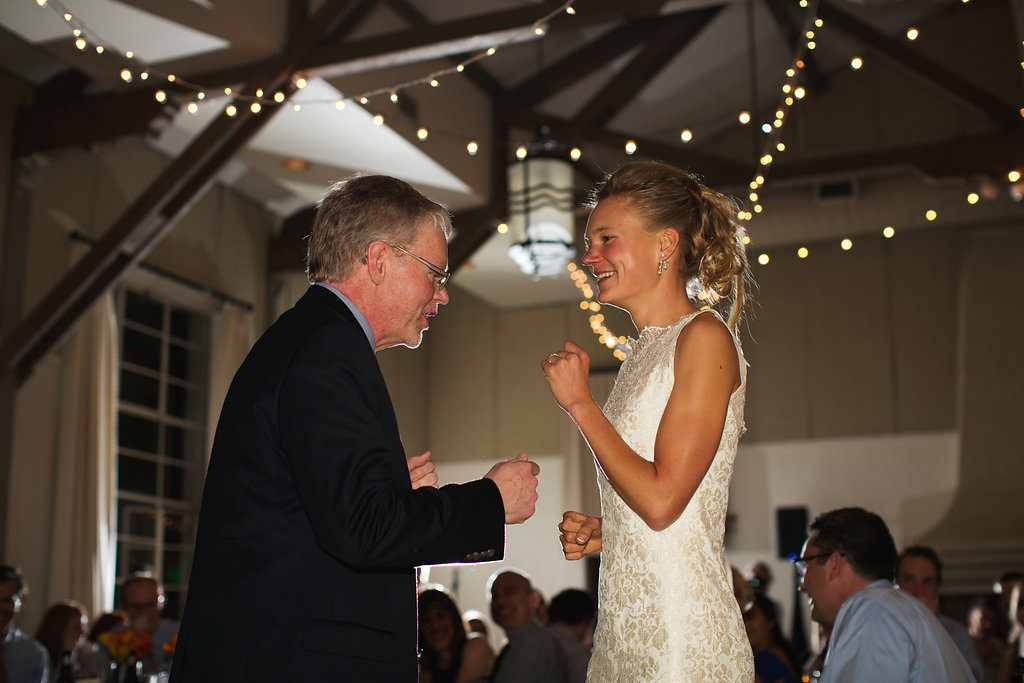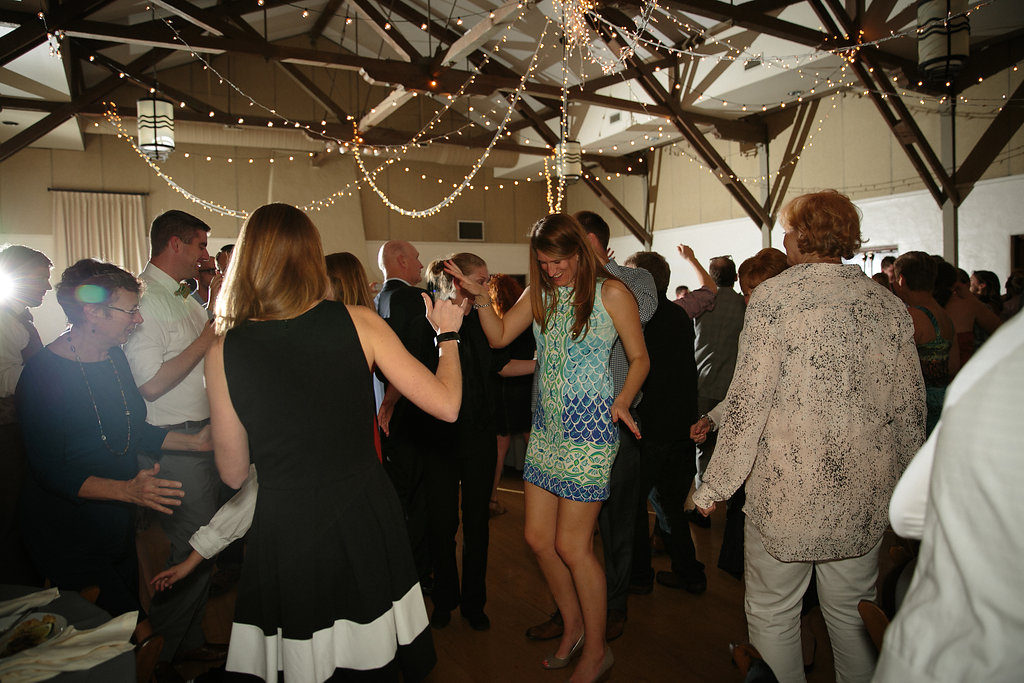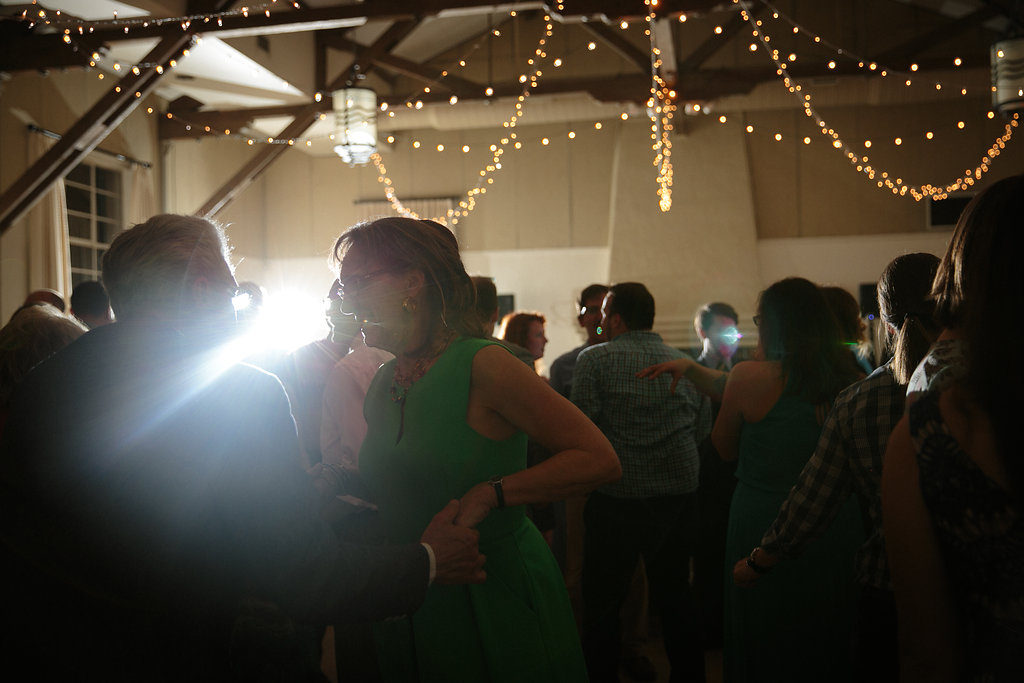 It was such a fun party for everyone! Guests took home unforgettable memories AND stemless wine glasses engraved with the couple's names.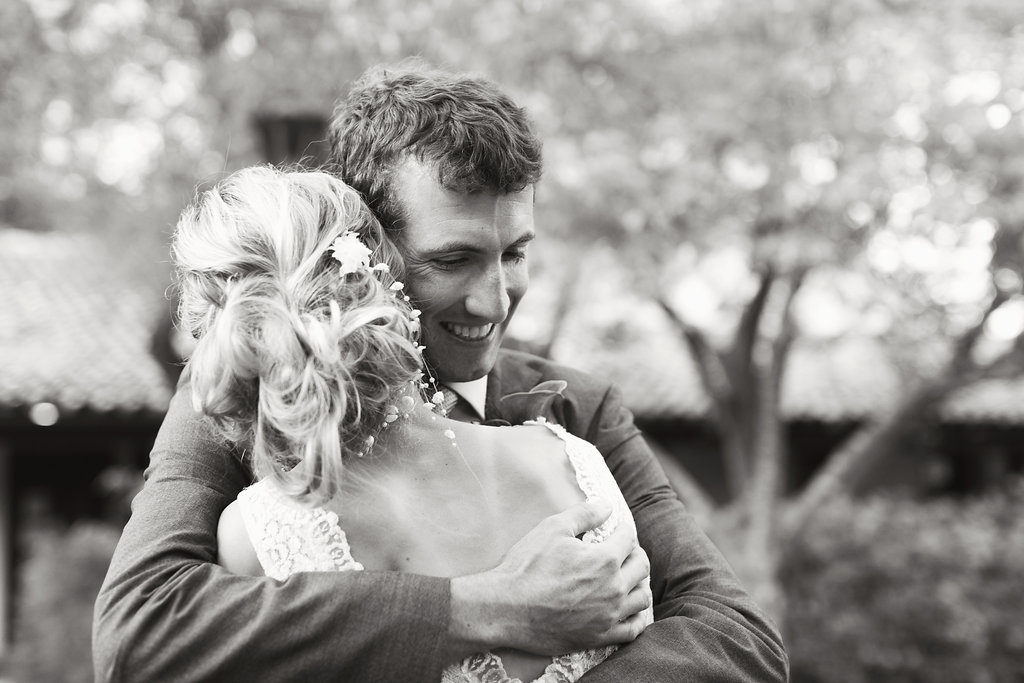 Many happy years together, Nicole and Rob, and keep walking hand in hand!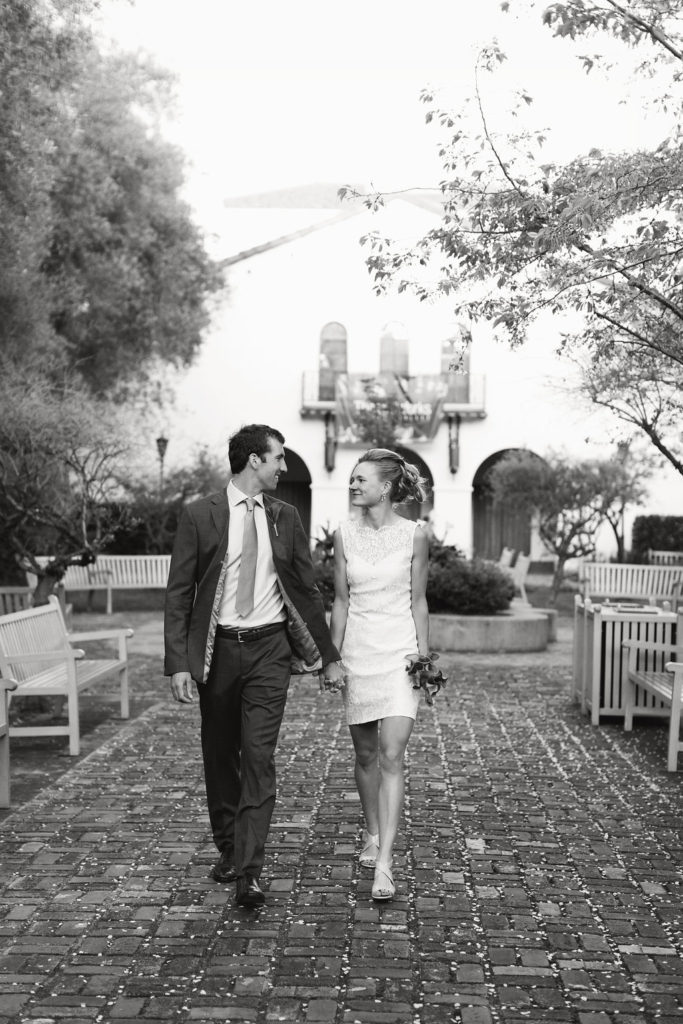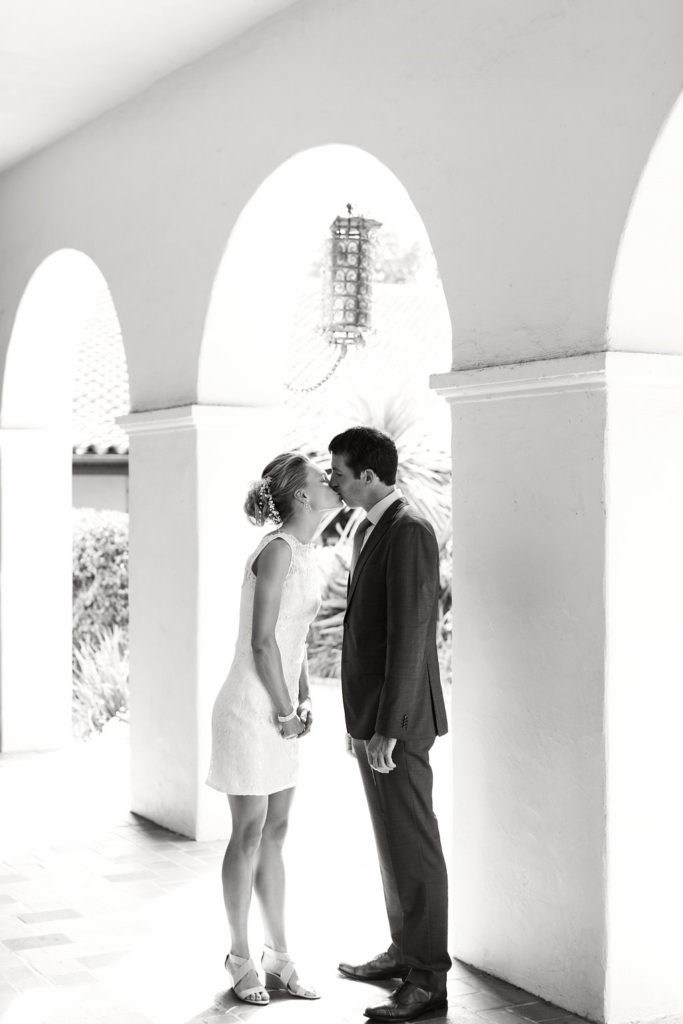 <! DL 06/02/12: Added html code for Pinterest Pin It button (appears at the end of each post) > <! DL 06/02/12: Added padding style modifier to the Pinterest html code to align the Pit It button on the page > <! DL 06/02/12: deactivated code by adding two ! in the a and img code lines >