Cristina is a powerhouse, a force of nature, a whirlwind. She has a stellar career. And she had finally found her soulmate and was ready to commit herself to that relationship, heart and soul. What I didn't know when she first approached my company, A Day Like No Other, for help with planning her wedding: once Cristina has set her mind to something, she's unstoppable. She wanted to get married within three months. We started planning. A family emergency forced her to put all her plans on hold and postpone to June 24th. When she was finally able to get back into planning mode, months later, we had about four weeks left to pull everything together.
Almost every bride I've been working with so far would have given up. Not Cristina. She was undeterred and more determined than ever! So was I. And we pulled it off – beautifully!
Cristina and her fiance Jason had chosen a spectacular venue for their celebration: Cavallo Point Resort in Sausalito, with unobstructed views of the Golden Gate Bridge and the San Francisco skyline. That's what Cristina saw when her wedding day began…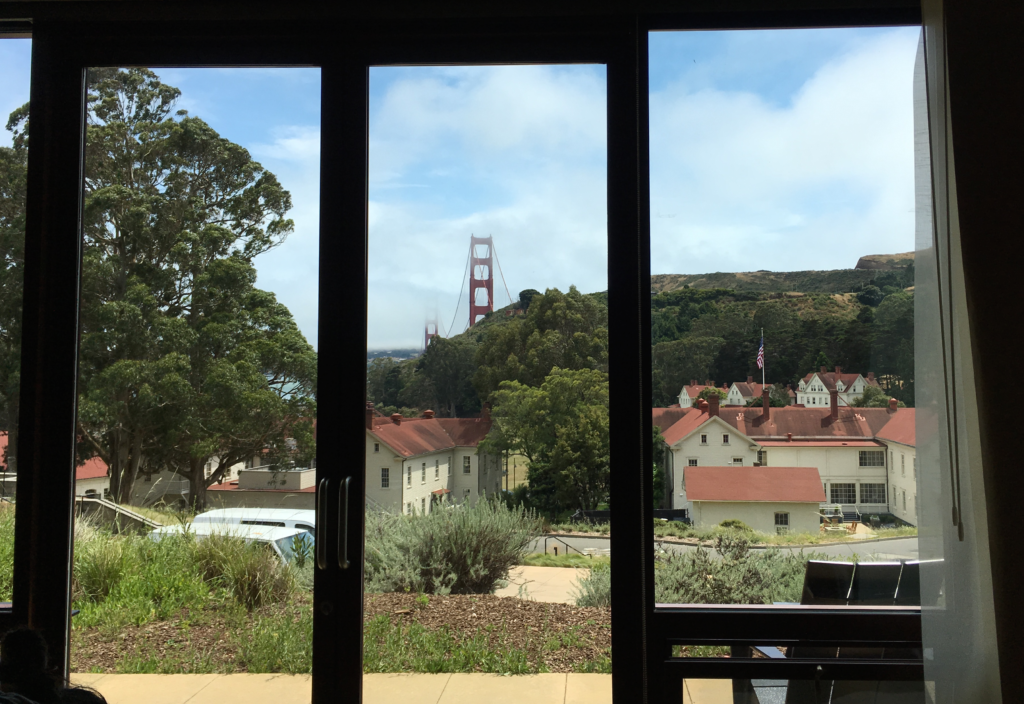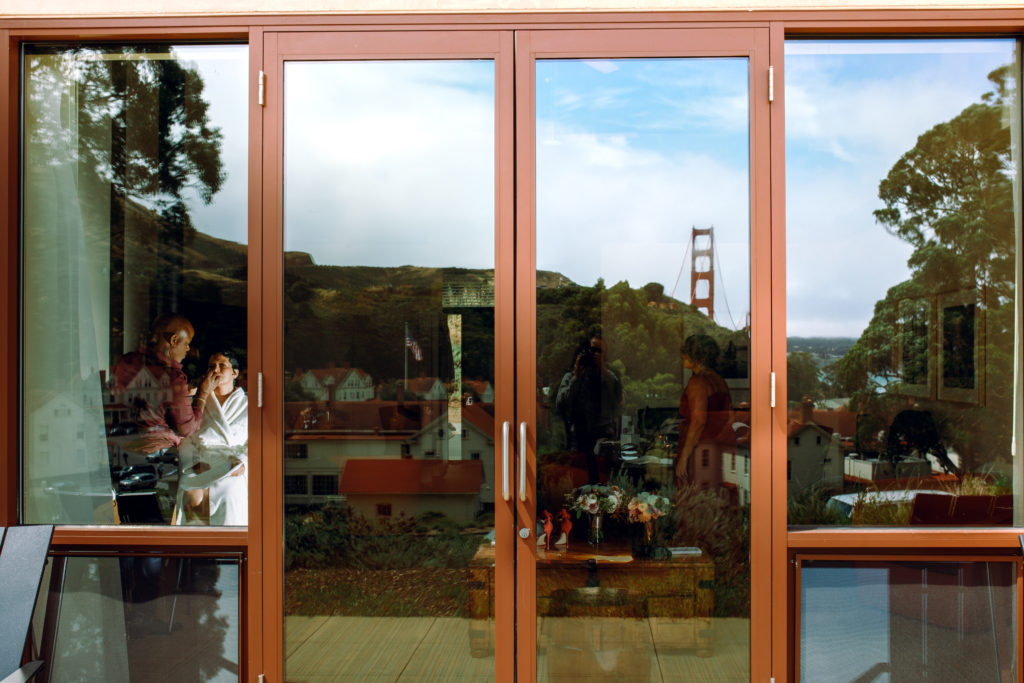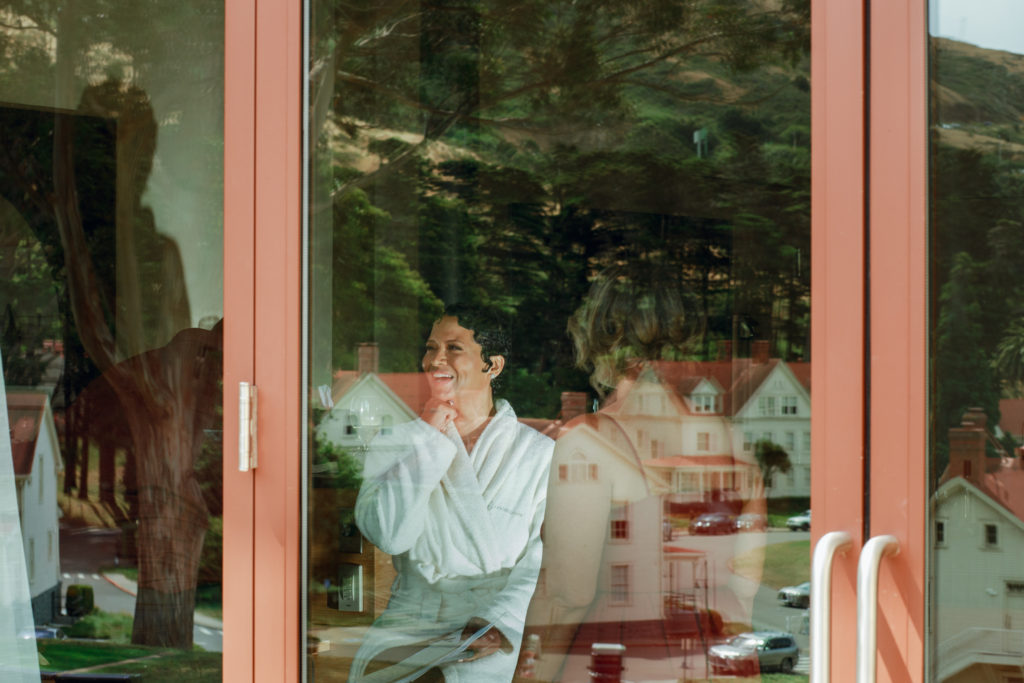 … with hair and makeup by her longtime stylist Terrell Mullin.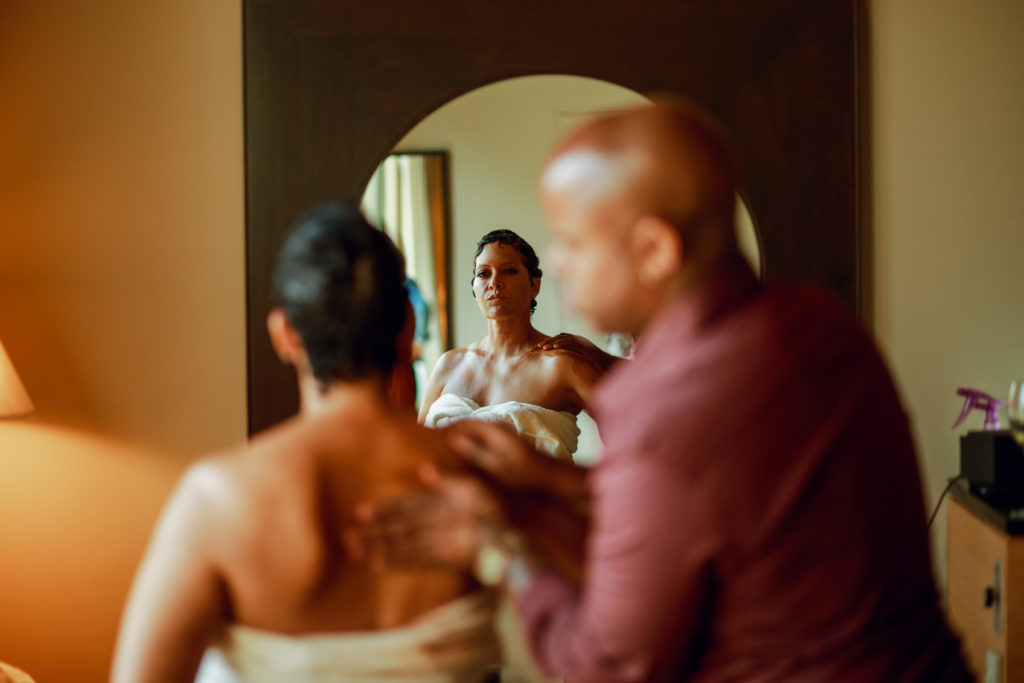 In accordance with her glamorous champagne-colored, jeweled wedding dress from Nouvelle Vogue Salon, Cristina opted for finger-waves and a classic "Hollywood style" makeup…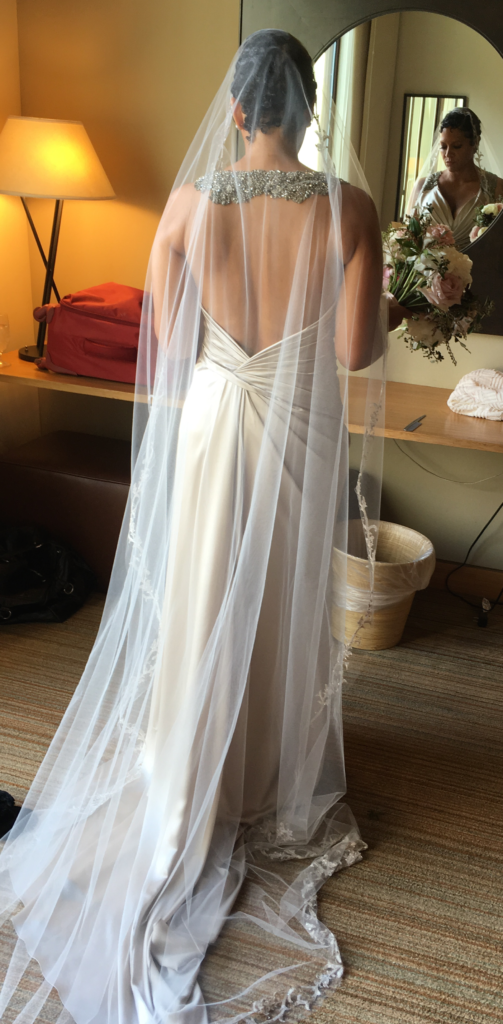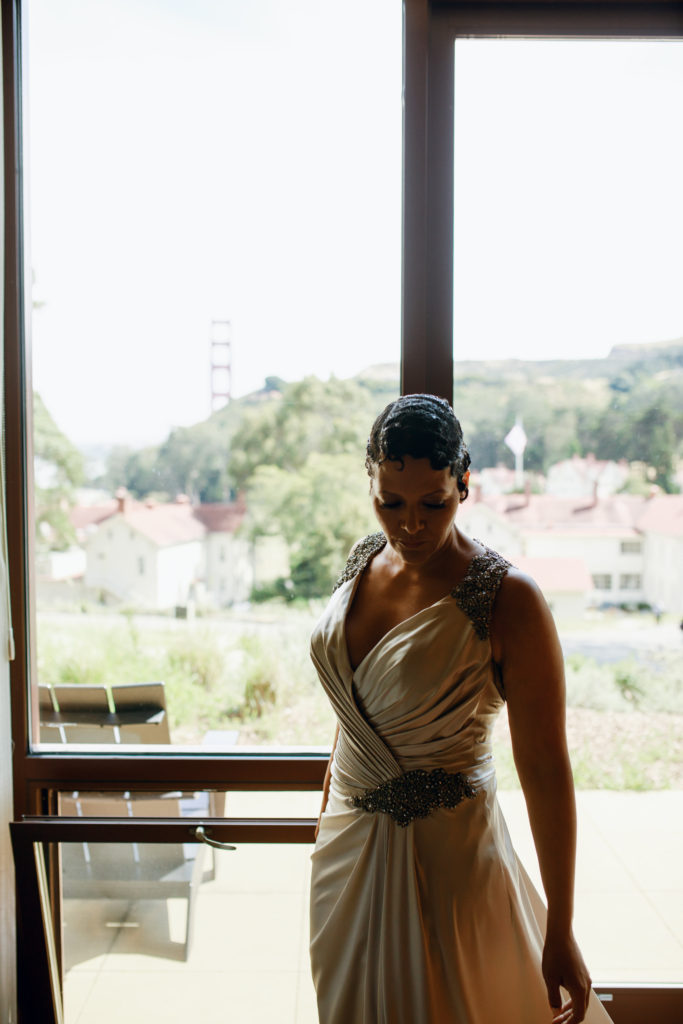 Spectacular, isn't it? A true "silver screen goddess!" And the cathedral-length veil made Cristina look like a real princess.
And of course, there was THE RING.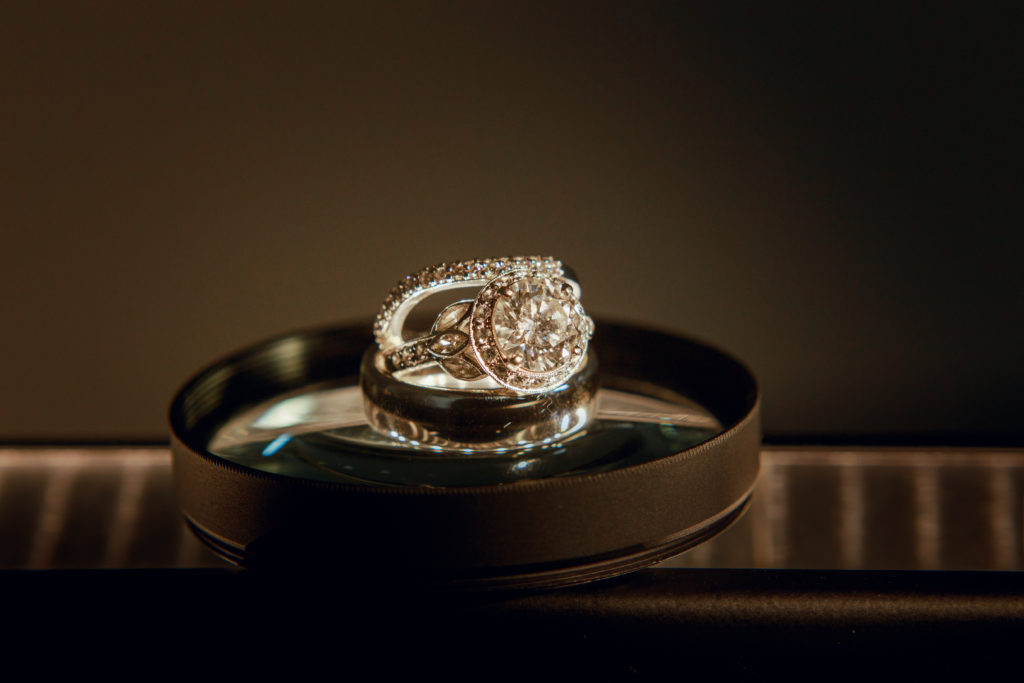 Then there were the accessories: her bridal shoes! With a color palette of ivory, blush pink and merlot, Cristina went all out with her merlot suede stilettos: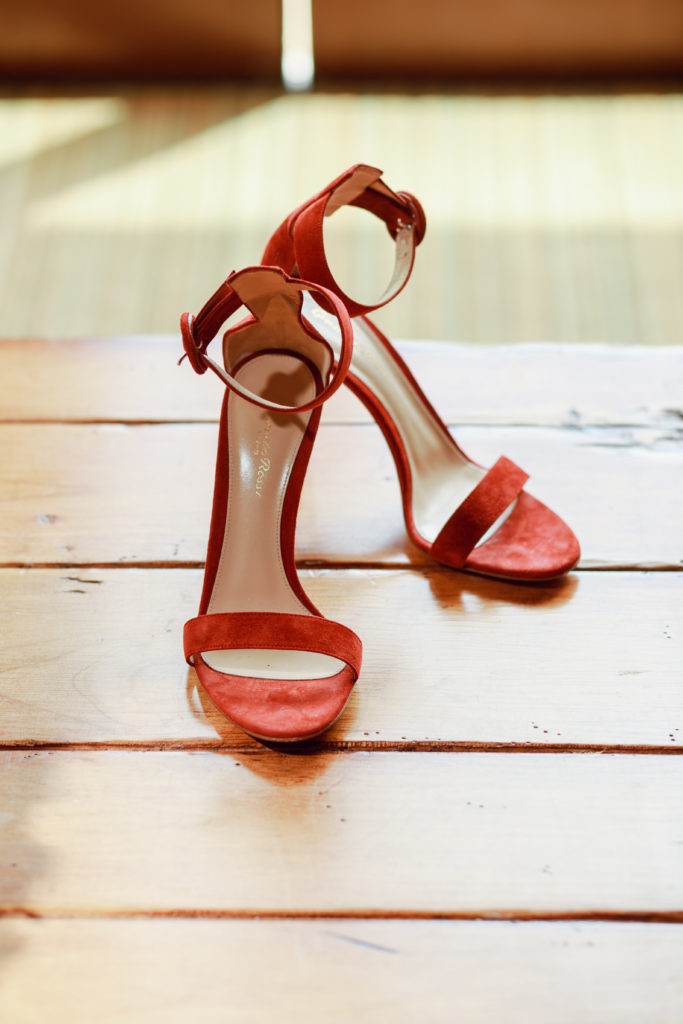 … and, not to forget, her garters!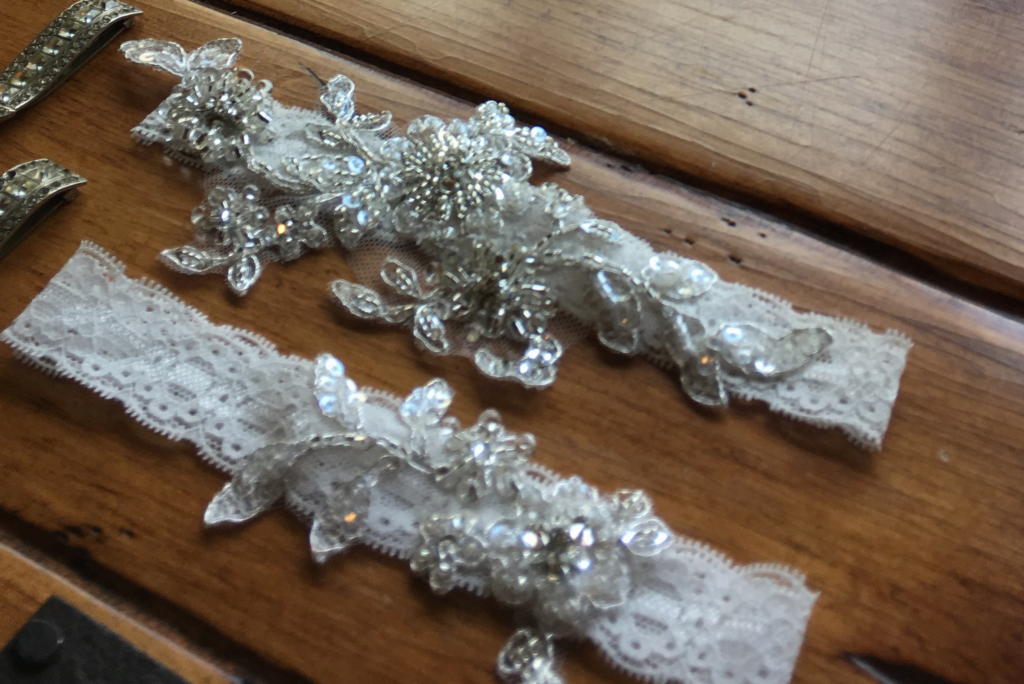 Florist Janelle Jacky-Litt of Green Petal Designs created Cristina's dream bouquet of blush and ivory roses and peonies, merlot dahlias and a few wisps of greenery …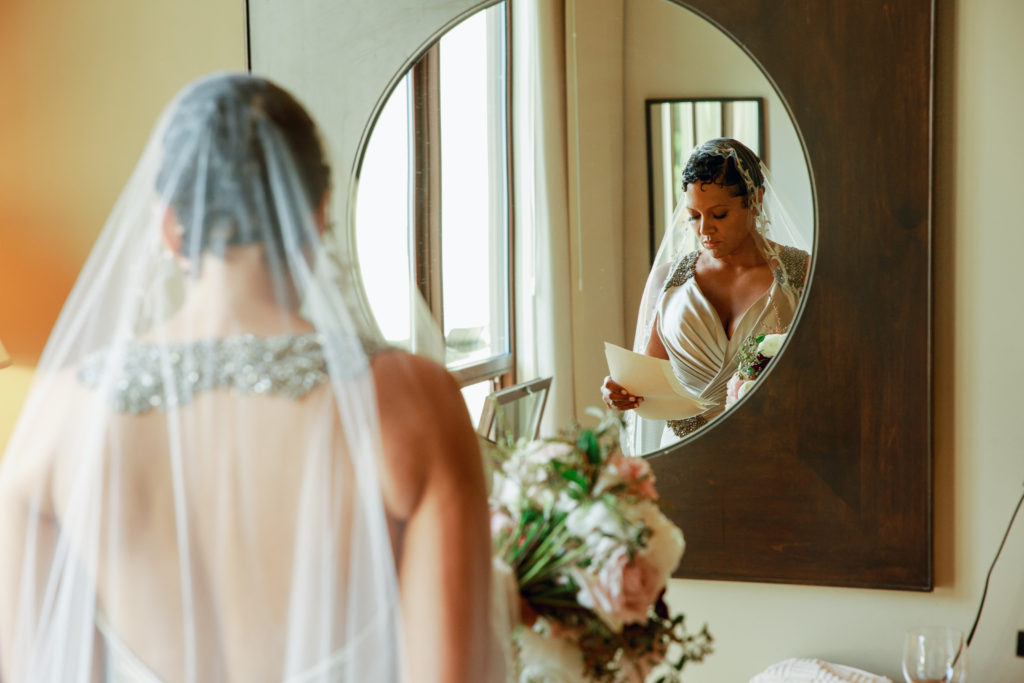 … and her church and reception decor as well.
Groom Jason was busy with his own preparations – and getting his son prepared, as well!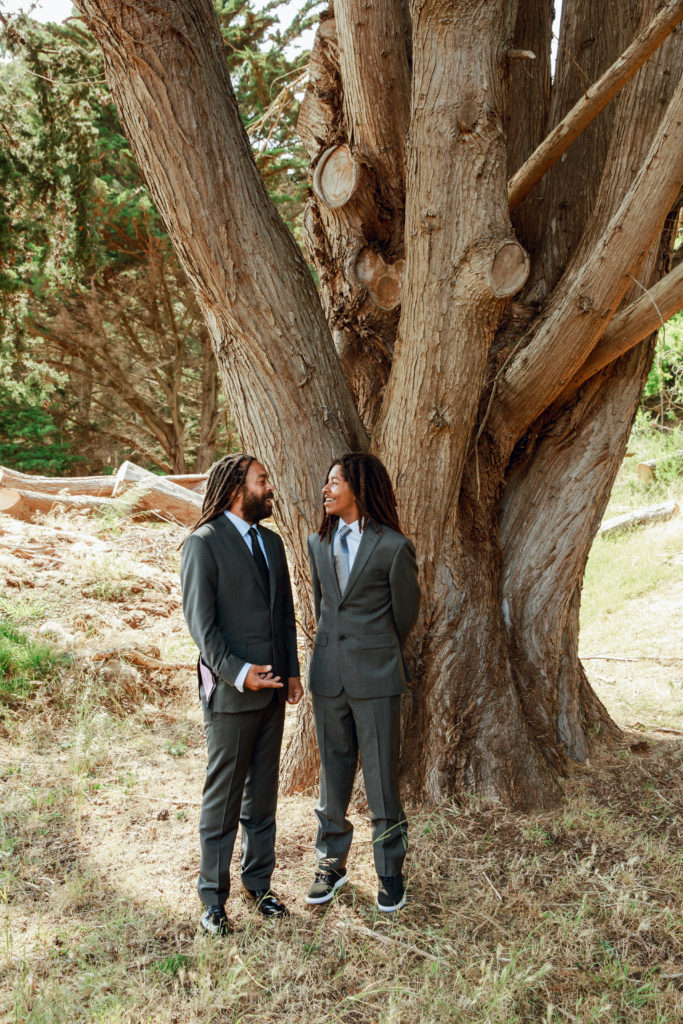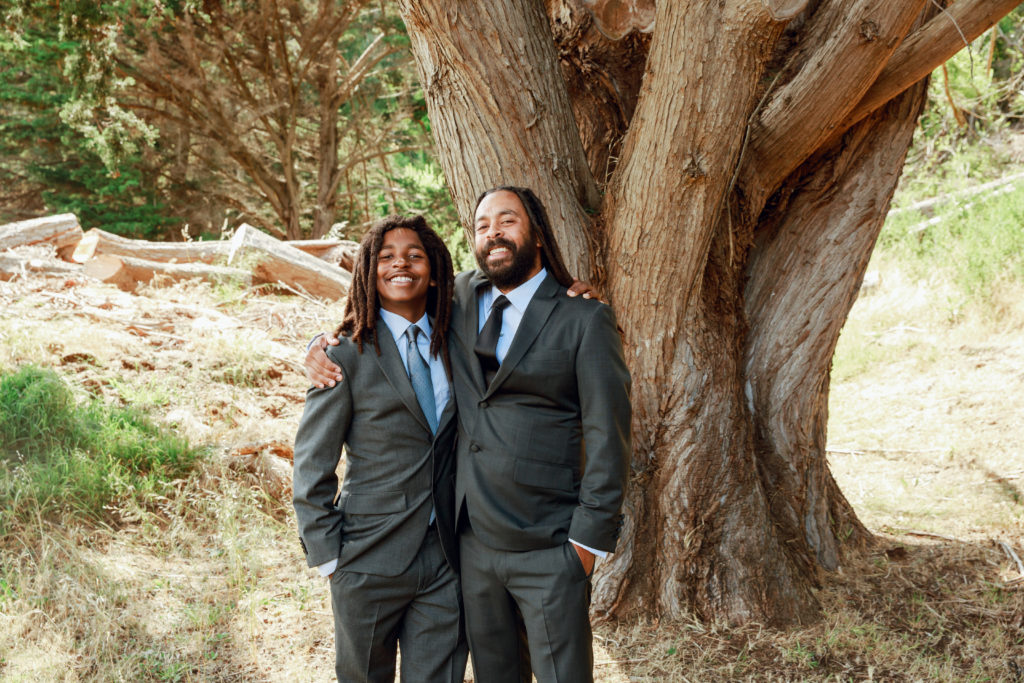 The ceremony was held in the onsite chapel – Cavallo Point Resort is housed on the site and in the buildings of a historic military outpost, complete with a beautiful chapel.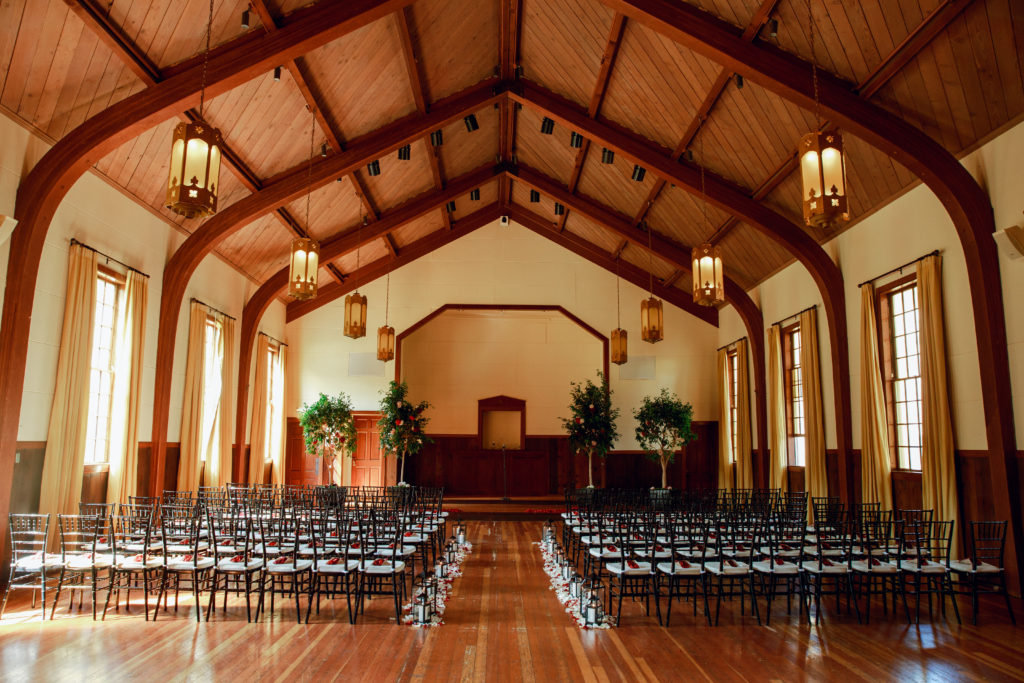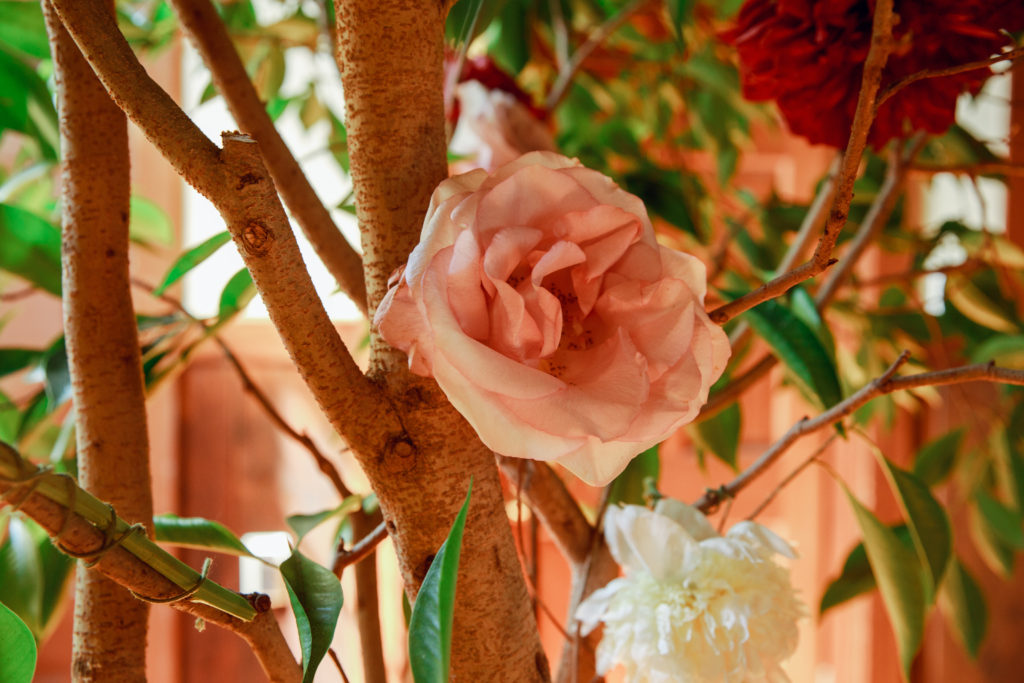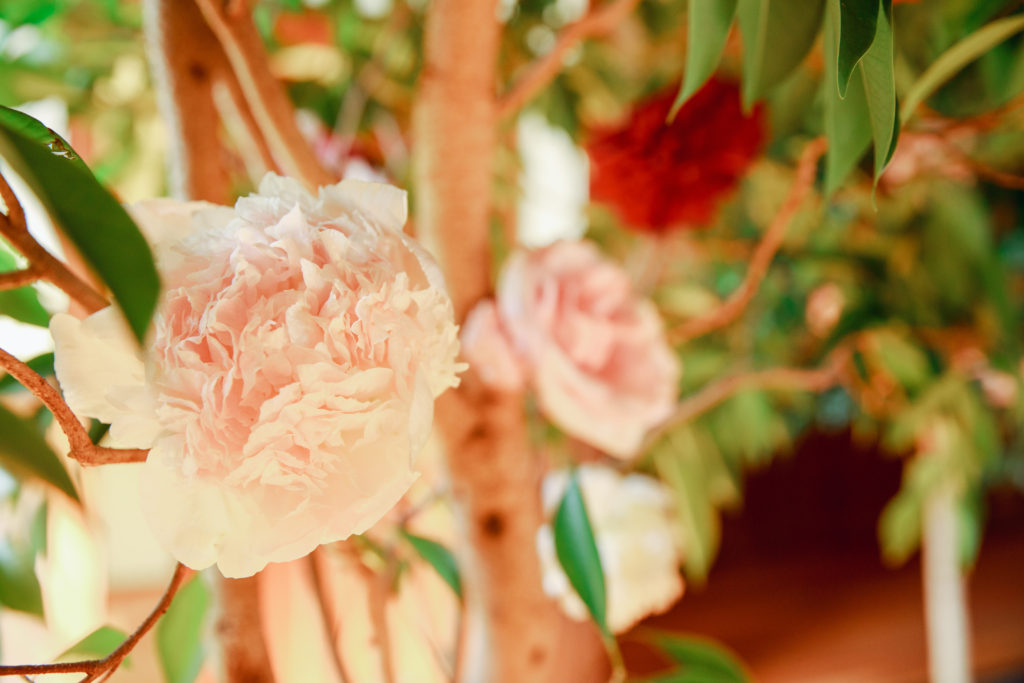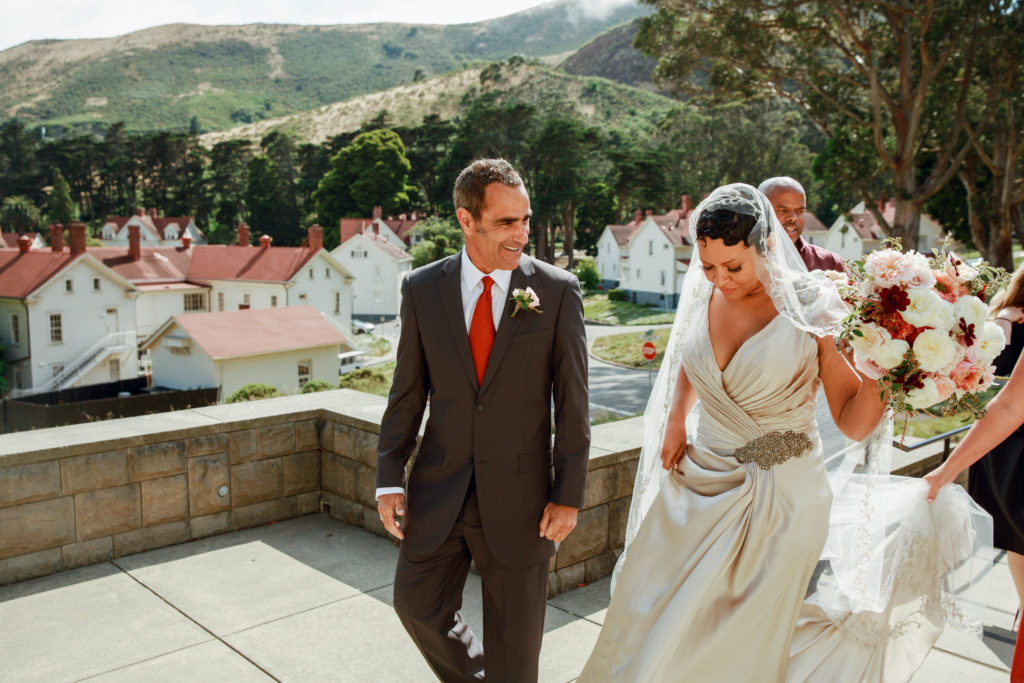 The bride was escorted by her brother…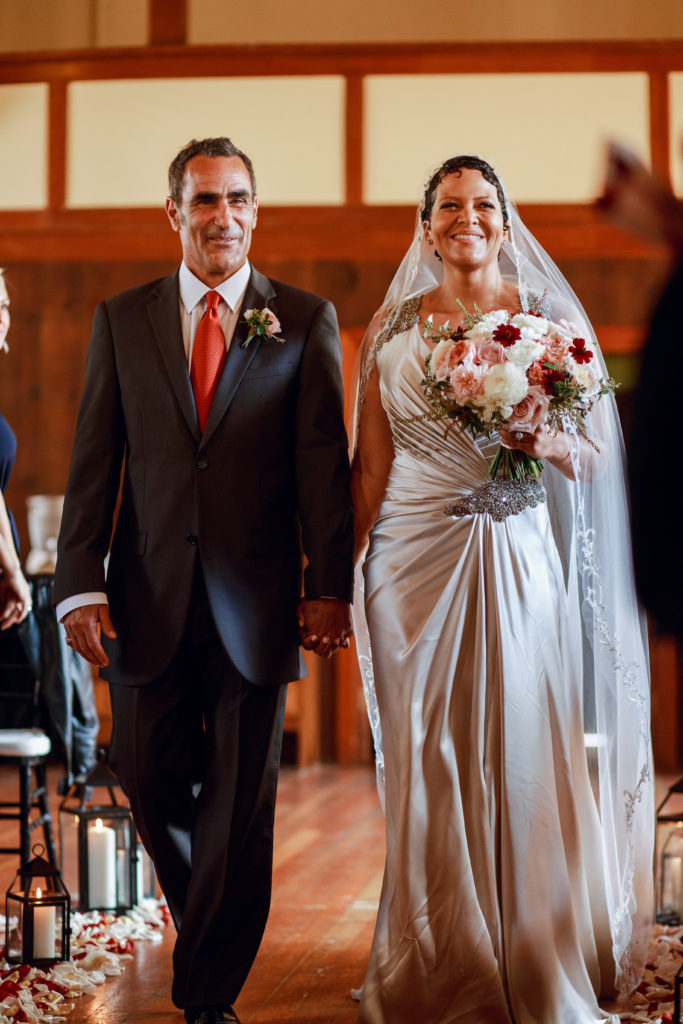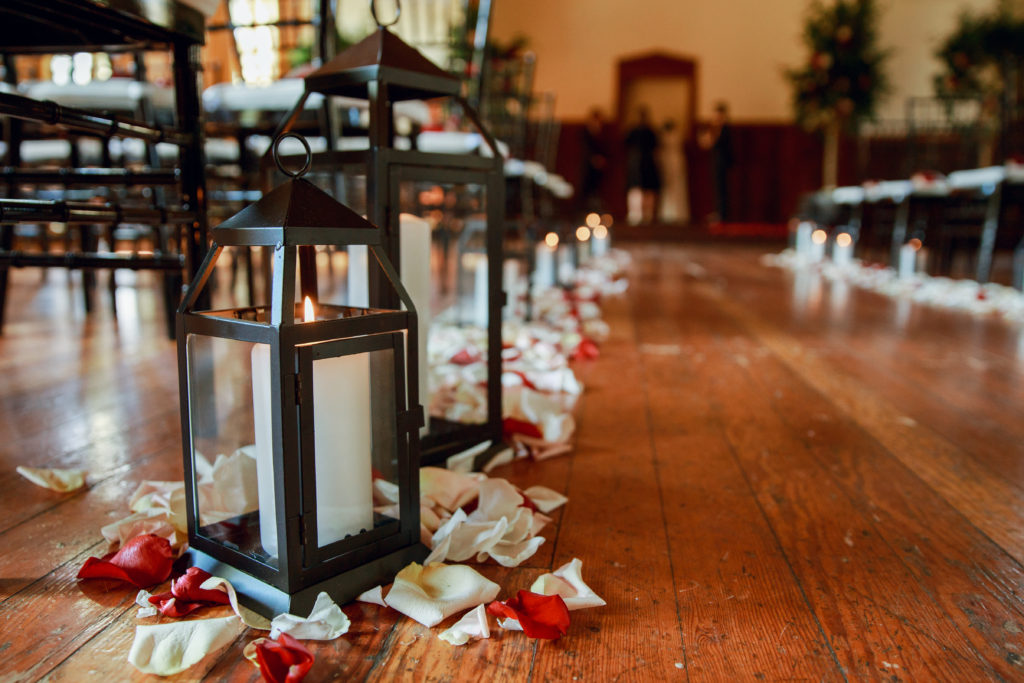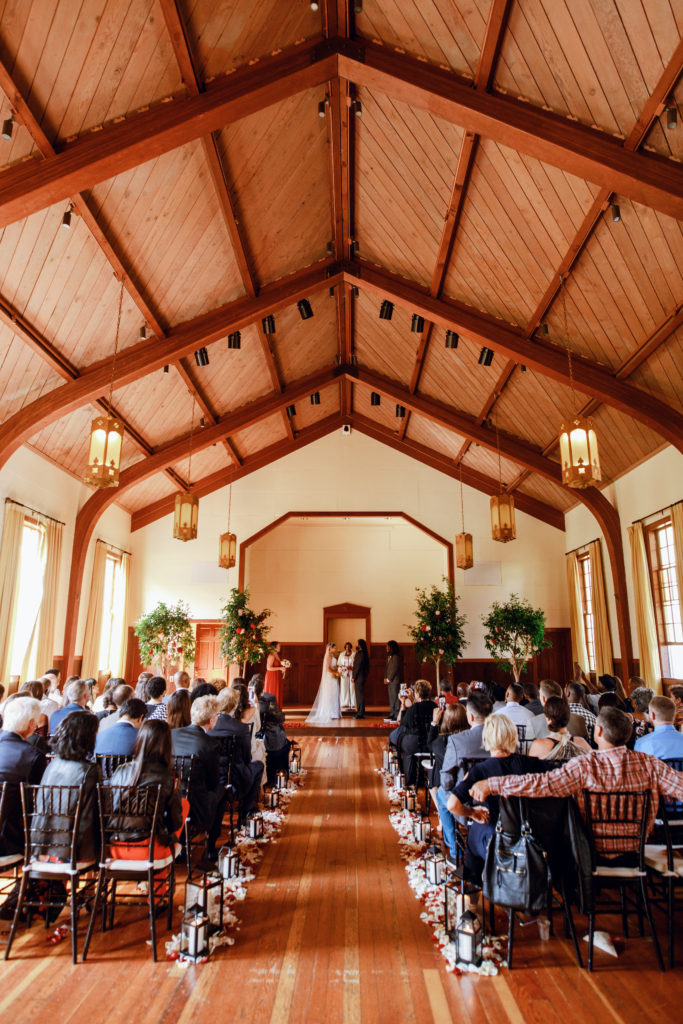 For this special day, the chapel was transformed into a garden with blooming trees; the aisle lined with ivory and blush rose petals and lanterns. Guests found little paper cones filled with merlot rose petals on their chairs – you'll see!
DJ Aykut and the bride's son Brent – a DJ himself – played all the music that Cristina and Jason had enjoyed together during their courtship, and the ceremony was officiated by a longtime friend of the couple, Rev. Lynne Herod-DeVerges.
And here she and her groom are saying their very personal vows to one another: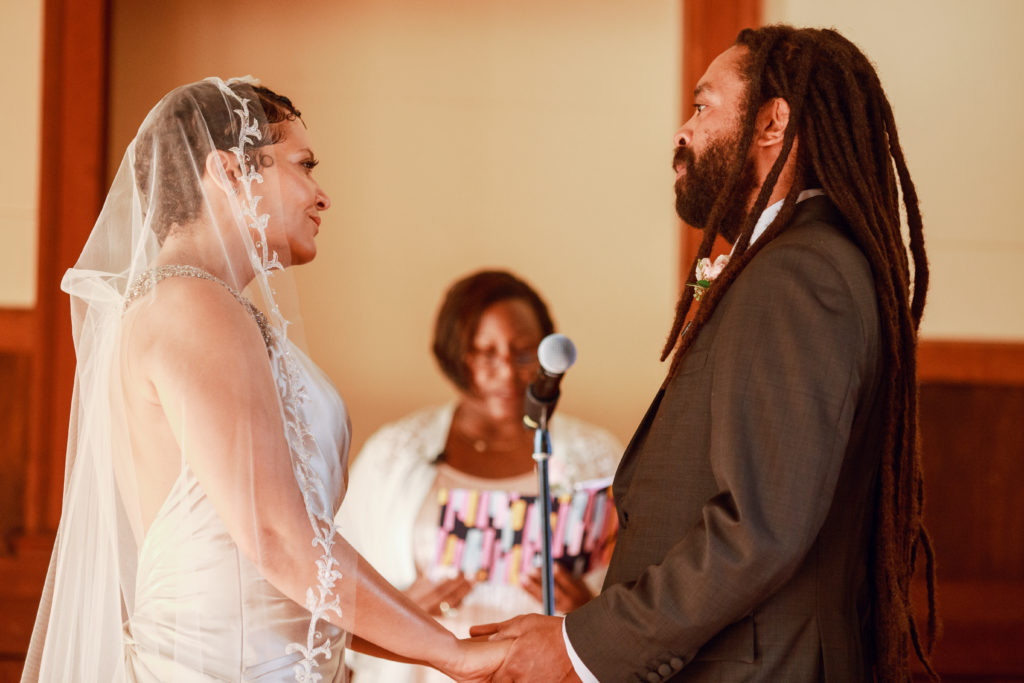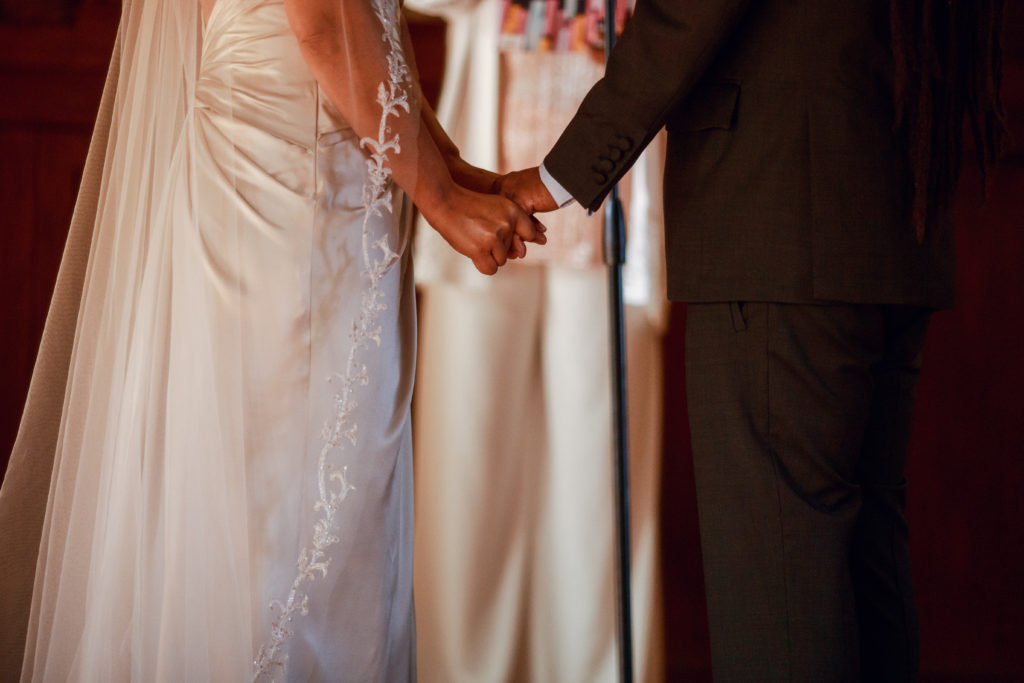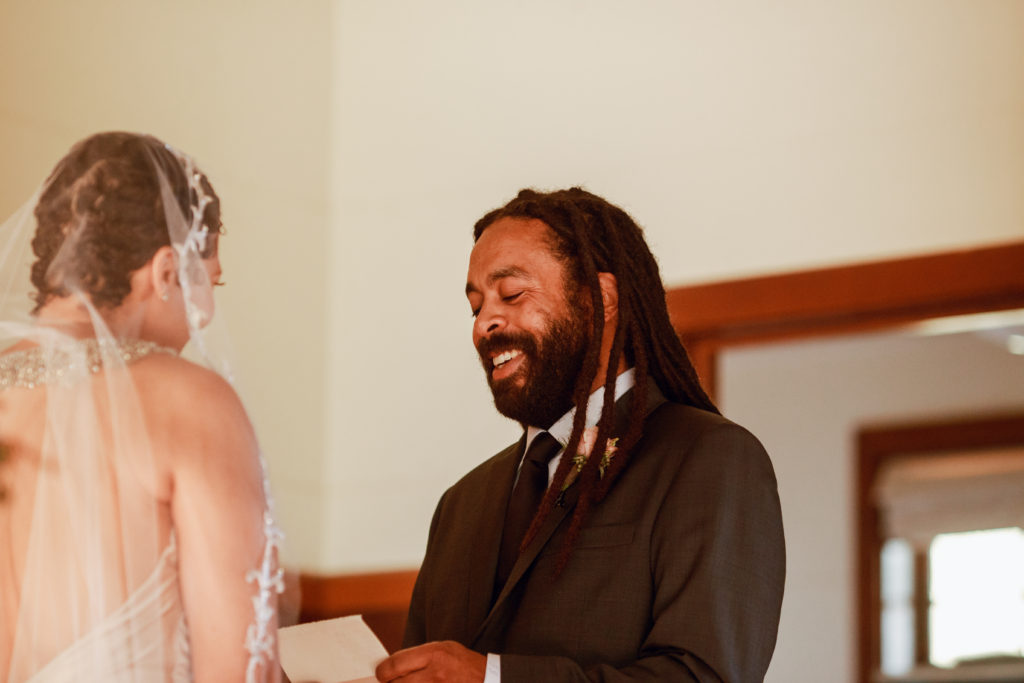 "You may kiss the bride!" (and he did… )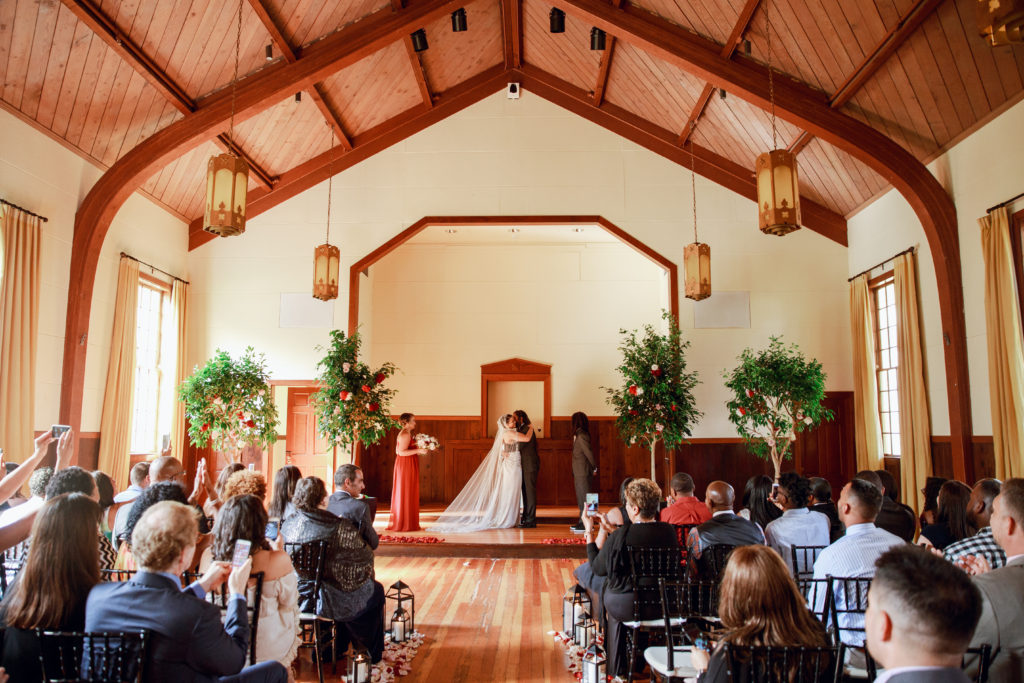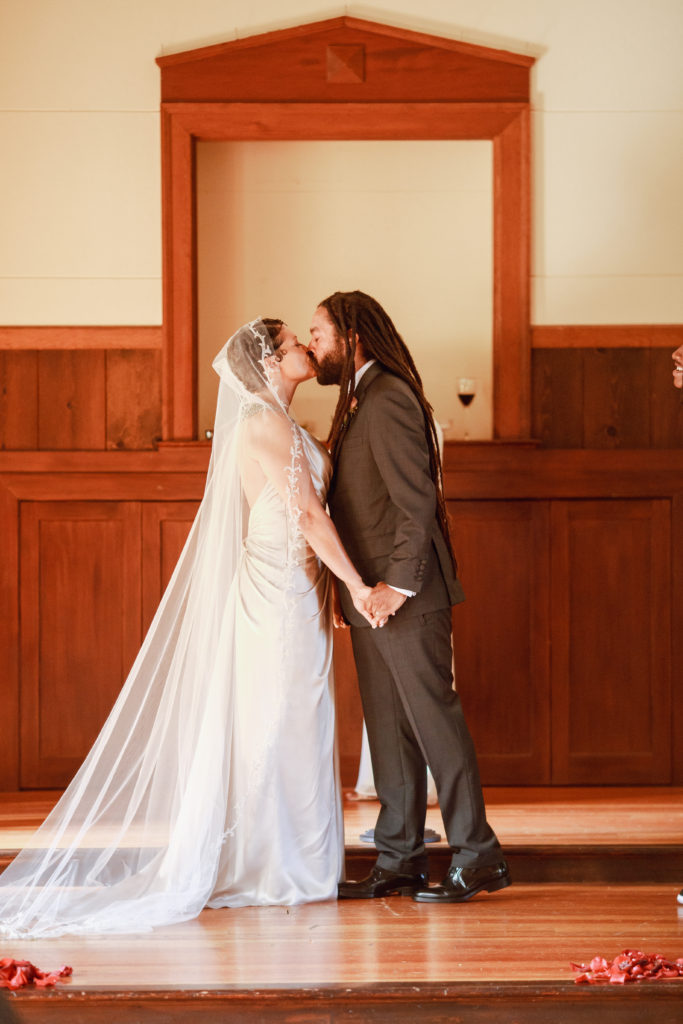 Just married and SOOO happy! The newlyweds are leaving the chapel, showered with handfuls of fragrant rose petals..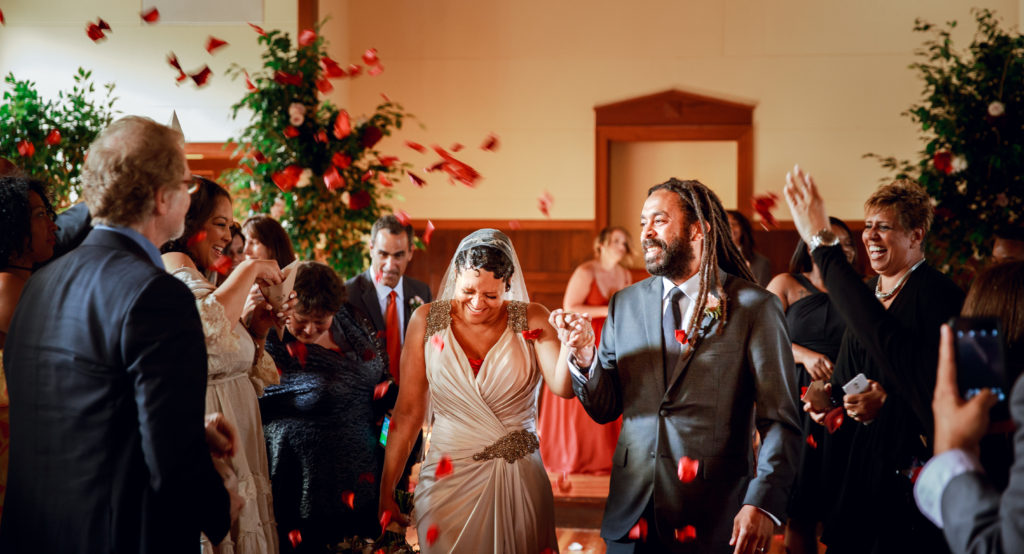 The couple had a lot of photos to take with their photographer extraordinaire Tuan Bui.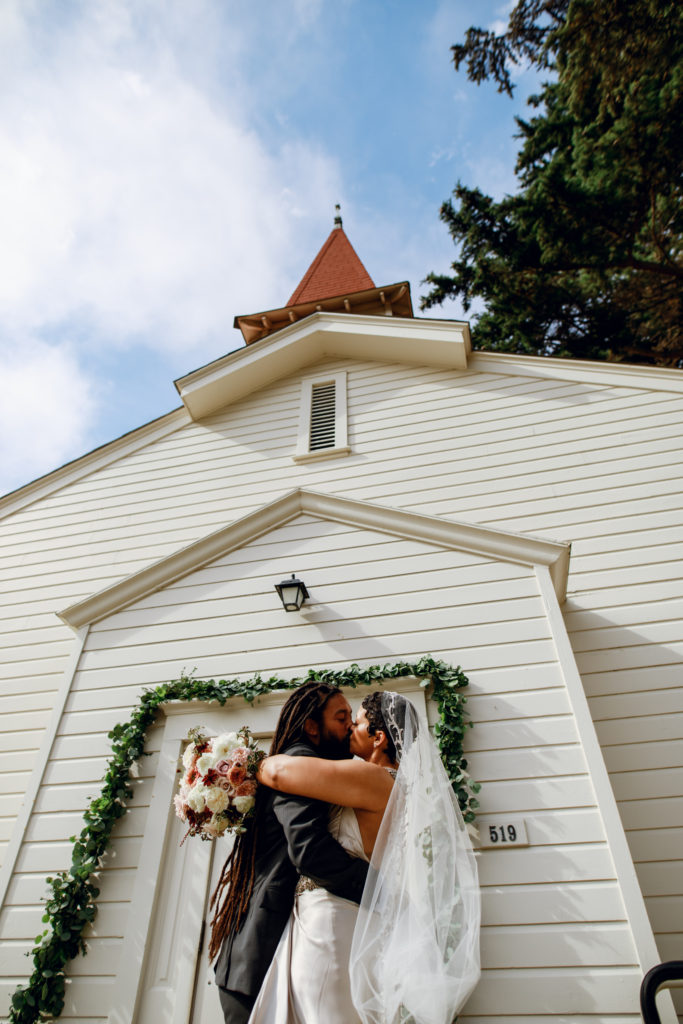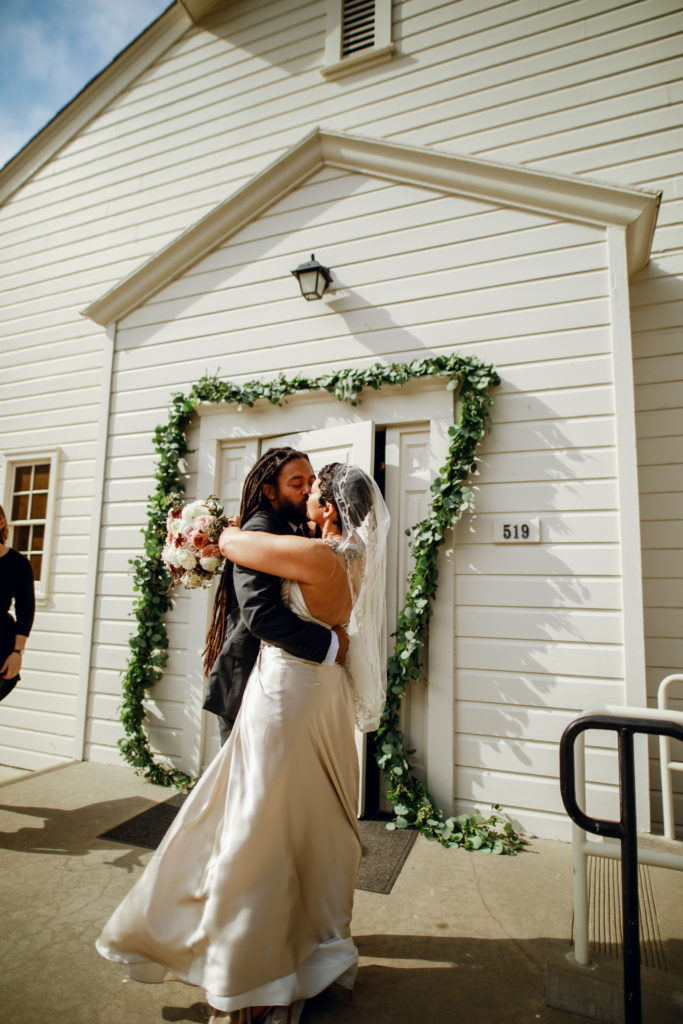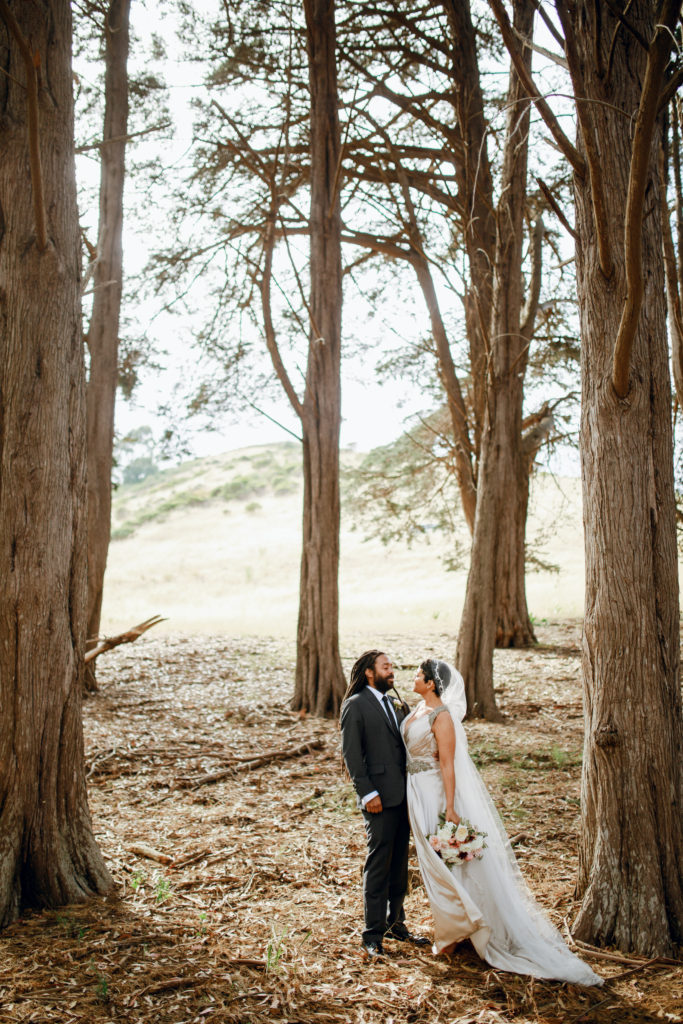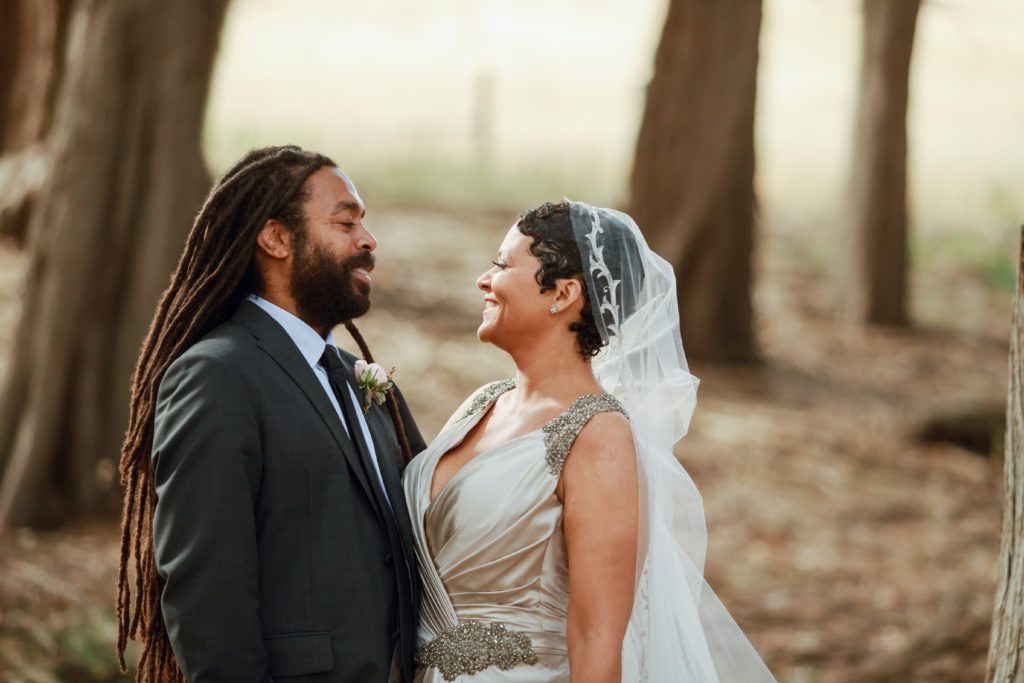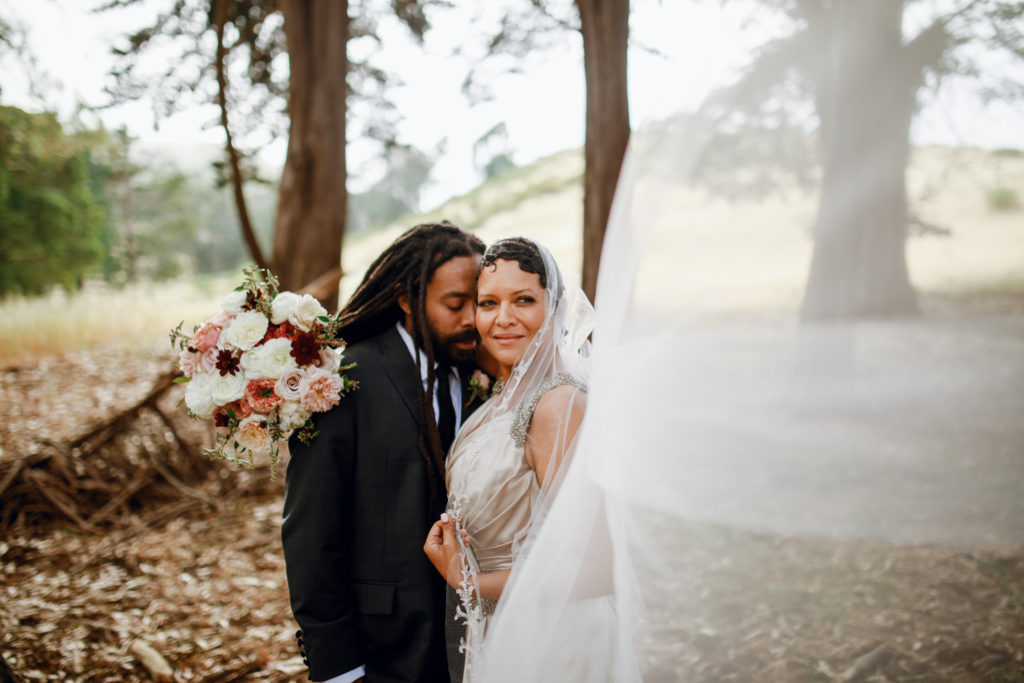 Meanwhile, the Cavallo Point Crew under the leadership of Cheryl Fleming, myself and my two tireless assistants Kelsey Holtzinger and Myrtle Ventura had our hands full with preparations for Cocktail Hour and reception in the Callippe ballroom and patio where the onsite crew of PSAV had installed extensive lighting…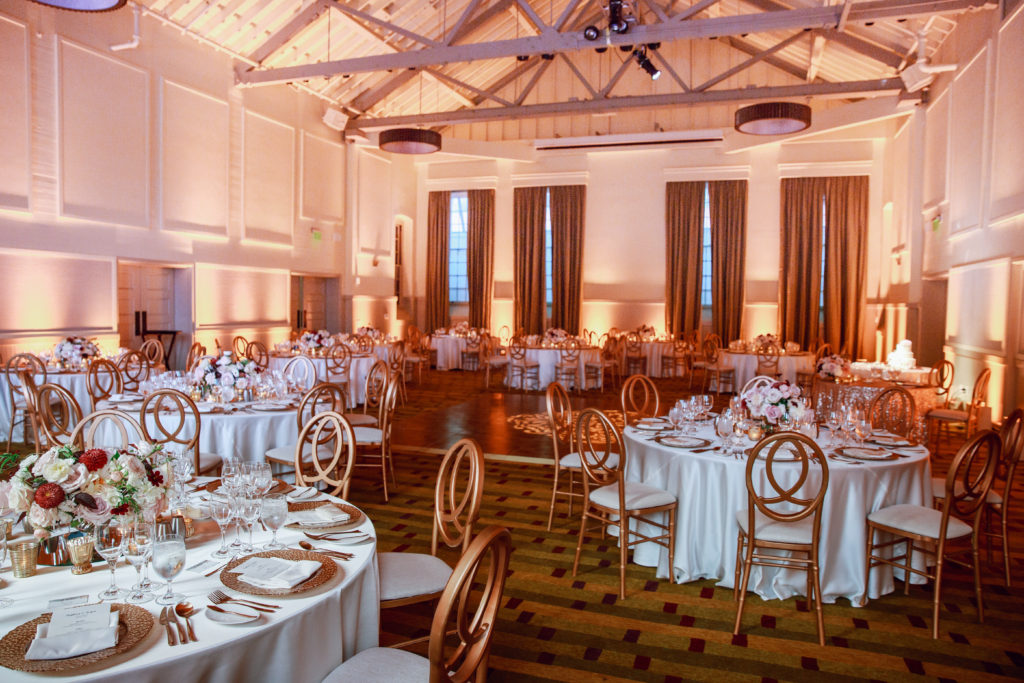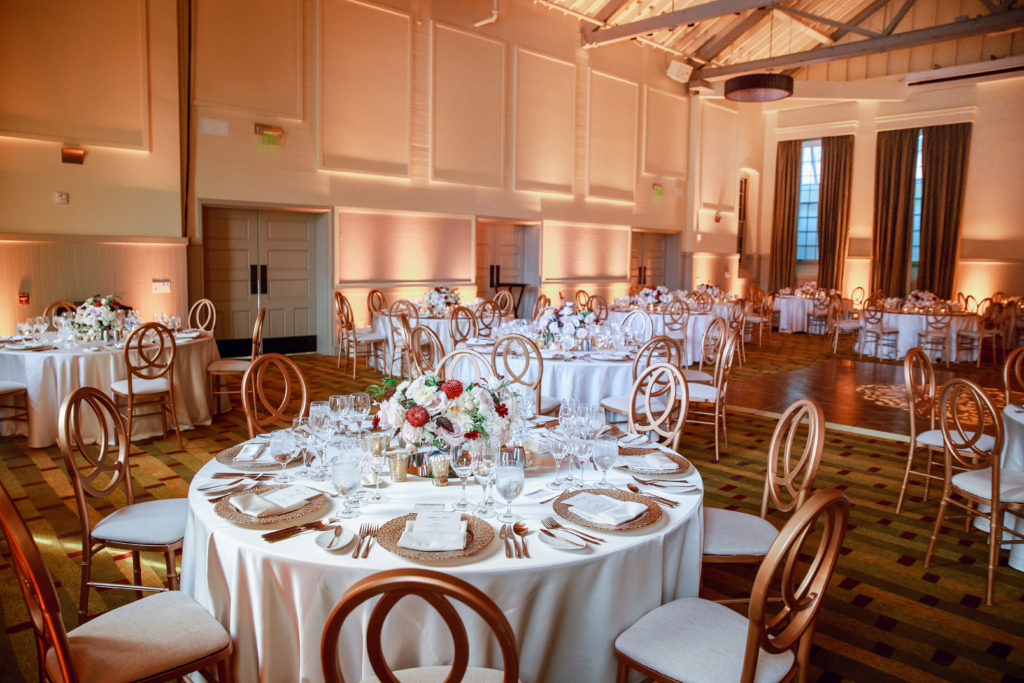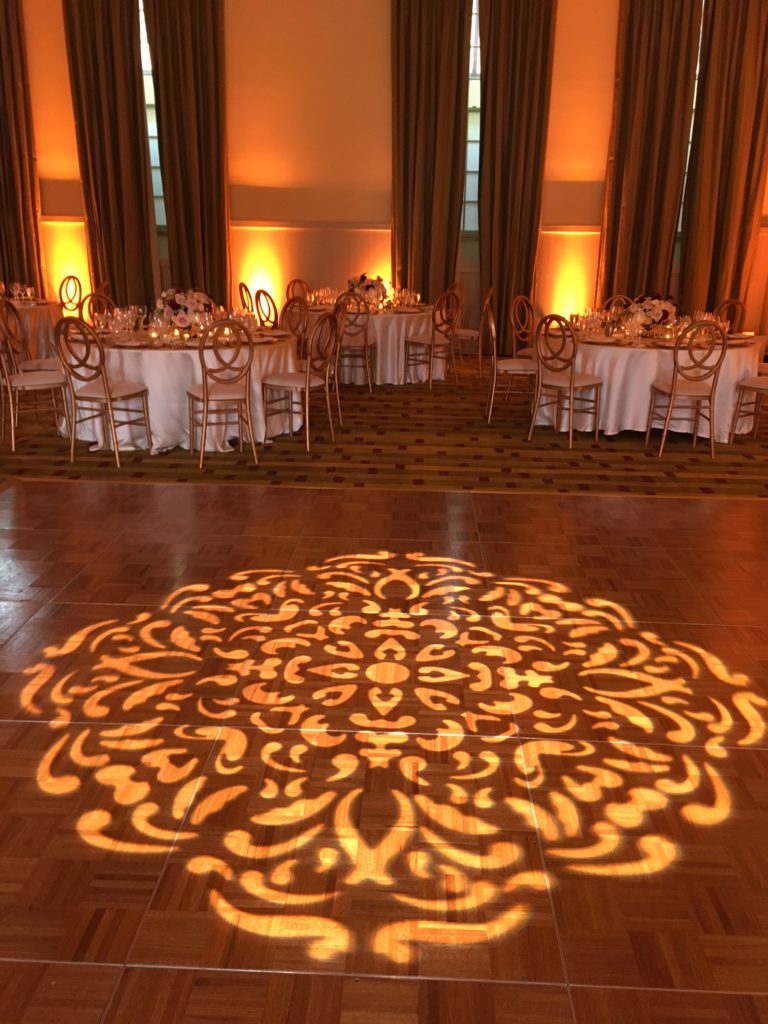 … and tables were gleaming in a variety of shimmering and glittering linens (from Napa Valley Linens). Taking inspiration from the couple's invitation cards of rose-gold print on pearlescent ivory card stock, we used rose gold as metallic accent throughout…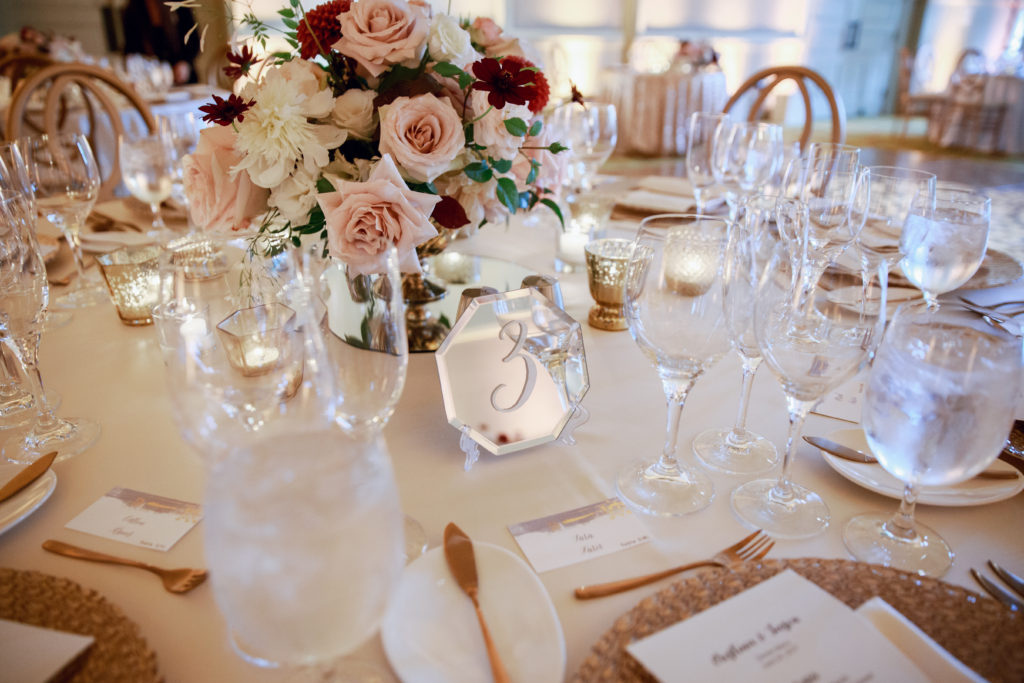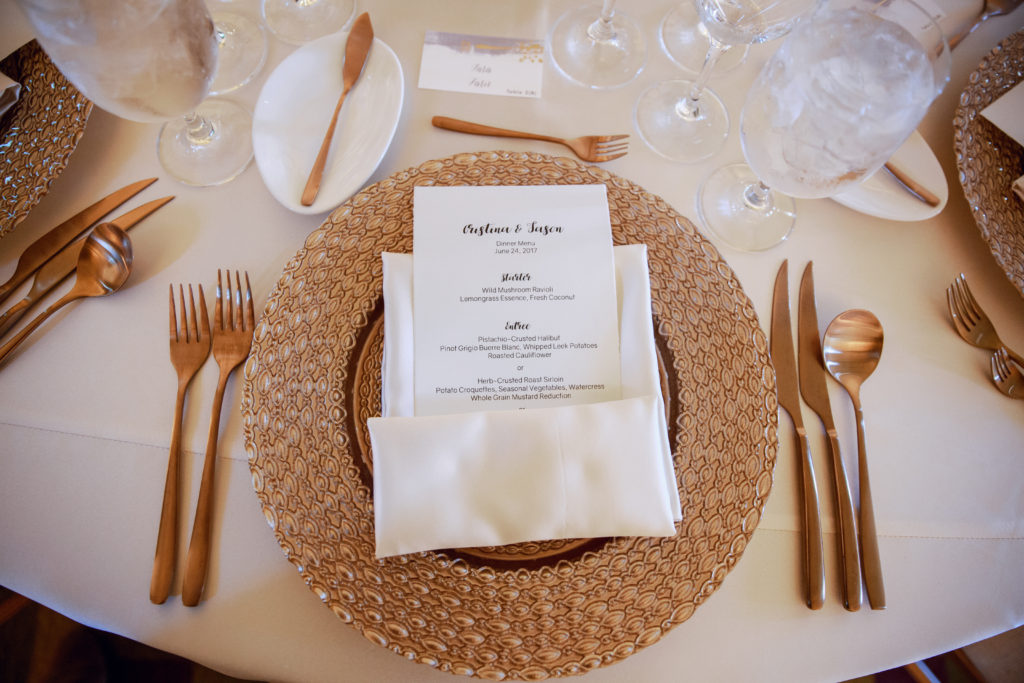 … with chargers, flatware and even dining chairs playing along (all from Hensley Event Resources). The gorgeous centerpieces and large and small flower arrangements, mirrored chargers and mercury-gold votives came all from Green Petal Designs.
Guests found their table assignment on a calligraphed mirror and on mirrored table numbers by Mariko Giverink of BeeCurious Designs,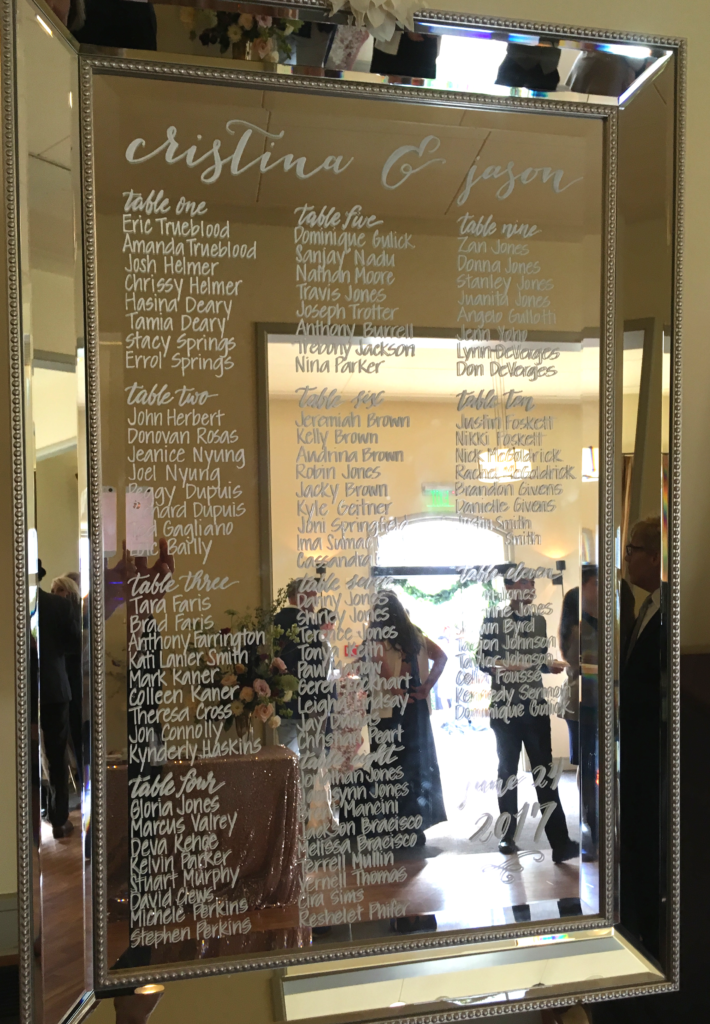 and while all tables looked fabulous, the couple's Sweetheart Table was, of course, the best! In between, the couple stole away for a few moments for sunset photos…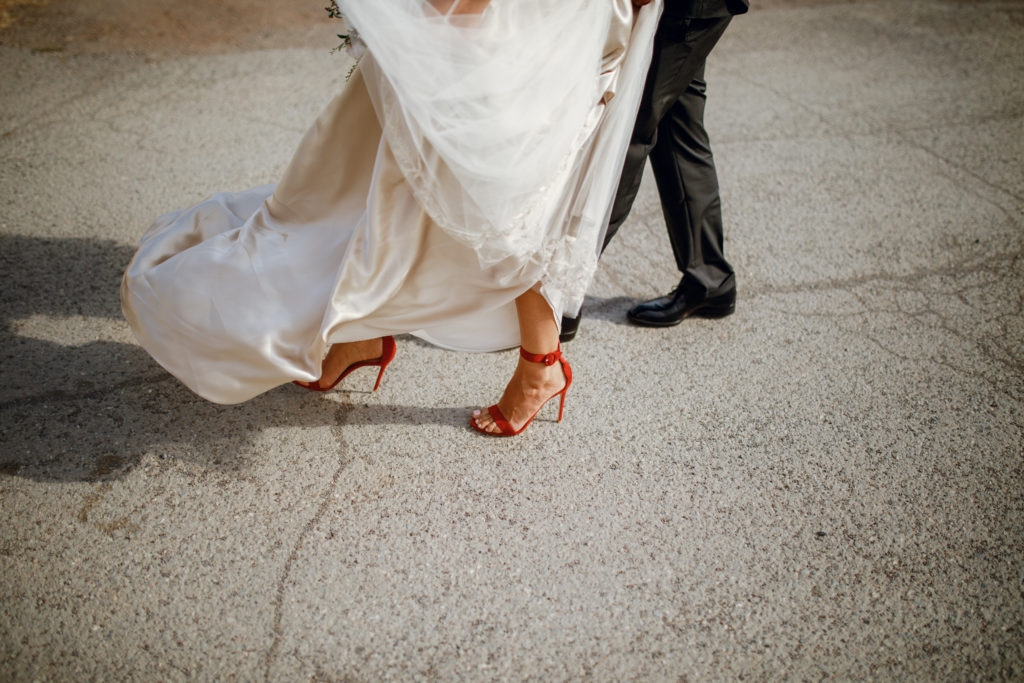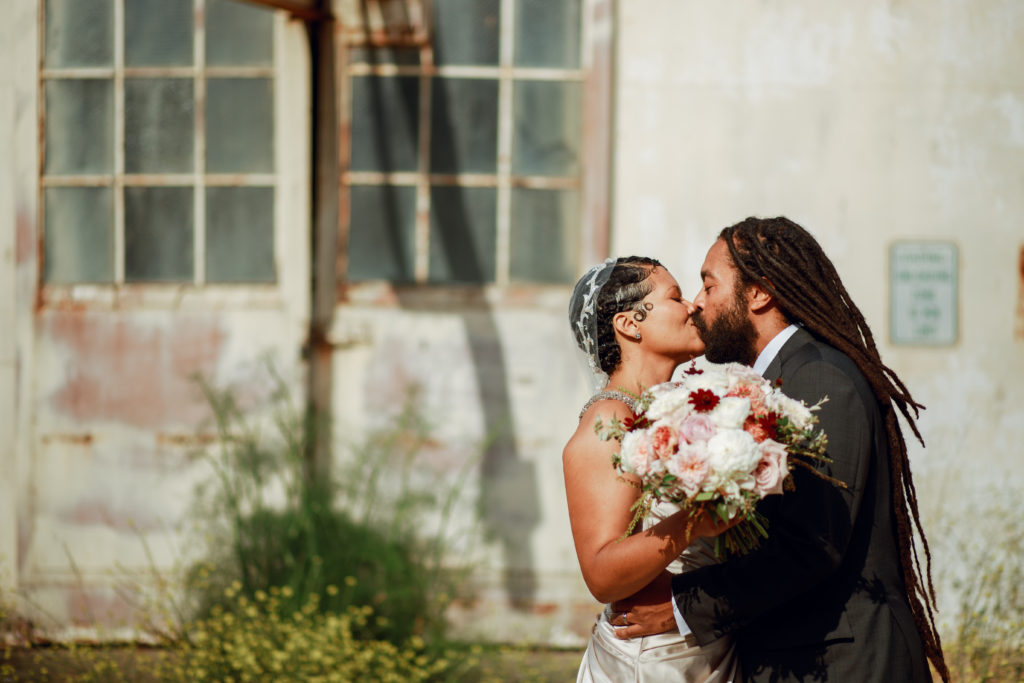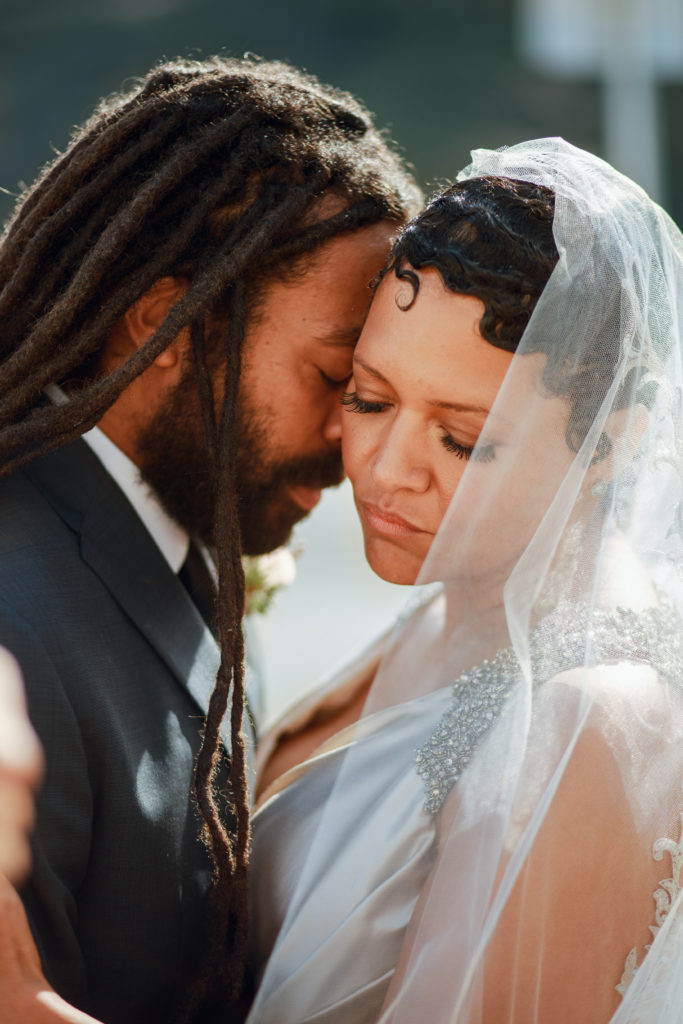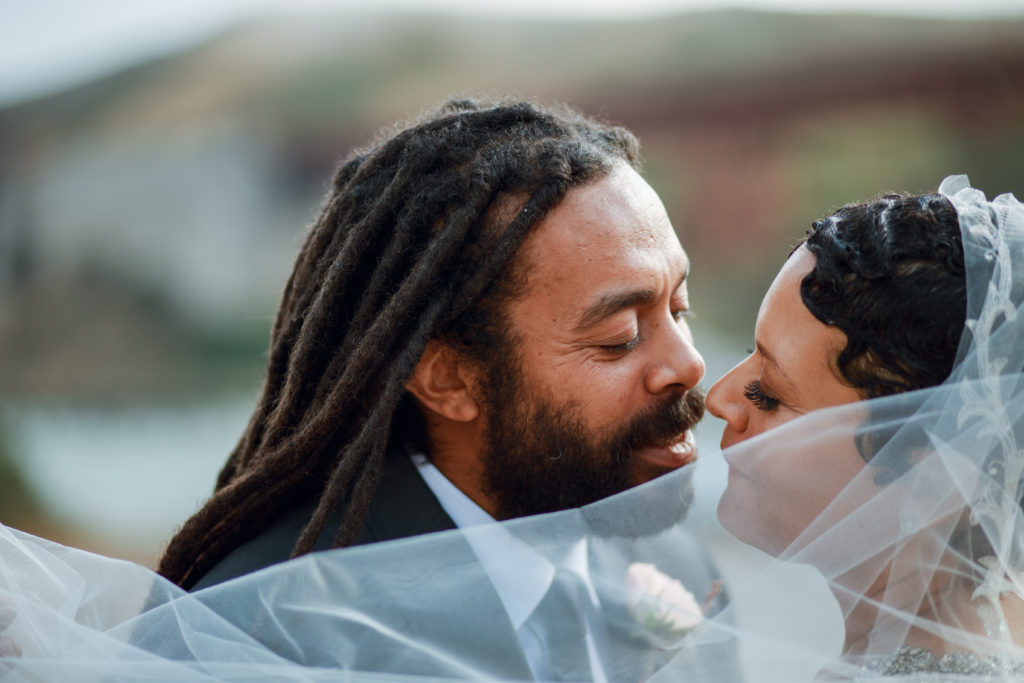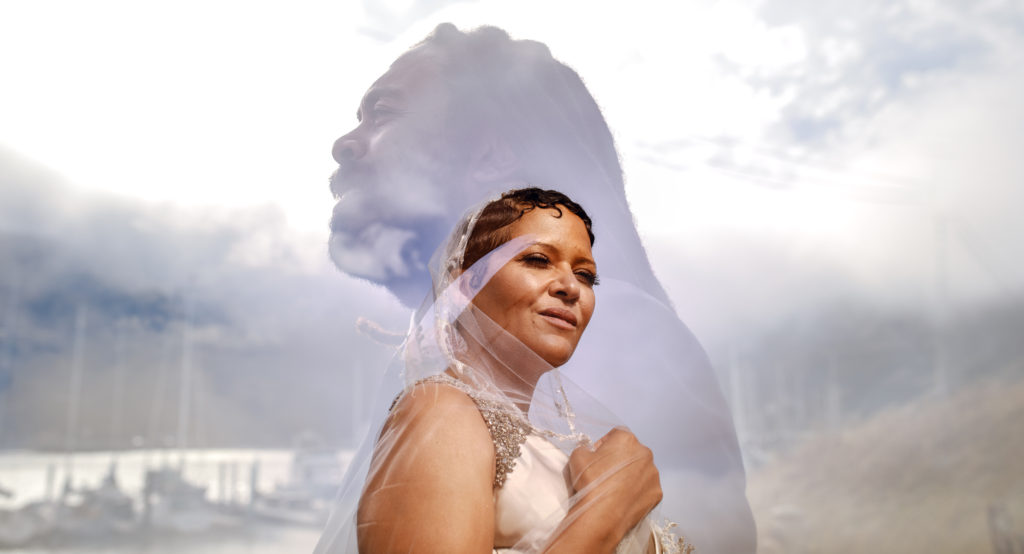 Over dinner,  Cristina's and Jason's sons proposed the first toasts to their newlywed parents, expressing gratitude for making each other happier than they had ever seen them… listening to that, we all had to dab our eyes. It was very emotional, and very beautiful – and then many more impromptu toasts and speeches followed, a veritable love fest for Cristina and Jason! They were both beaming, visiting tables and way too excited to eat. But they did cut their cake (from the in-house patissier at Cavallo Point).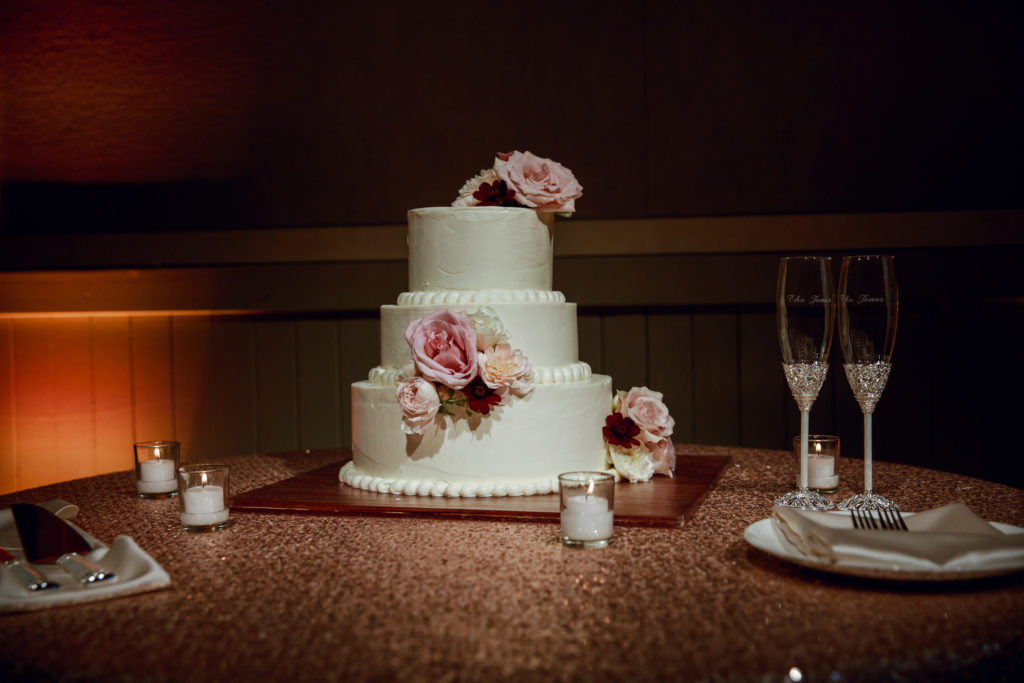 Their first official collaboration as a married couple: completed with bravura!
Guests had so much more to enjoy even after that: the photo booth (by Photo-Matica) was a huge hit, with everyone crowding around it; dancing to a mix of tunes – heavy on Reggae as a nod to both Cristina's and Jason's heritage – by DJ Aykut, and late-night snacks… and sitting around the fire pit on the patio under string lights and a huge moon light… Everyone loved this party!
Photographer Tuan Bui and Videographer Andrew Hsu of Studio MSV captured every precious moment – make sure to watch the wedding video here!
While their guests were still lingering around the fire, Cristina and Jason snuck away, hand in hand… Wishing you a lifetime of happiness and priceless memories of this day filled with joy and laughter!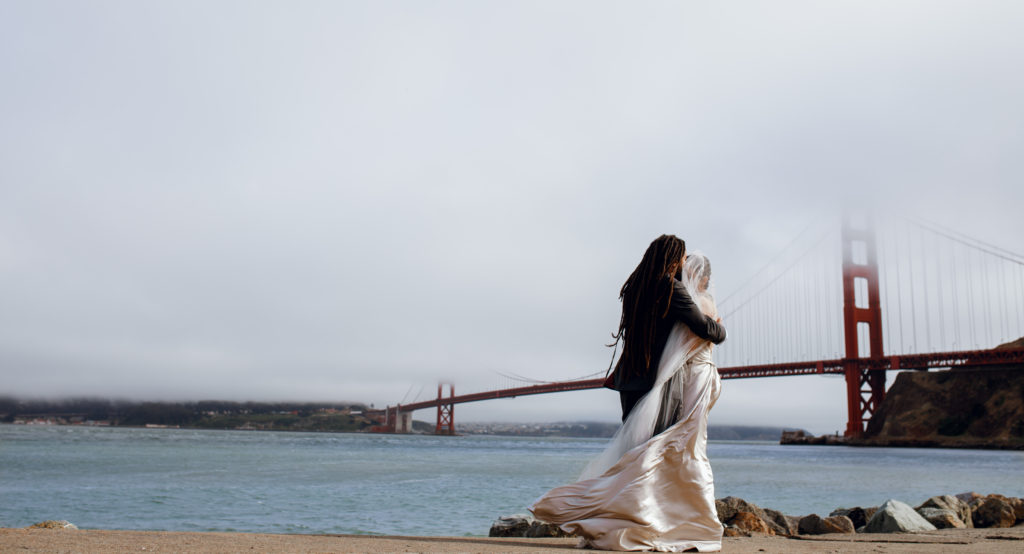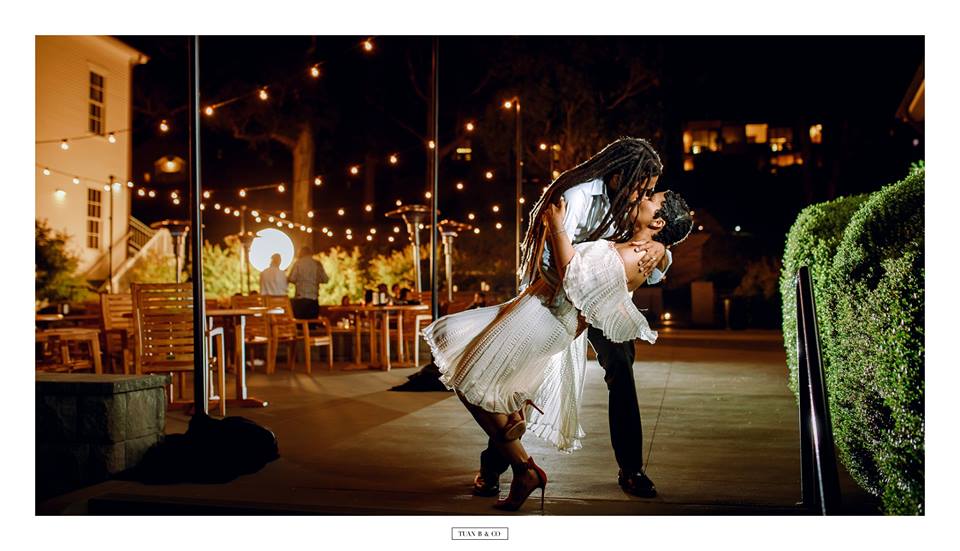 Let us create YOUR unique wedding celebration, too!

<! DL 06/02/12: Added html code for Pinterest Pin It button (appears at the end of each post) > <! DL 06/02/12: Added padding style modifier to the Pinterest html code to align the Pit It button on the page > <! DL 06/02/12: deactivated code by adding two ! in the a and img code lines >