Delia's and Chris' union is a match – well, made in Heaven. Delia has two beautiful grown daughters from her first marriage and had not expected to get married again in her lifetime. And for Chris it would be the first time EVER.
When Delia called my company, A Day Like No Other, for help with planning her dream wedding at Thomas Fogarty Winery in Woodside, California, I jumped at the opportunity.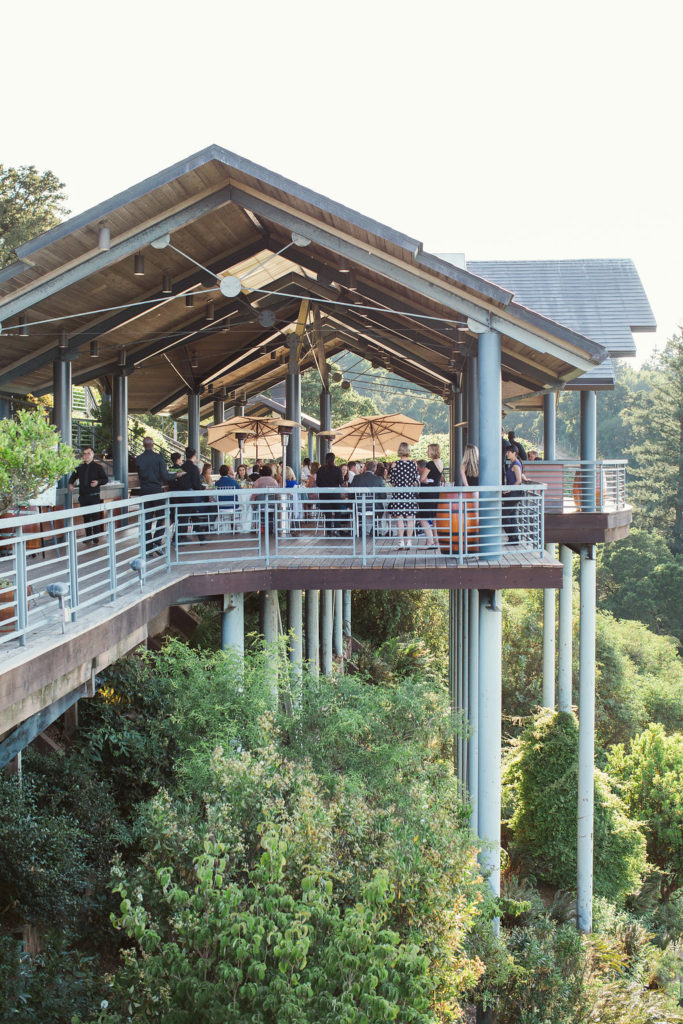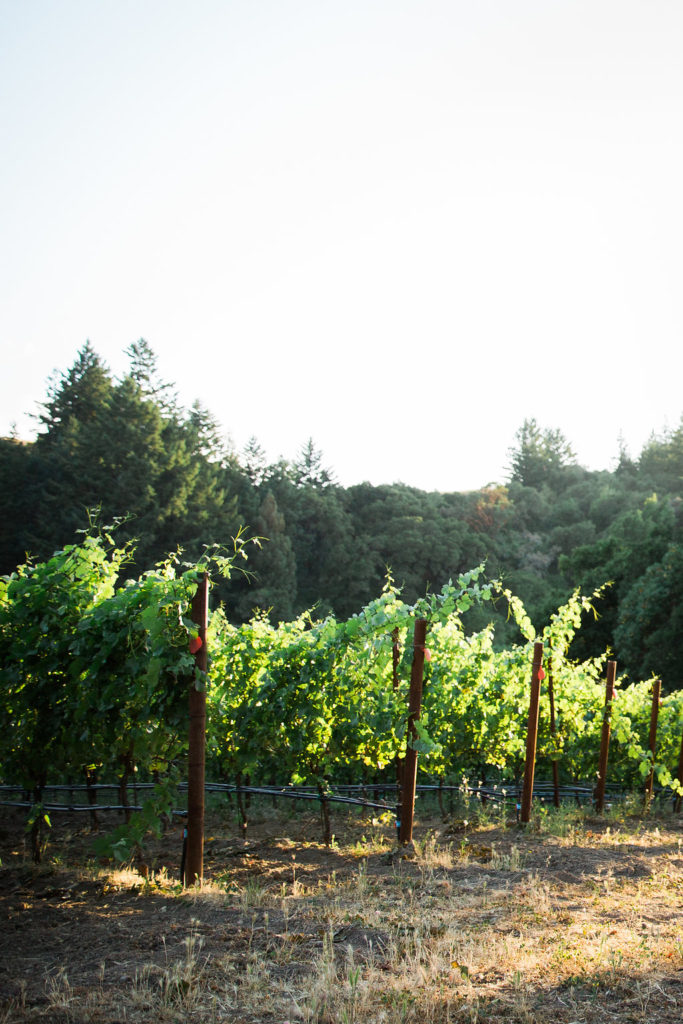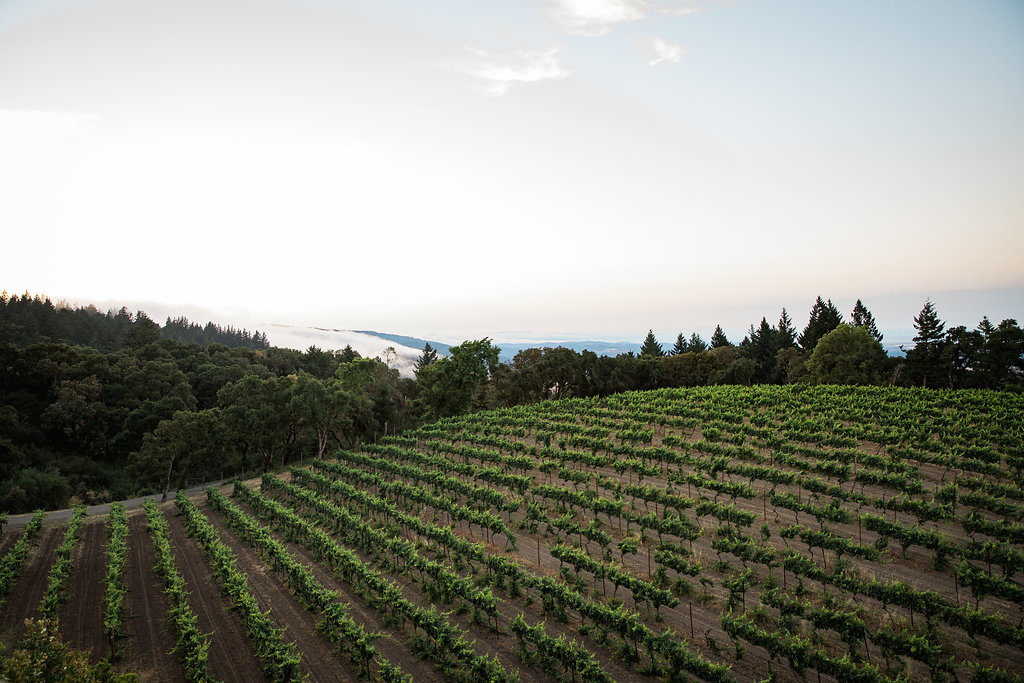 I LOVE this venue! And I loved Delia's "vision" for the design and decor as well. After many months of planning, vendor sourcing, designing and curating, developing floor plans and timelines, all our "labor of love" came together last Saturday on a perfect California summer day under blue skies, a warm sun and a light breeze, on top of the mountain ridge where this beautiful venue is located, overlooking all of Silicon Valley with views up to the San Francisco city skyline.
Delia arrived at Fogarty Winery together with her Maid of Honor, her "flower girl" and her two daughters Alivia and Madeline, in full hair and makeup done by her personal friends Connie Cook and Sofia Collazo. Photographer Megan Reeves and Videographer Justin Ferrar of Weddings on Film captured that precious moment of the bride getting dressed for her great moment… (and everything beyond that, too!)
… and here is a detail of her extraordinary veil, embellished with stunning embroidery and beading…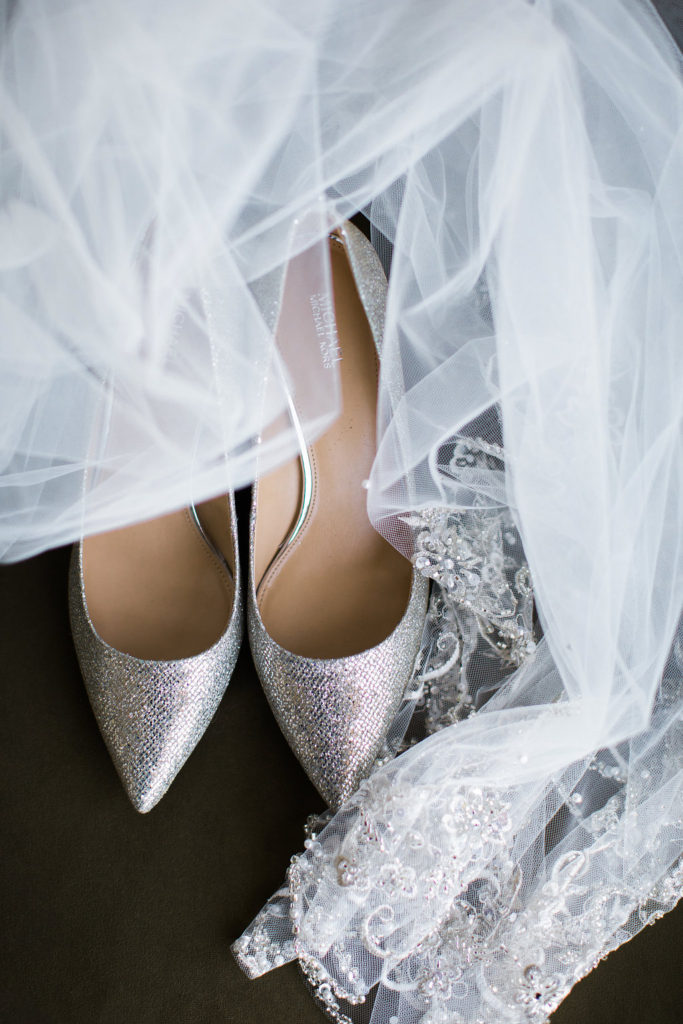 … plus "Cinderella slippers!"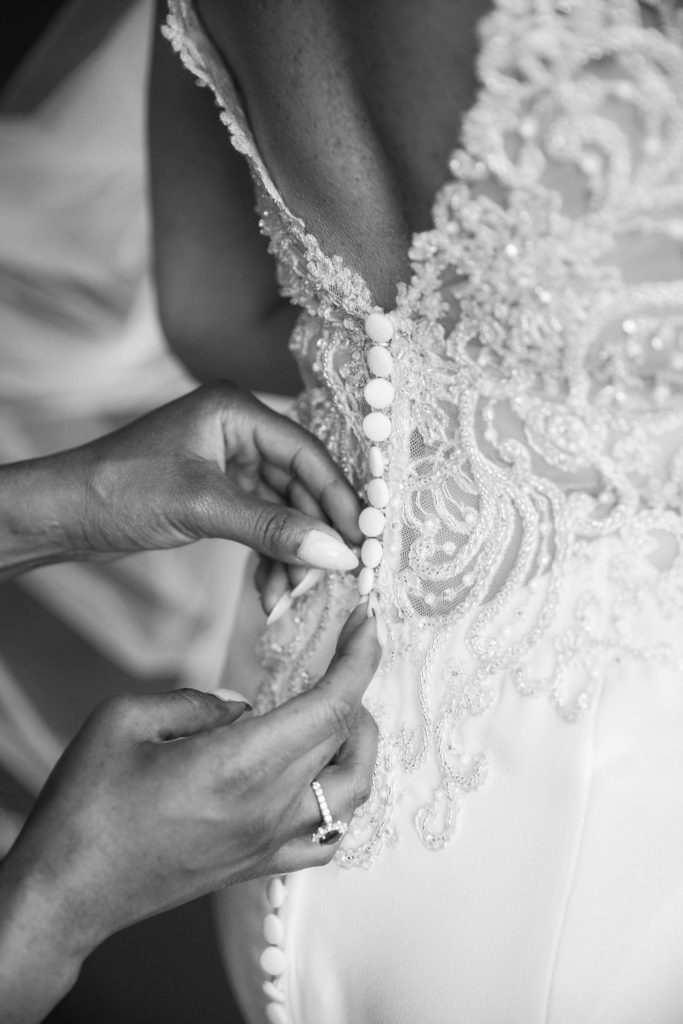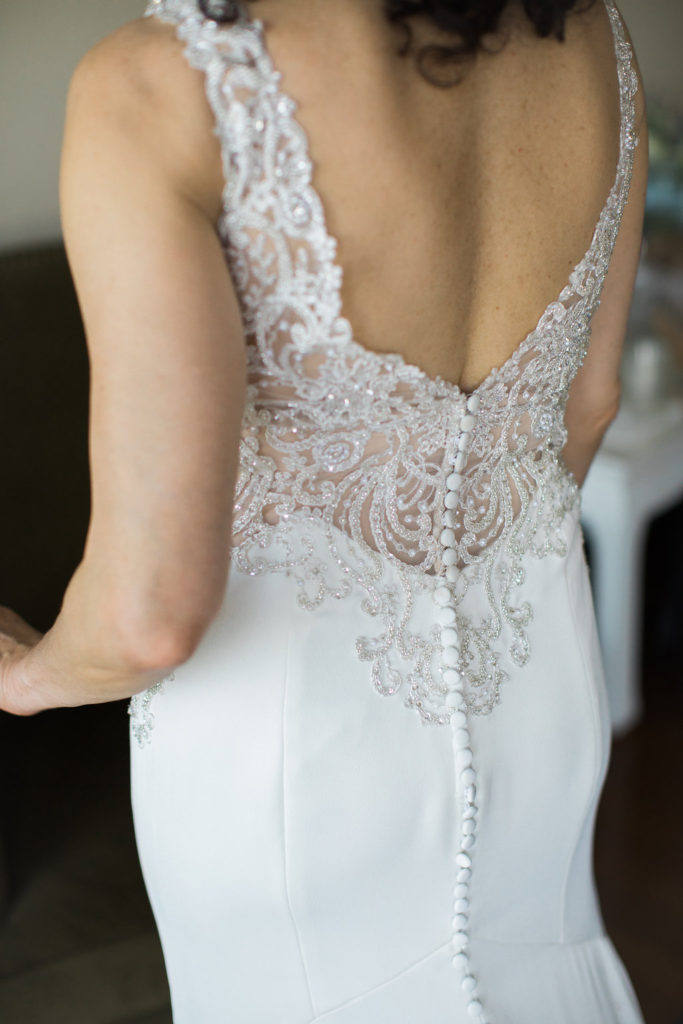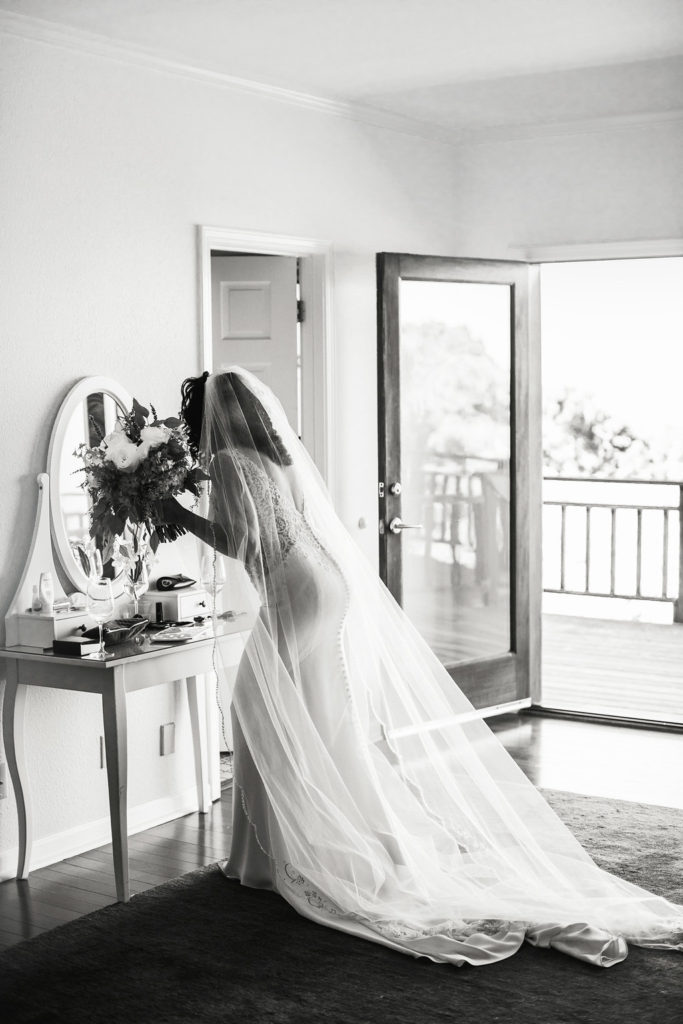 Florist Jeffrey Adair of J Floral Art delivered an elegant, feminine bridal bouquet in shades of ice blue, ivory and silver…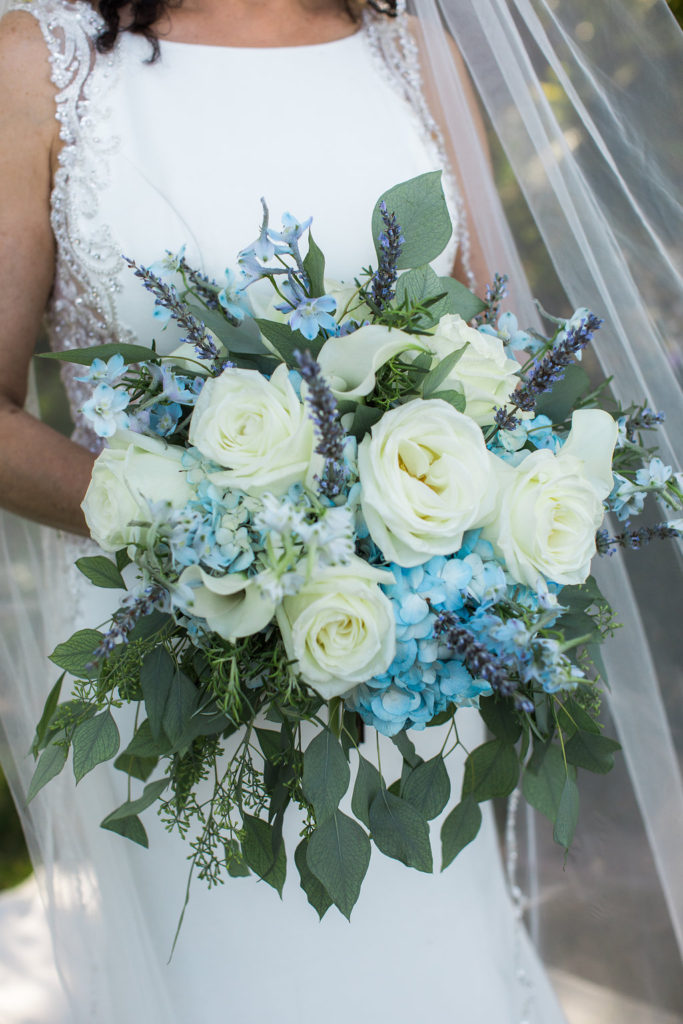 … with bridesmaids' bouquets and boutonnieres to match. Next, he went on to install an incredible wrought-iron arch and to decorate it with matching floral arrangements for the ceremony, complement this with large arrangements flanking the aisle, and finally covering the aisle with a thick carpet of fresh ivory rose petals.
Harpist Erica Messer played prelude music (she brought her newest harp out for us for the first time!)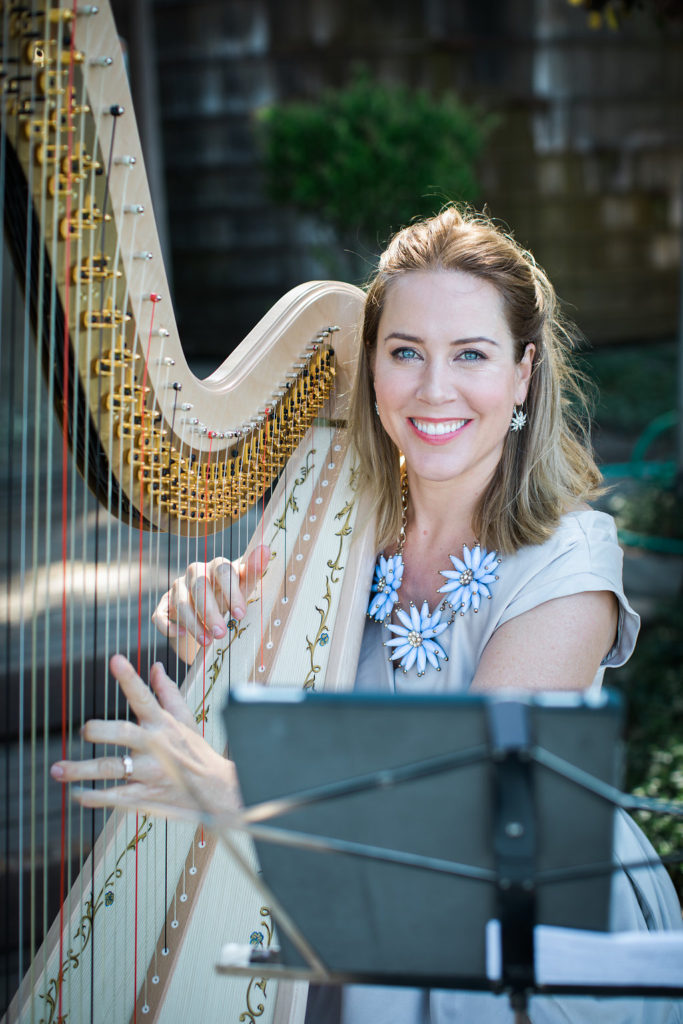 … as guests were arriving via shuttle bus (by Destination Systems) and welcomed…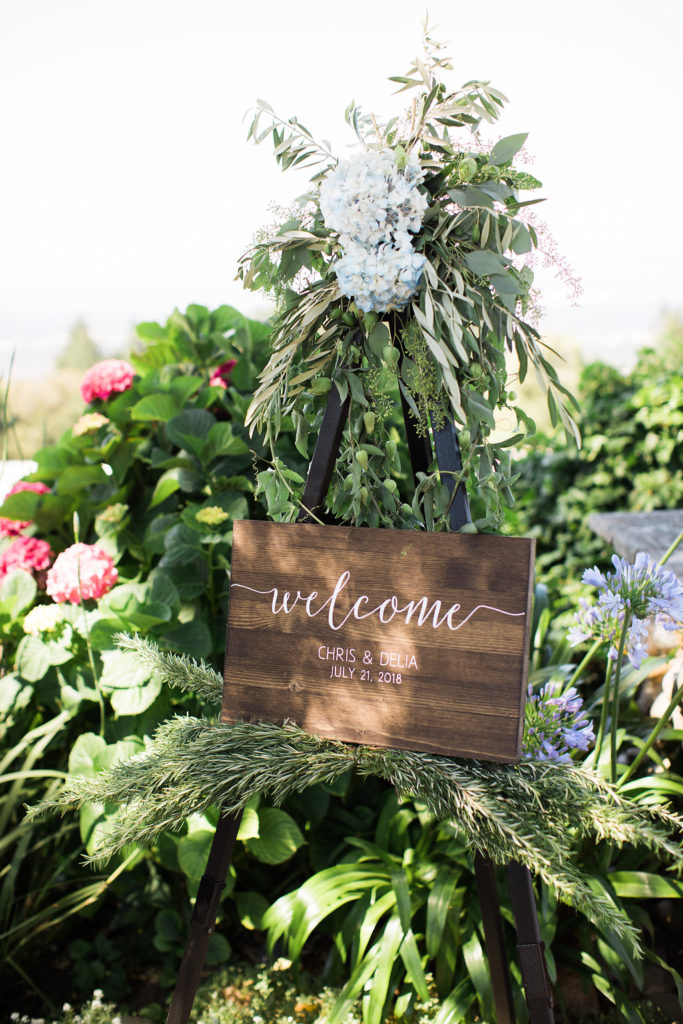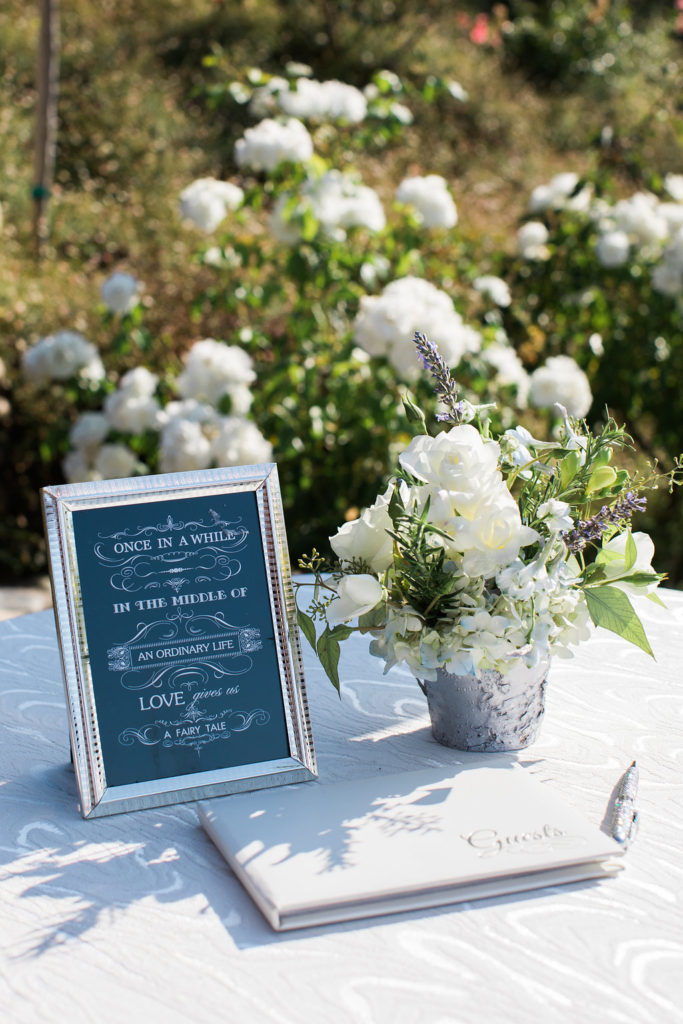 … to an incredible setup with endless views.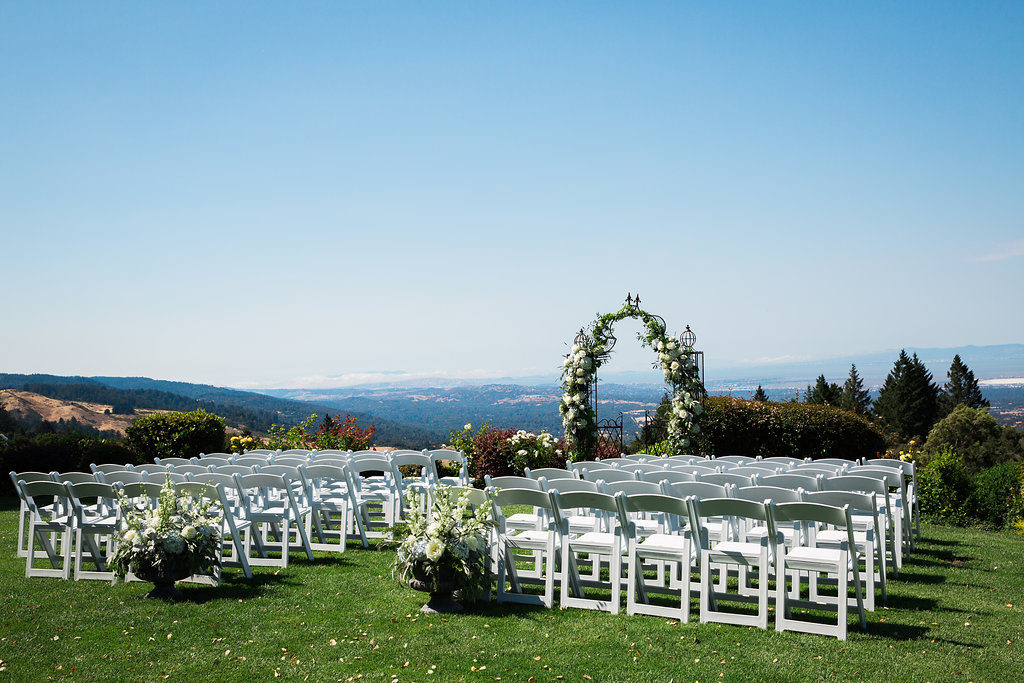 Fans to combat the summer heat did double duty as ceremony programs.
Groom Chris was also preparing with the help of his brother and Best Man …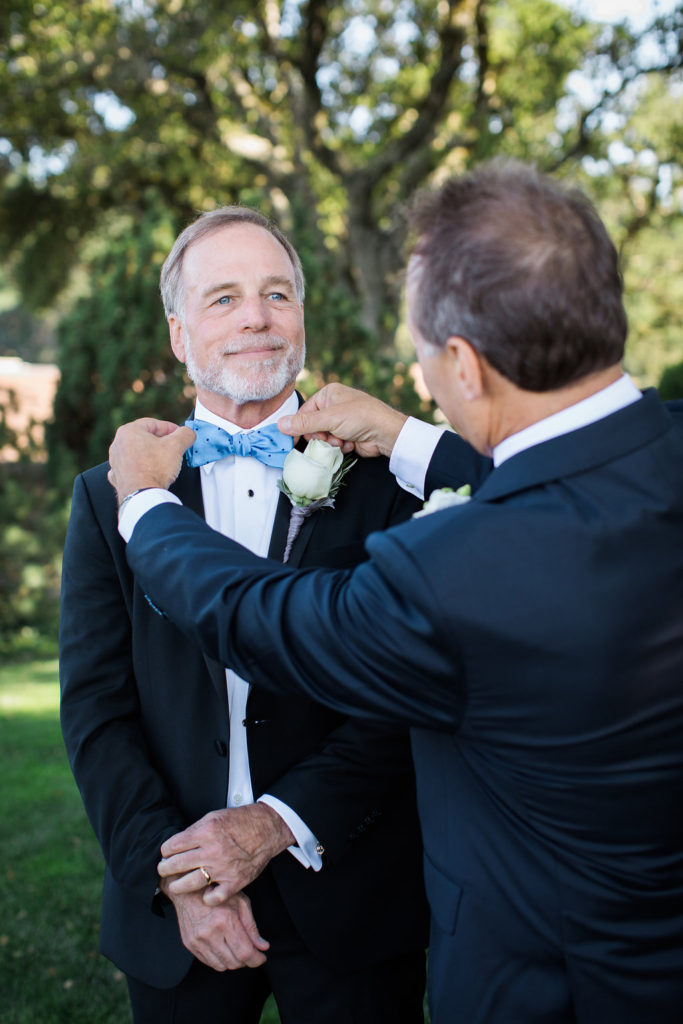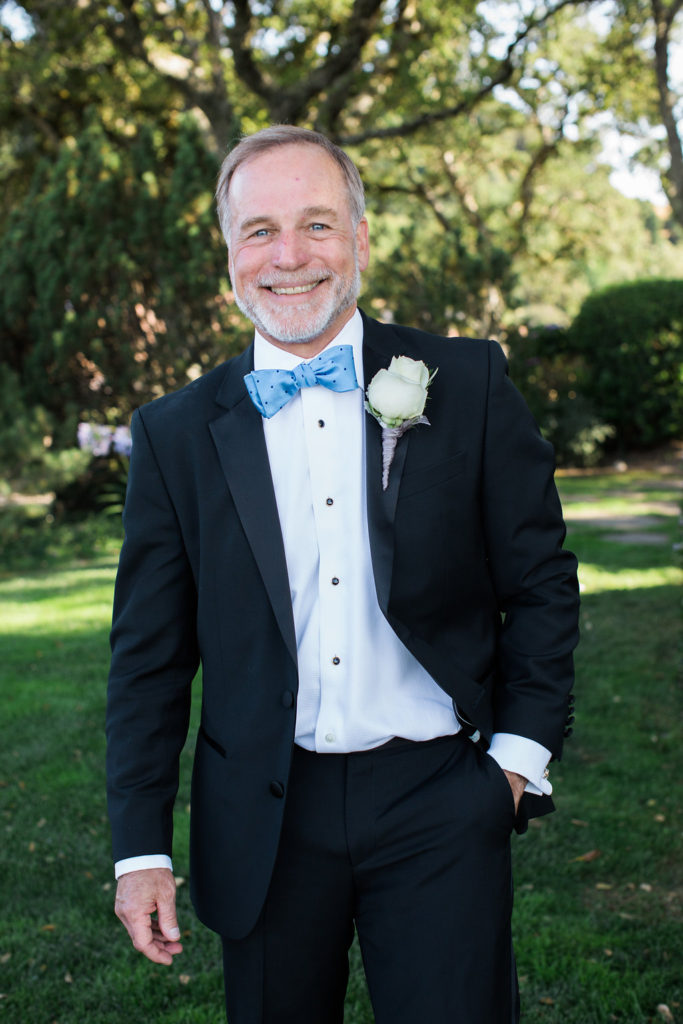 At 4:30 in the afternoon, the great moment had finally come! Delia had been adamant: following strictest tradition, she did not want Chris to see her before the ceremony.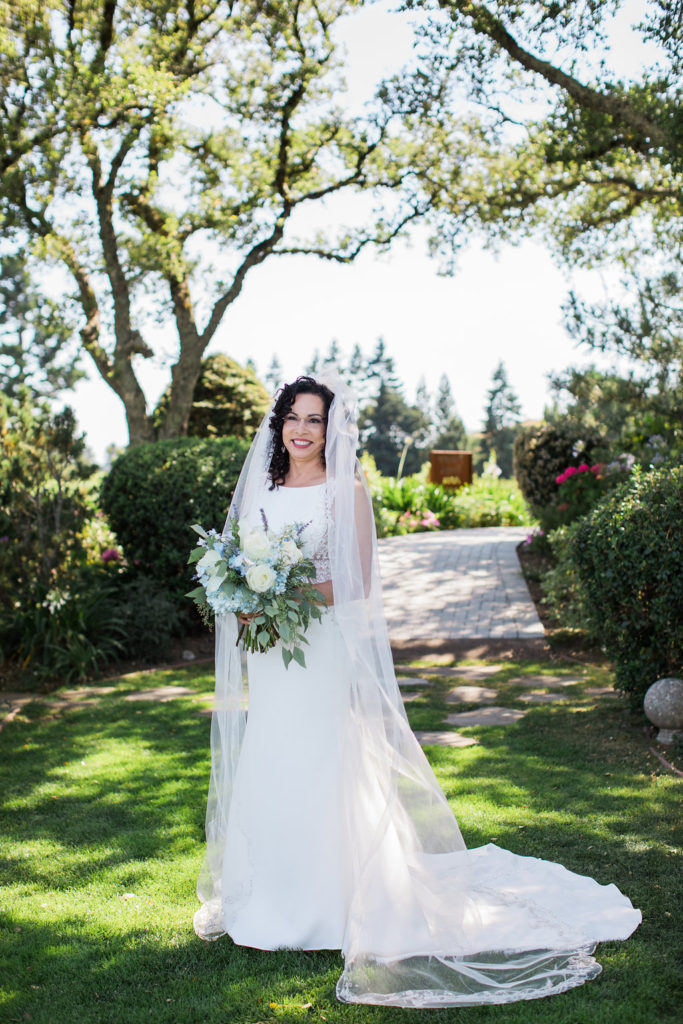 And here comes the bride, accompanied down the aisle by her daughters.
The ceremony was officiated by a close friend of the couple who found the most personal, moving words for them.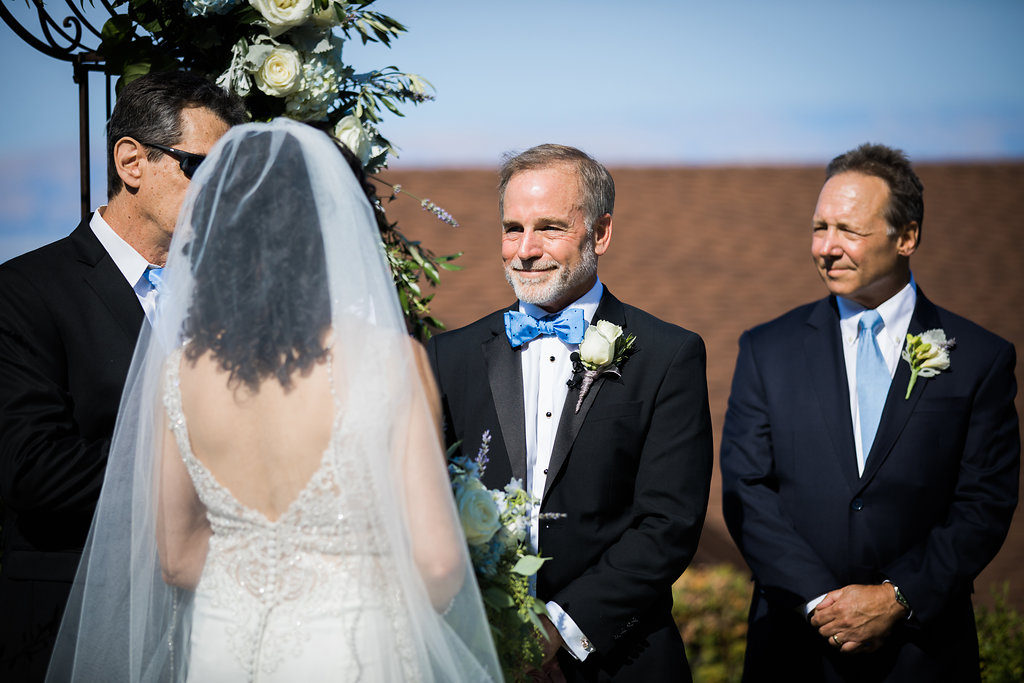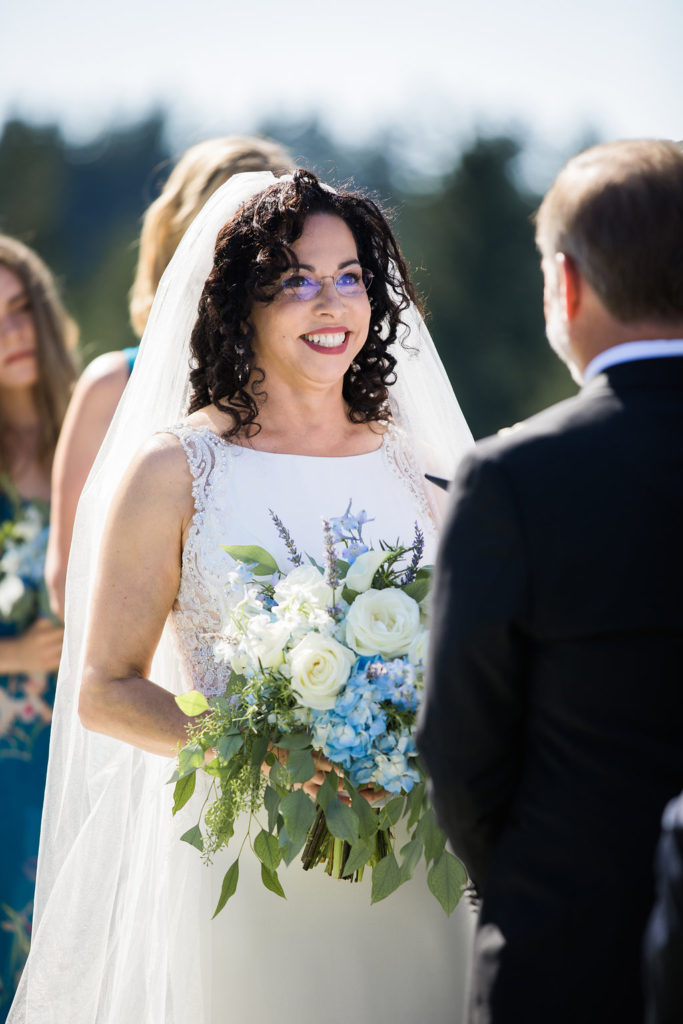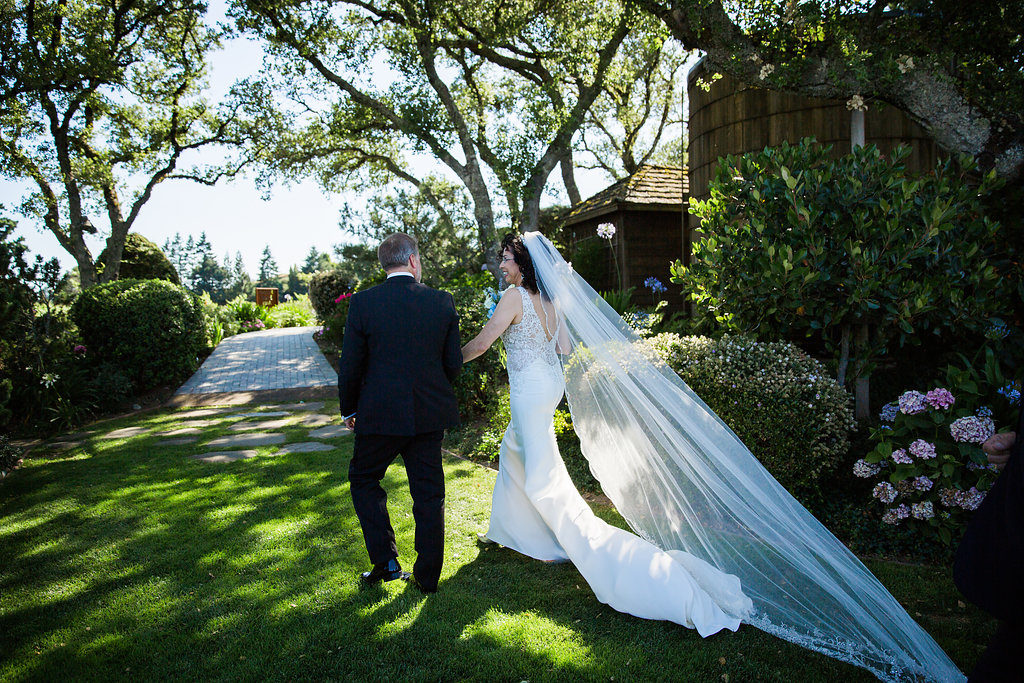 Just married – and so happy! While guests were enjoying Fogarty wines at Cocktail Hour on the deck…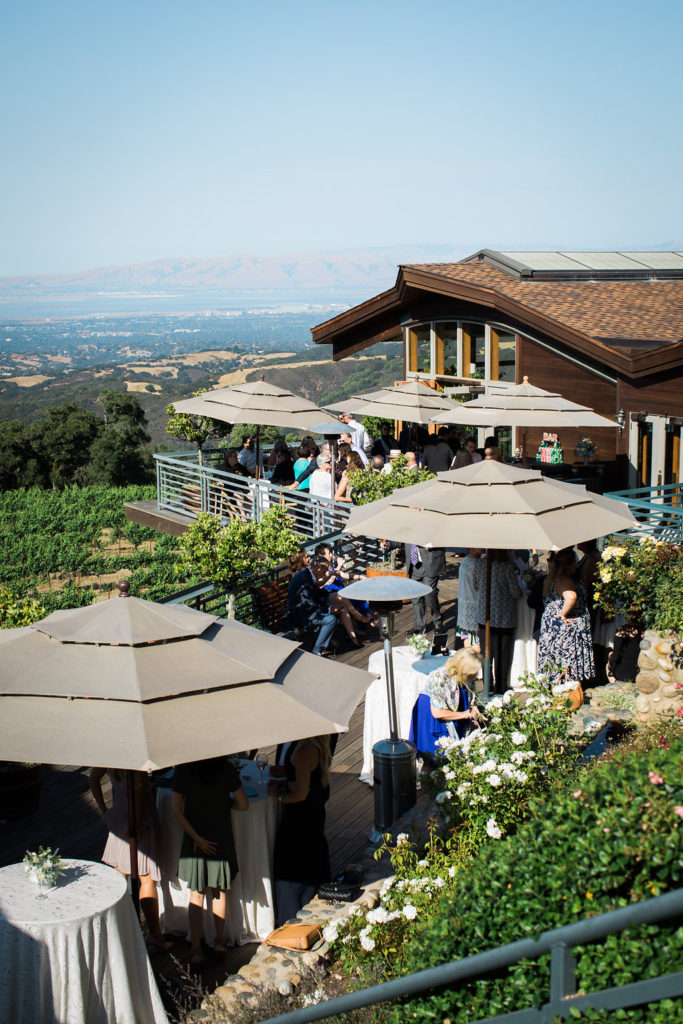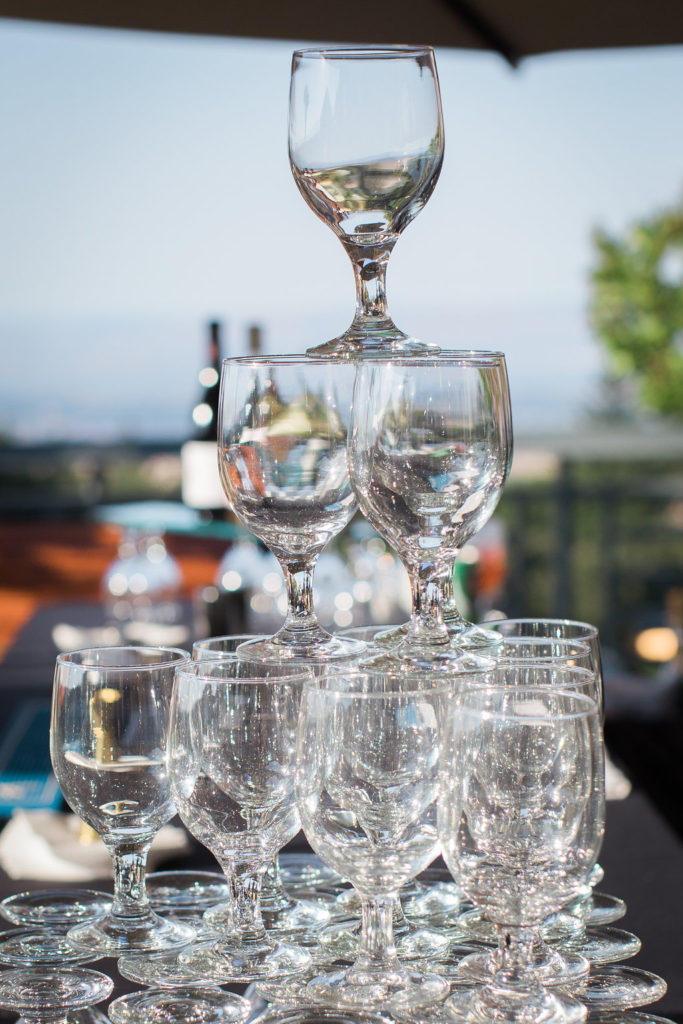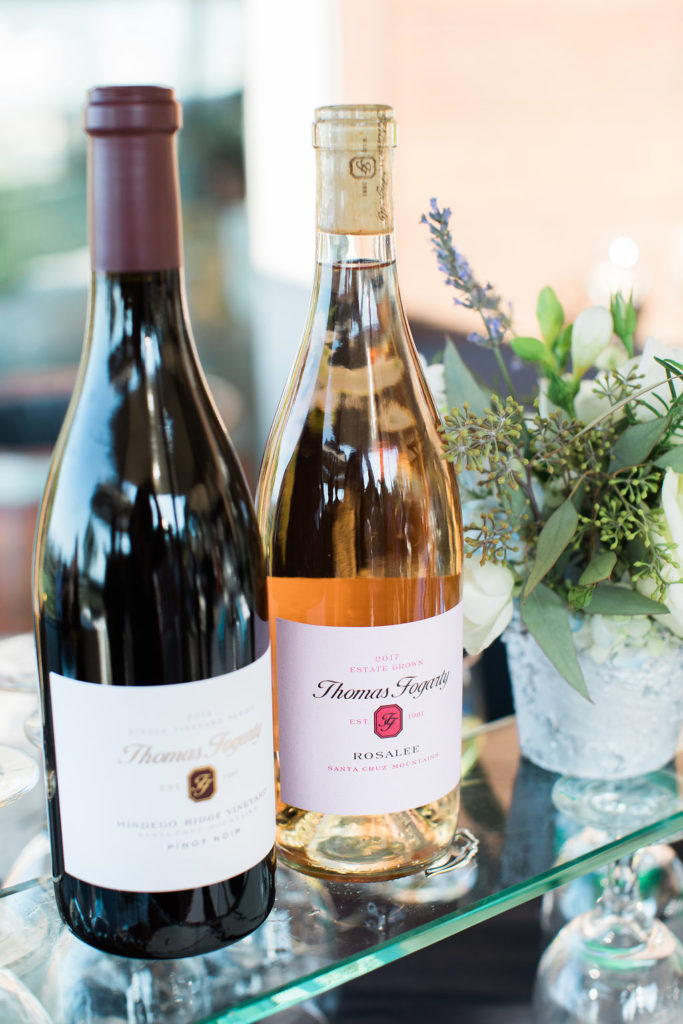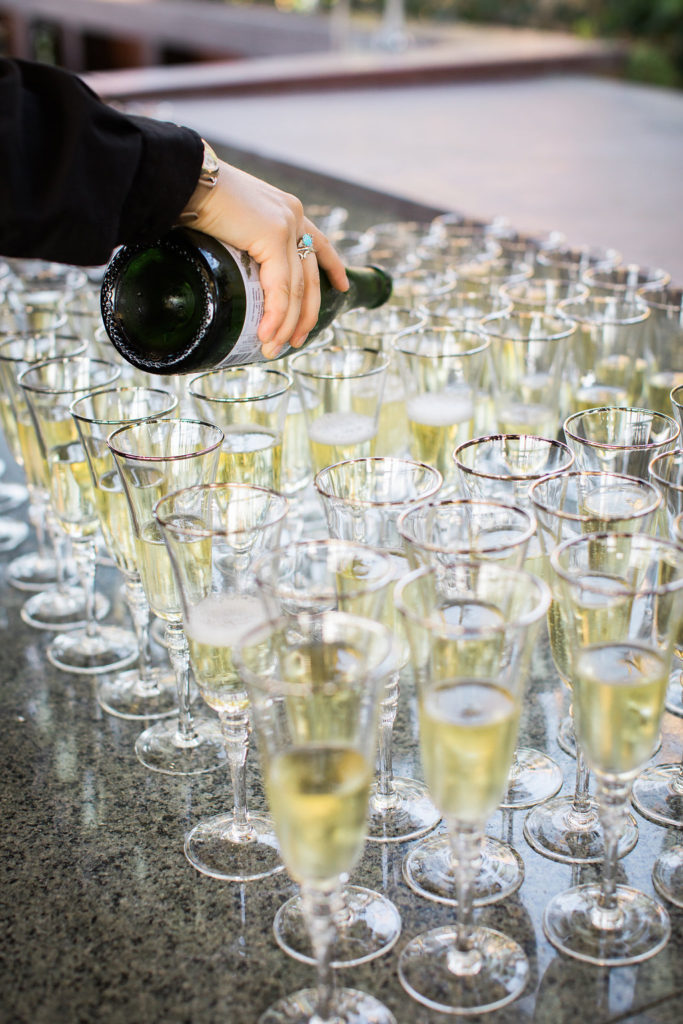 … accompanied by delicious hors d'oeuvres courtesy of Toast Catering,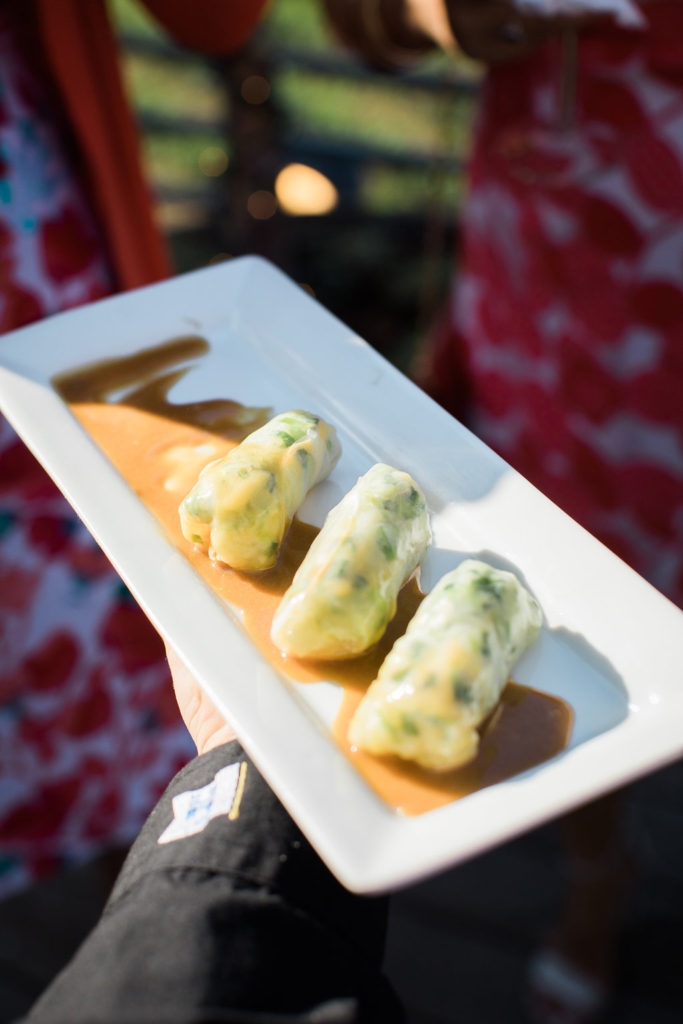 Chris and Delia had many more photos taken – among them, of course, their official wedding photo!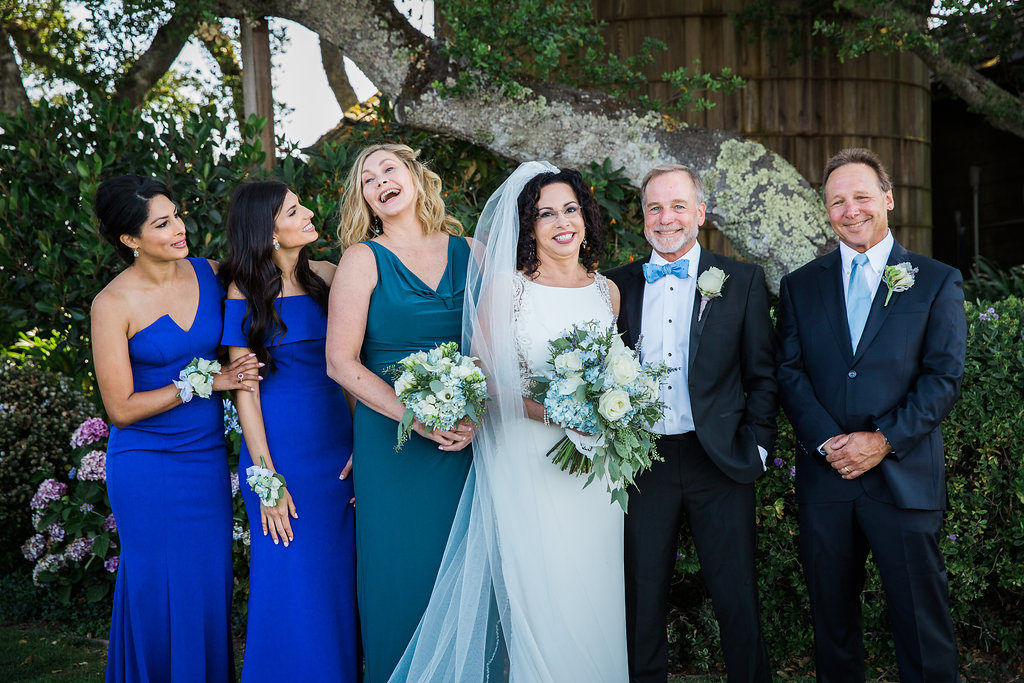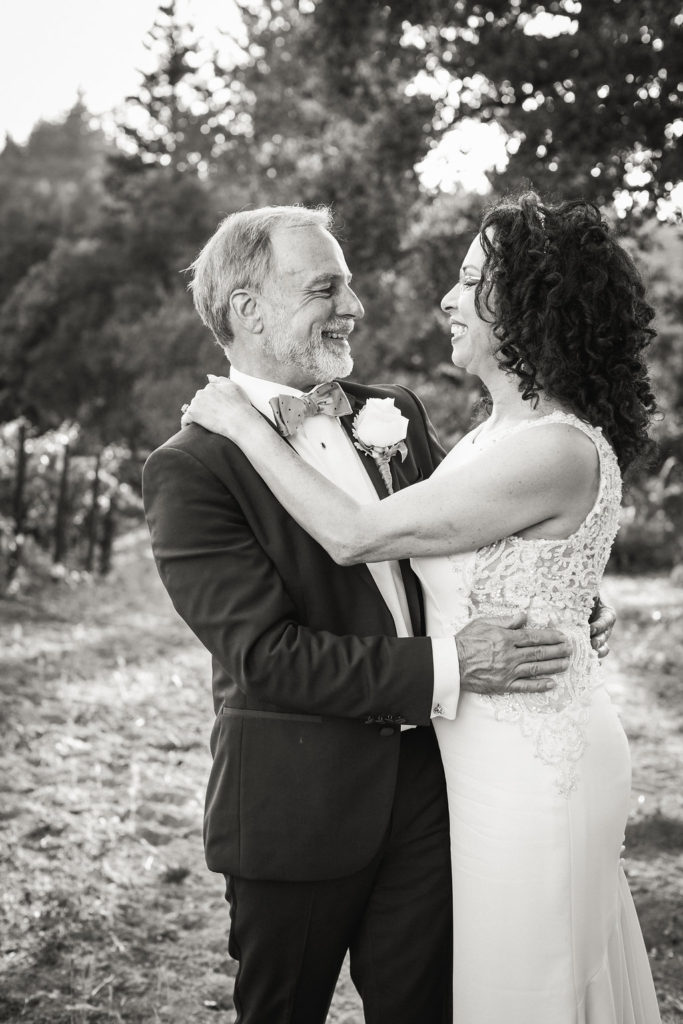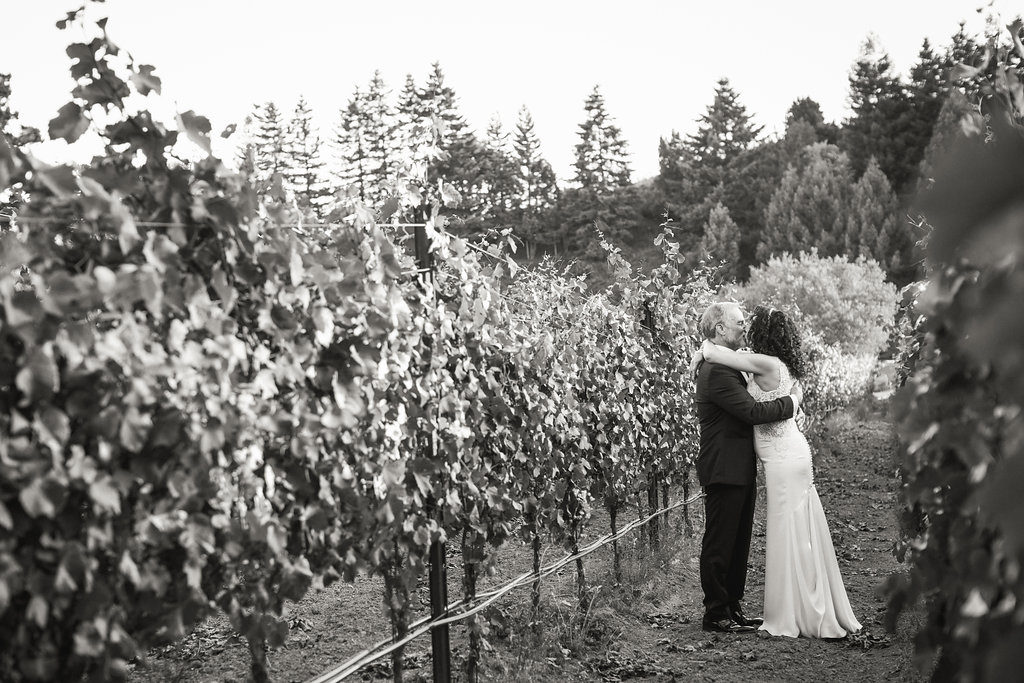 Soon enough it was time for dinner (by Toast Catering) in the open-air Pavilion, at dining tables beautifully set with silver Chiavari chairs, elegant ivory-moiré linens and stunning china, glassware and silverware from Hensley Event Resources, and with centerpieces from J Floral Art.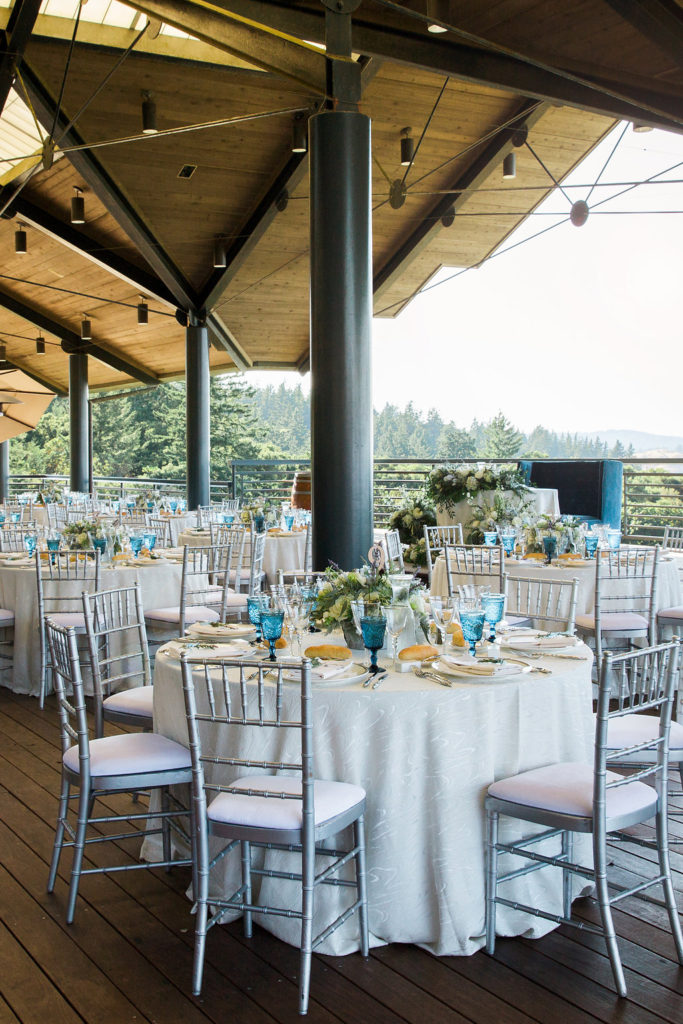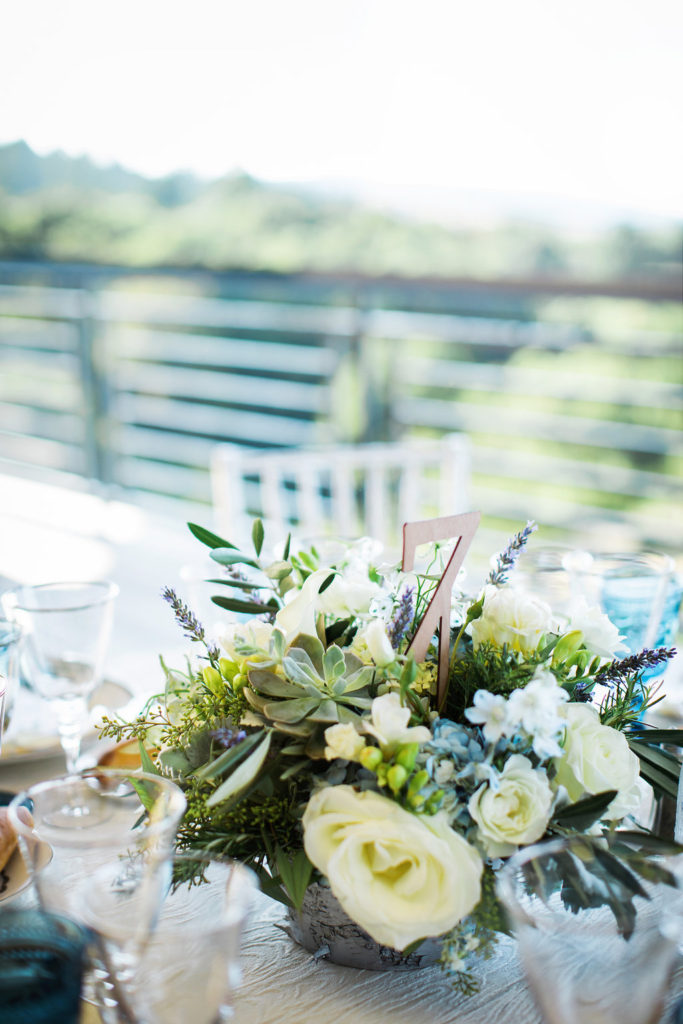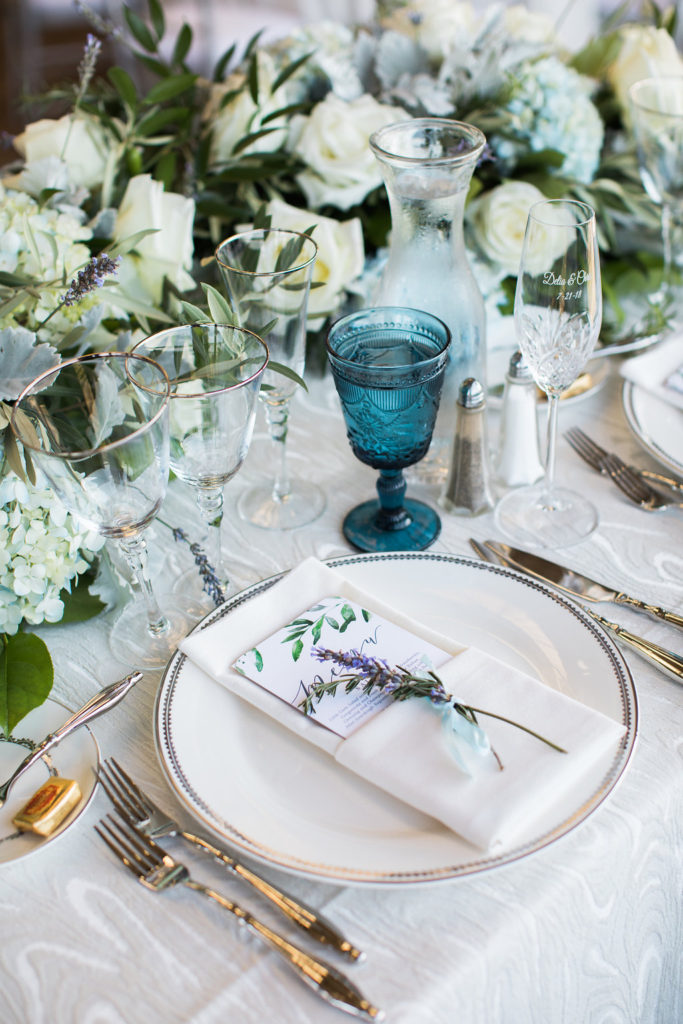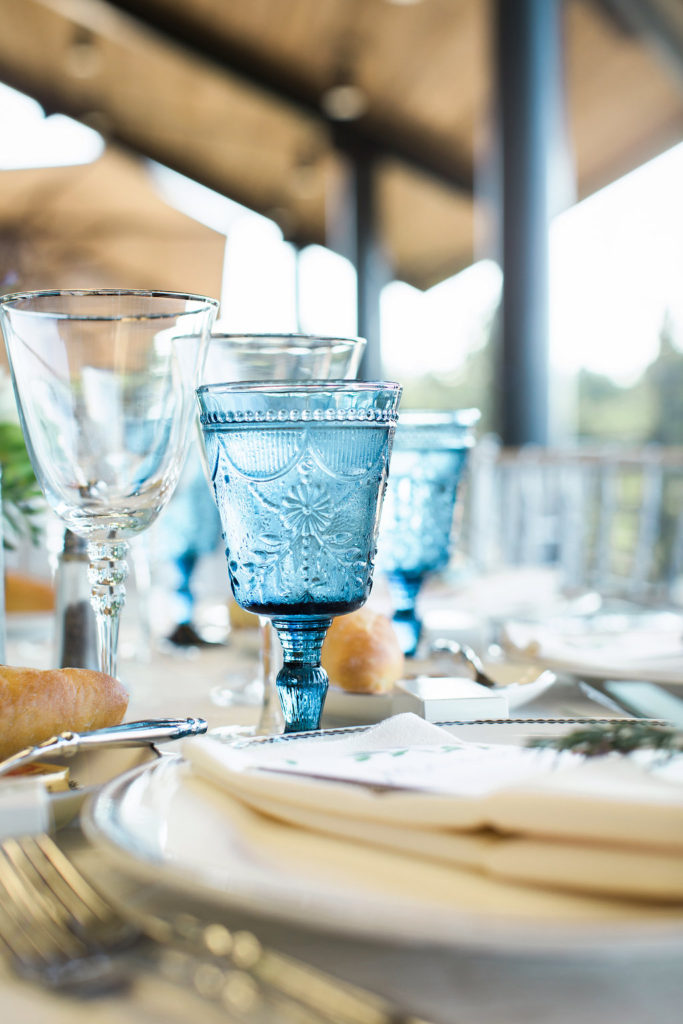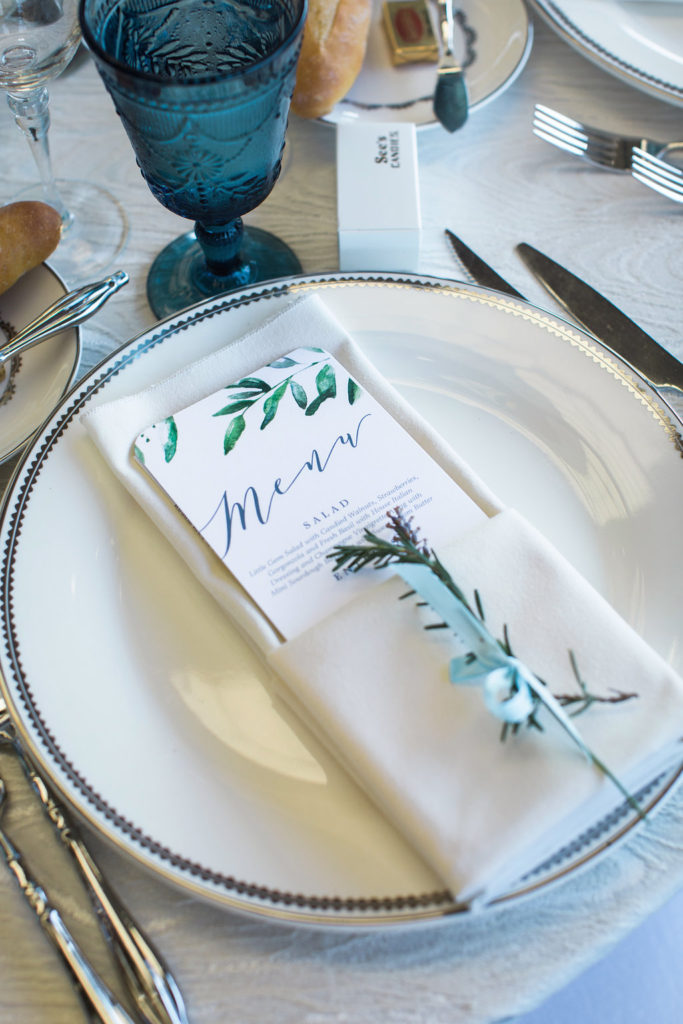 See's chocolate candy favor boxes, menu cards and little herb bundles of rosemary and lavender, hand-tied with color-coordinated light-blue ribbon by the bride's sister, completed the look.
Of course, the newlyweds' Sweetheart Table, from which they were presiding over the congregation, received special treatment!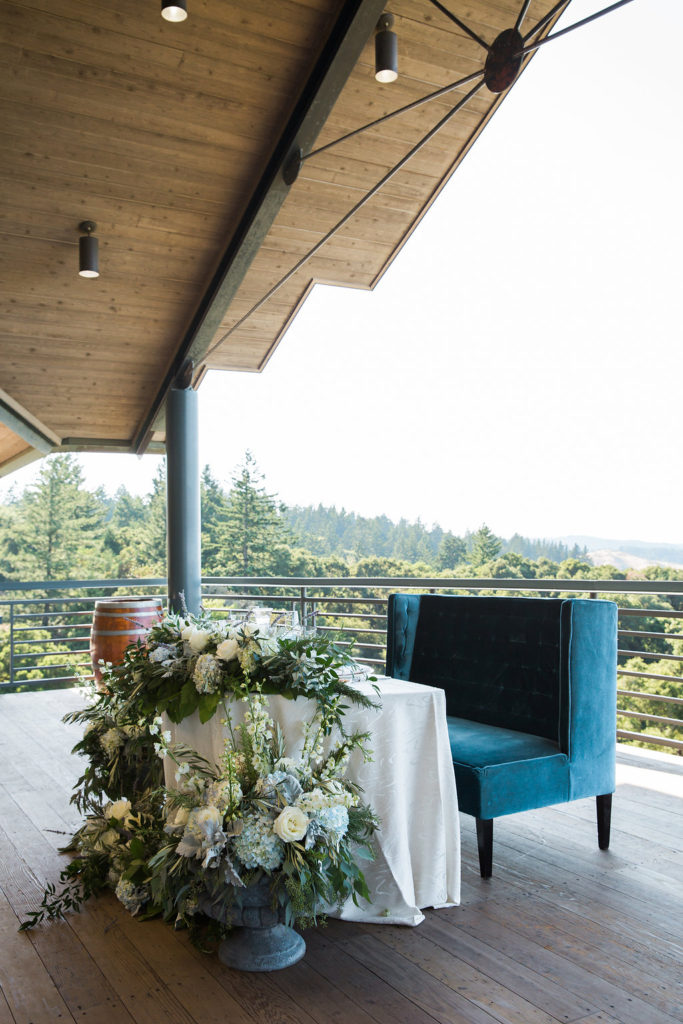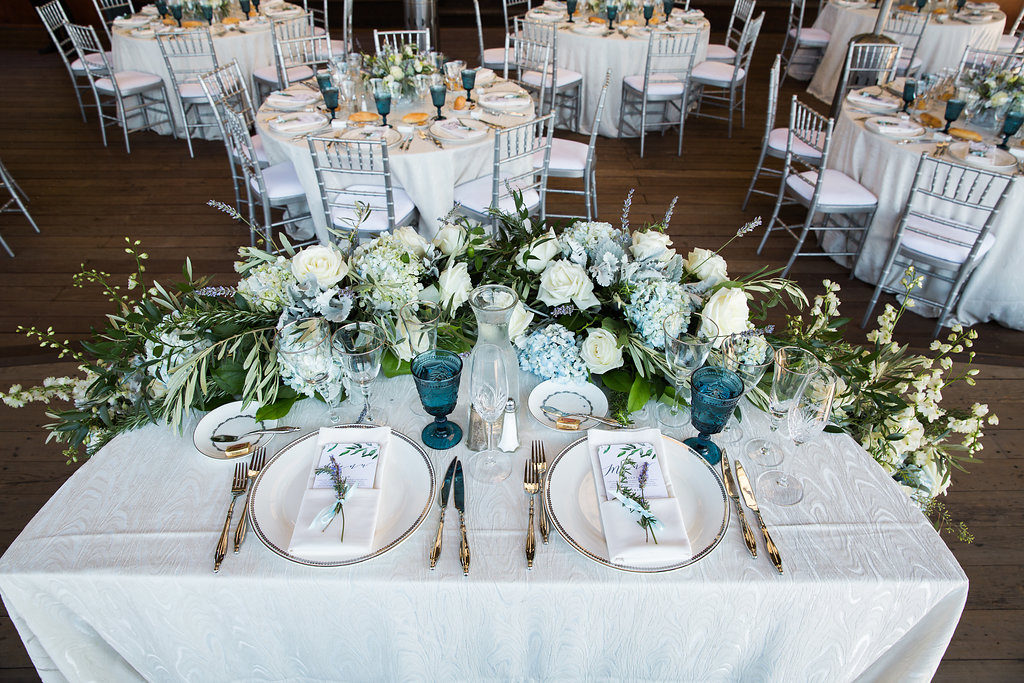 Guests were guided to their assigned tables by a whimsical, charming escort card board custom-made and hand-painted by A Day Like No Other.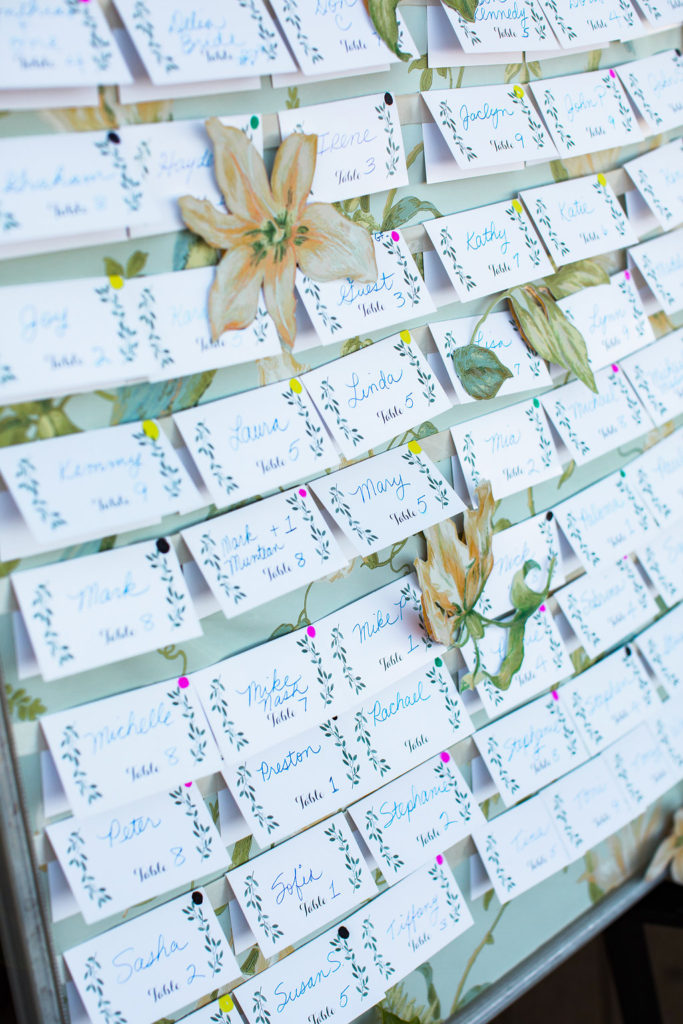 Next up: the Grand Entrance of the bridal party and of the newlyweds!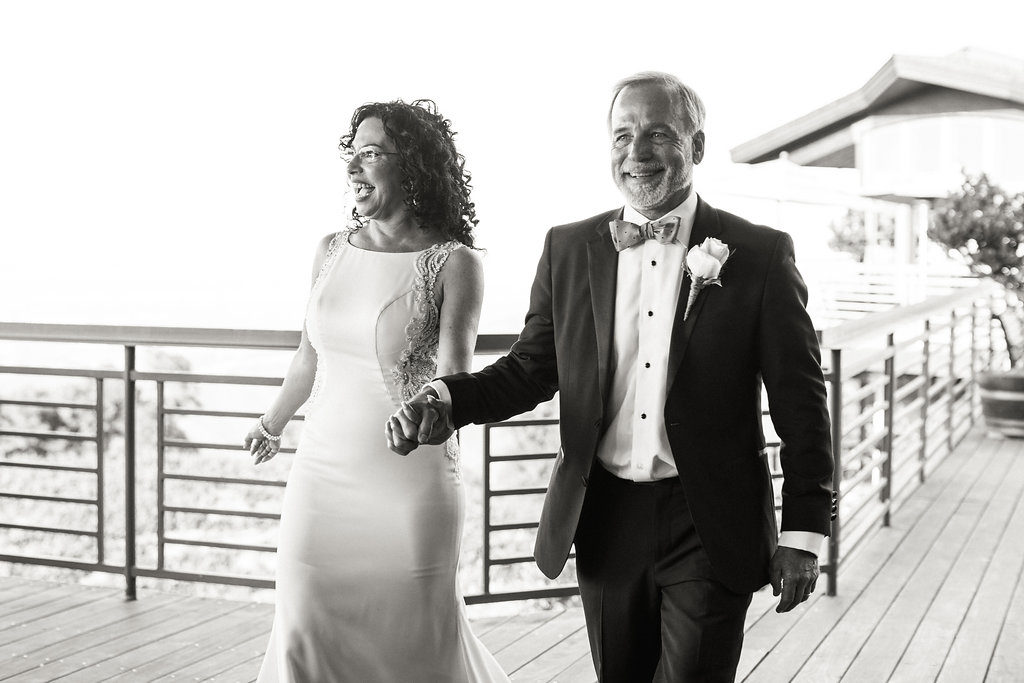 After feasting on delicious salad and entrees, guests were treated to a mouthwatering selection of pastries and chocolates by Toast Catering.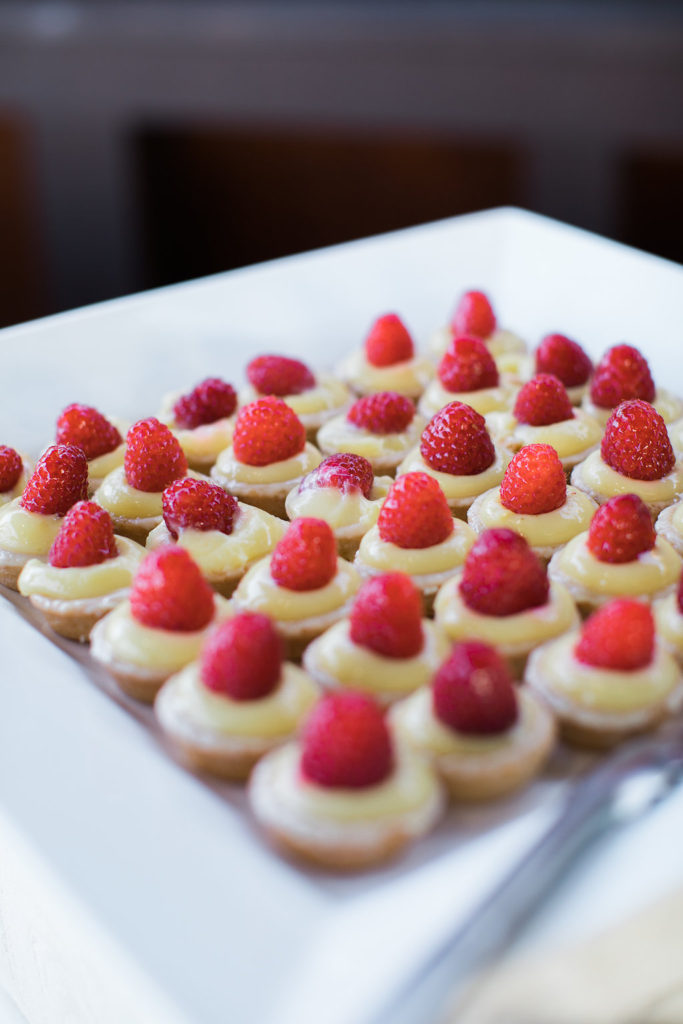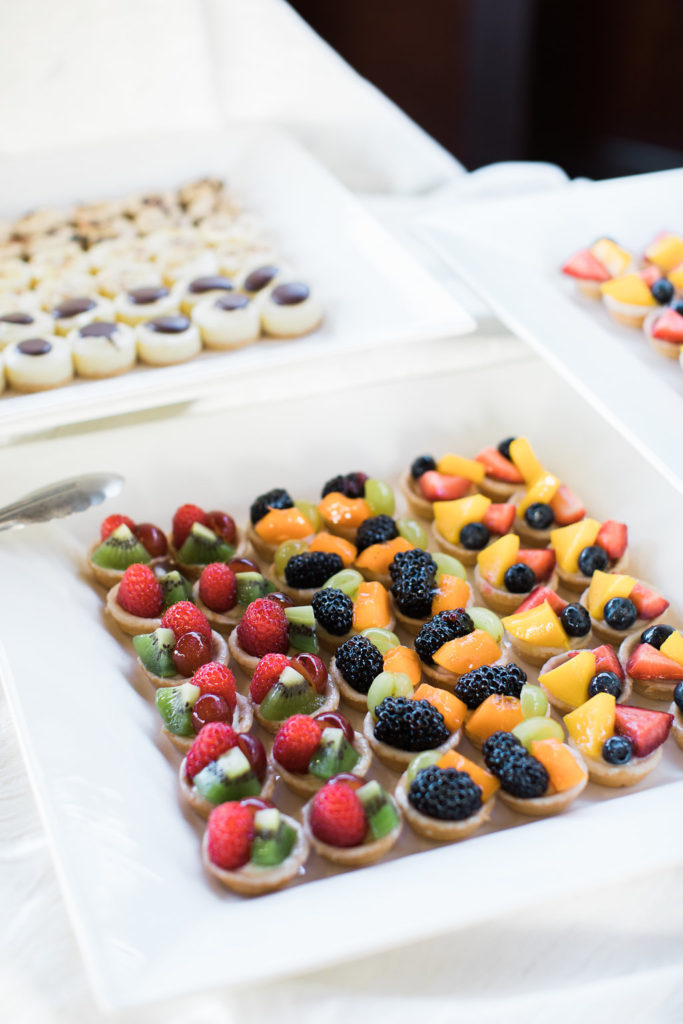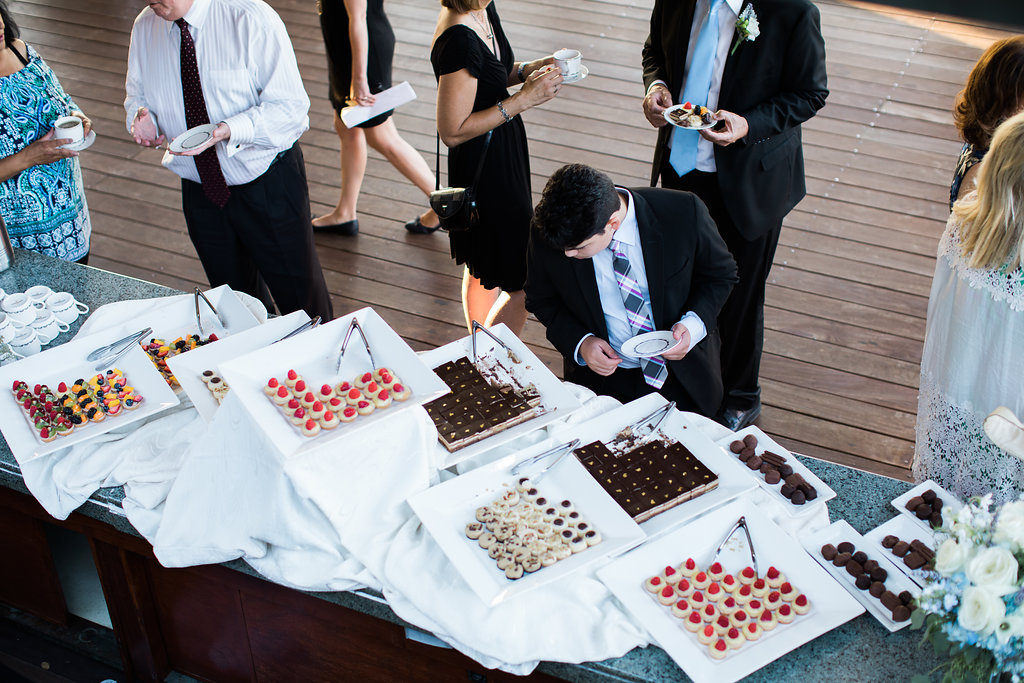 The last highlight of the evening was Delia's and Chris' First Dance to the rousing tunes of DJ Stefano Bortolin of Big Fun Discjockeys.
Outside, as darkness fell, the scene turned downright magical…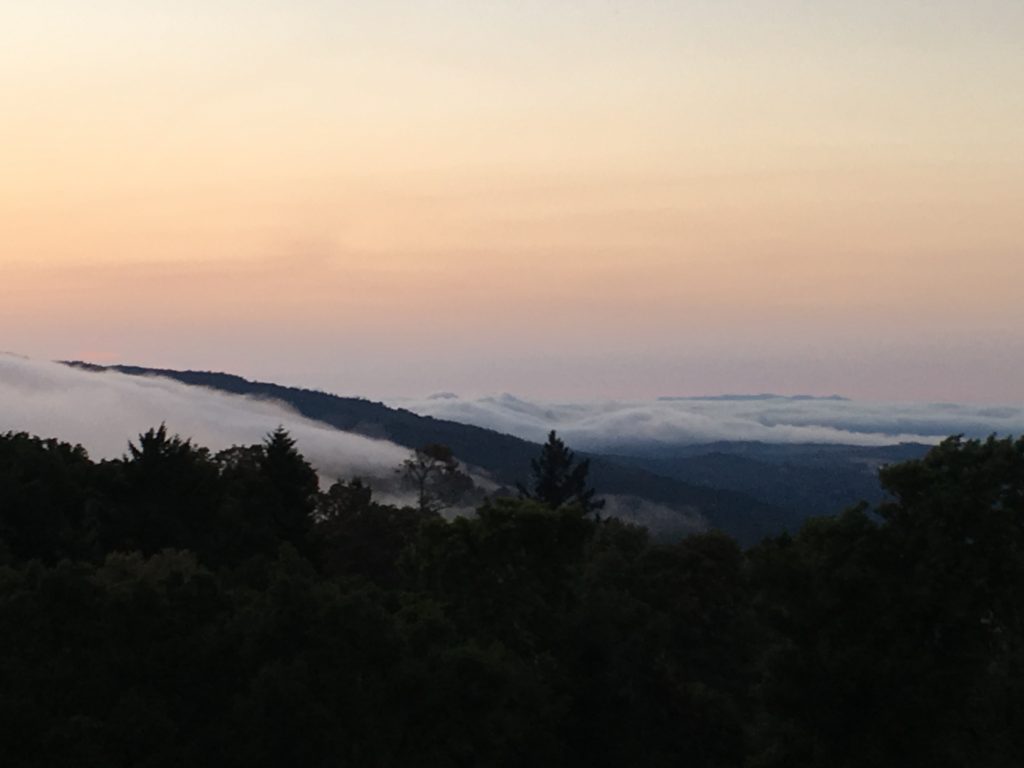 Fogarty Winery is a very special place for very special moments – like this unforgettable wedding. Wishing you a lifetime of happiness, Delia and Chris!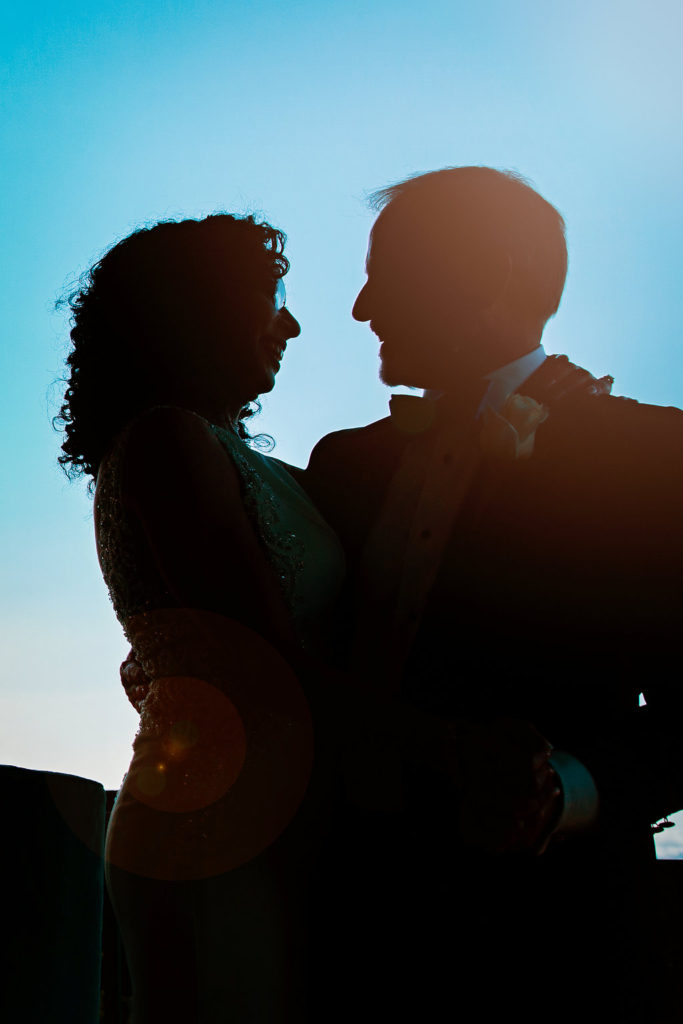 <! DL 06/02/12: Added html code for Pinterest Pin It button (appears at the end of each post) > <! DL 06/02/12: Added padding style modifier to the Pinterest html code to align the Pit It button on the page > <! DL 06/02/12: deactivated code by adding two ! in the a and img code lines >