For Halloween of 2013, a young couple decides to take their two little boys to a different neighborhood for trick'n treating. No big deal, right? Wrong. Much bigger deal than anyone would've thought. Just wait.
While they are there, they come upon a storybook house, truly magical, under mature trees, right out of "Harry Potter," with a  warm and inviting glow on that cold winter evening.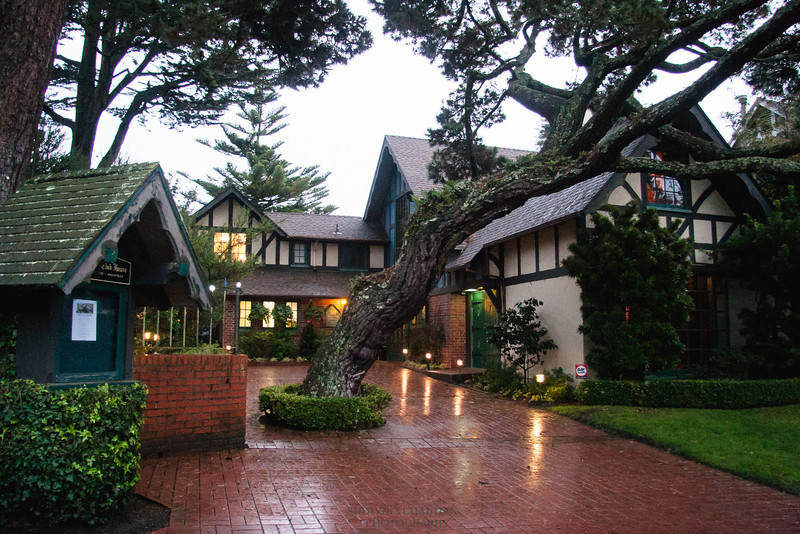 They did not know what it was – but they knew one thing instantaneously: that's where they wanted to get married! They had been toying with the idea of a Spring wedding for quite some time, but had not gotten into planning anything – until that momentous Halloween evening. They could not get the memory of this mysterious house out of their heads. Was it perhaps somebody's home? Could it at all be rented? Lauren started her detective work and found out – to her great joy – that, indeed, their dream house could be rented! It turned out to be the historic Forest Hill Clubhouse, not only the beloved gathering place for the neighborhood, but also a hidden gem of an event venue that has seen many a birthday party, anniversary celebration, and, of course, many a wedding in its 93-year old history. The two came visit and fell in love even more with the story book charm of the Clubhouse, inside and out. They rented it on the spot, and from that moment on, Lauren's and Francisco's wedding plans took on a life of their own.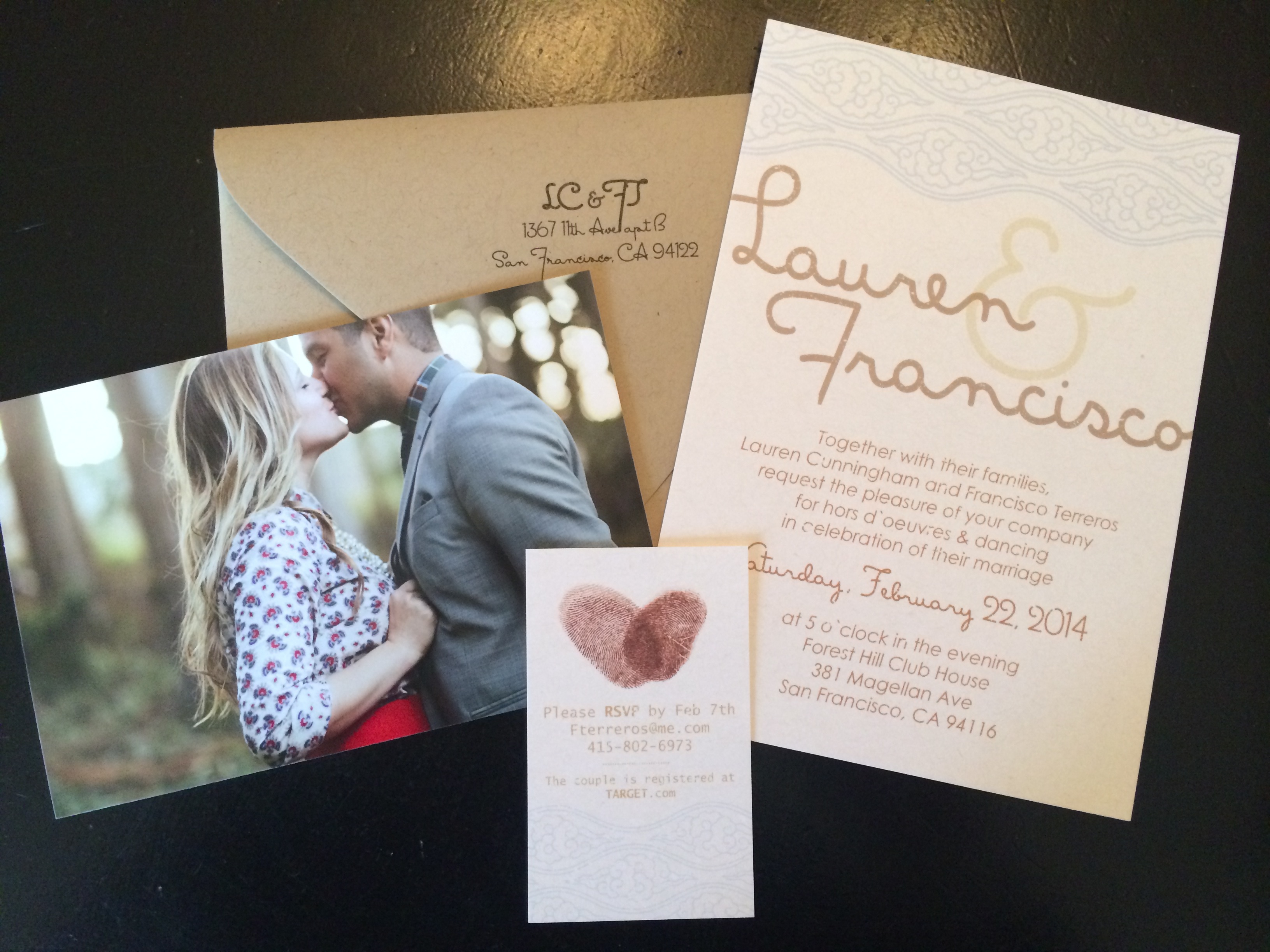 Soon enough the two realized what a huge task they had taken on – to be completed in less than three months! As a busy professional couple with two kids plus Lauren's musical pursuits (she is a violinist in an amateur orchestra) there was simply not enough time to get it all done by themselves. Enter A Day Like No Other, my wedding planning company! The two entrusted the planning to me, and off we went, all three of us, on a brainstorming, designing and planning "blitz!" So much fun… First of all: nothing conventional, please! Just a short ceremony in the romantic courtyard, only with family in attendance, no bridesmaids, no groomsmen, and then a fun dance party with all their friends. Okay!
Colors? Natural, please – ivory and brown and the delicate blu-ish hues of ivory hydrangeas tinged with a little blue and green. Flowers? Oh yes. Lauren knew exactly what she wanted, and Annette Shulman of Petals Flower Studio translated the bride's vision into charming reality, including a beautiful arch for the ceremony, ivory rose petals on the aisle… and a gorgeous bridal bouquet and matching centerpieces.
Have a look: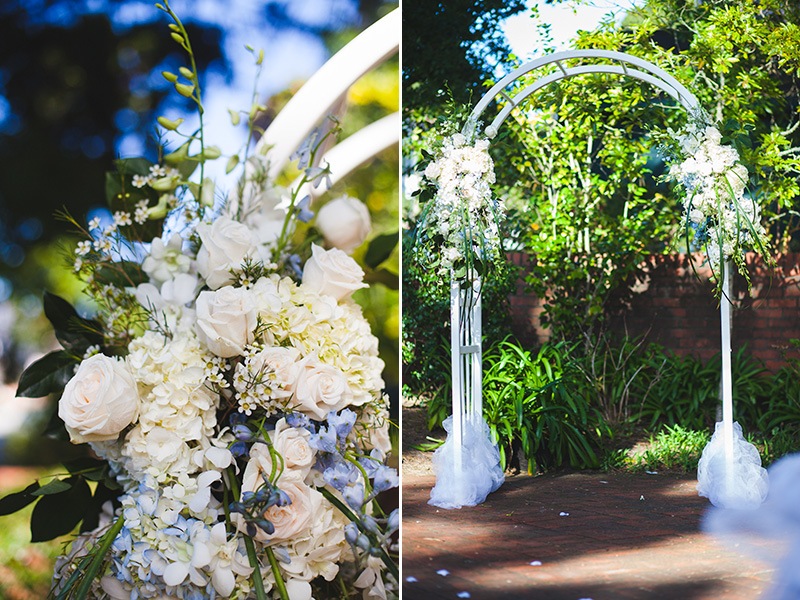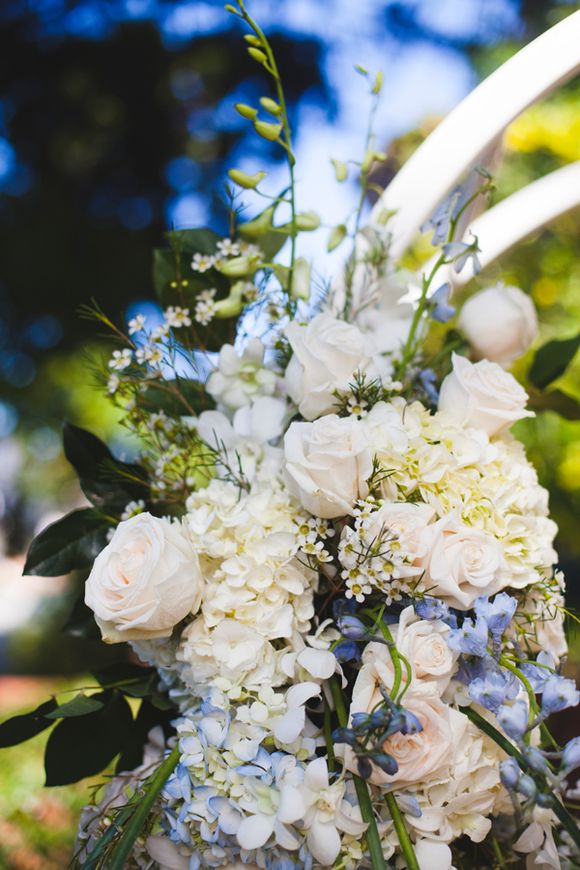 With all the meticulous planning done and all the details in place, my assistant, Kelli DeSeelhorst (kellideseelho[email protected]), orchestrated the Great Day from start to finish.
The bride was meanwhile getting ready in the romantic Bridal Preparation Room, well hidden from curious eyes…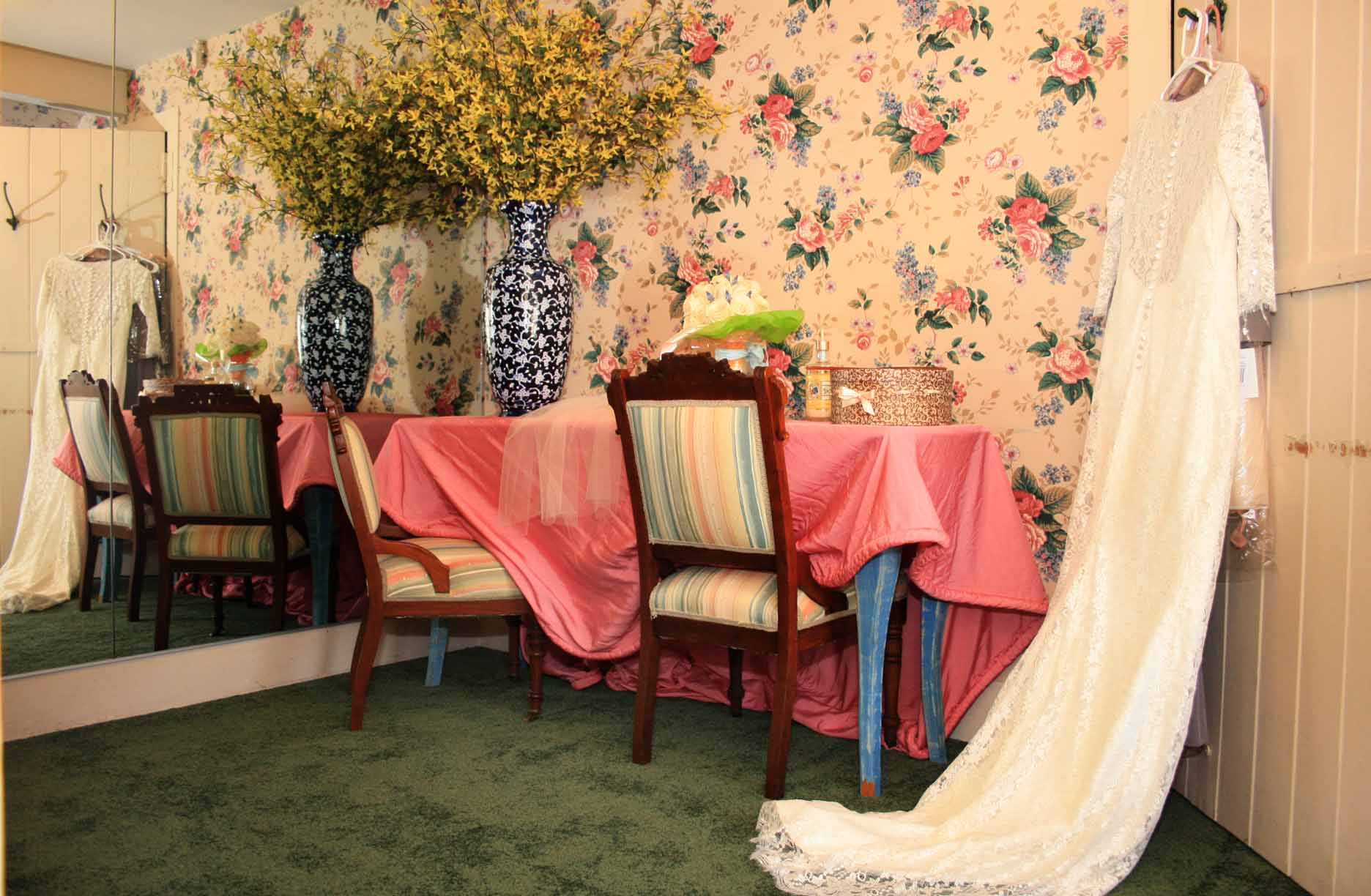 … and getting into her etherial vintage lace dress…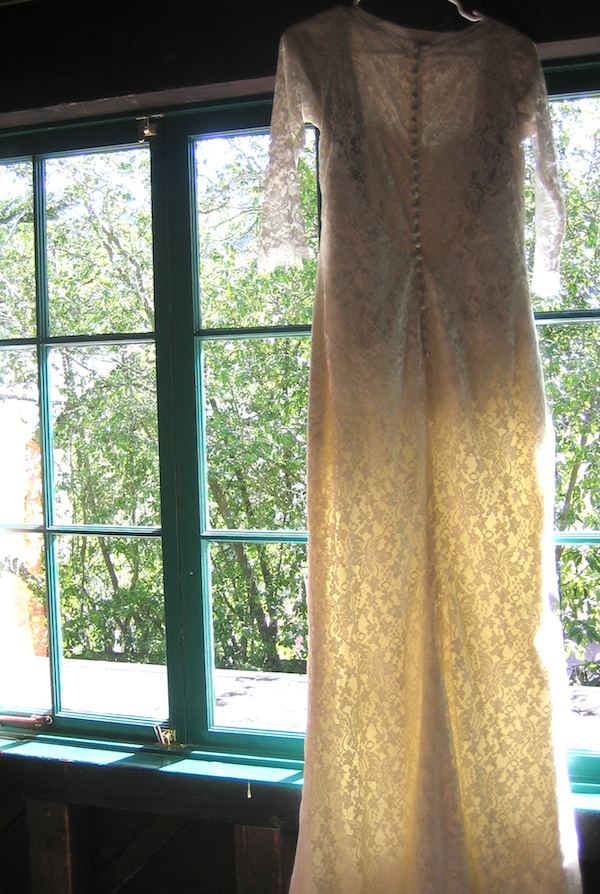 … complemented by an oh-so-feminine bouquet of white "Vendela" roses and wispy, sky-blue Tweedia…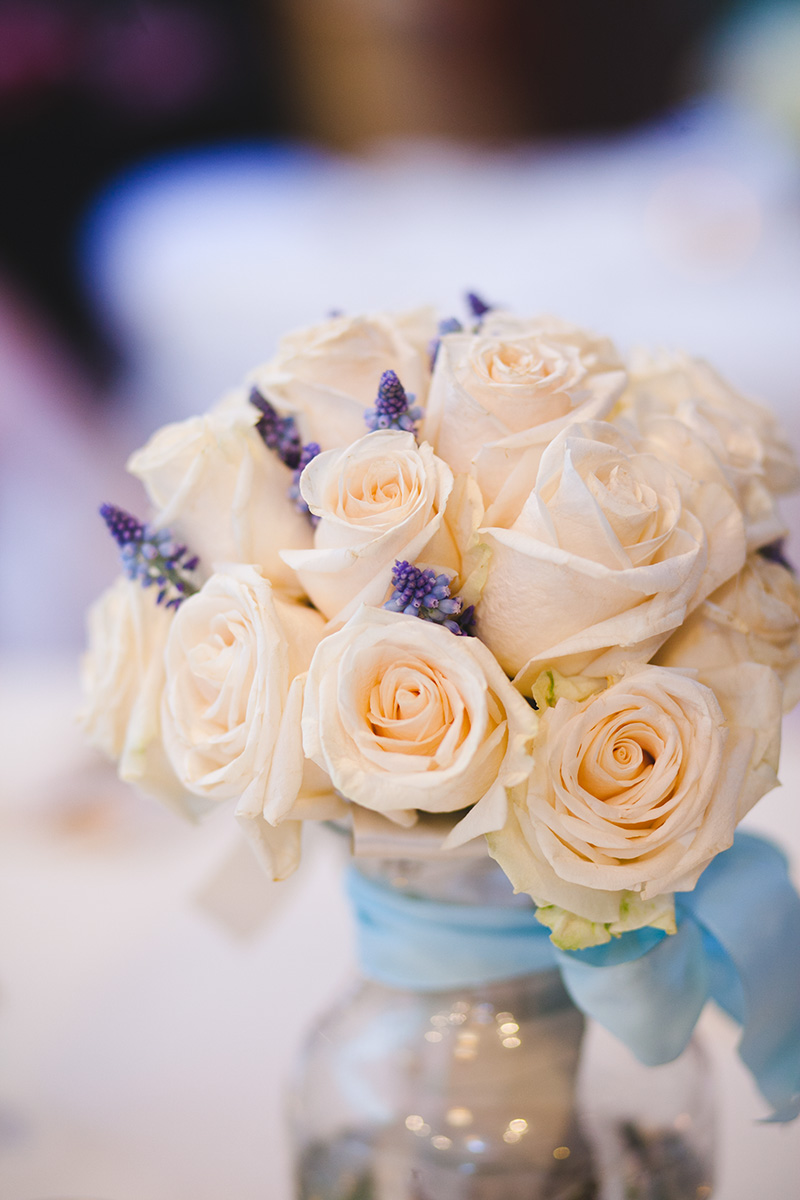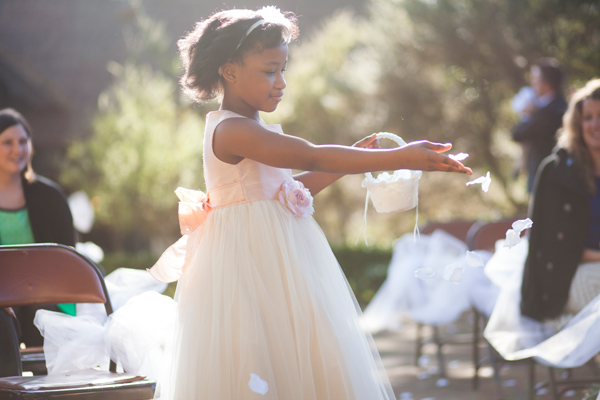 Finally, the great moment had come… I do!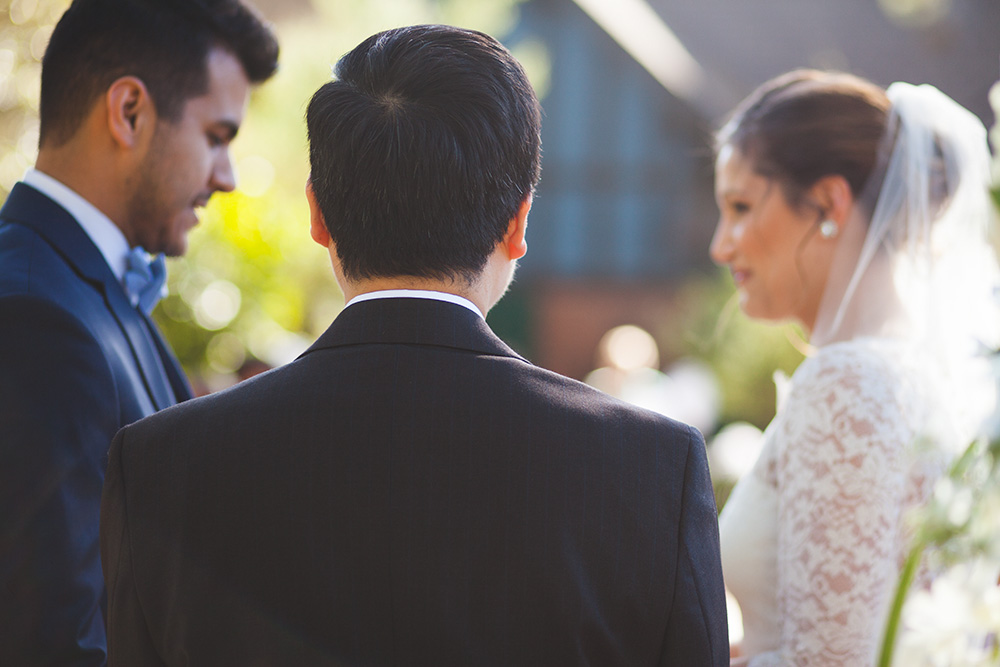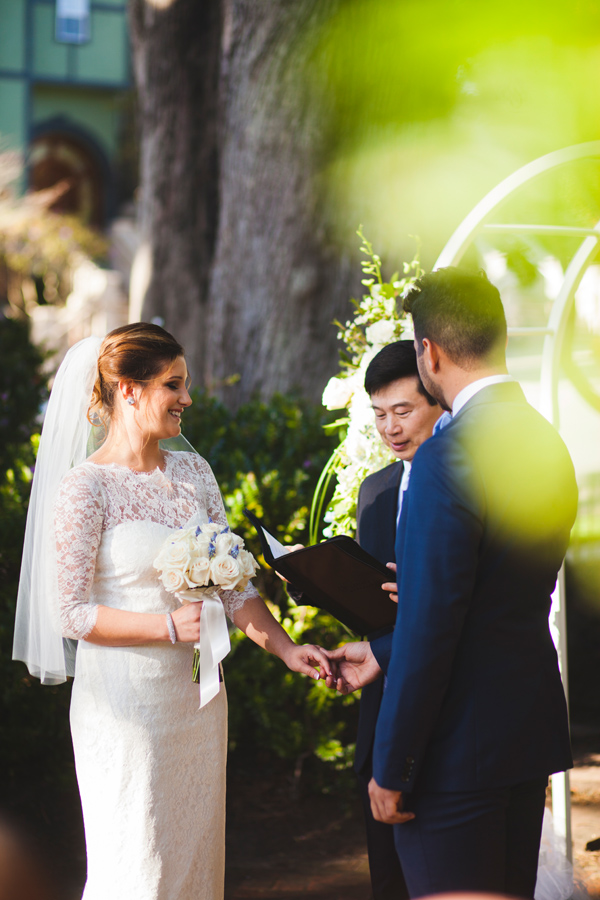 "You may now kiss the bride!"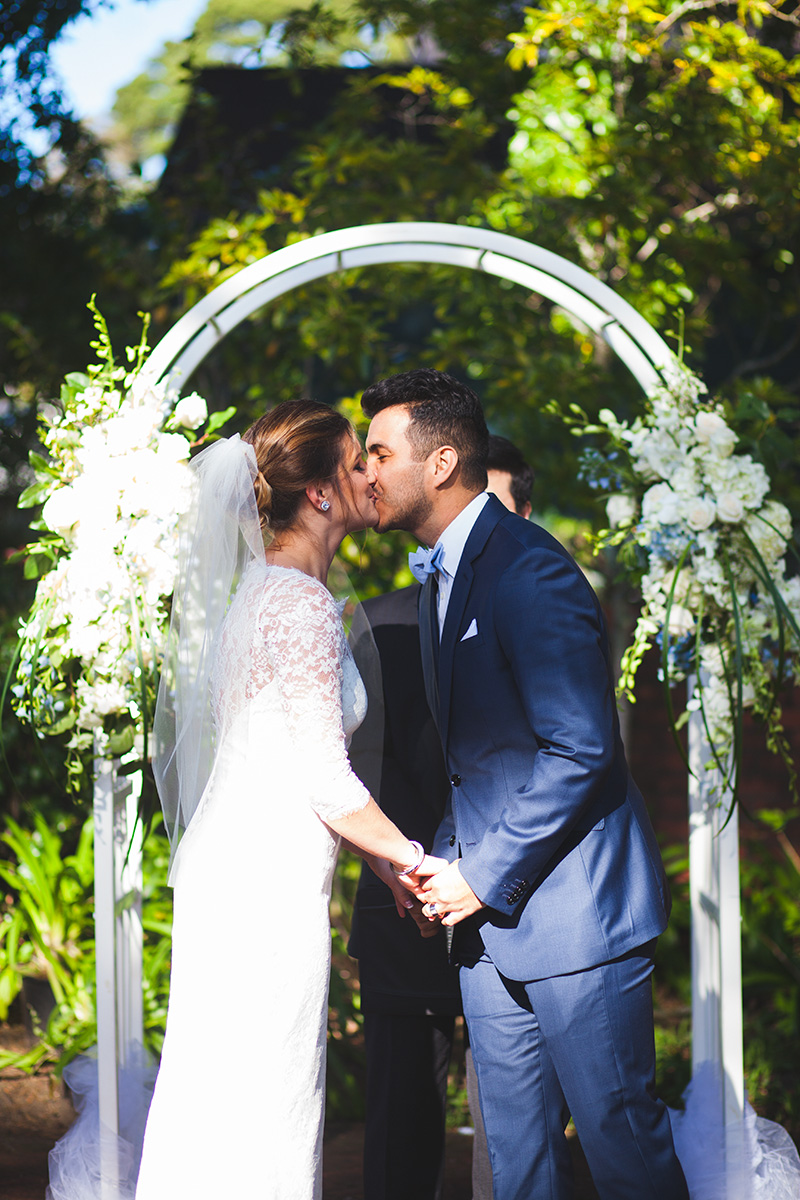 The new husband and wife, together with their families, went off for photos (with photographer Mark Thackery of pier 23 photography) right afterward,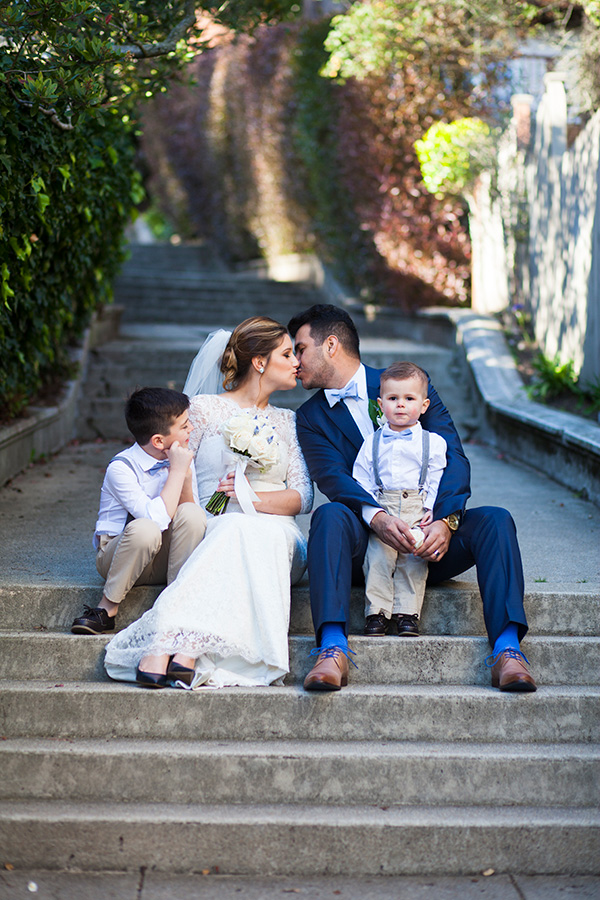 and at 5 pm they joined their guests at the Clubhouse for music, dancing and hors d'oeuvres by Chez Fayala.
The Great Room of the Clubhouse had been magically transformed with twinkle lights (a whole workforce of friends and family members had descended on the Clubhouse in the early morning to make it happen)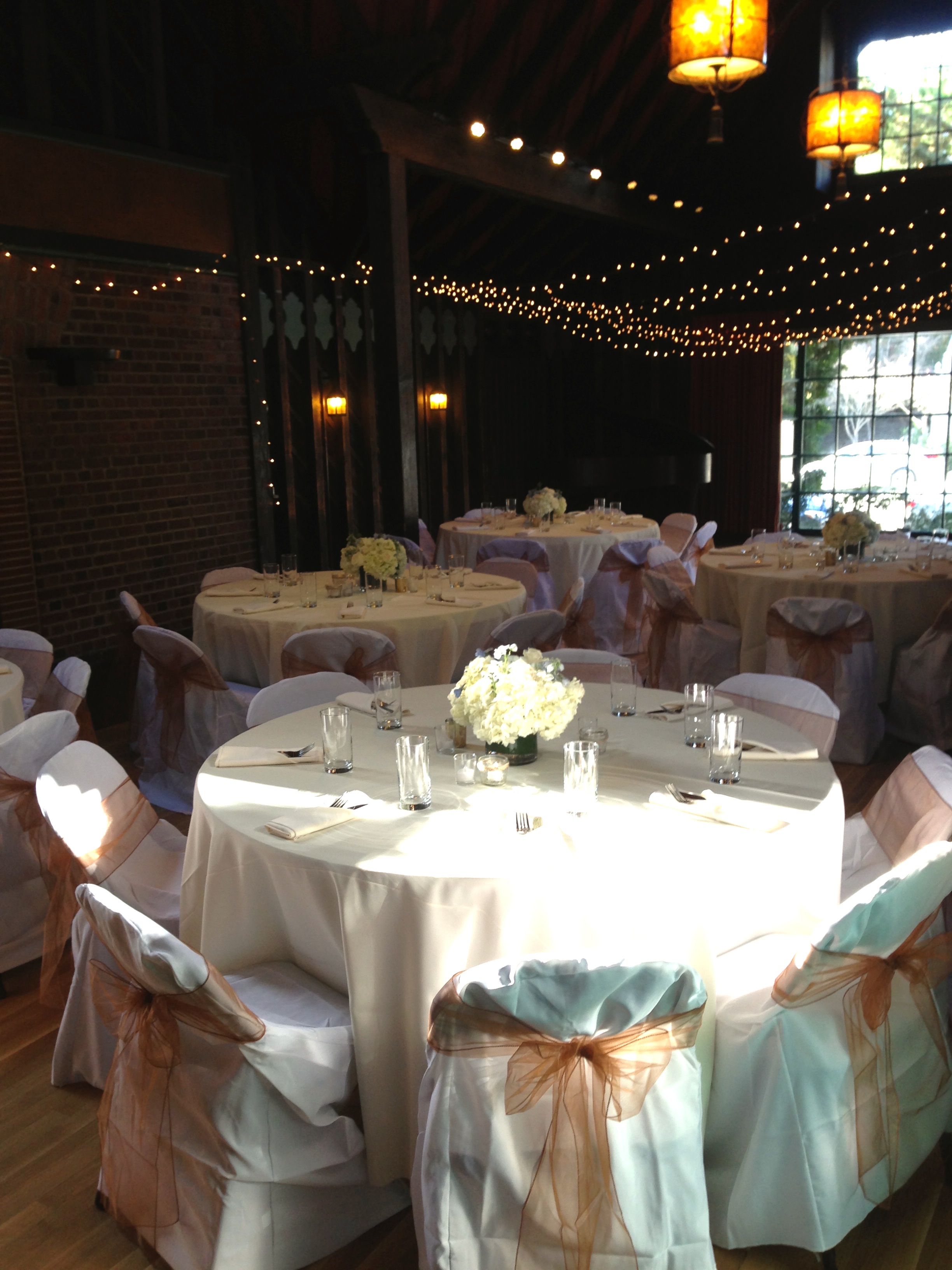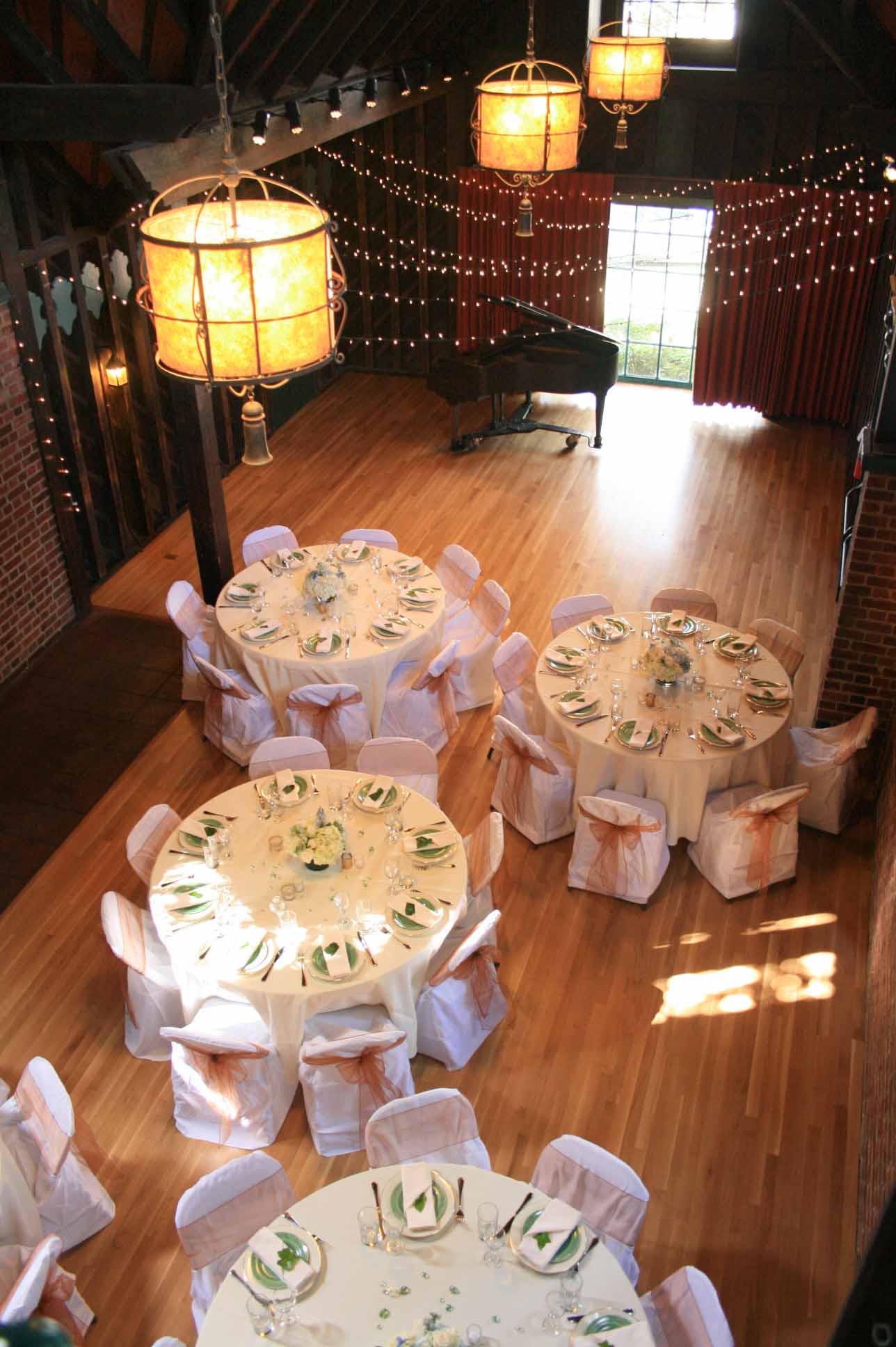 and dining tables were resplendent in linens, china and stemware by Unica Party Rentals, elegant centerpieces by Petals Flower Studio, and  glass gems glittering in the light of votive candles.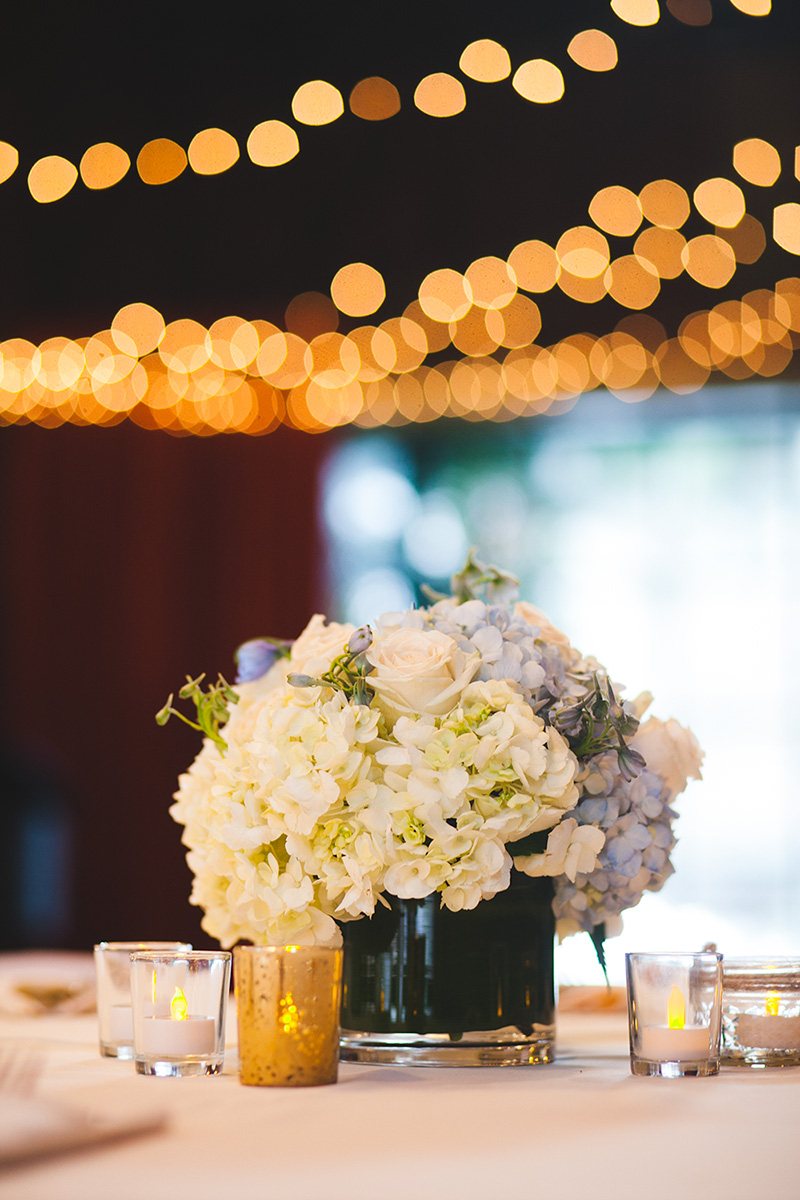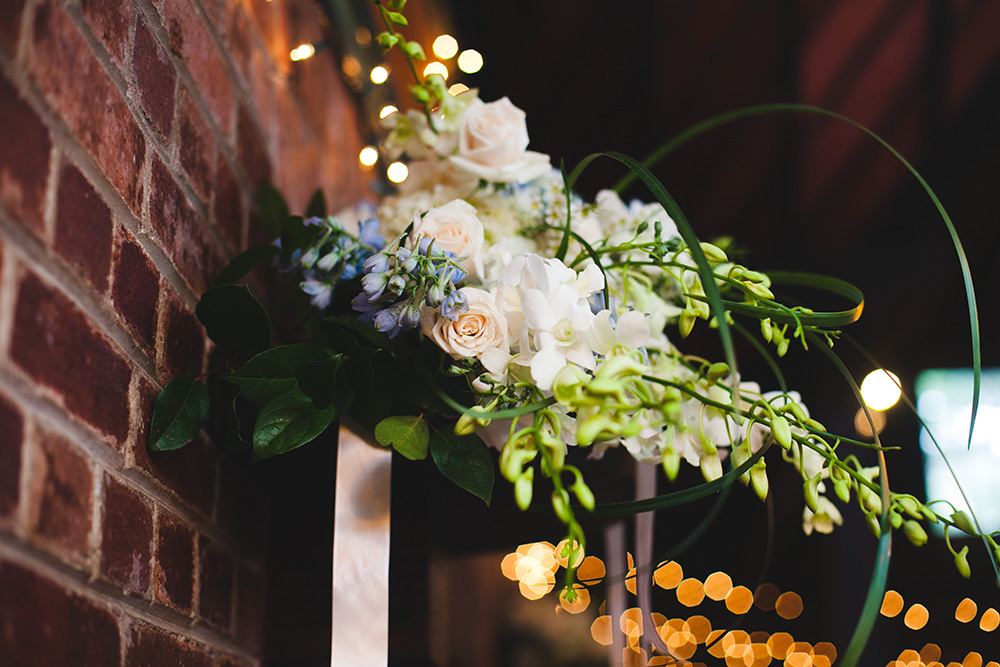 To top it off, chairs had gotten the royal treatment with copper organza sashes…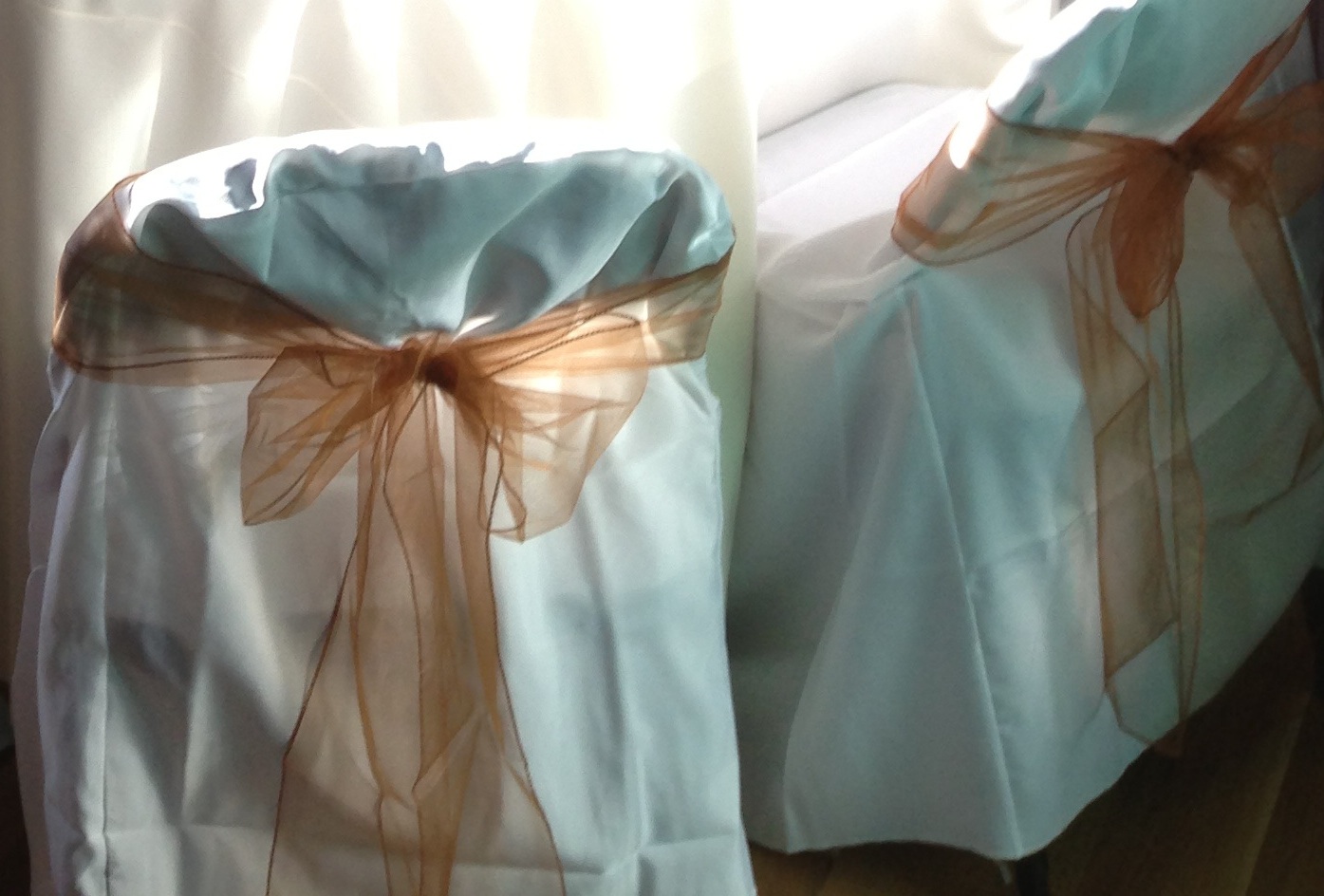 … and a garland in the style of the invitations (that the groom had designed himself!) announced the joyous occasion: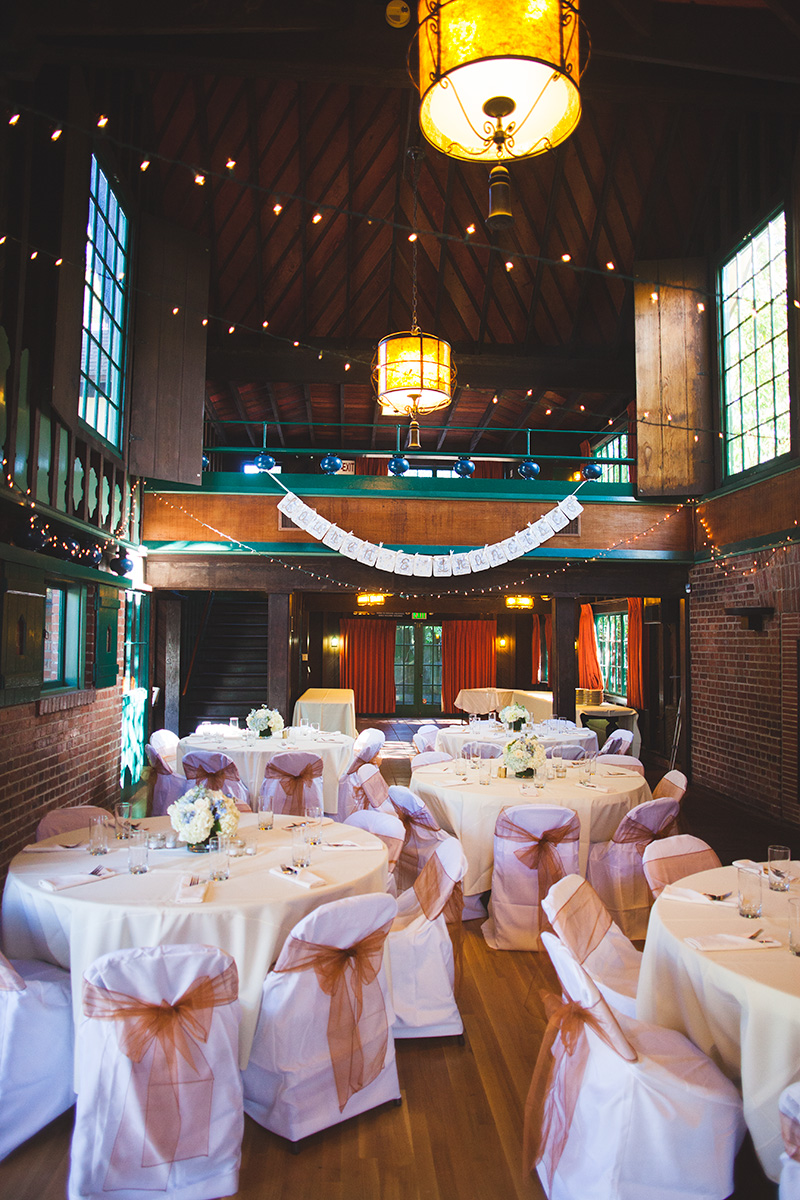 What's still missing? Right – the cake! It came from Sunset Bakery, and look what a stunner that was…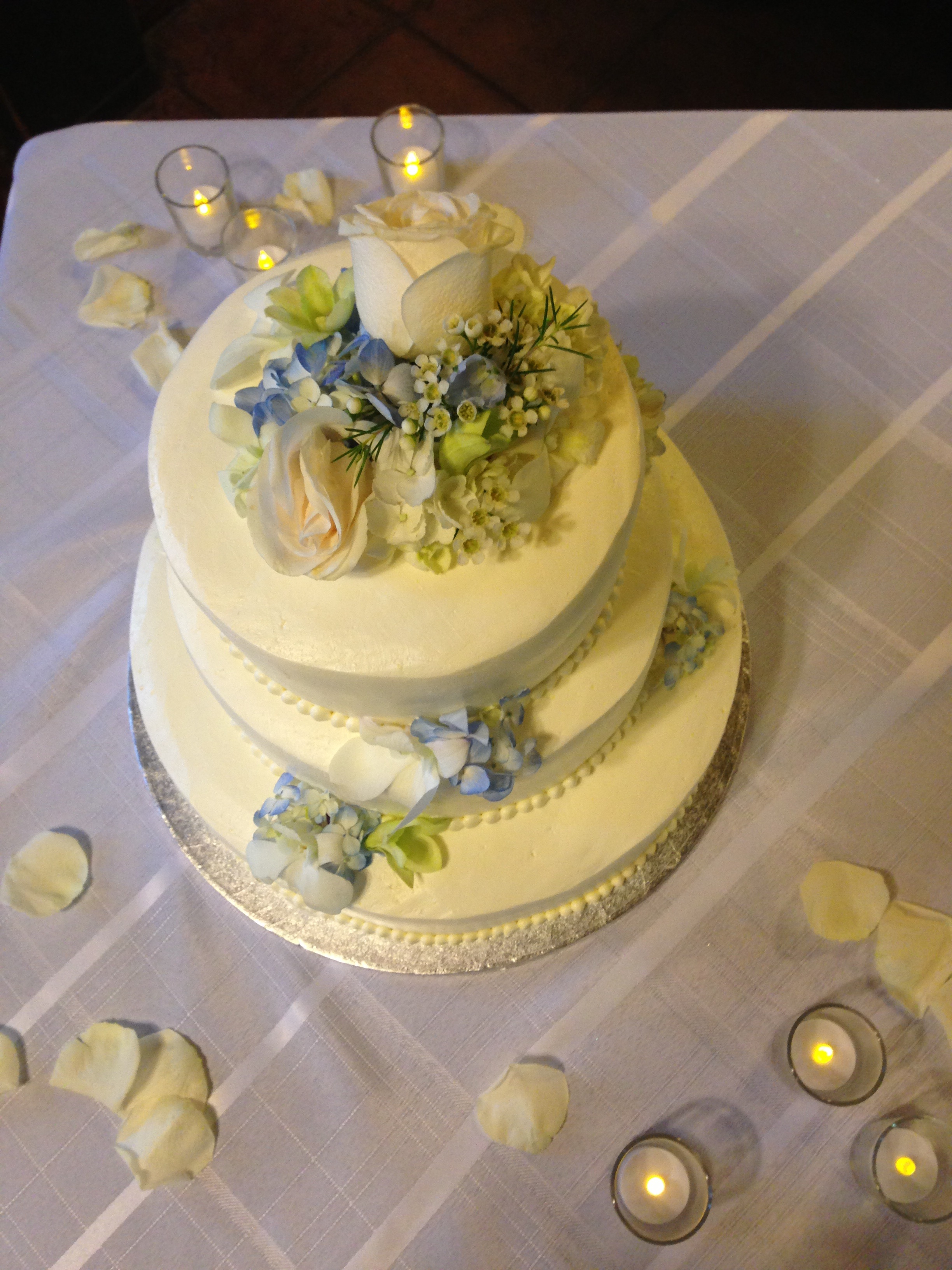 One more dance…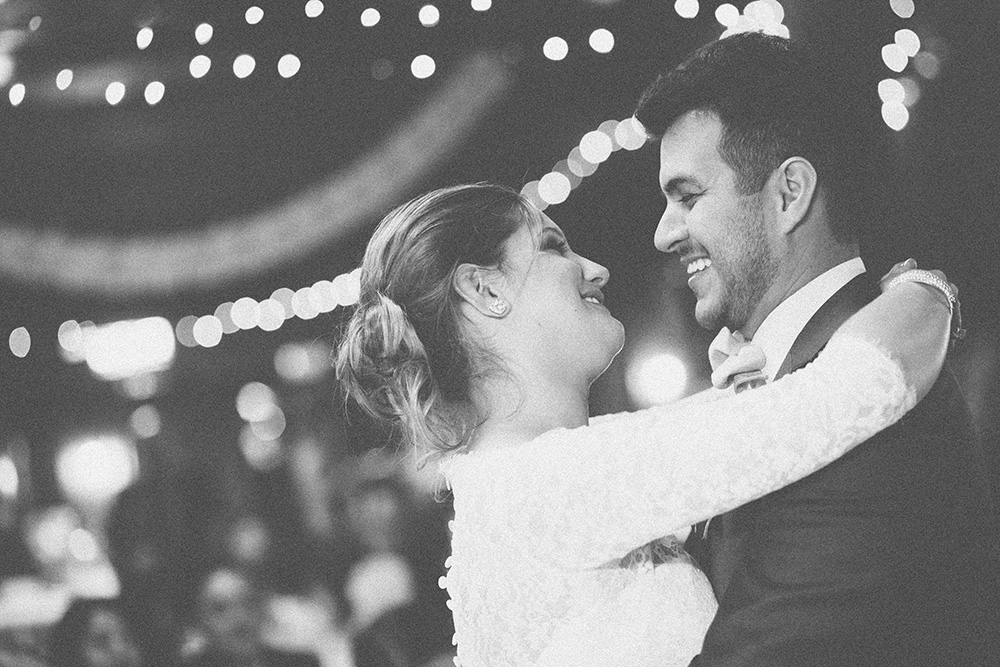 At the end of the evening, husband and wife – again! – "did it their way:" not a getaway car, no… In the glow of sparklers waved by their guests, the two took off on Francisco's vintage Vespa. That's what I call individual style!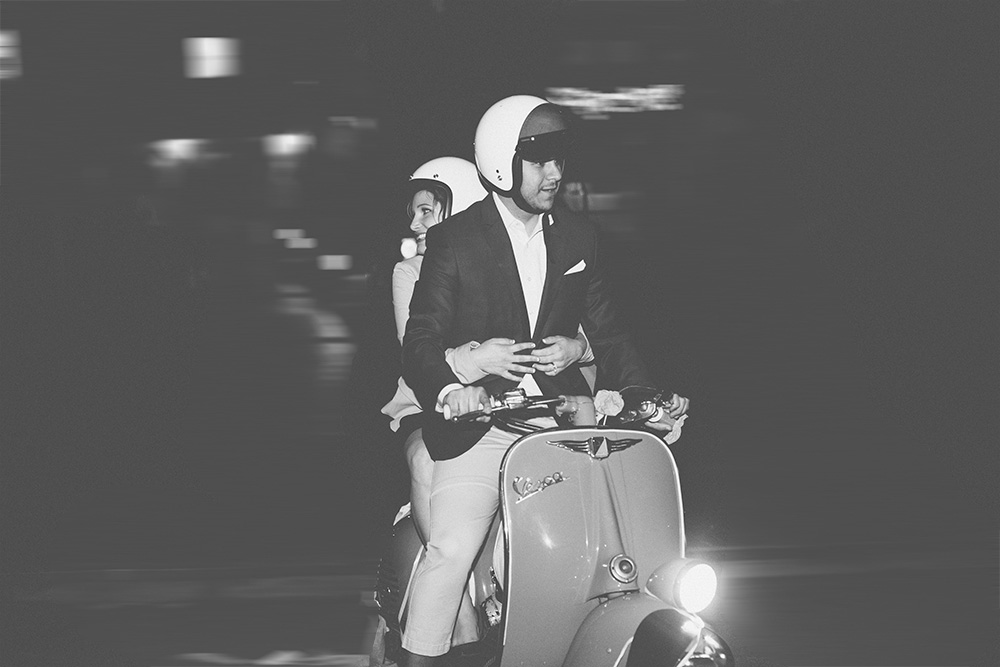 Congratulations on a wonderful wedding celebration, and many happy years "your way" together!

<! DL 06/02/12: Added html code for Pinterest Pin It button (appears at the end of each post) > <! DL 06/02/12: Added padding style modifier to the Pinterest html code to align the Pit It button on the page > <! DL 06/02/12: deactivated code by adding two ! in the a and img code lines >