For my last styled photoshoot for my company, A Day Like No Other (commissioned by Ceremony Magazine   and published on Ceremony Blog) with photographer extraordinaire Vicens Forns, I let my imagination run wild… I had always admired the effortless elegance and jet-setter lifestyle of the likes of Catherine Deneuve and Alain Delon, as depicted in magazines like Vogue – especially the luxury and leisure of the Cote d'Azur. Why not bring some of this joie de vivre and sophistication to present-day weddings? An idea was born – and everything else developed from there.
Based on the San Francisco Bay, we are blessed with vistas very much reminiscent of the Cote d'Azur – especially on a sunny September day as the one we had chosen for our shoot. What else did we need? A story! What about this: a jet-setting couple elopes to a wedding ceremony on the water – performed by the captain of a historic schooner, under billowing sails. They are getting ready in a luxurious hotel suite overlooking the water – where they also retire after the ceremony for an intimate dinner and some quiet time together.
Look where this story took us…
Our "couple" (our gorgeous models, Whitney Heleker from HMM Model Agency and Maxwell Ross Manesh) has chosen the Alexandrite Suite (recently named one of the Top 101 Suites in the World by Elite Traveler) at the Casa Madrona Hotel in Sausalito as their "home base" for their wedding weekend. Overlooking the yacht harbor and San Francisco Bay, this ultra-modern suite has the elegance befitting a jet-setting couple…
… and their wedding announcements, created in the blue hues of the wedding decor as a reflection of the nearby San Francisco Bay, hand-calligraphed and cut by Sally Laporta of Monks of Age, are a reflection of who they are: chic, young, bold, unconventional!
The bride's day begins with hair and makeup by celebrity stylist Nicole Perez, with the "bride" putting on finishing touches herself…
She had a succession of three equally breathtaking wedding dresses (all from Nouvelle Vogue Bridal Salon) to wear on that day:
… and Bhuvan Sahney of Gleim Jewelers provided exquisite pieces of fine jewelry, both vintage and modern.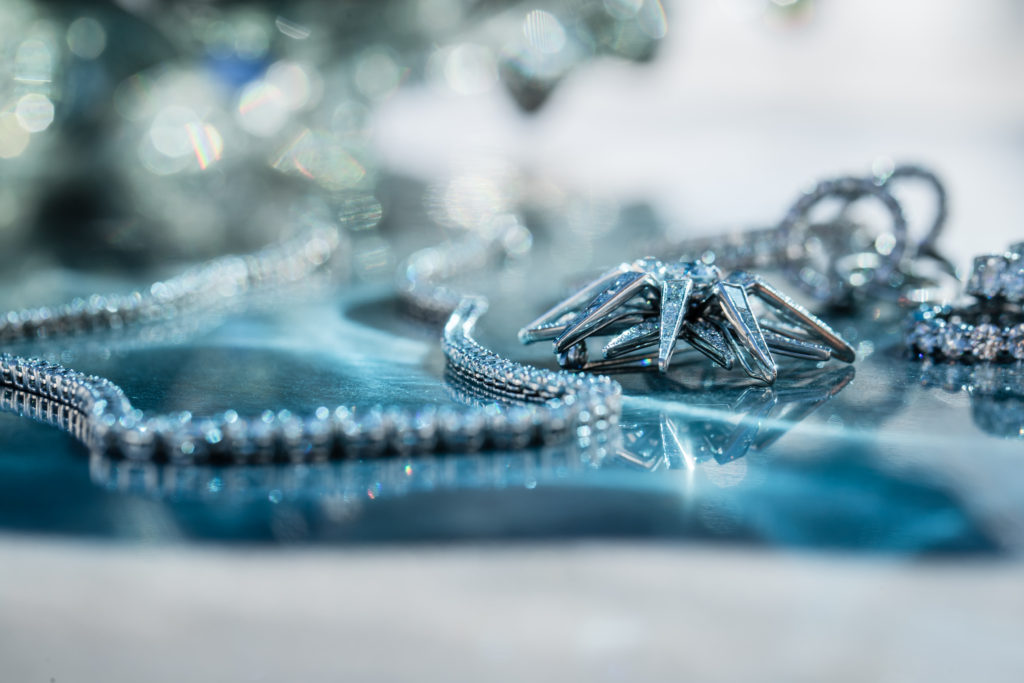 Photo credit: Vicens Forns for Ceremony Magazine
One of these breathtaking pieces was used as an extraordinary hair pin on the bride's classic French updo:
What else does a bride need? Flowers, of course! For this extravagant and modern bride, Edgar Martinez of Flowers by Edgar had created something never seen before: a sculptural bouquet of white Calla lilies, their petals highlighted with the accent color of this wedding:
Isn't this an absolutely stunning dress?
Meanwhile, our "groom" was also getting ready – in a slim-cut grey suit (from Tuxedo Wearhouse) with a boutonniere matching the bridal bouquet:
While waiting for the bride to get ready, he took advantage of the incredible patio of the Alexandrite Suite – who can tell this is NOT the Cote d'Azur?!
And here they are, together – ready for their Great Day to begin:
Cheers!
For their wedding ceremony, our couple had chosen a historic schooner, the "Freda B.," (operated by SF Bay Adventures) moored at walking distance from the Casa Madrona in the Sausalito yacht harbor. The bride changed into dress no. 2 for this adventure – simpler but on the boat it would be accompanied by a dramatic veil catching the breeze …
The captain would serve as their officiant, out on the Bay…
… and he soon set sail, assisted by the couple.
While photographer Vicens captured every precious moment on the Freda B., second shooter Victoria followed on a chase boat to give us her perspective of things from the water.
… Like this!
Then it was time for the two to say their vows "on the captain's bible!"
"Just Married!!"
You have to admit – it doesn't get much better than this for an elopement!
With the sun slowly setting, the Freda B. returned to the yacht harbor in the golden evening glow…
… and the newlyweds retired to their suite where dinner, a wedding cake and more was waiting for them.
Dining tables were kept in a cool blue color scheme reflecting the colors of the Bay beyond, with ultramodern floral arrangements by Edgar Martinez of Flowers by Edgar, square white china, modern glassware and glamorous flatware (rose gold for the couple, black for everyone else) from Hensley Event Resources.
The linens came from Napa Valley Linens, and the architectural wrought-iron chargers and napkin rings from Classic Party Rentals.
The couple's Sweetheart Table got the extra special treatment with an all-white sequined linen (from Napa Valley Linens) and with rose gold-colored "his and hers" chairs from Blueprint Studios.
The bold, modern menu cards were created by Monks of Age, complementing the wedding announcements …
The "newlyweds" seem to be very happy!
They still have things to do: cutting their cake – a piece of art from Patissière Morgane Ric of Joli Cakes …
… reminiscent of the architecture of Frank Lloyd Wright (speaking of  "modern" here!) and of the Art Deco silhouettes of the grand Ocean Liners of the early 20th century – effortlessly merging the blues of the Bay and the rose gold accents of the dining table and furniture.
And it's yummy, too!
Time for yet another dress change into a diaphanous ball gown for the exchange of gifts (again from Gleim Jewelers):
An intimate First Dance…
After that, it was definitely time for some romantic one-on-one out on the patio, by the Fire Table…
So romantic, and so beautiful… maybe even better than real life!
Thanks to all our wonderful collaborators who made it happen, and who captured these moments of stunning visual drama. Be inspired for your own wedding!
Let us create YOUR unique wedding celebration, too!
<! DL 06/02/12: Added html code for Pinterest Pin It button (appears at the end of each post) > <! DL 06/02/12: Added padding style modifier to the Pinterest html code to align the Pit It button on the page > <! DL 06/02/12: deactivated code by adding two ! in the a and img code lines >