Kerry and Damien were the very first couple to contact my company, A Day Like No Other, after the pandemic for help with their wedding planning. From the first moment on, one thing was clear: these two would not follow convention but only their own distinct tastes and preferences. They both have a soft spot for the Golden Twenties – Art Deco, glamour, feathers, Charleston dancing, Prohibition-era cocktails and exceptionally good food. But they are also really quirky with a shared love for Godzilla and all things nerdy and geeky like Dungeons and Dragons, superhero novels, silly video games, and good sci-fi. You see – that's not a recipe for a "cookie-cutter" wedding!
For their wedding venue, Kerry and Damien fell in love with a historic San Francisco icon – the Mark Hopkins Hotel on Nob Hill. And that's where all the magic unfolded last Saturday, after a full eighteen months of planning!
The ceremony took place in the Room of the Dons…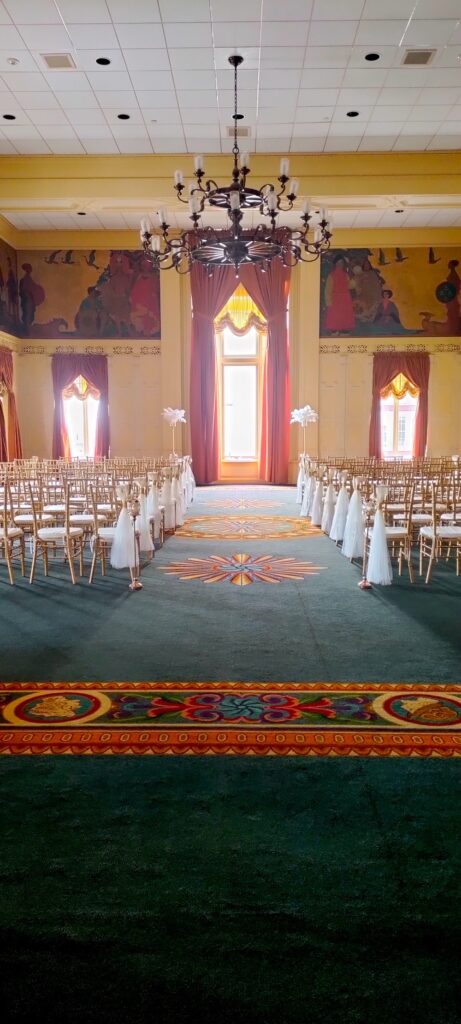 … officiated by a good friend of the couple; and here comes the bride, accompanied by her two nephews.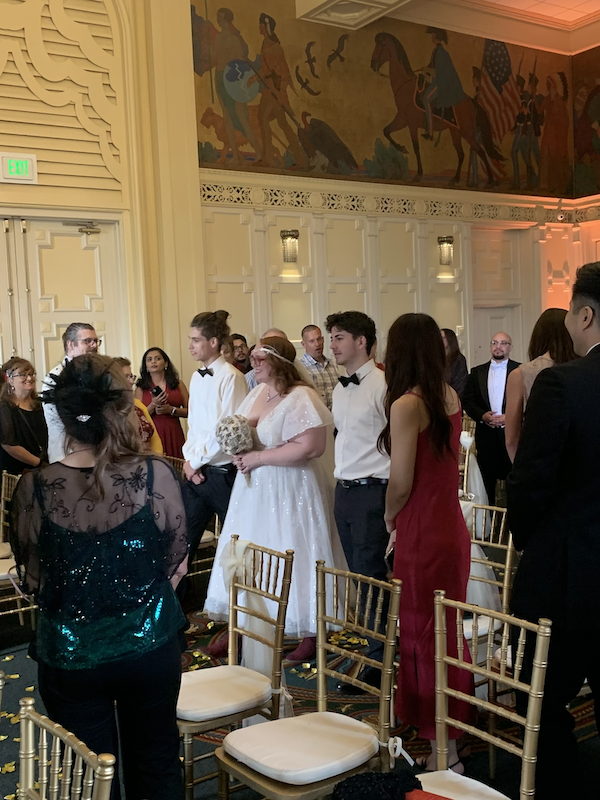 In lieu of fresh flowers, the bride carried a "book bouquet" – handmade from the pages of one of her favorite books, and – you guessed it – she had gifted all her bridesmaids with similarly unique bouquets.
Following the ceremony, the couple had many, many photos to take with photographer Megan Reeves (all we have right now are the phone snapshots of our production team…) and video with Ric Grover of Grover Films (again – just wait until you see the REAL photos and video!), while their guests enjoyed cocktails and hors d'oeuvres. Kerry and Damien had made sure there were lots of personal touches…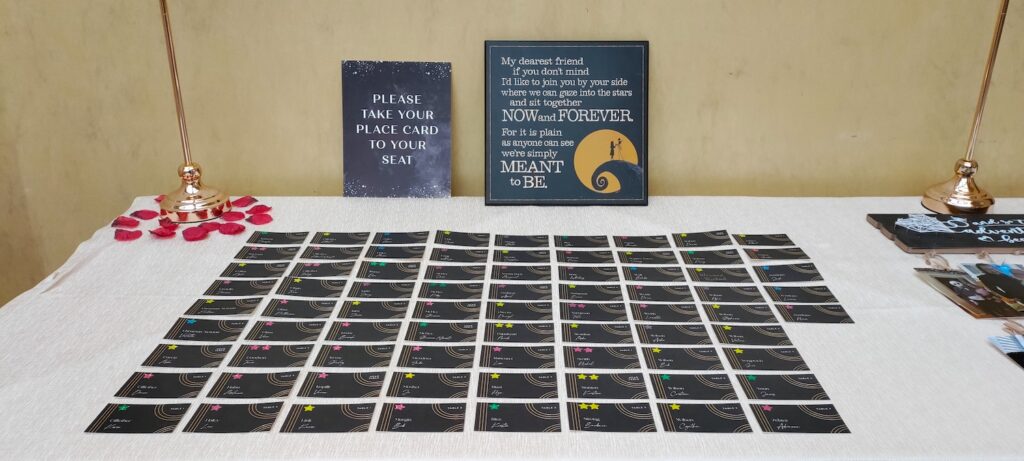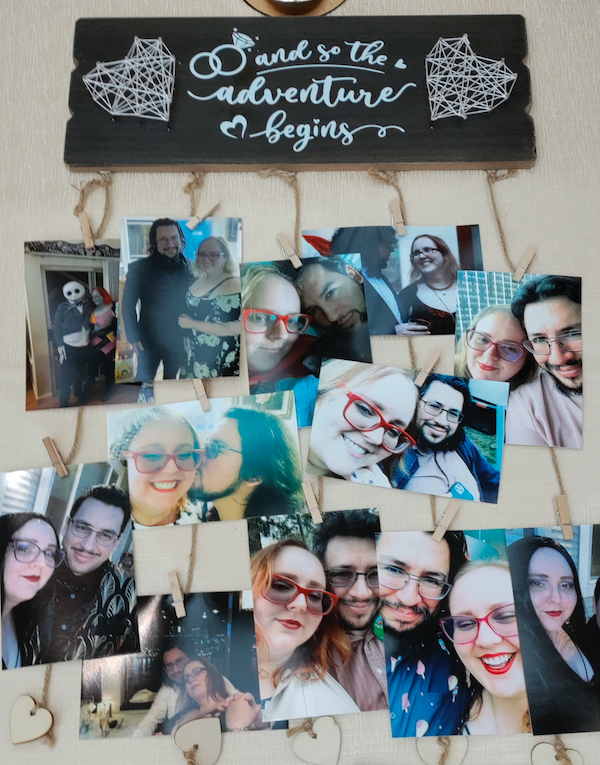 Meanwhile, the historic, newly renovated Peacock Ballroom had been prepared for the main part of the evening, with gilded Chiavari chairs surrounding the dining tables topped by white marabou feather arrangements.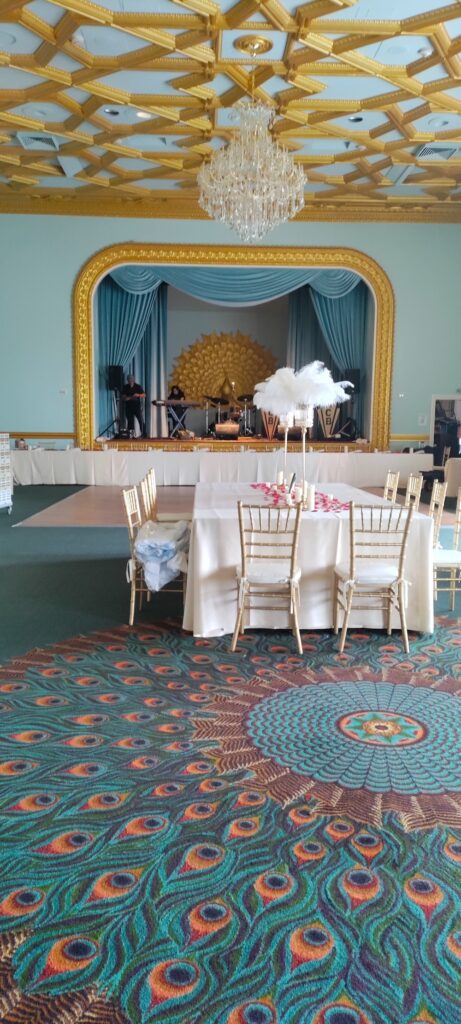 The amazing Amanda Castro Band was setting up on the stage, the Mark Hopkins catering team was preparing food, and the SoGood photo booth had been set up. Also at work – and for a few hours already! – was Live Painter Talia Koval, the big surprise of the evening. She had prepared her canvas to capture the couple's First Dance – under the watchful eyes of the guests, and in oil on canvas, no less!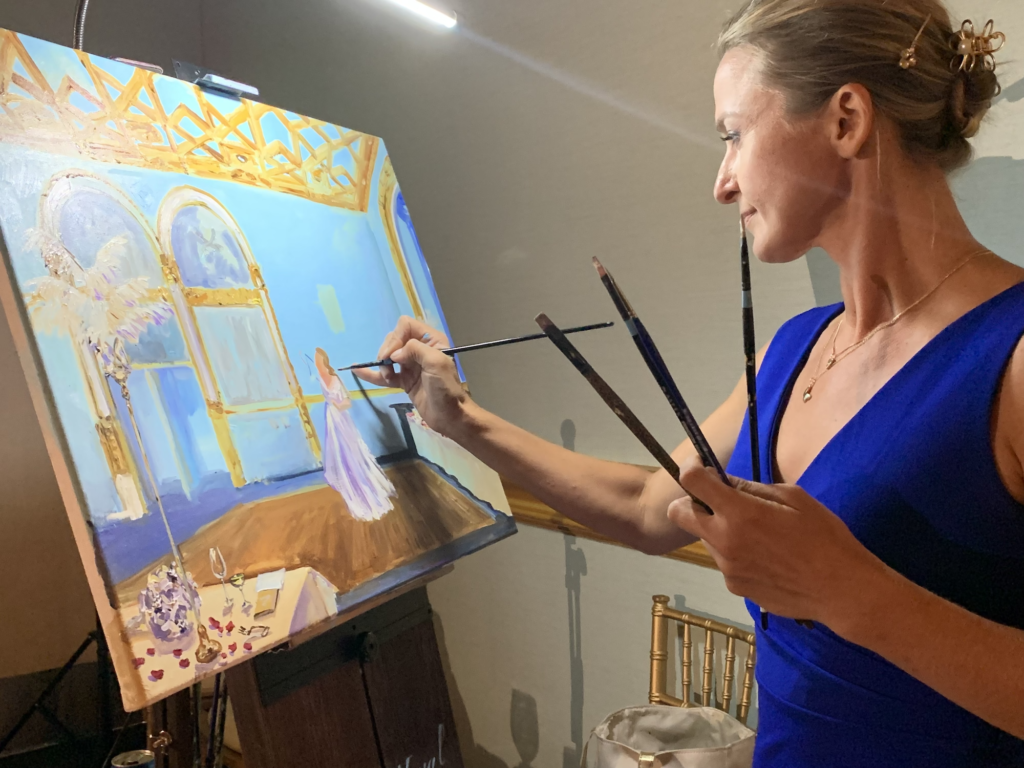 And here is the finished piece of art, a keepsake for the newlyweds.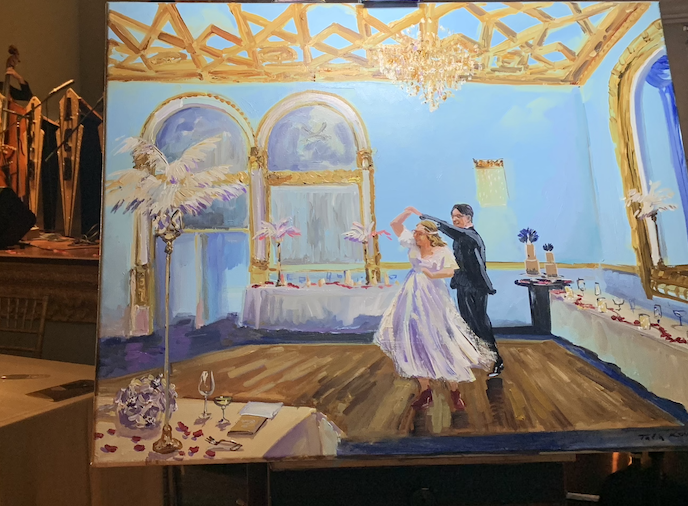 But there was more! Not only one glorious wedding cake (from Butter&) adorned with Art Deco feathers and the San Francisco skyline…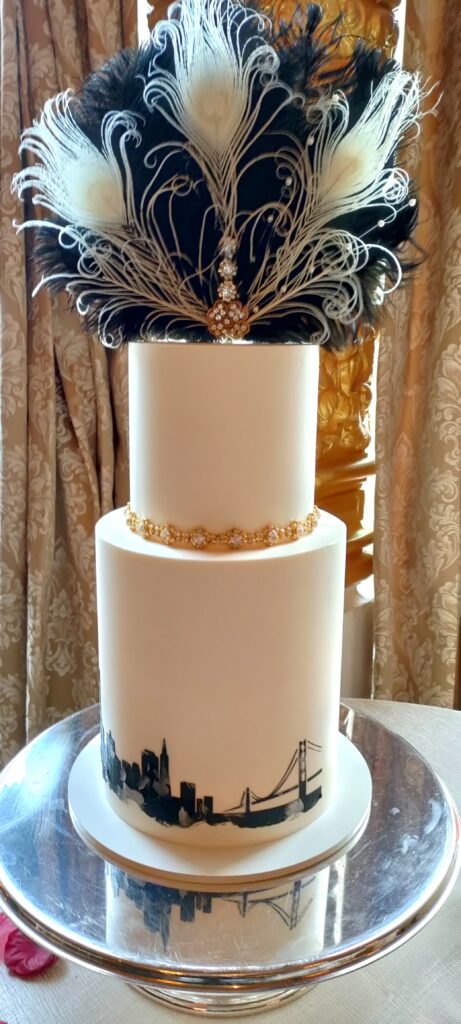 … but two…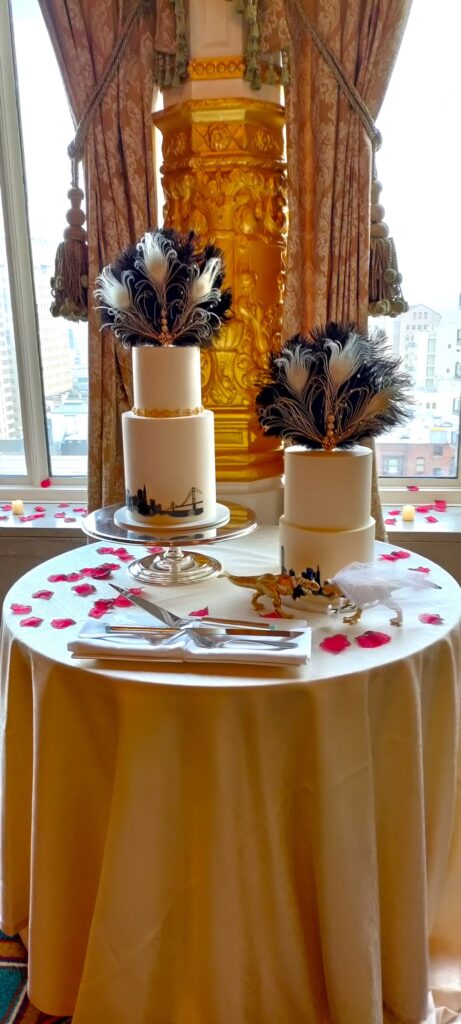 AND, yes!, you saw that correctly – Kerry and Damien with their unmistakable quirkiness had placed a bridal T-Rex couple in front of the cakes, guarding them until cake-cutting time!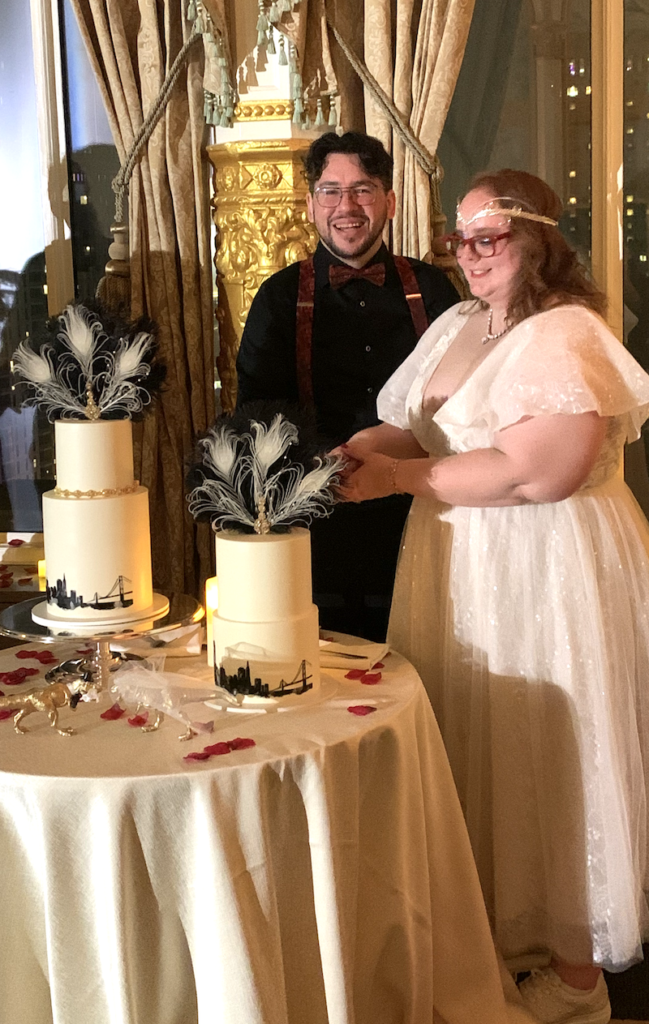 And IF you thought that that was all, you were badly mistaken, because the best was yet to come! In addition to a seven-piece band, the couple had also booked three professional ballroom dancers – in Charleston costume, OF COURSE! – to give their guests an upbeat dance instruction. Needless to say, that brought everyone on the dance floor!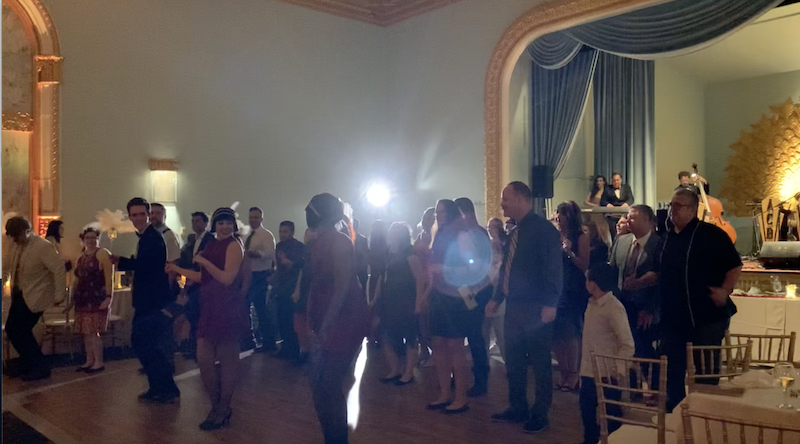 What an epic party! Congratulations, and a lifetime of happiness to you, Kerry and Damien!

<! DL 06/02/12: Added html code for Pinterest Pin It button (appears at the end of each post) > <! DL 06/02/12: Added padding style modifier to the Pinterest html code to align the Pit It button on the page > <! DL 06/02/12: deactivated code by adding two ! in the a and img code lines >