When Courtney and Mike were getting into wedding planning, their venue decision was an easy one: they fell head over heels for Thomas Fogarty Winery – a spectacular spot perched on a ridge high above Silicon Valley, with endless views from the San Francisco skyline to Silicon Valley.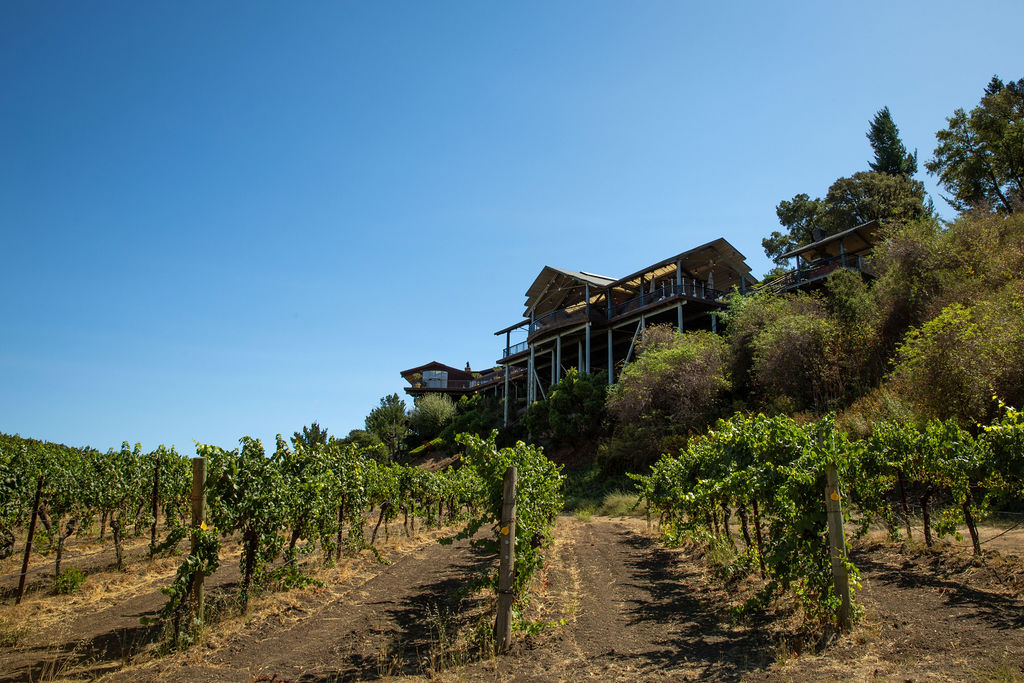 Once the venue was booked, the couple enlisted my company, A Day Like No Other, to help with everything else – and that, as it turned out, was a lot! Vendor sourcing, logistics, scheduling, design and decor and last-minute changes and additions.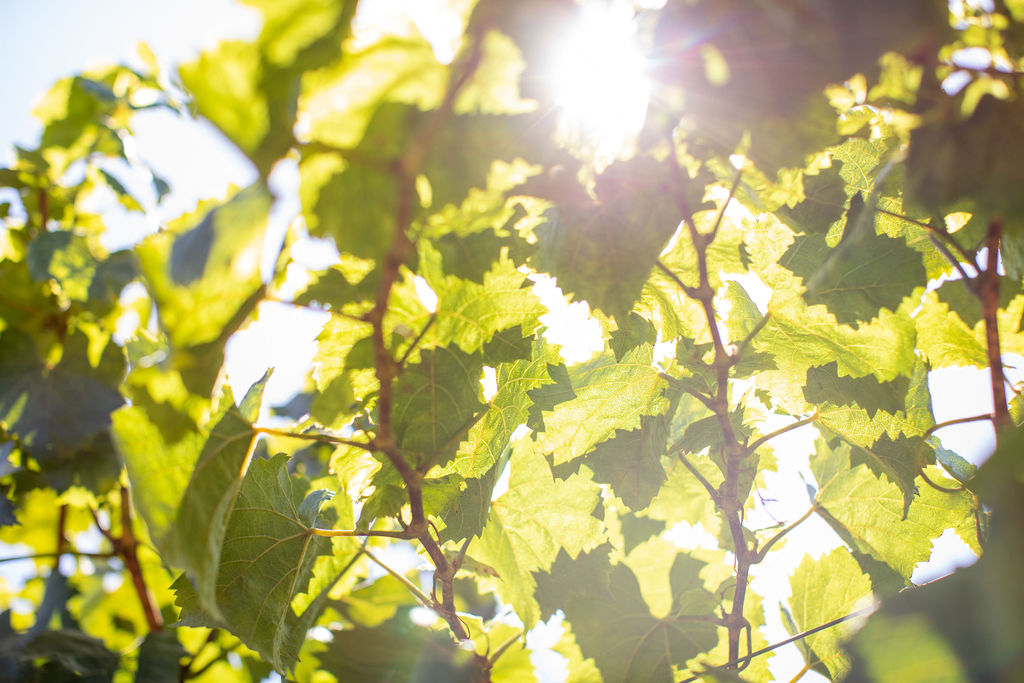 For a full nine months, Courtney, Mike, and for a good part also Mother-of-the-Bride Lariann, worked together to make it all happen – and finally, on a sunny, gorgeous day in mid-September, the big day had arrived.
Bride Courtney – shy by nature – started the day very nervous… and only as things began to unfold as planned, she relaxed and took it all in! Her day began with hair and makeup services by Lilly's Beauty World and by dressing up in her diaphanous lace wedding dress and strappy heels…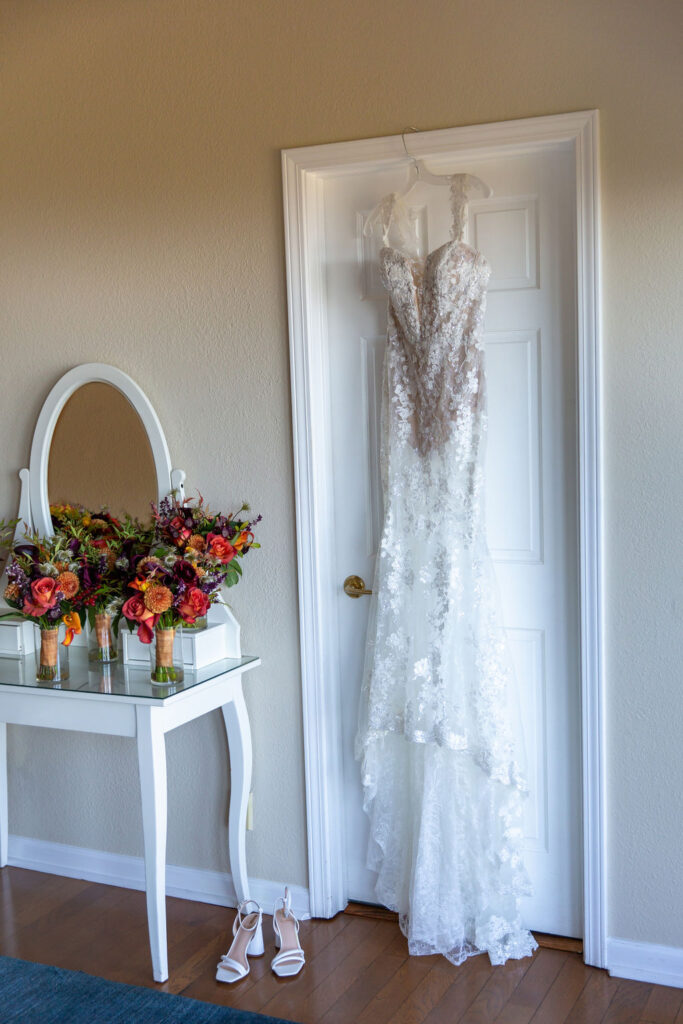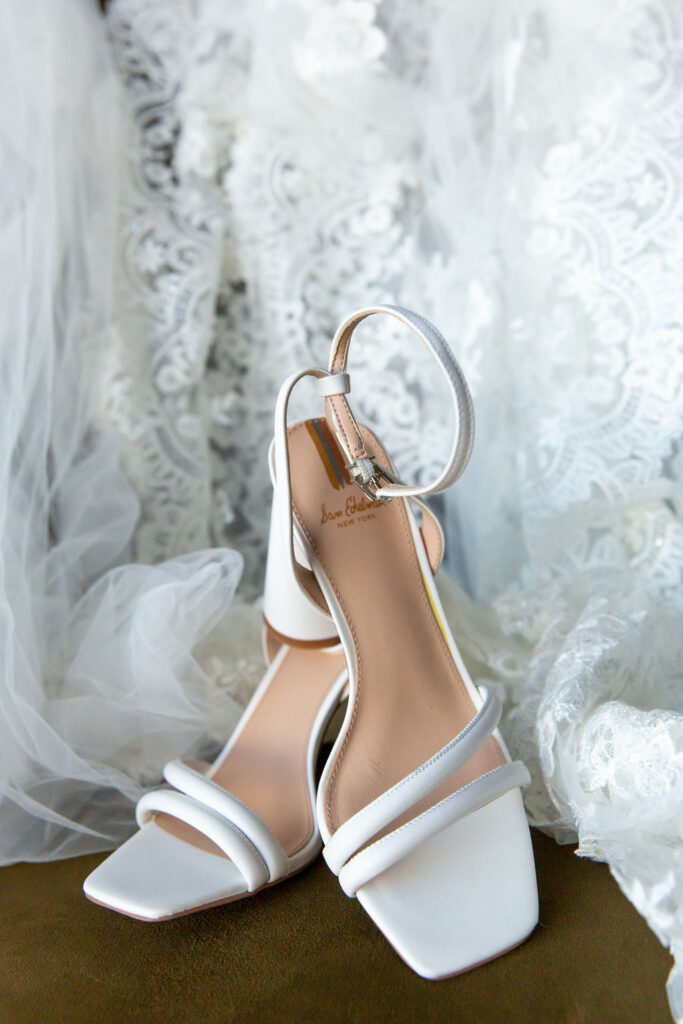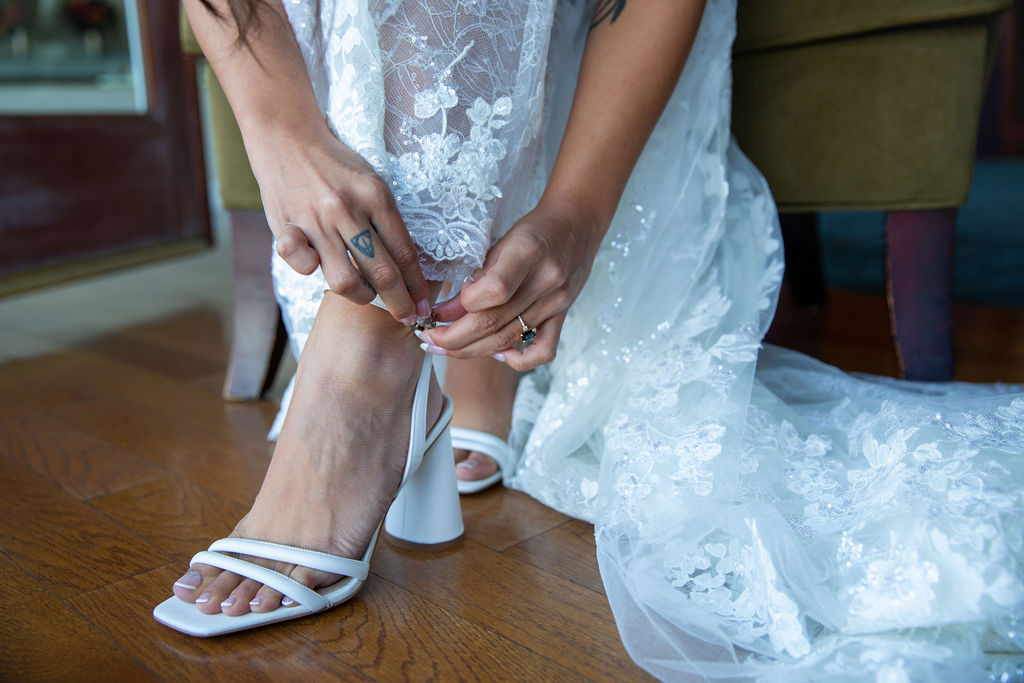 … with her bridesmaids assisting. Photographer Megan Reeves captured all these precious moments.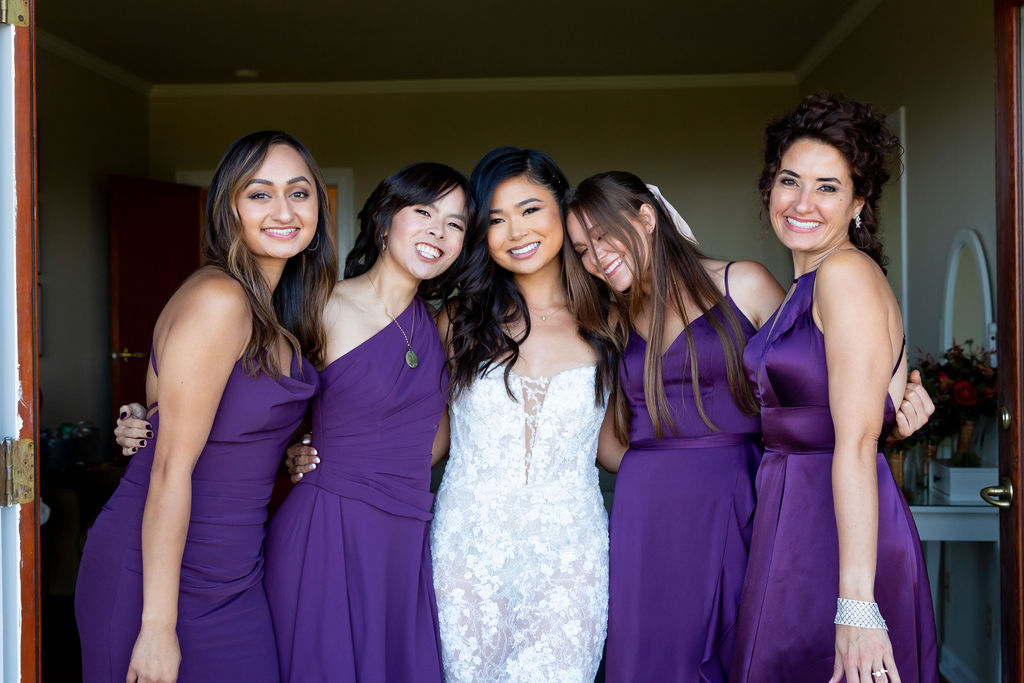 Groom Mike had likewise dressed up – in fashionable all-black – with a boutonniere befitting the overall floral decor theme of Fall sunset colors (all floral decor by Green Petal Designs).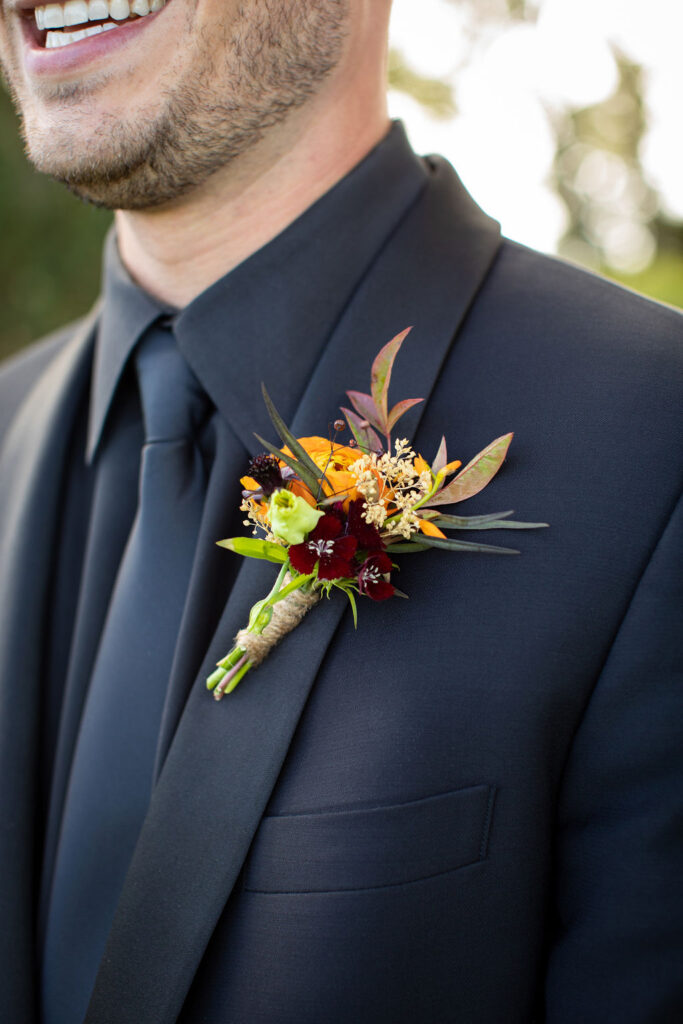 Ready for their First Look!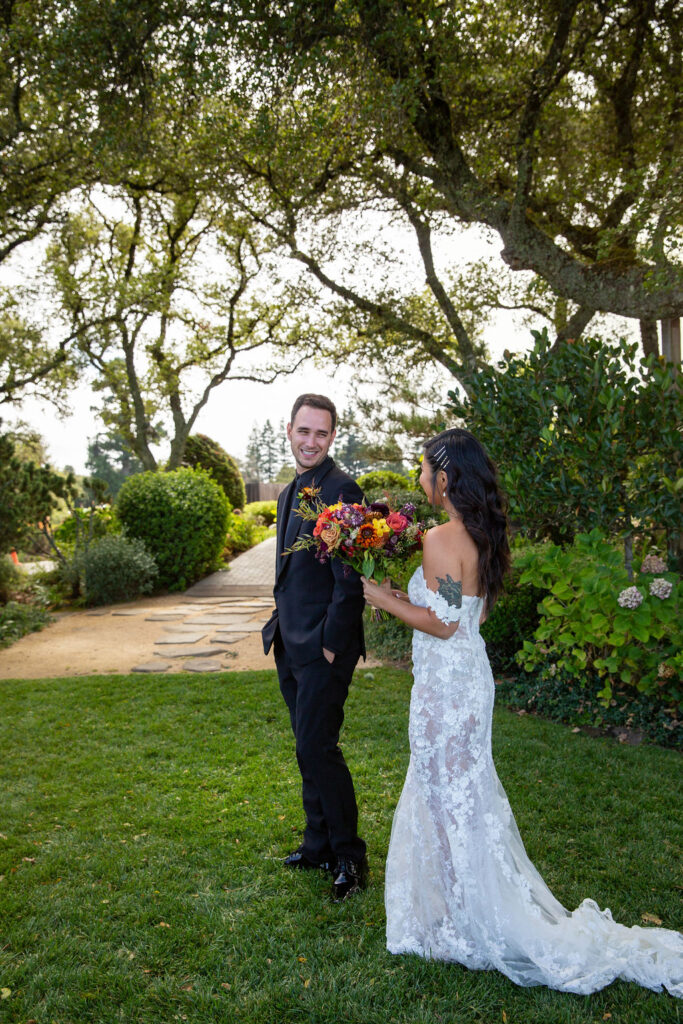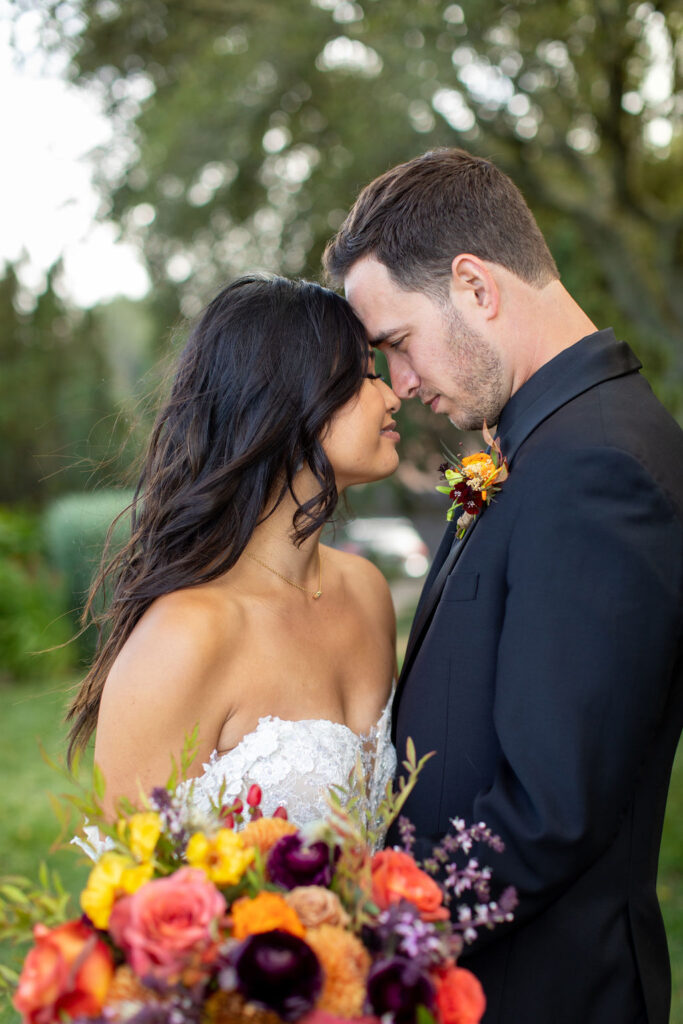 After that, the couple had many, many more photos to take, first of all with VIP guest DeeDee, the family dog …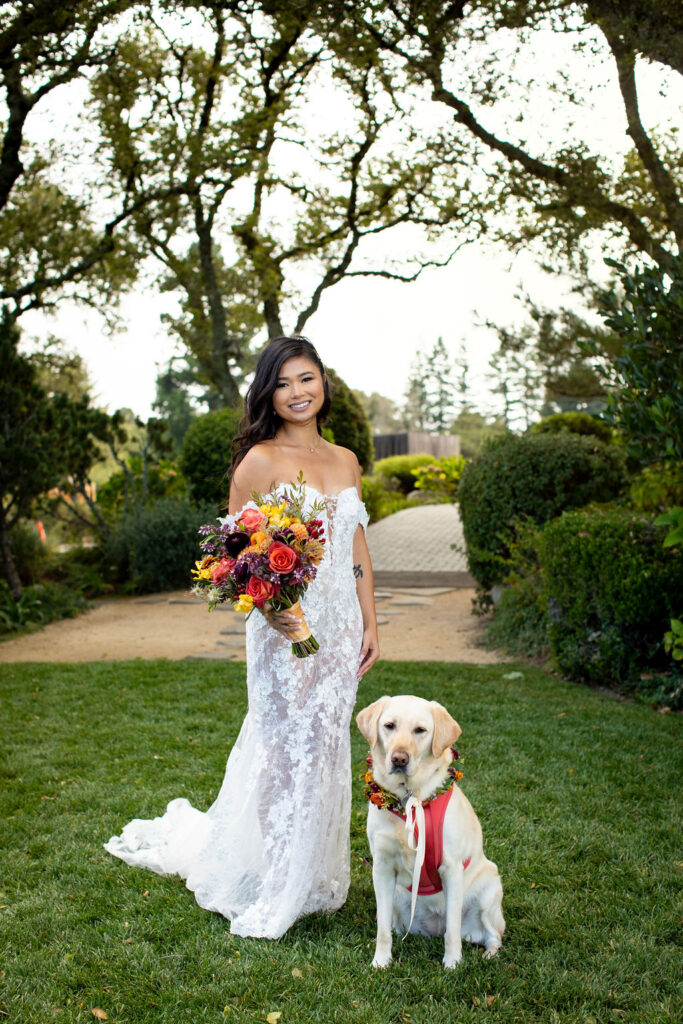 … who OF COURSE wore a matching flower collar for her doggie Mom's big day!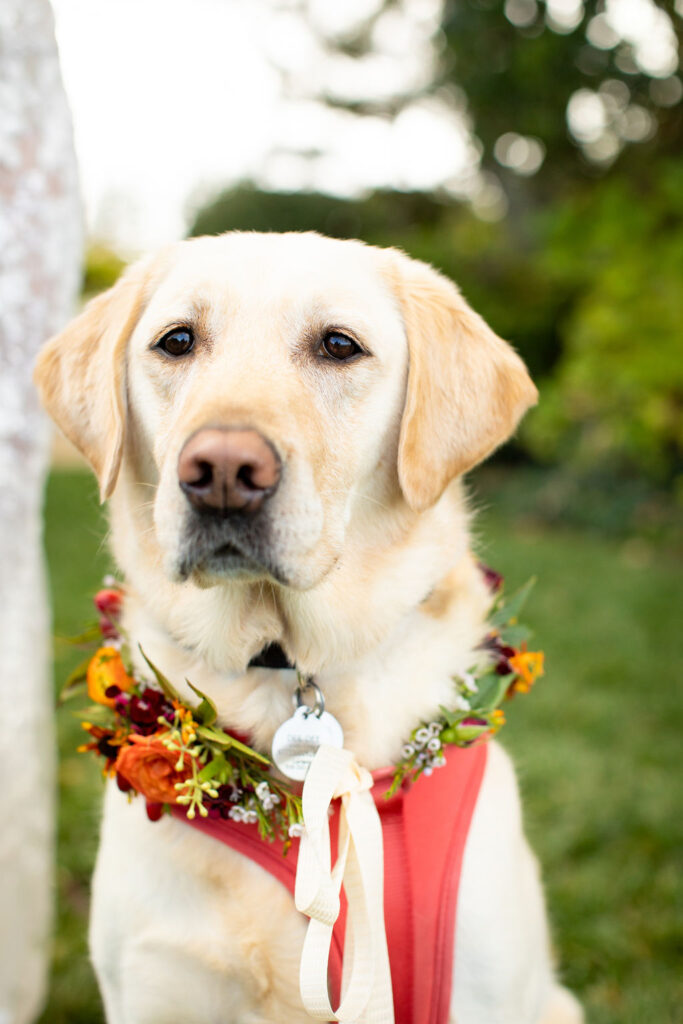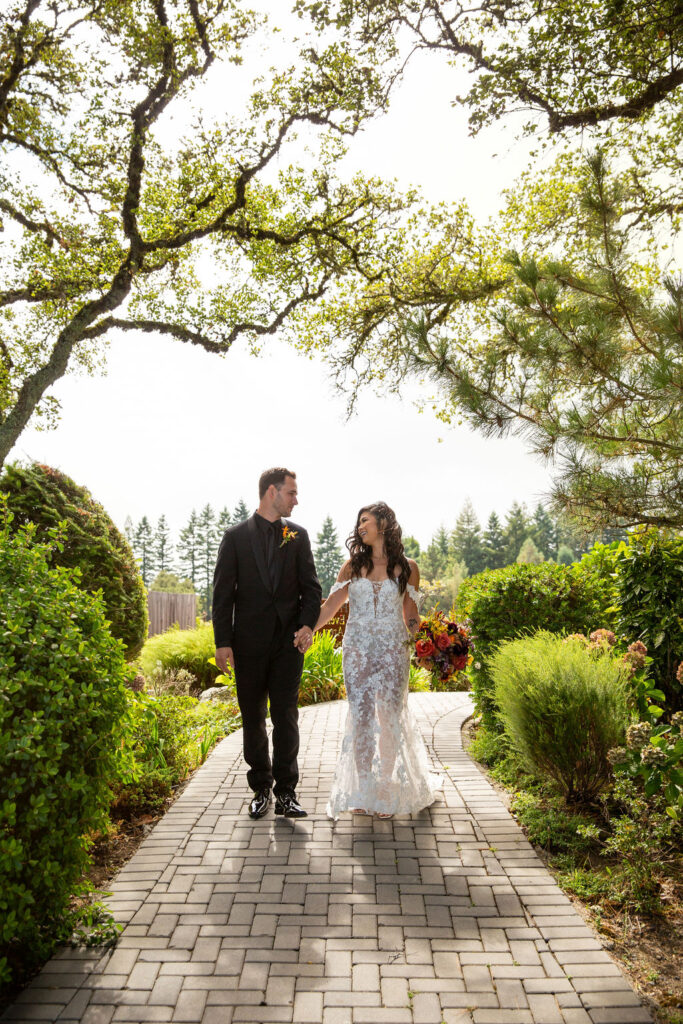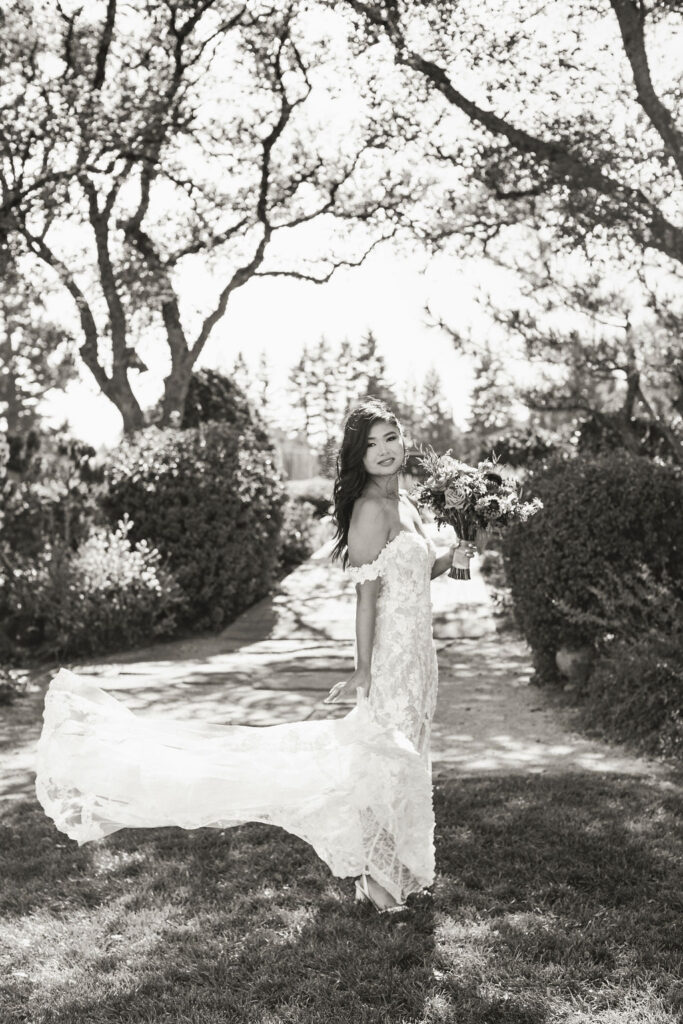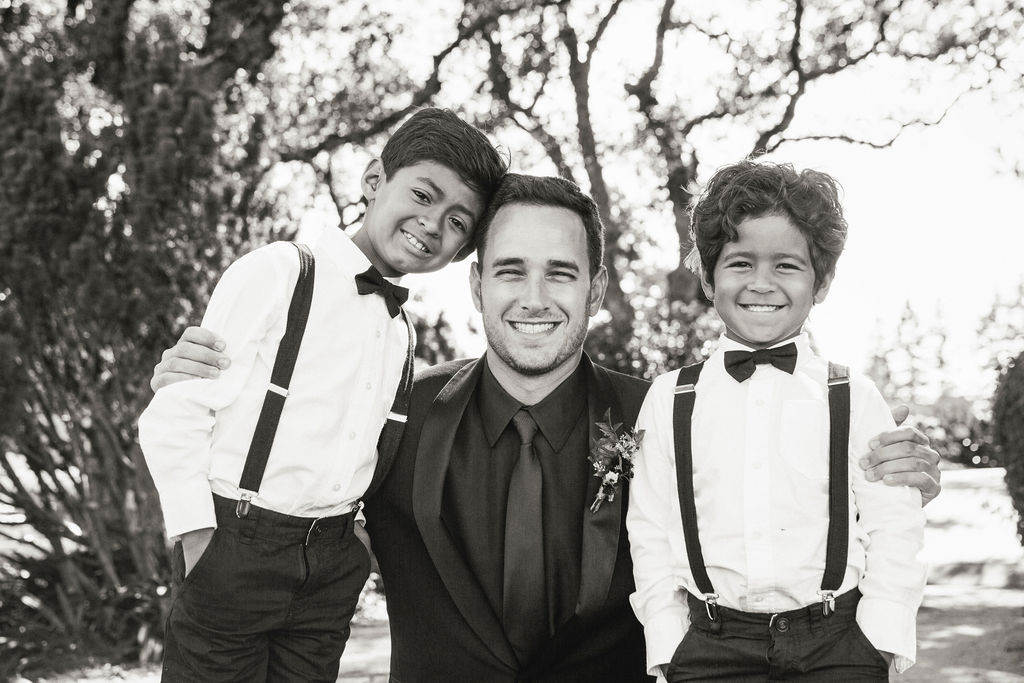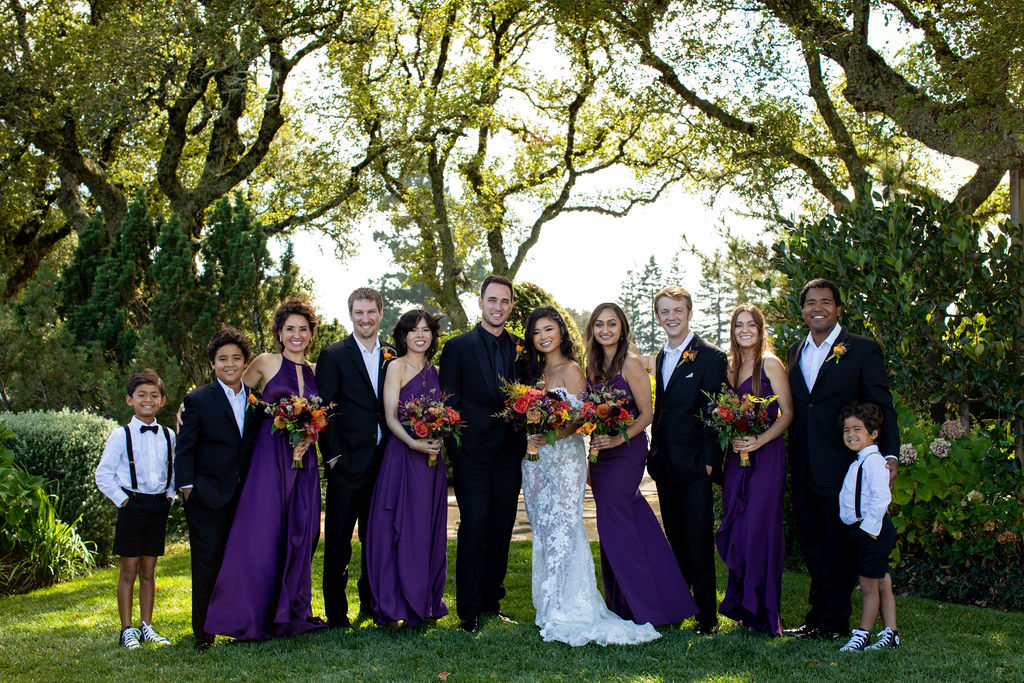 Soon, guests began arriving via shuttle (by Corinthian Ground Transportation). The ceremony lawn at the winery was beautifully decorated and ready for the big moment, and Spanish guitarist Jay Alvarez greeted guests with his melodious prelude music.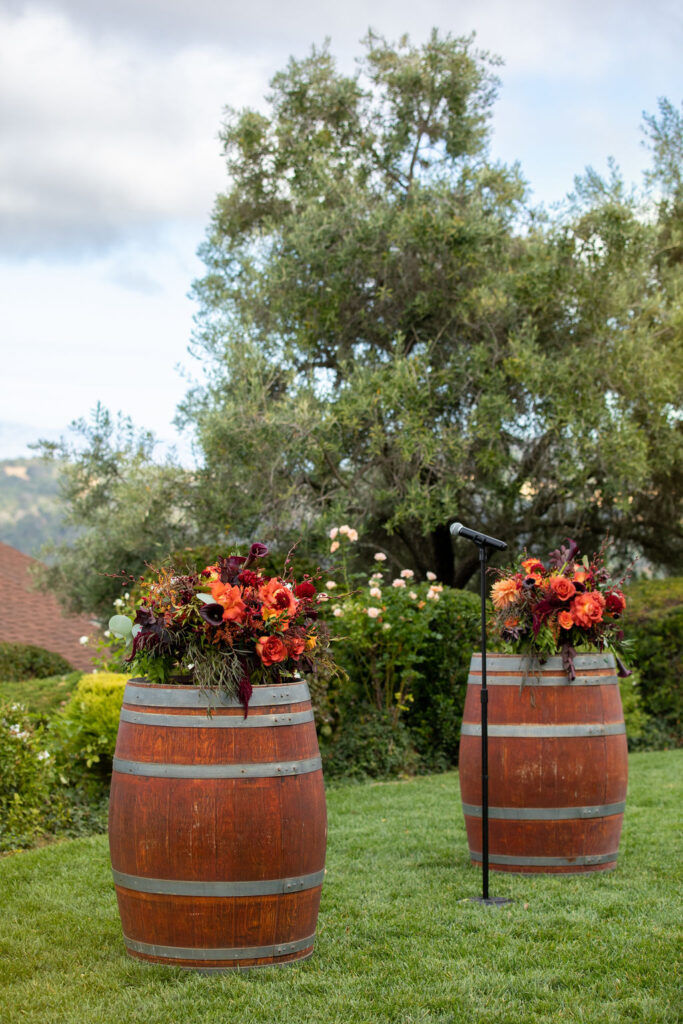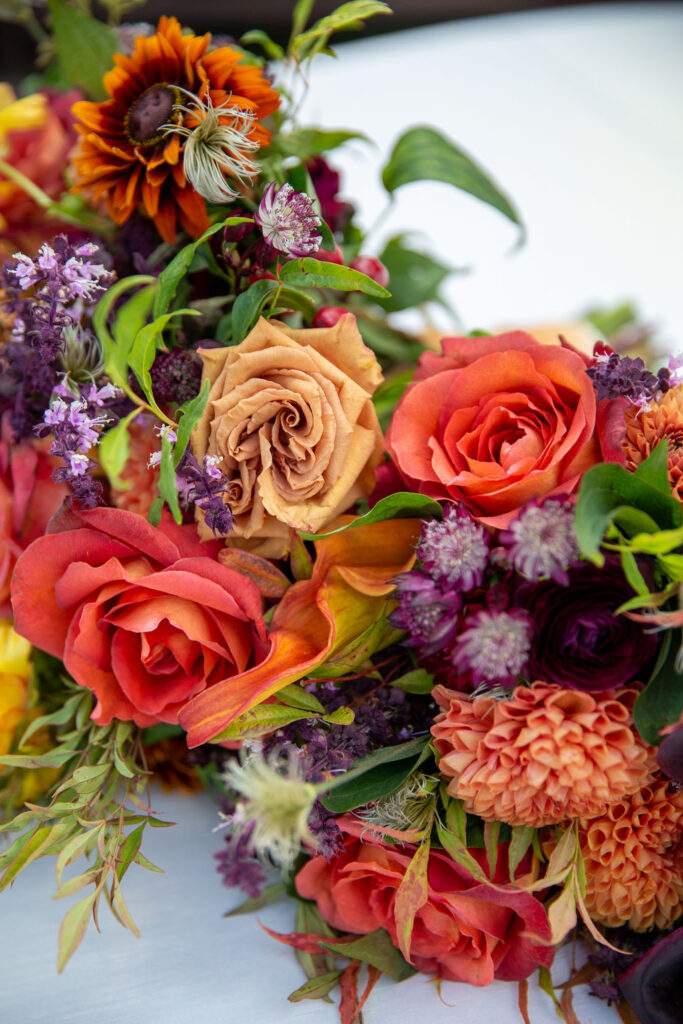 The couple had chosen a very special "flower girl" for their processional – doggie DeeDee, accompanied by her "Doggie Mom for the Day," Melinda (by A Day Like No Other).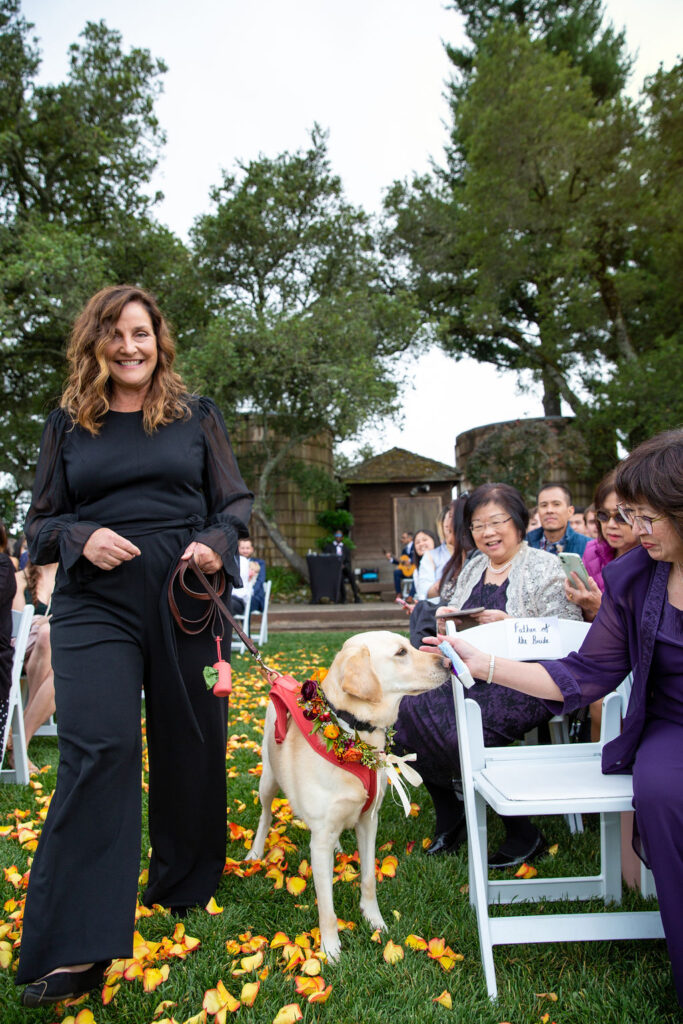 And here comes the bride!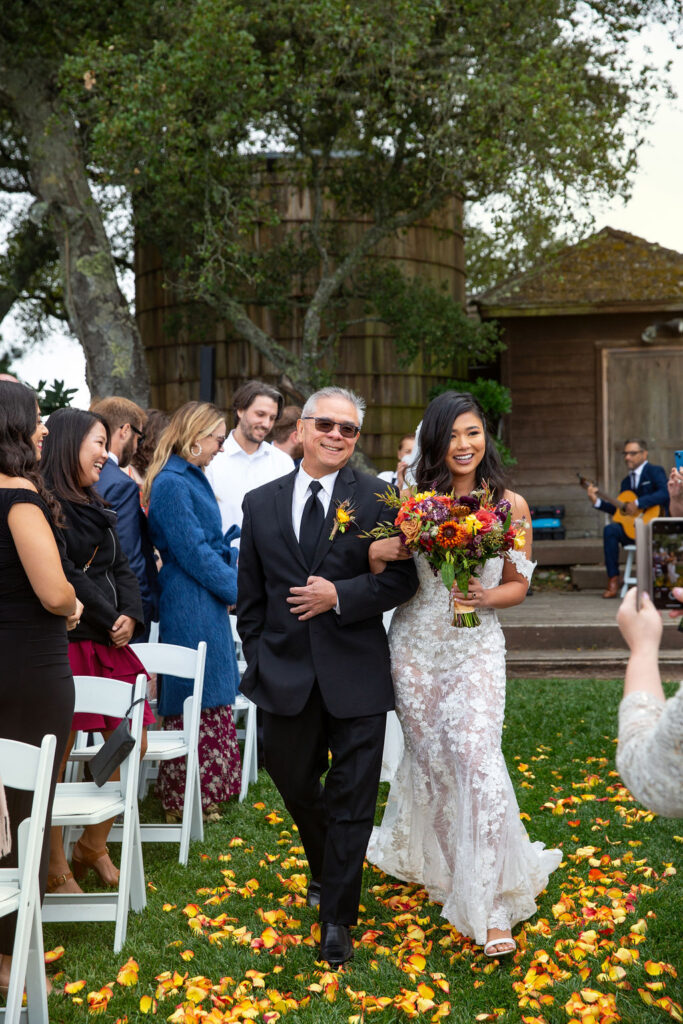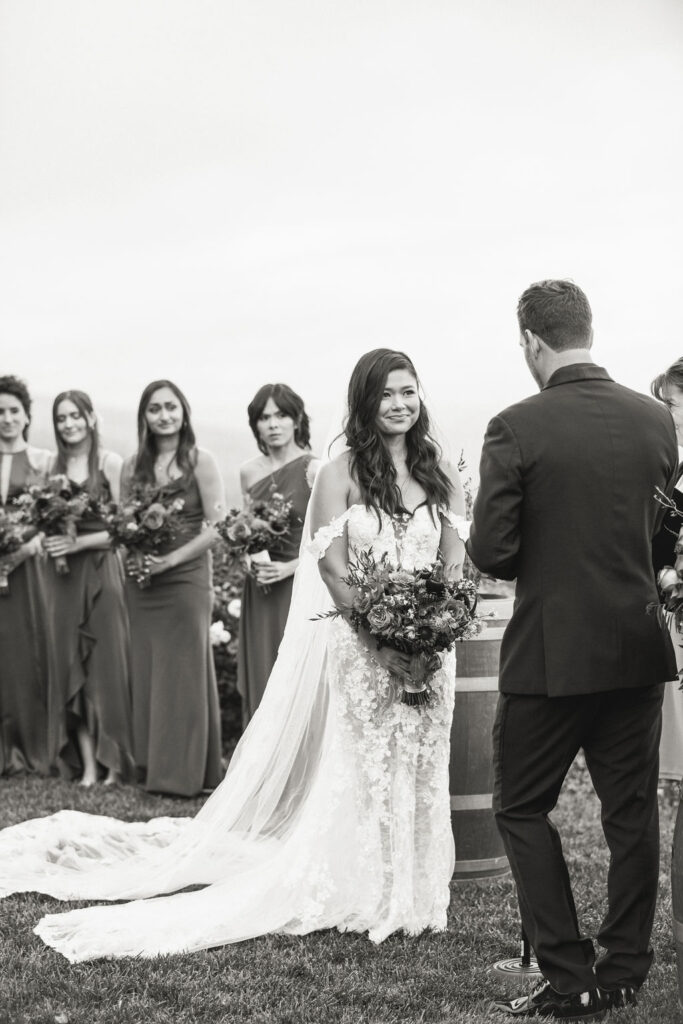 The ceremony was officiated by a relative of the couple – and she had come all the way from France for that! A truly tight-knit, international family… and a very emotional moment.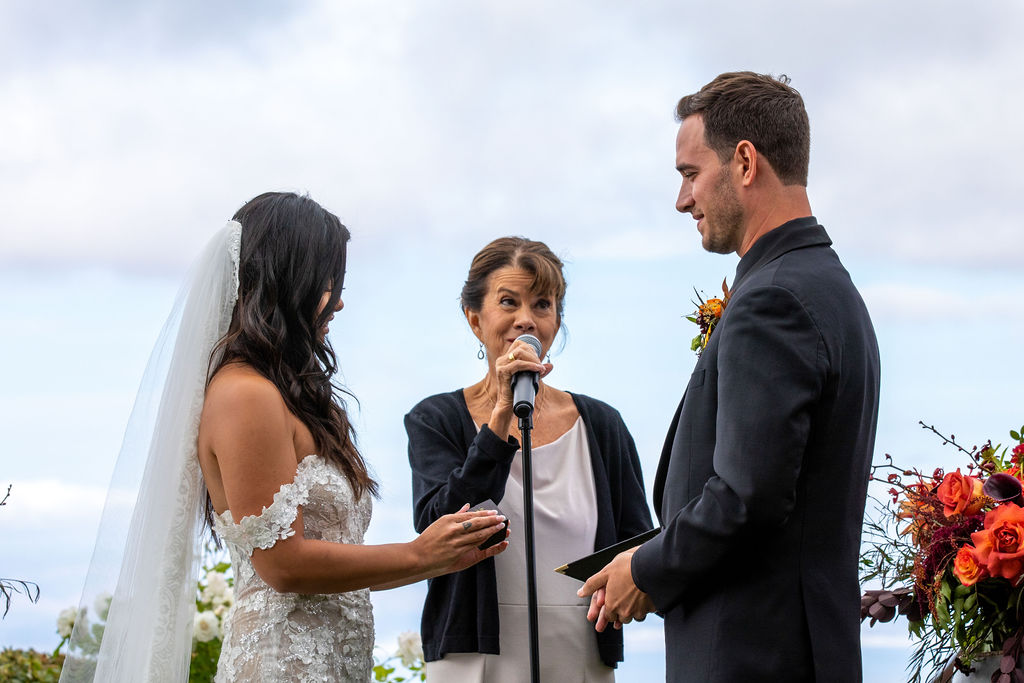 "You may now kiss the bride!"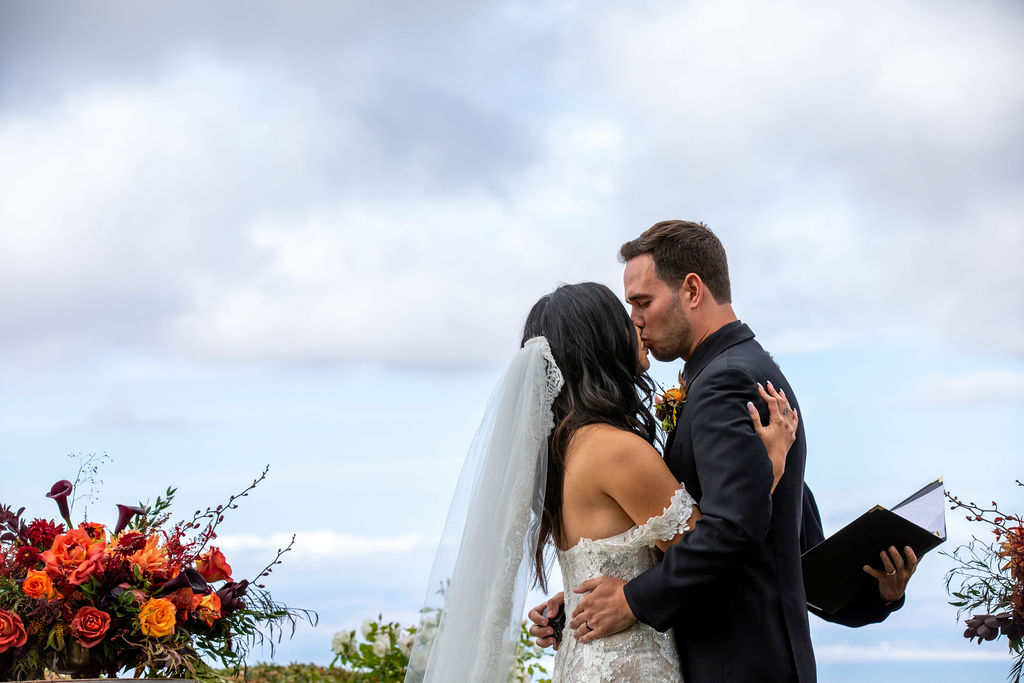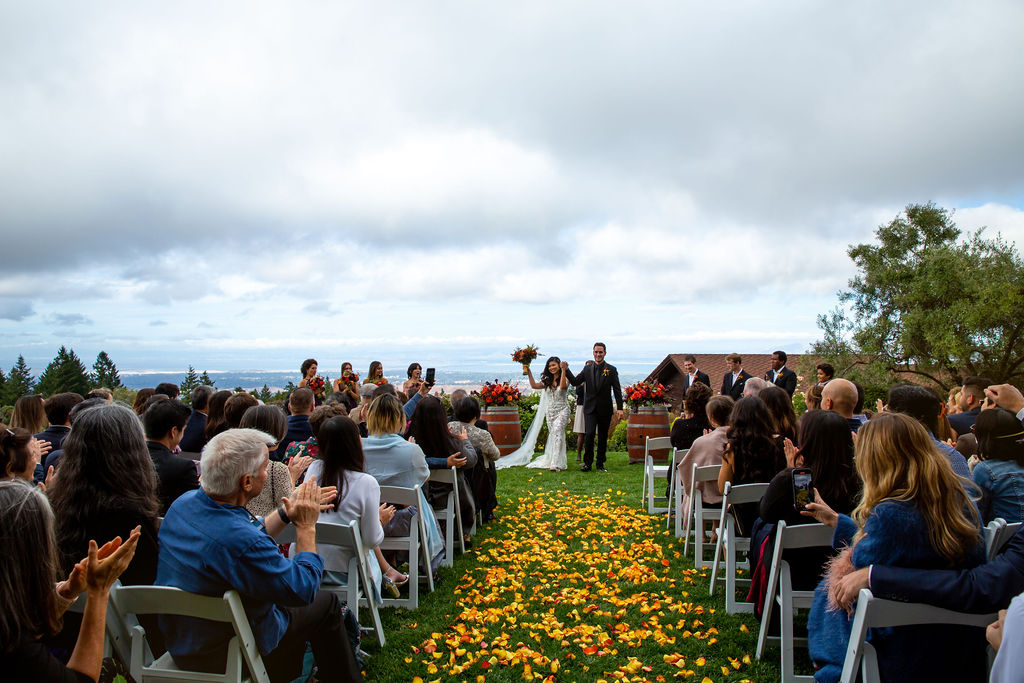 While their guests were being treated to delicious hors d'oeuvres (by Continental Catering) and exquisite Thomas Fogarty wines …
… the newlyweds had many more photos to take.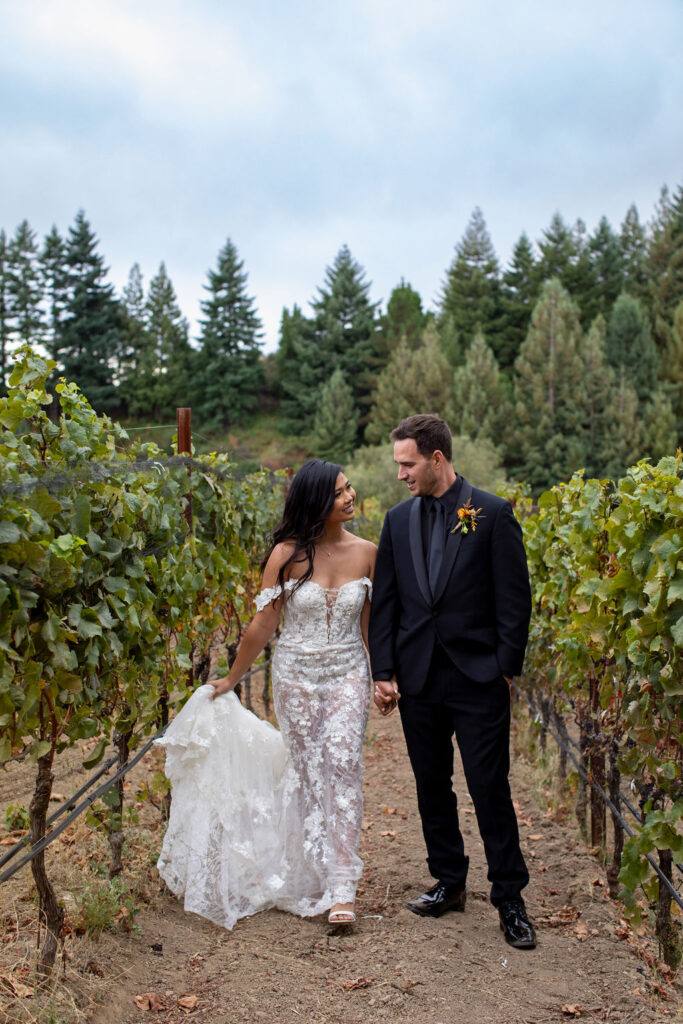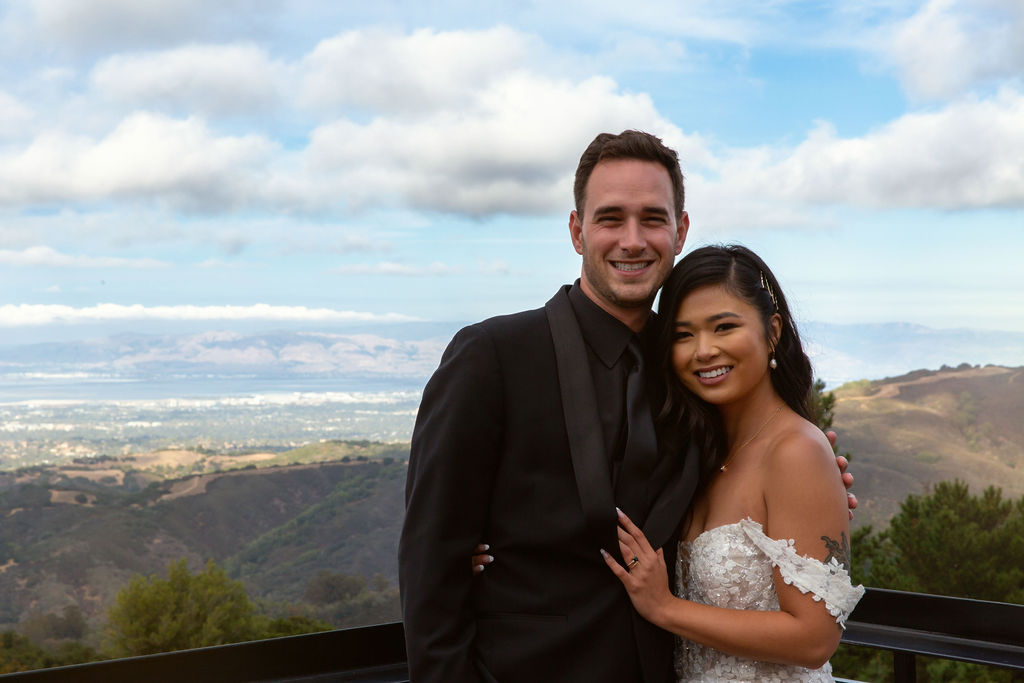 Meanwhile, the production team of A Day Like No Other was tirelessly working behind the scenes to make the celebration "unfold like magic."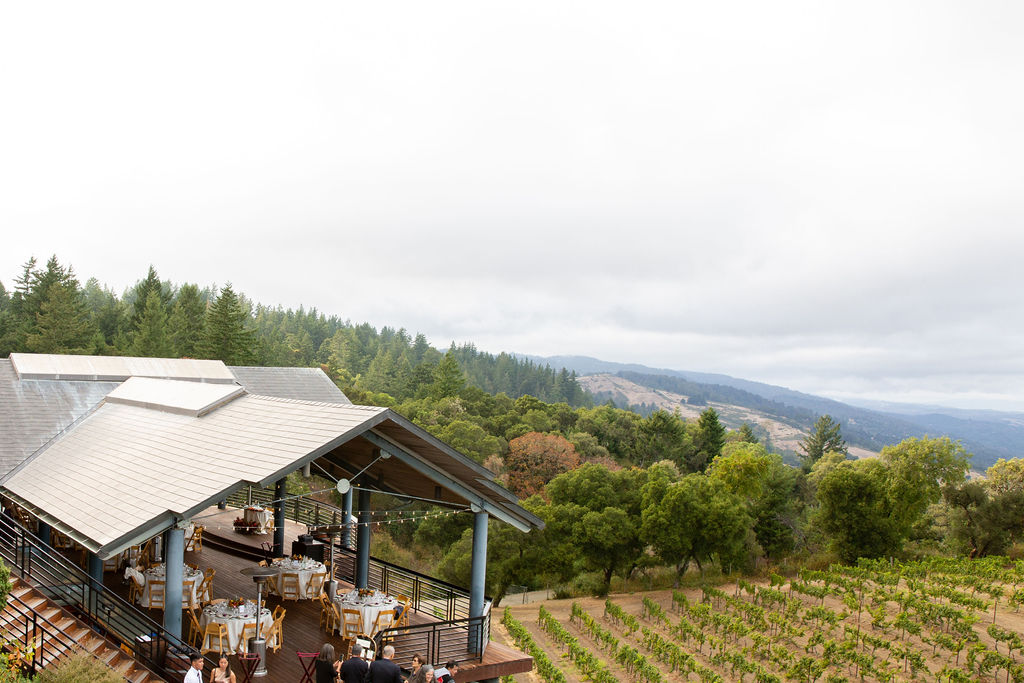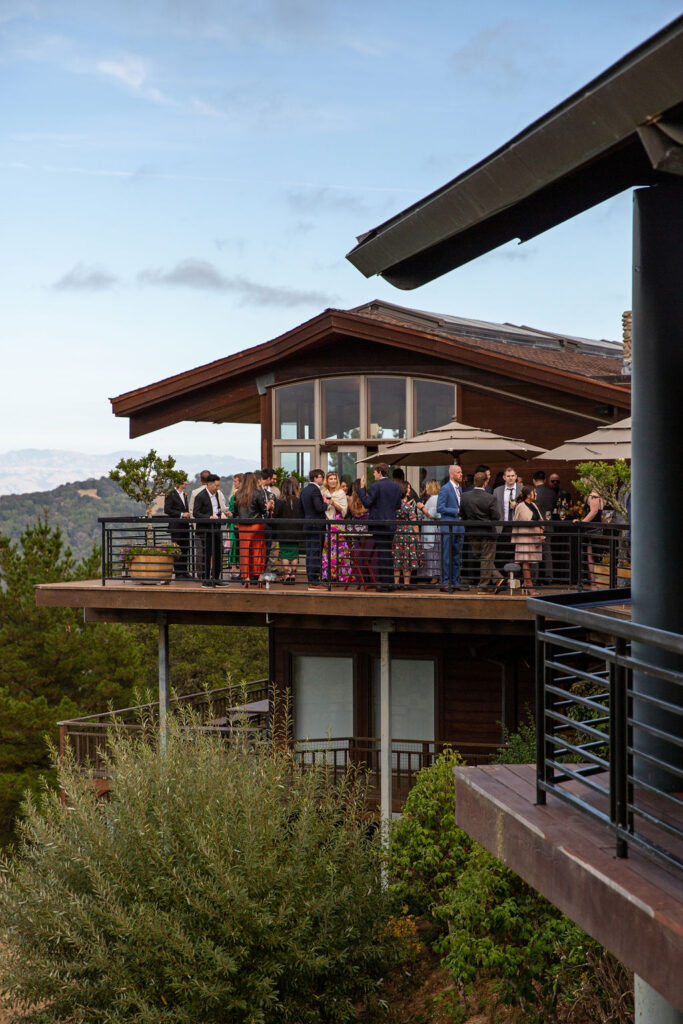 In the meantime, dinner had been set up in the open Pavilion…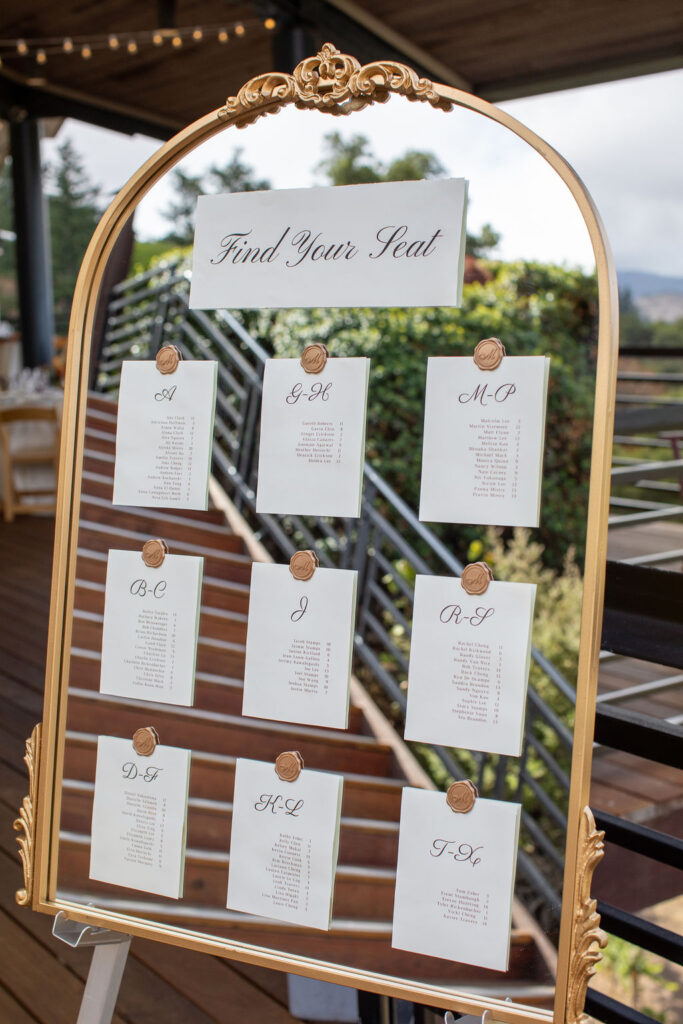 … and guests found their seat assignments on a gilded mirror.
The dining tables were set with elegant black-and-white, gold-rimmed plates and gold-toned cutlery by Bright Event Rentals…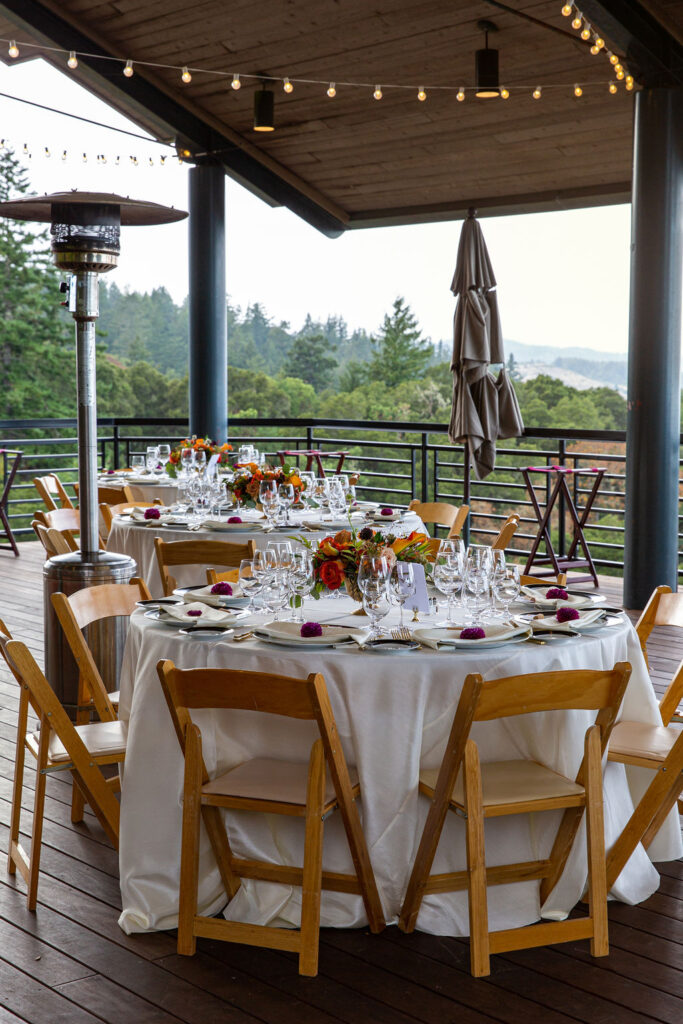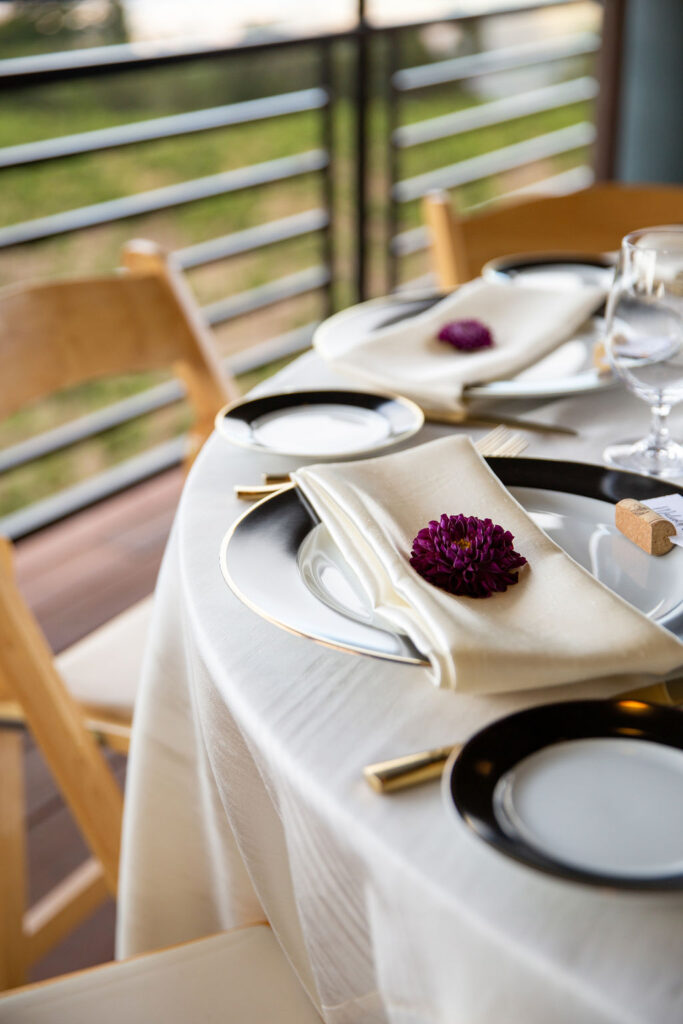 Each place setting was adorned with a stunning purple dahlia bloom… it doesn't get much more elegant!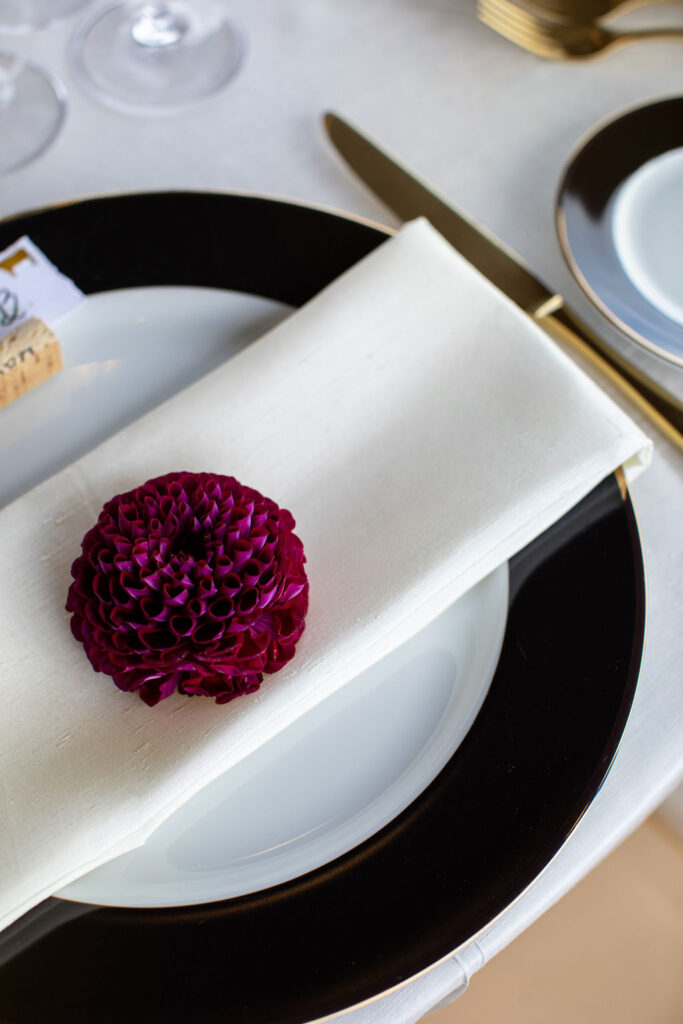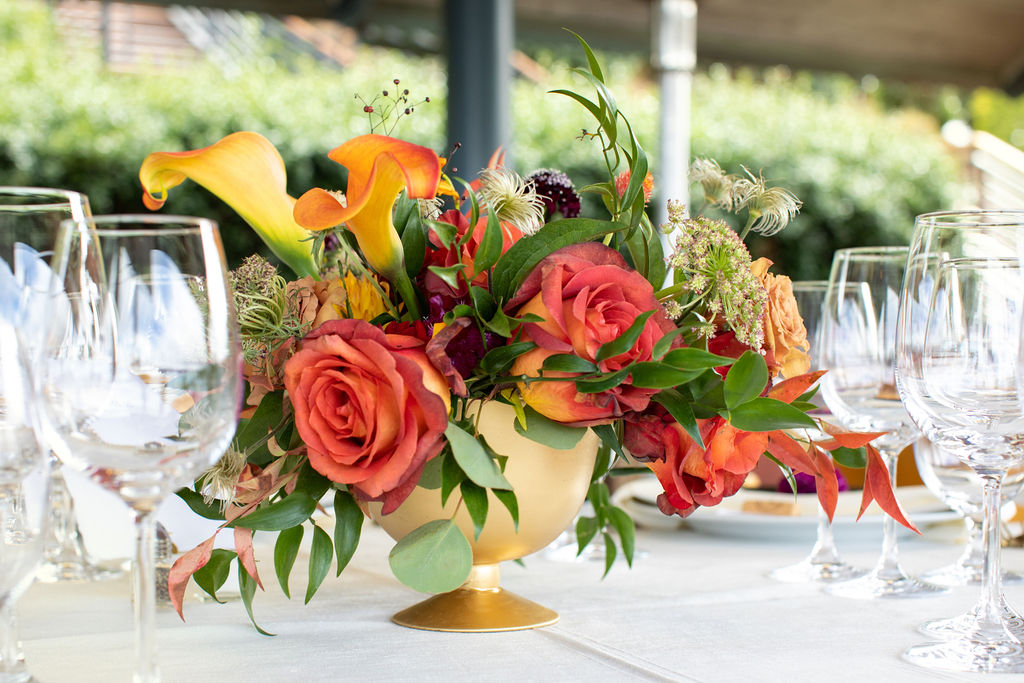 Centerpieces in gold-toned vessels (by Green Petal Designs) were literally glowing in the colors of the sunset, and the newlyweds' Sweetheart Table, of course, received extra-special treatment.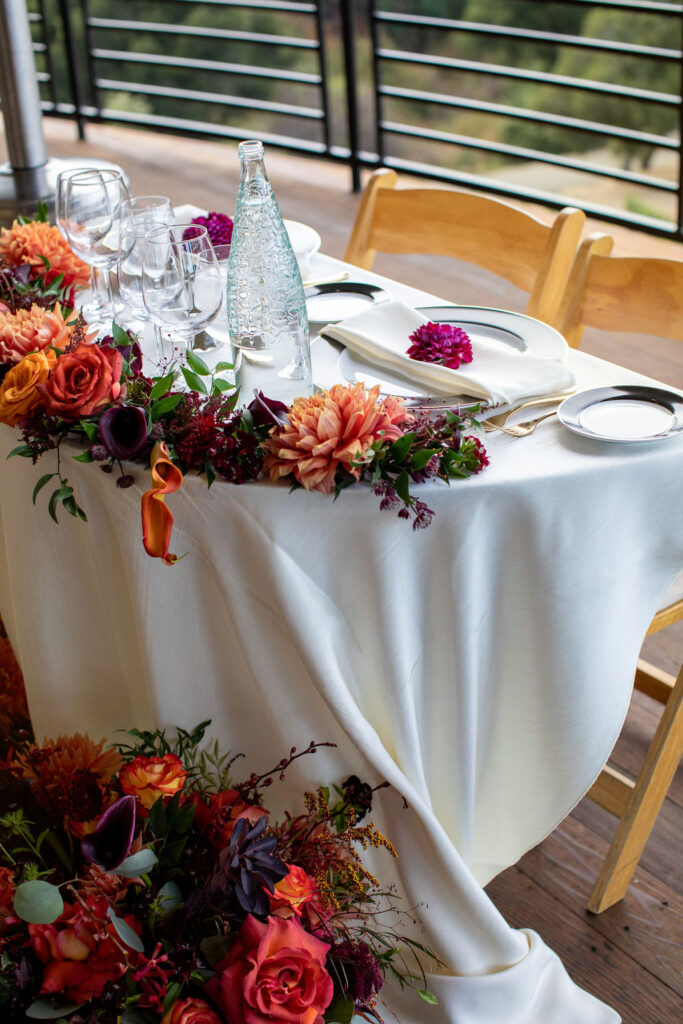 Dinner is served! And what a dinner (by Continental Catering) that was…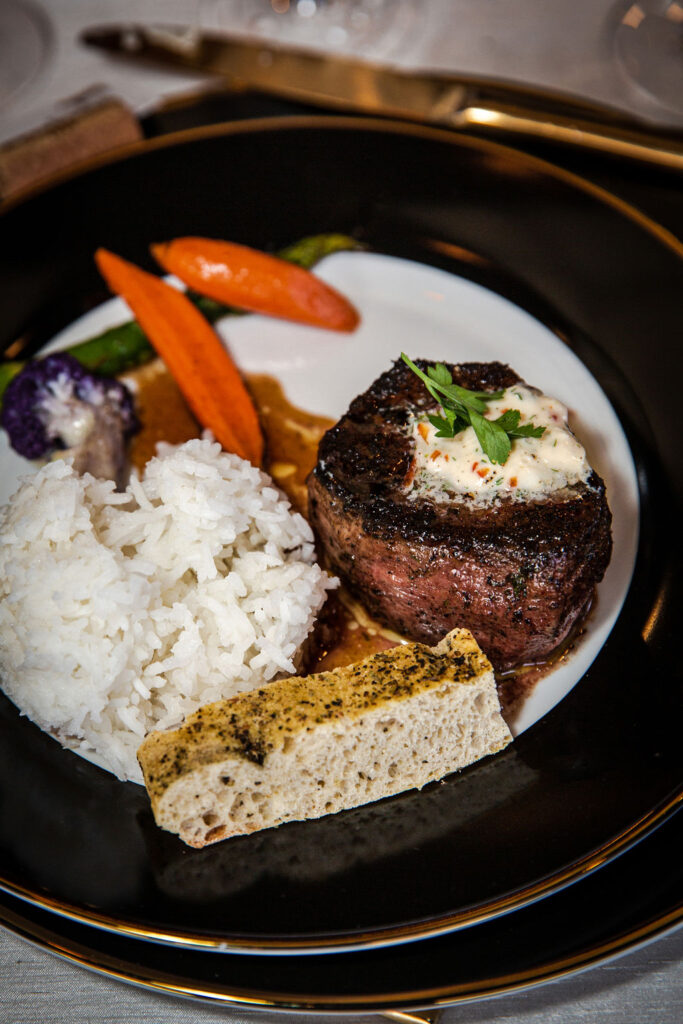 The Dining Pavilion had been outfitted with string lights overhead (by Just De'Lights), a special gift by the Mother of the Groom – and as dusk fell, the atmosphere turned truly magical.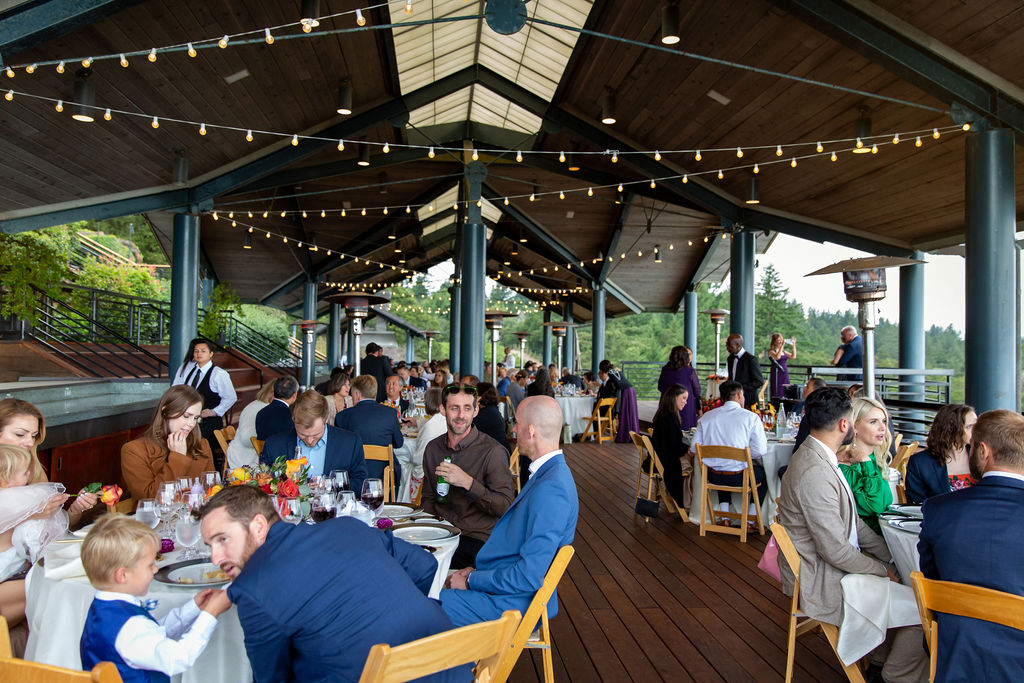 After dinner, guests were invited into the Hill House for Cake Cutting and dancing. Krumbs Cakes had delivered another one of their edible masterpieces…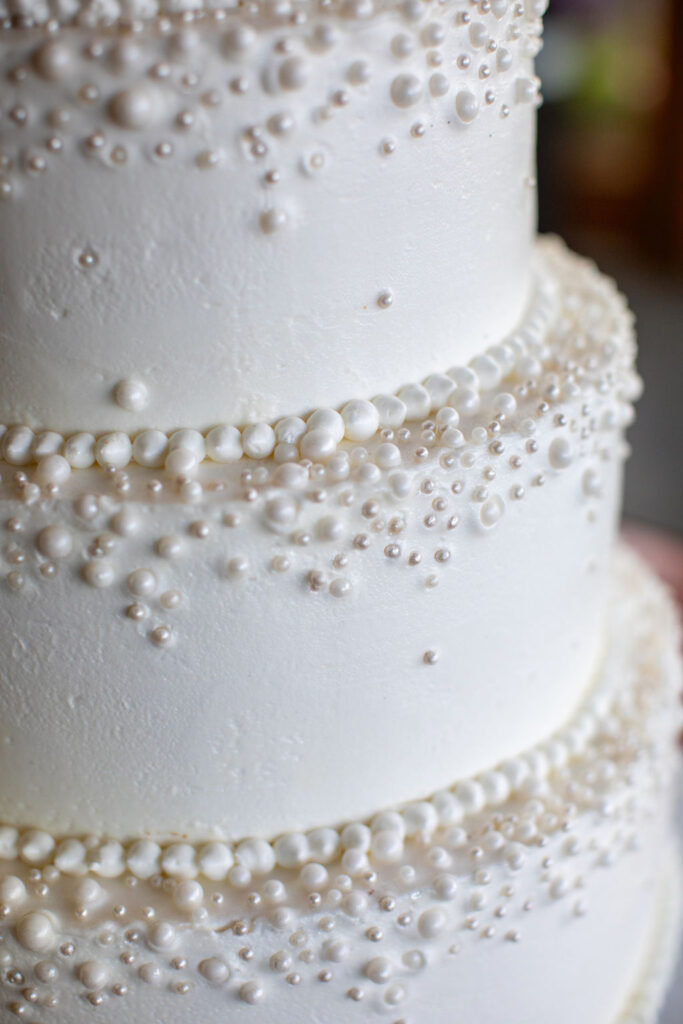 … and decorated it with more sunset-colored flowers. So pretty!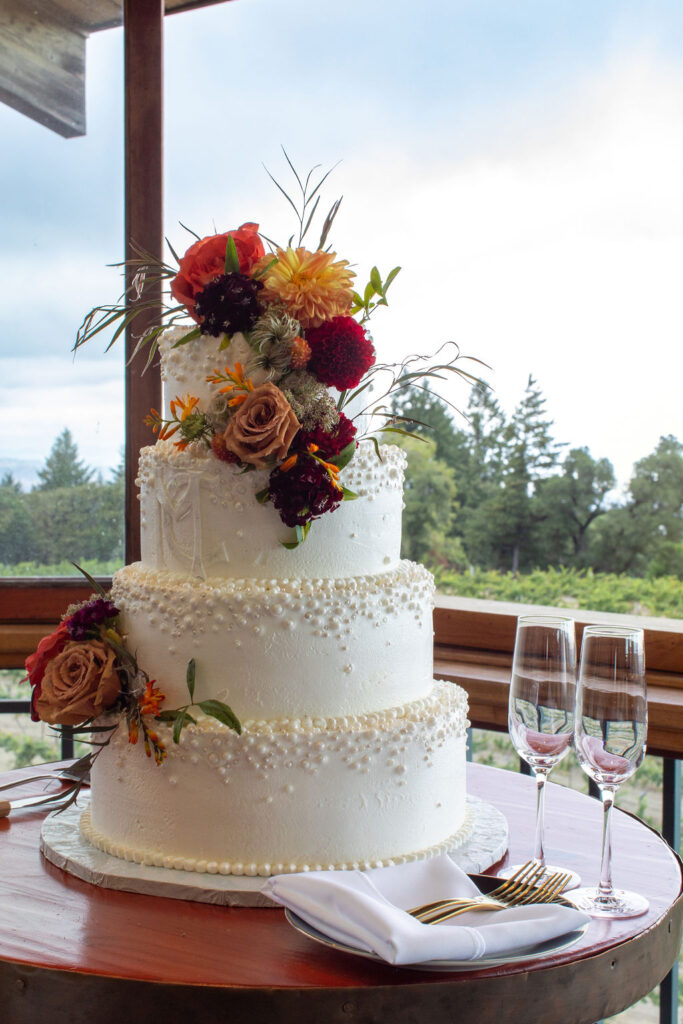 Following time-honored tradition, the first joint task of the newlyweds was – to cut their cake!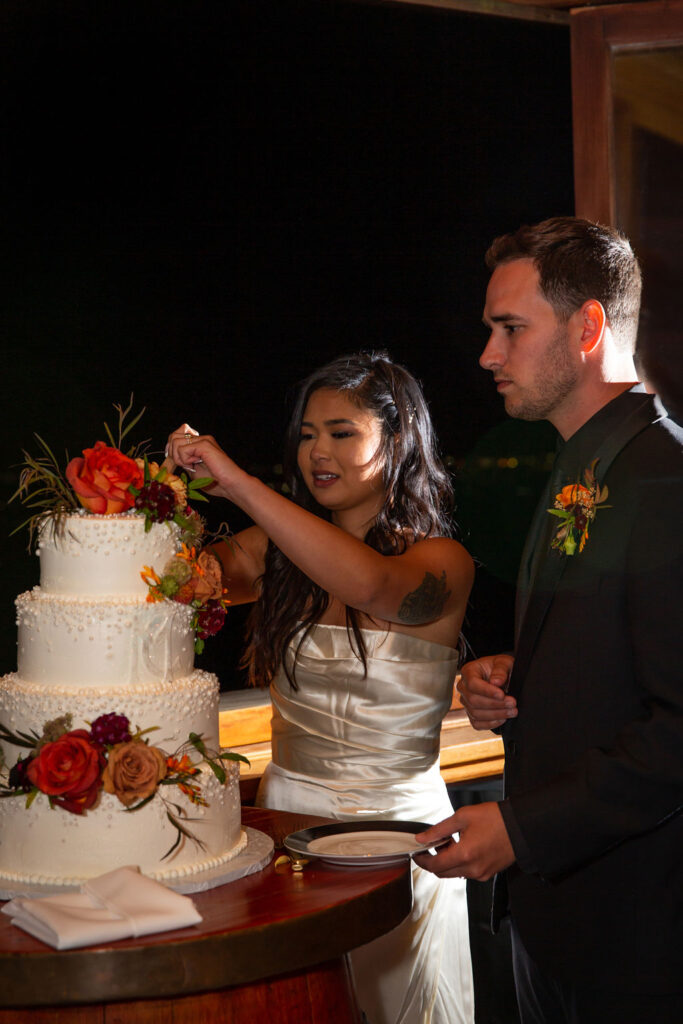 Guests were also treated to pretty little favors – no detail had been forgotten.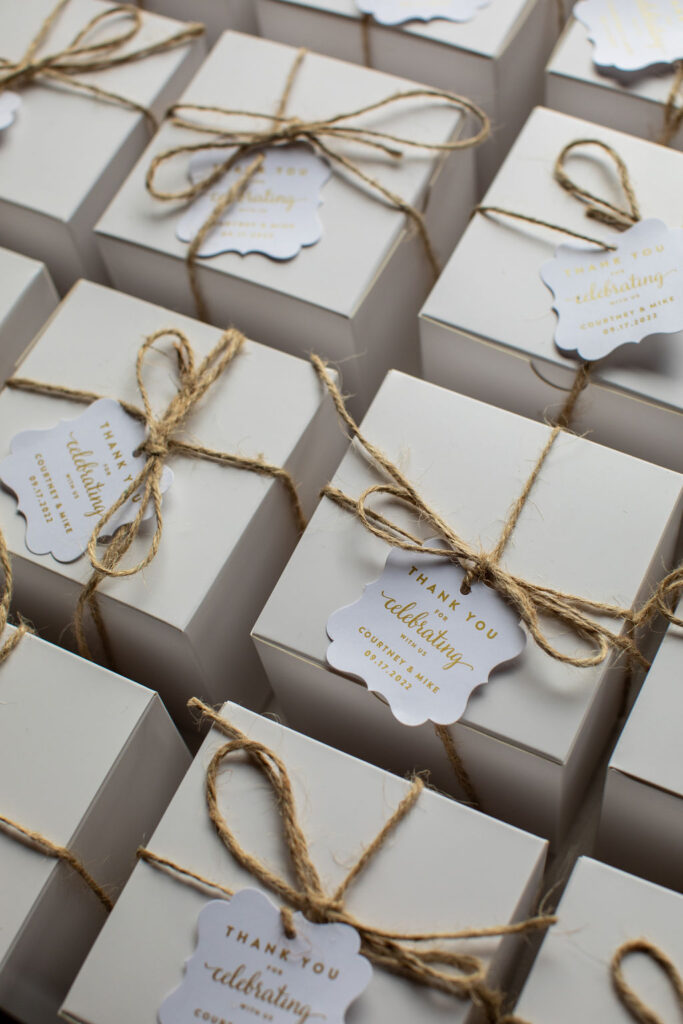 Dance music was provided by DJ Erick (from Sound in Motion), and Courtney and Mike shared their First Dance as a married couple, surrounded by their applauding guests.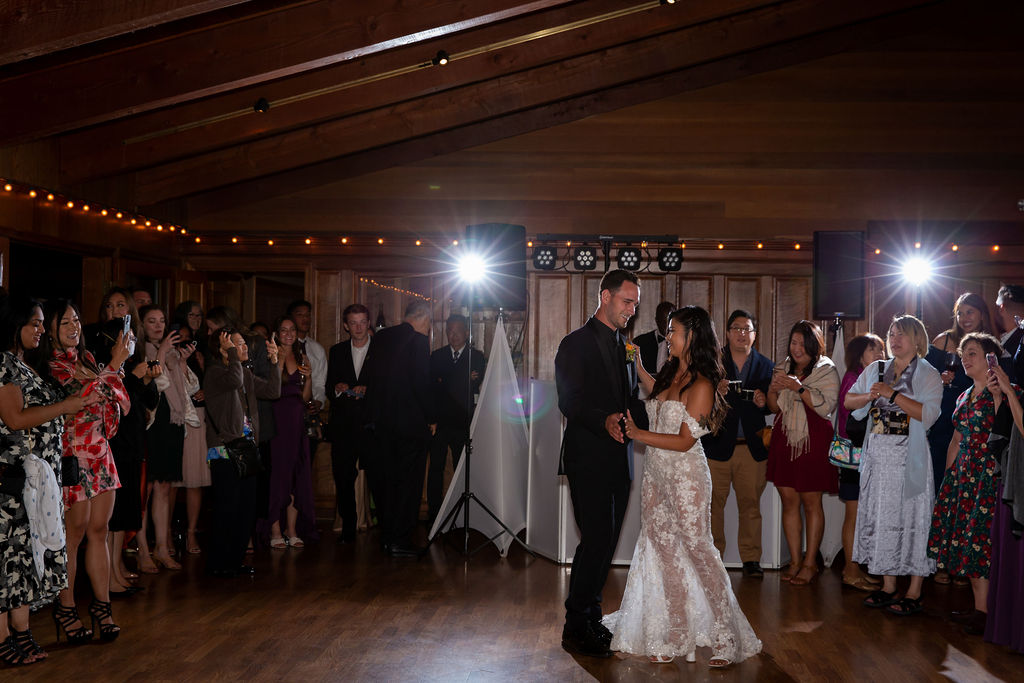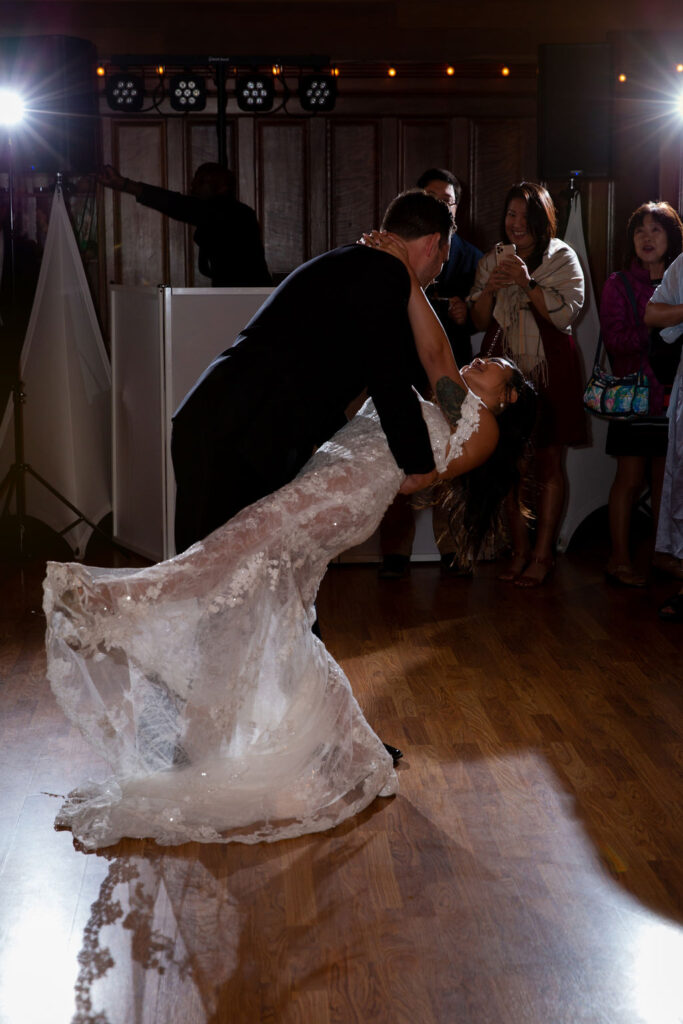 That, of course, brought everyone on the dance floor!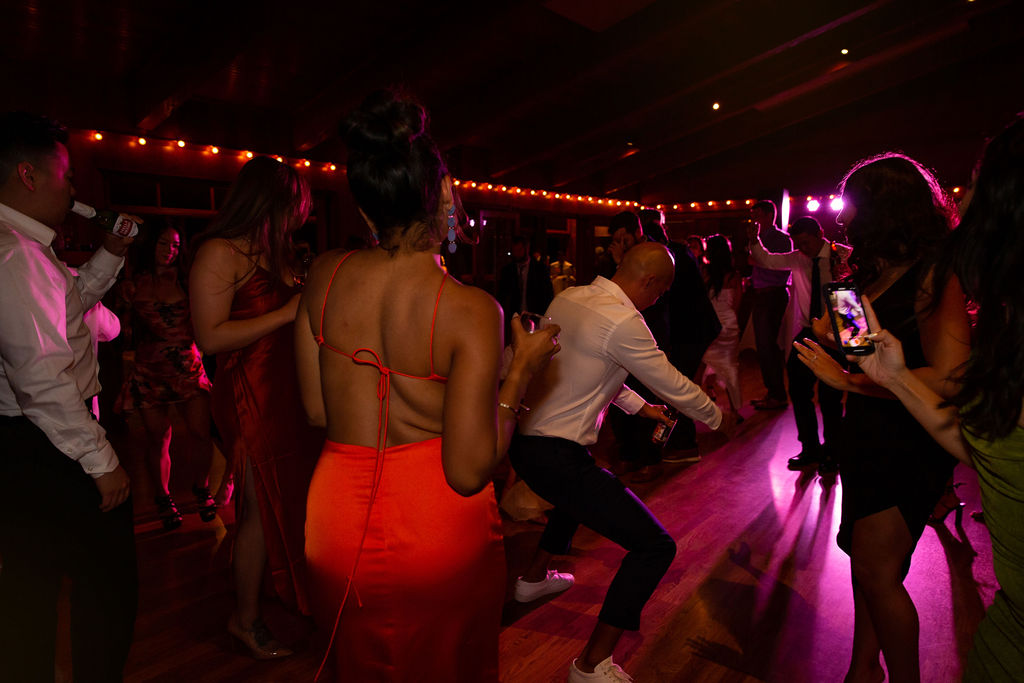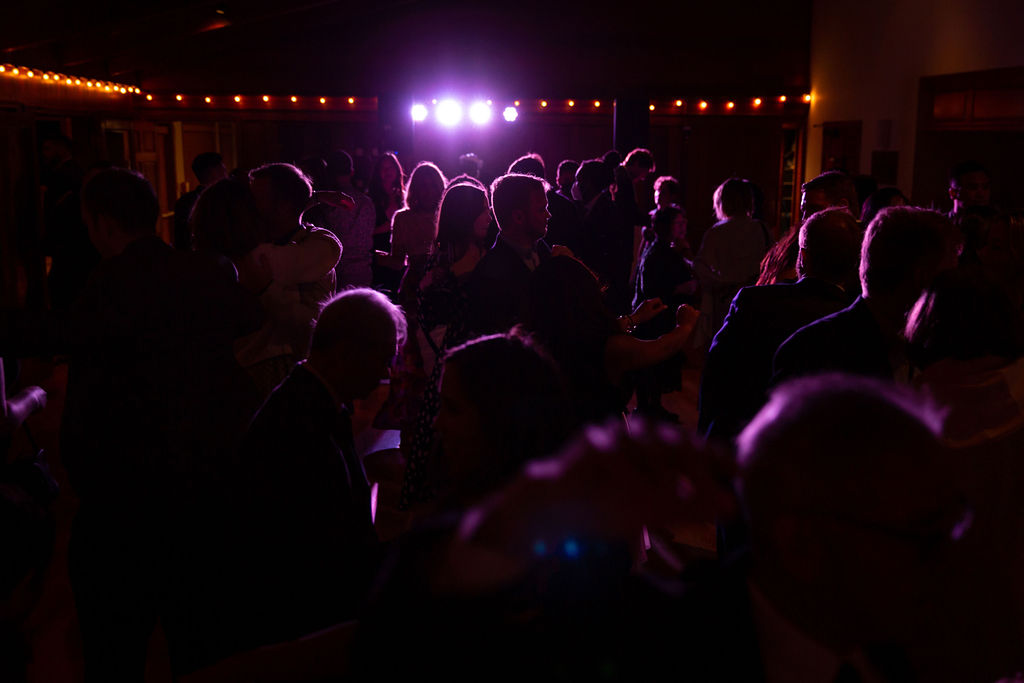 What a party… all the happiness in the world to Courtney and Mike on their shared journey!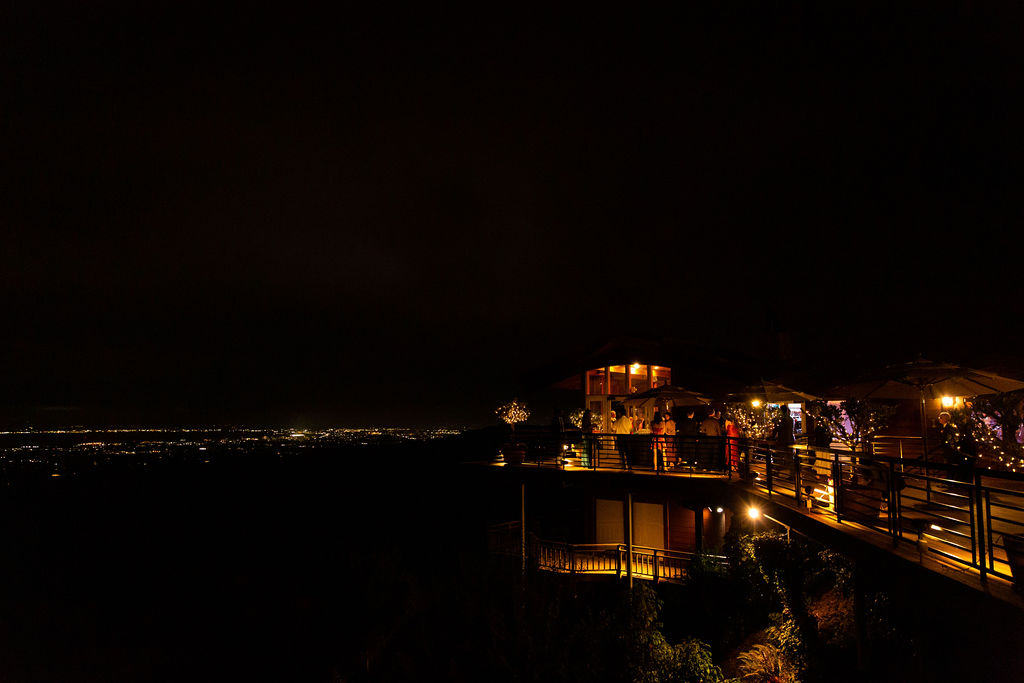 <! DL 06/02/12: Added html code for Pinterest Pin It button (appears at the end of each post) > <! DL 06/02/12: Added padding style modifier to the Pinterest html code to align the Pit It button on the page > <! DL 06/02/12: deactivated code by adding two ! in the a and img code lines >