Kristi and John are living and working in tropical Costa Rica, with lush vegetation surrounding them and monkeys as visitors on their patio – BUT they have family ties to the Bay Area, and that's where they wanted to tie the knot after many years together in which John had already become a true stepdad to Kristi's children Emma and Alejandro.
The couple chose the beautiful setting of Crystal Springs in Burlingame for their ceremony, followed by a reception in the nearby Clubhouse of the Crystal Springs golf course – and what a celebration that was! Every tiny detail was thought through and elevated, and so the planning process with my company, A Day Like No Other, was very intense. Finally, the big day had arrived… now look for yourself!
Kristi had her hair and makeup done offsite (by Design Her Image), and all she had to do when arriving at the venue was to step into her elegant wedding dress – which literally fit her like a glove…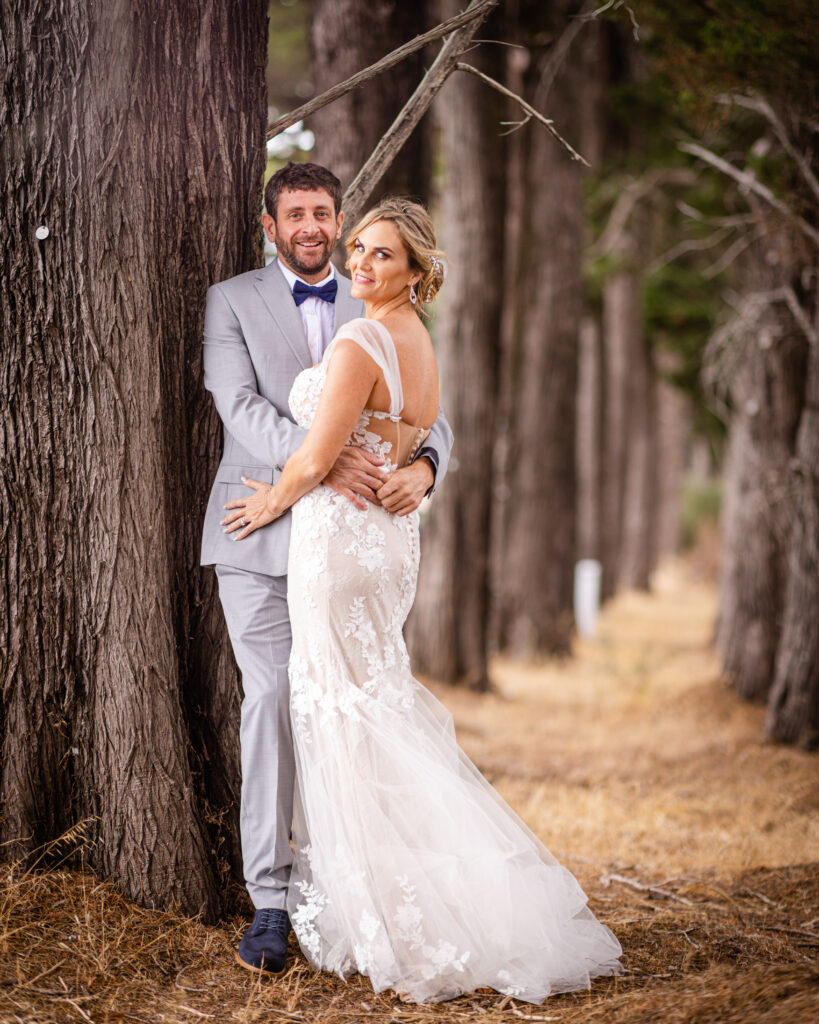 … and head out for her first look with groom John, all beautifully captured by photographer Frank J. Lee.
More photos and video (by Filmore Productions) before the first guests arrived…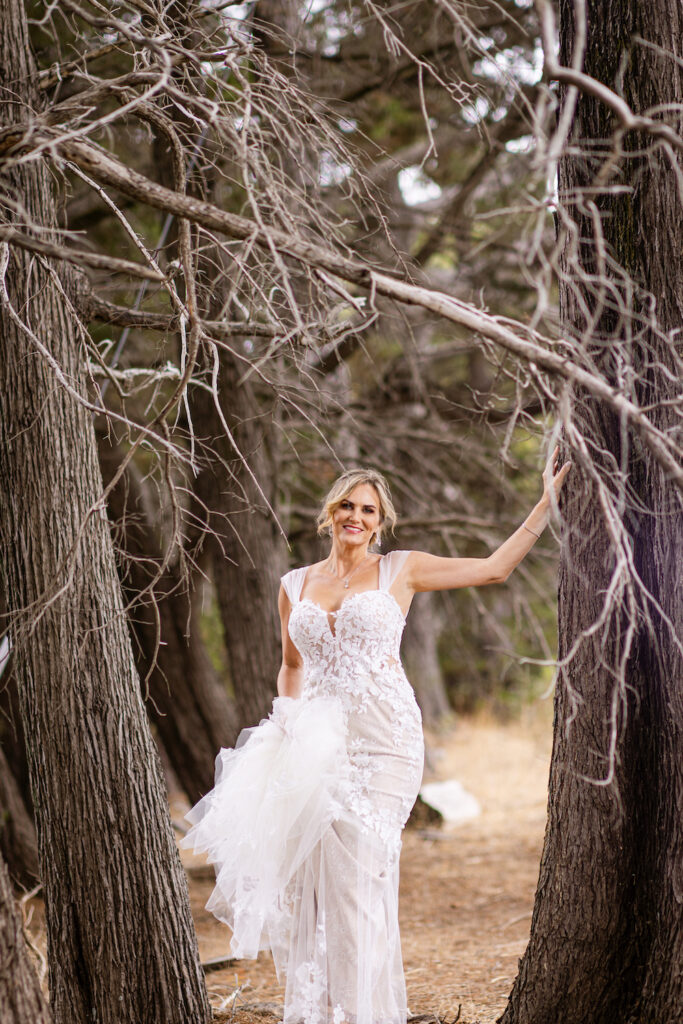 For her bridal bouquet and floral decor throughout, Kristi had asked for bold orange and red colors and for an equally bold look featuring her favorite flower, the spectacular Bird of Paradise, and Pampas Grass – and here is what florist Janelle of Green Petal Designs came up with: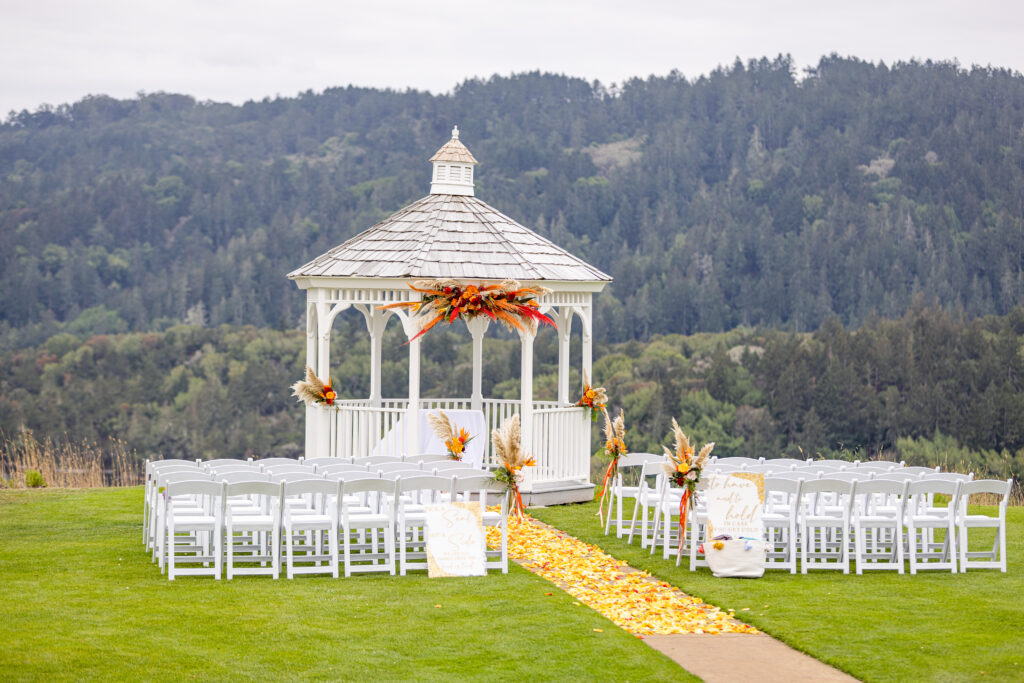 The wedding pavilion was adorned with a huge spray of flowers, the aisle chairs showed matching smaller arrangements…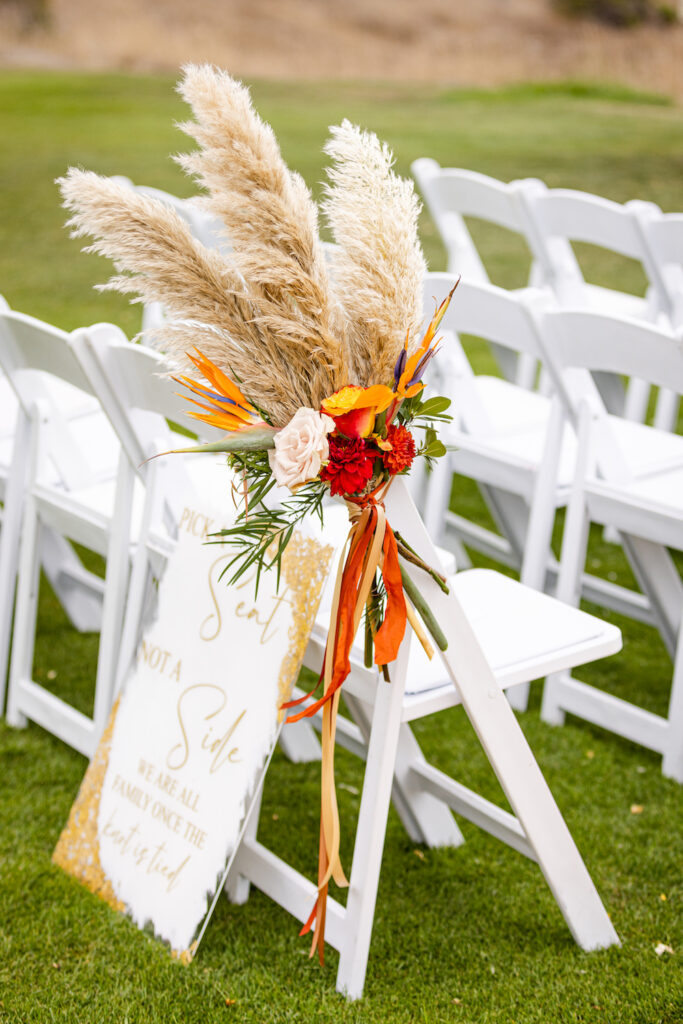 … and the aisle itself was covered with a carpet of yellow and orange rose petals. Spectacular!
The ceremony was officiated by a close friend of the couple, and Kristi's son and daughter were their Best Man and Maid of Honor.
Here comes the adorable flower girl: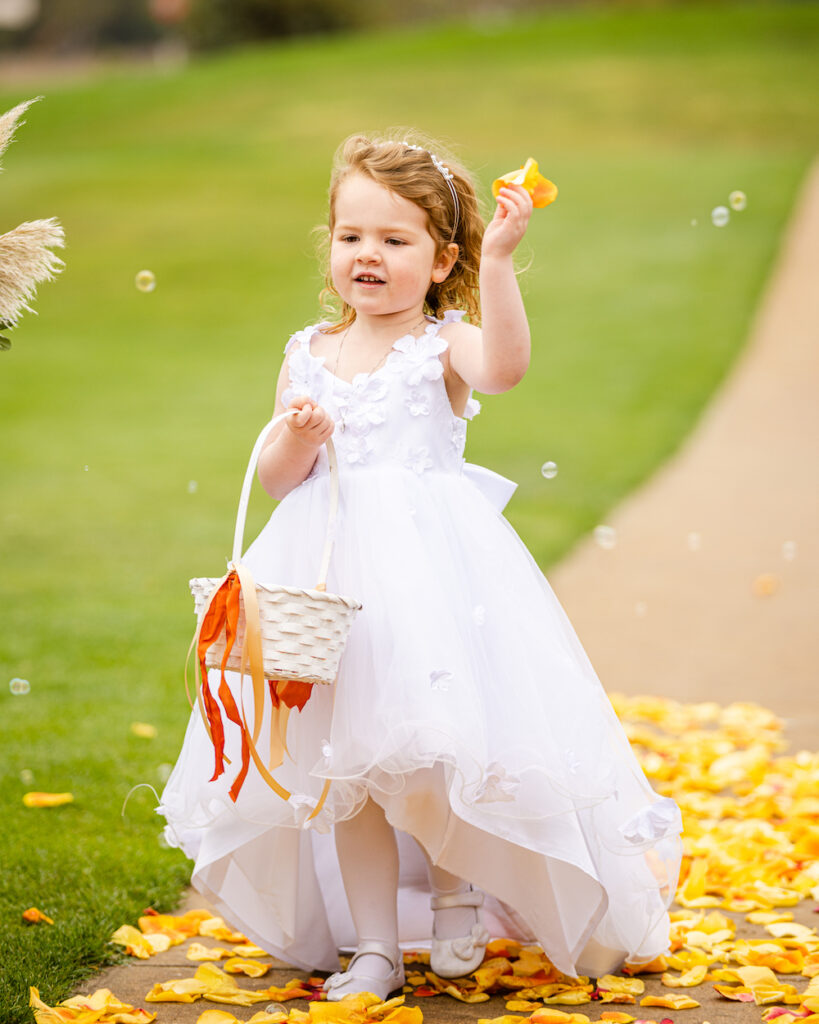 … followed by the bride, accompanied by her father and her son.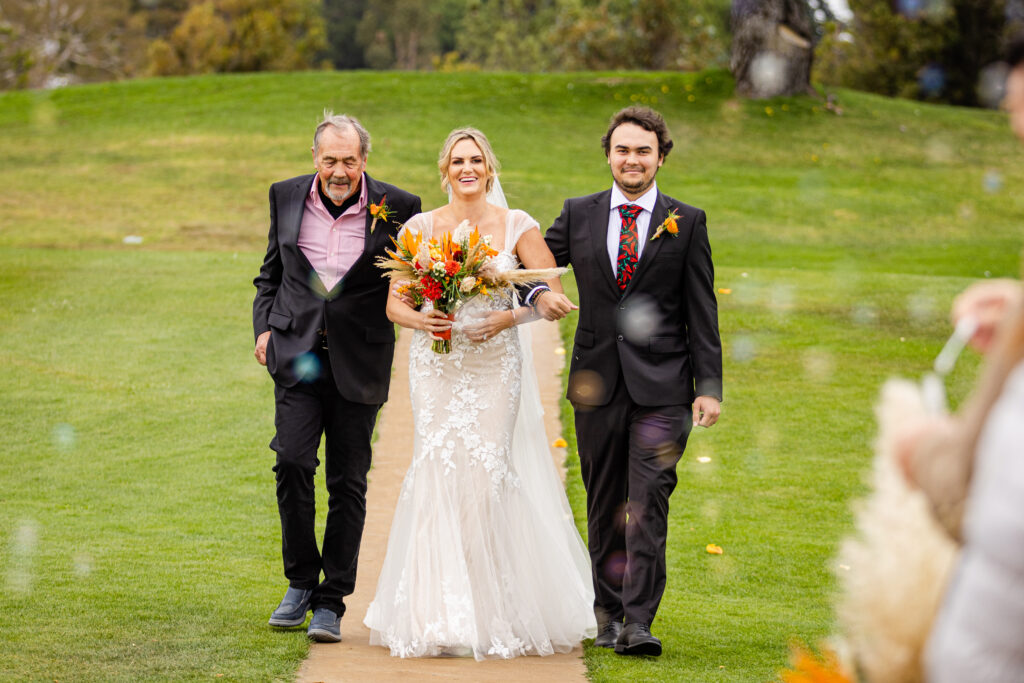 The ceremony was heartfelt, but short and sweet – and the two were finally, officially declared husband and wife. "You may now kiss the bride!"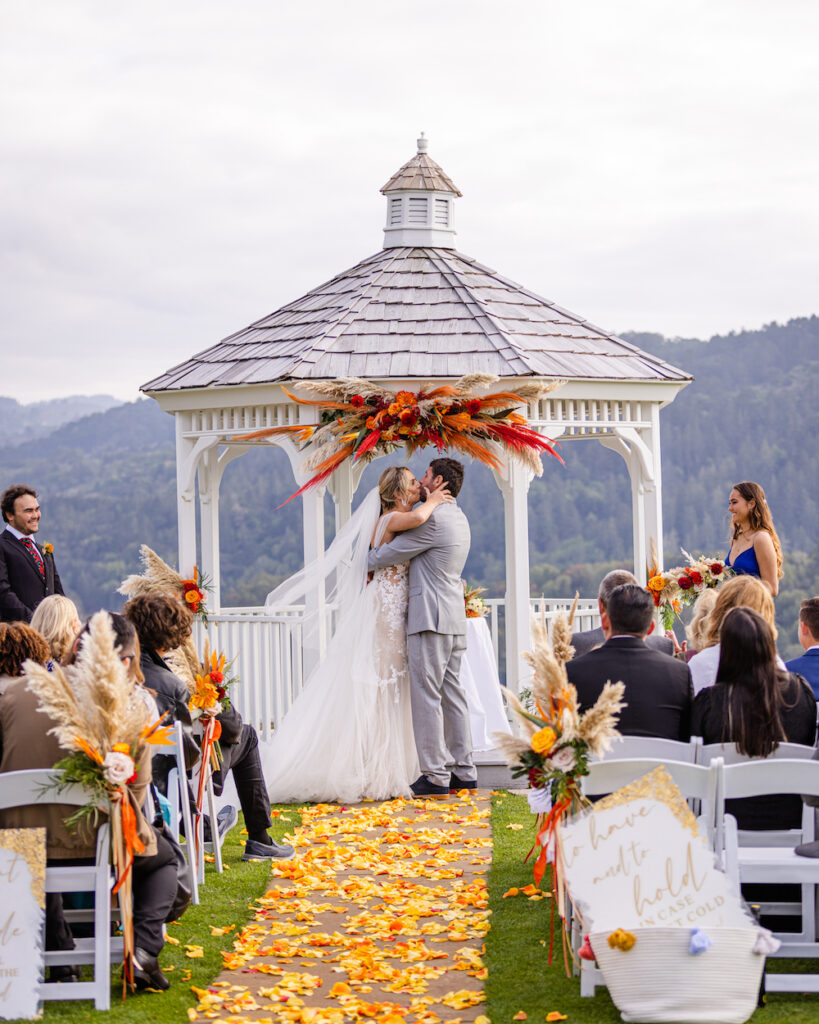 Just married!!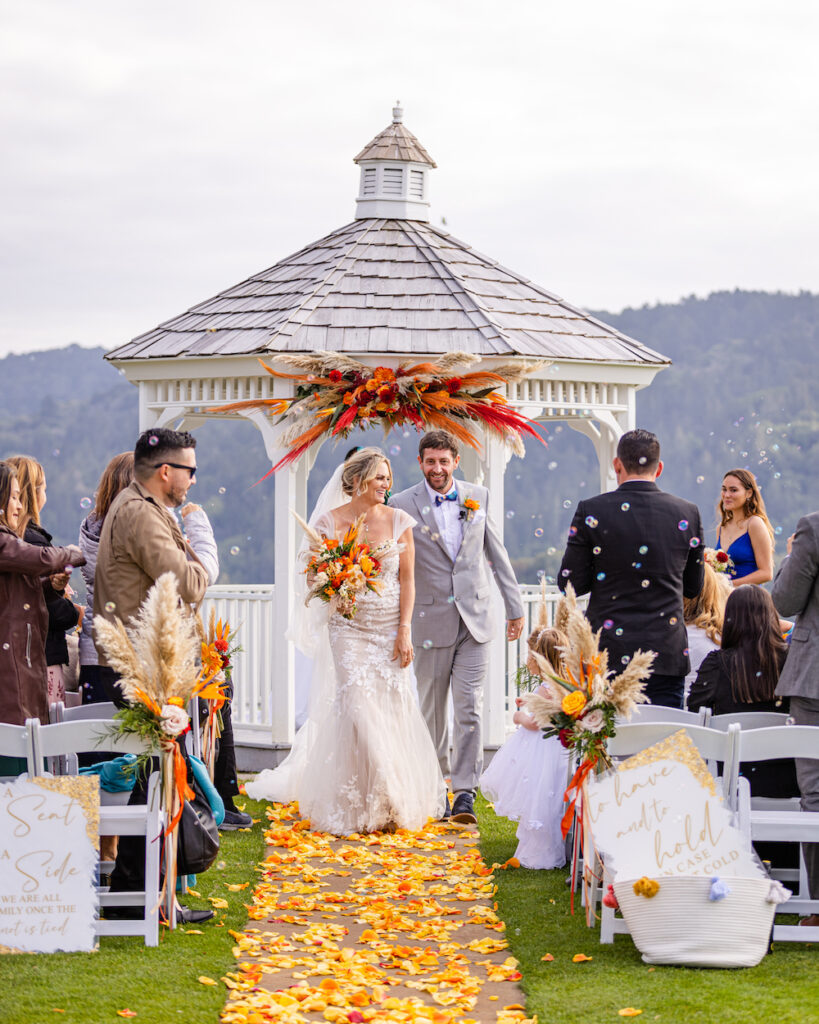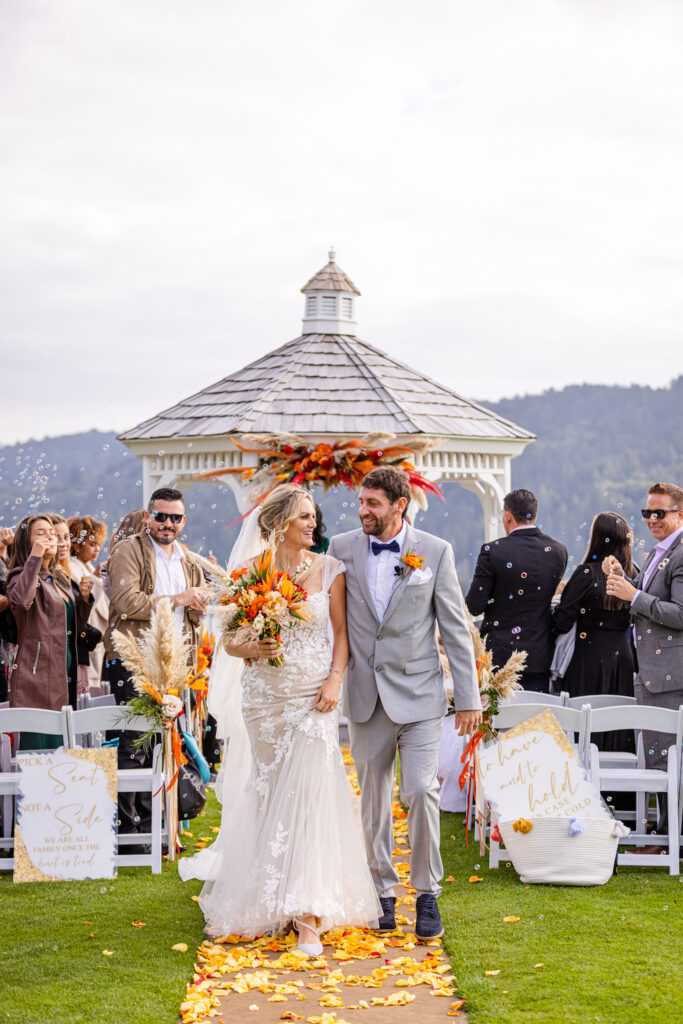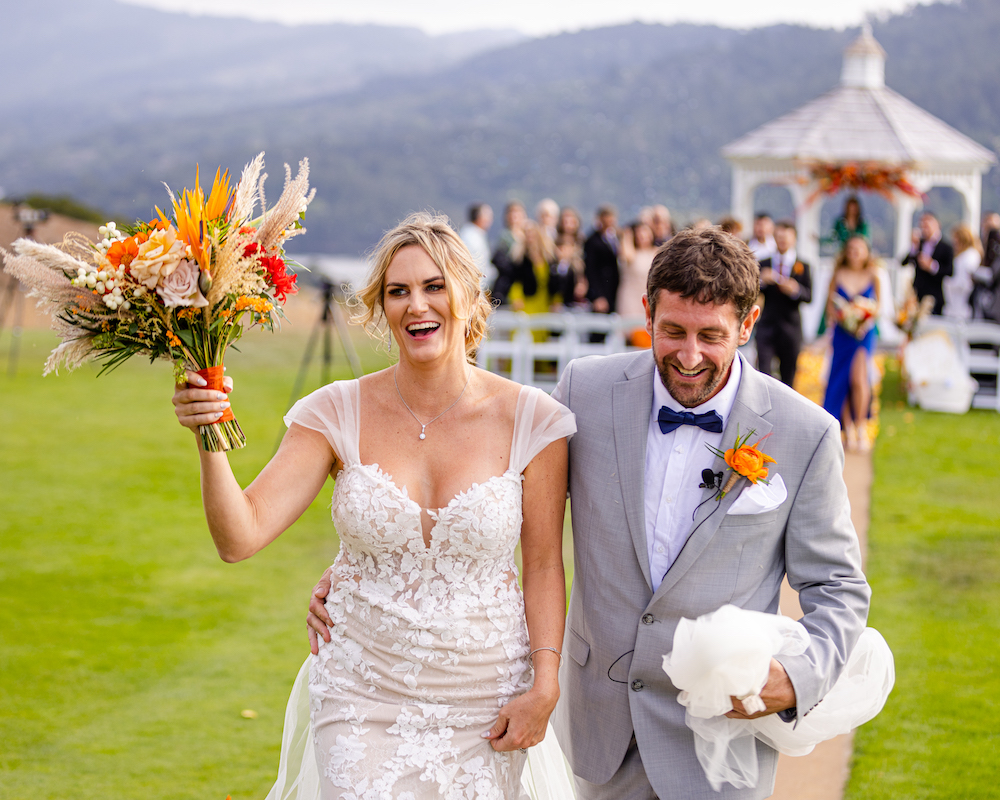 While bride and groom kept taking many more photos and videos ….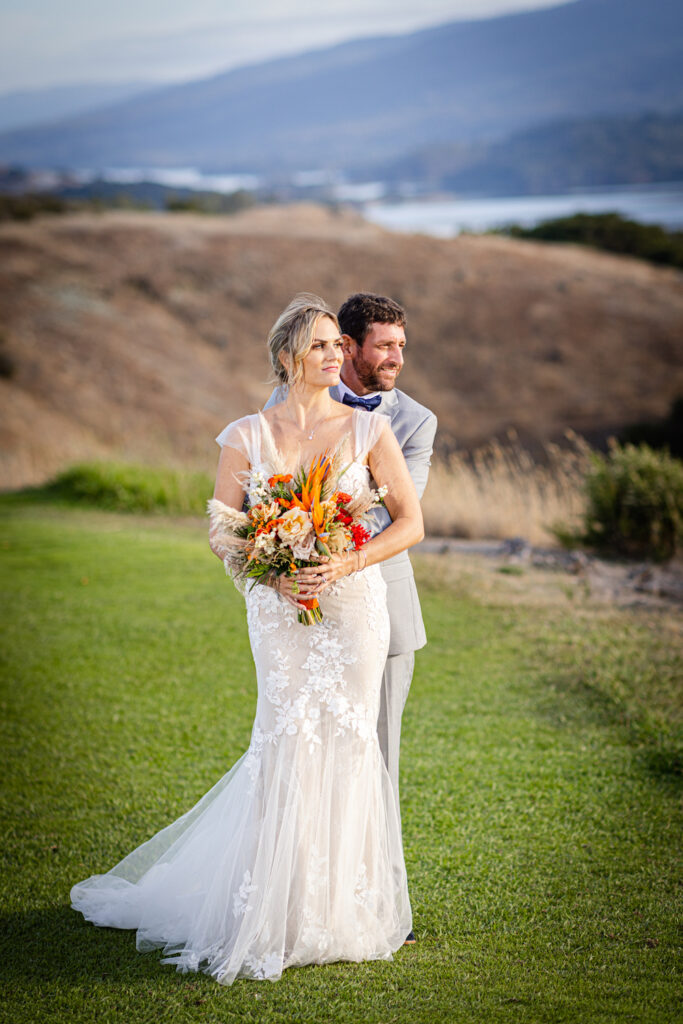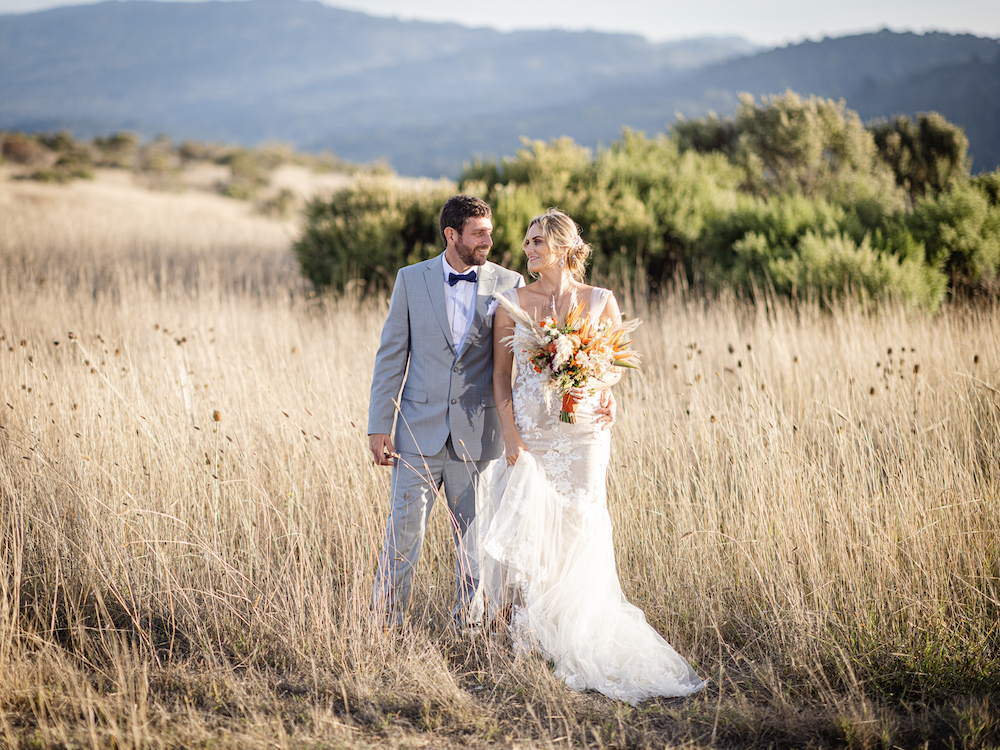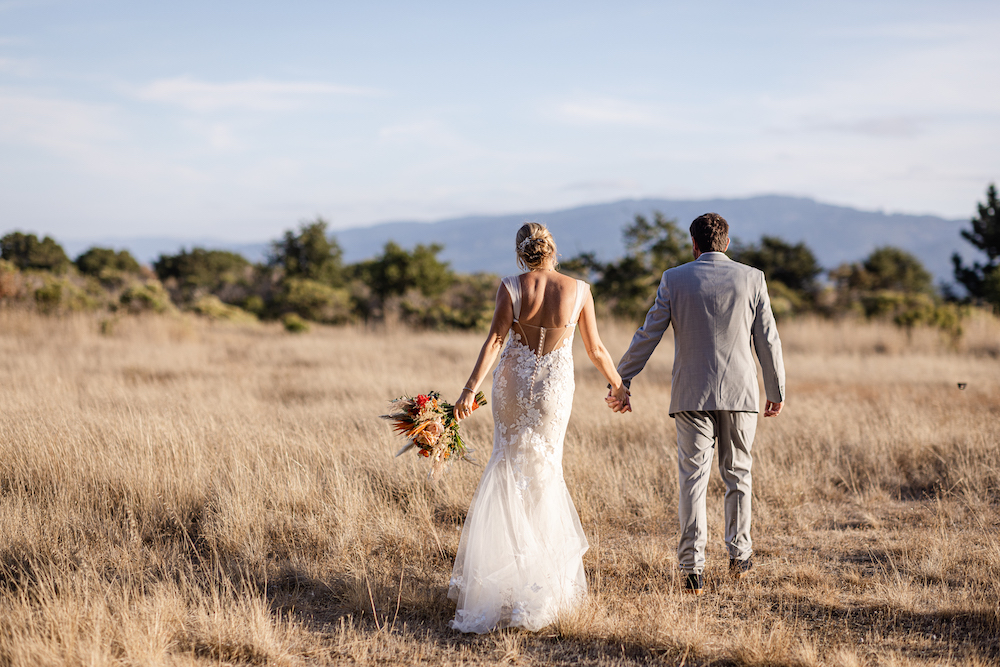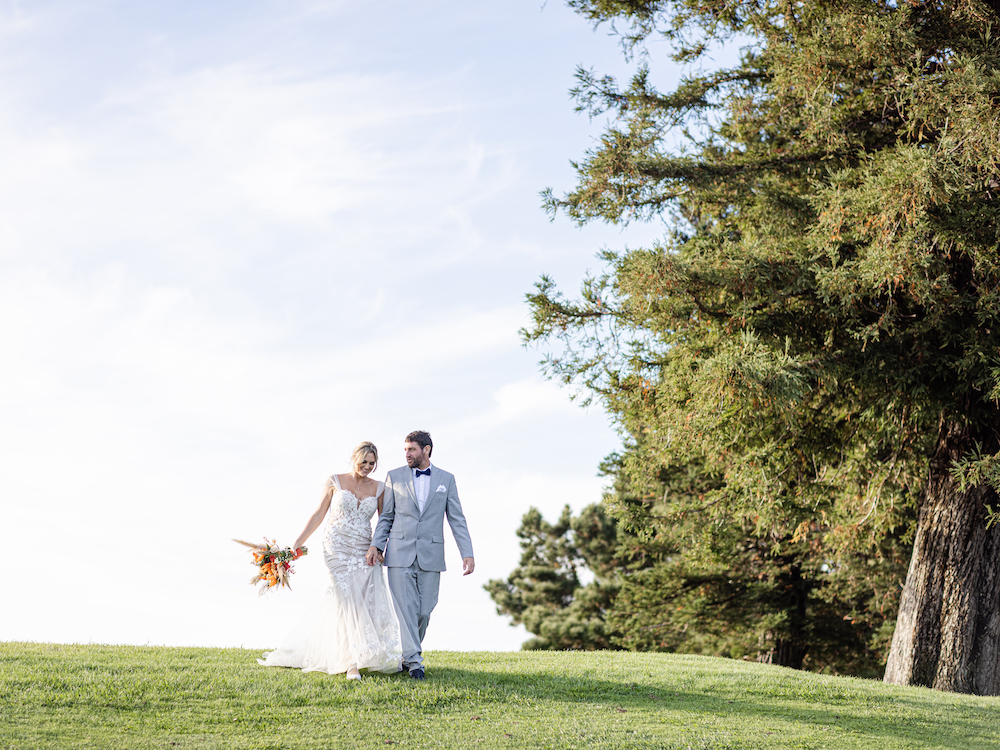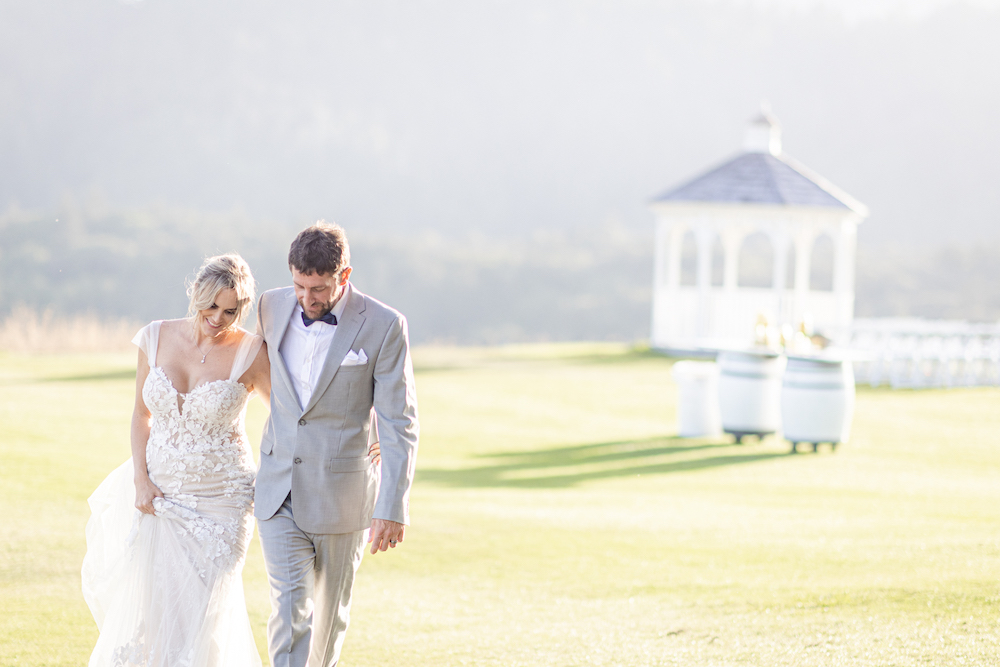 … their guests were shuttled over to the Clubhouse where a cocktail reception was waiting for them.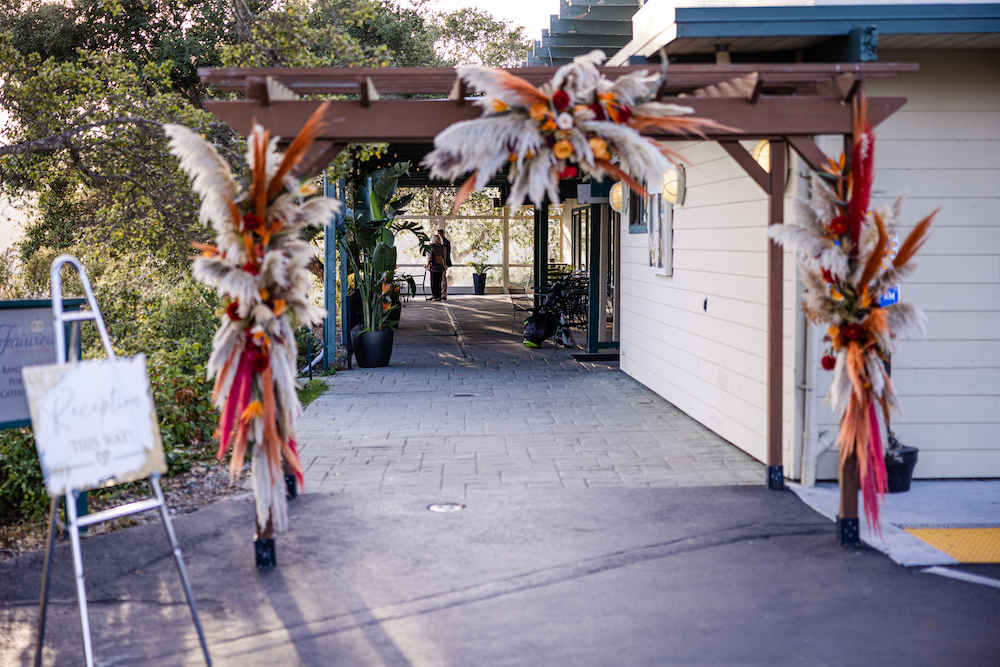 The entrance had been decorated with the signature bold floral arrangements, and the walkway to the reception hall had been lined with giant Bird-of-Paradise plants (by Indoor Greenery). What a transformation!
But that was just the beginning… the perimeter of the reception hall had been draped (by Bright Event Rentals) …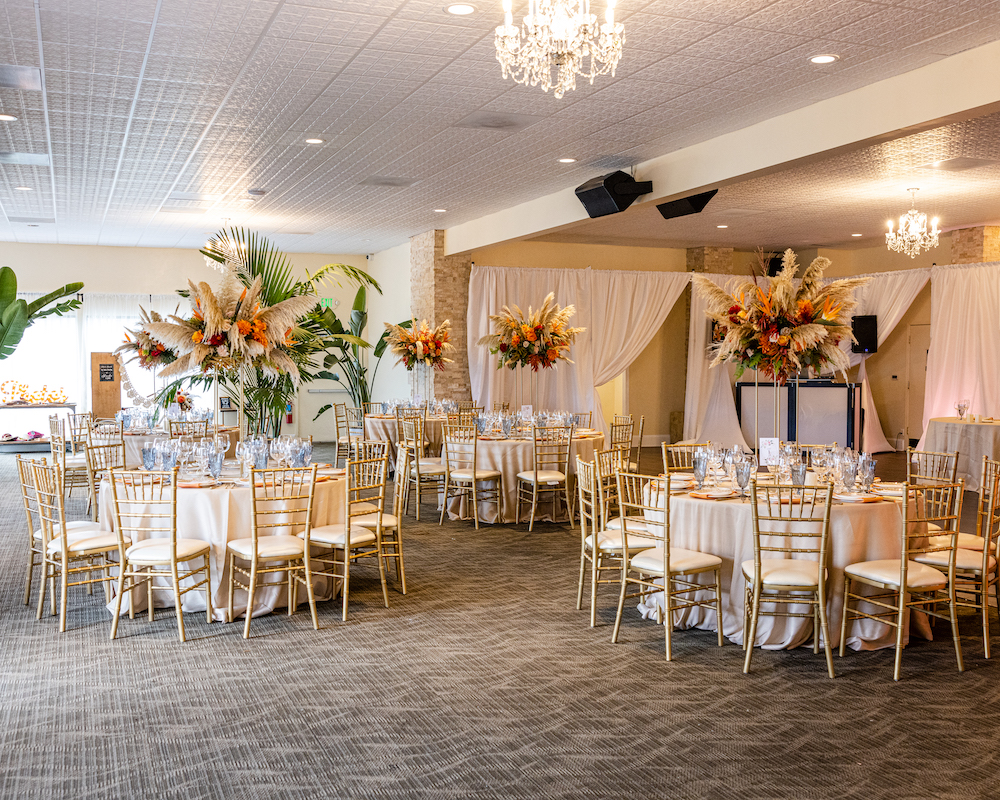 … and the space had been transformed into an elegant indoor "jungle" with many more tall palm trees and Bird-of-Paradise plants (by Indoor Greenery) and with breathtaking tall centerpieces on the dining tables (by Green Petal Designs).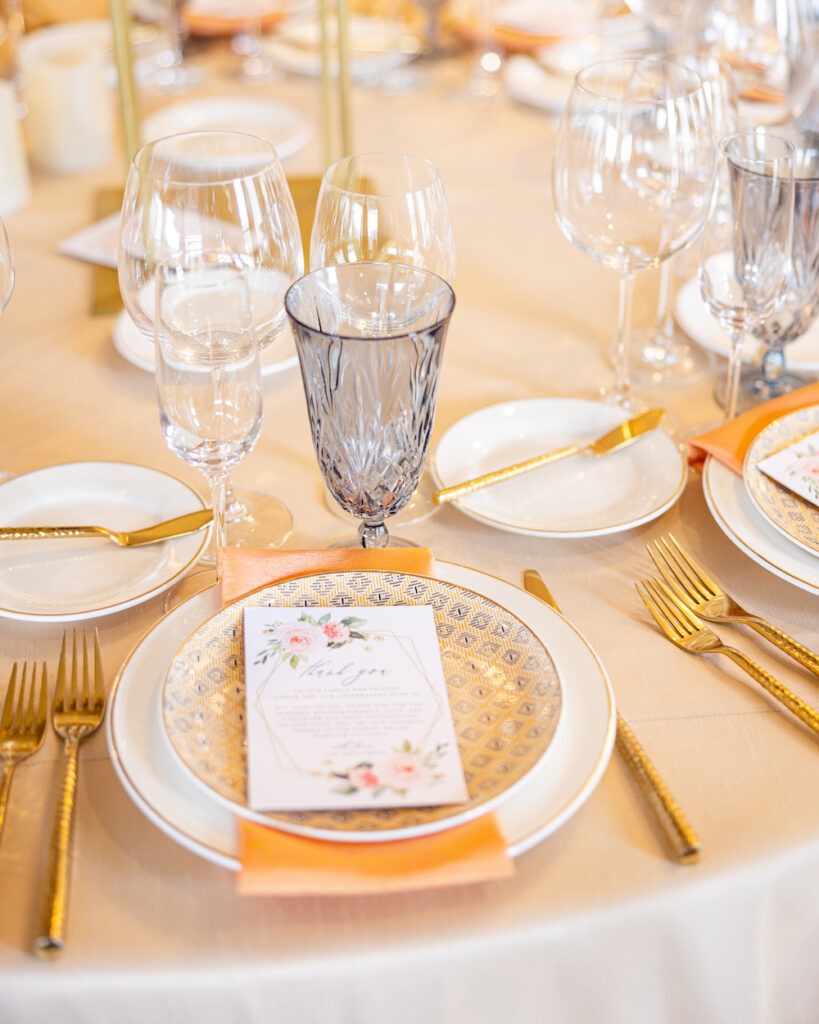 Gold Chiavari chairs complemented the elegant place settings from Hensley Event Resources…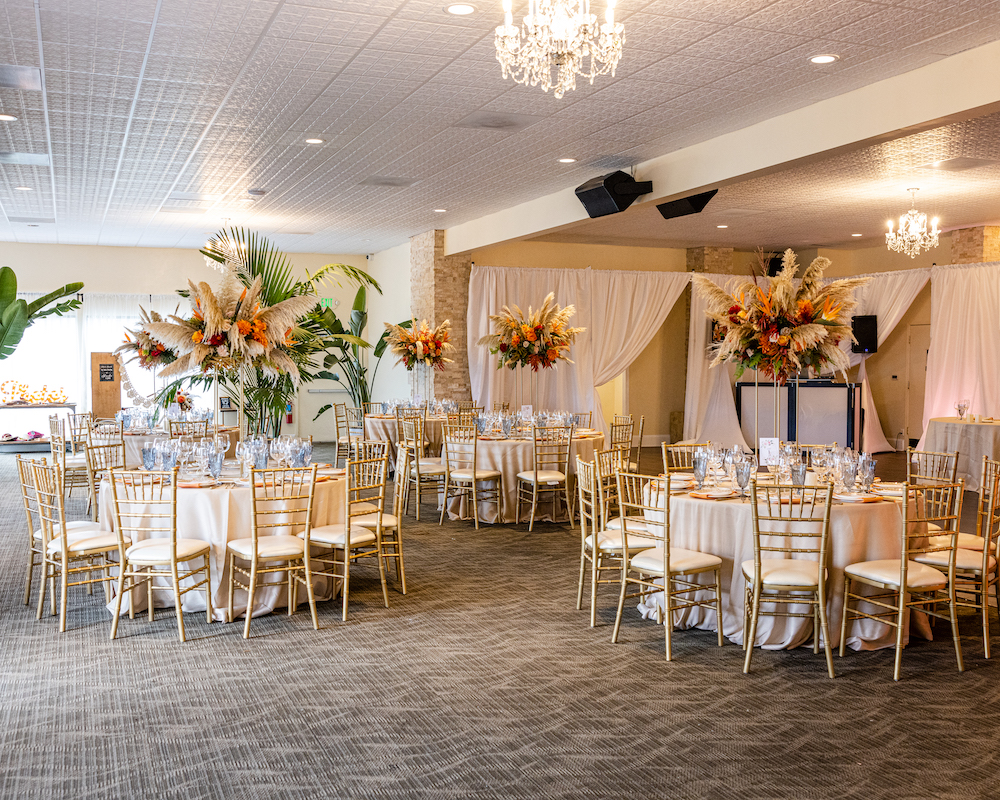 … all in Kristi's favorite colors, of course!
Aside from a delicious dinner (by Cheat-A-Little Catering), the guests were entertained with a stunning vintage bike-photobooth (by The Booth Bus) …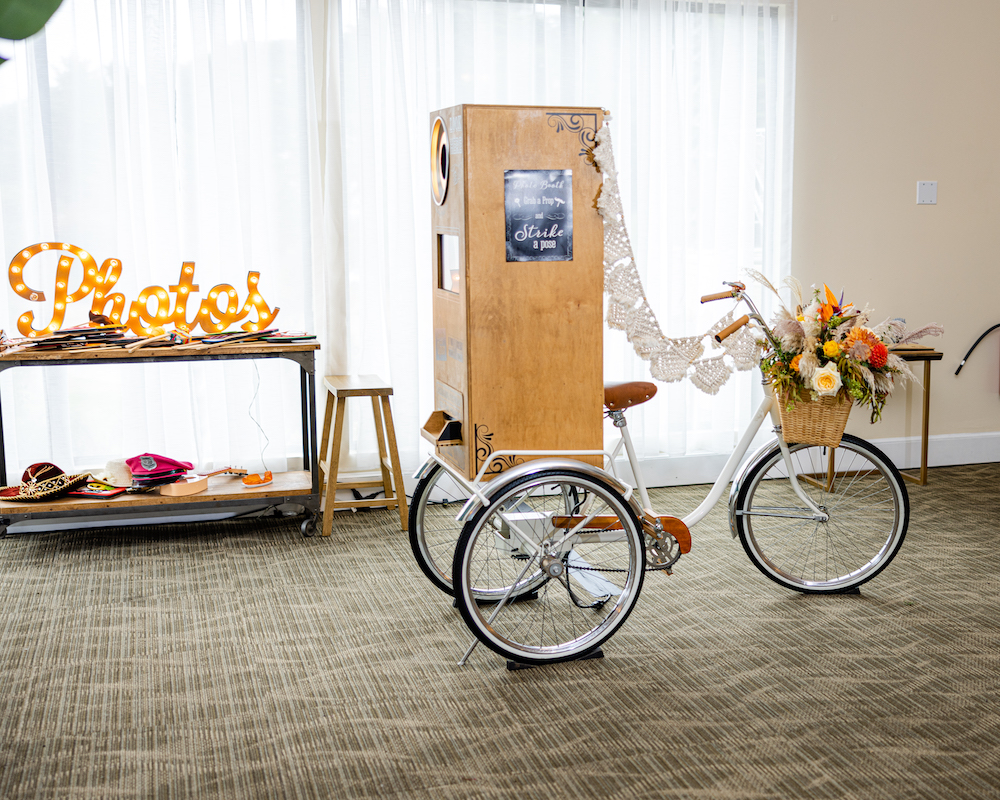 and with incredible magic tricks by magician extraordinaire Nick Ivory.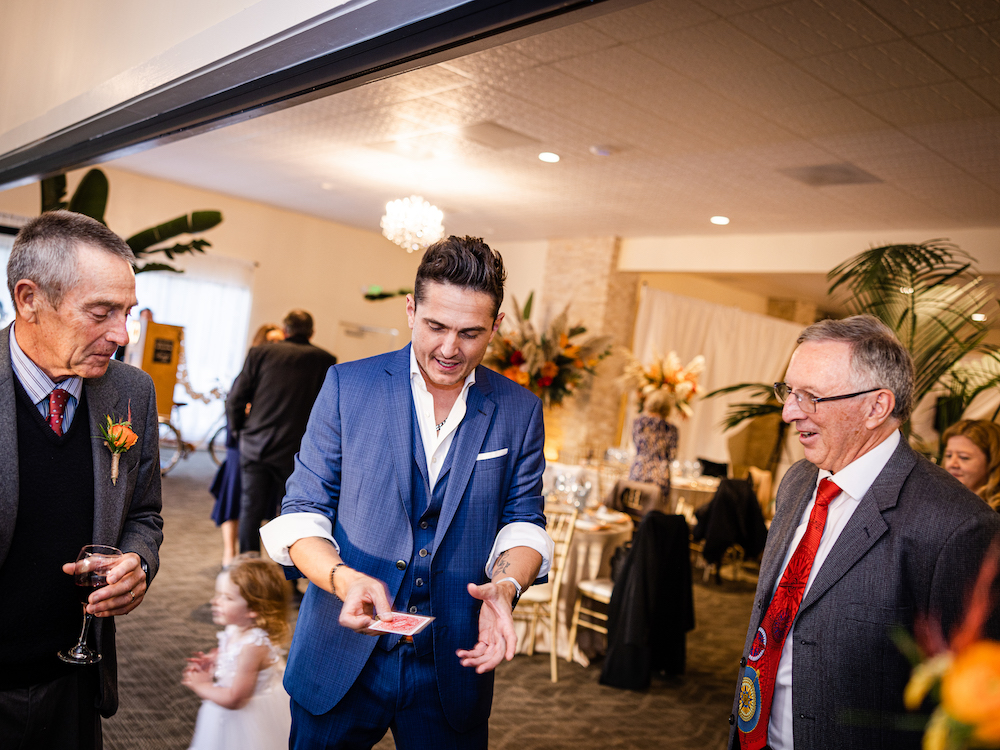 They were also sitting for caricatures by renowned caricature artist Mike Rosenthal.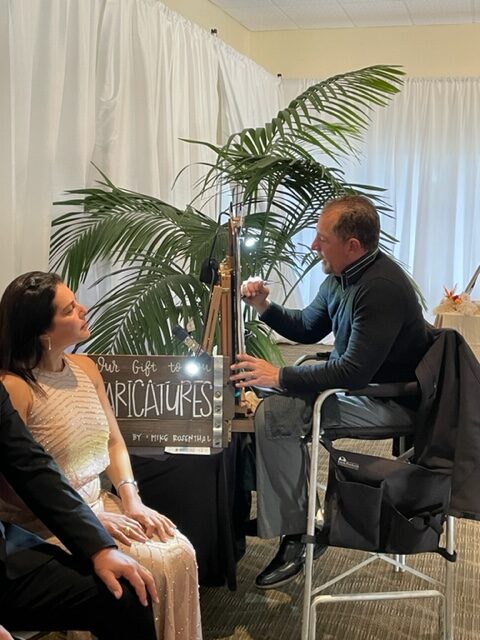 After dinner, the couple shared their First Dance to their favorite tunes by DJ Mark Addington…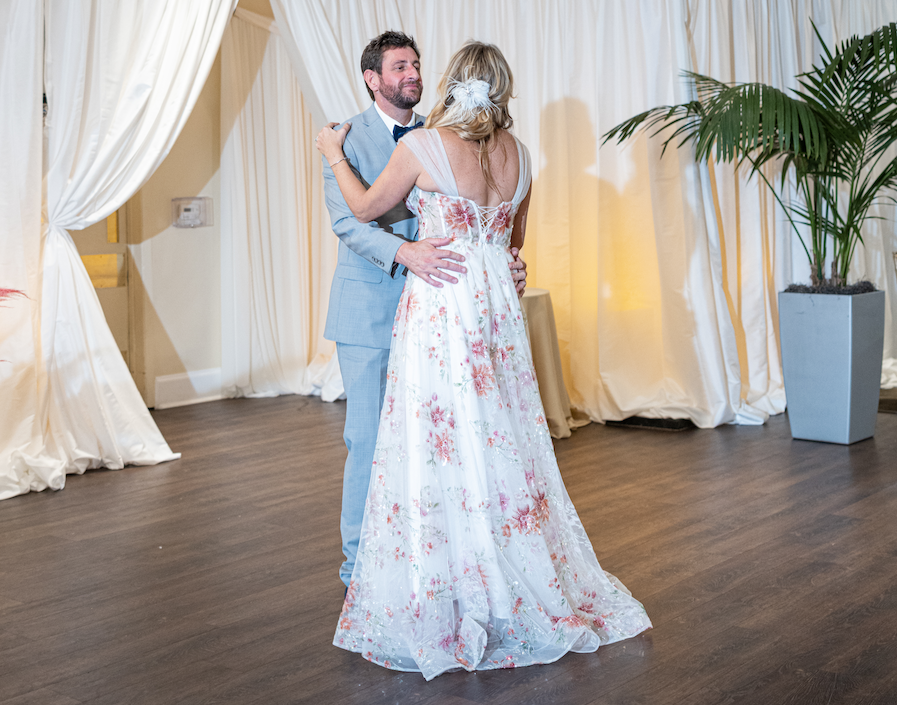 … who also directed the (truly rediscovered!) classic wedding crowd pleaser: the Shoe Game!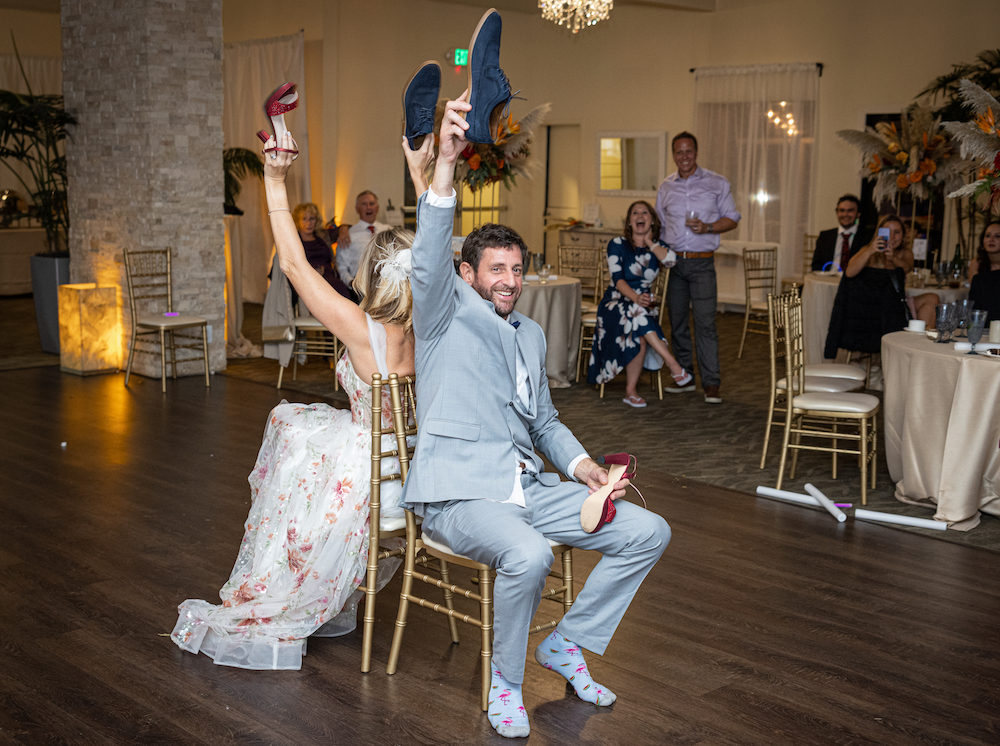 Next order of the day: cutting the wedding cake (likewise adorned with stunning Bird-of-Paradise blooms!)…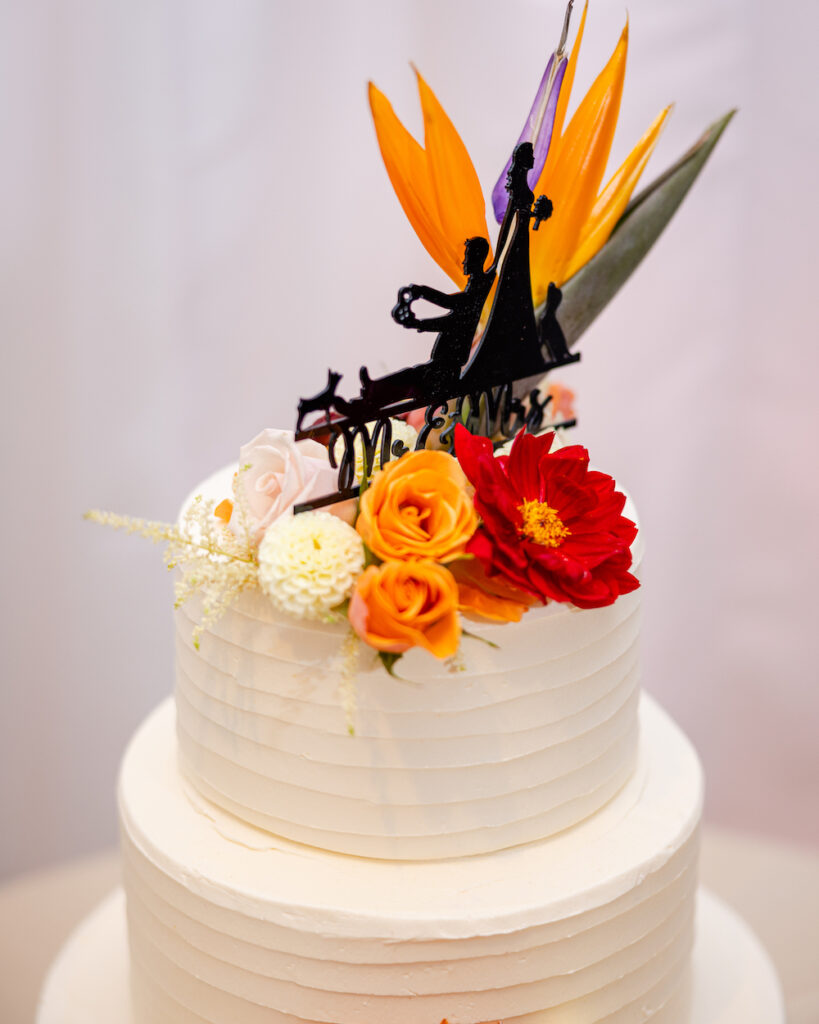 … then there was a dessert bar in addition to the cake, and lastly, guests were treated to a personalized shot glass as a wedding favor.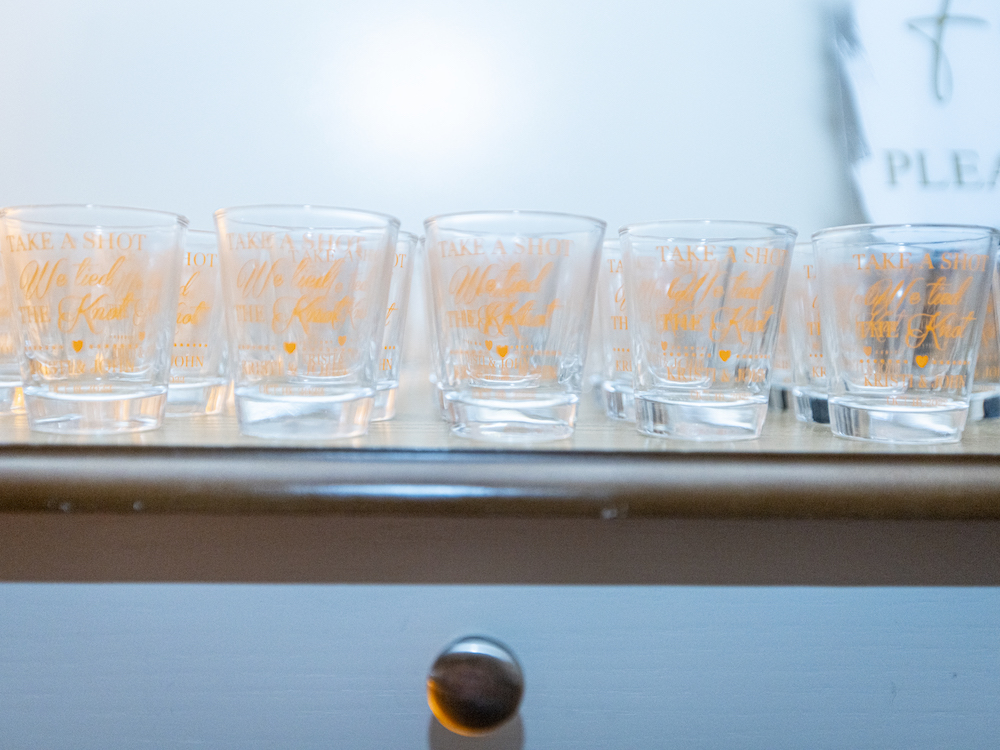 The newlyweds enjoyed a little private moment on the adjacent patio…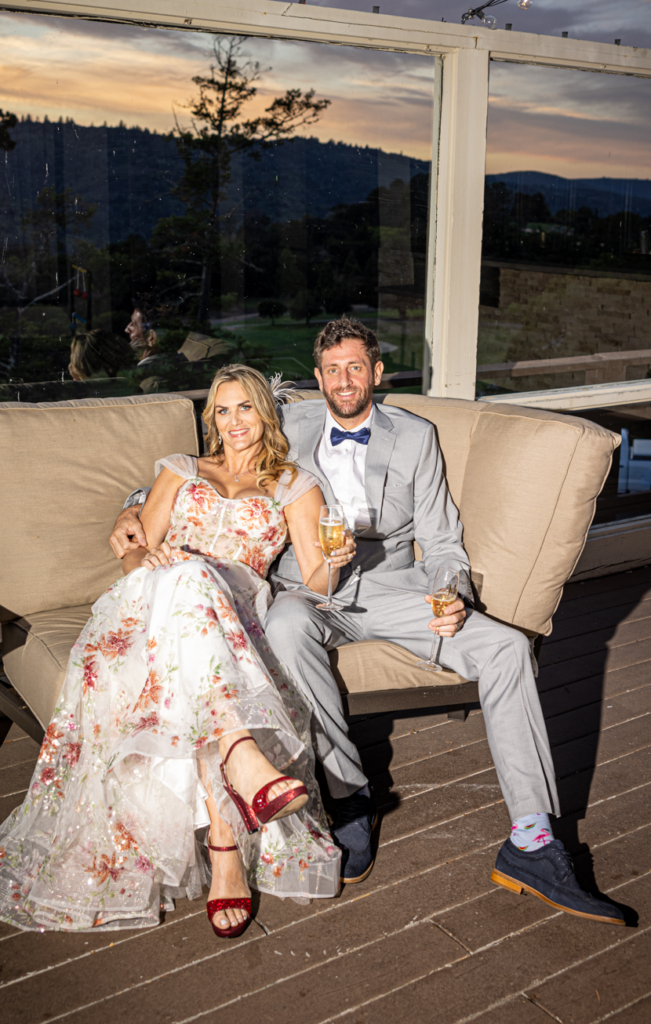 … and enjoyed their new status as Mr. and Mrs.
What a party!! Wishing you a lifetime of happiness, Kristi and John!