When Liz and Nicco asked my company, A Day Like No Other, for assistance with planning their wedding celebration – a Black Tie event for 150 guests, all in ivory, gold and navy blue, at the IC Mark Hopkins in San Francisco – I was immediately on board. This was exactly what I love: a historic landmark and high elegance!
Last weekend it all came together beautifully, and the Weather Gods were also all in favor: we had a glorious, warm and sunny summer day (a rare exception in San Francisco!) with a slight breeze and endless views. It was simply perfect.
For Liz and her bridesmaids, the day began with hair and makeup services by.Kathryn Horen of Bay Area Beautiful and her team in a penthouse suite at the Mark Hopkins – with million-dollar views across downtown San Francisco and the SF Bay.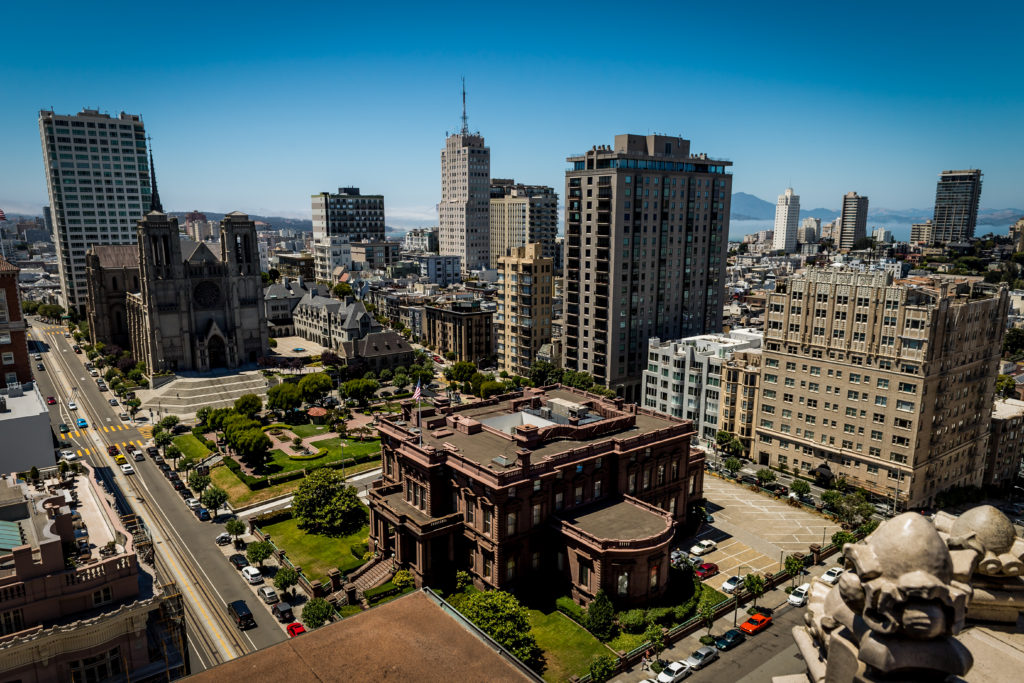 Liz had chosen a breathtaking Sottero Midgley dress …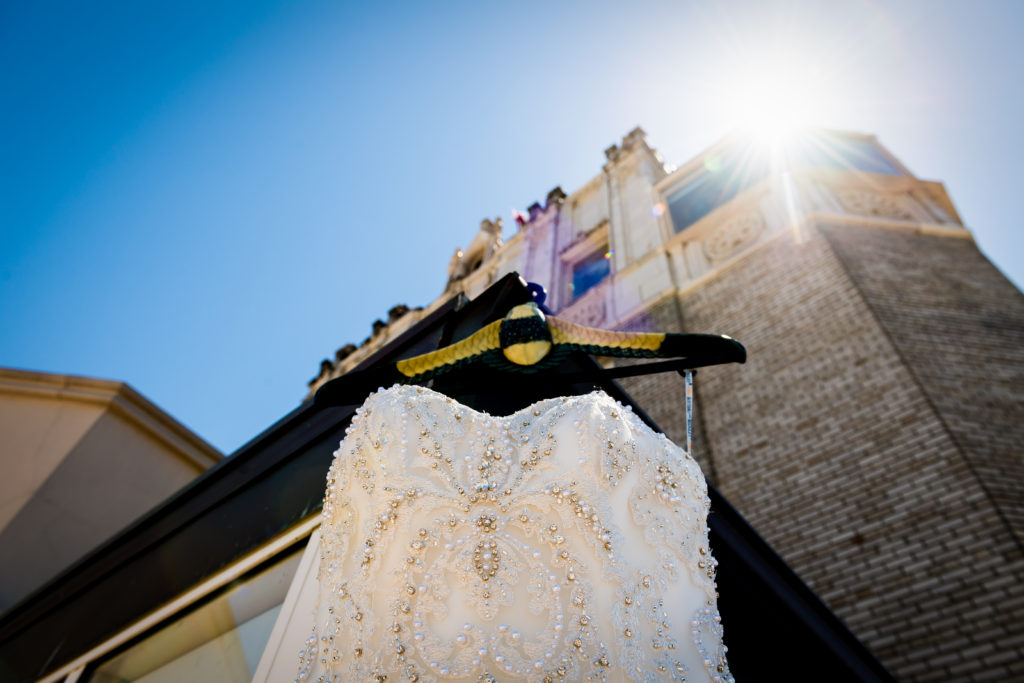 … with lace appliqué and crystal embroidery, a gorgeous veil edged with crystals …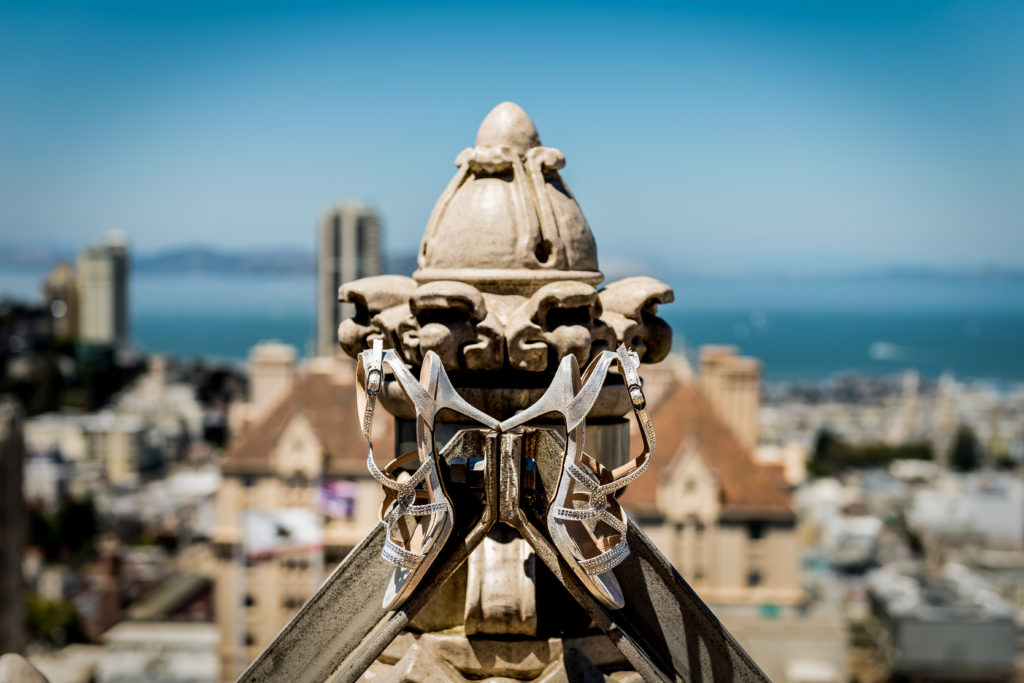 … and matching strappy sandals. Here are the rings…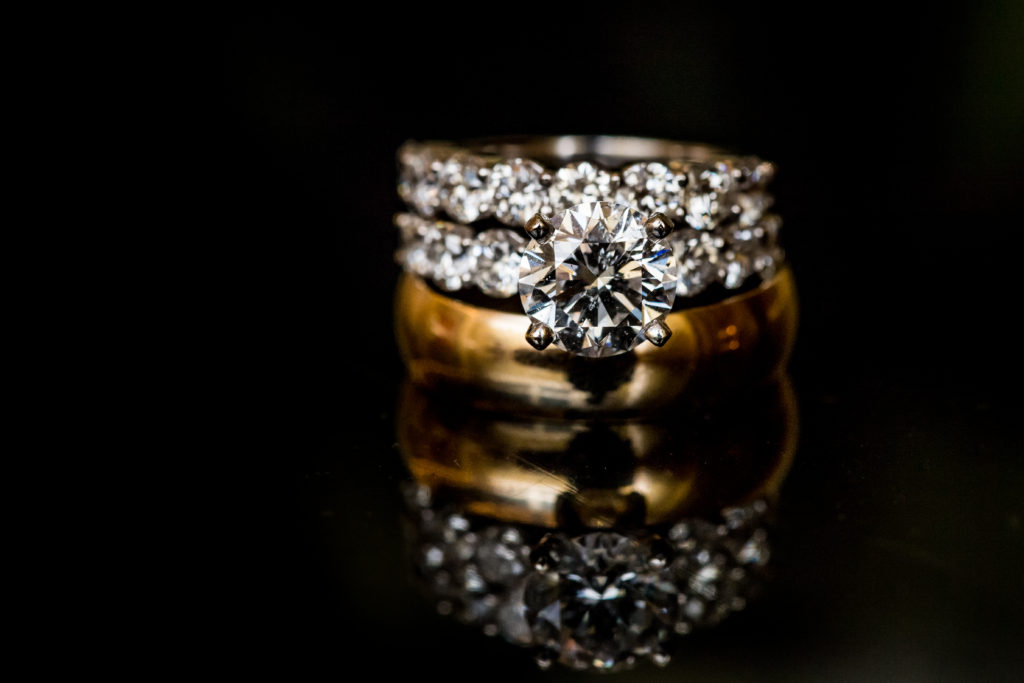 … and the earrings…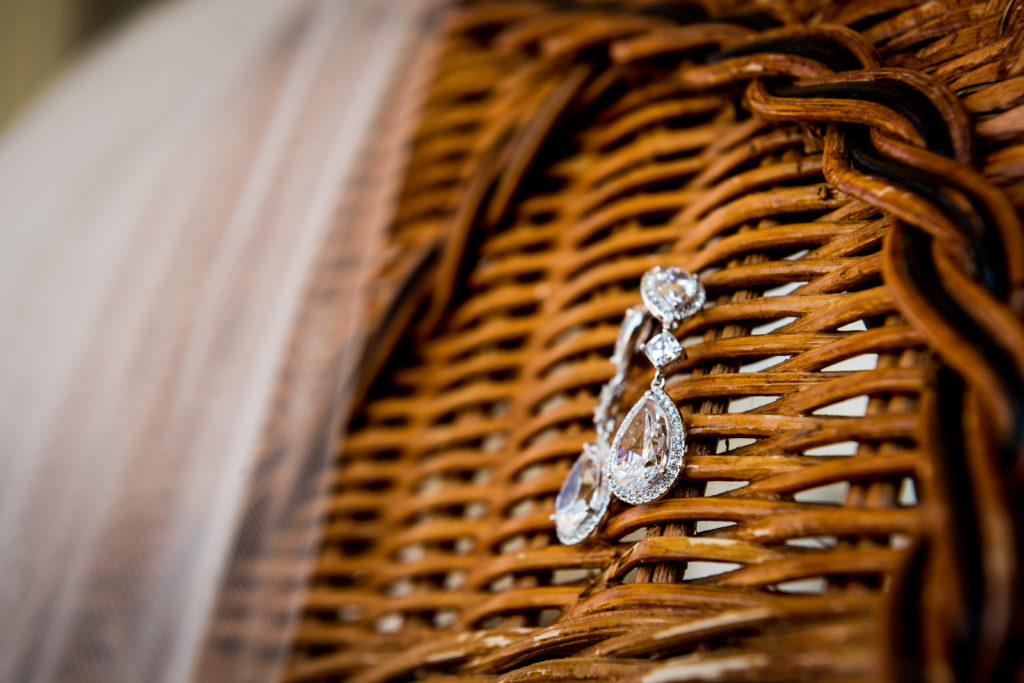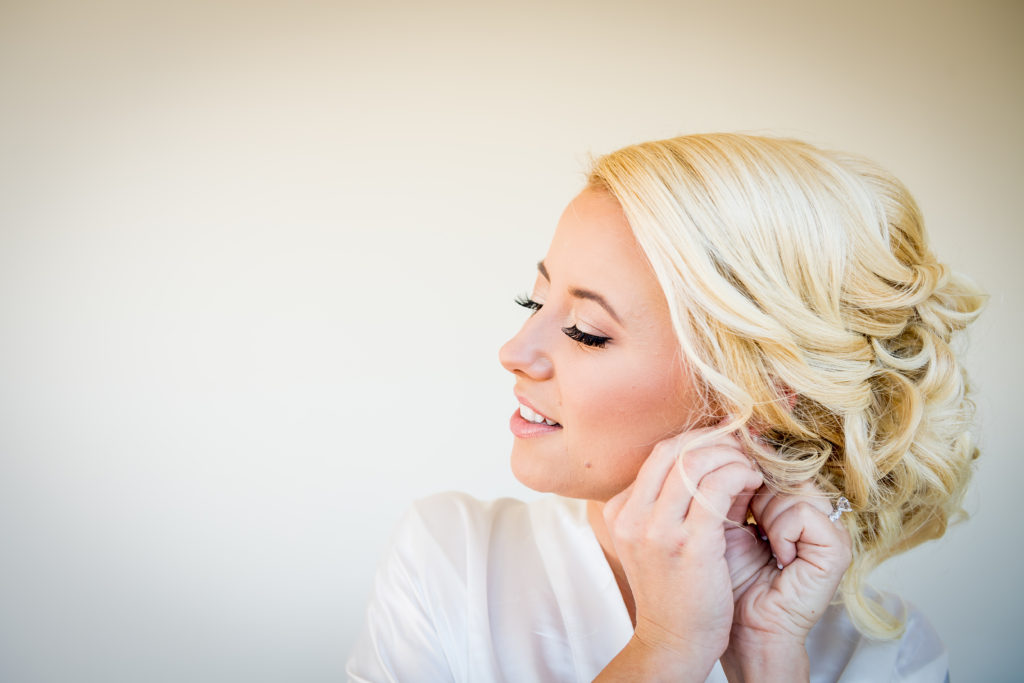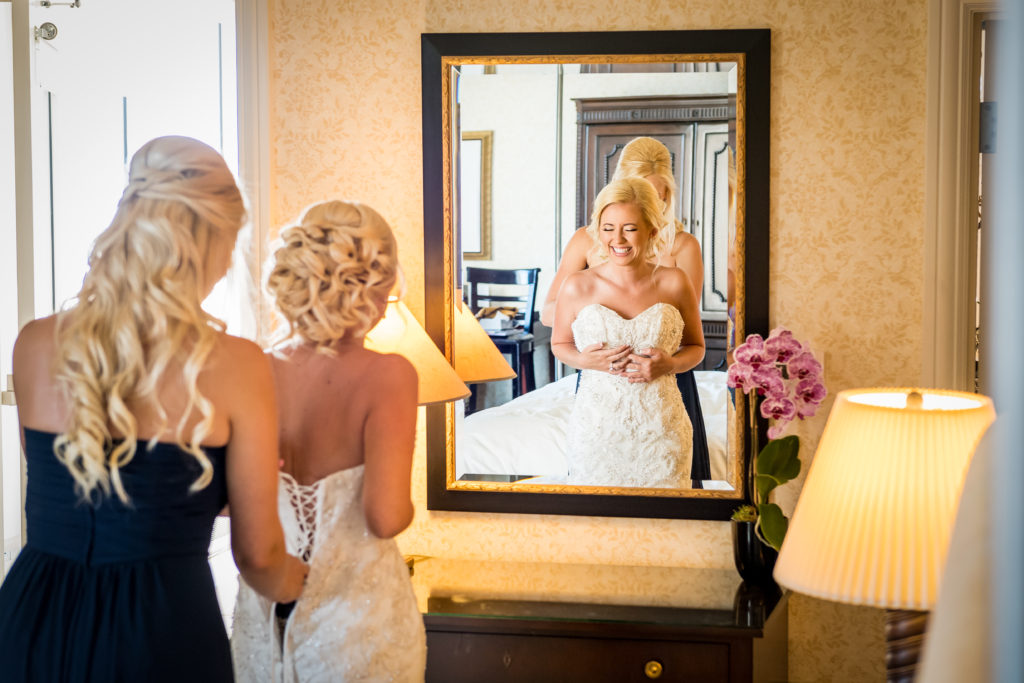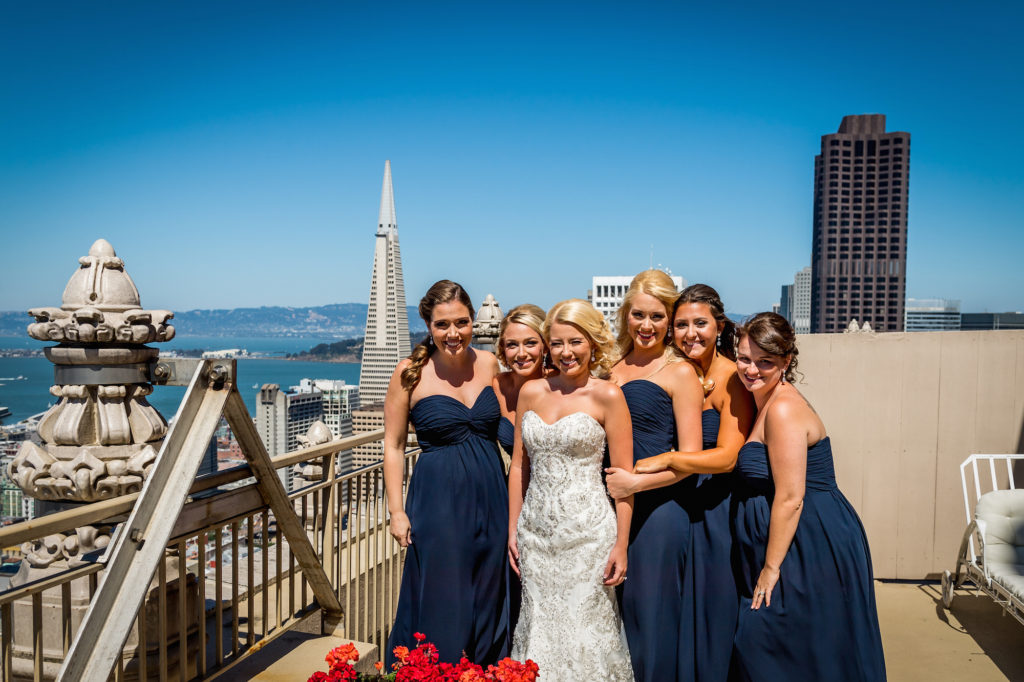 And with the help of her bridesmaids, Liz got ready in time to meet Nicco – who had been dressing up as well, of course.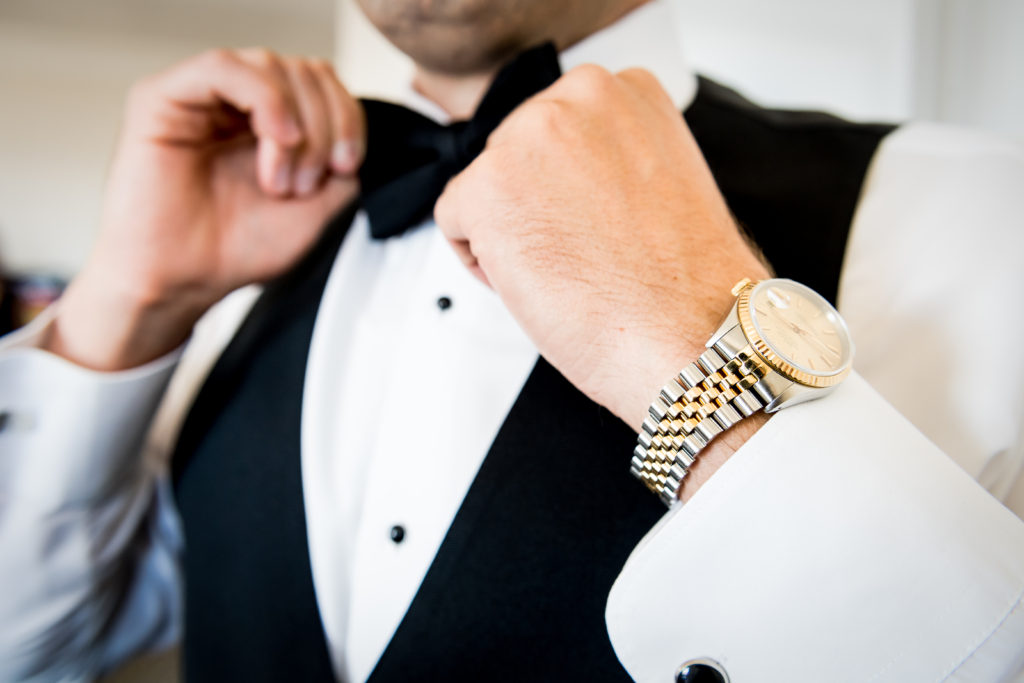 And here he is – dapper groom!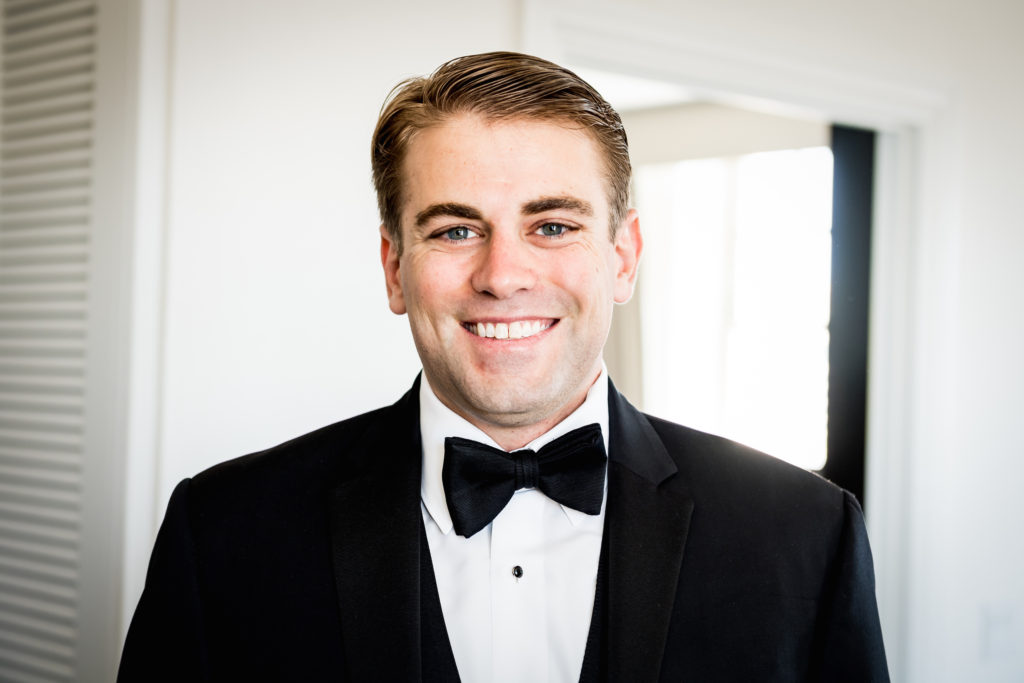 … and together with his groomsmen.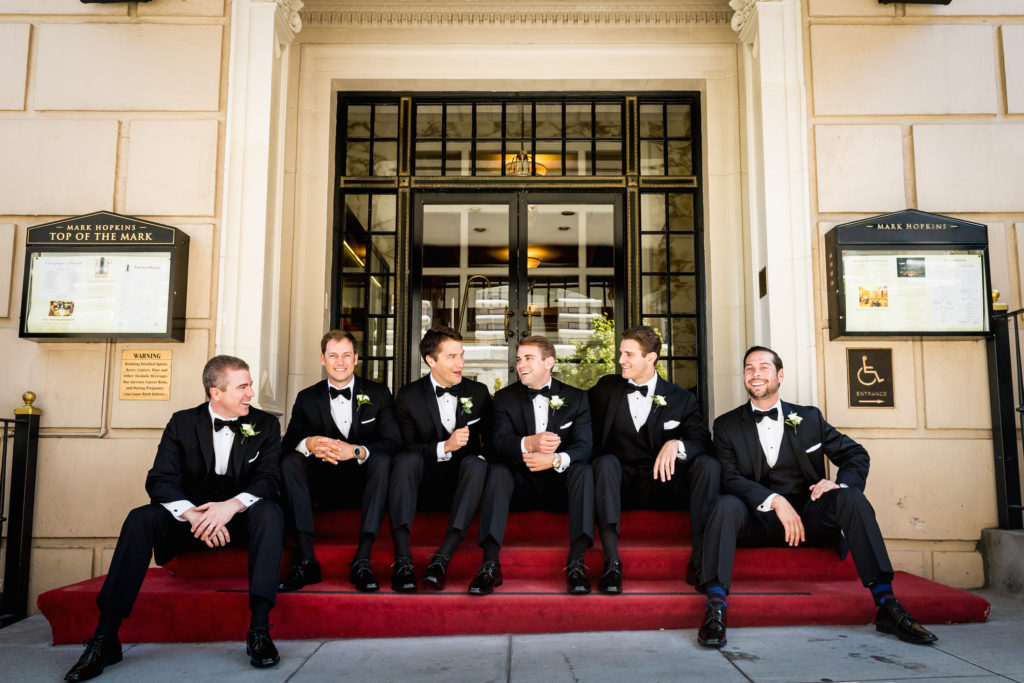 Ready for their First Look which would take place "in the streets of San Francisco."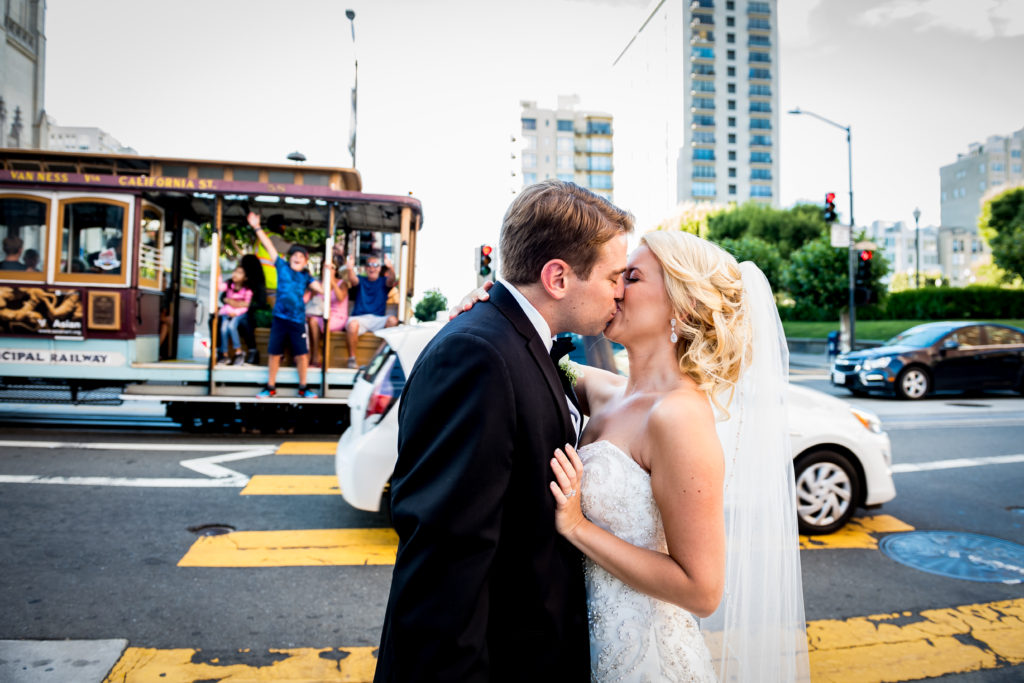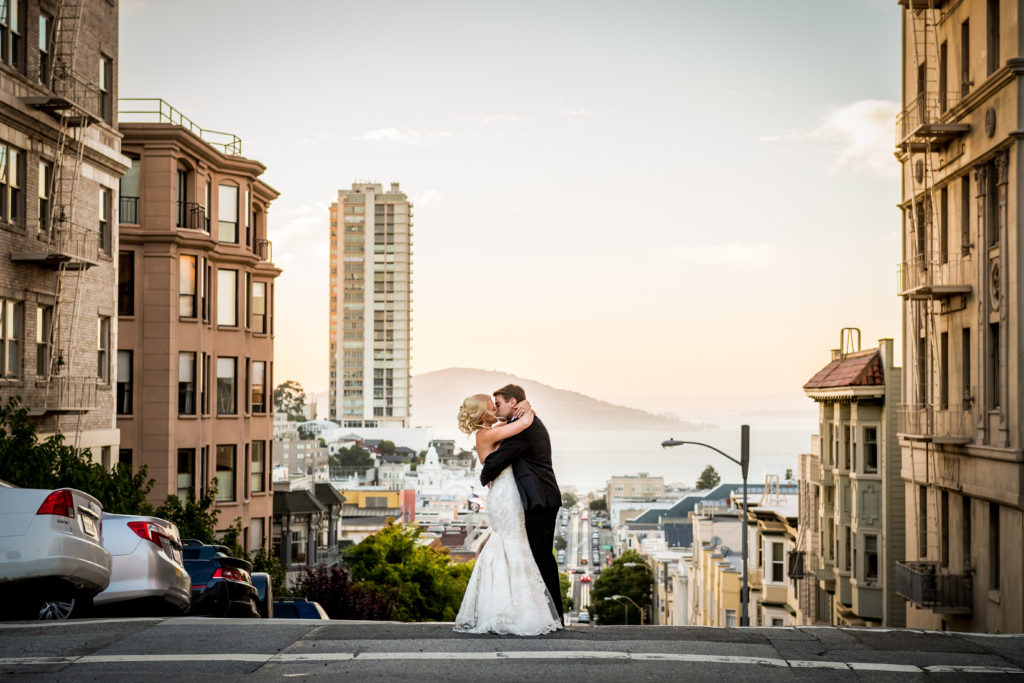 The couple paid homage to their beloved hometown with many more iconic photos…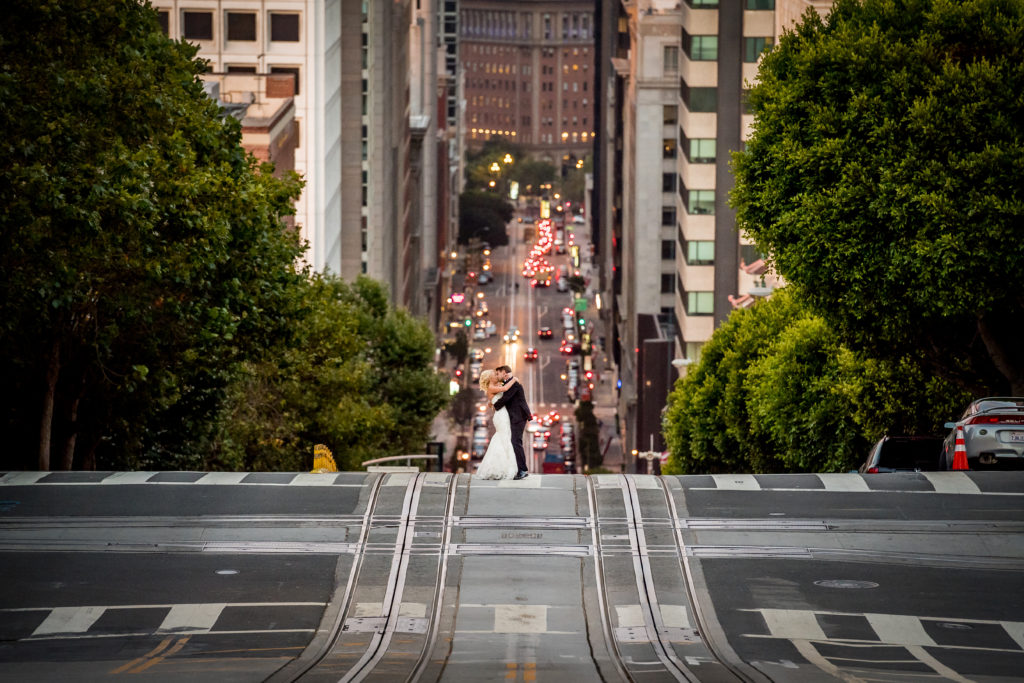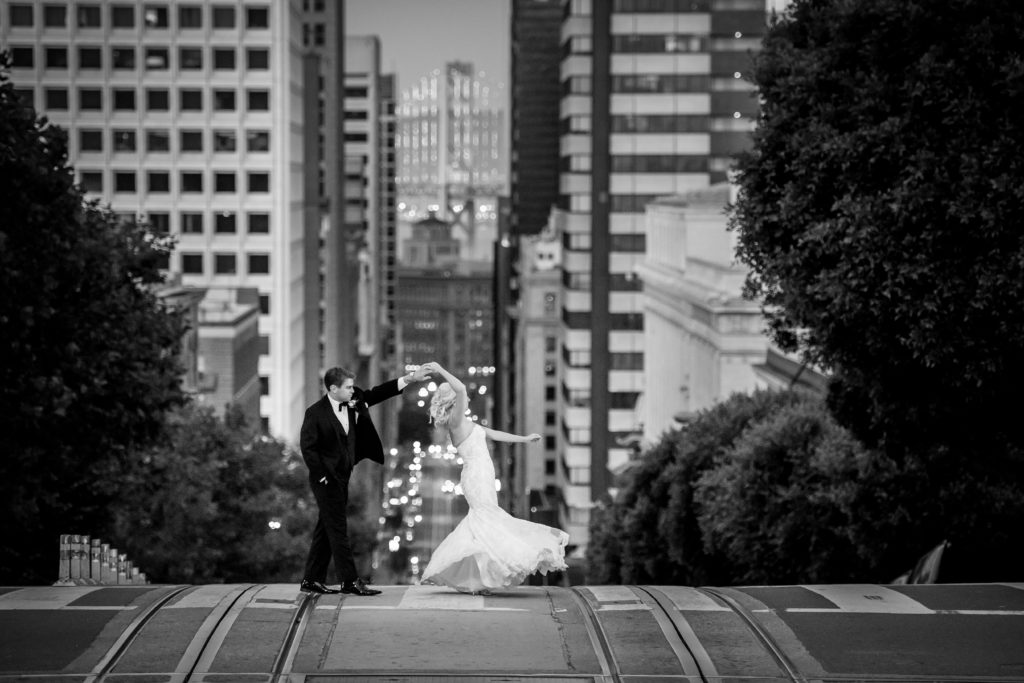 Meanwhile, preparations were underway to get everything ready in time for the celebration. At the Intercontinental Mark Hopkins, the elegant Room of the Don's was outfitted for the ceremony and adorned with lavish flower arrangements by Jinger Leonard of The Flower House.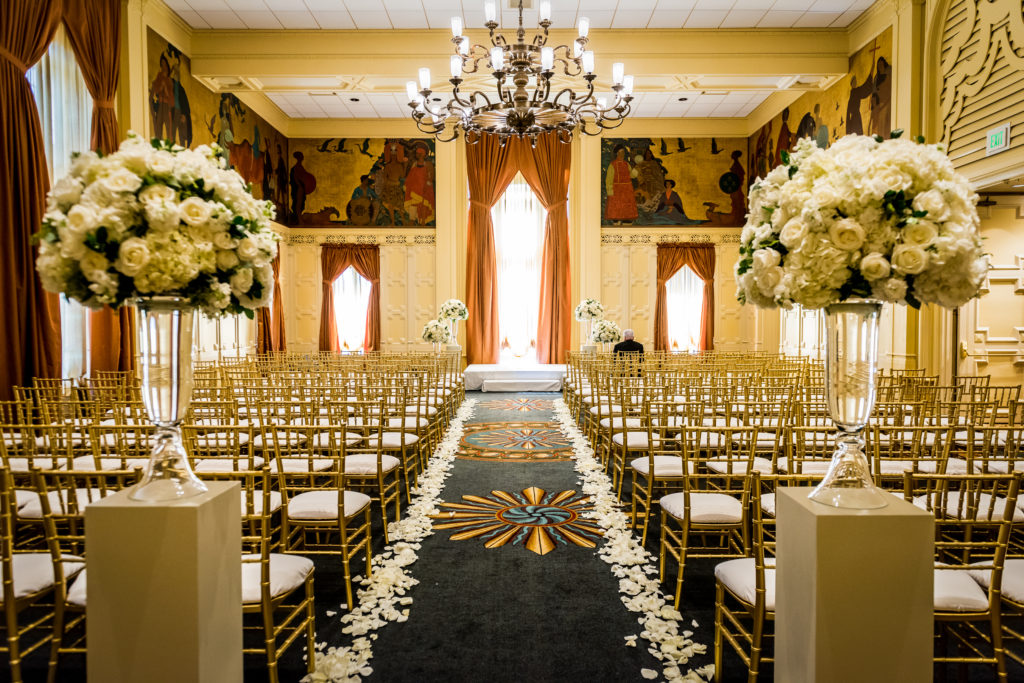 The ceremony was officiated by Father Charles Regal of the White-Robed Monks. His very personal ceremony was warm, lighthearted, and full of joy – a truly moving moment for everyone present!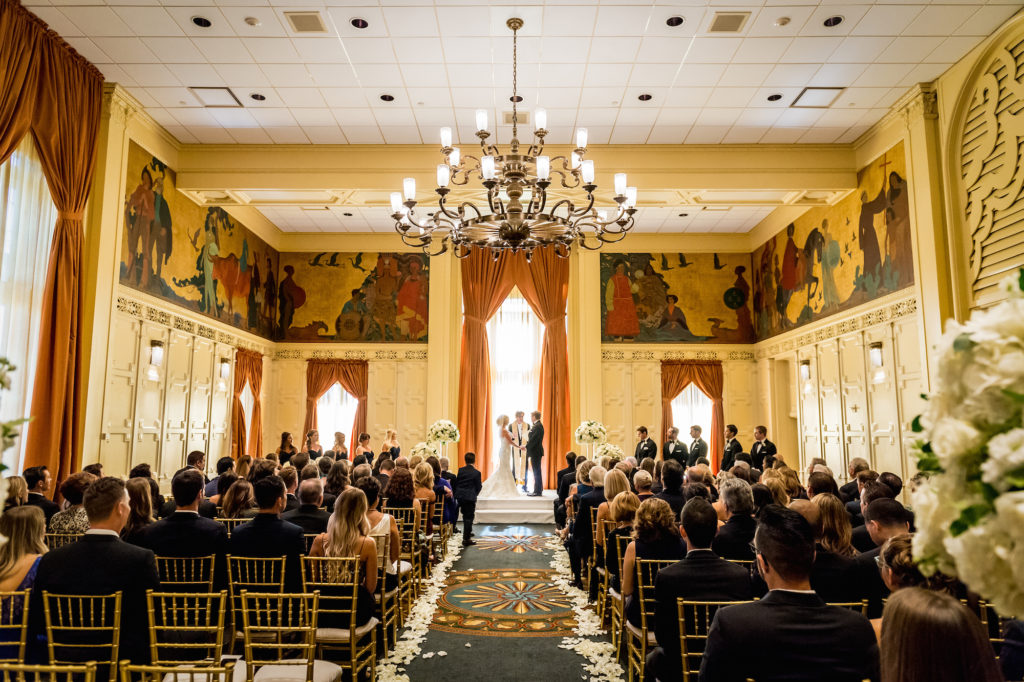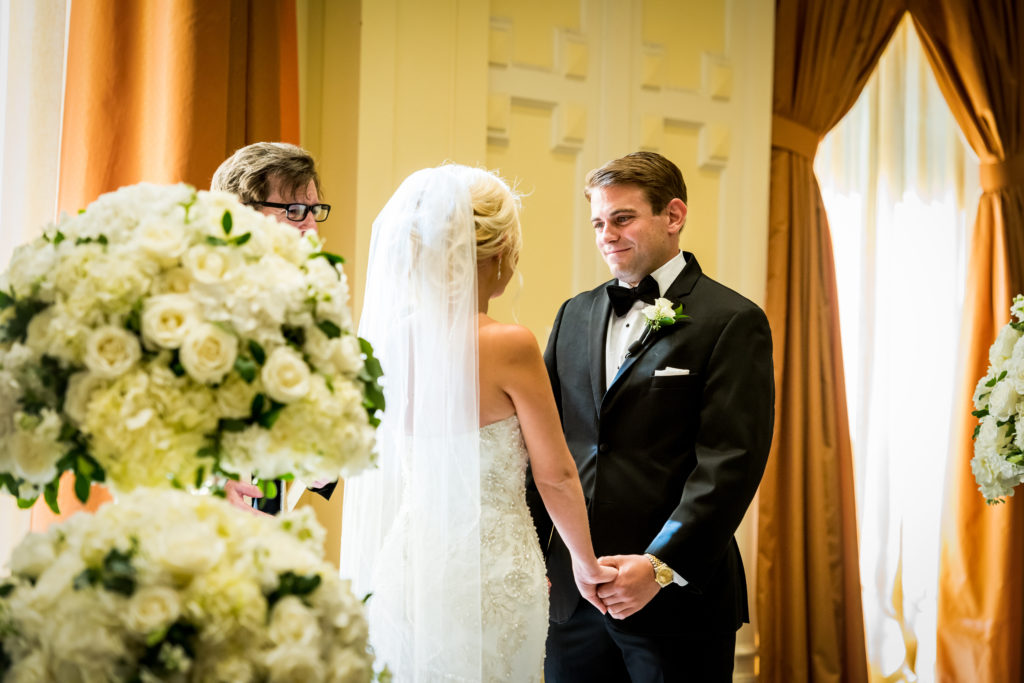 And for a special "polished" touch, the Mersonacta string quartet played all ceremony music, accompanying the bride's processional with a string version of Pachelbel's famous Canon in D.
Afterwards, Liz and her Dad shared a "Proud Dad and happy daughter" moment… Then it was off to many photos with Jackson Tyler Eddy and Amy Stemper of A Frame Forward for the couple, their bridesmaids and groomsmen.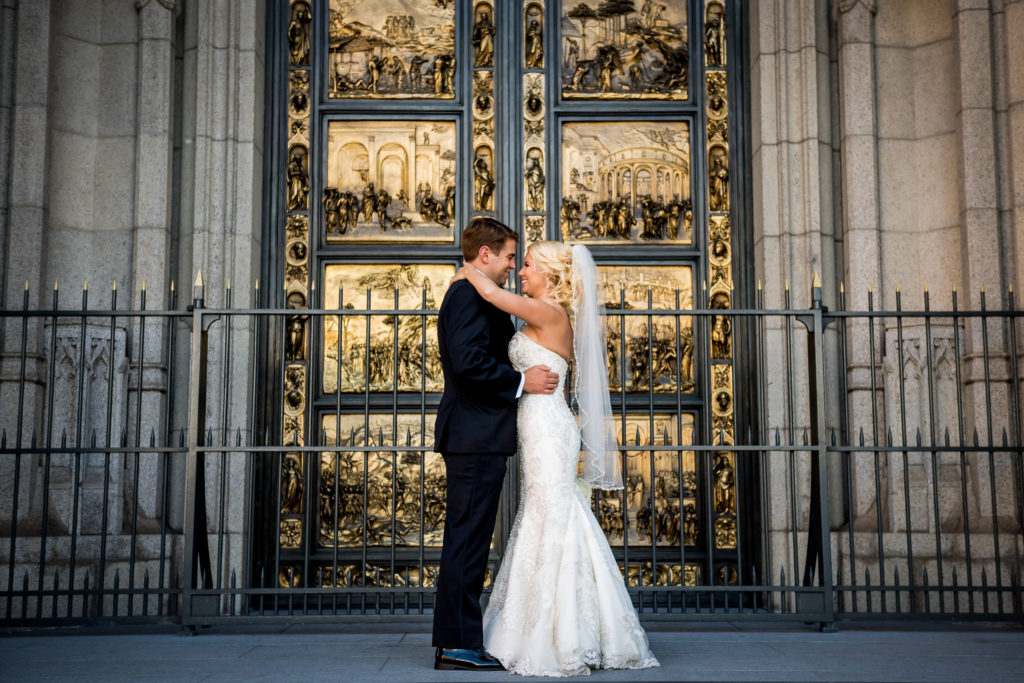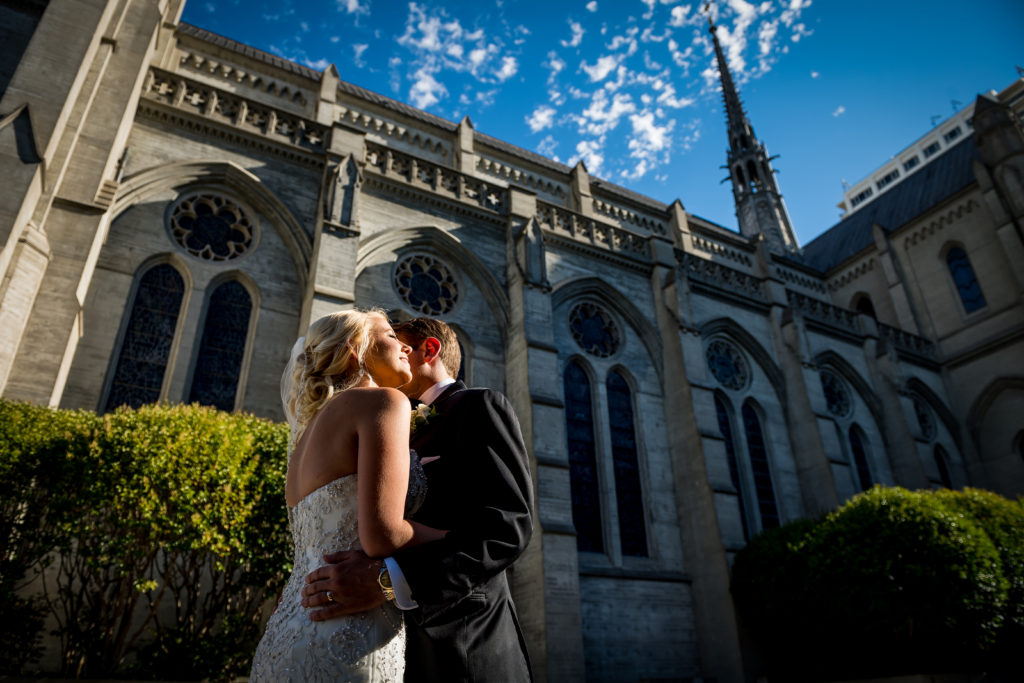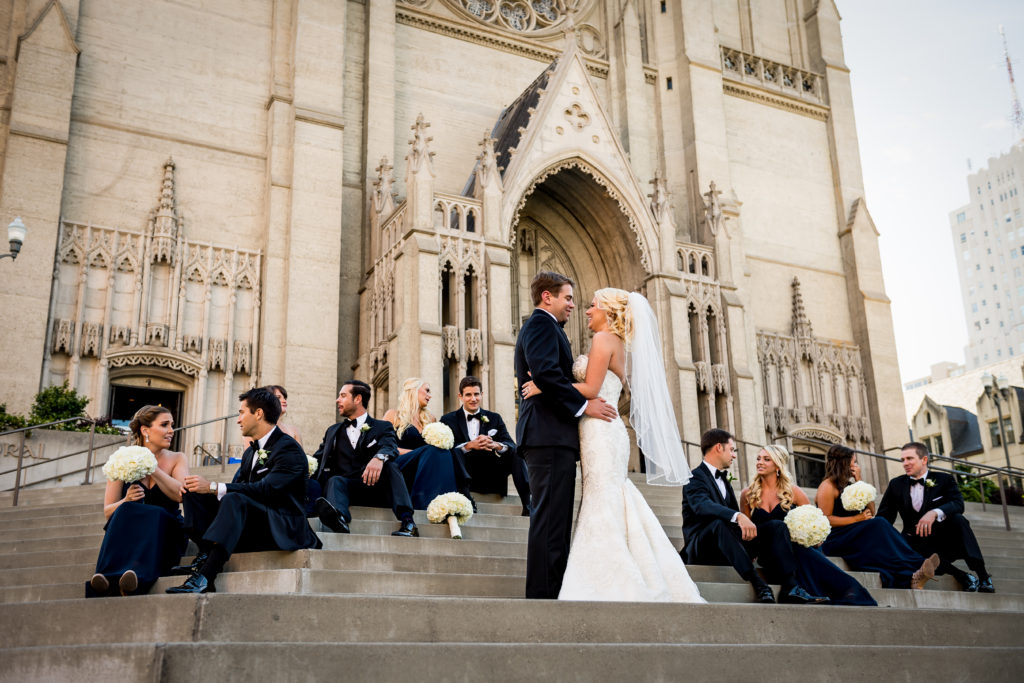 Dakota Baylacq of Thomas Hughes Films was meanwhile capturing every precious moment on video.
Meanwhile, Chrissy Wolfman, Mario Montenero and the whole Mark Hopkins team had completed the setup of the Peacock Court for cocktails and of the Peacock Ballroom for dinner, Jason Nall and team leader Martin of Impact Lighting had installed uplights that bathed the ballroom in a soft golden glow, the Flowerhouse crew had installed centerpieces, and our own Day Like No Other team with myself, Kelsey Holtzinger, Mary-Kate Greenberg and Lisa Siyuan had taken care of all the details, from escort and menu cards  to the golden favor boxes (filled with 0h-so-yummy See's chocolates).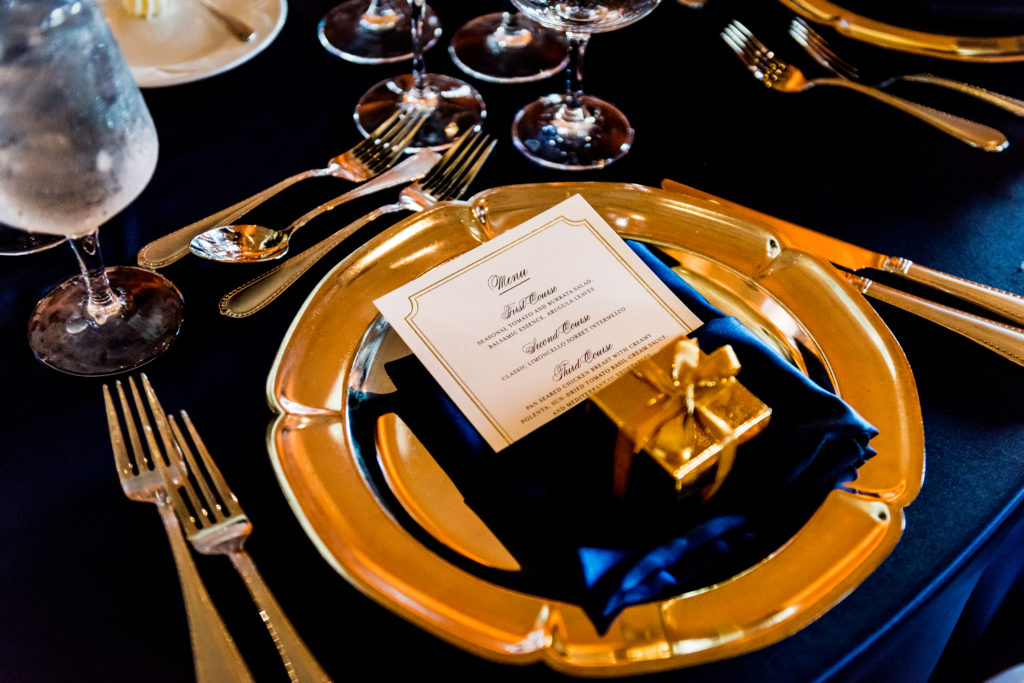 Steve Bloom and his band HipService had set up on the stage of the Peacock Ballroom – in short, we were ready for Liz' and Nicco's guests!
After dinner, it was time for Cake cutting – traditionally the newlyweds' first task together, which these two executed with bravura.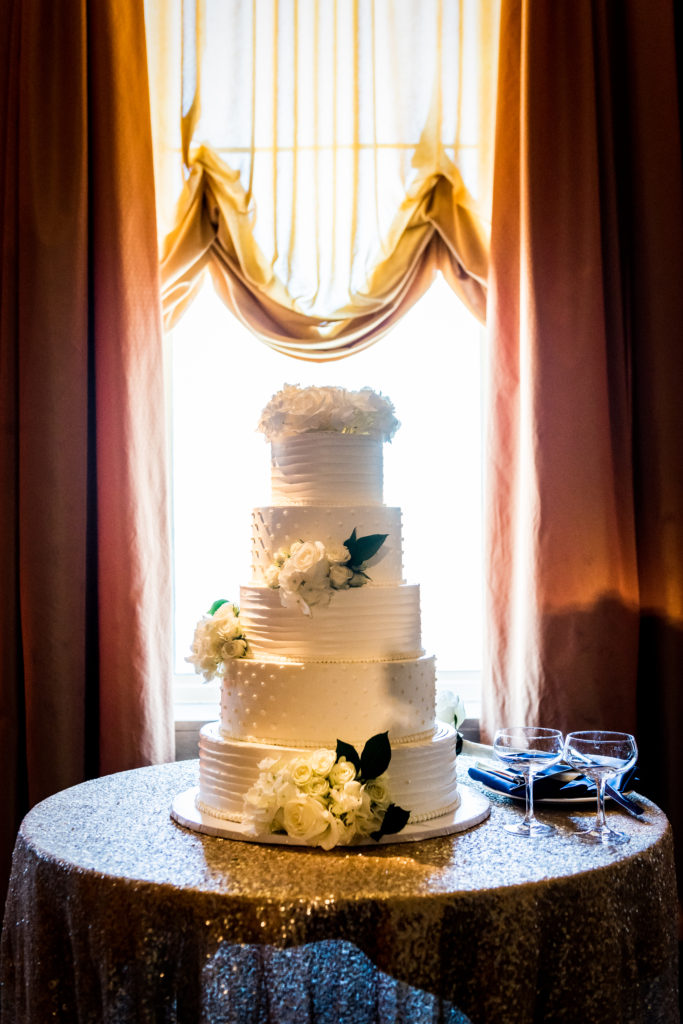 What else? Their First Dance, of course! Such an emotional moment…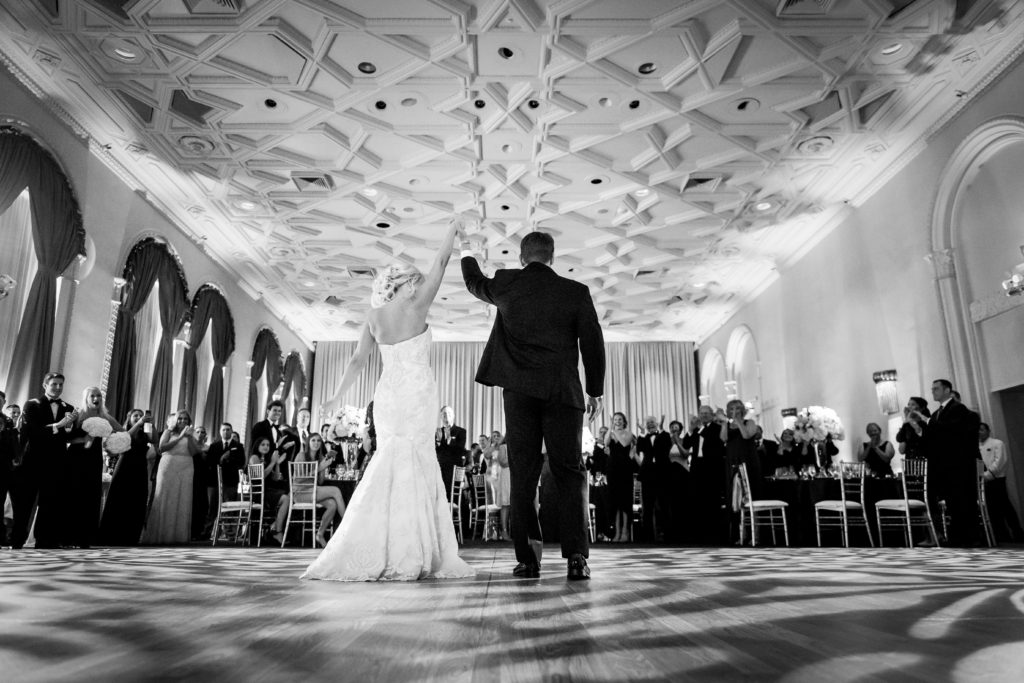 … followed by a wild dance party to music by Hip Service!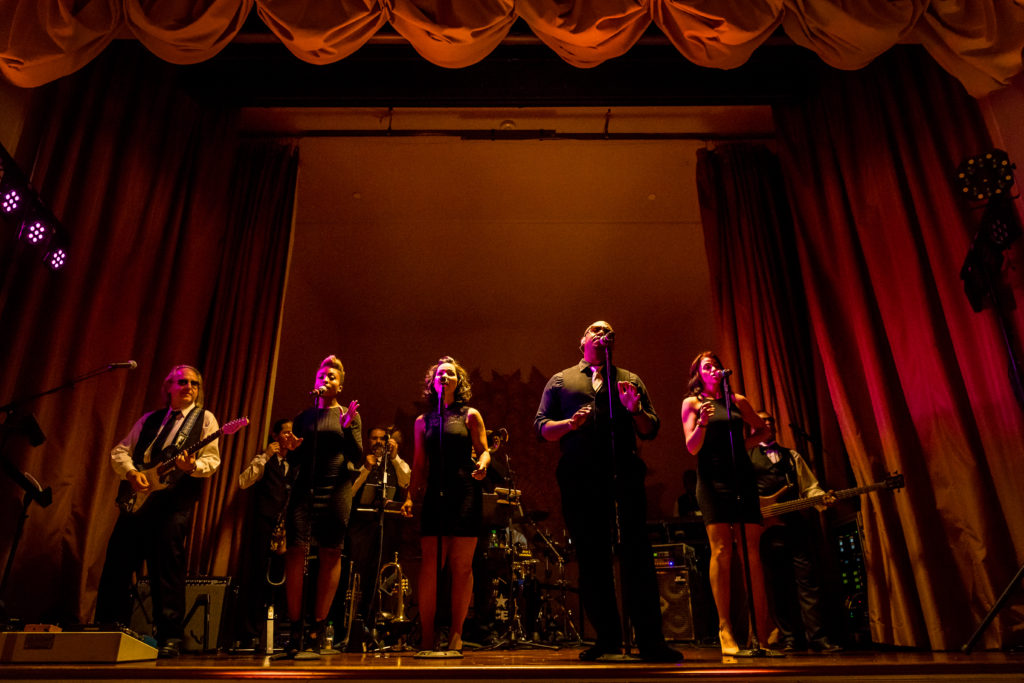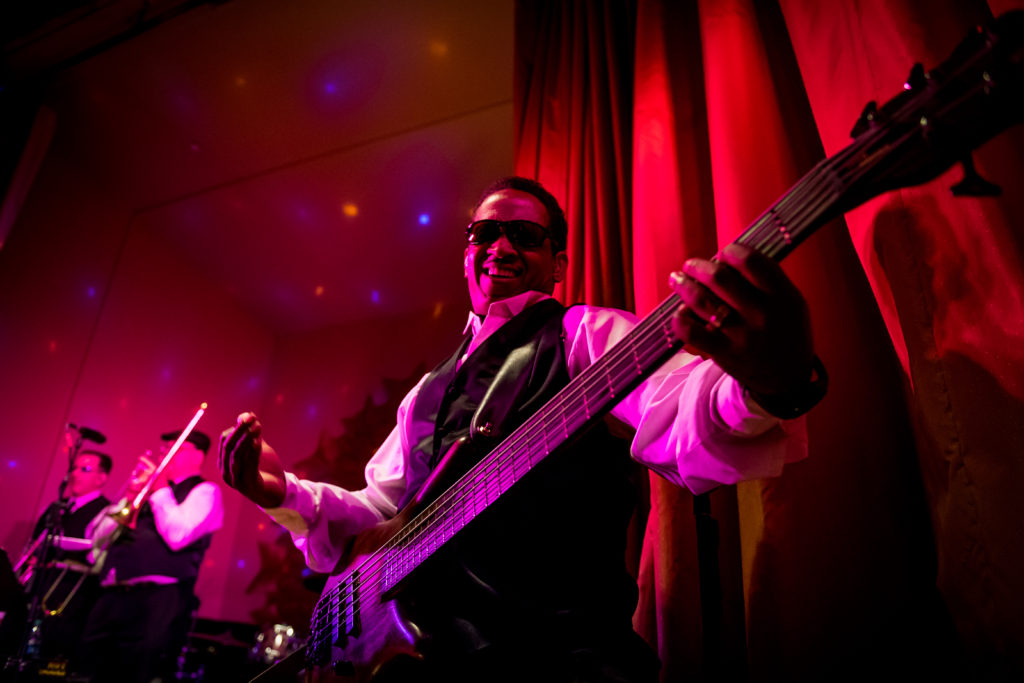 And as we speak, Liz and Nicco are honeymooning in Italy. Buon viaggio e molta felicita!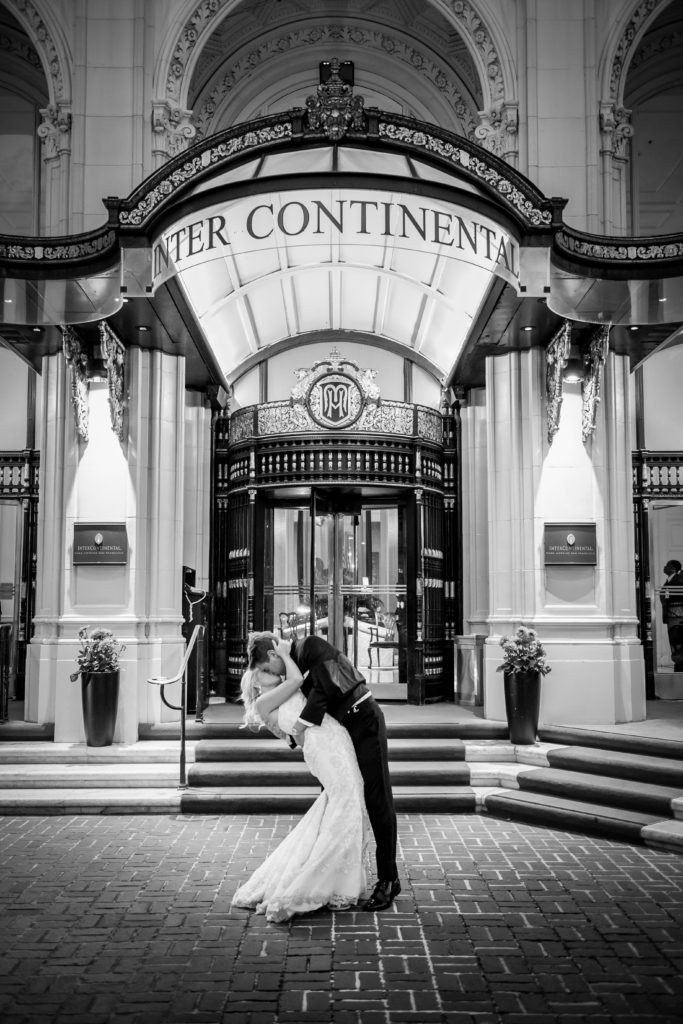 Let us create YOUR unique wedding celebration, too!
SaveSave
SaveSaveSaveSave
SaveSave
SaveSave
SaveSave