A guest post by Henry Trione of Trione Winery
I reached for the tapered Burgundian wine bottle in the cellar, thinking it was a Pinot Noir to serve my guests. Pinot, the classic safe choice to share; a varietal ubiquitous to the typical Californian wine cellar, and a versatile selection for food pairings from pâté to dessert. Many wine connoisseurs enjoy a good Pinot, especially Marin County residents, as were my company. As I brought the bottle into the light it became immediately apparent that it was in fact not a bottle of Pinot Noir, but actually… Syrah.

It was too late. The Marinites saw the bottle. I couldn't put it back. I suddenly realized I had given away the last bottle of Trione Pinot Noir as a Christmas gift to a friend who had unexpectedly stopped by. My mind raced. 'The Pinot is gone; the Syrah is all I have. The Syrah is good, to be sure, but was it too exotic for the sensibilities of my guests?' Seconds passed, it seemed like eternity. I recovered well, though.
"I have a lovely 2013 Russian River Valley Syrah for you try. I chose it specially to pair with the cheese."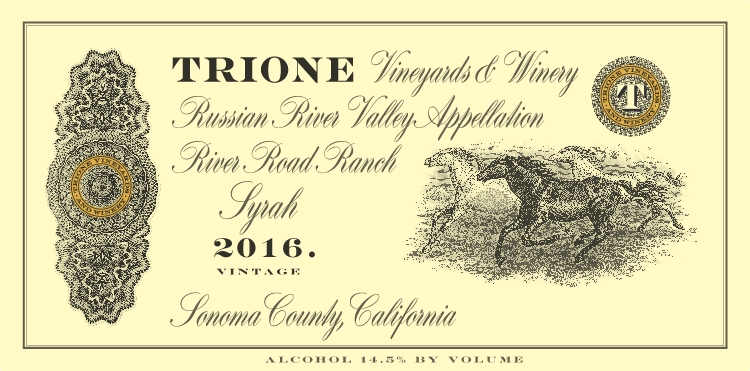 I must confess, even growing up in Sonoma County in a family involved in the business of wine, Syrah was not a common sight. Pinot and Cabernet comprised the extent of my red wine knowledge. To be fair, I was only five years old. Still, I have noticed even today that when perusing the wine list at a restaurant, there are often more labels of Pinot Noir than Syrah. I personally enjoy them both, and yes it depends on the situation, the food pairing and even the weather. Or sometimes, as it appeared in my story above, that is simply what is available.
Let's look a little into the historical geographical incidence of the two varietals. Pinot Noir originates from the Burgundy region of France, an east-central region of the country with a cooler climate conducive to growing the thin-skinned grape. With weather much like the Russian River Valley of Sonoma County, it is not a coincidence that the River Road Ranch is where Trione produces the fruit for it's Pinot, hand selecting the top three percent of the crop that finds its way into bottles with the Trione Vineyards & Winery label. In the old world, Syrah has historically been grown in the Rhône Valley of France. The climate varies from the north to south of the valley, with the northern part cooler than the southern end. As you may have guessed, the conditions of the Russian River Valley AVA are somewhere in between. At Trione, the top three percent is siphoned off to the winemaker, Scot Covington, before the balance of the crop is sold to other local wineries.

Scot employs a French style in winemaking, so all things being equal on the production end, it is fascinating to taste just how different these wines are and why Syrah is deserving of respect. While Scot describes the Trione Pinot Noir as "Fresh tilled earth, clean, rich and… a walk through a medieval forest, dark but with layer upon layer of blackberry compote." He describes the Syrah as smoky and "peaty, wet earth with hints of plum, blueberry and wild blackberry preserves." In his tasting notes, he goes on to say that the Trione Syrah is "Pinot lover's Syrah."
Wait a minute.
Describing the Syrah in reference to Pinot is no mistake. People just know and love an earthy, peaty tasting Pinot, so why not compare the lesser known to the standard of excellence in the field? But is it fair to compare two such different wines? This is not what Scot was doing, but I believe I was guilty of this thought process when I was entertaining my guests with the bottle of 2013 Syrah. Syrah should not be considered the less gifted sibling compared to the superstar kid wonder Pinot that went to an Ivy League, rowed on the crew team and achieved a 4.0, while Syrah went to a respectable Junior College and did just fine. The point has been made that the two varietals are distinctly different, and Scot has cued us in with the tasting notes. So, how are they really different and what to pair with?
As we see in the tasting notes, Syrah is classically smoky. It is full bodied and spicy. It is bold, and I have heard it described as "barbecue wine." At this juncture, I should add that the Trione Syrah contains 95% Syrah and 5% Viognier. This is a stylistic choice, and does not in my opinion obscure the true nature of the varietal. Pinot, on the other hand, is high in acidity, earthy, red fruit notes but lighter. So, when we really break it down to their simplest descriptions, Syrah is bold and Pinot Noir is lighter. This gives us an idea of how to pair.
Pinot Noir is indeed versatile, and the range of foods with which it pairs is generally determined by how tannic or conversely light it is. The bolder more tannic Pinots stand up well to wild game and heavier dishes, while the lighter fruitier variants are more appropriate for poultry, pastas, and seafood like salmon. At a Trione Winemaker Dinner, I even enjoyed the Russian River Pinot Noir with a fruit-based dessert. Syrah, while a significantly different to its Pinot Noir counterpart, actually pairs with similar foods as an elegantly tannic Pinot. For example, Syrah is a good partner to gamey-tasting meats, lamb, and anything barbecue. And cheese? That's a gouda. Just steer clear of most seafood dishes, and delicate flavors that are overpowered by this full-bodied red.
There you have it. Pinot Noir and Syrah. We have barely scratched the surface of these two red varietals. They represent an intriguing comparison in my opinion because of the spectrum on which they lie. On opposite ends they are just that – diametric reds with the light, highly acidic Pinot Noir on one end and the smoky tannic Syrah on the other. Tangentially close but never quite overlapping on the spectrum, we find fuller-bodied Pinots and less toasty Syrahs. With the multitude of labels available for both varietals, there is seemingly endless opportunity to test the merits of each and to explore one's preference. To quote The Matrix, "You take the red pill… and I show you how deep the rabbit hole goes."