We all know how much San Francisco has to offer – Golden Gate Bridge, historic mansions, the SF Bay, gritty-industrial buildings, the most beautiful Beaux-Arts style city hall in the nation… What if you are getting married, and you can't decide where in San Francisco? Then you do what Mariko and Phillip did: all of the above! A ceremony in City Hall,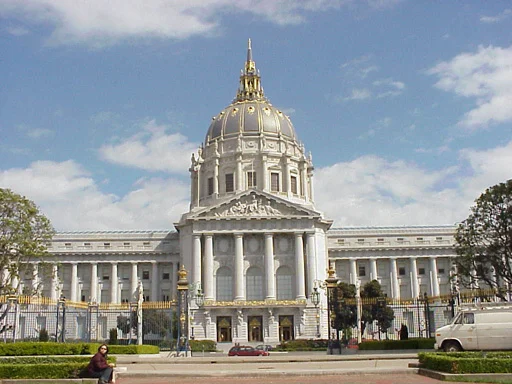 ….followed by a reception at Gallery 308, an industrial space overlooking the SF Bay. Their guests even got treated to a little sightseeing tour to historic Ghirardelli Square, on the way from ceremony to reception. That all made for complex logistics – that was what they had my wedding planning company, A Day Like No Other, for – but it was all well worth it.
Mariko's day began super early – at 6 am! – so she would be ready for her First Look at 9 and her ceremony at 10. Her photographer Kristen Murakoshi of Studio Ma was already waiting for her and for groom Phillip at City Hall. Mariko brought her elegant bridal bouquet in muted summer colors and cascading tiny orchids (all floral decor by Green Petal Designs).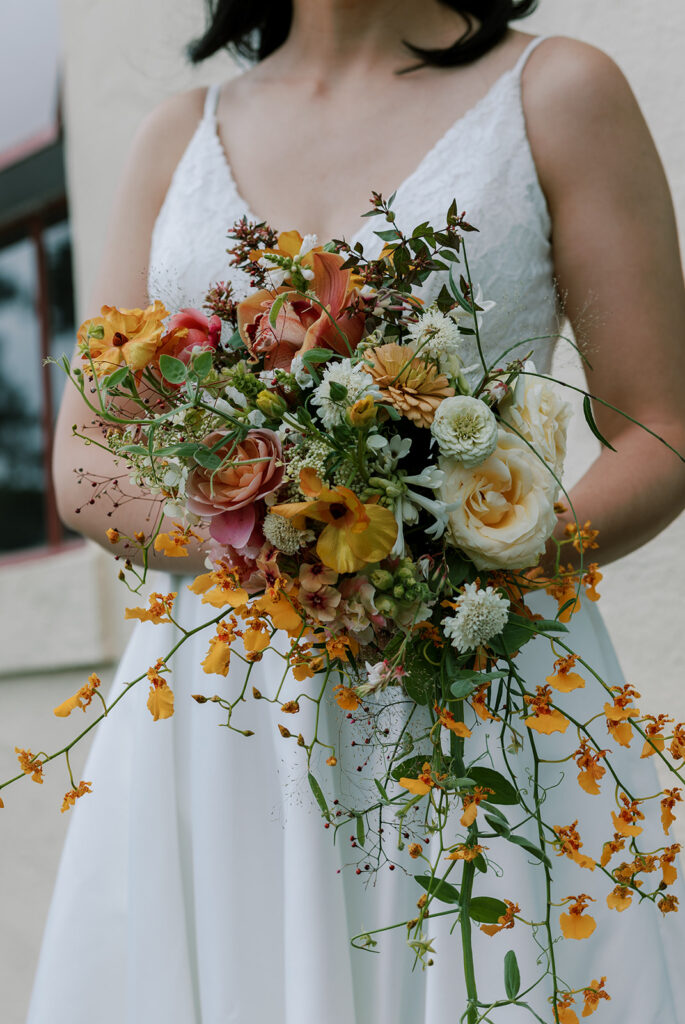 Then it was time for many, many photos – SF City Hall is just gorgeous! And so was our couple…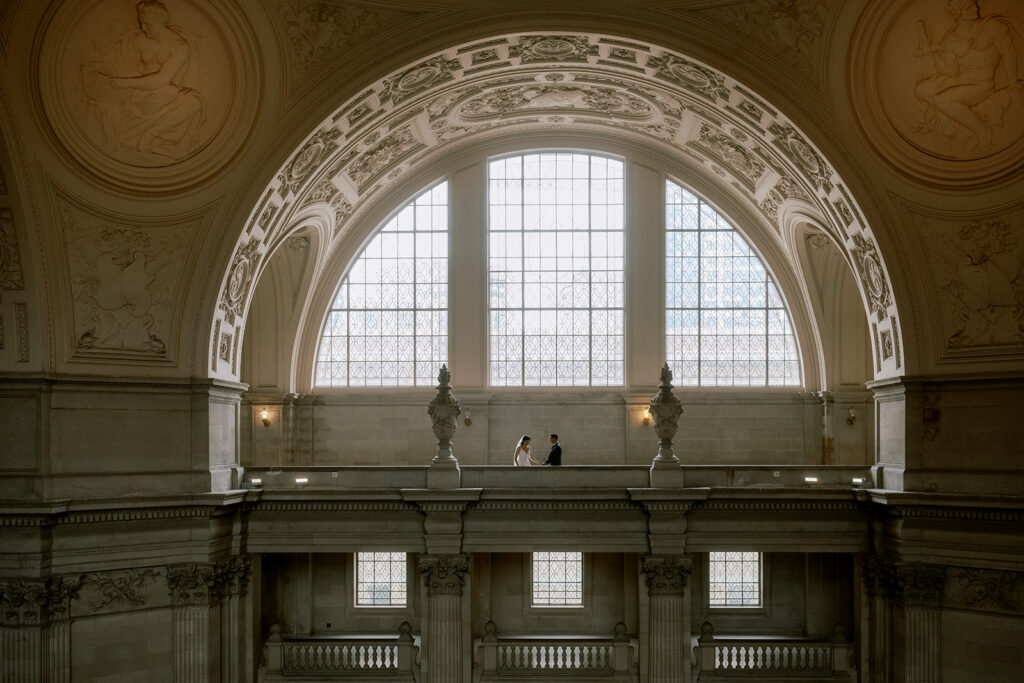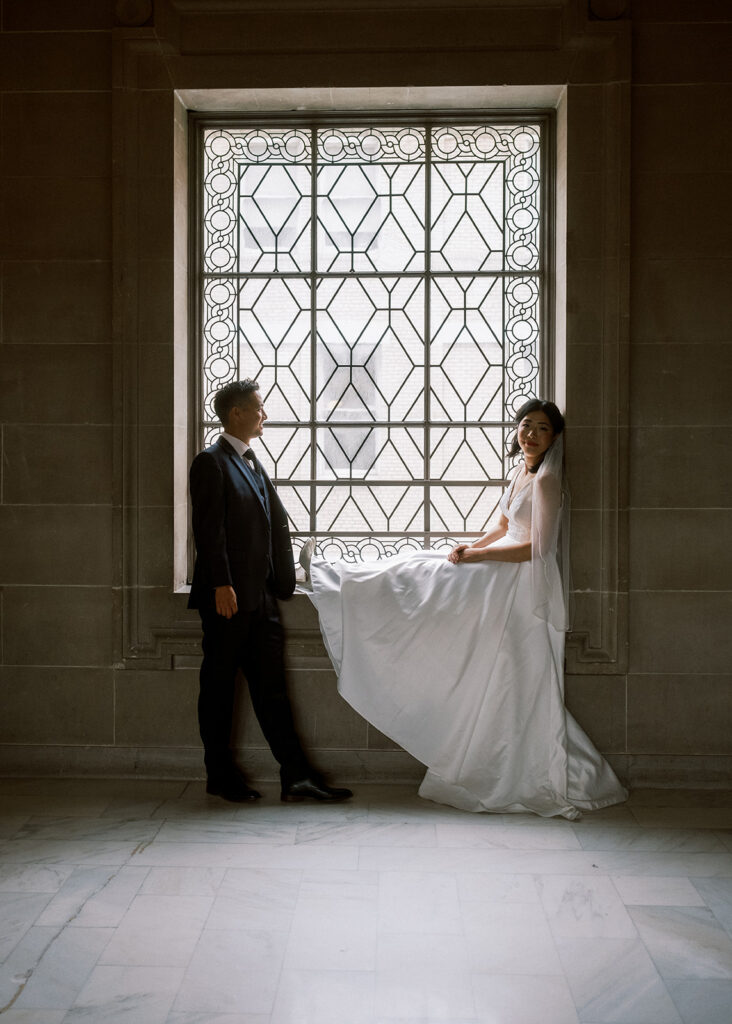 Soon enough, the first wedding guests were arriving (in shuttles by Corinthian Ground Transportation), officiant Maggie Beretz prepared for the ceremony, and pianist Lara Garner began playing prelude music as guests found their seats. The ceremony took place on the Grand Staircase under the soaring rotunda of City Hall.
It doesn't get much more grandiose than that… And here they are, "just married!"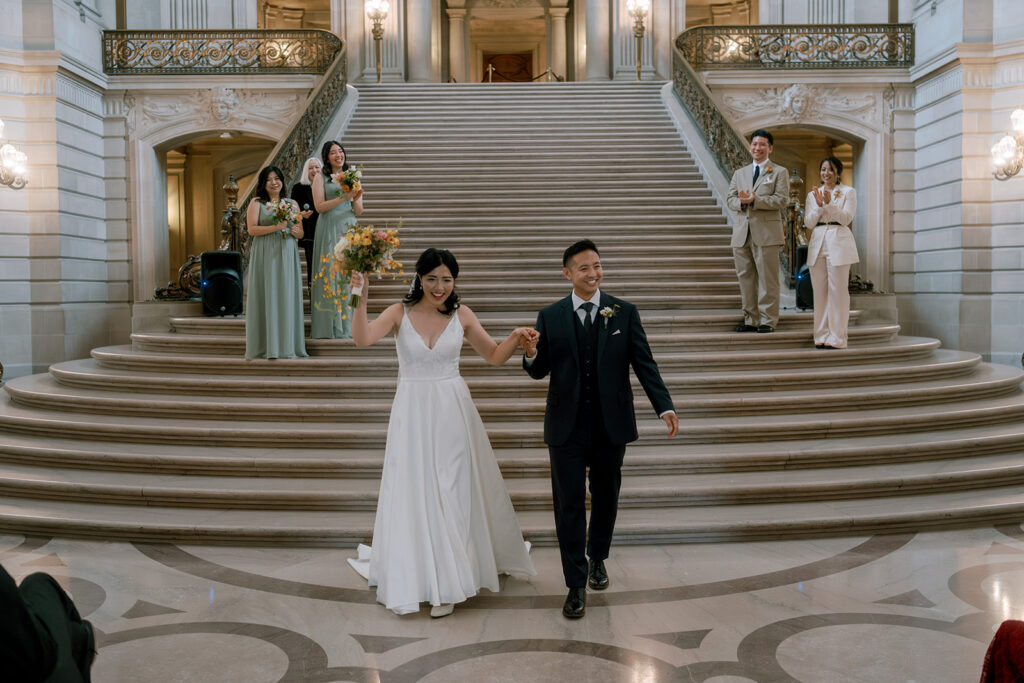 Time for a kiss – one of many…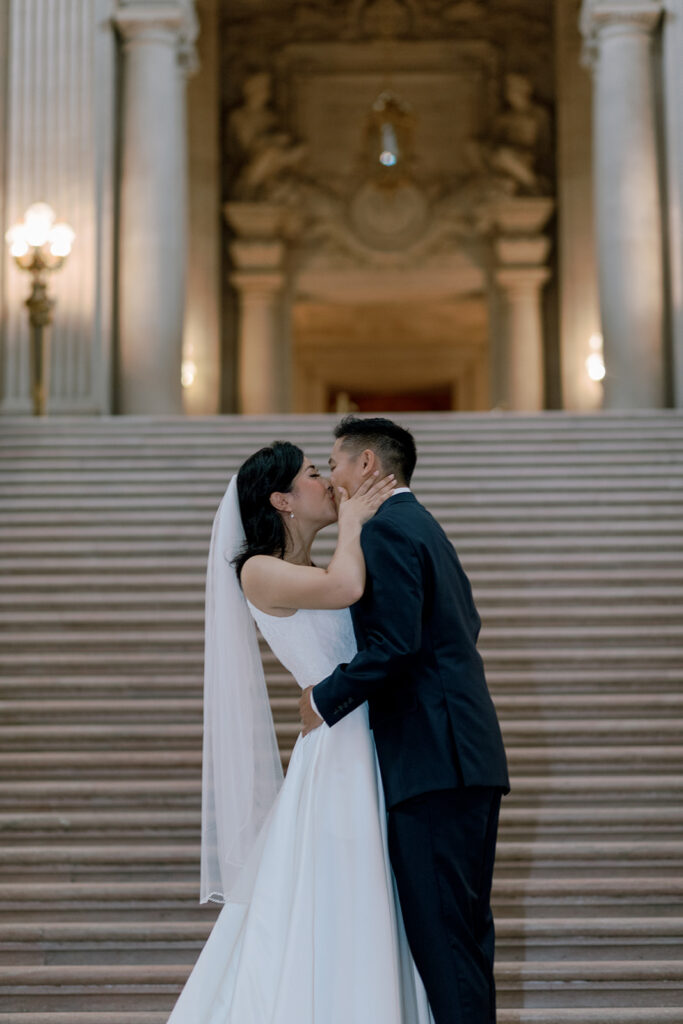 While the wedding guests were taken by shuttle on a mini sightseeing tour to historic Ghirardelli Square, the newlyweds had time for many more photos in and around City Hall.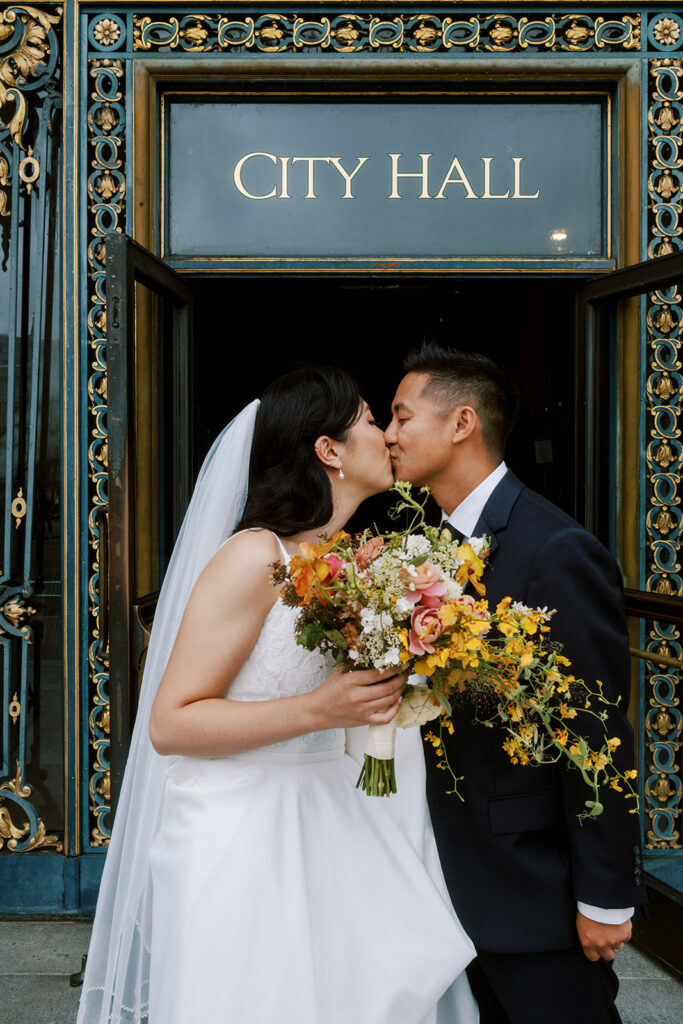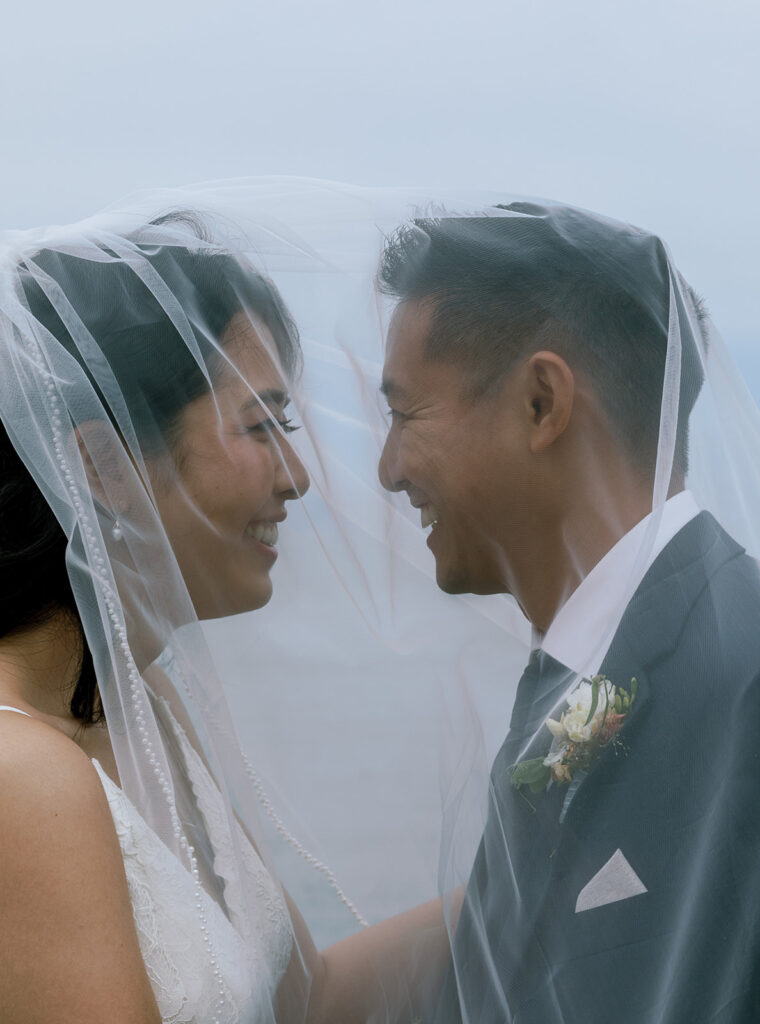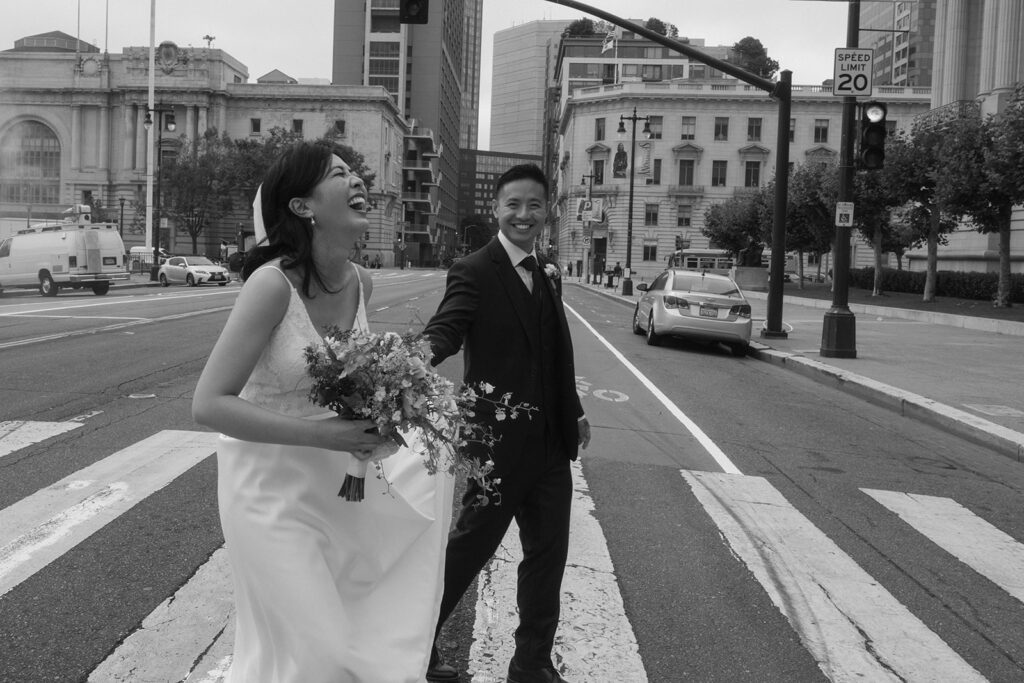 From there – off to Fort Mason, to their lunch reception for 200 guests at Gallery 308, an industrial space overlooking the SF Bay.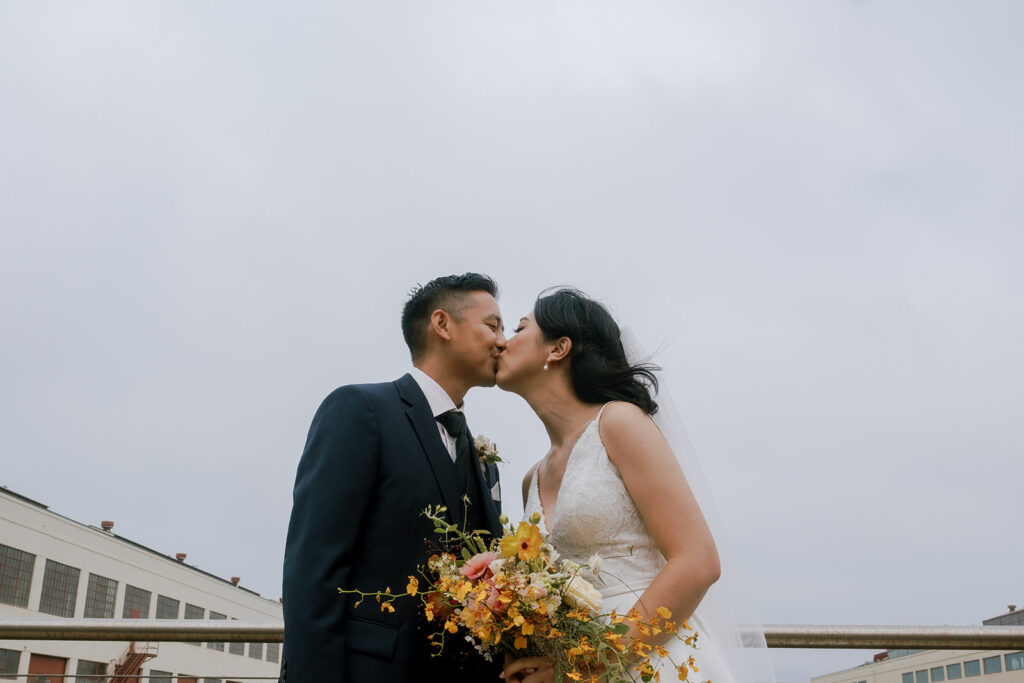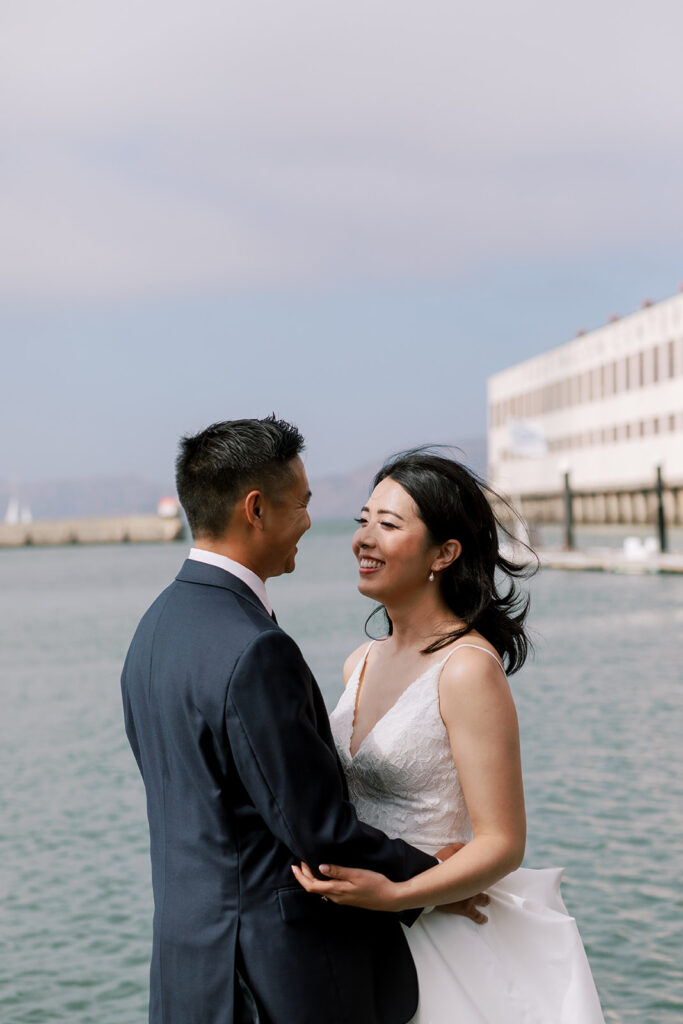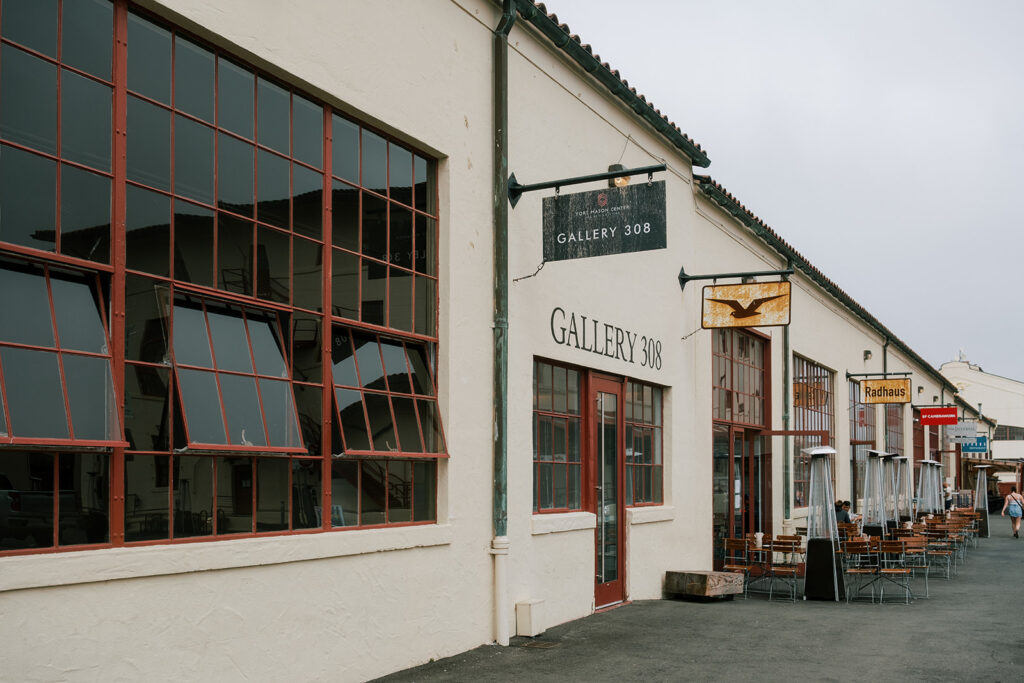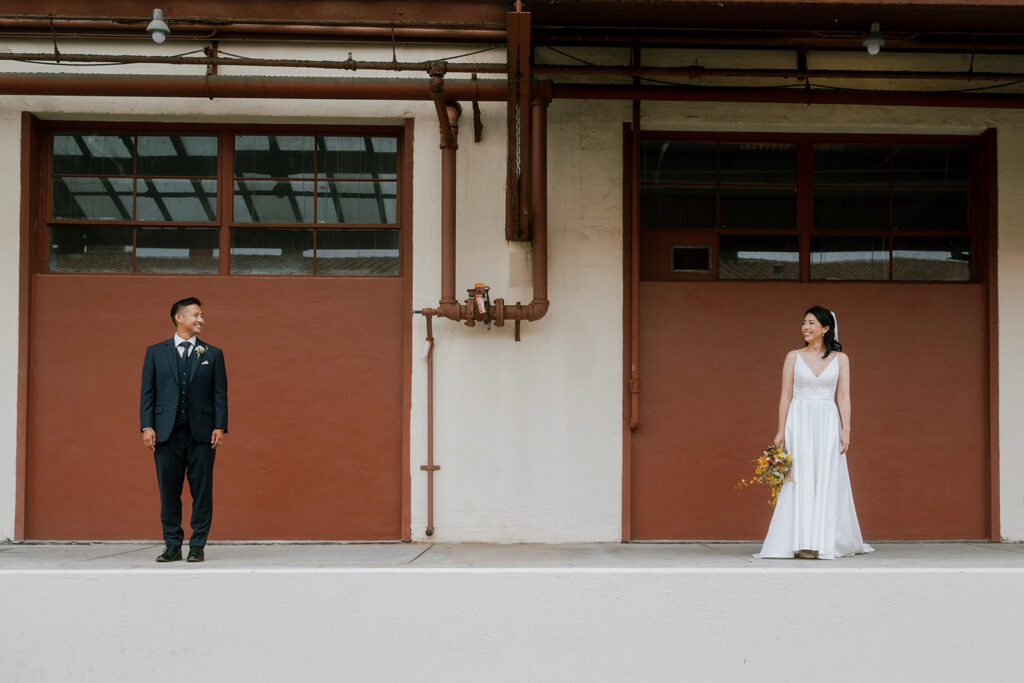 Exactly Mariko's and Phillip's colors! And their style – they had asked me for a design in '70s style and colors and had chosen their invitations accordingly: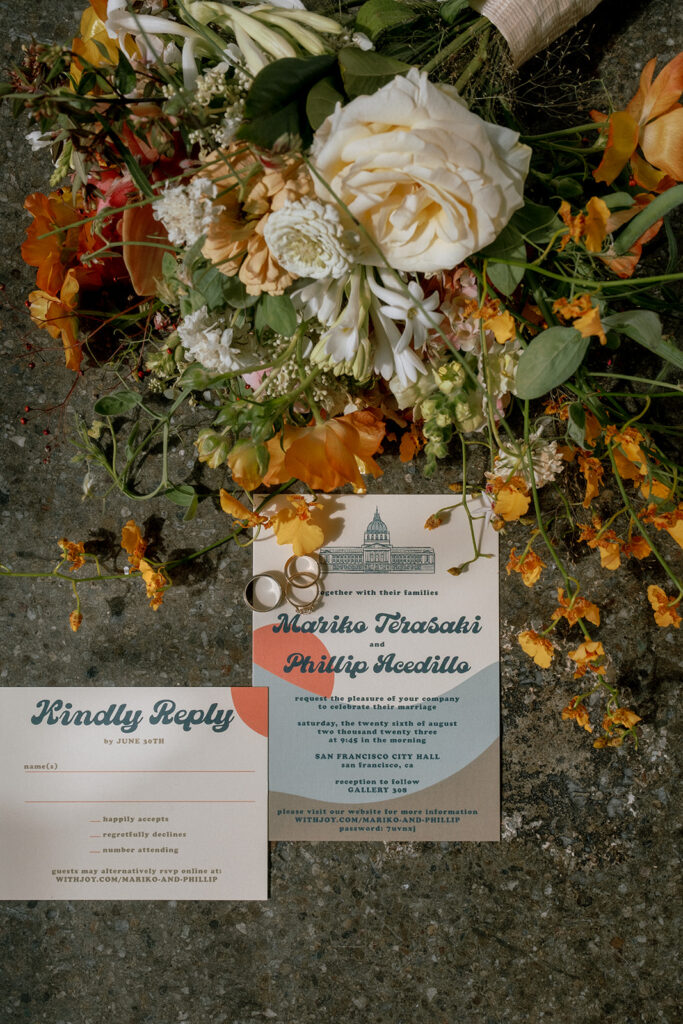 … and for their table flowers, they wanted Ikebana style in exactly these colors. You think that these design ideas are too disparate to be integrated into one cohesive style? Think again! We made it happen. Here are the beautiful centerpieces by Green Petal Designs.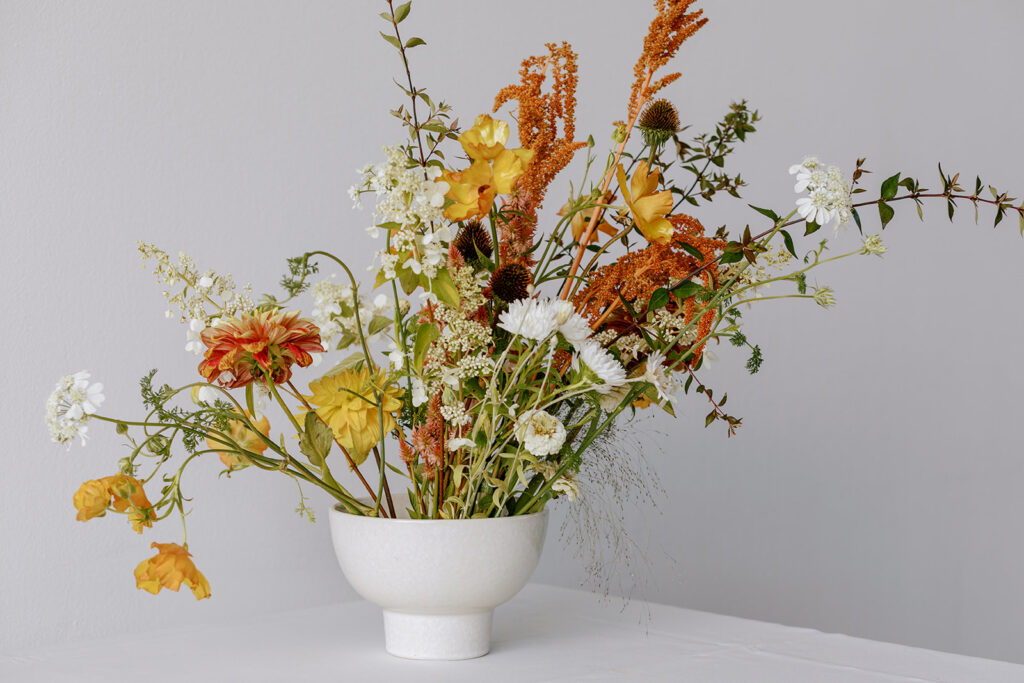 When the newlyweds arrived at their reception venue, the venue staff had set up their tables and chairs, the catering staff of Smokin' Yankees BBQ under the leadership of Bekah Juencke had laid the tables with linens, napkins, and elegant china, flatware and glassware from Hensley Event Resources; with paper cranes folded by the couple themselves for good luck;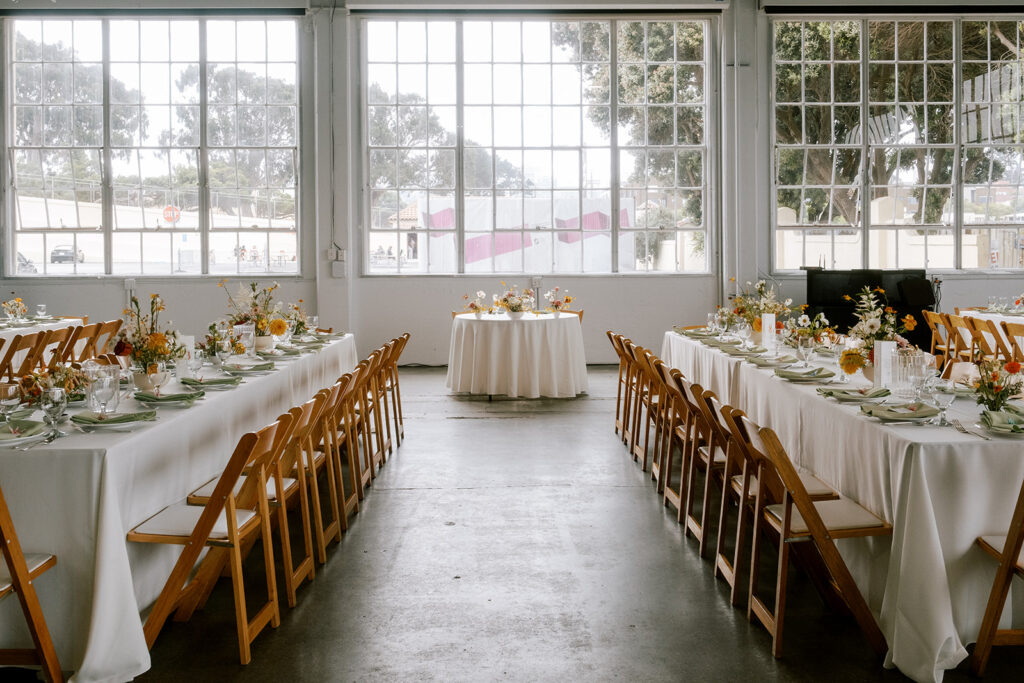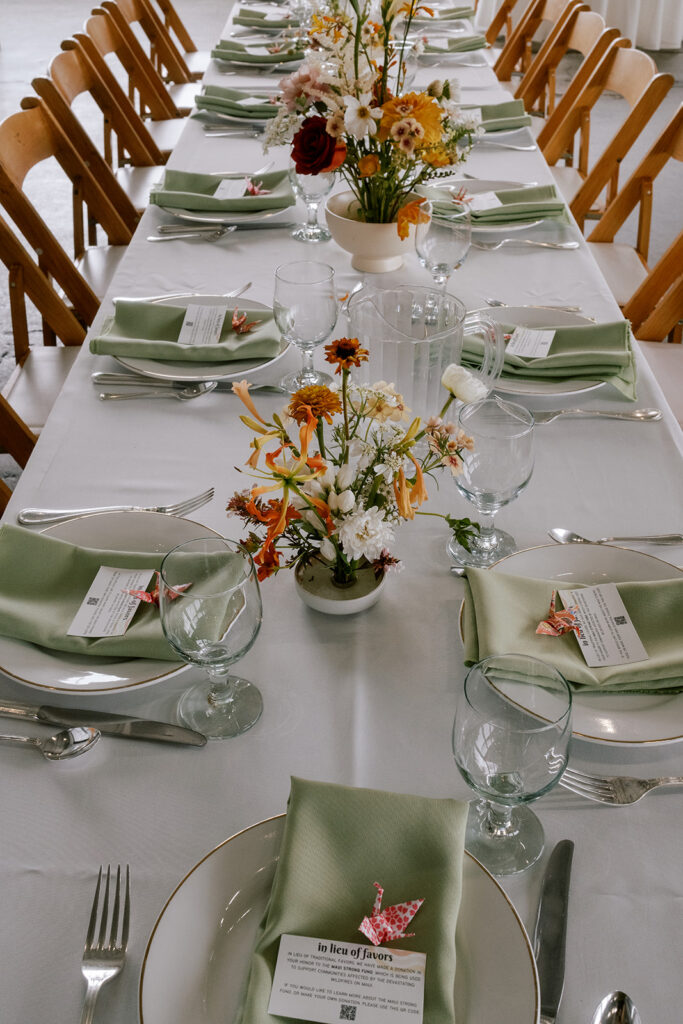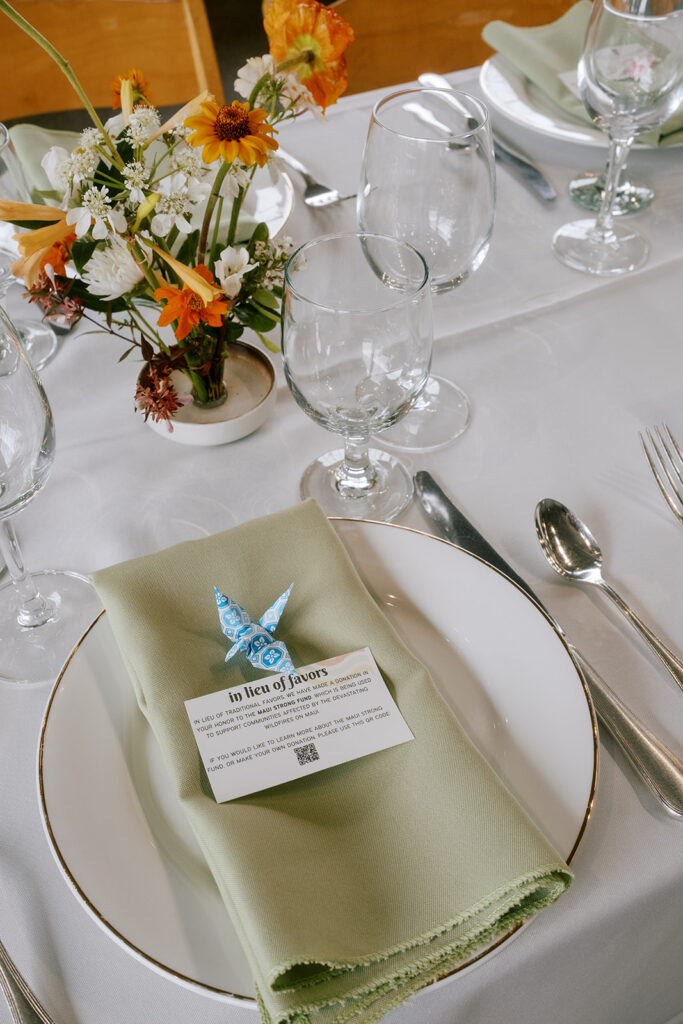 the centerpieces were in place,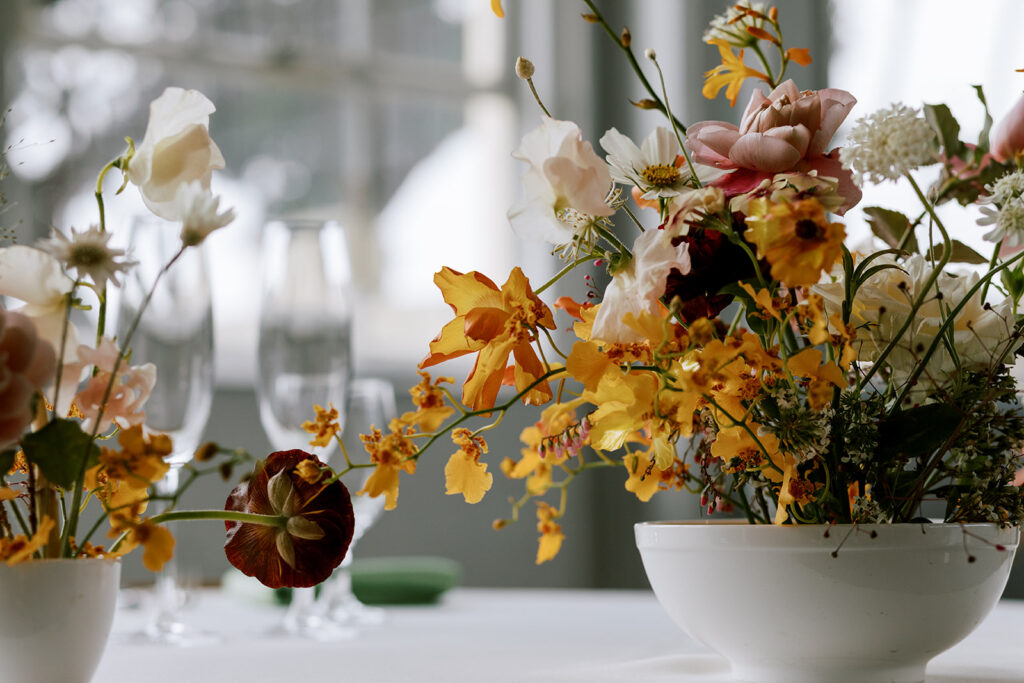 delicious BBQ food was being served, bartender Will Mar and team had the bar in full swing, and Travelin' Joe's coffee and waffle bar was open, too.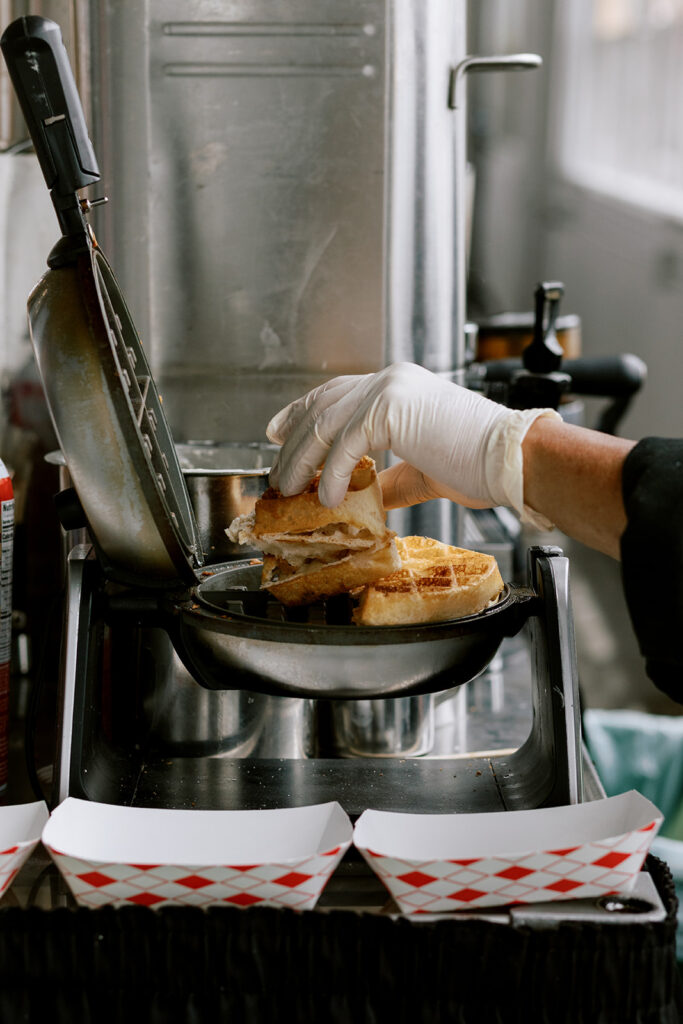 DJ Ron Israel of Spotlight Occasions had the music going, and a delicious dessert bar was waiting for the guests as well.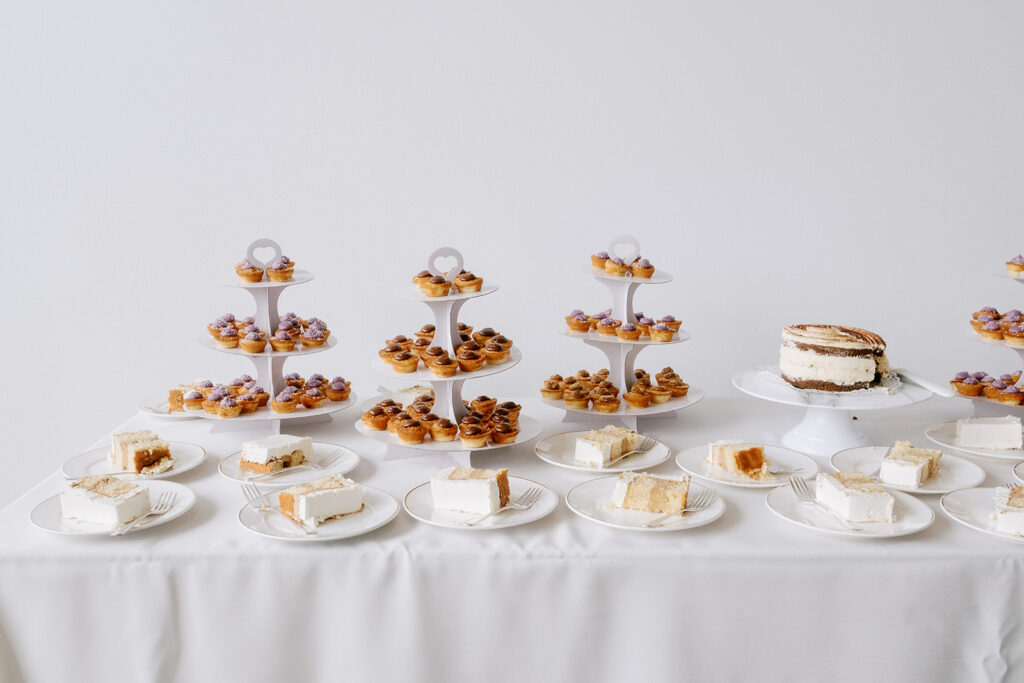 The whole reception was quietly and efficiently orchestrated "behind the scenes" by the two experienced production managers from A Day Like No Other, Nimy and Myrtle.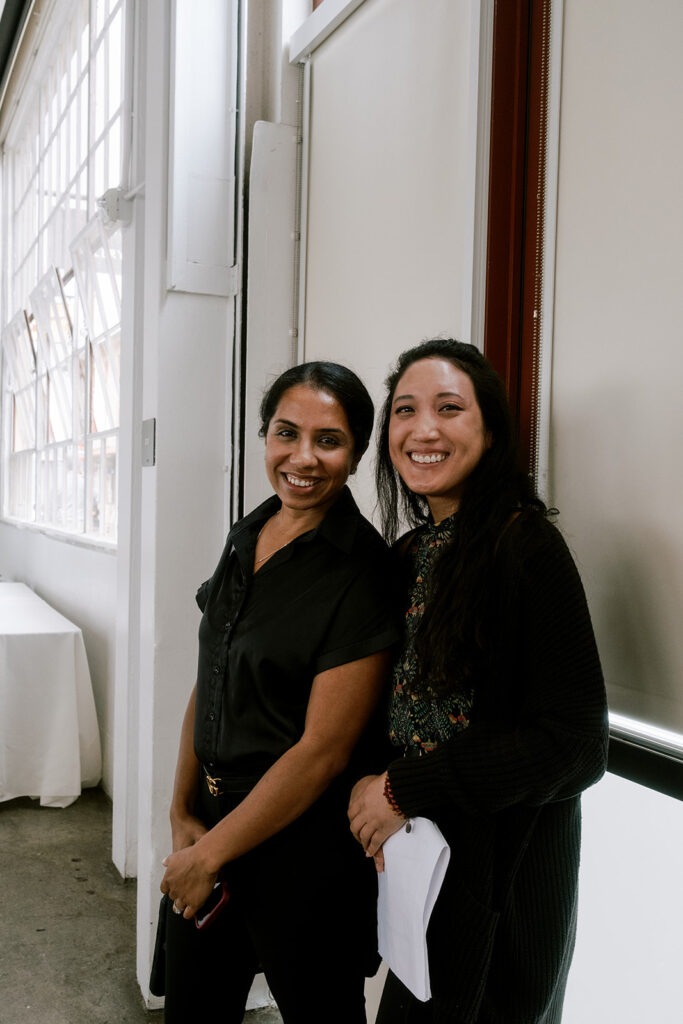 Bride and groom were happy!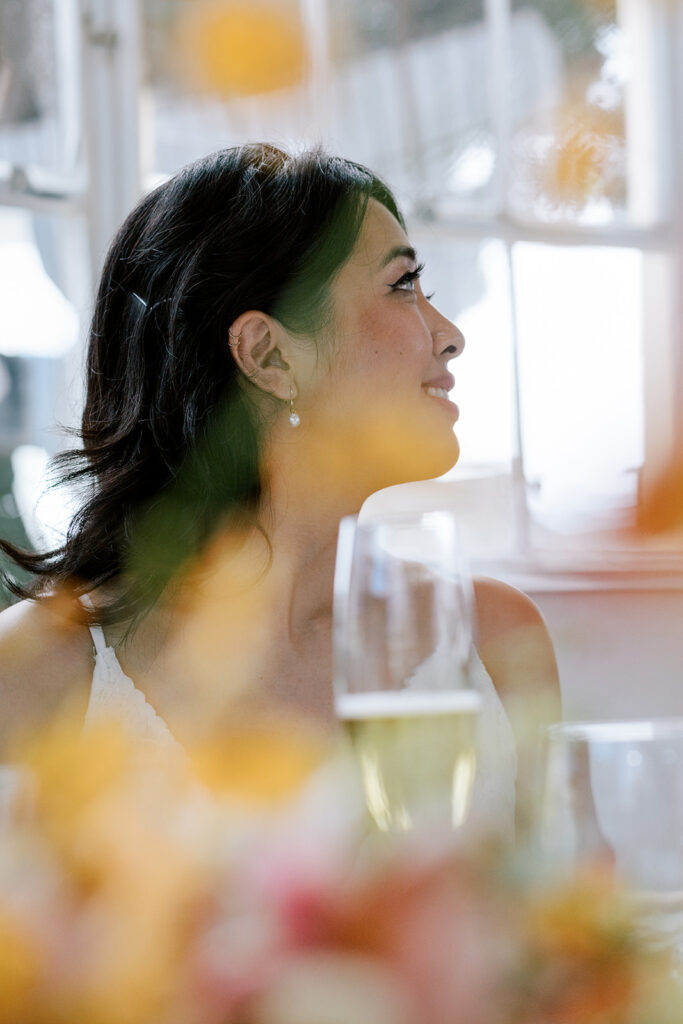 After the festive luncheon, Mariko and Phillip shared their First Dance as a married couple…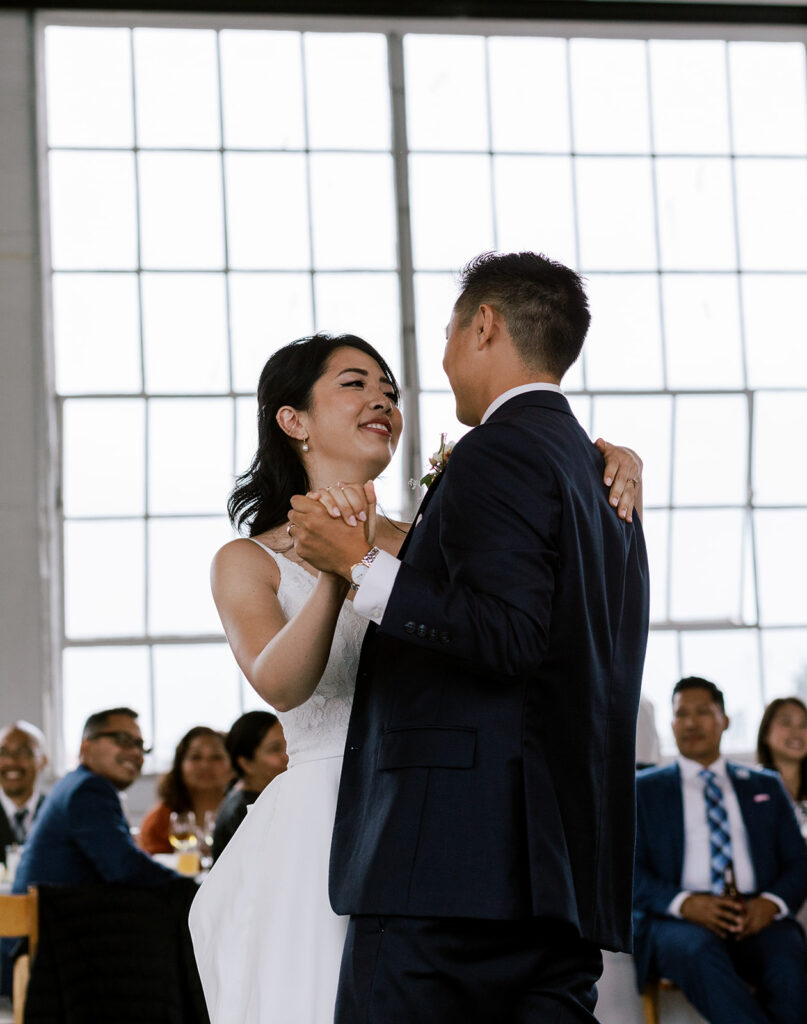 …. and that brought their guests to the dance floor, too.
When the festivities concluded in the late afternoon, everyone agreed: this was one unforgettable party!
Keep dancing and celebrating on your shared journey, Mariko and Phillip – with our best wishes on your way!