Here is my last wedding of the 2019 season, and a beautiful one at that! Hannah and Matt decided to tie the knot pretty much on the day of their two-year anniversary. Matt had nearly sworn off relationships completely, and Hannah had simply taken her time – but when the two met, the attraction was instantaneous. Very soon, the two became loving parents to rescue dog Kiki, a 10-lb furry white ball of love. One thing led to another – and ultimately everything led them to getting married!
Many months of planning with my company, A Day Like No Other, did pay off last Saturday at Mavericks House in Half Moon Bay, beautiful, nautical-inspired event space right on the water.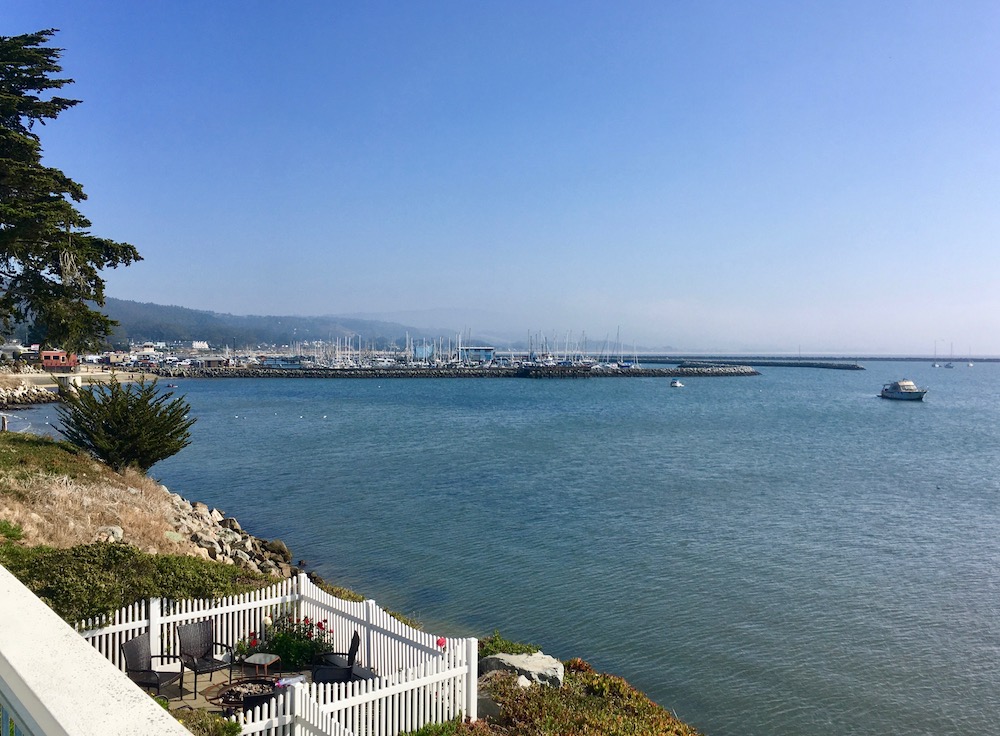 Hannah got ready next door, at the Inn at Mavericks, with gorgeous views over the Half Moon Bay harbor. Hair and makeup stylist Hanh Cao worked her magic on a bride who otherwise rarely wears makeup – and the results were downright stunning!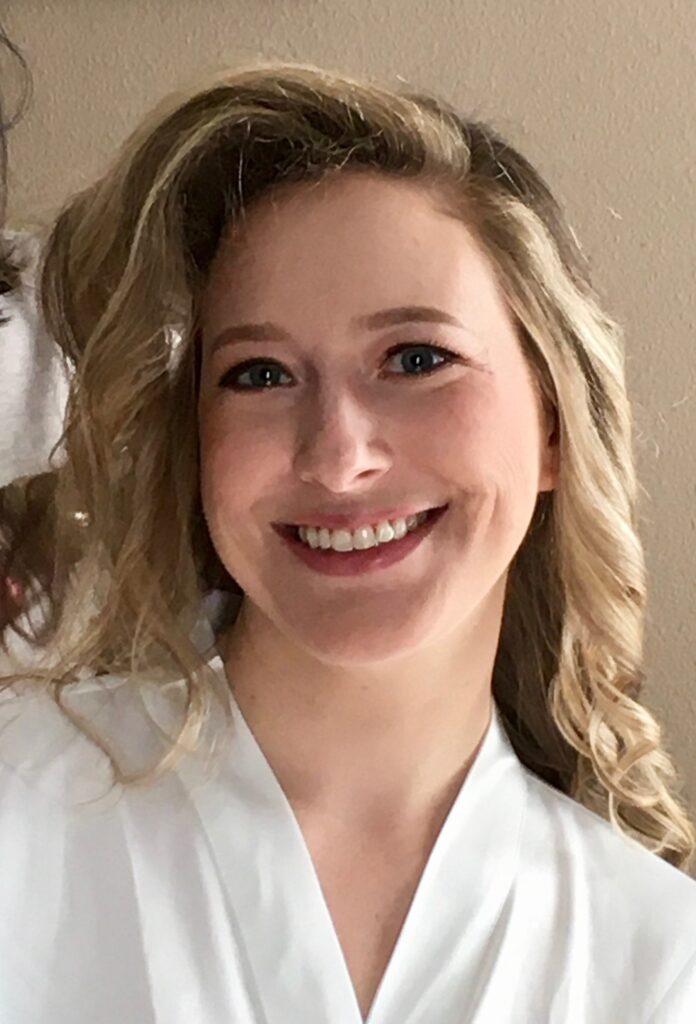 Hannah admitted that every time throughout the day when she looked at herself in the mirror – she smiled. That says it all!
Her bridesmaids dressed in beautifully coordinated seaglass colors…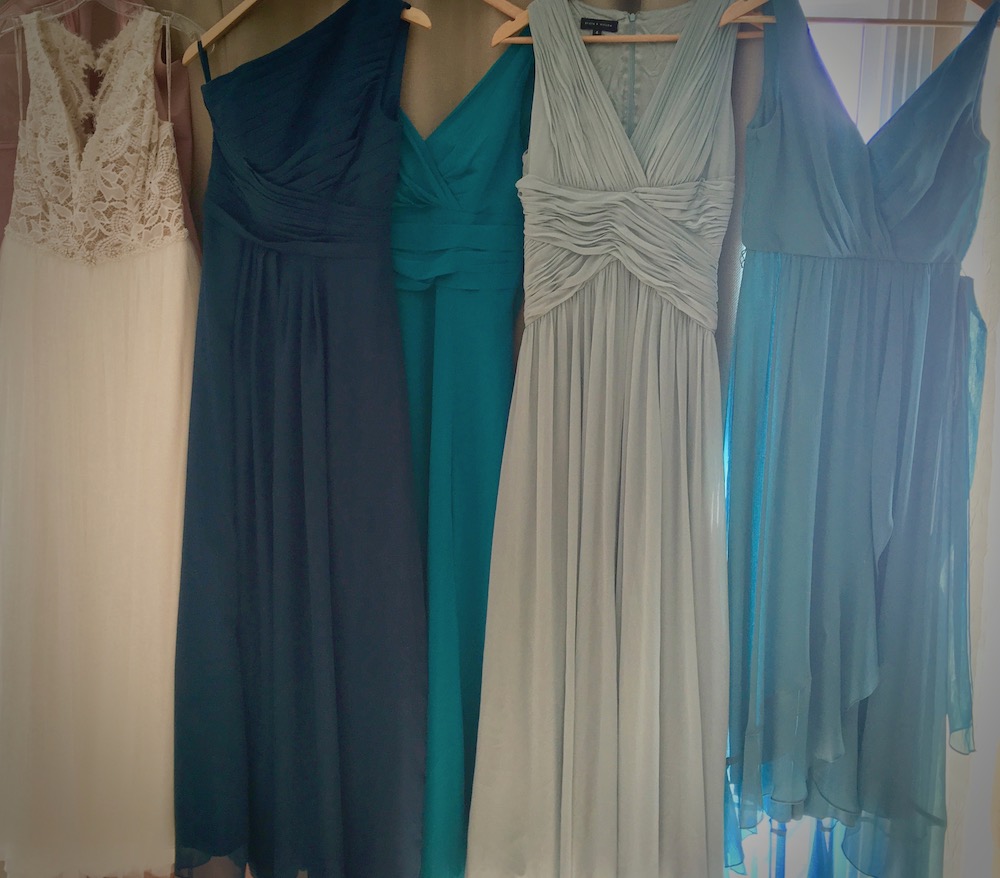 … then they all, including the bride's sister/Maid of Honor, helped Hannah into her wedding dress…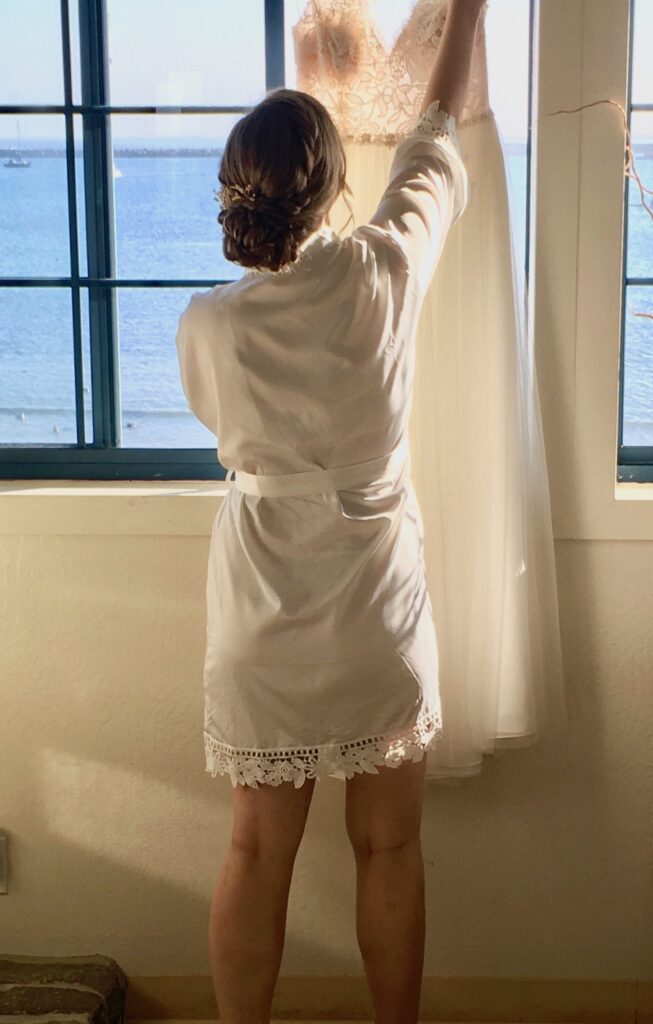 … elegant, timeless and unfrilly as Hannah prefers it, with a lace top and a soft and feminine tulle skirt – so pretty!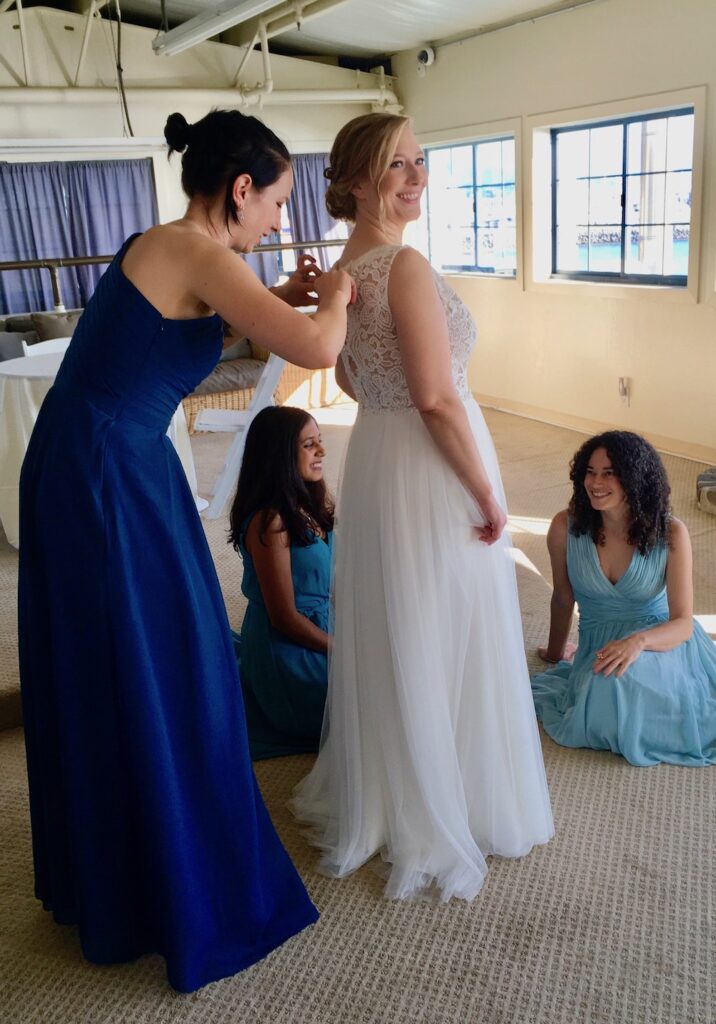 A true "sister-to-sister" moment!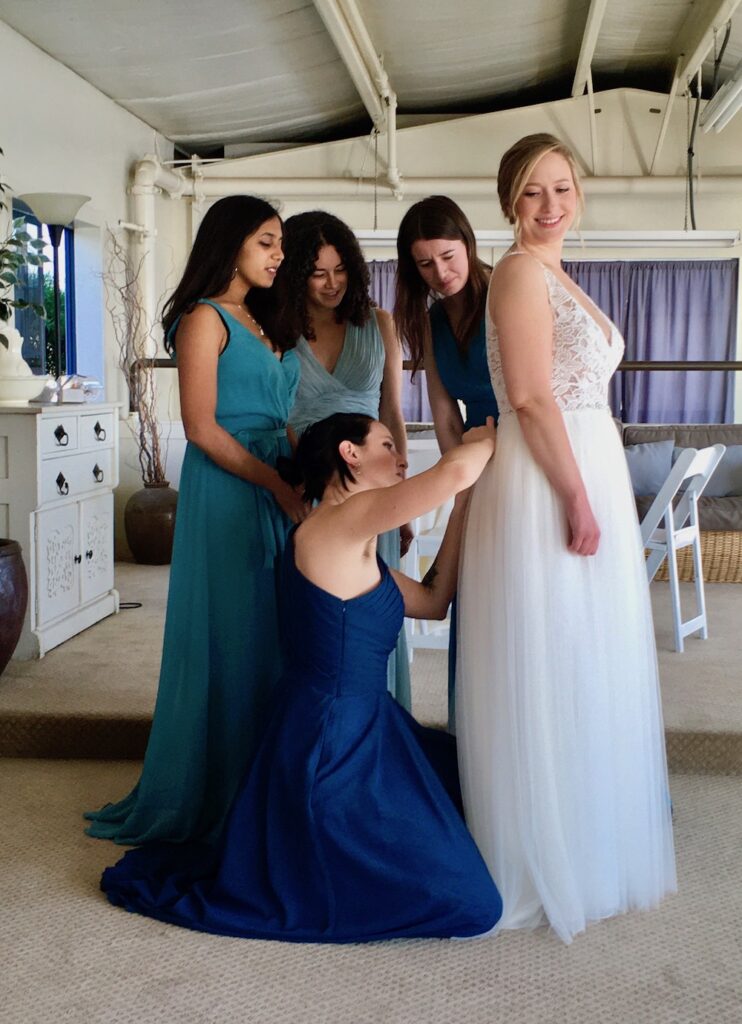 Then there were Hannah's princess slippers with a LOT of "bling…"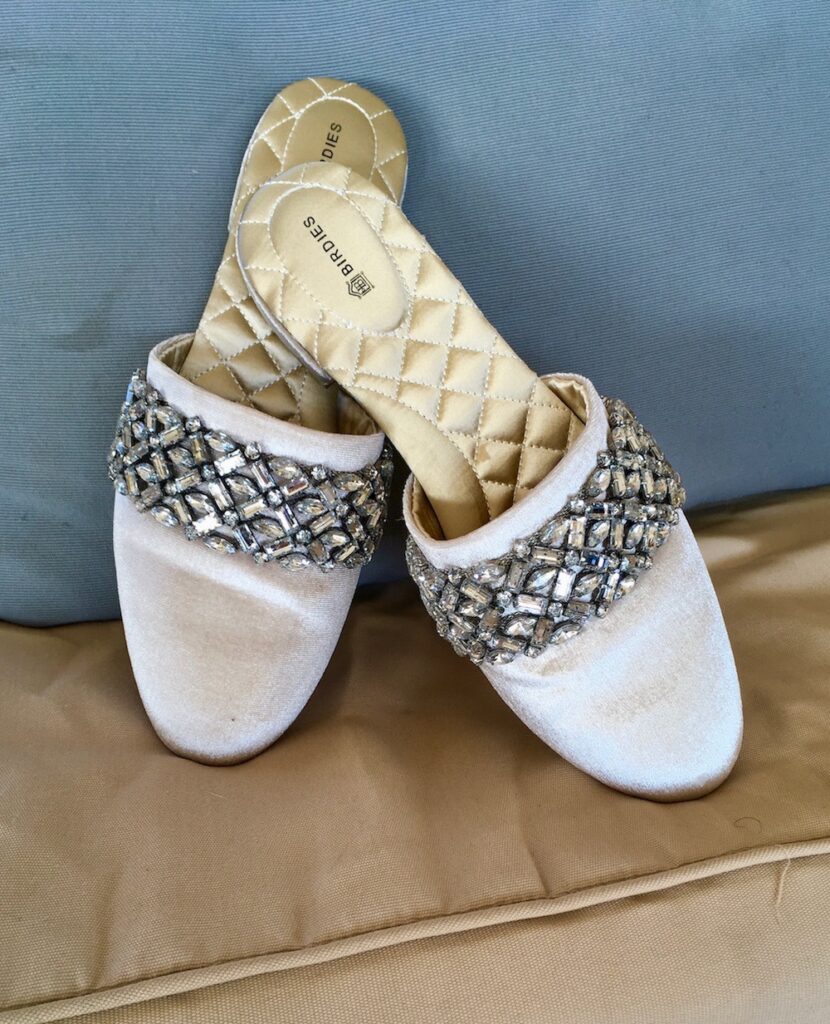 … and her stunning bridal bouquet (from Green Petal Designs – who created floral decor throughout) in Fall colors.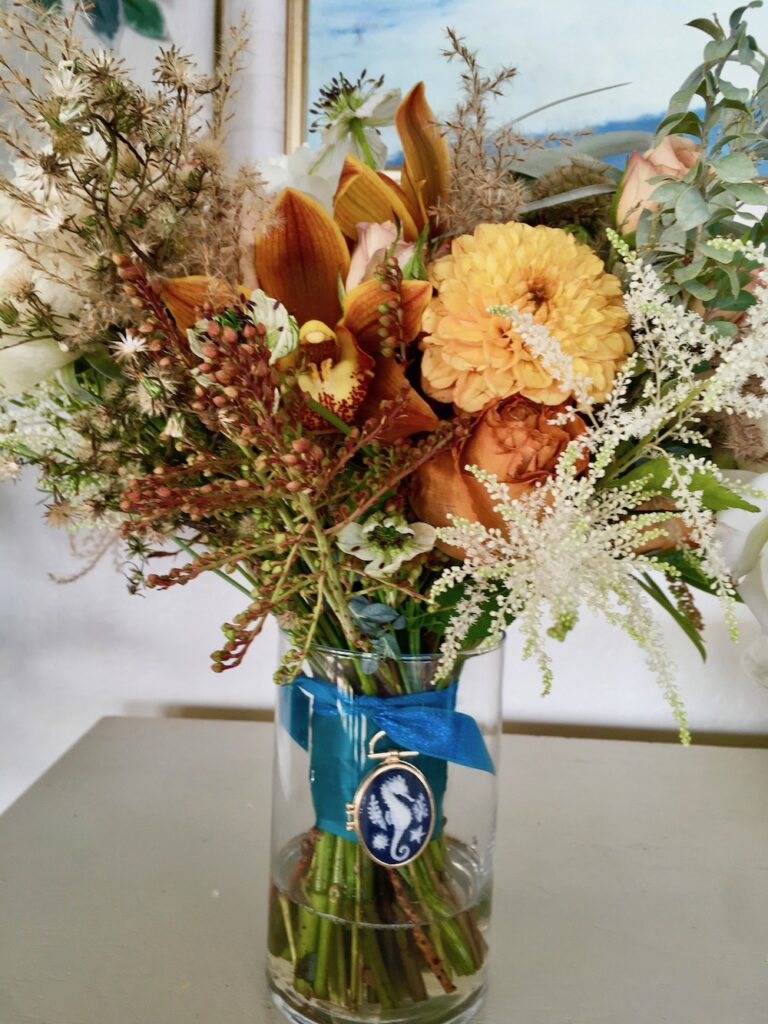 Hannah had requested a loose, effortless, feminine style, and florist Janelle Jacky-Litt "delivered" with an unexpected combination of rust-colored orchids and roses, astilbe, grasses and even air plant in the bouquet, all finished with a teal wrap around the stems as a little peek preview to the couple's favorite color as the star of their decor.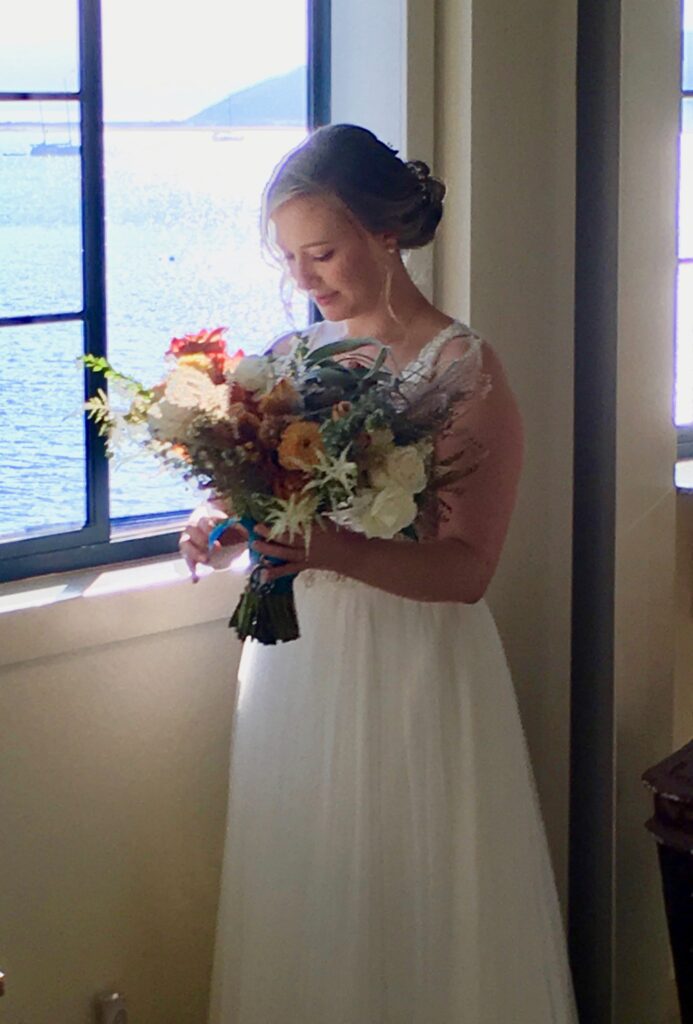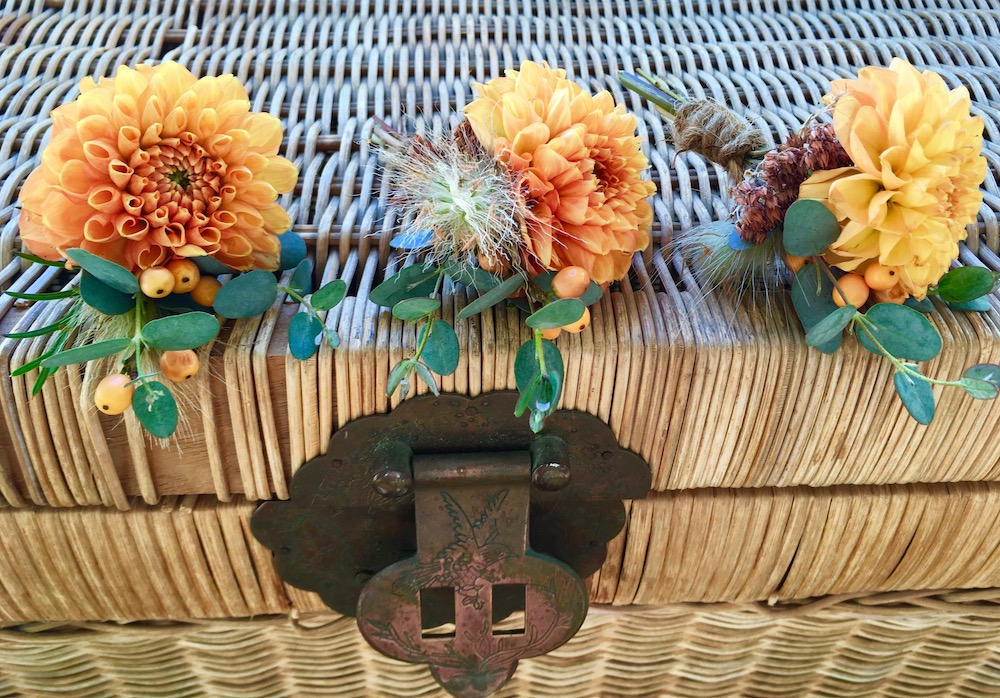 The groom and groomsmen got matching boutonnieres – just as pretty (only a lot smaller…).
Ready for their "First Look" – always a very emotional moment…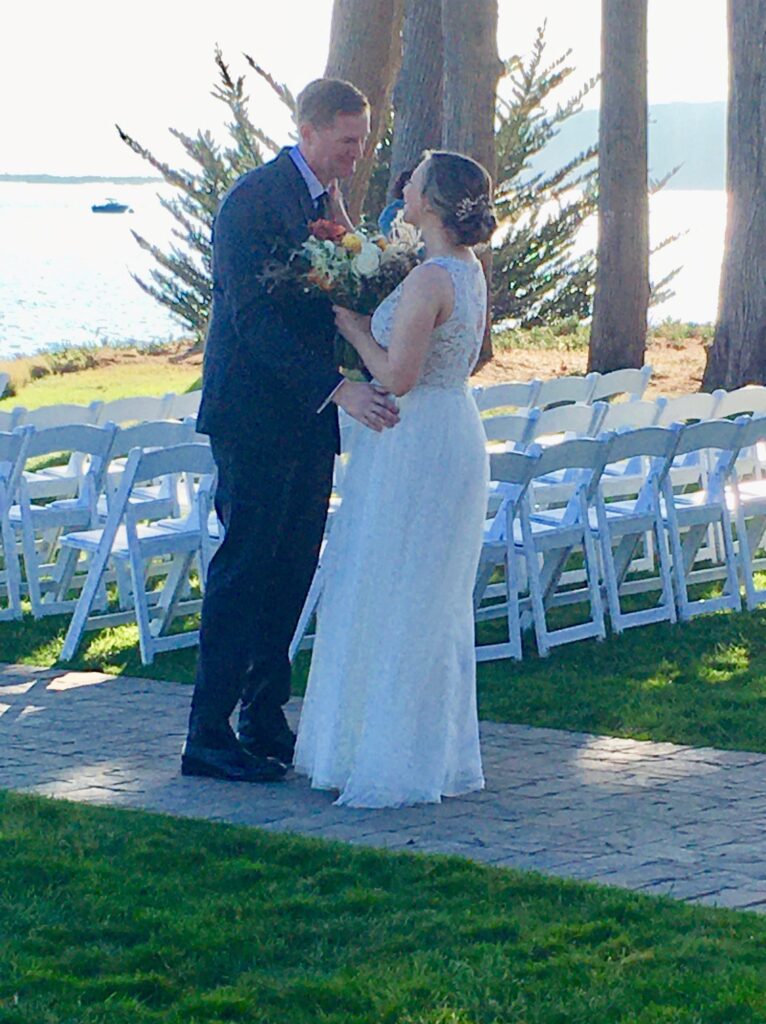 The wooden ceremony arch (with its spectacular backdrop of endless views over the Pacific) was decorated in similar style with large sprays of Fall flowers.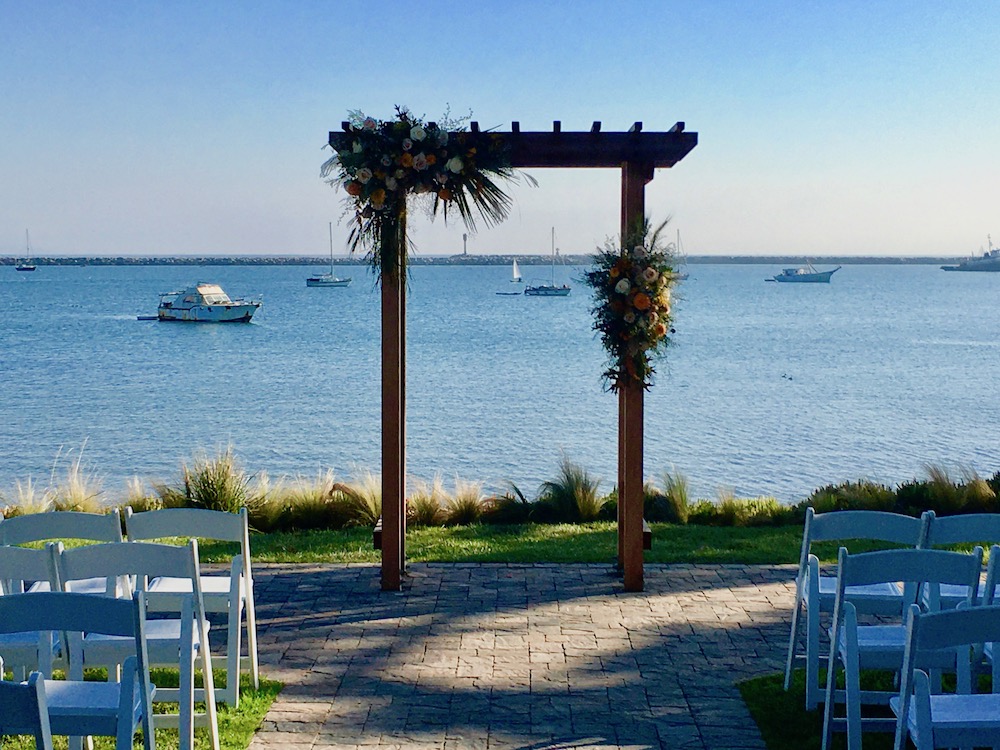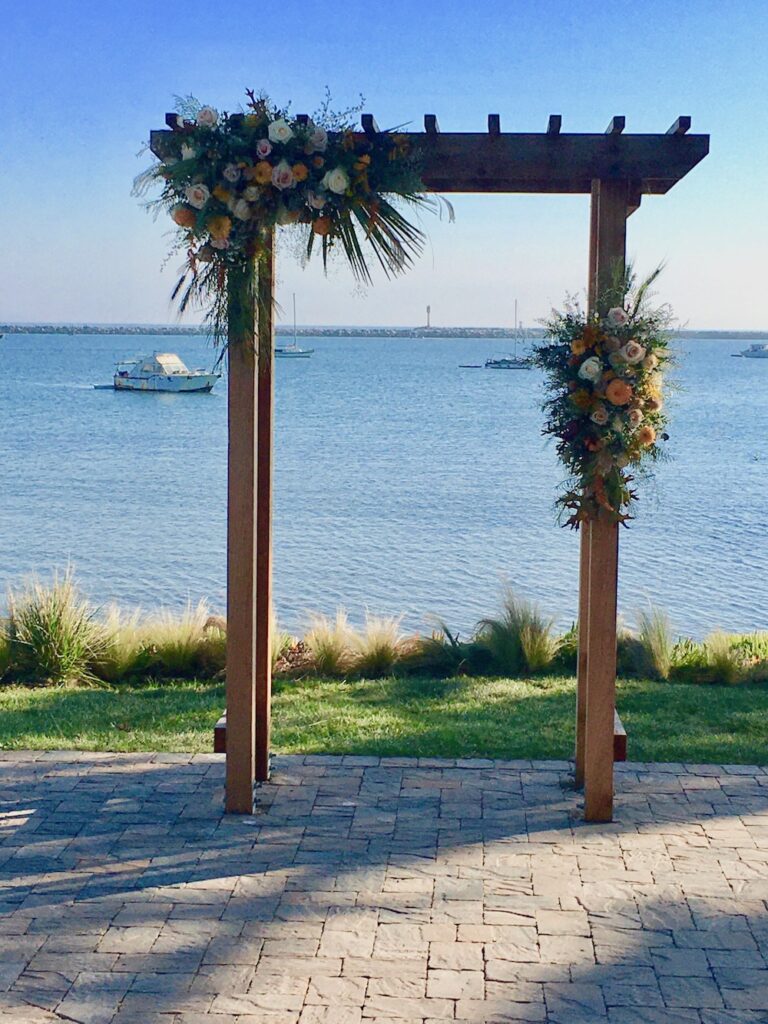 The ceremony was officiated by a family member who found the most personal words – half fun, half gravitas – for Hannah and Matt, while their favorite music was played by DJ Ron Israel of Spotlight Occasions.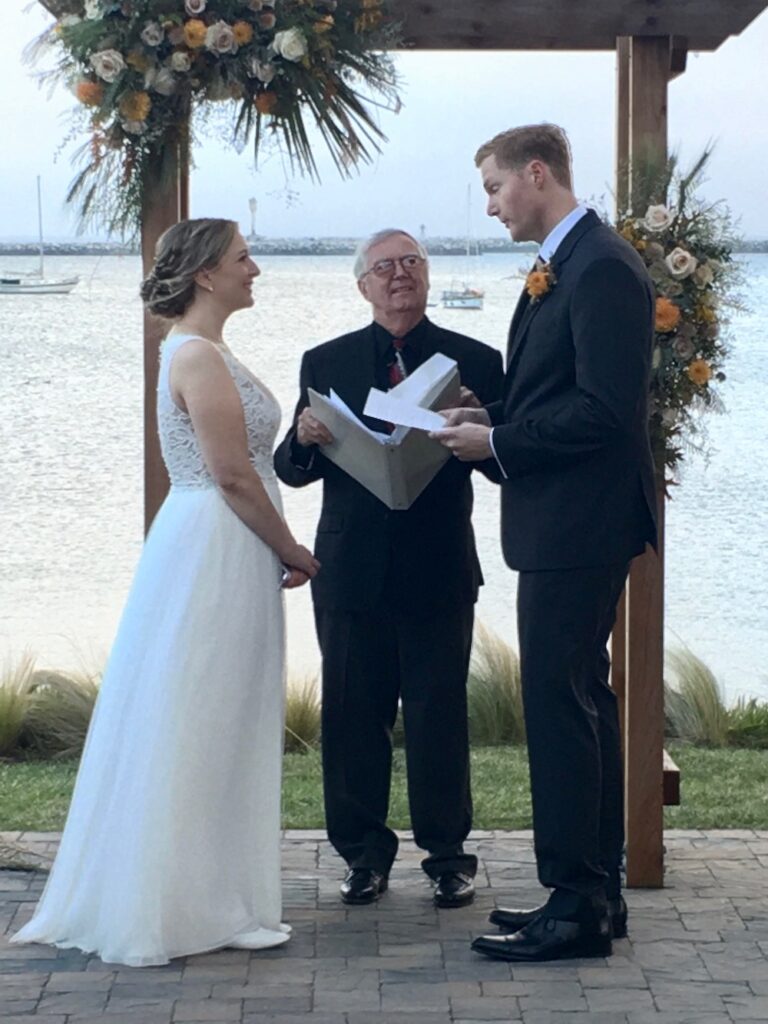 While the couple was taking many, many photos with photographer Frank J. Lee (wait until you see HIS photos! So far all we have are my cellphone snapshots…), guests flocked to the Cocktail patio and the fire tables and heat lamps as the sun began to disappear and it was getting quite chilly.
The Mavericks team under leadership of Lisa Graye, florist Kelly of Green Petal Designs, and my assistant Melinda and I were busy putting finishing touches on the dining room decor.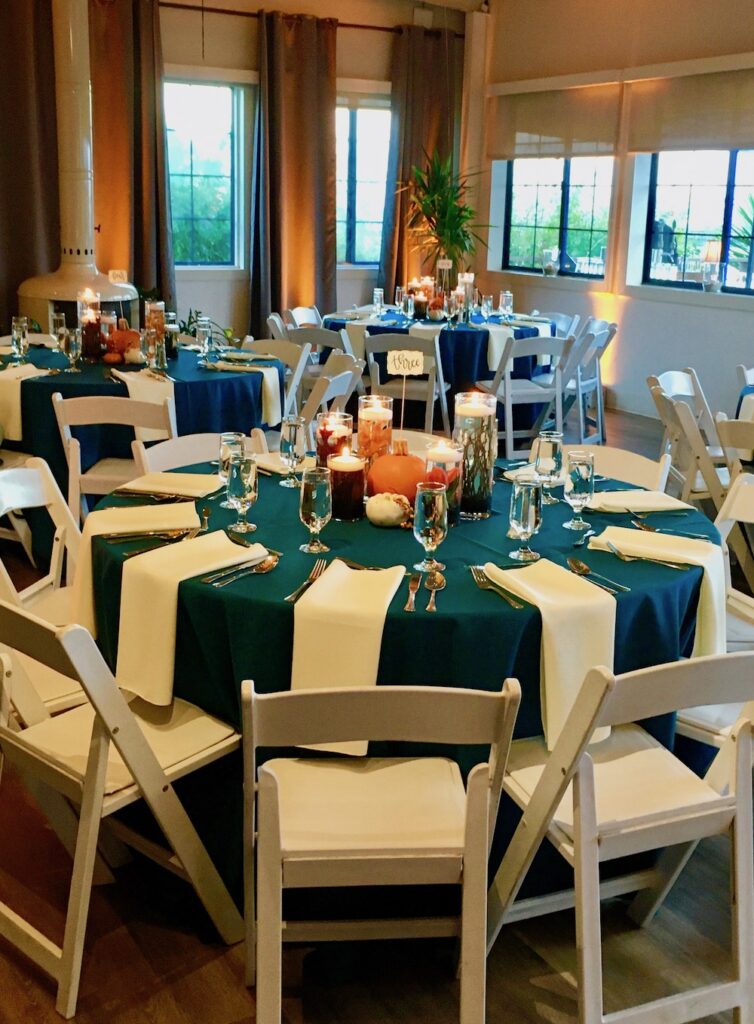 The couple had chosen their favorite color, teal, for table cloths, a perfect complement to the colors of the sea outside and the muted blues and greys of the venue; and Fall colors in hues of rust and orange with lots of candlelight for their table decor – a beautiful combination.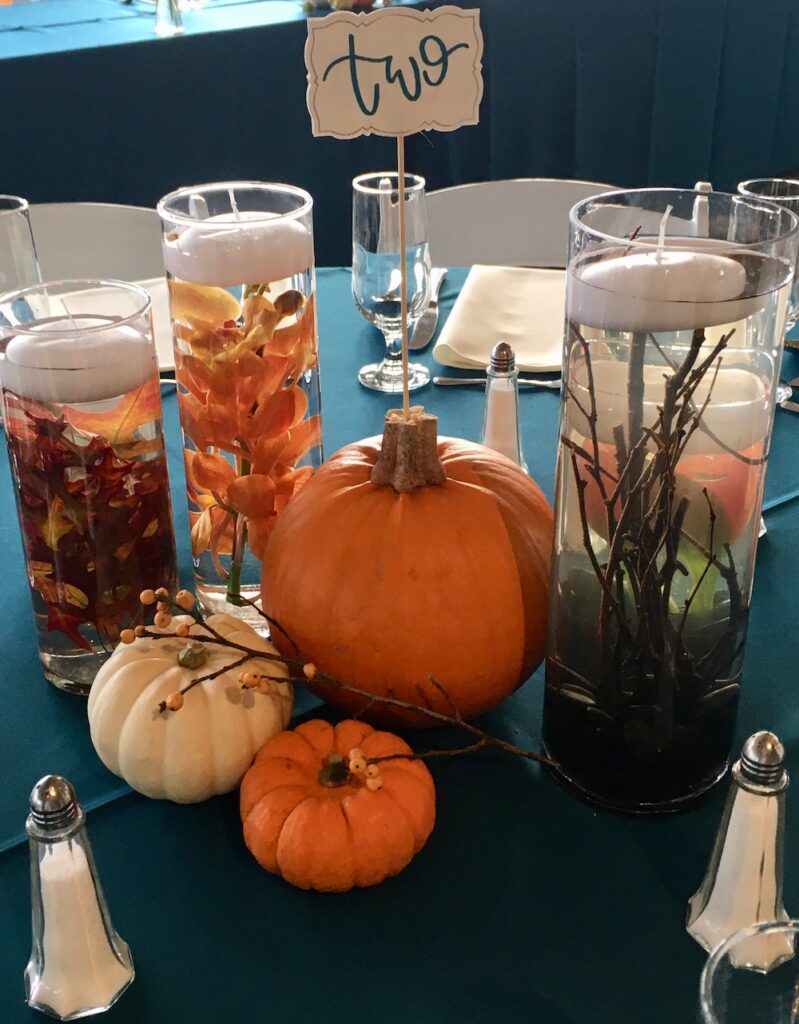 Seasonal pumpkins played table card holder…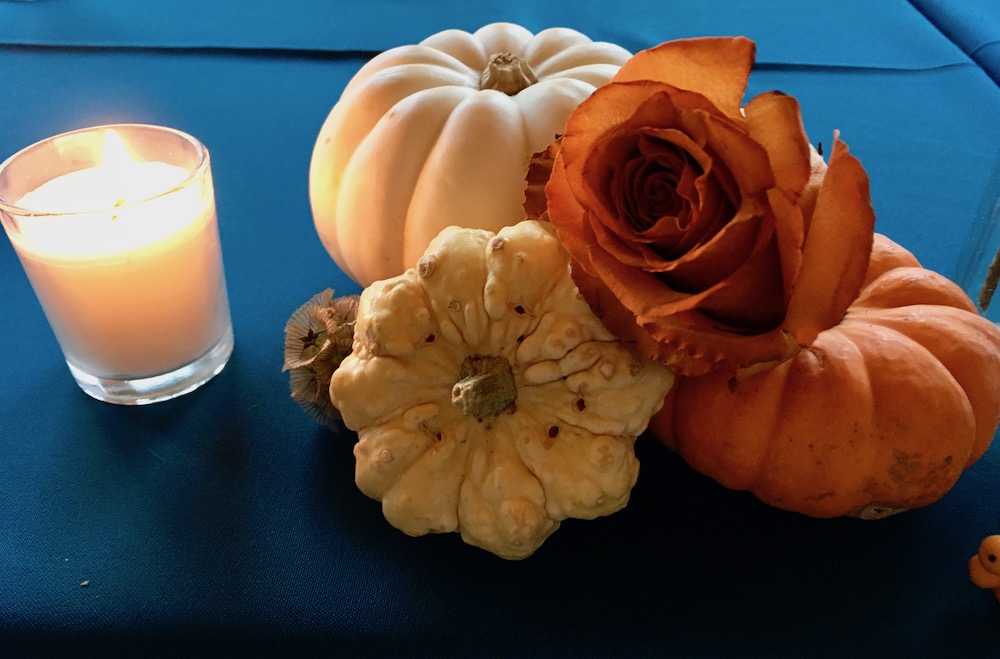 … and gourds and mini pumpkins "rubbed shoulders" with exquisite roses and rustic leaves, grasses and thistles.
The couple's delicious all-vegan wedding cake (by Christian Roeder of Krumbs Cakes) played along with textural details… and unexpected flowers!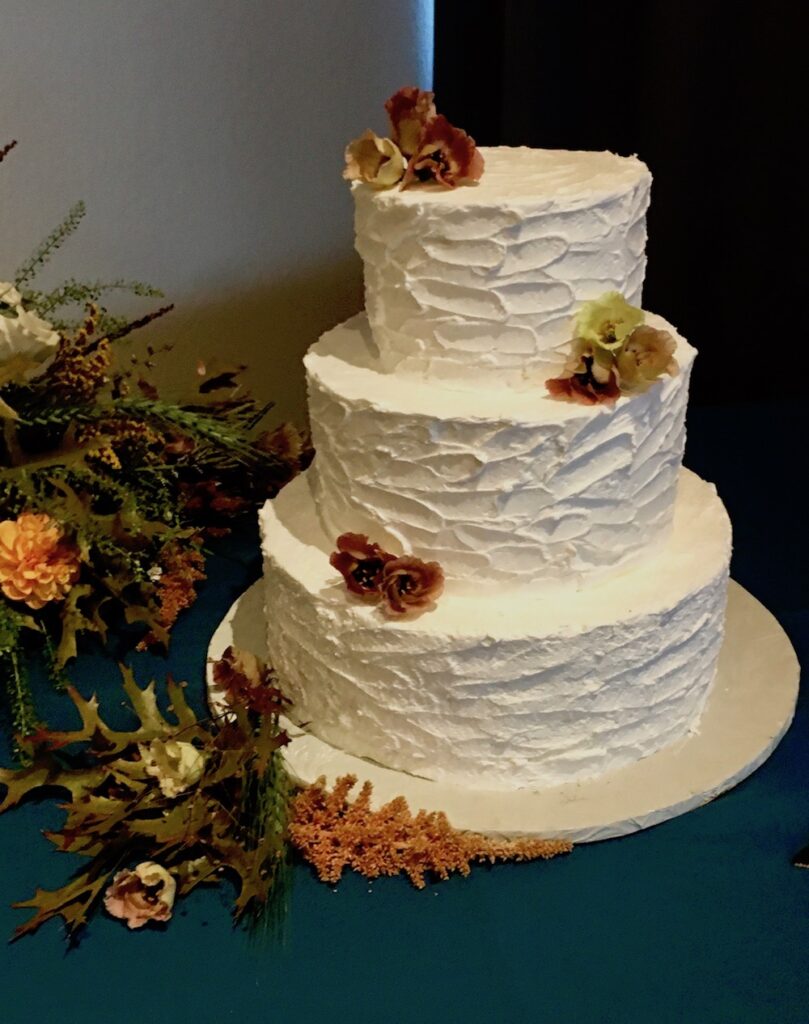 The couple's First Dance opened the dance floor…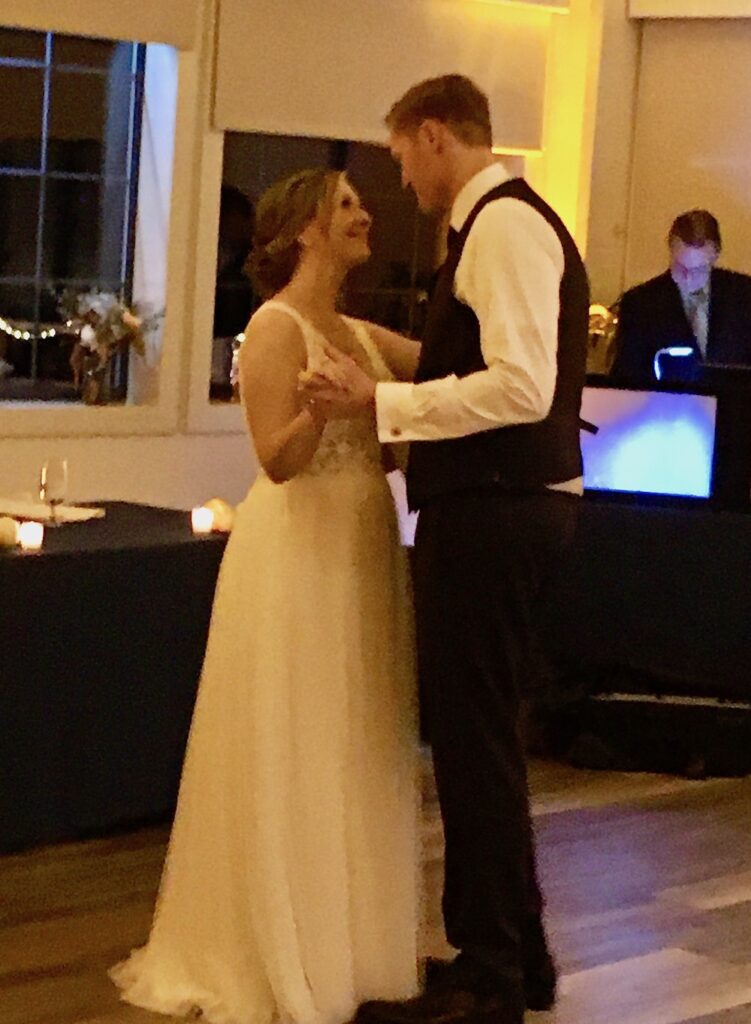 … and DJ Ron kept the joyful, upbeat vibe going for the late-night revelers.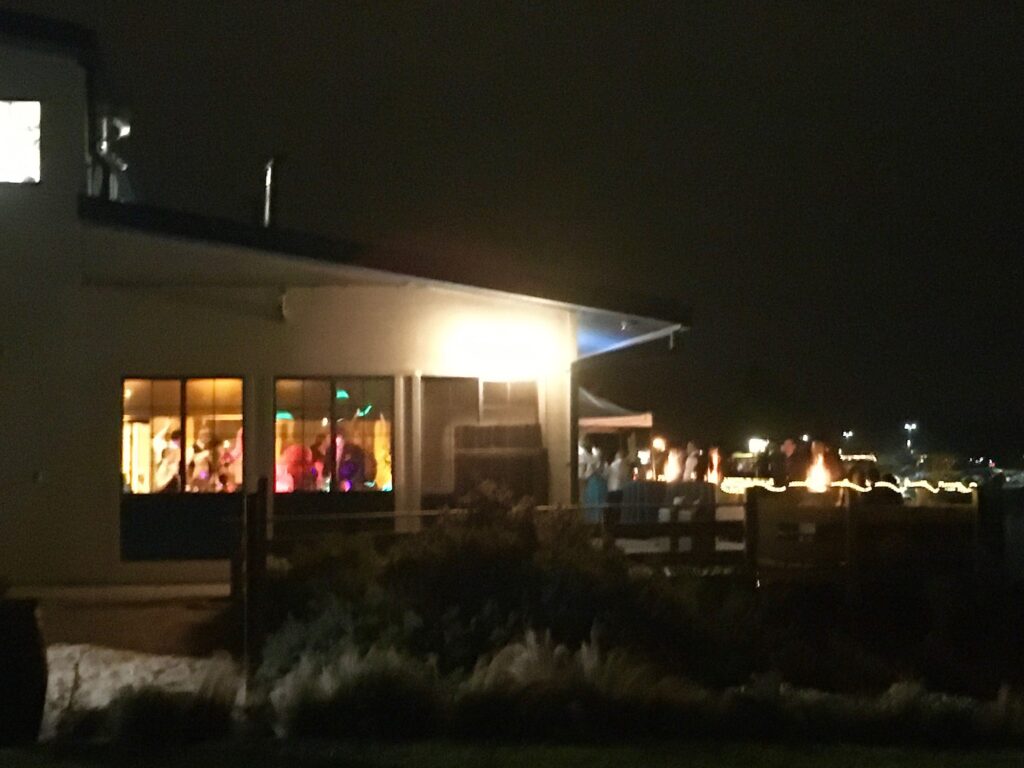 The newlyweds were headed to their "mini moon" (to be followed by their "real" honeymoon later), and guests were shuttled back to their hotels in style (by Le Grande Affaire Transportation).

What a party! Wishing Hannah and Matt a lifetime of happiness!

<! DL 06/02/12: Added html code for Pinterest Pin It button (appears at the end of each post) > <! DL 06/02/12: Added padding style modifier to the Pinterest html code to align the Pit It button on the page > <! DL 06/02/12: deactivated code by adding two ! in the a and img code lines >