Lately, I had to travel to the San Francisco Bay Area for work and needed a hotel to stay. Someone recommended Canyon Ranch in Woodside, and to my great embarrassment, I had not heard of it before despite the fact that I had lived close by for fourteen years. I decided to give it a try – and I am so happy that I did!
Canyon Ranch is different from any hotel I have known so far – it is actually a wellness retreat, geared at the relaxation of body and mind. Hidden behind a dark, solid metal gate, you would never guess what's beyond: a true oasis of peace and tranquillity with all the creature comforts you can imagine.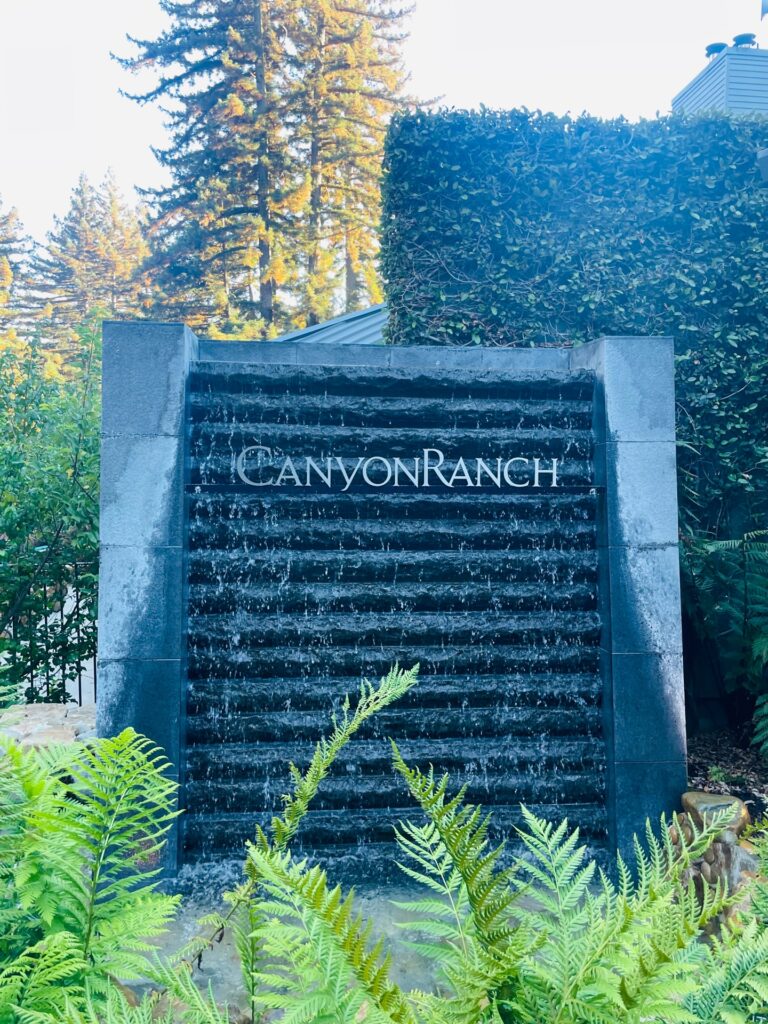 The entrance to the hotel already sets the tone: a grey, three-story siding-clad building that literally melds into the surrounding Redwood Forest, respectful to undisturbed nature; a modern, streamlined water feature displaying the hotel name, accompanied by the gentle sounds of splashing water – nothing fancy or frilly that might distract from the simplicity and tranquillity that is the guiding principle of this experience.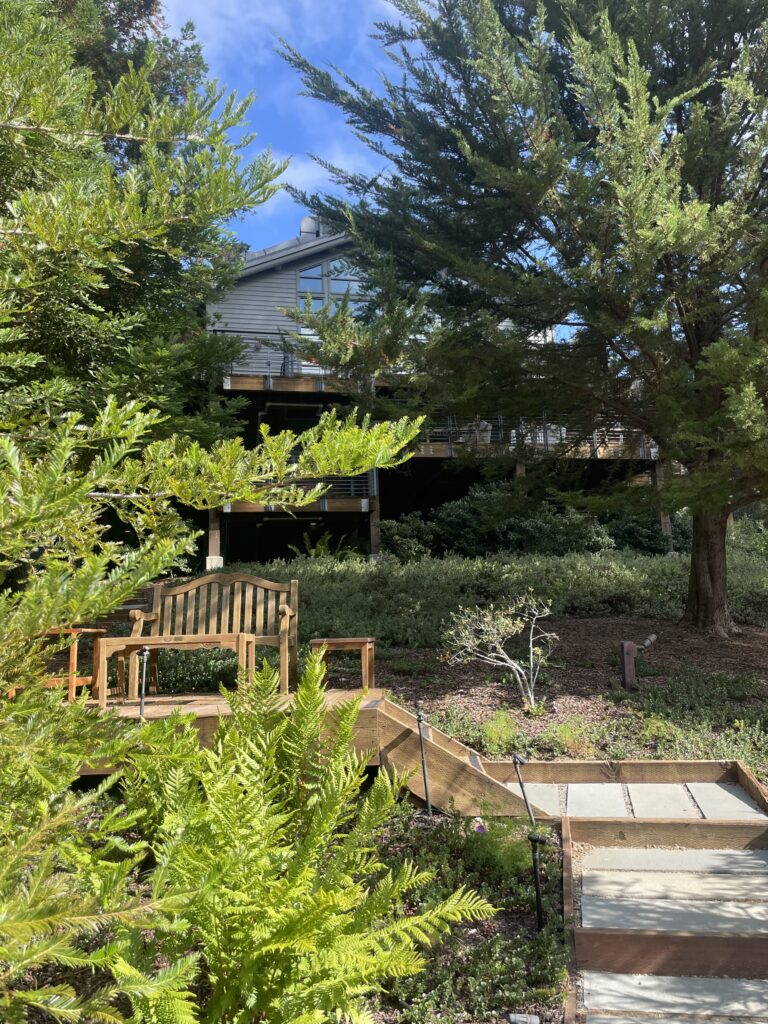 My room was located in one of several "tree houses" – small cabin-like structures built right into the forest, some clinging to a steep incline, supported by stilts (like mine) which house two units on top of each other and balconies hovering among the tree tops.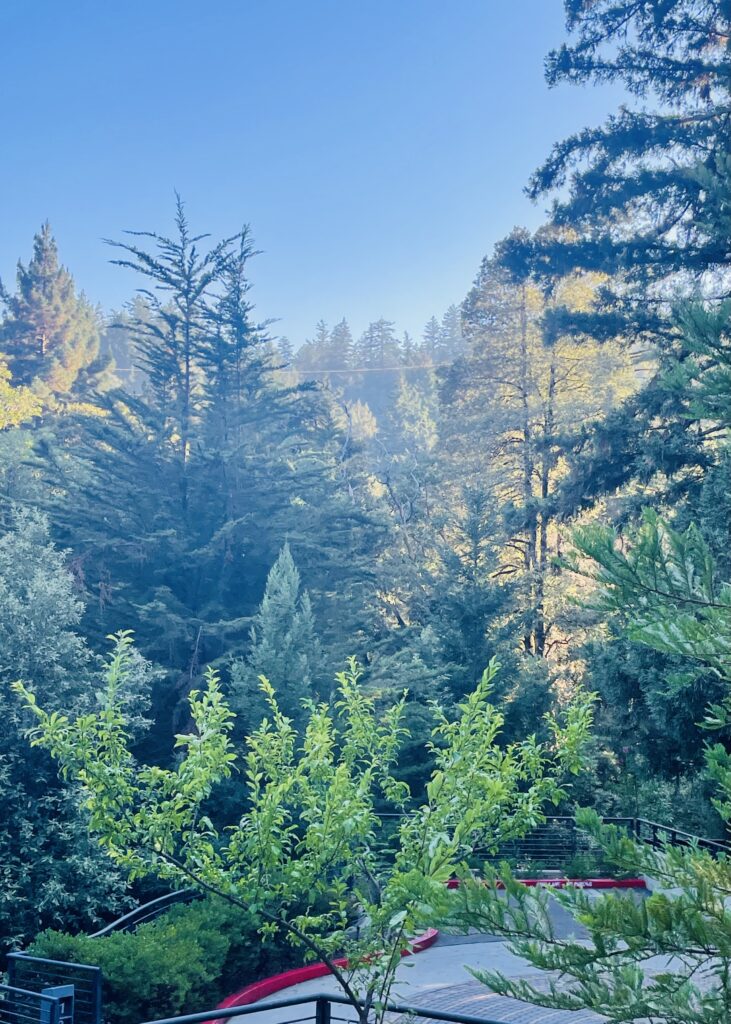 You really feel you are in a tree house. All you hear is birdsong and the rustling of the wind in the leaves. Peace and quiet.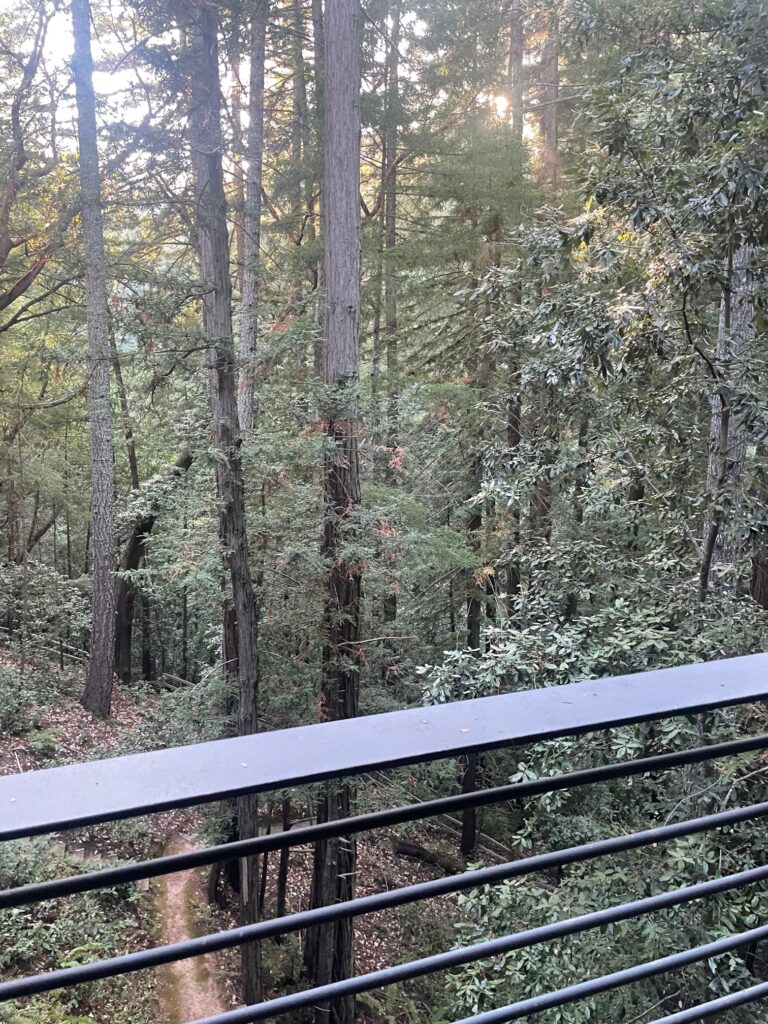 My room itself was an interior design marvel illustrating just that – peace and quiet. Simple shapes, balanced proportions, quiet colors and top-notch materials: all came together to form the perfect cocoon to calm down and relax.
As a designer myself, I was delighted. Every little detail was – just right. A joy for the eye as much as for the soul.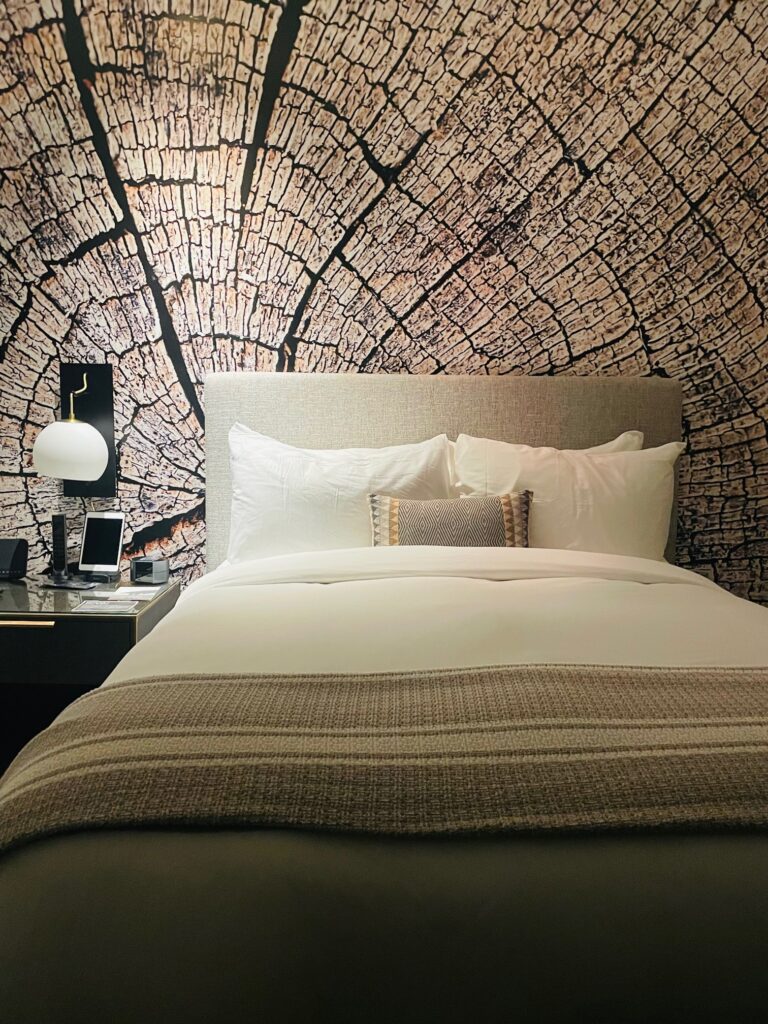 A backdrop of an enormously enlarged wood slice, a comfy bed with down pillows, bedding of all natural materials, a dimmable bedside lamp, a juxtaposition of textures (stingray skin and glass top on the bedside table!) – I could go on and on. I also had a beautiful leather sofa with a cuddly sheepskin cushion – again, clean lines, great comfort and a contrast of textures. The same for my bathroom with a big soaking tub, modern, minimalist fixtures and oh-so-fragrant toiletries…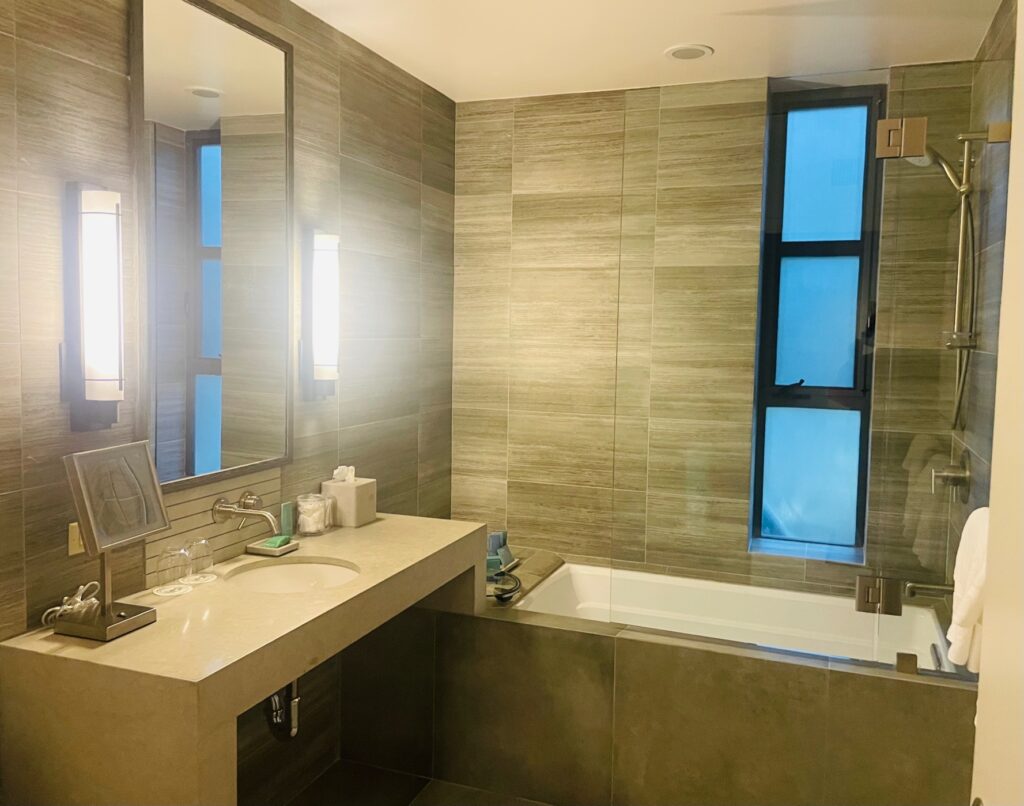 In the words of Apple founder Steve Jobs: "Simplicity is the utmost sophistication."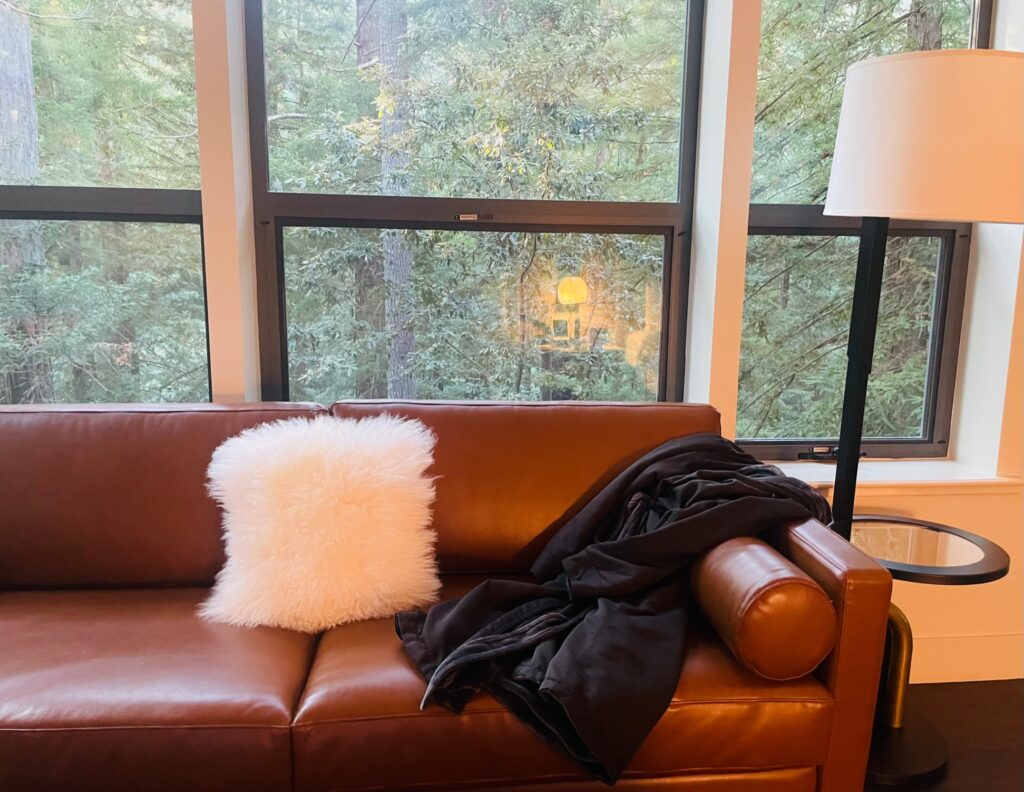 Wrapped up in the most comfortable and soft hotel robe, I did my work lounging with a view of the forest. It was as close to the full retreat experience as I could get!
Then it was dinnertime. Did I already mention that all meals are included? So easy – a short walk to the dining room and terrace in the golden light of the sunset…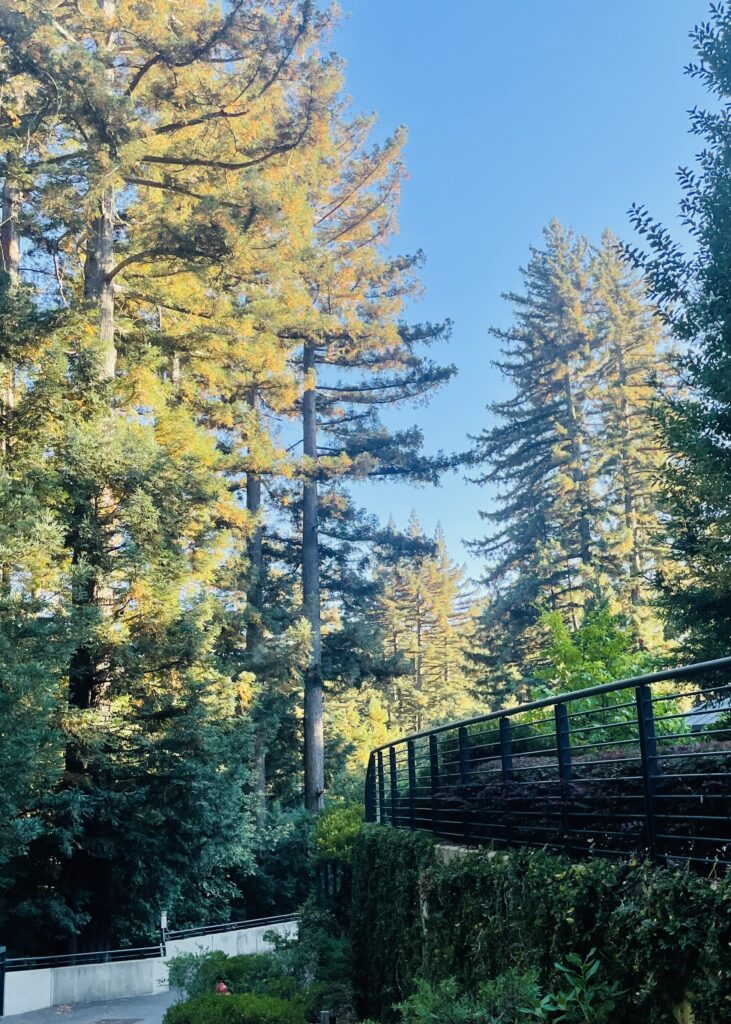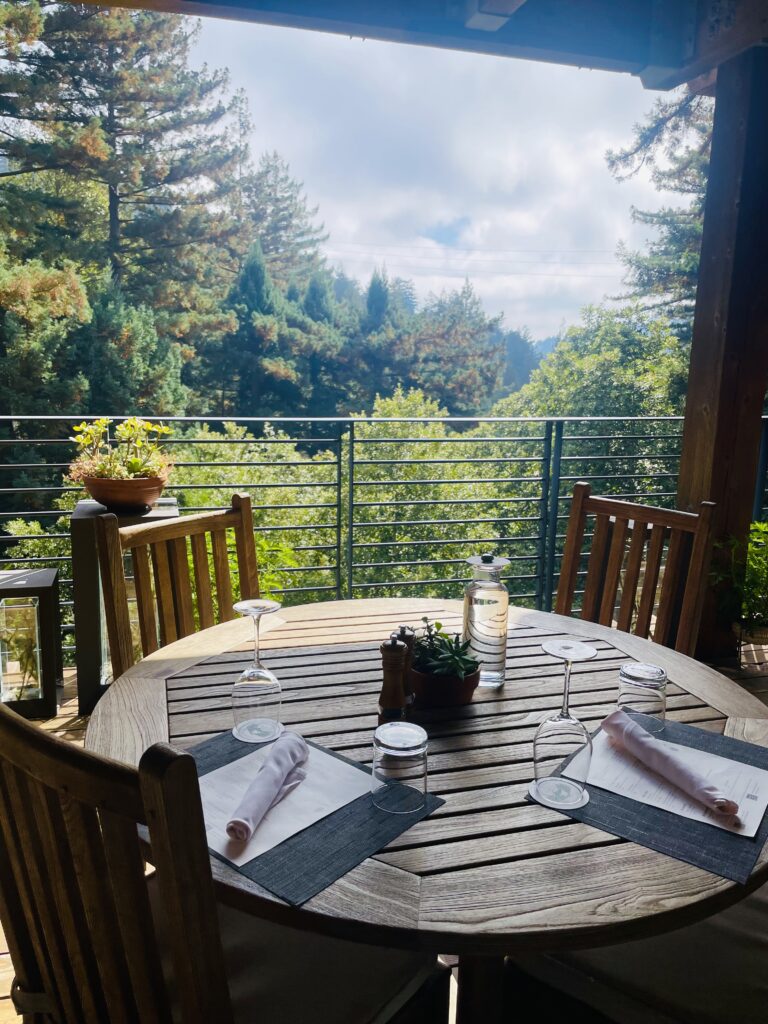 Meals are served either on the terrace or in the adjacent dining room; either at a table or while sitting around a fire table (in this case, you'll dine from a wooden tray on your knees – they've thought of everything!) – whatever you feel like. And while I am on a continuous strict diet, I had to relent while at Canyon Ranch: their food is just heavenly, and it would have been a sin not to enjoy it! Food is a big part of the "feel good" experience, and mealtime brings together the guests for leisurely conversation.
A few delicious examples: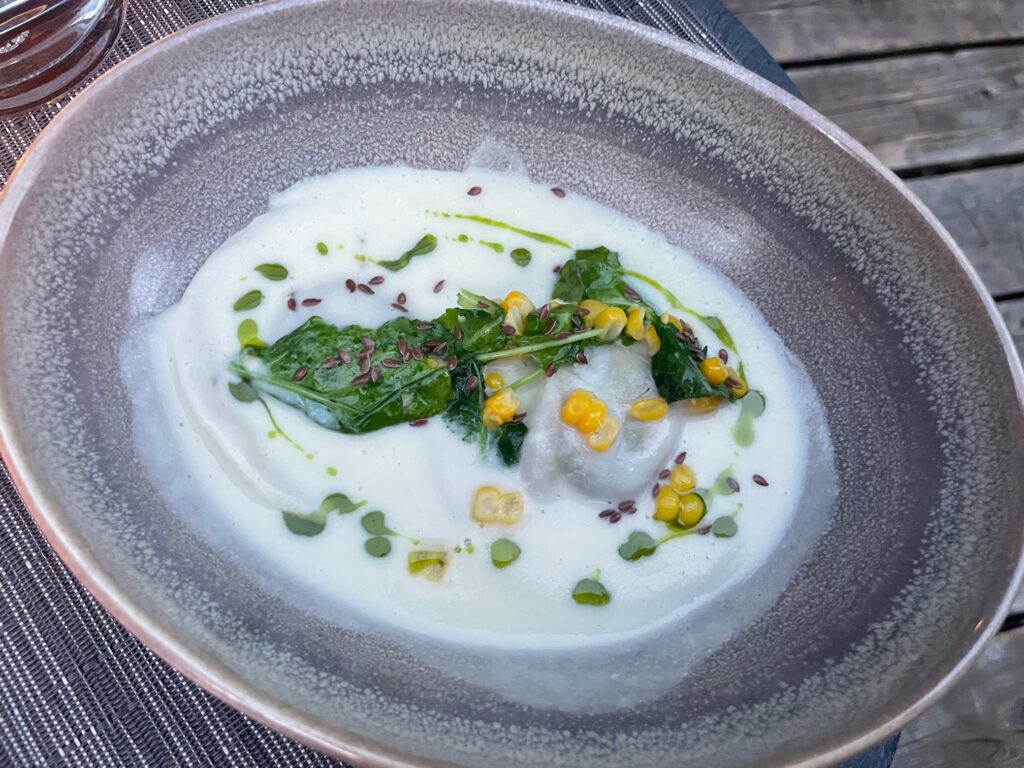 Corn ravioli in an artistic presentation…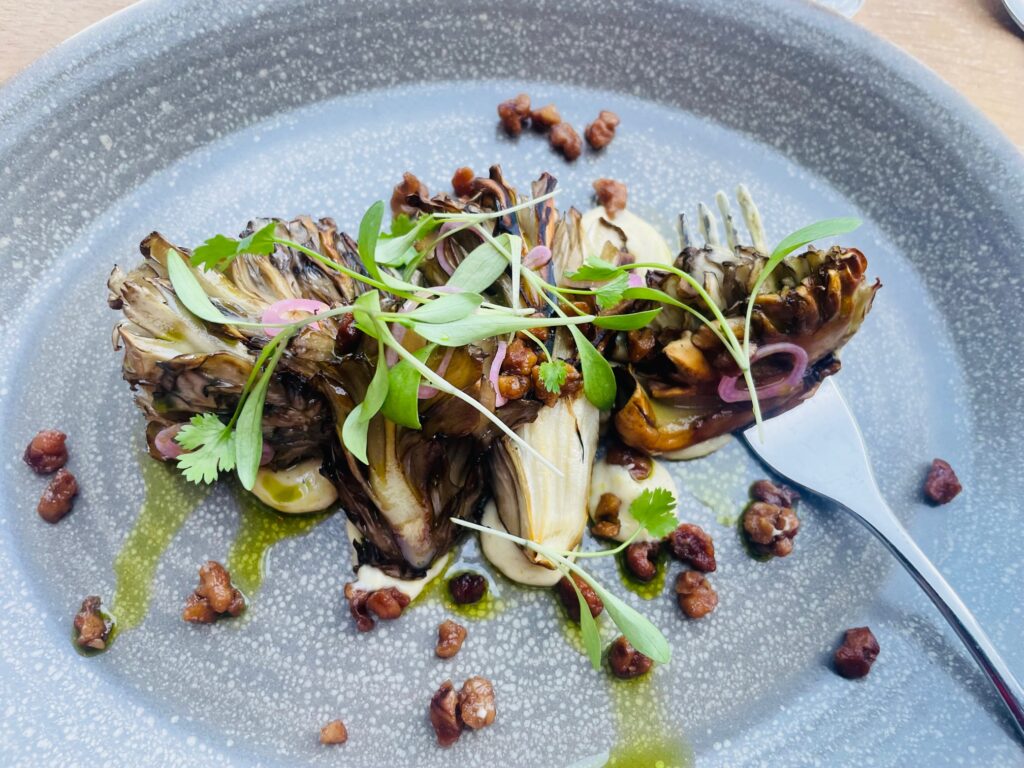 Maitake mushrooms with greens and nuts…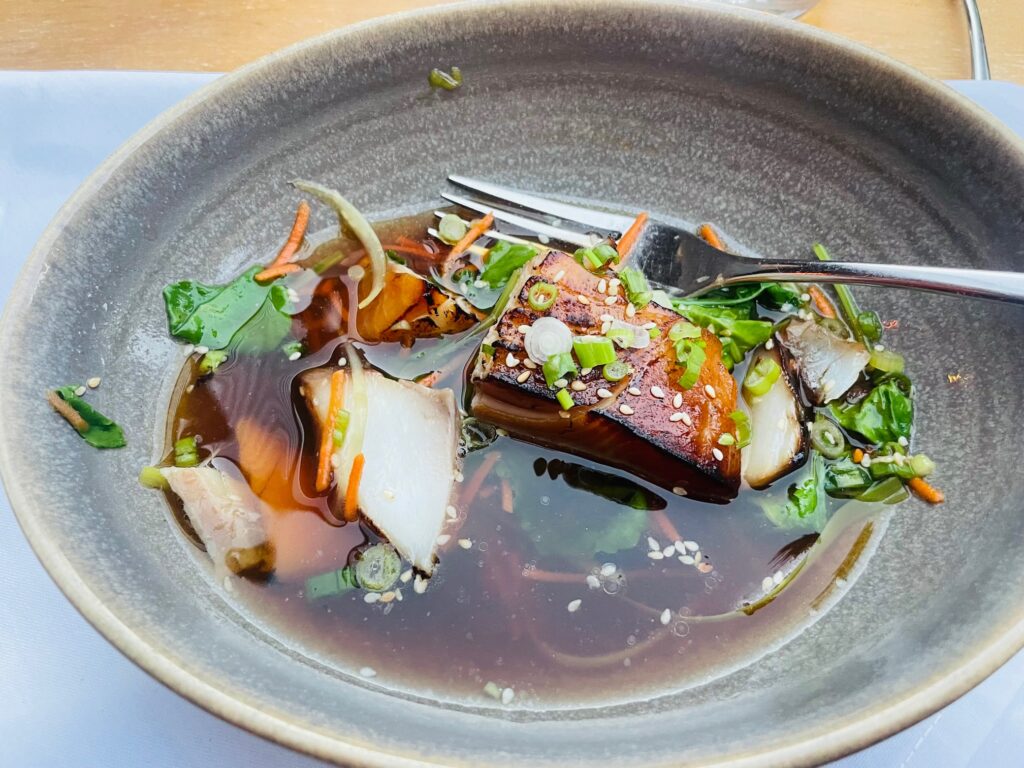 … everything served in beautiful ceramic bowls in the soothing soft shades of grey that dominate the whole property. Talk of design!!
Next morning, my breakfast was just as fantastic…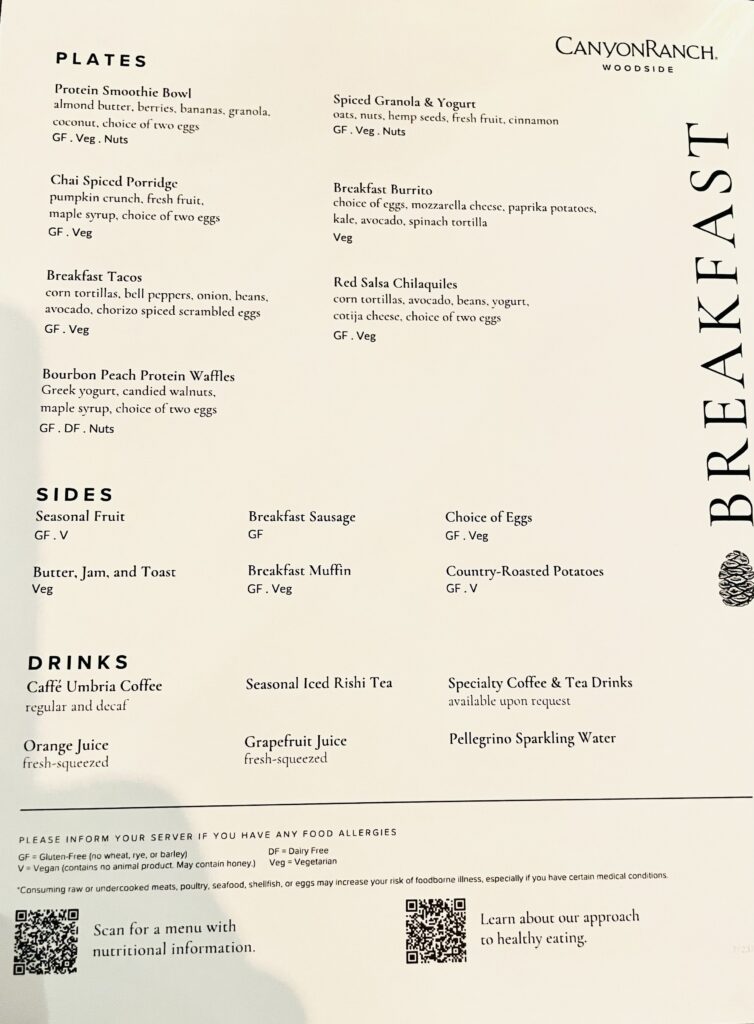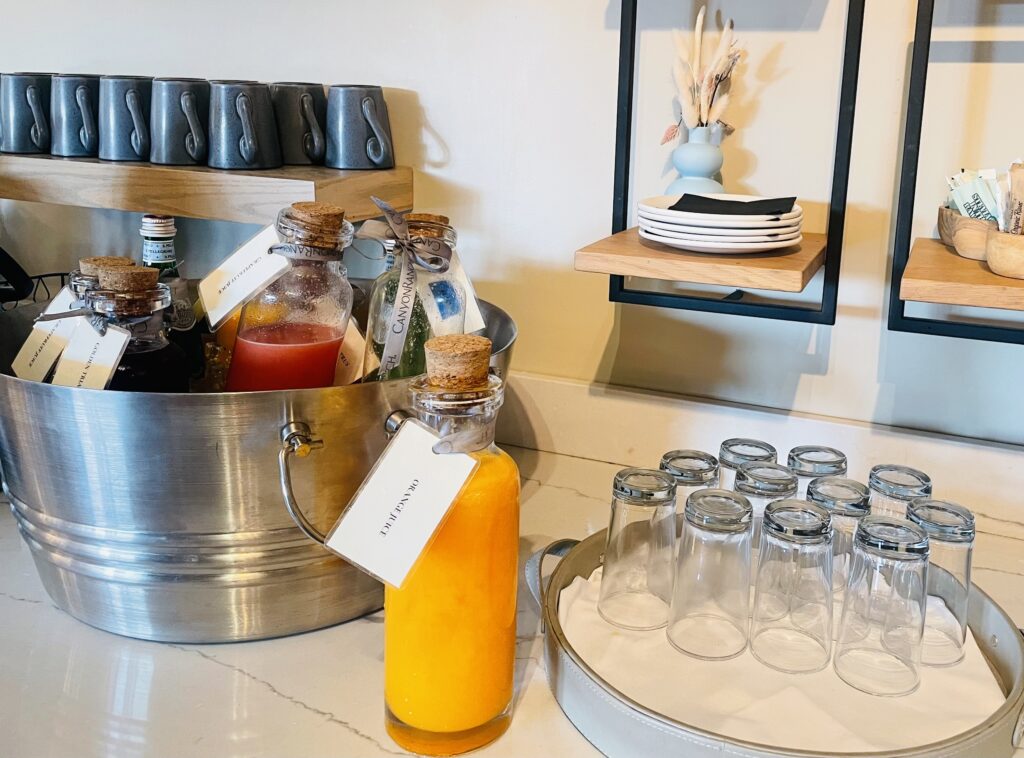 I chose the freshly pressed orange juice (best juice I ever had!), coffee and blueberry pancakes…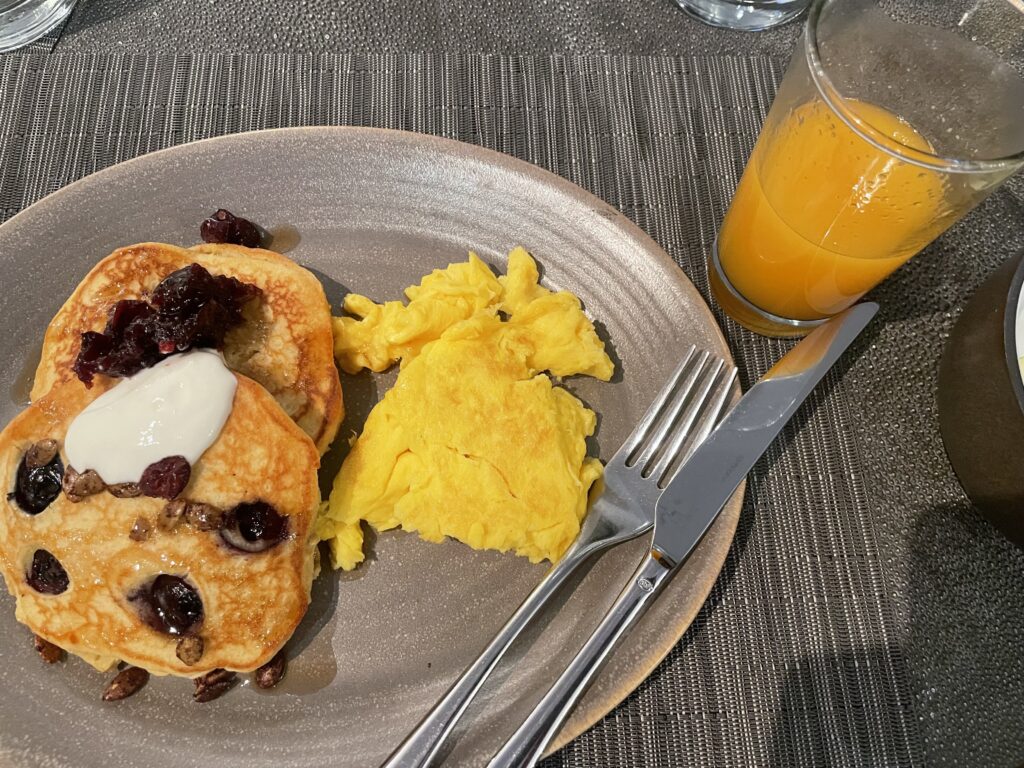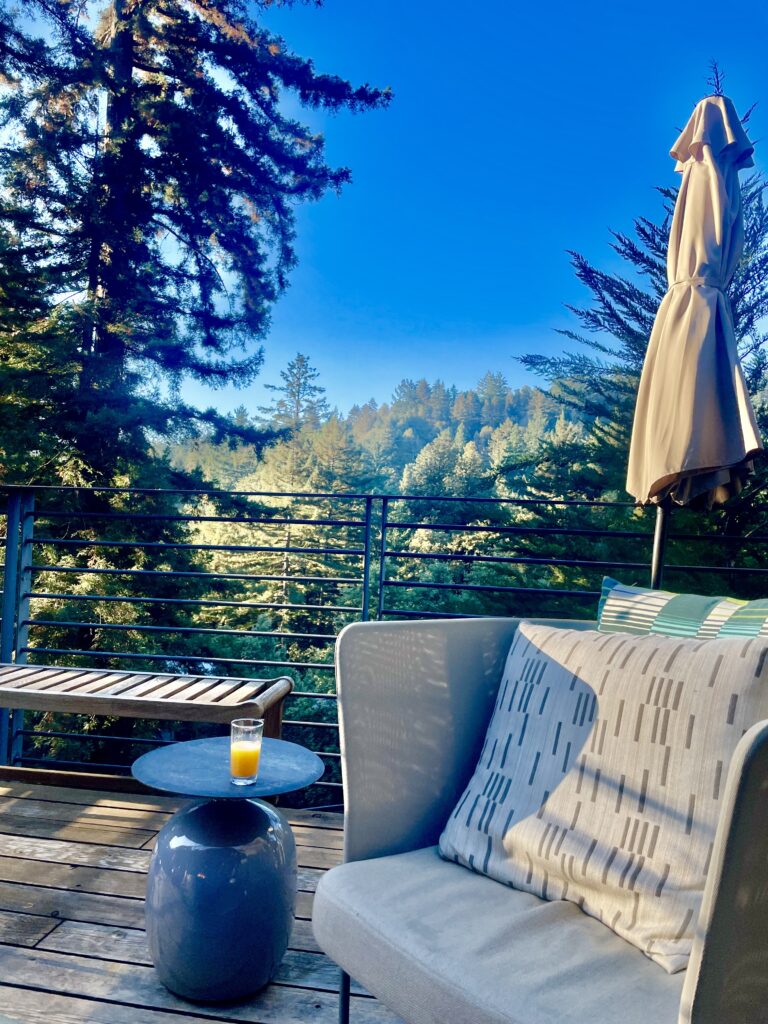 … outside on the patio, with a glorious view. What a way to start the day! The other guests (the ones who did not have to work!) went off to nature hikes, yoga and massages or headed to the state-of-the-art gym. I allowed myself 30 minutes of hard swim in the spectacular pool – after all, I had to work off all those delicious calories, right?!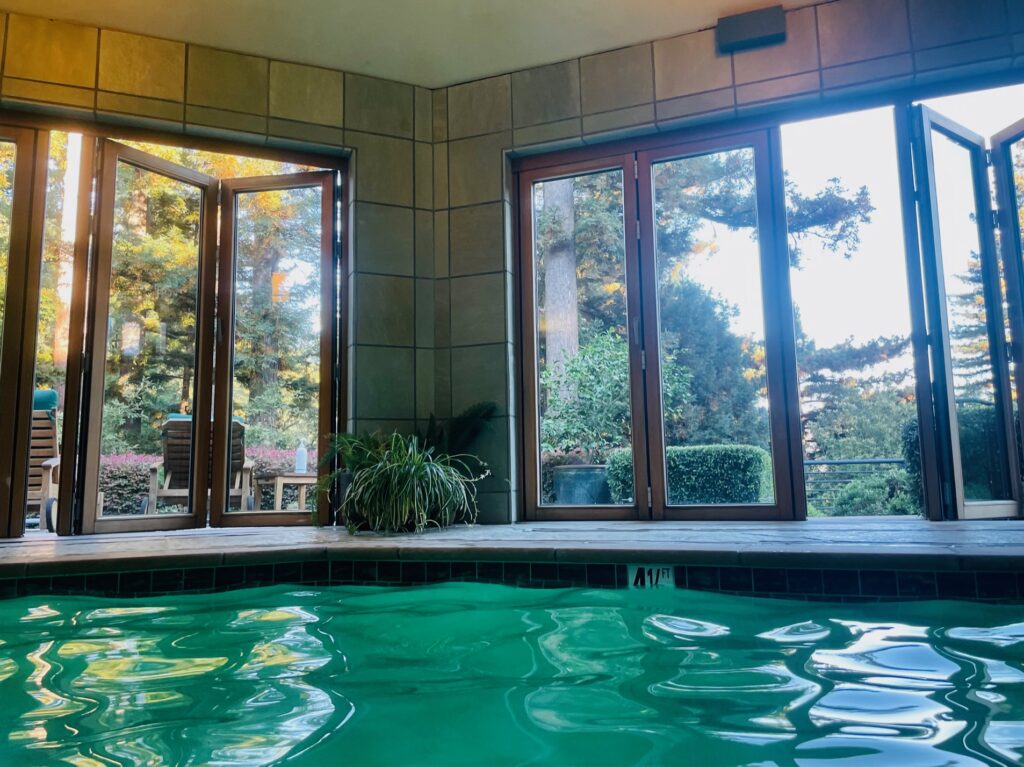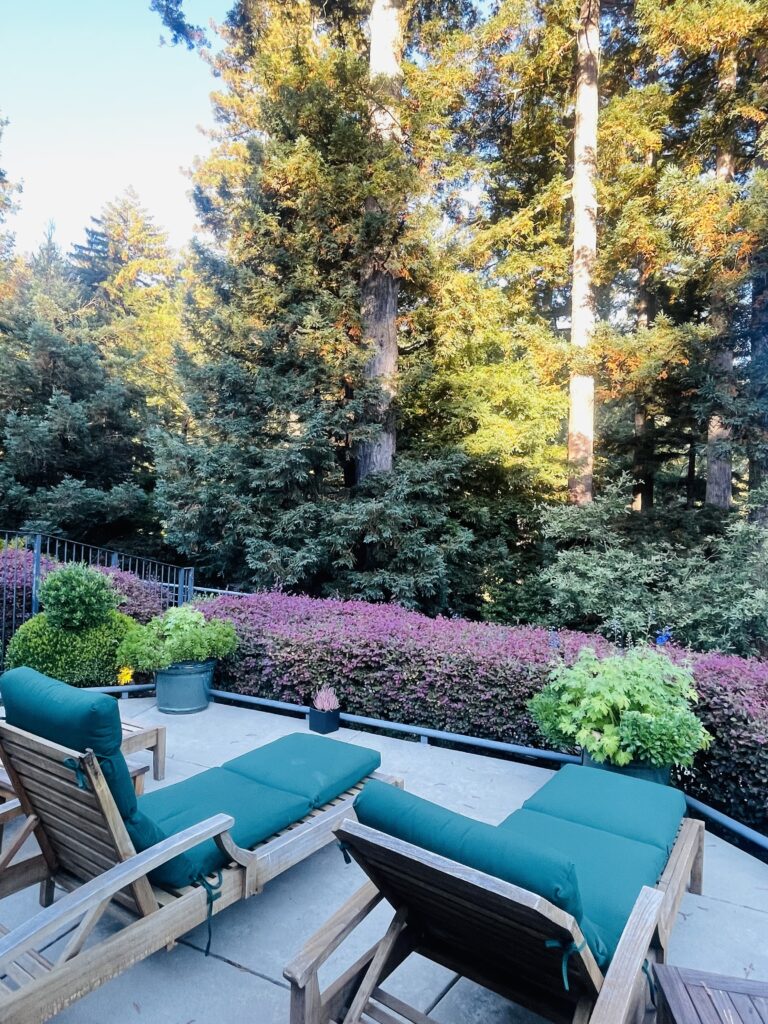 In short – I loved it. I will definitely be back – but in addition, this would be a fantastic location for an intimate wedding, a quiet bachelorette party, a "Mini Moon," a spa day (and night) for bride and bridesmaids, and a wonderful place for wedding guests to stay. With 43 guest rooms, Canyon Ranch can definitely accommodate enough out-of-town guests and the newlyweds themselves – with regenerating activities for everyone. Meditation, yoga, painting, fitness, kayaking, Tai Chi, Ikebana – guests will be entertained and at the same time achieve perfect relaxation. There are patios with views of the forest which would be the perfect spot to say "I Do" in an unforgettable setting. The food would be equally spectacular. There would be a wedding cake and dancing. What else could you desire…?
So now you understand why I am calling Canyon Ranch my personal discovery of the year. Do go and experience it yourselves. You will come back a believer, I guarantee it!