The first wedding of my 2022 wedding season was already a very special one – and I am so honored that my company, A Day Like No Other, was chosen to plan this truly life changing event. For both bride and groom, this was their second marriage – they have children, and they both had taken their time to overcome the heartbreak of their first attempt. Neither was interested in yet another "big affair" – they were both "over that." Instead, they were hoping for an intimate, deeply meaningful celebration with just their children, their closest friends and family members present – Nghi's parents and her son, Jim's sons. They had chosen a venue that embodies exactly this spirit; nothing flashy or glamorous. The venue of their choice was Elizabeth Gamble Garden, a small gem of a public park in the heart of Palo Alto, just large enough to accommodate their 50 guests, and already in bloom in early May with an abundance of rose varietals.
Nghi and her bridesmaids got ready onsite, in the historic Carriage House on the property.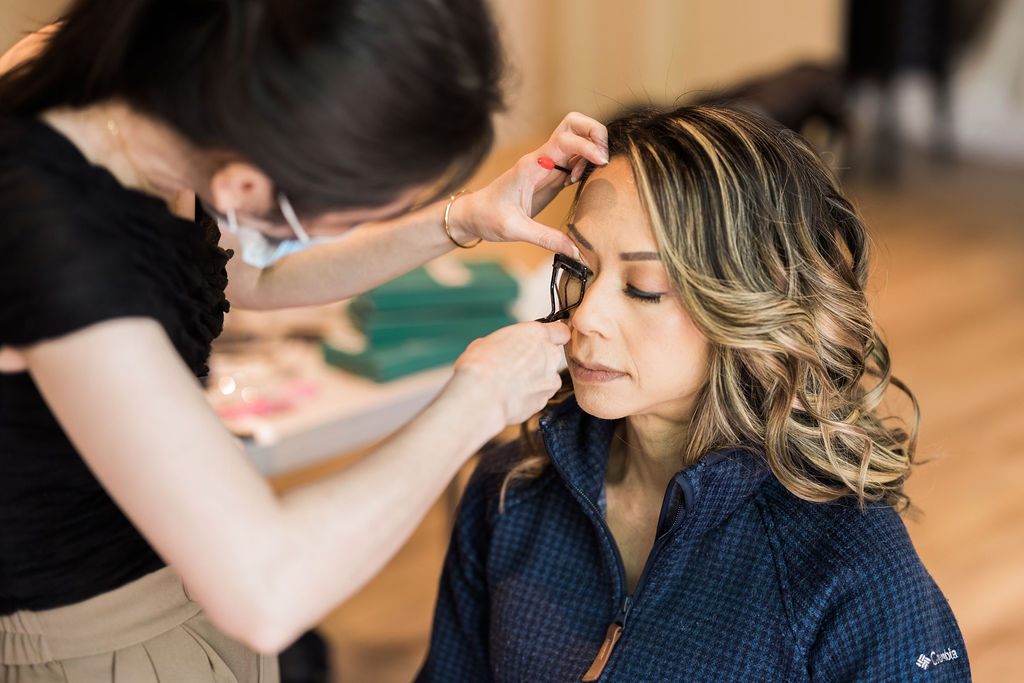 Under the experienced hands of makeup artist Nguyen Ha, the pretty bride was transformed into a drop-dead gorgeous beauty.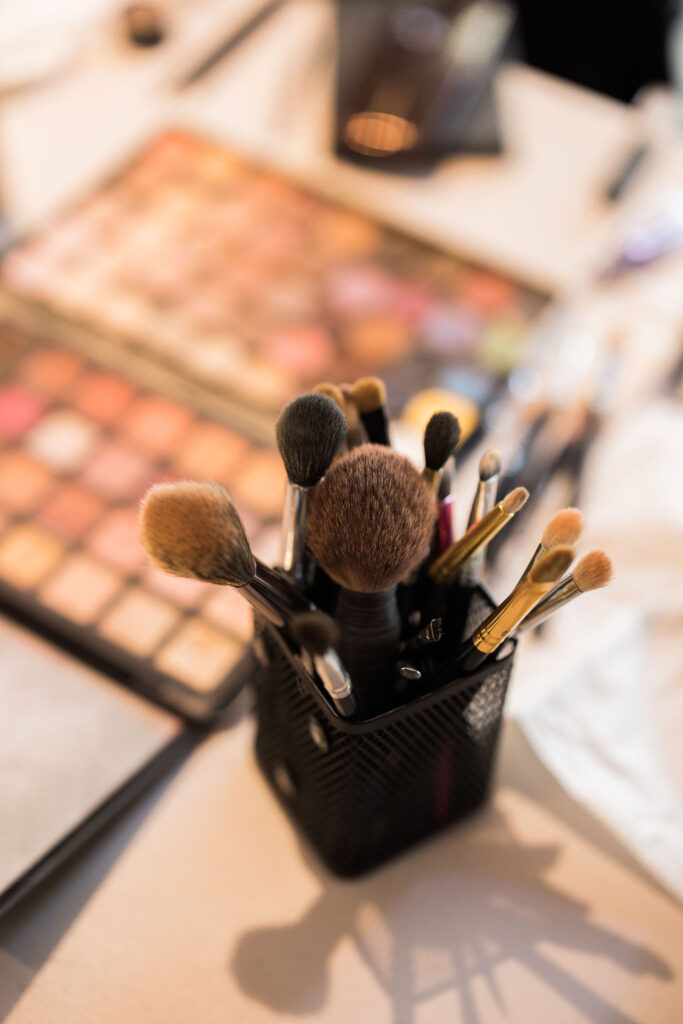 Nghi's two bridesmaids helped her to get into her form-fitting elegant dress …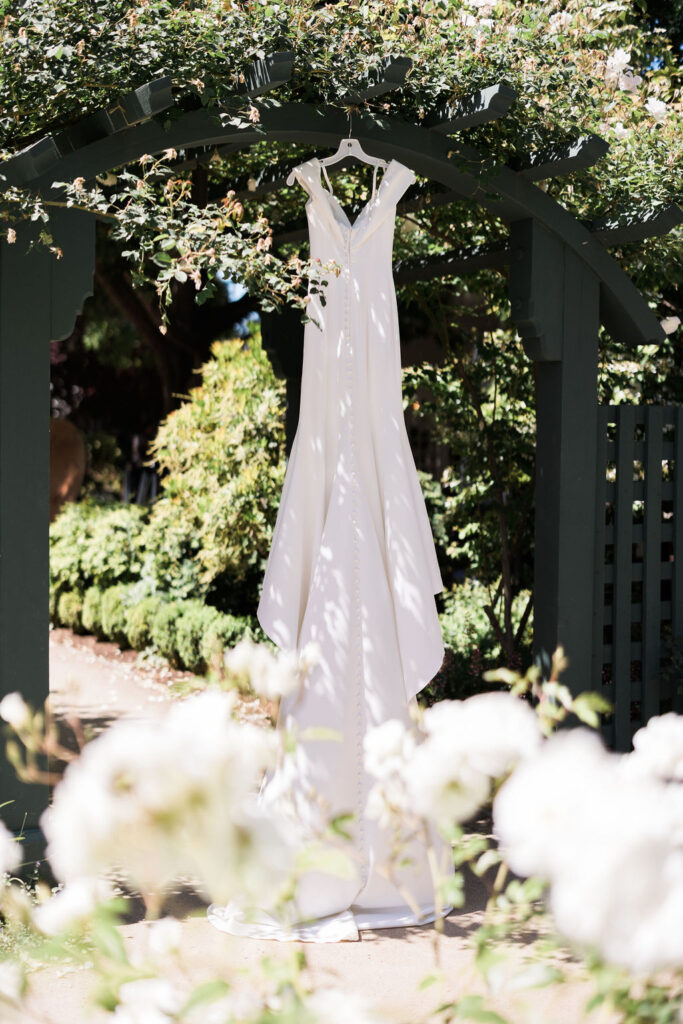 … with a dramatic train …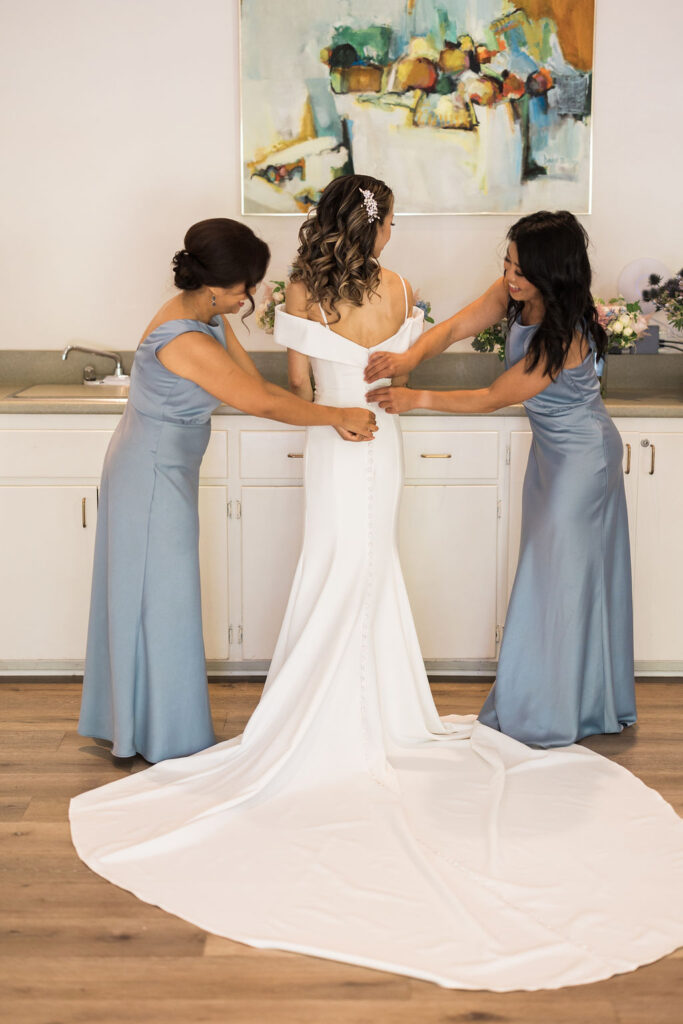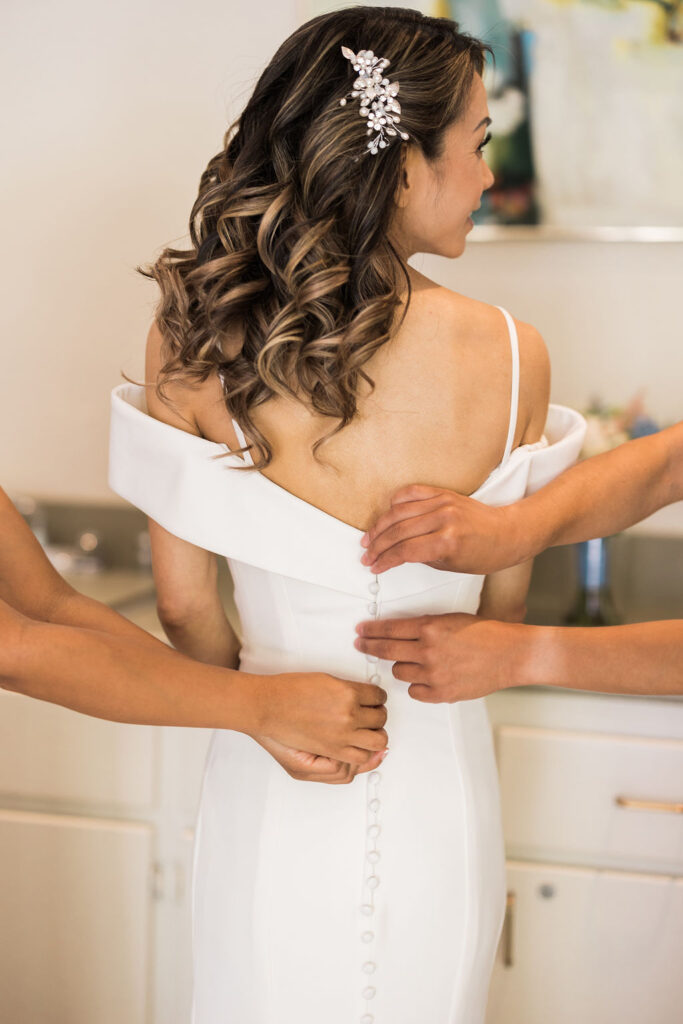 … and many tiny buttons – and the bride adjusted her jewelry.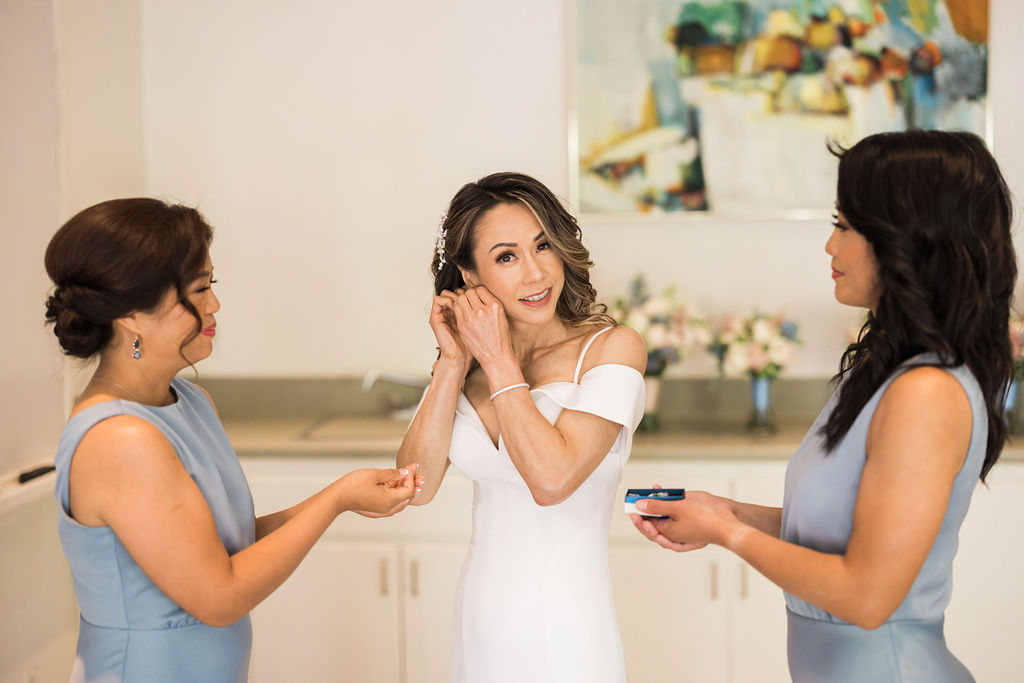 Florist extraordinaire Janelle Jacky-Litt of Green Petal Designs delivered an ethereal bridal bouquet in ivory, blush pink and light blue hues, with bridesmaids' bouquets, boutonnieres and table decor to match.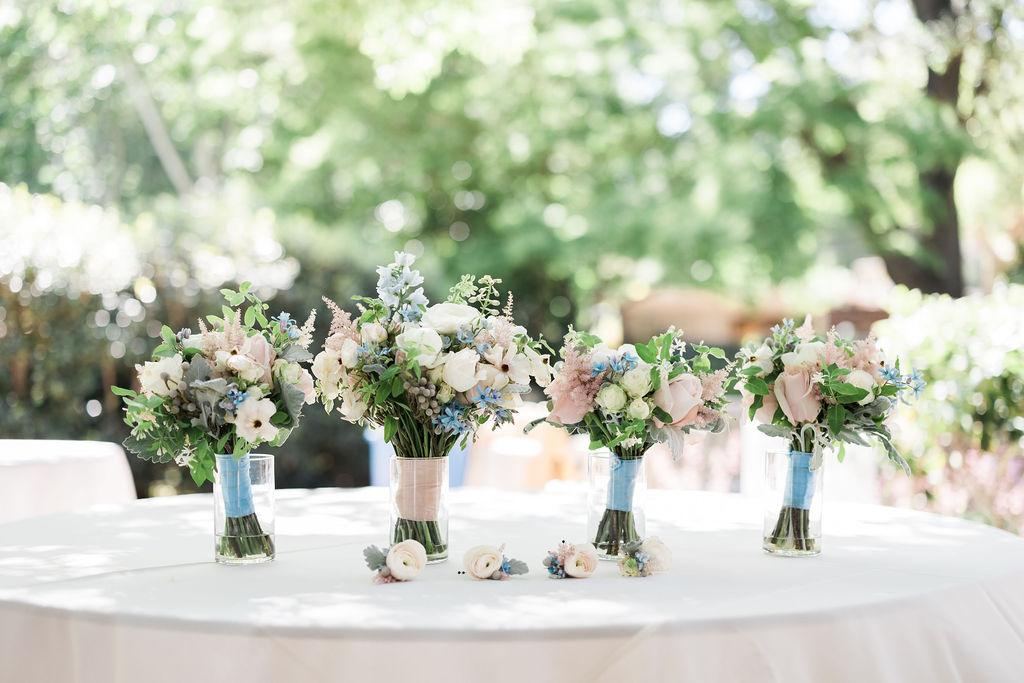 And here are bride and bridesmaids, with the biggest smiles of their lives!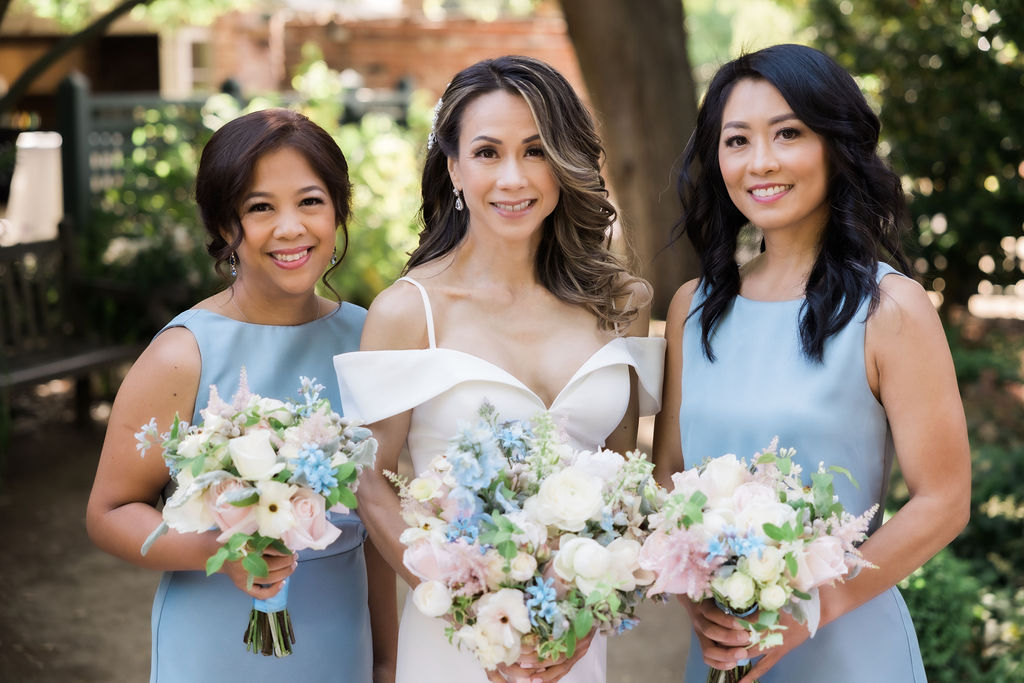 With that, bride Nghi was ready to step out…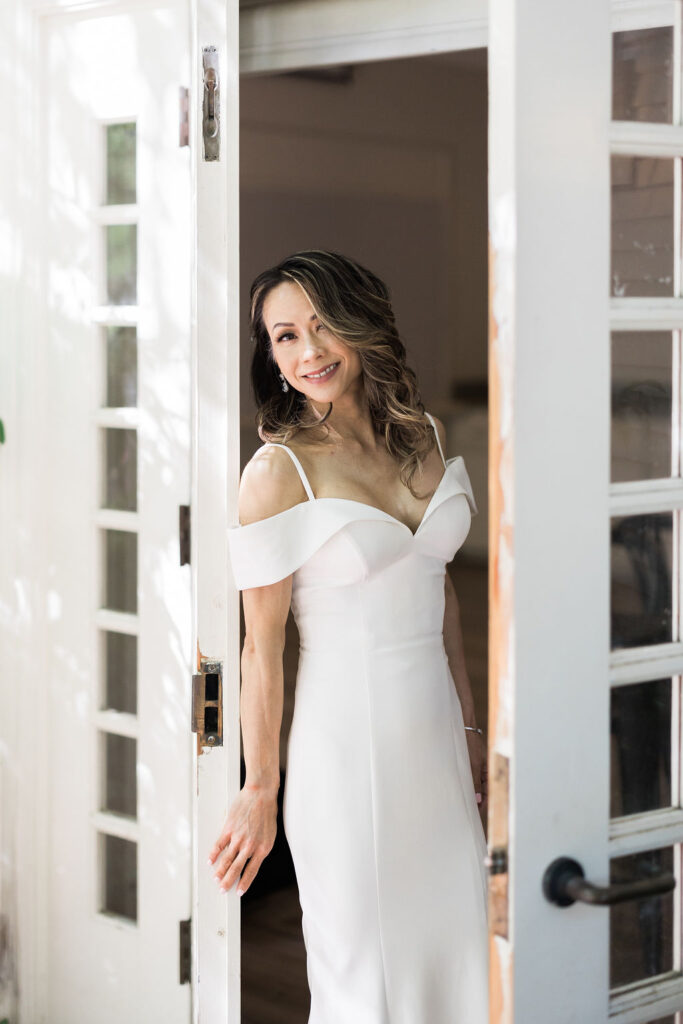 Isn't she stunning?!
Here with her biggest admirer… her son.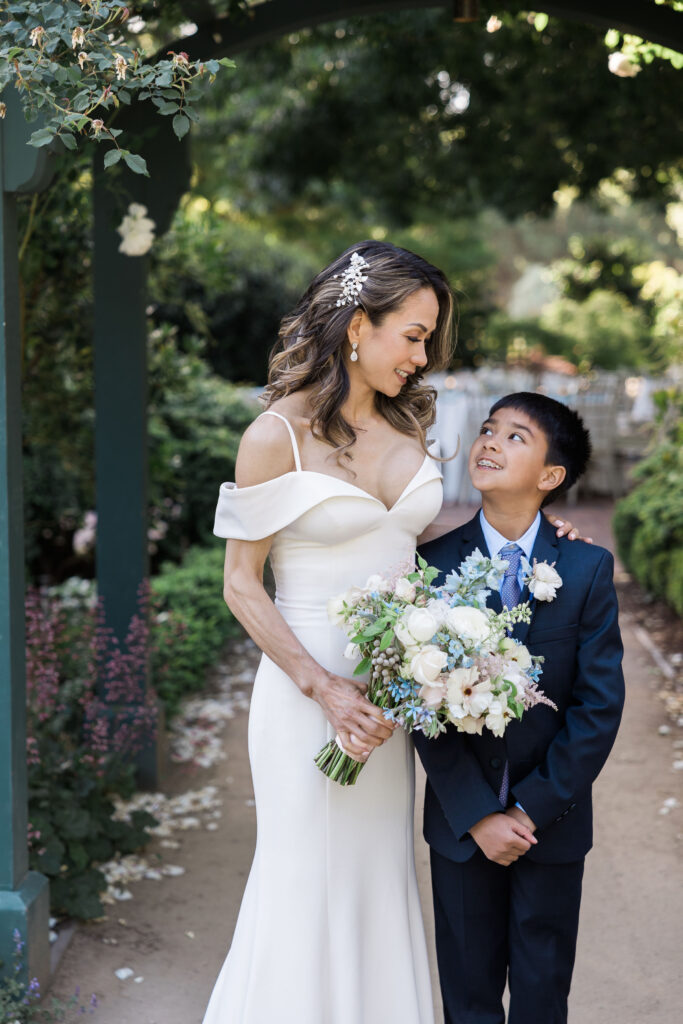 Meanwhile, groom Jim had also gotten ready…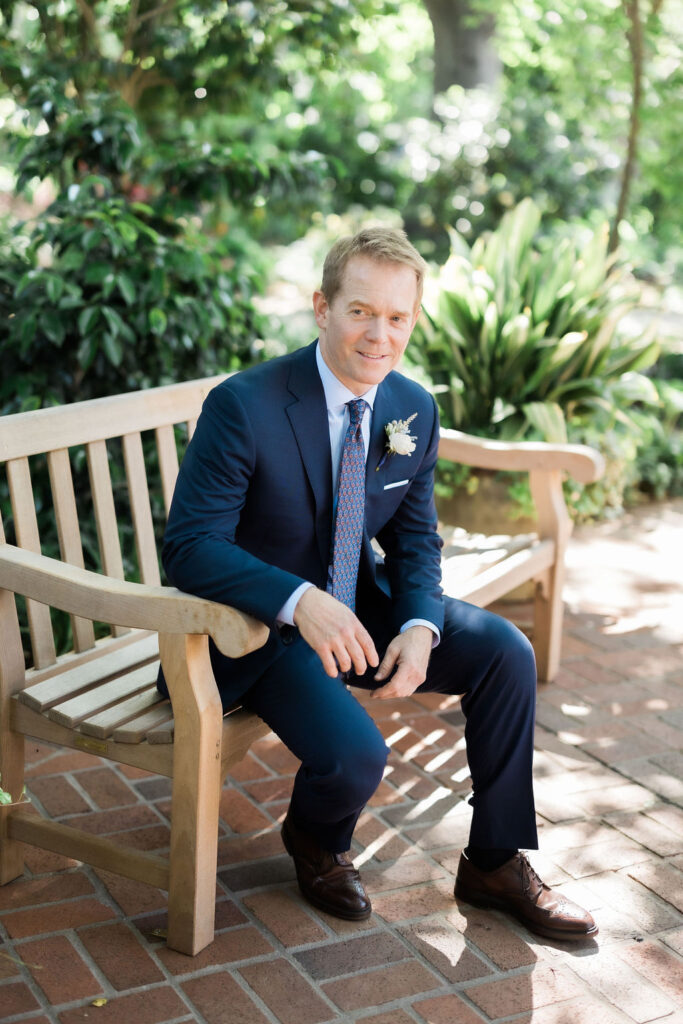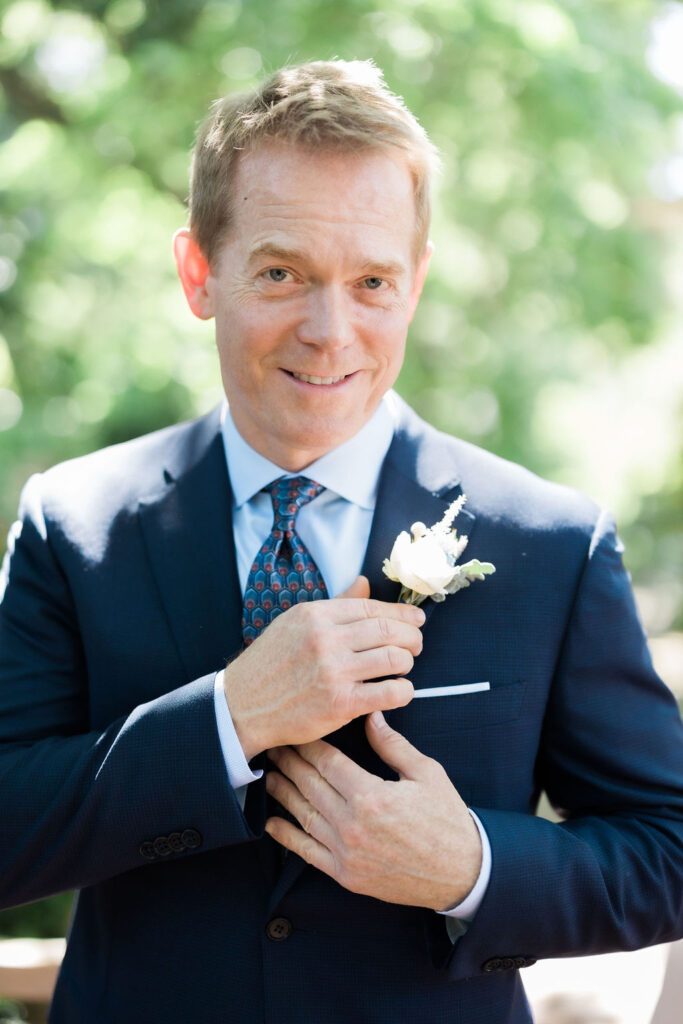 … and here he is with all the boys – Nghi's and his own.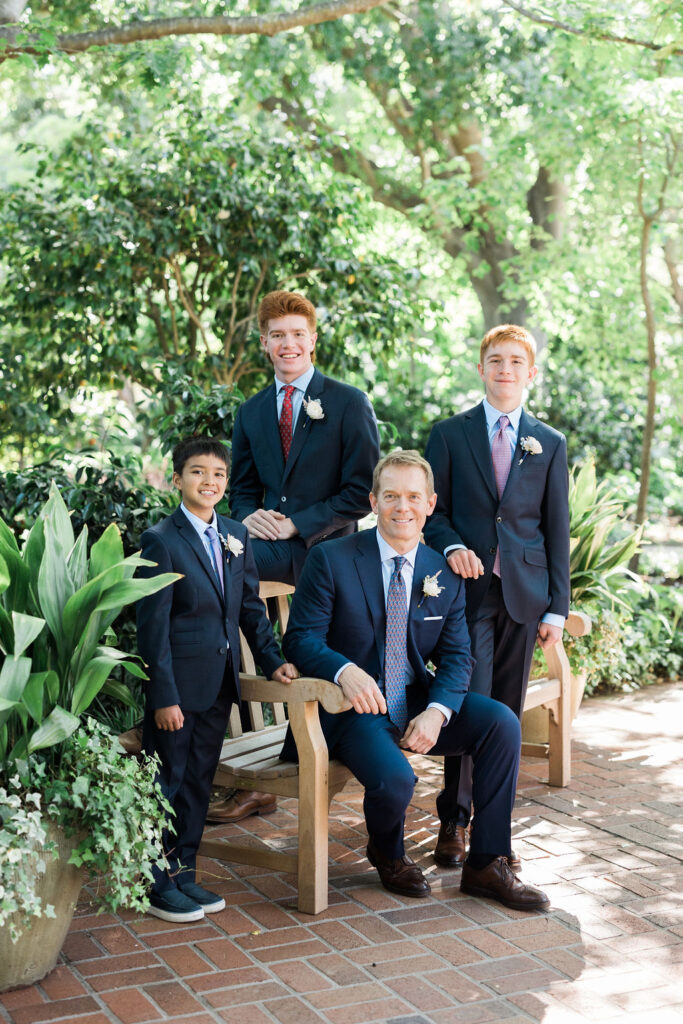 Time for the "First Look!"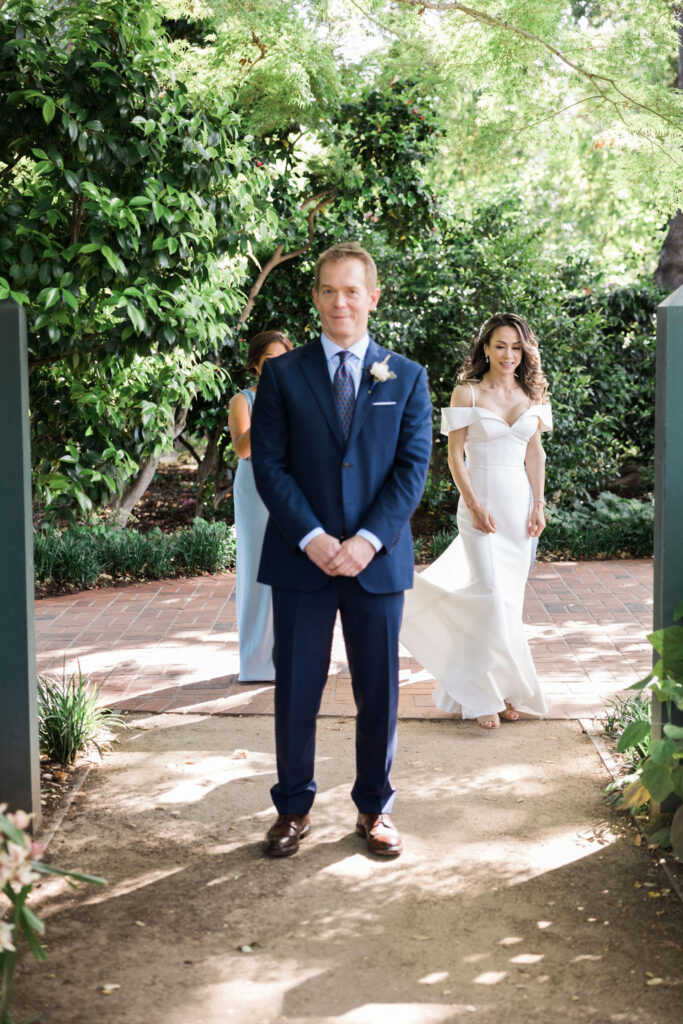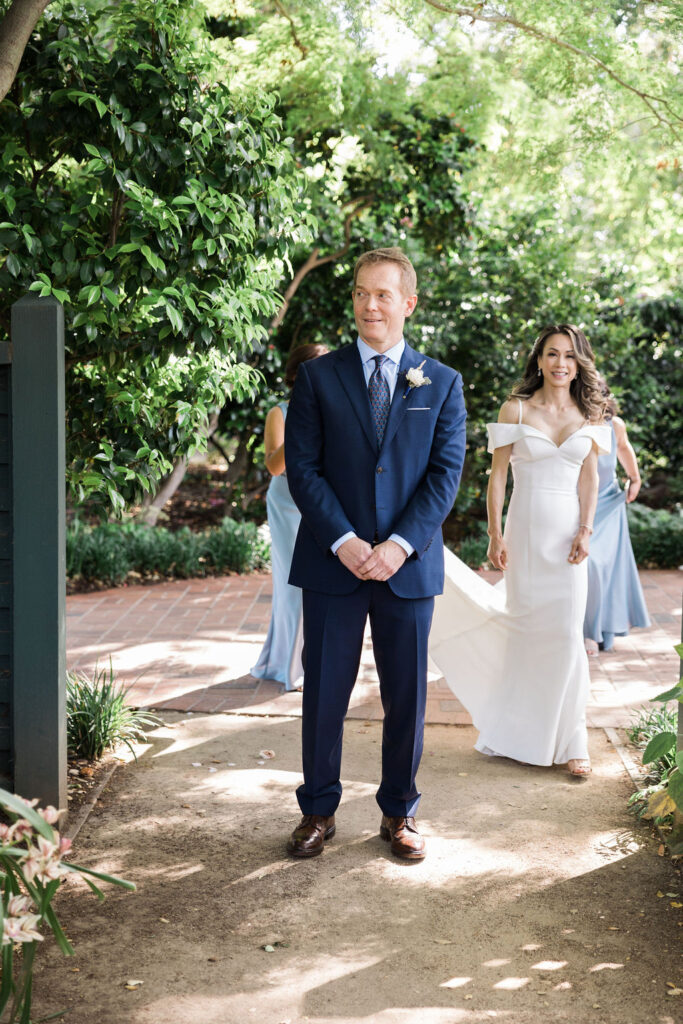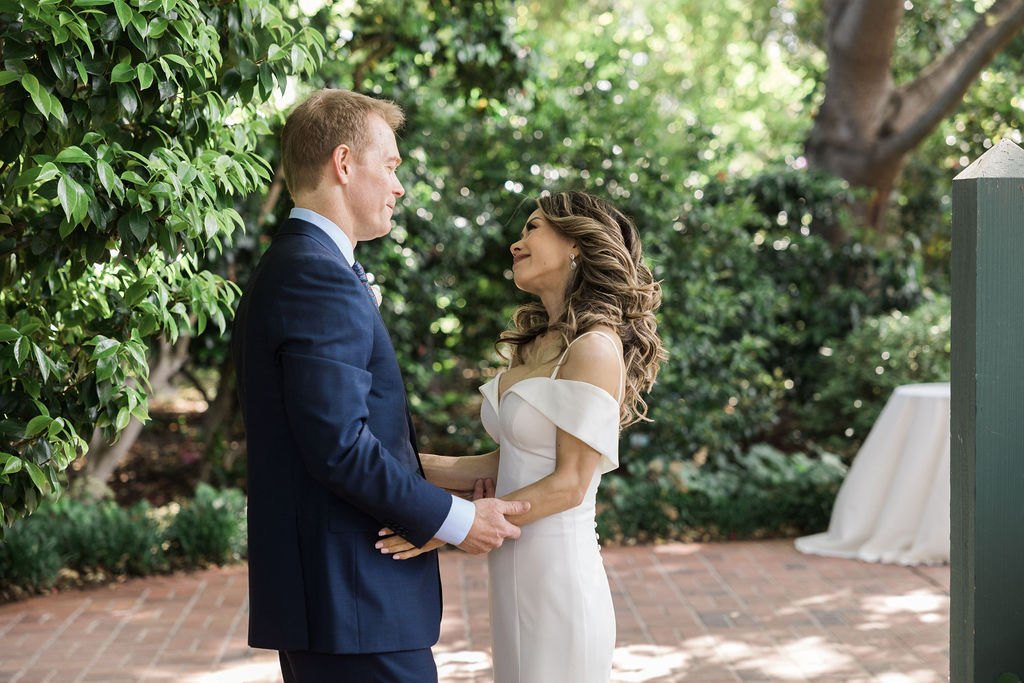 That's amore! Now the couple was off to many more photos and video footage with acclaimed photographer Kevin Chin and videographer William Cook of Kindlewood Films.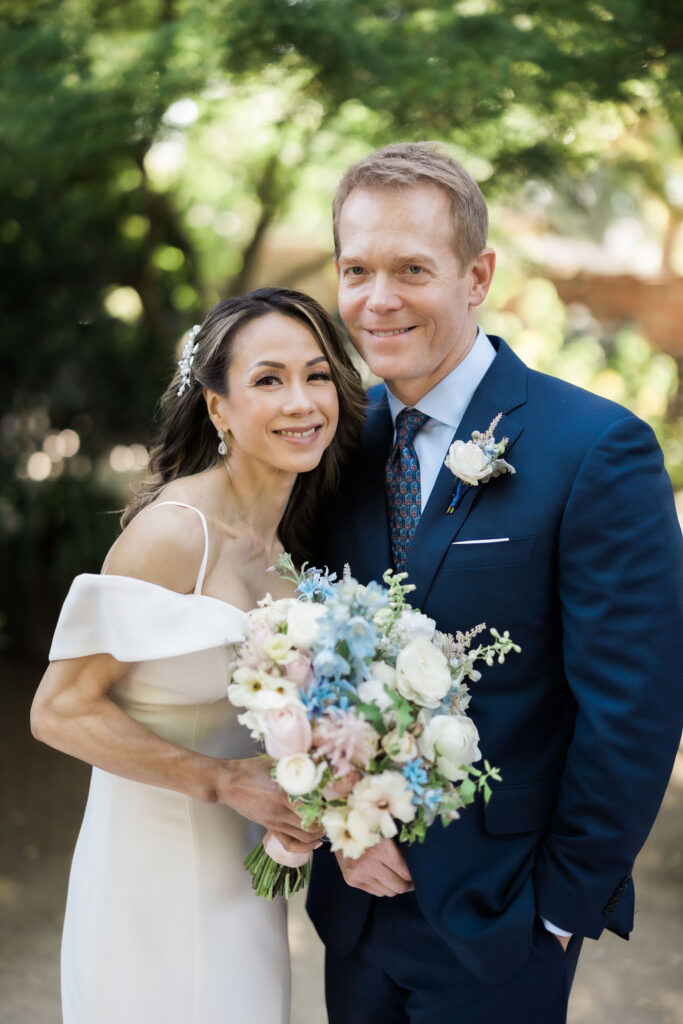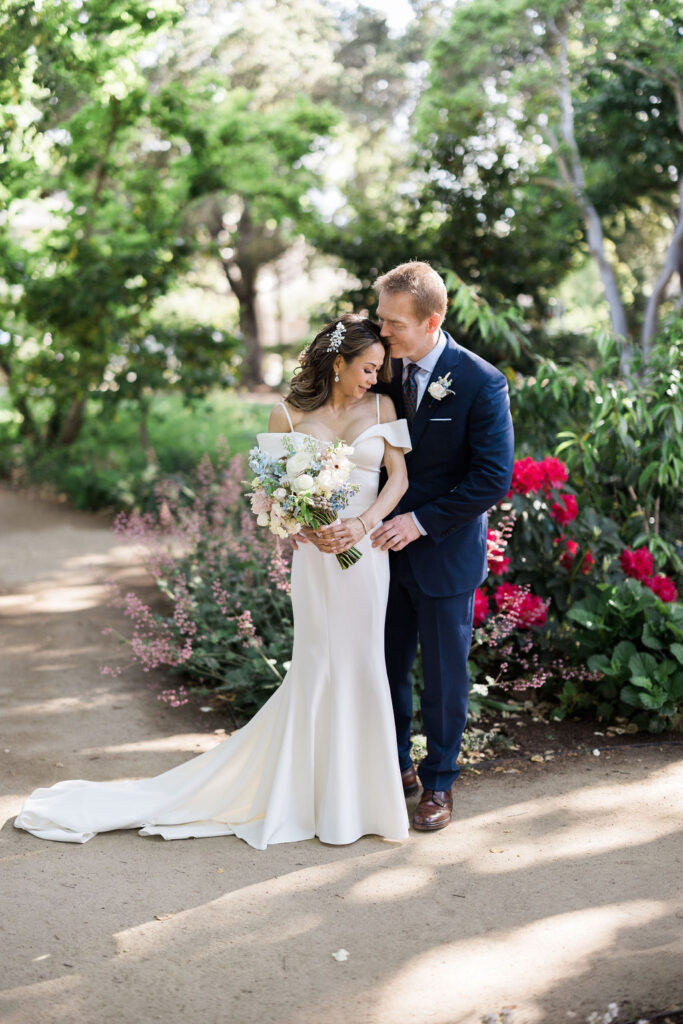 Guests began arriving for the ceremony in the Rose Garden, officiated by Dr. Konrad Hölé of Officially Yours, and serenaded by the Magnolia Jazz Trio led by Robbie Schlosser.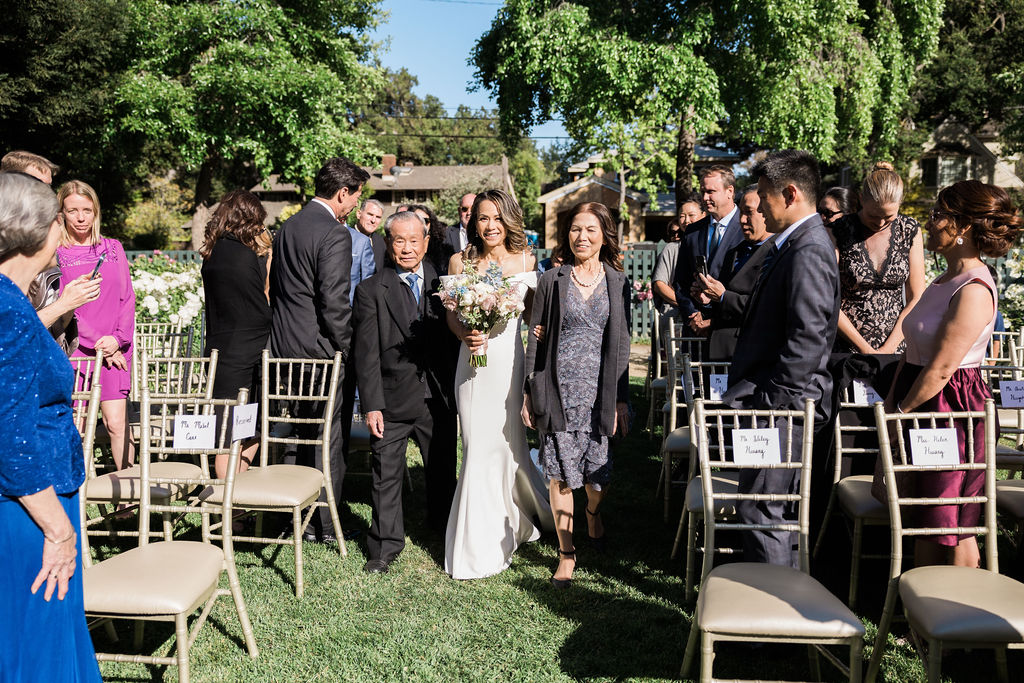 Here comes the bride, accompanied by her parents.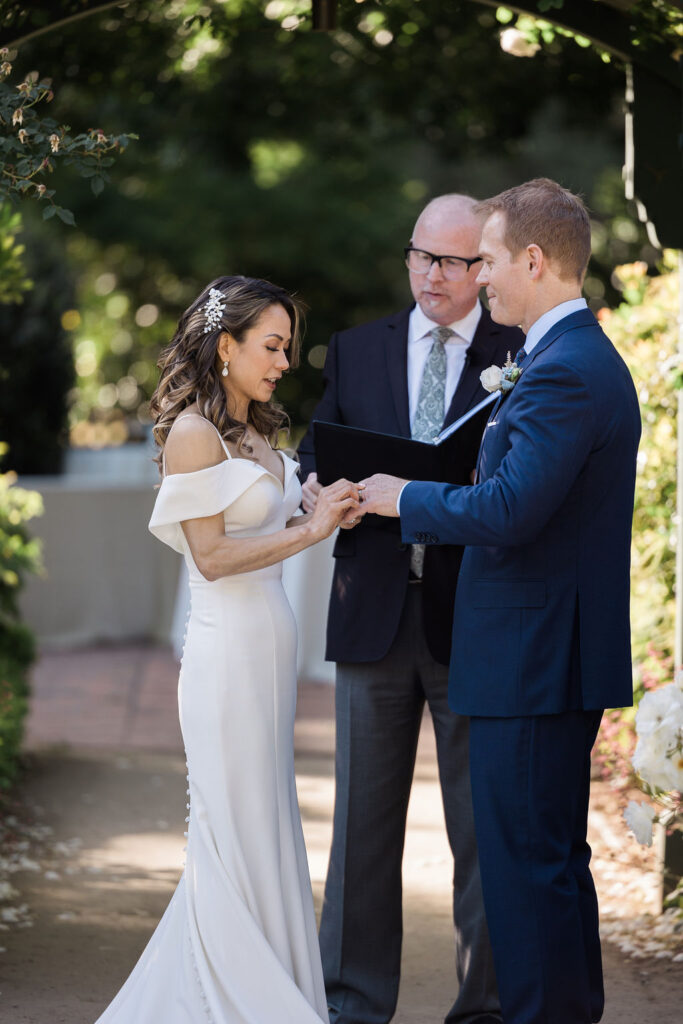 After exchanging rings…
… they were officially declared "husband and wife," and Jim received permission to "kiss the bride."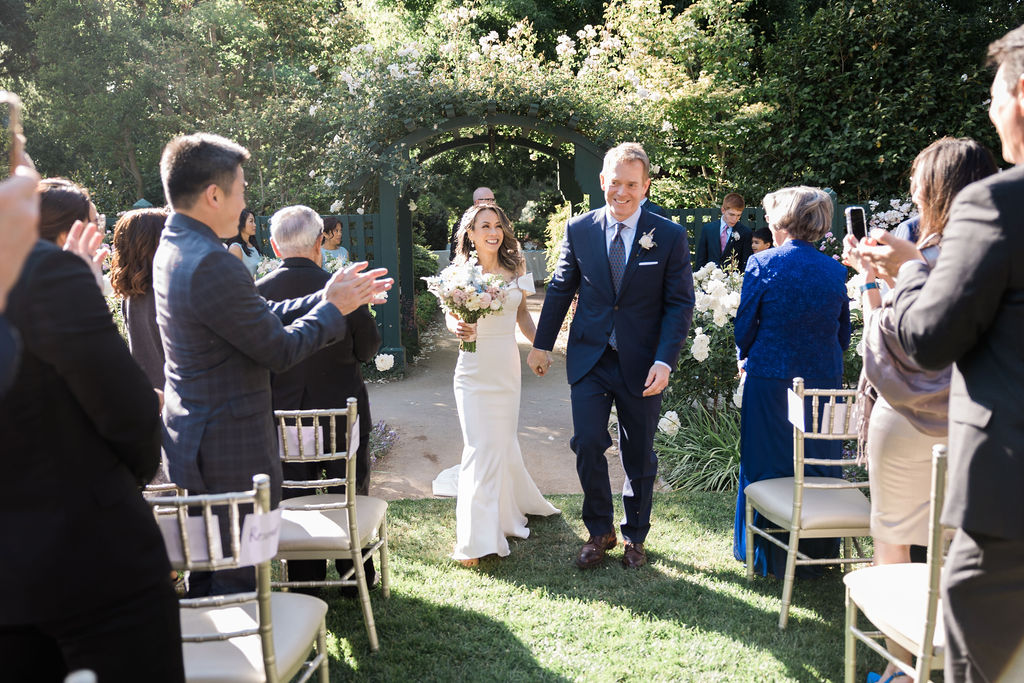 Just married!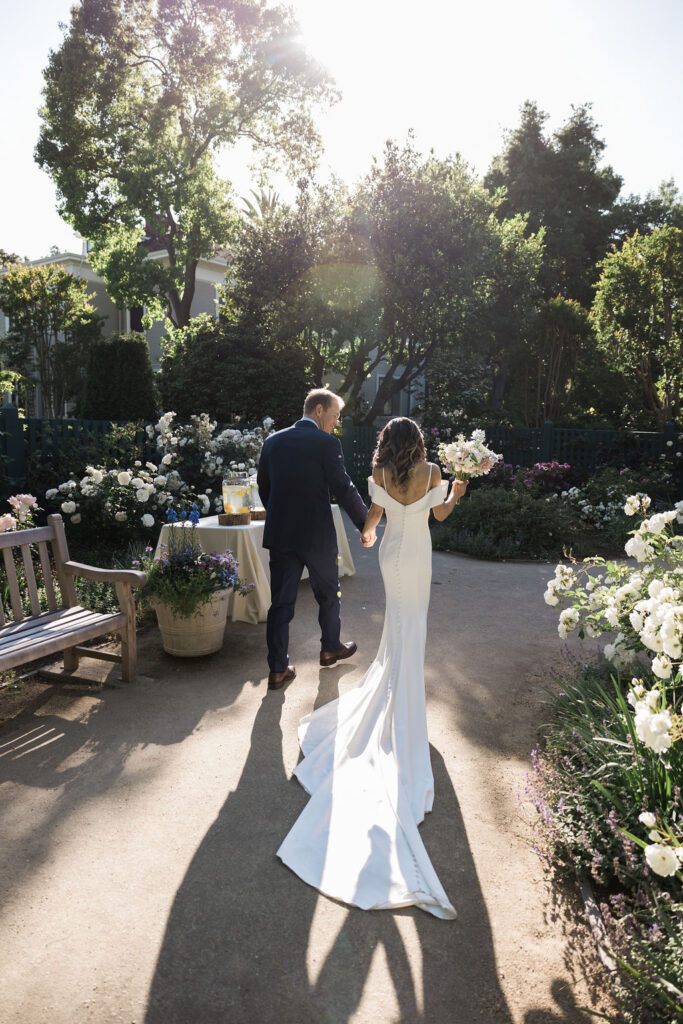 And off to more photos and video among a profusion of blooms – including the official photo of the newly united blended family.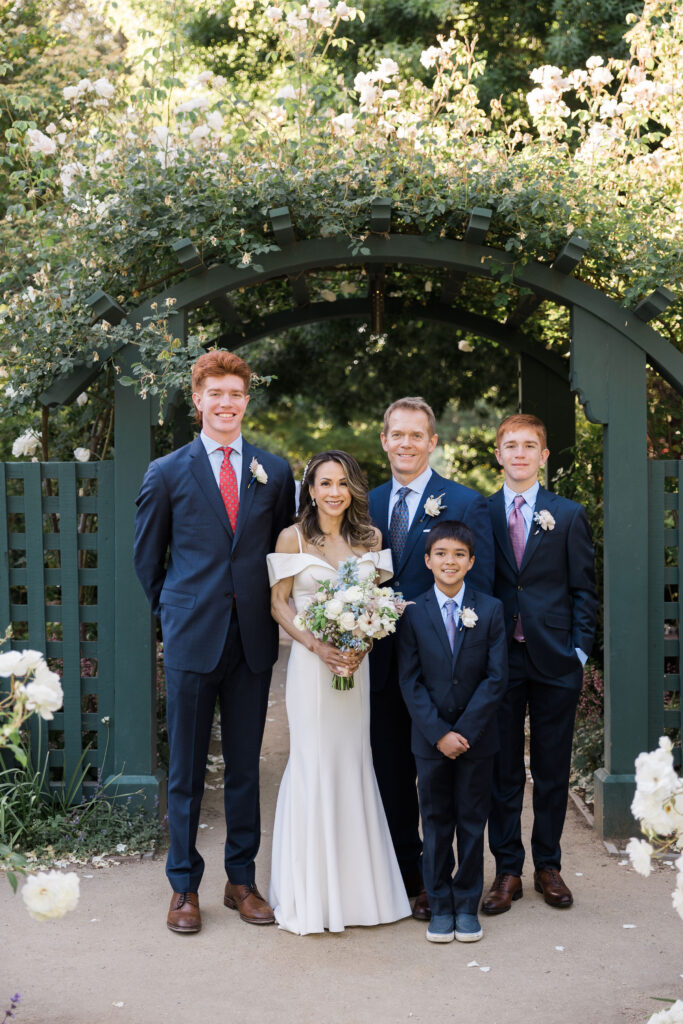 All the while their guests enjoyed cocktails and Jazz – and left their "well wishes for the new Mr. & Mrs!"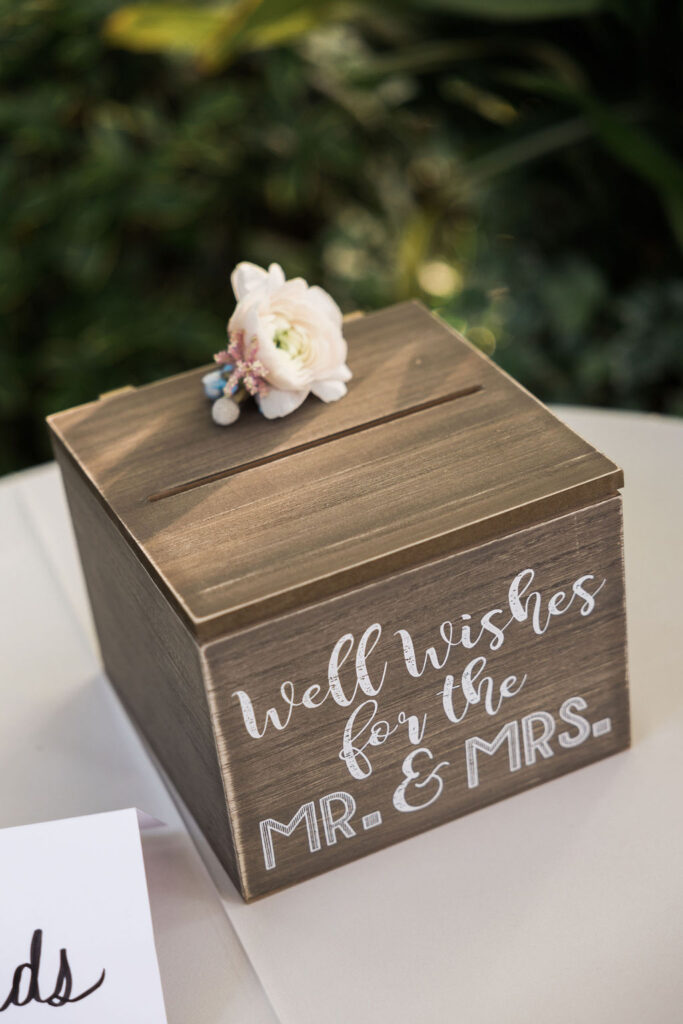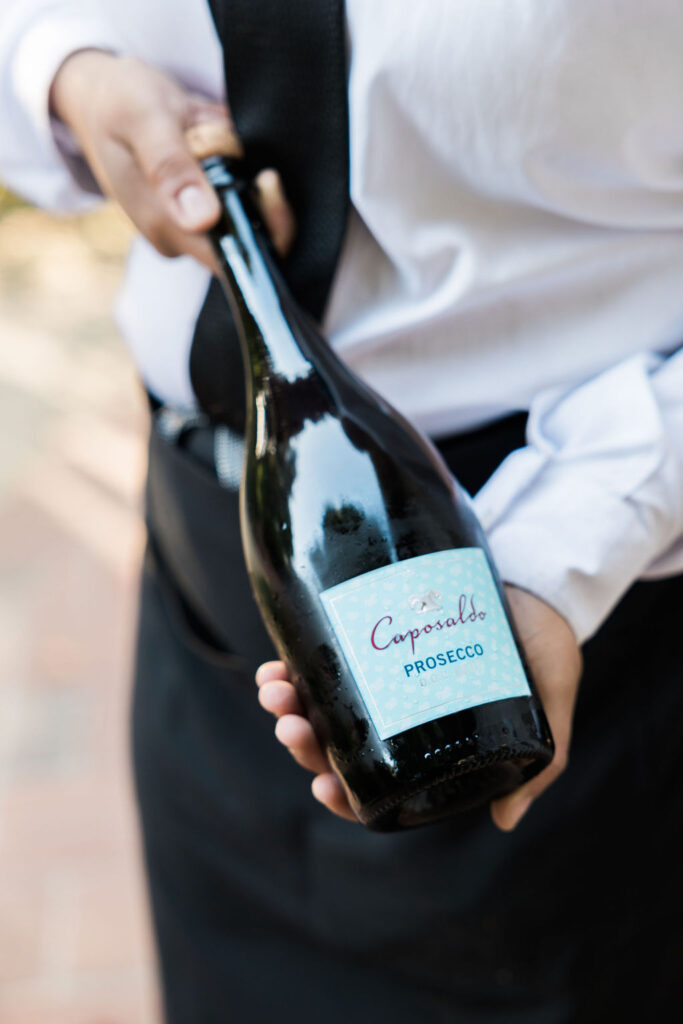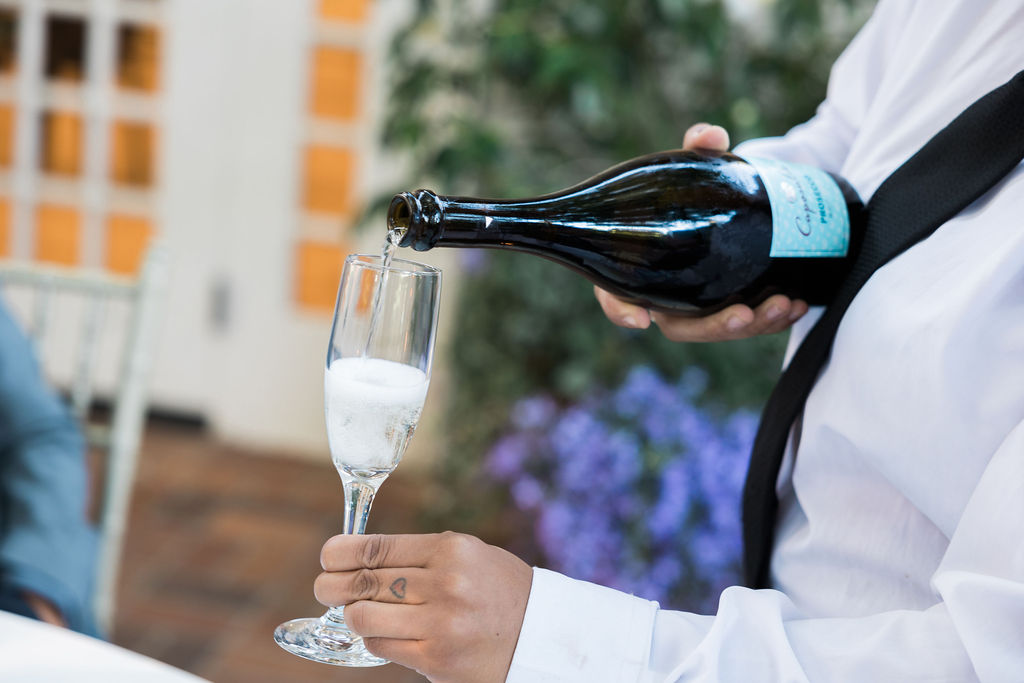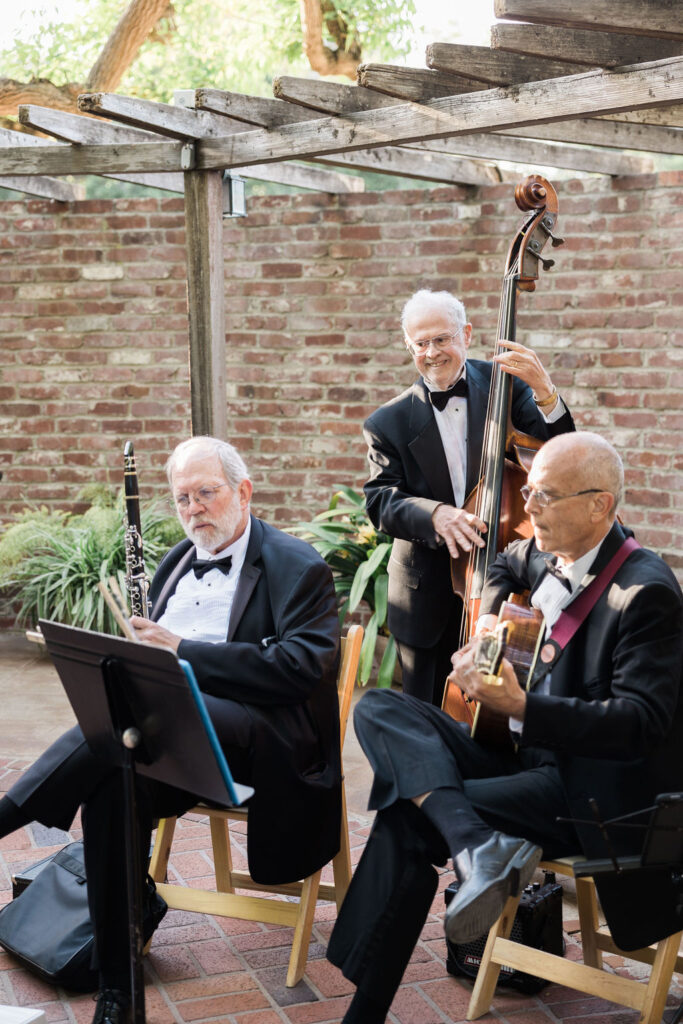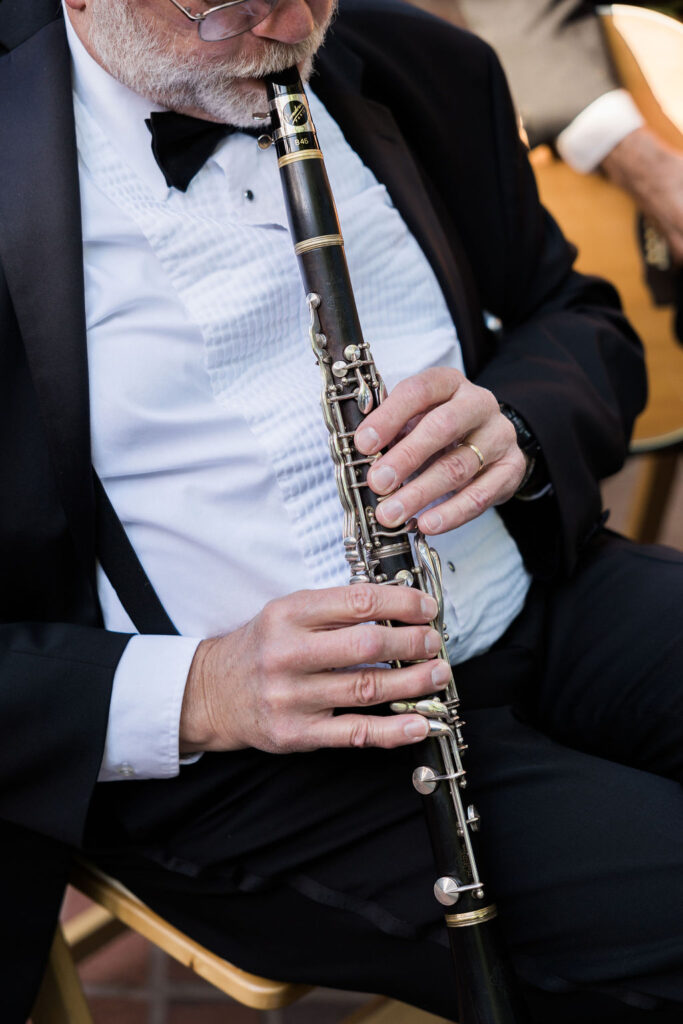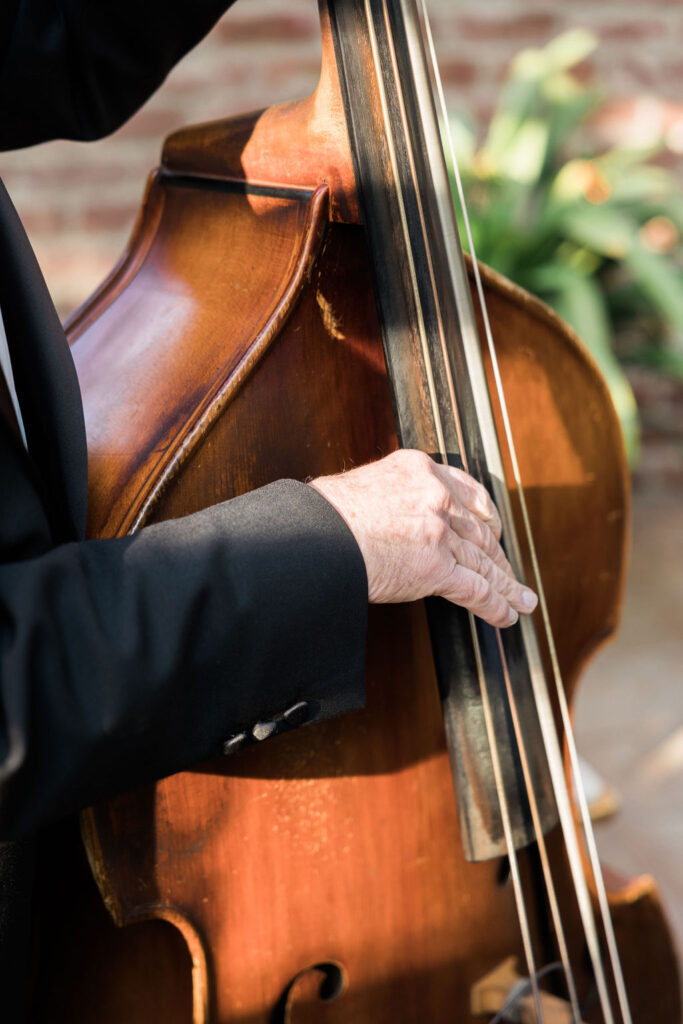 My production team – Deanna and Stephanie – and the team of Continental Caterers were busy working behind the scenes to get everything ready and set up for dinner.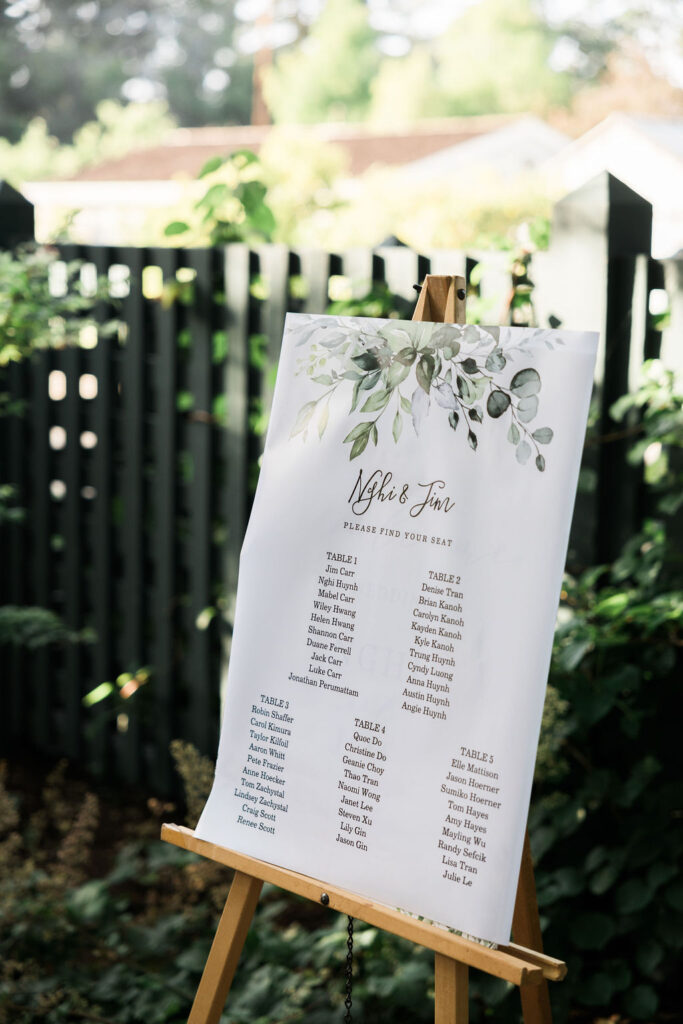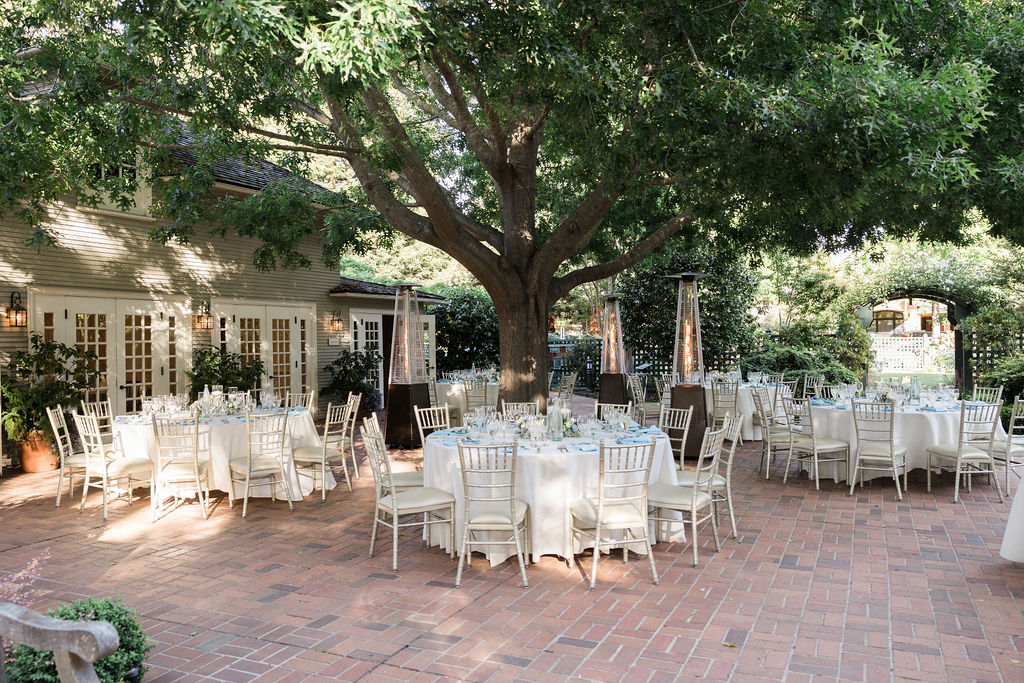 Dinner tables were set up under a majestic tree…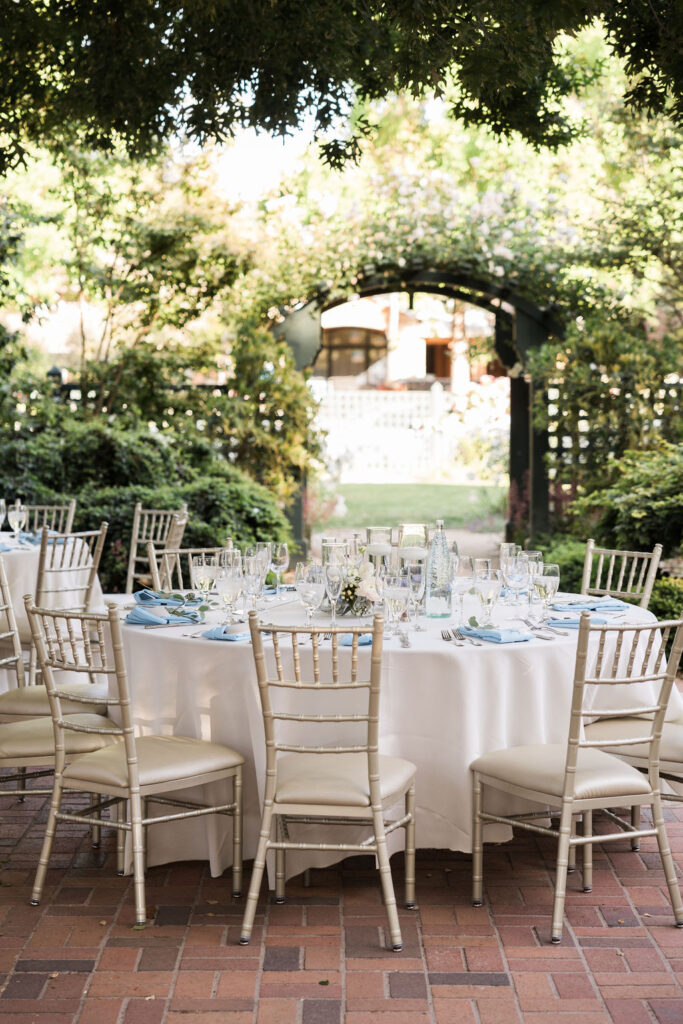 … it doesn't get more romantic than that! The table setting reflected the feminine pastel hues of the bridal bouquet…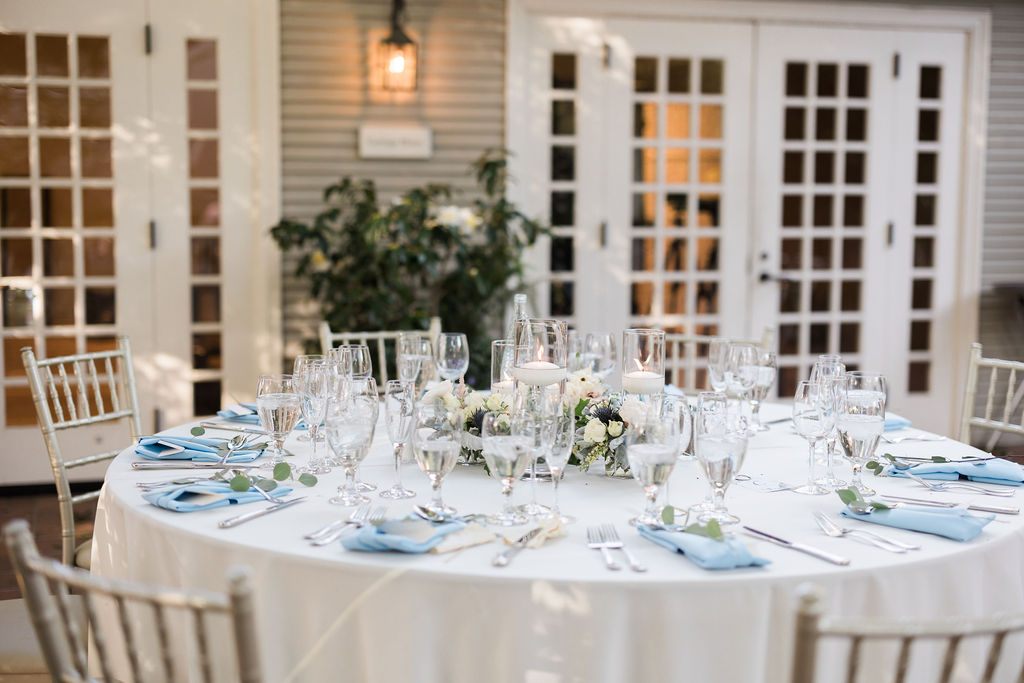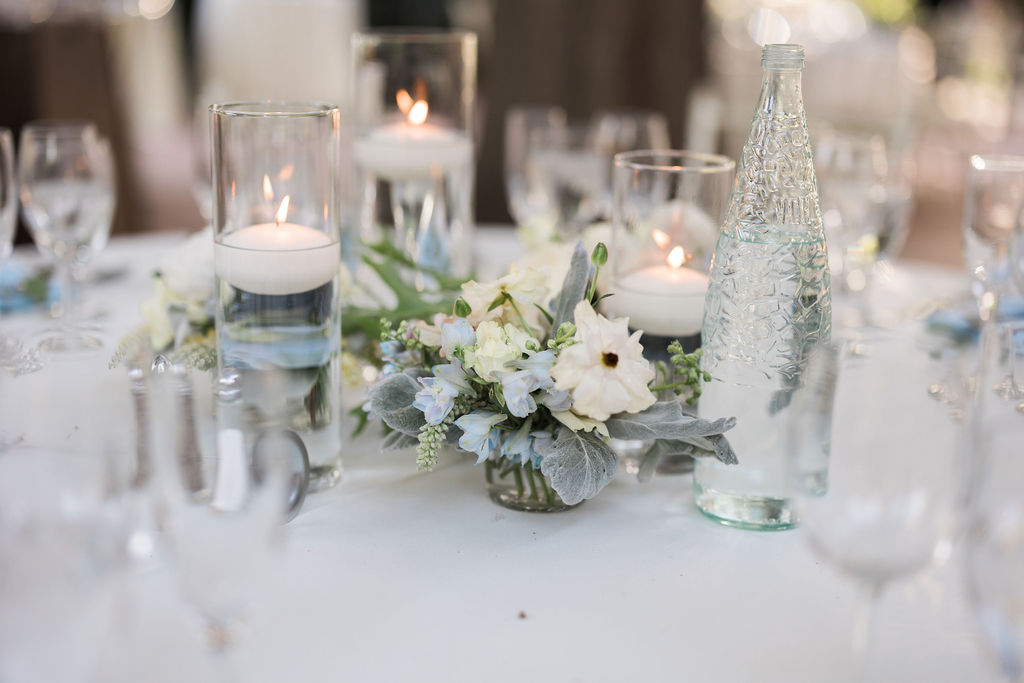 … and floating candles turned the scene truly magical.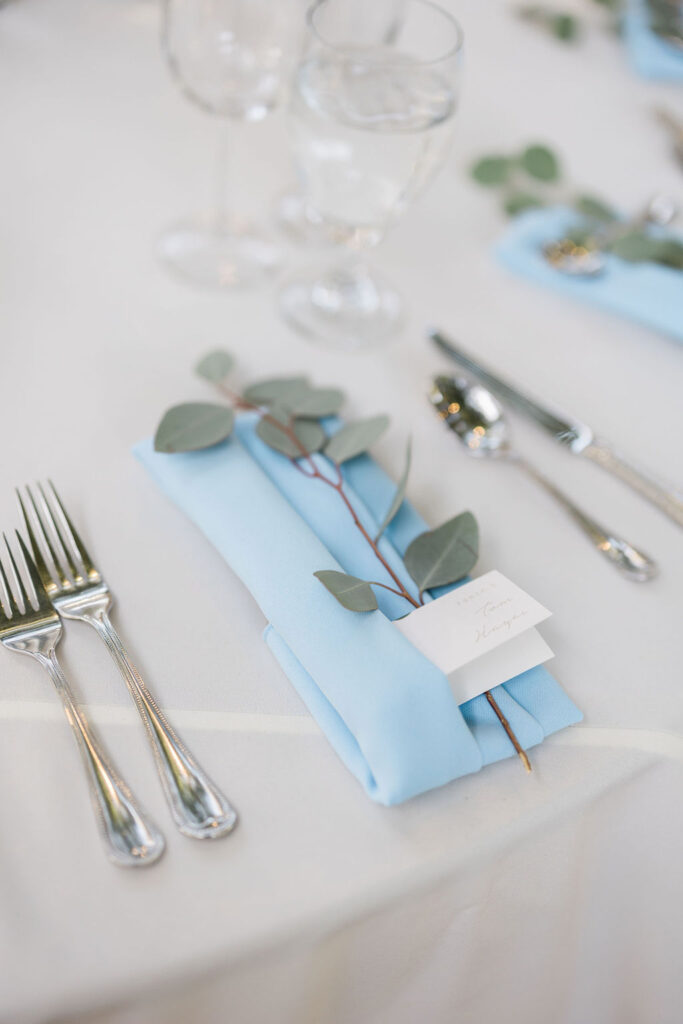 The entrance of the newlyweds officially opened dinner…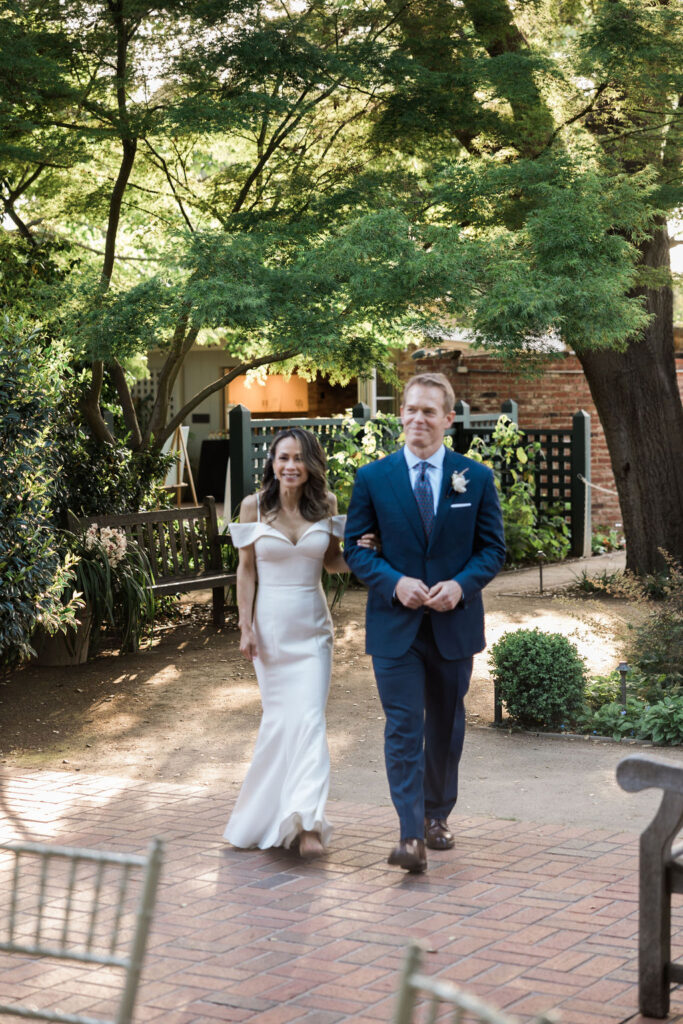 The feast that followed was truly memorable – Continental Catering pulled all stops!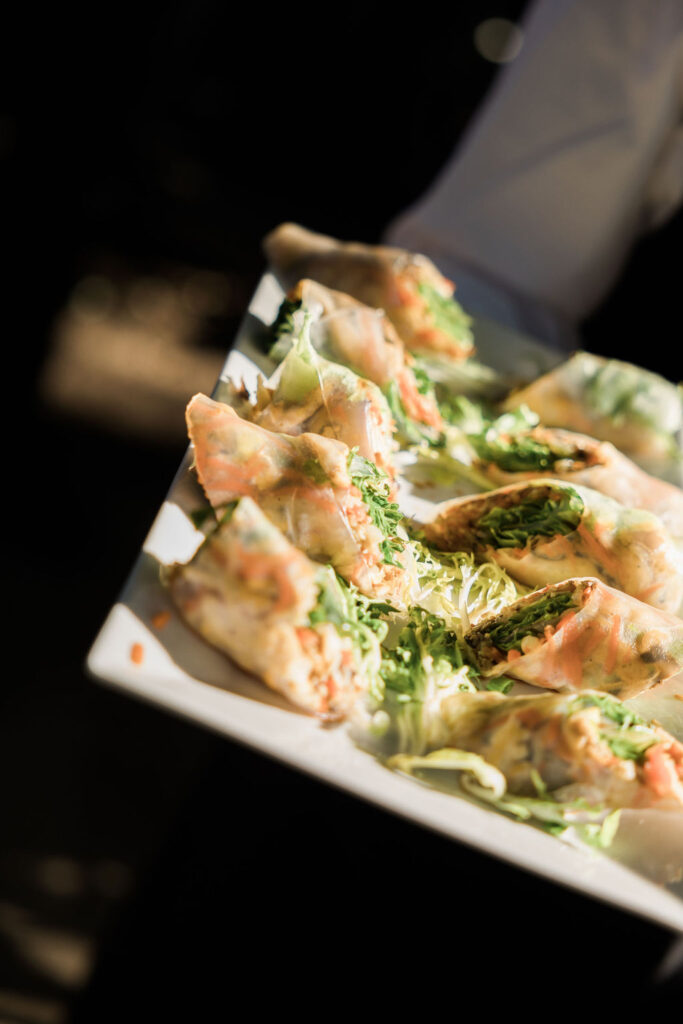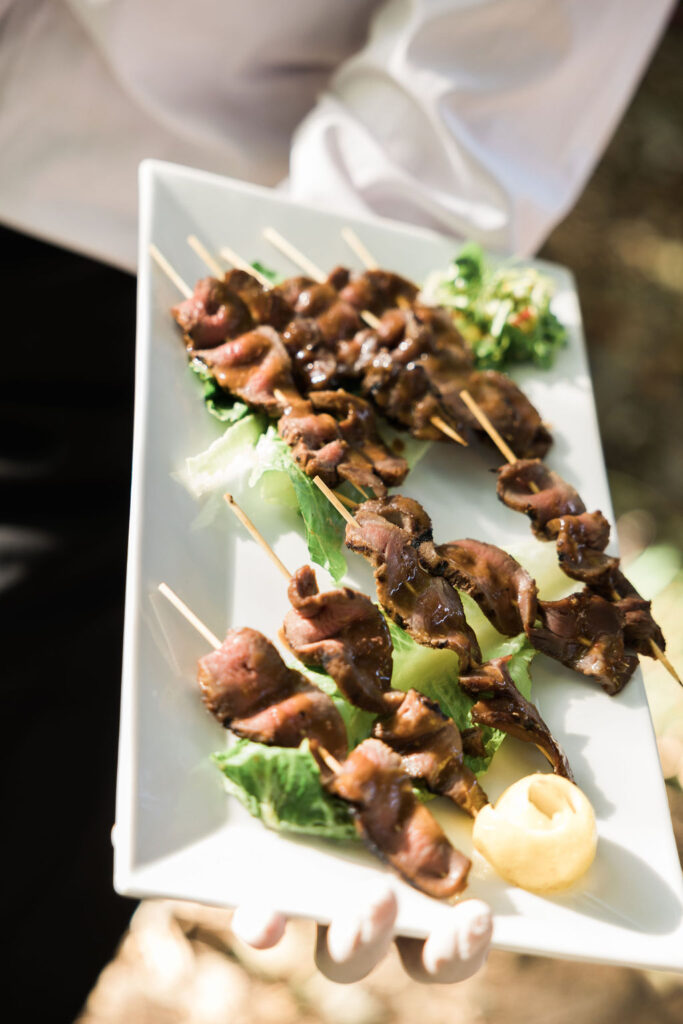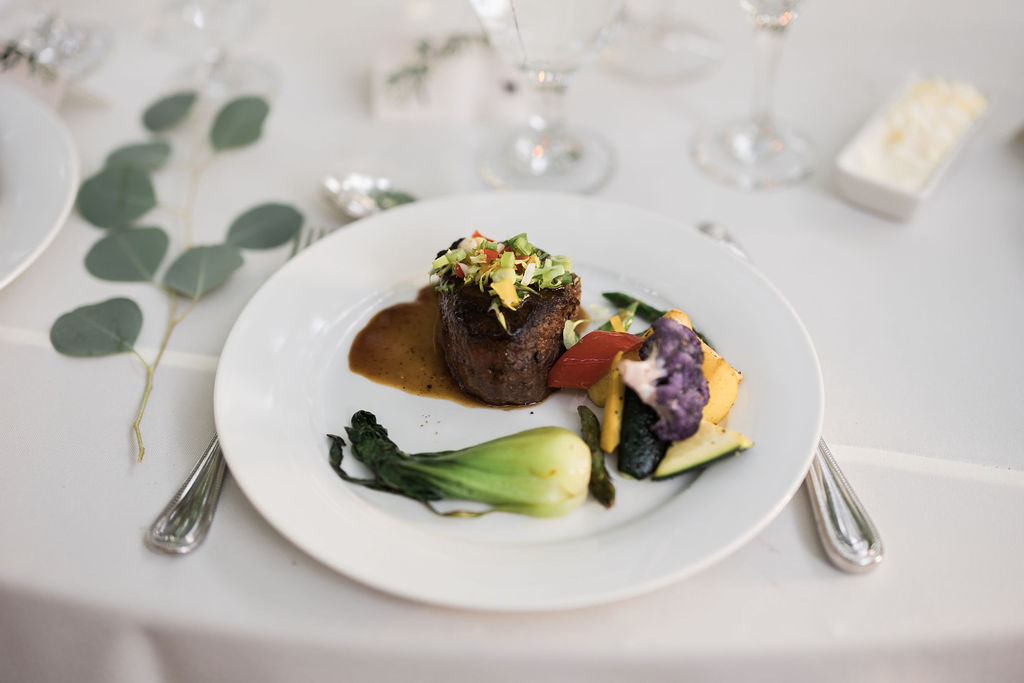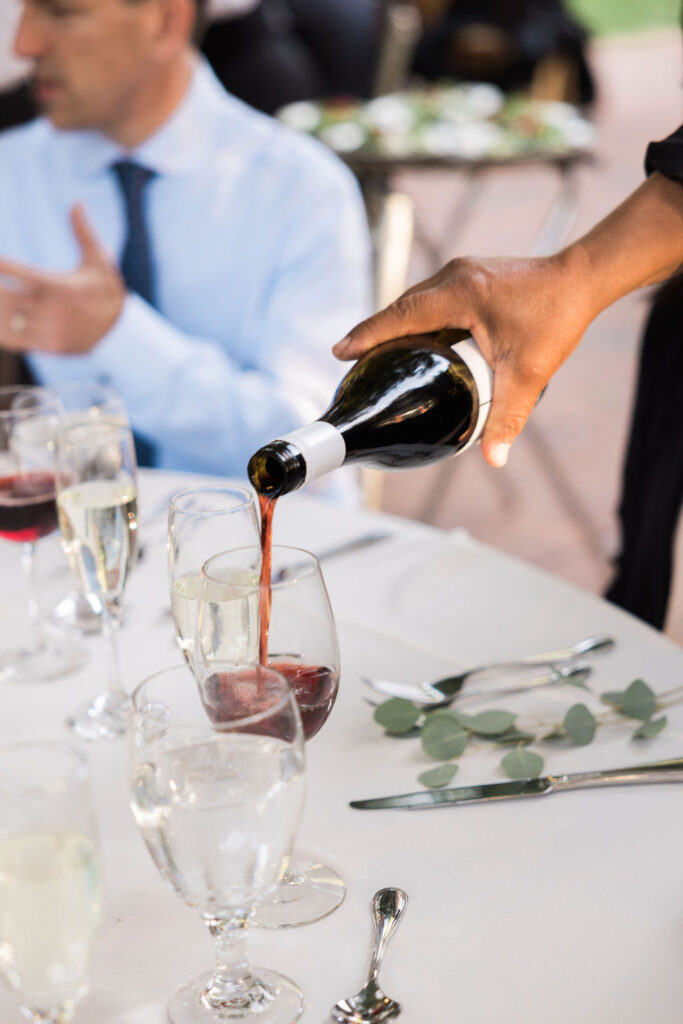 The couple was clearly enjoying themselves.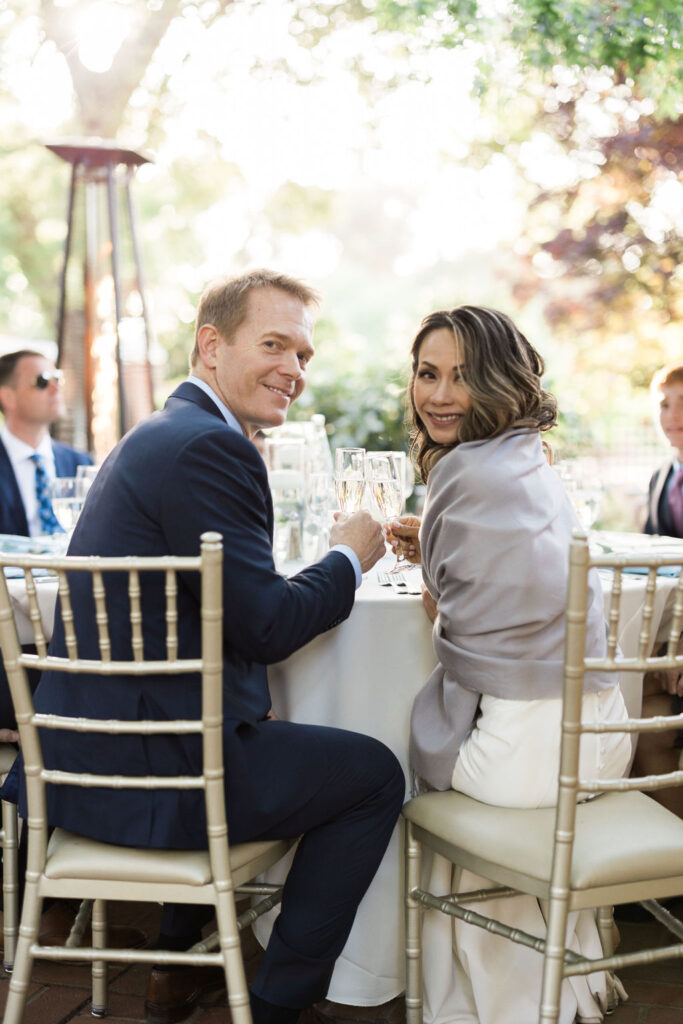 Maybe even more memorable than dinner itself – were the desserts! Have a look: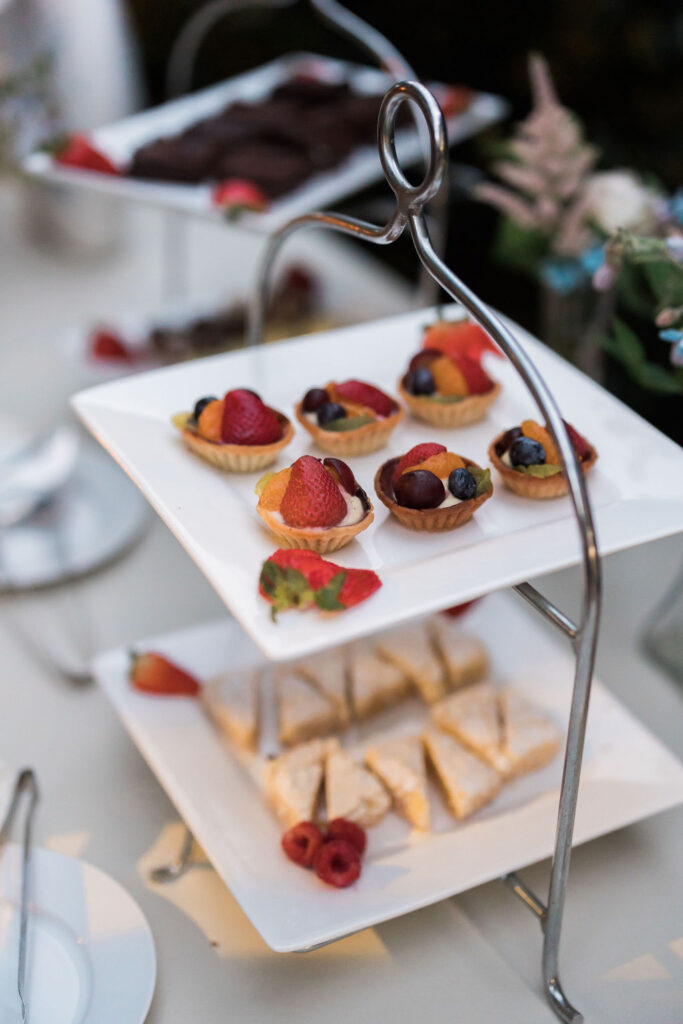 Following these mouthwatering treats, the newlyweds had time to mingle with their guests. But the last highlight of the evening was still to come: a gorgeous wedding cake by Krumbs Cakes, OF COURSE adorned with the same blush pink and light blue flowers that accompanied the couple and the guests through the whole celebration.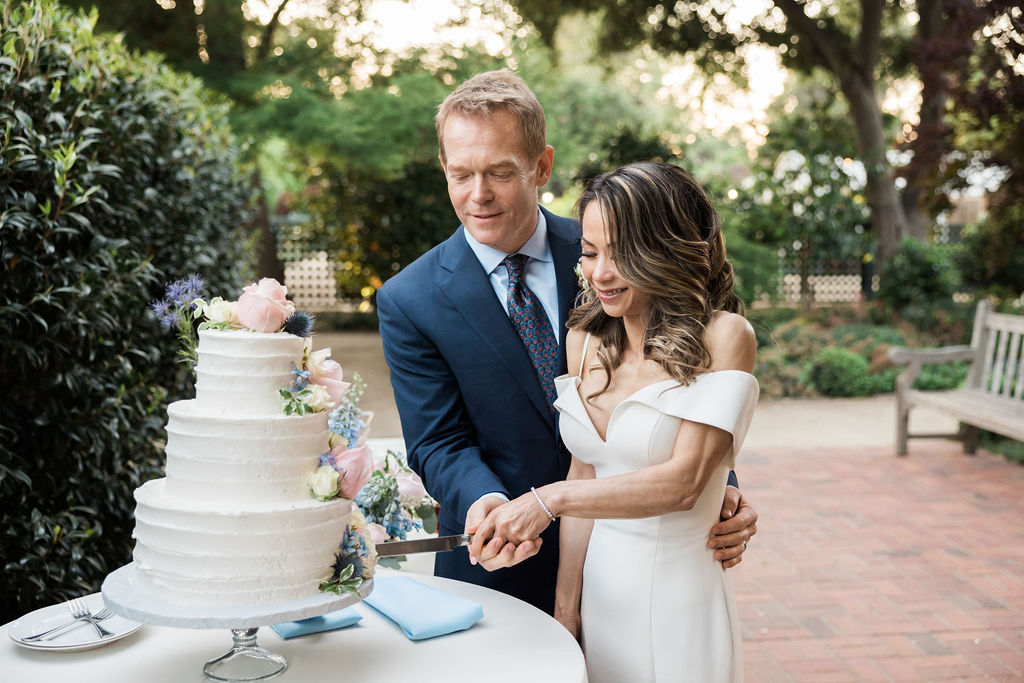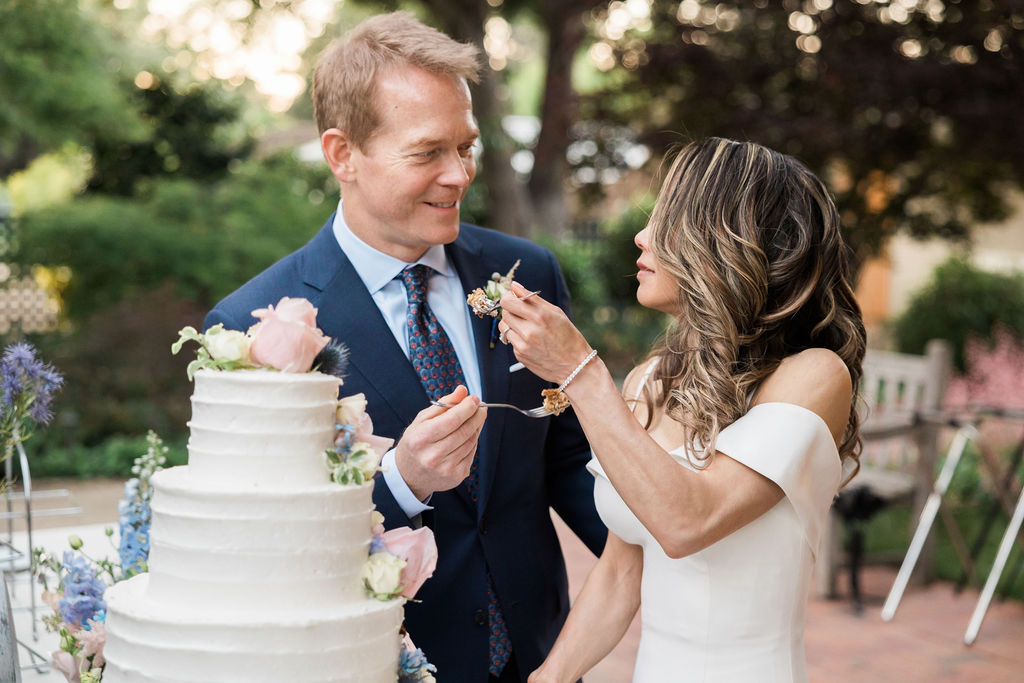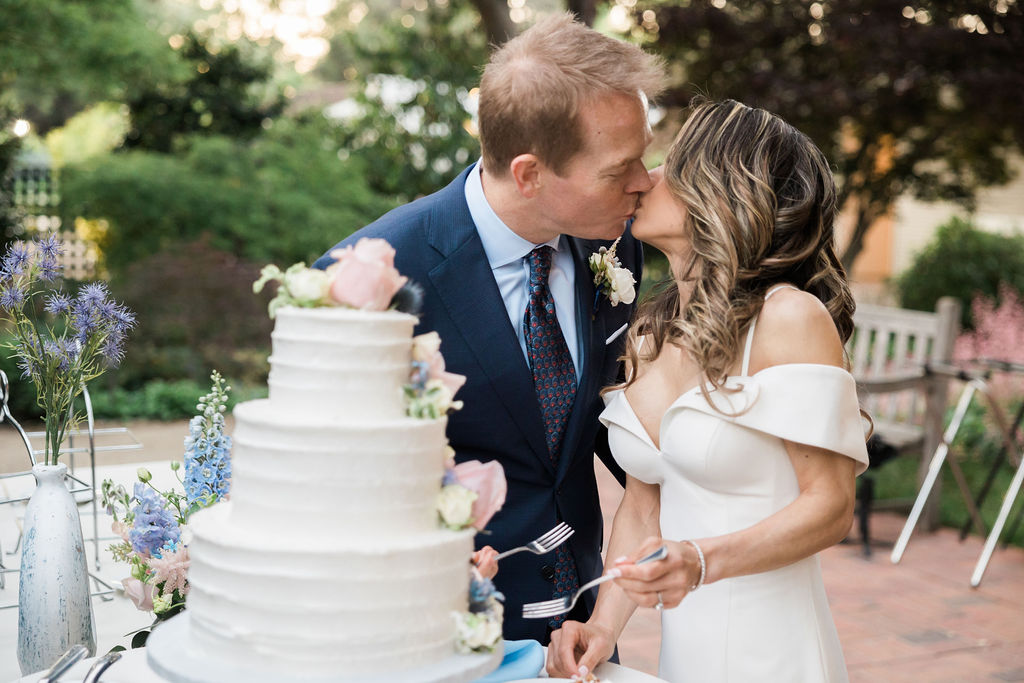 With that, they had accomplished their official joint task as a married couple. The evening concluded with the newlyweds enjoying the company of their handpicked guests, and everyone had a great time.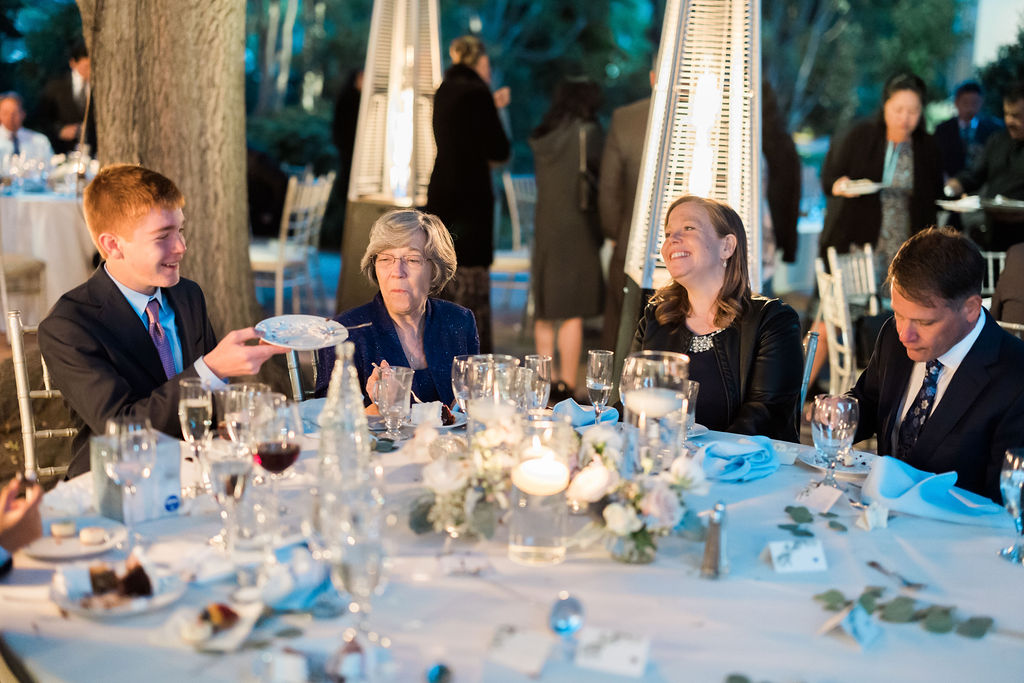 Wishing you all the happiness in the world, Nghi and Jim!

<! DL 06/02/12: Added html code for Pinterest Pin It button (appears at the end of each post) > <! DL 06/02/12: Added padding style modifier to the Pinterest html code to align the Pit It button on the page > <! DL 06/02/12: deactivated code by adding two ! in the a and img code lines >