When Jonathan (JC) and James (JJ) approached my company, A Day Like No Other, for help with planning their upcoming wedding for 250 guests, they had chosen their venue – Hangar One, a vodka distillery, in Alameda with views of the SF Bay – but were at a loss what to do next. The sheer amount of vendor decisions and details suddenly felt overwhelming. Plus, their wedding date was a mere five months away.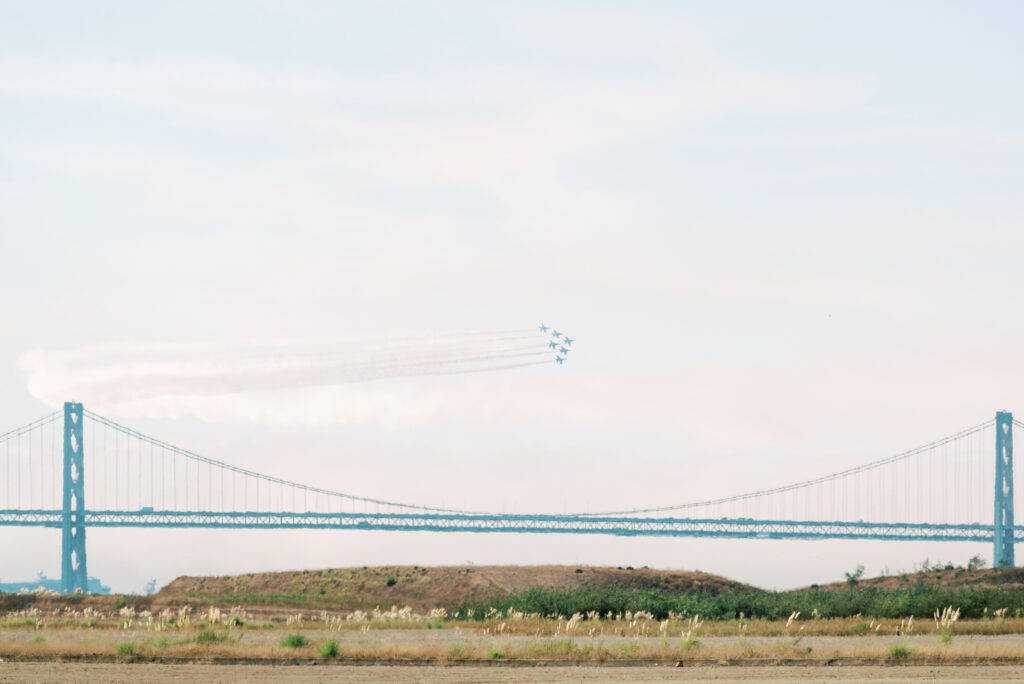 So we jumped right in! We were planning for a tent for dinner and dancing – a necessity, given the open site and the October date of the event. Since the two wished for a masculine design esthetic in line with the gritty-industrial character of their venue, we chose metal dining chairs and chargers that looked like weathered concrete, accompanied by matte-black cutlery. Then there was catering, ceremony decor, flowers, music, photo and video… and a thousand more details! Our five months of planning time went by in a rush – and then the big day had suddenly come.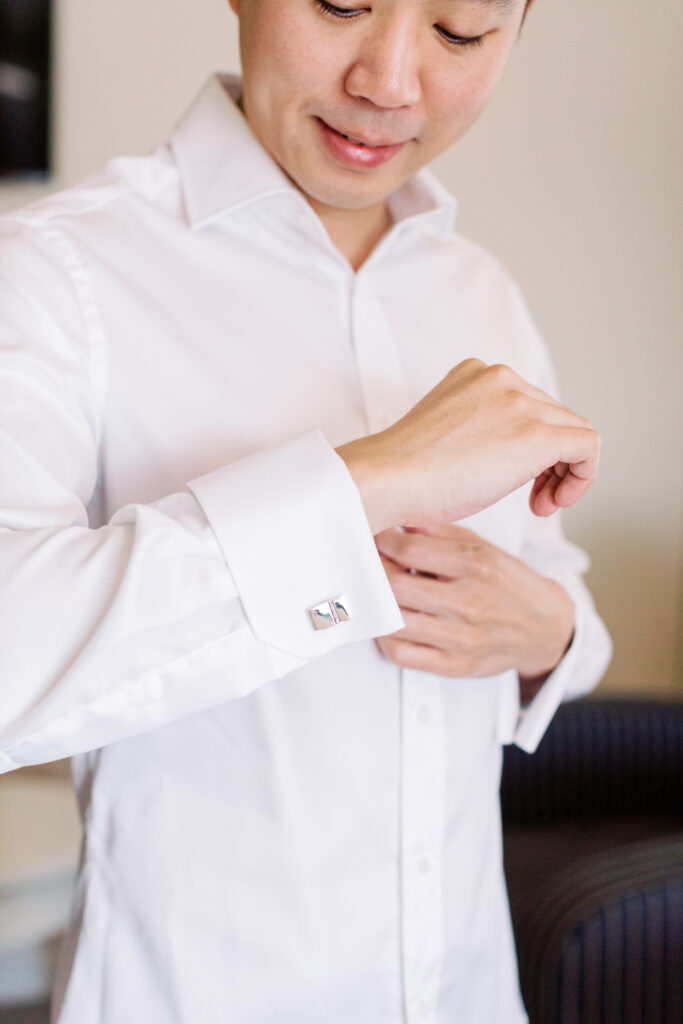 The two were getting ready together at a nearby hotel…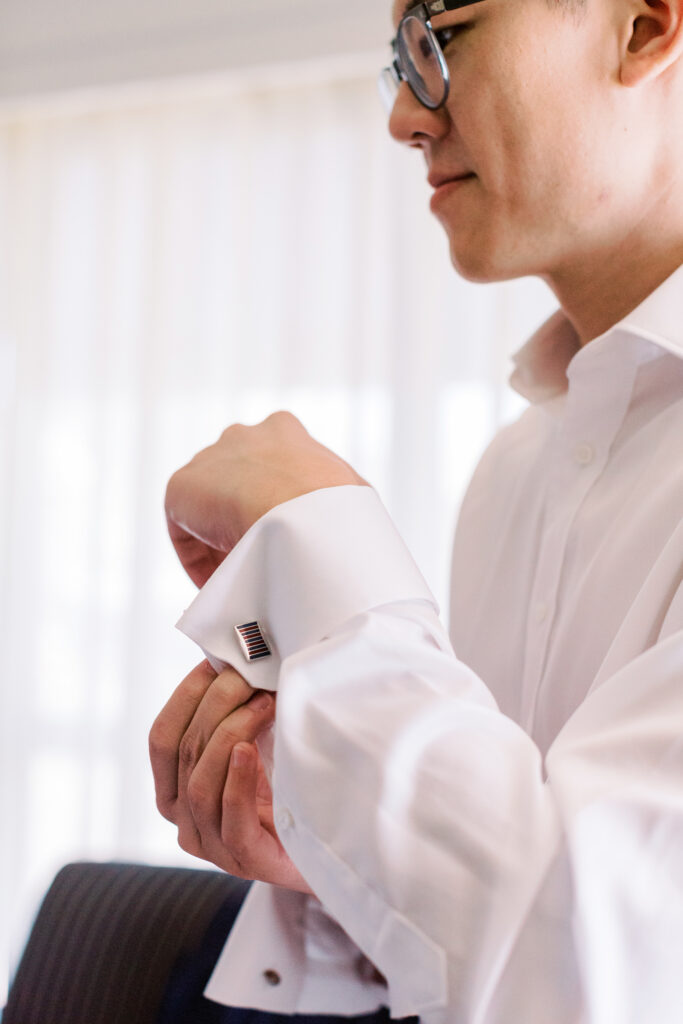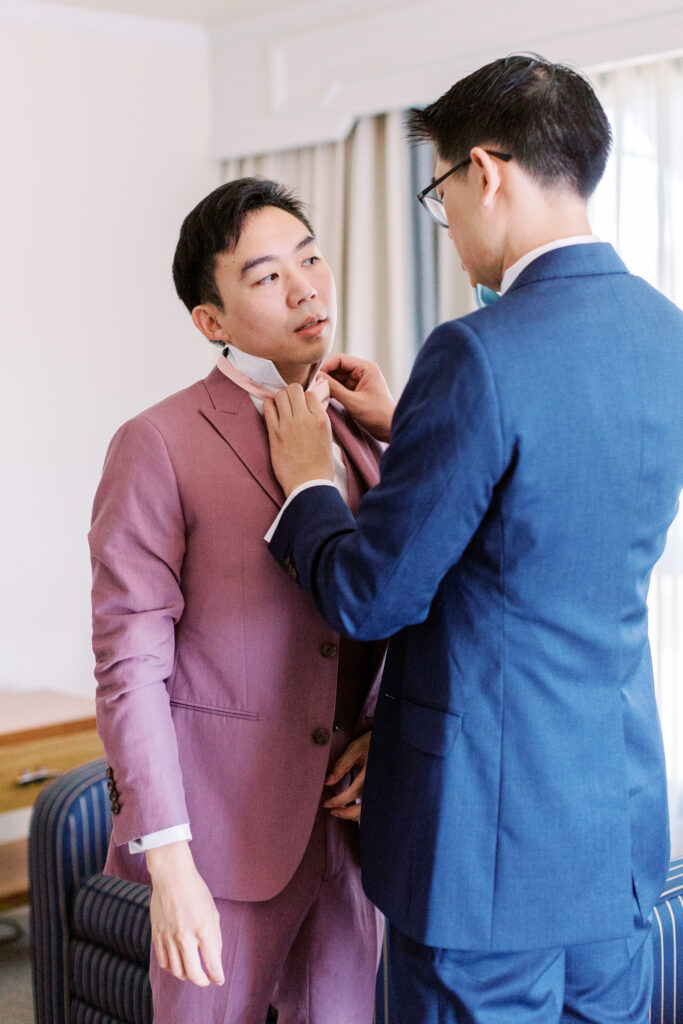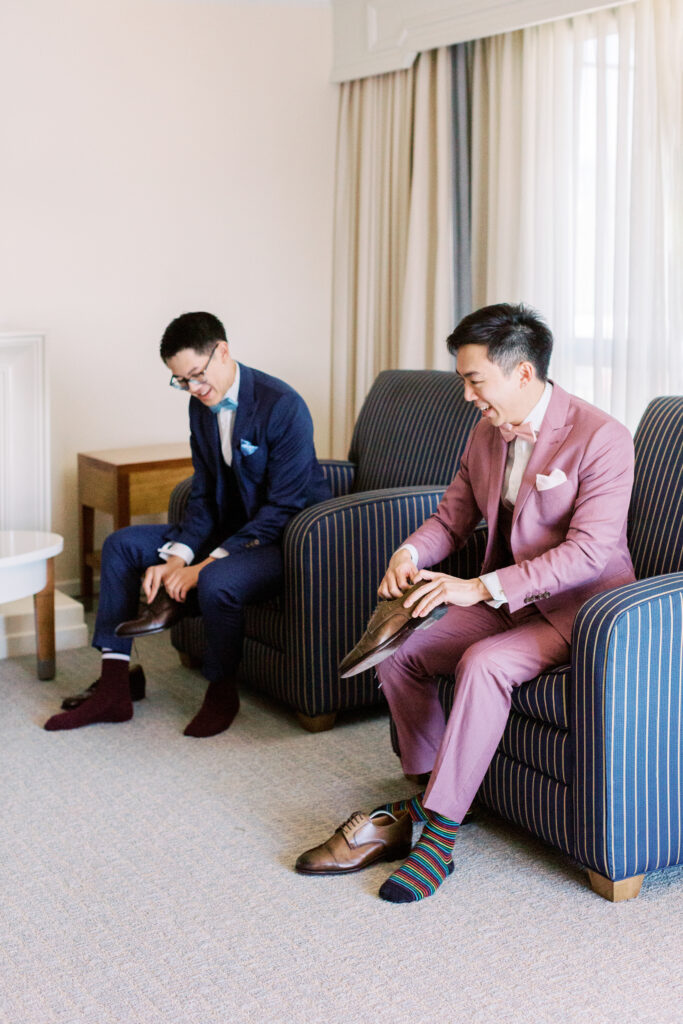 No "First Look" necessary – just fun photos together! Photographer Anna Wu and videographer Allen Myers captured every precious moment.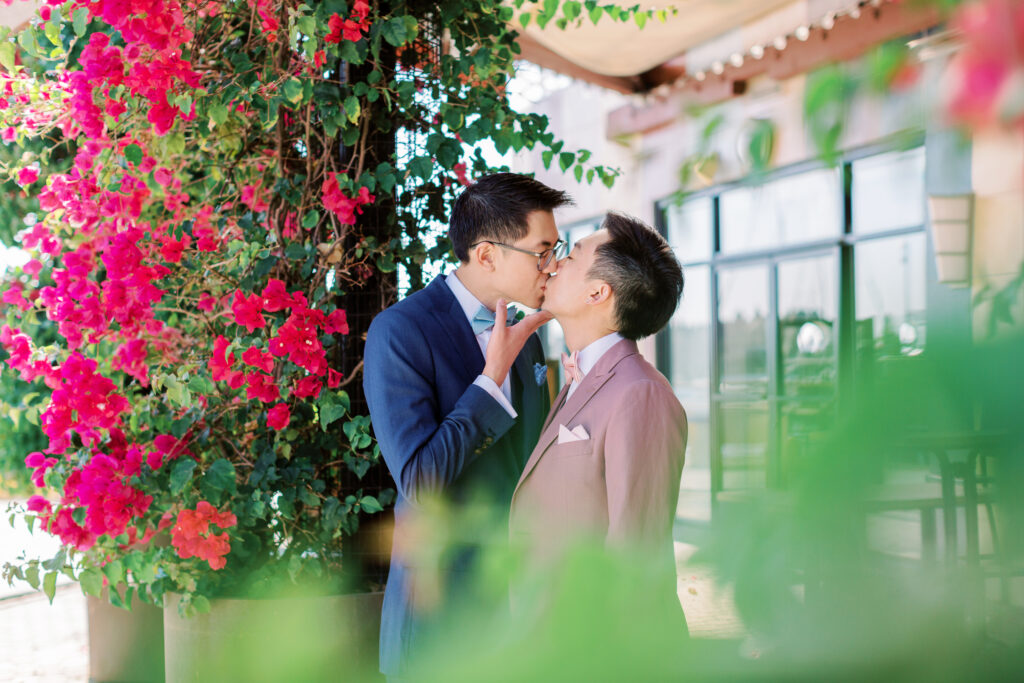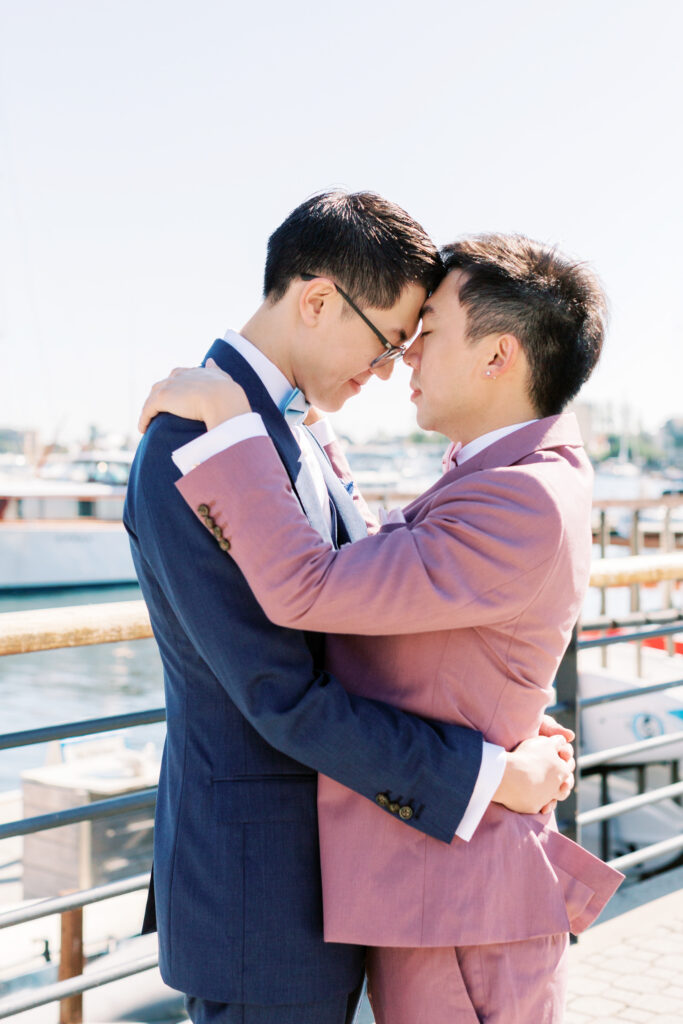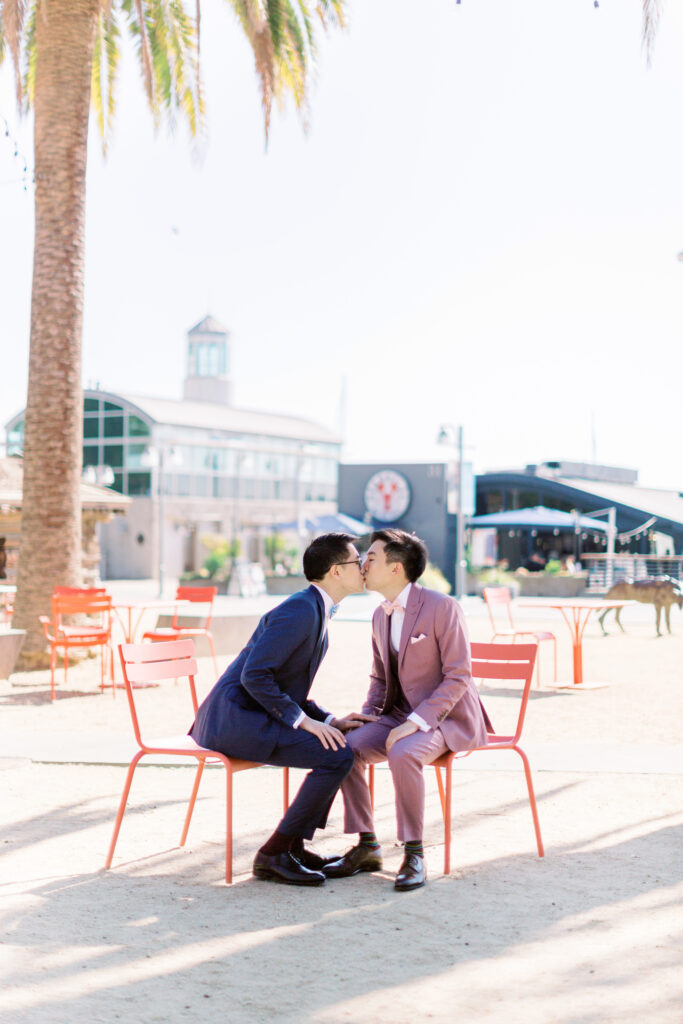 Time to transfer to the venue!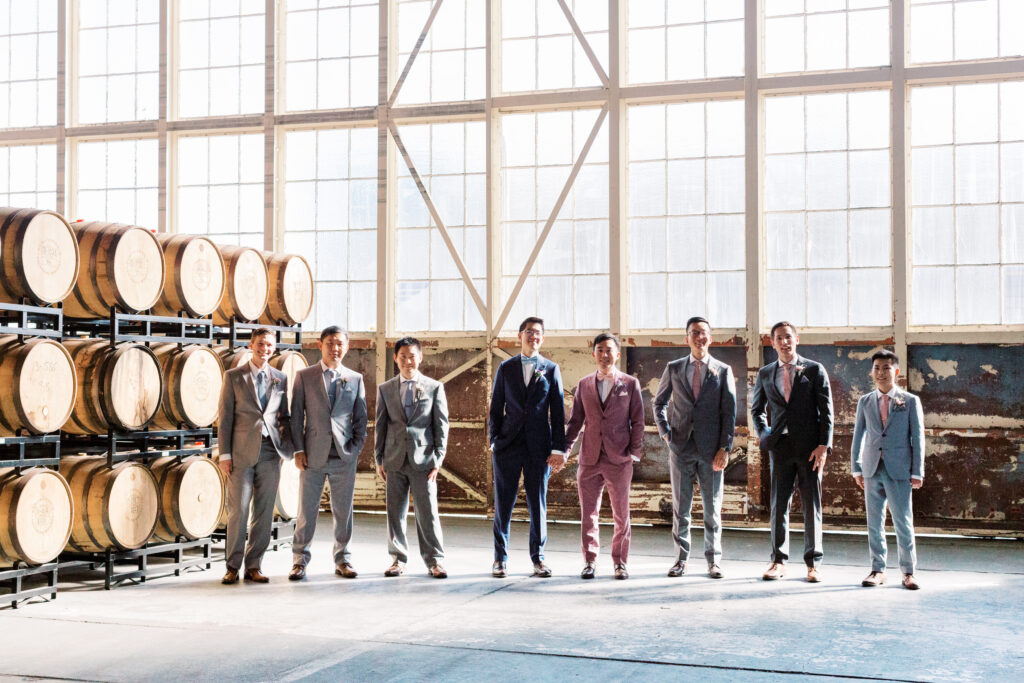 The bridal party in the barrel room – that's a really impressive space…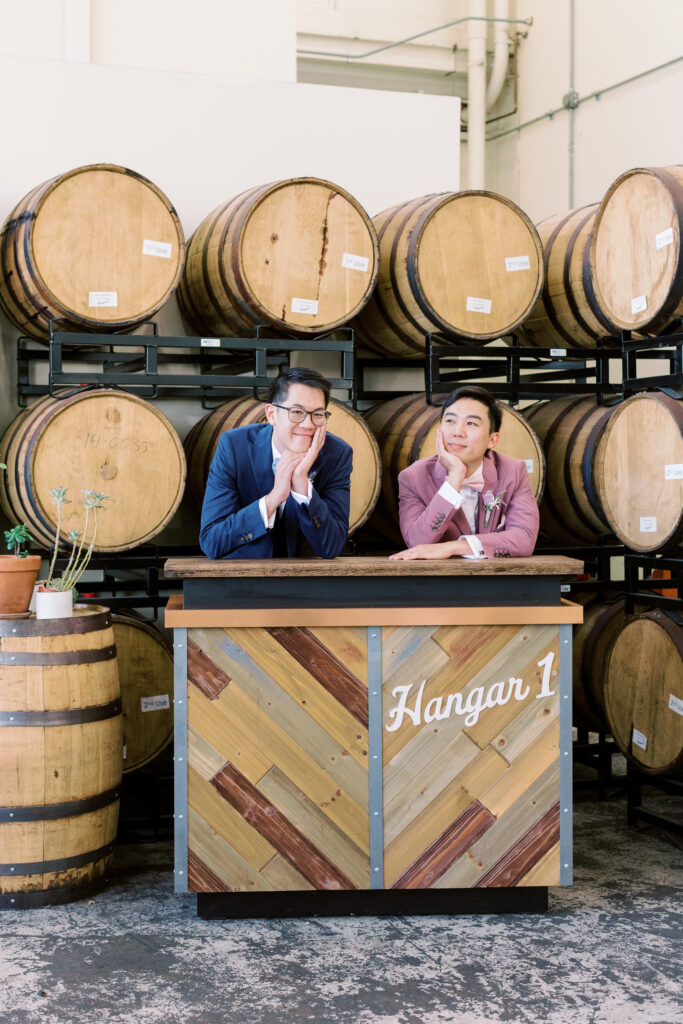 … and it's pretty clear why JC and JJ were so taken by this venue!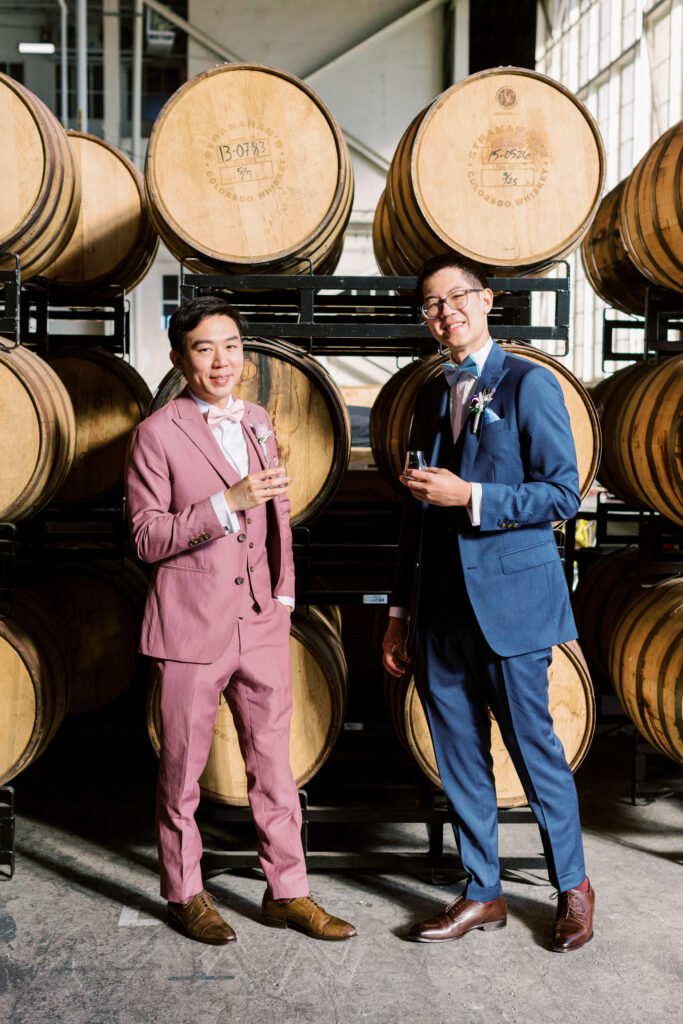 Cheers!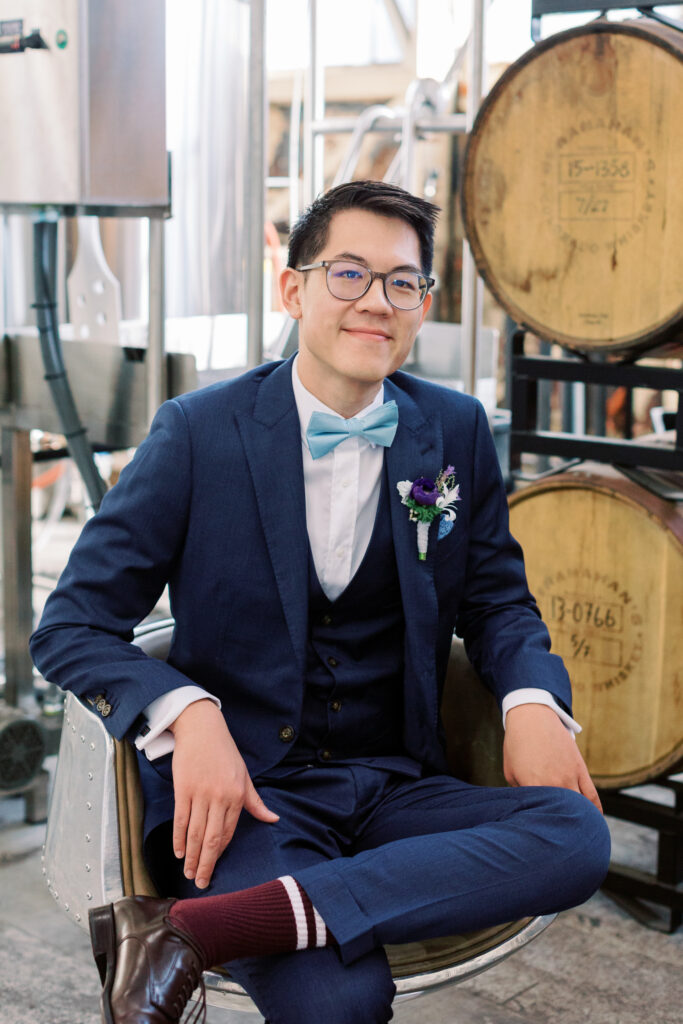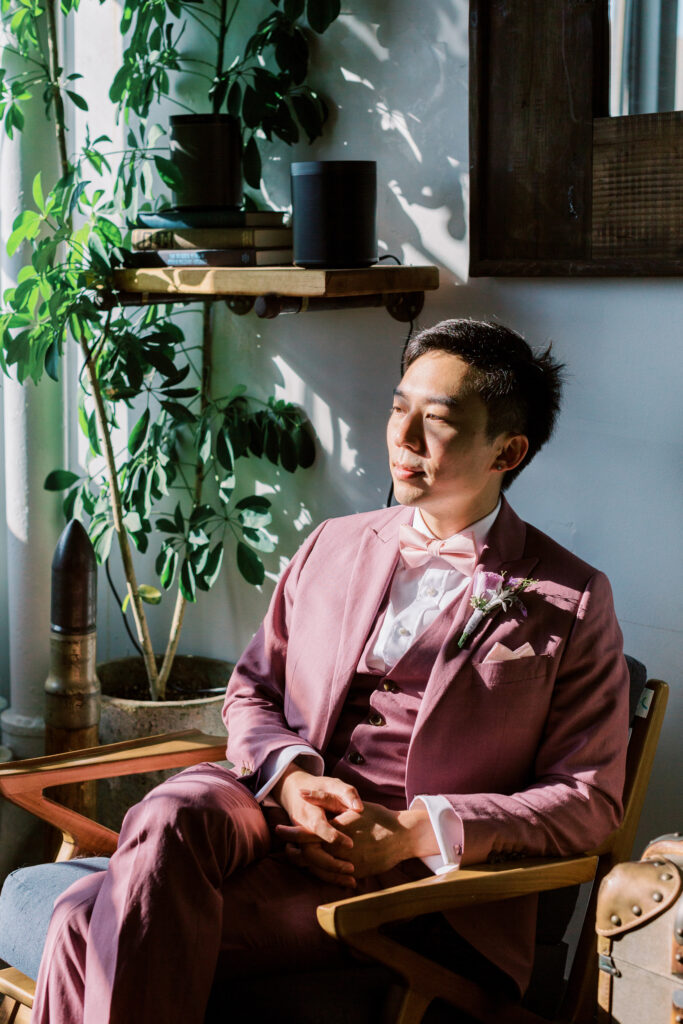 Then there was a little quiet time to spend with their groomsmen.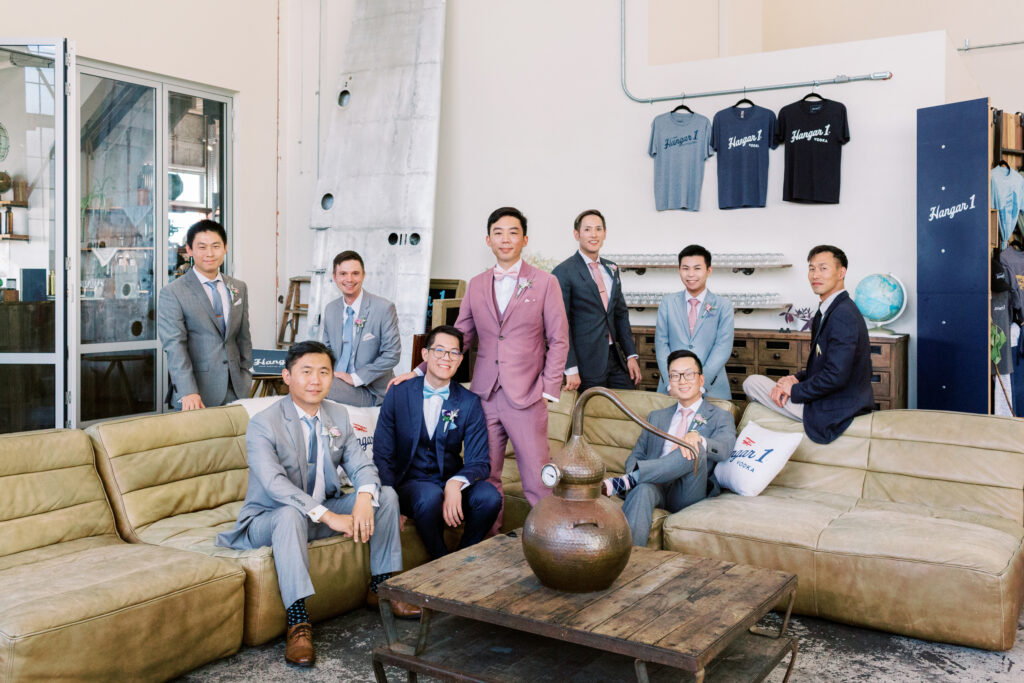 Guests began arriving for the ceremony, and each of them received a favor tote bag (filled with sunglasses, a fan and more useful little items for the evening) emblazoned with the motto "Love is Love."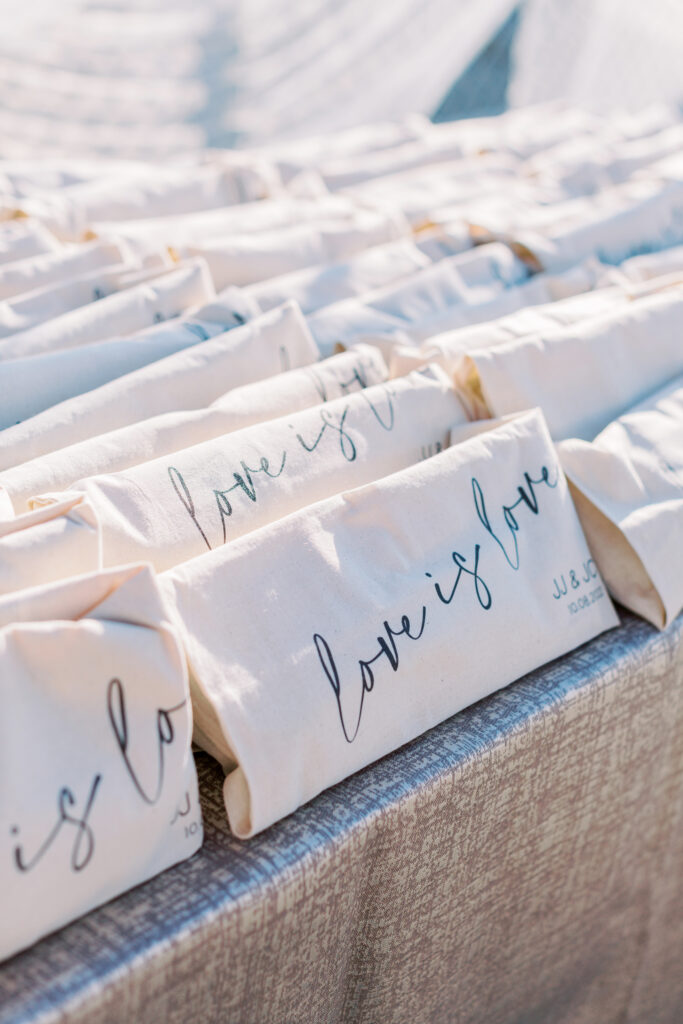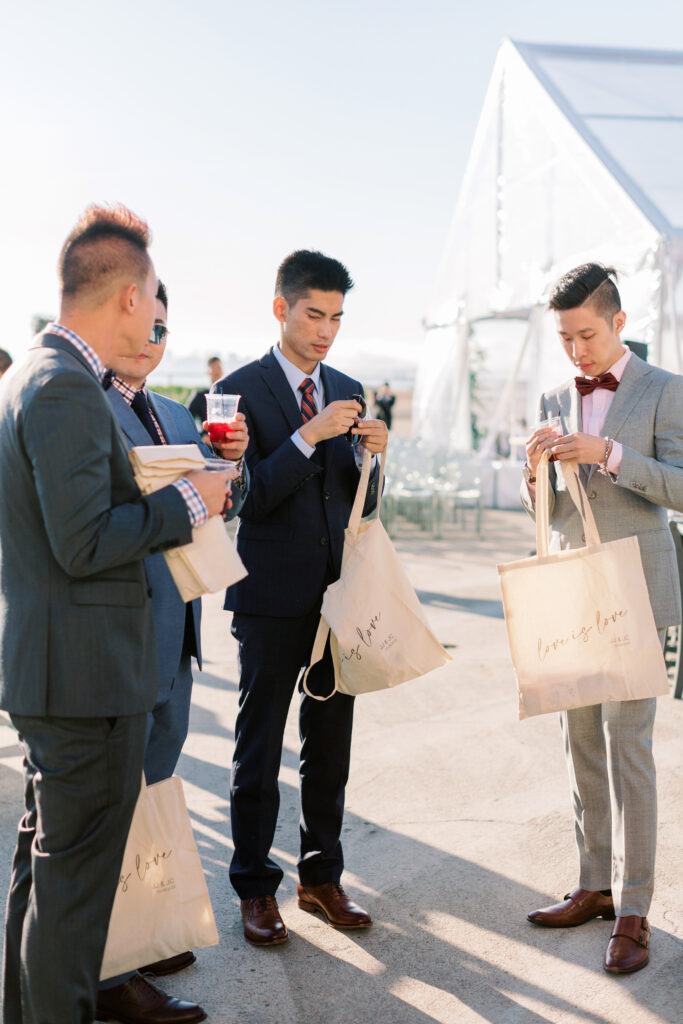 The ceremony site had meanwhile been set up by the venue staff, the catering staff and the florist crew (Green Petal Designs) – with chic translucent "Ghost" chairs, an angular arch with asymmetric floral accents and with floral arrangements on all chairs bordering the aisle. A live hedge formed a beautiful backdrop above which the San Francisco skyline rose in the distance. What a sight!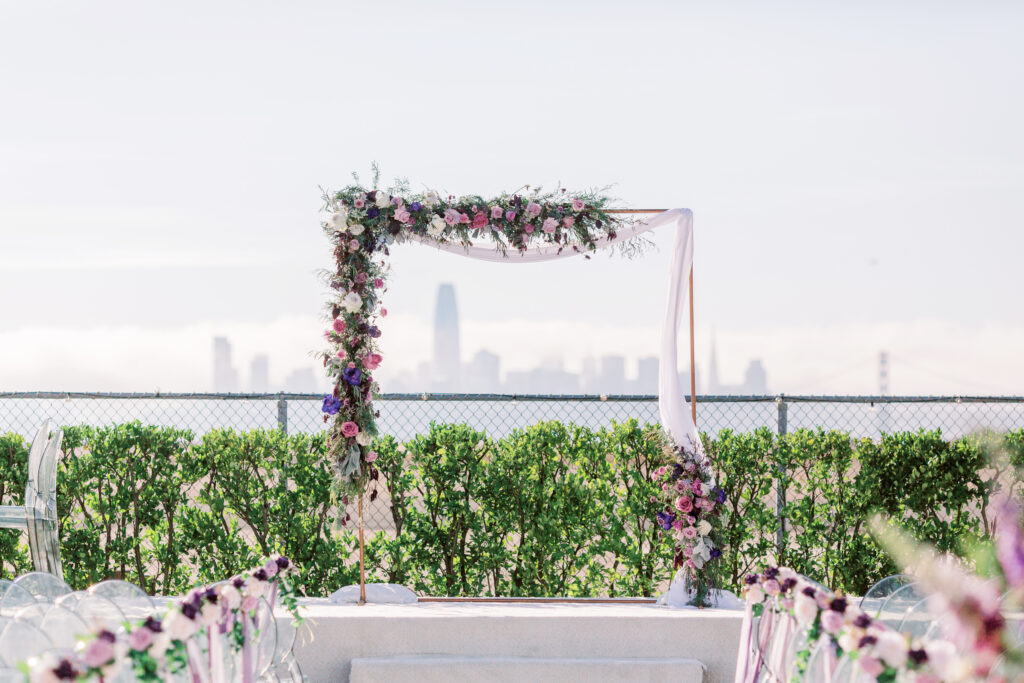 Sound in Motion DJs provided sound for the ceremony (and for the whole evening)…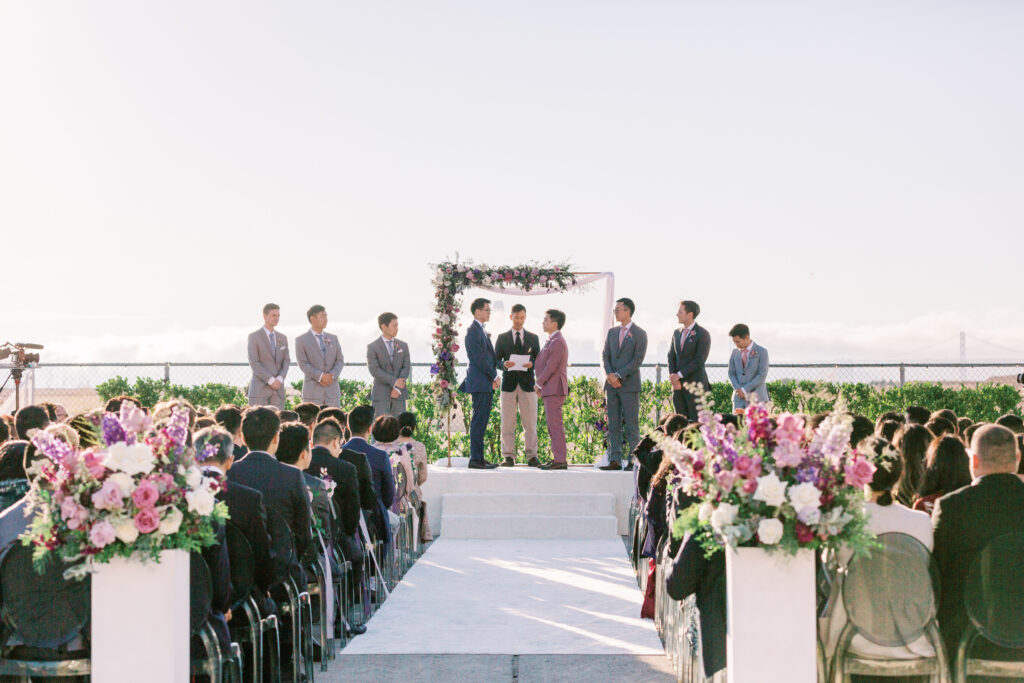 And there, it's happening – with over 250 guests in attendance.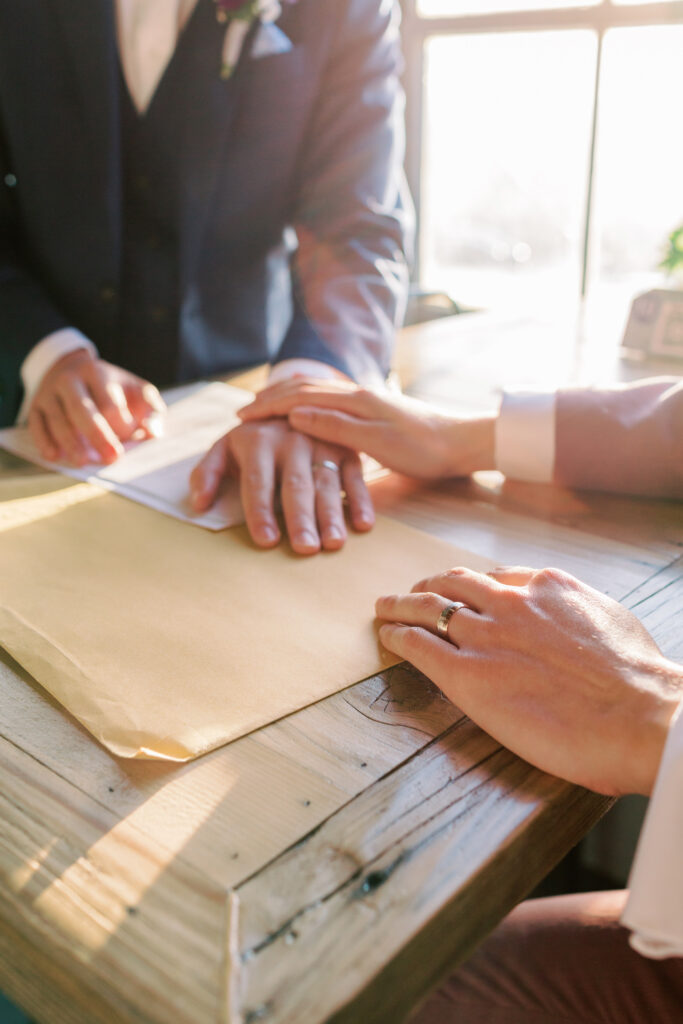 Signing the marriage license…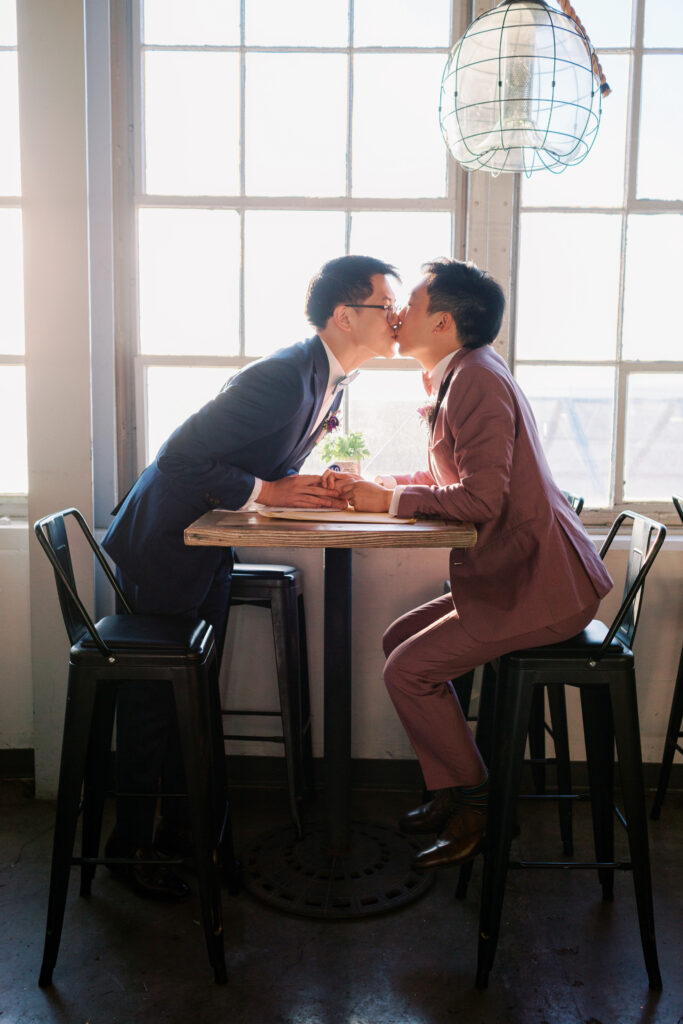 … and: it's official!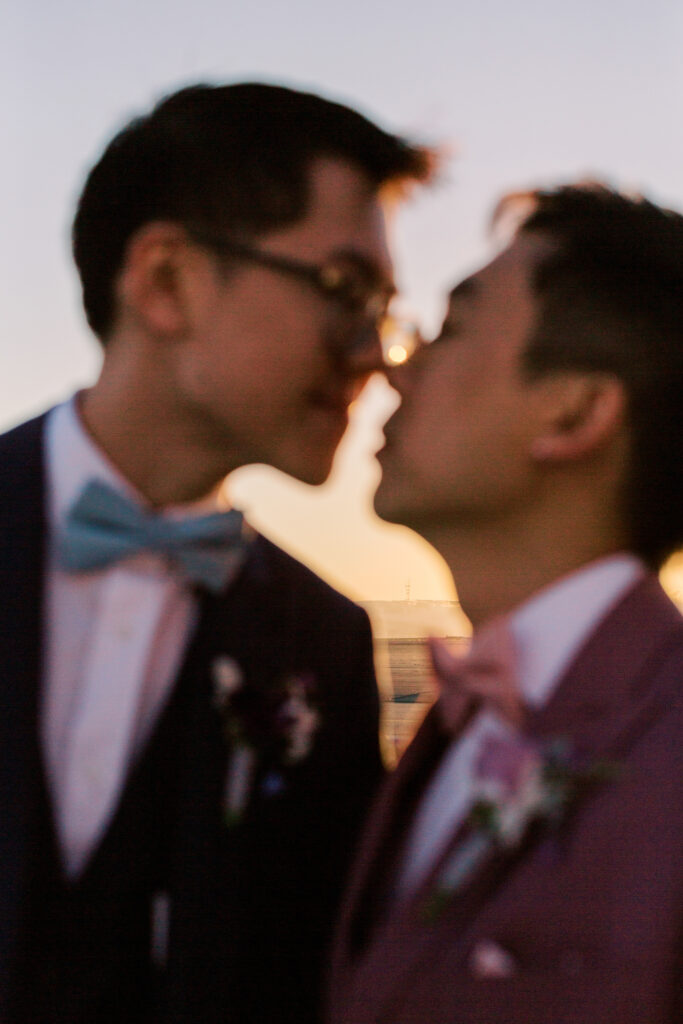 Guests were meanwhile treated to elaborate cocktails by Runway Spirits (including the vodka that is distilled onsite!), to hors d'oeuvres by Carrie Dove Catering, and to entertainment: The Booth Bus photo booth had set up and was open for (fun) business!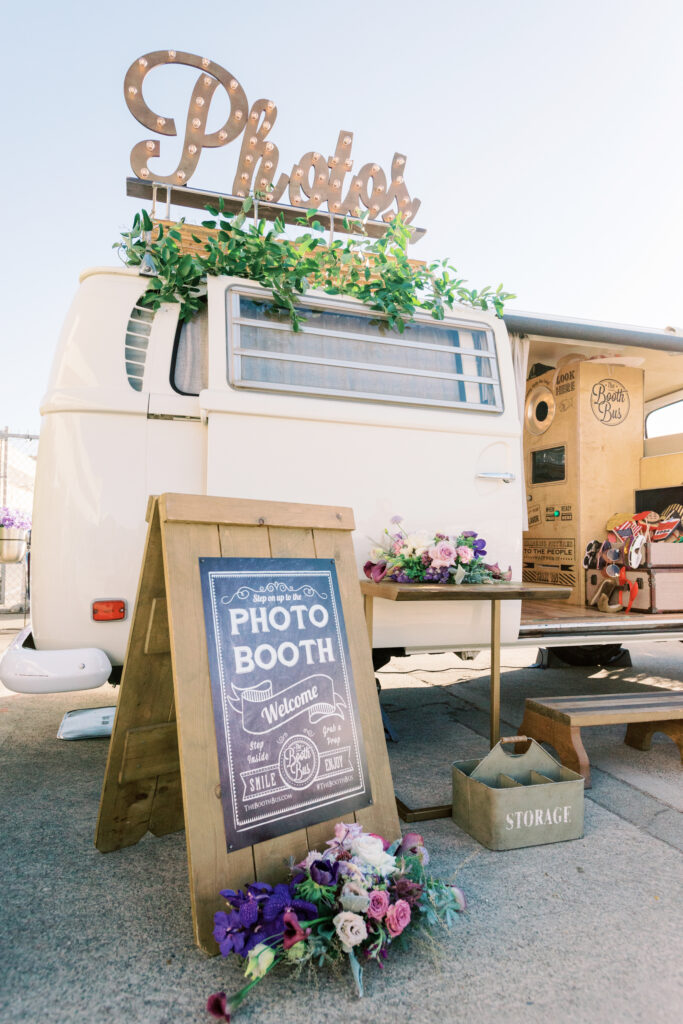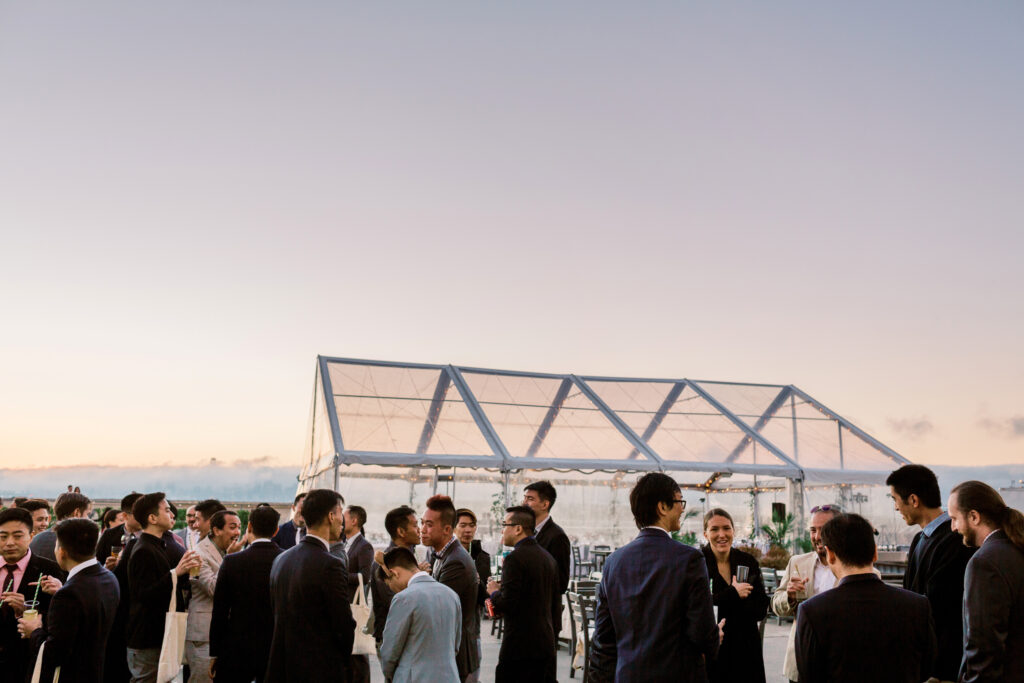 As the fog was rolling in as the sun was setting, Cocktail Hour concluded, and guests were invited to dinner. They found their seat assignments via custom-designed escort cards…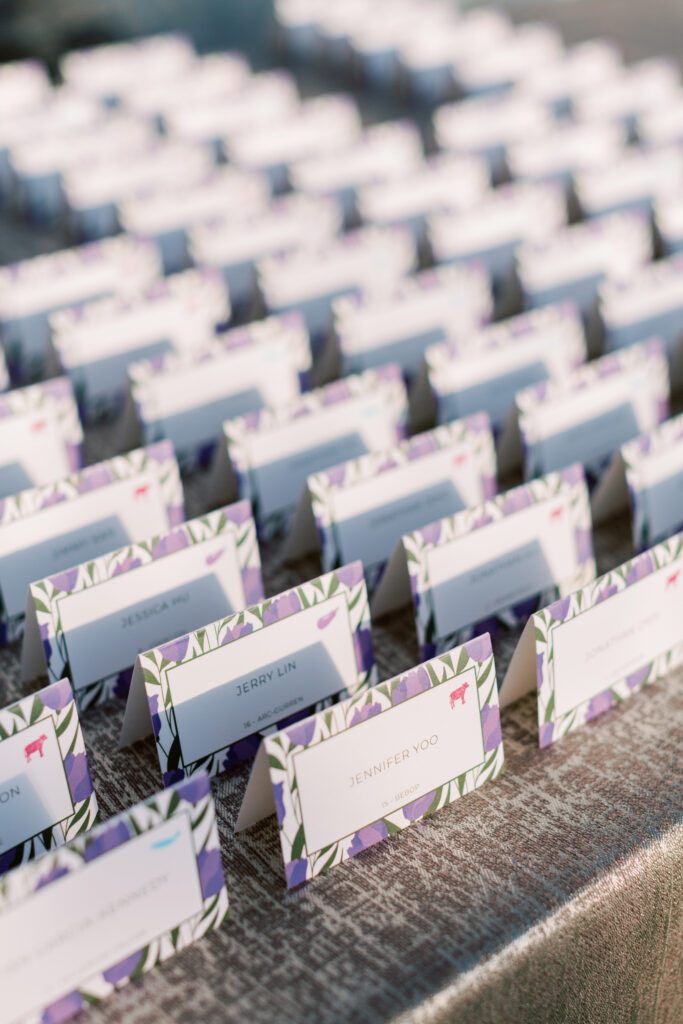 … arranged on a spectacular linen shot with metallic silver threads.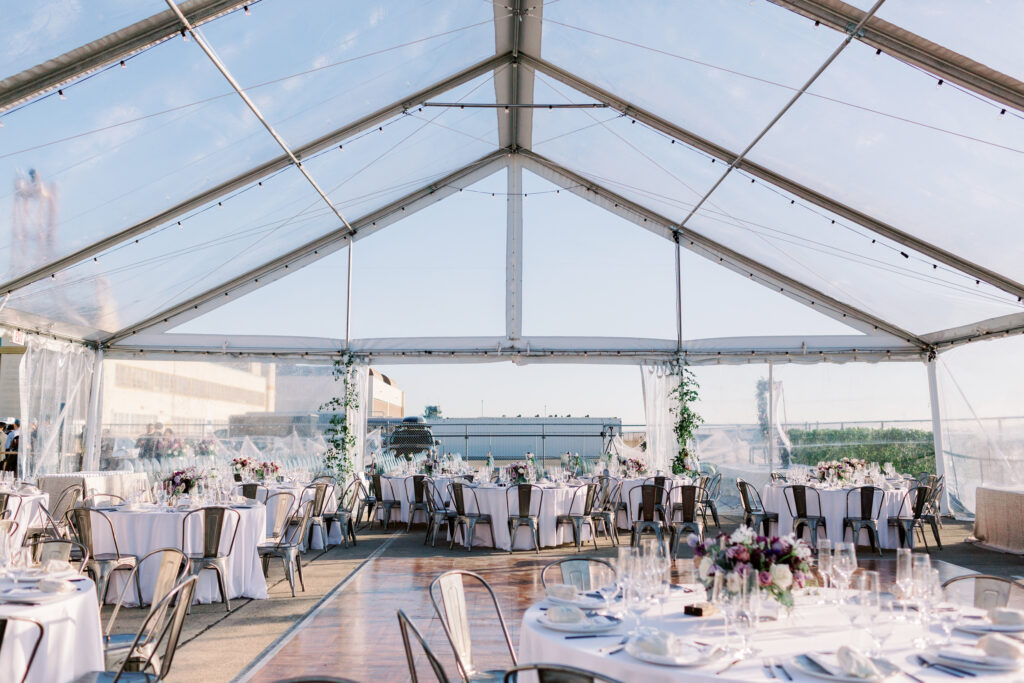 Then dinner was ready in the spectacular clear-walled tent (by Stuart Event Rentals – all rental items), with unobstructed views across the San Francisco Bay.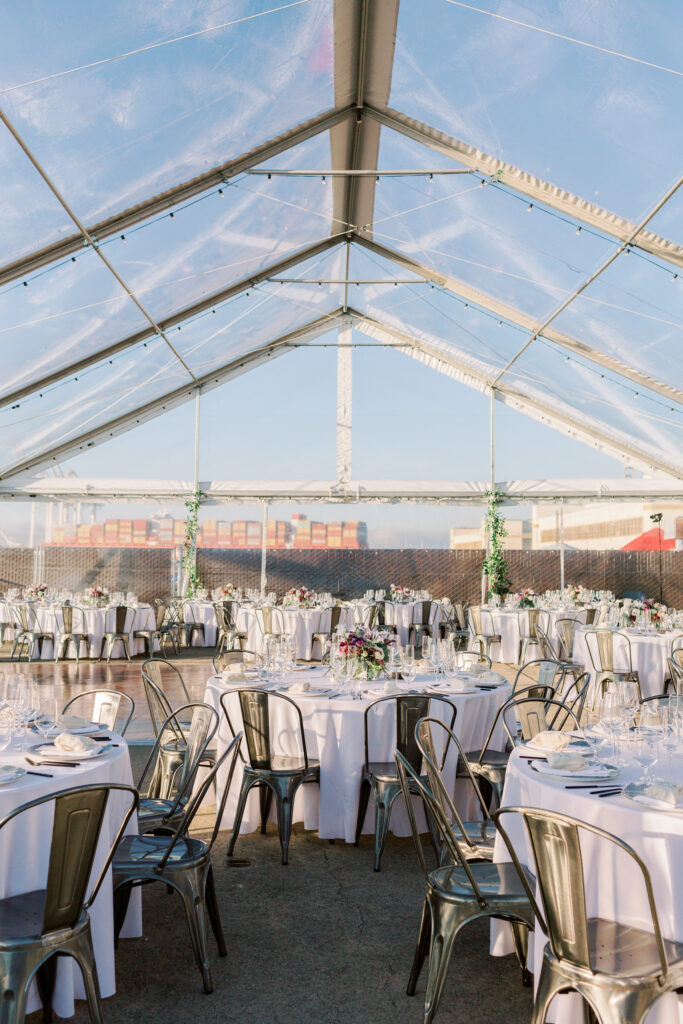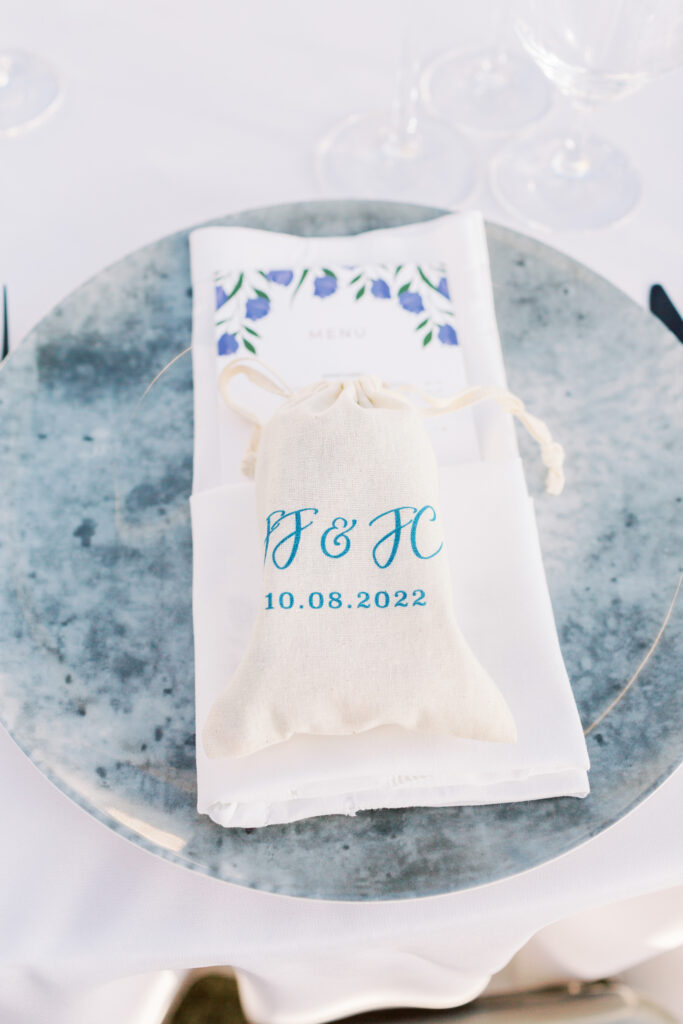 The decor (by A Day Like No Other) struck just the right balance between masculine chic, modernity and elegance, and the effortlessly overspilling floral arrangements (by Green Petal Designs) added a touch of playfulness, color and texture to the mix.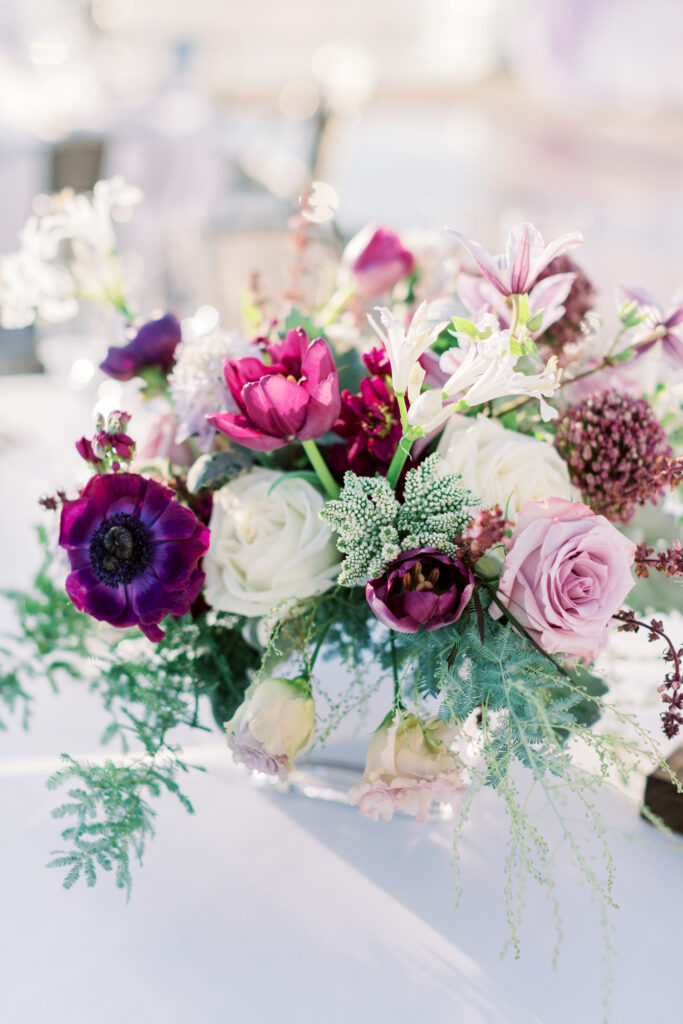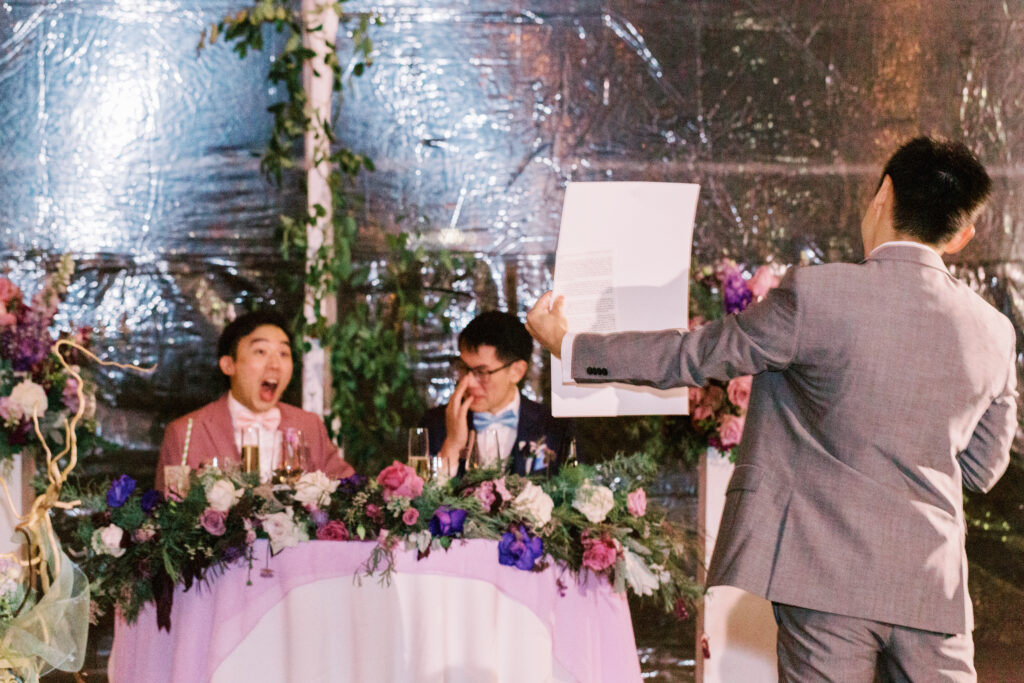 Dinner under twinkling string lights was not only delicious, but a decidedly fun occasion.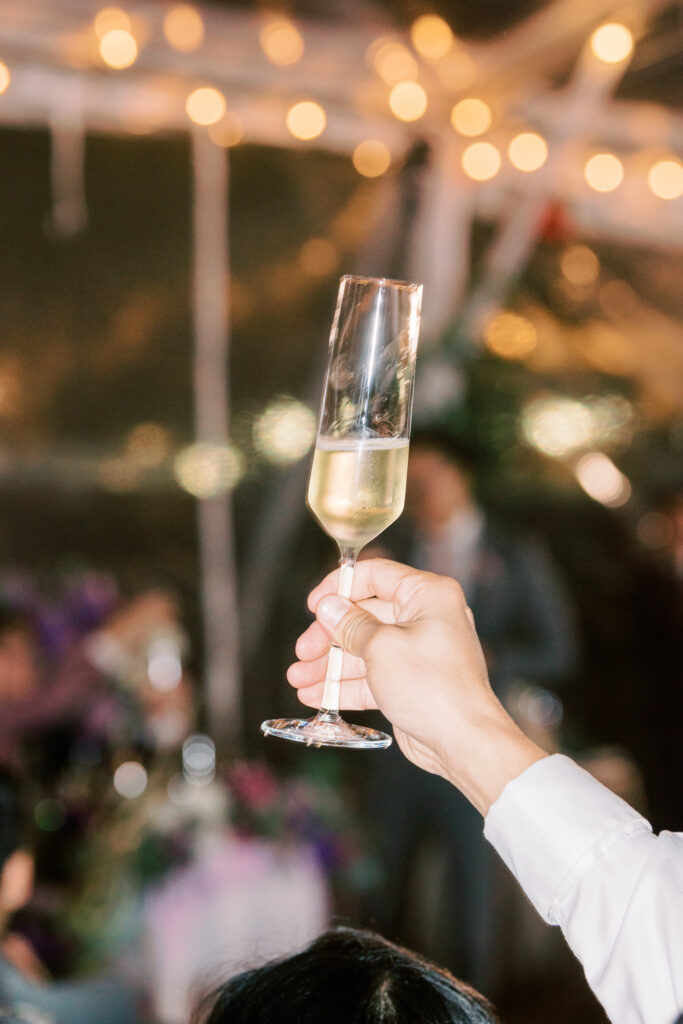 Cheers!
The next order of the day for the newlyweds: cutting the cake (by Sugar Butter Flour Bakery).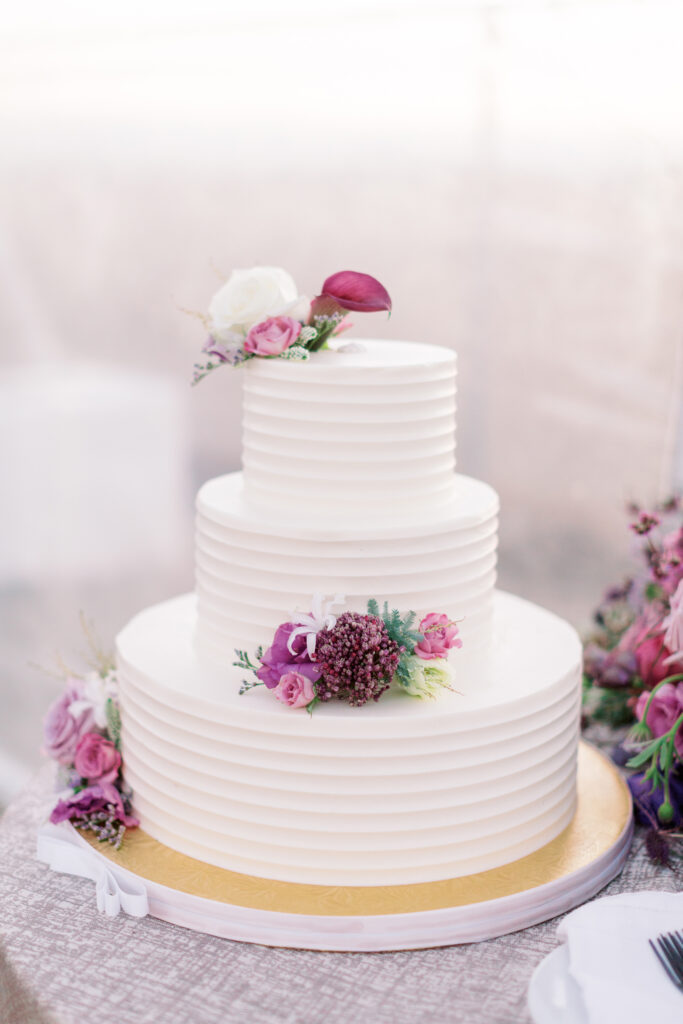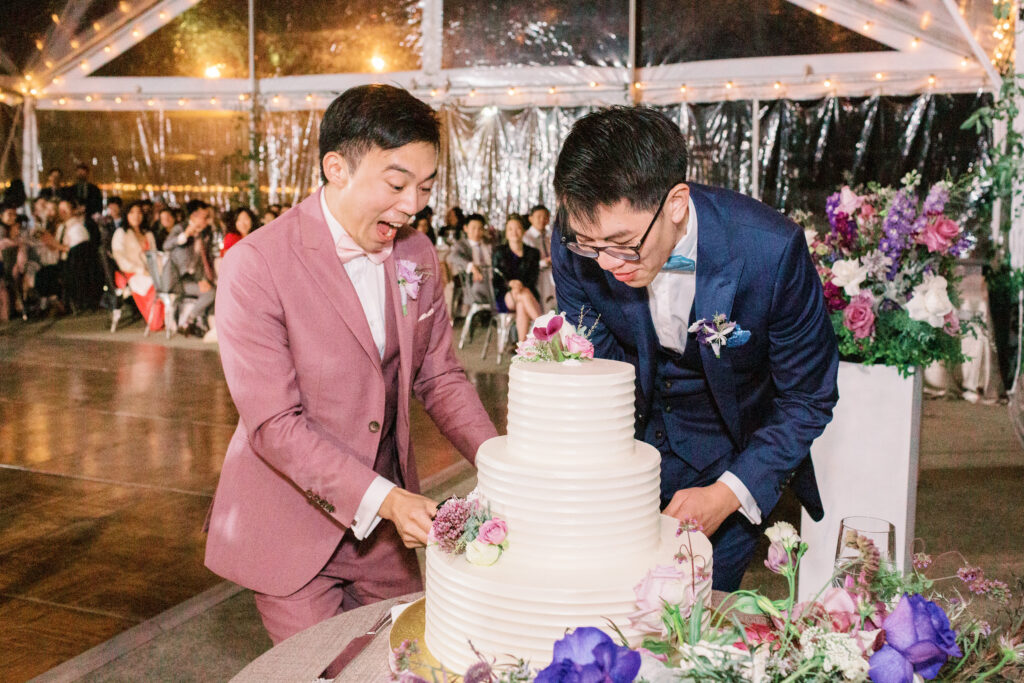 Not to forget: the official First Dance!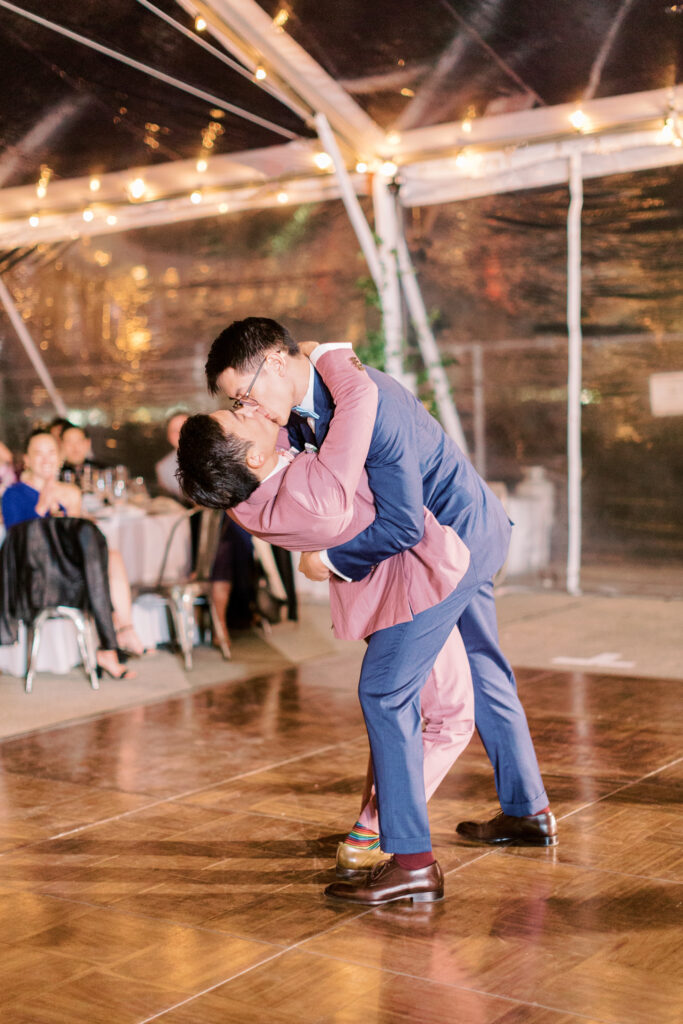 At the conclusion of the evening, guests got treated to whimsical favors – very special dice handpicked by the now-newlywed gaming enthusiasts…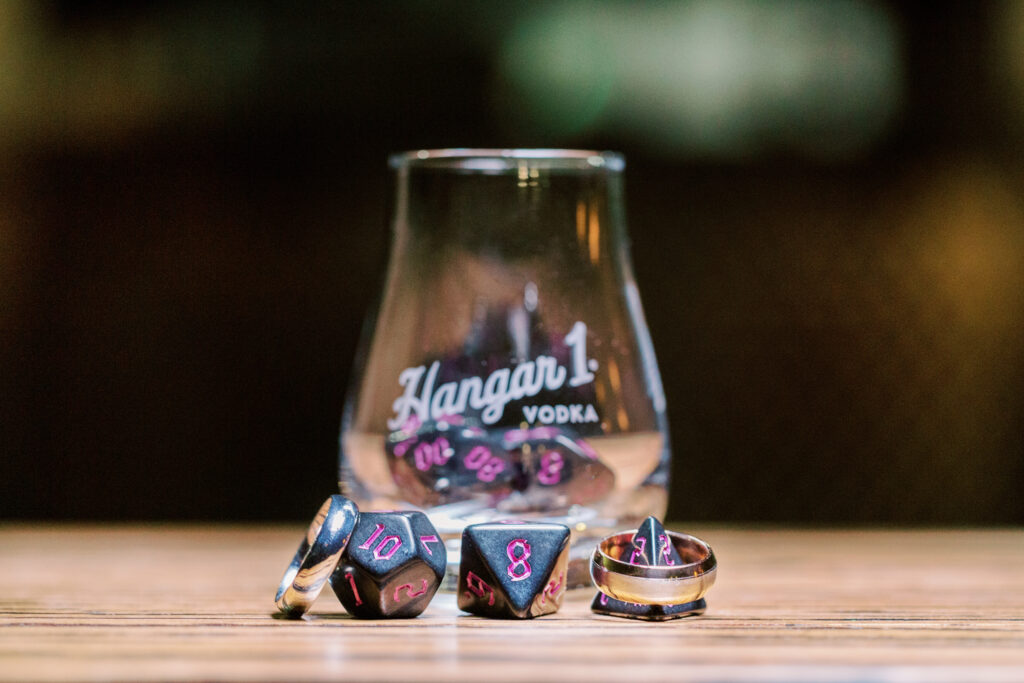 … here serving as a very unique display for their wedding bands!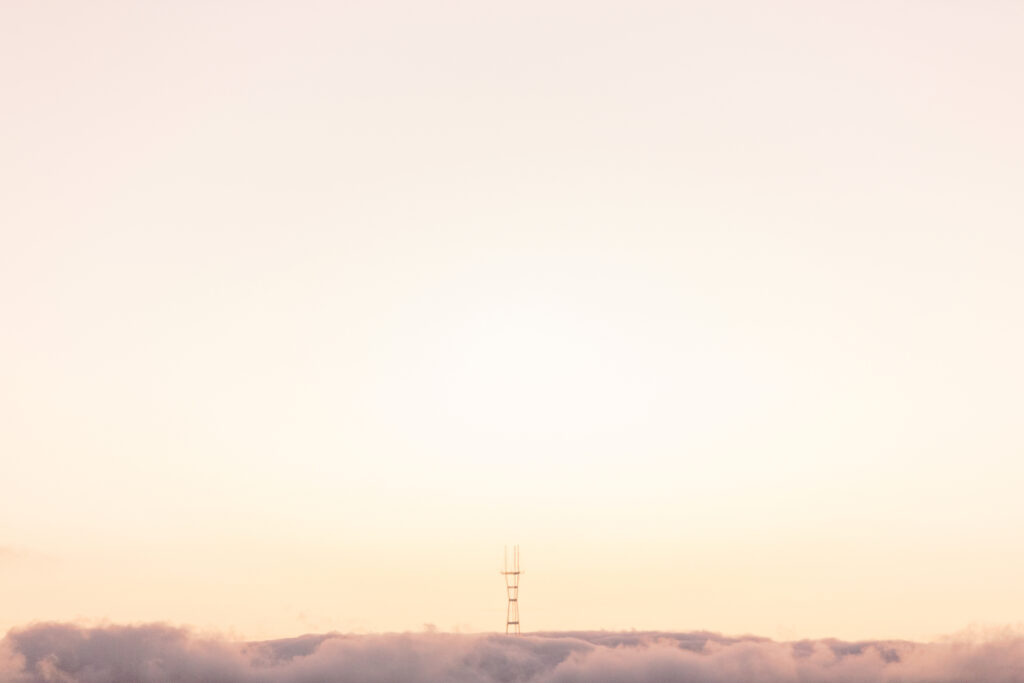 What a party… and when it concluded at Hangar One, an afterparty went on offsite. These two know how to celebrate! Keep partying, JC and JJ!