"J" and "S" are both very private people – so all we are allowed to share about the glorious summer wedding we at A Day Like No Other planned and designed for them are detail shots. Given how beautiful and unique their chosen venue – Nestldown – is, and given the exquisite decor and details of their nuptials, it's well worth the effort! Photographer Stephane Leon and videographer Tony Castaneda captured every precious moment.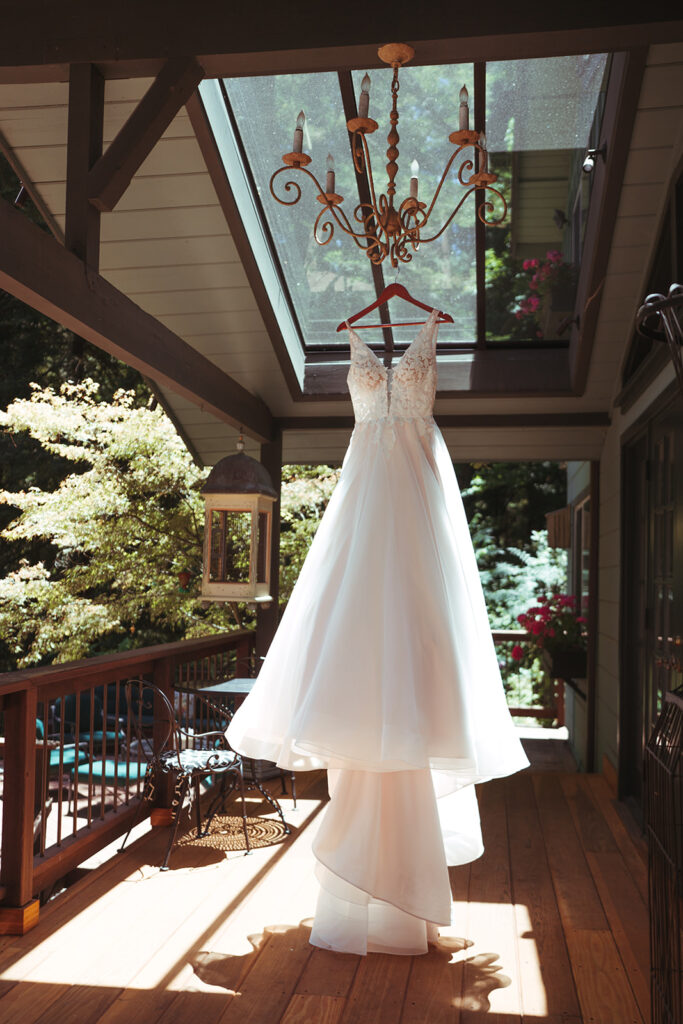 The bride spent the night before the wedding at the onsite guesthouse at Nestldown – an experience all its own! First order of the day: hair and makeup services by Wowpretty Salon.
The secluded patio at the guesthouse was the perfect location to capture her exquisite wedding dress.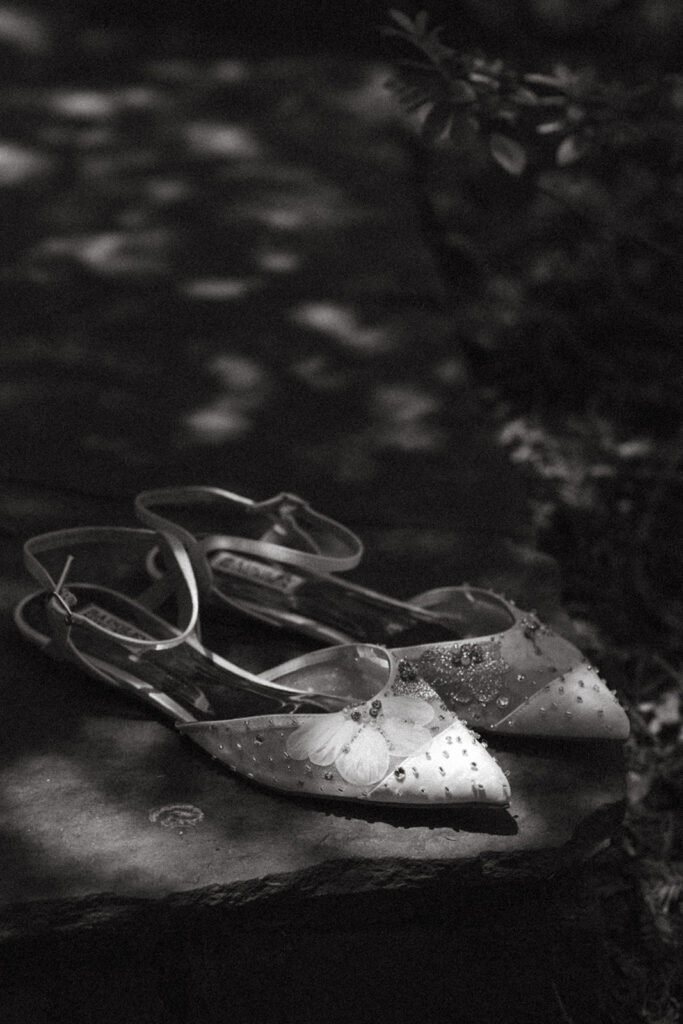 True princess slippers – beaded and embellished – complemented this one-of-a kind dress.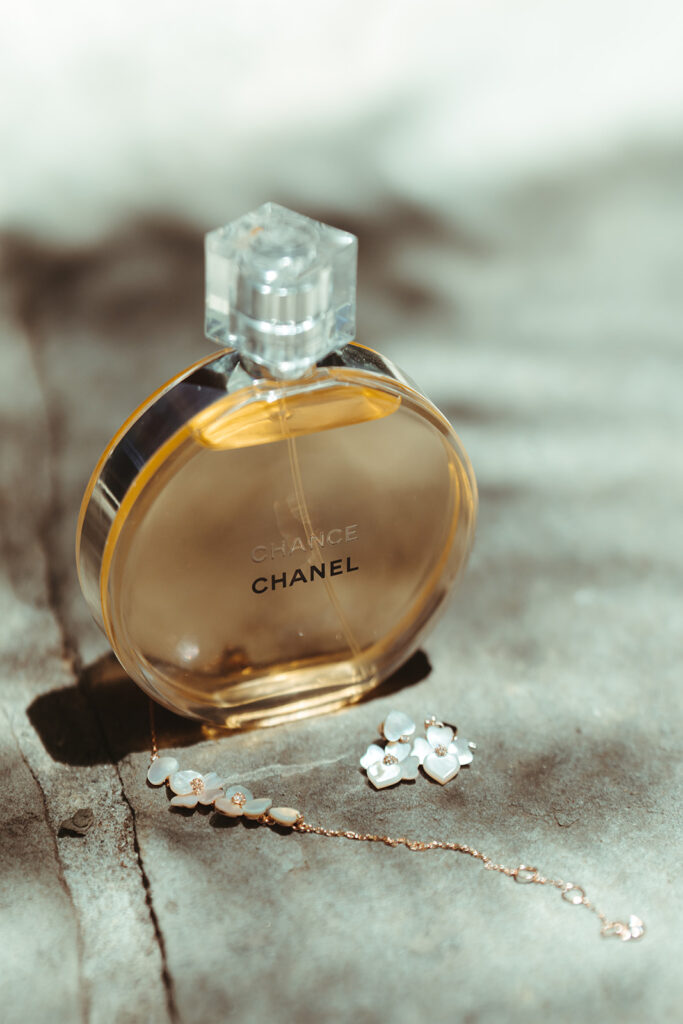 Delicate mother-of-pearl jewelry, a hint of fragrance… and the bride was ready to get dressed, with the help of her mother and bridesmaids.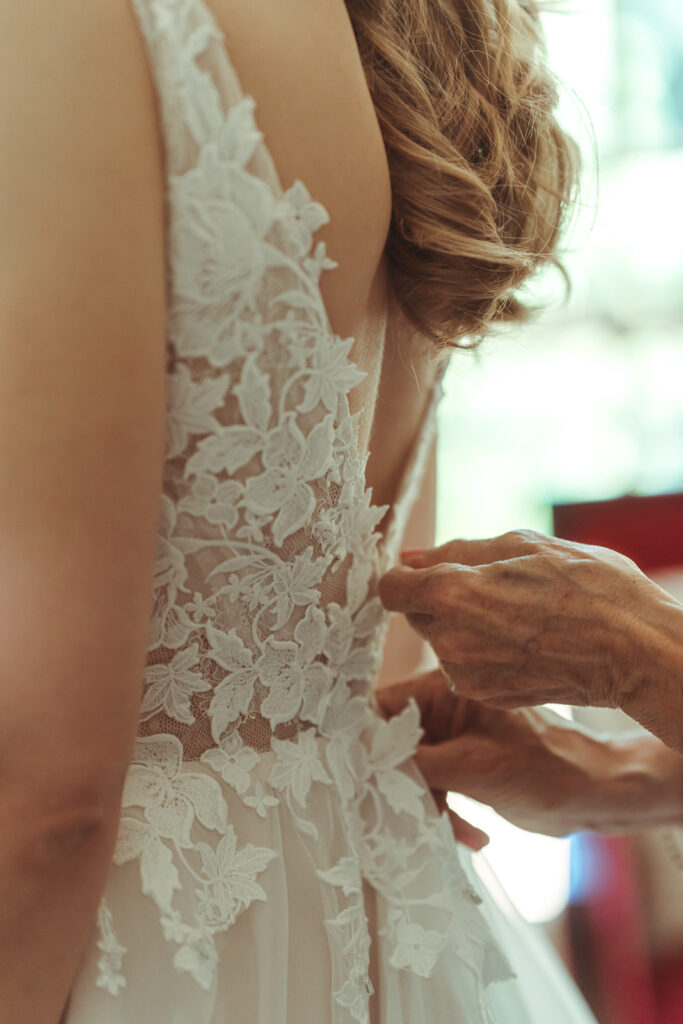 And here she is – ready for the ceremony! (The bride was adamant: no First Look! The first moment for her groom to see her would be at the ceremony).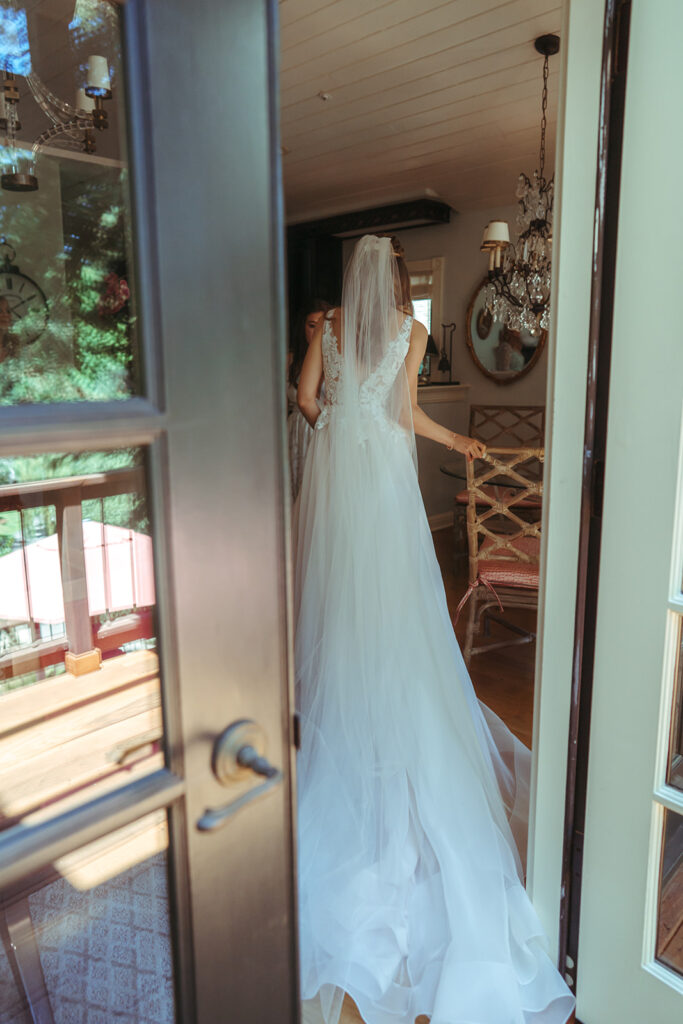 A dramatic cathedral-length veil accompanied the dress – quite audacious, given the terrain at Nestldown!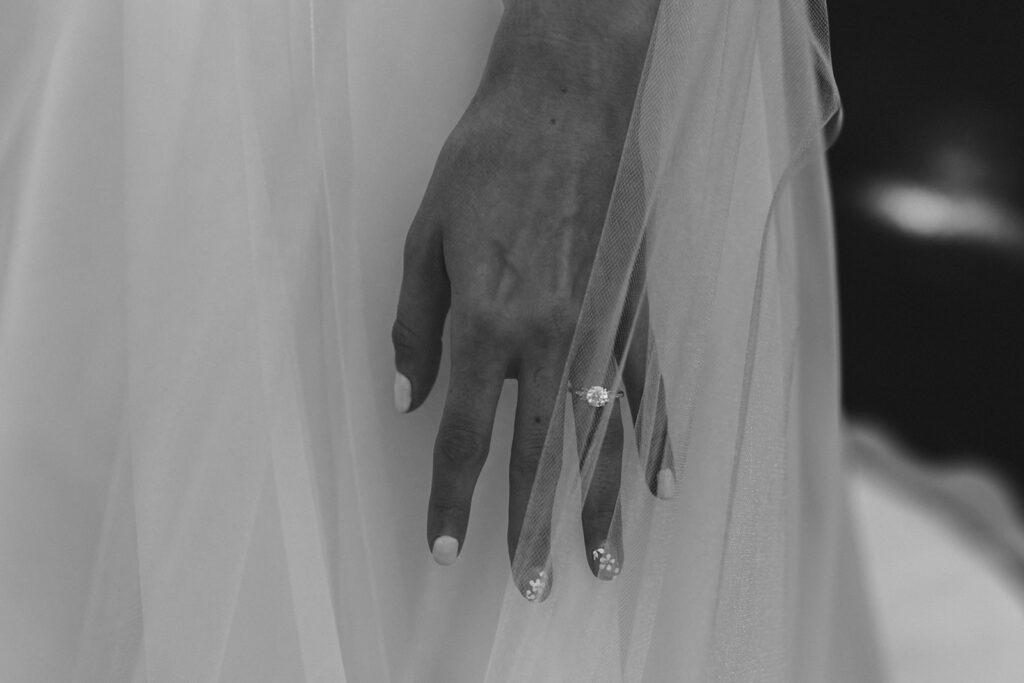 Groom "S" was getting ready as well…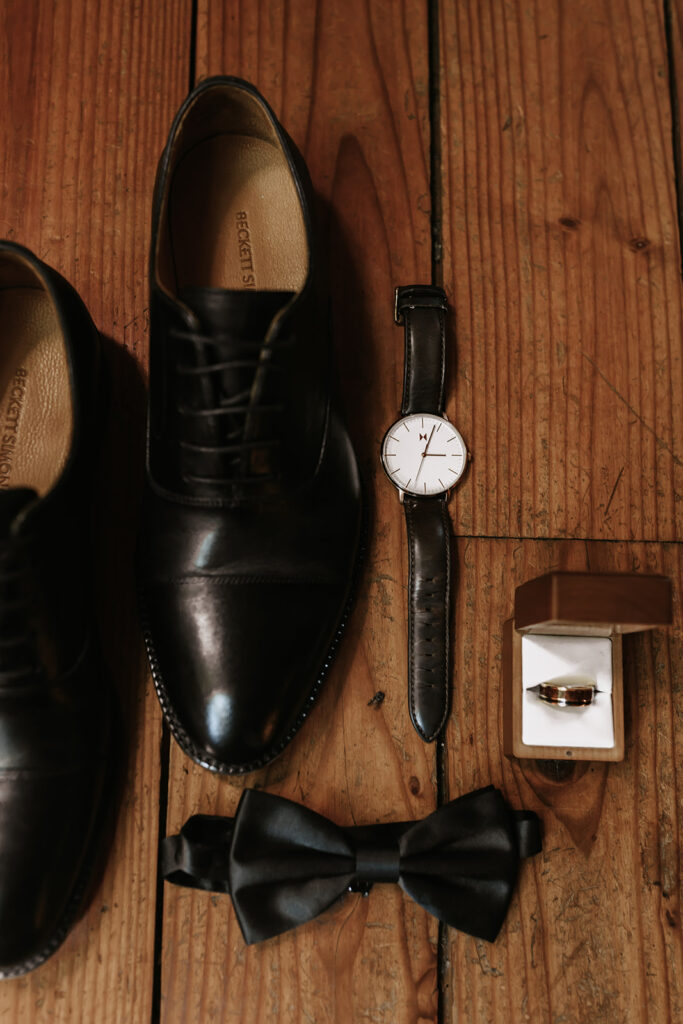 … wearing true classics, including monogrammed shirt cuffs – however, HIS way (no socks!).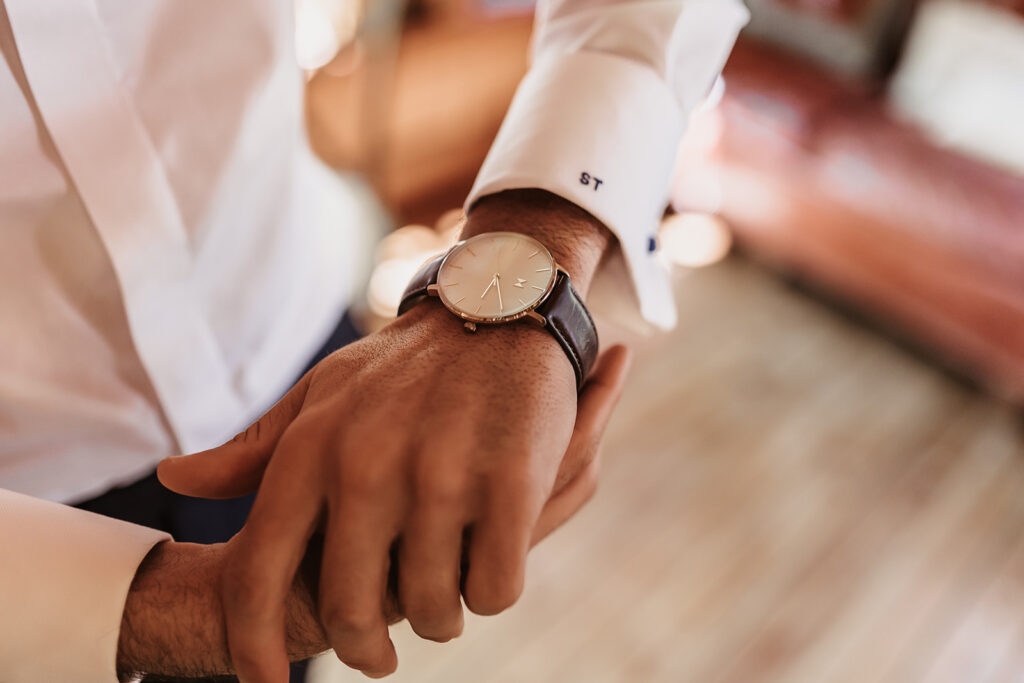 The ceremony area had been set up in the "chapel," a stunning natural grove of towering, centuries-old Redwood trees.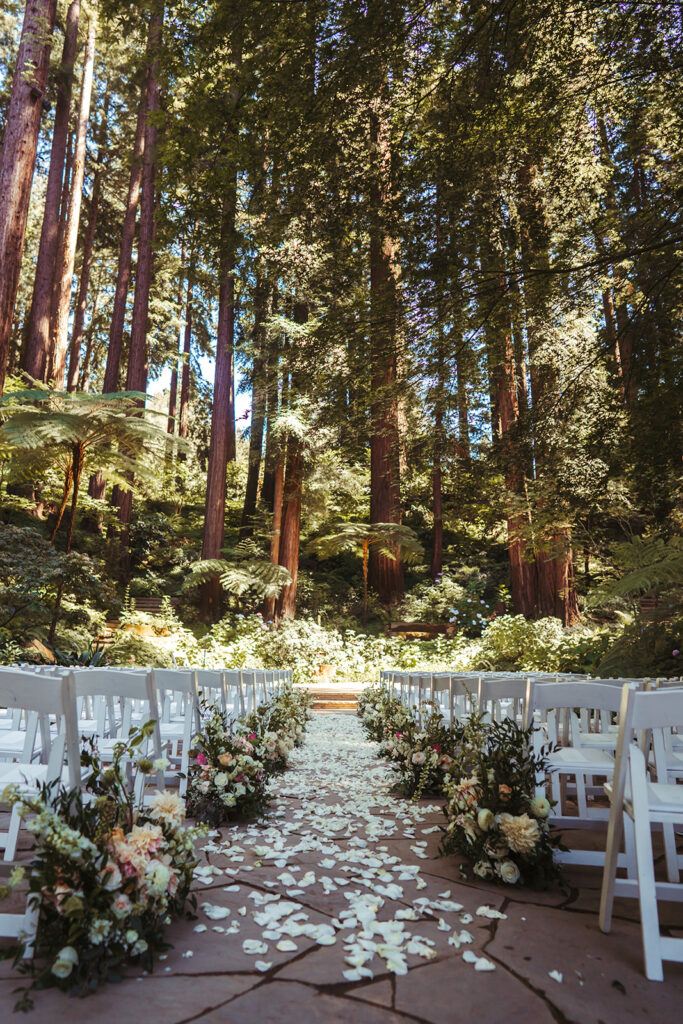 Lush arrangements of summer flowers (all floral decor by Green Petal Designs) lined the aisle which was covered with ivory rose petals. It was a gorgeous sight to behold.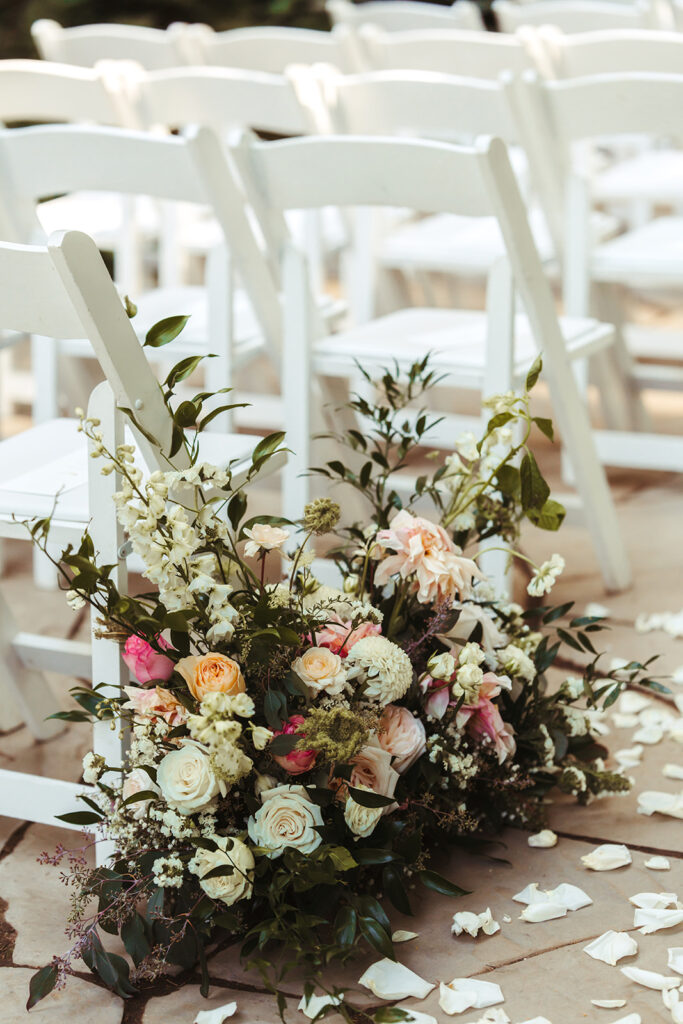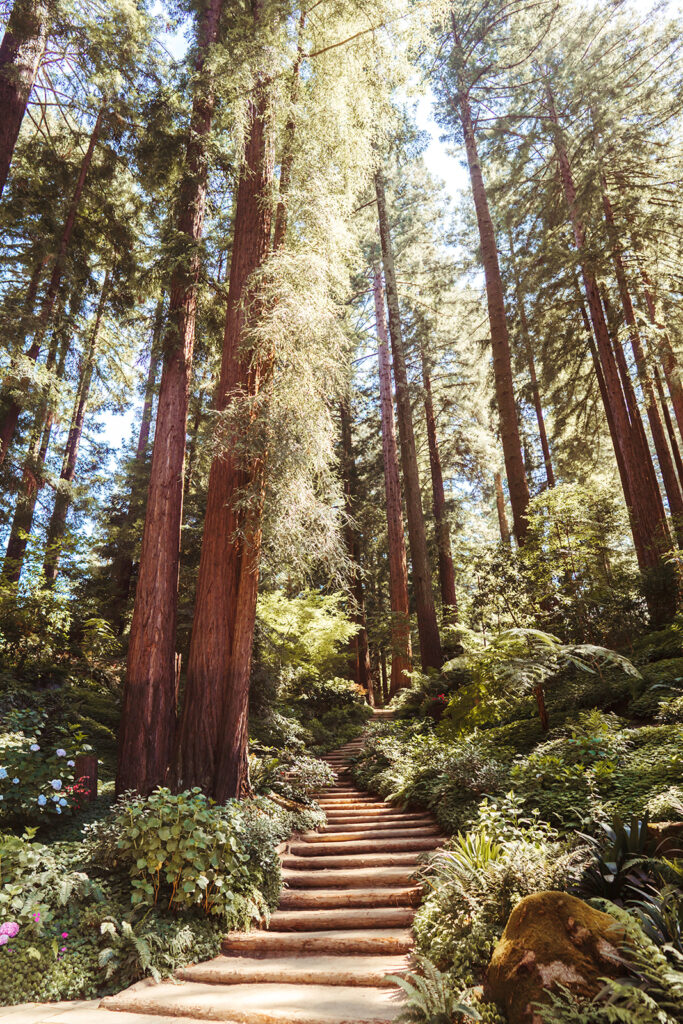 This is the aisle at Nestldown for brides and grooms to enter the ceremony area – talk about drama!
While we are not at liberty to share any photos of the ceremony, we may show the beautiful dinner setup on the main lawn, with crossback chairs and classically-elegant place settings, summery centerpieces by Green Petal Designs, and the permanently installed twinkle lights in the surrounding trees which turned the scene magical as dusk was falling.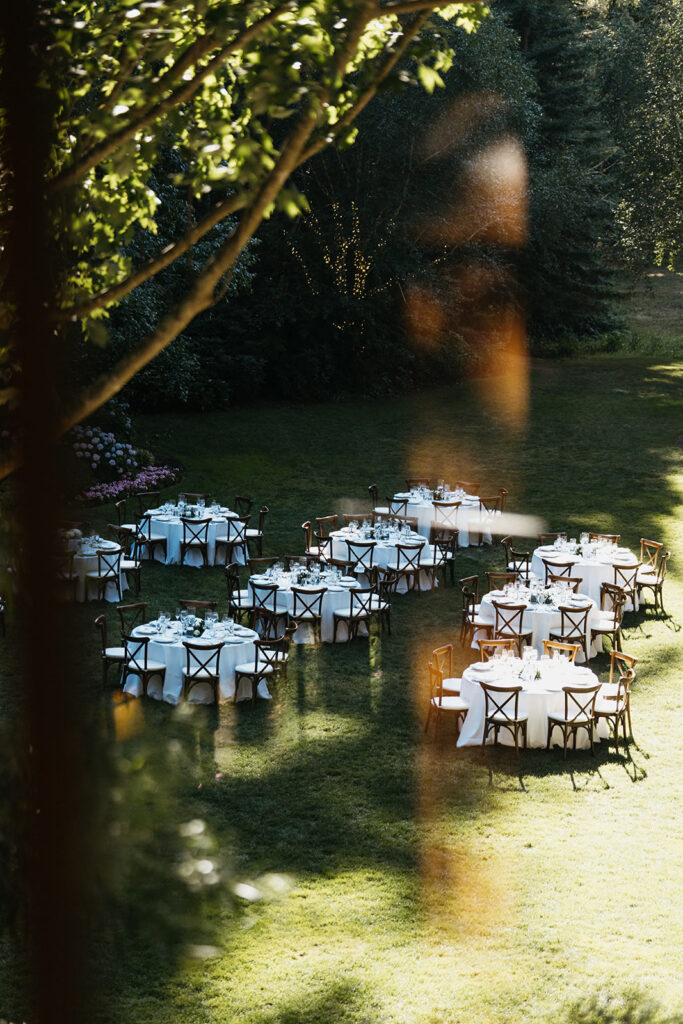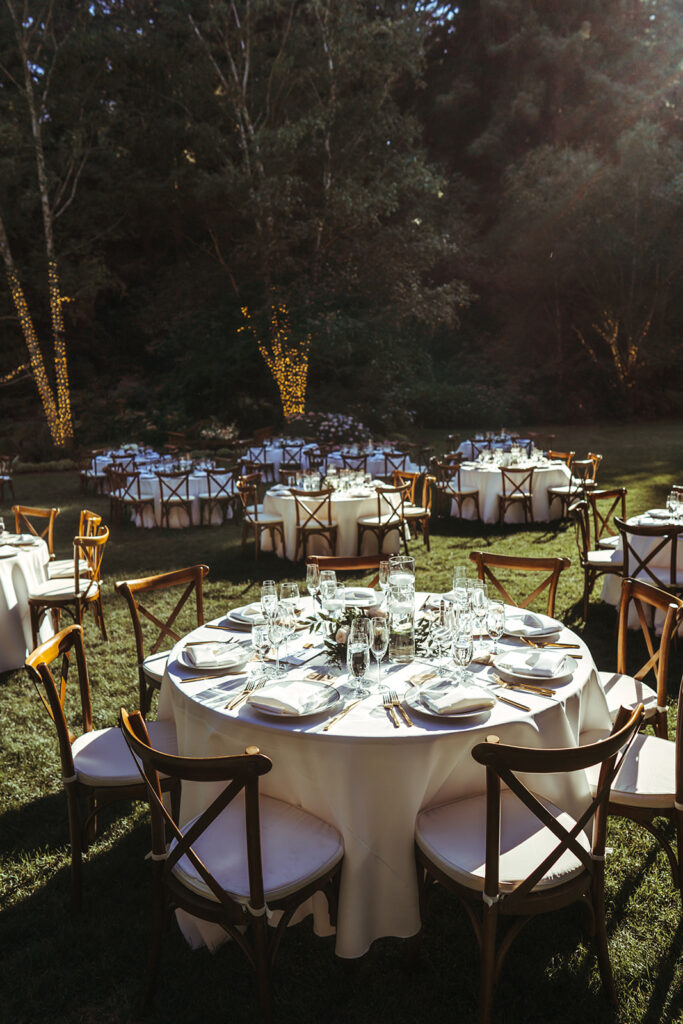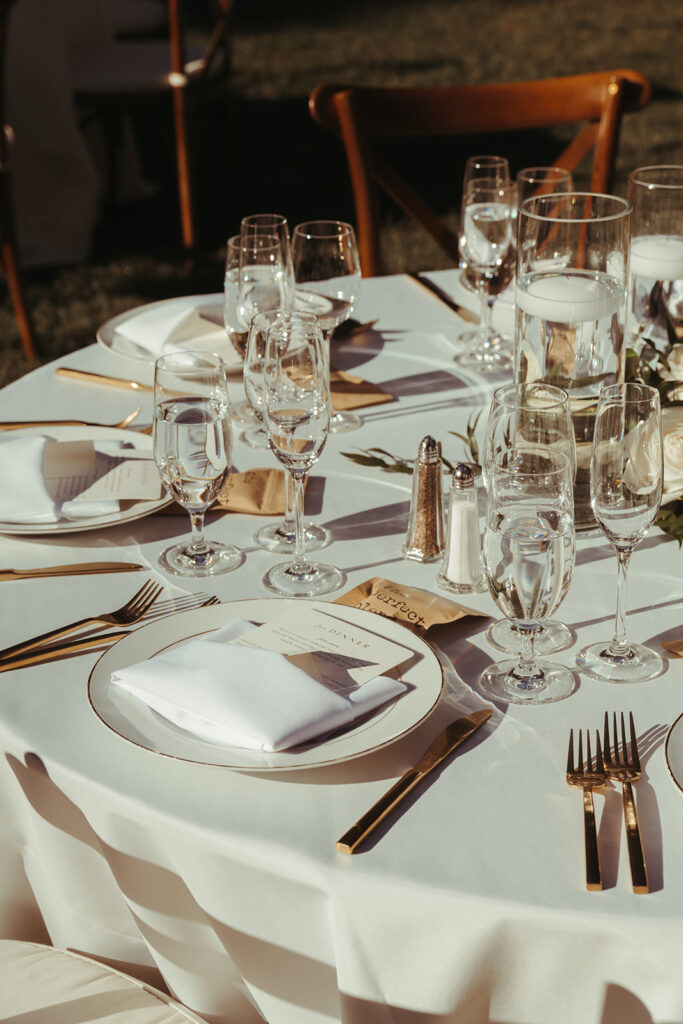 On their way to dinner, guests signed magnum bottles of the couple's favorite wine, to be opened on milestone anniversaries to come.
Blue Heron Catering served a delicious meal as the sun was setting beyond the treetops. Next highlight of the evening: a showstopper of a wedding cake by The Buttery, as delicious as it was pretty to look at.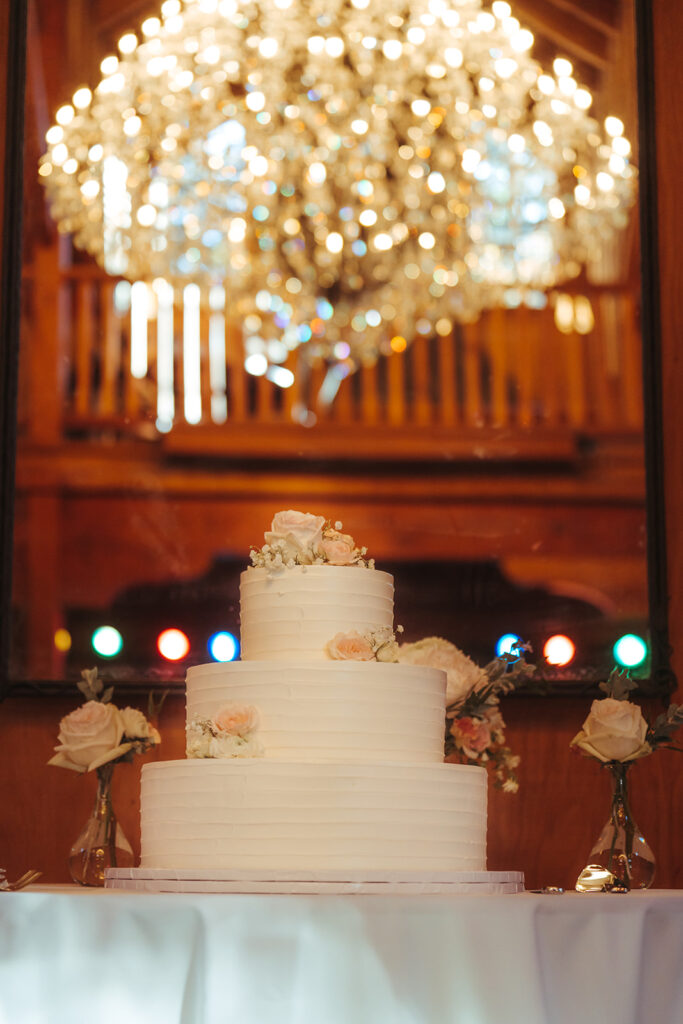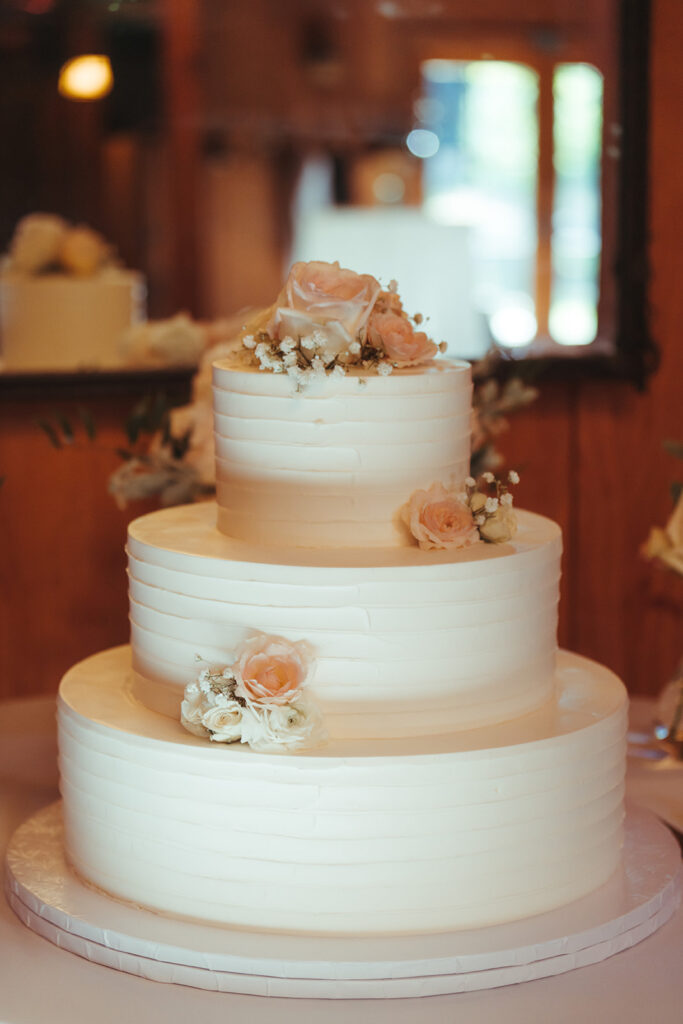 Dancing (including a choreographed First Dance routine!) happened in the Barn, the central building of the Nestldown event space, under an enormous crystal chandelier, and to the tunes of Big Fun Disc Jockeys.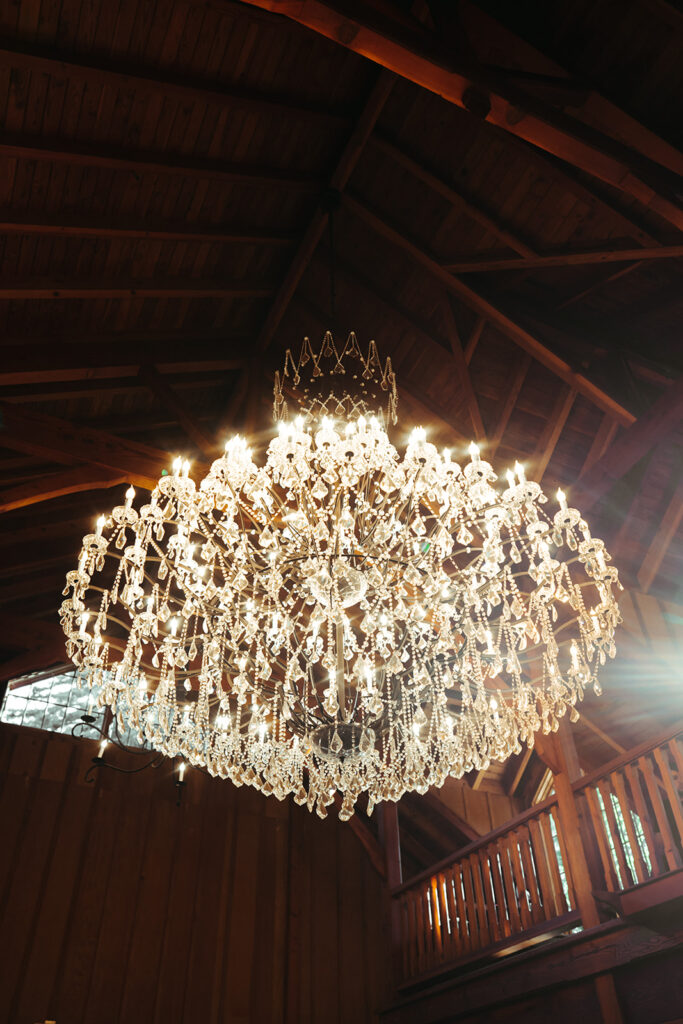 At the conclusion of the evening, the couple departed in true Nestldown style: in an original historic London taxi!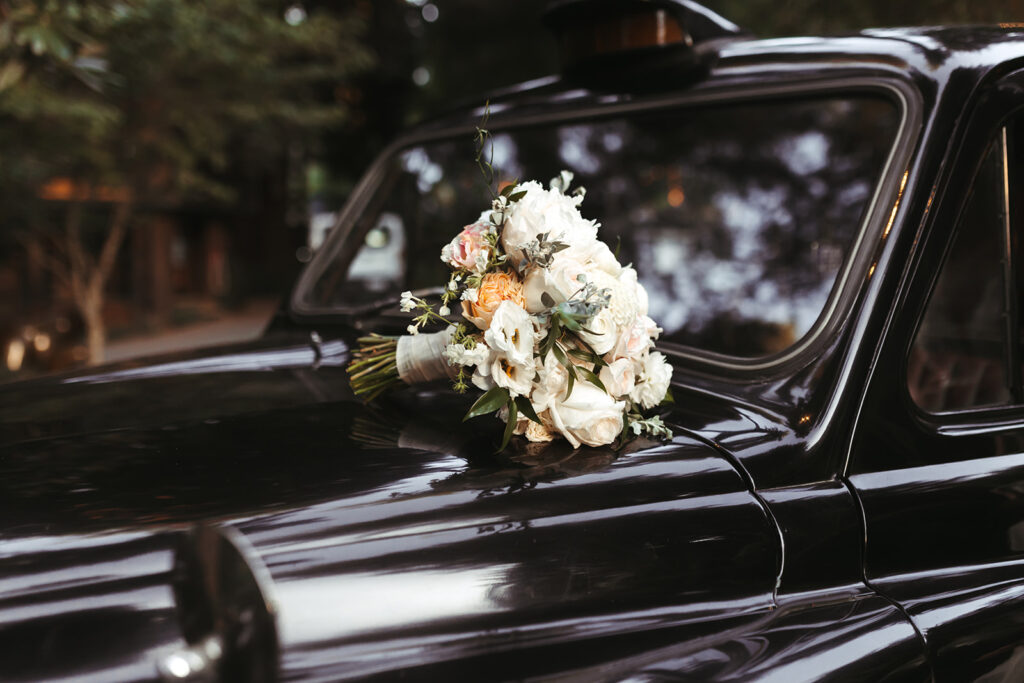 Off to a lifetime of happiness together!