After nearly a full year of long-distance planning, Sarah's and Patrick's big day finally arrived. Living and working in New York, they had chosen my company, A Day Like No Other, to help them with the planning and coordination of their wedding.
For the bride, her bridesmaids and the mothers, the day began with hair and makeup services by Tiffany Chiang of Design Her Image – and the results were truly stunning! Here is the bride, with a beautiful glow…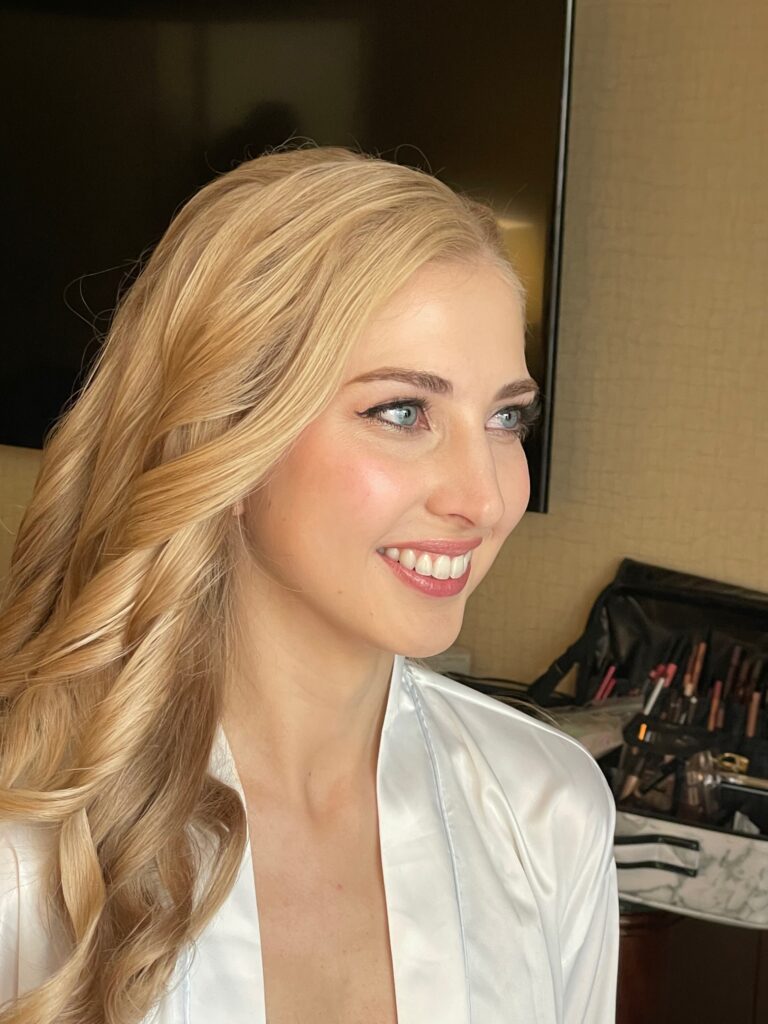 … and here are her bridesmaids!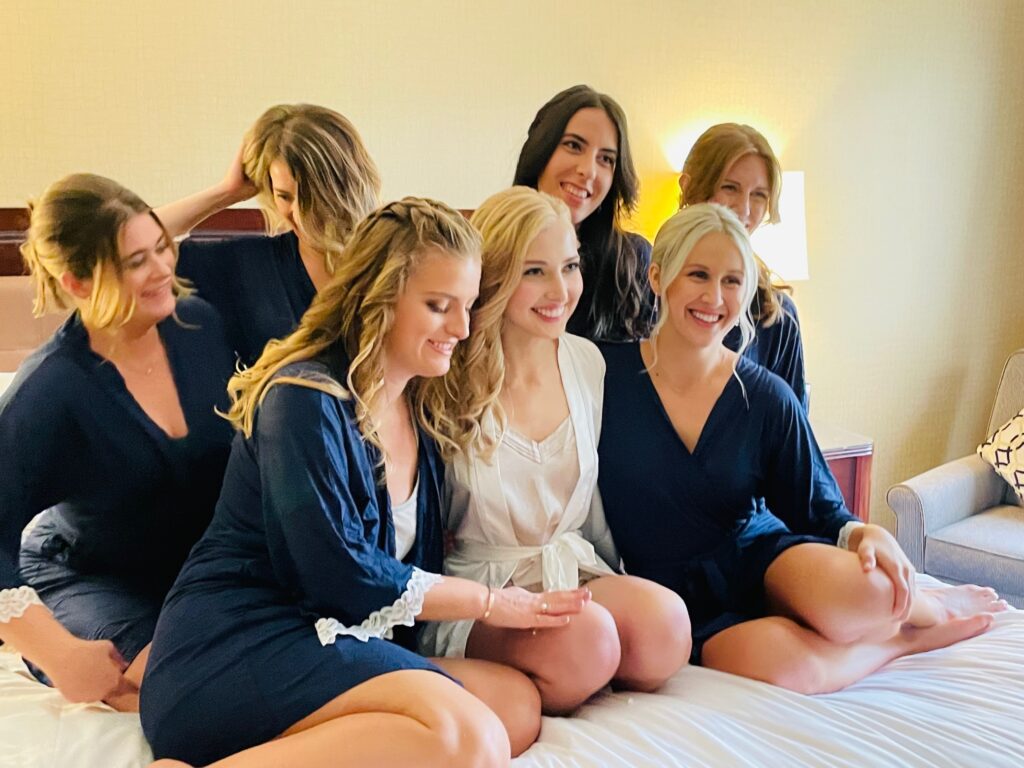 Her two Maids-of-Honor helped her to get into her lace-encrusted, ballgown-style dress…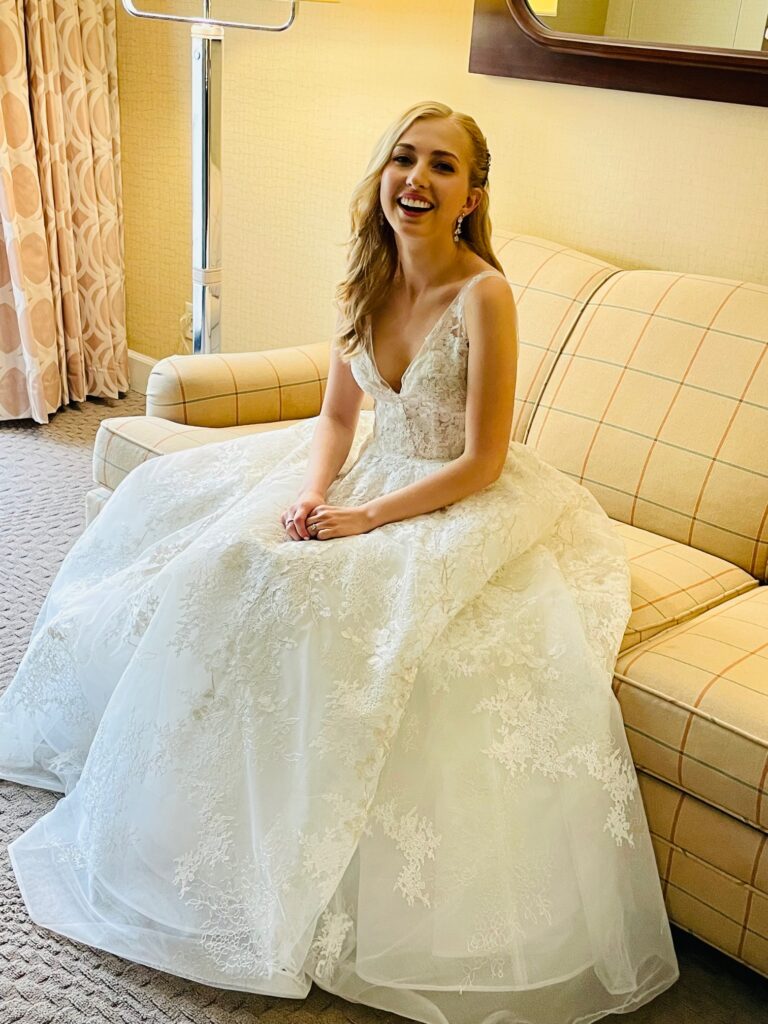 … and sparkly wedding shoes.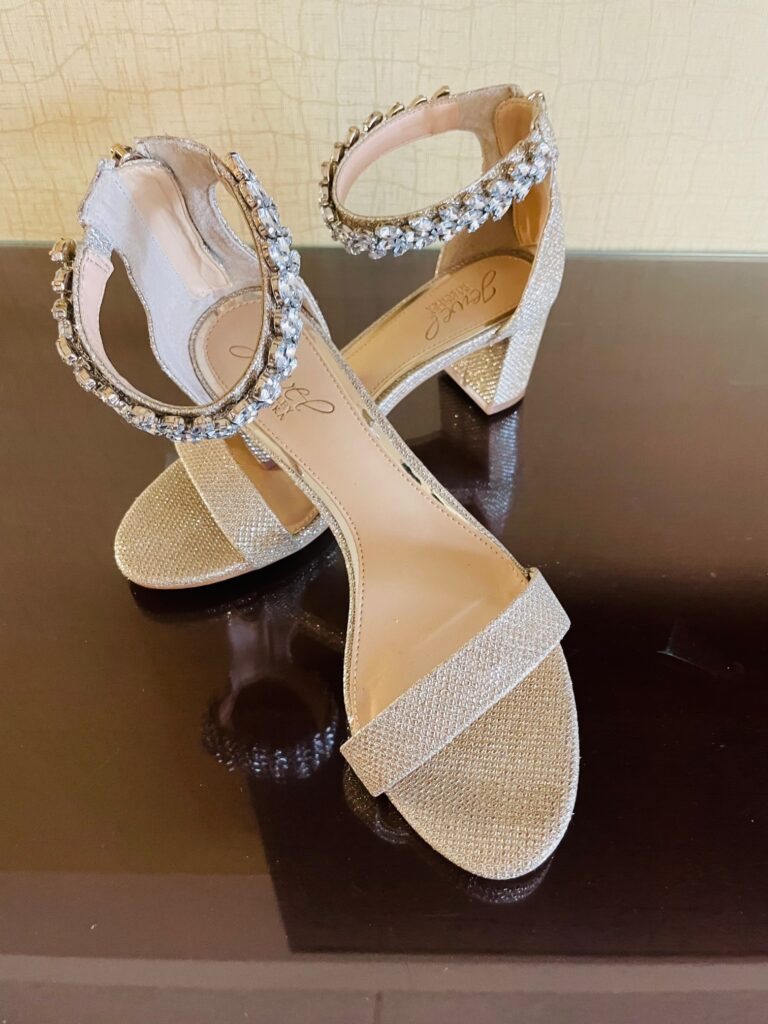 Green Petal Designs delivered a gorgeous bridal bouquet…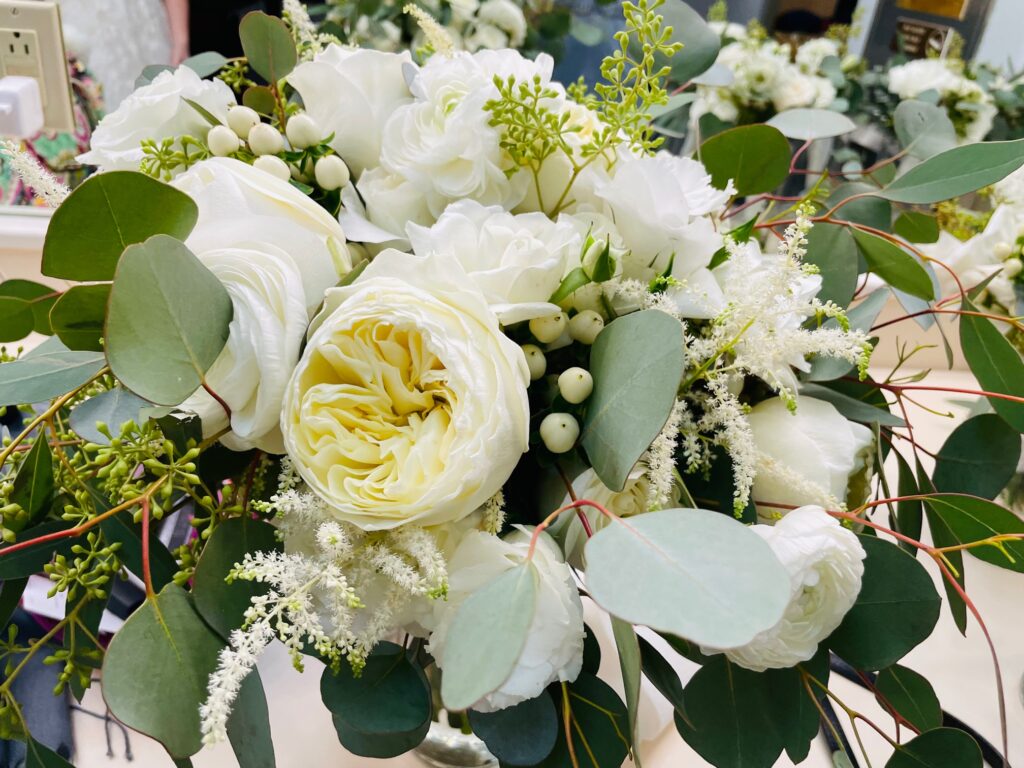 … as well as bridesmaids bouquets, wrist corsages, boutonnieres (and the floral decor for the reception), and with that, the bride was ready for her First Look.
Corinthian Ground Transportation took her and (separately!) the groom and bridal party to the church where both the First Look and the wedding ceremony would be held: Valley Presbyterian Church in Portola Valley, a spectacular church set in a Redwood grove where the bride's parents had gotten married 35 years ago.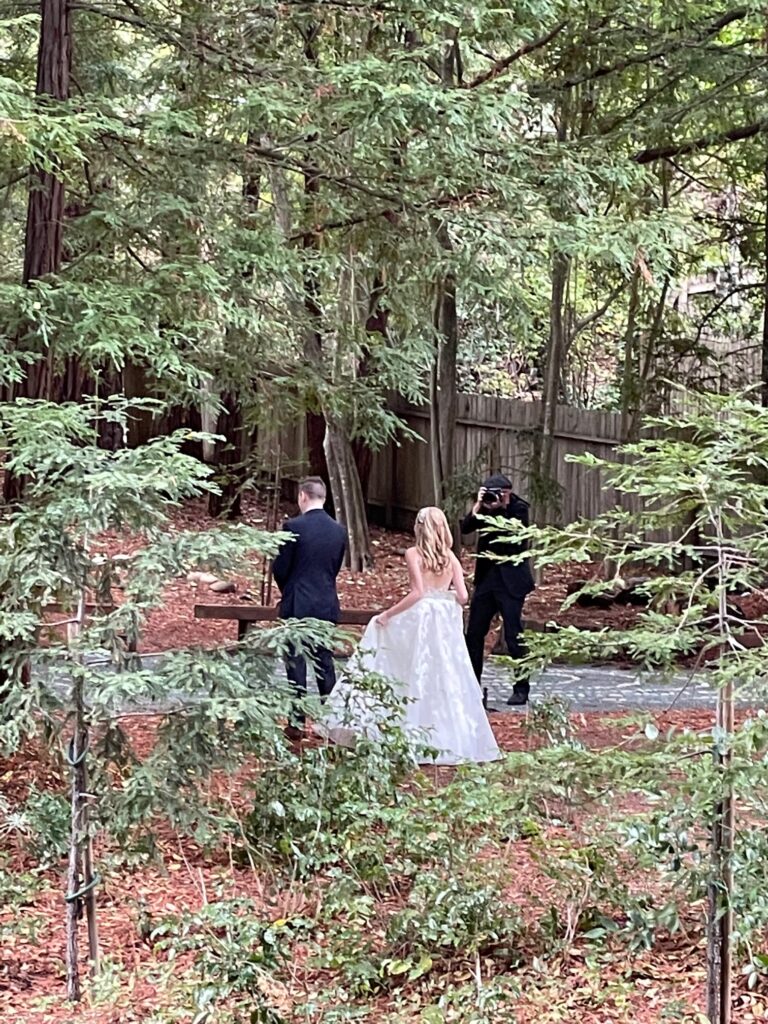 Nearly there – as Sarah is approaching Patrick, videographer Martin Meyer of martinFILMS and photographers Manali and Kaitlin of Manali Anne Photography are capturing every moment (just wait until you see THEIR photos! For the time being, all we have are my snapshots…)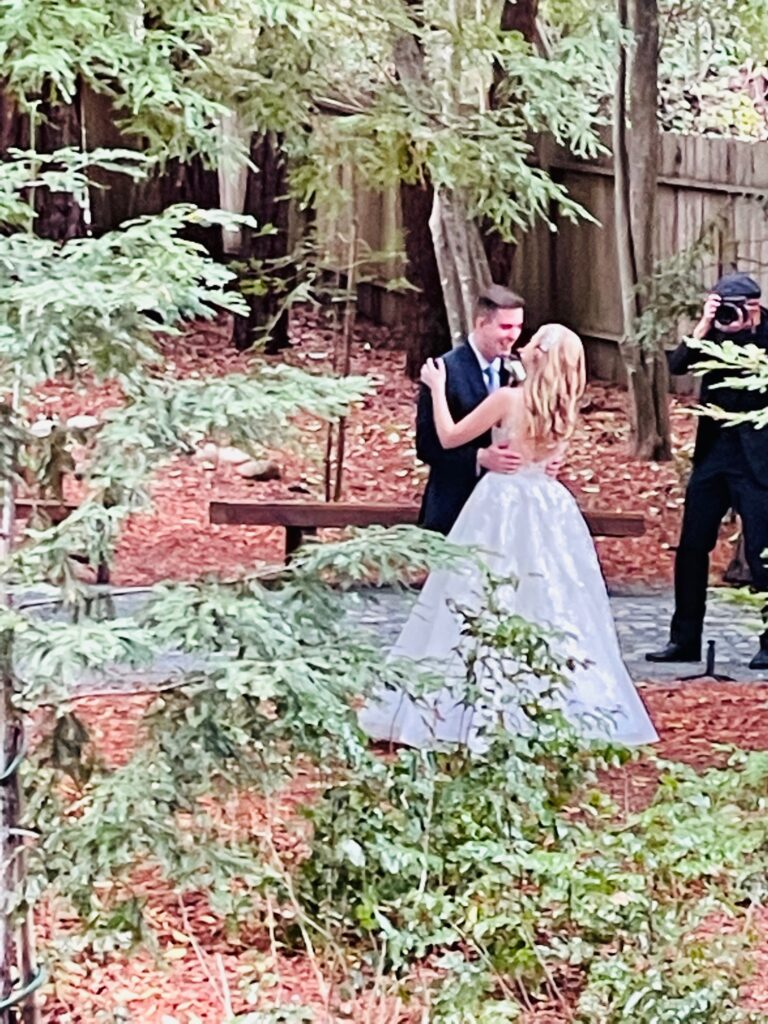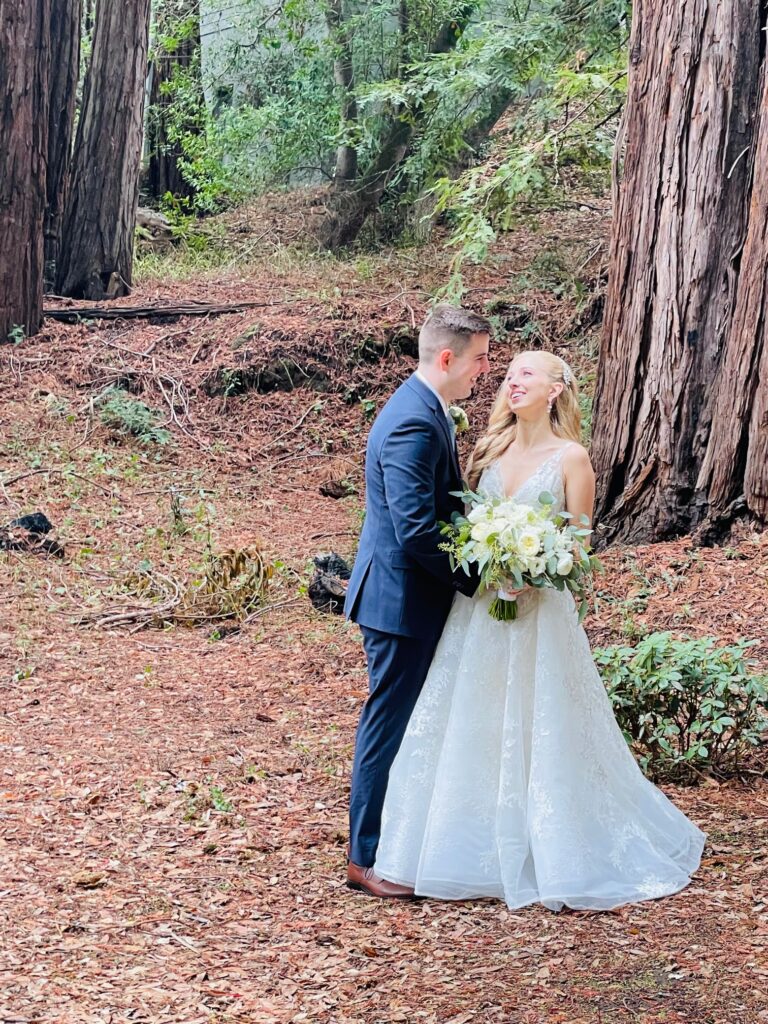 Happiness!
Very soon, guests were arriving (all transported in style by Corinthian Ground Transportation), and the ceremony began. Following tradition, the bride was escorted in by her father.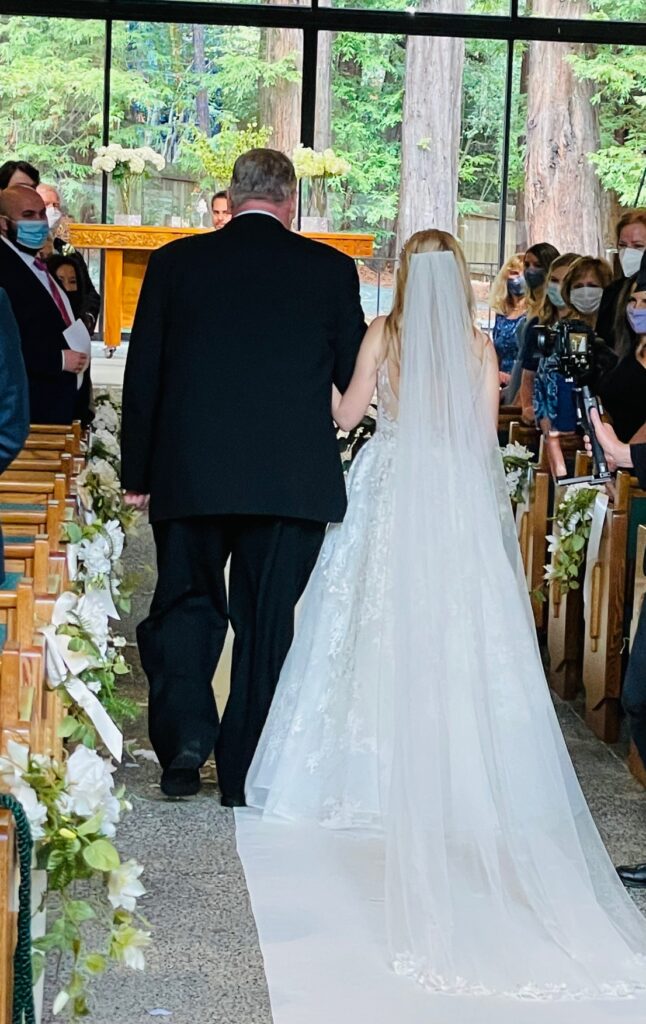 The apse of the church behind the altar is all glass, looking out onto the Redwoods. It is truly a spectacular sight.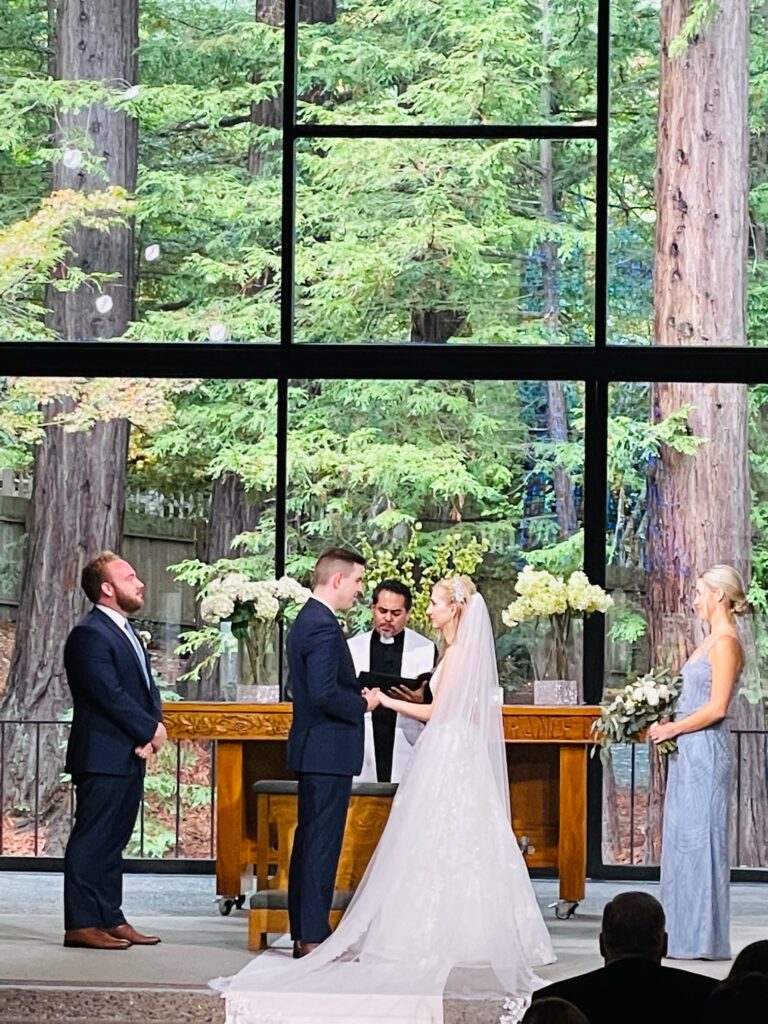 The brother of the bride, a classically trained Baritone, gave a moving performance during the ceremony.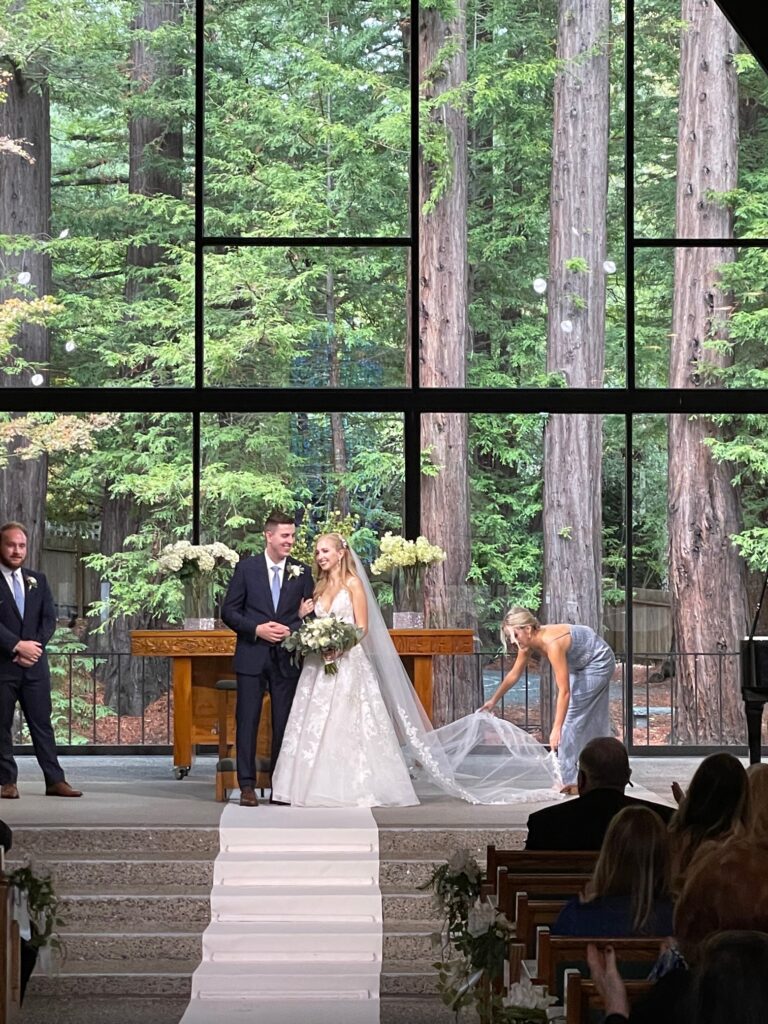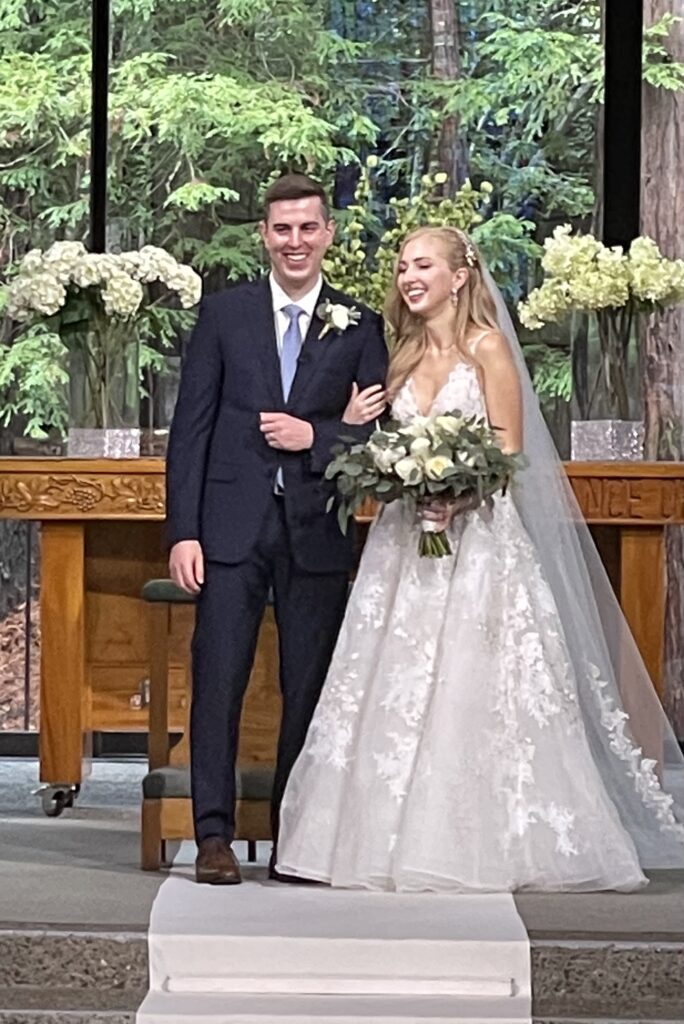 Just married!!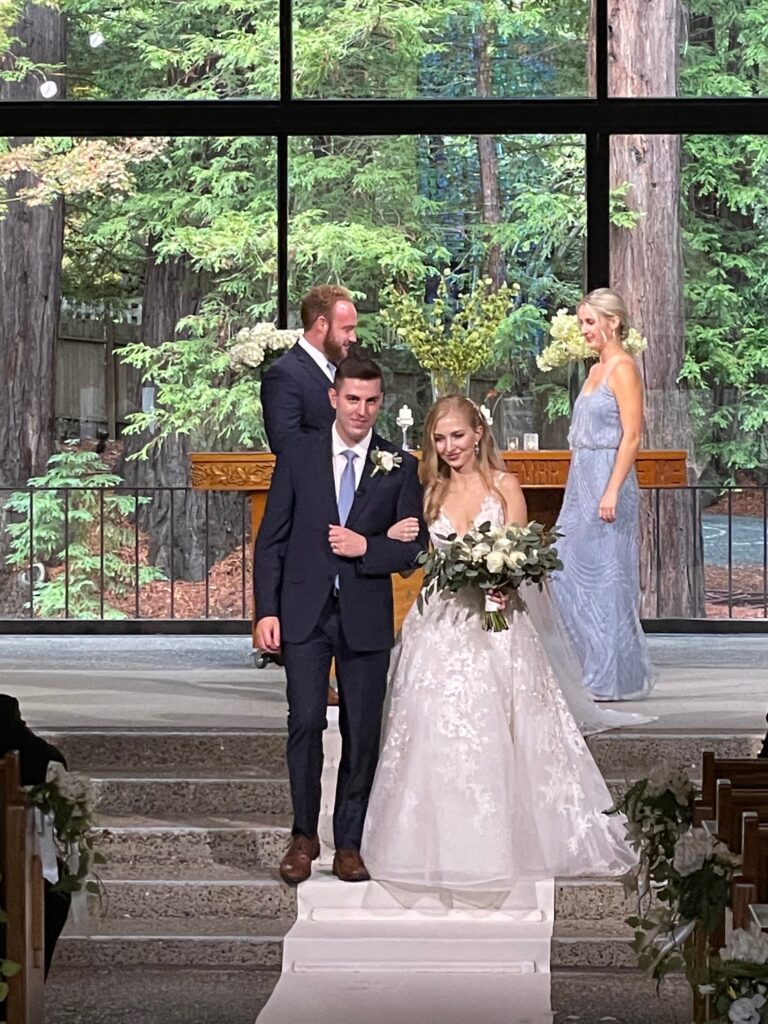 While the couple had many more "official" wedding photos taken with their family members, guests were shuttled to the reception at Thomas Fogarty Winery, high up on a mountain ridge overlooking all of Silicon Valley.
The teams of Continental Catering, Green Petal Designs and Just De'Lights (lighting installation) as well as my tireless assistant Stephanie had been hard at work for hours to get everything ready in time. The weather gods threw us a curveball – low-hanging clouds settled on the mountain ridge, and it got chilly, foggy and wet… so we had to move cocktails inside. But that did not dampen anyone's spirits!
With space heaters in place, dinner could still happen in the open Pavilion…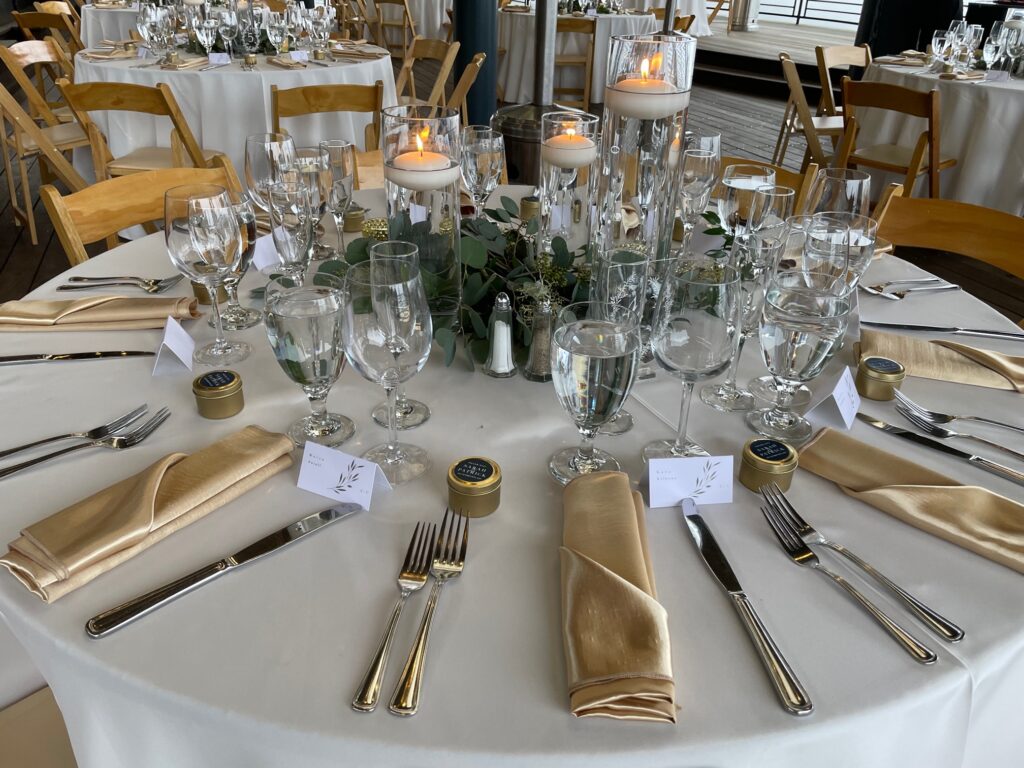 … with elegant place settings and cute candle favors for each guest.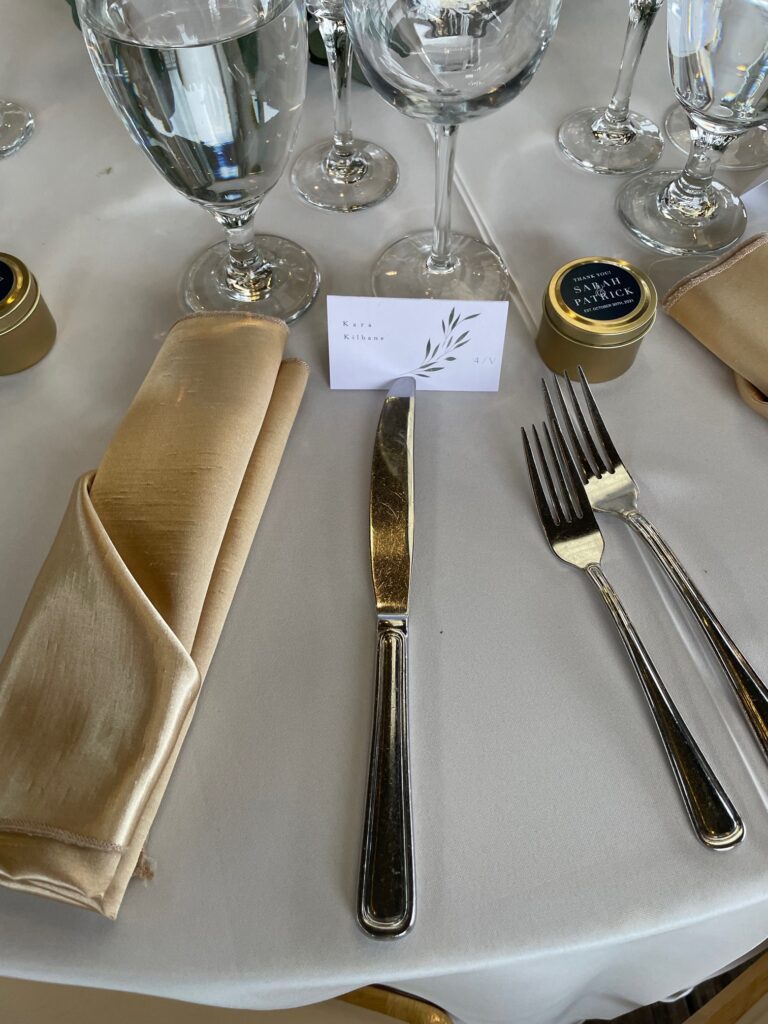 When darkness fell during dinner, the scene turned really magical…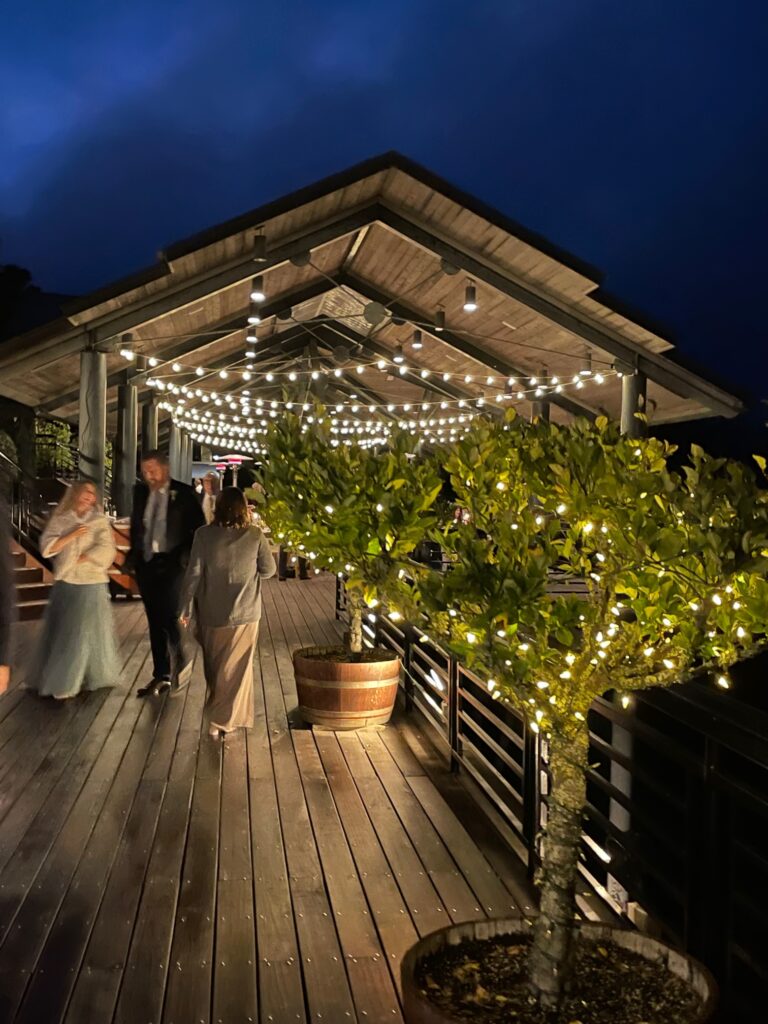 … and the couple enjoyed their First Dance as husband and wife right there, on a balcony overlooking the vineyard.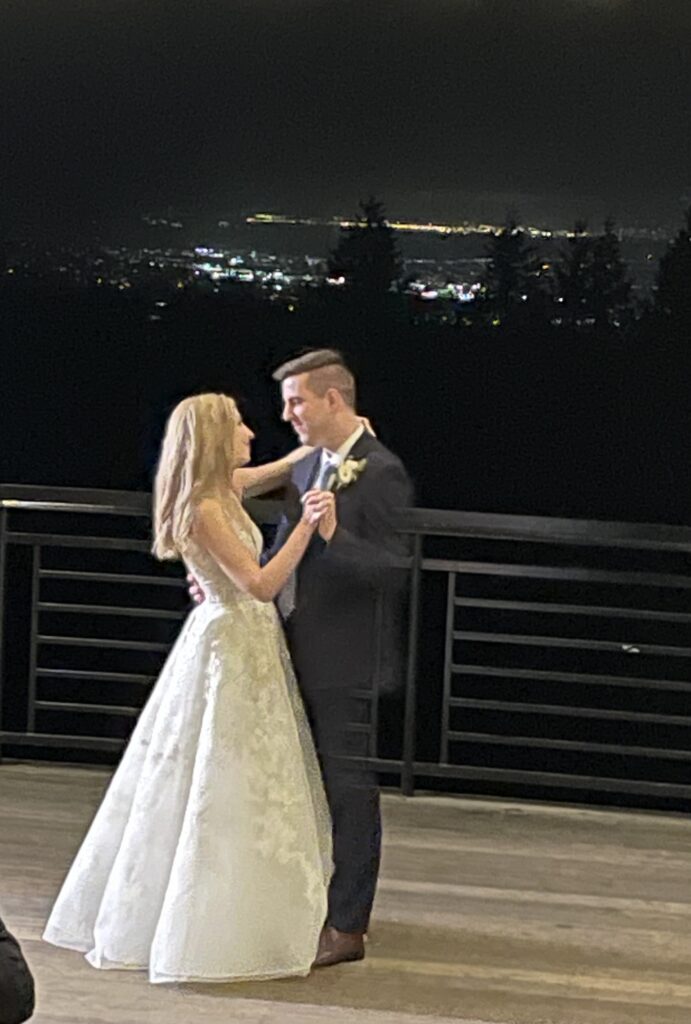 After that, the whole party moved inside for Cake Cutting (cake by Susie Cakes)…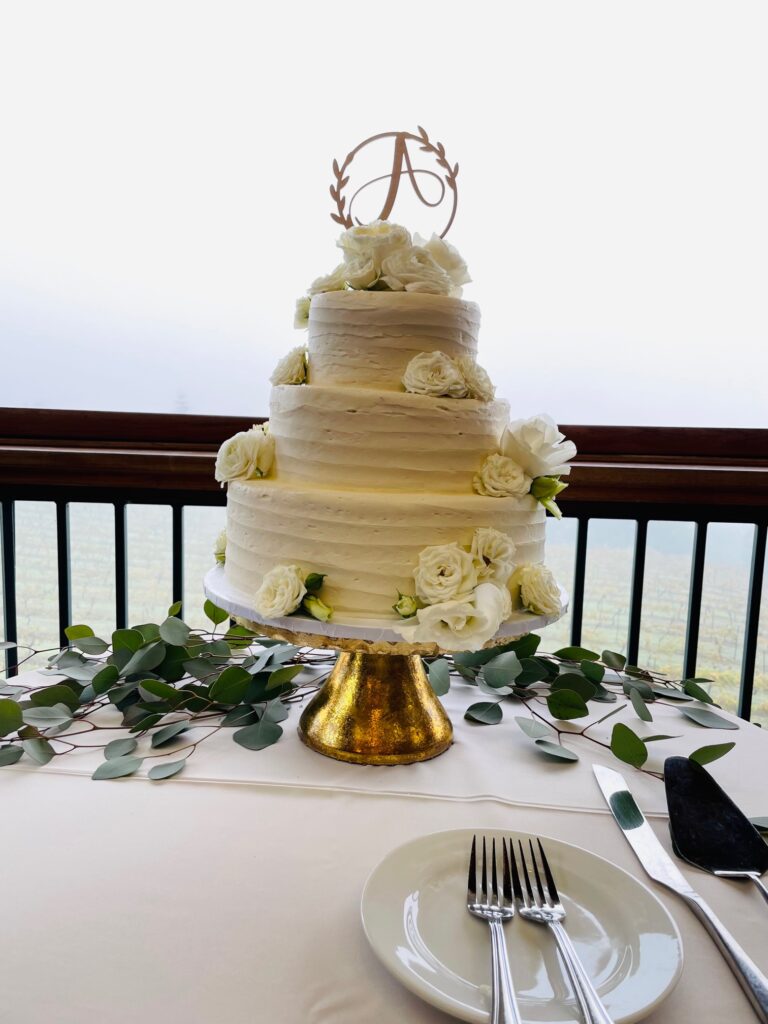 … and a lot of dancing to tunes by DJ Paul Burchfield of Big Fun Disc Jockeys. Everything eventually comes to an end… but this party ended on a decidedly high note with a private Last Dance for the newlyweds while guests were gathering outside for a spectacular sparkler send-off!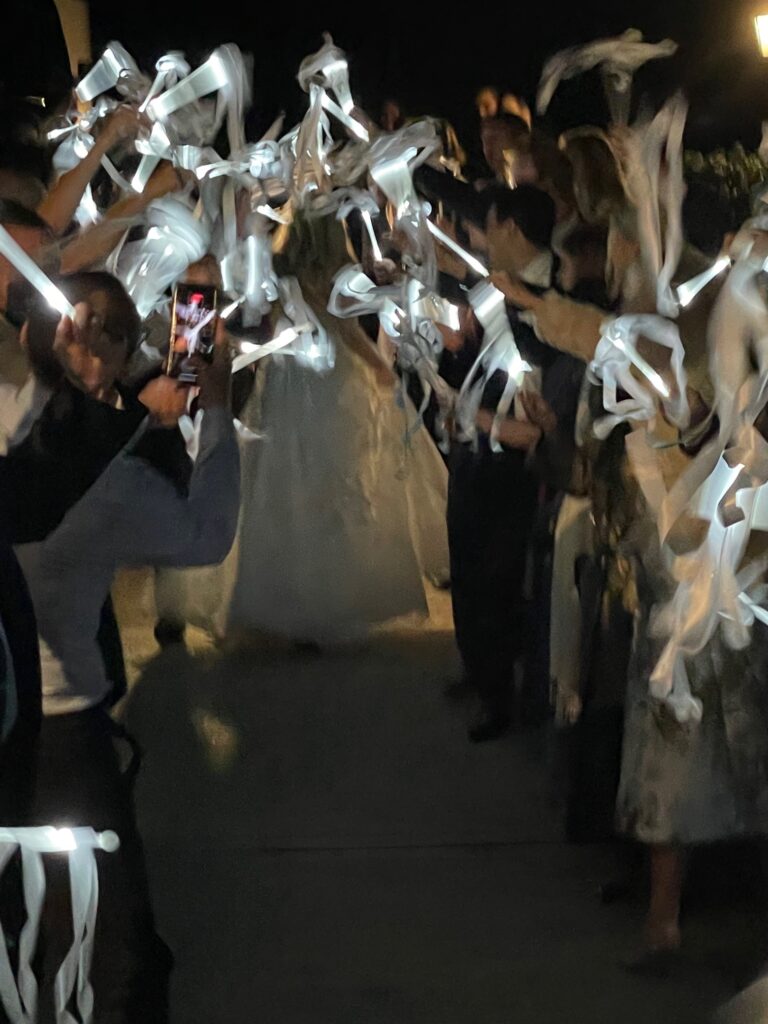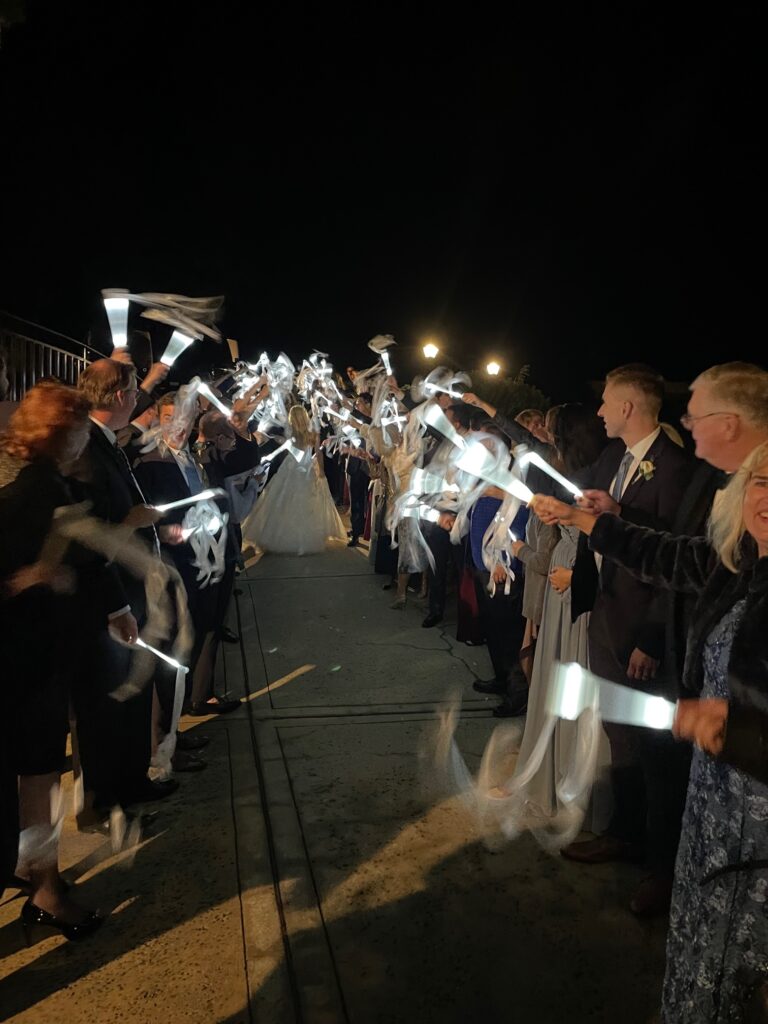 What a night! Sarah and Patrick are going on their Honeymoon – to Hawaii! And then off to a lifetime of joy, laughter and happiness… that's what we are wishing for you!