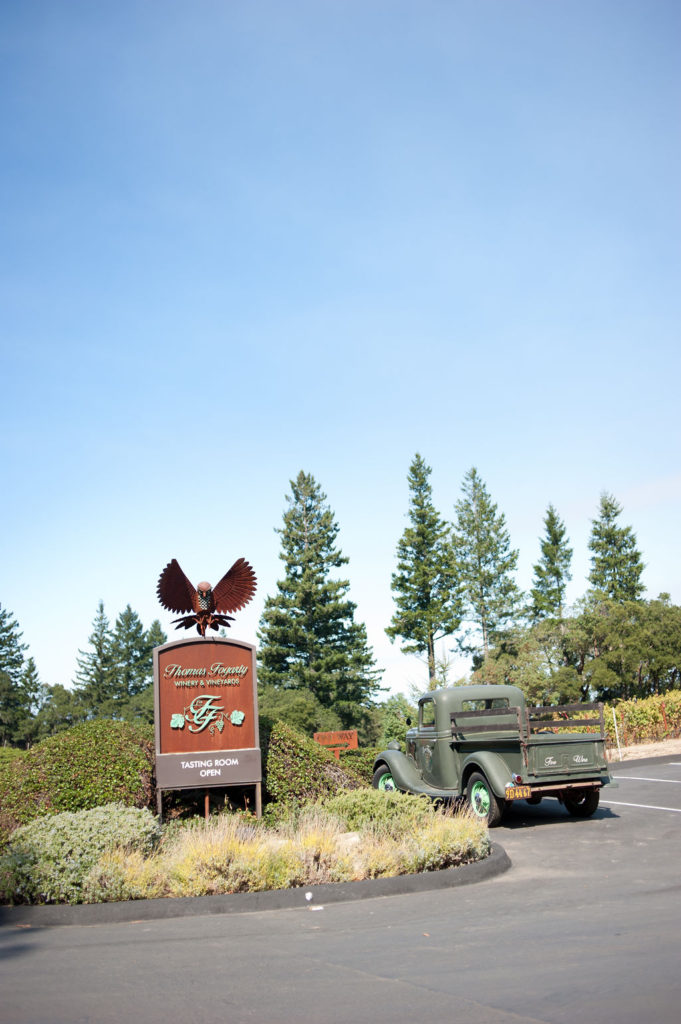 … at Thomas Fogarty Winery in Woodside! The two had been together a full seven years, were parents to three cats (the youngest kitten having been adopted two weeks before their wedding!) – so all their friends agreed: it was about time! Stacey and Michael are super busy young professionals, so when they decided in Spring to "make it official" in October of 2018, they were looking for help. A lot of help! My company, A Day Like No Other, was entrusted with all the preparations, and off we went…
The two had chosen their venue, a spectacular winery overlooking all of Silicon Valley with endless views, and a day that turned out to be proverbial "Bay Area Golden October:" sunny, with blue skies, and warm. Just perfect.
The bride arrived at the venue in full hair and makeup (by A-List Makeup) and all she needed to do was get into her gorgeous wedding dress with the help of her bridesmaids…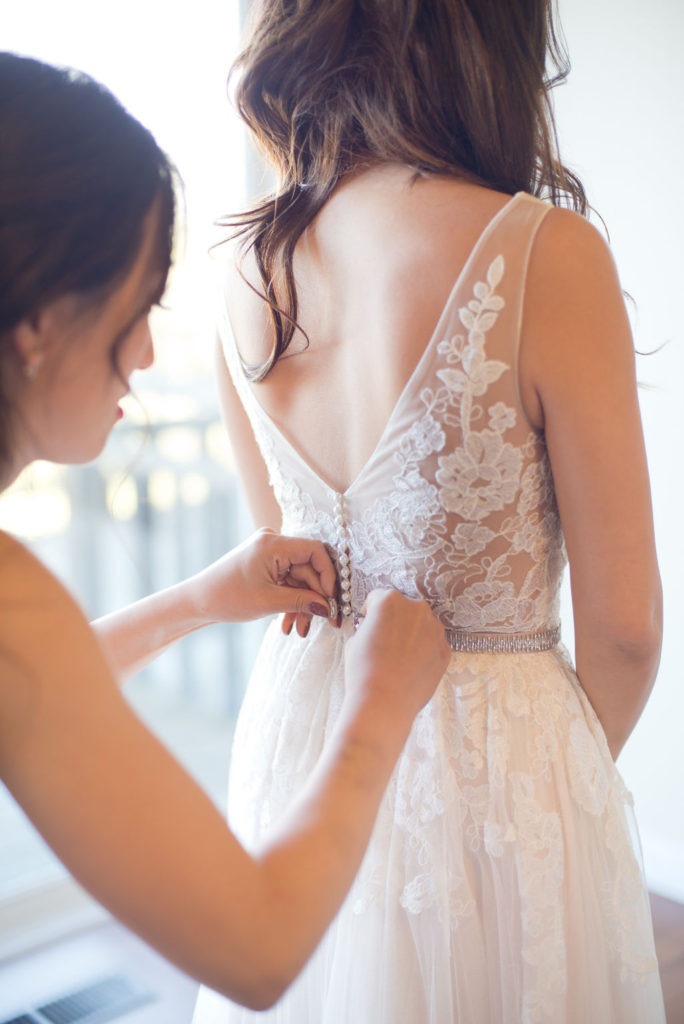 … pick up her vibrant, Fall-colored, richly textured bridal bouquet (from Laurel & Vine)…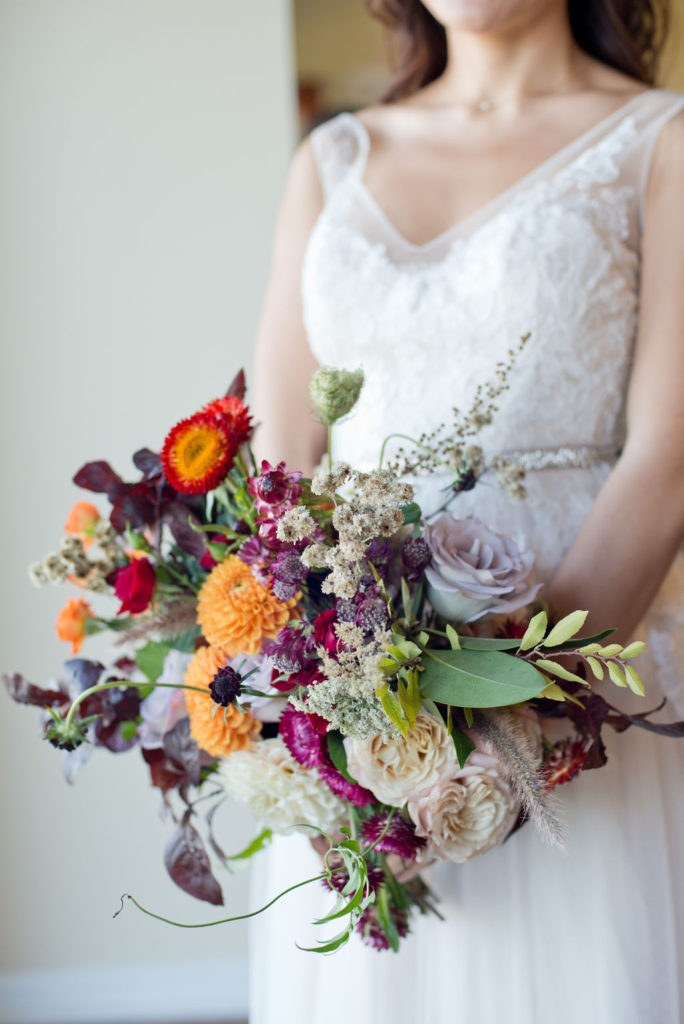 … and here she is, ready for her First Look: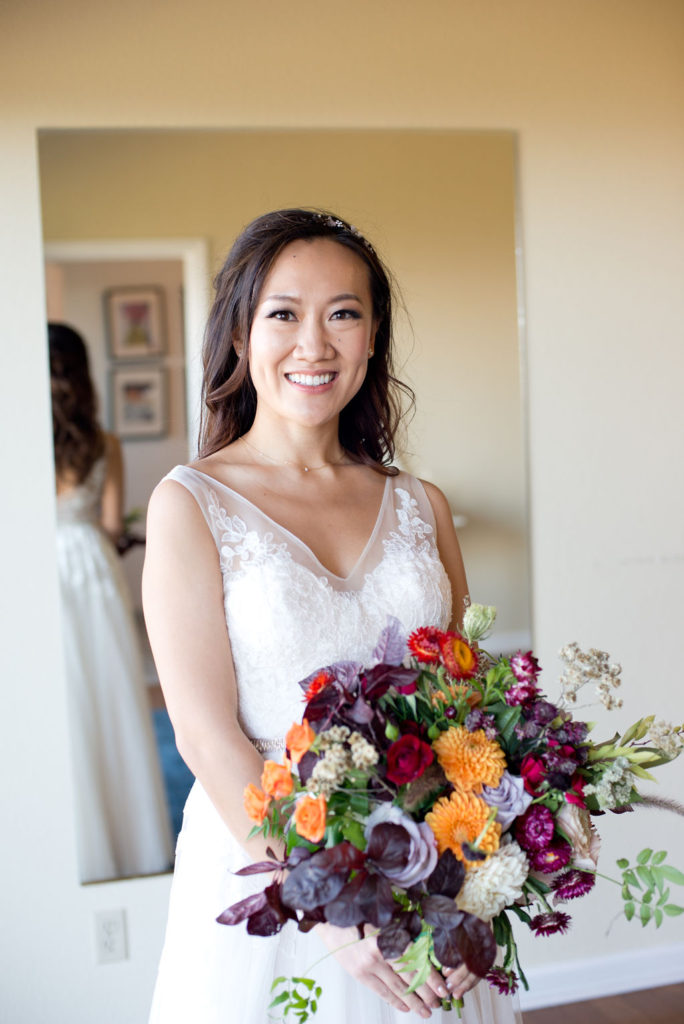 Groom Michael and his groomsmen were meanwhile also getting ready…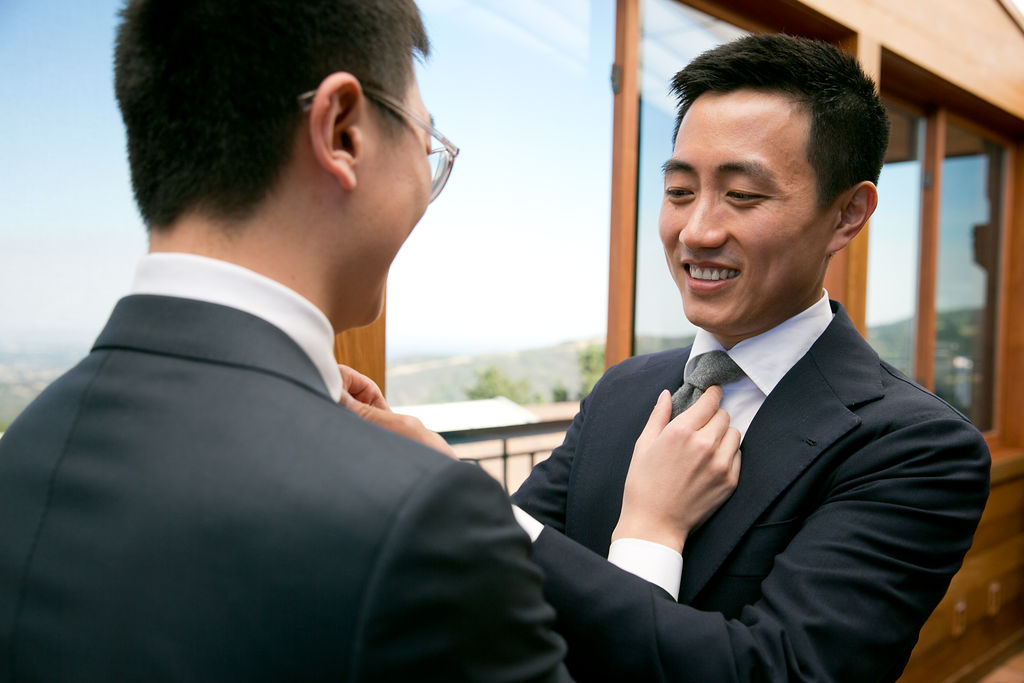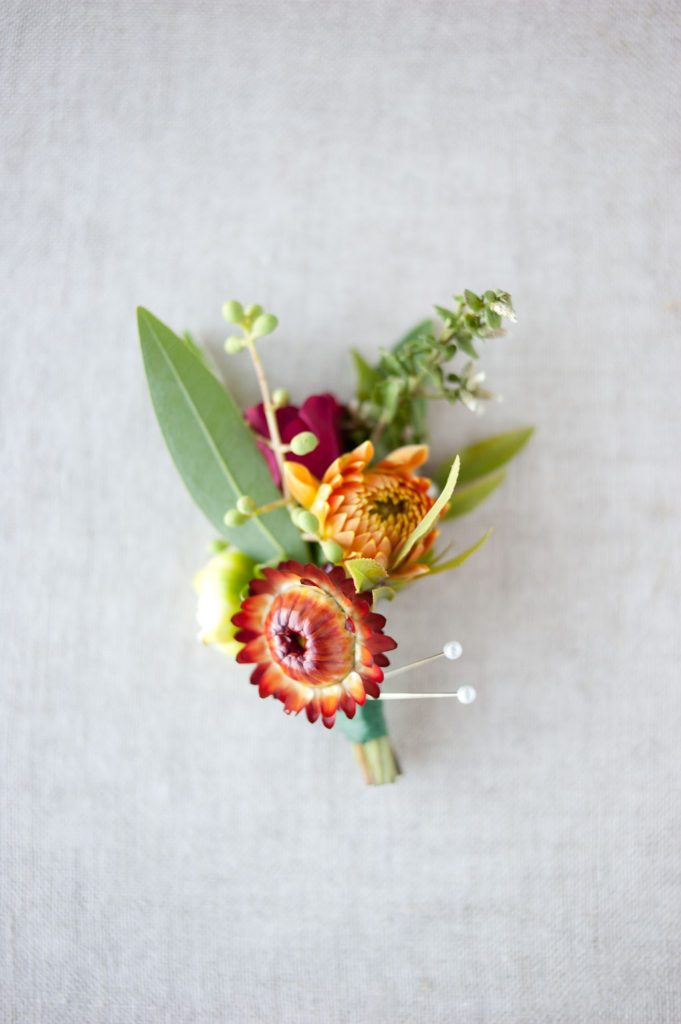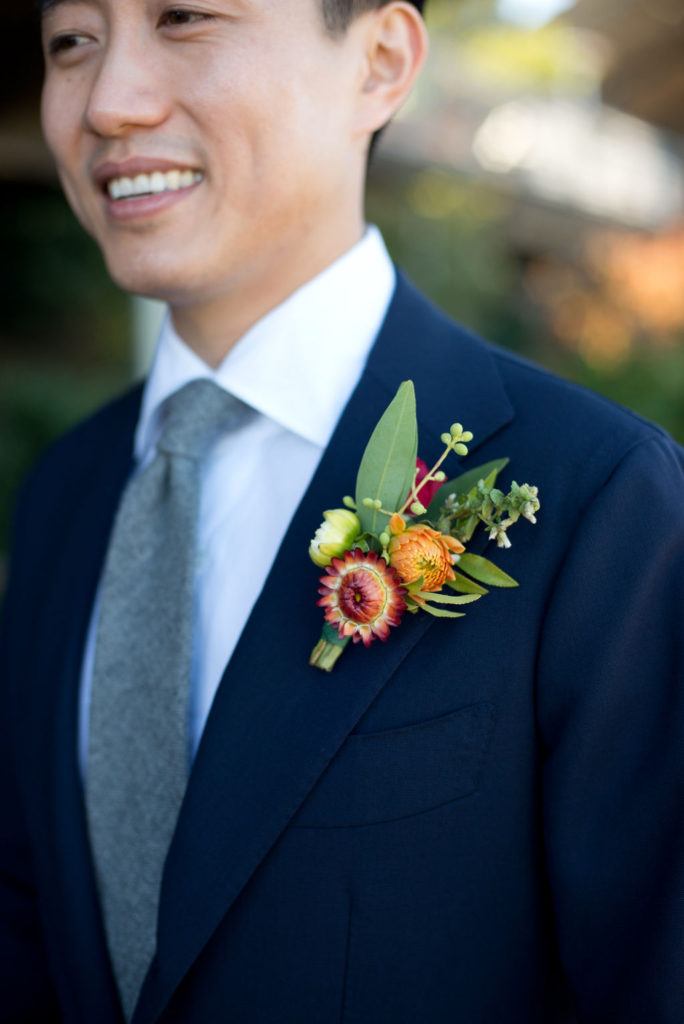 … donned their boutonnieres, and the Best Man took care of the rings.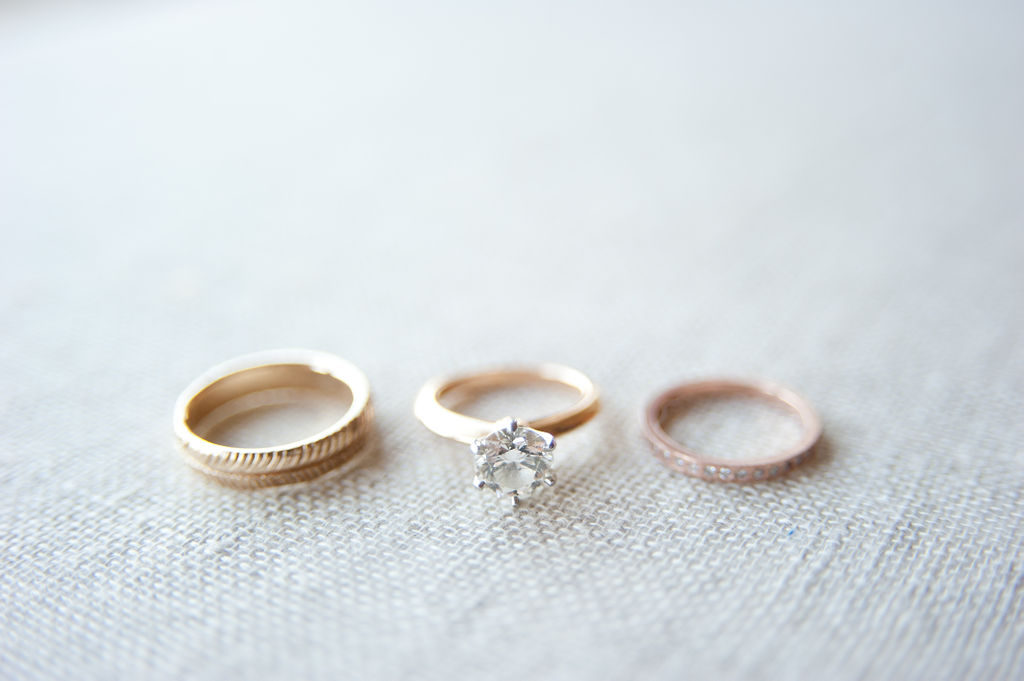 With that, Bride and Groom were ready for their official First Look: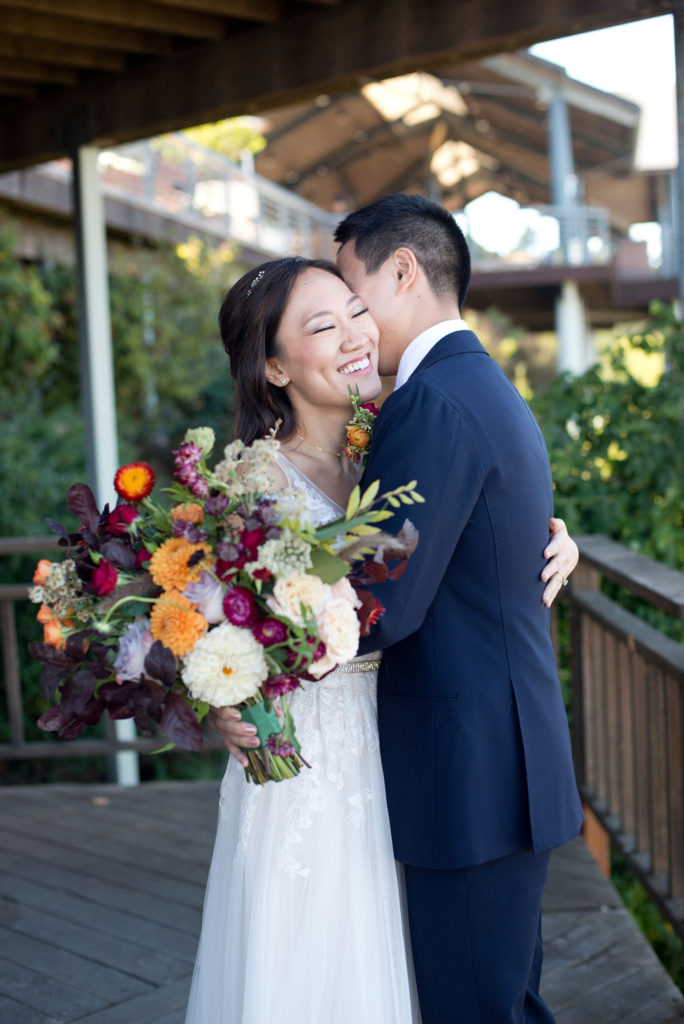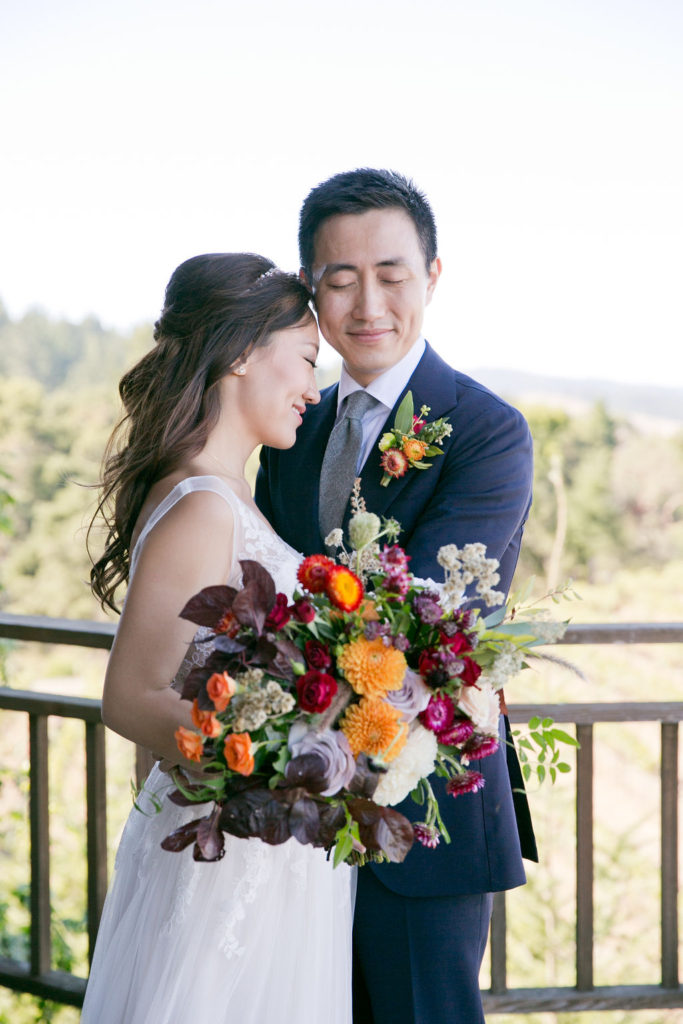 Time for many, many photos with bridesmaids and groomsmen (by Sandra Fazzino Photography) and video (by Sway Media) while the teams of Thomas Fogarty Winery, Laurel & Vine Florals, and Toast Catering were busy with preparations. DJ Justin of JustIntertainment set up their sound systems while my assistant Trisha and I set up decorations and made sure that all went smoothly and on time.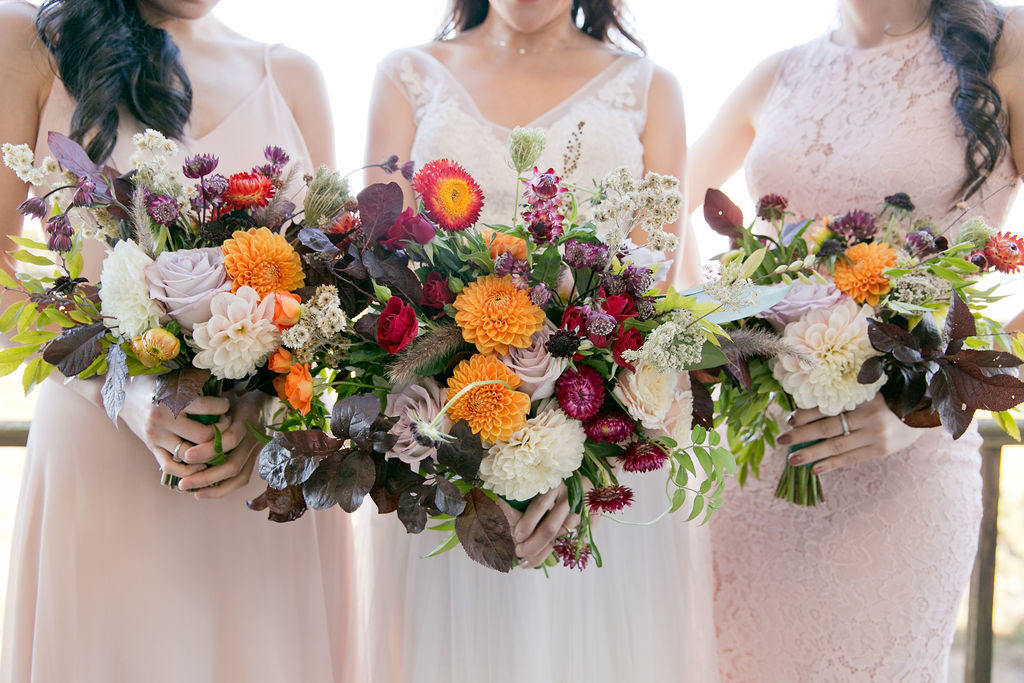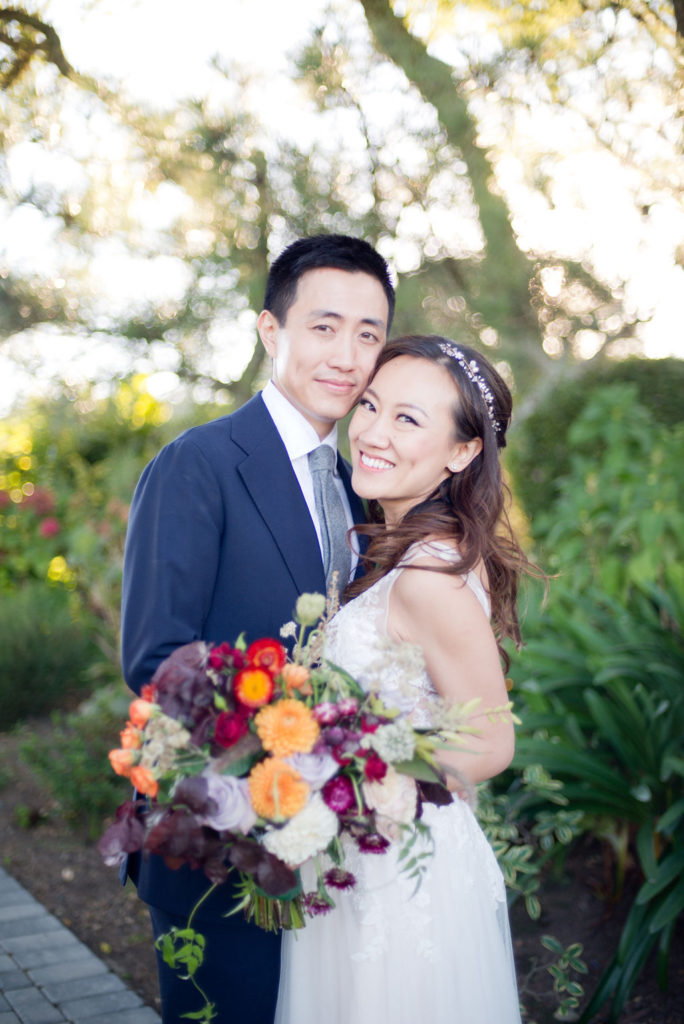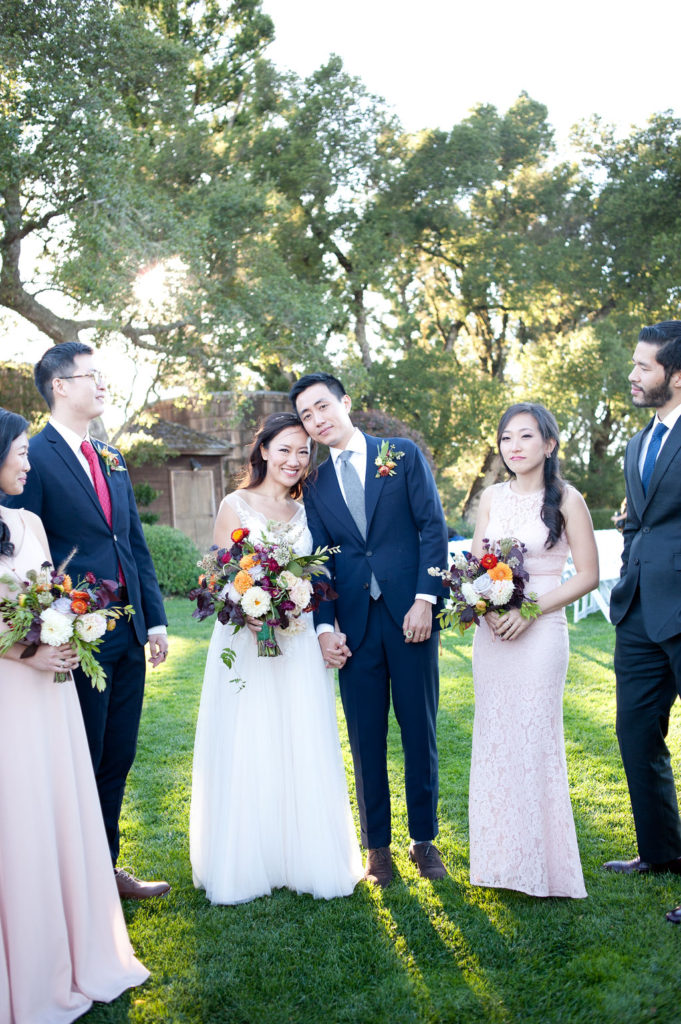 Very soon, the first guests were arriving – they were greeted by a vintage baby-blue typewriter to leave their messages and well-wishes for the couple.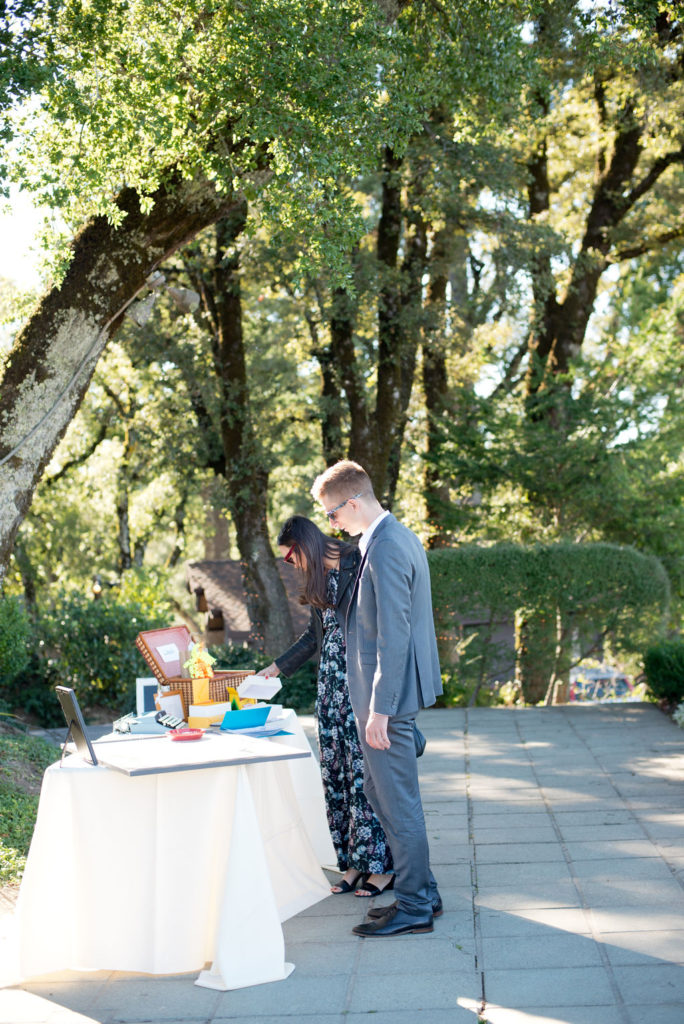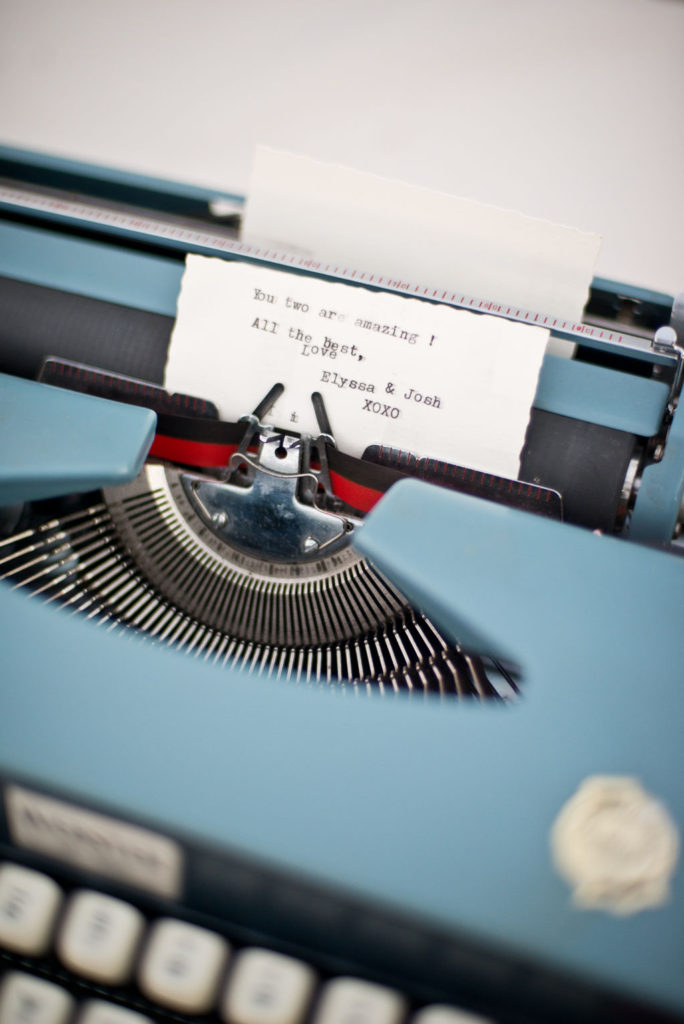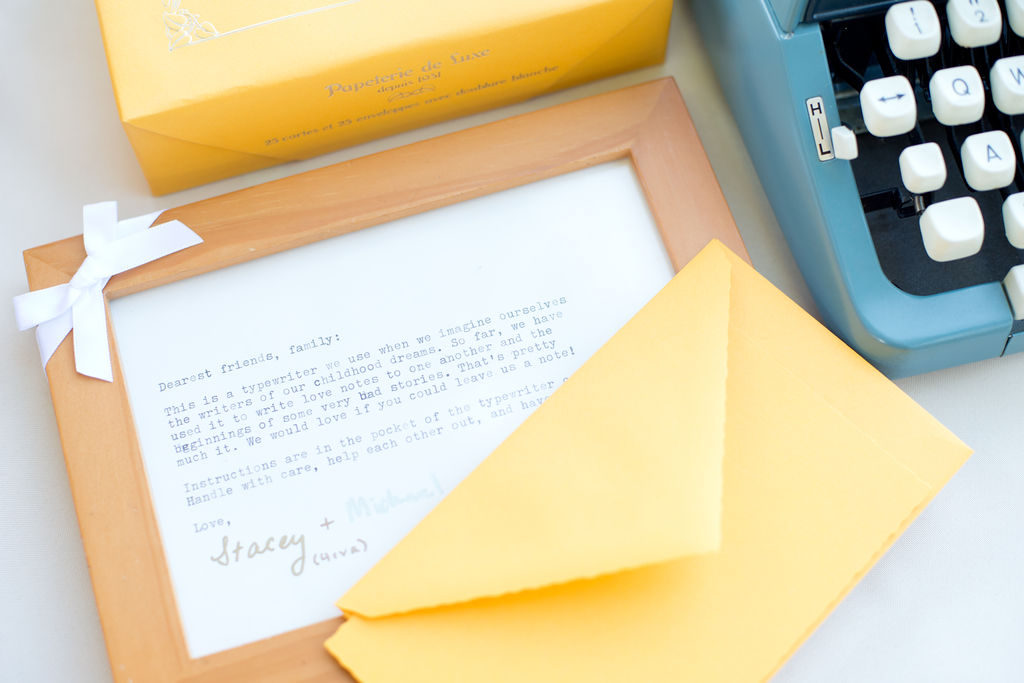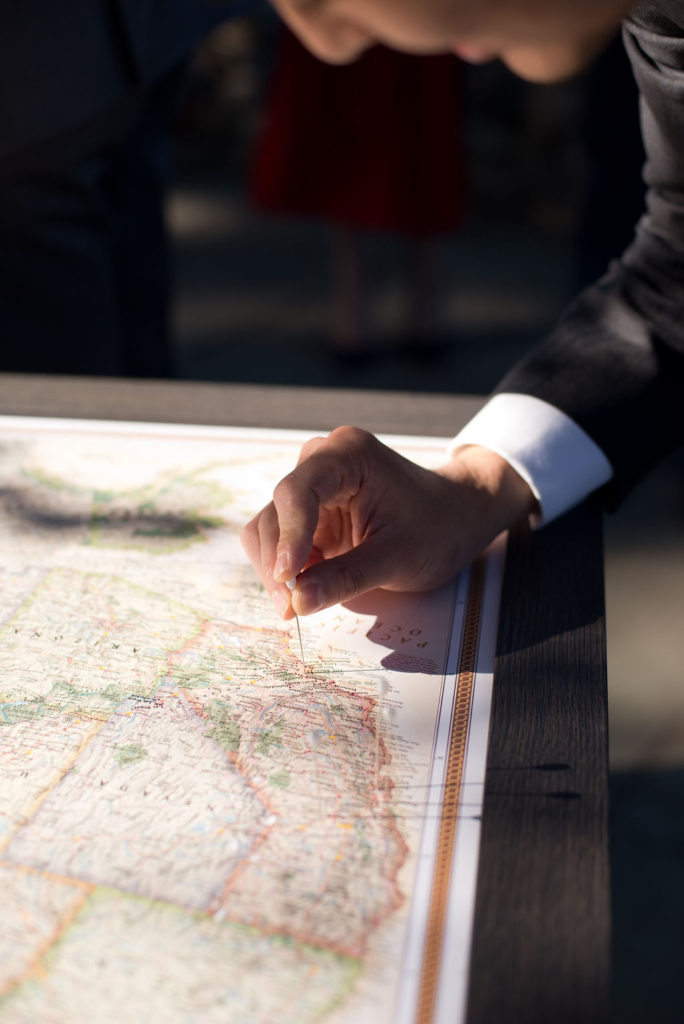 In addition to the (already quirky) typewriter in lieu of a conventional guestbook, we had provided a map for all guests to mark from where they had traveled to be with Stacey and Michael on their special day…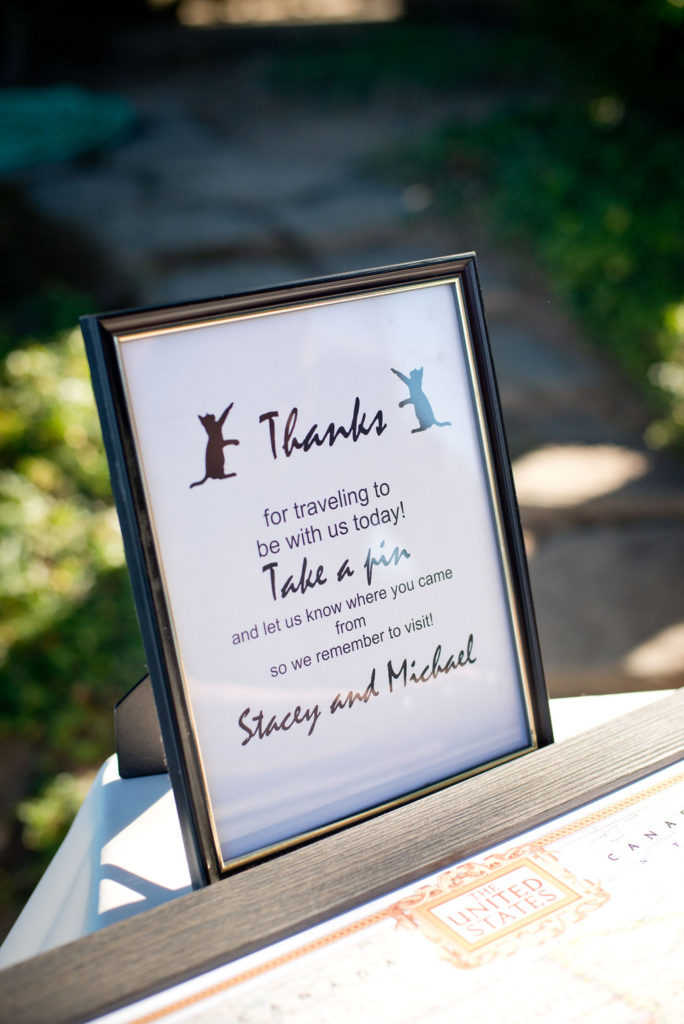 … and here they see the first of many kittens that would pop up throughout that whole wedding celebration in honor of the couple's beloved felines!
Time for the ceremony which was officiated by a longtime friend of the couple, aided by more friends who read passages from Antoine de St. Exupery's "Le Petit Prince" during the ceremony.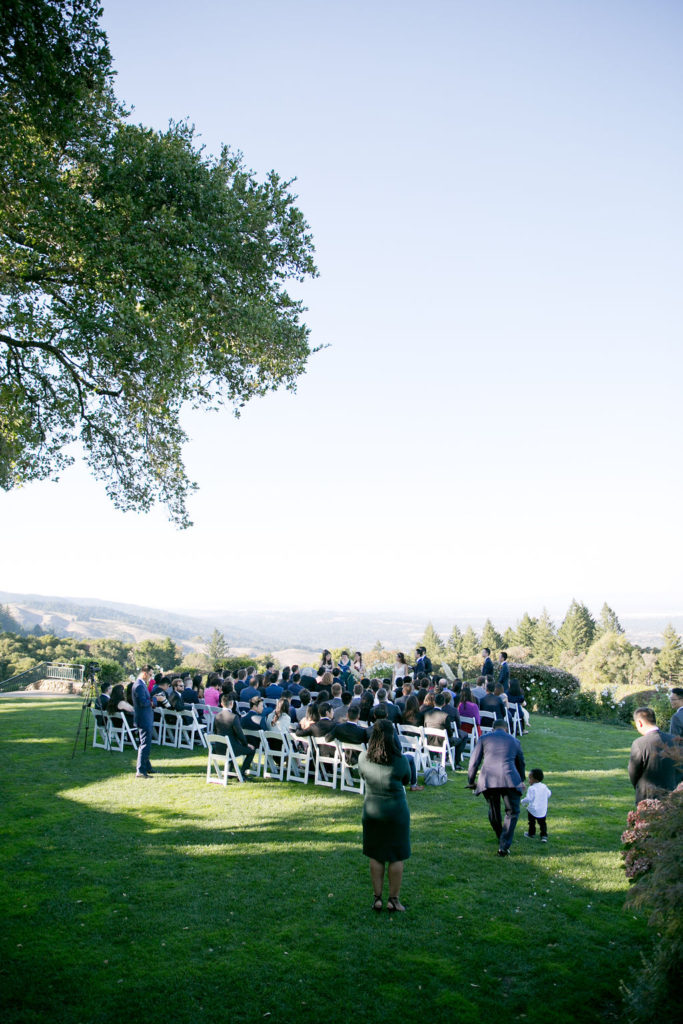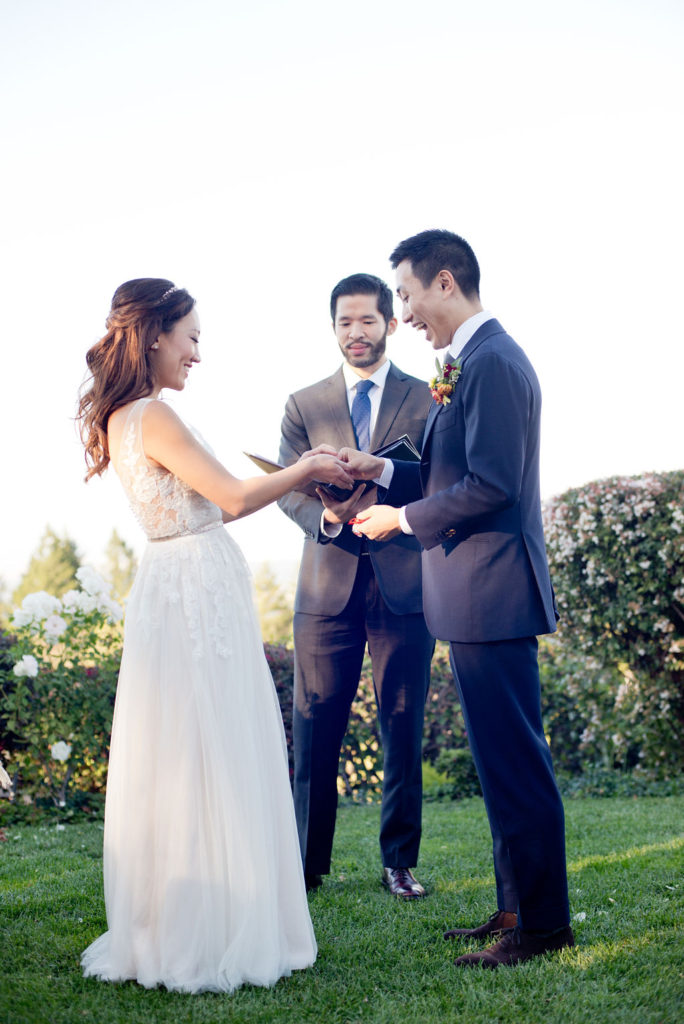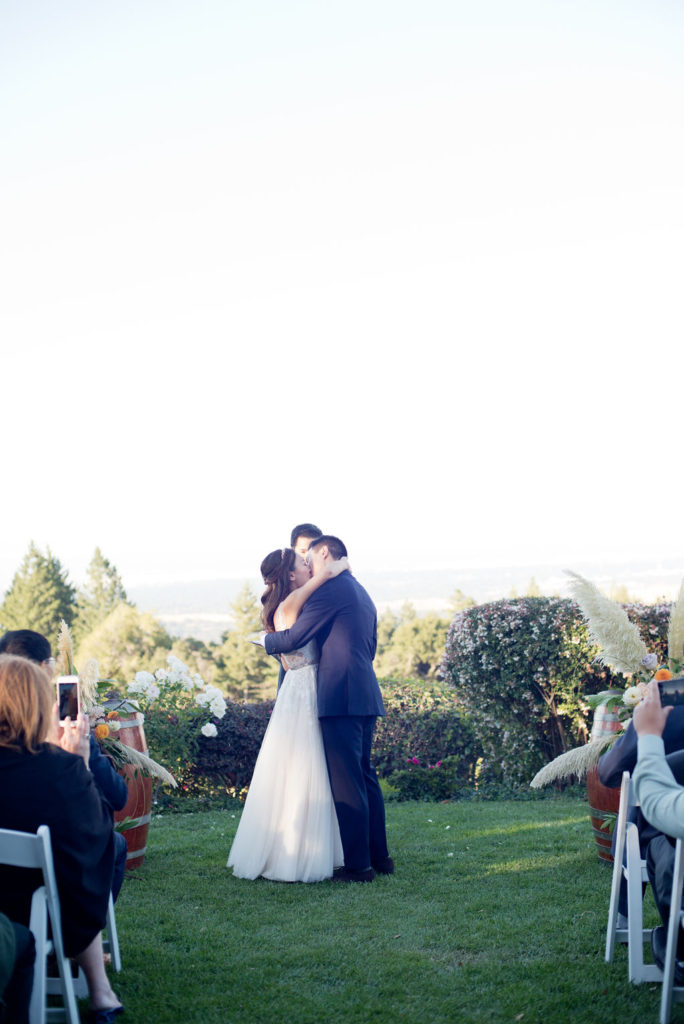 You may now kiss the bride! And here they are, just married… and so happy!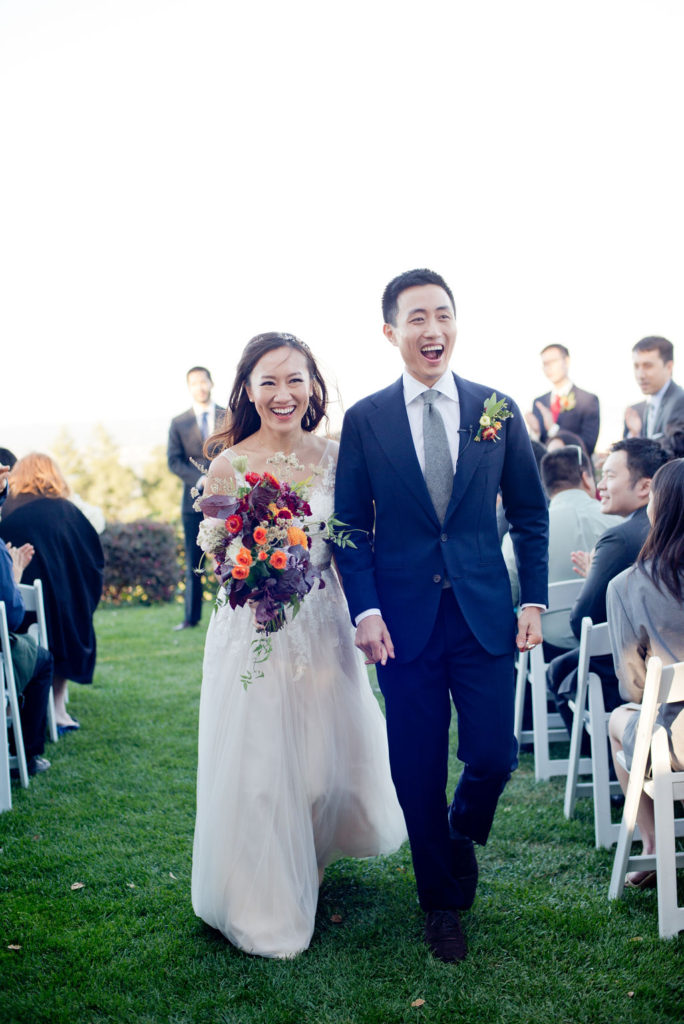 For the couple, it meant… more photos! And for their guests, cocktails and hors d'oeuvres on the open deck, with gorgeous views.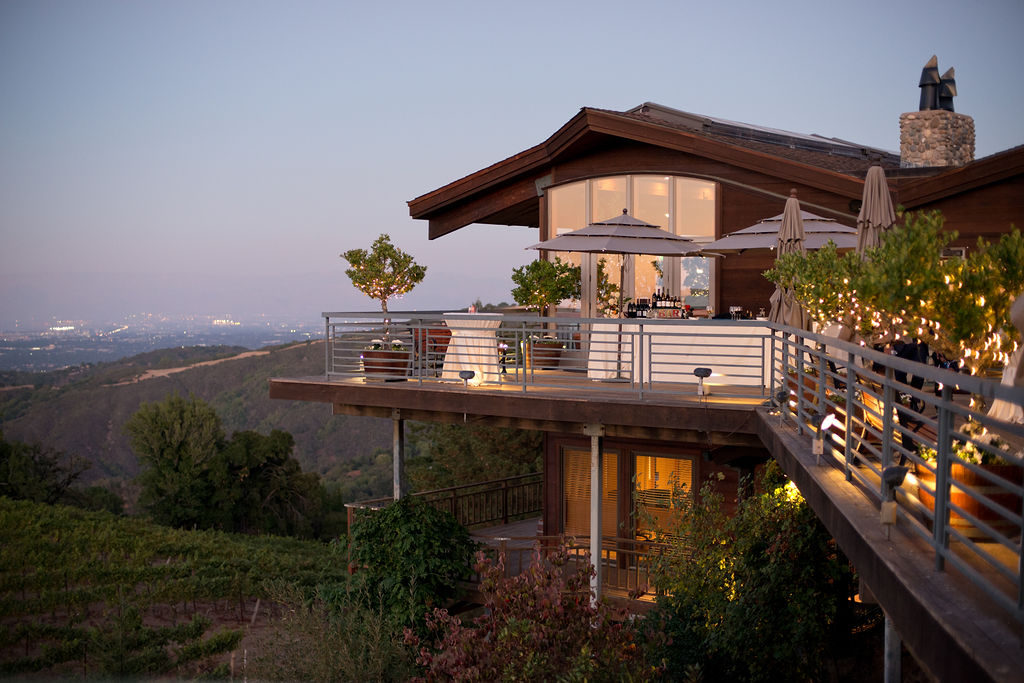 For "escort cards," the couple had come up with yet another quirky and unexpected idea: custom cookies decorated in the "College colors" of each particular guest! A smart idea as most of their guests were their friends from college…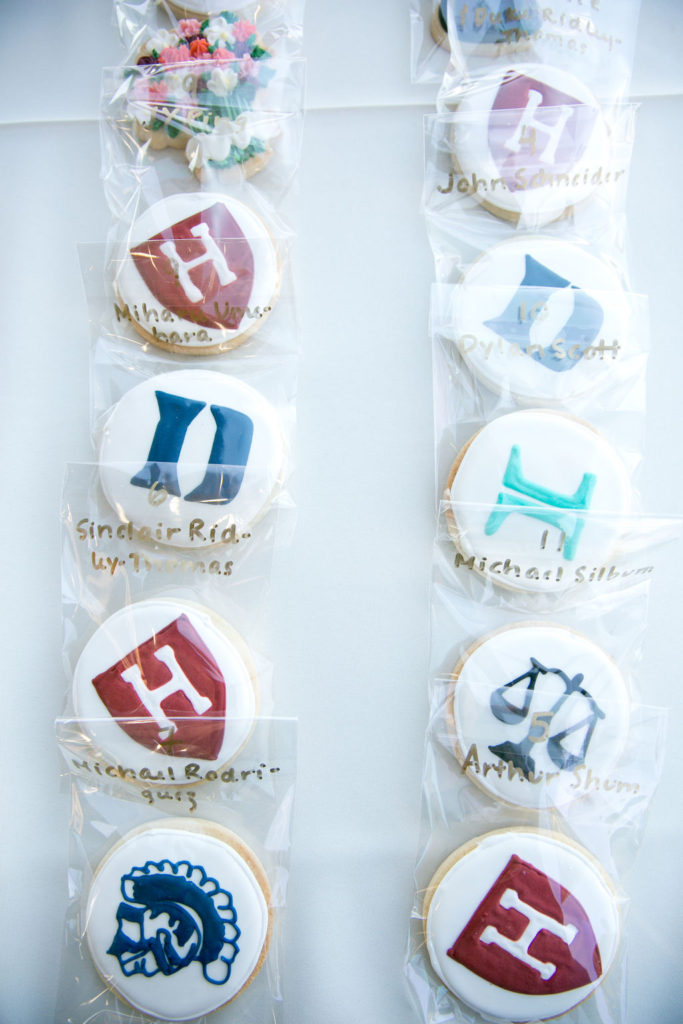 Dining tables in the beautiful open "Pavilion" were adorned with centerpieces matching the bride's bouquet, and the table numbers were another loving nod to the couple's cat babies.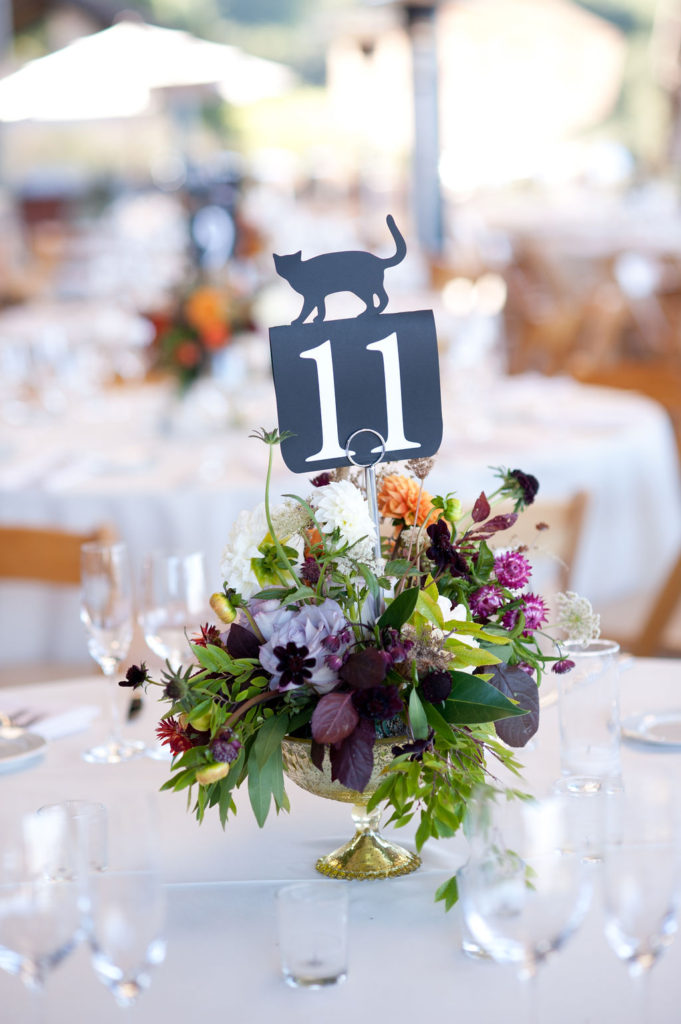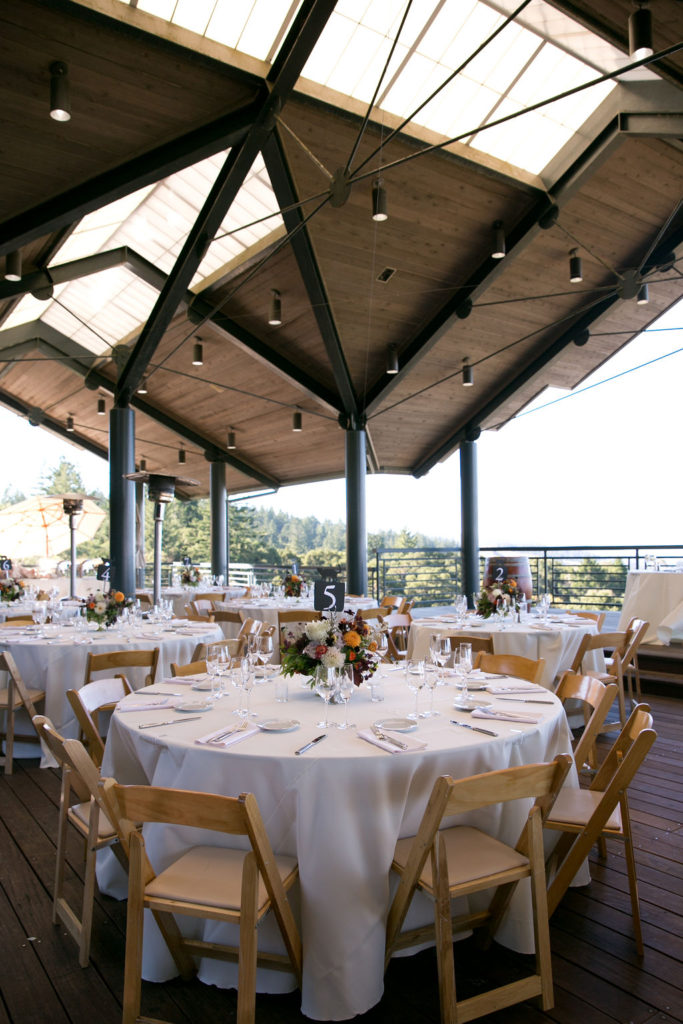 The couple's Sweetheart Table got, of course, a little extra-special treatment!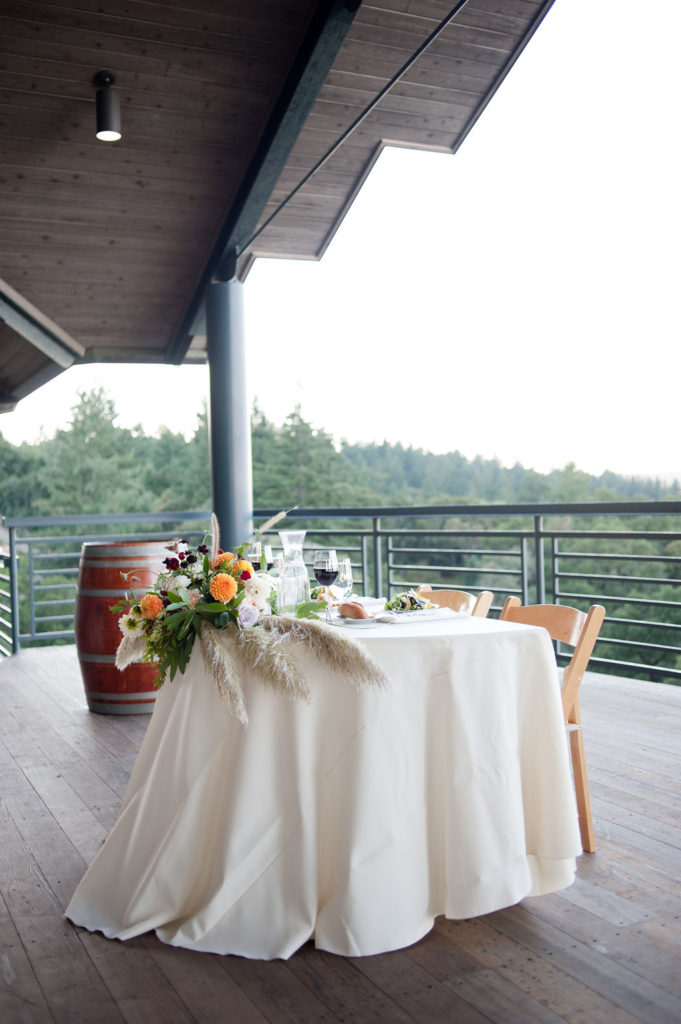 Time for the Grand Entrance of the newlyweds!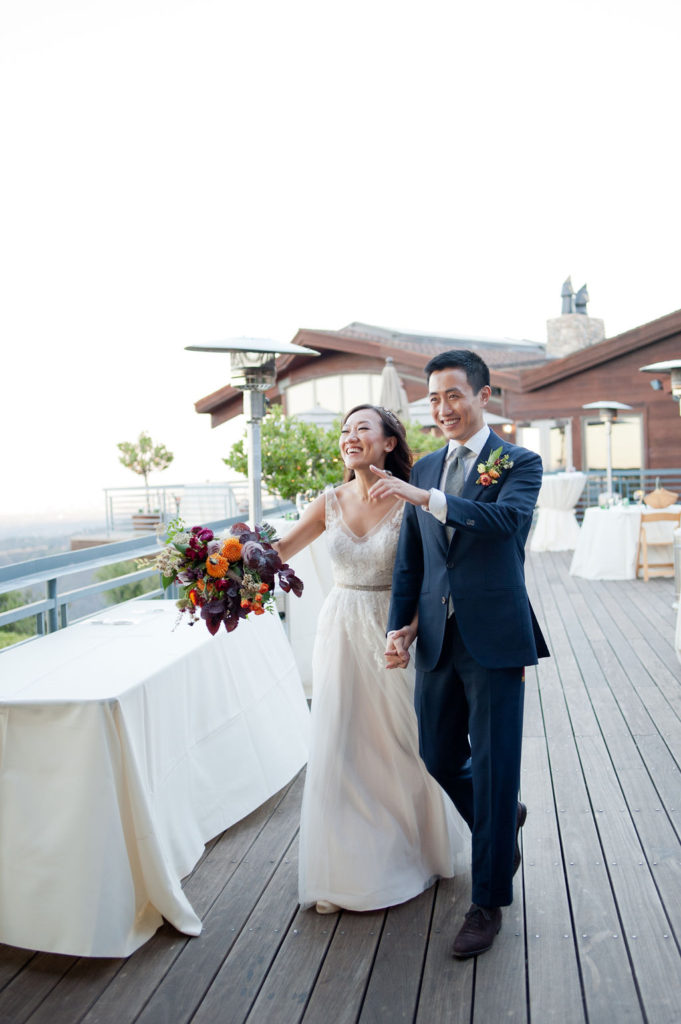 … and for speeches…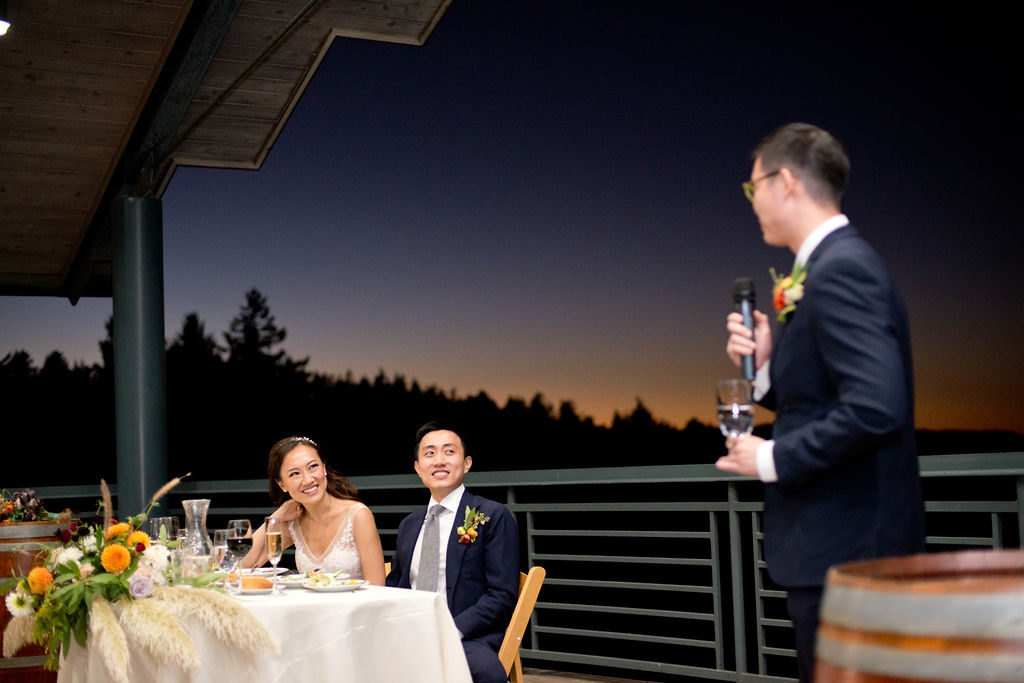 … and then, for dessert! Another quirky choice: delicious, fragrant mini donuts (by Harvey's Donuts) – everyone decided to "re-start the diet tomorrow!"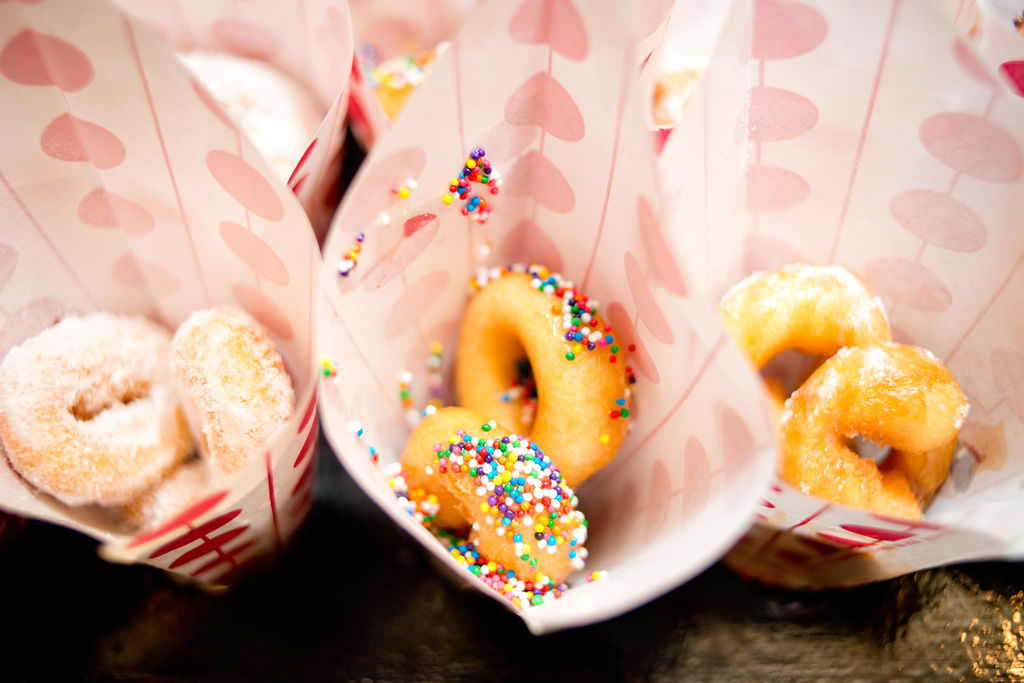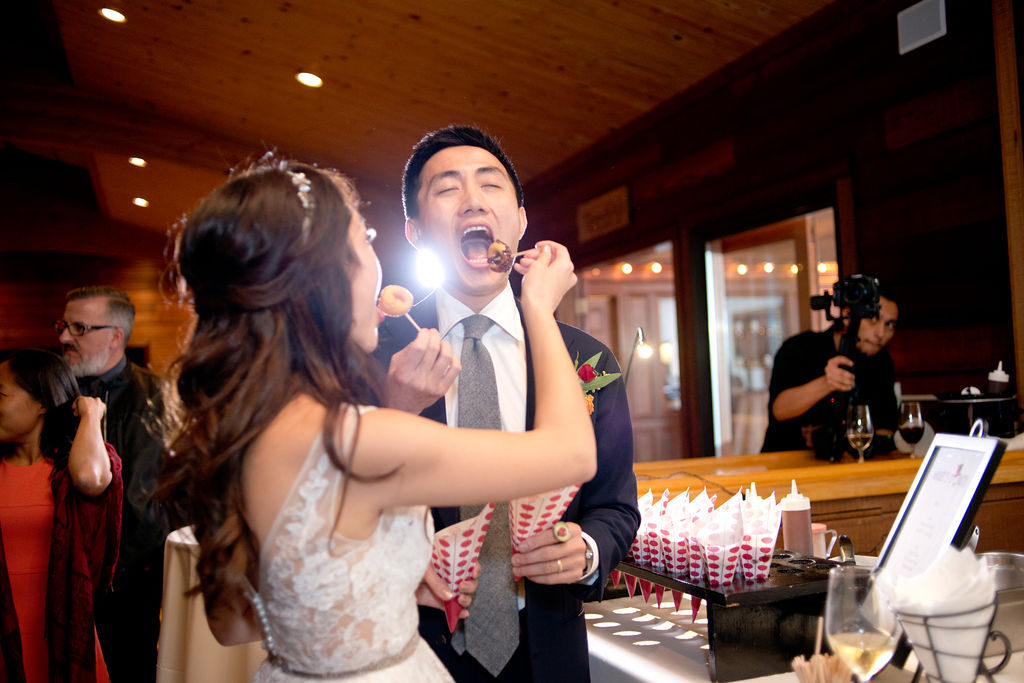 The couple "wowed" everyone with their elaborate First Dance …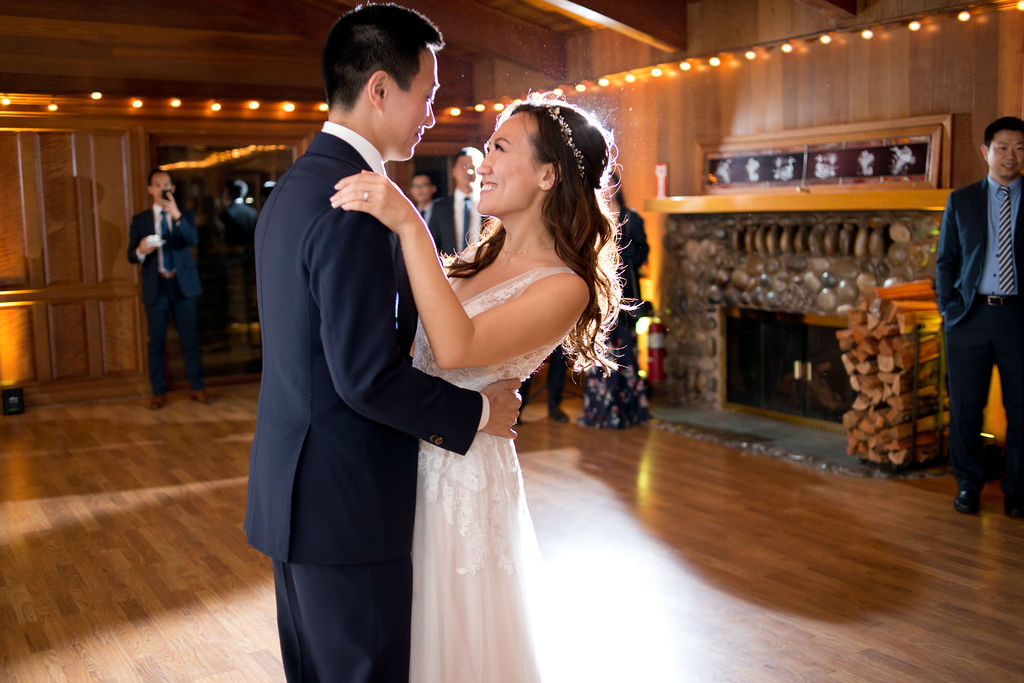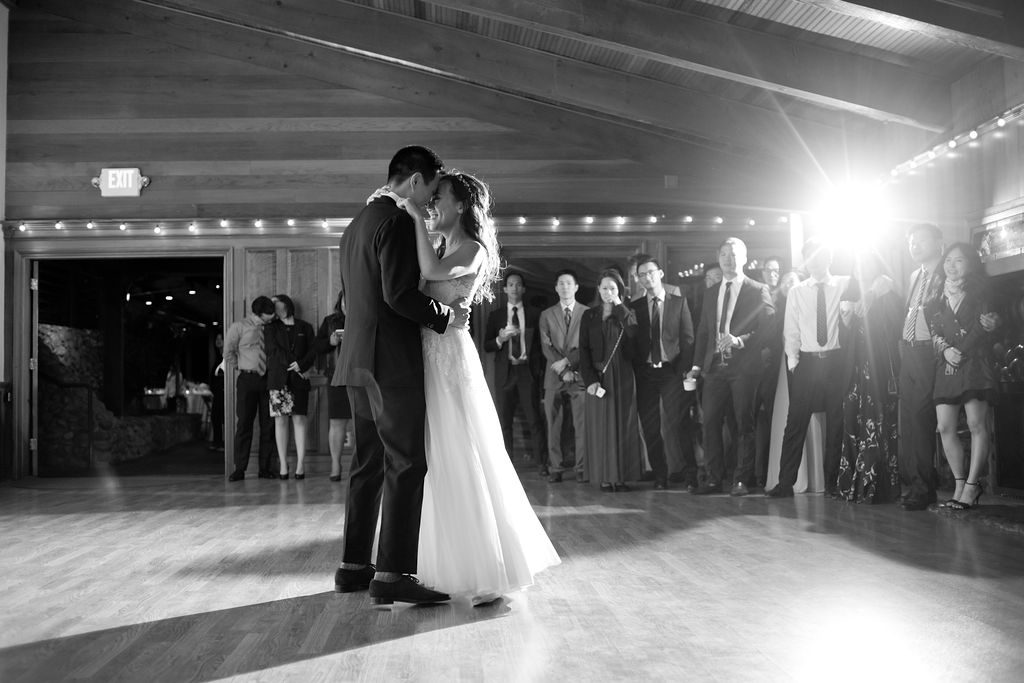 … which opened the dance floor to everyone and to an epic dance party!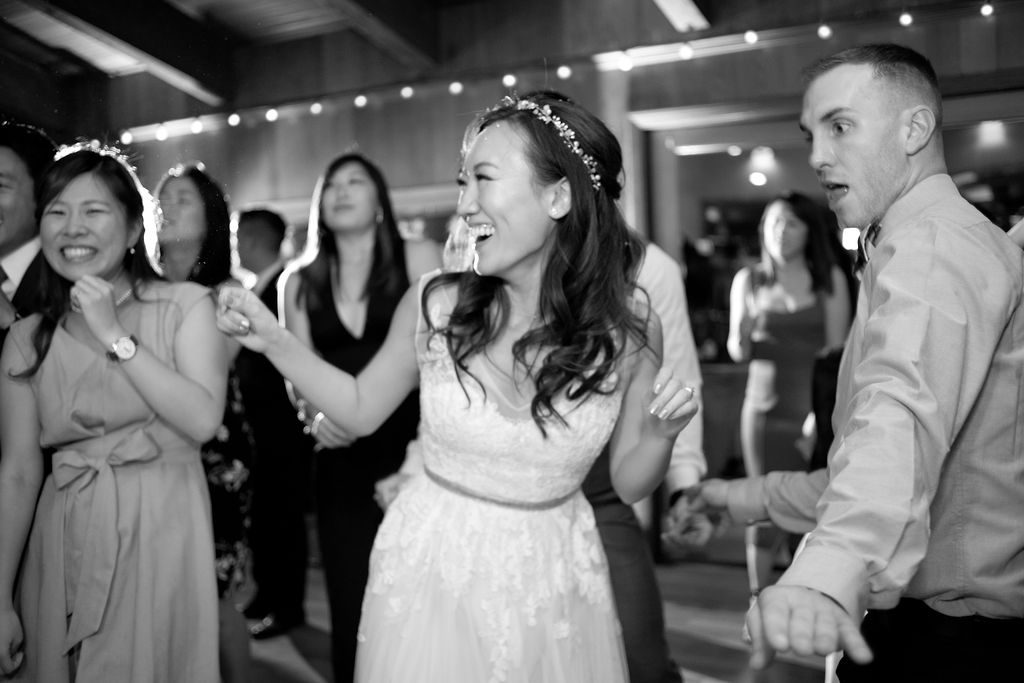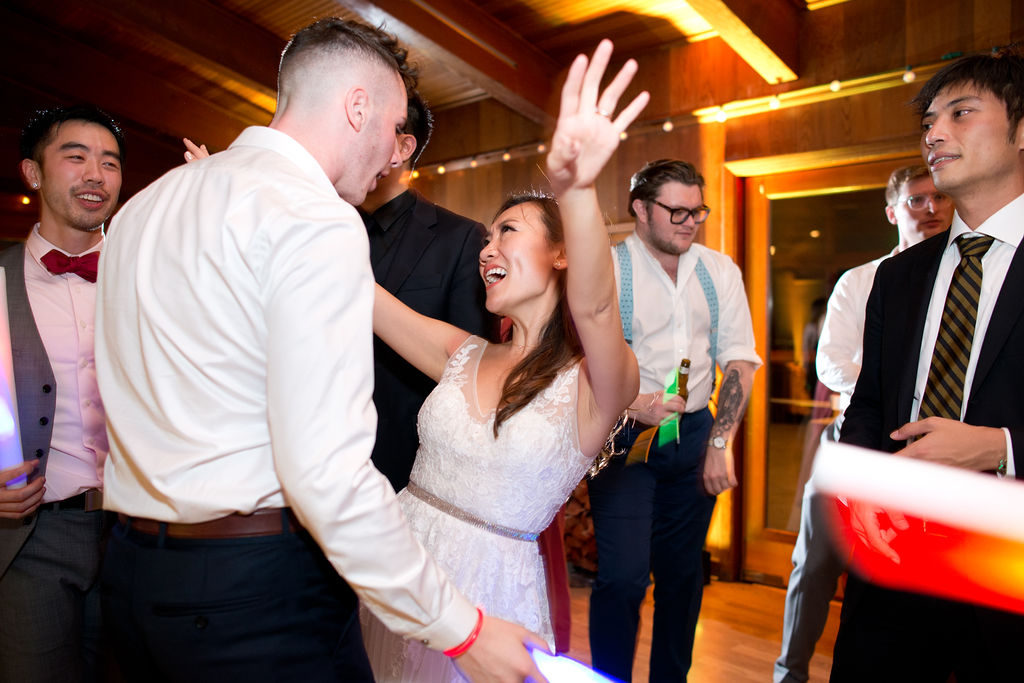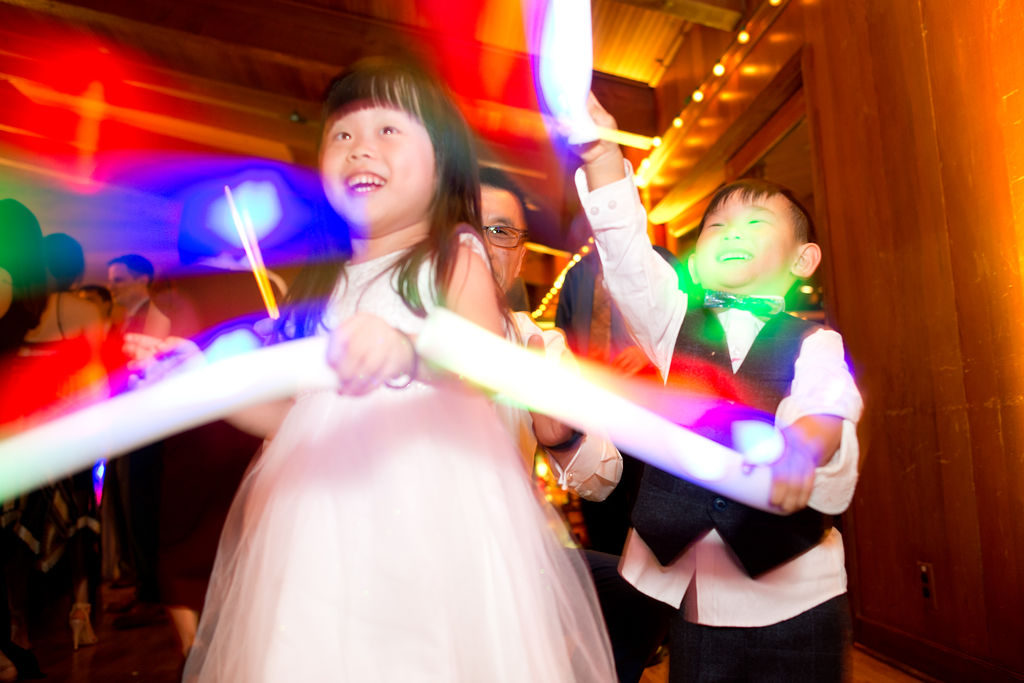 Everyone – young and old – had a great time, and then we gave the newlyweds a Grand Send-Off in style, with glowsticks: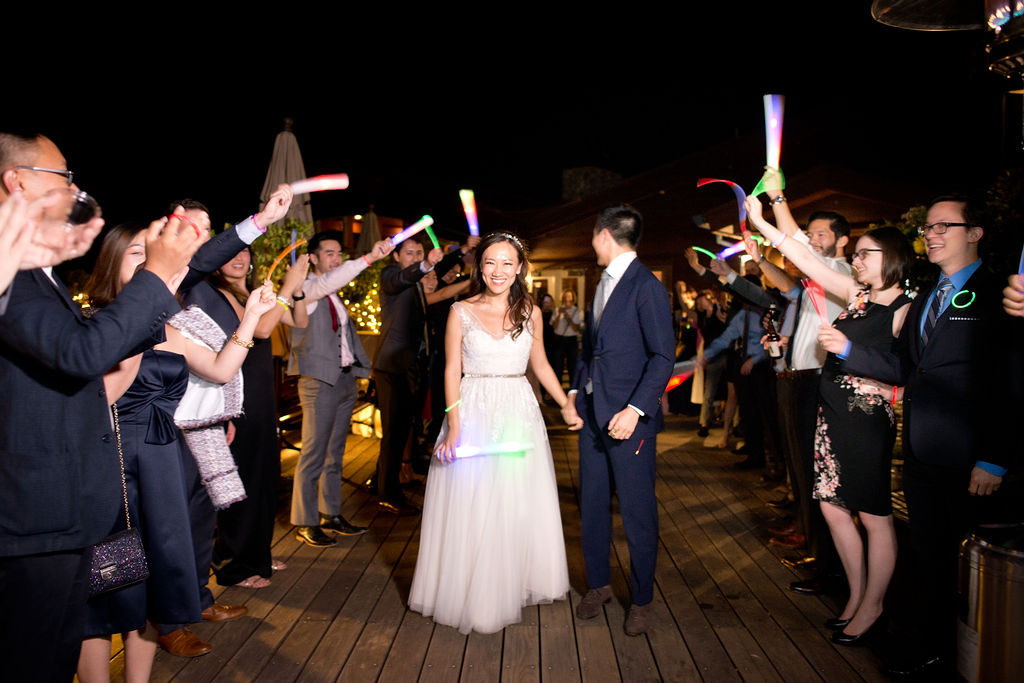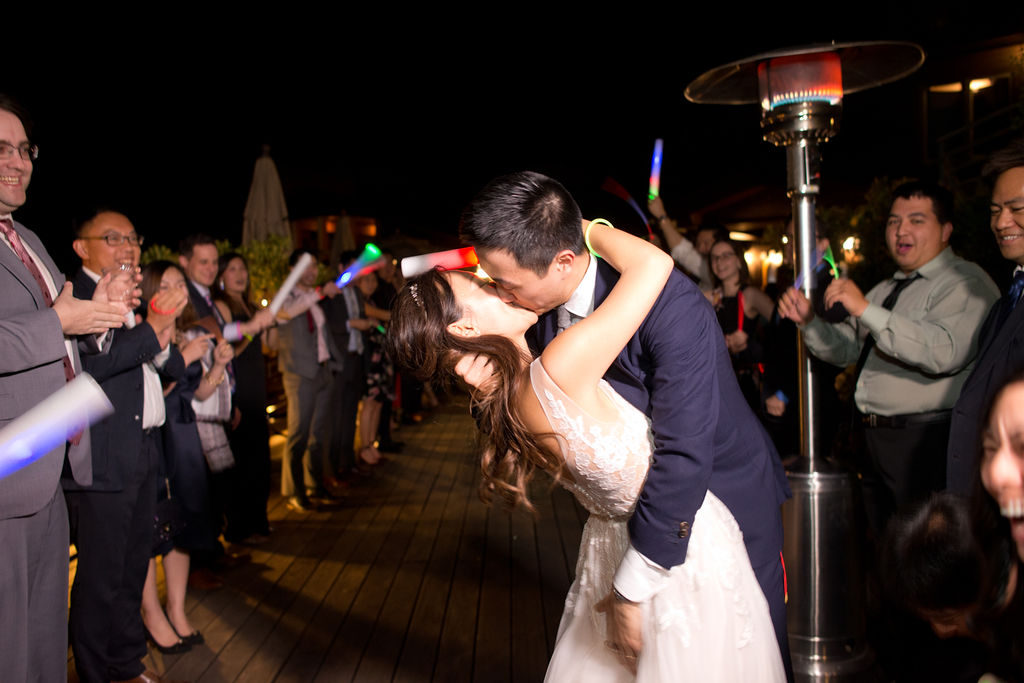 Dance on, Stacey and Michael … for a lifetime of happiness!