Christina and Cuyler met at work – a full eleven years ago – as colleagues. Over the years, they became friends… and started dating… and then they realized that they wanted nothing more than to marry their best friend! For their wedding, they envisioned a Spring day at Thomas Fogarty Winery, perched high above Silicon Valley, with endless views… and so they started planning with me and my company, A Day Like No Other.
As we were getting closer to Wedding Day, the weather forecast turned gloomy, and unfortunately, this time the meteorologists were right. We were taking precautions: two dozen huge umbrellas for the couple, the bridal party and their guests were in place, and Christina and Cuyler took it all in stride!
For Christina and her bridesmaids, as well as for the Moms, the day began with hair and make-up services by Sarah Hyde of sHe artists – and all those pretty ladies emerged as stunning Hollywood-worthy beauties! Everyone looked their very best, carried herself with confidence and was just simply happy.
With that, Christina was ready to put on her gorgeous Hailey Paige wedding dress – a modern take on lace with a geometric pattern, a chic little shrug and a feminine tulle bow at the waist:
Florist Indelisa Montoro of Royal Bloom Boutique had delivered a vibrant bridal bouquet …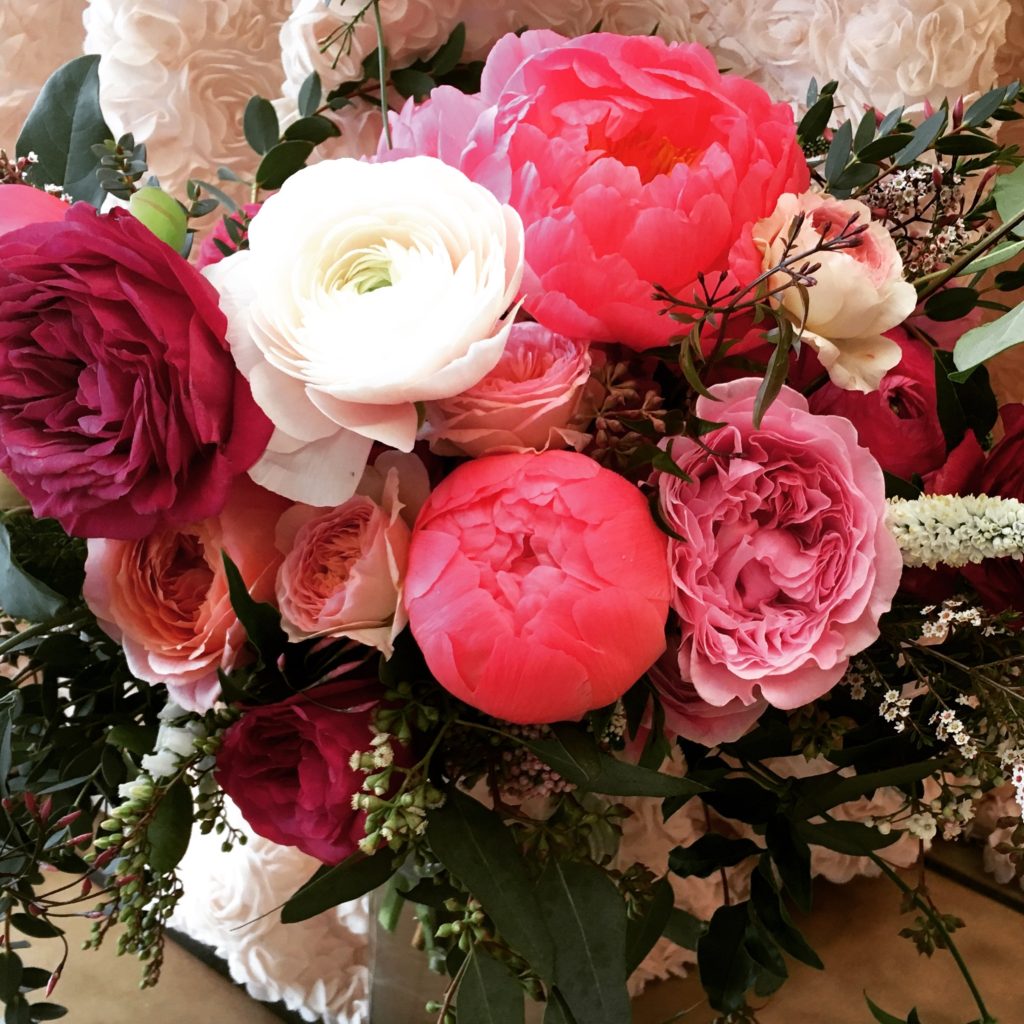 and matching bridesmaids' bouquets, boutonnieres, ceremony decor and centerpieces – you'll see! The winery was transformed into a summer garden…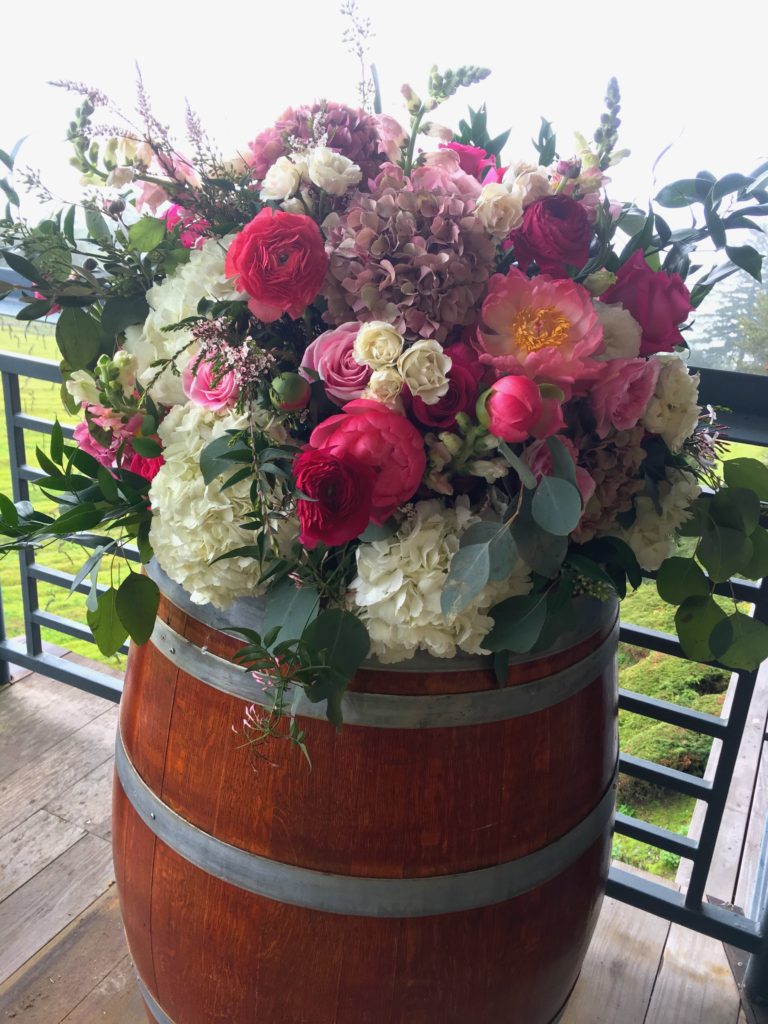 Meanwhile, Cuyler had dressed up as well, and bride and groom were ready for their official "First Look:"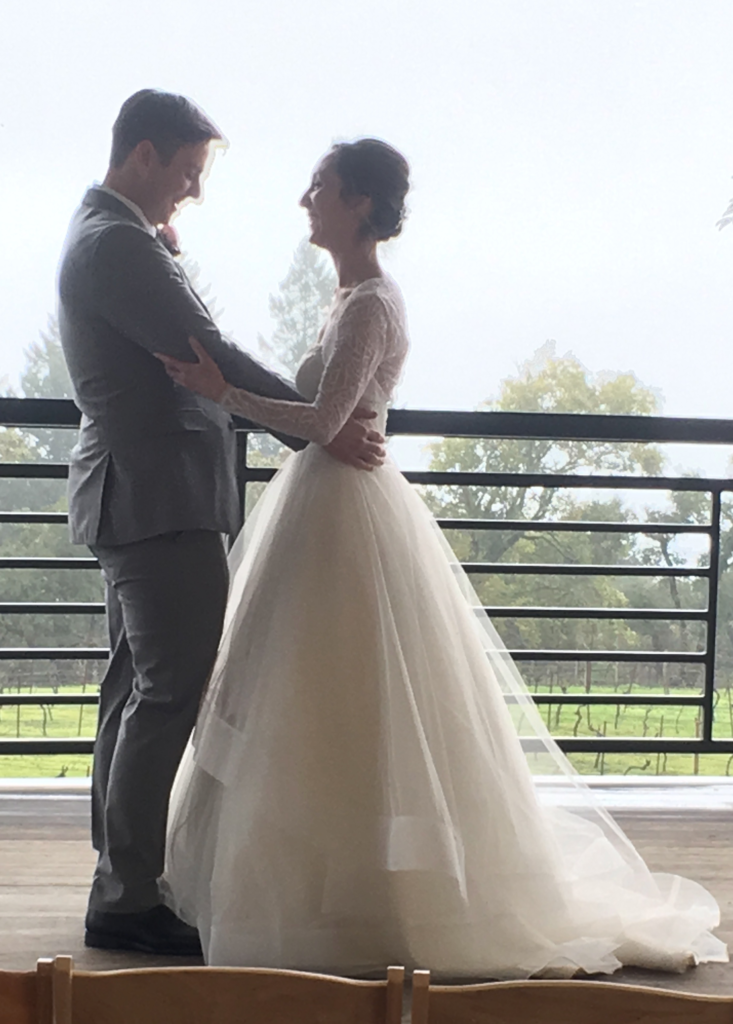 Photographer Janae Shields and her assistant took the couple around for photos (just wait until you see their professional images! For the time being, all we have are snapshots by my assistant and me). Meanwhile, a small army was hard at work to get everything ready in time for the celebration. Kaitlin Brinton, one of the venue managers at Fogarty, was our guardian angel throughout the day and the evening and supported us diligently behind the scenes. The Toast Catering team under leadership of My-Dung and Gio set up all tables and chairs, put on the table settings and got the kitchen and the bar going. Florist Indelisa installed an incredible arch seemingly overgrown by summer flowers. Ivy Hill Entertainment set up sound systems and provided a duo for ceremony music. Guests arrived via shuttle buses from Corinthian Ground Transportation. We were ready for the ceremony!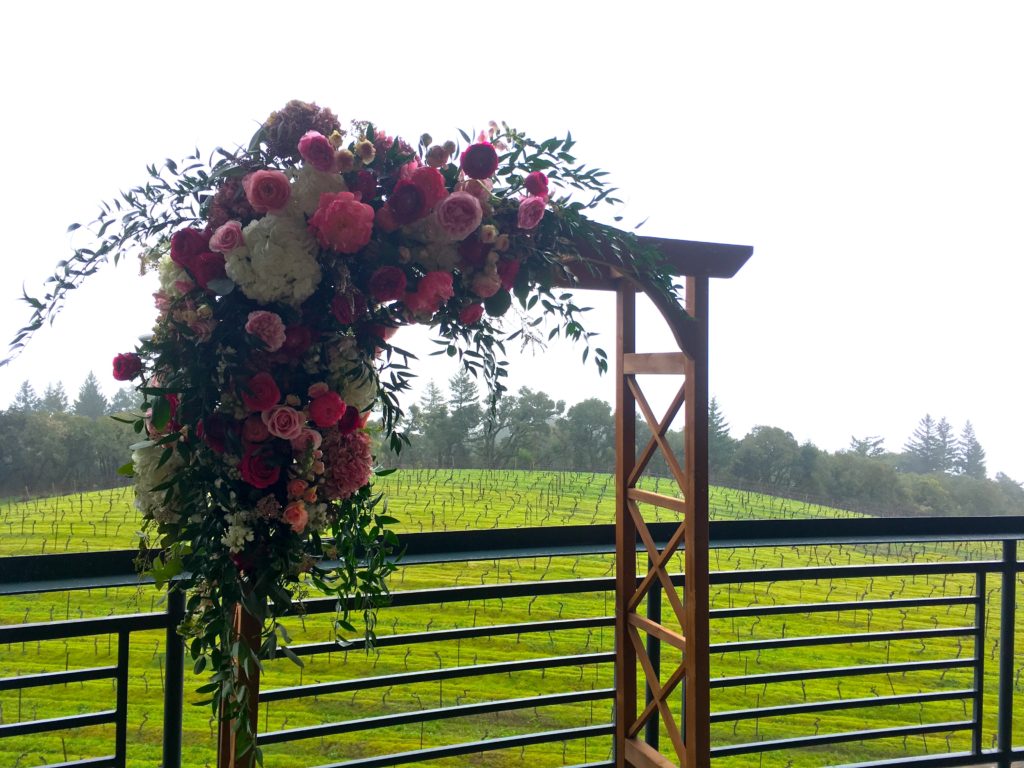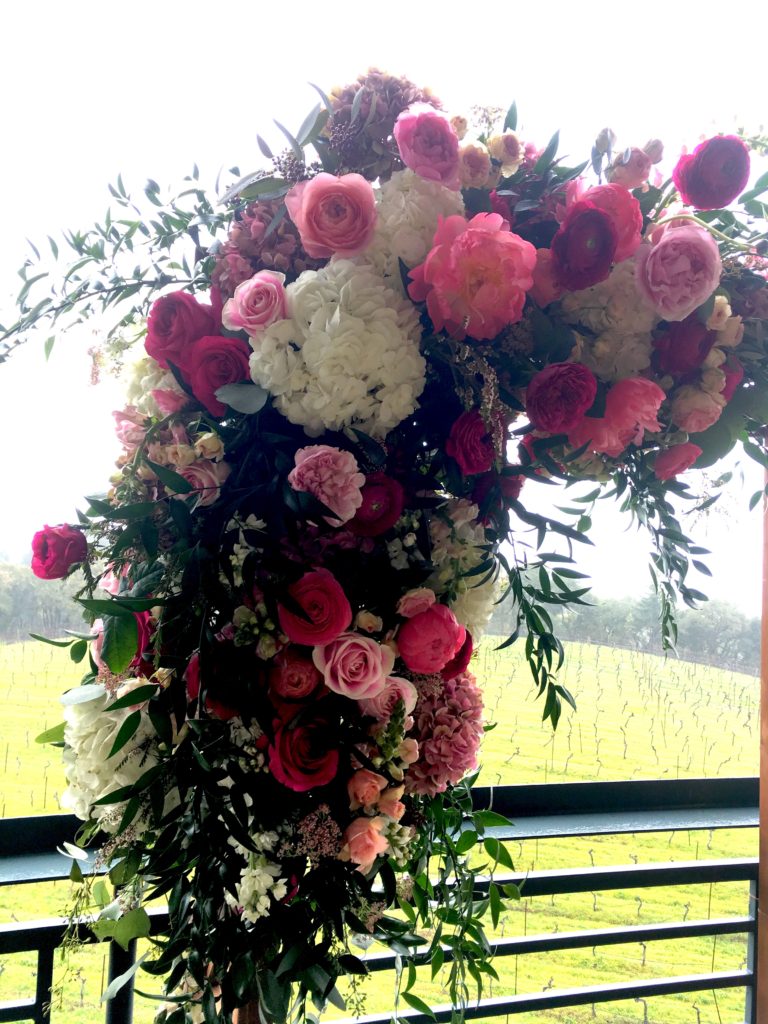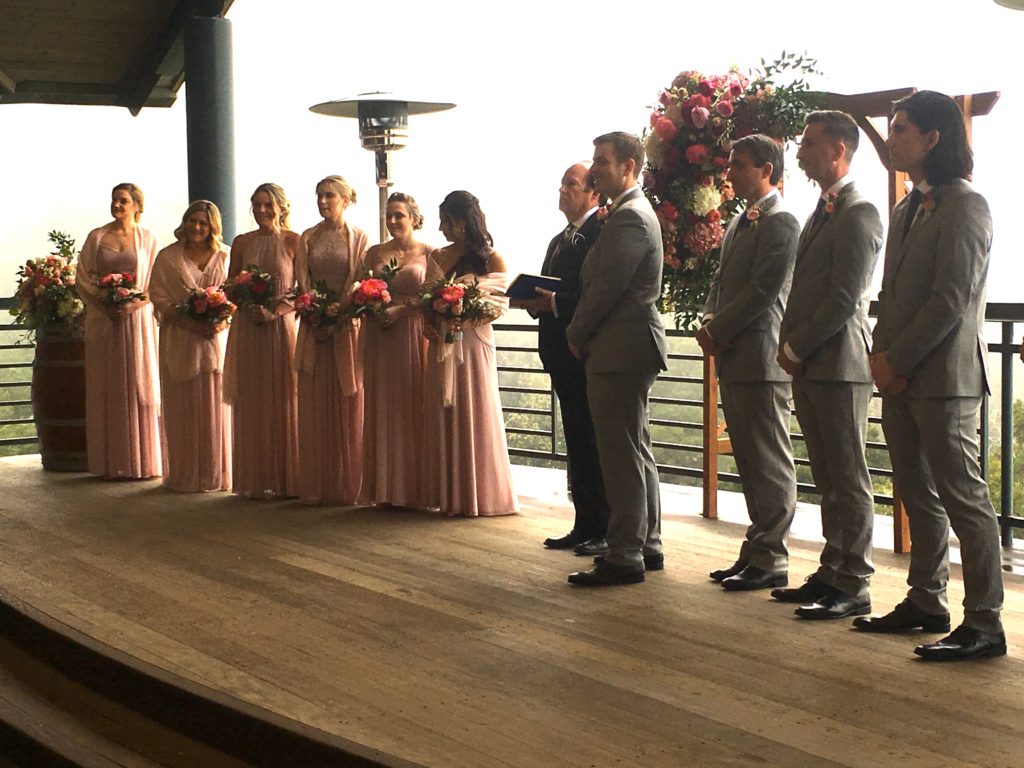 The ceremony was officiated by a longtime friend of the couple's, and it could not have been more personal!
Here comes the bride…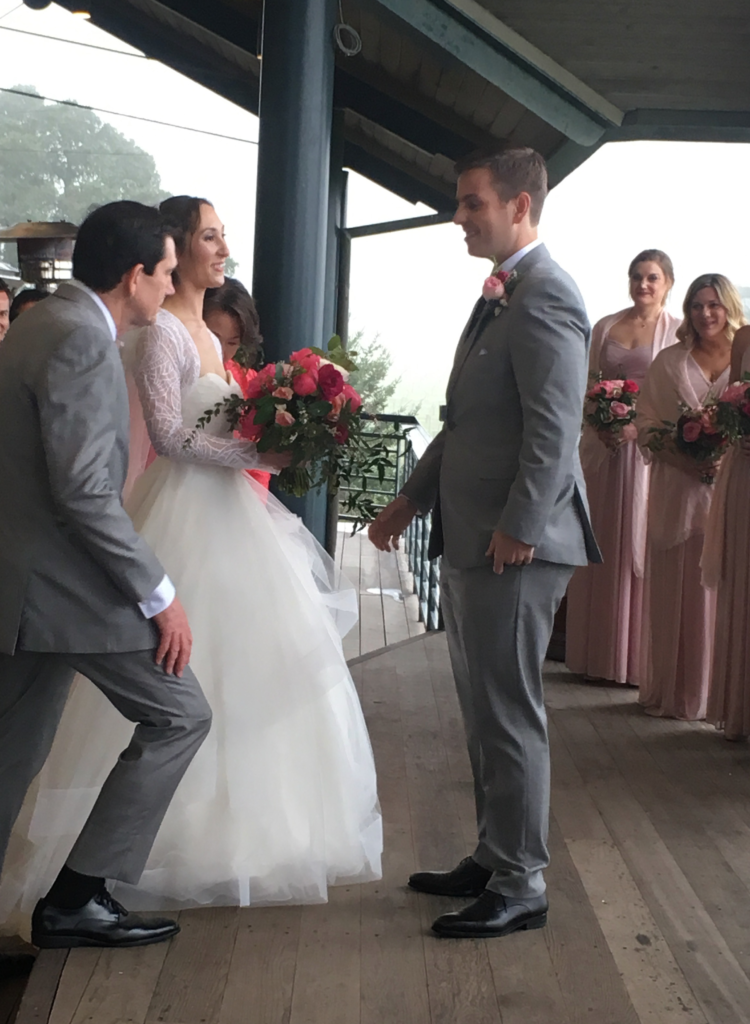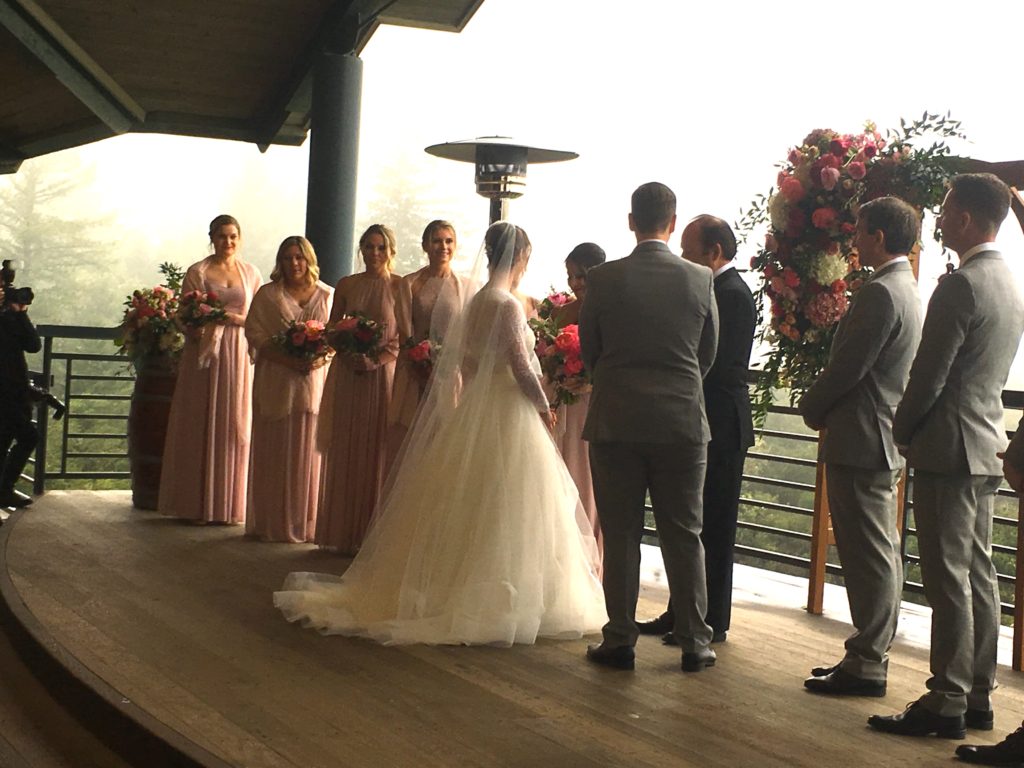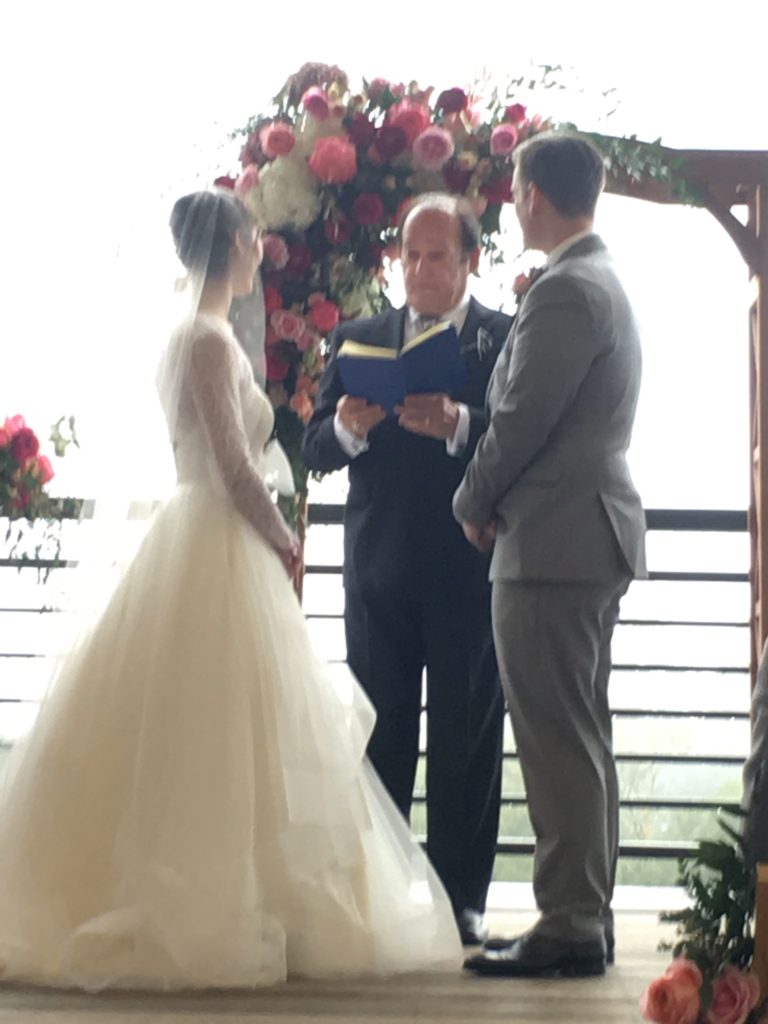 The ceremony was short and sweet – and here they are, JUST MARRIED!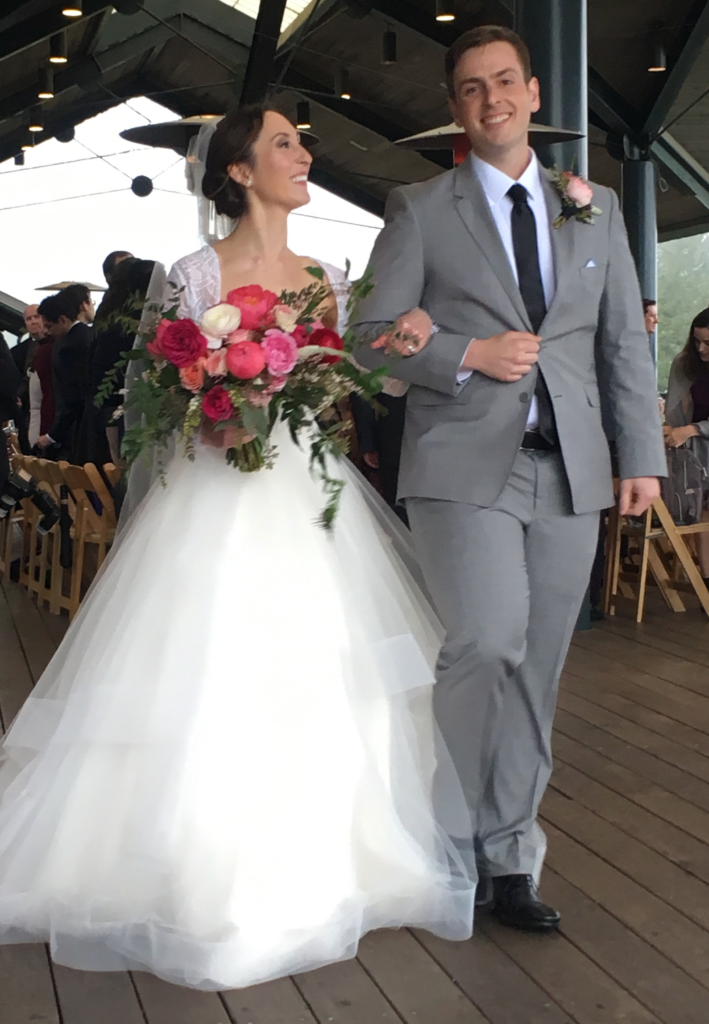 For Cocktail Hour, guests were treated to hors d'oeuvres paired with special wine selections – a really unique idea!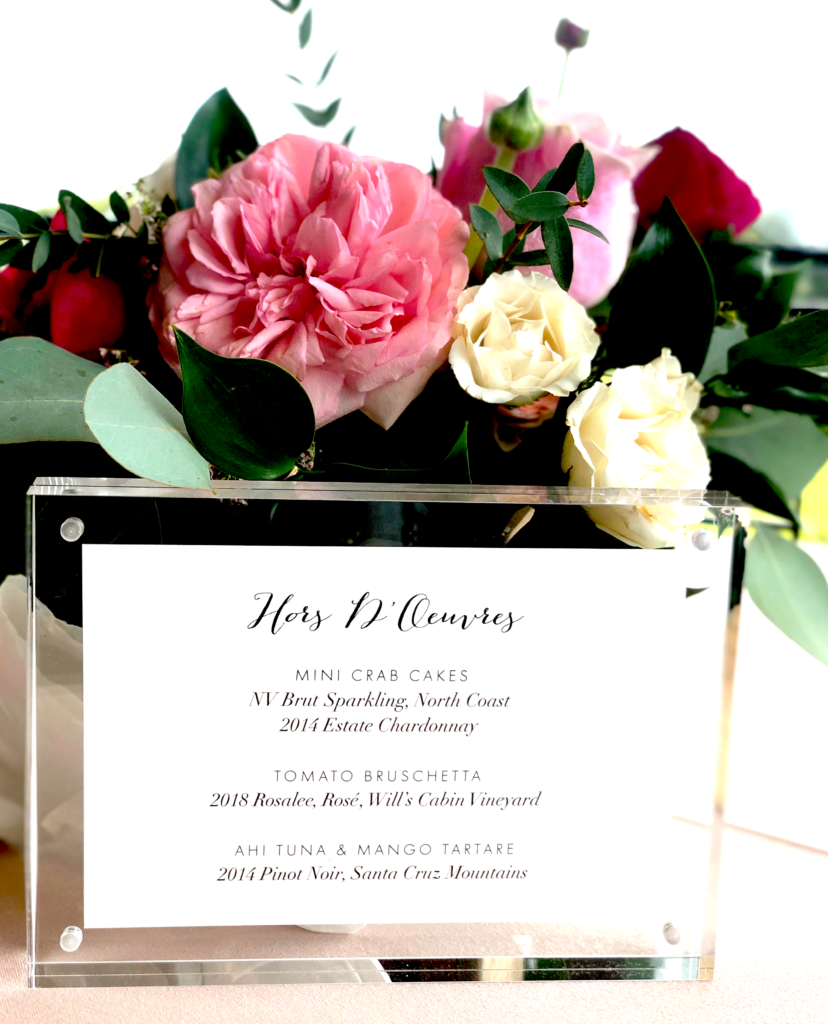 Meanwhile, my assistant Alexandra put the finishing touches on the elaborate setup of place cards and favors on the dining room tables …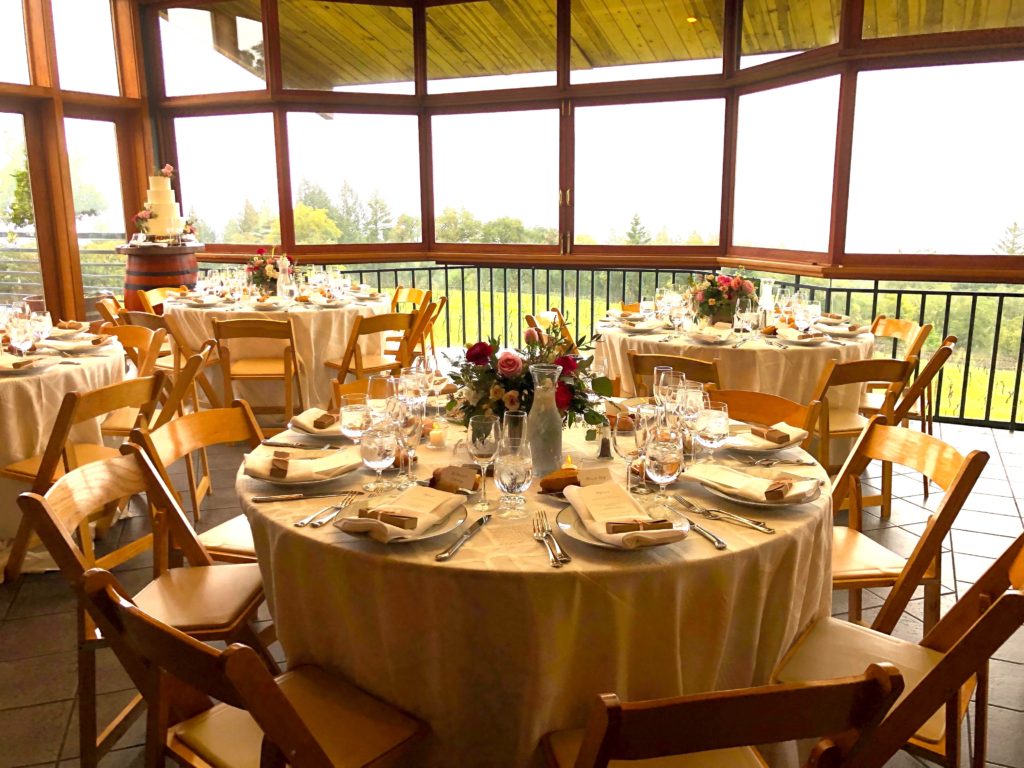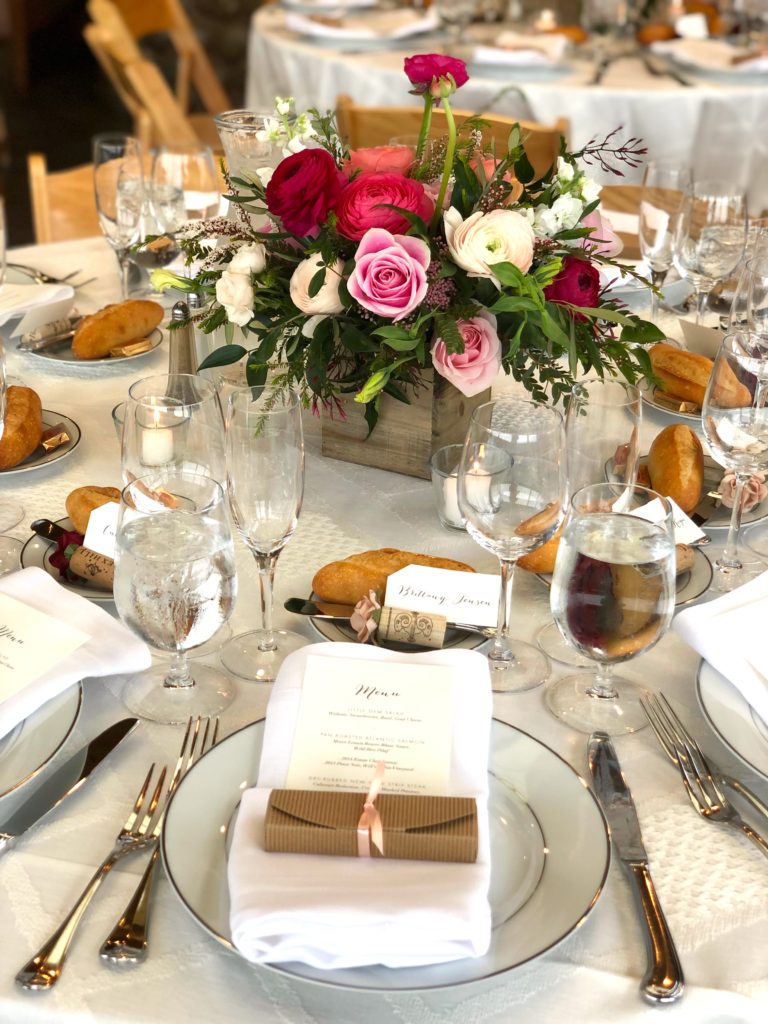 Wine corks served as table card holders, and the color of a little flower on top of each cork was the indicator for each guest's entree choice. So elegant!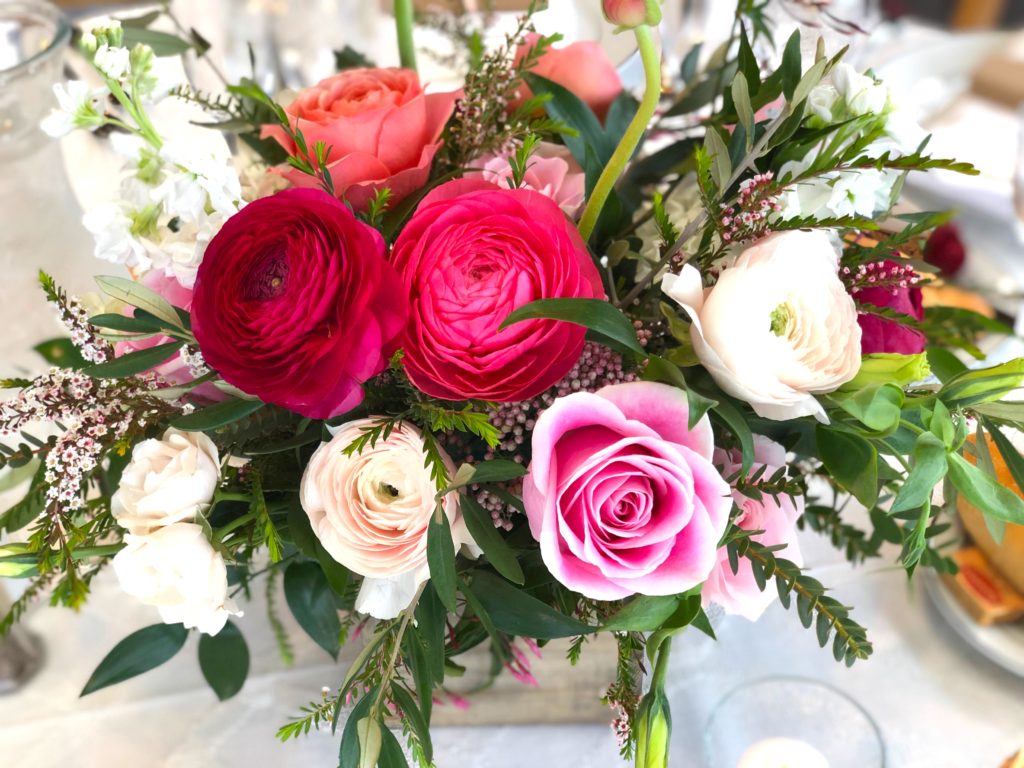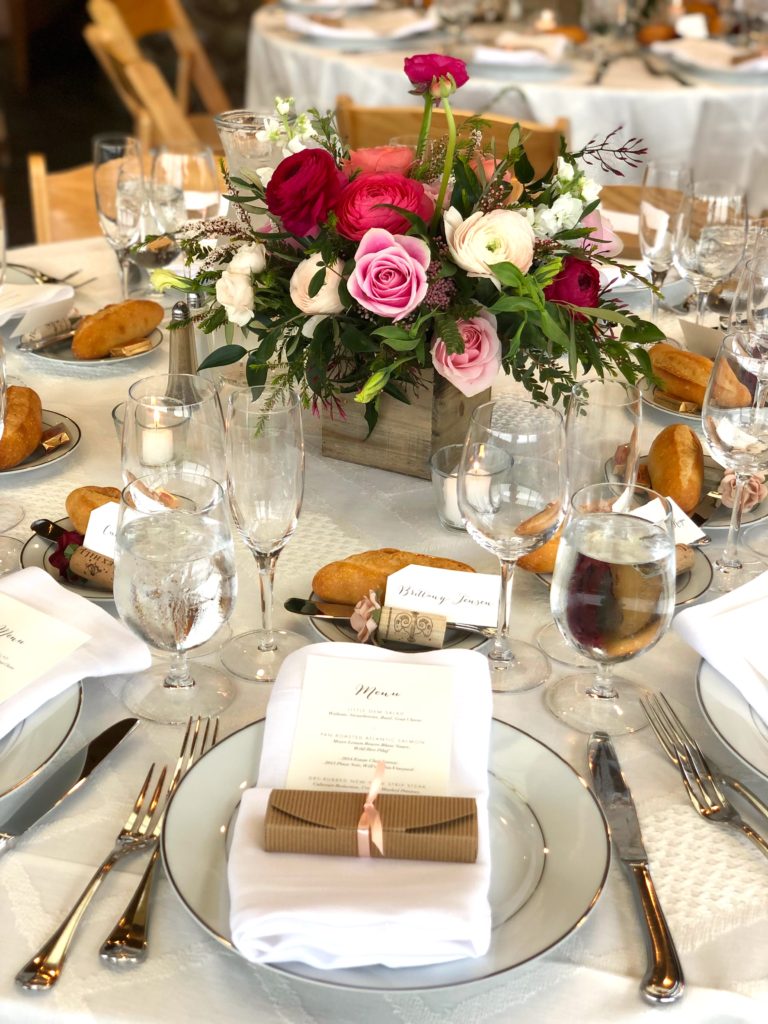 Together with the subtly structured linens, silver-rimmed china and Indelisa's gorgeous centerpieces, this setup was simply perfect.
BUT we have not yet introduced the unspoken star of this wedding: doggie Gigi! She lives with the bride's sister but is truly the darling of the whole family – and became the darling of the whole wedding as she made her appearance, dressed up with a flower collar, and accompanied by her "Doggie Mom for the Day," my assistant Melinda.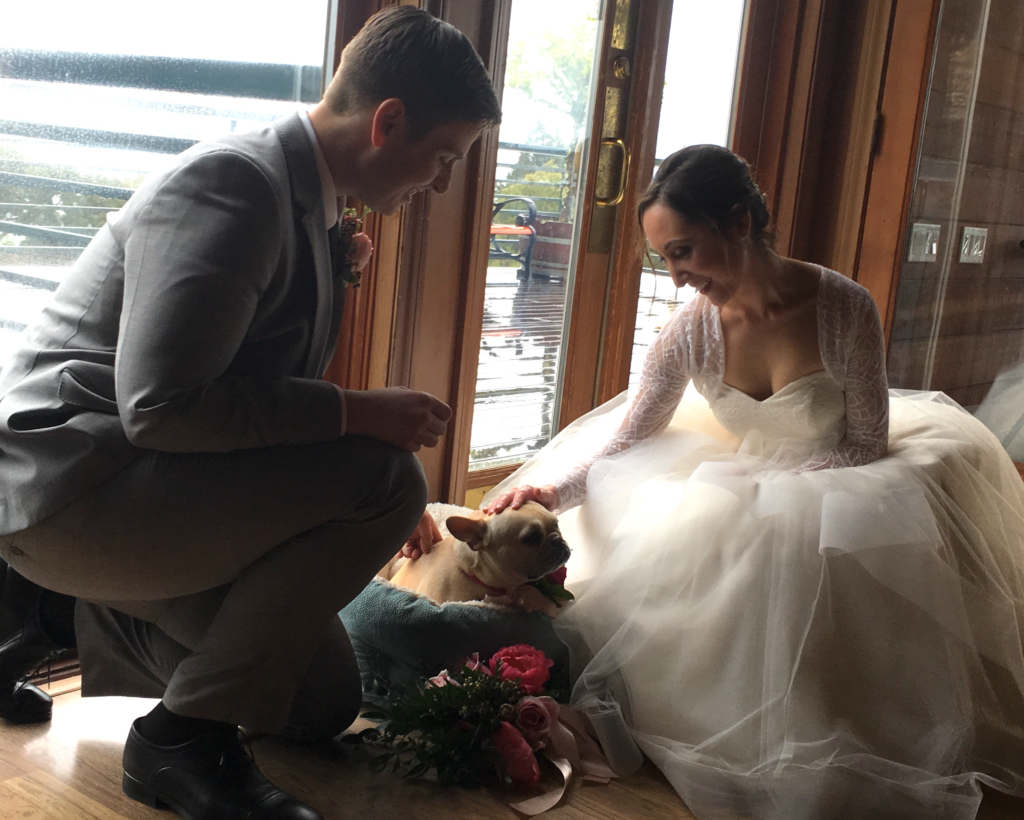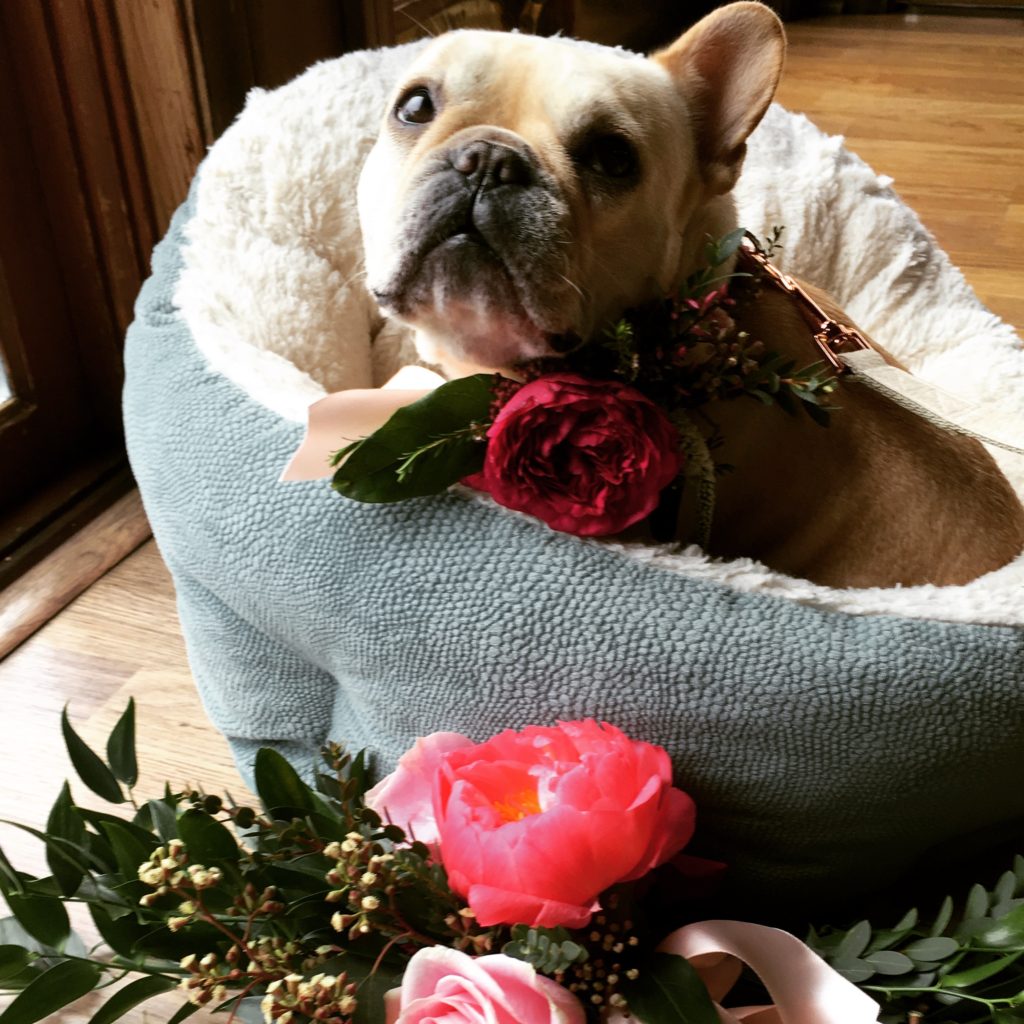 She is simply too cute for words! (And she has more Instagram followers than most people. Small wonder…)
After a delicious meal…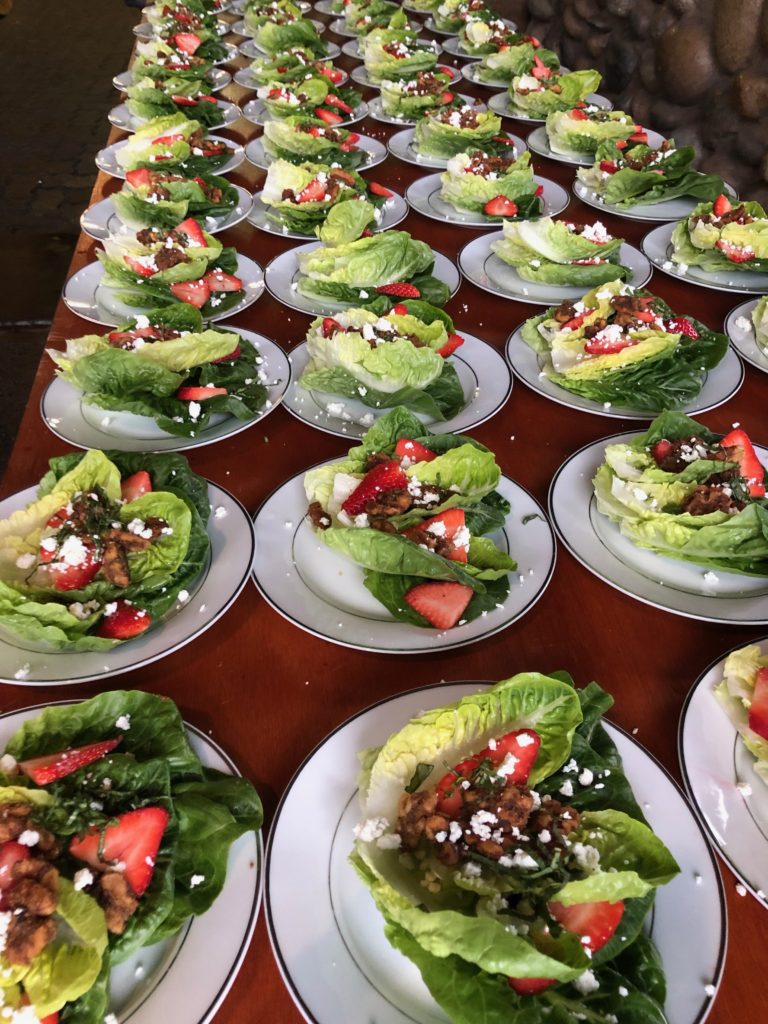 … the couple cut their cake, a classic white wedding cake by Studio Cake, adorned with flowers exactly matching the bridal bouquet.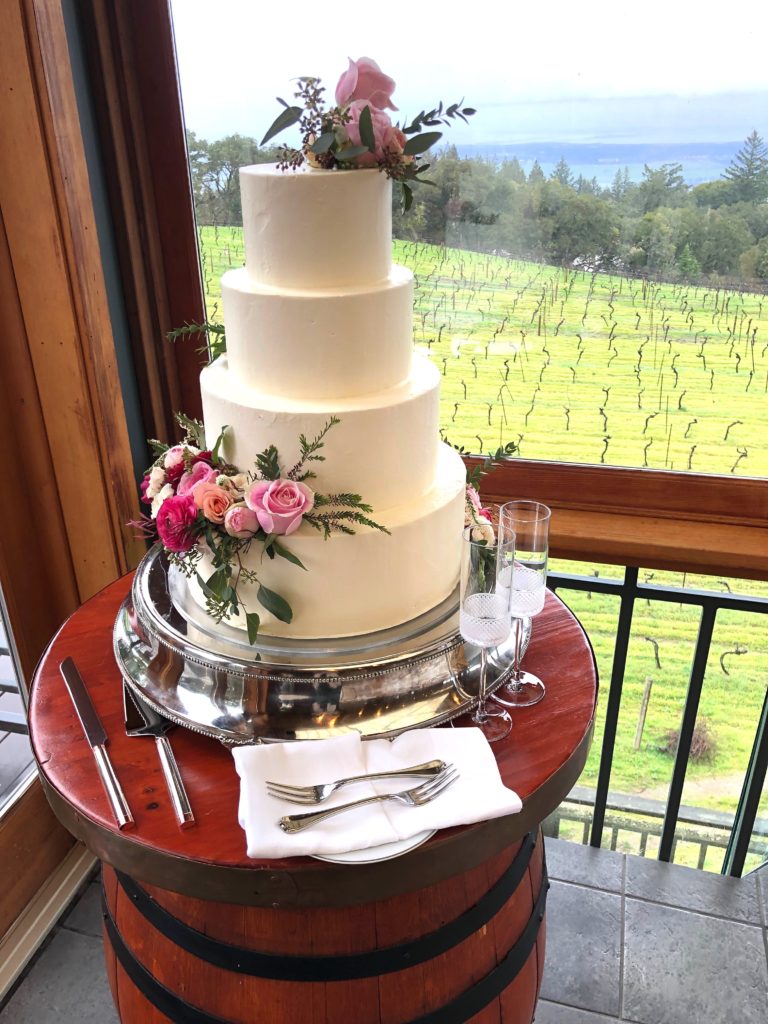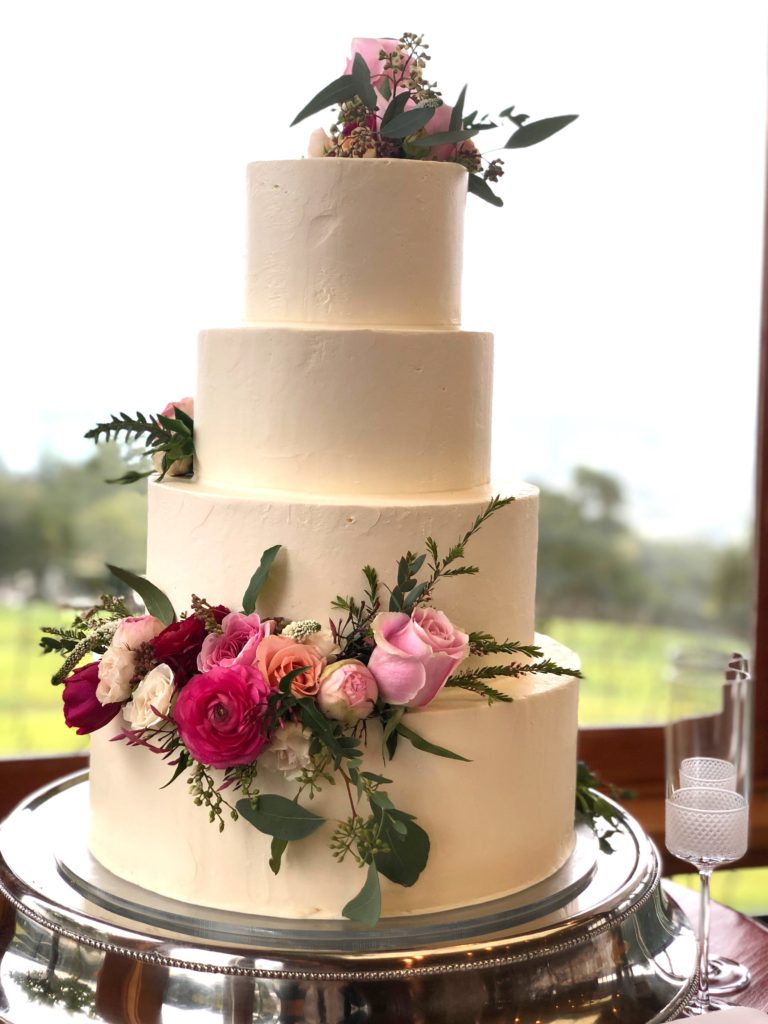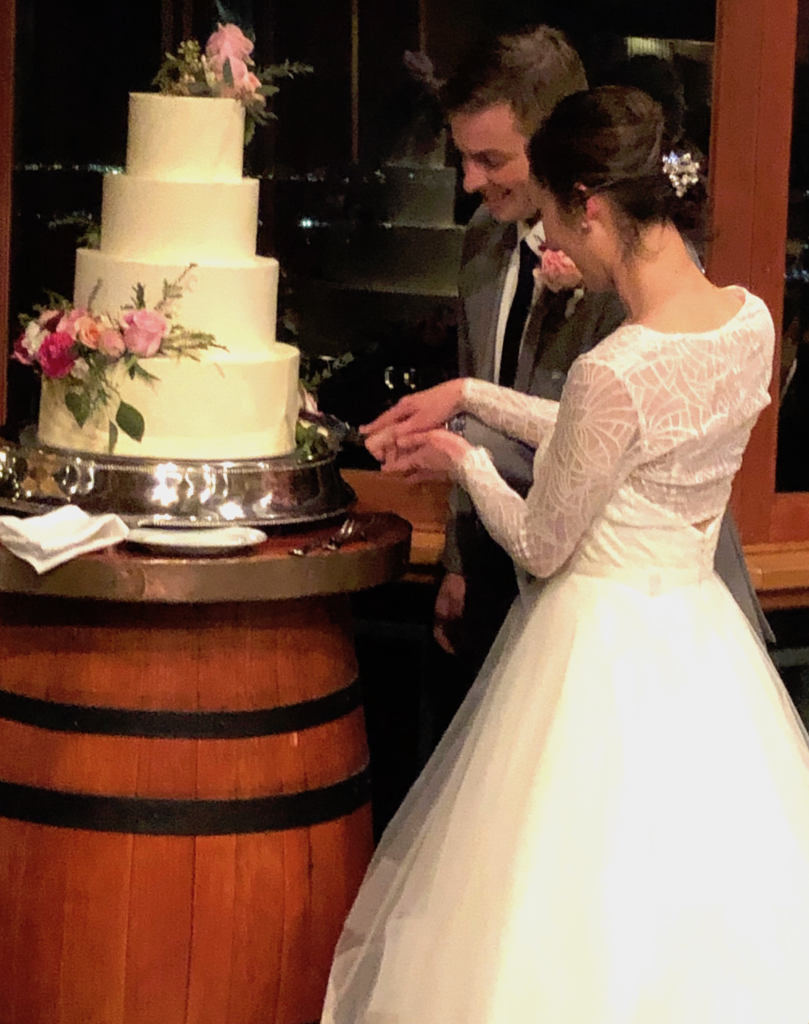 After that, there was no holding back from dancing! Christina (a former competitive ballroom dancer) and Cuyler had practiced their elaborate, highly choreographed First Dance to a true classic, Elvis Presley's "Can't Help Falling in Love," sung live by Erin Honeywell, bandleader of "Family Funktion" (through Ivy Hill Entertainment).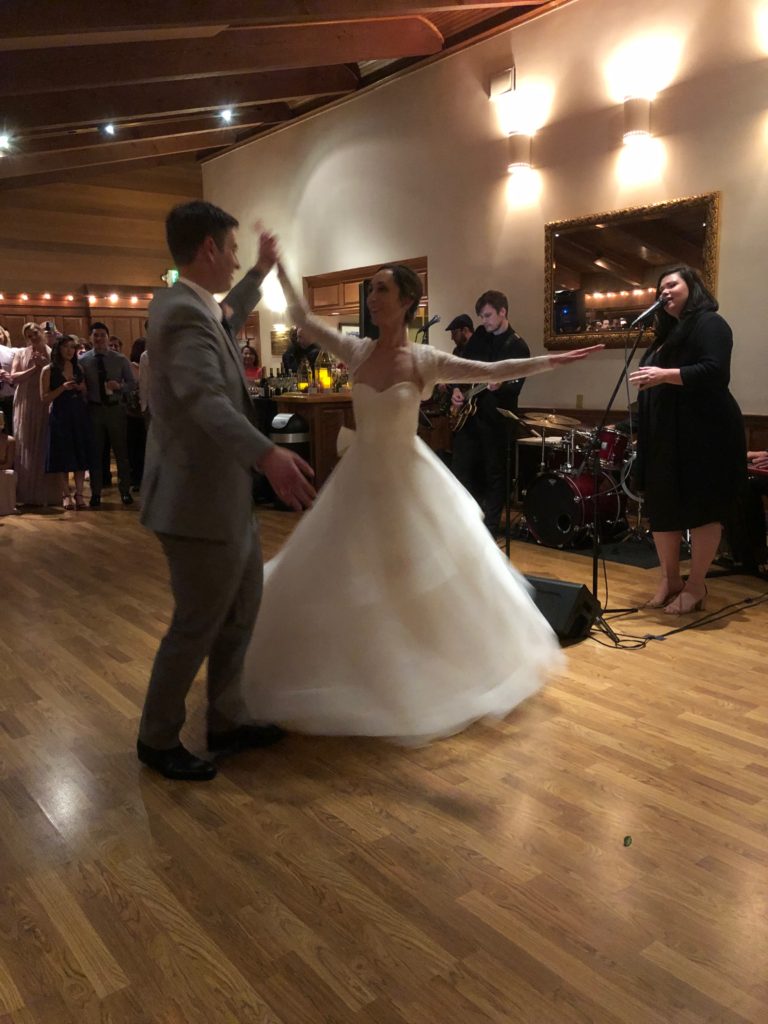 Then there were the parent dances and just simple fun on the dance floor! These two were literally "singing and dancing in the rain." Nothing could dampen their spirits! What a party that was…

Wishing you a lifetime of happiness together, rain or shine!

<! DL 06/02/12: Added html code for Pinterest Pin It button (appears at the end of each post) > <! DL 06/02/12: Added padding style modifier to the Pinterest html code to align the Pit It button on the page > <! DL 06/02/12: deactivated code by adding two ! in the a and img code lines >