So here comes, hands down, the most creative, elaborate and meticulously planned proposal I've ever seen! Planned and executed by groom Eric who is herewith officially awarded the title EPIC!
In his own words (as I couldn't put it any better) here is what happened – from his earliest planning stages to his actual proposal to his beloved Jessica.
Here we go:
"I wouldn't have expected anything less!" – is something that Jessica and I have been hearing a lot lately after telling friends our proposal story. However, before I spill the beans, I'll give you a snip-it of our pre-engagement life together. #TeamAdventure is the name we were given after our very first time meeting each other in person. Jessica flew from New York to sail my homemade raft that supported 4 hammocks, a fire pit and a huge pirate flag, 45 miles down the Green River in Utah over a period of 3 days. She ended up moving out to California, and after many more dates with similar flair, it was clear to me that I had found a beautiful gal who not only thirsts for nature and adventure like I do, but more importantly has a giant heart for helping people in need. I knew that Jessica's passion, character and kindness were very rare; so I began planning for the next big step in our relationship.
Jessica is a clever gal, and I knew that in order to pull off something epic, something she deserved, I would need to play the cards with a seasoned poker face. For many weeks prior to the proposal, I initiated "date day Saturday," so that when this particular Saturday came, she would be an unsuspecting victim, oblivious to the chain of events that were about to ensue. On Saturday, March 7th, I told her that we were going to a fancy breakfast to start the day –  a subtle cue to dress up. A few days previous, one of her gal friends "coincidentally" took her for a manicure and she just recently had a facial, so she was looking phenomenal by the time she walked out her front door, expecting me to pick her up in my car… which wasn't there… neither was I. Instead, she found hanging from her porch a Victorian skeleton key, and a letter. The letter had specific instructions to drive the key to the Toll House Restaurant in Los Gatos and ask the front desk for our reserved table. She drove there, and upon asking for our table, they said, "Sorry Jessica, but your table has been moved to a new location…" and they handed her another letter (and a cup of coffee with a note written on the lid, in MY handwriting, saying "Open the letter now.") This letter, #2, had instructions for her to bring the key to Villa Montalvo – a  grand historic mansion, winery, and art center. As she exited Toll House and walked back to her car, she was surprised to find an apple and a third letter sitting on her hood. The third letter, written in my hand, was a map for her on where to park once she got to Villa Montalvo. She was definitely giggling and looking over her shoulder at this point, waiting for me to pop out of the bushes somewhere.
As she parked in the instructed spot,  letter #3 told her to look in the glove box where she found, low and behold, the fourth and last letter: a picture-map of where she should walk from the parking spot. Past the fountains, away from the Estate Villa, across the expansive English lawn, toward the private gated  "Love Garden"  where the onsite Event Manager was blocking the large Iron Gate. When Jessica produced her key, she was told that TWO keys are needed to open the gate… "but it shouldn't be long before the other key arrives." She pointed back up toward the Villa, directing Jessica's attention to something…what was it? It was me, in a shiny silver suit, riding a horse…. riding… a… horse…. (Funny side note: She STILL had no idea that I was about to propose!)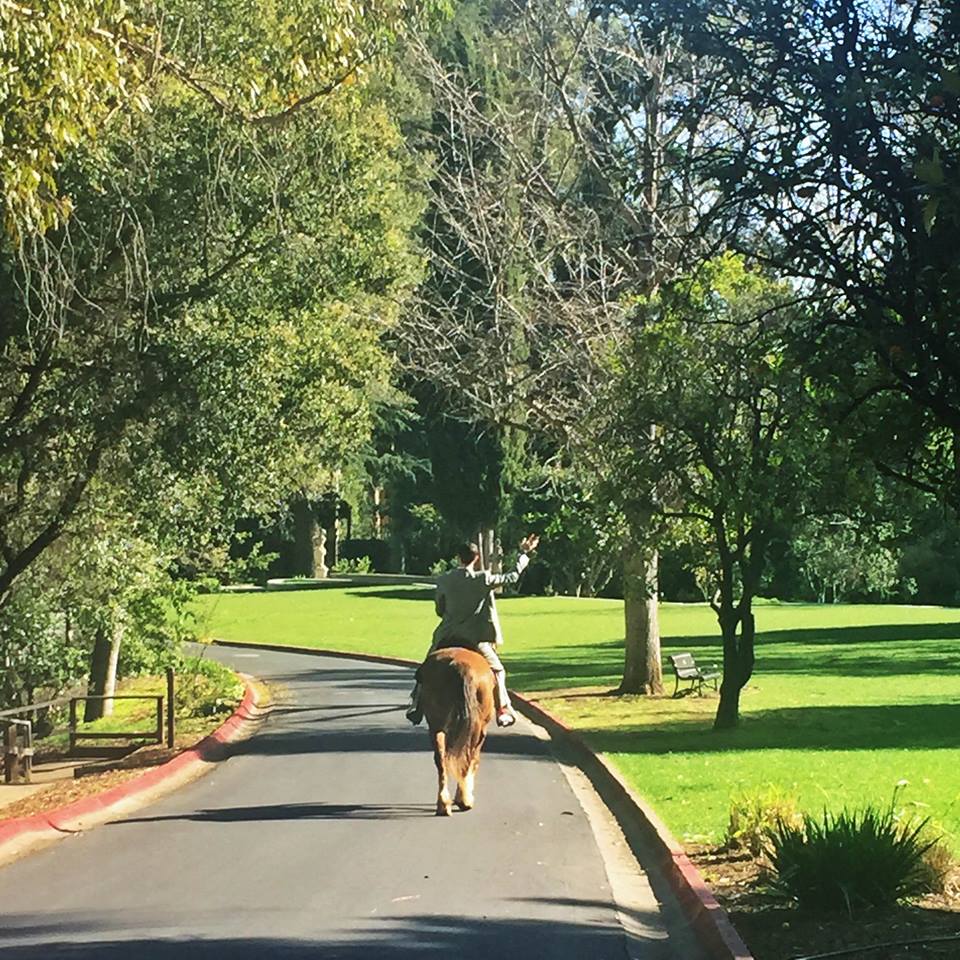 The iron gates swung open as I dismounted Mickey, the faithful steed, and she fed him the apple (now it finally dawned on her what that apple had been for!)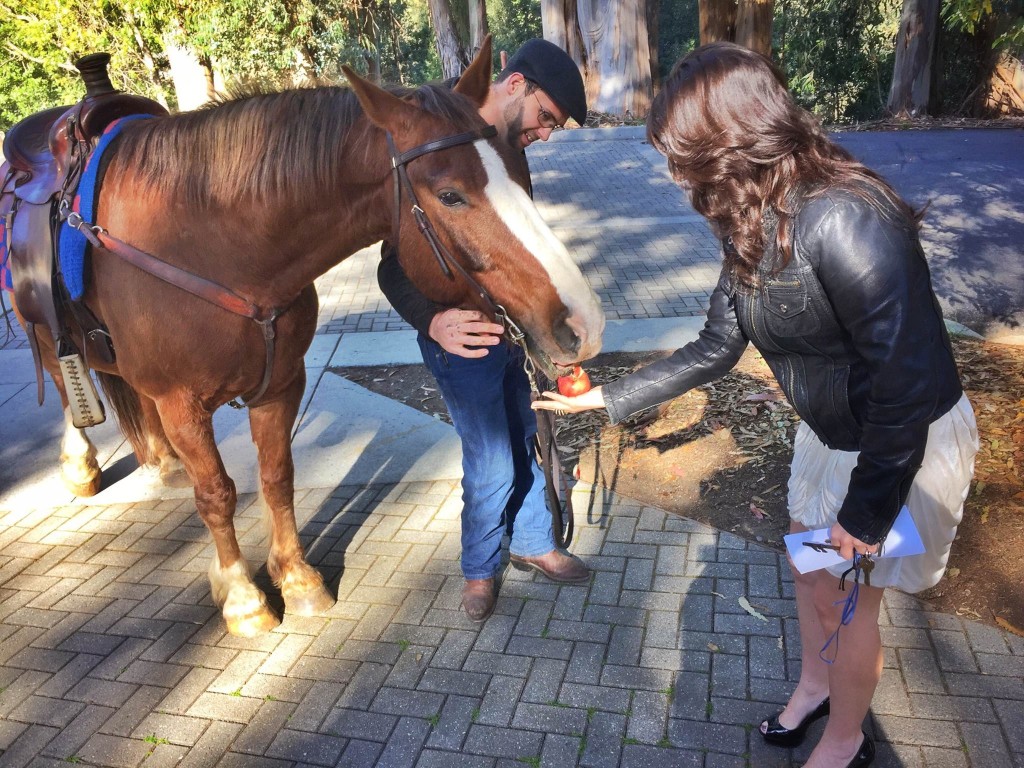 just before we started to saunter down the garden path together.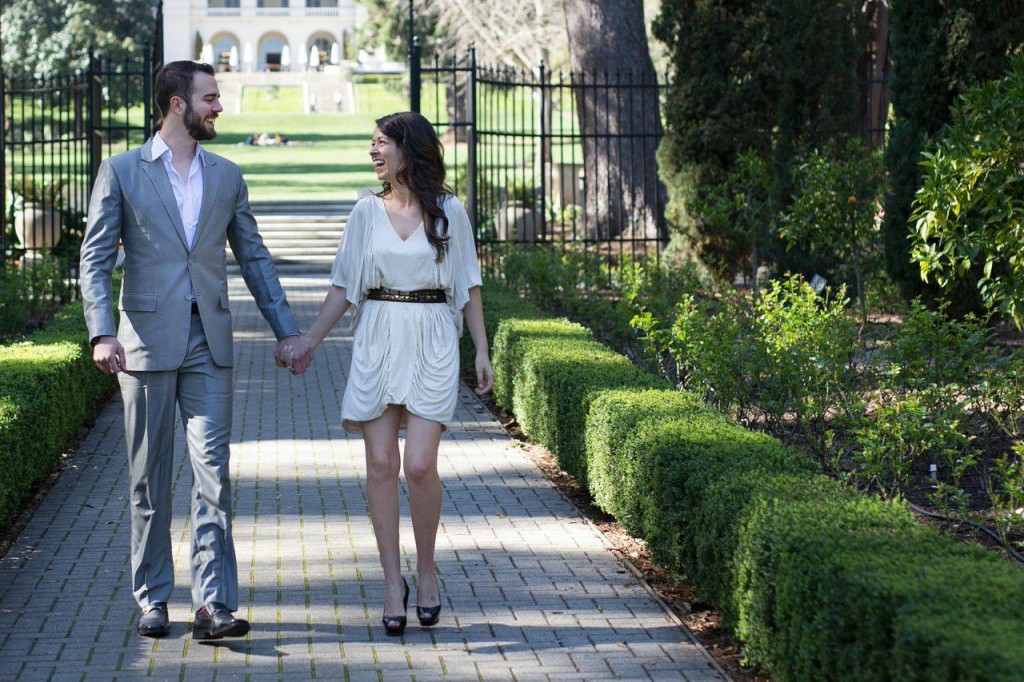 We were walking toward a huge white colonnaded Roman temple in the garden where a beautifully set  breakfast table was waiting right in front of its steps. Suddenly a violin began playing in the distance. This was my cue. I dropped to my knee, pulled out that ridiculously sparkly ring and asked her to spend the rest of her life with me.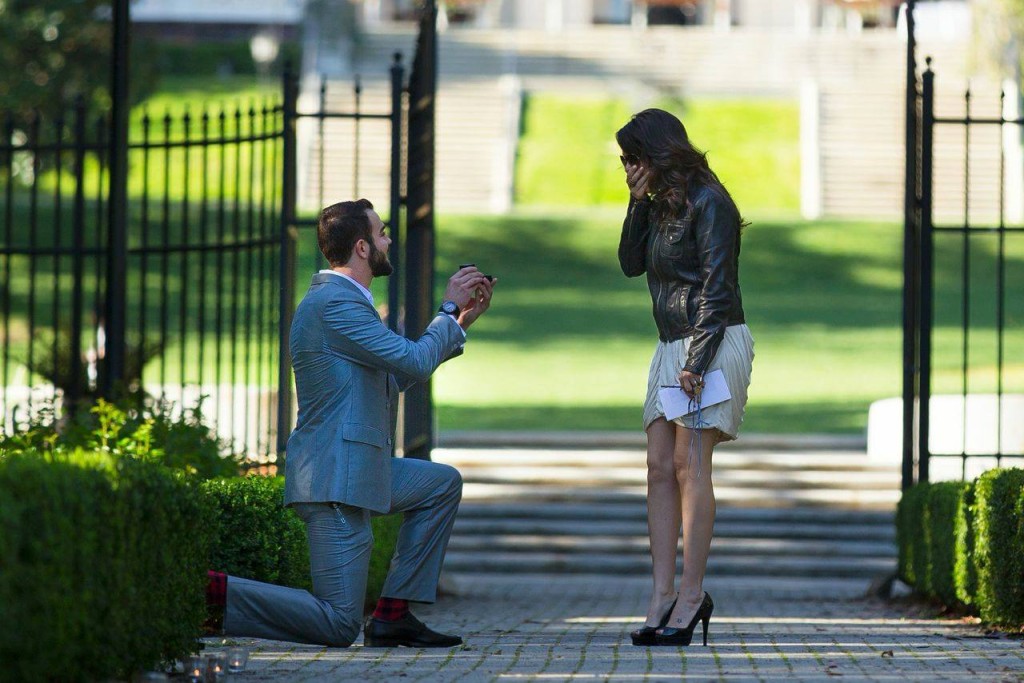 I had a photographer (hiding under the table!!) to catch the candid moments. And she said YES! More photos, and then we had a 5 course, elegant breakfast, serenaded by the violinist who had meanwhile joined us.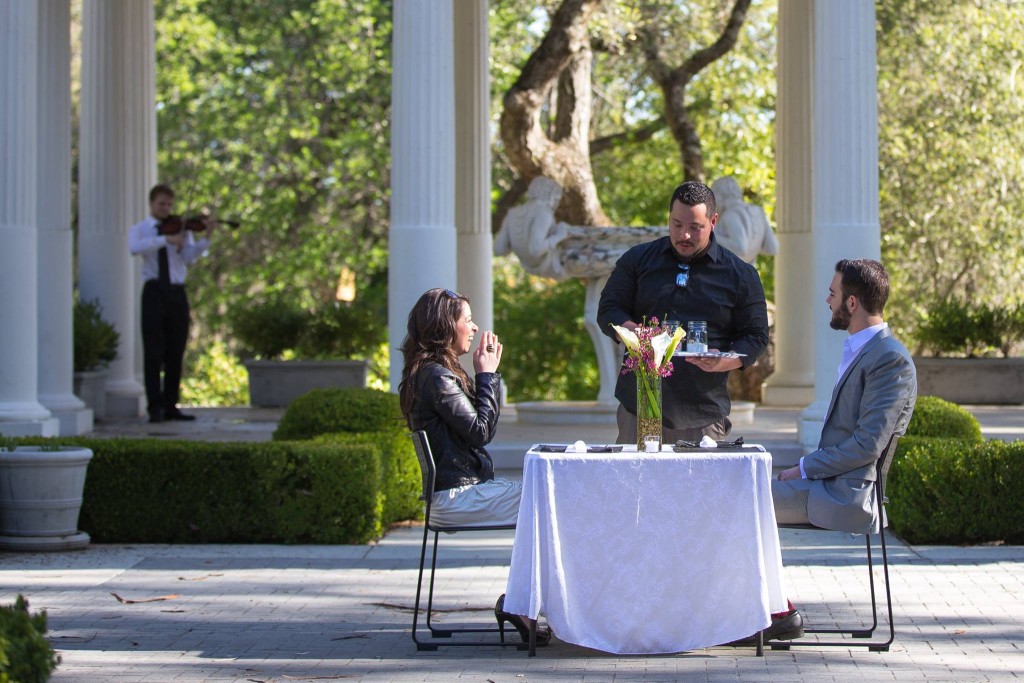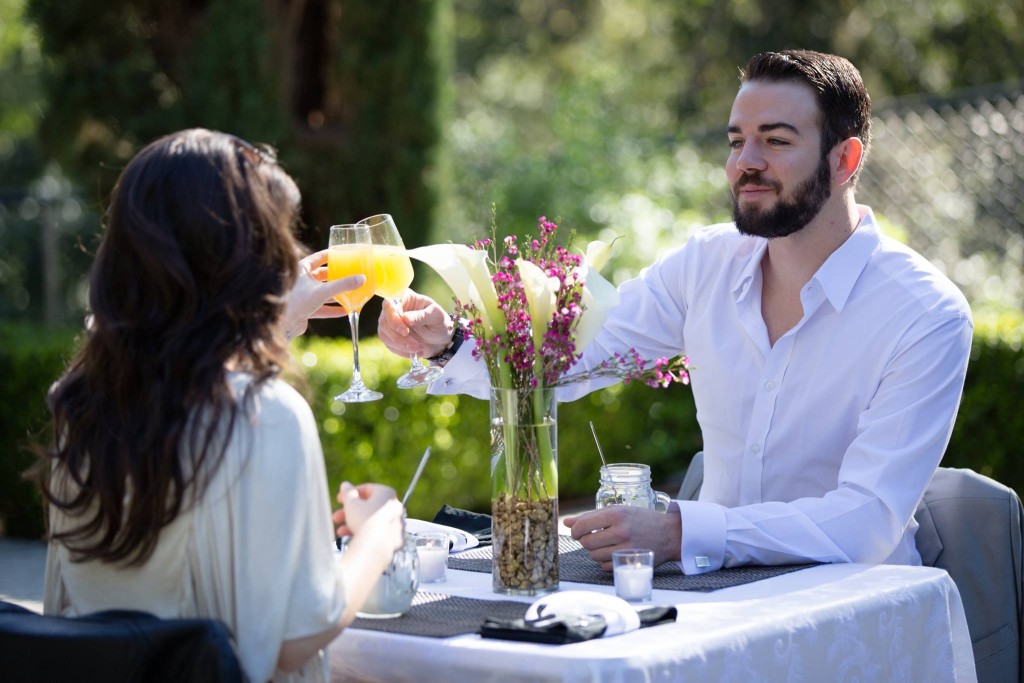 After breakfast we took a few more photos around the Estate property.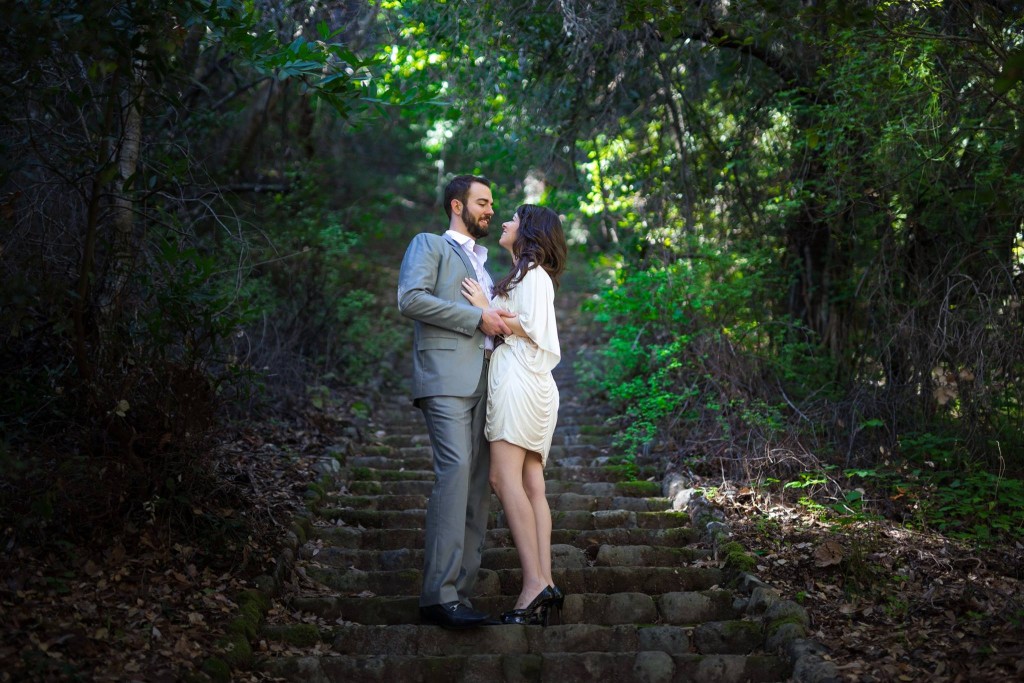 The photos were great, but in reality this was only a way to "kill time," because the next big surprise was on its way. The photographer told Jessica he had one specific shot in mind: he wanted us with our hands on the banister of a spiral staircase. I told her that "coincidentally" there was exactly THE staircase at a friend's home close by, and that this friend was expecting us.  Upon pulling up in the driveway, it didn't appear there was anyone home. So we walked up to the front door and knocked. Both large doors opened in unison and a massive, 45 person "SURPRISE!" was yelled! We hugged and said "hellos" to everyone before walking up the spiral staircase where I told Jessica, "I have one last surprise for you."
The curtains at the top of the stairs were pulled back, and there, basking in the sun on the back patio was her family from New York who had flown into town the night before.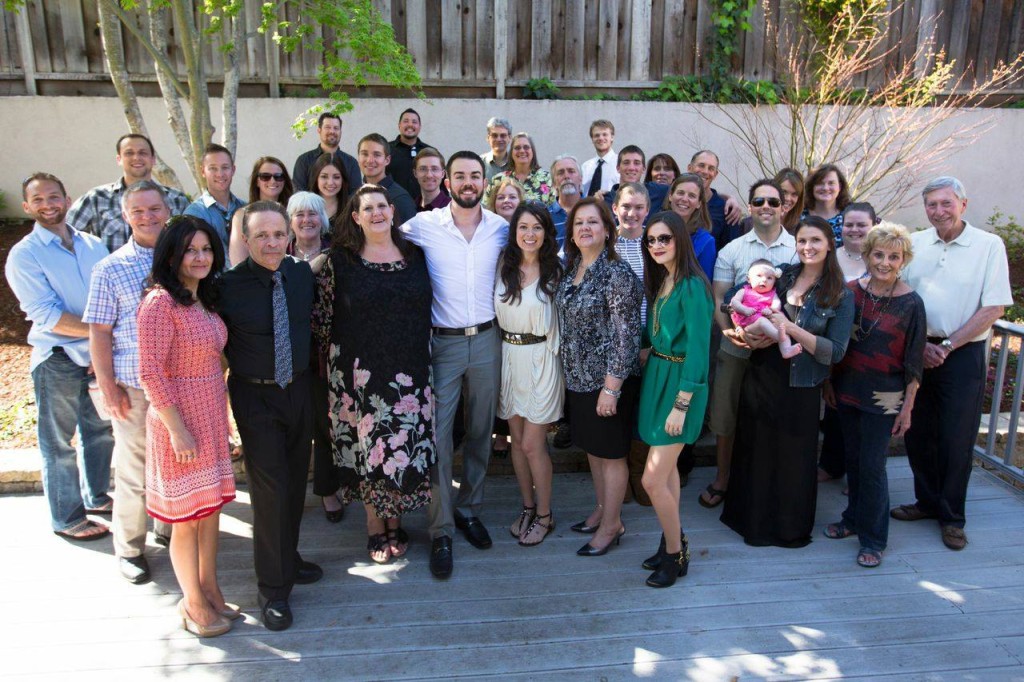 I'd never seen a gal go weak at the knees, so I had to react quickly  to catch her before she fell back down the stairs…
I am so grateful to have amazing friends who helped make the entire day a major success. From one guy disguising himself to place the apple and letter on the hood of her car while she was inside the Toll House, to another who made everyone practice the timing of opening the doors for the surprise, and everyone else who helped coordinate catering, decorations, photography and the rest of the shebang. I am looking forward to our intimate celebration at the wedding and the many years of crazy, adventurous, elaborate shenanigans to come! After all, we wouldn't expect anything less!"