Julia is an organizer. She does it for a living, and she has a hard time giving up the reins on anything. But for her own wedding day, she was willing to entrust these reins to my company, A Day Like No Other. By that time, she and her fiance had already chosen their venue: Hakone Gardens in Saratoga, the oldest Japanese park in the Western hemisphere. It is glorious, especially in late Spring/early Summer. You'll see!
Julia's (and her bridesmaids') day began early with hair and makeup services by Chau from AListMakeup and a church service for closest family members only. After a photo session with 102Studios, the couple arrived at Hakone Gardens, and for Julia that meant: first dress change! She exchanged her traditional Vietnamese outfit for a voluminous Western wedding dress, all lace, sequins and tulle; and got her makeup changed accordingly. In the meantime, everyone was busy with preparations. Onsite manager Tony Barbatti and his team set up the ceremony chairs (with a giant ruler, no joke!! At right angles and to the millimeter)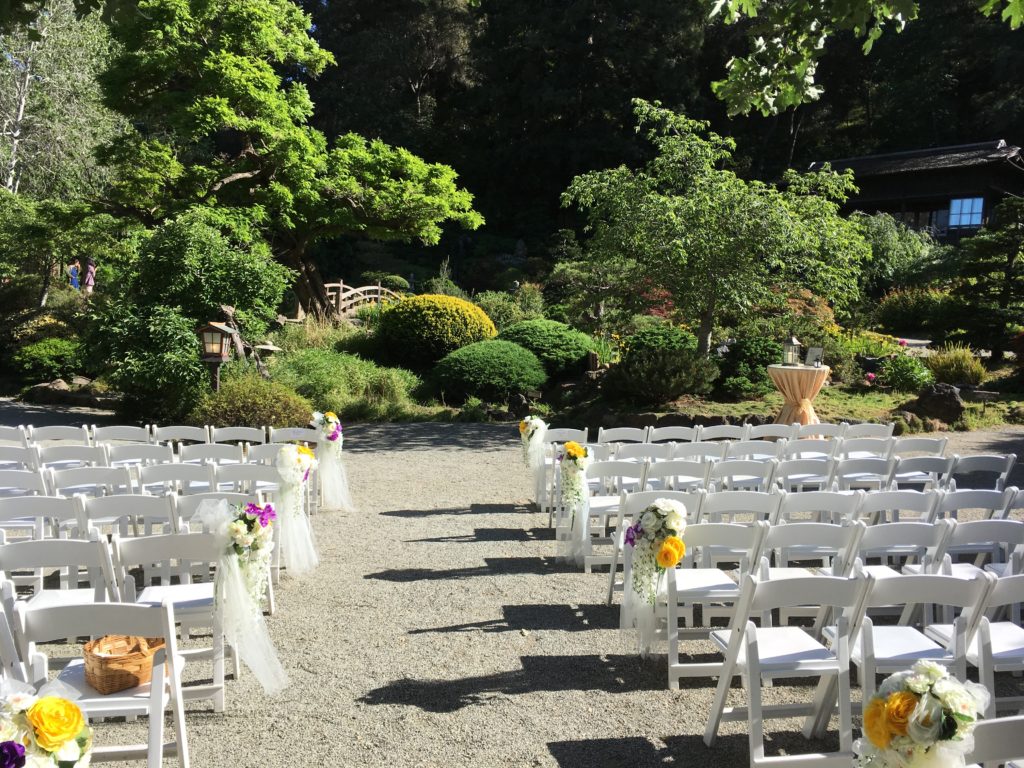 and helped us in a thousand ways. Ming and his team from Flourishing Gardens catering got ready for a full Chinese banquet. Crafty set up a full bar. Vicky from Queen Bridals installed incredible floral decor – all in golden yellow and rich, dark blues, a tribute to early summer! –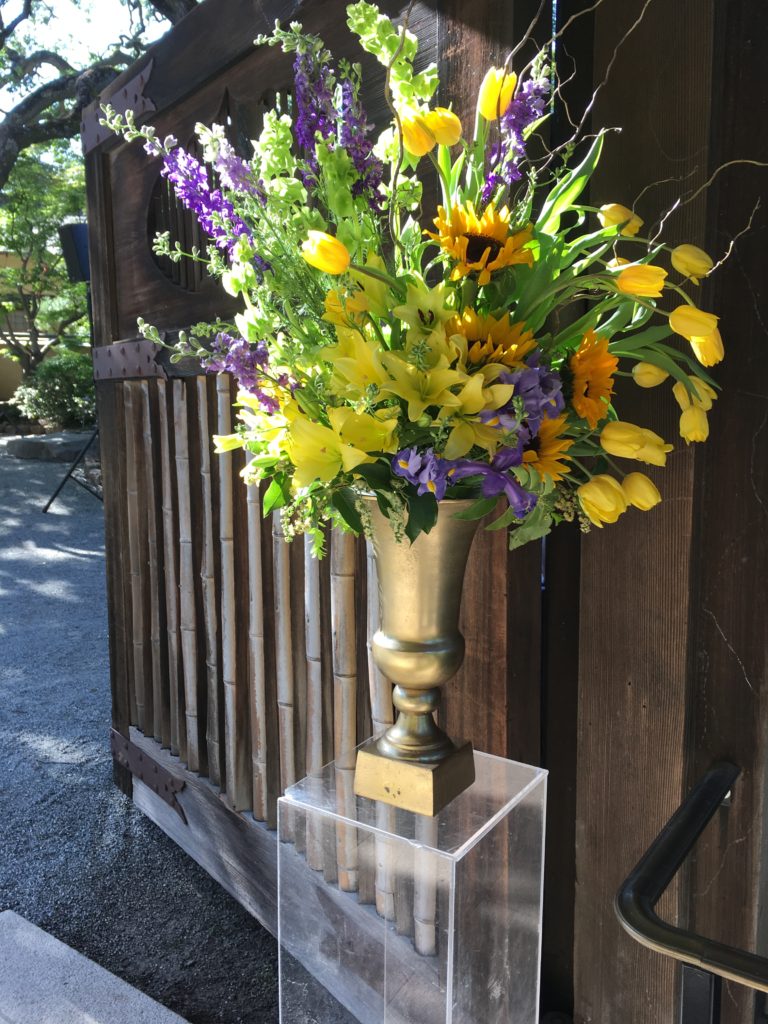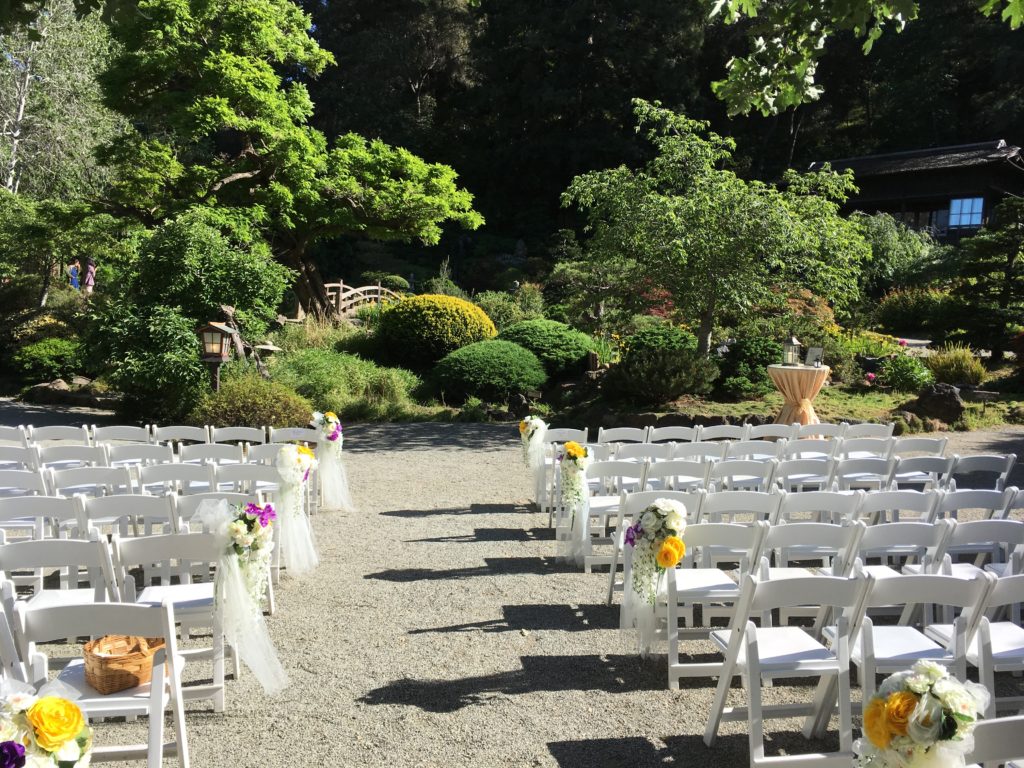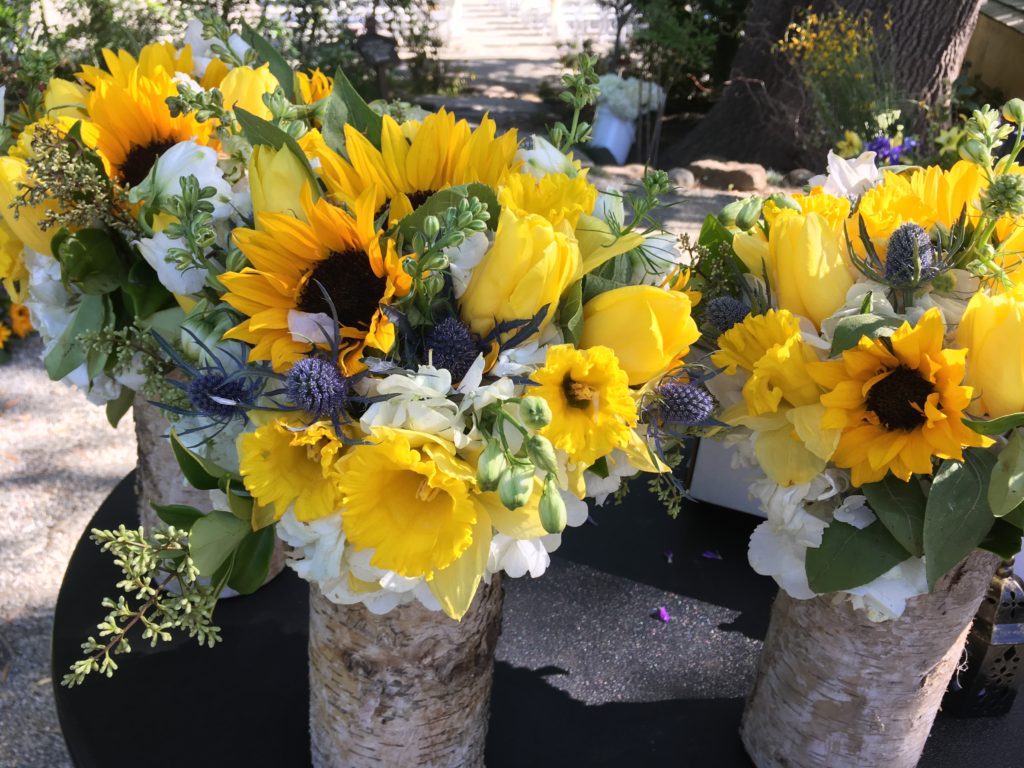 and hung dozens from lanterns from the tree under whose branches the couple's Sweetheart Table was to be installed.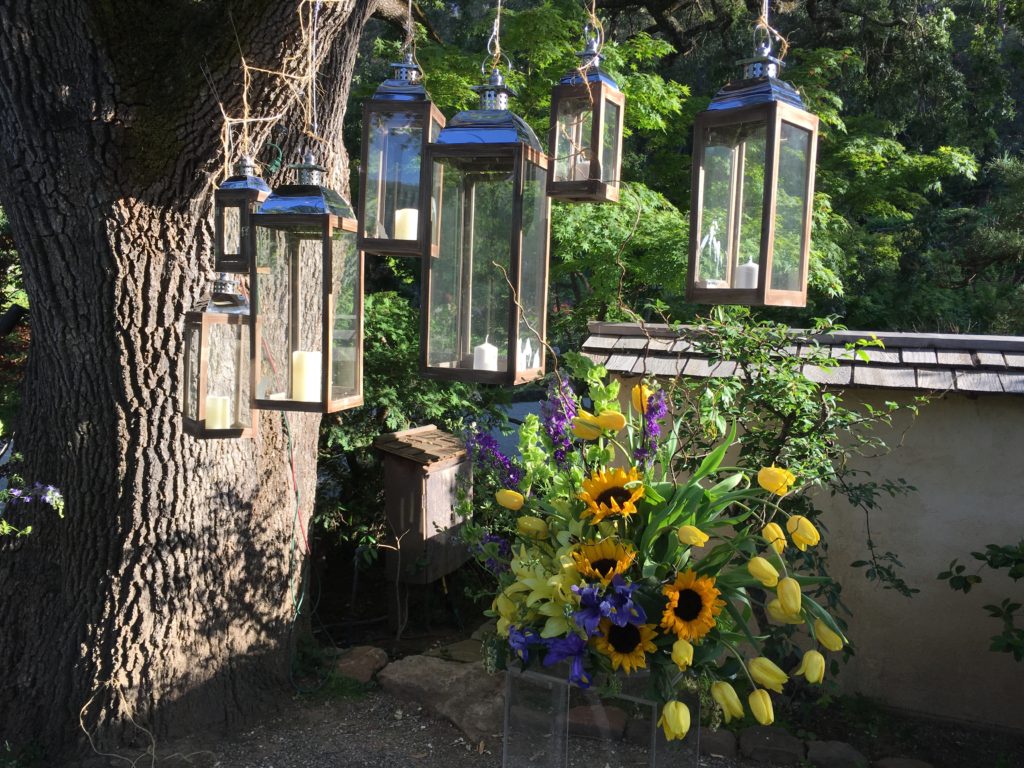 And she transformed the front of that table into a veritable waterfall of flowers, complete with wisteria blooms.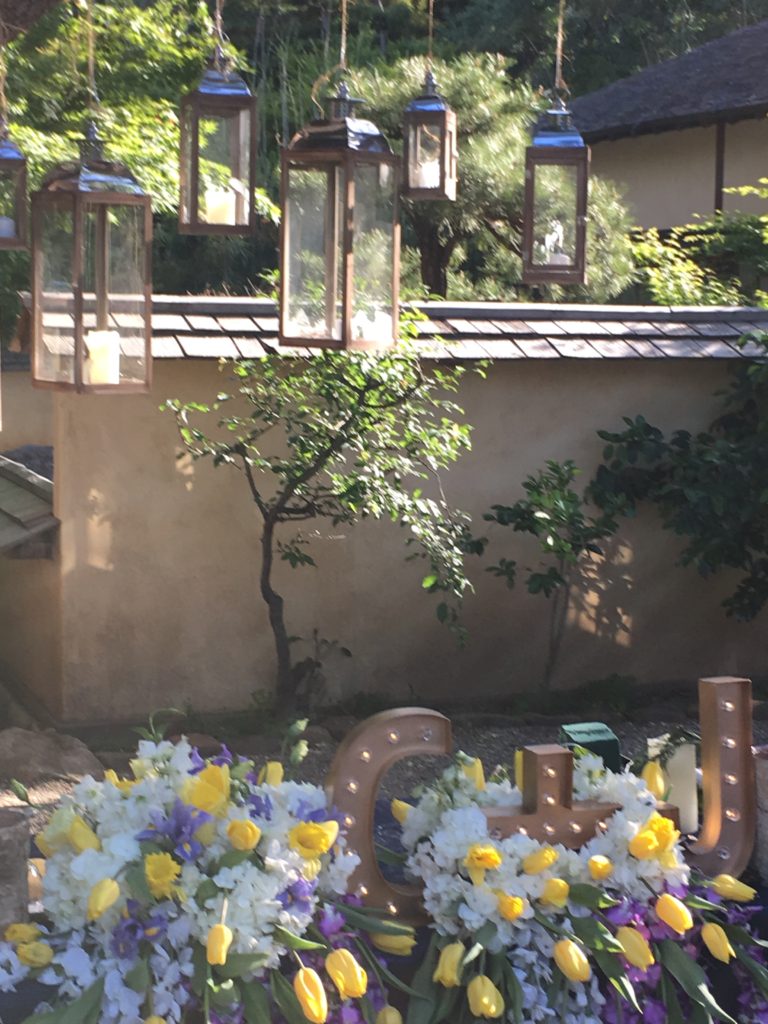 It was epic! I was meanwhile busy with the tabletops and the cute "bride" and "groom" favor boxes the bride had chosen,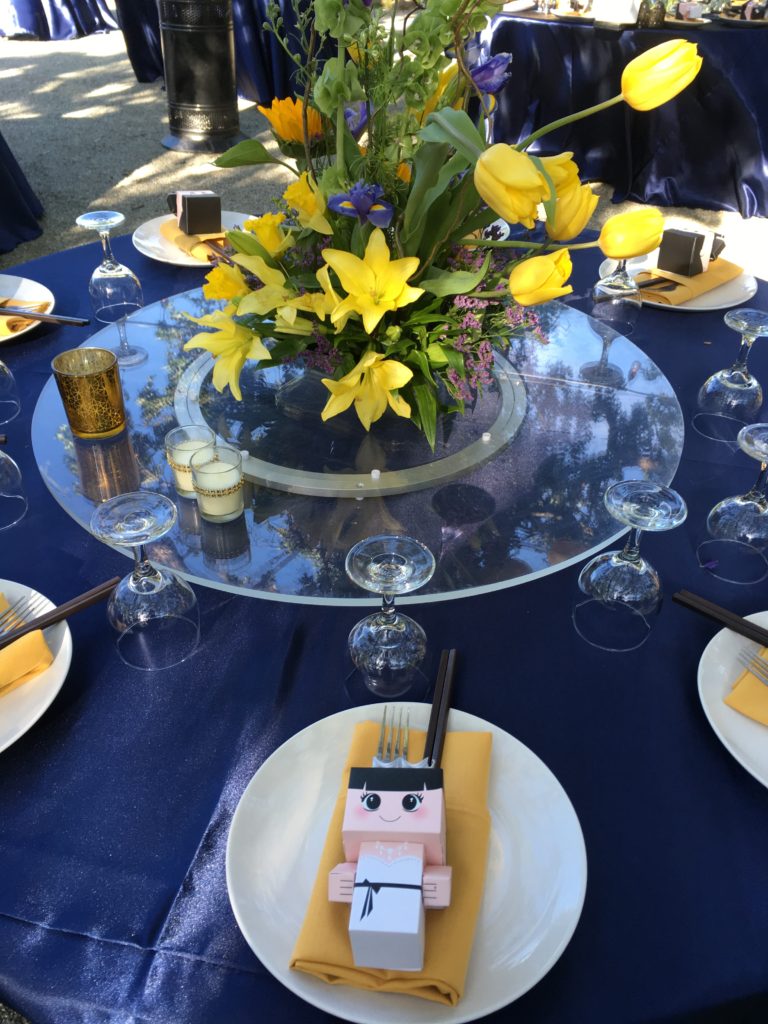 with setting up the dessert bar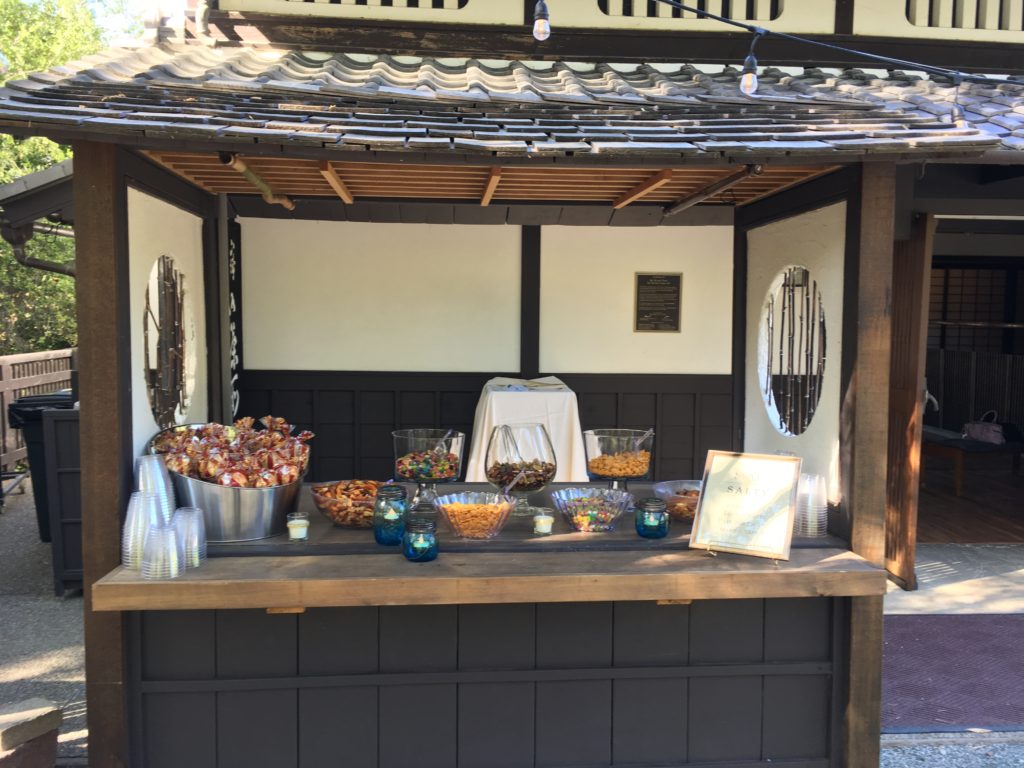 and with coordinating all the vendors. Her bridesmaids assembled a table assignment board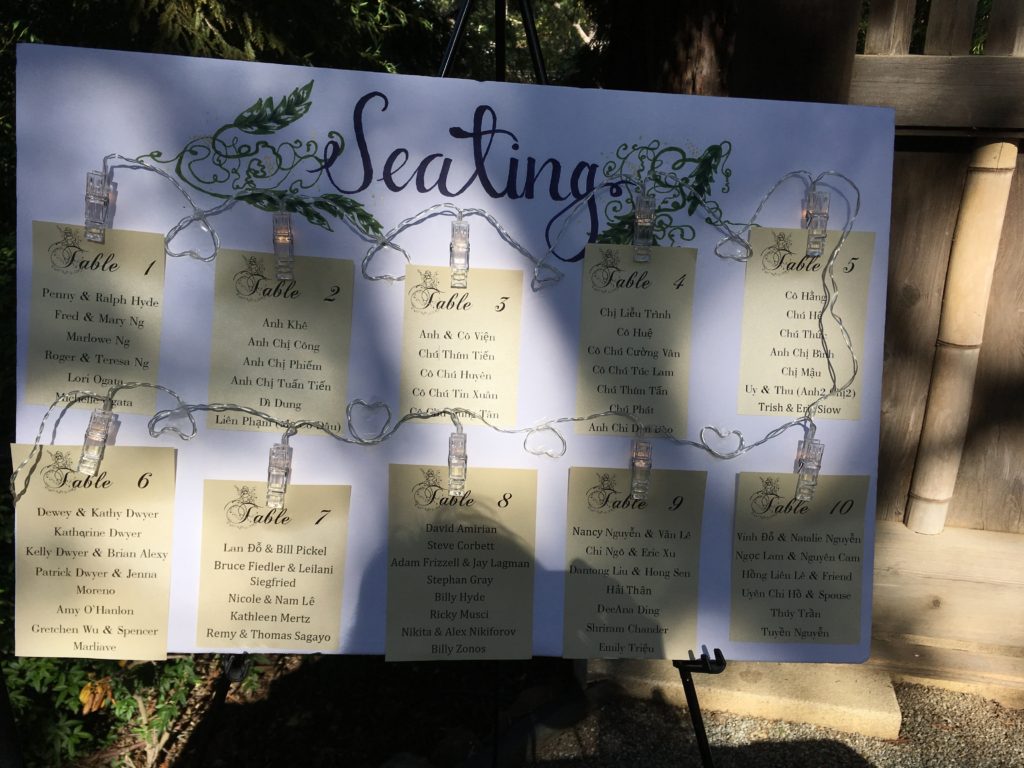 at the last minute. DJ Hugh of XGenereration Entertainment and his crew set up the sound equipment and hung string lights. We were all on an adrenaline rush!
And Julia was just beaming!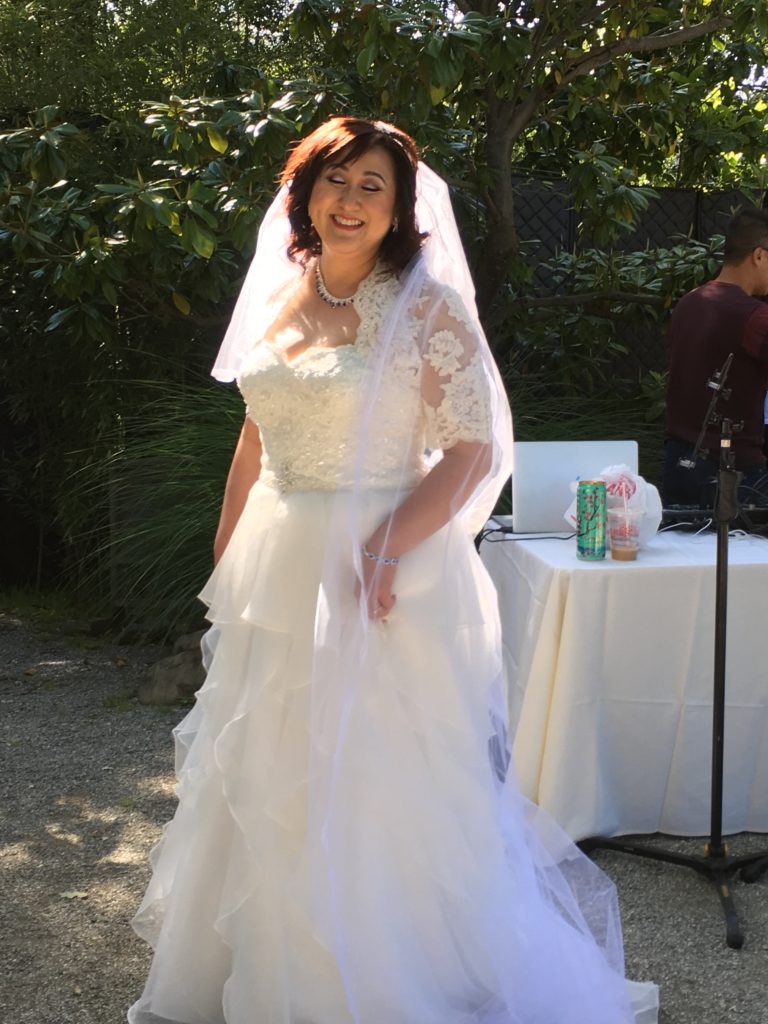 Finally – time for the ceremony, officiated by a family friend…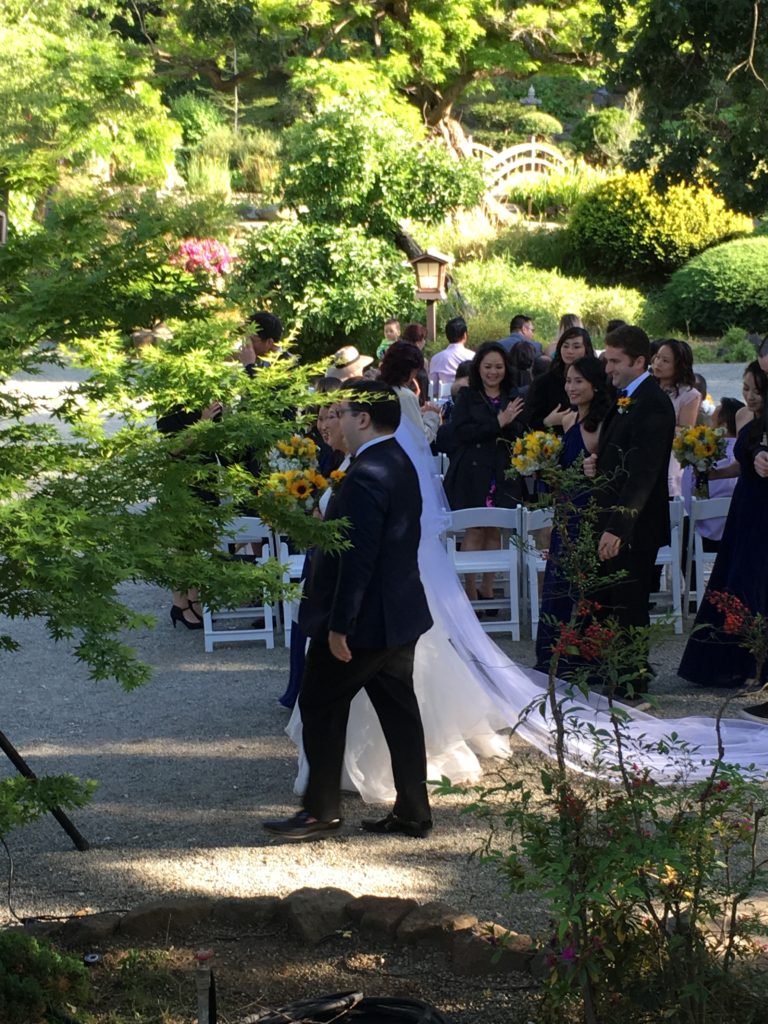 with the most beautiful natural backdrop imaginable.
Just married!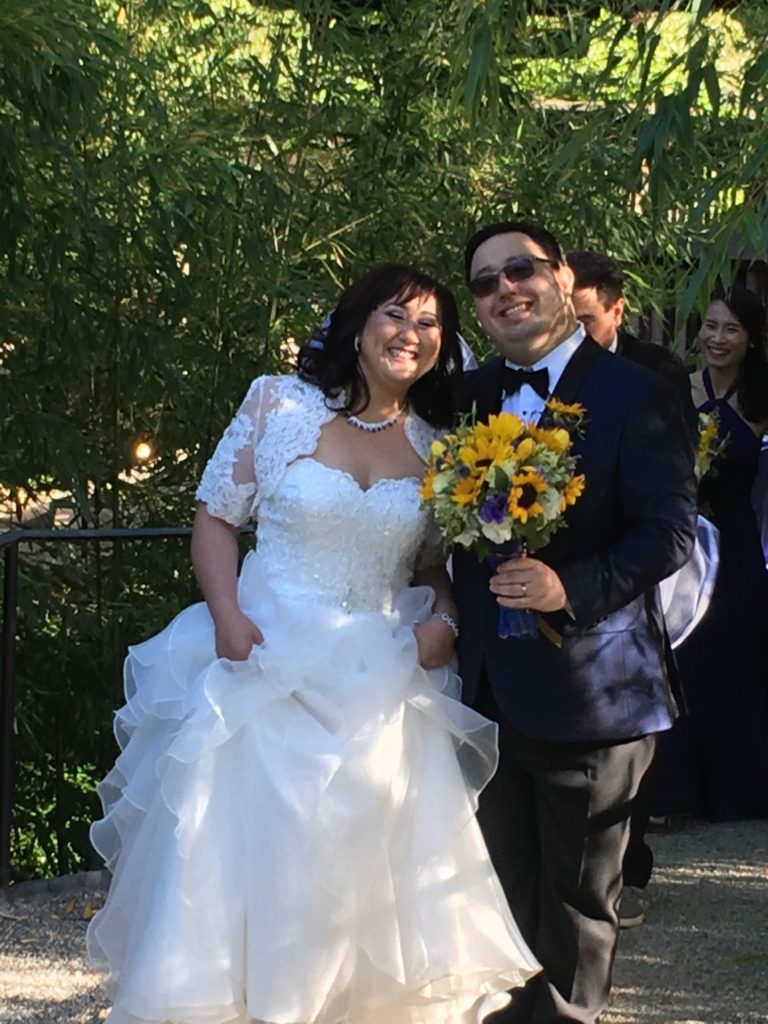 Let the festivities begin…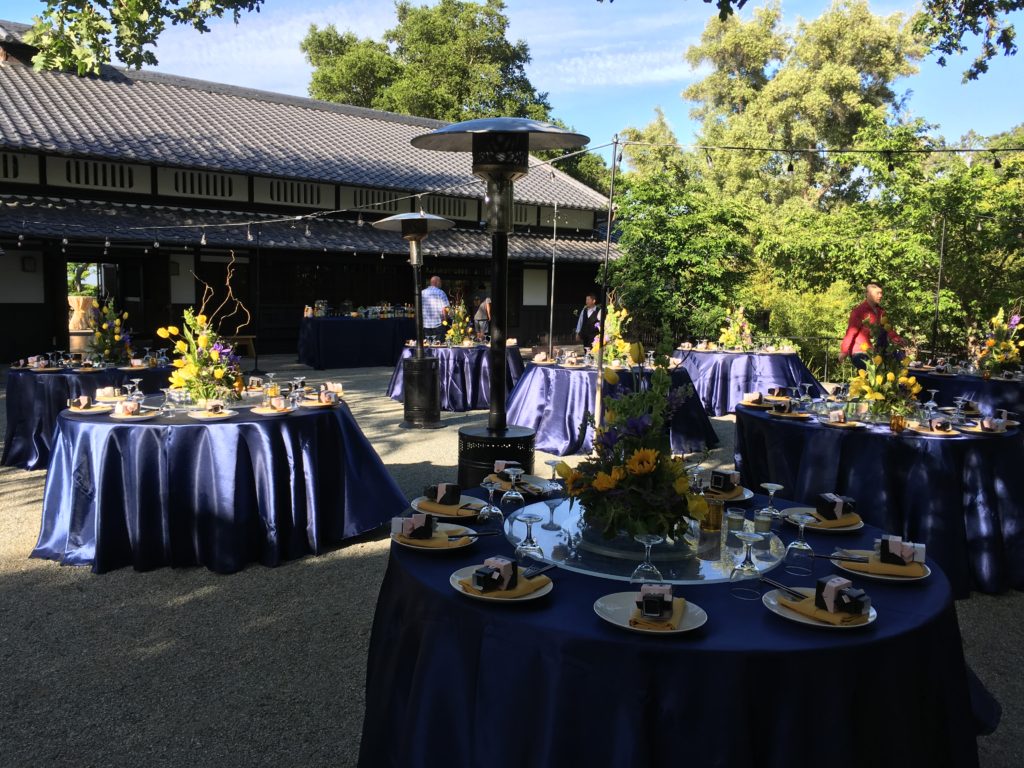 AND let the guests have cake! This piece of art was made by Sharon Bui: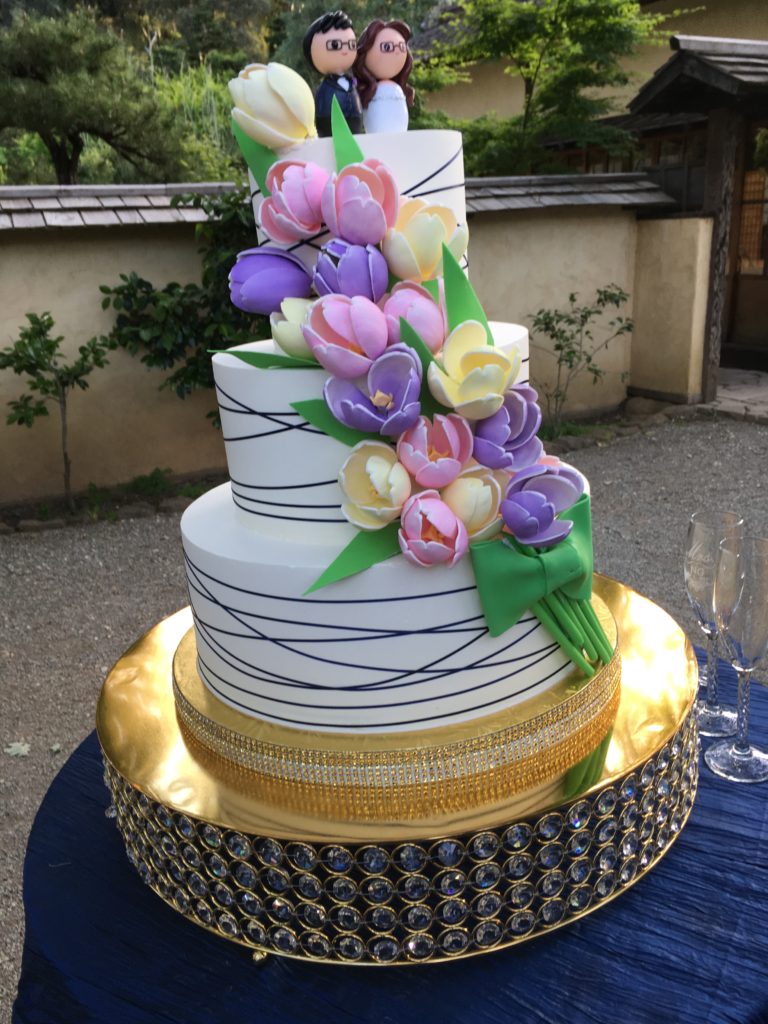 and at the end of the evening not a single crumb was left. As night fell, the scenery turned magical… what a day, and what a night!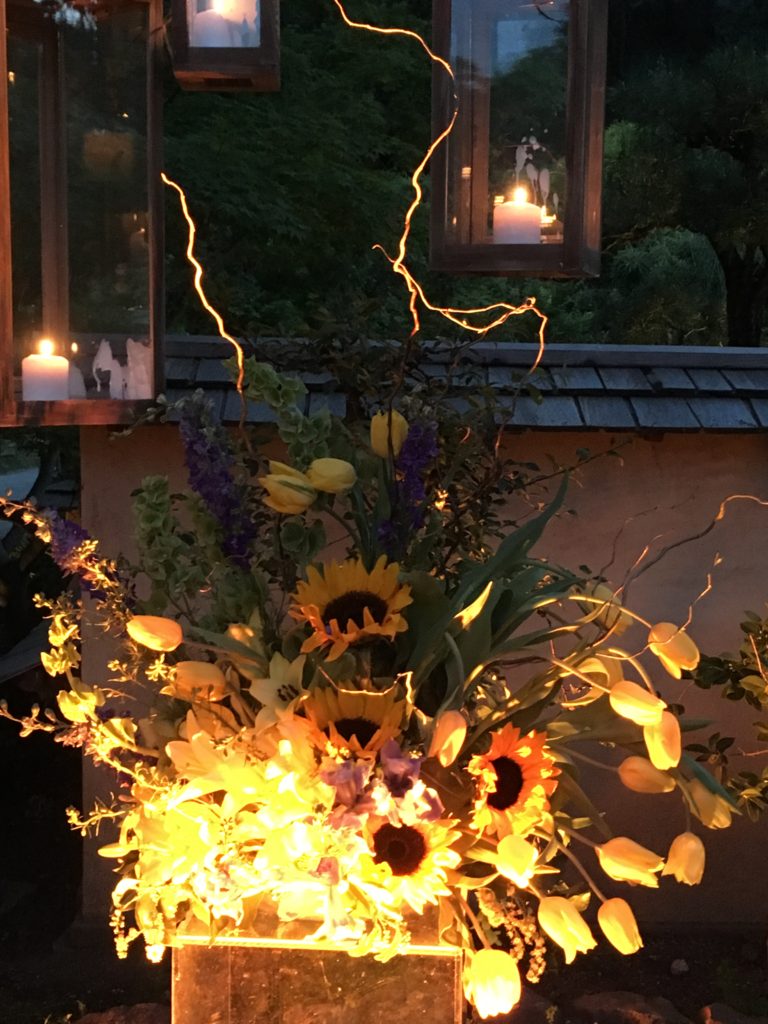 The newlyweds are already off for their "mini moon" (to Maui) followed by their real Honeymoon later this year, to – you guessed it! – Japan.
Our best wishes on your lifelong journey together!
Let us create YOUR unique wedding celebration, too!